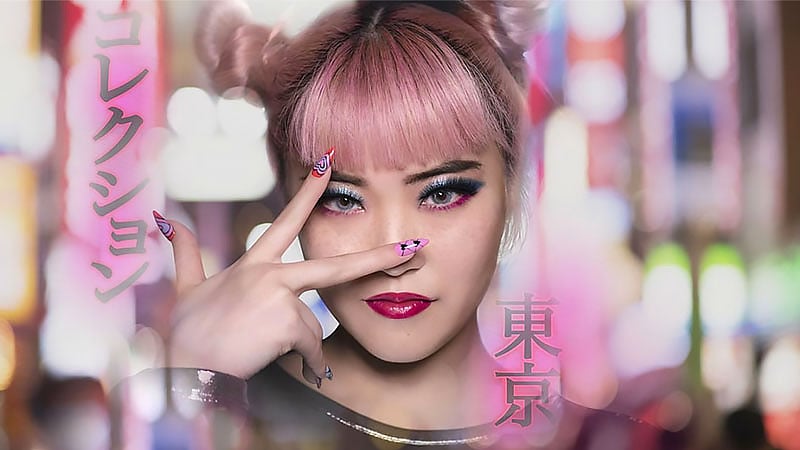 Unleash your inner creative spirit by opting for a mountain peak nail shape with cool designs. Among the other stylish nail trends, these styles are for the creative at heart. Read on to discover your favorite mountain peak nail art for your next manicure appointment.

1. Branded Mountain Peak Nails
If you love high-end brands such as Louis Vuitton, Gucci, and Balenciaga, then this nail design is perfect for you. You can show off all of the labels you love with this mountain peak shape, leaving room for the base color to shine through too. The elongated nail shape allows for a large, creative space where you can place your favorite logos all over and ensure they still look sleek. Compliments will be coming in from the left, right, and center with this design.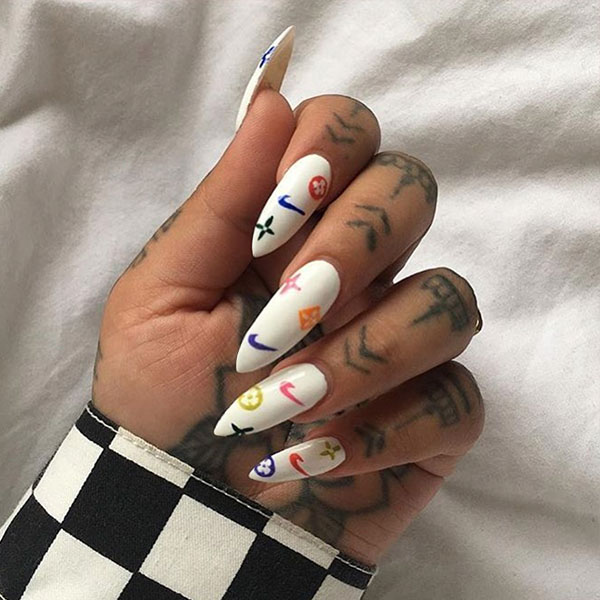 2. 3D Mountain Peak Nails
This design is worth trying if you love something new and fun on your fingers. Almost anything can be designed in 3D on your nails so you can flaunt your latest creations everywhere you go. The 3D artwork can be on either the full, half, or feature nail. Choose from a variety of colors and shapes to create your new favorite set.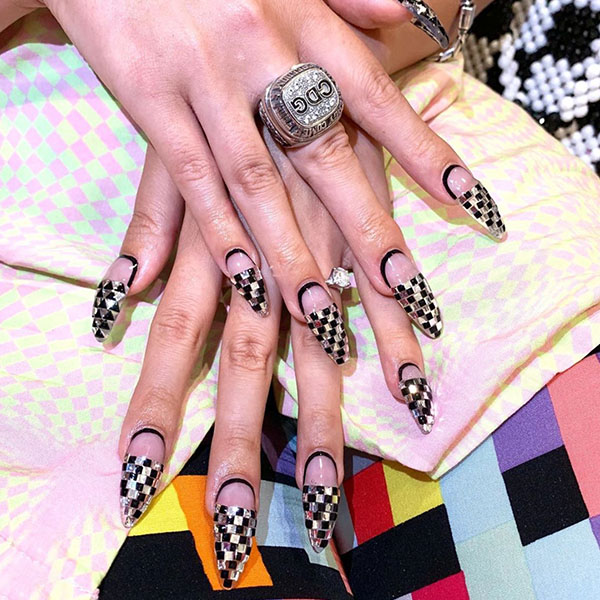 3. Geometric Mountain Peak Nails
Geometric nail art is a popular trend that delivers a different style every time. You can expect to have your very own geometric set of nails with a touch of creativity on each finger. Channel your inner artist with this nail design as any color and style combination is possible. Choose to keep it simple, or wild and full of unique geometric designs. The choices are endless with this form of nail art.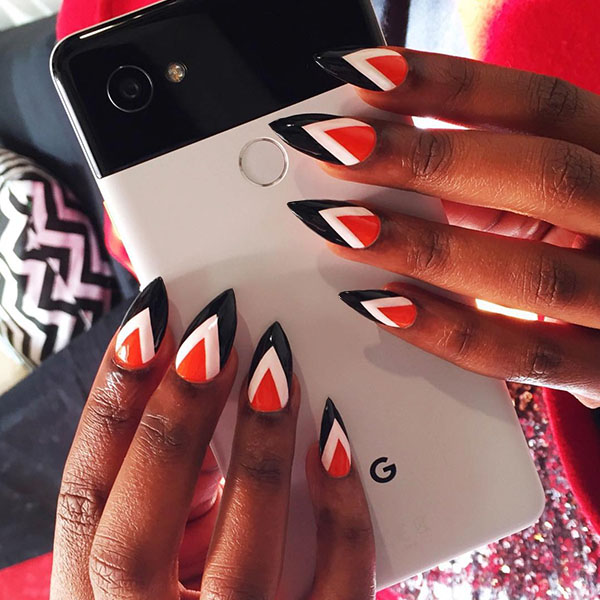 4. Words Mountain Peak Nails
At your next nail appointment, you can create your very own message to be painted across your mountain peak nails. This design will leave others curious to know more, especially about those who came up with an idea. Word designs allow you to freely display a secret love letter, mention a nail designer or tell everyone how you're feeling by spelling 'loving life'. If you're in a mood for something more creative, you could have the message written in a different language.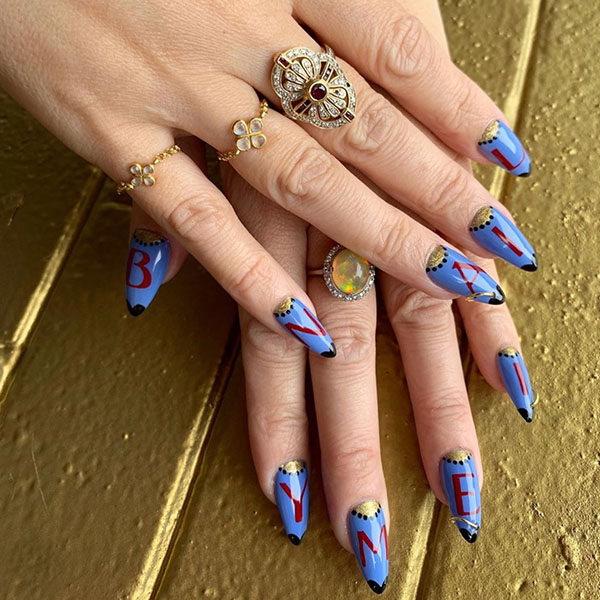 5. Snake Mountain Peak Nails
The textured finish will be your new best friend when paired with statement nail shapes. Snake-skin inspired art is something that isn't seen regularly and will be one to add to your manicure bucket list. The artwork can be created with a range of dark colors that work perfectly well with gold or silver jewelry.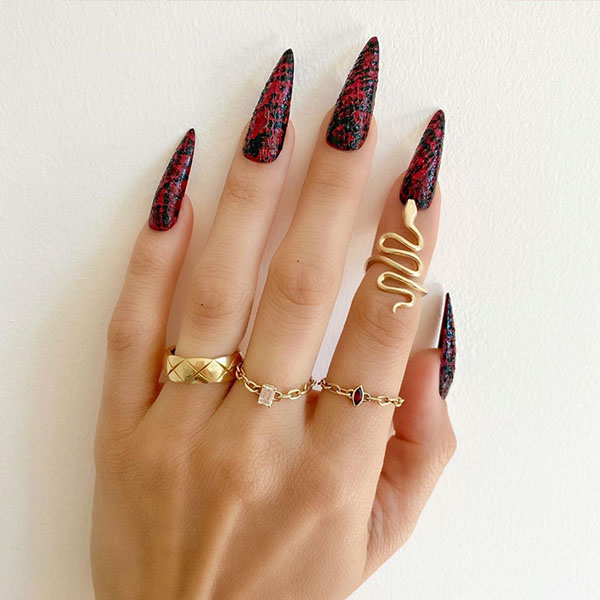 6. Cartoon Eyes Mountain Peak Nails
Why have only one pair of eyes when you can have six with this cartoon eyes mountain peak nail design. This type of nail art is super fun, and it allows you to express your inner child. Each eye design can be different from the next and can display certain emotions for each finger. Gather inspiration from your favorite cartoons and re-design their looks onto your nails so they're with you every second of the day.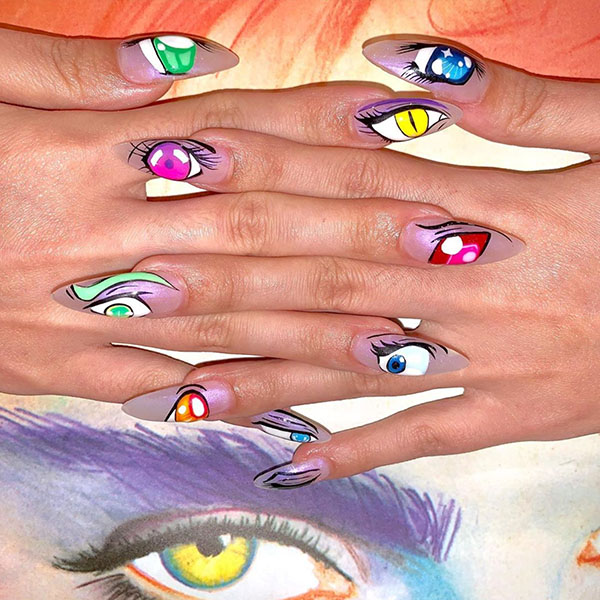 7. Floral Detail Mountain Peak Nails
It's the simple things in life that make us bloom. Now you can express that through with your next fresh set of mountain peak nails. Keep it cute and simple with floral detailing on the feature nails. This artwork is perfect because of its simple and pretty qualities. Your nails and outfits will be in sync with this all-time favorite design.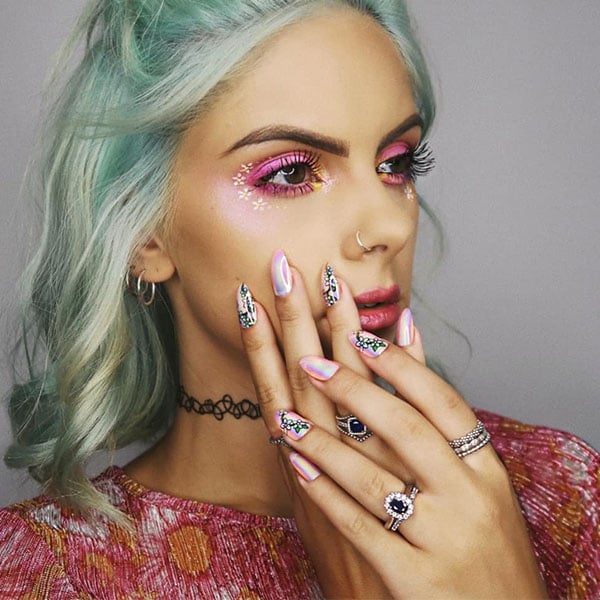 8. Color Outline Mountain Peak Nails
If you're a lover of cute and basic nail designs, then you're in luck because this color outline is perfect for you. Mountain peak nails allow this simple design to compliment the acrylic shape and natural base color. You have the freedom to choose one color to outline your nails or a variety of colors if you want a more vibrant look. The simplicity of this design allows your creativity to subtly shine through.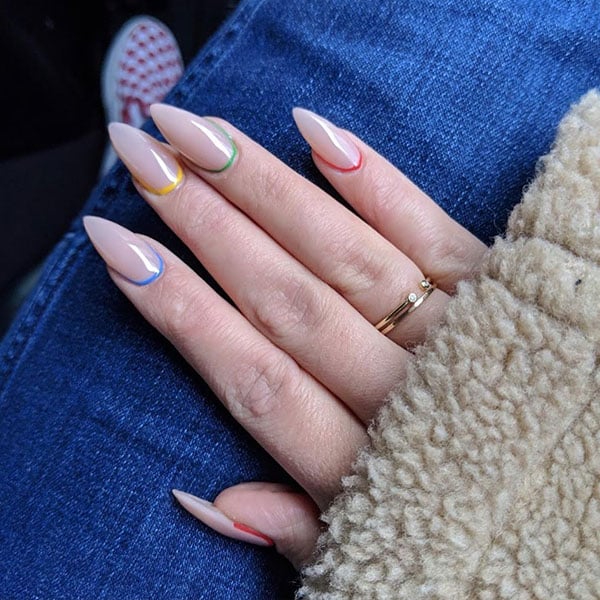 9. Black and White Art Mountain Peak Nails
Going back to basics, this black and white art on mountain peak nails is heavenly. The bold designs against a white base, or vice versa, allow for an intricate design of all your favorite patterns and shapes. The fine lines enhance the simple look, even with a large amount of different, unique designs spread across your nails. The longer acrylic nails are ideal for this style as larger black and white nail art can be painted across each finger. Smaller, intricate detailing can be incorporated as well. Black and white nail art is a creative design that will bring in compliments all day long.


10. Holographic Mountain Peak Nails
Holographic nails are currently trending; it is a quirky nail design that almost everyone wants to try. Their iridescent-like reflection creates a unique touch that stands out from the crowd. The special finish is applied to the different color nail base, creating a range of shade variations. These nails are perfect for your next special event.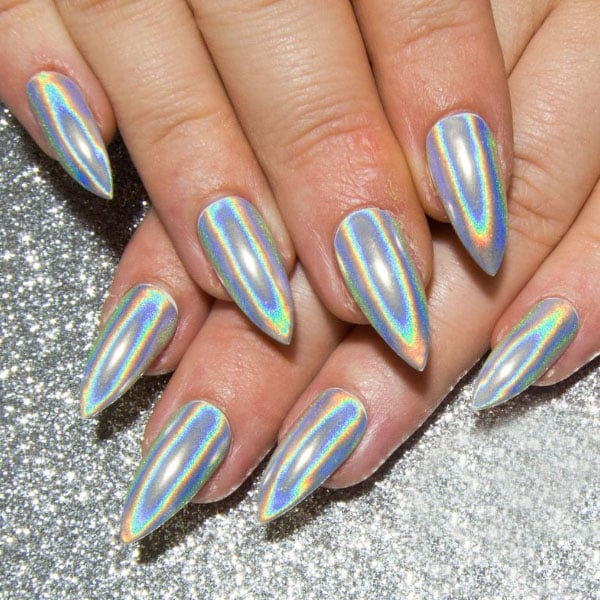 SUBSCRIBE TO OUR NEWSLETTER
Subscribe to our mailing list and get interesting stuff and updates to your email inbox.