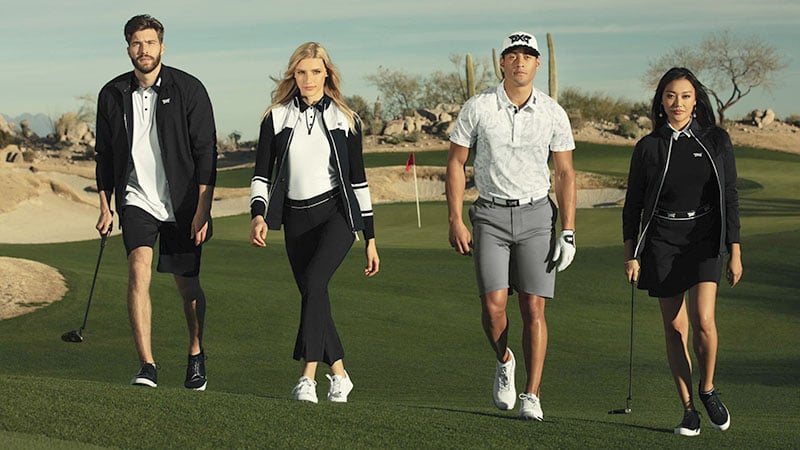 Country clubs are a world of their own. The exclusive organization is often associated with the elite and has a lot of strict rules and regulations you must follow. Whether you are playing a game of tennis, a round of golf, or you are lounging by the pool, it's important to dress appropriately. If you're unsure what to wear to a county club, here is your guide to finding the perfect county club outfits for men and women.
What is a Country Club?
A country club is a private and exclusive organization. They usually require a membership and offer activities such as tennis, golf, swimming, and other games. While most likely think of the elite and upper-class clubs from the Upper East Side, the origins of these locations trace back to Scotland. Most of these places specialize in certain sports and maintain exclusive access, with strict dress guidelines and rules.
What is Country Club Dress Code?
Typically, you should refer to business casual or smart casual for country club outfits. Of course, tennis and golf attire is also acceptable, but this depends on the type of club you are attending and what activity you are completing. Be sure to confirm the dress code with the club ahead of time, as some have looser regulations about the accepted form of clothing. If in doubt, stick to preppy, tailored, clean, and neat garments – if you would wear them to the office or a work event, it is likely suitable for the country club.

What to Wear to a Country Club
Business casual preppy clothing – if you would wear it to a work event, you can wear it to a country club
Neat and clean sporting clothes – if you are playing tennis or golf, dress in line with the sport's guidelines
Dress shoes, heels, or boat shoes – athletic trainers are best suited for the green or courts
Neutral colors such as black, gray, navy, or white
Comfortable clothes – the freer your movement, the better
What Not to Wear to a Country Club
Avoid jeans – they don't give your body the freedom of movement for tennis or golf
Revealing clothing
Sweatshirt or tracksuit pants
Ripped, torn, or stained clothing
Excessive jewelry
Country Club Outfits for Women
If you are attending a country club and unsure what to wear, you have plenty of options. While the rules and regulations are still quite strict, luckily, they're not as regulated as menswear. This means you can play around a bit more with color, style, and patterns. However, the main elements remain the same for women. While playing golf or tennis, ensure you are wearing appropriate activewear that isn't too tight or revealing. For other activities, you can lean into the 'stealth wealth' aesthetic, opting for neat and well-tailored clothes that would be considered business casual or cocktail attire.

Dresses
If you are stuck on what to wear to a country club, a dress is the perfect solution. Whether you are competing on the tennis court or having dinner at a special event, there is a dress that will work for the occasion. If you are taking part in tennis or golf, you can choose a breathable activewear mini that allows freedom of movement and practicality. Opt for something in the cocktail dress code for a more formal event. Avoid anything too short or revealing, and stick to neutral colors such as white, pink, or black.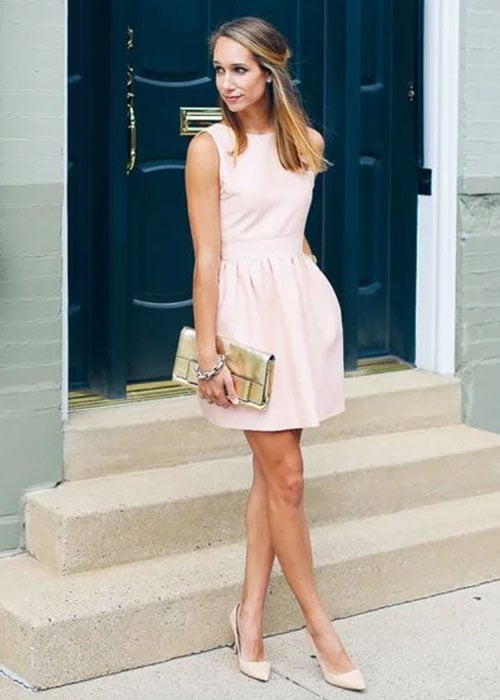 Get the Look
Trousers
If you are completing the full 18 or you're having a quiet lunch break, wear a pair of trousers. Slacks in beige, brown, or black will work well if you're playing golf, but feel free to experiment with silhouette and textures when you're off the green. Try tailored pants with flared legs, capris, or palazzo – you can play with color, fabrics, and patterns. In most cases, you should steer clear from jeans, yoga pants or leggings, sweatpants, cargo pants, and low-rise silhouettes.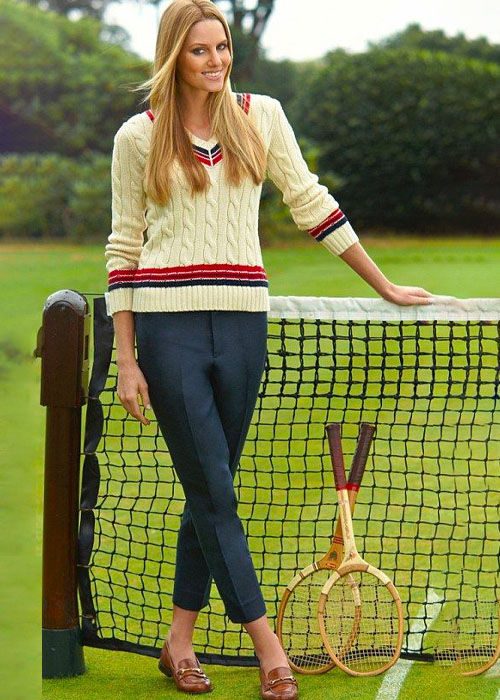 Get the Look
Shorts
If the weather calls for something cooler, but you don't want to wear a skirt, you can choose a pair of shorts instead. However, there are regulations about the type of country club outfits, so leave your denim, Lycra, or short shorts at home. Instead, opt for something that is a minimum of four inches above the knee. While dark colors are the safest chicer, you can mix them up with lighter shades like cream, white or soft blur, or pink
.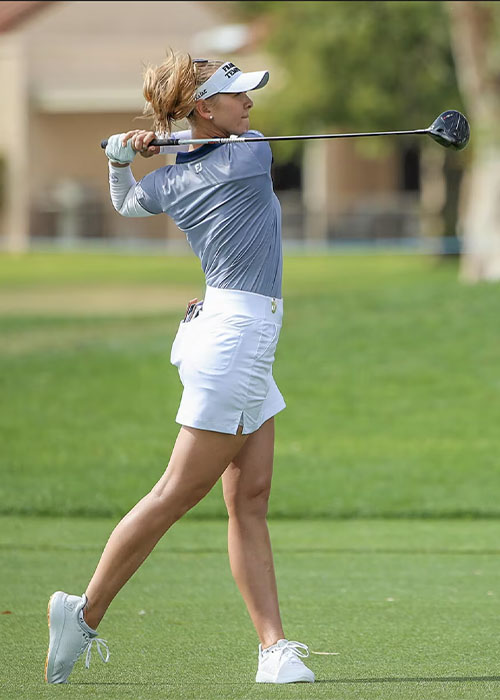 Get the Look
Skirt/Golf Skirt
Skirts are popular for country club outfits when the weather calls for them. Perfect for the tennis court or the golf course, they typically fall anywhere from the mid-thigh to the knee and have pleats or a small slit for better movement. While you can choose a preppy fabric such as Harlequin print or stripes, the most common choice is something plain in navy, white, or beige. Keep in mind the length of the fabric, and be sure to add some shorts underneath if they don't already have some. Pair it with golf shoes and a tucked-in polo shirt, and you'll be ready for the full 18.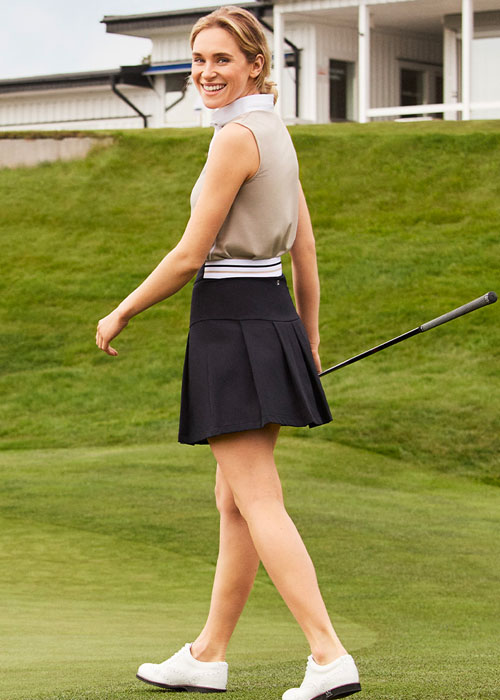 Get the Look
Cardigan/Sweater
When visiting a country club, it's best to bring plenty of layers for the changing temperatures. Unlike casual settings where you can wear a hoodie, this venue requires something more formal. A sweater looks great during the cooler months – choose any color (perhaps avoid anything neon), or opt for a classic cricket sweater or something from the official curry club store. A cardigan also works well in transitional seasons and can be buttoned up or left undone, depending on your preferences.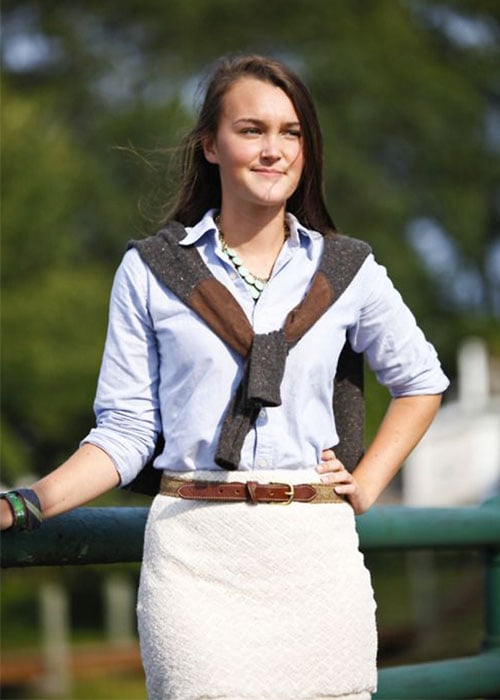 Get the Look
Collared Shirt
Whether you're on the green or hitting your first tennis ball, a collared shirt is a perfect staple for any outfit. Also known as polo, these shirts typically have short sleeves, a collar, and three or four buttons at the top. The beauty behind this garment is its versatility – they come in endless color selections, so you can try something new every day. You can also find some designs with printed or striped collars in different colorways. They also look great with a pair of shorts, trousers, or a skirt. Be sure to always tuck the shirt into your pants when at a country club, and make sure it doesn't look too tight or baggy.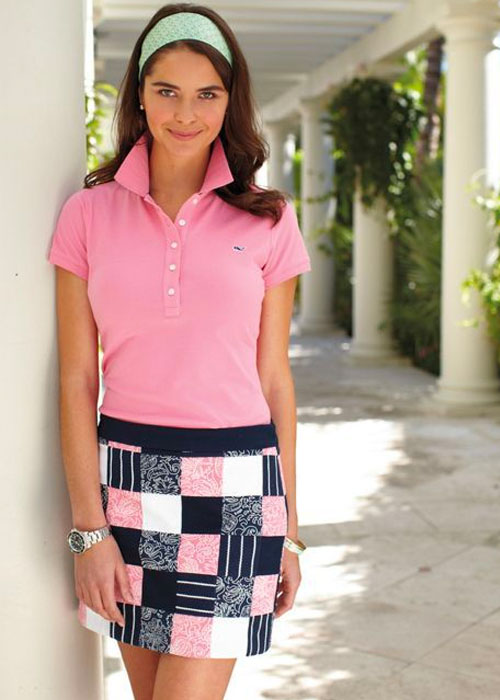 Get the Look
Blazer
Even though you may think it, country clubs aren't always about playing sports. On the occasions when you need something dressy but don't want to overdo it, why not try a blazer? These are timeless staples to an outfit and don't appear too corporate when styled correctly. A well-structured and tailored blazer looks fantastic with a pair of cigarette pants or cream trousers. If you're sick of dark shades, we recommend a houndstooth, check, or tartan fabric in cream, beige, and other neutral shades. Worn with a plain shirt underneath or a turtleneck if it's chilly, you will certainly look the part.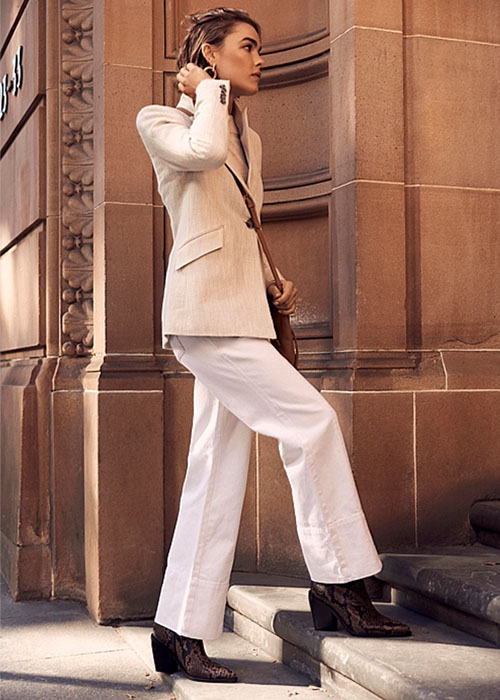 Get the Look
Shoes
While you may not think much about your footwear at a country club, they can actually play a huge role in your overall ensemble. For on-court sessions, stick to athletic sneakers, and if you're playing a round of golf, be sure to wear appropriate golf shoes. Avoid anything with spikes, as it will damage the grass. When you're not working up a sweat, opt for closed-toe shoes such as loafers or flats – they work well with most outfits and give a sense of business casual. Of course, more formal occasions call for a pair of heels – just make sure they're comfortable.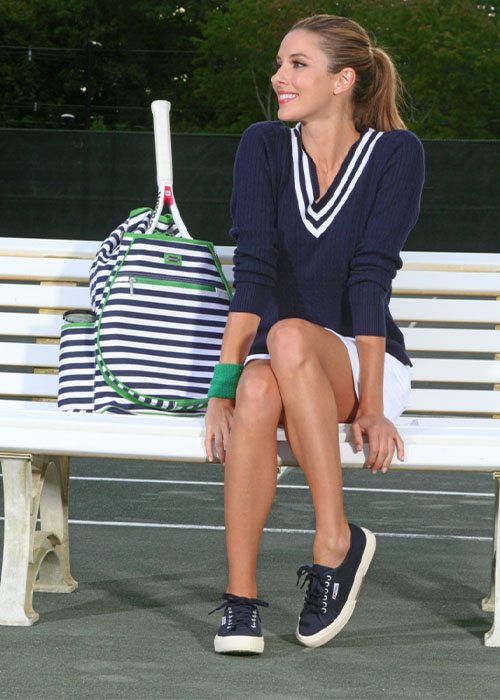 Get the Look
Baseball Cap/Visor/Straw Hats
Sun safety is a very important factor to consider when visiting a country club, so make sure you keep your head covered. The headwear you choose depends entirely on the activity you're participating in, so if you are playing tennis or golf, we recommend a baseball cap or visor. Opt for neutral shades like black, navy, or white, and try to avoid any loud logos or prints. For the days when you're lounging by the pool, wear a straw hat. It's best to steer clear of bucket hats or anything that is too casual for country club outfits and settings.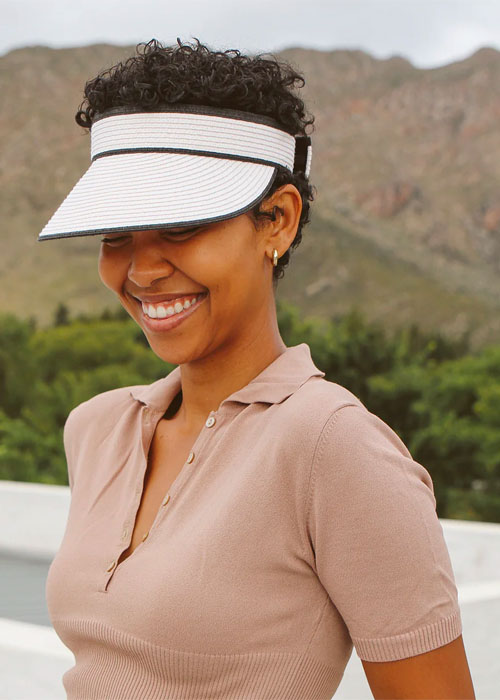 Get the Look

Sunglasses
While hats are an important step in sun safety, sunglasses are just as crucial. While the rules are strict in garments you can wear to a country club, you will find regulations more lenient for eyewear. However, you can't go wrong with a pair of stylish black or tortoiseshell frames – a white pair can also look chic and elegant with a country club summer outfit.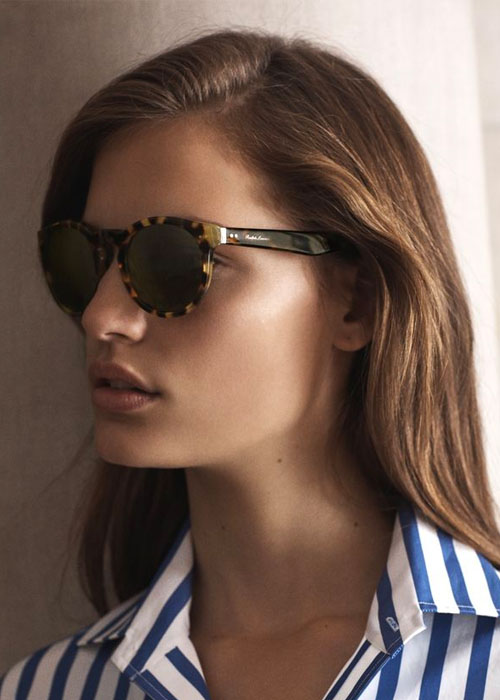 Get the Look
Country Club Outfits for Men
Men attending a country club have a pretty strict list of regulations they should follow. While playing sports like golf and tennis, opt for a short-sleeved collared shirt, chinos or trousers, and closed-toe shoes. You should avoid wearing anything that restricts your movement or could be considered too casual – so that means no jeans, sweatpants, hoodies, or short shorts. If you've been invited to an event at a country club, stick to business casual and smart clothing choices – suits, button-down shirts, and clean, neat garments.
Collared Shirt
Men's outfit requirements for country clubs are fairly similar to women's. For the top half, opt for a collared shirt, also known as a polo shirt. You can find them in a wide range of colors, but the most popular are black, blue, white, and pink. Style them with a pair of trousers and appropriate footwear. Be sure to always tuck your shirt into your pants – this is a widely common rule for country club outfits.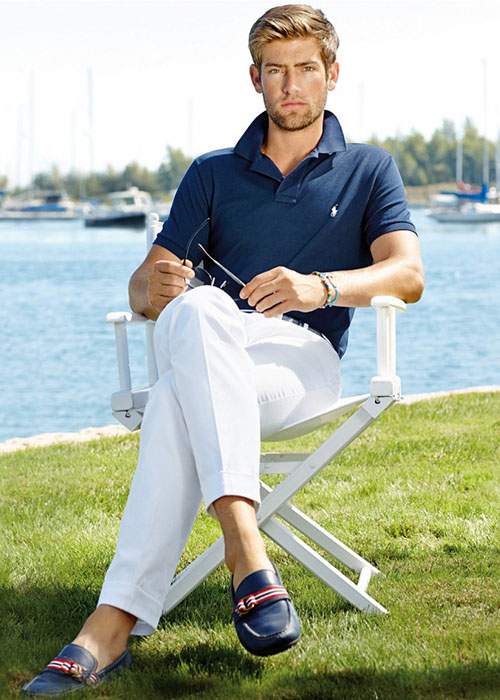 Get the Look
Windbreaker
When the temperature dips, cut out some of the chills with a windbreaker. These lightweight jackets help prevent you from getting chilly but still look appropriate for a country club setting. It's also a great choice for layering – add it to a long-sleeved shirt or cardigan for added protection and warmth. The most popular colors include black, gray, and navy blue – they blend well with other shades without looking too attention-grabbing. You can find designs with a zip down the front or without anything at all – this depends entirely on your preferences and weather conditions.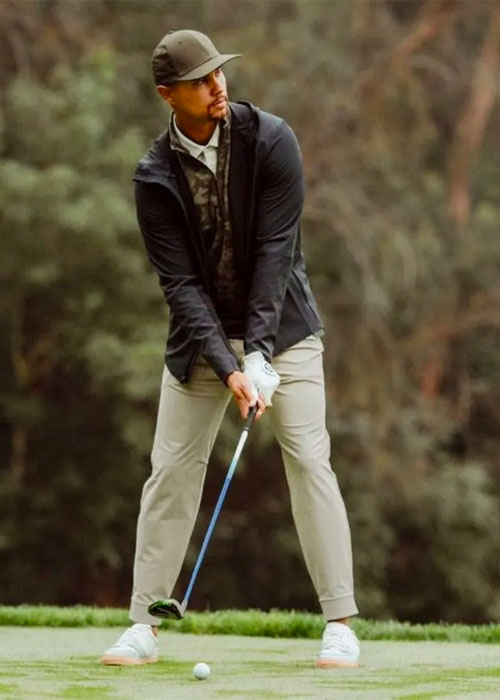 Get the Look
Cardigan/Sweater
Temperature changes while you're on the green can play havoc with your game, so it's best to be prepared for whatever comes your way. Because you can't wear a hoodie or sweatshirt at a country club, staying warm is best done with a sweater or cardigan. Layer your clothes appropriately, and add these neutral garments to stay snug and stick with the guidelines. Ensure the clothes are clean and don't have too many patterns or bright colors. If in doubt, stick to business casual pieces.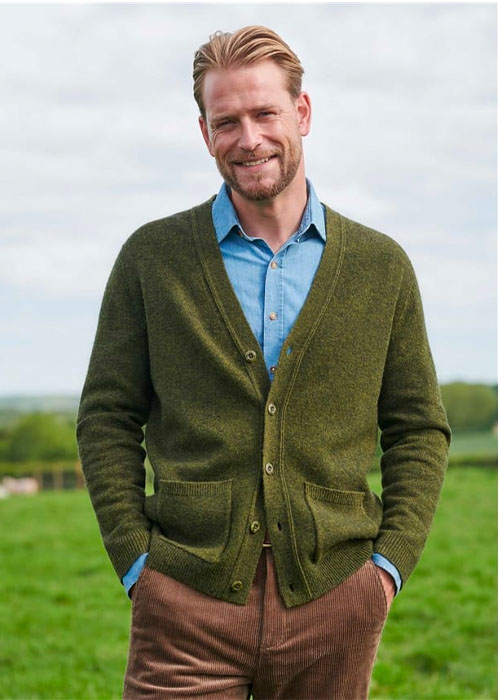 Get the Look
Dress Shorts
Having maximum freedom of movement while you're on the green is essential for a good game of golf. So if the weather is getting a little hot, opt for a pair of dress shorts. As per the rules of a country club, you should avoid anything too short, so stick to an inseam that's a minimum of six inches long. The most common and accepted colors are black, navy, white, or salmon – however, you can try your hand at gray, brown, or khaki. Wear them with a polo shirt and sneakers, and don't forget to tuck the shirt into your shorts.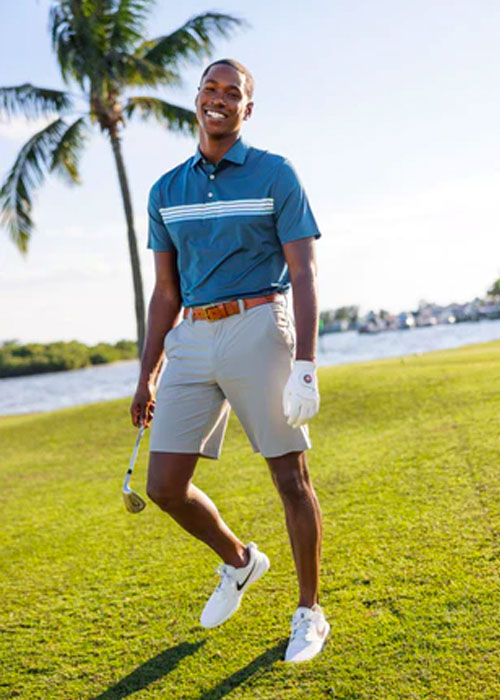 Get the Look
Shoes
If you want to play a great round of golf, you need a solid pair of shoes. While you cannot wear anything with spikes, you should invest in a pair of golf shoes or athletic sneakers for completing activities. For non-sporting events, make sure you wear shoes that are clean, comfortable, and business casual appropriate. This can include loafers, Oxford shoes, or a pair of boots if the weather calls for it. It's also recommended to match your socks to your shoe color – if you are wearing black shoes, wear matching socks. Avoid anything scuffed or dirty, and steer clear from sandals.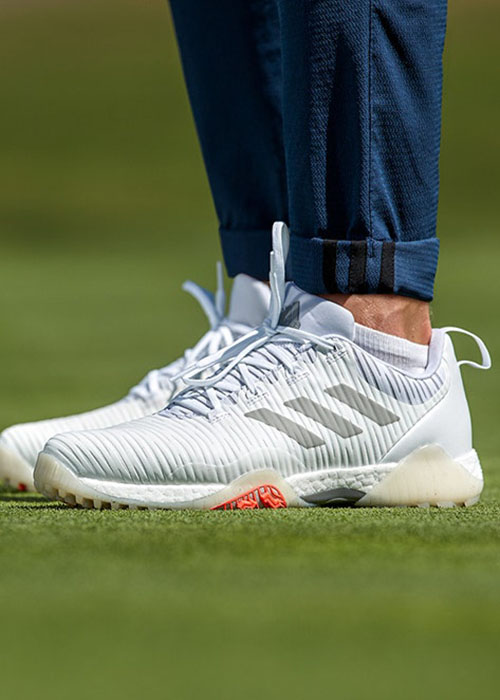 Get the Look
Baseball Cap or Visor
When you're under the sun all day, you need to make sure you're protecting yourself from the sun. A baseball cap or visor is the best option if you are playing a sport, but there are rules you should follow. Make sure the hat is plain with very few logos or prints. If the weather is chillier than expected, you can swap out the hat for a Newsboy cap or something with a thicker fabric. Keep the color scheme consistent with country club outfits, and avoid wearing a hat that is too bright for the country club.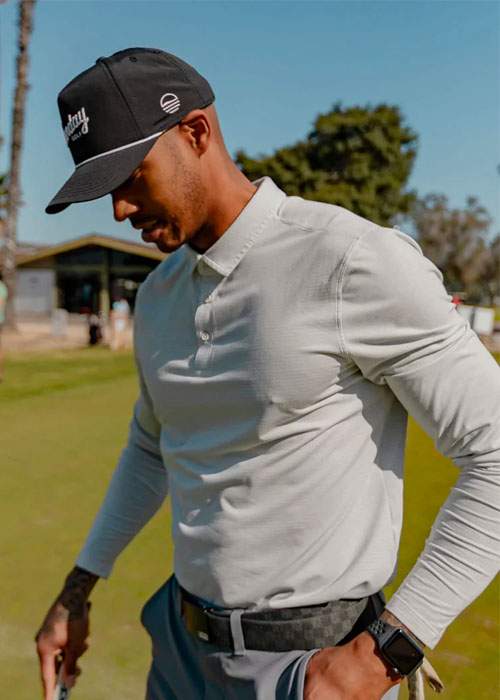 Get the Look
Sunglasses
A pair of cool sunglasses is the easiest way to polish up country club outfits. Stick to dark shades to maximize your outfit continuity, but you can always try your hand at a set of tortoiseshell, brown or metal frames. If you require glasses while you play, you can wear prescription sunnies for perfect precision.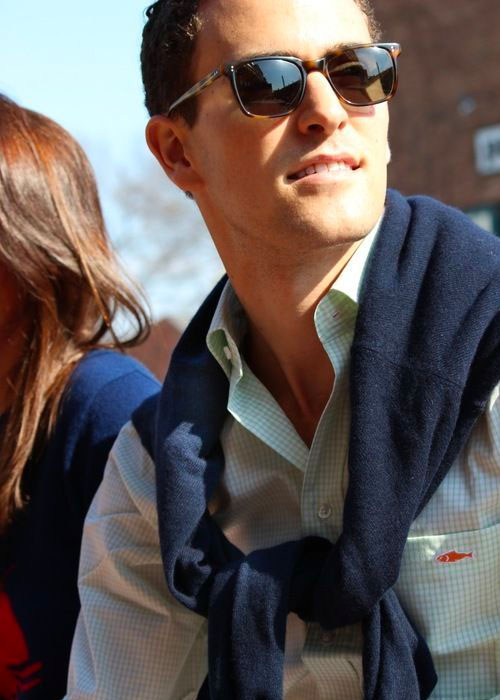 Get the Look
Chinos
If you want to wear trousers to the country club but also want to feel comfortable, then chinos are the solution. These classic pants are a great choice for playing the full 18 or staying inside for a coffee and catching up. The best color choices are black, charcoal, gray, or khaki, but you can also try cream or brown if you want to dress for warmer weather. Make sure the pants are not rolled at the cuffs and fit well – anything too baggy or loose may get you in trouble for breaking the dress code.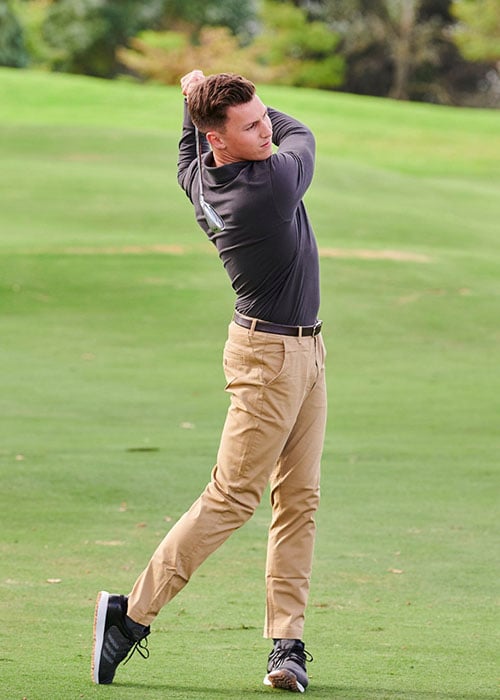 Get the Look
Trousers
Whether you are attending a country club formal event or participating in a game of golf, a pair of trousers is the ultimate staple for your outfit. For casual settings, opt for a pair of well-tailored chinos and a nice button-down or polo shirt. Remember to always tuck your shirt into your pants. Formal occasions call for suit pants, which should not be too long and tight. Most country clubs do not allow jeans, sweatpants, or dirty, torn, or ill-fitting trousers – if you wouldn't wear them to work, don't wear them in a country club outfit.

Get the Look
Blazer
Blazers are a classic and effortless way to elevate an outfit at the country club, and thanks to their versatility, you can style them for country club casual or formal occasions. Opt for a light fabric such as linen during warmer months in colors like cream, blue, gray, or navy. However, if you are attending an event such as dinner, wear a suit or well-tailored blazer. The colors should be dark and without any bold patterns or vibrant shades.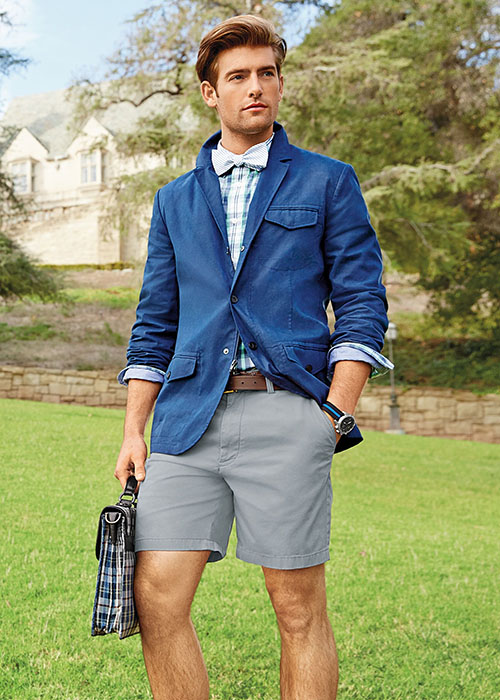 Get the Look
What to Wear for a Dinner at the Country Club?
When attending dinner at a country club, check the dress code first. If the event calls for smart clothes, men should stick to a crisp button-down shirt, suit trousers, and a blazer. For women, this dress code is best suited for cocktail attire – this includes dresses, skirts, heels, and some light accessories. Always make sure your outfits are clean and tailored well.
What to Wear for Lunch at a Country Club
Similarly to the golden rule for country clubs, it's best to stick to business casual for a lunch event. This means a suit, button-down shirt, dress shoes, or sweater. Women can wear a pair of trousers, skirts, a dress or anything else that is clean and comfortable. Steer clear from a pair of jeans or anything that shows too much skin. As always, check the dress code ahead of schedule.
What To Wear for a Day at the Club Pool
While you're splashing by the pool, you may not think that dress code is important. However, in a country club, strict regulations still apply, even when you're lazing in a chair next to the water. When you're not in the pool, you can wear flowing dresses, linen shirts, knee-length shorts, and skirts. While bathing suits and swim shorts are acceptable, string bikinis, jean shorts, thongs, and anything too skin-tight may be inappropriate for the location.