Perhaps the most stylish shoe of our time, loafers are the ultimate in refined, classic footwear for a range of reasons. Easily able to be dressed up or down and flattering in an assortment of materials, loafers are the staple that is here to stay. You shouldn't feel guilty about investing in this shoe style, given they're minimalistic and easily adaptable for different looks and seasons. Be aware, however, that the way you style loafers is incredibly important. You want to do justice to these worthwhile additions to your wardrobe so that they'll perfect looks instead of looking out of place. Here, we show you how to wear loafers for a dapper look.
What are Loafers?
Loafers are a classic slip-on style of shoe that does not feature laces or other fastenings. They are typically made of leather or suede and are shaped like a moccasin with a flat heel. Although they began as casual shoes, loafers are today worn with a variety of outfits for a range of occasions, including many that are formal.
Men's Loafers
The Penny Loafer
One of the most traditional styles, the Penny Loafer is a safe bet if you're in need of a minimal shoe. This loafer is admired for its versatility and minimalism alike, so an investment of this version of the humble loafer is recommended. The Penny Loafer's name was established in the fifties, where the shoe enjoyed a profound popularity with prep students. The shoes emerged as a classic Americana staple, featuring predominantly in collegiate styles of dress across America. It was a preferred shoe option due to its simplistic style and easy adaptability. Now, the penny loafer is a nod to the past but can be found in a range of different materials suiting every gentleman's distinctive taste.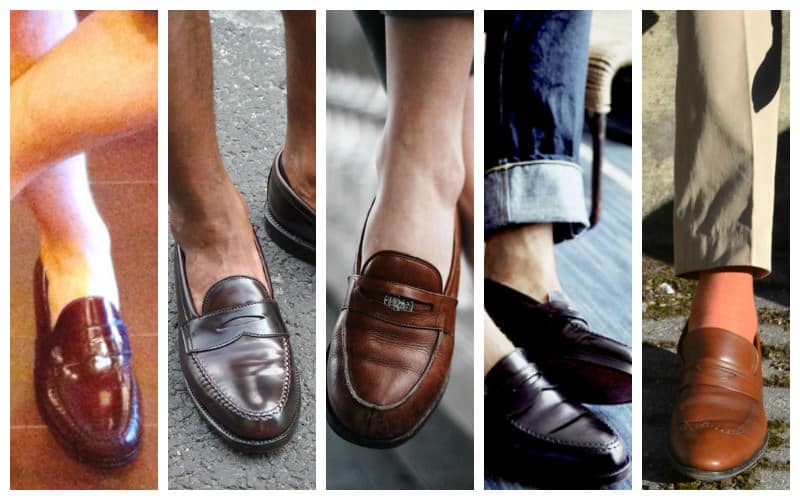 Recommend Products
The Tassel Loafer
Incredibly stylish, the tassel loafer is our favourite of the many styles this shoe comes in. Clean, simple with the playfulness of a single tassel on each shoe, this one is the ultimate for your wardrobe. This loafer is a humble ode to the great European style, alluding to classic Italian menswear. While the tassel loafer can be made in leather, suede emerges as another excellent choice. Suede will also allow you greater freedom when it comes to adapting your tassel loafer to different dress codes. Perfect alongside a well-fitted cotton suit, or teamed with a pair of slim chinos, tassel loafers work well in beiges, browns, navies and khakis.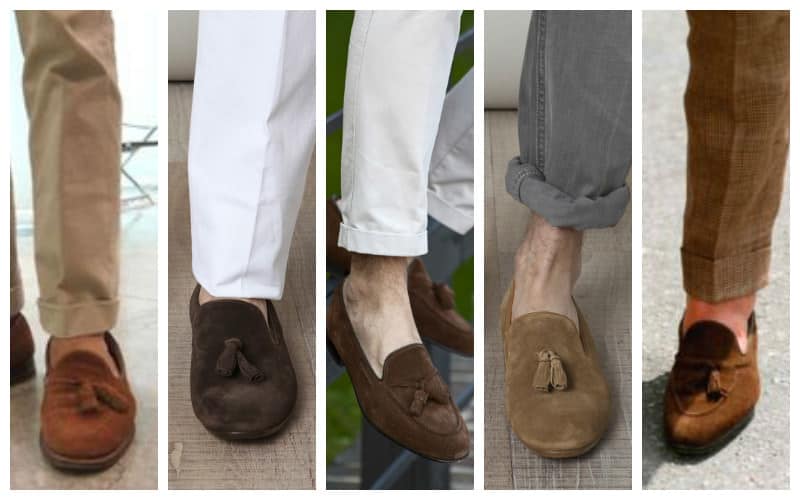 Recommend Products
The Gucci Loafer
One of the most distinctive versions of the loafer, the Gucci loafer is known for the metal clasp across the front of it. While this style of loafer has enjoyed popularity in the past, be cautious when choosing appropriate versions of this loafer. Our biggest tip when it comes to this loafer is to go for styles that are simplistic and done in the most classic of colours and materials. You will want to embrace a more vintage approach to this style. Stick to browns and blacks, and ensure the style you have chosen is classically done.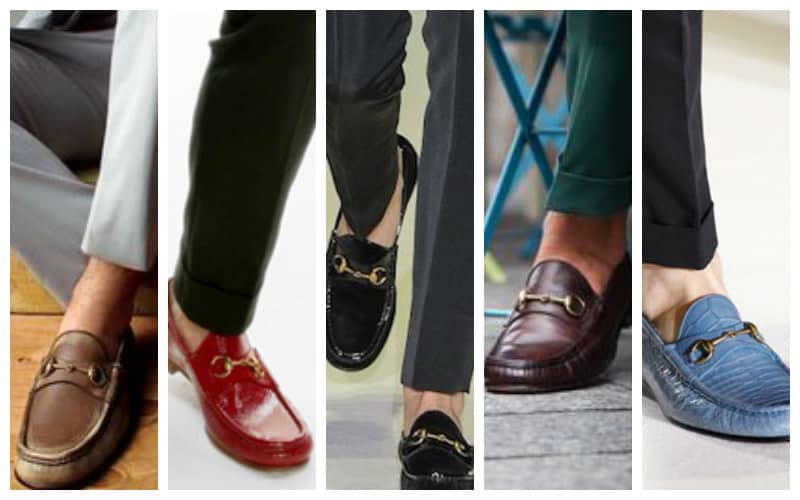 Recommend Products
Loafer Materials
For versatility, suede loafers are our top pick. Suede is incredibly adaptable because it can easily be dressed up and dressed down. Suede loafers also have a bit of texture to them, which lends quite nicely to the overall dimension of your shoes. These loafers are also useful for semi-formal looks, as they are neither super casual nor super formal. Loafers in leather are also encouraged, but we cannot stress enough that it is the style of your shoe that will make all the difference. Keep in mind that you can opt for patent leather styles for more formal occasions. The gloss of genuine patent leather adds a nice shine to simplistic silhouettes and dresses up your clothing.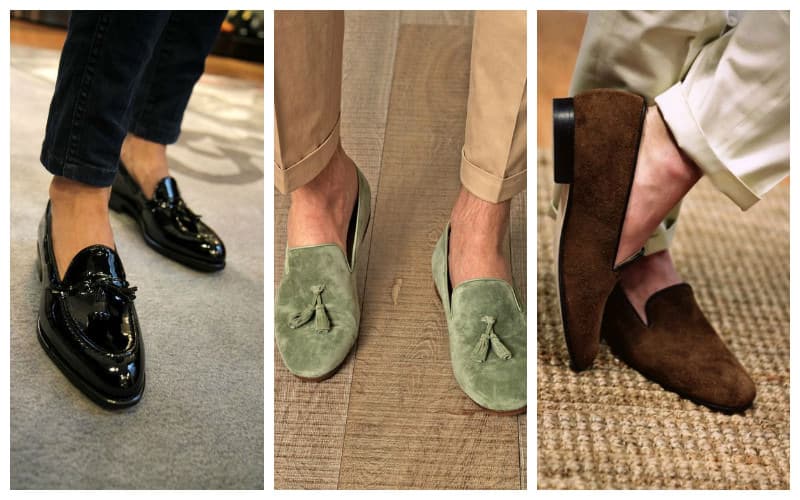 Loafer Colours
Black may be classic, but there are a variety of other colours that can be more versatile when it comes to loafers. Dusty brown loafers, for example, are the perfect pair to have because they suit a broad range of palettes and can be adapted for casual as well as more dressed up looks. Navy is also a worthy tone to consider and works well to complement colours like whites, beige and emerald greens. Navy is also useful in leather as well as suede. An unexpected favourite? Burgundy. It is surprisingly versatile and can work well to brighten up your wardrobe. If you are after a pair of loafers to suit neutrals, beige will work well and complements tanned skin.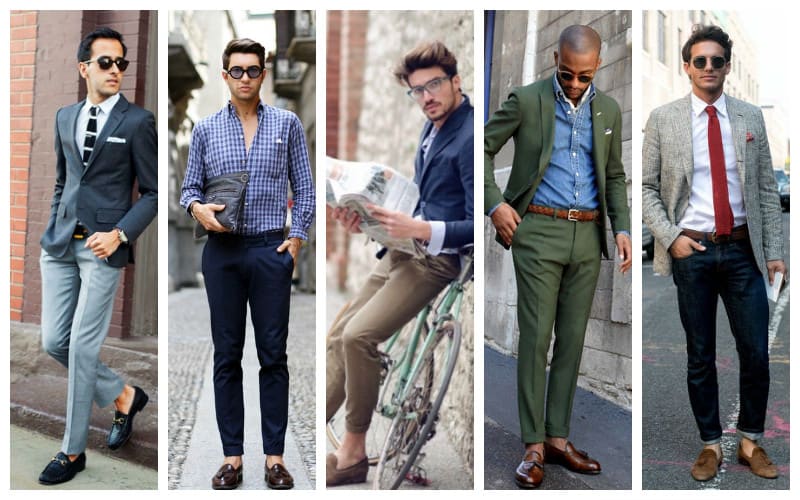 When to Wear Loafers
Casual
Adapt loafers into your casual look for a grown-up take on daywear. You will be surprised how the simple decision to swap up your usual trainers for loafers can make your outfits look a lot more put together. The trick here is to ensure that they aren't overly formal or dressed up. You will want them in more versatile fabrics to more appropriately adapt them into your casual looks. Suedes and lightweight textured loafers will do just that. For another novel way to adapt your loafers to your casual wear, try out more summery colours. Powder blues and greens are the perfect colours to do just that.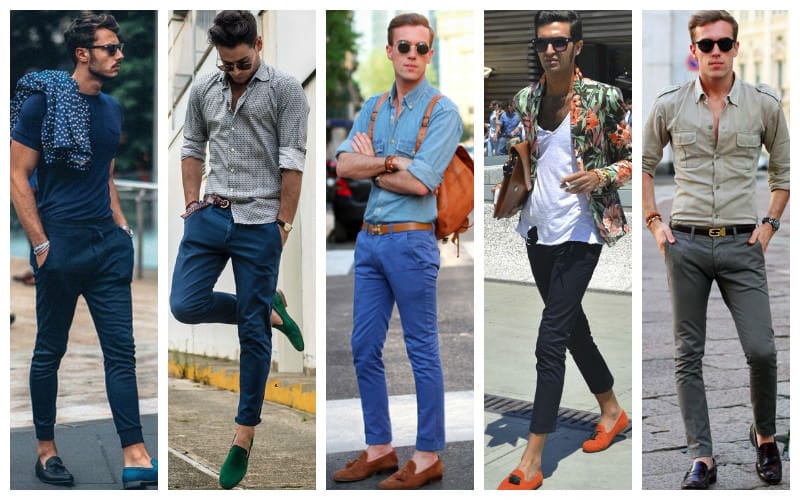 Semi-Formal
For the more ambiguous dress codes, loafers excel at leaving you looking dressed up but still relaxed and simplistic. For failsafe semi-formal looks, opt for classic colours to complement your staple trousers and dress shirts. Loafers also align well with preppy blazers but stick to keeping the tones of your outfits in the same colour palette. In between seasons, team your loafers with cable knit sweaters and shawl neck cardigans thrown over your shoulders for classic Americana vibes. Keep in mind that suede works phenomenally for more vague dress codes. Also, ensure your clothing is well tailored. If you're after a dash of colour for semi-formal looks, opt for cherry reds, emerald greens or cobalt blue loafers, but style with caution. Team brighter loafers with more subdued, classic tones like navies and whites so they annotate your looks more subtly.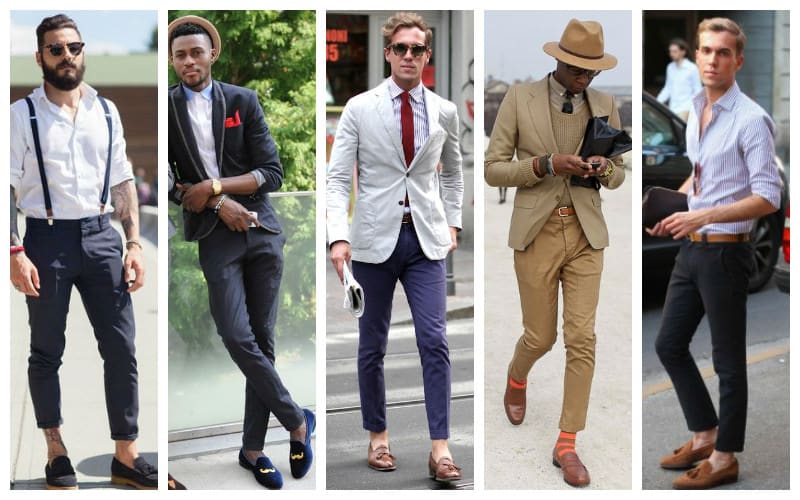 Formal
The key to pulling off loafers for formal looks is centred on what materials you decide to choose. Patent leather can add lots of dimension to formal looks. Make sure, however, that you opt for patent leather loafers in timeless colours like black or navy to keep things relatively classic. For a different approach, go for more textured loafers that will allow your shoes to stand out. Our pick? A high-quality velvet loafer that can be dressed up and will add depth to your looks. They'll read classic and reference high society.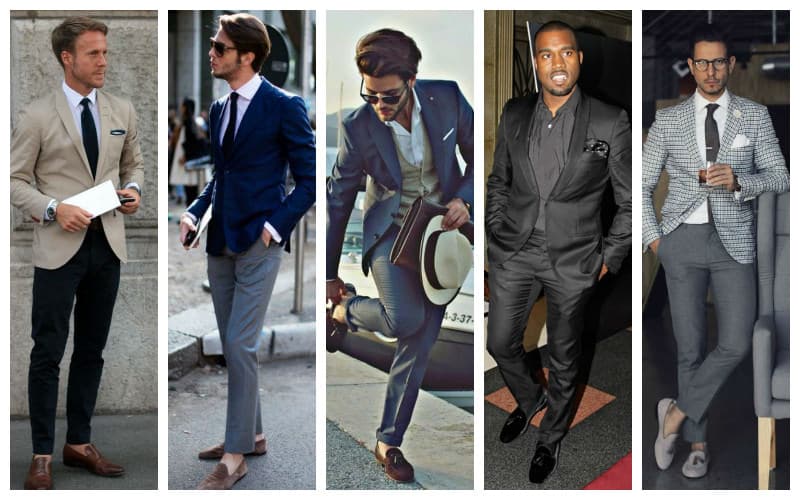 Loafers With or Without Socks
Loafers without socks are undoubtedly clean, relaxed and minimalist. If you choose to forgo socks, your clothing needs to be fitted perfectly. Most importantly, you should ideally opt for shorter length trousers, as it will complement the loafer style more. While 'no socks' works well, loafers with socks can also be done right, but be careful with how you style this combination. Choose a sock pattern that has colours which correspond to your clothing choices; this will ensure your look registers as refined as opposed to looking messy.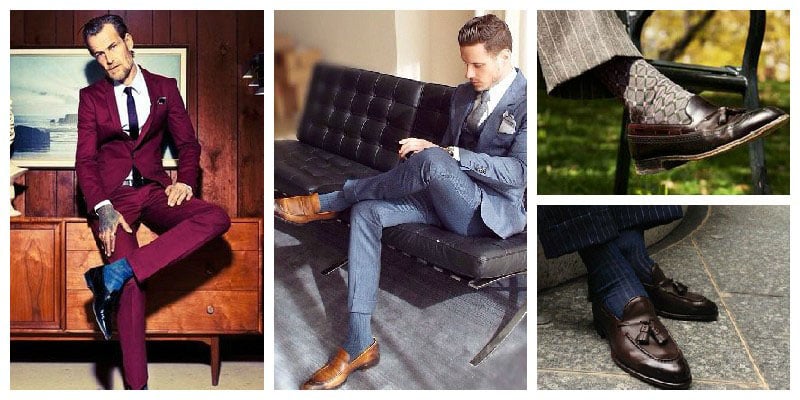 History of Loafers
While loafers allude reference to transatlantic high society and Ivy League culture, the shoe is actually of Scandinavian origin. A Norwegian introduced the loafer which eventually developed into the sartorial styling of preppy culture. Bottom line, the loafer has evolved into what we know now as a more streamlined shoe style, perfect for incorporation into casual or formal looks. Its progression in time has shown its purpose change from utility to aestheticism. Loafers are far easier to style and look a lot better; they are simple, classic and far more versatile than other lace-less shoe options.
How to Wear Loafers
Penny loafers are a versatile pair of shoes that you can wear with most outfits.
Loafers also align well with preppy blazers but stick to keeping the tones of your outfits in the same colour palette.
Loafers without socks are undoubtedly clean, relaxed and minimalist look.
Suede loafers are incredibly adaptable because they can be dressed up and dressed down.
Patent leather loafers can add dimension to formal looks.
SUBSCRIBE TO OUR NEWSLETTER
Subscribe to our mailing list and get interesting stuff and updates to your email inbox.