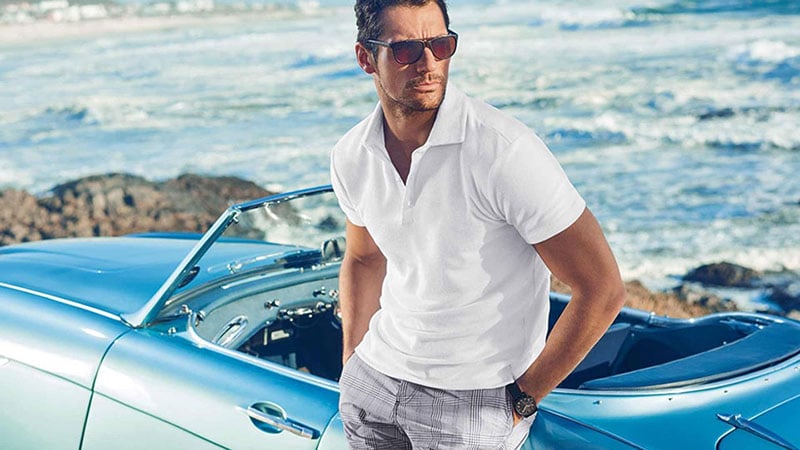 The Polo shirt is a simple but timeless piece of clothing. As a classier alternative to the traditional T-shirt, you can easily dress this up or down, just by adding key pieces to complement it. With its distinctive collar, buttons, and breathable fabric, it's an item you can wear to any occasion. Whether the temperature rises or there is a drop in mercury, here are the best ways to wear a polo shirt.
Polo Shirt Styles
Classic Cotton Polo Shirts
The classic polo shirt was invented in the late 10th century and was the first item of clothing with button-down collars. This piece of apparel revolutionized menswear as we know it today, so why not wear one with pride? The traditional style is essential for every wardrobe and can be dressed up for casual and smart casual occasions. For the fit, make sure the buttons don't sit too low otherwise it can look like a V-neck. Choose a polo shirt that suits your style and don't be afraid to try a bold color.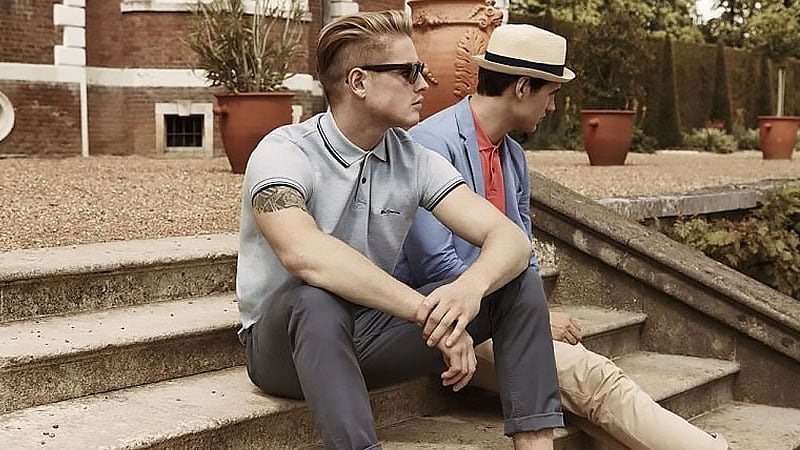 Long Sleeve Polo Shirt
Although polo shirts are typically seen in the warmer months, it doesn't mean they're exclusive to summer. Long sleeve polo shirts look fantastic when the temperature drops and they can be styled in several ways. For a casual feel, combine it with a pair of chinos, sneakers, and a leather jacket – it's a timeless combination that looks great on anyone. The polo is an excellent clothing choice for those days where you don't know what to wear. It's easy to dress up or down and works in every season.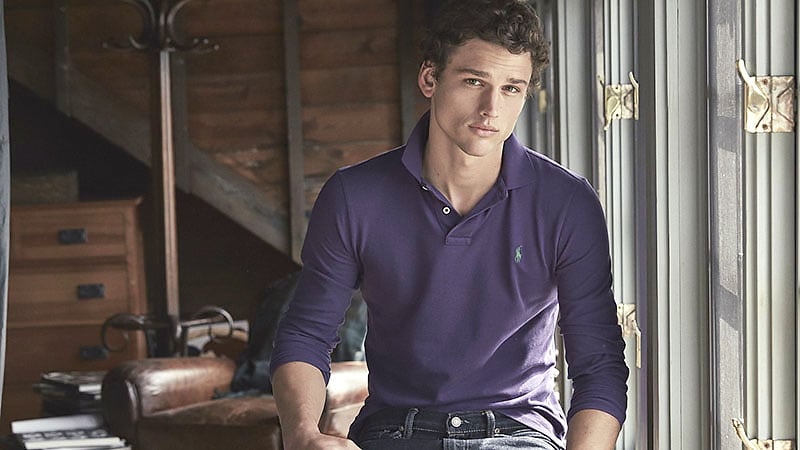 Short-Sleeve Polo Shirt
Show off your muscles and do it in style with a short sleeve polo shirt. The classic design behind this clothing is timeless and works well when combined with jeans, chinos, or even suit pants. Dress it up by donning a blazer with loafers, or keep it relaxed with sneakers and jeans. You can wear this stylish item in many ways, all you need is a bit of confidence, and you're set.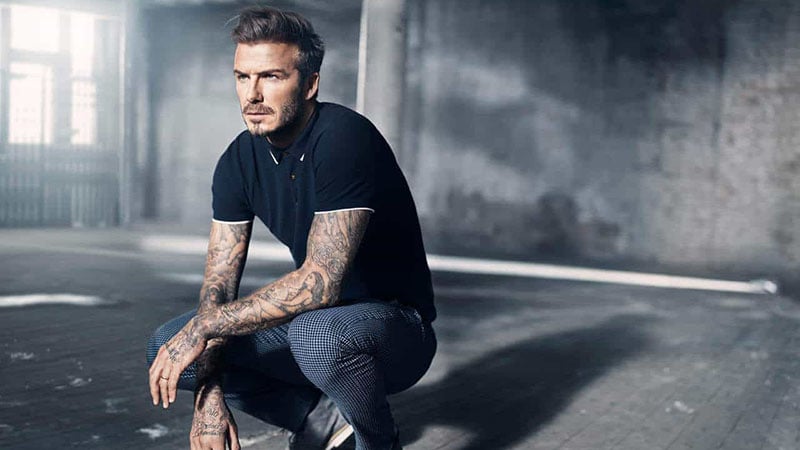 Knitted Polo Shirts
Knitted polo shirts work well for warmer and cooler months. Made from cotton or wool, they have a soft and cushy feel which looks great when styled with a suede jacket and slim tapered trousers to tap into that 1950s Hollywood vibe.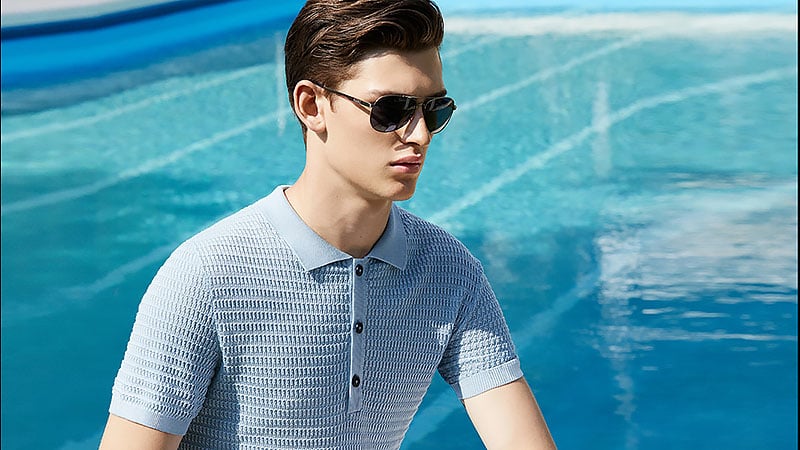 What to Wear With a Polo Shirt
Polo Shirt + Sweatpants
Keep it relaxed and cool with a polo shirt and sweatpants. The smart top half gets an instant casual vibe with the comfortable bottoms. Polish off your look with stylish low-top sneakers, snapback, and a weekend bag. To avoid looking sloppy, make sure the clothes are fitted and clean – there's a fine line between athleisure and messy.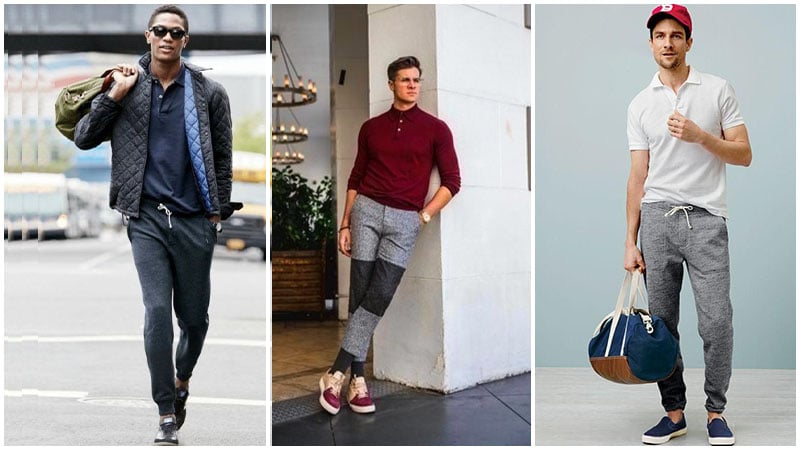 Polo Shirt + Shorts
When the weather gets too hot to handle, up the ante with a polo shirt and shorts. From denim to chinos, it's an effortless outfit that will have you looking super cool. Opt for monochrome colors to create a streamlined and timeless style or try a separate combination. For casual days, keep the polo untucked and ensure that it's well-fitted.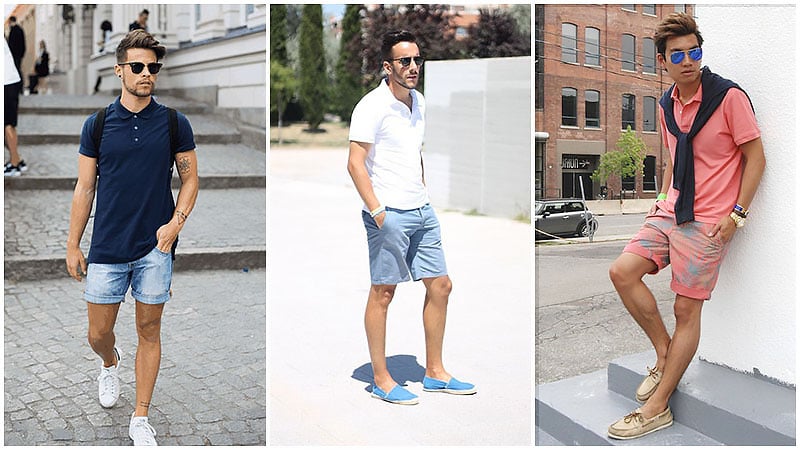 Polo Shirt + Blazer
From a casual dinner with your mates to business casual workdays, a polo shirt with a blazer work wonders together. For more formal events, wear a white or black polo shirt with a dark suit. To add some fun into the mix, try a polo shirt with color to stand out in the crowd.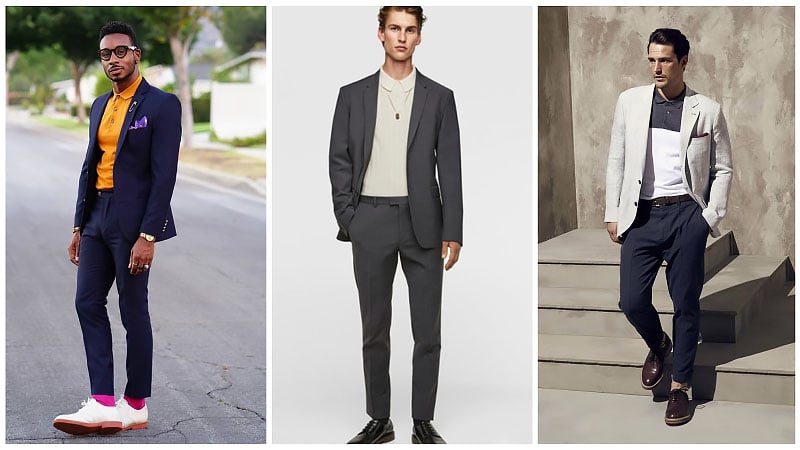 Polo Shirt + Chinos
Sitting between semi formal and smart casual, chinos are a great clothing choice to finish off an outfit with a polo shirt. Keep your look polished and sleek by tucking your top half into the pants, and complete the look with white sneakers, loafers, boat shoes, or derby shoes.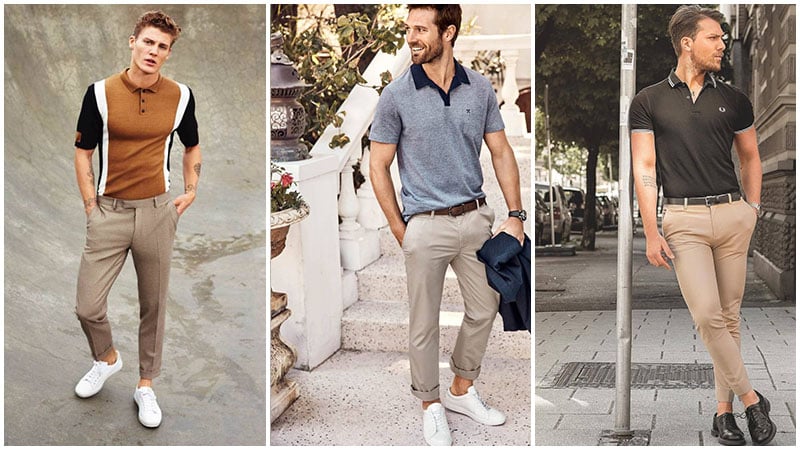 Polo Outfits for Men
Casual Attire
Polo shirts are an ideal clothing choice for casual occasions. They look great when paired with jeans, sweatpants, or shorts. You also have the option of wearing many different shoe styles such as loafers, sneakers, boat shoes, and espadrilles for a relaxed Miami vibe.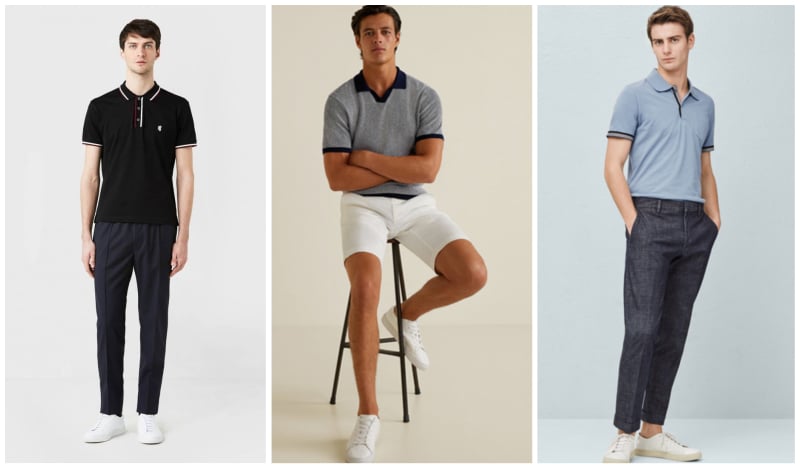 Smart Casual
Add a relaxed vibe to any smart casual outfit by rocking a polo shirt with trousers and a blazer. The polo is a classier alternative to the traditional T-shirt and is easy to dress up or down, depending on the occasion. Darker shades such as navy, grey, and charcoal are an instant combo for a polished ensemble but don't be afraid to inject a pop of color, so you can really stand out.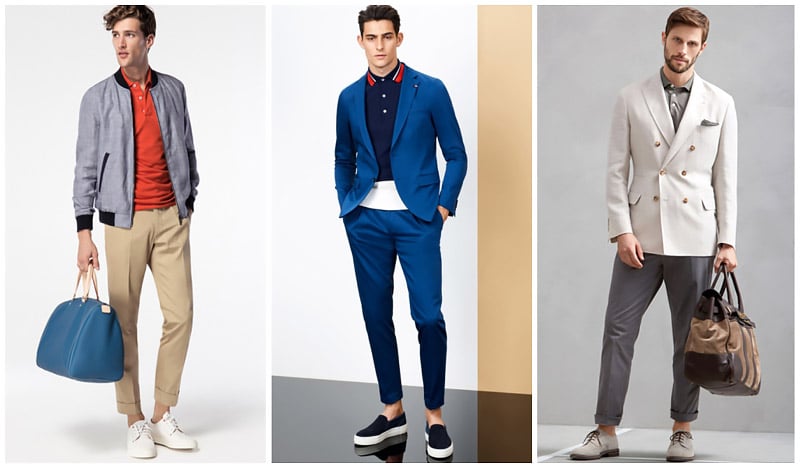 How to Wear a Polo Shirt
Keeping the top buttons done up is an easy way to create a polished ensemble.
The fit of a polo shirt shouldn't be too tight or loose, so make sure you can move around comfortably.
For formal events, it's best to tuck the polo shirt into your pants.
Dress a polo shirt up or down by adding a blazer to your ensemble.
FAQs
Which polo shirt brand is the best?
You can't go wrong with a classic polo shirt from Polo Ralph Lauren with its iconic horse logo.
How many polo shirts should a man own?
Polo shirts are a versatile wardrobe staple for casual and smart-casual occasions. Style experts recommend men own five – three short-sleeve and two long-sleeve. 
How do men wear polo shirts?
Polo shirts can be styled in different ways for different occasions. Wear them with sweatpants for an athleisure look, with shorts for a relaxed yet stylish summer option, with chinos all year round, or under a blazer for the ultimate smart-casual outfit.
Are polo shirts attractive?
A clean polo shirt that fits well can be part of an attractive outfit for a guy. However, they are sometimes associated with the 'frat boy' and 'prep school' stereotypes, so don't pop the collar and choose your polo shirts wisely; knitted polo shirts have a more streamlined, designer look.
SUBSCRIBE TO OUR NEWSLETTER
Subscribe to our mailing list and get interesting stuff and updates to your email inbox.