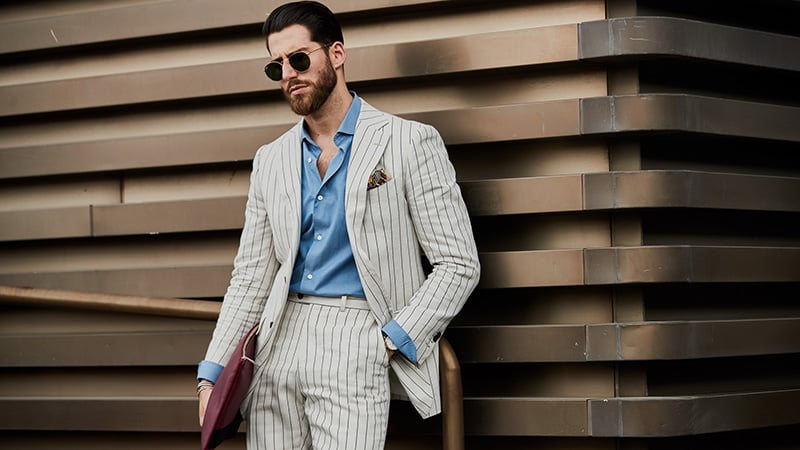 In today's ever-changing workplace, dressing for success has taken on a new meaning. No longer are we confined to the stuffy and rigid formal attire of years past. The business casual dress code has emerged as the holy grail of men's professional fashion, offering a balance between professionalism and casual comfort. But let's be real, the term "business casual" can be pretty vague, leaving many of us scratching our heads and reaching for the same old grey pantsuit. Fear not, my friends! In this guide to business casual for men, I have you covered. From blazers to khakis, I will show you how to navigate this sartorial landscape with confidence. It's time to say goodbye to those boring suits and hello to the freedom of expression that comes with the modern workplace.
What is Business Casual for Men?
Finding the perfect business casual outfit is one of the greatest wardrobe challenges. It's easy to fall into the trap of interpreting "casual" as a free pass to wear whatever we want, but that couldn't be further from the truth. In fact, business casual for men is all about striking a balance between professionalism and comfort. While you don't have to wear a full-on business suit every day, it's important to remember that you're still representing your company and should dress accordingly. So, next time you're feeling confused about what to wear, think of it as an opportunity to showcase your style while still maintaining a level of professionalism.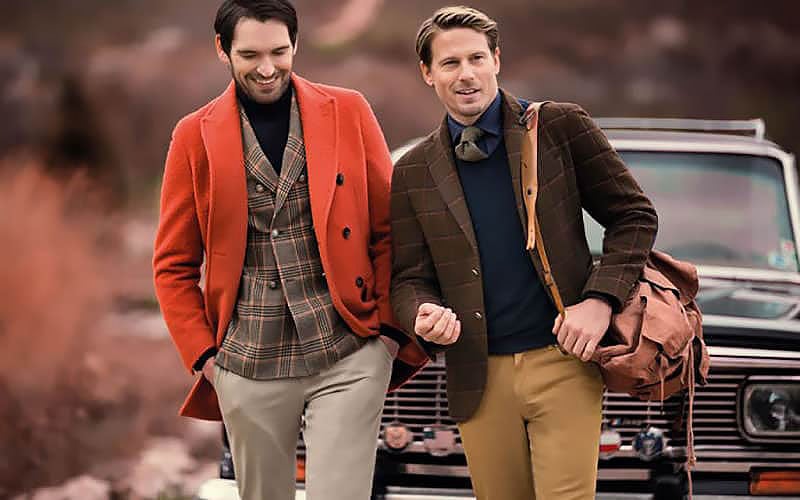 Dos and Don'ts of Business Casual Attire
Do's
Chinos and trousers are the ideal pants for business casual outfits.
When selecting shoes, consider brogues, monk straps, loafers, Oxfords, and smart sneakers in suede or leather.
Complete your look with a casual blazer, cardigan, or sweater.
To dress business casual, choose an outfit that is professional without seeming overly formal.
When it comes to shirts, select a classically colored button-down or polo shirt.
Don't's
Avoid wearing an overly fancy suit jacket.
Wear a baggy sweater.
Wear shorts, ripped jeans, or any athletic type of pants.
Avoid wearing bright colors until you have a better grasp of business casual attire.
Avoid busy or loud patterns that draw too much attention.
Refrain from wearing informal sneakers, sandals, or any other form of overly casual footwear.
Business Casual Outfits for Men
Business Casual Shirts for Men
As someone who values professionalism in the workplace, I know the importance of looking your best. Whether you're giving a presentation or simply chatting with colleagues, your attire can say a lot about you. But that doesn't mean you have to sacrifice style for the sake of professionalism. Even in the corporate world, you can still have some fun with fashion. Personally, I like a classic chambray or button-down shirt paired with tailored pants or chinos. Not only does it look sharp, but it's also versatile and can be dressed up or down depending on the occasion. Depending on your industry, you might be able to get away with a plain white T-shirt and blazer combo. Just be sure to invest in a high-quality shirt, give it a good iron or steam, and you'll be good to go!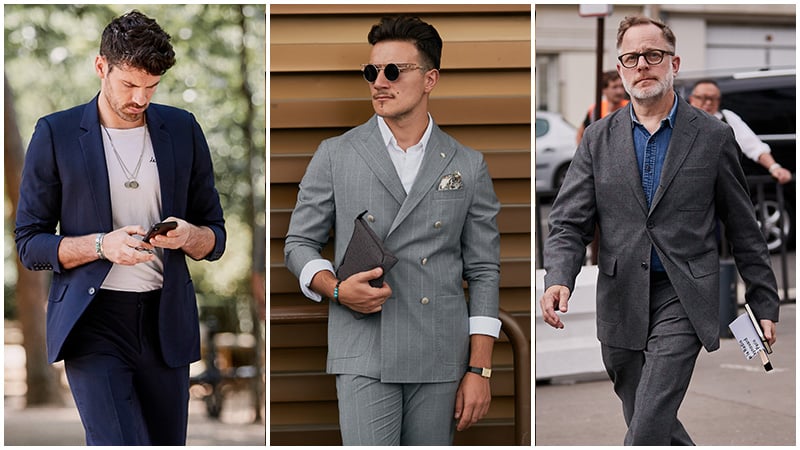 TOP BUYS
Business Casual Chinos for Men
I have always been a big believer in finding the perfect balance between looking good and being comfortable. That's why I can confidently say that chinos are the unsung heroes of business casual for men. There's nothing quite like the feeling of putting on a pair of chinos that are both stylish and comfortable, making them ideal for a day at the office or a weekend brunch. What I like most about chinos is how adaptable they are – you can dress them up or down to suit any occasion. And with classic colors like black, navy, khaki, and beige, they are incredibly versatile. The key is to choose a slimmer fit and get the length right. Believe me, investing in several pairs and colors of chinos is a wise move. Your business casual outfits will be consistently polished, and your wardrobe will thank you for your versatility.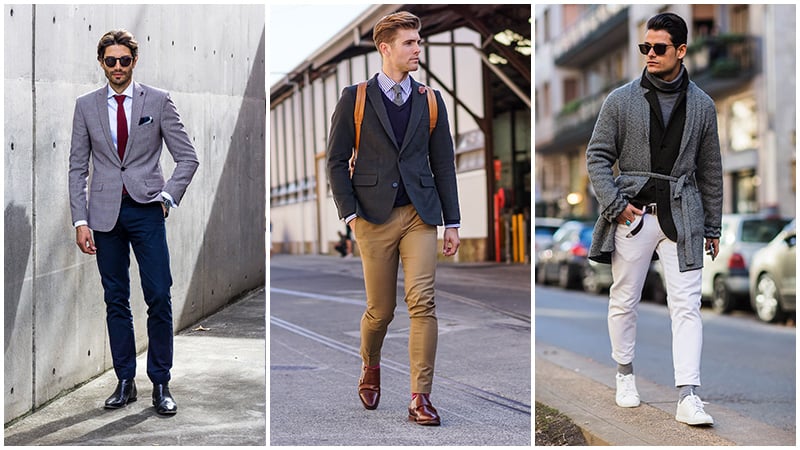 TOP BUYS
Business Casual Shoes for Men
When it comes to business casual for men, one of the great things is that you don't always have to break the bank on new outfits. Instead, you can shop your own closet and adapt pieces you already have. This is particularly true when it comes to footwear. Brogues, monk straps, loafers, and Oxfords are all excellent business casual shoes that you may already own. However, to make them shine in a more relaxed atmosphere, consider branching out in terms of materials. Suede and matte leathers are great options that can lend a chill vibe to your look as well as a smart pair of sneakers. And while you may be tempted to go wild with colors, remember that conservative tones are the name of the game.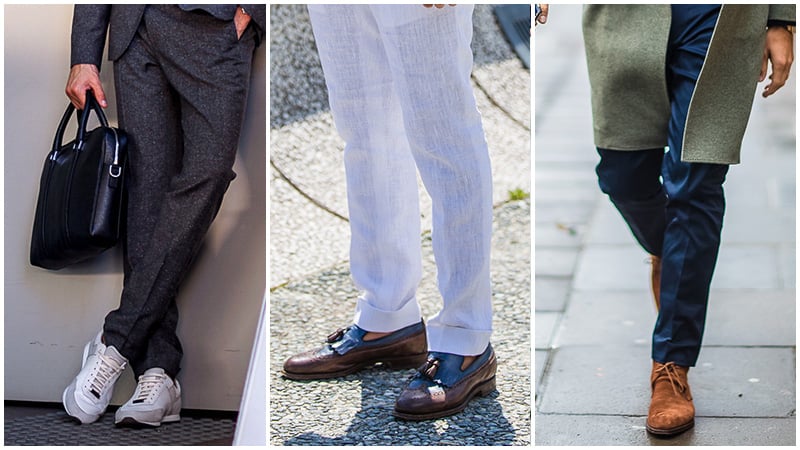 TOP BUYS
Business Casual Blazers for Men
I always make sure to add a blazer to my business casual outfit. But finding the right one can sometimes be tricky. You don't want to come off as too stuffy or too casual, so striking that balance is key. My advice is to opt for an unstructured blazer but not too much. It's like finding the perfect handshake – not too stiff, but not too limp. And, of course, the fit is everything. You want something that complements your body but doesn't look too baggy or too form-fitting. Stick to classic colors like beige, black, white, navy, and gray – they're timeless and show that you mean business.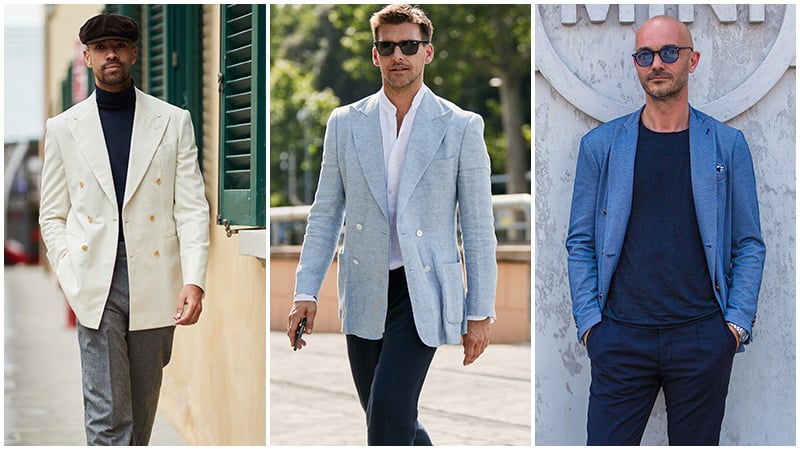 TOP BUYS
Business Casual Cardigans/Sweaters for Men
As a fashion-forward individual, I know the importance of finding the perfect balance between comfort and professionalism in the office. The key to achieving this balance lies in the power of the sweater and cardigan. These business casual for men items have saved me on many occasions, providing that extra touch of relaxation without sacrificing style. I've found that a round-neck cable knit sweater gives off a classic yet sophisticated vibe that instantly ups my fashion game. And when it comes to cardigans, I've learned that shawl neck versions are an absolute must-have. These are items that will never go out of style, so investing in good-quality pieces is a no-brainer.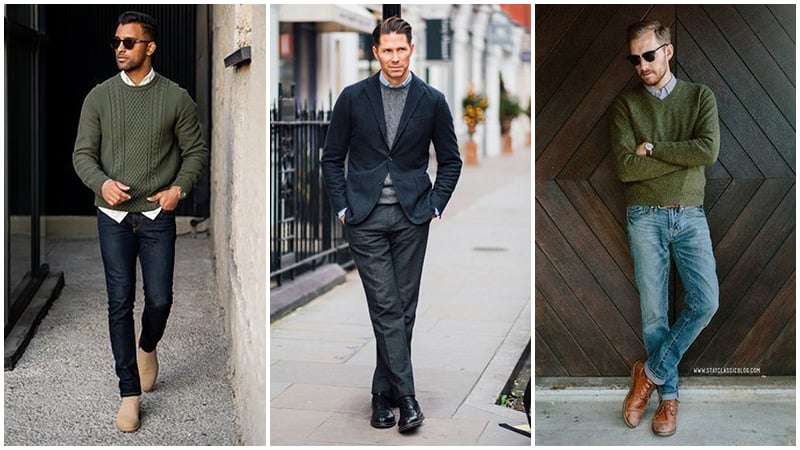 TOP BUYS
Business Casual Jeans for Men
I used to think jeans were strictly for casual attire, but that all changed when I discovered the power of the right pair of jeans for the workplace. Now, I'm delighted to say that I'm never going back to feverishly pulling and tugging at my stiff slacks. It's a game-changer, folks! But, like anything else in life, there are rules to make it work. I've learned that the key to making jeans fit into the business casual world is all in the details. It's crucial to choose the right style and color of jeans and pair them with polished pieces like an Oxford shirt and some dress shoes.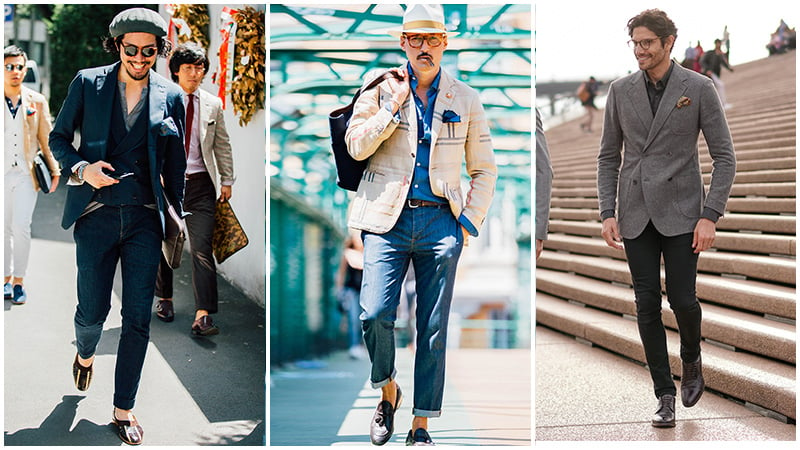 TOP BUYS
Business Casual Jackets for Men
For days when a blazer is too formal and a sweater too preppy, there are a variety of other business casual jackets that can make excellent alternatives. In particular, a stylish bomber jacket can make a great option. Just make sure that you pick one in a dark color or neutral hue to ensure it appears polished. Likewise, dark denim jackets can also be appropriate for the office, so long as you pair them with a smart outfit. For a stylish look, try pairing a business casual jacket with a pair of chinos, dress shoes, and an Oxford shirt. If you still feel a little underdressed, consider adding a tie to your look.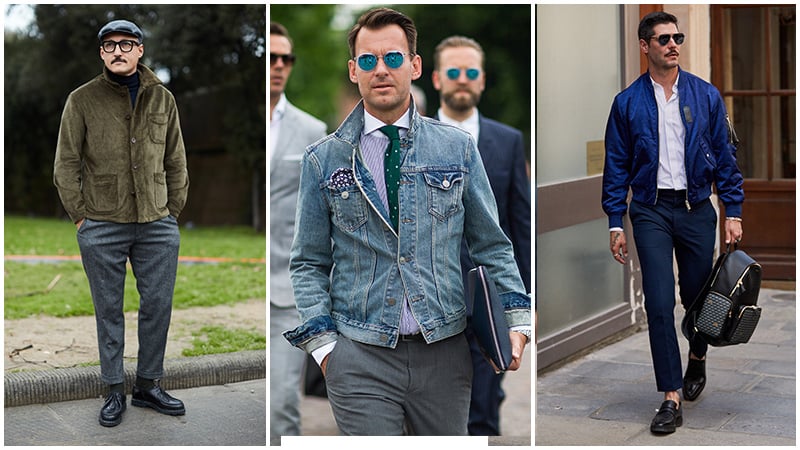 TOP BUYS
Summer Business Casual for Men
When the summer months kick in, I dread walking into the office and looking like I just participated in a marathon. I've discovered the ultimate hack to staying cool while looking professional, and that's opting for a business casual outfit. I like to wear a lightweight button-down or polo shirt in shades like blue or white. But please, keep the tank tops at home. Instead, roll up those sleeves and let some fresh air in. To complete the look, opt for navy or beige trousers in breathable fabrics like cotton or linen. And lastly, don't forget to wear dress shoes to complete your outfit.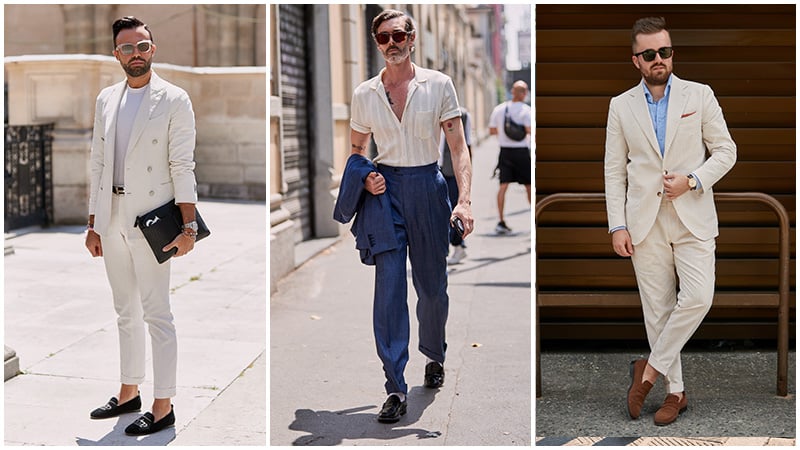 Get the Look
Winter Business Casual for Men
As the temperature drops, I can't help but feel excited about switching up my business casual wardrobe for the cooler months. Dressing for the office in the fall can be a challenge, but I've found that adding layers is the easiest and most stylish solution. Starting with a classic white or blue button-down shirt is a great foundation, but to really stay cozy, I love throwing on a roll-neck jumper. To finish off the look, I top it all off with a chic overcoat in camel, navy, or charcoal. There's just something about a sophisticated coat that makes me feel extra polished.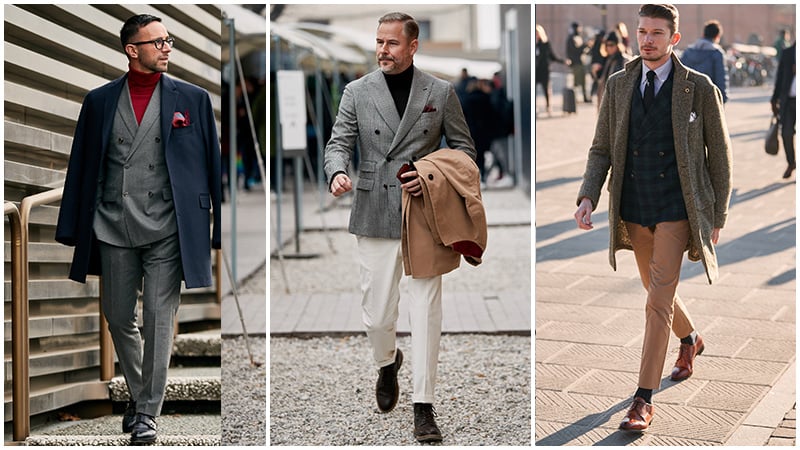 Get the Look
What to Wear to a Business Casual Interview?
When it comes to job interviews, dressing to impress is the name of the game. But just because you need to look put together doesn't mean you have to sacrifice your personal style. If you're gunning for a role in the tech industry, you don't need to break out the three-piece suit. Dark trousers, chinos, or even black jeans can look professional without feeling too stuffy. Pair those pants with a button-down shirt in a friendly blue or cool checker print. If it's cold outside, throw on a snazzy sweater or blazer to complete the look. And if you're feeling a little adventurous, you can even spike your business casual outfit with a pair of sleek sneakers. Whatever you do, just make sure you're not too casual and totally confident.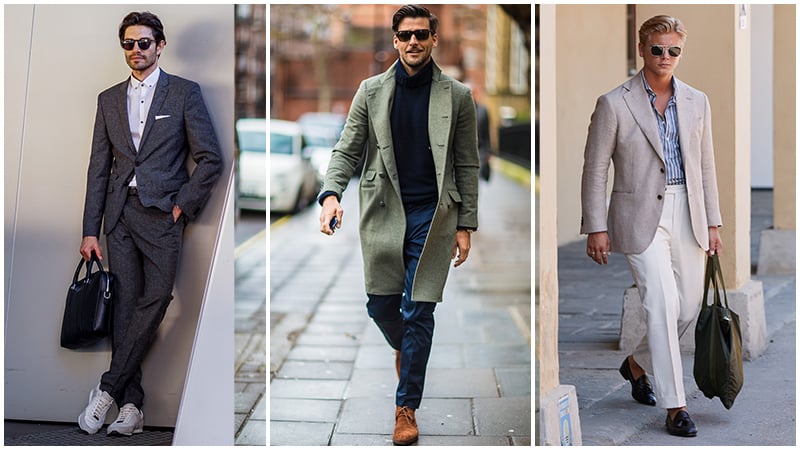 Business Casual for Men FAQs
Can you wear jeans for business casual?
Jeans are a great alternative to chinos for a business casual outfit. However, be sure to keep an office setting in mind when styling the outfit. As denim is an inherently casual piece of clothing, you should pair it with elements that sit on the formal side of the spectrum, such as a blazer, button-down shirt, and dress shoes. When choosing the right fit, opt for shades that flatter the rest of your wardrobe - a black or navy straight-leg pair will work well for a myriad of events. 
When is business casual appropriate?
Business casual is best suited for a wide range of events. From an after-work drinks night with colleagues to a job interview, there are many places to wear this dress code. However, it is important to assess the dress code prior to arriving at an event - not all business casual was born equal. For a potential job interview, you should opt for chinos and a button-down, with a sweater or blazer if you require. However, if you are attending a holiday party for work, try dark straight-leg jeans with a neutral button-down for a casual look. If in doubt, a well-put-together and sharp outfit is sure to impress. 
Can I wear business casual clothes to a meeting?
Business casual is appropriate for a meeting, but you should always ensure your ensemble is clean and neat. Depending on the meeting you are attending, it may be suitable to wear dark denim and a shirt - if inside, you may not wish to wear a blazer. In contrast, if the meeting is with potential clients or for an interview, it's safe to dress on the more formal side of the dress code spectrum. This includes a pair of slacks or chinos, a neat shirt, Oxford shoes, and a blazer or sweater. 
Do I have to tuck in my shirt?
When dressing for a business casual dress code, it is best to tuck your shirt into your pants. This will instantly create a neat and tidy outfit. While some may argue that you can keep it untucked, but this may come across as unprofessional. If you are wearing a sweater or cardigan, it is best to ensure no shirt peeks underneath. While you can still wear jeans and a more laidback style of clothing, it's important that you look put together and neat. 
Is a vest/waistcoat business casual?
Waistcoats are usually aligned with formal attire, but there is a way you can dress them down for a more casual spin. Avoid wearing it with a blazer or a tie, as you will look quite dressed up. Instead, wear them with a printed button-down or a plain T-shirt, and leave the buttons undone to let them hang loose. Add some chinos in a dark shade, and you're set.
Can shorts be business casual?
While you can wear more casual pieces and still look professional, it's best to avoid wearing shorts for a business casual environment. If it's hot, try a pair of chinos or dark jeans with your outfit - it's comfortable enough for a relaxed feel but still looks put together.
Are black jeans appropriate for business casual?
Black jeans are a great choice for a business casual outfit. Make sure they are clean and fit well, without any tears or embellishments. Wear them with a button-down shirt, turtleneck, or a T-shirt - add a blazer or sweater on top for a sophisticated touch.
SUBSCRIBE TO OUR NEWSLETTER
Subscribe to our mailing list and get interesting stuff and updates to your email inbox.