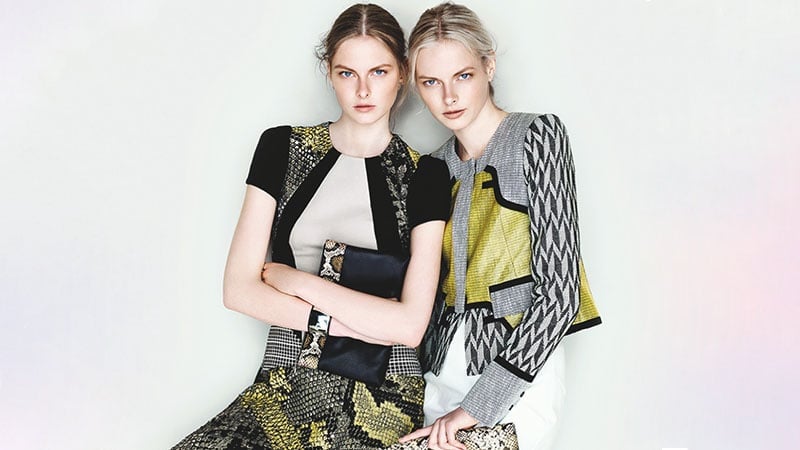 Understanding workplace dress codes, such as the ambiguous "business casual for women," can often be confusing. However, after conducting research and personal experimentation, I've realized that understanding what is appropriate and what is not can actually save time and minimize morning wardrobe dilemmas. Having conquered this perplexing dress code, I'm excited to share my tips with you. With a little assistance and guidance, effortlessly creating stylish business casual outfits will become second nature.
RELATED: What to Wear to a Job Interview
What is Business Casual for Women?
Business casual is a semi-formal professional dress code commonly observed in modern office settings. While interpretations may vary among companies and cultures, it generally entails a polished and professional appearance with a degree of comfort and relaxation, as opposed to being excessively formal. The key is to combine relaxed items with more formal pieces, while certain casual clothing items like flip flops, hoodies, and ripped denim are typically not acceptable. For instance, business casual outfits can be dressed down with a blazer by pairing it with skinny jeans and loafers or dress up a cardigan with pleated slacks and office shirts. In simple terms, business casual attire for women refers to clothing that is less formal than traditional business wear but still projects a professional and business-like image.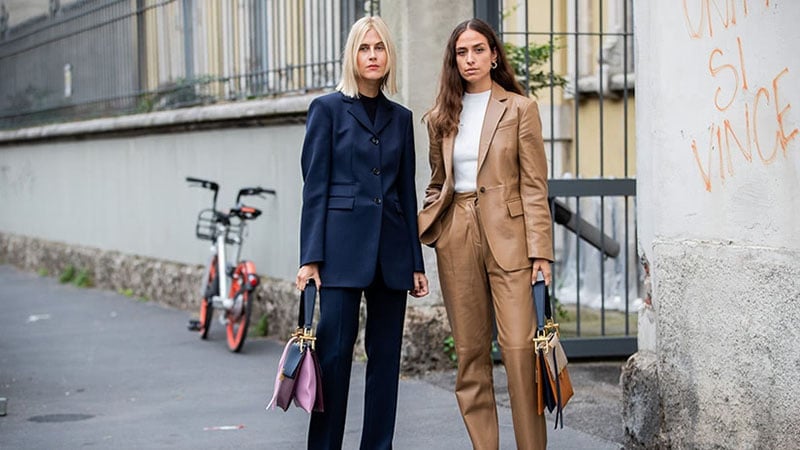 When to Wear Business Casual for Women
If the dress code is specified as "business casual," it is expected that you wear appropriate attire. However, for occasions without a specific dress code, it requires some judgment to determine suitable attire. Generally, any work-related event that doesn't require formal clothing can be considered a "business casual" moment. This is commonly seen in modern workplaces and less corporate settings. Business casual attire is not limited to daily office wear; it is also suitable for most job interviews, networking events, and client meetings. If you work in a more formal office environment where suits and heels are the norm, casual Fridays allow for a more relaxed dress code, such as below-the-knee dresses or dark, non-ripped jeans.
How to Dress Business Casual:
To ensure a professional appearance, it is advisable to adhere to these reliable guidelines for business casual attire for women, even though some companies have their own specific rules.
Business Casual for Women Don'ts
Focus on what not to wear rather than what to wear.
Avoid revealing or tight-fitting clothing; business casual should still be conservative.
Steer clear of plunging V-necks that show too much cleavage.
Stay away from clothing that is excessively tight, low-rise, flowing, or sheer.
Ensure that bra straps are not visible.
Say no to spaghetti straps, sleeveless shirts, and tank tops; always cover bare shoulders with a blazer.
Athletic wear such as sweatpants, t-shirts, gym tights, and trainers are not appropriate.
Avoid clothing with offensive graphics or slogans; it's important to be respectful in the business casual setting.
Be mindful of print mixing; if wearing a bold trendy piece like floral or leopard print, balance it with minimalistic business casual items like a crisp white blouse.
Opt for closed shoes instead of flip-flops or sandals when in doubt.
Limit jewelry and accessories to undistracting classical pieces.
Ensure your clothing is clean, pressed, and in good condition; avoid wearing wrinkled or stained items.
Remember, following these guidelines will help you maintain an appropriate business casual look.
Business Casual for Women Do's
Invest in quality basics that can be worn year-round and pick up affordable on-trend items to complete outfits each season.
Make sure all garments are clean, pressed, and free from wrinkles.
Stick to essentials in neutral colors, such as grey, navy, black and white, then accent your outfits with pop-color or printed pieces.
Opt for collared shirts or blouses in muted shades or prints.
Choose slacks or dress pants, which are comfortable yet formal with details like pleats and pockets.
Look for knee-length skirts or dresses that provide adequate coverage for easy movement.
Stick to closed-toe shoes, as they are the safest choice in most work environments.
Keep your jewelry and accessories conservative with smaller earrings and neutral leather bags.
Dress in layers to adapt to changing temperatures and maintain a polished aesthetic.
Maintain good grooming and personal hygiene, such as neatly clipping back loose hairs and maintaining well-groomed nails.
Business Casual Outfits for Women
When it comes to business casual for women, it can be difficult to decipher what's appropriate in the modern workplace. Factors like the company you work for, your day-to-day responsibilities, and your location can all play a role. Since business casual norms can vary by city, state, and even country, it's important to be mindful of what you wear. Dressing appropriately can make all the difference in your career. To help, I've compiled some essential points and tips for everyday wear, special events, casual work outfits, and business travel. And to ensure you're truly informed, I've also listed at the end of this guide my top tips when it comes to wearing business casual outfits.
Business Casual Pants for Women
Choosing the perfect pair of pants for business casual outfits can be a bit of a challenge. But fear not, there are a few key things to consider when making your selection. You'll want to opt for a pair of comfy, well-tailored trousers in a neutral shade like black, tan, burgundy, or navy. Alternatively, a subtle print can add some interest while remaining office-appropriate. And when it comes to fabric, look for pants with a little stretch to ensure maximum comfort while seated. With these tips in mind, I am sure you will pull off the perfect look for the office!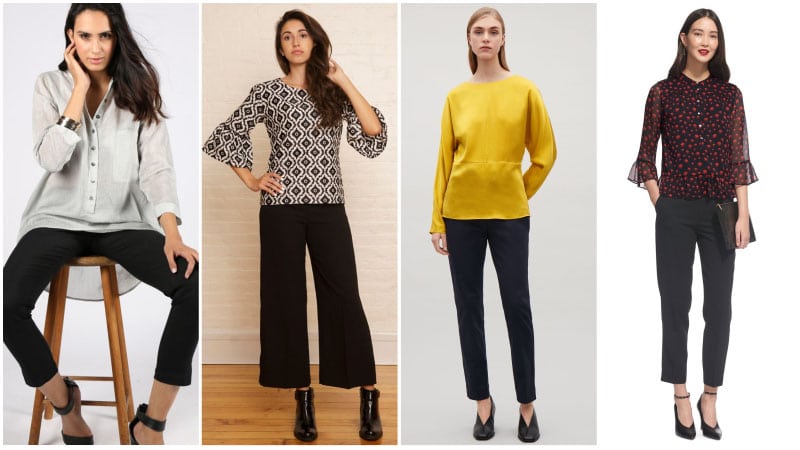 TOP BUYS
Business Casual Jeans for Women
When it comes to business casual outfits for women, jeans can be a great option, but it's important to choose the right pair. You don't want to appear underdressed, so opting for a polished and neat pair is best. A slim or skinny style in a dark wash is a good choice, as it can make you look both stylish and professional. Also, be sure to avoid jeans that are faded or feature any rips or frayed hems, as this can give off a less polished vibe. To complete the look, pair your denim with a sophisticated top and comfortable dress shoes, and you'll be ready to take on whatever the day brings. So, whether you're heading to work or a business meeting, a well-chosen pair of jeans can help you show up looking and feeling both confident and stylish.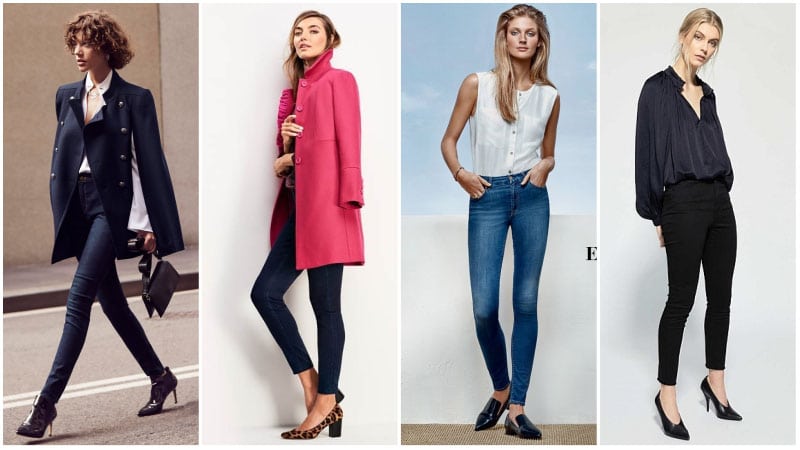 TOP BUYS
Business Casual Shirts for Women
Looking fabulous and put-together for a business casual outfit can be tricky sometimes, but choosing the right shirt can definitely make all the difference. When it comes to your shirt options, you have two main choices: classic cotton or more feminine silk or lightweight synthetic material. If you opt for the timeless cotton style, it's a safe bet to stick with muted and gentle tones to create a polished and understated look. Alternatively, if you go for a silk blouse, you should definitely have some fun with it! Consider adding a touch of color or a playful print to liven up your outfit. However, it's important to remember that if your shirt is sheer, avoid any peek-a-boo moments and wear a camisole underneath.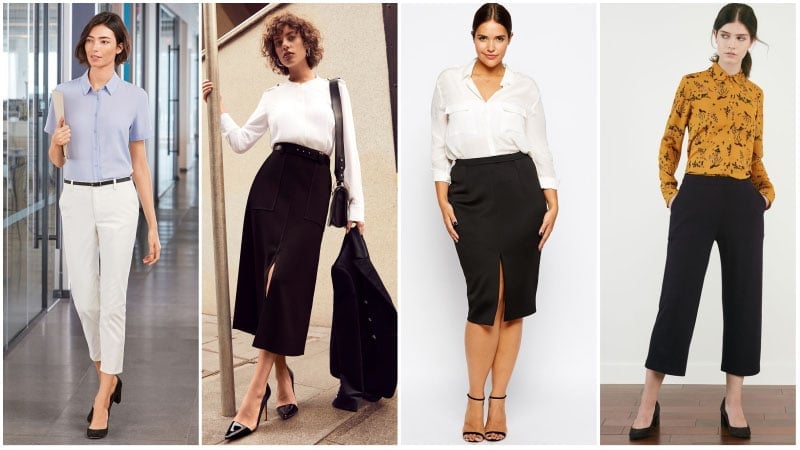 TOP BUYS
Business Casual Tops for Women
If you're tired of wearing the same old shirts to work, don't worry – plenty of other tops can work just as well for a business casual environment. Keyhole blouses offer a chic and sophisticated look, while long-sleeve styles can be both comfortable and professional. And if you're someone who loves wearing tanks, don't worry – there are plenty of smart options out there, too. When choosing tops for the office, just make sure to keep the neckline modest. And when it comes to colors and prints, feel free to experiment! Pastels and jewel tones can add a pop of personality, while subtle prints can add interest without being too distracting. Just balance any bright colors or bold patterns with classic trousers or a skirt, and you'll be good to go!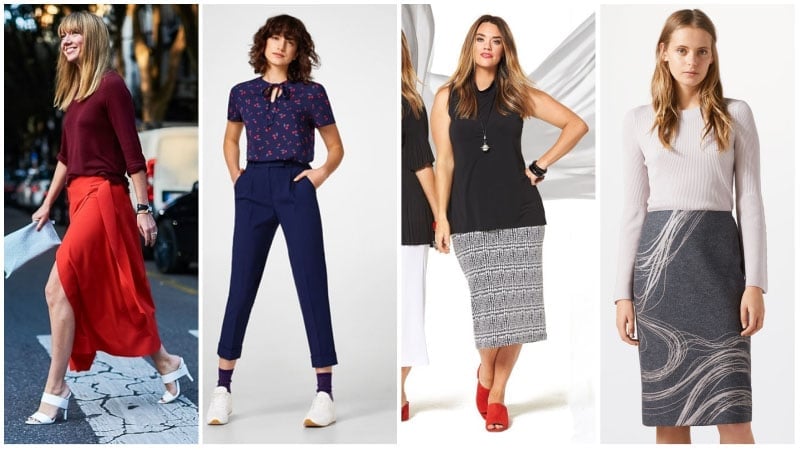 TOP BUYS
Business Casual Jackets for Women
As the temperatures drop during the cooler months, it's important to ensure that you're appropriately dressed for the commute to and from the office. Even if your office is warm, investing in a smart jacket or blazer is still a good idea to maintain a professional appearance. Classic colors such as black or navy go well with most business casual outfits, so incorporating these colors into your winter wardrobe is a great idea. Make sure to choose a well-fitting design that's comfortable to wear so you're not compromising style or practicality. So, stay warm without having to compromise your professionalism with these simple tips.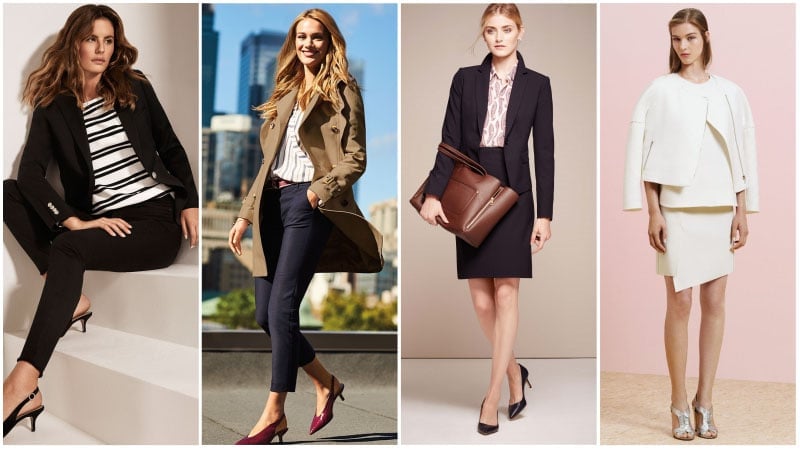 TOP BUYS
Business Casual Sweaters for Women
Sweaters can make all the difference when it comes to putting together a business casual outfit. Not only do they look smart, but they can also keep you warm during the colder months. As a practical and stylish addition to your wardrobe, investing in a range of basic and fashionable colors is worthwhile. You can mix and match them with pants, skirts, shirts, and dresses to create a variety of business casual outfits. Whether you're attending a meeting or heading to the office, a well-fitting sweater can give your look the extra touch of sophistication you need. So I recommend making sweaters a staple in your business casual wardrobe.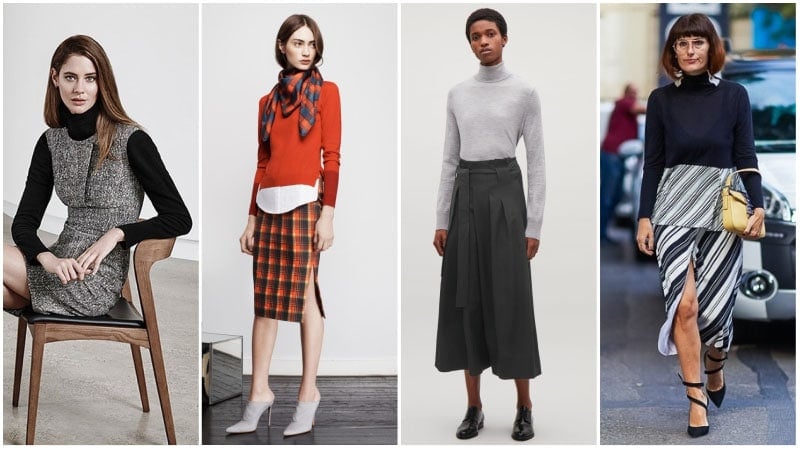 TOP BUYS
Business Casual Dresses for Women
As anyone who's worked in an office knows, choosing the right business casual outfit can be tricky. Pants are a great choice, but let's not forget about the versatility and style of dresses. Not only do they offer relief on hot days, but they're also perfect for adding some feminine polish to your work wardrobe. The key is to select the right design and fit. Think pencil skirt, wrap, or A-line styles that are appropriate for the office. And don't forget to consider the length – too short or too tight can quickly take your outfit from professional to inappropriate. So why not mix it up and add some diversity to your business casual outfits with a dress or two?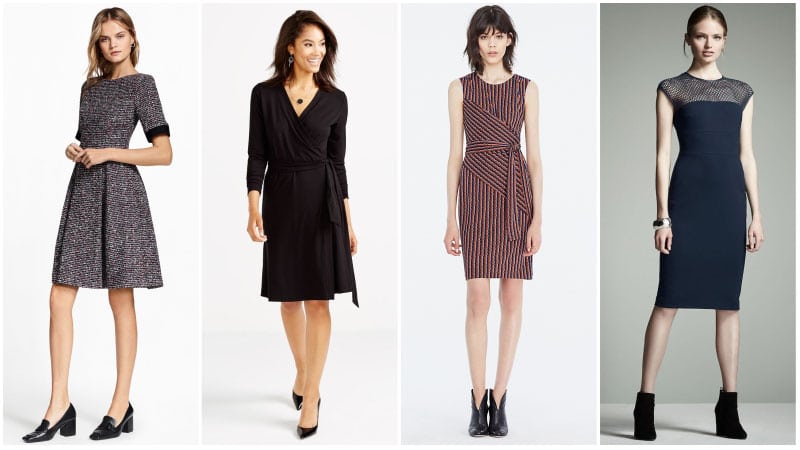 TOP BUYS
Business Casual Skirts
If you're someone who struggles to put together business casual outfits, investing in a few chic skirts could be the solution you've been looking for. Skirts are not only stylish, but they are also incredibly versatile. When selecting skirts for business casual office attire, go for a pencil skirt if you're unsure about what to choose. However, don't overlook A-line and pleated styles too quickly – just be sure that the length and slit, if there is one, are appropriate for your workplace. Overall, having a few well-selected skirts in your closet can make getting dressed for work a breeze.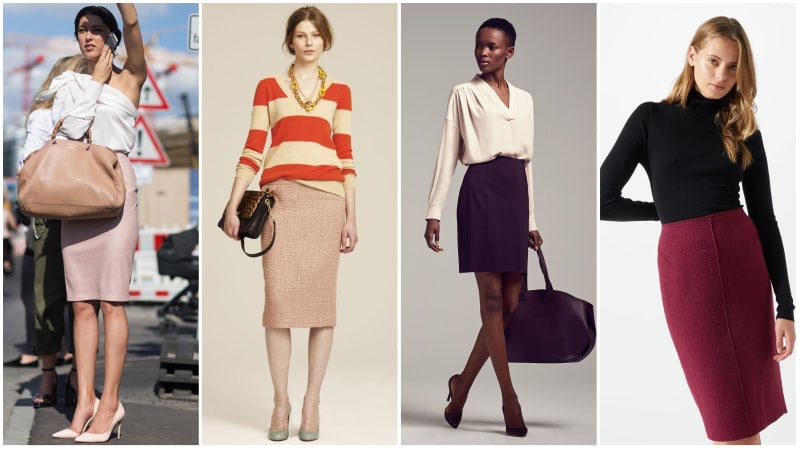 TOP BUYS
Business Casual Shoes for Women
Selecting the perfect pair of business casual shoes can sometimes be daunting, but fear not, as many fantastic options are available. The choices range from comfortable flats like loafers, brogues, and ballet shoes to elegant heels like kitten heels, block styles, and even boots. However, comfort should be your top priority, so make sure to choose shoes that look great and feel good. Also, don't forget to keep embellishments to a minimum and ensure that any heel you select is of an appropriate height. With these tips in mind, I am sure you will find the perfect pair of stylish yet practical shoes that complement your business casual outfit.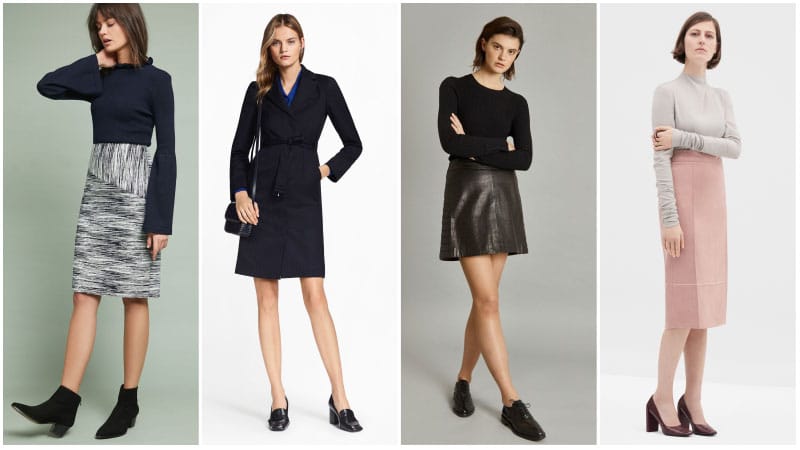 TOP BUYS
Business Casual for Plus Size Women
If you're a plus-size woman who wants to look professional and stylish at work, you're in luck. Business casual outfits have come a long way in recent years, and plenty of options are available that are both on-trend and appropriate for the office. The key is to choose pieces that flatter your shape and make you feel confident and comfortable. When it comes to pants, mid-rise styles are a great choice for most curvy figures. They sit just below your natural waistline, which can create a more balanced, proportional silhouette. Whether you prefer straight-leg, wide-leg or skinny pants, there's sure to be a mid-rise style that suits your taste and your body type.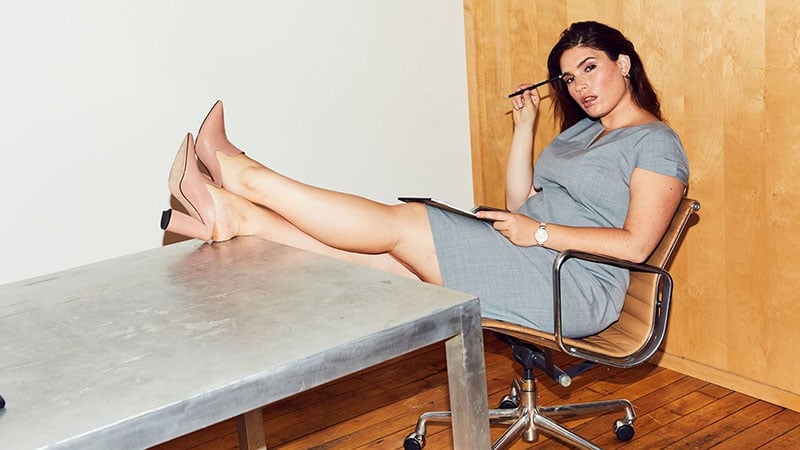 SHOP THE LOOK
Business Casual Attire Occasions
Summer Business Casual Attire for Women
Summer dress codes can be tricky to navigate, especially when striving to maintain a professional image. But no need to sweat it! There are plenty of stylish business casual outfits that will help you look and feel cool during those warm months. Light-colored garments and breathable materials, such as cotton, silk, and linen, are perfect for ensuring comfort and style. Opting for dresses and skirts is a great way to keep your legs ventilated, but be mindful of avoiding tight-fitting styles that may generate unwanted heat. A little preparation can go a long way in staying cool while still presenting a cohesive, professional image.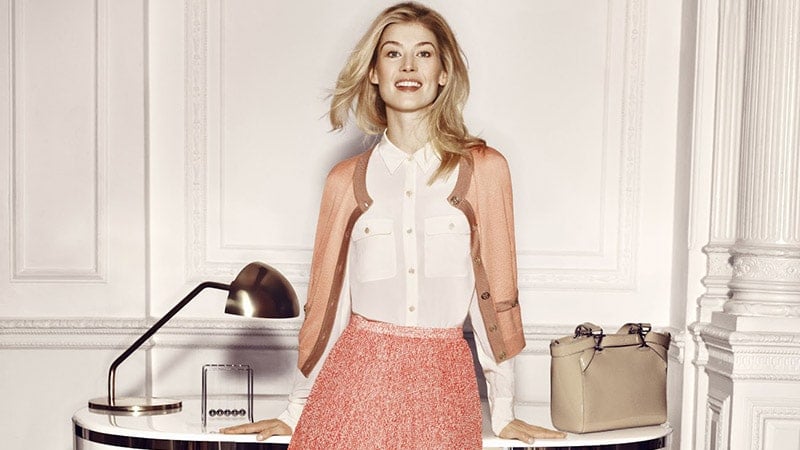 SHOP THE LOOK
Winter Business Casual Attire for Women
Winter doesn't have to mean sacrificing style for warmth, especially when it comes to business casual for women. Always keep in mind that comfort and professionalism go hand in hand. So, when preparing for the office, opt for long-sleeved shirts and knitted sweaters that keep you cozy and exude that professional vibe. Another trick is to make the most of layering, which lets you wear your favorite light pieces without compromising on warmth. You can easily pair a sleeveless dress with a trendy turtleneck top or layer stockings under a skirt to stay snug. Don't forget to bring a smart jacket or coat along for the commute to and from work.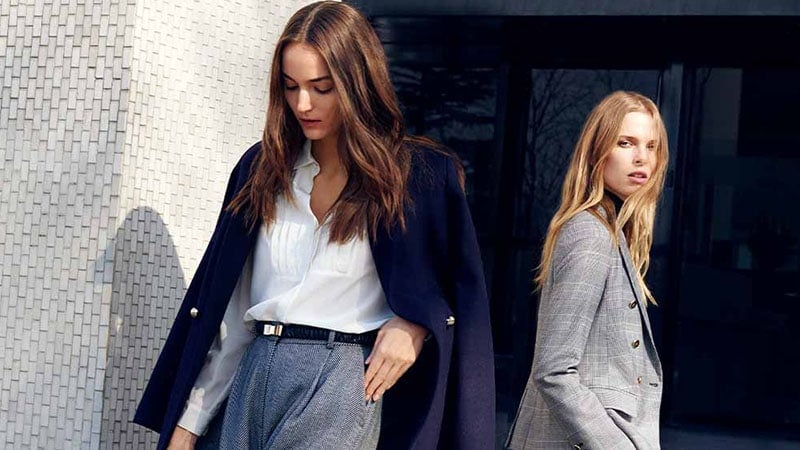 SHOP THE LOOK
Business Casual Conference Attire for Women
Are you attending a conference or business meeting and wondering what to wear? The key to dressing business casual is to consider the location and weather. For warmer destinations, pack breathable fabrics and lighter colors. For cooler locations, opt for layers and warmer materials. It's important to strike a balance between being comfortable and looking professional. Choose clothing items that you already own and feel confident in, and don't forget to pack dressier options for any evening events. To save space, pack basic items in neutral colors that can easily be mixed and matched. Finally, add accessories like scarves or jewelry to elevate your outfit without overpacking.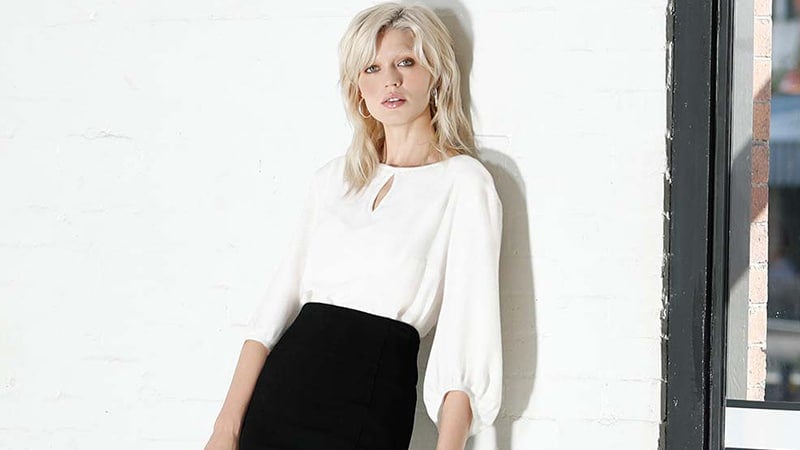 Buissness Casual for Women FAQs
What is not considered business casual?
Achieving a business casual look can be complicated because there is often a fine line between appropriate and too laid-back. Nothing too tight or too short should be worn; in general, no shorts, and care should be taken when choosing to wear jeans. It is also advisable to wear closed shoes, but flats or moderate heels are both acceptable choices.
Are jeans business casual for a woman?
Jeans can be worn for a business casual look, but they are a little trickier to get right. The key is to pick something slim-fitting and in a dark wash, and you will need to dress them up with a smarter top or blazer. Avoid anything distressed, with holes or slashes in it, and choose a straight hemline. To complete your look, pick elegant closed shoes. If you don't mind heels, they can also add a touch of femininity and sophistication to your appearance. If you are unsure about your choice of jeans, then opt for a different pair of well-fitted trousers to be on the side of caution.
Is a cardigan business casual?
A cardigan is definitely considered business casual, and for many women, it is a staple piece because it can be easily mixed and matched with so many things. It is also a nice alternative to a blazer, which, depending on the setting, can sometimes be a bit too formal. If you choose to wear this garment, then opt for one that is in a solid, neutral tone.
SUBSCRIBE TO OUR NEWSLETTER
Subscribe to our mailing list and get interesting stuff and updates to your email inbox.