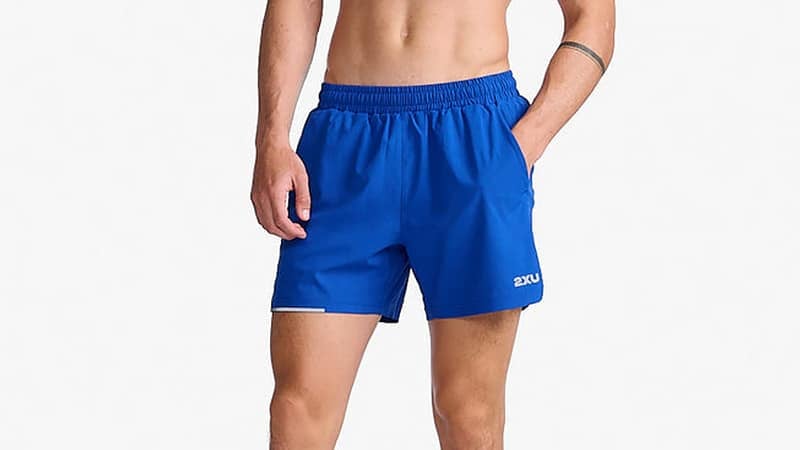 There are many different requirements for workout and everyday shorts; you want something comfortable that will fit well without restricting your movements. Maybe you also want a specific fabric with built-in technologies to enhance your training, like moisture-wicking and anti-odor. But the real question is, what length do you want? And we are sure you will be drawn to the 5 inch inseam shorts because of their practicality and style as they fall around the mid-thigh. What better way to show off your muscles, right? There is a reason these are the preferred everyday and workout shorts. Are you still undecided? Take a look at these best 5 inch inseam shorts to help convince you.
1. Puma Essentials Woven 5 inch Inseam Shorts
The Puma brand is well-known for its athletic garments, and customers have come to expect a certain level of style and comfort. If you are drawn to classic designs, then the Essentials woven logo 5 inch shorts in black is the choice for you. Wear them on your morning run, to the gym for a workout, or around the house; they are perfect for all occasions. The black hue is another pro because it is resistant to dirt and grime. Plus, you don't have to worry about getting overly sweaty because those pesky sweat stains will not appear.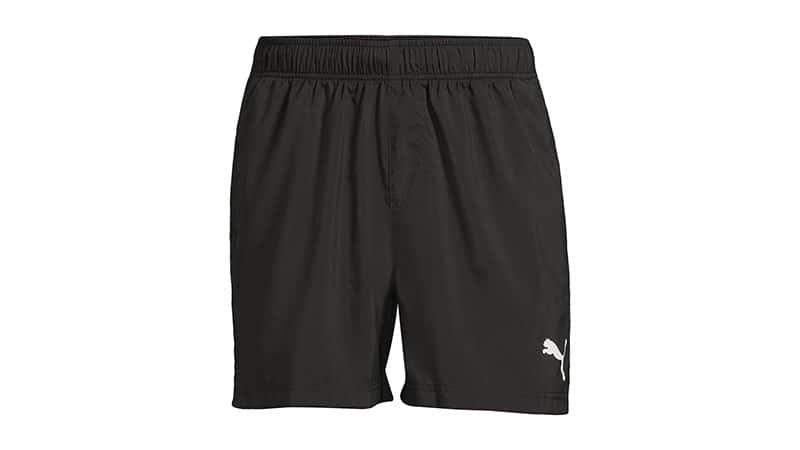 5. New Balance Impact Run 5 inch Inseam Shorts
The 5″ inseam short is one of the more flattering options for men, especially those with larger thighs because they sit around 4 inches above the knee (longer designs can sometimes feel awkward). If you are looking for the perfect pair to revolutionize your workout, let us introduce you to the New Balance Impact Run 5″ Shorts. Among the highlights is that the fabric is recycled (a minimum of 20 percent) and is created to be moisture-wicking. The elastic waistband will ensure comfort, and they can be machine-washed and tumble-dried, which, let's be honest, makes laundry day much easier.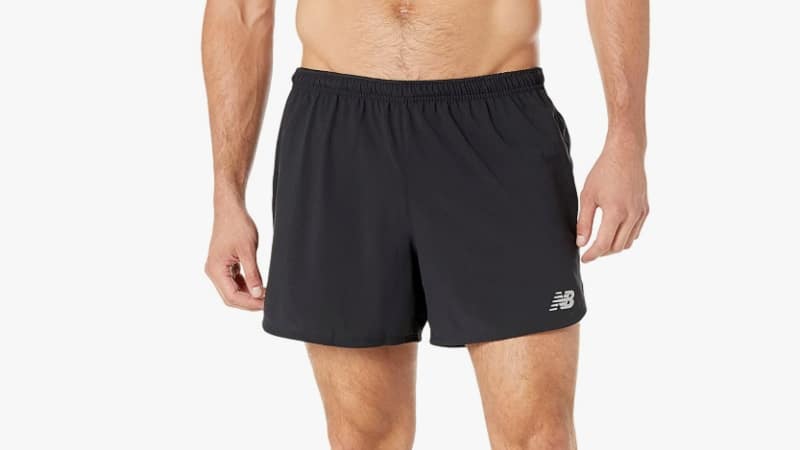 2. JEEING GEAR Bodybuilding 5 inch Inseam Shorts
The 5" inseam is a great option for men who want to show off their thigh muscles. It is also practical and ideal for working out. If you are looking for a comfortable and affordable pair of workout shorts, look no further than the JEEING GEAR Men's Bodybuilding design that features a drawstring closure for added comfort. These shorts are created with 95 percent cotton, making them an all-natural breathable fabric that will help you enjoy leg day just that little bit more.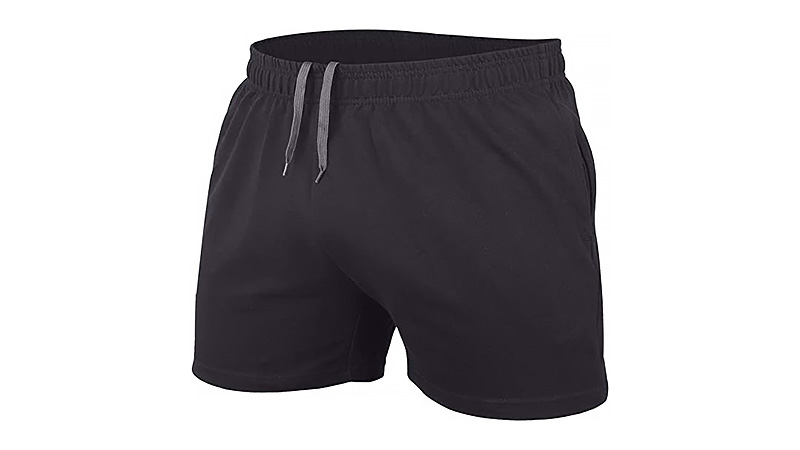 6. Brooks Run Invisible 5 inch Inseam Shorts
A 5″ inseam short is ideal for those who want to go about their exercise routine unrestricted. Among the best designs on the market is Brooks Run Visible 5″ 2-in-1 Shorts, which, as you guessed it, offers you added under accent-colored fitted shorts. The overlay is mesh and styled with a fitted waistband. Stylish, comfortable, and pretty darn colorful, what more could you want from your workout gear?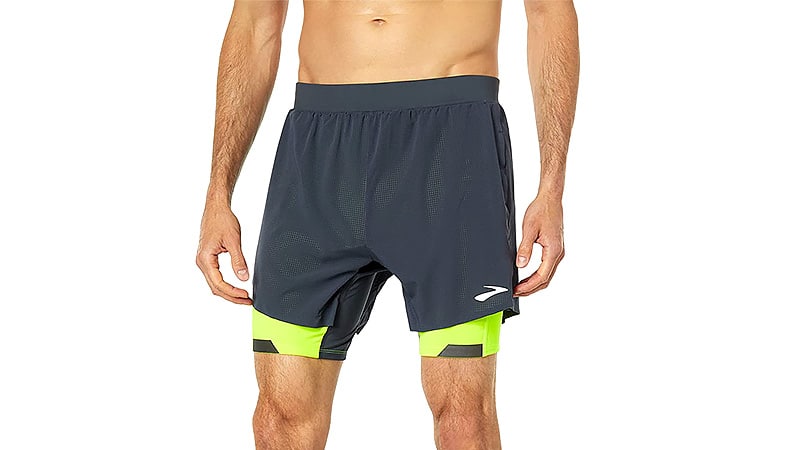 3. Meripex Apparel Men's 5 inch Inseam Shorts
Another affordable and stylish option under the 5" inseam category is the Meripex Apparel Men's elastic-waist shorts. They are actually a little longer, measuring 5.5″, so they will show off less leg while still letting you enjoy a level of comfort and satisfaction during your workouts. The fabric is a blend of cotton and spandex, making it a lightweight and durable option with maximum points for comfort and durability. There is a wide range of sizes on offer, and you can choose from different colors, including stylish neutrals to bright hues like crimson or purple, just in case you want to stand out from the crowd.
7. 2XU Aero 5 inch Inseam Shorts
The 2XU Aero Shorts market themselves as perfect for running, and we think you will agree! They may be a little more pricey than some other brands, but you will likely be impressed by the quality and fit thanks to the lightweight fabric and flexibility. You want a pair of shorts that will give you good stretch but that also works to wick away moisture for the most comfortable experience.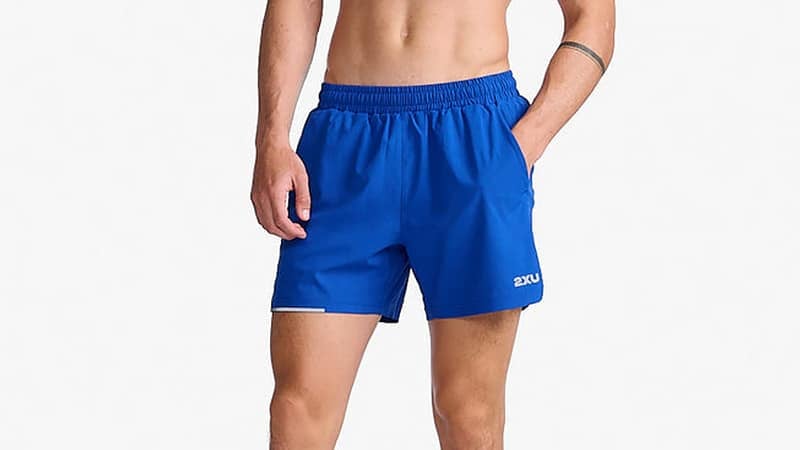 4. Amazon Essentials Men's Slim-Fit 5 inch Inseam Shorts
Amazon Essentials is a favorite brand for many men looking to add affordable staples to their wardrobes. The low price tag of these slim-fit stretch canvas shorts, created with a blend of 97 percent cotton and three percent elastane, lend to the perfect fit. There is no closure, and they are a pull-on design, which sits below the waist and features a tapered leg. Wear them every day and anywhere!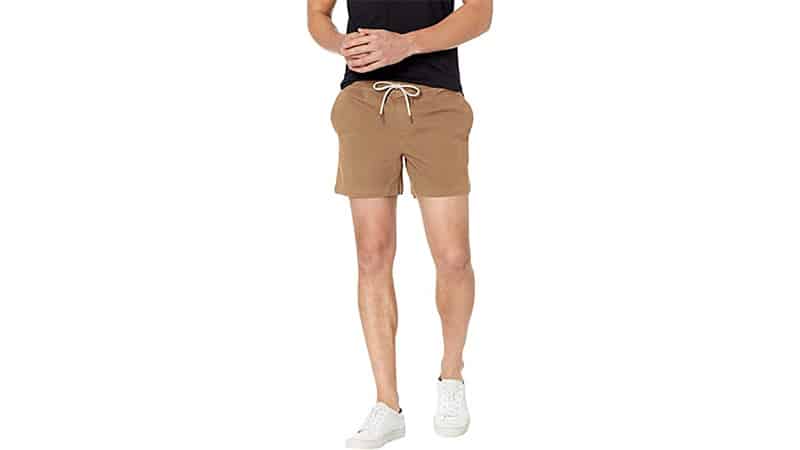 8. Rhone Mako 5 inch Inseam Shorts
Ah, what is not to like about the Rhone Mako shorts? At first glance, they may seem like every other pair of 5″ inseam designs you have seen, but they are most certainly not. This garment is designed for a workout (although you can totally lounge around the house in them if that is your style). Created with anti-odor technology and preventing moisture, they appeal to those doing even the most intensive training. The classic fit makes finding the right size easy, and most will agree they are true to size.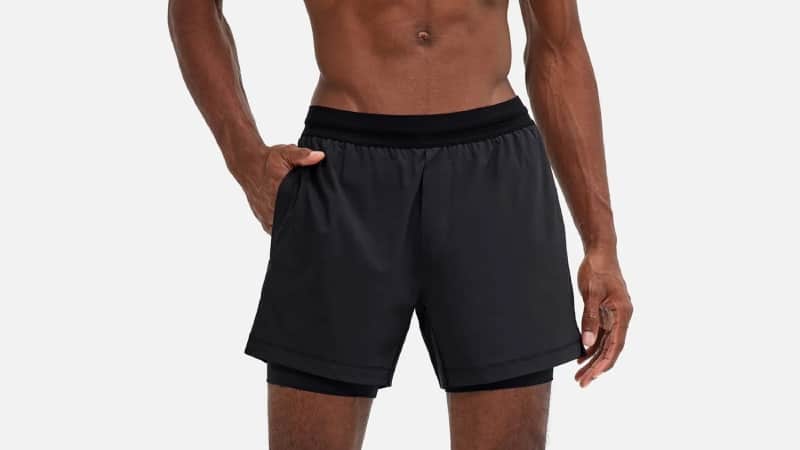 9. Lululemon vLinerless 5 inch Inseam Shorts
You have probably heard of Lululemon as it is one of the most popular athletic apparel retailers, but did you know that they also have an impressive range of men's clothing? They do, and the License to Train Linerless Short will be one of your favorites. It is sold in a wide range of sizes and four neutral colors. Can you guess the real standout feature? This would be the abrasion-resistant fabric which is also quick-drying, making it the ideal option for working out. The classic tapered fit gives your legs the room you need but is also exceptionally flattering.

10. Adidas Run It 5 inch Inseam Shorts
The Adidas Run It Shorts are an excellent way to show off your muscles and free your legs. But they will also optimize your workouts by not restricting you in your activities, especially running. There is a lot to like about these shorts, including the simple and classic design created using 100% recycled polyester. They are lightweight and available in different color options (which you can match with your shoes if you are all about style). Plus, you can show off your love for the brand with the logo on the front of the left leg.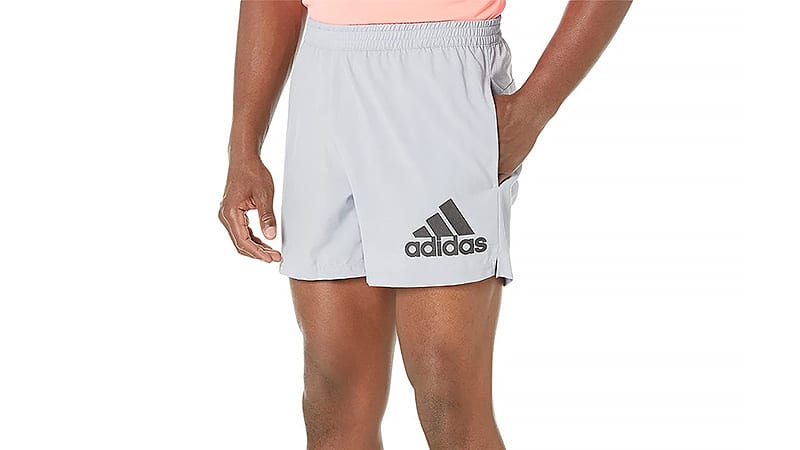 11. Vuori Banks 5 inch Inseam Shorts
If you are wondering what you can expect from the Vuori Banks shorts, the answer is simple: versatility and performance. These shorts are created using the brand's VCycled™ fabric, an interesting concept as they use recycled plastic bottles. They are unlined, and feature mesh pockets, a drawcord, and a scalloped leg opening for added comfort. The design is casual but cool, appealing to those who want a laid-back aesthetic.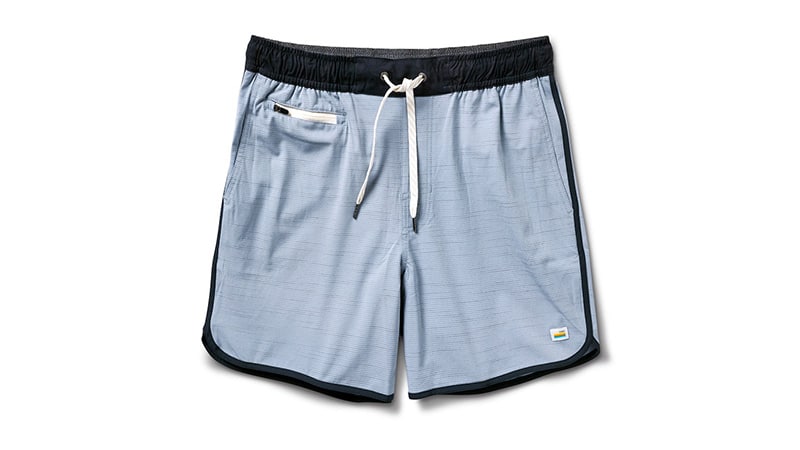 12. My Protein Men's Velocity 5 inch Inseam Shorts
Look effortlessly cool and put your garment to work with the My Protein Men's Velocity 5-inch shorts. This sleek design will stand out while offering you all the benefits of comfortable and practical clothing. There are two colors to choose from, classic black or the fresher and modern evergreen. The length is appealing for showing off your thighs but will also give you the room you need when stretching, running, or working out.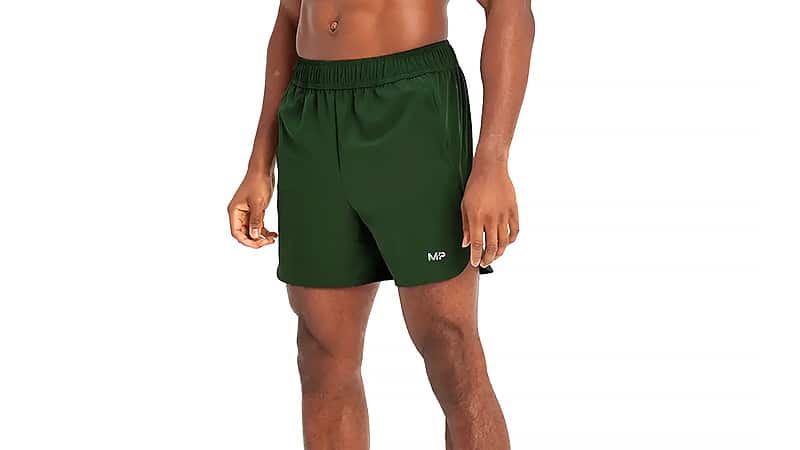 13. Outdoor Voices High Stride Short with Pockets
The Outdoor Voices High Stride Short is a lightweight garment designed for all your physical activities. It has phone pockets on the left and right, which is incredibly useful if you are going for a run, plus a built-in liner. The fabrics used are designed to let you move unrestricted and are recycled and train-stretch woven. They are praised for their comfort, but the real beauty of these shorts is in their details.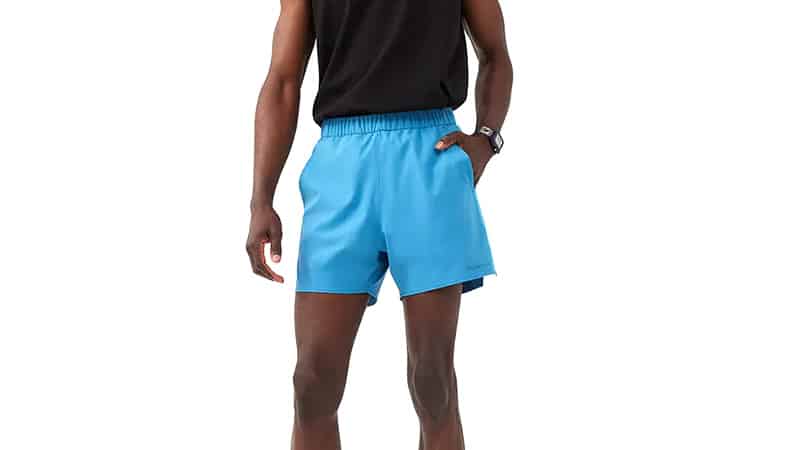 14. AIMPACT Mens Athletic Workout 5 inch Inseam Shorts
Casual shorts can be just what you need for lounging around the house or doing errands. We firmly believe that every man needs a go-to garment that provides comfort while looking great. Could the AIMPACT men's athletic workout shorts be what you have been searching for? Created with a drawstring closure for comfort and made to be stretchy with a blend of 80 percent cotton and 20 percent spandex. They are also breathable and lightweight. If you love them, choose multiple in different colors, because why not?!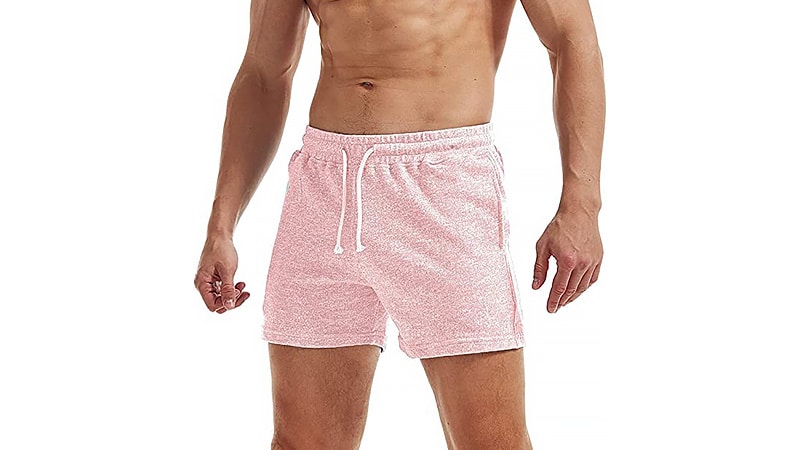 15. Amazon Essentials 5 inch Inseam Shorts
Sometimes you find a pair of shorts you like so much you need them in multiple colors, right? If this is the case for you, once you try the Amazon Essentials Men's Slim-Fit 5″ chinos, you are in luck because the product comes in a wide range of different hues. Everything from classic neutrals to bright, bold shades will let you inject a little pop of color into your wardrobe. This design has a touch more sophistication than many of the workout shorts on this list, making them ideal for all occasions and perfect for when you want to embrace the warmer weather.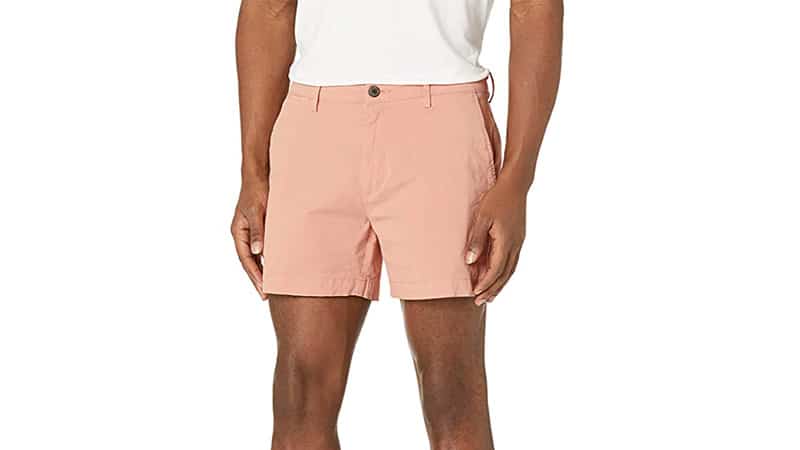 5 Inch Inseam Shorts FAQs
What are 5 Inch Shorts?
The name 5-inch shorts refers to the length of the inseam. These shorts are shorter than the classic 7-inch and will sit around mid-thigh. They are a popular choice for men who want to work out or desire a more casual finish. They are also great for showing off the thigh and muscles.
What is the Tikitok 5-inch short trend?
TikTok has been the start of many trends, including one encouraging men to wear 5-inch shorts. It can reportedly be traced back to a viral video from a woman by the username @sabrinaxrod who was excited that her boyfriend was wearing the 5" inseam shorts. She sparked the trend but there have been several other people who have gone on to make videos that are amusing.
Can men wear 5-inch shorts?
Men can definitely wear 5-inch shorts and they are great for working out or lounging around the house. They are casual and athletic in appearance.
What is the difference between 5 and 7-inch shorts?
The difference between 5 and 7-inch shorts is the length. They are both popular lengths for men to wear, but the 5-inch is obviously shorter. It sits around the mid-thigh, whereas the 7-inch is just above the knee. The shorter option is great for working out, while the longer shorts could be better suited to more formal occasions or for those who want dressier-looking shorts.
Are 5-inch inseams in style?
5-inch inseams are definitely in style and are one of the preferred lengths for men for working out or running. This is because they give you more room on your legs. They can also be incredibly flattering as the length sits above the knee, which can enhance your muscle definition and show off your thighs.
SUBSCRIBE TO OUR NEWSLETTER
Subscribe to our mailing list and get interesting stuff and updates to your email inbox.