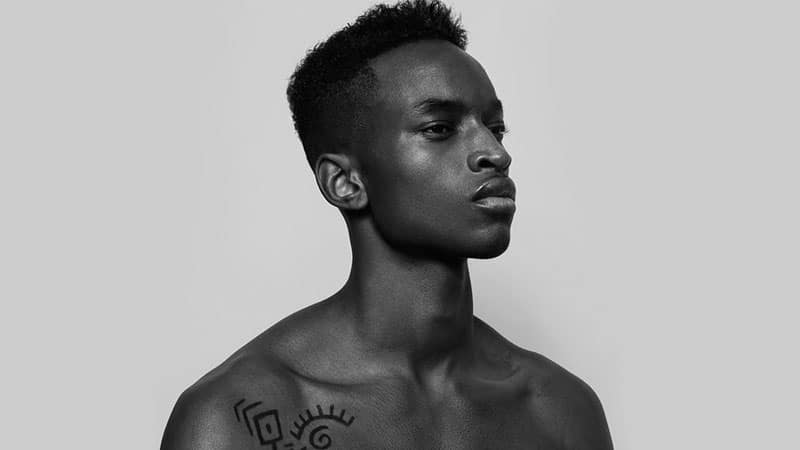 You might be thinking that your hair is too thick, too short or too curly to do anything truly new or interesting. You may have found yourself in the habit of asking your barber for the same cut month after month or maybe just shaving everything off for a quiet life. Whether you want to stick with something tried and tested or think outside the box, we've put together a list of the best black men haircuts.
RELATED: 35 Awesome Afro Hairstyles for Men
RELATED: 20 Coolest Fade Haircuts for Black Men
1. Box Fade
The iconic that symbolized the golden era of hip-hop, the box fade brings all kinds of nostalgia. The box fade is back, with some thanks to the style making a big comeback on NBA courts. You might know it as the hi-top or flat top. It is the style that combines sides that taper down to a short length with a sharply-defined rectangular top. Yep, hence the name. Typically the hair is about 3-5 cm on the top, although the way you rock it depends on your style and what suits your head. For a less dramatic look, opt for a gradual taper on the sides with a shorter, tight top.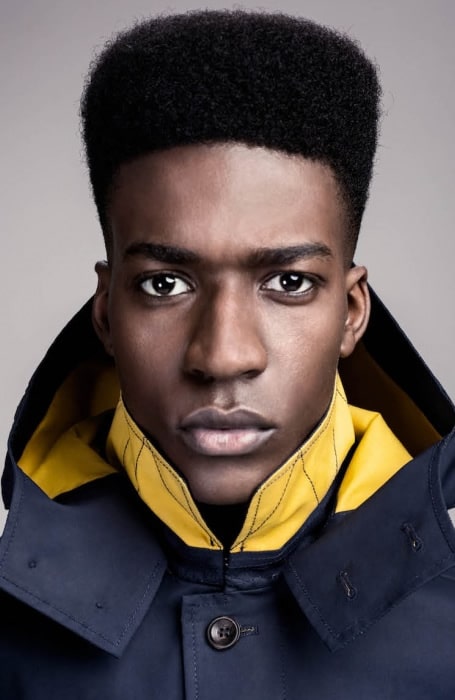 2. Afro Fade
The Afro fade is a fun haircut for any man able to pull it off. In essence, the Afro fade incorporates the tapered sides of the box fade with a top that is somewhat left to grow how it likes.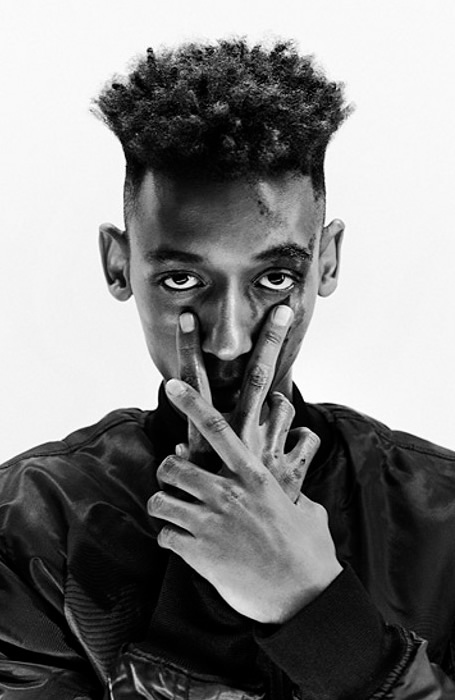 3. Hard Part + Fade
With such thick hair, the idea of a part might be laughable. But the seemingly pointless part line can be utilized as a very deliberate design feature in any hairstyle. If your hair is on the thicker, curlier end of the spectrum, have your barber shave a feature 'part' line for stylish results. The part line acts as a point of asymmetry and adds interest to what could otherwise be a standard haircut. With the addition of faded sides, this style is very relevant right now.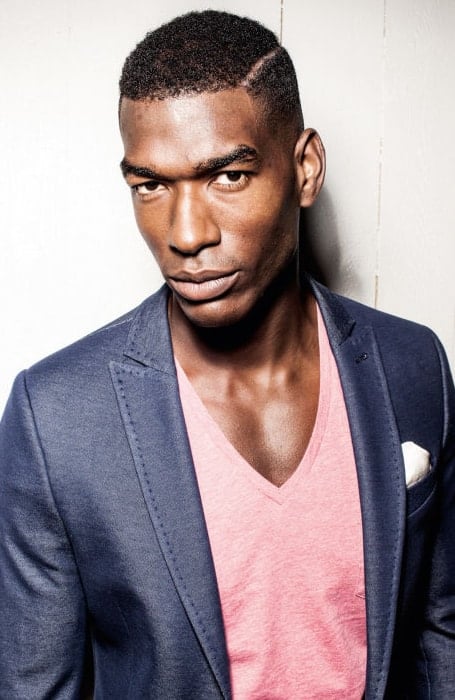 4. Line Up
Instead of letting your natural hairline dictate your hair's outline, this haircut sees your barber shave a straight hairline with sharp angles into your hair. The line up takes the idea of defining your hairline on your neck to your forehead, and it looks spectacular. Do keep in mind, that this cut requires frequent maintenance, lest you end up looking as if you have facial hair stubble on your forehead. This style draws attention to your eyes and brow line.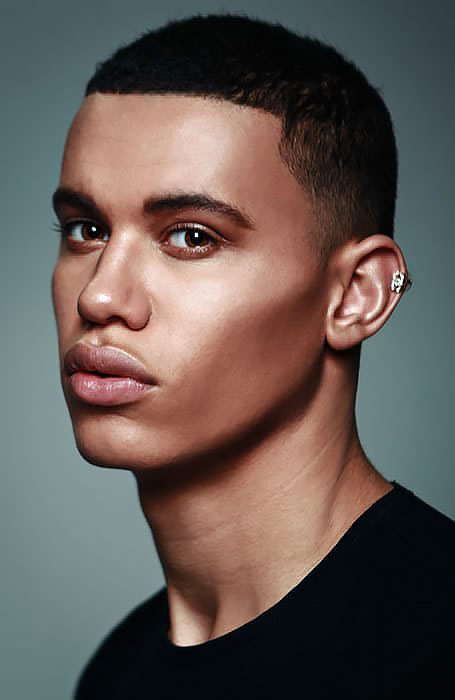 5. Twists + Fade
This is another combination of style that brings relevance to the look. Maintain some length on the top and style twists in the way outlined above. On the sides, opt for a length that tapers down. The style draws attention to what's happening upstairs. This haircut works particularly well if the hair on top is a little longer and unruly.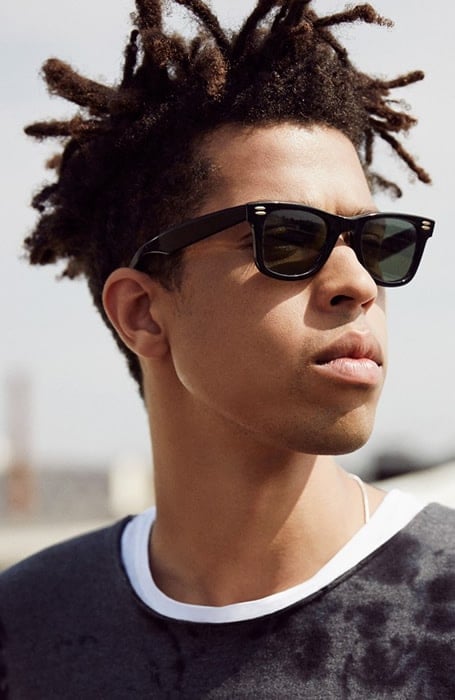 6. Wave
The wave is a cool hairstyle but only be achieved with the benefit of thick hair. The style makes your hair a feature in its right. If you decide waves are for you, it's best to see a barber beforehand. He or she will get your hair looking right before you start the wave process. The look will take a while to appear, and you will need a few products to get it going, most importantly a wave brush. Speak to your barber for more advice on how to achieve this unique haircut.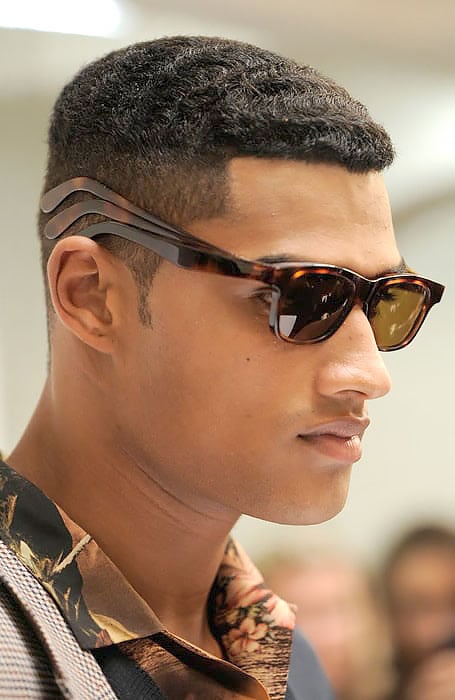 7. Curls With Fade
For those guys with looser curls, an undercut or fade with some more length on top could prove an interesting choice. Let your curls grow to a longer length on top, and have them take on their own style. The juxtaposition between the unrestrained medium-length curls and neat, faded sides makes for a unique look.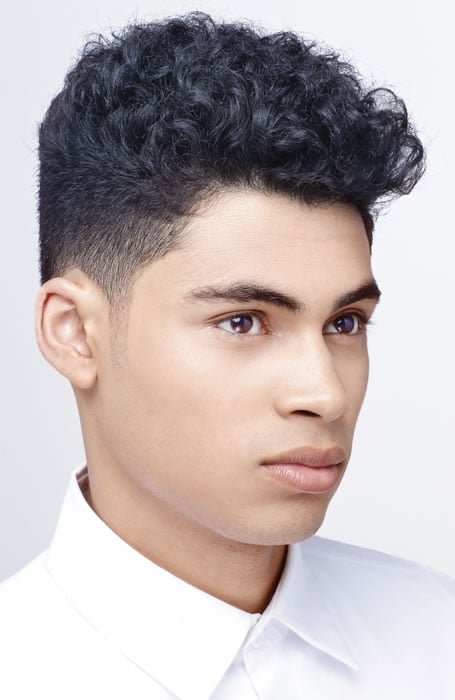 8. Buzz Cut
Another easy option for those who don't want to worry about dealing with difficult hair. The buzz cut is the short, military-inspired hairstyle that is low-maintenance but high impact. As with any super-short haircut, the look will draw attention to your brow and make your face look more defined.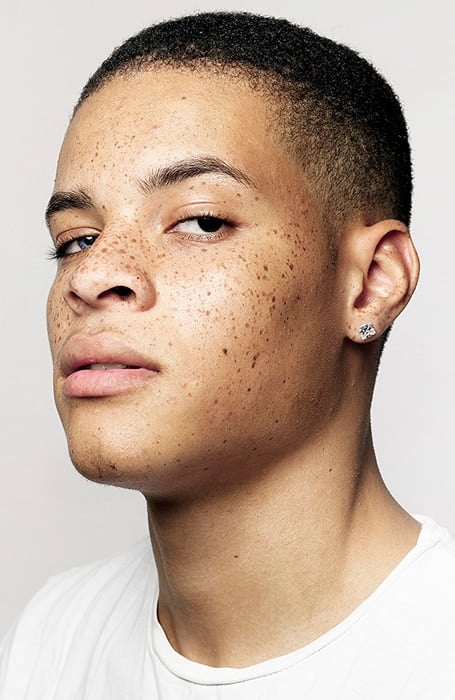 9. Short All Over
Simple, short all over. Longer than the buzz cut, this standard short style still acknowledges your hair's curly nature without it becoming something you need to deal with day-to-day. To truly make this style yours, regular trims are imperative to keep from having your hair appear untamed.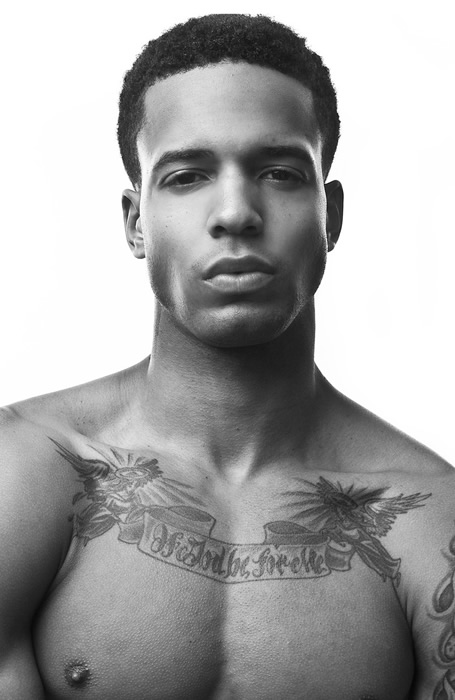 10. Frohawk
Even though it's long gone, we still love the frohawk sported by Manchester City's Raheem Sterling. Think of it like a reimagined box fade, narrower in the middle and rocked with the kind of maverick air that only comes with mohawk styles. This haircut can be either angular in style or left to grow more freely. Those with tighter curls will find they have greater control over the shape of their frohawk and can opt for a bolder imagining of the cut.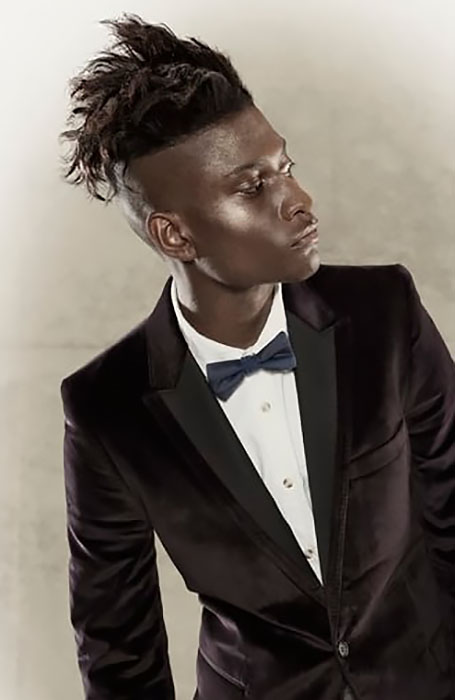 11. Buzz Cut + Beard
Technically not a haircut in its own right, but the combination of a buzz cut and beard is always a winner for men with thicker hair. For the best results, buzz your beard down to a length that is consistent with your beard. You can achieve the neatest looks by manicuring your beard's shape around the sideburn area and by keeping the cheek line consistently well-maintained.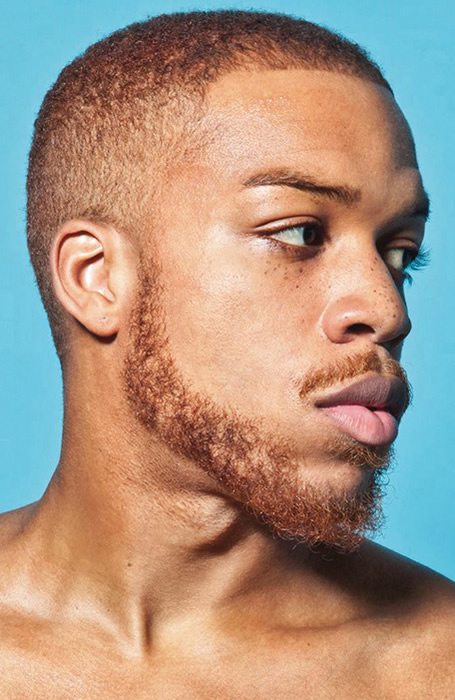 12. Geometric
This haircut is another style that takes advantage of thick hair and tight curls. Strong angles define a geometric cut, but there is no steadfast rule on how it should look. Your imagination is your guide here. One option is to use your part line (whether that's real or imagined) as a guide to creating a right angle part in your hair.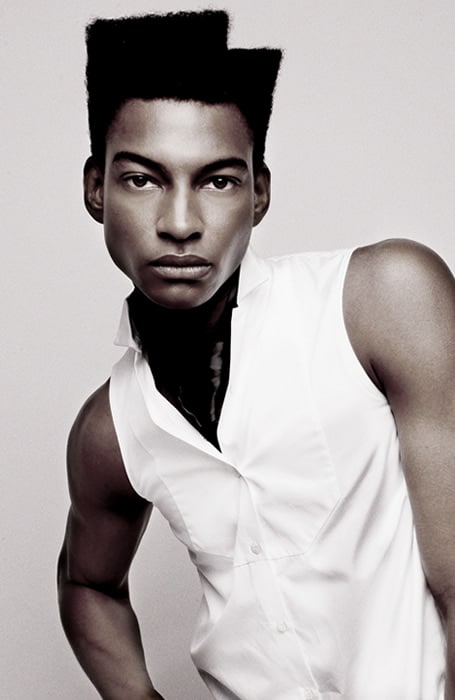 13. Short Hair + Fade
Clean, fresh, and neat. This haircut keeps the hair's length in check before it can take on a life of its own. It takes its cues from the fade haircuts that are on-trend right now. For extra striking results, combine the fade with facial hair, the disconnected length makes for an attractive and eye-catching aesthetic.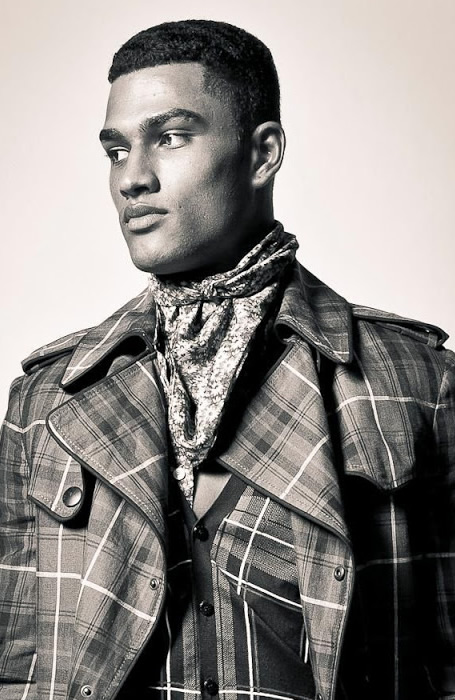 14. Pompadour
The pompadour is traditionally worn by men with fine, straight hair. However, this type of cut is also a perfect match for those with tight curls; you can style tremendous control over the shape your hair takes. By shaping a quiff at the front of your hair, you'll make for an intriguing alternative to the standard box cut.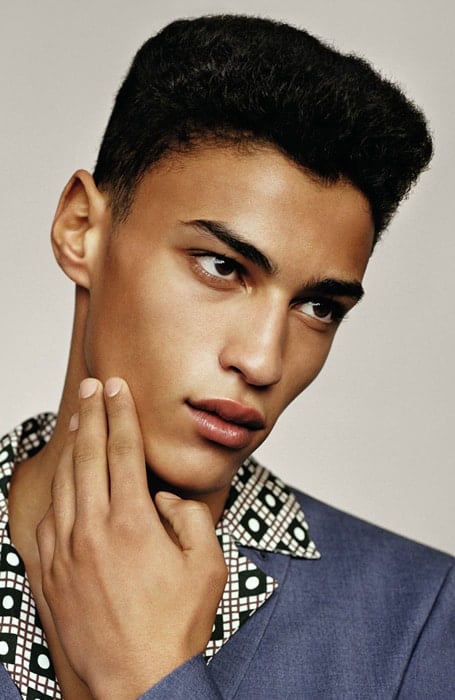 15. Clean Shave
It's the easiest way out, sure, but it can look amazing and fresh on the right head. Not just the killer solution for a receding hairline, a clean shave might just look amazing on your head. The look sends a bold message of confidence in your style. Keep in mind, if your hair is particularly coarse, you may be prone to razor bumps. Ideally, you should shave with wet hair, moisturizing shaving oil, and decent shaving cream to avoid the bumps. And remember always to shave with the grain.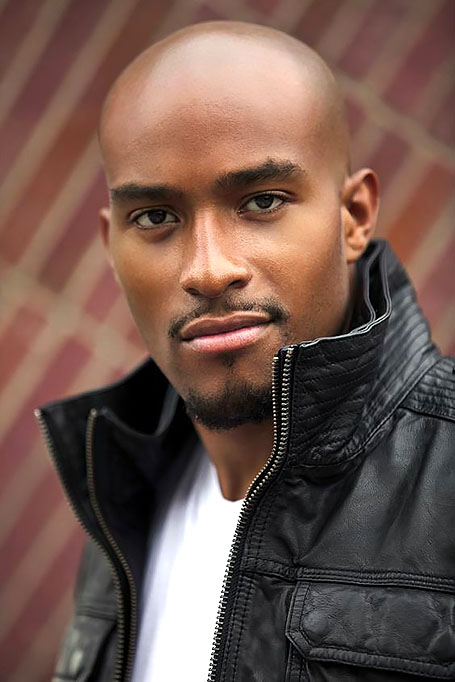 FAQs
What are the best haircuts for black men?
Some of the best haircuts for black men include the box fade, afro fade, hard part with fade, line up, and twists with fade. The texture of afro hair lends itself excellently to fade hairstyles and looks incredibly sharp.
What hairstyles are trending in 2021?
The black men's hairstyles trending for 2021 are the twists with fade, buzz cut, fro-hawk, drop fade, cornrows, and line-up.
SUBSCRIBE TO OUR NEWSLETTER
Subscribe to our mailing list and get interesting stuff and updates to your email inbox.