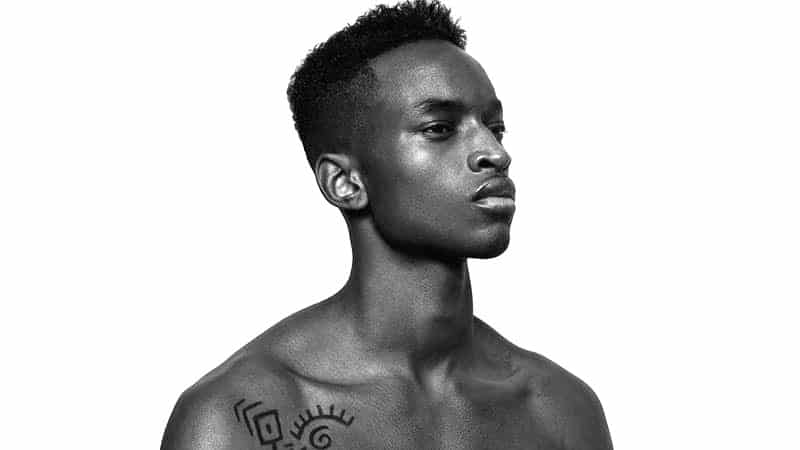 If you are looking for a stylish new way to wear your hair, look no further. There are many different styles that Black men can rock, and this year is the perfect time to do it. Some old favorites have been given a fresh breath of life, allowing you to adapt them to suit your preference. You can modernize the pompadour or embrace your natural hair texture and wear it with pride in an Afro hairstyle. There are fabulous fades, interesting lineups, and protective styles to lock in moisture and reduce grooming time. Whether you love wearing your hair long or short, textured or shaved, these are some of the best haircuts for Black men to try today.
1. Box Fade
The box fade, also known as the flat top or hi-top, has a hip-hop vibe, which makes sense since the look was first popularized in the 80s and 90s. It is back now, though, and better than ever, with men personalizing it to reflect their preference. The style is voluminous, with around 3 to 5 cm of hair at the top, which has a box-like shape. You can pair it with a fade of your choosing to create more structure and contrast, making for a cool and edgy appearance. A skin fade, for example, will highlight the top of the hair and give the illusion of more height, whereas a taper fade is a more subtle option.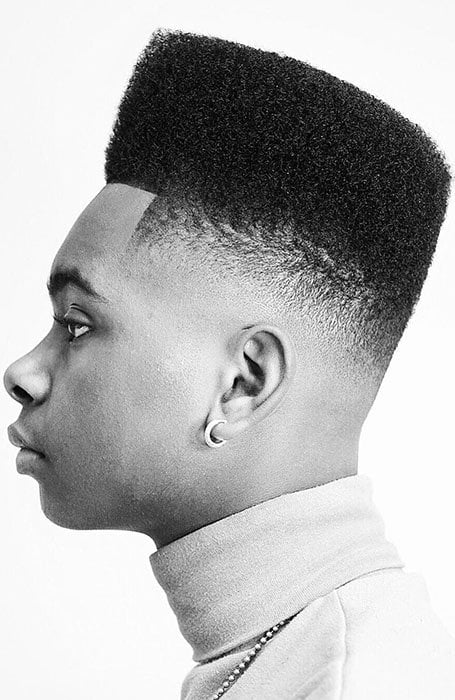 2. Burst Fade
The burst fade is an excellent choice for men who want to show off their natural hair texture and rock an edgy look. This fade is defined by its semi-circular appearance, which tapers around the ear and the back of the head. The appeal of the burst fade is that it can add structure to your look, giving you a more polished finish. It can also be adapted to suit various hair textures and lengths, including simple styles like the Caesar cut. Or you could keep the hair on top longer, creating a nice contrast between the faded sides and the curls on top.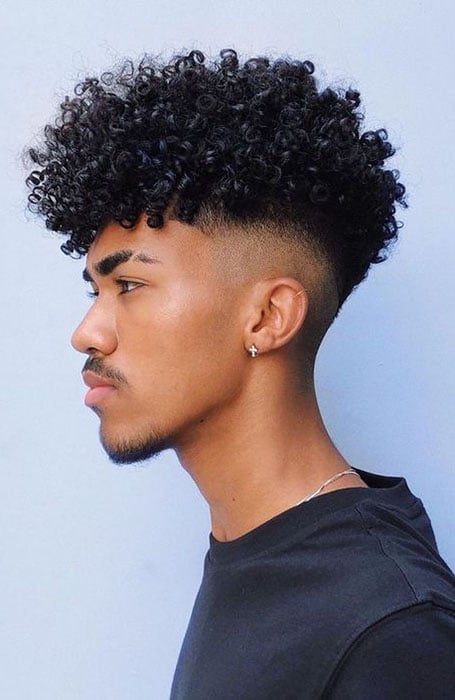 3. Butch Cut
Effortless to achieve and super masculine, that is what the butch cut is all about. This is a popular short haircut for men, and the hair is kept relatively the same length on the back and sides, around a quarter inch. The cut will follow the contour of the head and is low-maintenance. The style is often associated with the military and has a tough and rugged feel to it. That said, it can be personalized to suit your hair texture and preference; you can do this with a fade of your choosing, which will complement the cut. If you want to reduce your grooming time every morning or need an immaculate cut for the workplace, this is it!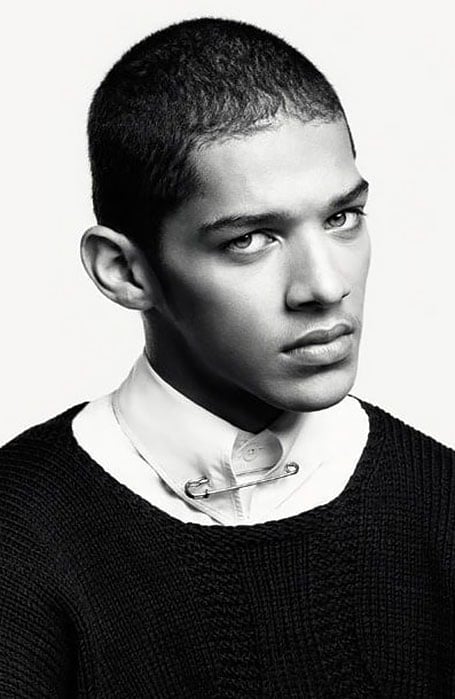 4. Buzz Cut with Hair Design
The buzz cut is another short hairstyle for men that is popular because it is low-maintenance and masculine. The cut is clipped close to the head and lends itself well to personalization. This includes fades, hair designs, and lineups. Hair design is a great way to express yourself and have fun with your appearance. There are many options to choose from, depending on how much of a statement you wish to make. Some men prefer to keep it simple with interesting line art or a geometric pattern, which looks professional, albeit a little edgy. Others opt for images like diamonds or lightning bolts for a unique look that will make them stand out from the crowd.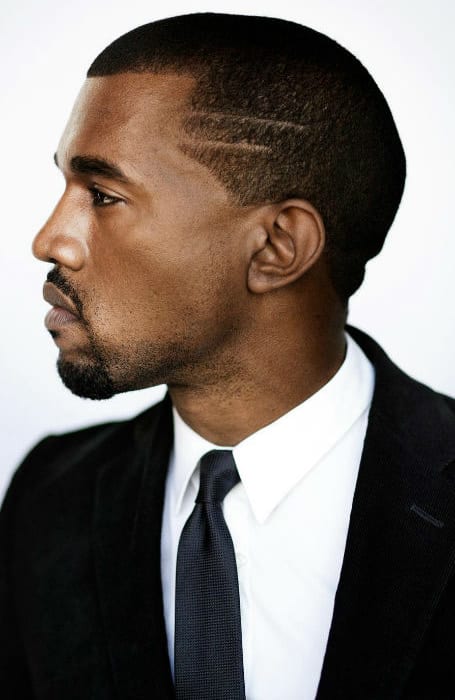 5. Buzz Cut with Line Up
One of the best things about the buzz cut is how versatile it is, and you can add your touch to it with the details you choose. This includes adding a lineup, which involves straight lines or sharp angles cut along the natural hairline. Alternatively, you could also opt for the lines at the parting or temples. The lineup can give your classic cut a more modern feel and allows you to add some of your personality to the style. The eye will be drawn to the hairline, and this could potentially work in your favor, highlighting your features. The buzz cut requires little upkeep and creates a masculine appearance. It is perfect for men who want to have a fuss-free haircut.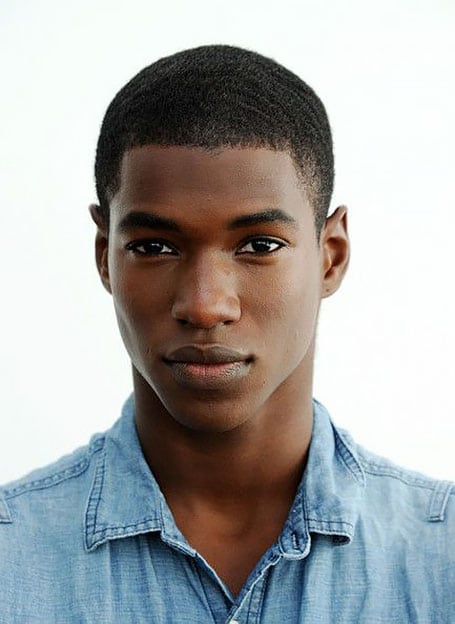 6. Buzz Cut with Temple Fade
A buzz cut with a temple fade creates a simple but polished appearance. It is perfect for men who want to keep their hair short and structured and has a very masculine feel. The temple fade starts at the temples and creates just a little contrast when paired with the buzz cut. This is a minimalistic look that can highlight your facial features but also reduce grooming time. It is a fantastic option for Black men who do not want the hassle of caring for their curls.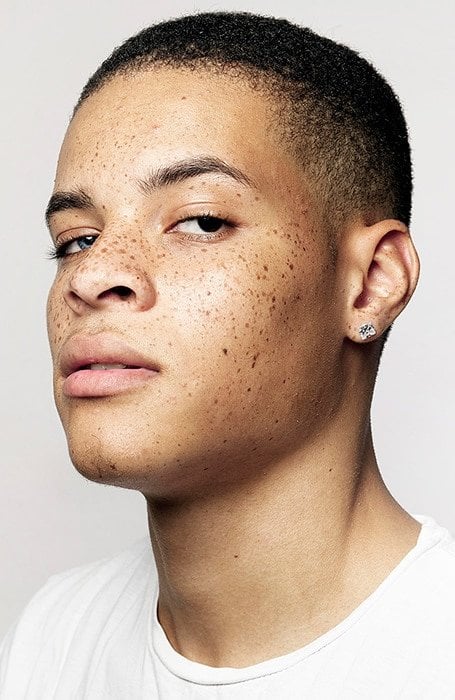 7. Buzz Cut with Lineup and Skin Fade
There are many ways to alter the buzz cut to allow it to reflect your personality. The cut is clipped close to the head but is versatile and highly adaptable. To add a little edginess to the classic look, you can pair it with a lineup and a skin fade. The lineup cuts sharp lines or angles into the hairline, drawing attention to the face. You can also change up the placement, opting for it to go along the temples or parting. The skin fade will add dimension and contrast to your haircut as it cuts downwards, removing all hair from around your ears and below. This can make the hair on top of the head seem fuller and thicker. If you are a man who has loads of confidence and doesn't mind getting attention, this is the look for you.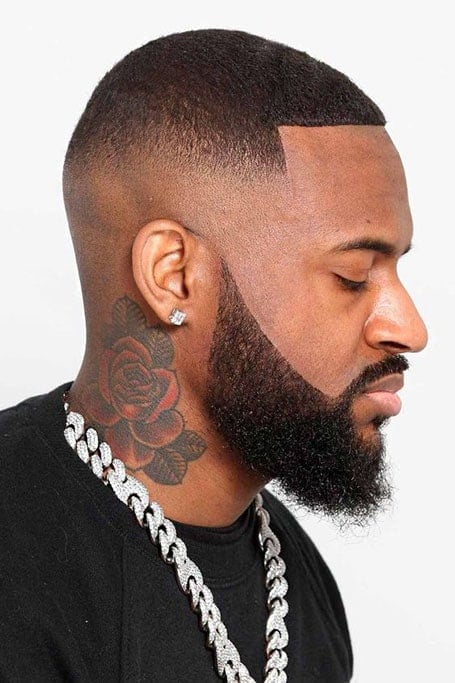 8. Buzz Cut with Bald Fade
Pairing a buzz cut with a bald fade is an easy way to play with proportions and creates a subtle contrast. The bald fade typically has the back and sides shaved off, with longer hair on the top. You can decide on different lengths on the top of the head, but the buzz cut is traditionally a short haircut. Therefore, the change appears more gradual and less dramatic, whereas it would be more evident if you were to style a bald fade with long curls. The fade can give your hair more structure and produces a very sleek and stylish finish.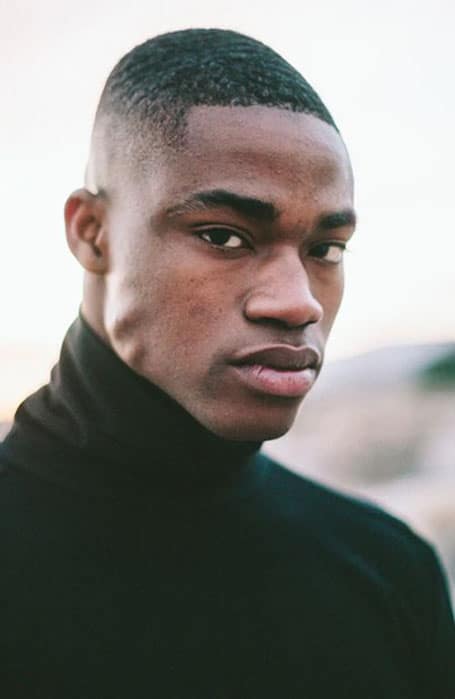 9. Buzz Cut with Mid Fade
The mid fade is one of the easiest fades to pull off because it is subtle. It is between a low fade and high fade and is typically tapered and stops somewhere between the ears and the temples. This makes it an excellent option for men who want to add structure to their appearance and a little contrast between the hair on top and the back and sides. Although the mid fade looks excellent with several hairstyles, including longer looks like the slick back, the buzz cut is a popular short haircut for men because it is a low-maintenance style and masculine. To give your appearance more balance, you can wear it with facial hair.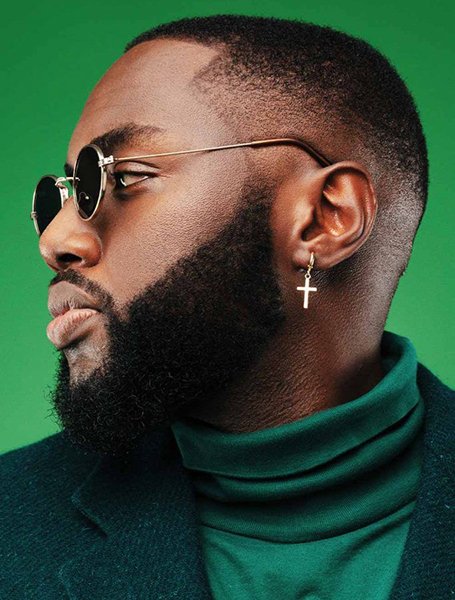 10. Caesar Cut
The Caesar cut is a classic hairstyle for men and is perfect for those who prefer short hair. It is a low-maintenance style that requires very little grooming time every morning, making it ideal for the man who is on the go. The cut is defined by being relatively the same length all around the head and on top and features subtle short bangs. This look is surprisingly versatile and can be adapted to suit hair of various textures, and opting for a more textured approach can add a softness to your appearance. Another pro is that the Caesar cut looks great on men of all ages.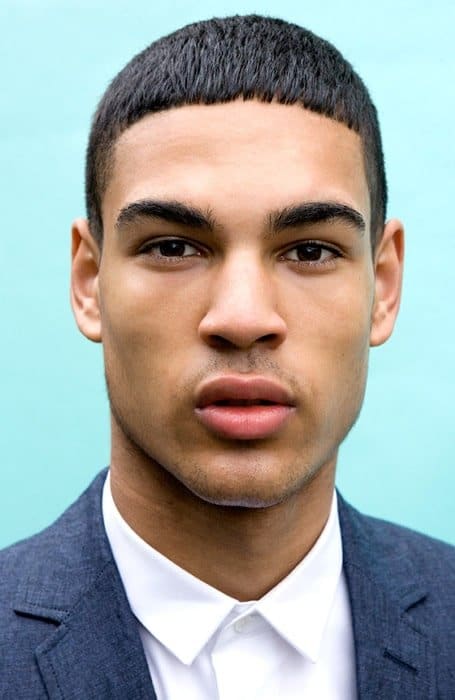 11. Clean Shave for Black Men
Do you want to take a break from styling your hair? Then opt for a clean shave. Shaving off your hair creates a very masculine appearance. Men without hair are often considered stronger, more powerful, and confident. It is also an excellent way to wear your hair if you want to reduce your grooming time and get rid of all your hair products. Although you will save money on conditioners, you will need to make regular trips to the barber for touch-ups. Something to consider before taking the plunge and opting for a clean shave is that every imperfection will be highlighted. It is, therefore, best not to choose this look if you have any scars, bumps, or anything that you do not want to draw attention to; if you are comfortable in your own skin, then do not let this stop you.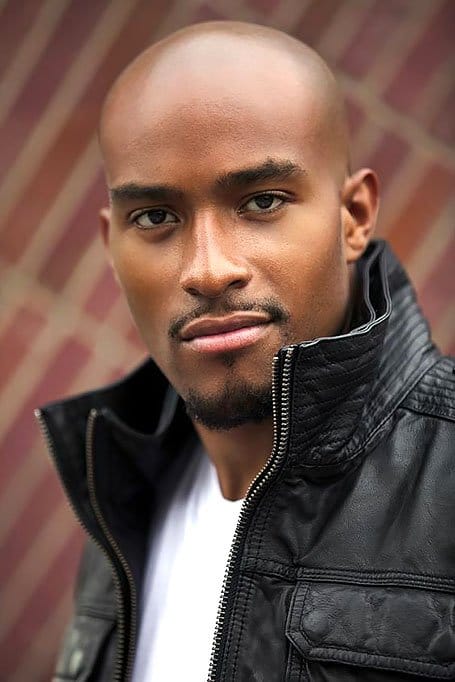 12. Cornrows with Man Bun
The man bun is one of the most popular updos for men with long hair. It is versatile, cool, and highly adaptable, but what better way to give it some edginess than pairing it with cornrows? This is a cool protective style that is bound to get you noticed. Cornrows are three-strand braids that are plaited close to the scalp. They have a raised appearance because of the underhand technique that is used to make them. For those men who want long cornrows, instead of leaving them loose, pull them into a man bun for a masculine and bold finish. You can opt for a fade on the sides and back of the hair to create more structure and contrast.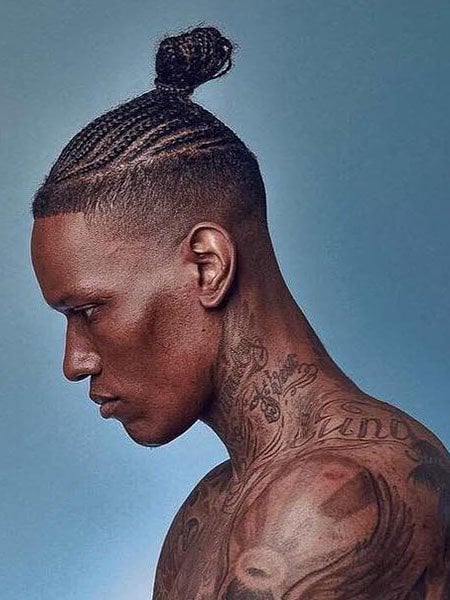 13. Cornrows with Box Braids
Cornrows can be worn at the hairline, but they are also an incredibly versatile protective style that can be changed to suit your preference and add a modern twist. You can also wear them with braids. Choosing to combine cornrows and box braids is a great option for Black men who want a cool but practical hairstyle. The cornrows will lock in moisture and help prevent breakage and friction. Box braids are individual plaits that are done by parting the hair into several sections. They get their name because they have a boxy appearance.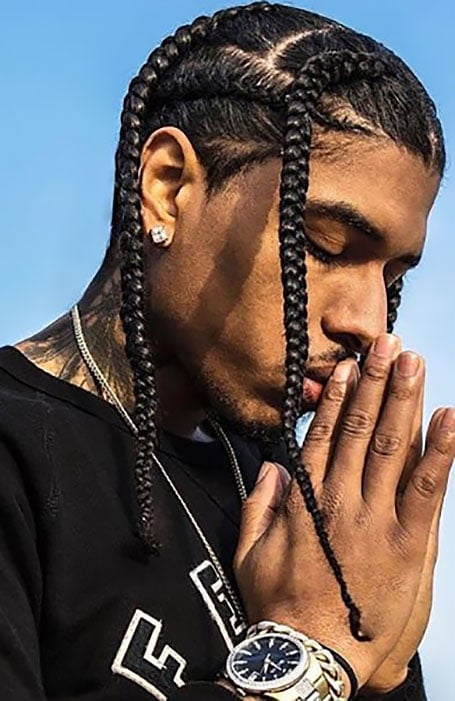 14. Cornrow Waves
Another hairstyle for natural hair is to combine cornrows and waves. Typically cornrows are created with a front-to-back pattern, but they are often adapted for a more modern and personalized take, and this could be by creating a wavy appearance. The way your cornrows produce a wave-like pattern will create an interesting finish that allows you to express yourself. This is a short hairstyle and a protective one, making it more than stylish but also practical.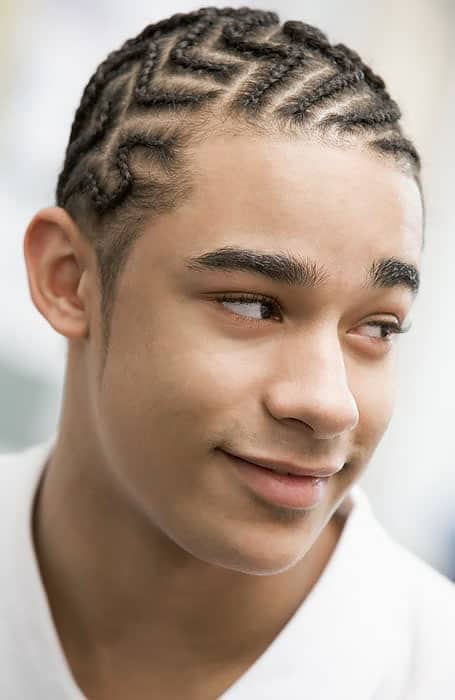 15. Dreadlocks with Undercut
Dreadlocks are rope-like strands of hair that are often associated with the Rastafari movement. They are versatile and can be worn in various sizes and lengths, but they can also be adapted to suit your style. One such way is with an undercut, which will add structure to your dreads and create an interesting contrast. An undercut has one length on the back and sides and can be paired with dreads of various lengths on the top. That said, the longer your dreads, the more visible the difference between the undercut will be, making for a dramatic appearance. Another pro of the undercut is it can remove weight from the hair, making it easier to rock your dreadlocks and less bulky.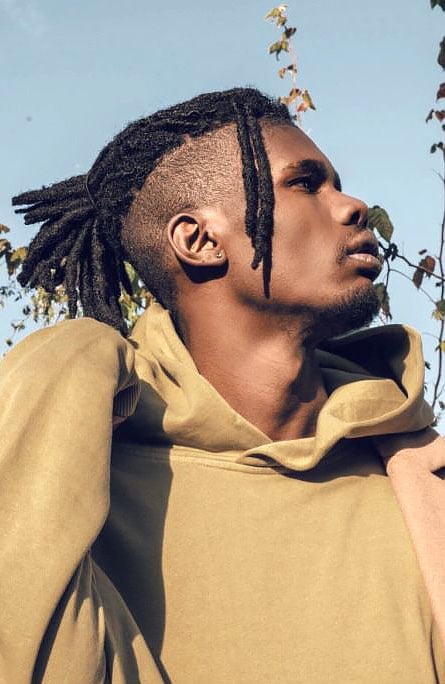 16. Dyed Afro for Black Men
An afro hairstyle is an excellent look for a man who wants to embrace his natural texture and let it grow out. There are many pros to the afro, and you can experiment with volume and length. You can also change up the color, opting for a dyed look for a more dramatic appearance that is bound to get you and your hair noticed. Choosing natural colors is much more wearable and has a less punk feel than unnatural and bold hues. Blonde, for example, is a fantastic option because it will brighten your hair, making the curl pattern more visible. It can also highlight your features.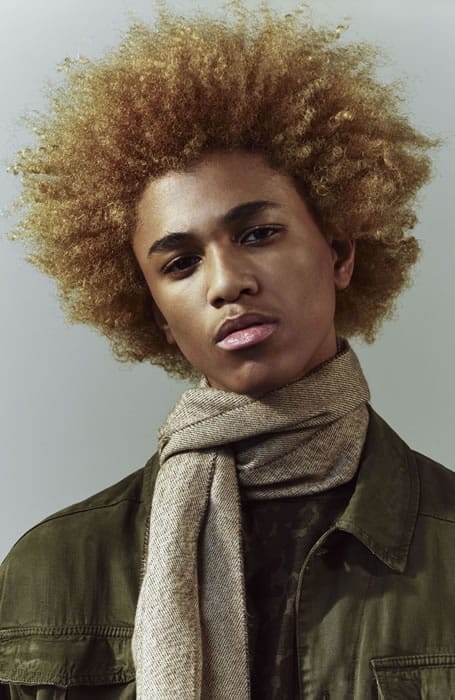 17. Flat Top
The flat top is an excellent style for Black men with voluminous hair. The style features short sides and longer hair at the top, with a flat top, hence the name. The cut can be traced back to the 50s, but it has been adapted several times to give it a more modern finish over the years. There are several ways to rock the flat top, depending on hair length and preference, but it is important to remember that the more height you have, the more maintenance your look will be. You will need thick, textured hair to make it easier to style, but the right products will also make a difference. Pair your flat top with a fade for a sleek finish.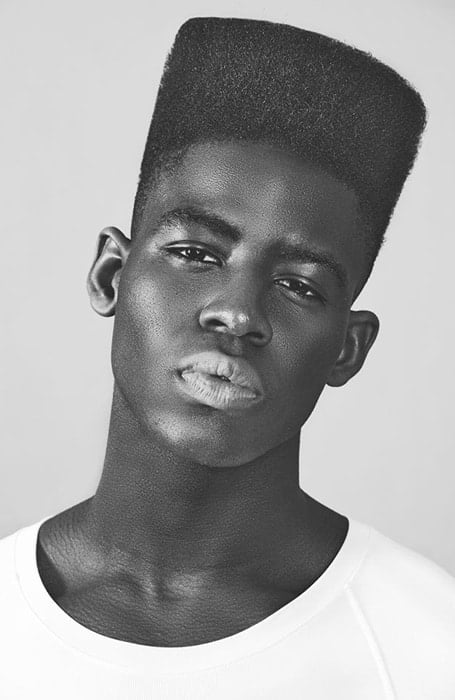 18. Frohawk
The frohawk has a similar concept to the mohawk, but it features curly and textured hair; it is essentially a marriage between the mohawk and an afro. It is also less dramatic than the traditional mohawk, which has a punk and rebellious feel. This is partly because the curls add a softness to your look and make it easier to wear. This haircut looks great on men with an attitude and suits most face shapes. Depending on your preference, it can also be adapted to suit various hair lengths and personalized with a fade or hair design. Including a fade is a more subtle contrast than shaving the sides entirely. You could also create a balanced appearance by opting for facial hair.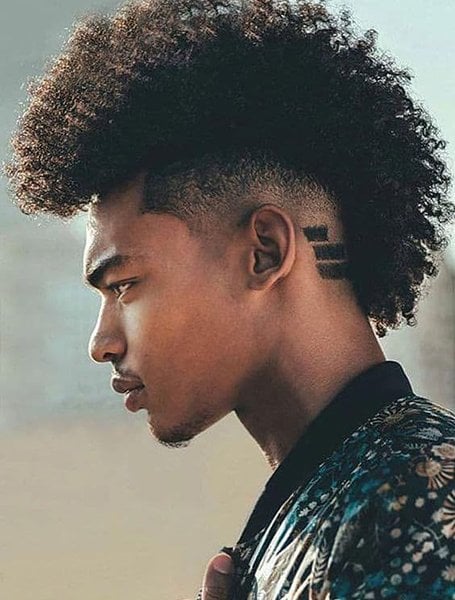 19. Geometric Afro
The afro hairstyle is a way to celebrate your natural texture, but it is also worn with pride and honors your Blackness. The appealing thing about the afro is there is no one style, and this is an incredibly versatile and adaptable hairstyle. You can make it short or long or experiment with proportions, including opting for interesting shapes. A geometric afro will include an angular element, making it stylish and fashion-forward.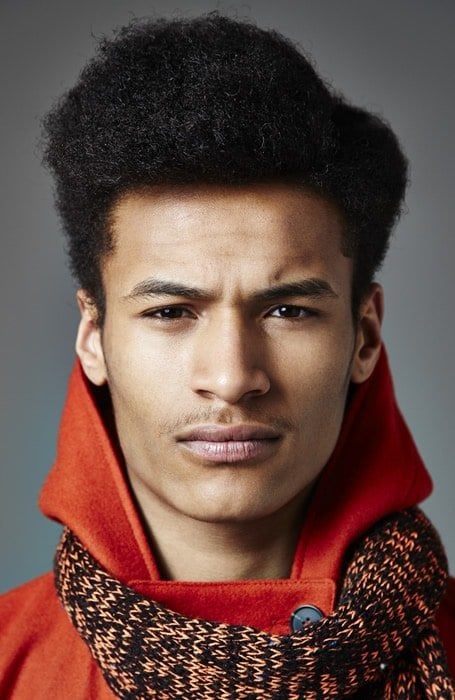 20. Hair Twists
Hair twists are a great way to add some volume to your hair, and they are all about achieving an interesting, textured appearance. Twists are a great way to wear your hair; they are also incredibly easy to do and low-maintenance. Twists can be worn on hair of various lengths and thicknesses. You can even change up the look by pairing it with a fade, undercut, or braids, depending on the style you're hoping to achieve. You can also create a relaxed and laid-back aesthetic or a tighter, more polished one. Twists are a protective style that typically can last up to six weeks.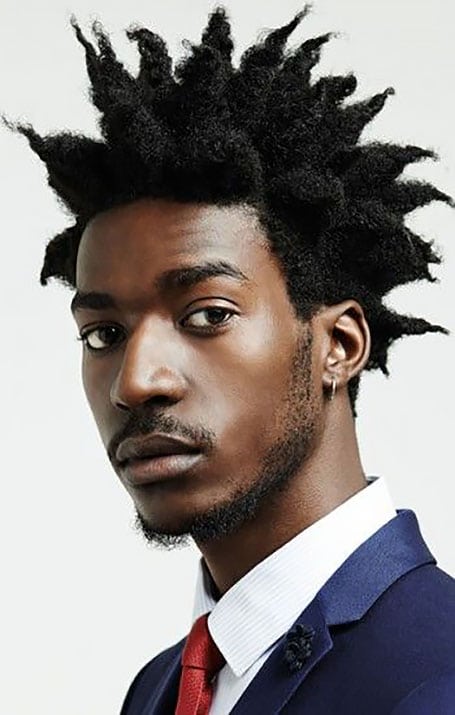 21. Hard Part with Fade
The hard part is an excellent addition to any haircut and is perfect for the man who wants to add an edge to his look. It features a clean line shaved down to the scalp, done with a razor or a trimmer. This line is often done to the side and helps achieve a polished appearance when paired with a fade. Depending on your chosen fade, you can work with your barber to create a clean and sharp look, lending itself well to more formal occasions. Alternatively, you can opt for something more daring that contrasts the hair on the top of the head and the back and sides.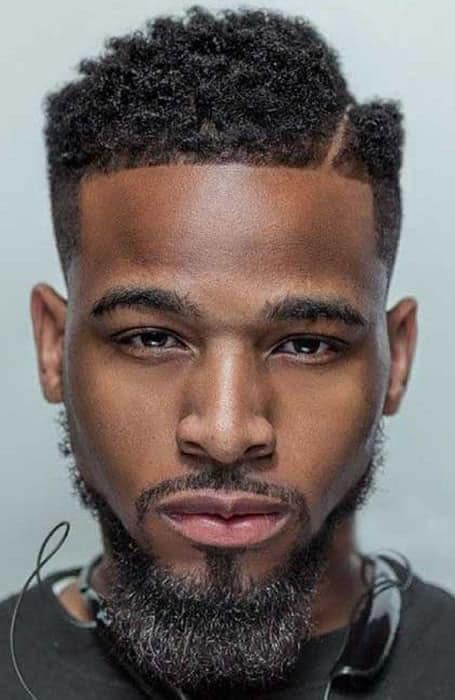 22. High and Tight
The high and tight is a popular short hairstyle for men because it is easy to wear and low-maintenance. This is the perfect look for more formal occasions and corporate environments. The cut was inspired by the military and is defined by short hair on the top of the head with shaved back and sides. This produces a subtle contrast and makes for a very masculine appearance. It can be worn on multiple textures and types and personalized for a more modern appearance. Some men do this by leaving length on the top or shaving more of the sides; the choice is yours.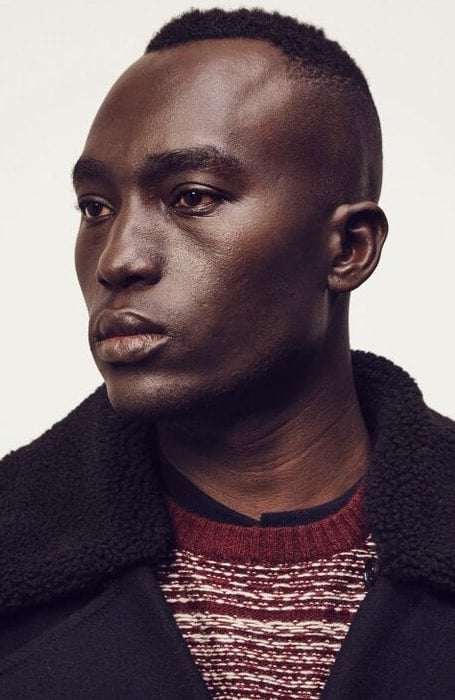 23. Long Afro
Keeping your afro long is more maintenance, but it is also a voluminous look and will get you noticed. Afros gained popularity during the Civil Rights movement and are still a way to celebrate your Blackness, which is why they are worn with pride. Opting for big, bold hair can make a statement. This look will also draw attention to your facial features. It is also healthy and will not require any harsh chemicals. If you want to add to the look to personalize it or remove some weight, you can do this with a fade.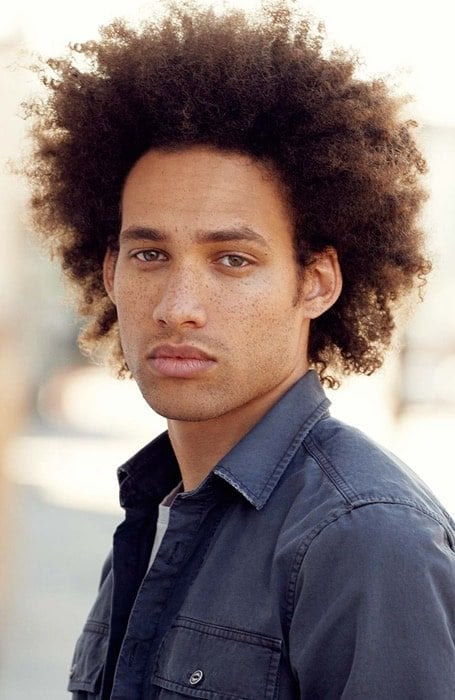 24. Long Box Braids
Box braids are a popular protective style for men and women because they are easy to install and incredibly versatile. Box braids can also be created in various lengths and thicknesses and worn down or in an updo; this allows you to put your own touch on the look. They can have a soulful feel to them but are also cool. Opting for long box braids will make a statement and are a great way to draw attention to your face. Depending on how you style them, they can have a face-framing effect that can be incredibly flattering. The length can also draw the eye up and down, giving the illusion of a slimmer and longer face.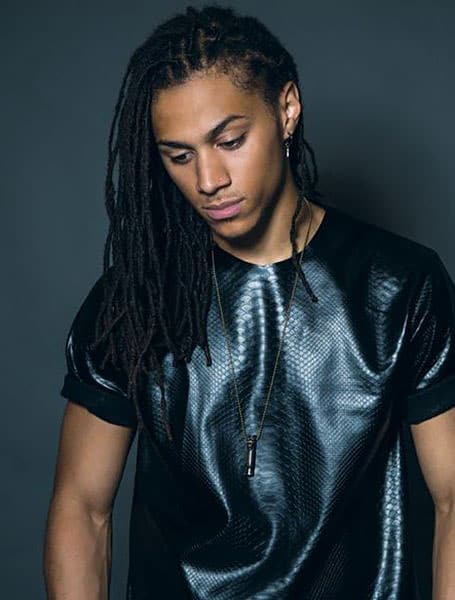 25. Long Dreadlocks
Choosing to wear your dreadlocks long is a great choice. Dreadlocks are matted, rope-like strands that can be adapted to various lengths and thicknesses, but if you want a look that stands out, then long dreadlocks are it. This option may be more maintenance and can be heavy, especially when wet. The longer your dreads, the more noticeable they are, which is great because this is a look that should be worn with pride.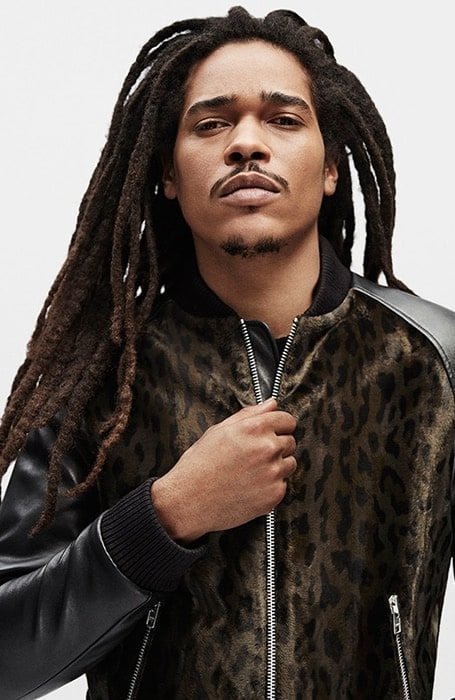 26. Low Fade
A low fade is a versatile cut that is subtle and understated. The low fade tapers lower on the head, with only the bottom inch of the hair getting gradually shorter. This makes it a great addition to any hairstyle, and you can experiment with various lengths on top and with different styles. The appeal of this fade is that it pairs well with many looks, so you are not restricted in any way with how you choose to wear it. The low fade can also add a sophisticated touch to your hairstyle, making it more sleek and polished by adding structure.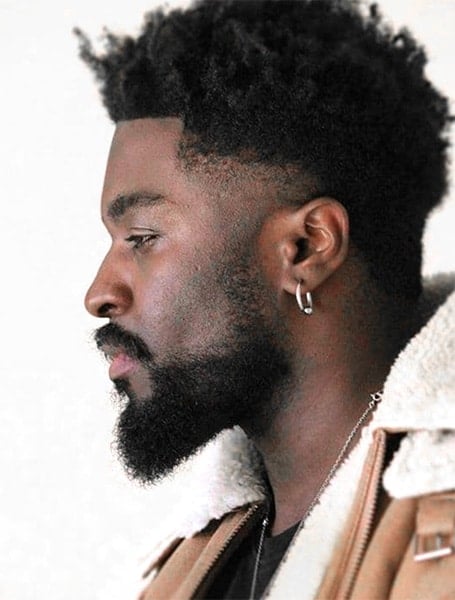 27. Medium Length Afro
A medium-length afro is the best of both worlds as it is not as heavy and challenging to tame as a long afro but has more volume than a shorter one. The appeal of afros is that they can be created in various lengths and symbolize empowerment. It is also a great way to embrace your natural hair texture and is healthy and durable. Pair your afro with a fade for more structure and to remove weight. A fade can also create the illusion of a fuller, thicker top.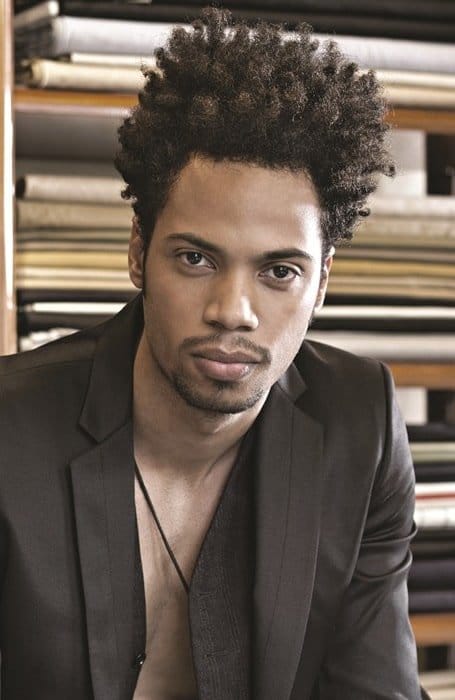 28. Mid Fade
Yet another versatile fade is the mid fade, which can be added to various looks, from the frohawk to the slick back, and will achieve a sleek and cool appearance. This fade is tapered at the ends between the temple and the ears and is a great way to add structure and contrast to your hair; this is especially true if your hair is kept longer or more textured on the top. The mid fade is an excellent choice for men of all ages, and you can work with your barber to find the best option for you. For a more balanced approach, you may want to pair it with a beard or facial hair.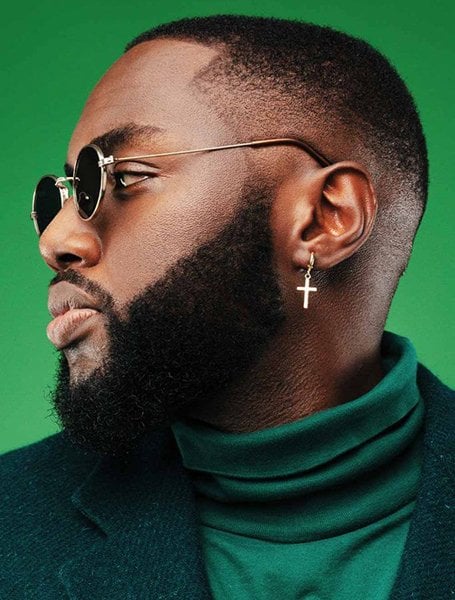 29. Mid Fade with Waves
The mid fade is a popular and versatile fade that can be adapted to suit various hairstyles. It can add contrast to your look or structure and is a wonderful choice for men of all ages. If you are looking for an interesting way to wear your waves, why not pair it with a mid fade? The appeal of waves is they are texturally interesting and will draw attention to your hair. But they are also adaptable, allowing you to put your own touch on them. The contrast between the patterns on the top, when paired with short sides and back, makes this a stylish and cool look for any man.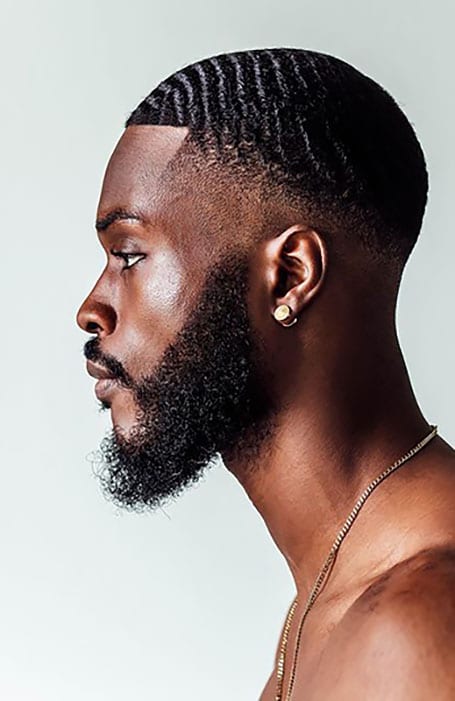 30. Pompadour
The pompadour is a look that is voluminous and cool. It features longer hair in the front, which is brushed upward, creating volume and height. This hairstyle has a very sophisticated, gentlemanly appearance, but it is also appealing because of its versatility. The pompadour can be paired with faded sides to add structure and make the look appear neater. You can also play around with different lengths on the top, keeping it shorter for a more subtle approach. The downside of the pompadour is that you will need to make regular trips to the barber to keep it the desired length.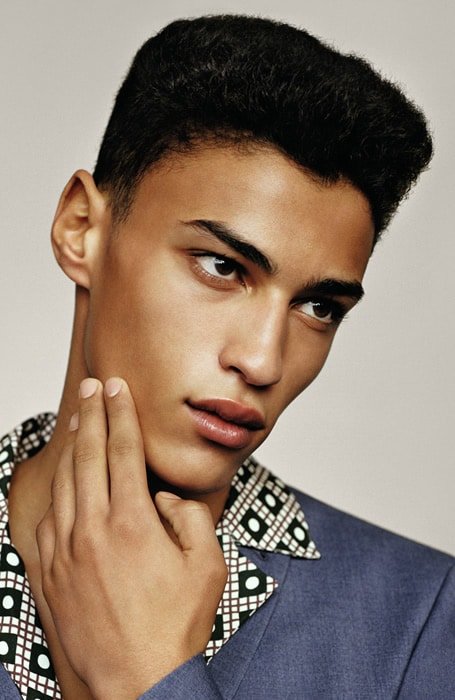 31. Ringlets
Ringlets are a hairstyle that is defined by tight curls. These curls can be of various thicknesses and lengths and create a youthful and charming appearance. There is a softness to ringlets, and they can frame the face and highlight your features. This is also a voluminous hairstyle but can be prone to dryness and frizz, so you need to ensure that your hair is in the best possible condition. Shorter styles are easier to wear and require less maintenance, but longer options demand attention and turn heads. Work with your barber to determine which look will best suit your face shape and hair texture.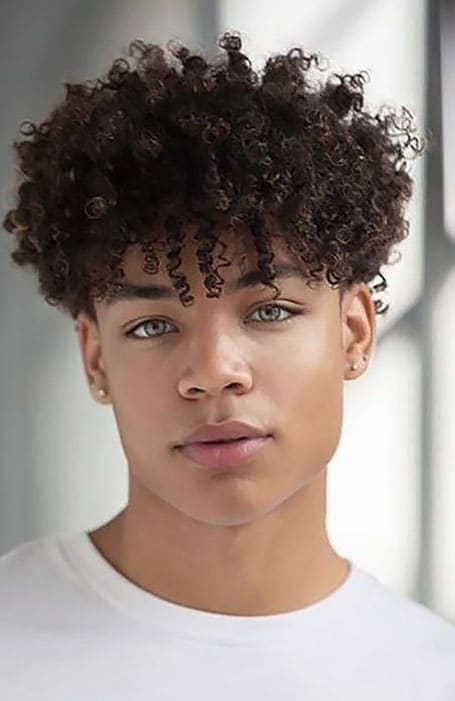 32. Short Afro
A short afro hairstyle is a practical alternative to keeping your hair long and voluminous. It is still a way to celebrate your natural hair, but reducing the volume and length makes it easier to care for and style. There is also less washing time involved, and you will not have to struggle with as many tangles. Short afros can also be healthier, and you do not have to worry so much about the ends looking dry or maintaining the shape. You can wear your afro with a fade if you want to create a contrast, giving you a more polished finish.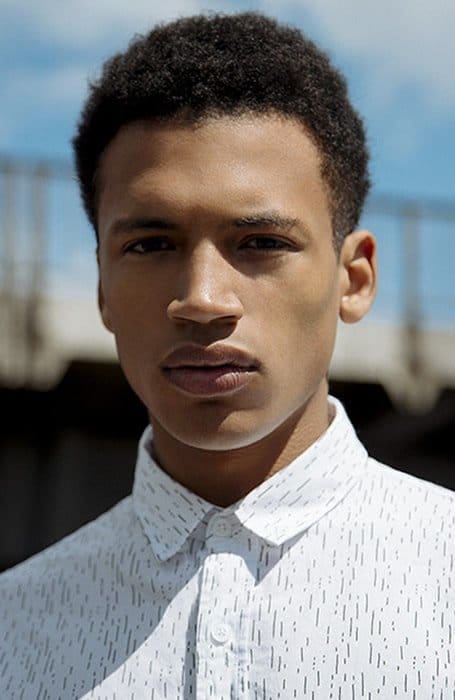 33. Short Afro with Skin Fade
If you want to embrace your natural hair texture but also don't want a high-maintenance look, then a good option would be a short afro. Limiting the volume makes your afro much easier to style and care for, but no less cool. It can also be paired with a fade if you want to add structure or remove weight from your hair. A skin fade is a daring option as the hair fades right down to the skin. This can create a sharp appearance and an interesting contrast between the backs and sides and the hair on top, giving your look more edge and drawing attention to your afro's texture.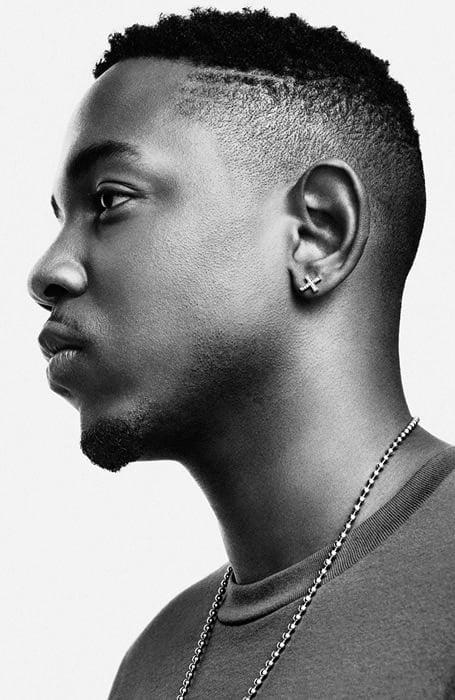 34. Short Afro with Line Up with Temple Fade
Try out a lineup with temple fade if you are looking for a cool addition to your short afro. The temple fade or temp fade tapers around the temples and is an excellent choice for a man who wants to make his hairline more visible. It is also versatile and can be adapted to suit various lengths and hair textures. The appeal of a line up is that it cuts straight lines or sharp angles along the natural hairline. When paired with an afro, it helps create an interesting contrast between the fullness at the top and the distinct line. Together, a temple fade and line up will add an edge to your appearance. The sharper angles can also make it look cleaner. The downside is that the look requires some upkeep, with regular trips to the barber to keep it neat.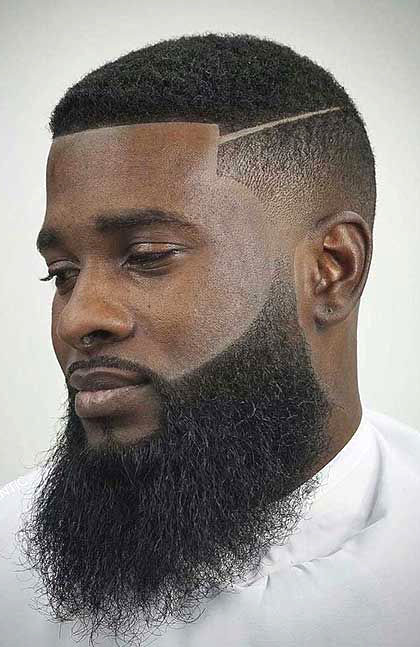 35. Short Curls with Temple Fade
Keeping your curls short makes them more manageable, but it is still a great way to show your natural hair texture. Curly hair can get tangled easily, which is why this is a superb alternative that will reduce style time. Short curls can look even more stylish when paired with a temp fade. A temple fade is defined by the cut tapering around the temples and can draw attention to your eyes. It is not a dramatic fade, therefore creating only a slight contrast with the texture of your curls. This makes it highly wearable, and men of all ages can wear it. The look is not so bold that you need serious confidence to pull it off, but it is incredibly flattering.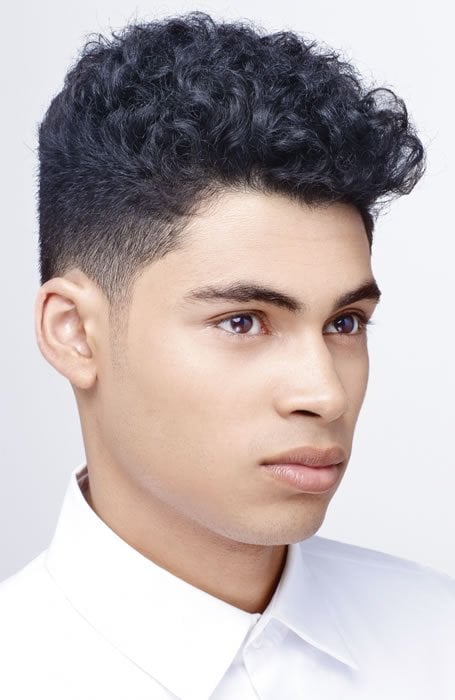 36. Short Dreadlock
If you love the idea of rocking dreadlocks but don't want to commit to growing them long, or would prefer to have a hairstyle that is less maintenance, then try short dreadlocks. In addition to being lighter, these dreadlocks can also be easier to wear, not requiring as much effort and producing a less noticeable and dramatic appearance. For a face-framing effect that will highlight your features, wear them with a middle part.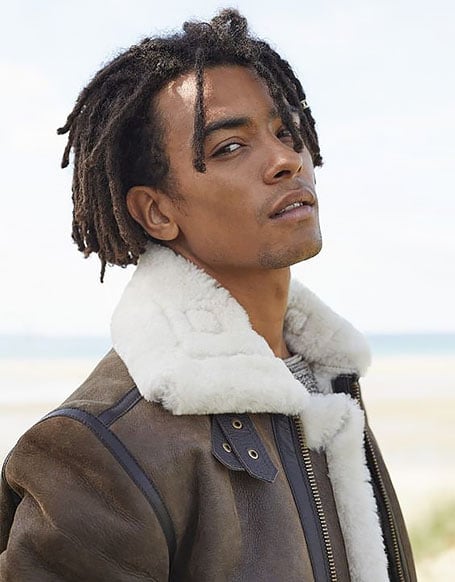 37. Spiky Afro Hair
Spiky hair has a 90s feel and is popular because there are many ways to try it out. You can make your spikes defined. Or opt for a more natural-looking approach, depending on how dramatic and noticeable you want them to be. Choosing to style your natural hair with a spiky style is a cool way to wear it. This can be achieved by twisting your hair into points. Spikes also work best with naturally textured hair as it provides more hold; just be sure they are not too long as this is much harder to pull off and keep standing upright.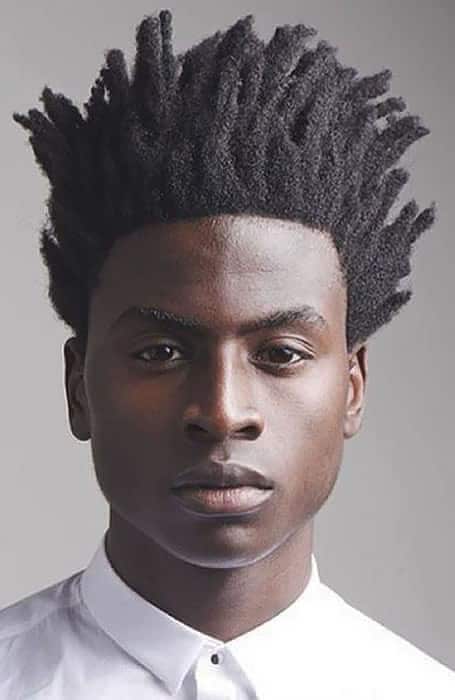 38. Taper Fade with Waves
Waves have a ripple-like pattern, making for an incredibly interesting and textured finish. The appeal of waves is that they are versatile and can be worn in many different ways, with some of the most popular options, including 180 waves and 360 waves. You can also tailor them to your preference with various finishes, for example, a fade or line up. Wearing your taper fade with short waves is a great way to channel the 90s. It is effortless and cool, and a taper is much easier to pull off than other, more dramatic fades. This fade is defined by the hair shorter at the back and sides, with length on top. It creates a gradual shortening of the hair, resulting in a more natural appearance.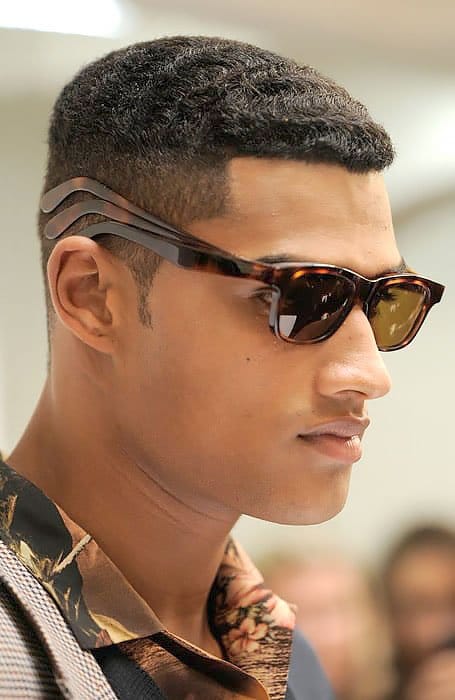 39. Temple Fade with Waves
Short waves look great because they show off the definition and add some personality to your look. At the same time, short hair is manageable and can create an effortlessly cool and masculine finish. The appeal of temple fade with waves is that the fade begins around the temples and will draw attention to the hairline. This can help highlight the wave pattern even more by creating a slight contrast.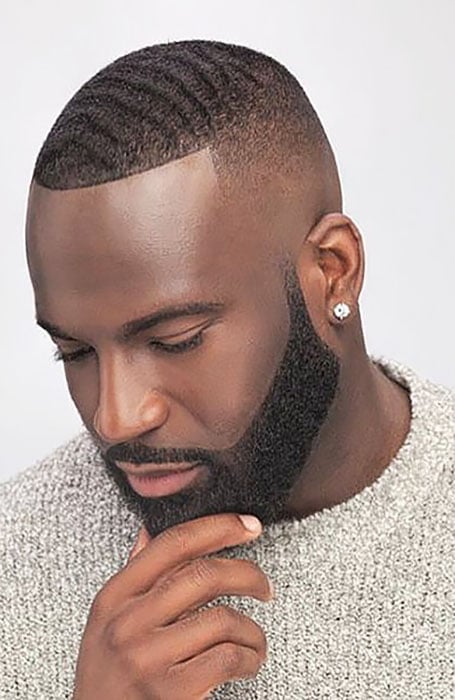 40. Undercut with Afro
If you love the idea of having an afro but want to remove weight from your hair, then pairing it with an undercut is a fantastic choice. The volume of the afro is accentuated when worn with an undercut as it creates a contrast between the bottom and sides of the head and the hair on top. Undercuts can be worn on multiple hair types and textures and are practical and cool. You will need to visit your barber around every three weeks to get it touched up, but this is worth it.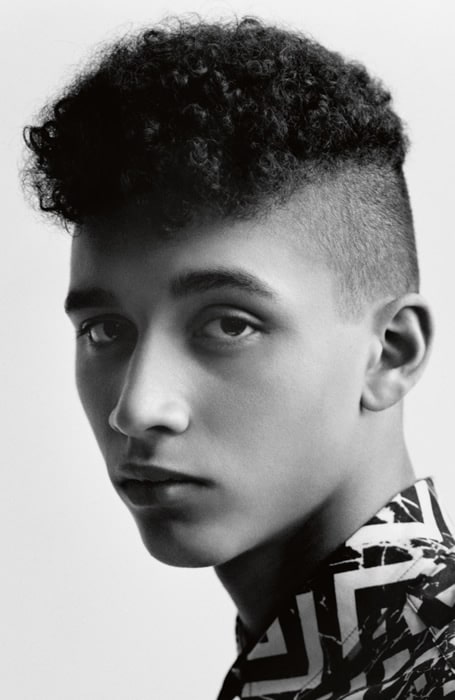 FAQs
What are the best haircuts for black men?
Some of the best haircuts for black men include the box fade, afro fade, hard part with fade, line up, and twists with fade. The texture of afro hair lends itself excellently to fade hairstyles and looks incredibly sharp.
What hairstyles are trending in 2021?
The black men's hairstyles trending for 2021 are the twists with fade, buzz cut, fro-hawk, drop fade, cornrows, and line-up.
SUBSCRIBE TO OUR NEWSLETTER
Subscribe to our mailing list and get interesting stuff and updates to your email inbox.