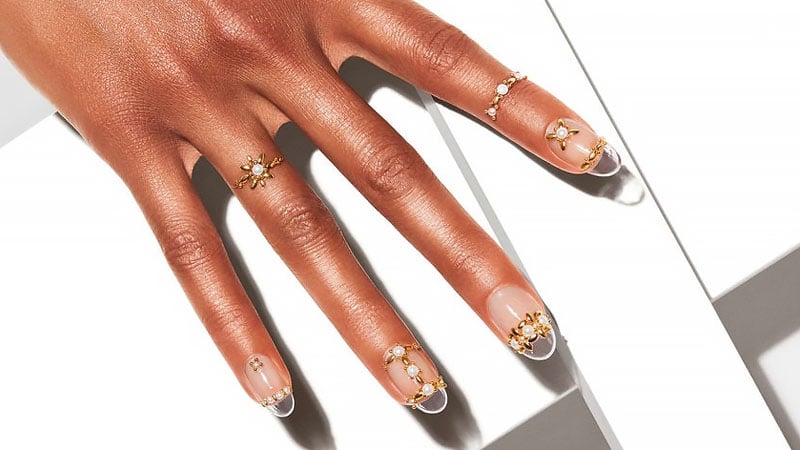 A great manicure can make you look and feel amazing, and one of the hottest trends to emerge this year is clear nail designs. This transparent finish is modern, edgy, and ultra-cool and is a great way to draw attention to your hands while also highlighting your chosen nail shape and length. You can opt for the classic finish, or get creative with different colors. You could even add nail art over a clear base color for a more unique approach. From clear nails with feminine nail art like flowers or butterflies to abstract designs, these are some of the best ways to try out this nail trend and get inspired.
1. Clear Acrylic Nails
Clear nails are a trending look and give you a modern and creative manicure. They can be created in a variety of shapes and lengths, and you can even experiment with different colors and nail art over the clear design. If you want strong, sturdy nails, then you can try acrylics. Acrylic nails are a great base for nail art and are long-lasting and resistant to damage. It is also an excellent way to achieve your ideal nail shape and length.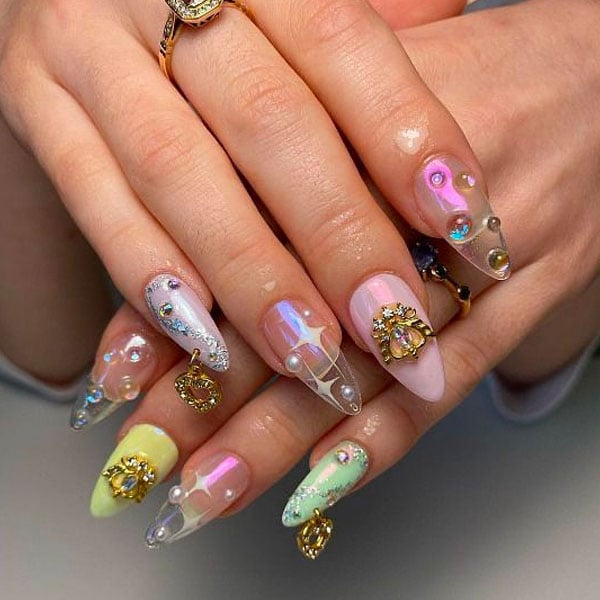 2. Clear Tip Nails
For a unique approach to the clear nail trend, why not focus the transparent effect on the tips of the nails? Highlighting the tips of the nails is a popular style because it can draw attention to your nail shape and create the illusion of longer, slimmer fingers. The clear nail trend is fun and modern, and this is a subtle way to try it out.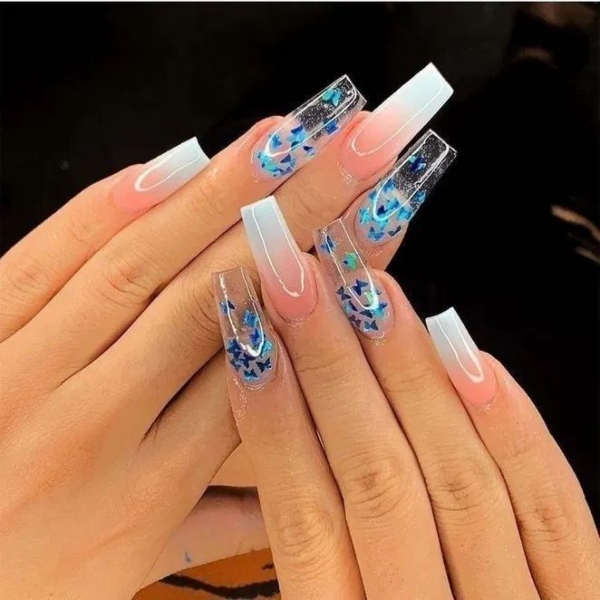 3. Clear Pink Nails
Clear nails can have nail art on them and can be created in different colors, making this a versatile and chic option for your next manicure. One of the most popular colors to choose is pink, a universally flattering hue that represents love and femininity. Pink nails look great on women of all ages and will complement all nail shapes and lengths. For a soft, girly approach choose a light pink, or go bold and unleash your inner Barbie with hot pink; the choice is yours.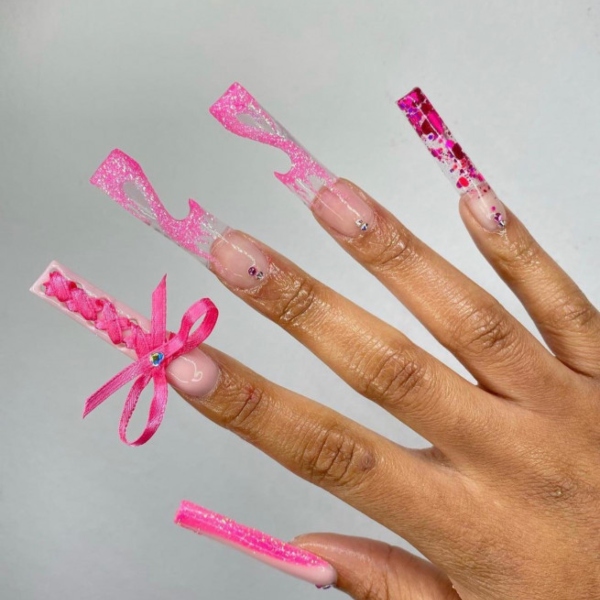 4. Clear Red Nails
Red nails are for the woman who wants to make a statement. This bold hue is associated with passion and romance, and the vibrancy of the color will highlight your nail shape and length. It is a great way to get your hands noticed, and opting for clear red nails will make your manicure even more modern and cool.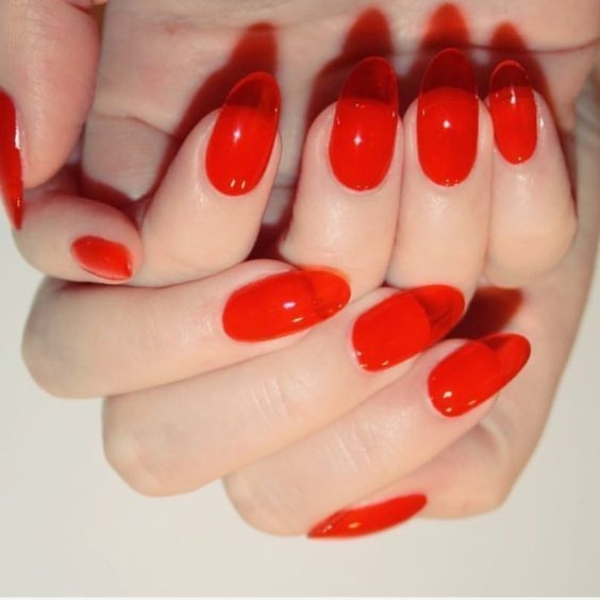 5. Clear Coffin Nails
If you are looking for a nail shape that demands attention, look no further than coffin nails. This shape is fun and flattering and created with tapered sides and a straight tip; the shape resembles a coffin, hence the name. They can be worn long or short but will have the biggest impact when worn long. Coffin nails are an excellent choice for your clear nail designs, whether they are simple or detailed.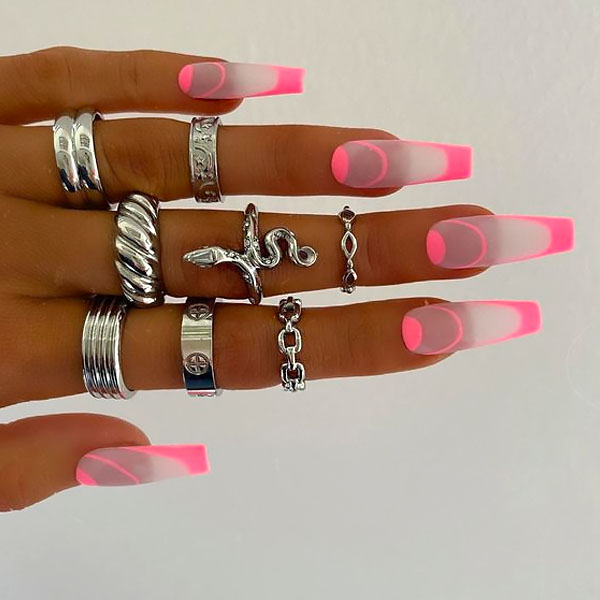 6. Simple Clear Nails
For those who prefer a minimalist approach to your manicure, and want nails that will lend themselves well to all occasions, try out this look. Simple nails focus on the basics, whether that is adding your favorite color to your clear nails or painting simple designs, like lines or dots over them. The clear nail trend will make your nails feel trendy and modern, even though they are simple and understated.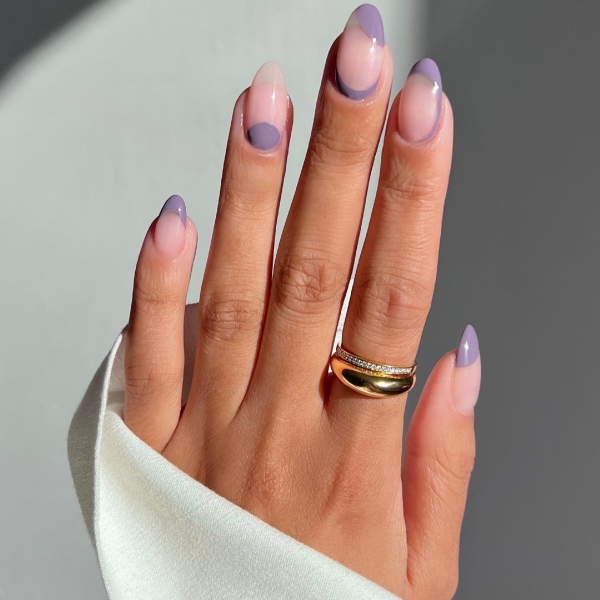 7. Clear Christmas Nails
Christmas is one of the most joyous times of the year and it is also a season that inspires bright, bold, and fun fashion and beauty trends. To get into the festive spirit this year, why not try Christmas nails? They can be created on a clear base with sweet designs of Santa Claus or Rudolph drawn over them. Or you could opt for a winter magic-inspired design with snowflakes. The great thing about the Christmas theme is there are many ways to get creative.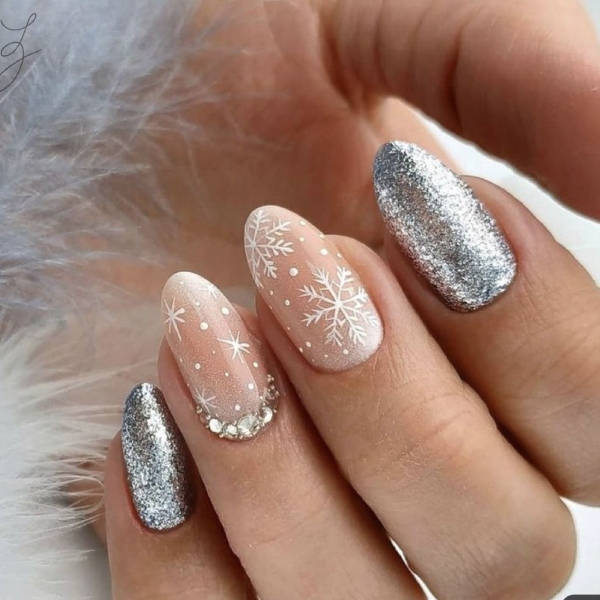 8. Clear Dip Nails
There are many ways to achieve the clear nail trend, including creating the look on your natural nails or using artificials. Another option is dip nails, or SNS nails, which are created by dipping the nail into a colored powder and using a clear sealant on top. This makes the manicure long-lasting and resistant to chips and damage. Work with your nail technician to determine if the look you want can be achieved using this technique.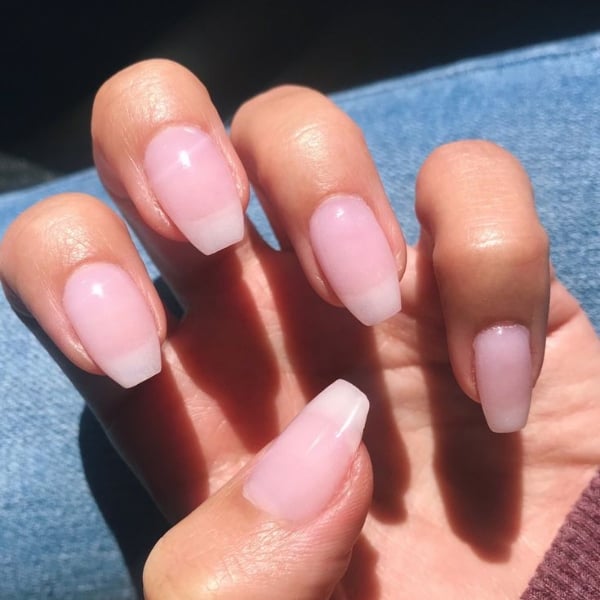 9. Clear Marble Nails
The marble nail trend is one of the most mesmerizingly beautiful, mixing different colors to create a unique, marbled pattern. It is chic, simple, and very effective. With clear nails, this can be more challenging to achieve, and you want to keep some of the base clear and use color over it. For a more natural look, stick to a combination of whites and nudes, which will complement the transparent areas on the nail.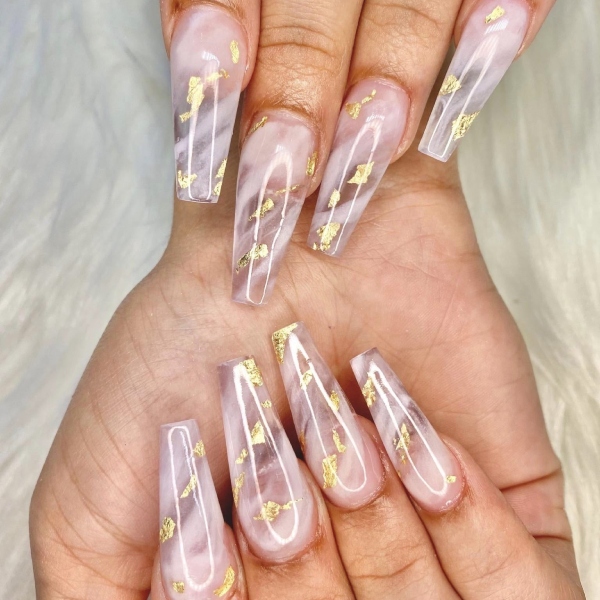 10. Clear Nails with Flowers
Adding nail art over clear nails will create a brilliant contrast and there are many different designs to try. This includes flower artwork, which is simple to create, can be done in the colors of your choosing, and is symbolic. Flowers represent growth, life, and beauty. Adding them to your nails can be a way to remind yourself to focus on all the good in your life and embrace each day.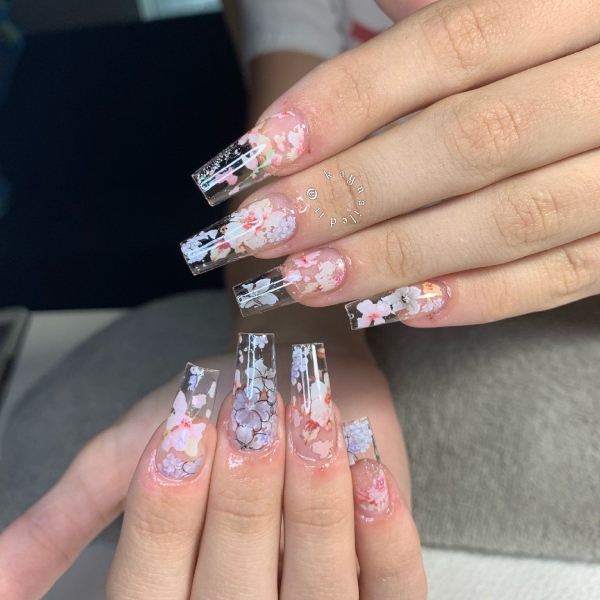 11. Clear Almond Nails
The clear nail trend is extremely versatile and can be created in the nail length and shape of your choosing. This includes almond nails, a versatile and sophisticated option that will suit women of all ages. The shape resembles the almond nut and is slim with tapered sides that form a soft point. The look is natural and elegant and will complement the trendiness of the clear finish.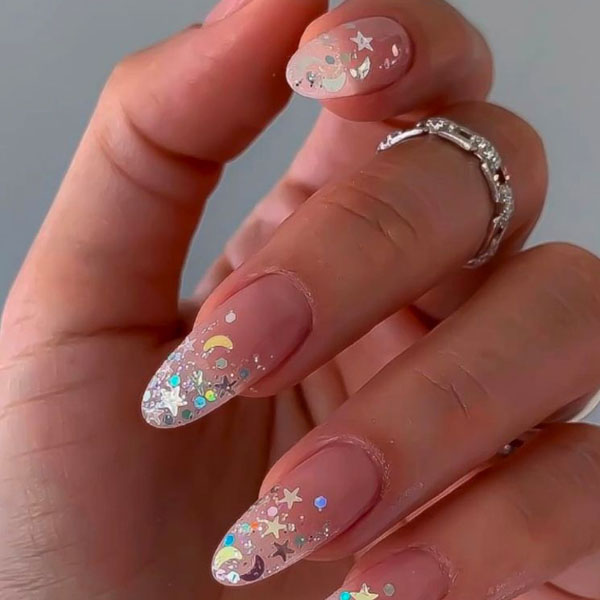 12. Clear Stiletto Nails
Stiletto nails are edgy, cool, and designed to be noticed. They are defined by their tapered shape and styled into very pointy ends. They are often worn long, which enhances the shape. Stiletto nails are not the most practical shape and are prone to breakage, but it is an excellent choice for making a statement and drawing attention to your hands. It is also an excellent base for nail art, or you can keep it simple with clear nails for a more subtle finish.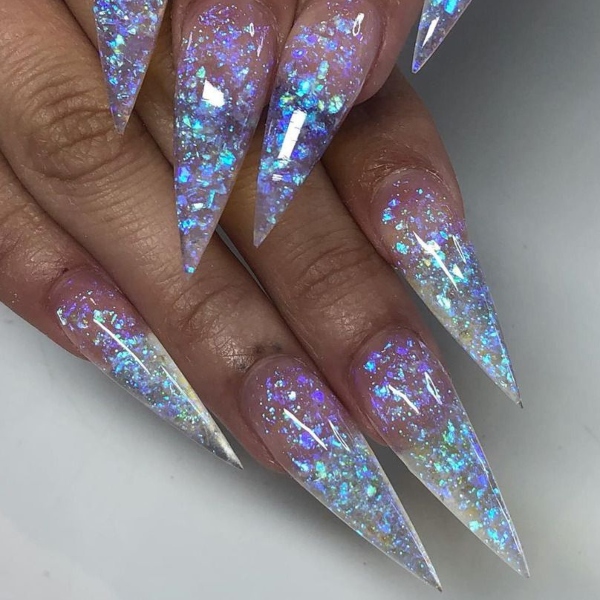 13. Clear Ombre Nails
The ombre nail trend is versatile and fun. It is created by mixing two or more colors to create a brilliant, blended effect. The colors you choose can be bright and bold, or subtle, neutral hues; the choice is yours. With clear nails, you want to ensure part of the nail is left transparent. For example, the base of the nail can be transparent and the tip can be in color, creating a striking contrast.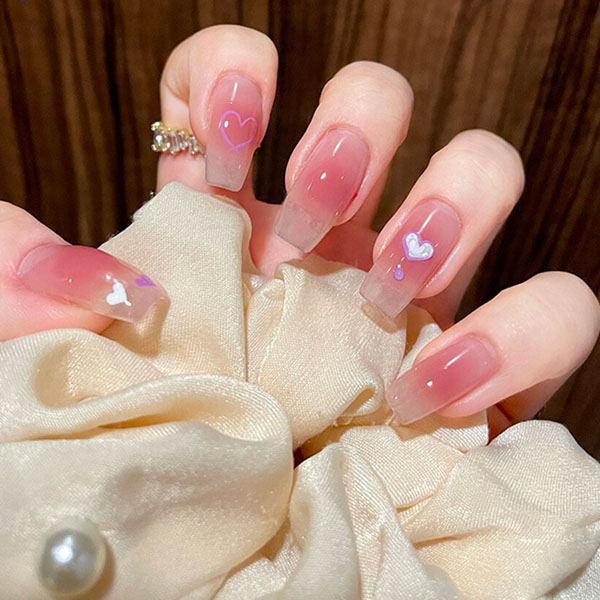 14. Clear Glitter Nails
Glitter nails are an excellent way to add some sparkle to your appearance. Glitter is also fun, and expressive, and there are multiple shades to choose from, making it easy to find the one that best suits your preference. Adding a top coat of glitter to your clear nails will look sophisticated and create a stunning manicure. You can experiment with the placement of your glitter, focusing it on the base or the tip of the fingernail, depending on the desired effect.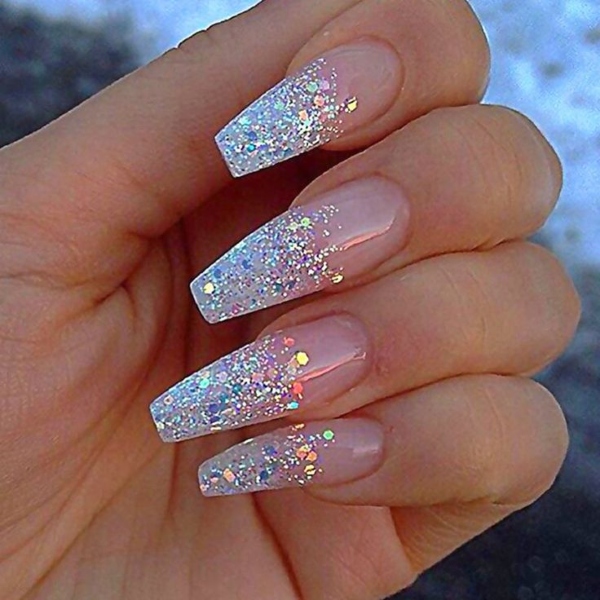 15. Clear Butterfly Nails
There are few nail art options as beautiful and symbolic as butterfly nails. Butterfly nails can be created in the colors of your choosing and can be added to the nail in various ways, including hand-painting your own design or adding butterfly-shaped sequins. This is also an excellent way to experiment with color, and to create a manicure that is empowering because the winged insect represents growth, transformation, and beauty.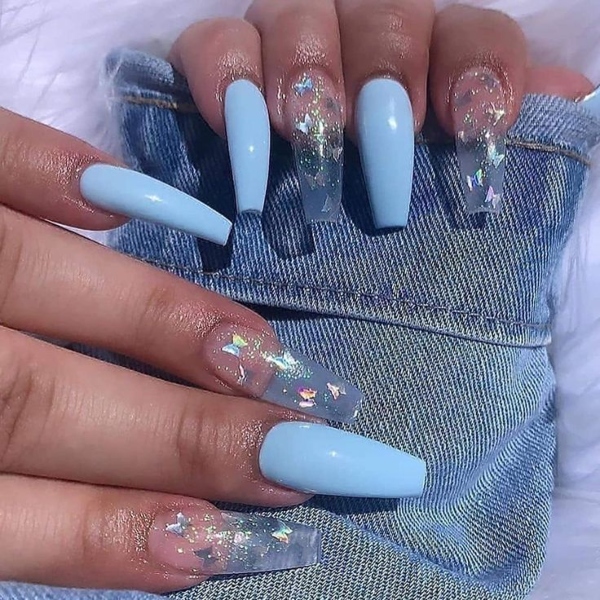 16. Clear Blue Nails
Clear blue nails are a great way to experiment with the trend but also add your favorite color and a skilled technician will help you achieve your desired look. Blue nails are a popular choice because there is a color to suit every preference and complement your skin tone, whether that is bold and vibrant or pale and muted. The color is also associated with calmness and tranquility.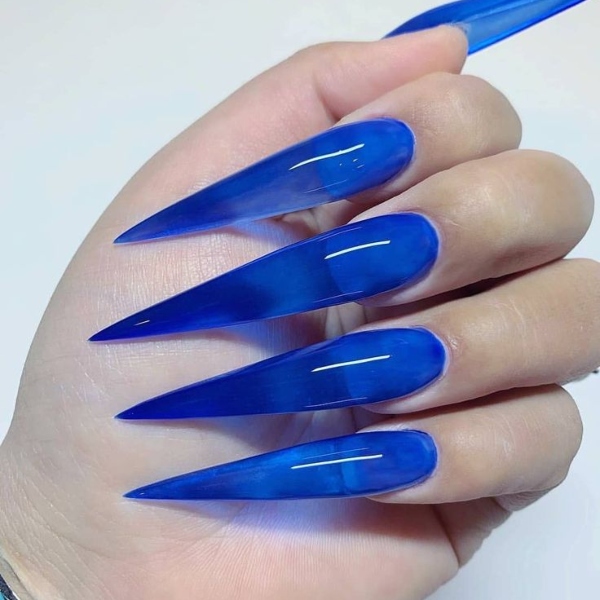 17. Clear Green Nails
Green nails are fun, expressive, and bold. This is a hue that is associated with growth, life, and energy, and can help you channel positivity and remain focused. Or it could be a way to get creative with your nail art and embrace the clear trend for the base. There are so many ways to incorporate this color into your manicure that your creativity is your only limit.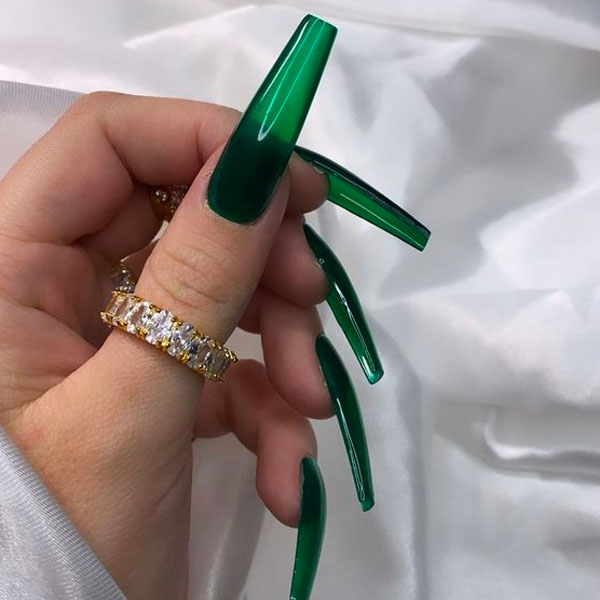 18. Clear Star Nails
Star nails are a favorite for nail art because they are easy to create but effective. You can add stars in various sizes and colors over your clear base, which will create a brilliant contrast with nail art. You can also experiment with how you add the stars, sporadically placed, or focused at specific angles or only at the base or tip. Have fun and create something you will be proud to show off.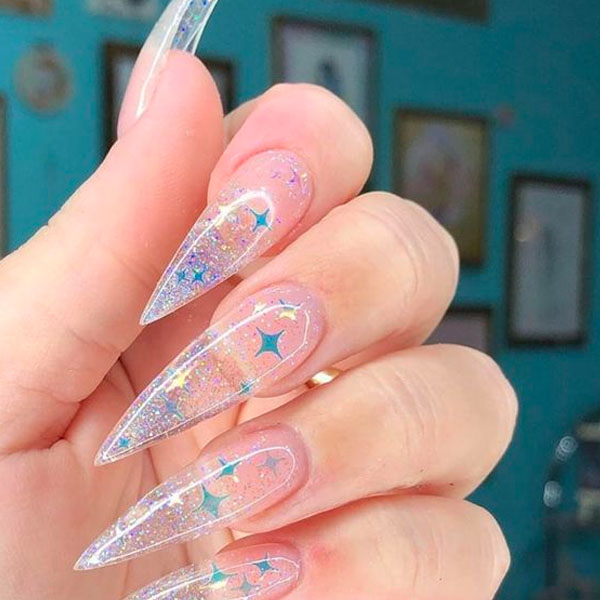 19. Clear Nude Nails
For a subtle and stylish approach to the clear nail trend, you can add your favorite shade of nude polish. Nude nails are stylish and sophisticated and there is a shade to complement every skin tone. Choose the shade that is closest to your natural skin tone for the best results, and to elongate your fingertips. Nude matches everything and can be added to nails of all lengths and shapes, making it an incredibly versatile look.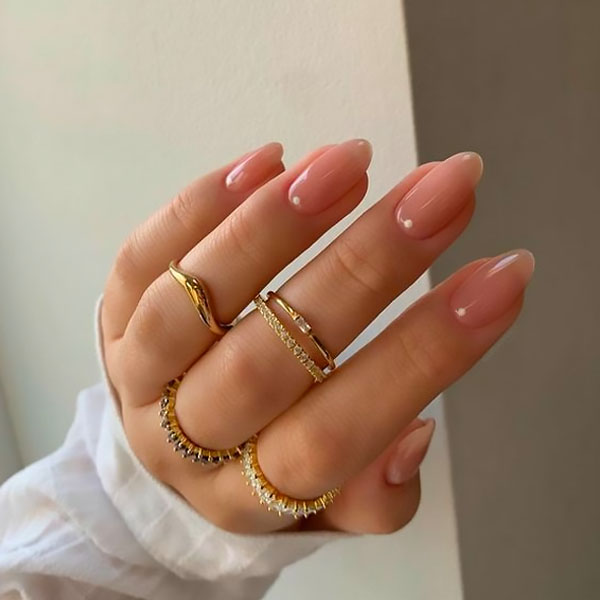 20. Clear Abstract Nails
For those who love nail art that is funky, cool, and expressive, look no further than abstract nails. You can experiment with different angles, placements, and colors, and use various techniques from bold brush strokes to represent paint splashes, to thin, precise lines. The abstract artwork will look gorgeous over a clear base and give you a modern and unique manicure.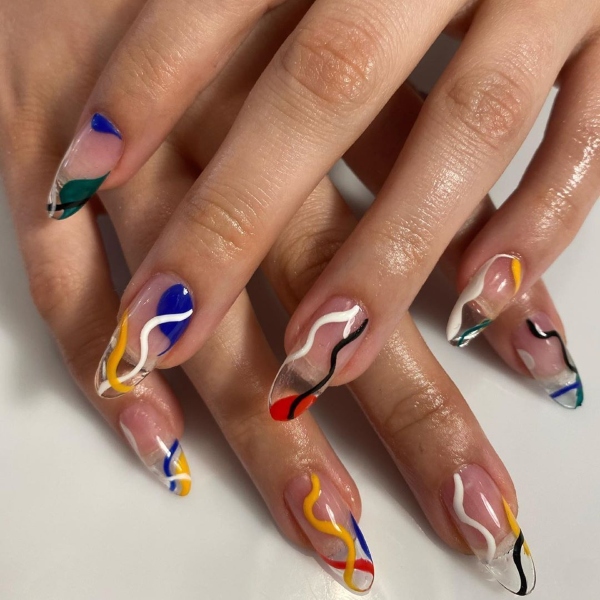 21. Clear Nails with Black Artwork
Clear nail designs are incredibly versatile and there are various ways to try out the trend. This includes adding artwork of your choosing over a transparent base to create a brilliant contrast, and there are few colors as bold as black. These nails look great on everyone and can be expressive, showing you are not afraid to stand out from the crowd or take risks. You can keep your artwork simple, with clean lines or dots, or opt for something more creative like images of flowers or line art of human form.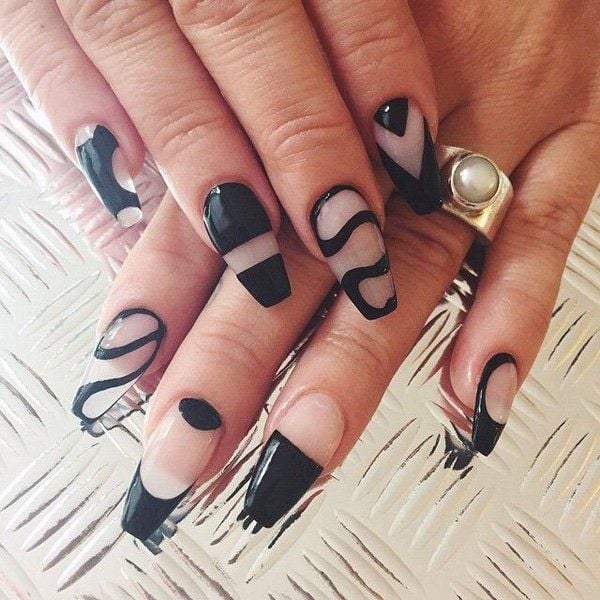 22. Clear Nails with Line Art
Line art is a genre created by using distinct straight lines and curves. The result is often clean and minimalistic but can take on various forms, including natural images like flowers and insects. Adding line art over clear nails lets you experiment with negative spacing and allows you to create a unique finish. On longer nails, you will have more space to get creative.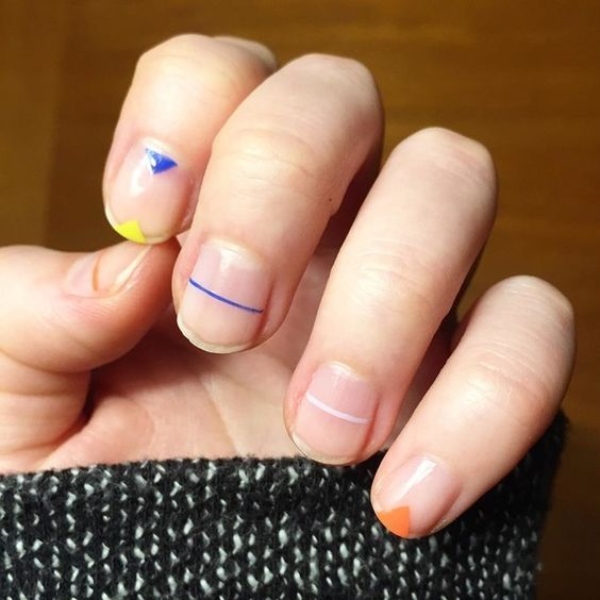 23. Clear Evil Eye Nail Design
The evil eye is a simple design, but one that is rich in meaning. It is worn to ward off evil and protect the wearer from negative energies. Adding this symbol to your nail art can remind you to be wary of those you trust or to stay guarded. You can experiment with the placement of the design. Whether you choose to add just one evil eye or multiple to each fingernail will depend on your desired complexity.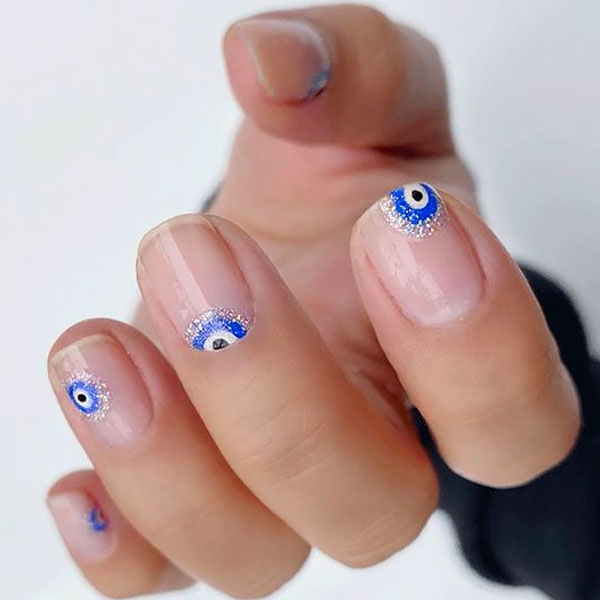 24. Clear 3D Nails
3D nails are the perfect manicure for someone who wants a bold finish. Adding jewels or plastic flowers, hearts, or smiley faces, to the nails is an excellent way to draw attention to your hands. Plus, they can be added to your desired length and shape. This is a cute and youthful look that is best suited to women who want to express themselves.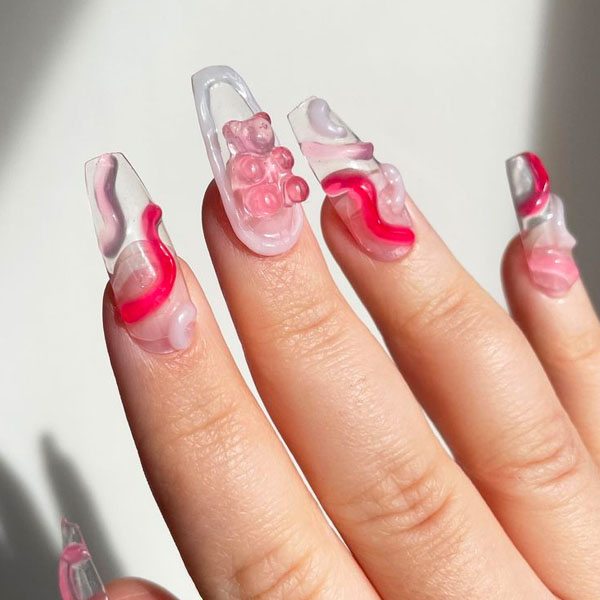 25. Clear Minimalist Nail Art
Minimalist nail art is a great choice because it is simple and beautiful. It looks good on all nail lengths and shapes and will complement the clear base design, while also enhancing it. Your look could include clean lines or polka dots or could be something different entirely. The beauty of this look lies in its simplicity and it will lend itself well to all occasions.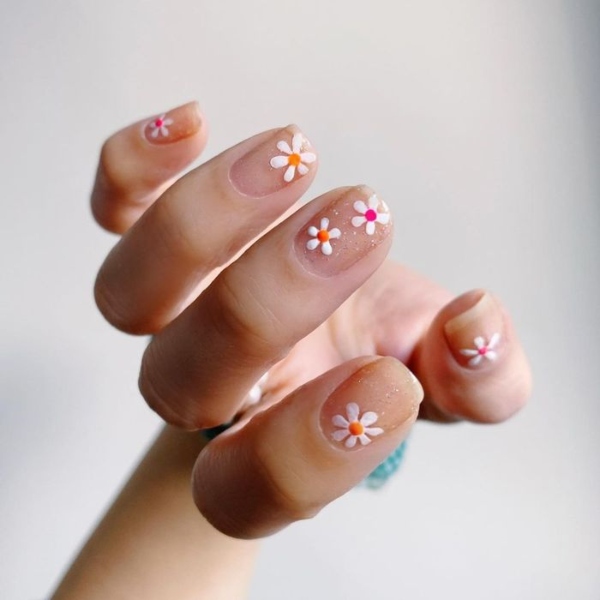 26. Clear Valentine's Day Nails
Valentine's Day is a celebration of love and is often marked with shades of pink and red and cute heart designs. You do not have to wait for Feb.14 to get inspired though, and Valentine's Day nails are perfect for any time of the year. Creating heart designs and experimenting with glitter and diamantes is a great way to get your hands noticed. It will look even cooler when contrasted with a clear base.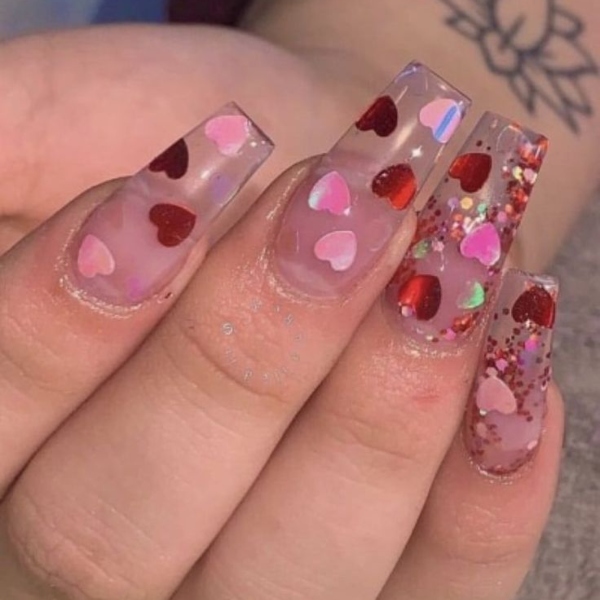 27. Clear Dot Nails
The simplest nail art is often the best because it feels timeless and sophisticated. One of the best options, and the easiest to recreate, is dot nails. Adding a small dot of your favorite color to your clear nail design is a brilliant way to add color to your manicure, without going overboard. The placement is up to you, including adding it to the base of the nail or directly in the middle.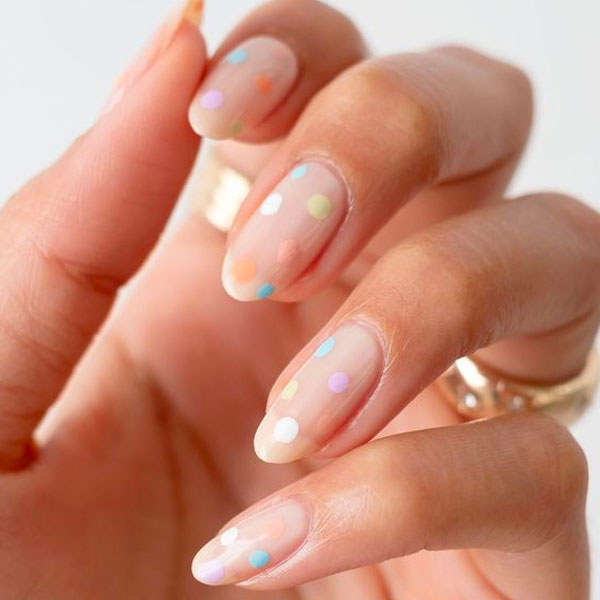 28. Clear Nails with Matte Polish
What better way to create a textured finish and produce a brilliant contrast than by pairing your clear nail design with matte polish? The clear design is transparent and modern, while matte lacquer has a smooth, flat finish. This makes the combination of the two a manicure that is fun and expressive. Matte nail polish comes in a range of colors, letting you choose the option that best suits your preference, whether that is neutrals or bold, saturated hues.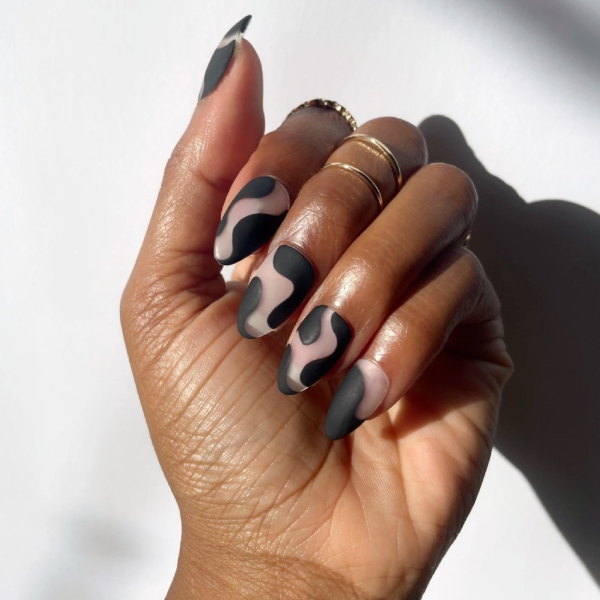 29. Clear and Gold Nails
There are few colors as luxurious and glamorous as gold, and adding gold to your clear nail design will create an effortlessly stylish manicure. Gold nails can be achieved with gold-colored polish, gold flakes, or glitter, and the method you choose will depend on your desired result. A great option would be to add gold flakes over a transparent, clear nail base. This will create a pretty and delicate finish that is perfect for a special date or event.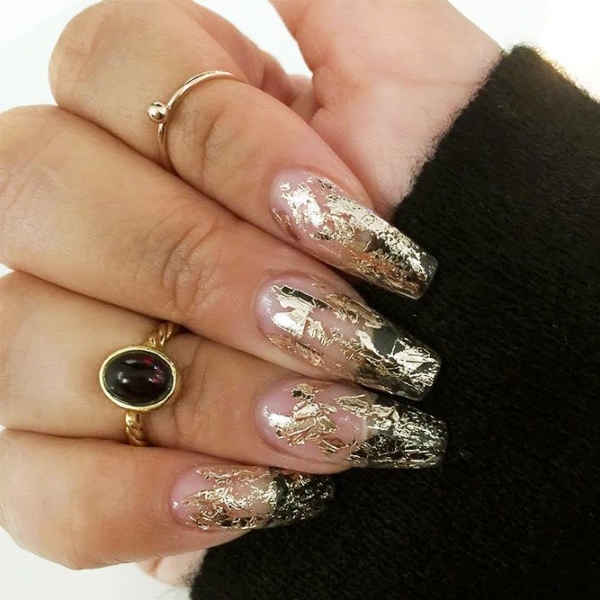 30. Clear Round Nails
Clear nail designs can be added to nails of all shapes and lengths, letting you choose the look that best complements your finger shape and nail bed. Round nails are an excellent choice for someone who wants low-maintenance nails that can elongate your nail bed. They are defined by their straight sides and rounded edges and look great when worn short or long.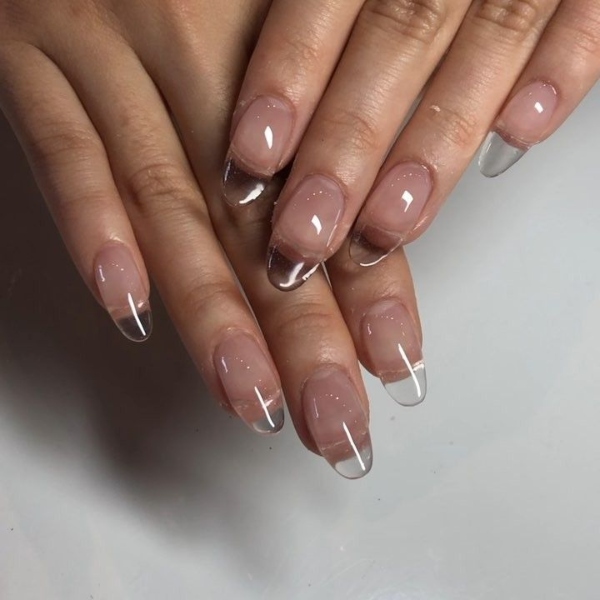 Clear Nail Designs FAQs
Are clear nails in style?
Clear nails are in style and will give you a modern and ultra-cool finish. The look can be added to nails of all lengths and shapes and can be done in various colors. You can also create a contrast with a transparent base by adding nail art over it for a unique and stylish finish.
Can acrylic nails be clear?
Acrylic nails can be created to be clear. This is an excellent option for anyone who wants to experiment with different nail shapes or achieve longer lengths. Acrylics are also strong, durable, and long-lasting and will provide the perfect base for nail art and designs.
SUBSCRIBE TO OUR NEWSLETTER
Subscribe to our mailing list and get interesting stuff and updates to your email inbox.