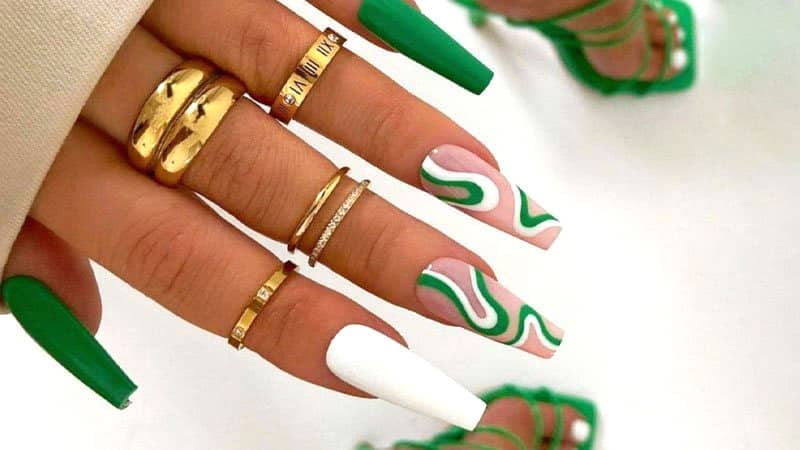 Coffin nails are of the most popular nail shapes because of their versatility. They can be worn long or short and are a great canvas for nail art, letting you get creative or keep it simple; the choice is yours. Coffin nails are defined by their tapered sides and straight tip, which creates an unusual and eye-catching finish, but as gorgeous as this shape is, it is also weak and prone to breakage. The good news is acrylic nails can add some strength to this shape because they are strong, durable, and resistant to damage. Acrylic nails also let you easily achieve your desired length, from short nails to ultra-long shapes that are feminine and flattering.
1. Short Coffin Acrylic Nails
The coffin nail shape is defined by the tapered sides and straight tip. It is versatile and can be worn long or short. Short coffin nails are practical and more durable. They are less prone to breakage, and you will not be restricted with your activities. To benefit from the practicality of the length, keep your manicure simple for an effortlessly chic finish.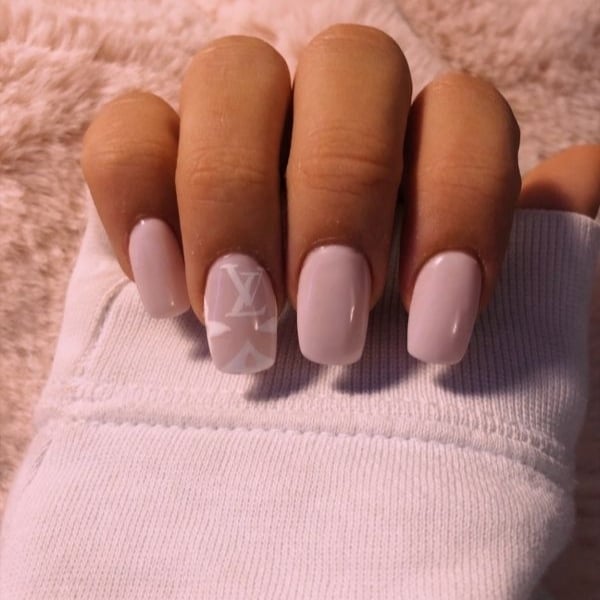 2. Coffin White Acrylic Nails
White nails are a classic and can be worn everywhere. The color is associated with freshness and new beginnings and can make a powerful statement about your thoughts and feelings. Painting your nails with a crisp white color will highlight the coffin shape and look gorgeous. You can keep it simple, painting your nails with a solid block of color, or you can combine it with soft, muted pinks or nudes.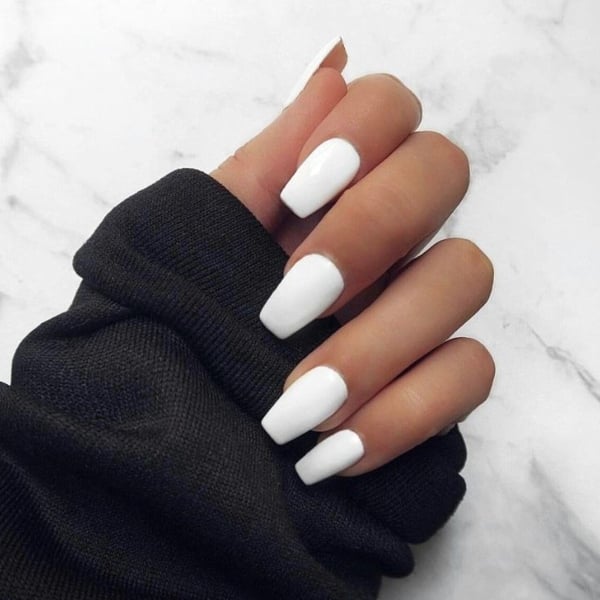 3. Acrylic Coffin Christmas Nails
Christmas is one of the most joyous times and Christmas nails are fun and expressive. Let your artwork bring you joy and get creative with how you combine your designs. From classic white and red colors to greens and blues, there is something to suit every preference and your designs will look ultra-feminine on coffin nails.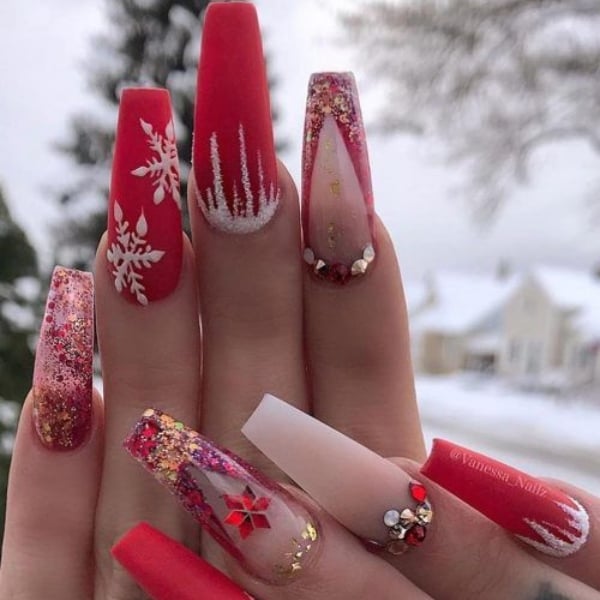 4. Coffin Cute Acrylic Nails
Coffin nails are an interesting shape, which means even the simplest nail art will look great. The shape also lends itself well to nail art, letting you get creative with your design. For a super cute and girly manicure, try floral details and 3D gems. Stick to a muted color scheme for a more sophisticated finish that will look great for everyday wear or formal occasions.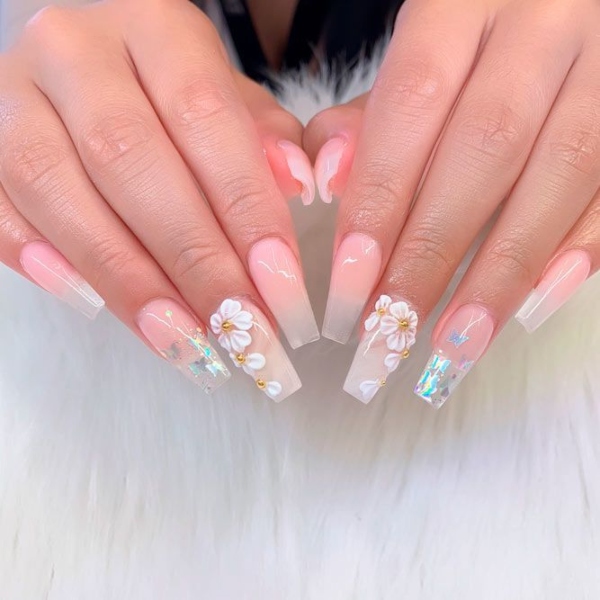 5. Coffin Pink Acrylic Nails
Pink is one of the most classic colors for nail art and it looks great on everyone. It is a color associated with love and femininity and can be added to your manicure in various ways, including opting for bright, bold shades or soft, muted colors. Or combine them both for shades of pink manicure that are effortlessly chic and can be worn to all occasions.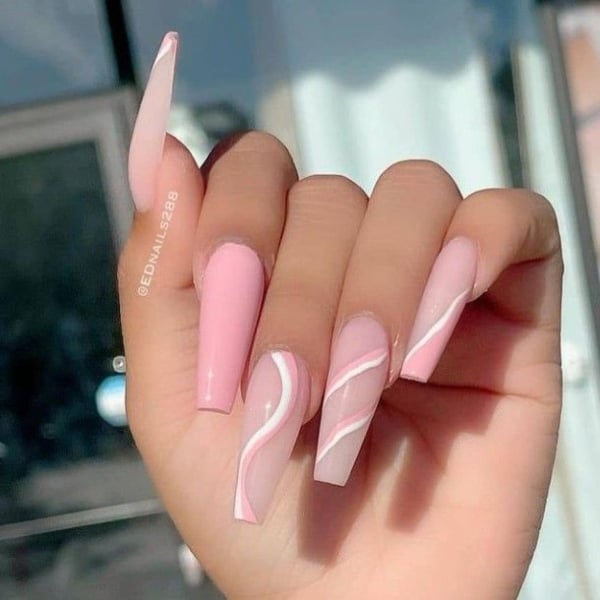 6. Coffin Valentines Acrylic Nails
Valentine's Day is a day to celebrate love and honor the special relationships in your life; romantic and platonic. But you don't have to wait for Feb. 14 to get creative with little hearts and the pink, red and white colors. A Valentine's Day-inspired manicure on coffin nails is gorgeous and you can achieve your desired length with acrylic nails which are strong, versatile, and durable.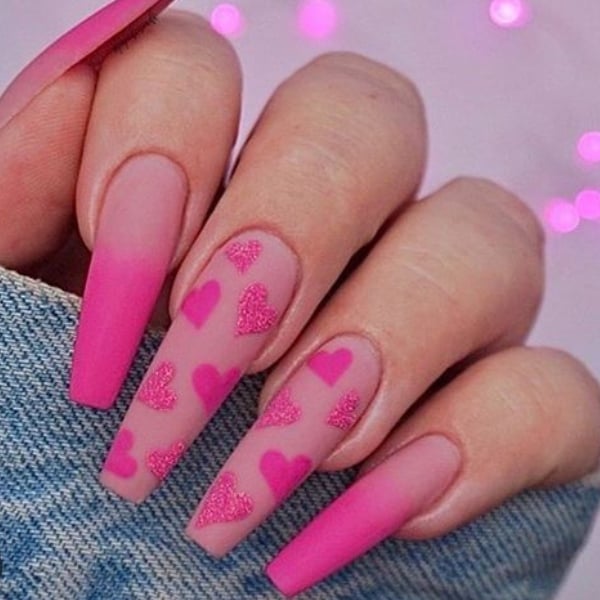 7. Long Acrylic Nails Coffin
Long nails are fun and feminine and will highlight the unusual shape of the coffin nail. This is a shape that is versatile but makes the biggest statement when long. Longer nails also give you more versatility with your nail art because there is more space to get creative. If your nails are naturally weak or brittle, acrylics are an excellent alternative and will help you achieve your desired length and shape.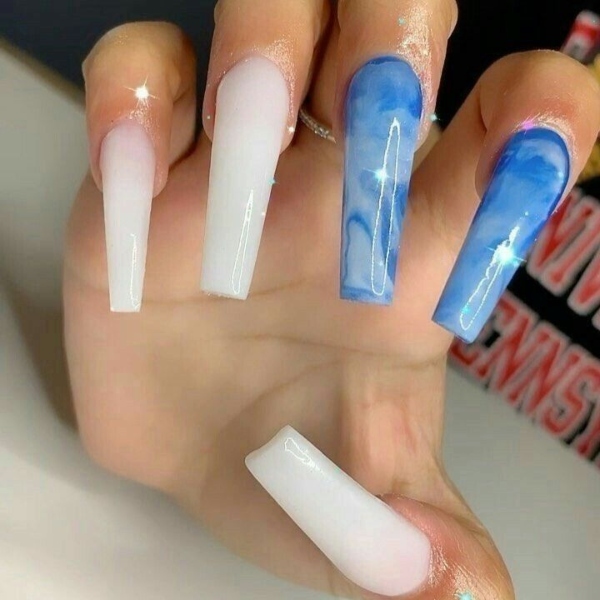 8. Neon Coffin Acrylic Nails
A neon manicure is for those who want to stand out from the crowd because these saturated hues are unmissable. There are different shades of neons to choose from, and you can keep your nail art simple by focusing on just one color, or combining several for a bright and bold appearance. Acrylic nails are strong and durable and will let you create the nail shape and length of your choosing.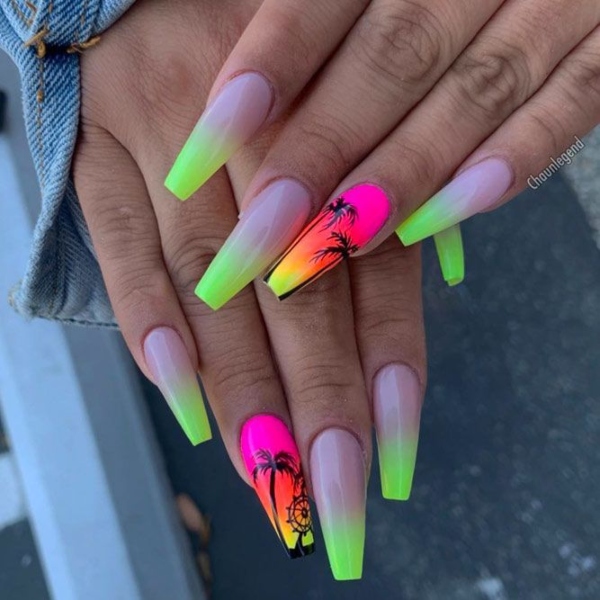 9. Black Coffin Acrylic Nails
Black nails can feel edgy and cool or look stylish, it all depends on the nail shape and art you choose. Coffin nails are an interesting shape, defined by the tapered sides and straight tip, and will look great when painted black. Keep your nails extra-long for a feminine finish or cut them short for a more practical look; the choice is yours.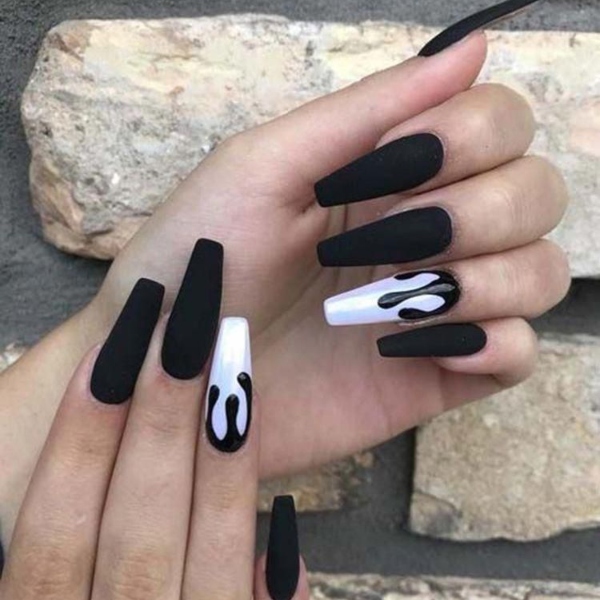 10. Coffin Red Acrylic Nails
Red is a color that demands attention and is associated with passion and seduction. The boldness of this hue can make it challenging to wear, which is why a great way to try it out is with your next manicure. Keep your red nails long for an elegant, statement finish, which will complement the unusual shape of the coffin nails.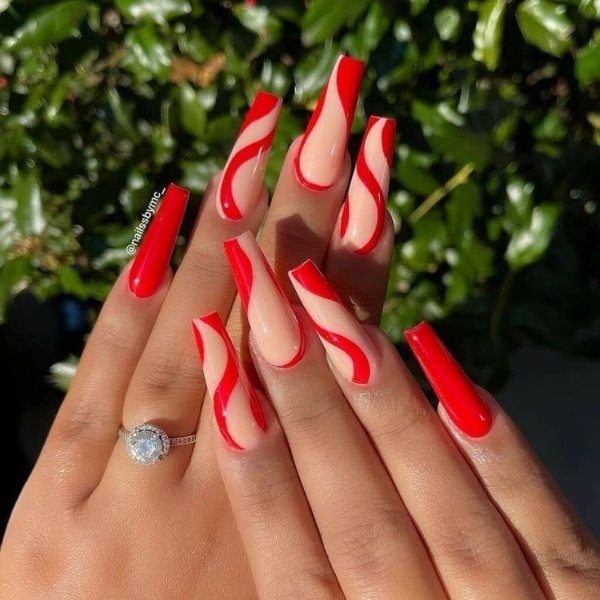 11. Coffin Yellow Acrylic Nails
Yellow nails are a perfect choice. The color is associated with happiness and optimism and painting your nails yellow can be a way to channel joy and positivity. There are many designs that you can try, including yellow and floral artwork, or get playful with smiley faces. Acrylic nails will make it easy to achieve the coffin shape and can be done at any length.
12. Summer Coffin Acrylic Nails
Summer is the season for bright colors and interesting nail art. Your summer nails are your chance to experiment with the hottest trends, finding a manicure you will want to show off. This could be anything from bold colors to fruit-inspired nail art; the choice is yours. Coffin nails are the perfect canvas for detailed nail art because the shape gives you more space to get creative, especially when worn long.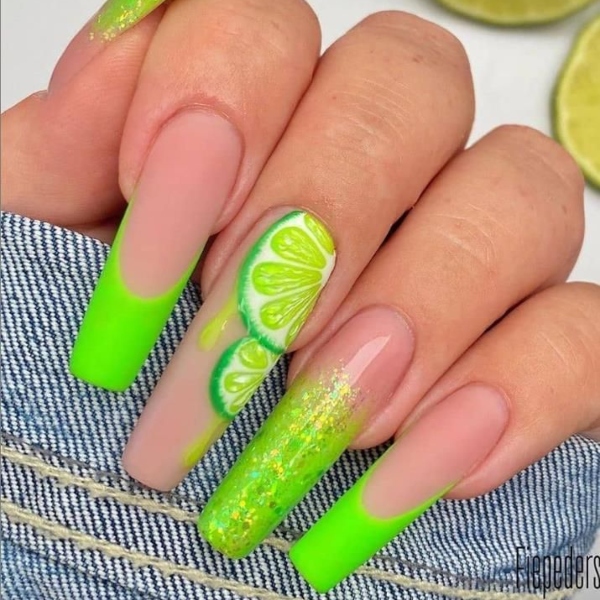 13. Acrylic Coffin Butterfly Nails
Butterfly nails are beautiful and symbolic. The winged insect comes in different colors and forms, making it easy to personalize your nail art. Your manicure can also make a powerful statement about strength and change because butterflies are associated with growth and transformation. Coffin nails are perfect for experimenting with nail art but are not the strongest shape. Opting for acrylics can help make them even stronger and more durable.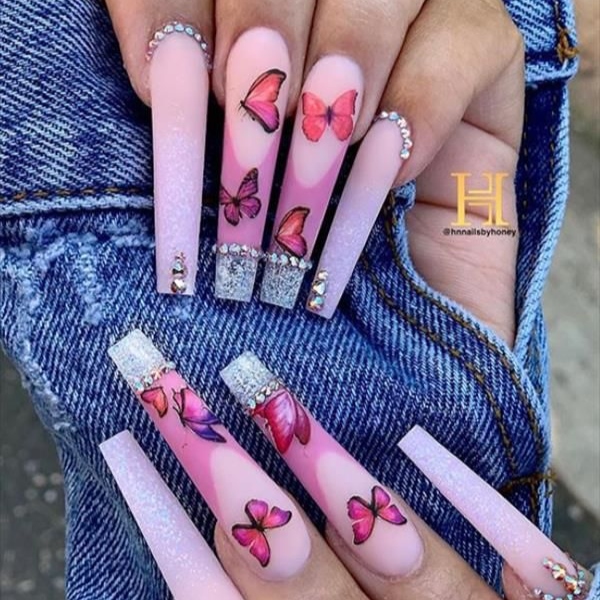 14. Blue Acrylic Nails Coffin
Blue nails are versatile and stylish. The color is associated with calmness and tranquility and can be added to your nail art in various ways. There are multiple shades of blue to choose from, depending on your preference. You can combine several, opting for a different color on each fingernail. Or try soft, muted pastel or baby blue for a subtle approach to the trend, or cobalt or royal blue nails to demand attention.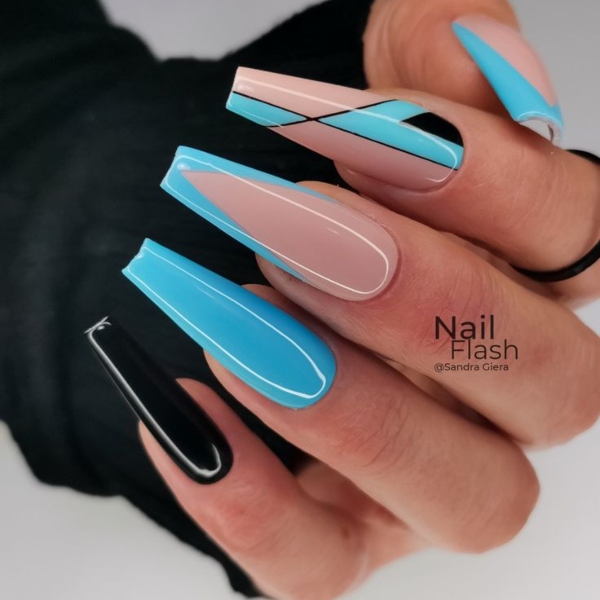 15. Coffin Acrylic Halloween Nails
Halloween is one of the most fun times of the year, letting you get creative with your outfit and express the things you love. Halloween nail designs can be of anything, including spiderwebs, pumpkins, witches' hats, and black cats; or combine them all! Coffin nails lend themselves well to nail art and can be worn long or short.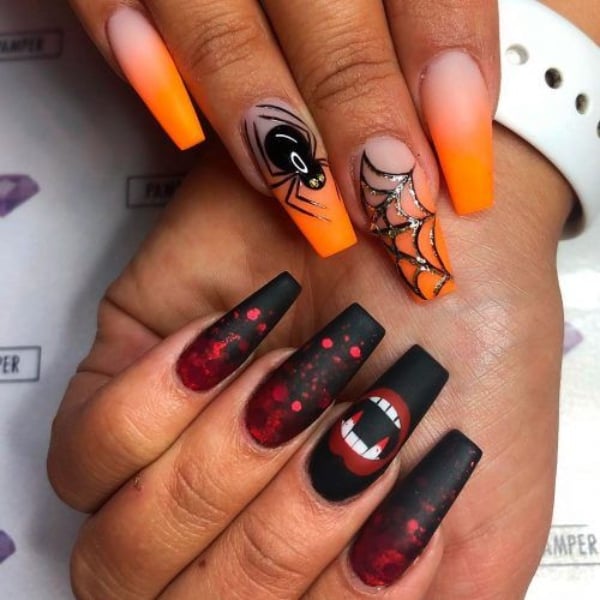 16. Coffin French Tip Acrylic Nails
The traditional approach to French tip manicures features a white line painted along the tip of the nail, paired with a natural, nude, or light pink base coat. This is a great option for highlighting the unusual shape of the coffin nail, and while the classic look is timeless, you can also experiment with different colors. For a modern approach, you can also try V-shaped tips.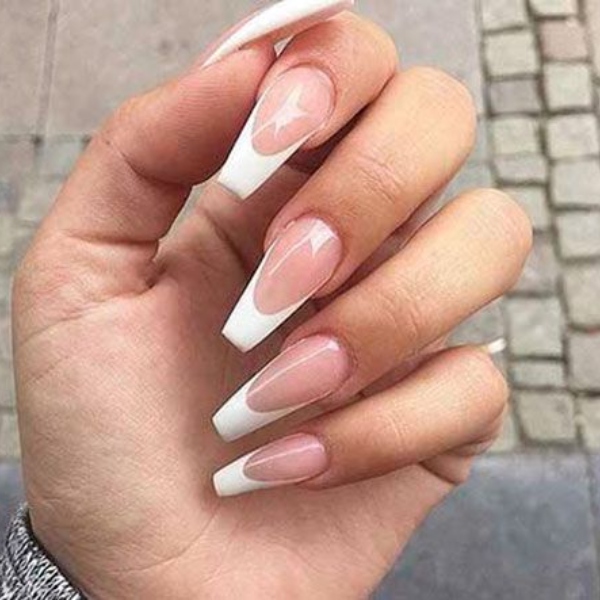 17. Coffin Black and White Acrylic Nails
An effortlessly chic and timeless option for your next manicure is black and white nail art. The monochromatic color scheme looks good with everything and the contrasting hues make for an eye-catching manicure. You can combine the colors in many ways, including opting for a modern approach to the French tip manicure or trying your favorite retro patterns and prints.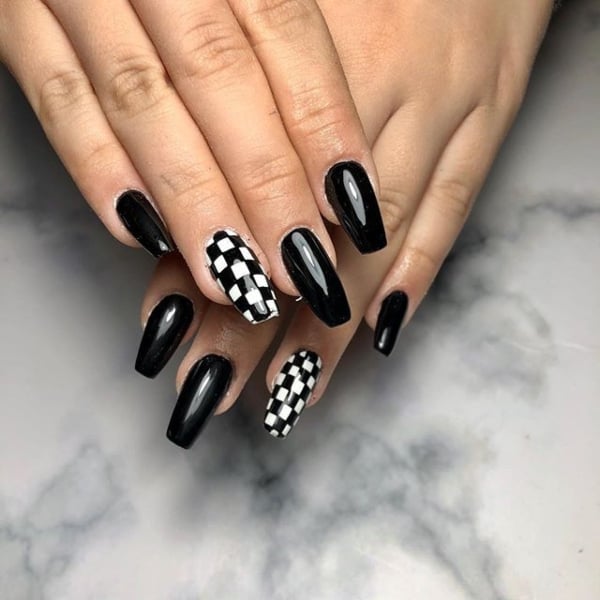 18. Rainbow Acrylic Nails Coffin
Why stick to one color when you can try multiple? Rainbow nail art is fun and bold and can be added to the nails in various ways. You can opt for an ombre approach, blending different hues, painting each nail with a different color of the rainbow, or creating small rainbow nail art. The rainbow is also symbolic of positivity, new beginnings, and inclusivity.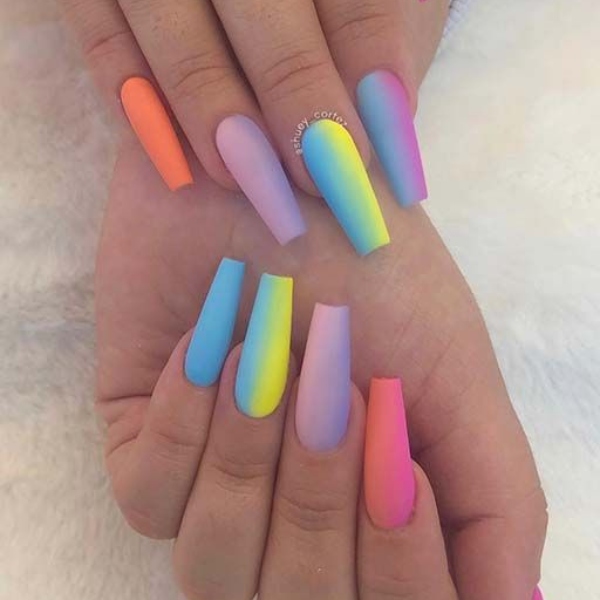 19. Simple Coffin Short Acrylic Nails
The coffin shape is interesting and cool and is the perfect canvas for nail art that is detailed or simple. For those who prefer a minimalistic approach to nail art and want a manicure that feels sophisticated and is ideal for all occasions, it is best to keep your design simple and your nails short. Short nails are more durable, and the coffin nail shape is prone to breakage, so this can help counteract that.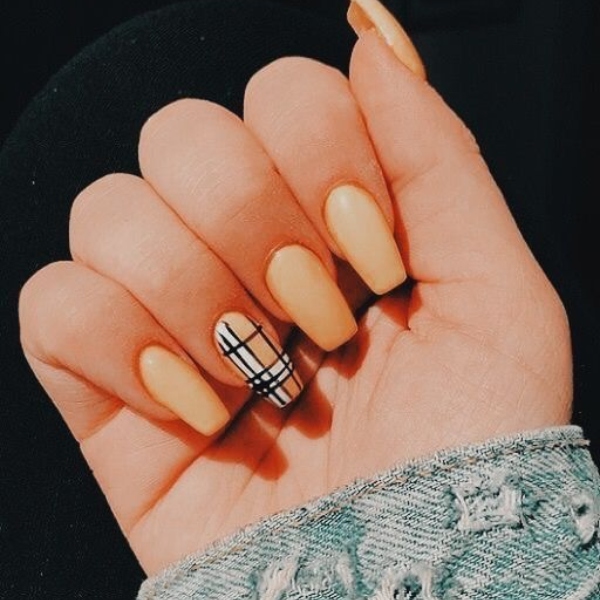 20. Lavender Light Purple Acrylic Nails Coffin
Lavender is a light shade of purple and looks good on everyone. It is a versatile color that makes for gorgeous nail art, whether you choose to keep it simple or get more creative. It is also associated with grace, serenity, and devotion, and can make a subtle statement about your feelings on these things. Coffin nails can be achieved with acrylics and will be more resistant and less prone to breakage.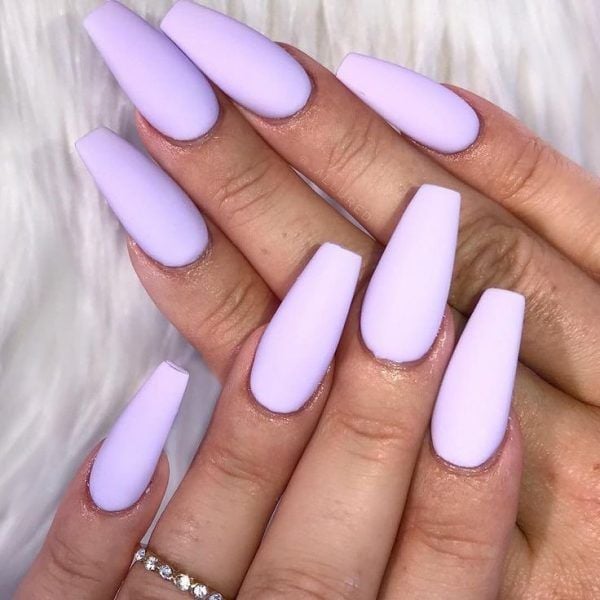 21. Nude Acrylic Nails Coffin
Nude nails are versatile and stylish. There are various shades to choose from so you can easily find the color that is closest to your skin color. This will help you achieve a simple and understatedly chic manicure that is perfect for all occasions. The simplicity of your manicure will also highlight the coffin nail shape.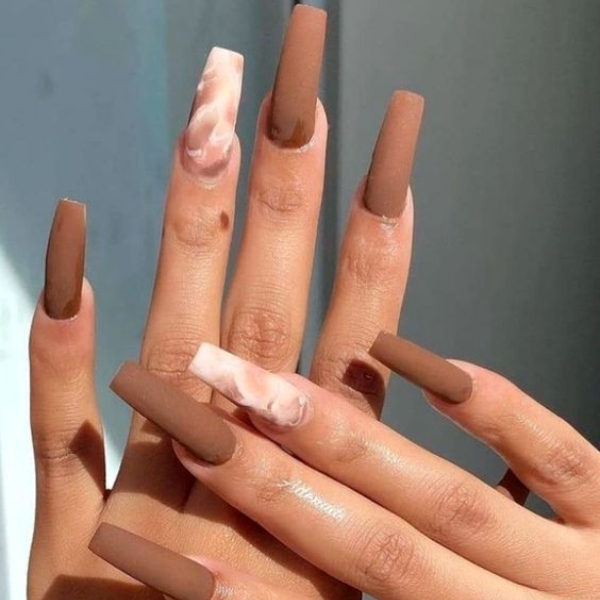 22. Coffin Clear Acrylic Nails
You do not need detailed nail art or bright colors to create a stylish manicure. Sometimes the simplest approach is best and clear nail designs are versatile and gorgeous. This option will highlight the shape of your nail and look great when kept longer, creating a feminine finish. If you do not have naturally long nails or your nails are weak and brittle a great alternative is acrylics.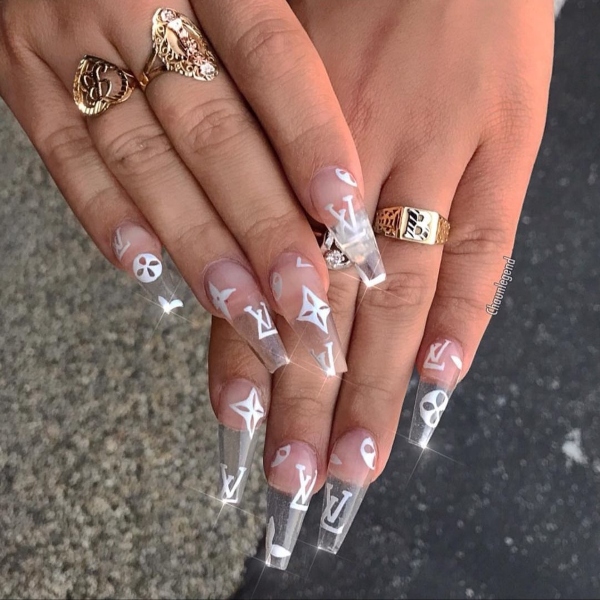 23. Coffin Simple Acrylic Nails
The coffin nail shape has been favored by celebrities and style icons because of its versatility. It looks great with nail art, and you can keep it simple. Simple nail art is ideal for all occasions, including more formal settings, and it will not detract from the unusual shape of the coffin nails, instead complementing it.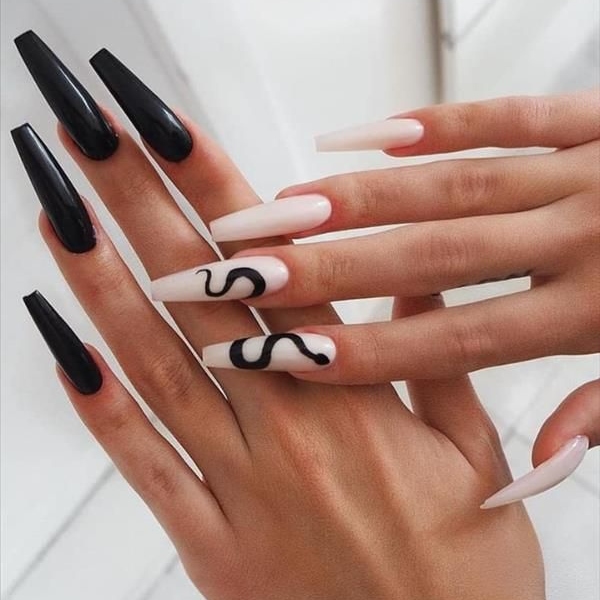 24. Light Grey Acrylic Nails Coffin
Light grey is the perfect color for your next manicure. The color is incredibly versatile and will look good on almost everyone. It can be added to the nails in several ways, including painting a solid base color or trying out interesting effects like marbled nail art. It is also easy to mix and match, especially with other neutral hues.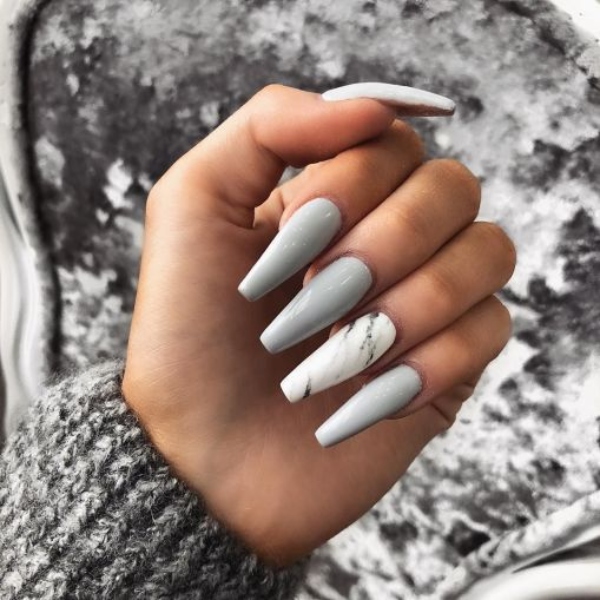 25. Ombre Acrylic Nails Coffin
Ombre nail art is created by combining two or more colors, and gradually blending them from dark to light. The colors you choose can be anything, from pretty pastels to classic white and nude combinations. The appeal of this nail art is its versatility and it will lend itself to various settings. It will also complement your nail shape, with the color focused toward the tips to highlight the unusual shape of the coffin nail.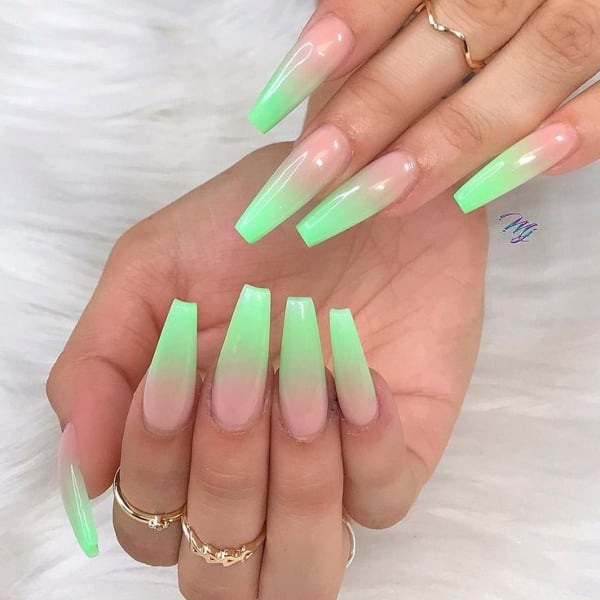 26. Swirls Acrylic Nails Coffin
One of the coolest options for your nail art is swirls. They have a retro vibe and can be created in the color combinations and sizes of your choosing. You can also get creative with the placement, opting for multiple swirls on one fingernail, centering them, or adding them to the side of the fingernail. Swirls do not have to be precise, which gives you creative freedom when designing them.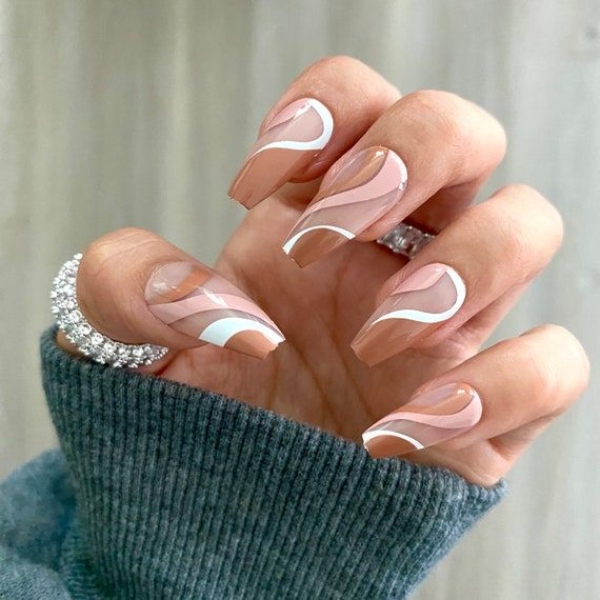 27. Brown Coffin Acrylic Nails
Coffin nails are ultra-feminine and are the perfect canvas for your nail art and colors. If you want a different color from the norm, opt for brown, which is versatile and flattering. There are many shades of brown to choose from, allowing you to easily find one that complements your skin tone and suits your preference. It is also a color that pairs well with neutral hues or can be combined with bold colors to create a striking contrast. This gives you many ways to get creative with your design.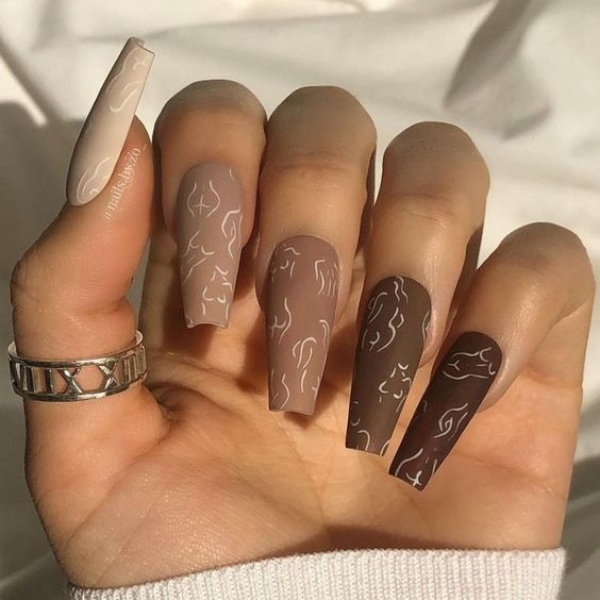 28. Matte Coffin Acrylic Nails
Matte nails are an excellent alternative to the standard glossy polishes. They appear flat and smooth and can create a texturally interesting finish. There are multiple colors to choose from, and you can also experiment with nail art, using matte polish as the base color. Coffin nails are an excellent option for nail art, giving you more space to get creative. They are also flattering and help to elongate the finger.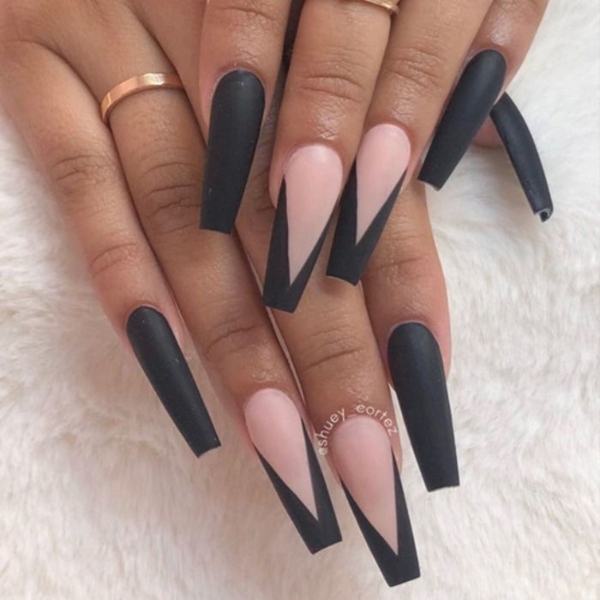 29. Glitter Coffin Acrylic Nails
If you want to add some sparkle to your appearance, you can do this with glitter nails. Glitter is a fun way to experiment with different textures and give your nails shimmer, but it can be challenging to achieve the perfect balance; too much glitter can appear tacky. A great solution would be to focus the flitter on a feature nail or add it only to the tips of the nail. You can also try different effects, like ombre nail art.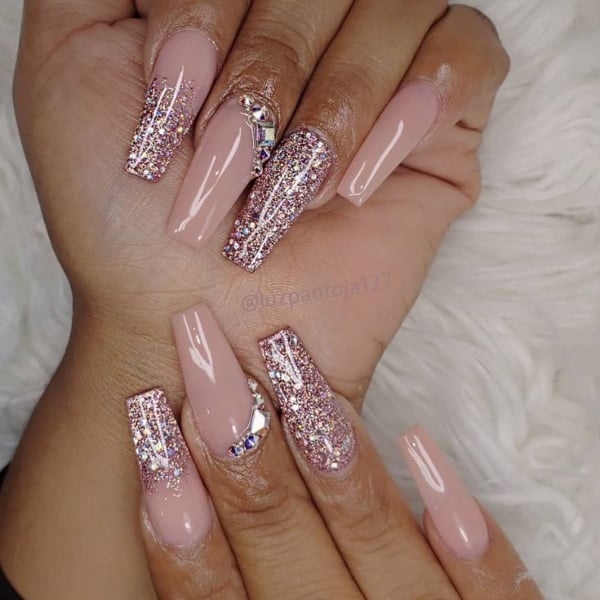 30. Dark Coffin Acrylic Nails
For a moody manicure that demands attention and will highlight your coffin nail shape, experiments with dark colors like black, dark grey, navy, and burgundy. You can combine all of these hues, or stick to just one, depending on the desired outcome. Coffin nails are stylish and ultra-feminine shape and can be worn long or short. You can use your natural nails or acrylics for a strong and durable finish.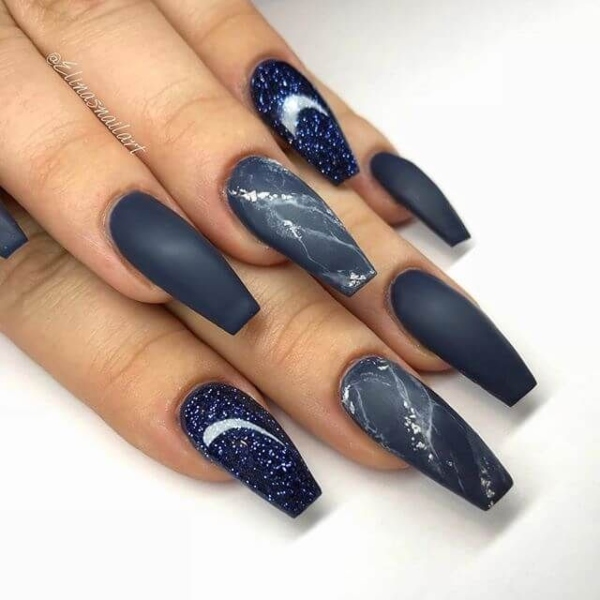 Coffin Acrylic Nail FAQs
What are acrylic coffin nails?
Acrylic coffin nails are artificial nails shaped like a coffin, with tapered sides and a straight tip. Coffin nails are versatile and ultra-feminine shapes and are great for elongating the finger. They are also ideal for nail art and colors. The downside to the shape is that it is weak and prone to breakage, but with acrylics, you can counteract some of this because they are strong, durable, and long-lasting.
How much are coffin acrylic nails
How much your coffin acrylic nails will cost depend on several factors, including your nail art and your chosen nail technician. For a simple manicure, a full set could be $50, while more detailed and time-consuming nail art can cost significantly more.
How long do acrylic coffin nails last?
Coffin nails are one of the weakest shapes, especially when worn long. How long they last will depend on your nail art and how you care for your nails but good-quality acrylics could last as long as six weeks. Nail art that has 3D elements to it may not last as long as it can easily get snagged and break.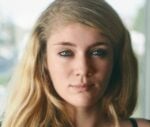 Cailyn Cox holds a degree in journalism and has been working with The Trend Spotter as a writer for over ten years. She has worked with some of the most prestigious women's and men's lifestyle publications. For her, writing is not just a job; it's a passion, which is why each article she writes is approached with such enthusiasm and dedication. She has extensive knowledge of hairstyles, tattoos, and beauty and has made a career out of creating informative articles that appeal to women and men of all ages.
SUBSCRIBE TO OUR NEWSLETTER
Subscribe to our mailing list and get interesting stuff and updates to your email inbox.