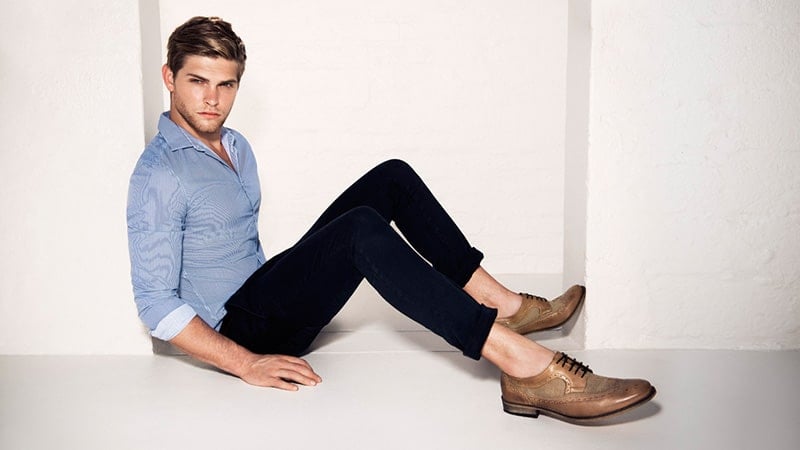 Colour combinations can make or break an outfit, which is why many of us stick to the same basic partnerships. But, while playing it safe ensures you never clash, wearing the same tones every day is far from exciting. As such, it can pay to be brave and try something new, such as the often-condemned pairing of black pants and brown shoes. Although you've probably heard many times before that black pants and brown shoes don't go, we're here to tell you that they do. So, if you're ready to spice up your wardrobe with a fresh pairing, look no further. Here's our guide to wearing black pants with brown shoes in complete style.
Is it OK to Wear Black Pants with Brown Shoes?
The old rule that black shoes must be worn with black pants is outdated. So, if you want to wear brown footwear with your black trousers, you can feel free to do so. But, as with all color combinations, you should do so thoughtfully. From the shade of your shoes to the style of your pants and even the occasion for which you're dressing, there are many elements to consider when styling this look.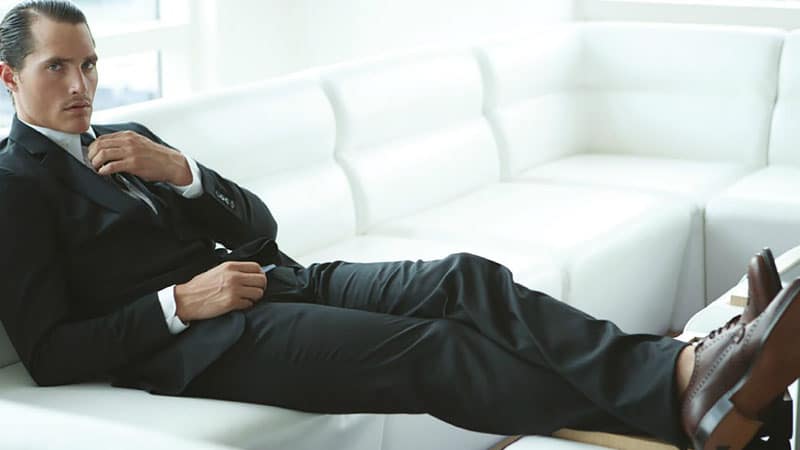 When to Wear Black Pants with Brown Shoes
Work
Black pants and brown shoes can work for a range of events, including a day in the office. However, to ensure you appear suitably corporate, there are a few rules to remember. Firstly, be sure to select shoes in a dark brown hue for a classic aesthetic. Also, it's important to note that if you wear a belt, it should be brown to match your shoes instead of black or any other hue.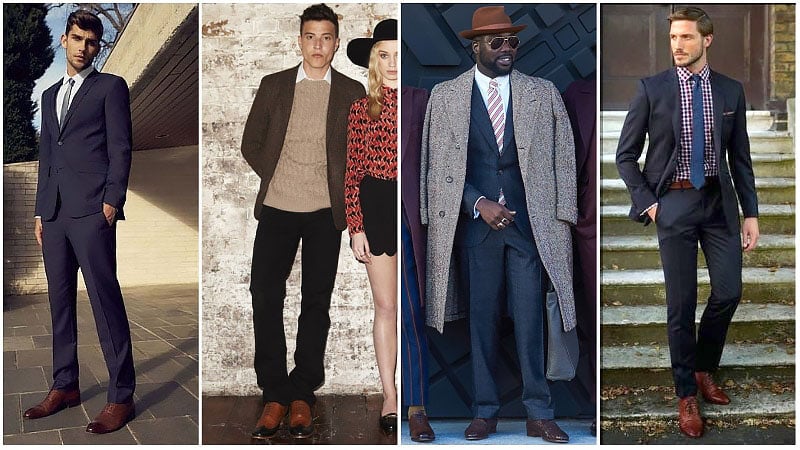 SHOP THE LOOK
Casual
Casual occasions are the perfect opportunity to try out an outfit featuring black pants and brown shoes. So, whether your heading to brunch or the bar, why not give this look a go? Best of all, you can completely tailor your ensemble to suit your style. So, no matter if you're a joggers and sneakers kind of guy or a jeans and boots gent, you can make this look work for you. Then, just complete your outfit with a white T-shirt and jacket on top.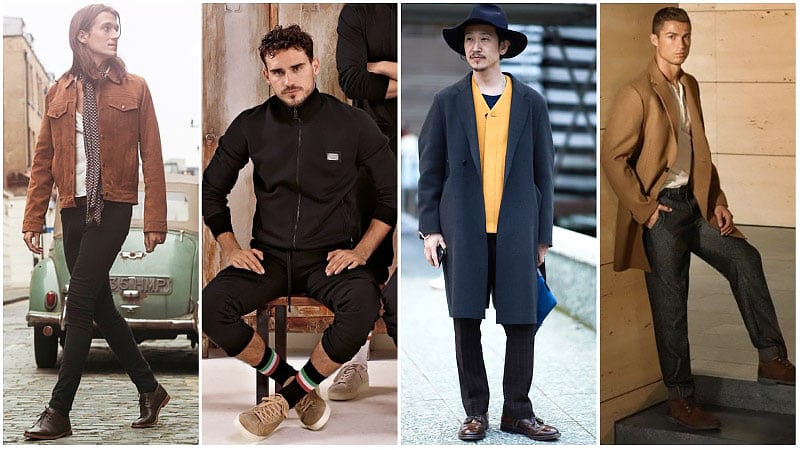 SHOP THE LOOK
Semi Formal
Black pants and brown shoes can work for semi formal and some formal events. But, you'll need to ensure that your outfit is looking seriously sleek to avoid appearing under-dressed. To do so, opt for a well-tailored, black suit in high-quality fabric. Then, pair your suit with brown leather Oxford shoes and a classic Oxford shirt. Finally, complete your outfit with smart accessories, such as a tie and pocket square.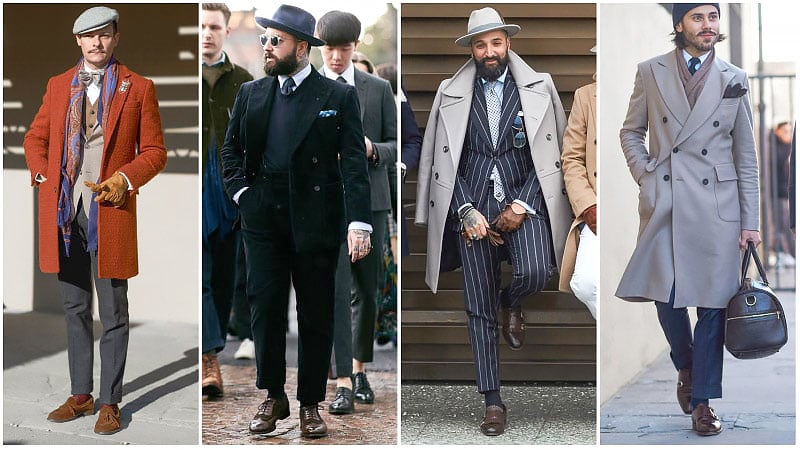 SHOP THE LOOK
Black Pants with Brown Shoes Outfits
Black Trousers Brown Shoes
Whether chinos, joggers, or tailored pants, black trousers of all kinds can look great with brown shoes. To nail the combination, select the perfect footwear style to suit your pants. For example, jogger pants can work well with sneakers or boots, but chinos and tailored pants require a more sophisticated shoe style, such as loafers or monk straps. Likewise, what you wear on top should also match the aesthetic of your bottom half.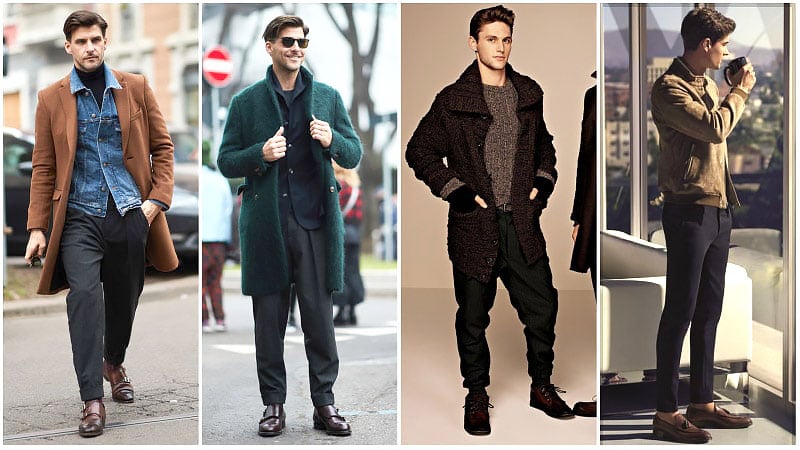 SHOP THE LOOK
Black Jeans Brown Shoes
If black pants and brown shoes have you feeling a little unsure, consider starting off with an outfit with jeans. Due to their casual appearance, jeans are far easier to pair with brown shoes than suit pants. In fact, black jeans and brown footwear can create a stylish and edgy look that every man should try. To nail the pair, opt for skinny or slim-cut jeans with mid or dark brown leather shoes.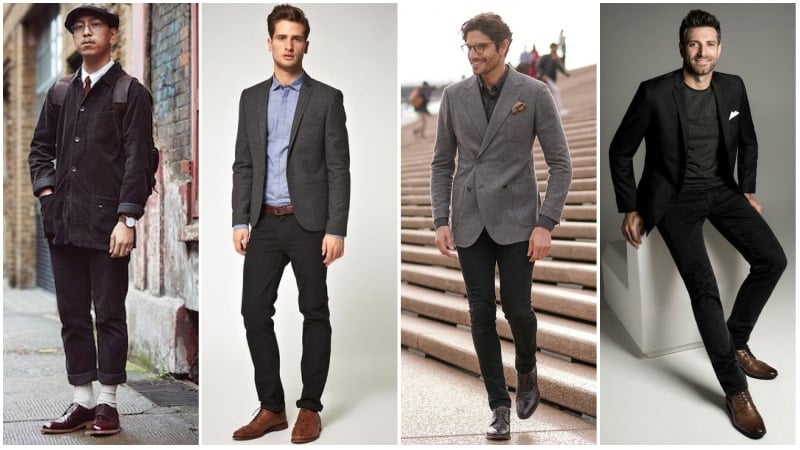 SHOP THE LOOK
Black Suit Brown Shoes
Gents who feel confident mixing black with brown should consider trying the combination with a suit. Ideal for the office, dinners, and more, this stylish partnership appears sleek yet approachable. As such, it's a fantastic and refreshing alternative to the standard black suit with black shoes. To rock the look, just remember to opt for dark brown leather dress shoes, such as Oxfords. Also, be sure to keep your shirt and tie neutral. White and light blue will work for the former while navy or burgundy will suit the latter.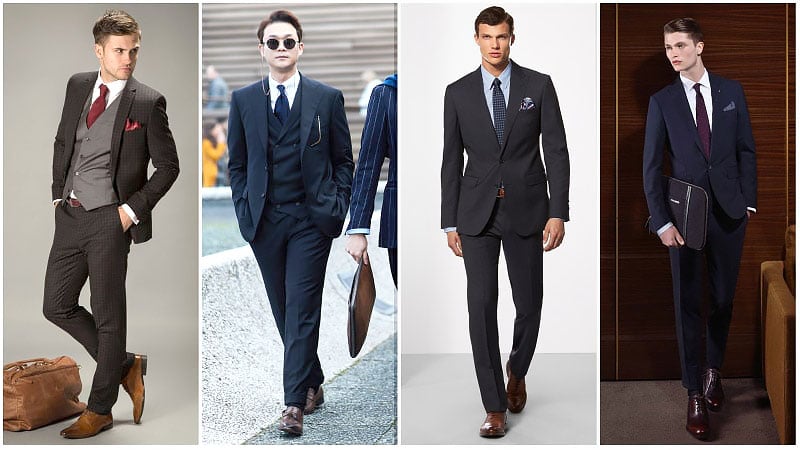 SHOP THE LOOK
Black Pants with Brown Boots
Black pants with brown boots are a stylish look that can work for a variety of occasions. However, you need to be sure to choose the right type and shade of boots for your outfit. For casual looks with jeans, suede boots in light brown tones work well. For more polished ensembles, dark brown boots in leatherwork best. When it comes to styles, consider desert or work boots for a relaxed appearance and Chelsea or Derby boots for a sharper aesthetic.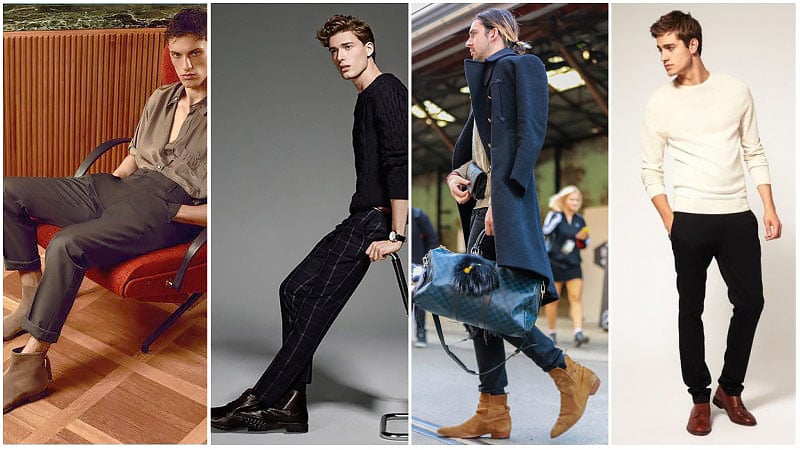 SHOP THE LOOK
Black Pants with Brown Brogues
Thanks to their cool and classic look, brown brogues make the perfect footwear option for smart casual ensembles. So, next time you have a function to attend that requires such an outfit, try a pair of brown brogues with black chinos. The look will undoubtedly appear both elegant and easygoing. Then, all you need to do is add a button-up shirt and, if the weather is cold, a sweater or jacket to complete your style.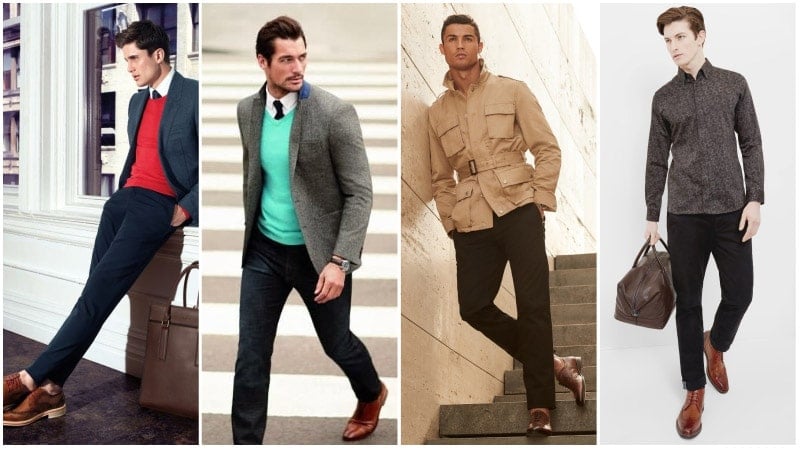 SHOP THE LOOK
Black Pants with Brown Loafers
Like brogues, brown loafers work perfectly for smart casual outfits, especially when paired with black trousers. To nail the look, try a pair of classic penny loafers in a mid or dark brown hue. Then, partner your footwear with tailored pants or chinos. You may even want to choose a cropped pair and show off your ankles for a contemporary twist. Up top, a lightweight shirt works well for summer while a sweater is ideal for winter.
SHOP THE LOOK
Black Pants with Light Brown Shoes
When worn with black pants, light brown shoes can create quite the statement. As such, they are better suited to casual outfits than formal ones. Of course, the type of footwear you choose will also affect how you should dress. Light brown shoes come in many varieties, meaning that you can pick the pair that works best for your style. For a smart casual look, select leather or suede dress shoes, such as loafers or Derby shoes. For a more relaxed aesthetic, try a stylish pair of brown suede trainers.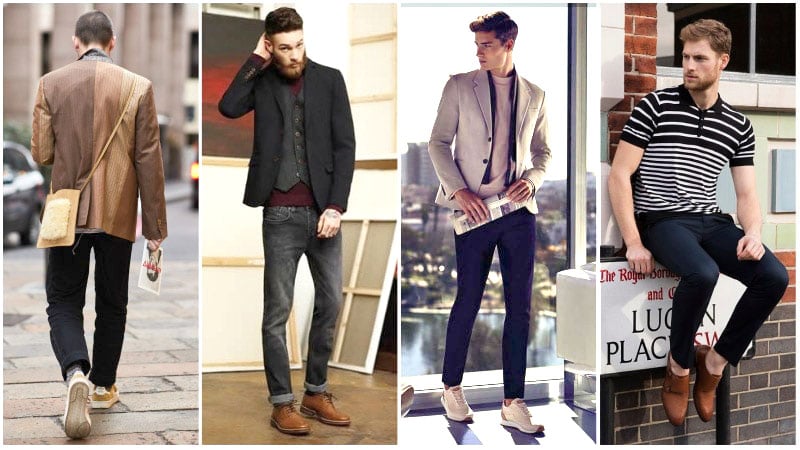 SHOP THE LOOK
Black Pants with Dark Brown Shoes
The combination of black pants and dark brown shoes is ideal for smart casual and semi formal outfits. As such, when rocking the look, it's best to keep each item suitably sophisticated. To do so, select leather dress shoes and chinos or trousers. Then, complete your outfit with something polished on top, such as a shirt and blazer. To play down your brown footwear, keep colors cool on top. To enhance their appearance, add a touch of warmth.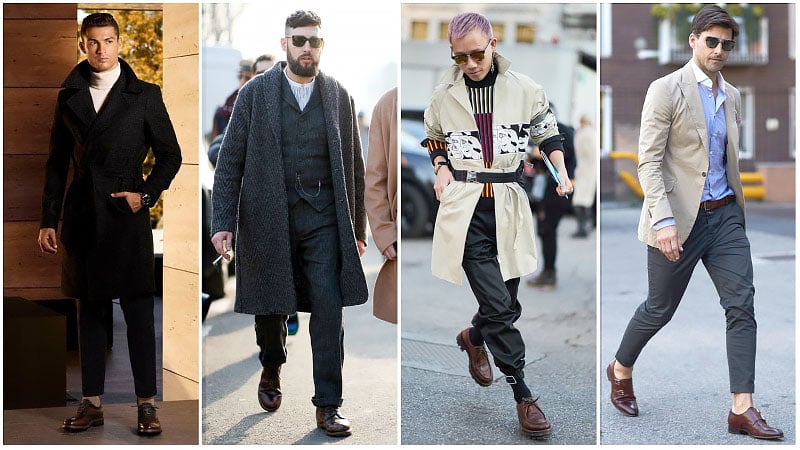 SHOP THE LOOK
How to Wear Black Pants with Brown Shoes
Choose light brown shoes for casual looks and dark brown footwear for more formal outfits.
Be sure the style of your shoes matches that of your pants (e.g. oxfords with suit trousers or sneakers with jogger pants).
Start off with black jeans and brown shoes before working your way up to a black suit.
If you wear a belt, match it to your brown shoes, not your black pants.
Keep the rest of your outfit neutral, selecting warm tones to highlight your shoes or cool colors to soften their contrast.
FAQs
What color shirt goes with black pants and brown shoes?
Any color shirt will work with black pants and brown shoes, as both are neutral hues. It's hard to go past a classic white shirt, especially for the workplace. However, if you're opting for a different color, consider if the brown in your shoes in warm or cool-toned and match the tones in your shirt accordingly.
What colors go well with brown shoes?
Brown shoes look excellent with other earthy colors such as grey, green, stone, olive, blue, rust, and mustard. If you're in doubt, it's hard to go wrong choosing a crisp white shirt, as it's a wardrobe staple that looks excellent with everything.
Do brown shoes go with jeans?
Brown shoes definitely do go with jeans. If you're after a more formal look, choose a derby or brogue, or for a casual style, look at chukkas, Chelsea boots, loafers, or sneakers.
When should I wear black or brown shoes?
You can wear either color for most occasions, include for the office, smart-casual, or casual events. It will just depend on the outfit and color palette you've chosen. The exception is for very formal events that have a black or white tie dress code. On these occasions, black shoes are the only acceptable option.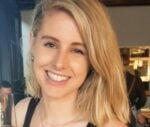 Taylah Brewer holds a bachelor's degree in fashion and business and is a skilled writer with several years of experience in the world of online content creation and copywriting. She is passionate about fashion, beauty, and all things lifestyle-related and has been writing for The Trend Spotter since 2016. She currently works as the Head of Digital & Ecommerce at White & Co.
SUBSCRIBE TO OUR NEWSLETTER
Subscribe to our mailing list and get interesting stuff and updates to your email inbox.