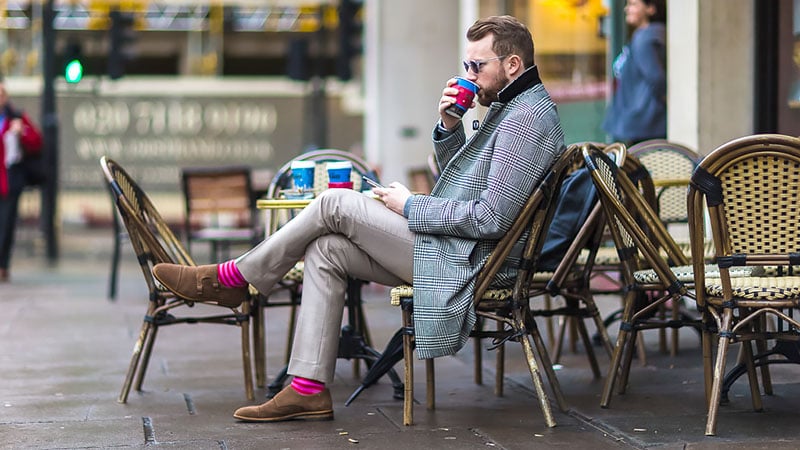 The monk strap shoe is one of the most enduring footwear styles of all time. Classy yet fashionable, they can be slipped on and off and are perfect for the lace-adverse gentleman. The finely crafted nature of the monk strap lends it a dash of formality with a sophisticated note. Meanwhile, the straps themselves add a tone of playfulness to any outfit. To help you rock these religiously named dress shoes, here are the best ways to style monk strap shoes.
History of Monk Strap Shoes
The monk strap shoe originated in Europe during the 15th century. At that time, the life of a monk was predominantly composed of worship and manual labor. For monks located in the alps, the manual labor component required a more protective footwear option than their traditional sandals. The result was a closed-toe version of the strapped sandals. Over the following couple of centuries, the monk strap found its way into the wardrobes of the general public. This style became popular during the 17-1800s, however, was shunted to the side in favor of lace-up shoe styles. The monk strap shoe reemerged into society during the 20th century, undergoing a few stylistic changes. However, it wasn't until the mid-2000s that the footwear item entered the fashion world's collective consciousness. Today, the monk strap is known as a savvy dress shoe, almost entirely ditching its manual labor roots.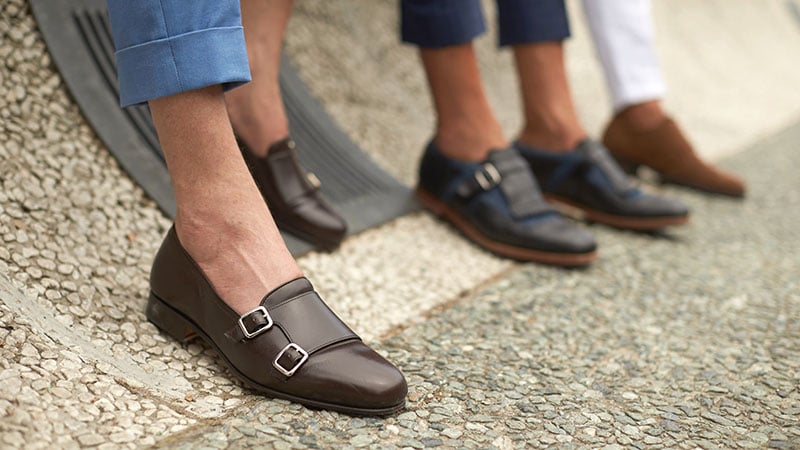 Single Monk vs Double Monks
Ah, the eternal question – single or double? Many discussions have escalated into debates over this very question; however, it's all down to your personal preference. Both single and double monk straps add versatility to your wardrobe. The single monk strap is understated and has a cleaner silhouette, making it well-suited for business and formal attire. Meanwhile, the double monk strap provides the perfect opportunity to show some personality. Their edgier appearance works well for casual and business casual occasions, as well as weddings and parties.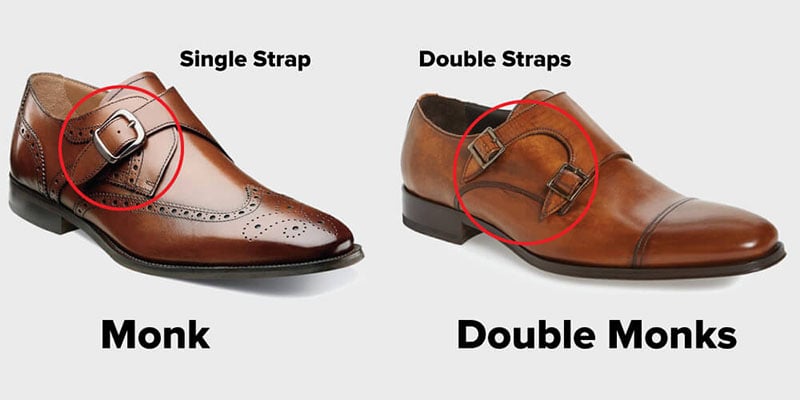 Men's Monk Strap Shoe Outfits
Monk Straps With a Suit
The quintessential sartorial accompaniment to the monk strap shoe is a well-tailored suit. Similar to other dress shoes, black and brown monk straps are the best colors for pairing with suits. When you're styling a black suit, stick to black single monk strap shoes for a formal look. However, other suiting shades such as grey, navy, charcoal, and beige can be enhanced by a pair of brown double monk straps. Alternatively, opt for a hue like a forest green or oxblood, or try different buckles for a unique twist.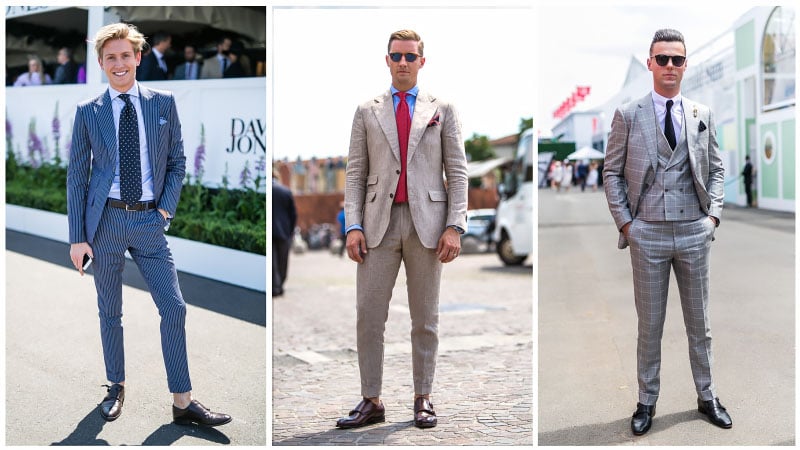 Monk Straps With Jeans
Ditch your trainers or loafers in favor of some smart monk straps paired with slim-fitting jeans. For casual outfits, opt for tan double monks with dark skinny denim and a white T-shirt. Or, go smart casual by teaming brown leather single monk straps with slim-fit blue denim, a brown belt, an Oxford shirt worn unbuttoned, and a blazer. Brown leather monk straps are the most versatile. However, tan suede also works well with jeans. Once you've mastered the neutrals, try experimenting with colors like deep blue, forest green, mustard yellow, and soft tan. Or, if you're feeling particularly adventurous, go all out with a leopard-patterned vamp or platform creeper style pair of monk straps.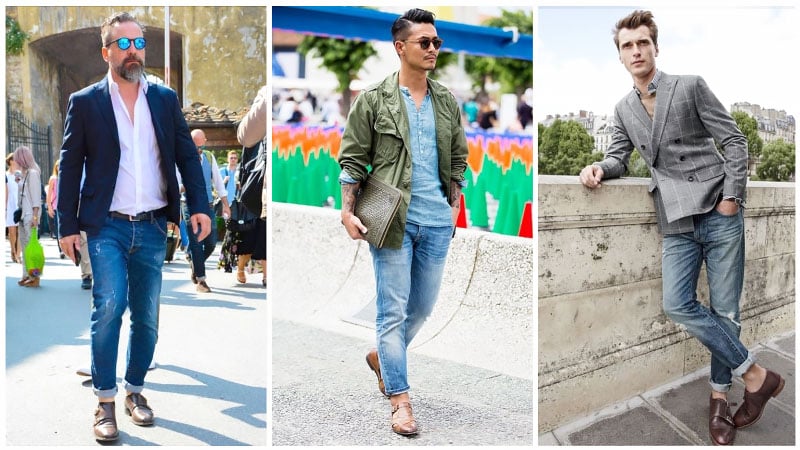 Monk Straps with Shorts
Shorts are notoriously tricky to pull off with dress shoes; however, it can be done. When teaming shorts with monk strap shoes, it's best to select double monks as the marginally bulkier silhouette works better with casual outfits. One of the benefits of monk straps is that like their cousin the loafer, they can be worn without socks. This quality makes them well-suited to casual and smart casual shorts outfits. Keep your shorts slim fitting and follow the same color-coordinating rules as with suiting. In the summer, team brown double monk straps with a grey or navy linen shirt and slim-fitting white or beige shorts. For a casual Friday office look, opt for black double monks with black shorts, an Oxford shirt and tie, and a blazer. Alternatively, try pairing brogued double monk straps with navy shorts, an Oxford shirt, and a cream blazer for afternoon drinks.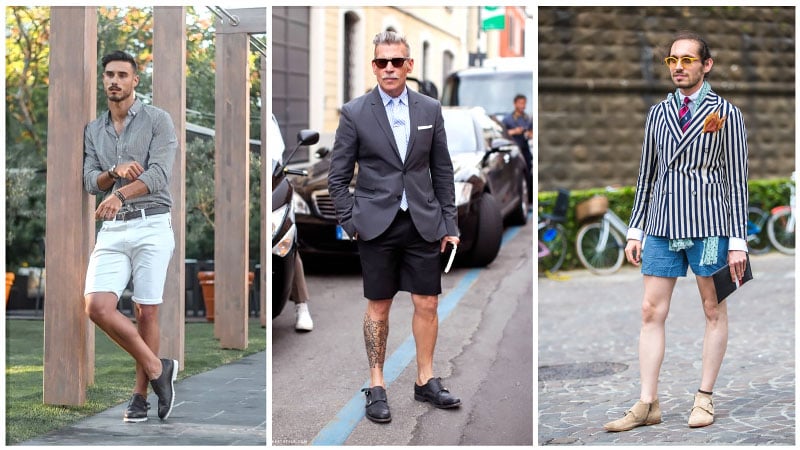 When to Wear Monk Strap Shoes
Casual
Monk strap shoes are versatile, which allows them to be worn in informal settings with ease. During the colder months, try brown monks with navy or grey chinos and a sweater. In the Summer, blue jeans with an open-necked Oxford shirt, and suede double monk works well. Or, for a simple statement outfit, pair grey trousers and a black T-shirt with black monk strap shoes.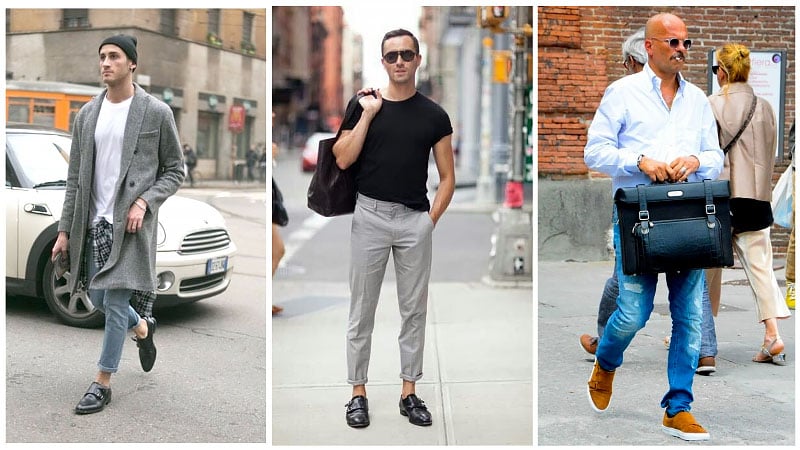 Smart Casual
Nailing the smart casual dress code can take you from afternoon drinks to casual Fridays with ease. Try lighter-colored suede monk straps with shorts, a shirt, and a blazer for a polished yet relaxed summer aesthetic. Or perhaps opt for neutral chinos or trousers, an untucked linen shirt, a waistcoat, and suede double monk straps. For work outfits, it's best to stick to a neutral color palette. Team brown leather single monk strap shoes with beige trousers or chinos and a white Oxford shirt. During the cooler months, try pin-rolled trousers teamed with double monk straps, a neutral button-down Oxford shirt, and a cardigan or blazer.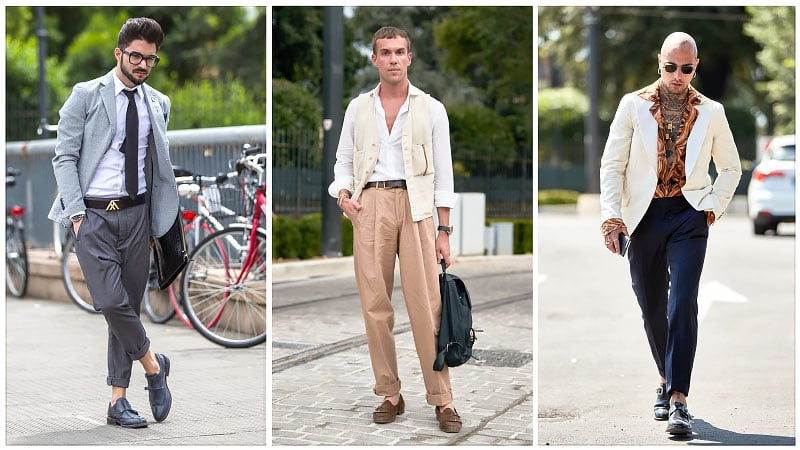 Business Casual
Business casual attire requires a little more savoir-faire to pull off than the smart casual work look. In order to wear monk strap shoes in a business environment, it's best to stick to single monks and employ structured pieces. Well-tailored suiting separates, structured outerwear, and details like ties or pocket squares elevate monk strap shoes to a business setting. Try pairing patent leather oxblood monk straps with a dark grey suit with a patterned tie. Or, wear a charcoal suit with a roll neck shirt and brown leather monk straps. You can also team chunky brown leather double monk straps with a charcoal or navy suit and a structured coat for an office-friendly winter look.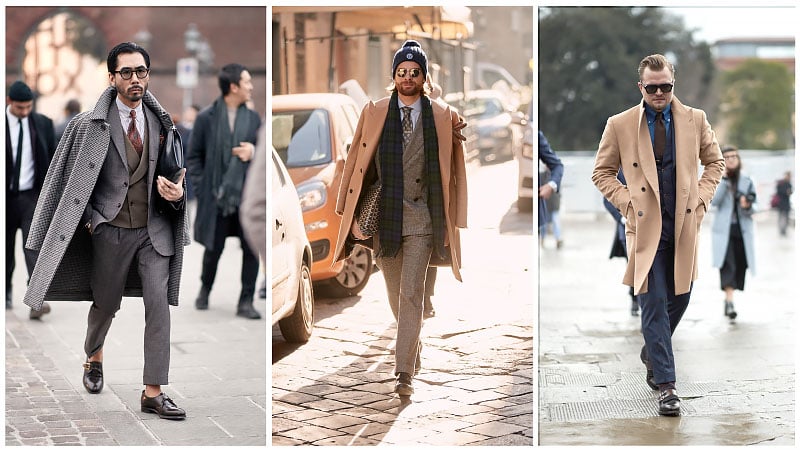 Semi-Formal
Common for parties and weddings, the semi-formal dress code is more relaxed than formal attire. However, it retains its sophisticated approach. Choose suits or suiting separates in neutrals or on-trend colors and pair them with single or double monk straps. When opting for a full suit, select brown leather single-strap monks and tone down the look with a polo shirt or roll neck. Double monk straps work well with a chino and blazer combo, teamed with an Oxford shirt and accessories like sunglasses and a pocket square.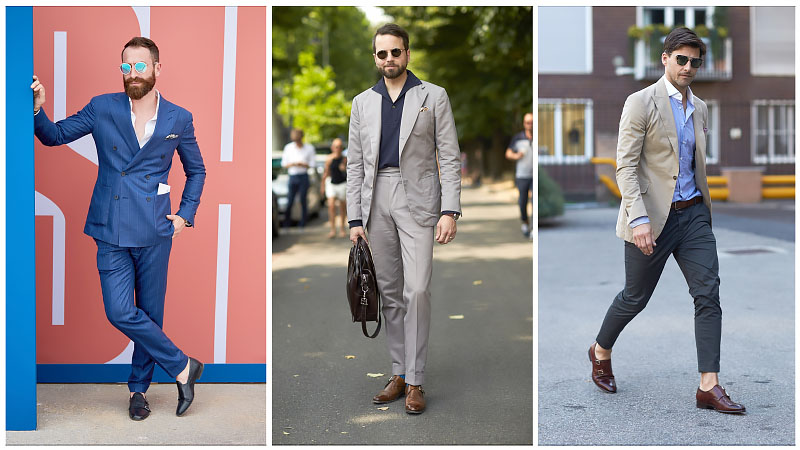 Formal
Monk strap shoes provide the perfect way to inject a sense of personality into formal attire. For black tie dress codes, stick to a black suit and white Oxford shirt teamed with black leather single monk strap shoes. Other formal occasions are an opportunity to experiment with garment and shoe shades. Try a three-piece suit with an Oxford shirt and tie, and double monk straps. Or, select a lighter colored double-breasted suit and offset it with forest green monk strap shoes. Alternatively, patent leather burgundy monk strap shoes pair well with navy or dark brown suits. Keep it simple with a white Oxford shirt and throw a patterned pocket square or tie into the mix to add interest.
SHOP MONK SHOES
How to Wear Monk Strap Shoes
For business or formal attire, the cleaner silhouette of the single monk strap works best.
Opt for double monk straps for a fun party or relaxed wedding look
Make a statement with monk strap shoes in colors like forest green, oxblood, mustard yellow, and deep blue.
Save black leather single monk straps for black tie dress codes paired with a black suit, Oxford shirt, and tie.
When teaming monk strap shoes with shorts, don't wear socks.
Men's Monk Strap Shoes FAQs
Are monk strap shoes formal?
While monk strap shoes are not the most formal shoe style – that title would likely go to the oxford – they are appropriate for formal events and considered more formal than a loafer. 
Why are they called monk strap shoes?
Monk strap shoes get their name from monks in Medieval Europe, who wore them to protect their feet while working in the fields of monasteries. The shoes evolved from monks' traditional sandals, with a similar buckle closure and an added protective toe cap.
Are monk straps still in style?
One of the most enduring footwear styles for men, monk strap shoes are still popular today because of their sophisticated appearance and easy slip-off design. A versatile footwear choice, monk strap shoes look great with everything from a suit to jeans and shorts, which ensures they never go out of style. 
Are monk strap shoes comfortable?
Because they are constructed from leather, with a hard sole, monk strap shoes are not as comfortable as, say, a sneaker. However, as dress shoes go, they can be very comfortable to wear. As with all footwear, construction is key – choose a quality shoe and your feet will thank you. 
SUBSCRIBE TO OUR NEWSLETTER
Subscribe to our mailing list and get interesting stuff and updates to your email inbox.