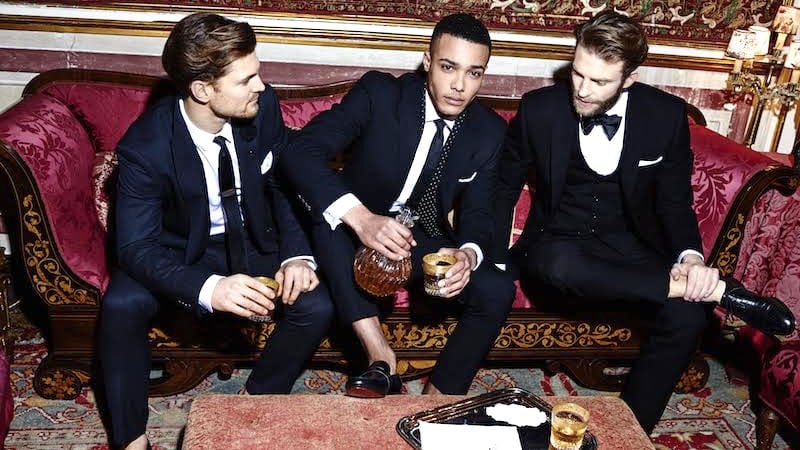 A black suit is in theory, the staple of all staples with regards to formal attire. Is it difficult to wear? Yes, but only because it is so common. Black is great when done right, but truly awful when done wrong. You cannot hide behind a poorly altered black suit as it will read sloppy and careless. A bad black suit is in fact among our ultimate pet hates, along with awful shoes, misguided haircuts, and any fake designer goods. This is why we have arranged our top tips for wearing a black suit for different occasions, incorporating our do's and don'ts for the classic black suit.
RELATED: The Most Stylish All Black Outfits for Men
Black Tie Dress Code
'Keep it simple, stupid' is how the phrase goes, and we couldn't agree more when it comes to a black suit for black tie occasions. Go for clean lines and single-breasted jackets for a sleek adaptation of all black. Simplistic lapels are perfect and won't date. If a classic black suit is not bold enough for you, try a wide peak or shawl lapel to liven up your formal adaptation of this old favourite. This will not only add dimension visually for an evening function but also be a nice change from the sea of men in standard black suits that typically arrive at black-tie occasions. Aim for a streamlined silhouette to enhance a black suit and also to elongate your proportions. A black pair of patent Oxfords is the ideal shoe choice and will add some extra sophistication to your look.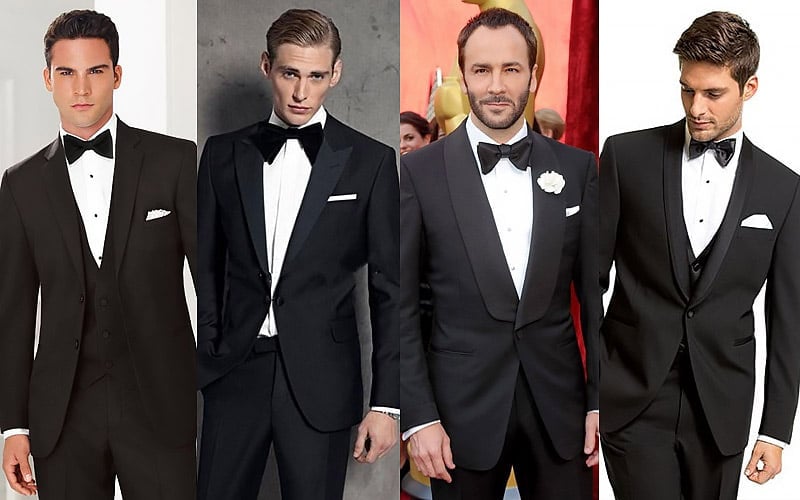 SHOP THE LOOK
Business Casual Dress Code
While a black suit may not be our first choice for business casual, it is a wise option for day to night looks. Lightweight black suits are your best bet and will allow your black suit to look less severe. This is business casual, after all, so you want to maintain a more relaxed look and feel. Also, be mindful of what you are wearing to complement your black suit. A light cardigan and a button-down is perfect for under your suit and will turn down the dressiness of your overall look. Also, be mindful of your shoes. A black pair of loafers, Oxfords or brogues in suede is perfect as the material will minimize the dressiness of a black suit. If you are wearing a button down, keep things plain and not overly bulky. Also, if you are going to wear a tie, maintain a more casual aesthetic with knitted versions in simplistic colors or patterns.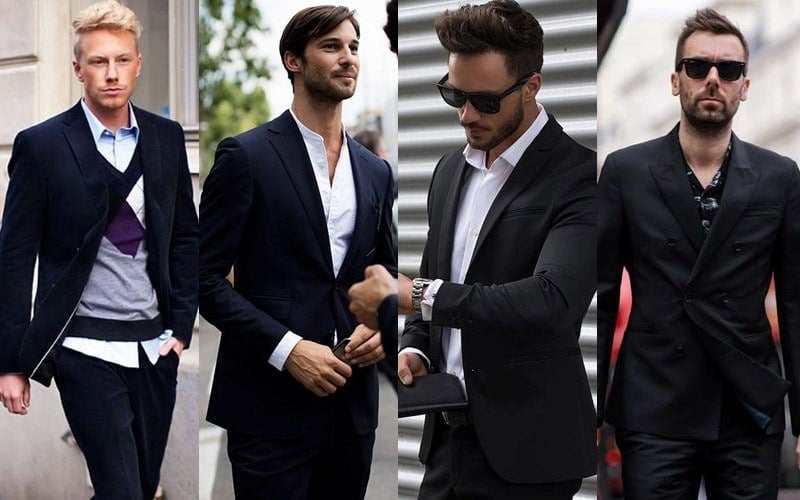 SHOP THE LOOK
Smart Casual Dress Code
Smart casual is an elusive dress code, where you can mix casual elements with more dressy pieces. The key to perfecting smart casual with a humble black suit is to aim for a more mature aesthetic. Scoop-neck sweaters and t-shirts under your black suit work well, as do versatile button downs and simple turtlenecks. As with Business Casual, be mindful of your shoes, and opt for suede loafers or brogues to keep things relaxed. Additionally, incorporate great accessories to ensure your look doesn't read too overdone. A nicely patterned scarf will work wonders and lend dimension to the standard black suit as will a minimalistic watch.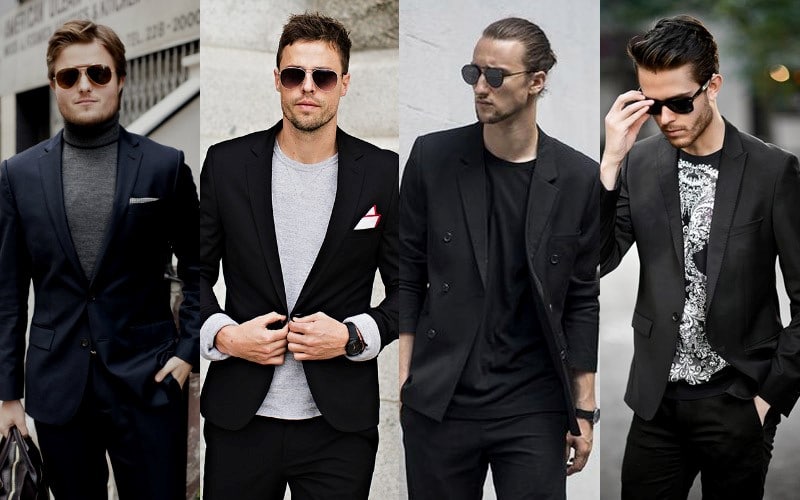 SHOP THE LOOK
The Black Suit & All Black Ensembles
Black shirts with black suits are tricky to get right; there won't be much distinction between your pieces, and it can be difficult to make it look fresh. If you want to wear a black shirt with a black suit, ensure your shirt is matte and not shiny, and make sure your pieces are distinguished between one another. By incorporating turtleneck, shawl neck or cable knit sweaters with a black suit, you will be able to diversify your aesthetic, lending a relaxed ease to your sartorial choices. An all-black ensemble also calls for great investment pieces – things that you will wear time and time again. Sweaters, in this case, need to be of high quality so they don't read messy or out of place with a suit. It's all about balance, so keep your look well-tailored and clean.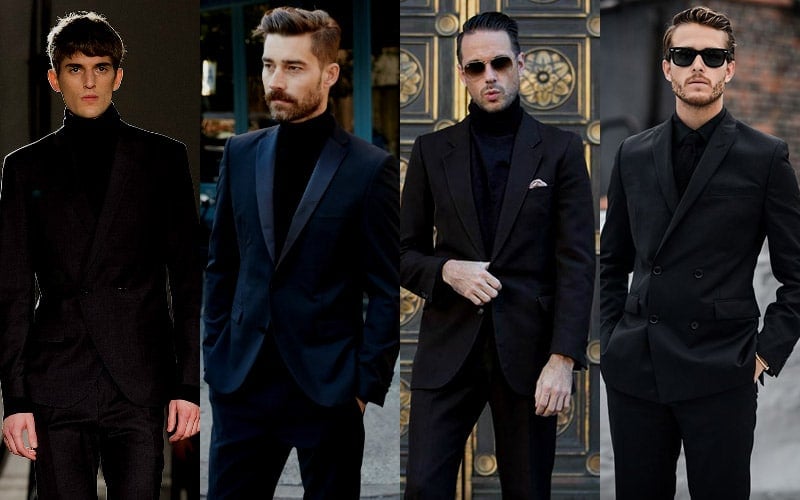 SHOP THE LOOK
How to Wear a Black Suit
The fit is everything. If you are going to wear a black suit, you will need tailoring. You will want the jacket to be cut slim through the waist to maintain a fitted silhouette. You will also want to leave a half an inch of shirt showing at the cuff.
Choose a lightweight suit fabric in wool/cotton as it will help regulate your temperature.
Work with contrasting shirt colors in natural tones like white, grey and navy but as with your tailoring, ensure you are opting for a slim fit shirt to bring your black suit to life.
For less formal occasions add a colorful pocket square, t-shirt, polo and a black suede loafer for a more youthful and relaxed look.
For dressier occasions, wear a black suit with a fly front placket white shirt, black bow tie, and black Oxfords; this is a great alternative to purchasing a tux.
SUBSCRIBE TO OUR NEWSLETTER
Subscribe to our mailing list and get interesting stuff and updates to your email inbox.