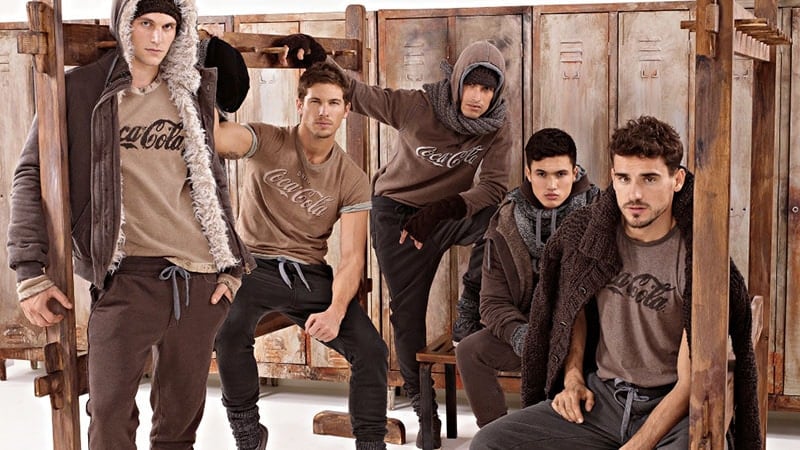 With athleisure on the rise, jeans and chino have some new competition. The jogger is the new must-have style for gents and it's dominating the street style scene. No longer just for the sports-inclined, these comfortable pants are a new wardrobe staple.
What are Joggers?
Originally made for exercise, joggers are a traditional style of sports pant. Lightweight and comfortable, joggers have an athletic appearance and taper in at the leg. Most also tend to have an elastic or drawstring waist and elastic at the ankles. Today, thanks to the booming trends of athleisure and sports luxe, joggers have become a key wardrobe essential. No longer seeming out of place or cheap, joggers are now a cool and contemporary item when styled correctly. While you can still buy the basic sweatpants-style joggers, there are also many more sophisticated and slimline styles available.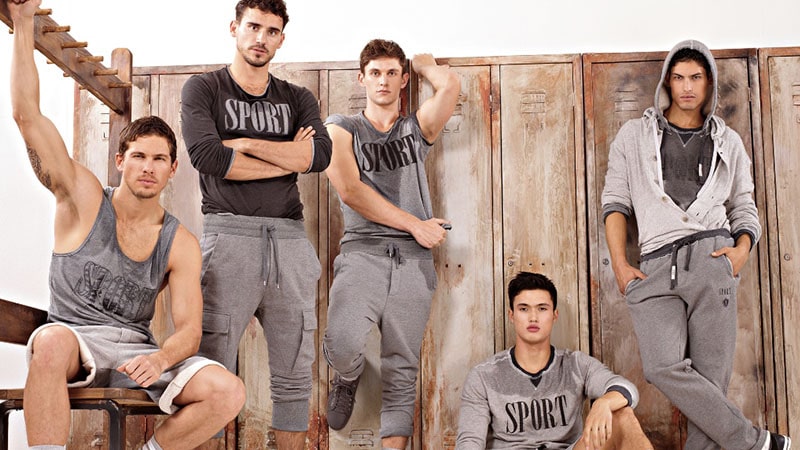 What to Wear Joggers With
Today, joggers can be styled in countless ways. While they certainly don't fall into the category of formal wear, joggers can be styled to suit different dress codes or occasions. Casual is, of course, the natural way to wear joggers. This can be achieved by pairing them with other casual items, such as T-shirts or hoodies. Joggers can also be made to appear smart casual with the wardrobing option to dress up or down with items such as dress shirt or blazer.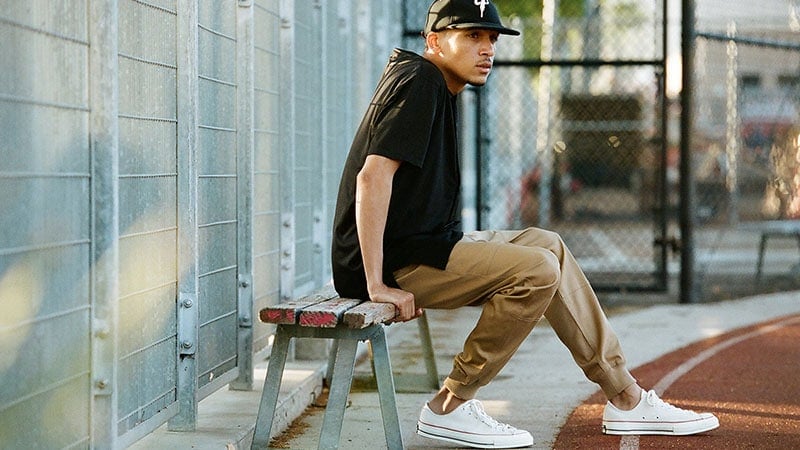 Jogger Outfits
Far from just a gym pant, joggers are now an essential piece of streetwear. While they still naturally pair well with other sportswear pieces, these surprisingly versatile pants can be worn with numerous outfits and styles.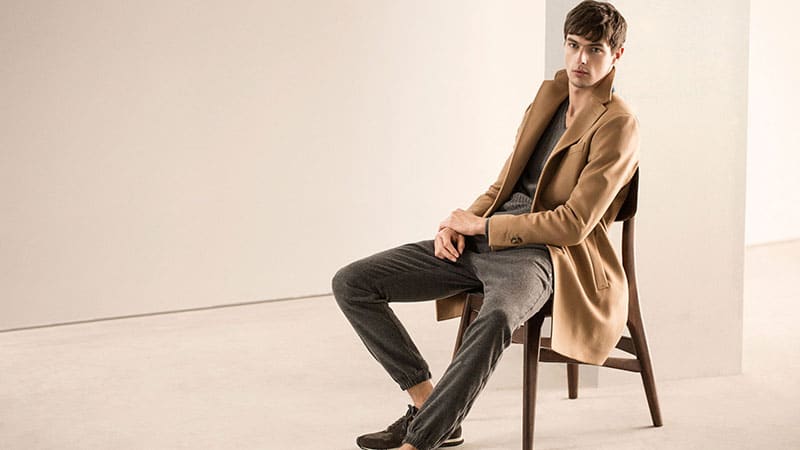 Sweatshirts and Joggers
While a sweatshirt and joggers may be your go-to look for lazing on the couch, it can also be a seriously stylish streetwear outfit. With the rise in athleisure trends, the combination has become more and more appropriate for everyday wear. To keep the look more polished than your loungewear, opt for stylish sneakers, boots or structured items.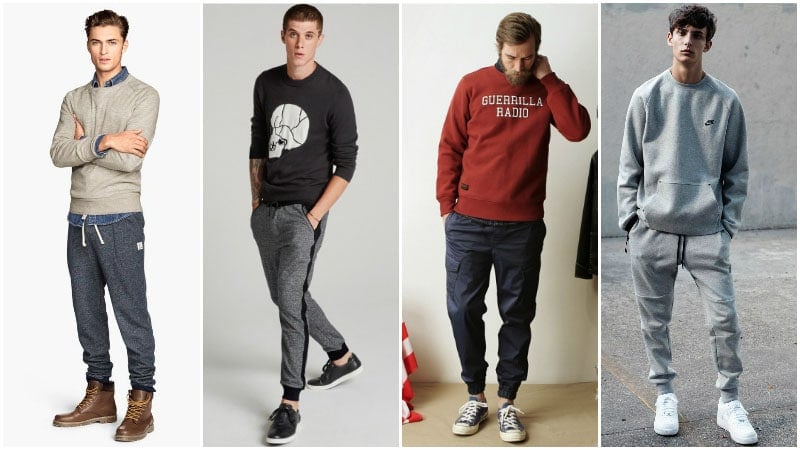 SHOP THE LOOK
T-Shirts and Joggers
Joggers are intended to appear casual and relaxed. By pairing them with a T-shirt you'll compliment this style and create an easy weekend look. Not to mention, you'll also be incredibly comfortable. Just make sure your T-shirt is well-fitted and the bottom of your joggers sits tight at or above your ankles. This will maintain a cool, clean aesthetic while providing a more tidy silhouette.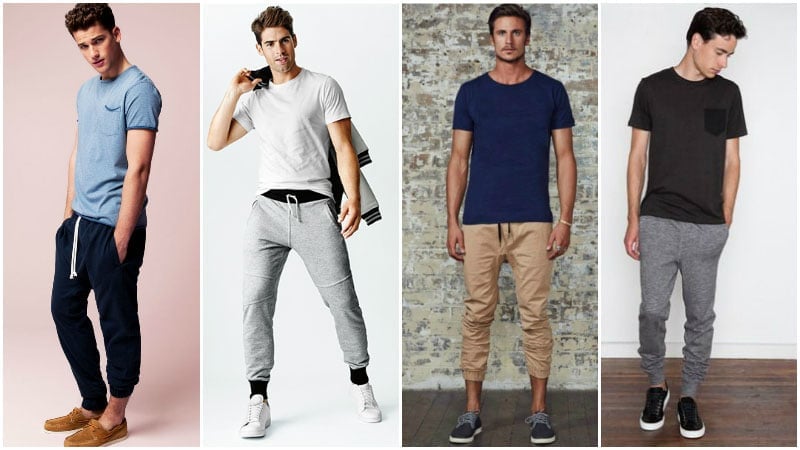 SHOP THE LOOK
Track Jackets and Joggers
The humble track jacket is cool once again and waiting to be paired with your joggers. Playing up the overall sportswear appeal of your outfit, a track jacket and jogger combination carries a seriously athletic vibe and can be styled up with additional outerwear.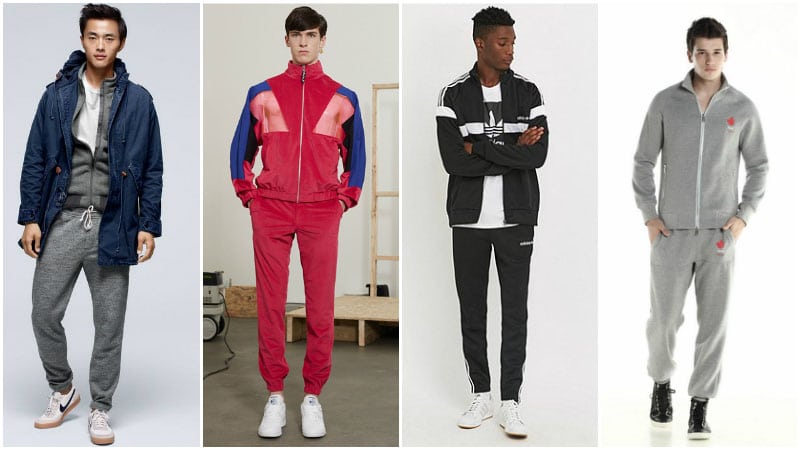 SHOP THE LOOK
Hoodies and Joggers
These days, a hoodie paired with joggers is an appropriate casual option. It can be great for simple errands and occasions, such as going to get coffee. If you want to make your basic joggers and hoodie a little more stylish, try multiple layering options for an edgy street inspired look.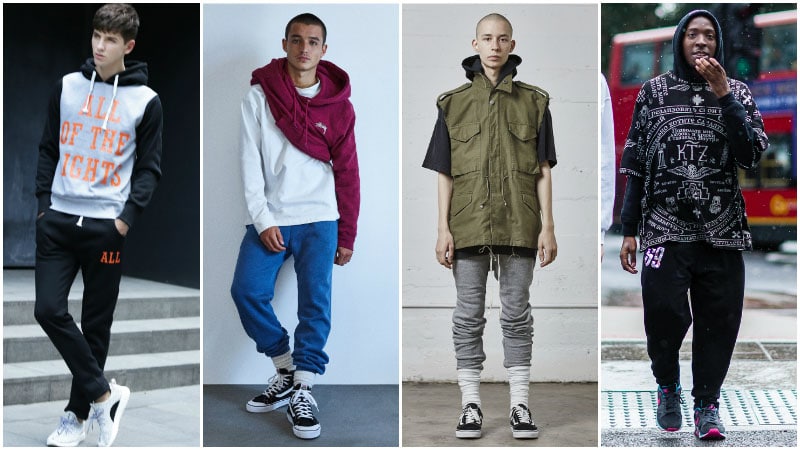 SHOP THE LOOK
Denim Jackets and Joggers
A denim jacket is a fantastic outerwear choice to accompany joggers. The casual yet stylish piece can finish off your outfit and will create a cool weekend look. If you want to introduce some more structure, then a denim jacket and joggers is a great styling option.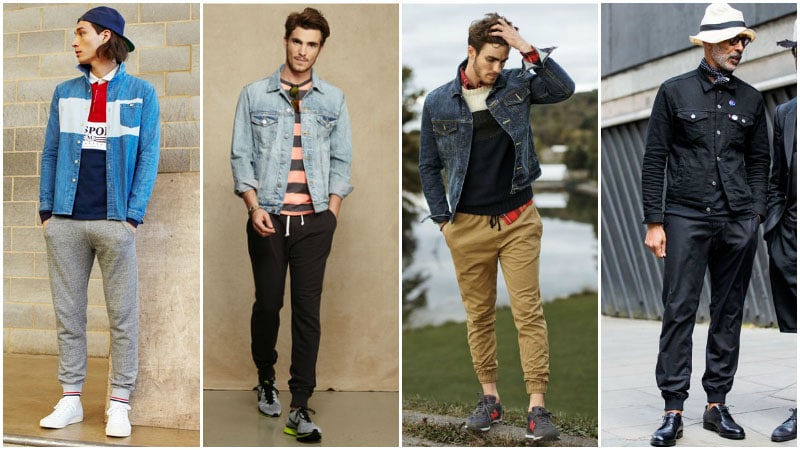 SHOP THE LOOK
Biker Jackets and Joggers
Although you may be more inclined to wear your favourite skinny jeans with your biker jacket, you should try your joggers instead. Mixing the soft and comfortable sportswear pants with a tough, leather jacket provides a contemporary, athleisure look.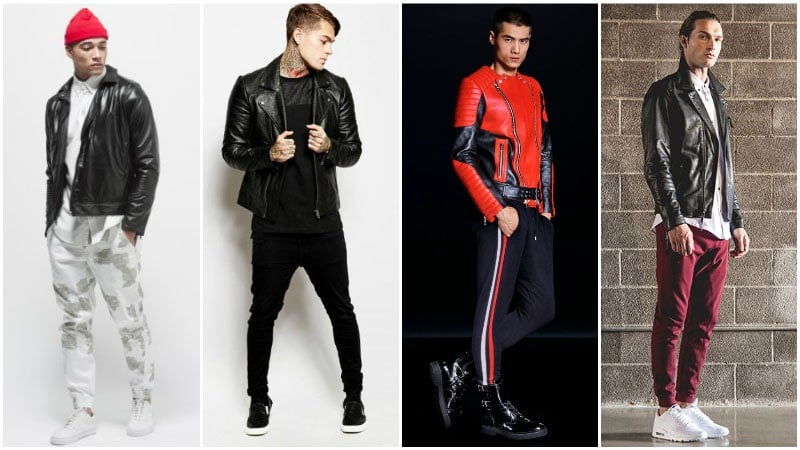 SHOP THE LOOK
Blazers and Joggers
Joggers are surprisingly versatile and can even be paired with a blazer. Part polished, part relaxed, the unique combination creates a striking appearance. To make the look work, keep your colour palette dark or neutral and opt for a less structured blazer. Instead of a dress shirt, choose between a casual button-up or your favourite piece of knitwear.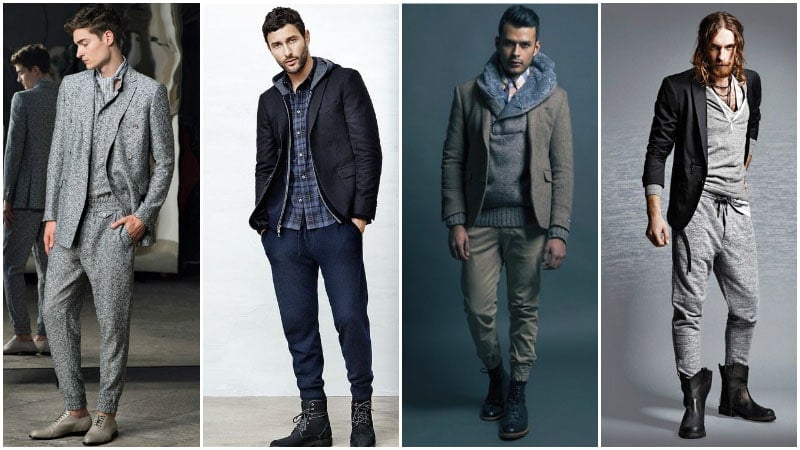 SHOP THE LOOK
Polo Shirts and Joggers
Like joggers, polo shirts have a sportswear vibe, meaning that the two items go well together. To keep the look casual, choose soft and light styles of joggers. If you want the look to appear more polished, be sure to pick joggers in a slightly heavier fabric. If your joggers are a plain colour, you may also want to consider a patterned polo. The detail will immediately make your shirt the feature of your outfit and your joggers the supporting act.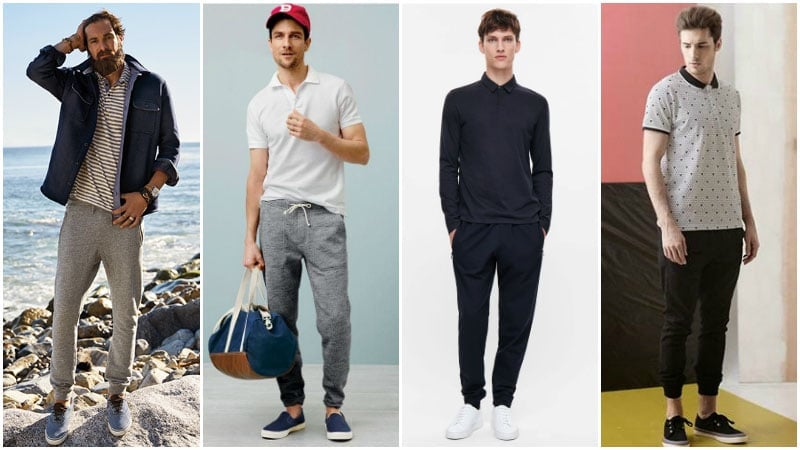 SHOP THE LOOK
Dress Shirts and Joggers
A dress shirt and joggers can be an ideal alternative to your regular smart casual outfit. While it may not seem like the pair should work, they make a surprisingly stylish combination. A neat, long-sleeved Oxford shirt is a great option and can be worn loosely tucked in for a more dressed up look.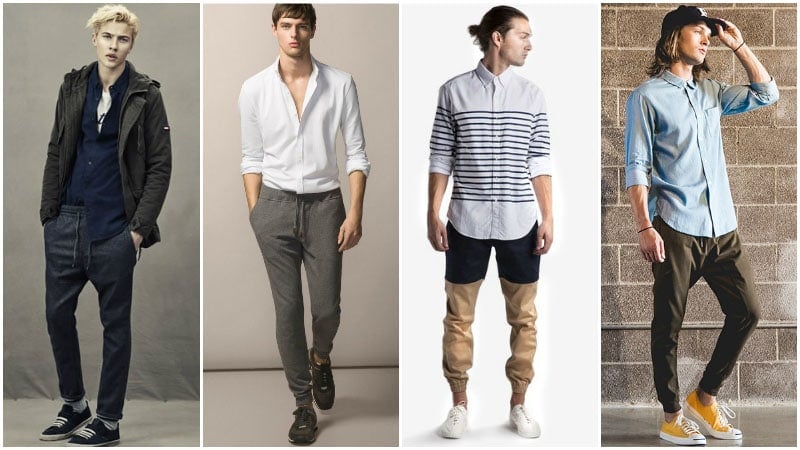 SHOP THE LOOK
Bomber Jackets and Joggers
The bomber is one of the most popular jacket styles dominating the streets and a must-have item for your wardrobe. It's also the ideal jacket to wear with your joggers. Not only does its cropped length allow you to show off your stylish pants, but its relaxed, athleisure vibe also compliments their style.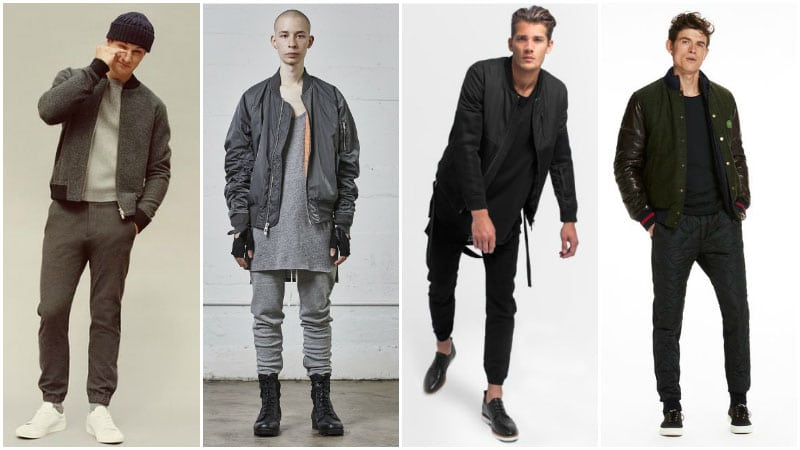 SHOP THE LOOK
Shoes to Wear with Sweatpants
Joggers can be worn with a surprising variety of shoes. If you're looking for a fail-safe option, however, you can't go past high-tops or sneakers. Ensure your sneakers are clean to keep your look polished and sleek. If you're after a smart casual look, you can wear more formal shoes but be aware that they're tricky to get right. Shoes without laces that can be worn without socks tend to make the best option. As such, boat shoes or loafers can be an ideal choice. Top amp up your look select a contrast colour shoe.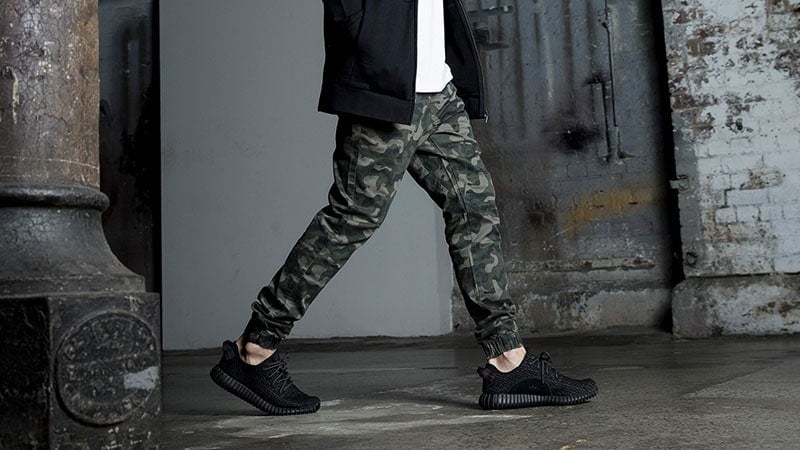 How to Wear Joggers
Keep your overall aesthetic casual and relaxed.
For maximum style coordinate with designer brands.
Go for multiple layering options to mix up your look.
Add polish to your look with a slim silhouette and the addition of more structured styles.
When pairing joggers with a jacket, opt for shorter styles, such as a bomber, biker or denim jacket.
Have a good pair of stylish trainers on hand as your go-to footwear for when you're wearing your joggers.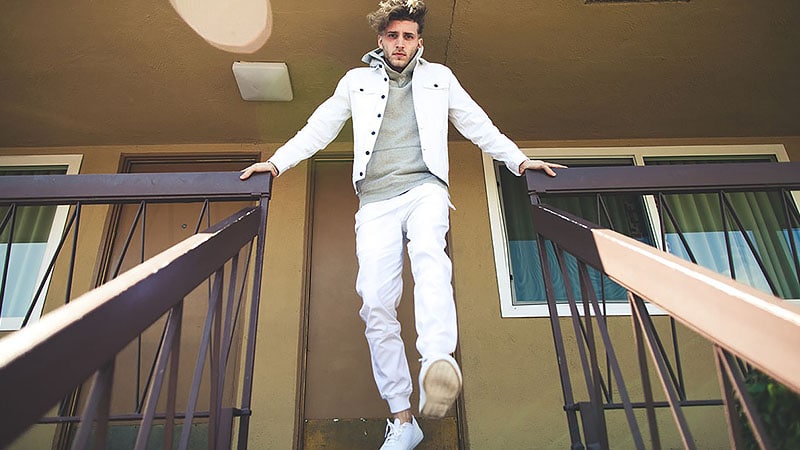 Best Joggers Brands
Y-3
Nike
Thom Browne
Balmain
Lacoste
Theory
J.Crew
Public School
Adidas
Alexander Wang
Cadet
SUBSCRIBE TO OUR NEWSLETTER
Subscribe to our mailing list and get interesting stuff and updates to your email inbox.