When it comes to men's shoes, brogues are a must-have style. Not only are they smart and fashionable, but they can also add interest and excitement to any outfit thanks to their unique perforations. So, when it's time to pick a pair of shoes to wear, why not select some brogues? Whether you're dressing for a smart casual event or semi-formal function, these shoes can perfectly complete your look. Don't believe us? We'll take you through the benefits of this classic footwear style and how you can wear it for a seriously fashionable look.
The History of Brogues
Modern brogues originated in Scotland and Ireland and were initially constructed using untanned hide with small perforations. The perforations were for functionality, and their purpose was to allow water to drain through the footwear when the wearer was walking in wet terrain. The design has since evolved, and the perforations are now mostly for decorative purposes. In fact, it is this patterned detailing that brogues are identified by.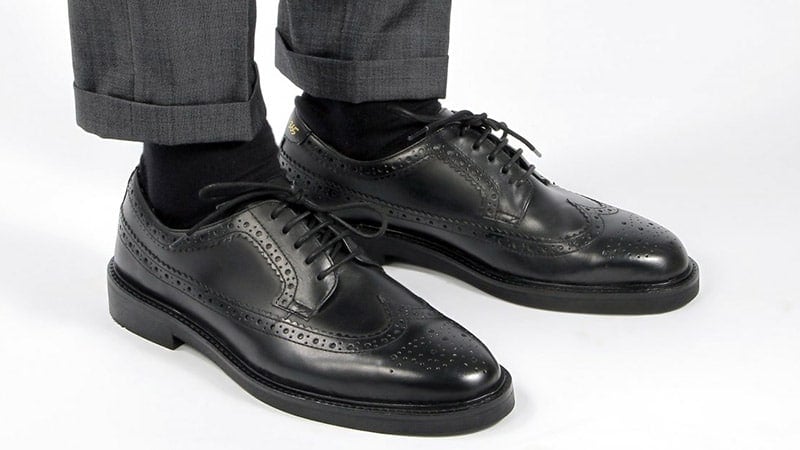 Type of Brogues
Brogues come in two styles: the Derby with open lacing and the Oxford with enclosed lacing. Brogues are also categorized by the different perforations they feature. Designs include the full brogue (wingtip), half brogue, and quarter brogue.
Full Brogue (Wingtip)
Full brogues are the most iconic of the styles and feature a pointed toe cap with wing-like extensions that run along both sides of the shoe. When viewed from the top the toe cap looks as though it has a 'W' or "M" shape.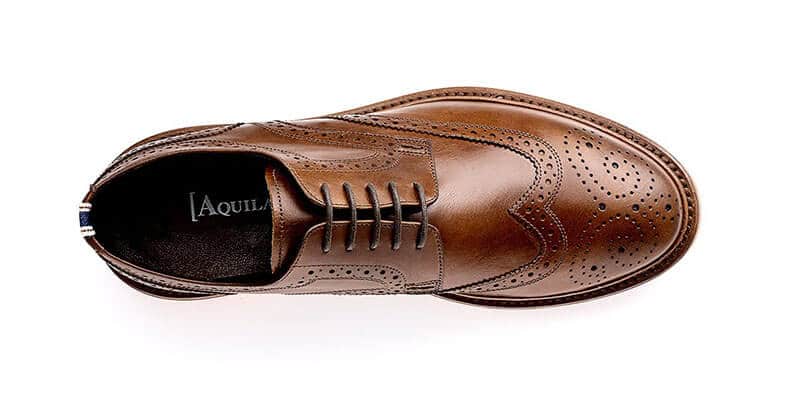 TOP PICKS
Half Brogue
The half brogue, or semi-brogue, is characterized by a toe cap with decorative punched detailing and serrations along the toe cap edges and in the center of the cap. Half brogues tend to be more formal than full brogues but can suit a variety of outfits.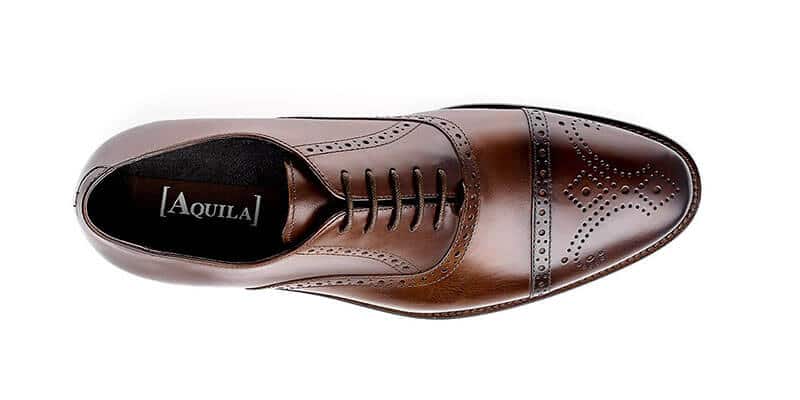 TOP PICKS
Quarter Brogue
Quarter brogues are defined by their straight toe cap with decorative detailing along the cap's edge, but nothing in the middle of the toe cap. As with the half brogue, quarter brogues are a popular choice for workwear because the full broguing can seem a bit busy. Thus the quarter brogue is ideal for business and formal occasions.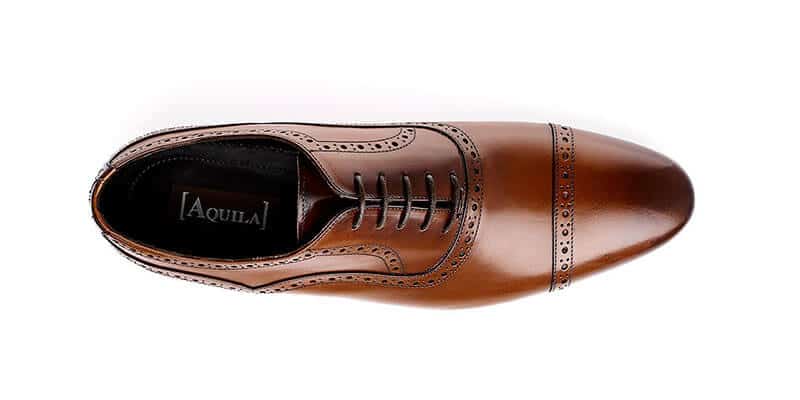 TOP PICKS
Brogue Outfits
The brogue was once considered an outdoor shoe and not acceptable for formal occasions, but has since evolved to include a variety of different styles that are now acceptable on most formal occasions. Although the classic brogue is a brown leather design, there are now multiple colors, styles, and materials available, including patent leather and suede. The versatility of the shoe means that it can suit various outfits, including everything from slim blue jeans and simple T-shirts to chambray shirts and chinos. These days the classic brogue can even be worn with business attire or a two-piece suit.
Brogues with Pants
One of the great things about brogues is that you can easily dress them up or down. To dress up a pair of brogues, try wearing them with a stylish pair of suit pants or trousers and a shirt and blazer. Also, to ensure your look appears more sophisticated than casual, pick an elegant pair of brogues. A style that is slim in a classic color, such as black, brown, or burgundy, will look downright dapper.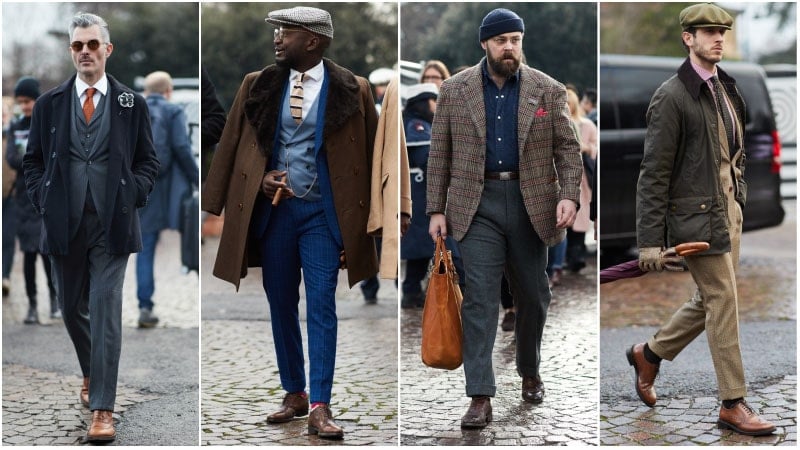 Brogues with Chinos
As well as looking great with pants, brogues can also partner perfectly with chinos. As brogues lend themselves excellently to a smart casual appearance, they match well with chinos, which are inherently elegant yet relaxed. To nail the combination, stick to classic colors for both your pants and shoes. Then, complete your look with a simple shirt. You can also add a blazer if you wish and cuff your pants to show off your ankles.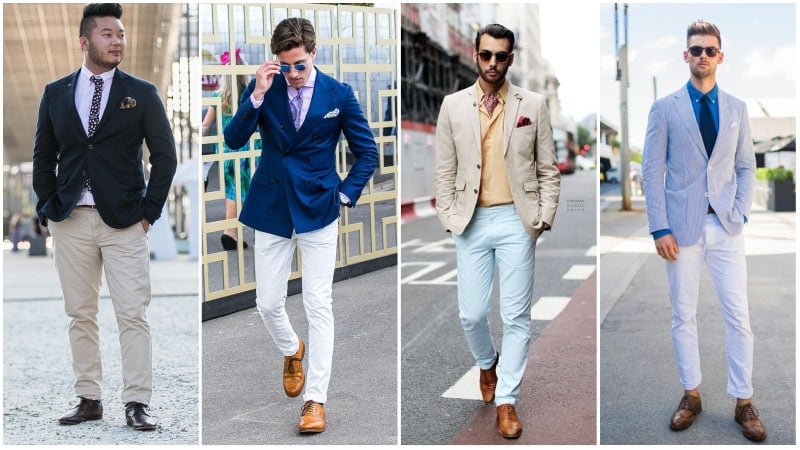 Brogues with Jeans
Due to their detailed appearance, brogues can sometimes appear overwhelming with specific jeans. However, that doesn't mean you shouldn't give this combination a try. When worn right, this look can be stylish and smart. To rock brogues with jeans, remember to keep things simple and sleek. To do so, aim for a smart casual appearance with skinny or slim jeans in a dark blue or black. Then, complete your look with something polished on top, such as a shirt, t-shirt, and blazer, or sweater.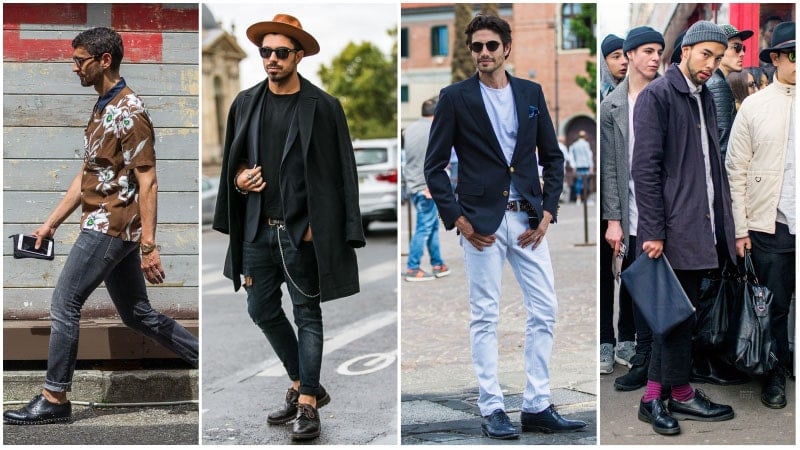 How to Wear Brogues
Choose the type of brogues that suit your style, outfit, and the occasion for which you are dressing.
Select brogue shoes with lots of perforations for casual outfits and styles with minimal holes for formal ensembles.
Dress up brogues by picking a slim pair in a classic color and wearing them with a suit or tailored trousers.
Pair light-colored chinos with classic brown brogues and a button-up shirt for an elegant yet relaxed look.
Wear brogues with slim dark blue jeans and a T-shirt and blazer for a stylish, smart casual look.
Car FAQs
What makes a shoe a brogue?
The key identifier for a brogue shoe is the perforated detailing that appears around the lacing panel, heel, and toe box. They're most commonly either a derby-style shoe with open lacing or an Oxford-style with closed lacing. However, you can find brogue detailing on other footwear, including boots.
What is the difference between Oxford and brogue shoes?
An Oxford is the most formal style of men's dress shoe, featuring closed lacing and a high-shine leather finish. Oxfords and brogues can be the same shoe or can be different. Broguing really refers to the perforated detailing on the shoe rather than the physical style. As such, you can get an Oxford shoe that is a brogue because of the added detail.
Are brogue shoes formal?
Brogues are a type of dress shoe for men, so they are quite formal. While interesting and unique, the detailing makes them slightly more casual than a classic Oxford or derby. As such, you'd avoid wearing them to black tie events, but they'd be perfectly acceptable for semi-formal occasions, office wear, and smart-casual looks.
SUBSCRIBE TO OUR NEWSLETTER
Subscribe to our mailing list and get interesting stuff and updates to your email inbox.