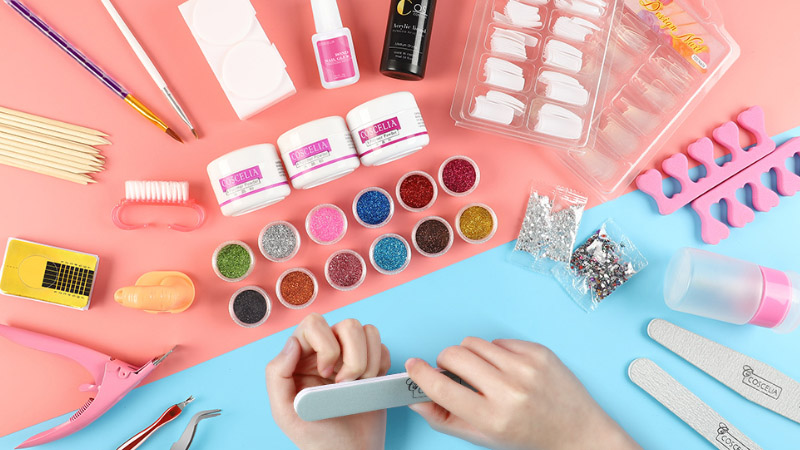 The way we go about our beauty regimes has changed over the last year; more and more people are drawn to home beauty solutions. If you want a great manicure but can't head to the salon because of restrictions, or perhaps you want to save money, then a DIY acrylic nail kit can help you create the perfect talons right from the comfort of your own home. The beauty of these sets is that they allow us to learn a new skill, and with the right tools and a bit of practice, you can have a salon-approved look. There are almost unlimited colors to choose from, and you can get super creative with nail art. To find out more, and to help you choose the perfect package, keep reading.
RELATED: 70 Gorgeous Acrylic Nail Ideas for Every Aesthetic

1. Mia Secret Professional Acrylic Nail Kit for Beginners and Students
If you're tired of going to the salon, or can't because of restrictions, then you may want to start doing your nails yourself. Nail sets are a great way to update your manicure from the comfort of your own home, and the Mia Secret Professional Acrylic Nail Kit is an excellent place to start. It is easy to use and great for beginners and professionals alike. In it, you will find all the tools you need, including nail files, liquid monomer, no-burn acid-free primer, nail forms, acrylic powder, nail art powder, and more. If you're interested in learning about nails, this is a wonderful way to get you started!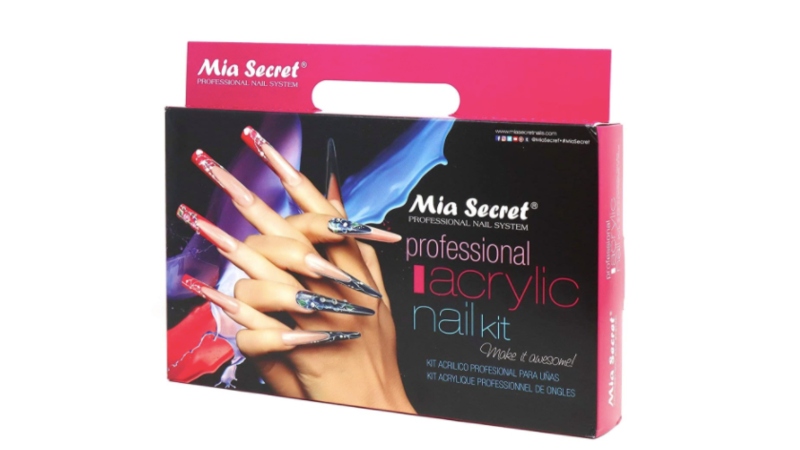 2. Coscelia Acrylic Nail Kit and Liquid Set
Well-groomed nails can give a woman confidence, but creating different looks can also be fun. If you love glitter nails and want manicures that are bold and bright, then the Coscelia Acrylic Nail Kit has everything you need. The package includes 12 glitter powders, 1000s of rhinestones so you can bedazzle your nails as much as you want, and white French false nail tips. Learning to create acrylic nails at home will take some practice. That said, it is likely something that you will enjoy and in the future can save you time and money.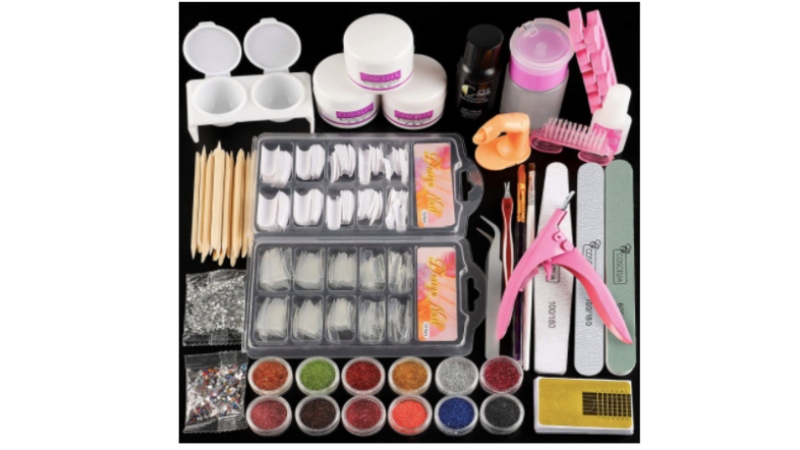 3. Fashion Zone Acrylic Nail Art Kit
Fashion Zone has created an acrylic nail kit that will completely transform your manicure. Acrylic nails are made using a mixture of liquid and powder, resulting in strong, long-lasting talons. The package includes everything you need to get started and gives you a wide selection of colors, rhinestones, and beads to experiment with various looks. Before purchasing any set, it's always advisable to do your research to know exactly what you need and how to apply and remove them correctly. This will help you learn more about nail design and prevent damage to your natural nails.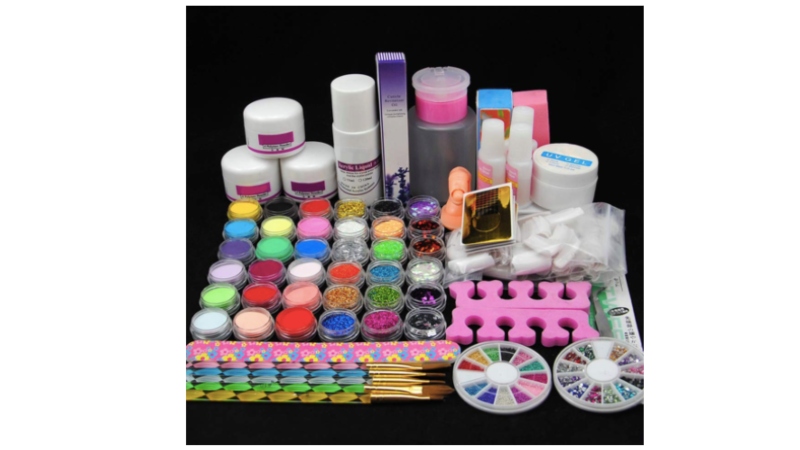 4. Creamoon 42 in 1 Nail Art Set
Creamoon's 42 in 1 nail art set is perfect for your home manicure. You can create beautiful, long-lasting talons in a variety of colors, experiment with lengths by adding a little extra to elongate your fingers, and have fun with nail art. It is one of the cheaper kits on the market, which is especially helpful if you are on a budget. The low cost can also make this an excellent gift for family or friends interested in nail designs or for those simply not going to the salon because of restrictions or lockdowns.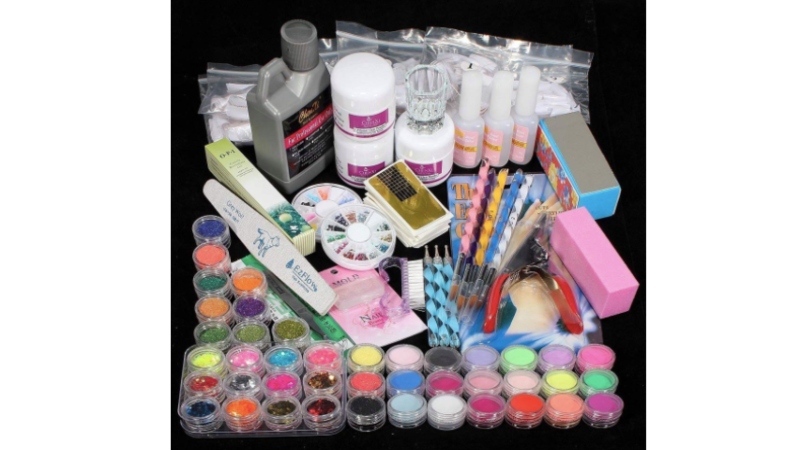 5. Morovan Glitter Acrylic Powder and Liquid Monomer Set
Morovan is a brand that focuses on fashion and beauty, and they have created an excellent set for home use. It includes acrylic powders, a cleaning and acrylic brush, buffer block, a guide for nail shapes, and so much more. The variety of colors and rhinestones is also so appealing because you can create so many different looks. Whether you want to embrace a metallic finish or get creative with 3D flower art, nothing is stopping you from making an at-home manicure that looks expensive and stylish.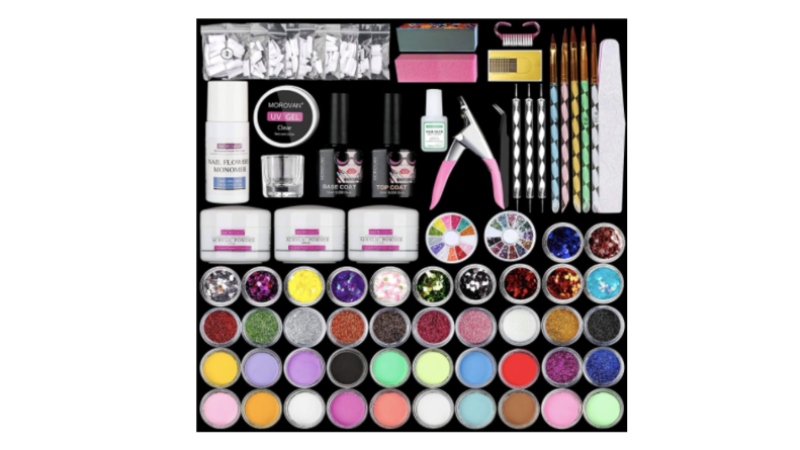 6. Anlome Acrylic Nail Kit Set
If you want a nail kit that can help you achieve durable and long-lasting nails with no frills, then the Analome acrylic set is a good choice. The collection contains the essentials; an MMA-free monomer, nail tips, a base coat, a topcoat, and a formula that includes UV inhibitors to prevent yellowing. As a bonus, the packaging is also super cute!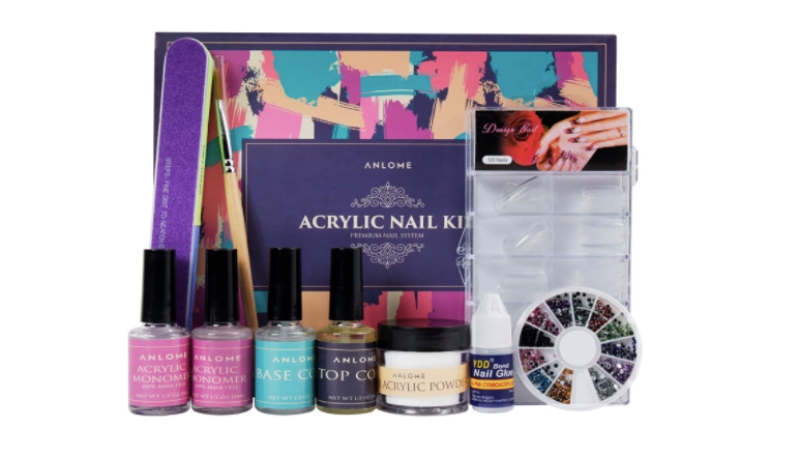 7. Cooserry 115 In 1 Acrylic Nail Kit
The Cooserry acrylic nail kit really has it all because it consists of 115 pieces. It comes in three colors of acrylic powder and one acrylic liquid. It includes 200 fake nails and tools to help you with your manicure and your acrylics' eventual removal. That said, the best part is probably the 48 different glitter colors to choose from, allowing you creative freedom and a lot of choices. Whether you are a pro or a beginner, this kit has something for everyone. Plus, all of this comes with a surprisingly low price tag, making DIY manicures all the more appealing.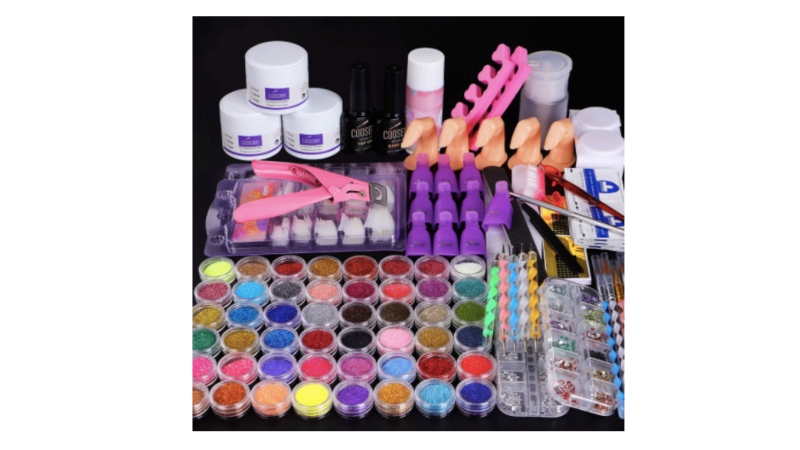 8. Sunbelee Professional Acrylic Nail Kit Set with Everything
If you're only just discovering the wonders of at-home manicures, then you need a nail kit that contains everything so that you can practice. The Sunbelee acrylic nail package will set you up with everything you need to start your DIY nails. It includes a nail dust brush, three acrylic powders, false nail tips, a gel brush, nail form stickers, a cuticle pusher, and a practice finger, among other things. The kit is on the lower end of the price range, making it perfect for beginners.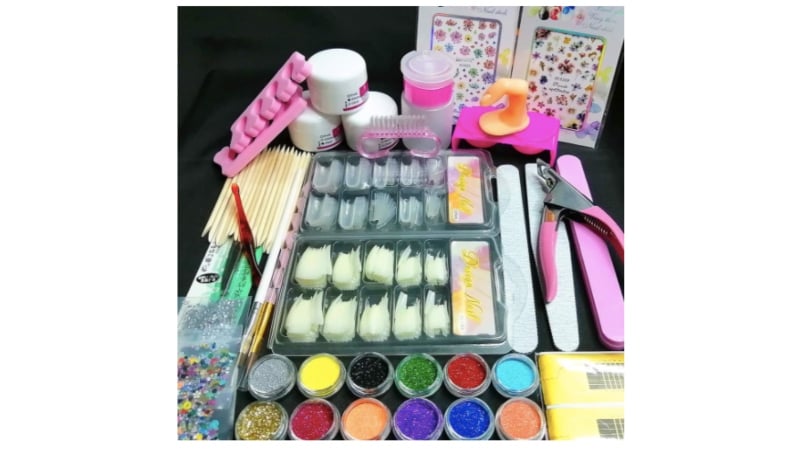 9. Teamyo Acrylic Nail Kit
There are many things to consider before purchasing an acrylic nail set, and for some, the color options are one of the things that draw them to a product. Teamyo's acrylic nail kit is certainly not short of options, and in the package, you will find 18 nail color powders that are lightweight and easy to use. There are also 12 glitter options, and to create even more detailed nail art, it comes with sequins. Embrace your choices by trying out the latest trends for your nails, and have fun!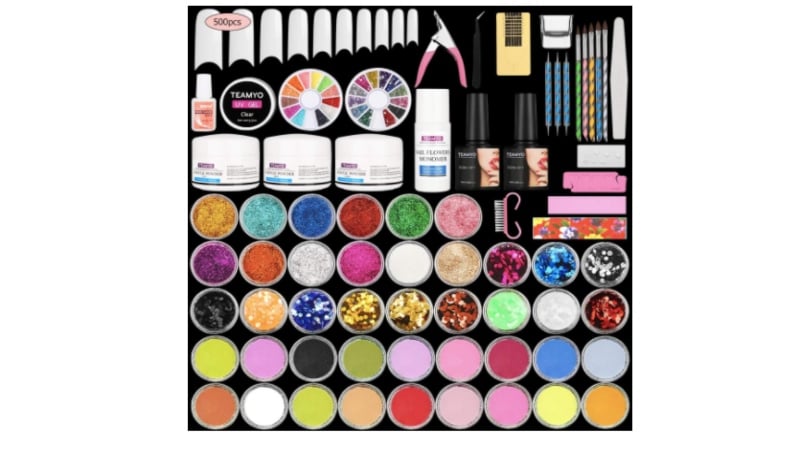 10. Una Gella Acrylic Nail Starter Kit
The Una Gella Acrylic Kit's beauty is that it's packed with products to help you learn how to upgrade your manicure. Some highlights include three basic acrylic powders in clear, white, and pink, a liquid monomer, a full kit with no crease nail tips and no bubble nail glue, and a practice nail. You are also spoilt for color and design with a 37 piece nail art decoration option. The set contains 73 pieces in total and comes with a free travel storage bag for added convenience. What more could you want for your DIY manicure? The answer is not much.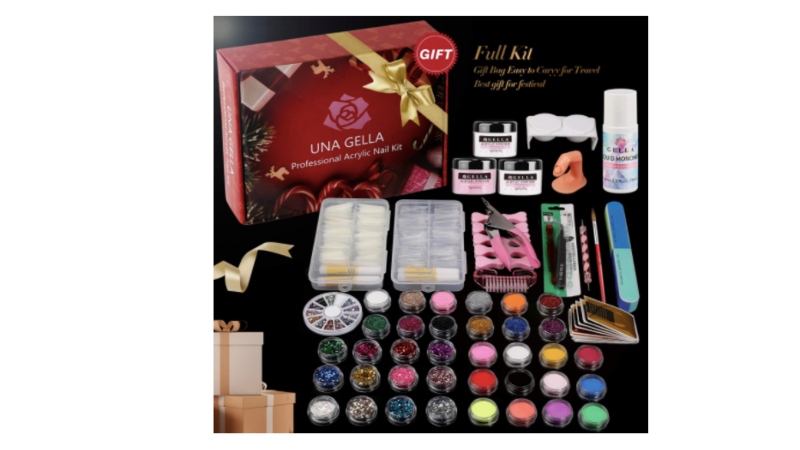 11. KISS French Acrylic Sculpture Kit
One of the most appealing things about nail kits is that you can do them in the comfort of your own home and for a fraction of the cost of a salon. The pandemic has also changed how many of us shop and approach beauty, so if you want to learn a new skill, the Kiss French Acrylic Sculpture kit has everything you need. This includes white and natural tips, acrylic primer, acrylic liquid, nail glue, and nail forms. It has many nail tips and products to practice with, and reviewers have called it beginner-friendly. This allows you to perfect your look and move on to something bigger in the future.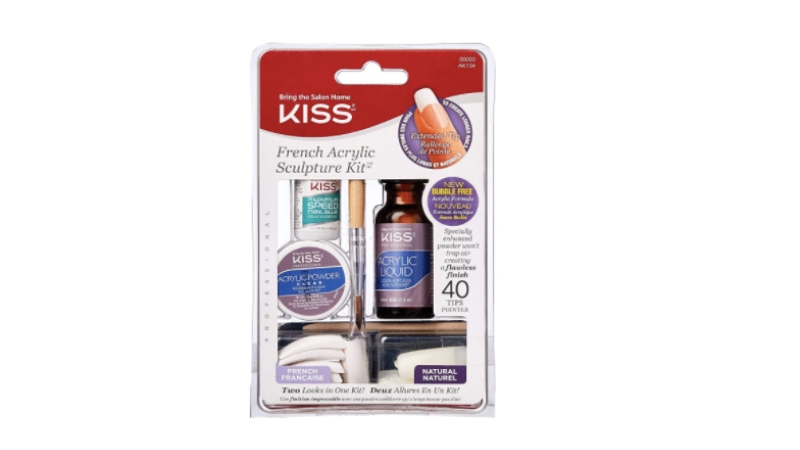 12. TONGYE Acrylic Nail Kit
Acrylic talons are great because they can add a strong coating to your natural nails. They can allow you to play around with length and shapes to create the perfect look for your hands. When deciding on a nail kit, it can be intimidating picking out the right one as there are so many on the market, but if you're just starting, you want something that includes everything, consider the TONGYE set. It comes with several acrylic powders, practice nails, nail tips, clippers, nail glue, a brush, and even a glass, among other things. Plus, all the colors, nail art decoration tools, and bling that a girl could ask for. It is one of the highest-rated kits based on reviews, so you won't be the only one to think it's great.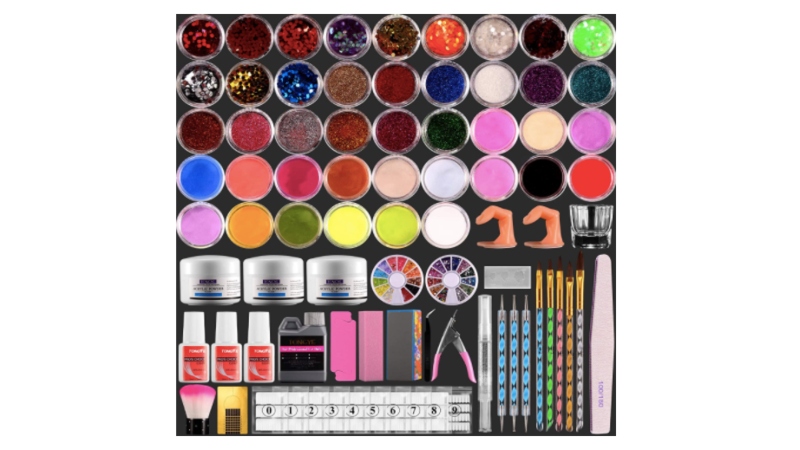 13. Pure-Hoo Nail Kit Set Professional
There are so many nail kits on the market, but not all of them are appealing. Pure-Hoo's set is one that you will be interested in because it is cheap and contains all the basics. You receive the tools you'll need to prep and create your look. These include clippers, cuticle pushers, files, buffers, a good selection of varied glitter colors, three acrylic powders, false nail tips, and nail form stickers to help achieve a salon-approved manicure. Before doing your nails at home, it is always advisable to research what you need; this will help you determine which kit is right for you.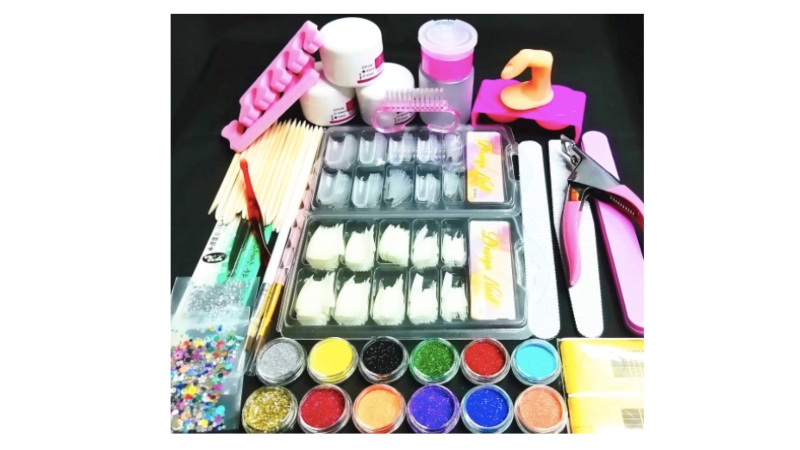 FAQs
What is the best acrylic nail kit for beginners?
There are many acrylic nail kits on the market that are easy-to-use and perfect for beginners. If you are just starting to experiment with at-home manicures, then you want to pick an all-inclusive product that provides you with all the tools you need, for example, the Mia Secret Professional Acrylic Nail Kit for Beginners and Students. You may also be more inclined to spend less on your starter kit because perfecting your look will take time and practice, so if an affordable package is what you're after, then there is the Coscelia Acrylic Nail Kit and Liquid Set.
What is the best acrylic nail kit on Amazon?
Amazon is an excellent place to source acrylic nail kits, and you can filter your search by price and rating. Some of the best products include the Coscelia Acrylic Nail Kit and Liquid Set and Morovan Glitter Acrylic Powder and Liquid Monomer Set. That said, your decision can be based on your budget and what you expect from a set.
What is the best acrylic powder to use?
Mia Secrets acrylic powder is considered some of the best on the market and is one of the bestsellers on Amazon. It would help if you always did your research beforehand to ensure you purchase a high-quality product from a trusted and reputable brand. It is also advisable to pick an acrylic powder that is MMA-free.
What is the best brand of fake nails?
When choosing a fake nail brand, there are so many to pick from, and your choice is mainly impacted by your needs, expectations, and budget. If you want press-on nails, then consider Dashing Diva or KISS. If you need a DIY acrylic kit, then Mia Secret or Creamoon are great choices.
SUBSCRIBE TO OUR NEWSLETTER
Subscribe to our mailing list and get interesting stuff and updates to your email inbox.