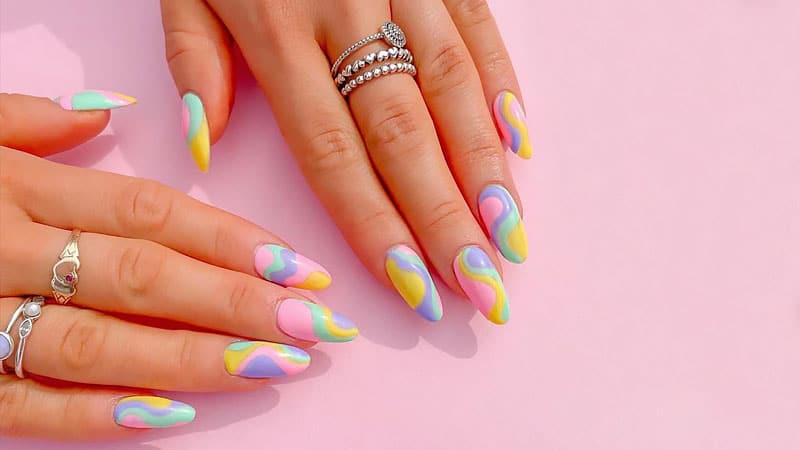 If you want to draw attention to your hands, one of the easiest ways to do this is with acrylic nails. They are created using a mix of liquid monomer and powder and then shaped onto your natural nails, but the best thing about acrylics is their versatility. You can experiment with various lengths and shapes. Longer nails elongate your fingers, but they also allow for gorgeous nail art. If you are a woman who loves to change up her manicure and wants something modern and fun, consider colorful french manicures, kidcore art, and sweet tooth-inspired designs. Or you can keep it simple with looks like dreamy pastel lacquers and neutral swirls. There is something to suit every personality and style, so you can bring a smile to your face or make a powerful statement. Keep reading to find all the inspiration you need for your next manicure.
RELATED: Everything You Need to Know About Acrylic NAils
Acrylic Nail Designs
1. Oriental Nail Design
The East has long been an inspiration for fashion and beauty, so it is not surprising that oriental nail design is one of the hottest looks. The style is often defined by bright colors and details and could feature one or several popular images. For example, a dragon on one fingernail, patterns on another, and a cherry blossom or lotus. The combination makes for beautiful and striking artwork that is bound to get your hands noticed. Feel free to experiment with different colors and prints for a look that you love, celebrate your heritage, or honor the East as a source of creative and artistic inspiration.
2. Soft Pastel Matte Ombre Nails
Soft pastel matte ombre nails are the perfect look for a woman who wants something subtle and pretty yet modern. Pastel shades are timeless and are used every year in fashion and beauty. They are easy to wear and have a feminine and dreamy quality to them. On the other hand, ombre is a way to have some fun by blending two colors, one light and the other slightly darker. This creates an interesting finish and gives your standard manicure a twist.
3. Bandana Inspired Nails
Fashion has long inspired nail art, and both are a wonderful way to express your personality and showcase your sense of style. Bandanas are used to hold the hair back in a stylish way, and in addition to being super practical, they often come in a range of colors and with paisley prints. If you want nails that stand out, then this is a great choice. You can stick to a single color scheme or decide to paint each nail with a different shade, creating a lovely mix and match effect.
4. Girl Power Nails
Your nails play an important role in your overall appearance, and it is a way to express yourself and the things you love. Girl power nails provide the opportunity to celebrate what it means to be a woman. It encourages female empowerment, independence, and confidence, and it makes an important statement. The fantastic thing about this artwork is it can be simple, with just two different colors and minimal detailing, or you can add diamanté, glitter, or fun decals. This slogan celebrates togetherness and shows support for women worldwide, so you do you, girl!
5. Unique French Manicure
White tips define the classic French manicure; if you are a woman who loves color and wants something a little more modern, let us introduce you to the unique French manicure. This look is a fun way to play around with different colors and is particularly striking when paired with a clear or nude base coat; this lets the colors pop. It is easy to wear and relatively simple to create and personalize. Play around with different colors to find a combination that works for you. Pile on your favorite rings and draw attention to your hands to show off this statement look.
6. Stripes
One of the most classic patterns is stripes. They are a style staple for fashion and make for a fantastic nail design too. Opting for stripes is a fun yet subtle way to experiment with different colors. Depending on your desired outcome, you can choose several shades on one nail or keep it simple with just two or three. These can be complementary colors or clash with contrasting shades to create a dramatic effect. It is incredible how something so effortless can be so effective, so pick your favorite hues and create this manicure for yourself.
7. Silver Feature Nails
For a stylish and slightly futuristic appearance, silver feature nails are fantastic. Deciding to highlight one or two nails with bold or shimmery hues makes them stand out. Maybe you want to draw attention to your engagement ring? Or perhaps you want a basic yet fun manicure that is easy to wear. Silver is a color that is associated with glamor and grace, but it has an ultra-modern and robotic feel to it, giving your nails a very edgy appearance. Because of how simple it is, this look works best with longer nails to make more of a statement, which acrylics allow. That said, nothing is stopping you from trying it out with shorter nails either.
8. Kidcore Nail Art
What better way to channel your inner child than with kidcore nail art? The great thing about this artwork is that it appeals to your playful side. If you want bold and bright nails and something that will bring a smile to your face, this is definitely it. While it may not be the most practical manicure ever and is probably not appropriate for the workplace, it is a way to show a more relaxed and fun side to your personality. Plus, it is perfect for when you want to make a statement. Embrace vivid colors, sweet decals, and all the glitter and gems you can get your hands on.
9. Fluorescent Nail Art
Fluorescent nail art demands attention because the pigments are so bold and bright. If you want a manicure that is daring and makes a statement without having to try too hard, then this is the look for you. Although you can pick from a wide range of colors, one of our favorites, especially for the summer months, is yellow. It is a shade that instantly demands attention because it is one of the most luminous colors and evokes happiness and optimism.
10. Watercolor Effect Pastel Nails
Pastel shades are great because they are so dreamy and feminine. They are also incredibly easy to wear because of their softness, but if you want to update this look with something different, one of the best options is the watercolor effect pastel nails. The technique blends colors the way paint would on a canvas, creating a pretty and eye-catching combination. Complement them by wearing a matching pastel outfit, or tone down your look with solid, neutral shades.
11. Sweet Tooth Nail Design
Do not try this look if you don't want to crave candy and cakes all the time. Macaroons, ice cream cones, and confectionery that looks good enough to eat are what the sweet tooth nail design is all about. There are no limits to what you can and cannot do, and the artwork is all about playing around with bright and bold colors and interesting details. You can make them 3D, add diamantes and nail jewels, and experiment with lacquer. Paint each nail a different shade, have fun with an ombre technique, or opt for interesting tips; there are so many ways to try out this look, so get creative.
12. Strawberry and Daisies Nail Art
Few looks give off as much of a summery feel in the way that strawberry and daisies nail art does. The combination is so sweet and cheerful. The red hue of the fruit makes it vibrant and eye-catching, but they are also symbolic, often associated with sensuality, temptation, and passion. Daisies, on the other hand, are a bloom that represents innocence, purity, and love. So together, it is a visually exciting pairing but also an interestingly meaningful one.
13. Star Constellations
Star constellations are an incredibly appealing option for nail art because they are so interesting but also symbolic. You may choose them because you love star gazing or because they often represent guidance, hope, and protection. There are 88 different constellations, so this gives you many choices, allowing you to pick the ones you find most interesting. When deciding on a color combination, opting for dark blues or blacks as a base coat looks fantastic because it is a close representation of the night sky. It is also a way to let the gold star constellations stickers really pop. Think about the mysteries of the universe every time you look down at your hands with this super cool nail art.
14. Pastel Clouds and Stars
Clouds and stars are a beautiful combination because they create such a dreamy feel. This is made even more so by using soft pastel shades. The combination makes you think of good times and contemplate the future. Clouds represent personal growth and the ability to overcome hardships, while stars are associated with guidance and hope. Together, this is a thought-provoking combination of how you should look on the bright side and that good things are to come. This is a remarkable statement, so if you want pretty and symbolic nails, this is the look for you.
15. Pastel Checks
If you want a manicure with a decidedly 70s appearance, then pastel checks are the choice for you. Opting for this groovy nail art is an excellent choice because of its versatility. They can be created in various shades, and you can make each fingernail the same. Or opt for different colors depending on your desired outcome and how dramatic you want your nail art. Pastels will suit almost all occasions and are incredibly easy to wear, but if you want to rock them, why not embrace the retro vibe and opt for vintage clothing and statement, eclectic jewelry.
16. Nude and White Swirls
Not all manicures have to be created with bright colors to make a statement, as the nude and swirls design proves. You will love this combination because it is so subtle, which makes it easy to wear. Nude is a shade that goes with everything, and white lacquer has long been a favorite for nail art because it is so crisp and clean. Adding swirls of varying sizes and at different angles makes for a simple yet modern appearance. Wear them to a fashion event, on a date, or just at home; this artwork is perfect for all occasions.
17. Nature Inspired Blue Nail Art
The world is filled with natural beauty, and sometimes we forget to stop and appreciate it. One way to remind yourself to do this is to get inspired with nature nail art. This could be anything from trees, flowers, the ocean, and mountains, to the sun, moon, and stars. The beauty of this artwork is there is so much variation, so you can experiment with various images and find what means the most to you. If you want a manicure that symbolizes tranquility and serenity, then shades of blue are a fantastic way to do this. They are gorgeous and create a calming effect to look at.
18. LV Inspired Logomania Nails
Logo nails are enjoying their moment in the spotlight because they are so eye-catching. Plus, it is a great way to share the brands you love with the world and express your fashion knowledge. Although there are multiple different designs to choose from, one of the most popular is Louis Vuitton because of their distinct and easily recognizable logo. The LV-inspired logomania nails have a very luxurious appearance, which is great because this is a company that is associated with being elite and is symbolic of power and money. You may want to opt for a brown base with gold detailing in keeping with the classic color combination found on their accessories. This makes them look interesting but subtle, lending themselves well to a variety of occasions.
19. Lace Nail Art
Lace is a fabric that is often associated with luxury and class. It is gorgeous and delicate and often adorns only the finest garments, and now, it serves as inspiration for nail art. This is a trend that oozes femininity and romance and makes for a pretty and elegant manicure. The combination is simple and less dramatic than opting for vivid colors, making it easier to wear. It lends itself well to various occasions; it is fantastic if you are going to a formal event but looks just as great in relaxed settings.
20. Fun Nails
Nail art is a way to express yourself and let your personality shine. It is one of the easiest aspects to change about your appearance, which allows you to get very creative. Fun nails are fantastic because they will bring a smile to your face. You can play around with patterns, symbols, and colors, either combining several on one fingernail or picking something different for each finger. They may not be the most practical because they won't suit all corporate environments. Still, because your manicure is temporary, you don't have to commit to these vibrant and bold talons forever. So embrace your fun side!
21. Colorful Nail Tips
If you love bright colors but also want a modern approach to your manicure, try out colorful nail tips. This is a twist on the classic French manicure, but instead of painting your tips white, you want to experiment with various shades. These can be anything from pastels to neons, depending on your personal preference and how bold you want your artwork to be.
Add simple decals or patterns for a more detailed appearance and make a style statement with minimal effort. To add to the look, wear interesting and chunky jewelry pieces which will further draw attention to your hands.
22. Black and White Tips
Black and white is a classic combination that has long been a favorite in the fashion world. The two contrasting colors look so good together and will mix and match with anything you own. It has a sophisticated yet minimalist appearance and lends itself well to a variety of different settings. To make the tips more interesting, you can experiment with patterns and symbols for each. Or, if you want a toned-down look, opt for the same pattern throughout. To add a pop of color to your appearance, try your favorite red lipstick or red dress.
23. Banana Nail Art
Banana nail art is the fruity look you need to try out. It is wonderful for summer because it is so bright and fun. Although you can opt for a neutral base to make the fruit pop, a bold shade is always best. Pink is an especially great option because it looks lovely when paired with yellow and will get your hands noticed. If this is your favorite fruit or you just like experimenting with colors, this is the manicure for you.
24. Baby Blue Hearts
Baby blue heart nail art is easy to create and so effective. It has such a gorgeous appearance, and the color is calming and will evoke feelings of tranquility. Hearts are a universal symbol of love and have an adorable appearance. Maybe you want to celebrate the people closest to you or remember what it is you hold dear. This is such a simple yet pretty look that it is easy to do at home and will suit various occasions.
25. Animal Print and Checks
Checks are one of the most timeless patterns because they are so simple, but there is also so much variation. You can experiment with colors and sizes, and they complement other patterns too. An excellent example of this is the animal print and check nail art, which creates fingernails filled with checks and focuses on a feature nail with your favorite print. Another option is to split the two prints in half so that an equal number of prints and checks are used. As for what you should choose? This could be a cheetah, zebra, leopard, tiger, snake, or giraffe; there is so much choice; the decision is yours.
26. White Daisies on Green Nails
Flower nail art is one of the girliest trends around, and white daisies on green nails are a particularly striking combination. The blooms not only look good on your nails, but they are also deeply symbolic. They represent innocence and purity. The green base coat allows the white flowers to become the focus of the look and pays homage to nature; the color is connected with the natural world.
27. Pastel Line Art
The beauty of pastel line art is its simplicity. The drawing style is created using a series of lines that form an image. It could be abstract or of something recognizable like the human form, animals, or plants. The focus is on the distinct lines, so it is best to create them on a nude or clear base coat. This will let the colors pop. Pastels are a great option because of their versatility and will mix and match with almost everything. They also have a very soft and feminine finish.
28. Orange, Brown, and Green Nail Art
Interesting color combinations make for fantastic manicures. Orange, brown, and green nail art is a great pairing, and it really works. It has a retro appearance and can be created in a range of different patterns or symbols. You can get creative by using checks, flowers, stripes, swirls, or more. The colors look good when paired with neutral tones, so for your outfit, try to keep it simple and muted so that your nails are the focus of your appearance.
29. Funny Faces
What better way to convey emotions than with funny faces? Smiley face nail art is cheerful and can bring joy and positivity to your life, while little expressions with tongues or half-smiles have a playful nature. To let the design focus on the faces, it is best to opt for a solid background. This can be any color of your choosing, but bright and bold shades make more of an impact and lend to the quirky feel of the manicure.
30. Dotted Nails
You don't need to spend a small fortune in a nail salon or hours at home practicing to create a stylish manicure. Dotted nails are proof of this statement as they are easy to create but make an impact. Polka dots are timeless and classic, and they can be done in various colors and sizes. You can also mix it up by making big and smaller dots on one fingernail and blending varying shades. Experiment with ombre bases, negative spacing, and unique tips, and cover them with circles for a simple yet modern appearance.
31. White Acrylic Nails
White is one of the most wearable colors and has a timeless and classic feel. It is universally flattering and will suit anyone. The beauty of this crisp hue is that it can be worn with everything. This includes bright and patterned garments, and it lends itself well to most settings. It is a simple look that still makes a statement and draws the eye towards your hands. White is a color that is associated with cleanliness, purity, and renewal and will be a great addition to your nail polish collection. For those who want to get a bit more creative, you can opt for a monochromatic look, adding subtle details like swirls or checks.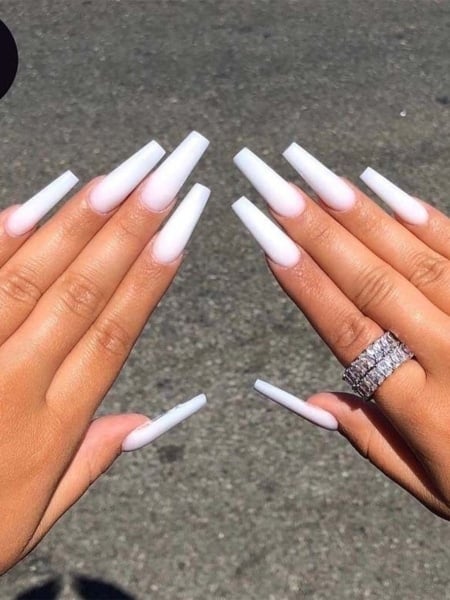 32. Black Acrylic Nails
Black is a color that demands attention, and black acrylic nails are the perfect option for a woman who wants her hands to be noticed, as they will make a statement. The color is often associated with strength and sophistication and is appealing because it is versatile. It can be mixed and matched with various garments and accessories. In addition to its versatility, black lacquer is also incredibly stylish and achieved with minimal effort. Paint your nails a solid shade of black, or experiment with different patterns or negative spacing for those who want to be more daring. Although it is probably best kept out of the office, this chic hue can be worn on a date night or a fashion-forward event.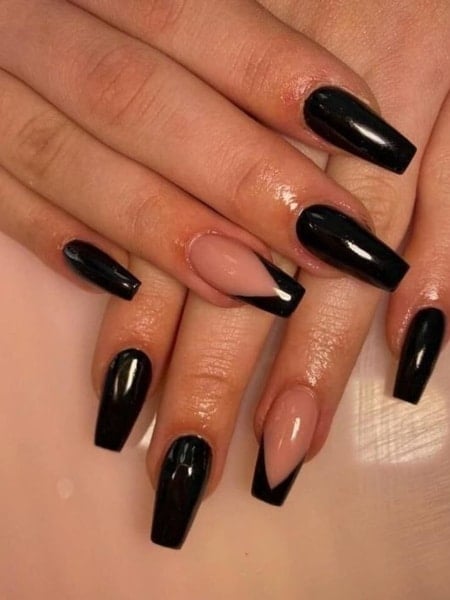 33. Long Acrylic Nails
The beauty of acrylics is that they can be created in various shapes and lengths. This is the perfect option for someone who wants long nails or embraces an interesting shape that may be too difficult to achieve with their natural nails. Long nails have a feminine quality, but they can also elongate your fingers. Opting for longer lengths also provides more versatility in nail art designs, and you can get creative with 3D detailing or fluorescent flames. Alternatively, opt for pastels, pink or nude polish for a pretty and chic finish if you prefer a more subtle approach.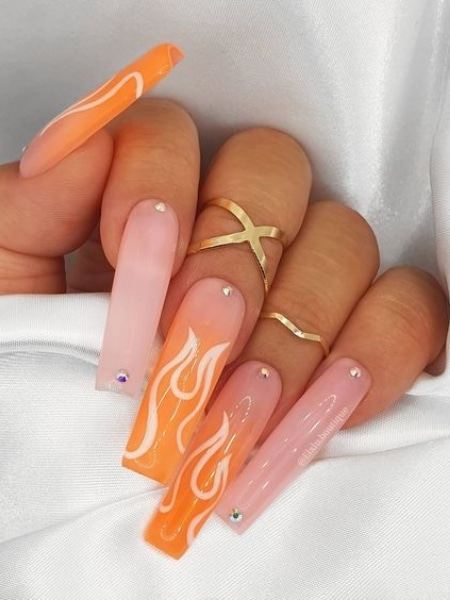 34. Pink Acrylic Nails
Pink acrylic nails are one of the most popular options and for a good reason. The appeal of pink is that it is exceptionally wearable and will suit most women. It also lends itself well to various settings, including more formal ones, making this your perfect go-to hue for everyday wear. Pink makes you think of cuteness and happiness and is an easy way to bring a smile to your face. Nothing is boring about this color, though. You can experiment with different shades, from soft and dreamy pastels to more vibrant hues. You can also get creative with your nail art, adding details such as hearts or swirls. Or opting for French tips and negative spacing.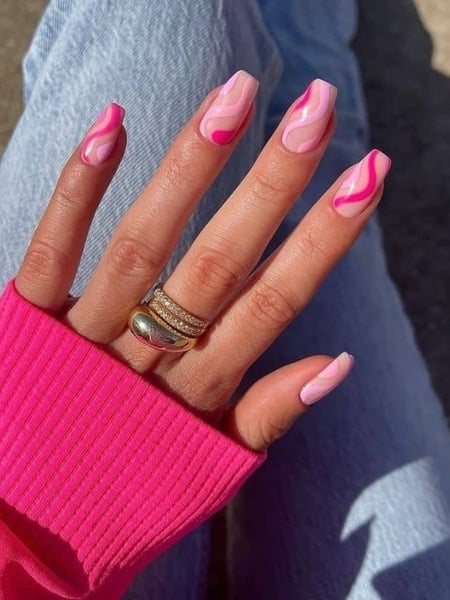 35. Red Acrylic Nails
Some colors are perfect for everyday wear because they are subtle and cute; others are worn to make a statement. Red falls into the latter category, and opting for red nails will instantly get your hands noticed. It is a hue associated with passion, seduction, and confidence and is the perfect choice for someone daring and fun. There are many different shades to choose from, from coral reds to deeper burgundy hues. Some women may shy away from red because it is an intense color, but it is a fantastic way to show off your hands. You can even create a matchy-matchy look by wearing a similar shade of red lipstick.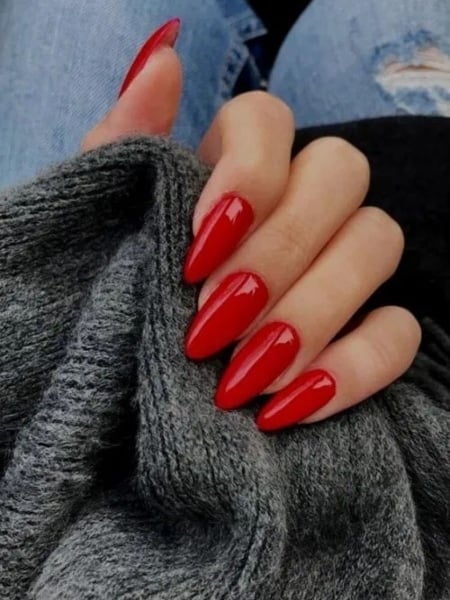 36. Spring Acrylic Nails
Spring is often such a happy time, a period of new life, change, and transformation. What better way to reflect these feelings than with a manicure that honors the season? Spring acrylic nails are a great way to add some color to your appearance. It doesn't have to be anything bright and bold, although you can do that too, and it can be as simple as adding floral detailing to your nails. Pastels are an ever-popular choice for spring and are dreamy and feminine. They are also easy to wear and will look great for every occasion, including more formal ones. The appeal of acrylic nails is that they are strong and durable but also versatile, allowing you to experiment with nail art and try designs that you love.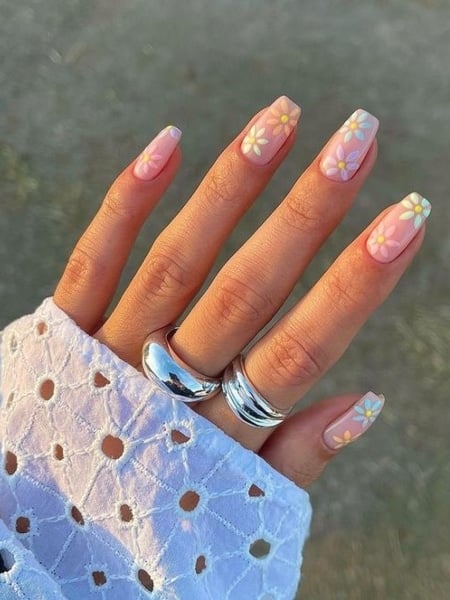 37. Simple Acrylic Nails
Although there is a time for bold and bright nail art, sometimes you need something simple. Simple acrylic nails appeal to a woman with a more laid-back aesthetic who wants a no-fuss option that can be worn everywhere. Painting your nails with your favorite shade is a look that can be achieved with minimal effort and from the comfort of your own home. This is an excellent option for a woman of any skill level. The simplicity can also draw attention to your nail shape. This is great if you want to show off your extra-long nails or have fun with shapes like squares or the coffin.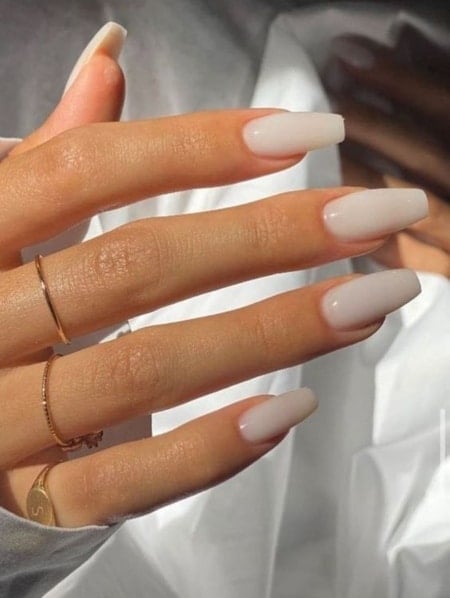 38. Coffin Shaped Acrylic Nails
Coffin nails, a name given because the shape resembles a coffin, are loved by celebrities and fashionistas because they are so bold. They can elongate your fingers and have a very feminine finish. The shape is incredibly appealing for those who want to have fun with their nail art. It gives you space to experiment with different options, including a modern approach to the classic French tips, highlighting the shape's square top. In addition, simple and fuss-free approaches, such as pastels or white polish, look just as good with the coffin nail. There is a downside, though; they can be harder to maintain and prone to breakage.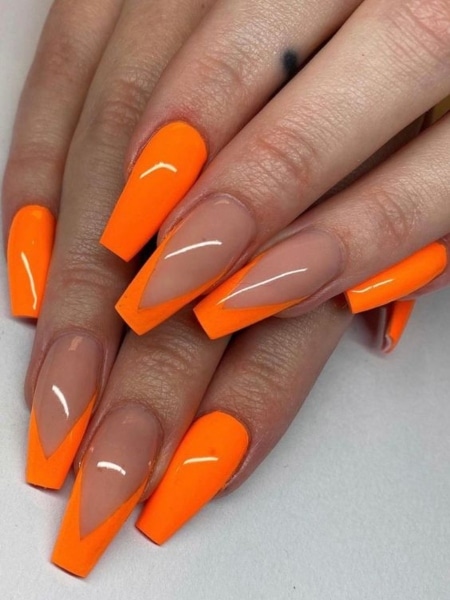 39. Short Square Acrylic Nails
Acrylic nails do not need to be long to make a statement, and shorter options are just as chic. The appeal of short nails is that they are not as much maintenance and are less prone to breakage. You are also not as limited in your activities. You can still have fun with different shapes and nail art, and square nails are interesting, offering a different choice from the standard oval and round options. They are defined by the flat top and straight corners and look especially good on women with long fingers. To highlight the shape, even more, you can opt for a French tip manicure.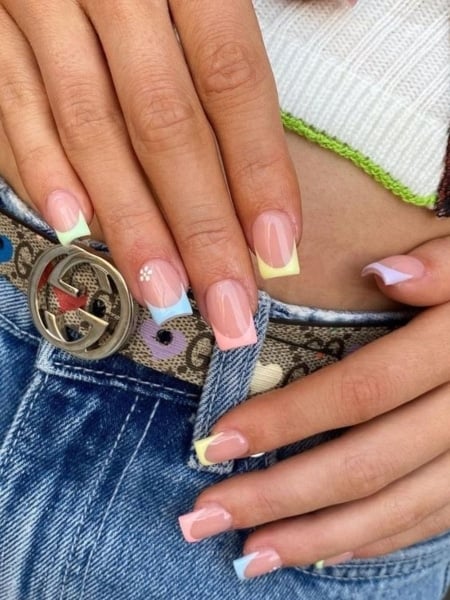 40. Pastel Acrylic Nails
What is not to love about pastel acrylic nails? The shades are perfect for women of all ages and are universally flattering. Pastels have been a firm favorite in the beauty world for quite some time, and that is because they are easy to wear and cute. They can be worn anywhere, including more formal occasions, and you can also try out various techniques and detailing. For those who want something a little different, ombre pastel nails make for a super cute appearance. Depending on how daring you want the outcome to be, you could also paint each nail with a different pastel shade. Pastels look great with a neutral wardrobe. They can add a splash of color to your appearance, making your hands the focal point of your look.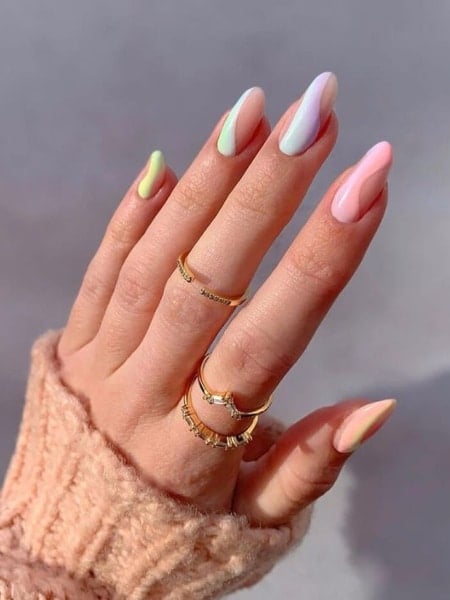 What are Acrylic Nails?
Acrylic nails are false nails created using a mixture of powder monomer and acrylic liquid that hardens when exposed to air. These artificial enhancements are placed over your natural layers, allowing you to achieve stronger, more durable nails that can be created in various lengths and shapes. Whether you want nails that make a statement like stiletto or coffin shapes to simple, more wearable options like the oval or square, you can achieve these with acrylics. Another pro of acrylics is that they lend themselves well to various nail art. This lets you experiment, have fun, and express yourself. The application process is simple and should cause no discomfort.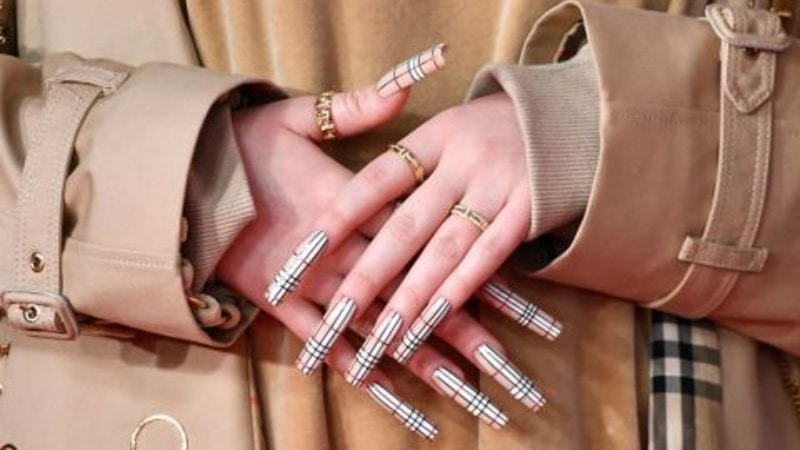 How Are Acrylic Nails Different Than Gel Nails?
Both acrylic and gel nails are artificial enhancements that can help you to create the manicure of your dreams, but there are some differences. Gel nails are made with a liquid monomer and a powder polymer and need to be cured under UV light. They look more natural than acrylics, which are created using a powder monomer and acrylic liquid that hardens when exposed to air. Gel nails have a more glossy finish and offer less versatility; acrylics are better for experimenting with length and interesting shapes. Acrylics are harder to remove, but they are also less prone to chipping.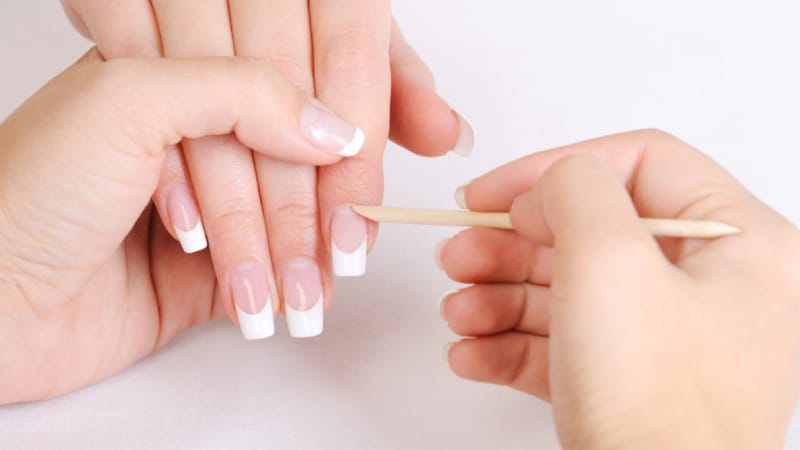 Are Acrylic Nails Safe?
Artificial nails can be harmful to your natural nail beds, especially if done frequently and without breaks; it would be best to take a break at least every three to six months. They can also lead to an infection or irritation, and a small number of people may have a reaction to the chemicals found in these products. Some women may also find the smell unpleasant. Before applying acrylic nails, you need to file down the surface of your natural nails, which can make them feel thin and weak. It is important to go to a reputable nail technician to get them applied and removed correctly to minimize this damage.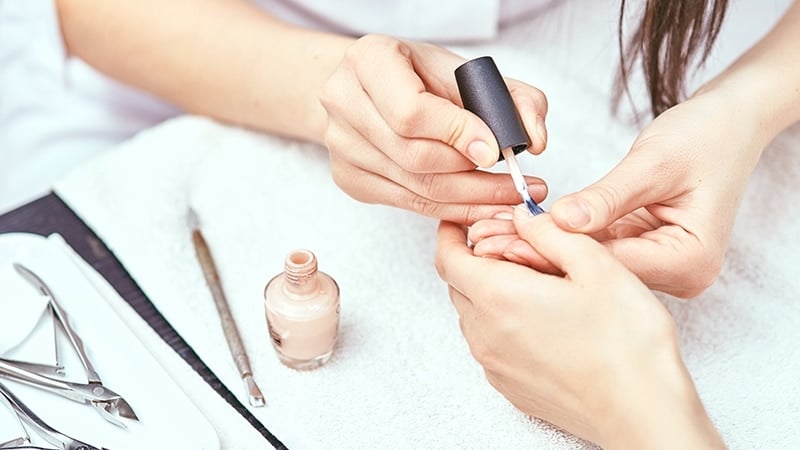 How Can You Make Acrylics Last Longer?
There are many pros to acrylic nails, including that they allow you to create the perfect look suited to your personality and style. You can experiment with different nail lengths and shapes and various cute or arty nail designs. They are long-lasting, usually between six to eight weeks, although the time can depend on the growth of your natural nails. You will need to get them filled in, usually every two to three weeks, to help them last longer. It would be best to take care before engaging in various activities and avoid contact sports altogether. You also need to take care of your hands and nails, keep them clean and moisturized. Wear gloves if you are using cleaning products or detergents.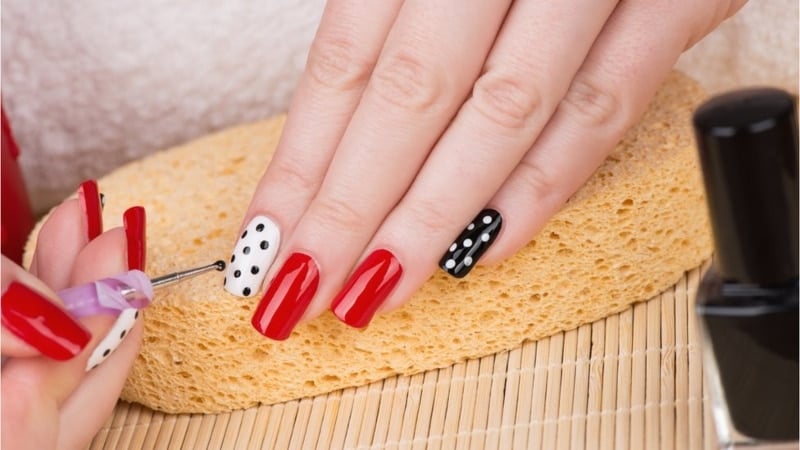 How Are Acrylic Nails Applied?
Acrylic nails will be applied by a nail technician who will first prepare the nails by cleaning, buffing, and filing the surface of your natural nails. You will discuss the various options with your technician beforehand regarding shape and length. For length, tips can be attached. An adhesive will be placed on top of your nail, and the acrylics will be attached over this. This will make your nails strong and thick. They will then be filed down and shaped. You can add various polishes and nail art, allowing you to get creative.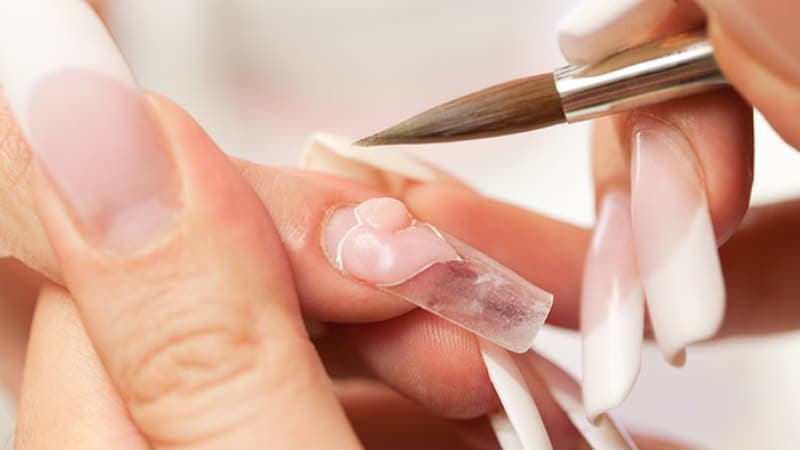 Are Acrylic Nails High Maintenance?
Acrylic nails look gorgeous and are an excellent way to make a statement and will let you have fun with your nail art. Acrylics are strong and can be adapted to various shapes and lengths; this could be difficult to maintain depending on the length you choose. For example, super long nails can limit you in some activities. Acrylics last around six to eight weeks before needing to be redone but will require touch-ups every two to three weeks. The process is unpleasant for some women because it is time-consuming. There may be a strong smell, and the removal can be damaging. That said, some women feel the pros to having the manicure of their dreams far outweigh the cons.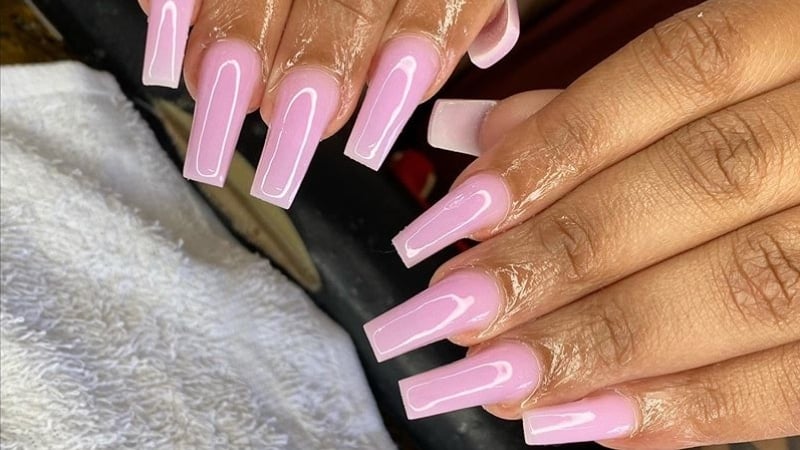 How Do You Remove Acrylic Nails?
The removal of acrylic nails is an important step. Your nails need to be soaked in acetone for several minutes; one way to do this is by dipping them into a bowl or placing a cotton ball soaked in acetone onto your fingernail and wrapping it in aluminum foil. This process can be time-consuming. The acrylics will then be pushed off using a metal cuticle tool. The method of dipping and scraping can be repeated until your nails are free from acrylic residue. To minimize damage, you want to be sure to follow these steps carefully. While it can be done in the comfort of your own home, it is always beneficial to have the expertise of a professional nail technician.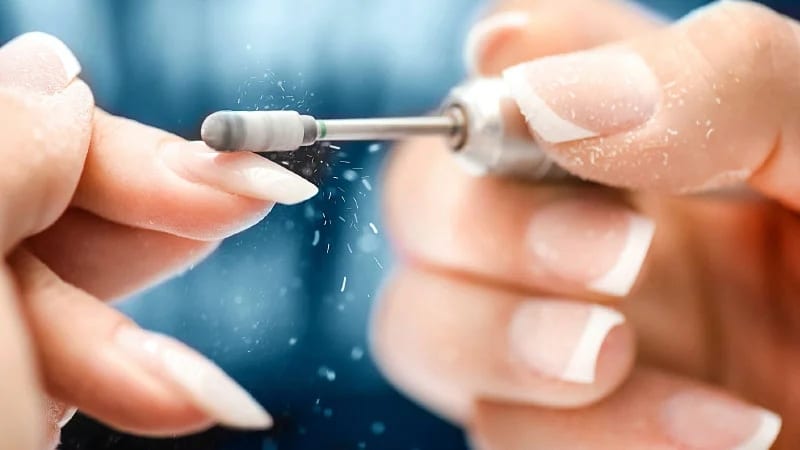 Do Acrylic Nails Damage Your Natural Nails?
There are many pros to getting acrylic nails, but some women are concerned with the potential damage they can cause to the natural nails. The simple answer is that acrylics, or any artificial nails, can cause some damage; Especially if you do not apply and remove them correctly. The application process requires you to file the surface of your nail before applying adhesive, which could make your nails thin. That said, taking regular breaks from acrylics and going to a skilled nail technician can help minimize any issues you may have. It would help if you took a break from acrylics every three to six months. This is to allow your natural nails to have time to repair.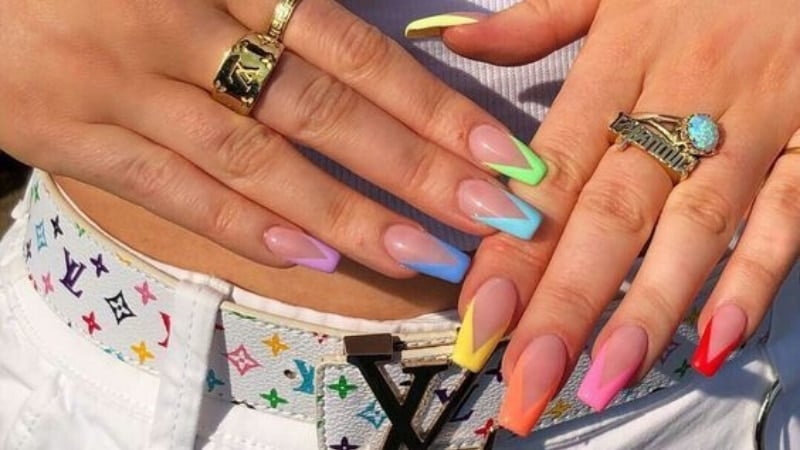 FAQs
What is the difference between gel and acrylic nails?
There are several differences between gel and acrylic nails. These include that acrylic nails tend to be stronger and more durable, while gel nails have a more glossy and natural appearance. Acrylics are created using a mix of powder polymer and liquid monomer and are fantastic for women who want longer nails; it is easy to add extra length and choose from various nail shapes. On the other hand, gel nails are a type of polish that usually lasts longer than regular nail polish and is cured under UV light.
How long do acrylic nails last for?
On average, acrylic nails should last for around two to three weeks. This depends on how well you care for them and the speed of your natural nail growth. You need to take care when maintaining your nails to avoid chips, lifting and peeling sooner than expected.
What is the most popular acrylic nail color?
One of the best things about acrylic nails is their versatility. They lend themselves well to various colors and nail art designs and are perfect if you want to make a statement. The most popular color is often natural shades like light pinks or nudes, but gold or red are fantastic choices if you're going to make a statement.
How do you do patterns on acrylic nails?
Acrylic nails lend themselves well to various shapes, lengths, and nail art designs. This makes them a popular choice for women who want long, durable nails to make a statement. If you want to add patterns or other artwork to your nails you can do this by starting with a base coat and then adding your chosen colors with a thin liner brush. You can also make use of nail wraps or add little jewels and diamantes. If you need a step-by-step guide on how to create your look, there are many helpful YouTube tutorials available online.
What are cute nail designs?
There are so many stylish and cute nail designs to choose from that look great on acrylic nails. Acrylic nails are hard, durable and tend to last longer than other false nail options, but they also lend themselves well to nail art. A few ideas to get you inspired would include soft pastel ombre nails, girl power slogan nails, and feature nails. Acrylics provide you with extra length, also allowing you to get super creative with your artwork because there is enough room to play around with different colors and decals.
How much does it cost to get acrylic nails with designs?
The cost of getting acrylic nails with designs will be dependent on several factors, including your chosen salon and nail technician, and how detailed the artwork is. You can expect to pay at least $60 for the most basic designs, and this price can increase substantially if you are opting for heavily detailed pieces that require a lot of skill and time to complete.
SUBSCRIBE TO OUR NEWSLETTER
Subscribe to our mailing list and get interesting stuff and updates to your email inbox.