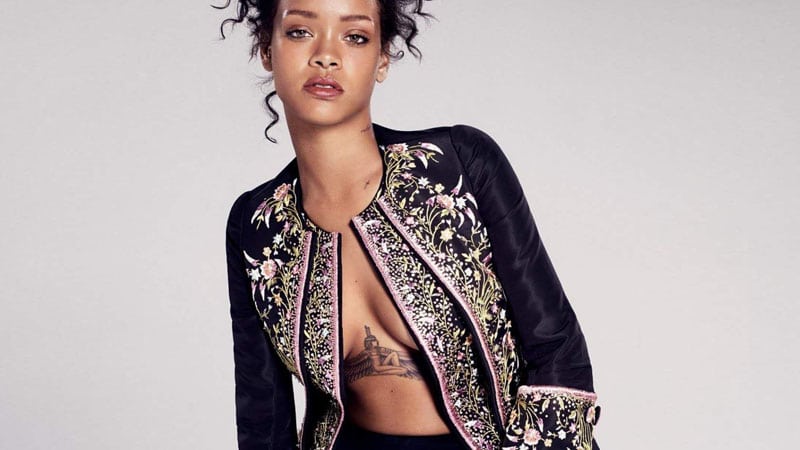 Underboob tattoos, either directly under the cleavage, on the side of the breast, or featuring on part of the sternum, are one of the best places a woman can get inked. A favorite of celebs like Miley Cyrus and Rihanna, this is the perfect placement for anyone because it can look delicate and feminine or make a powerful statement. The underboob is fantastic because it can be covered up easily and is close to your heart, a spot that could be reserved for body art that means the most to you. However, it is also one of the most painful locations to get tattooed. The area is sensitive, and depending on your design, you could experience a lot of discomfort. But don't let that put you off because this is a versatile and stunning spot for your next tattoo, so keep reading to become inspired.
1. Small Underboob Tattoo
Underboob body art looks good, but it can also be incredibly painful, and it is for this reason, many women opt for a smaller design. It is not just the pain factor that influences this decision, though. Small tattoos are increasing in popularity because they can look dainty, are easily covered by clothing, and are just as meaningful as larger pieces. When deciding on what to get, simpler designs are best. Your inking will also cost less and result in a short tattoo session; being completed in one sitting.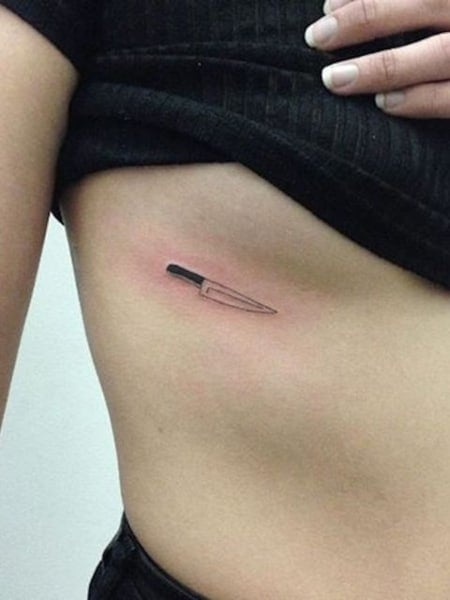 2. Simple Underboob Tattoo
There is a definite appeal to simple tattoos, and they are perfect for someone who prefers a more laid-back approach to body art and wants to focus on the meaning behind their design. When you strip back the design, it allows you to think about the symbolism. In addition, simple tattoos can be inked almost anywhere on the body because they are often devoid of too much detail, color, or shading. However, you can get these pieces in any size, the smaller, the better because the underboob can be very sensitive.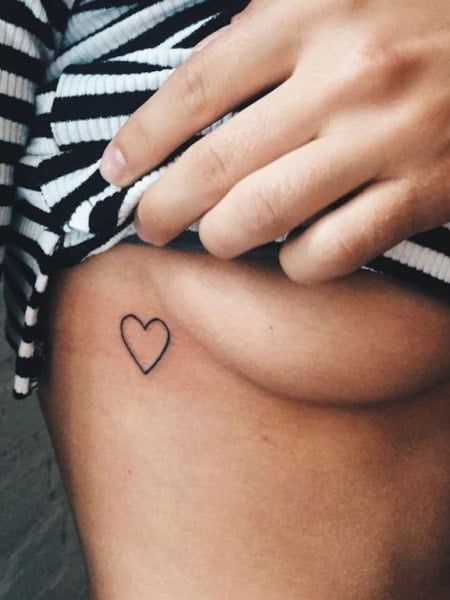 3. Rose Underboob Tattoo
A rose is one of the most beautiful and symbolic flowers, and it makes for interesting and meaningful body art. It is often associated with love, beauty, and new beginnings, but it is an incredibly versatile bloom and can take on different meanings depending on the color you choose. For example, red is connected with passion and endless love, whereas black represents grief or personal loss. A rose tattoo can be inked on its own, as a filler, or accompanying various other images, such as a clock, skull, or butterfly. It can look delicate and feminine or make a powerful statement and is a fantastic choice for underboob or sternum artwork.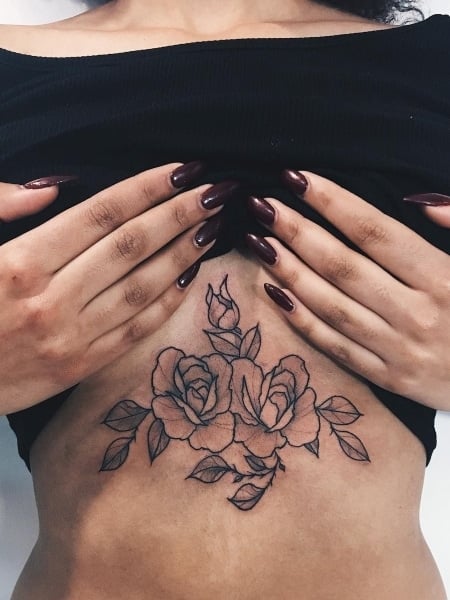 4. Lion Underboob Tattoo
You probably don't want to choose the underboob or sternum as the placement for your first inking. Yet if you are aware of the pain that comes with tattooing and feel you can handle it in this sensitive area, nothing should stop you from getting a big tattoo. It can make a statement when tattooed here and looks incredibly feminine and cool. If your perfect piece is extensive and detailed and means a lot to you, then this is the location for you. The reason is that the area is very intimate. It is also big enough to choose a design that can include details and shading, but this will hurt more and be more expensive.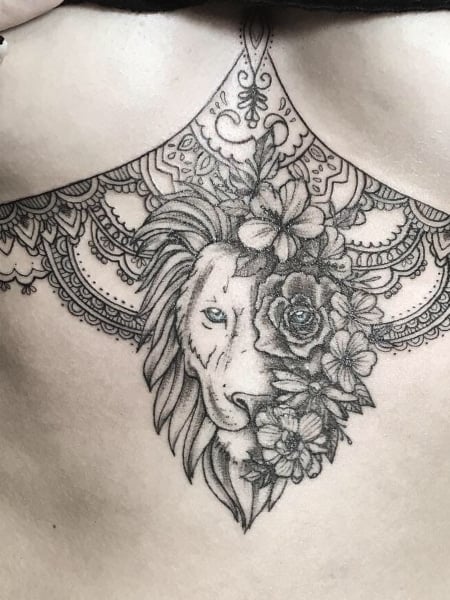 5. Flower Underboob Tattoo
There are few better placements for a sexy tattoo than the underboob. The reason for this is that the spot is incredibly intimate, which makes showing it off a very personal decision. It is also one of the most feminine and beautiful parts of a woman's body and has sensuality. When deciding on a design, this should reflect your personality, but many options exist. Your inking could be delicate and simple, for example, a flower outline, or it could be bold and bright. The sexiness comes from your confidence and the location.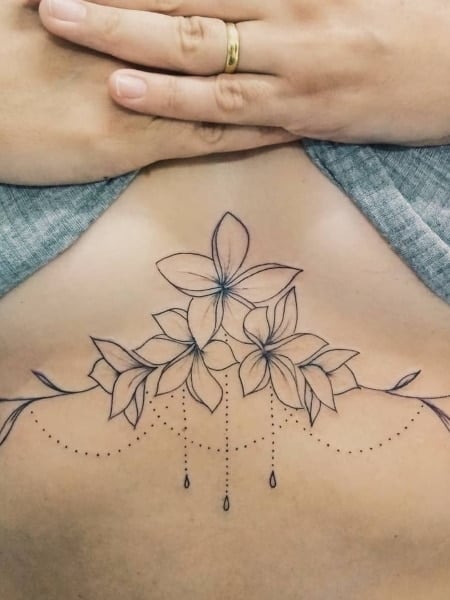 6. Word Underboob Tattoo
Sometimes the simplest inkings are the most meaningful, and a word tattoo can be an incredibly symbolic piece. Your chosen word could be the name of a loved one, to honor someone who has passed or a word that resonates with you. Perhaps it is a reminder to be strong or courageous. Or it could be something that you aspire to be; for example, happy, free, and joyous. There are so many options to choose from and many different languages to pick from, so give some thought to your inking and find something that moves you.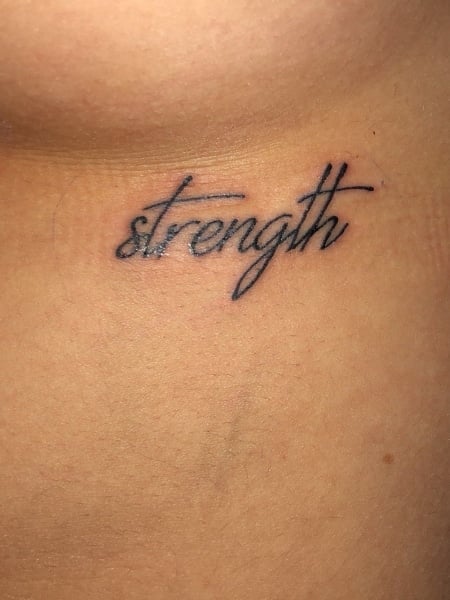 7. Quote Underboob Tattoo
If you are looking for more than one word, then a quote tattoo is a fantastic choice for you. This could be a phrase that moves or inspires you and can be taken from anywhere; your favorite movie, a lyric that you love, or a poem that has stuck in your head. There are many options to choose from, and quote ink is excellent for women of all ages and looks excellent tattooed on the underboob. This is also an intimate location, so you can cover up your body art when you want or show it to those you trust.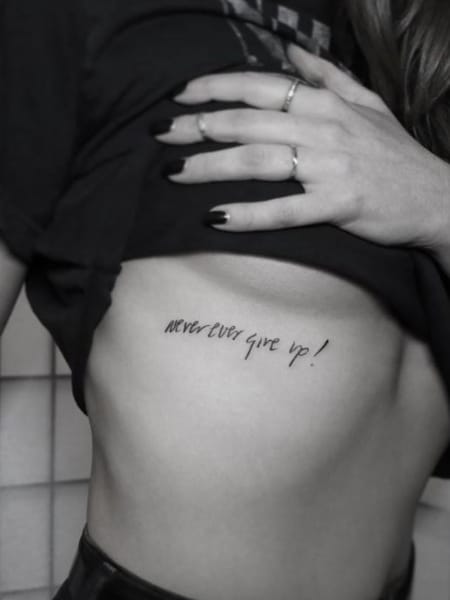 8. Unique Underboob Tattoo
When deciding on your body art, there are common images that are symbolic and beautiful, but there are also unique tattoo options. These can be designed specifically for you or have meaning that is important and relevant to you. Before working with your chosen tattoo artist, think about the reason you want this ink. This can help you make something that reflects an aspect of your personality or brings you comfort and joy. Perhaps it is a clever slogan, a mythological design with a twist, or something you drew yourself.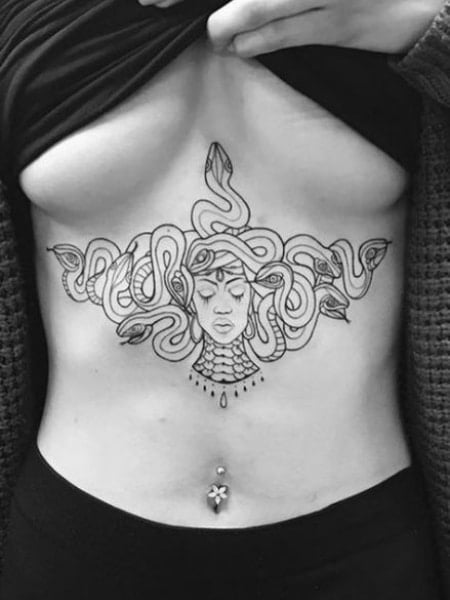 9. Lotus Underboob Tattoo
The lotus flower is a beautiful bloom, but it is also incredibly meaningful. It grows in conditions that may seem unfavorable, rising from muddy waters, and many people view this as a metaphor for their own struggles. How beauty can come from unexpected places, or how we can grow after a difficult period in our lives. The flower also represents the divine, rebirth, purity, and enlightenment and can be inked by someone on a spiritual journey or a transitional period in their life. When deciding on placement for your artwork, this can be just as important. The underboob and the sternum provide women with an intimate and versatile spot.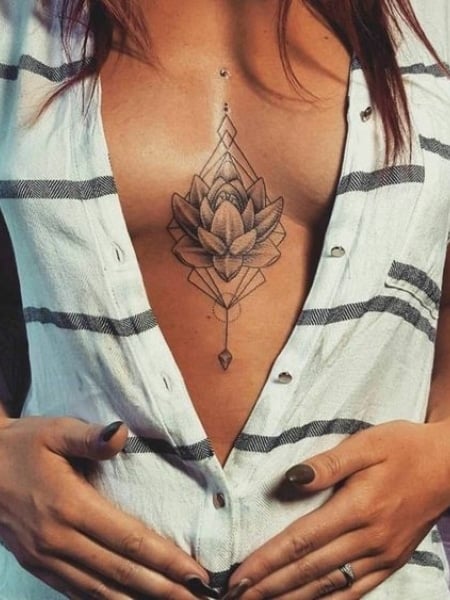 10. Lavender Underboob Tattoo
A lavender tattoo is a popular choice for an under-the-boob piece because the shape of the sprig lends itself well to this area. But it is more than a visually appealing choice, as the plant represents purity and serenity. This design is best inked in color, as the purple hues add to the overall beauty and symbolism; the color is often associated with royalty and luxury. Lavender can also be connected to romance, endless love, and devotion.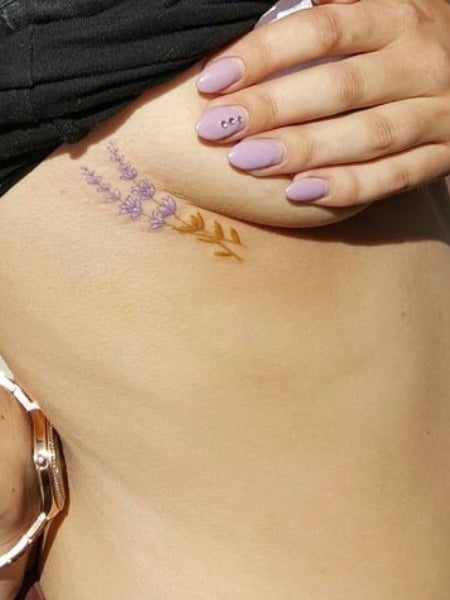 11. Cool Underboob Tattoo
No matter that you get inked on the underboob, it will likely be a cool tattoo. This placement is special, drawing attention to one of the most intimate parts of a woman's body and expressing femininity and sensuality. There are many designs to choose from, from delicate and simple pieces to bold and bright pieces that make a statement. When deciding on what to get, think about why you want to be inked here in the first place and what images or words hold meaning to you. Your tat can be something you drew yourself. Or work with your tattoo artist to create a unique and stylish piece that you can be proud of. It is bound to become a conversation starter if you show it off.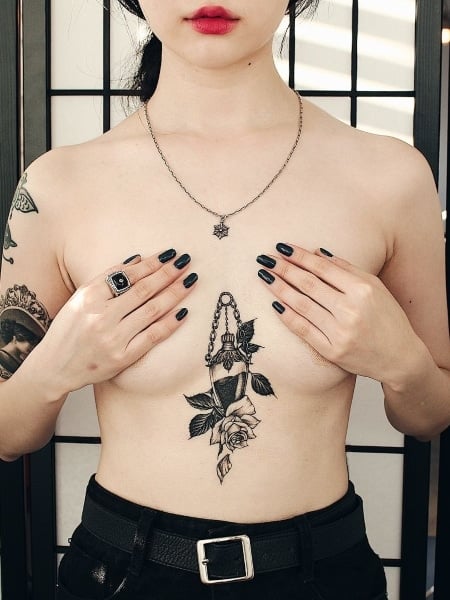 12. Henna Underboob Tattoo
If you are not quite ready to take the plunge into permanent body art, then perhaps a henna tattoo is the choice for you. The artwork is often used in traditional Indian weddings and can be incredibly meaningful and symbolic. Henna is plant-based ink or paste, and there is no pain during the application. Plus, they will fade over time. There are several colors to choose from, including red, orange, brown, and a bluish-black shade, and it tends to suit most skin tones. That said, you want to think carefully about the henna you use and the individual who applies it to your skin, as it can contain paraphenylenediamine (PPD). The chemical is known to cause allergic reactions in some people.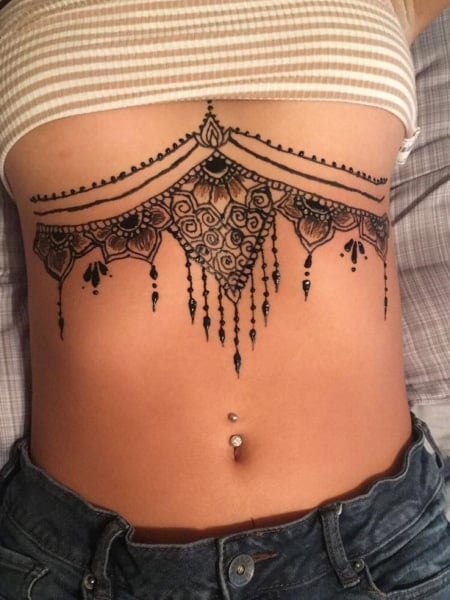 13. Jewel Underboob Tattoo
Finding the right placement for your body art is just as important as the design, and a jewel tattoo can look incredibly chic when inked under the breast. You can create the piece with the gem in the middle of your chest and detailing that continues beneath it. This can have a stunning and dramatic effect. In general, a gem is symbolic of strength and determination, but depending on which stone you choose, the meaning can be altered slightly. For example, a diamond is associated with purity and love, whereas a ruby is connected to nobility and passion.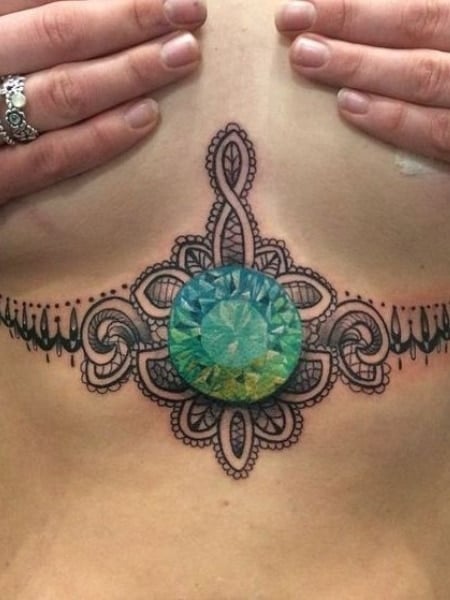 14. Owl Underboob Tattoo
Body art is a way to express yourself, and there are few creatures more symbolic than an owl. Opting for an owl tattoo below your breast will make for a stunning but meaningful piece that immediately makes a statement. The bird is associated with mystery, wisdom, and magic. It has great importance in several cultures, including the Native Americans, where it is connected to spiritual guides and the afterlife. The variety of designs allows you to choose something that best suits your personality and style, and other images or patterns can accompany it. You can also opt for a more abstract version.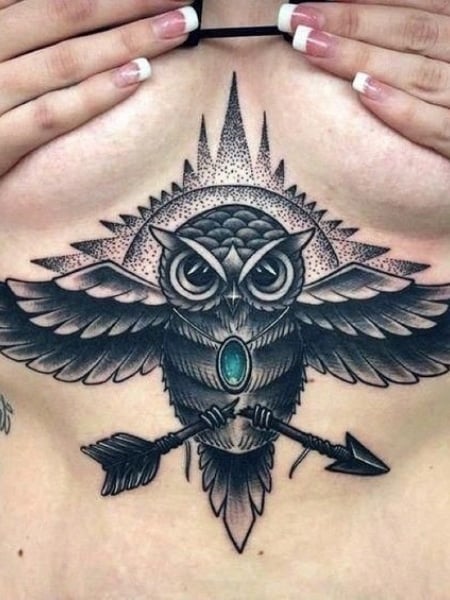 15. Skull Underboob Tattoo
The human skull is a universally recognized symbol for death and the afterlife. This meaning may seem morbid, but skull tattoos are some of the most popular options for men and women. This is for several reasons; they are bold and intimidating, but they can also have a positive association, serving as a reminder to live each day to the fullest or that the wearer does not fear death. You can pair your skull with several other images, making for a more visually interesting piece and altering the meaning slightly. For example, adding a rose represents beauty and can be a balance between good and evil or pleasure and pain.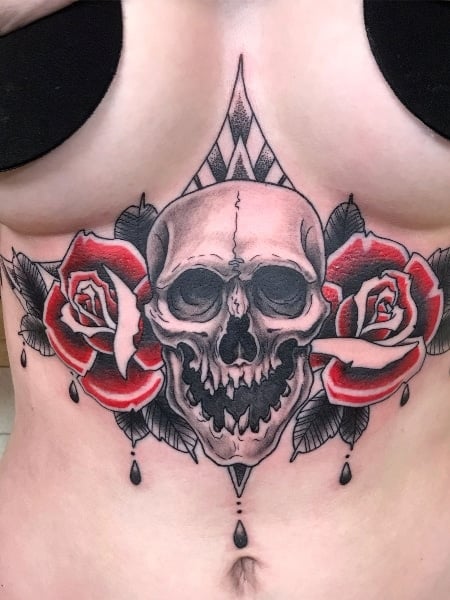 16. Bird Underboob Tattoo
When you look up at the sky and see a bird flying, you may gaze at them with wonder and awe or feel jealous that they have the ability to fly away whenever they want. Bird tattoos have become a popular symbol for men and women to get inked because of the rich symbolism; they often represent freedom and courage. This is the perfect choice for someone who wants to remind themselves that they are free of the physical and mental constraints of the world. It is also great if they have a desire to travel. Another appealing thing about these winged creatures is there are many different birds to choose from, each with a slightly different meaning. For example, eagles represent patriotism, bravery, and power. In contrast, a hummingbird tattoo is associated with beauty, good luck, strength, resilience, and hard work.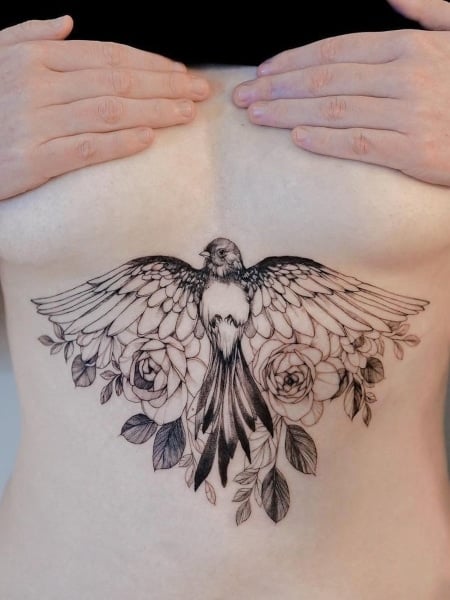 17. Lace Underboob Tattoo
Lace tattoos are beautiful and symbolic choices for any woman. The delicate patterns make your inking look cool, but lace is also connected with purity and innocence and a symbol of female sexuality. For some, it can make you think of lingerie, making this an appealing and sexy choice. It can also be combined with other images, depending on the meaning you wish to convey. For example, you could add a butterfly to represent transformation and freedom; or a jewel for loyalty and love.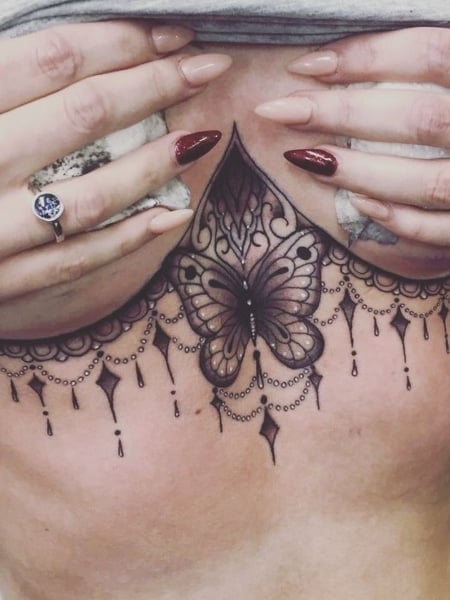 18. Sun and Moon Underboob Tattoo
A sun and moon tattoo represents two opposite forces coming together to create a balance; this can include many things, such as masculine and feminine, light and dark, and life and death. The combination makes for a beautiful and powerful inking, a fantastic choice for someone who wants to find harmony or peace in their life. There are also many different ways to design this piece; you could combine the two images into one or let them be two separate ones. Some people also wish to include stars in their artwork or interesting patterns.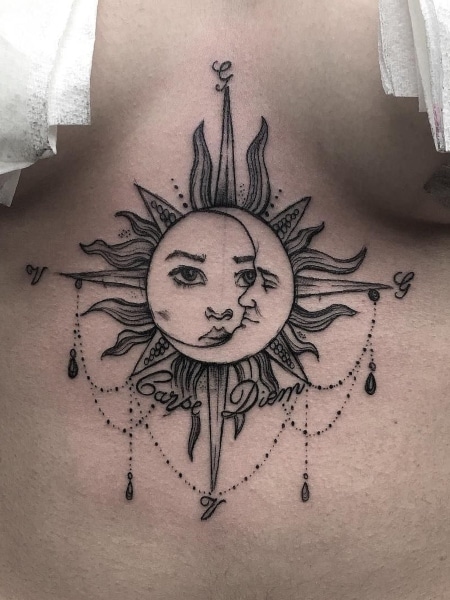 19. Mandala Underboob Tattoo
Mandala tattoos are versatile and deeply symbolic. They represent the body and mind and are created using various shapes and symbols which form a beautiful and interesting pattern or image. Looking at this artwork can make you feel a sense of calm and happiness. It is a popular choice for a woman who wants to remind herself of her inner strength or balance. The underboob is a fantastic location for body art because it can be covered up easily, but it is also close to your heart, a spot that could be reserved for ink that means the most to you. Remember that you cannot wear a bra or anything too tight-fitting that would cause friction after being tattooed.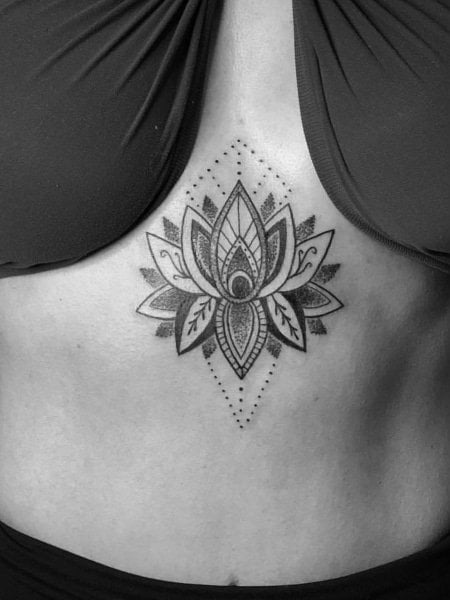 20. Angel Underboob Tattoo
An angel tattoo is filled with meaning, representing the balance between heaven and earth and associated with innocence and hope. There are many different designs to choose from, and your piece can also represent guidance or love. Angels are popular choices for memorial ink to honor a loved one who has passed. Or you could celebrate your relationship with your faith by getting tattooed with one of these celestial beings. Pick cherubs or an archangel, or opt for wings and a halo; the choice is yours. Alternatively, you could get the word angel. When deciding on an underboob piece, it is important to remember that you cannot wear your bra for a few days after and need clothes that are not tight-fitting throughout the healing period. For this reason, many people opt to get inked in winter.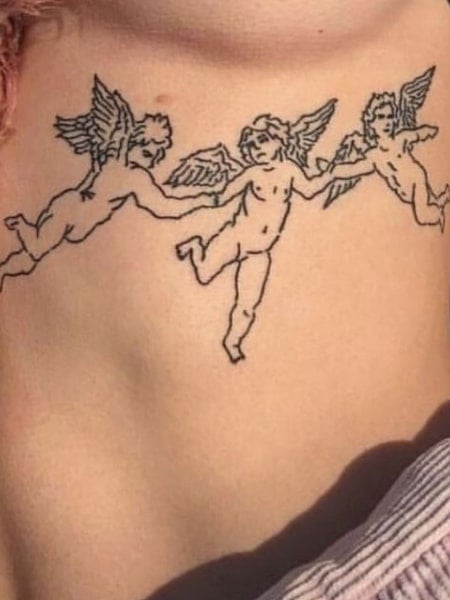 FAQs
What are underboob tattoos called?
Underboob tattoos are also called under the breast tattoos or sternum tattoos if they also feature in the middle of the chest. When getting inked, the placement is often just as important as your chosen design, and you should consider whether this is the right spot for you.
What are the downsides of underboob tattoos?
Underboob tattoos can be incredibly sexy and intimate. They look stunning, and they are versatile, but a drawback from this placement is the pain involved in the tattooing process. The area is sensitive, and any ink here will cause you discomfort; that said, the bigger and more detailed your piece is, the more painful it will be. Another thing to consider is that you will be unable to wear a bra or any tight-fitted clothing while giving your ink time to heal. This should be for around the first four or five days to avoid friction. If you are pregnant or breastfeeding, this location may not be for you because some skin stretching will occur.
Do underboob tattoos hurt?
Underboob tattoos are stunning, but they definitely do hurt. The area is sensitive, and there is thin skin and also proximity to bone. This makes for a painful tattooing experience. It would help if you also considered the aftercare, as you will be unable to wear a bra or anything tight-fitted for a few days after your inking so as not to irritate the skin.
What do under boob tattoo mean?
The meaning of your underboob tattoo depends on your chosen design, but it is a sexy and feminine location for your inking. You can choose from a wide range of designs, from small and simple, to large and detailed. Flowers like the rose or lotus are both meaningful and pretty, or you could pick a bird tattoo as a symbol of freedom.
Should I wear a bra to my rib tattoo appointment?
When getting any inkings that your bra would cover, it is best to avoid wearing a bra to and from your tattoo appointment. You will need to take off your bra when getting an underboob or rib tattoo. It is helpful to bring clothing that is comfortable and easy to remove so that you will not cause friction. A hoodie or jacket with a zip down the middle is advisable, and try to avoid wearing anything too expensive as it could be stained with ink.
How long after the sternum tattoo can I wear a bra?
After getting a sternum tattoo or any piece that a bra would cover, you need to wait at least four days before wearing any bra. It would help if you were prepared for this beforehand and arrive wearing loose-fitting clothes that are easy to get on and off. You also want to prevent friction when your tattoo is healing, and it may be best to wear a bikini top or something similar that is not tight and easy to remove in the coming weeks.
SUBSCRIBE TO OUR NEWSLETTER
Subscribe to our mailing list and get interesting stuff and updates to your email inbox.