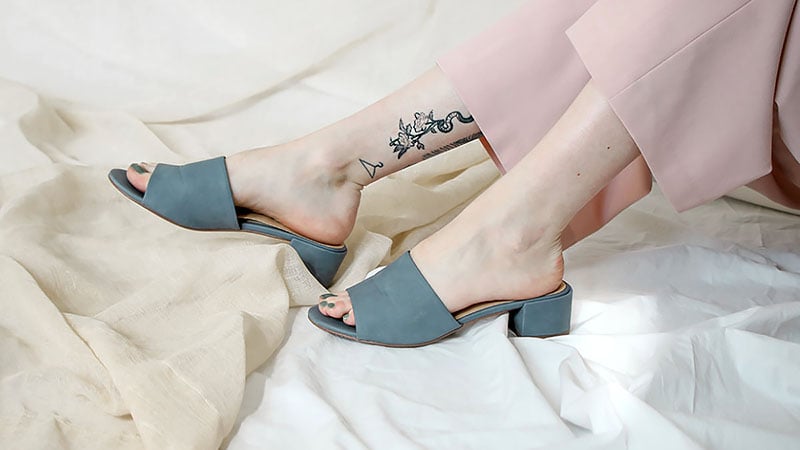 One of the most popular body art placements for women is the ankle. It is an area that lends itself well to small designs, like a butterfly or a cute puppy, but can also look chic and feminine with a wrap-around tattoo or a henna piece. You can opt for simple black ink, and forego shading or detail, or pick something vibrant and colorful; the choice is yours! Although getting inked in this spot will cause some discomfort, due to the lack of muscle and proximity to the bone, it will be worth it because the placement allows for the perfect balance; the design can be covered up or shown off whenever you wish. Not to mention, it draws attention to one of the most elegant parts of the female form, making your ink subtle, yet sexy. If you're looking for inspiration for your next cool ankle tattoo, keep reading!
RELATED: 50 Unique Foot Tattoos for Women
1. Small Ankle Tattoo
Ankle tattoos are elegant and feminine, and some of the best designs are small ones. When getting body art in this area, you should be aware that there is going to be discomfort involved. Due to the lack of muscle and proximity to bone, ankle ink hurts, so the smaller the design, the better! Many women find themselves drawn to tiny tats because it can be covered up whenever you want. Not only that, but tattoos don't need to be big to make a statement, and you can get pieces that are meaningful to you, regardless of the size.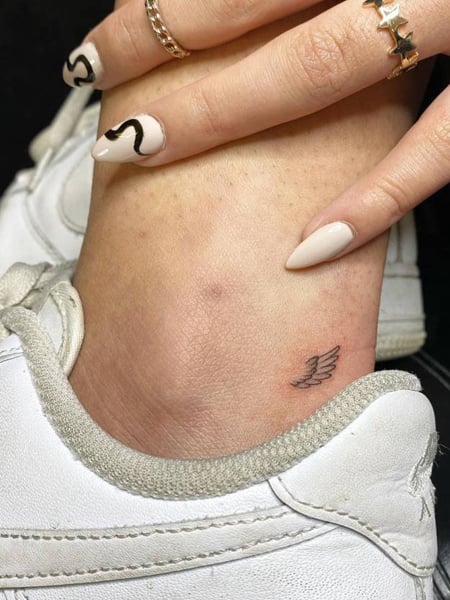 2. Cute Ankle Tattoo
Some of the cutest tattoo options come in small designs, and the ankle is the perfect place to get something like this. It is a fantastic option for your first piece, and especially appealing to those who want playful body art. Popular choices include puppies, tiny elephants, or even little pandas. The more adorable the animal, the better!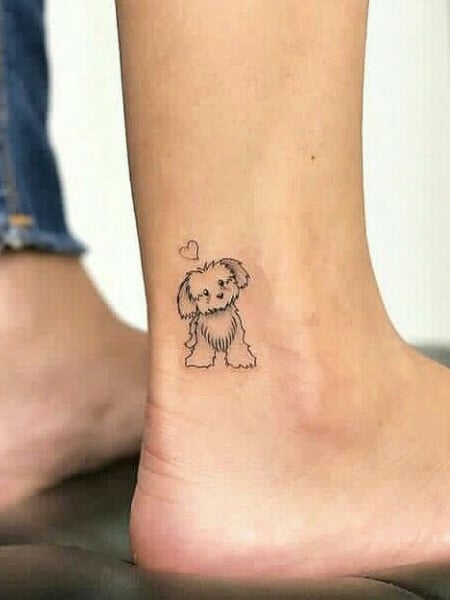 3. Simple Ankle Tattoo
If you want to get a small and basic design, why not opt for a simple ankle tattoo? The straightforward option is becoming increasingly popular amongst women who want body art that is cute, but also minimalistic. Another major pro to this style is that the size and lack of shading and detail often make for an inexpensive tattoo session. The quick turnaround will also result in less discomfort. What's not to like, right?!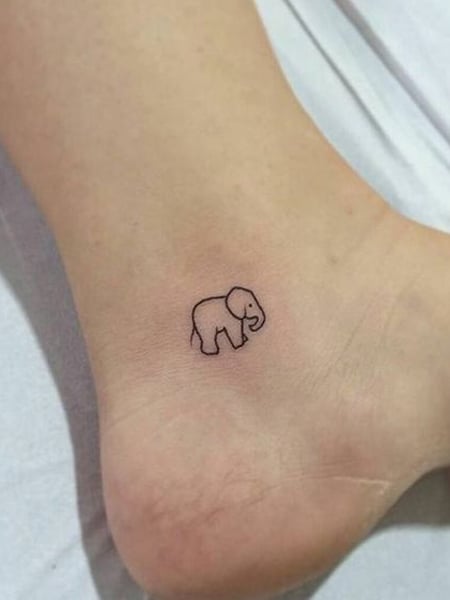 4. Butterfly Ankle Tattoo
Butterflies are lovely options to get inked. The insect represents transformation and can be viewed as a symbol of life. It is often linked with hope, change, and positivity. In Christianity, the butterfly can also represent resurrection. It's not just the strong symbolism that draws women to this ink, though, but also the fact that the design tends to have a very feminine quality about it. When deciding on your tattoo, remember that you can opt for a simple piece in black ink, or get more creative by including bold colors and various other elements.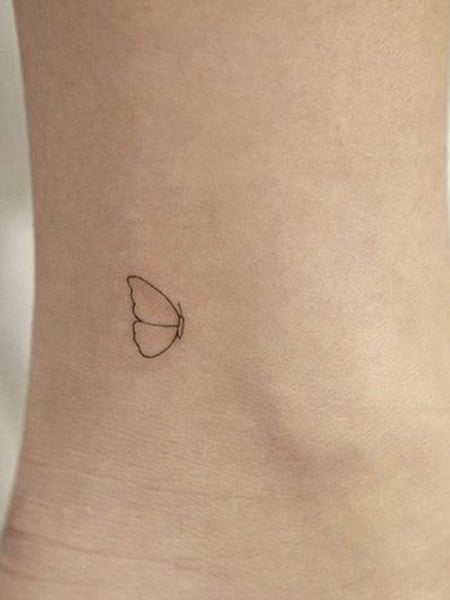 5. Rose Ankle Tattoo
The rose is a universally recognized bloom, celebrated for being a balance between pleasure and pain. The flower is stunning to look at, but the thorns can cause harm, reminding us that we all have positive and negative qualities. It can also represent hope and new beginnings. Many women love rose tattoos because they are delicate and feminine, and they're great when inked onto the ankle. You can choose to keep the design classic, using black ink only, or embrace color.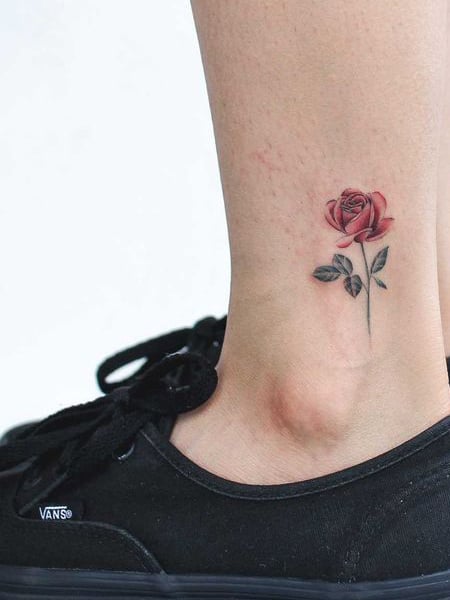 6. Sunflower Ankle Tattoo
If you want a tattoo that is filled with positivity, then the sunflower is one of the best options you can choose. This bloom is associated with light and longevity and makes for a stunning piece of ink. It is recommended to get this design in color because the vibrant yellow brings about happiness and energy. What better spot for meaningful ink than your ankle; you can view it often, and the placement allows for a small but detailed inkling.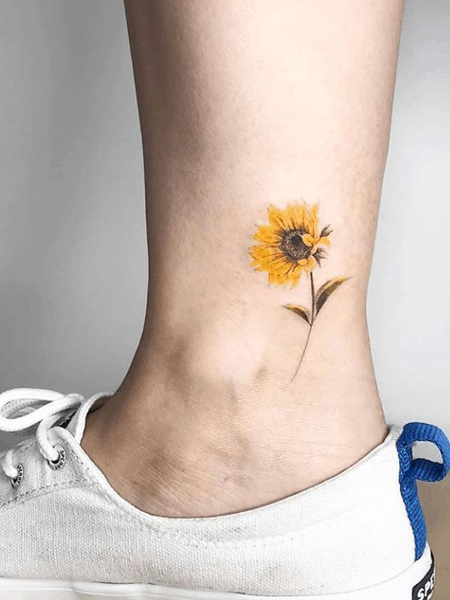 7. Ankle Tattoo Cover Up
Tattoos are meant to last a lifetime, but sometimes we have regrets. You may have gotten a piece that you thought was awesome, but later realized it wasn't for you, and the good news is that many talented tattoo artists can provide professional cover-up pieces. If you want to get ink over your original body art, you are usually going to require a more prominent, detailed option. If you get the right design, though, you will be happy to show off your new tat and not worry about having to hide it!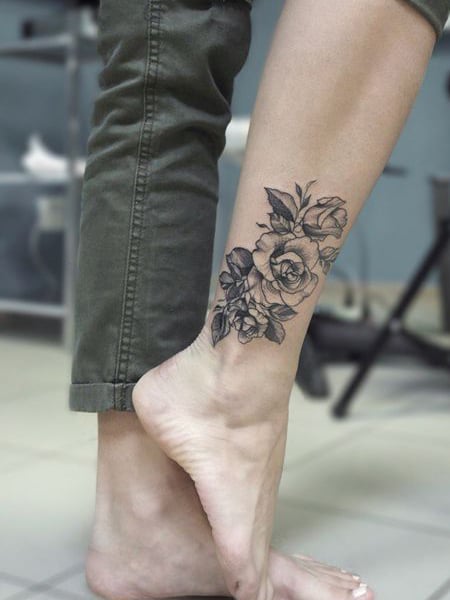 8. Cross Ankle Tattoo
If you are deeply religious, then why not get a tattoo that honors your faith? In Christianity, the cross is a sacred symbol, representing Jesus Christ and the sacrifice that he made for humankind. A woman who decides on a cross tattoo may want it as a reminder of the values that are important to her. She could also wish to pay tribute to her beliefs. Although this design can look good on most places on the body, the ankle is a great choice. A small piece will benefit from this placement, as it is a spot that can be discreet but can also be viewed whenever you want.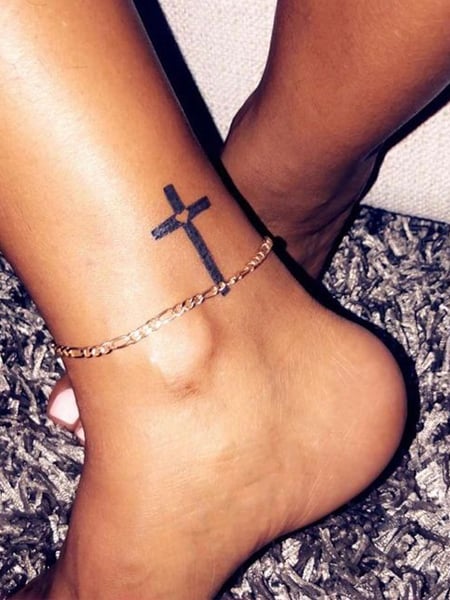 9. Heart Tattoo on Ankle
The heart is a universally recognized symbol representing love and compassion. It is a popular body art choice and has been for years, especially for women. The simplicity of the design makes it a classic and cool option for the girl who wants a tattoo that is cute yet plain. The color of your ink will also impact the meaning; black hearts tend to represent loss and sorrow, while red is linked to passion and affection.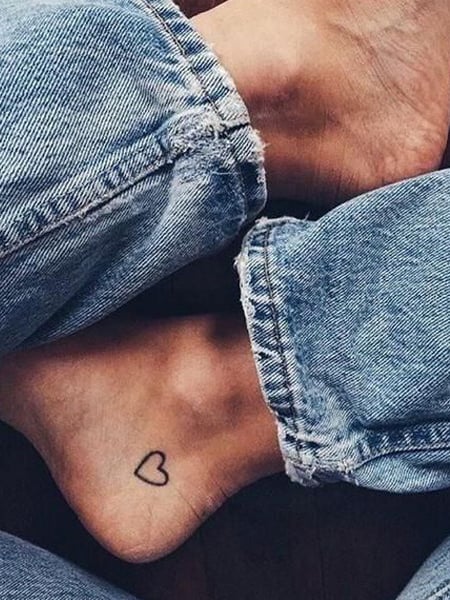 10. Palm Tree Ankle Tattoo
Dreaming of a tropical vacation, well, a palm tree tattoo may be the next best thing. It is a way to remember all the good times you've had in the sun, or could serve as a reminder for the goals you want to achieve in the future. The slender tree represents paradise but has also been linked to wisdom. The palm has also been featured in the Christian faith and could be a symbol of peace or god.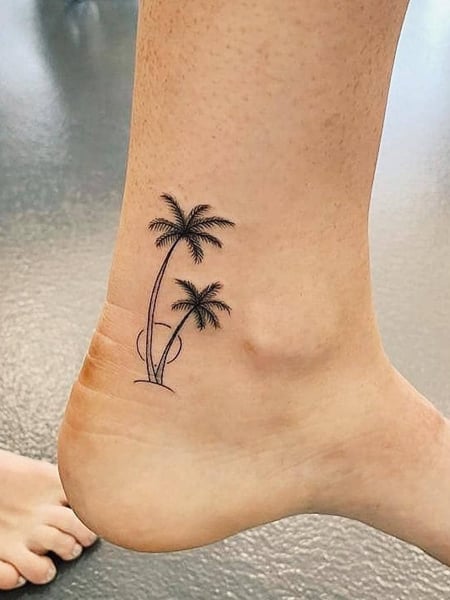 11. Ankle Wing Tattoo
Angels are heavenly creatures associated with purity and goodness, and choosing to get inked with one of their wings could symbolize faith, hope, and guidance. These spiritual beings are also protectors, and many people honor those who have passed with a design like this. Alternatively, you can opt for a bird's wing, which is linked to freedom. It can be seen as a way to remove yourself from the things that restrict who you want to be. Regardless of the design you choose, this is an incredibly meaningful tattoo, which will be unique to you.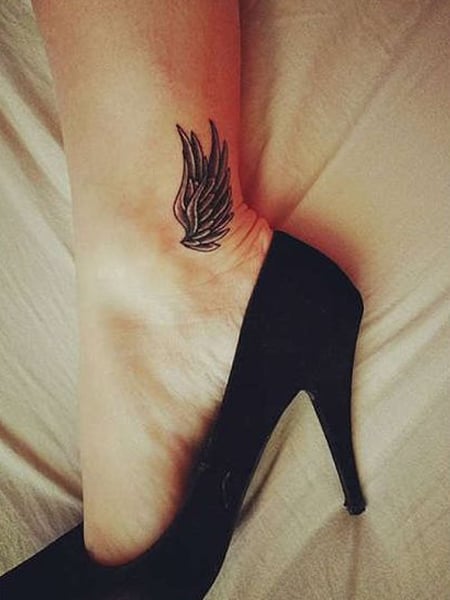 12. Rosary Ankle Tattoo
A rosary is an object that is used in the Roman Catholic devotion. The beads aid prayer and are a symbol of faith and protection. Women who want to get inked with this design may do so as a way to remind themselves to avoid temptation, and it can help to safeguard them from evil spirits or individuals who wish them harm. The ankle is undoubtedly one of the best places for this tattoo because of the way it wraps around the leg. It is incredibly eye-catching when completed here!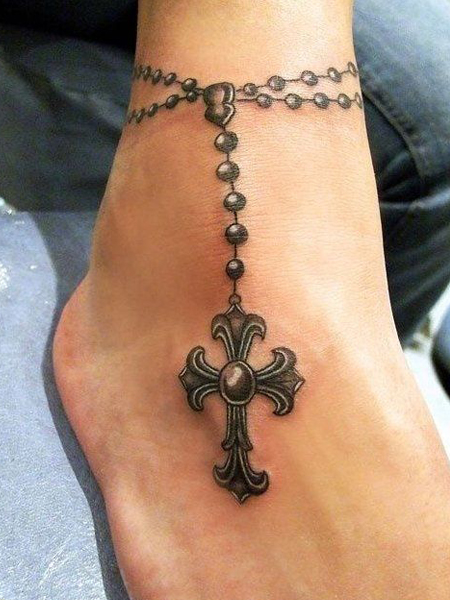 13. Anchor Ankle Tattoo
Sailors and ship enthusiasts will already know the importance of the anchor, used to hold a vessel in place, and prevent it from moving in the currents. The strong symbolism associated with this metal device has made it a popular choice for many people, regardless of whether they have experience at sea. The anchor tattoo represents calmness and an ability to remain steadfast during turbulent times. It is not hard to see why this would appeal to a woman who has been through turmoil and wants to remind herself of her strength.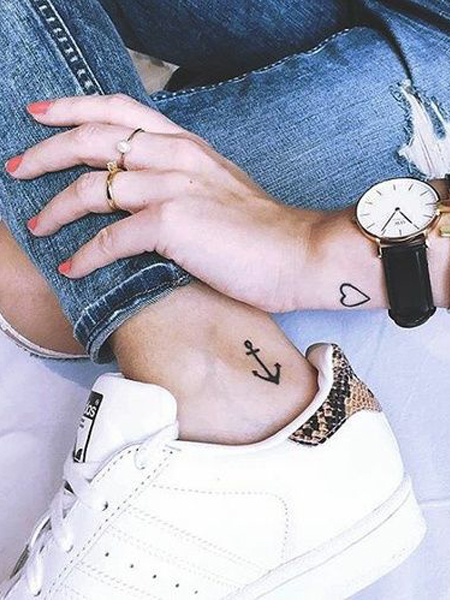 14. Ankle Name Tattoo
Name tattoos are one of the unique designs you can opt for because it is a piece that holds particular importance for the wearer. You can choose to get your name, the initials of loved ones, or pick out a word or meaningful phrase that moves you. This option is fantastic for friendship tattoos or to honor those closest to your heart. The ankle is an excellent spot for your ink if you want it to be shown off, or cover it up if you prefer something more discreet.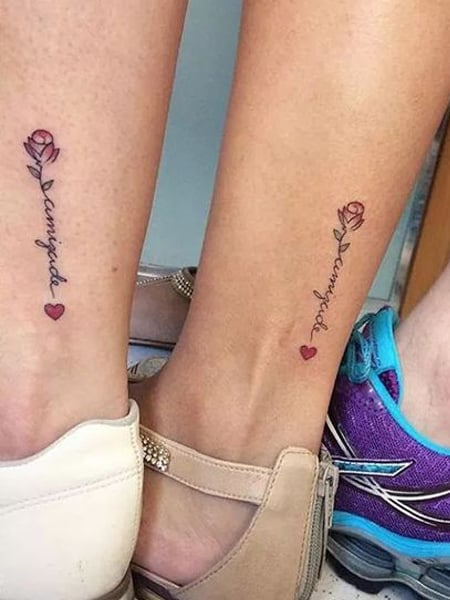 15. Wave Tattoo on the Ankle
The ocean is beautiful but mysterious, and a wave is a great way to symbolize these ideas. This body art will inspire those who wish to live close to the sea. It will also appeal to individuals who find themselves at peace when in the water; it could represent the motion of life and is also linked to emotions, secrecy, and fantasy. Thanks to the many ways to interpret this piece, you can determine what it means to you, making your ink unique. The actual design of waves can be straightforward, with a little squiggle, or you can opt for more detail.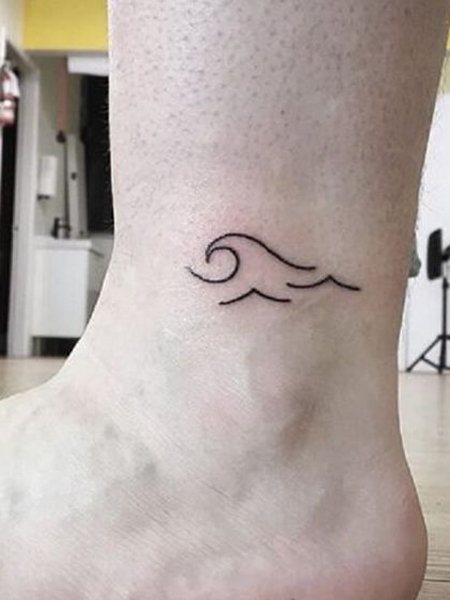 16. Wrap Around Ankle Tattoo
Who needs to wear jewelry when they have something as permanent as a wrap-around ankle tattoo? It is undoubtedly one of the most flattering and feminine options to get inked onto your body. You will find detailed pieces that are similar to real-life gems look especially eye-catching in this location. If you are a woman who loves feminine and girly designs, then this one's for you!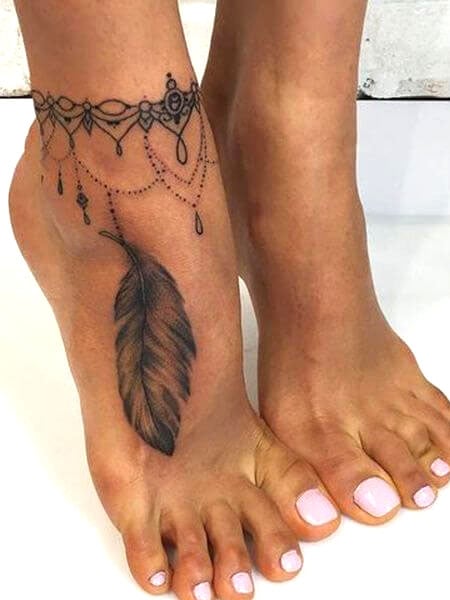 17. Back of Ankle Tattoo
When it comes to body parts that hurt to get inked, unfortunately, the ankle is near the top. There's no denying this placement is going to cause you discomfort as there is very little muscle and fat. Yet despite this, it is one of the most popular options for women to get body art because it looks so cool. You may think the back of the ankle would be slightly less sore, but that's sadly not the case because this is a place that you tend to bend. It would help if you considered this, as it can also make the healing of your ink more painful.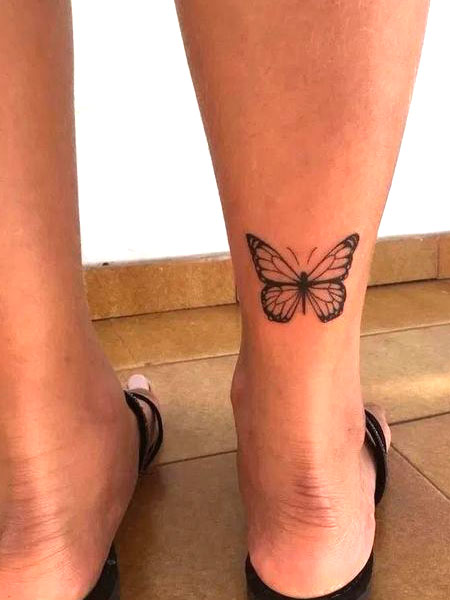 18. Inner Ankle Tattoo
There are plenty of reasons to love ankle tattoos, despite them causing discomfort. The good news is that the inner area is going to be a little less painful; the outside is closer to the bone, but the inside has more flesh and muscle. You may still wince every time the needle touches you, but the small placement means that your design should be completed relatively quickly!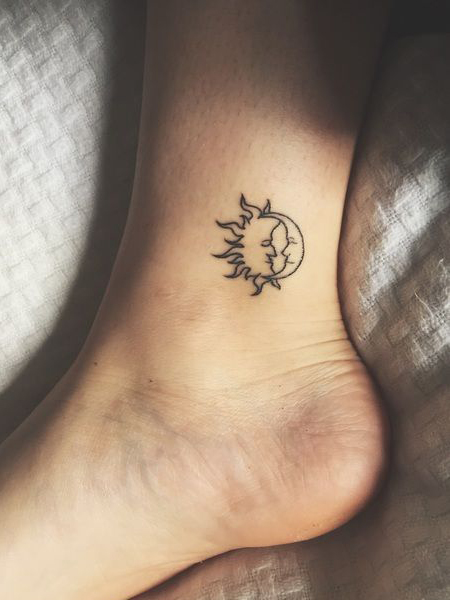 19. Foot and Ankle Tattoo
A foot and ankle tattoo can draw the eye to delicate and feminine parts of your body. It is one of the most attractive options for ink and looks particularly impressive when the design can be effortlessly incorporated across both areas. Despite being eye-catching to look at, this is an option that is going to hurt. Both placements have thin skin, and the proximity to the bone makes it uncomfortable. If you can withstand the pain, though, you won't regret your decision.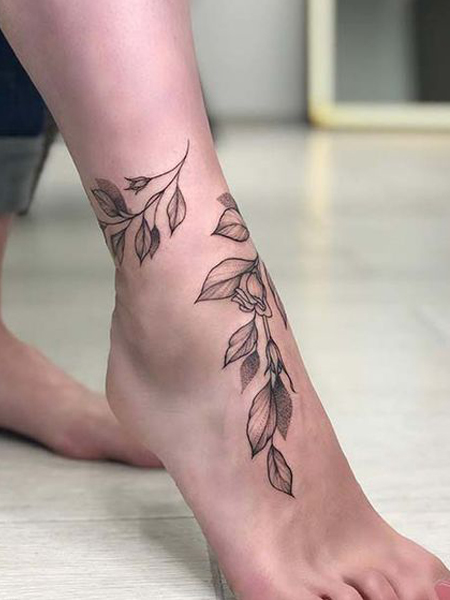 20. Henna Ankle Tattoo
If you're not ready to commit to something permanent, then it would be best to try out a henna ankle tattoo; this way, you can get a feel for what it is like having body art, but without the pain or long-term commitment. The ink is plant-based and will fade gradually over time. There is a variety of different colors, including red, brown, orange, and black, and it will suit several skin tones. The ankle is an excellent placement for these tattoos because it is subtle, plus, many designs look stunning when they spread across the foot.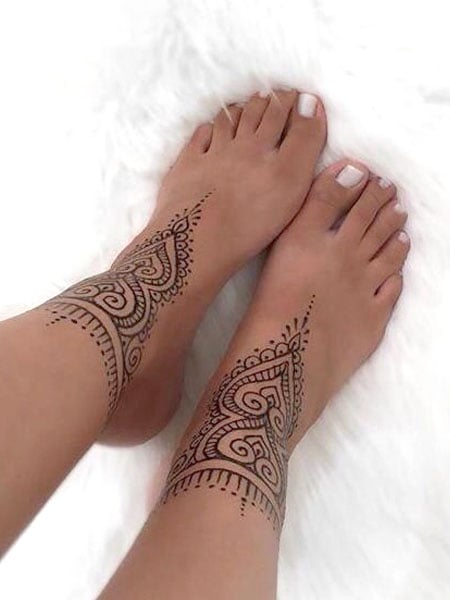 FAQs
How bad do ankle tattoos hurt?
There's not a lot in your ankle other than skin and bone, which means a tattoo here is going to be on the higher end of the pain scale. Luckily, it's not a huge area, so most designs will be relatively small and quick to ink, and the pain won't last forever.
Are ankle tattoos feminine?
Ankle tattoos are incredibly popular among women, as they can accentuate one of the most elegant parts of a woman's body. Plus, it lends itself well to small, delicate, feminine designs thanks to the bone structure.
What does an ankle tattoo mean?
An ankle tattoo can mean that you're shy or introverted, as it's less noticeable, and you won't have to explain your design to everyone. It's also an easy way of expressing yourself without being ostentatious, perfect for women who prefer subtlety.
Can you walk after getting an ankle tattoo?
You can do an average amount of walking, such as around the house, after getting an ankle tattoo, but it will be painful. It's best to avoid exercise for a couple of days to give your skin a chance to heal and for any swelling to go down. Avoid shoes that will rub on the design, and keep your hydration levels up to prevent fluid retention. If you're worried about driving, take a friend to the session who can drive you home. Lastly, always remember to practice proper aftercare to avoid infections and speed up the healing.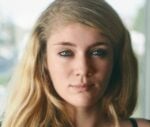 Cailyn Cox holds a degree in journalism and has been working with The Trend Spotter as a writer for over ten years. She has worked with some of the most prestigious women's and men's lifestyle publications. For her, writing is not just a job; it's a passion, which is why each article she writes is approached with such enthusiasm and dedication. She has extensive knowledge of hairstyles, tattoos, and beauty and has made a career out of creating informative articles that appeal to women and men of all ages.
SUBSCRIBE TO OUR NEWSLETTER
Subscribe to our mailing list and get interesting stuff and updates to your email inbox.