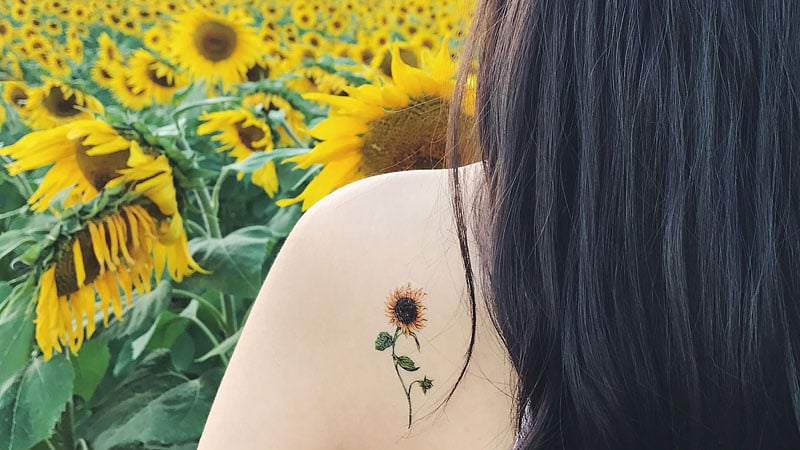 Sunflowers symbolize devotion, happiness, joy, and optimism. It's hard not to feel good when you see a field of these beautiful and brightly colored flowers. For that reason, they've become a popular tattoo choice for women everywhere. Remind yourself to always look on the bright side and put one of these happy and pretty tattoos on your list.
RELATED: 30 Beautiful Flower Tattoos for Women
1. Shoulder Sunflower Tattoo
The shoulder is an ideal placement for any tattoo with circular elements. That's because curved lines match the natural shape of your shoulder. Sunflowers – and other floral designs – look great on your shoulder for that reason. Your artist can design your inking so that it follows your collarbone or extends down your arm to create a half sleeve.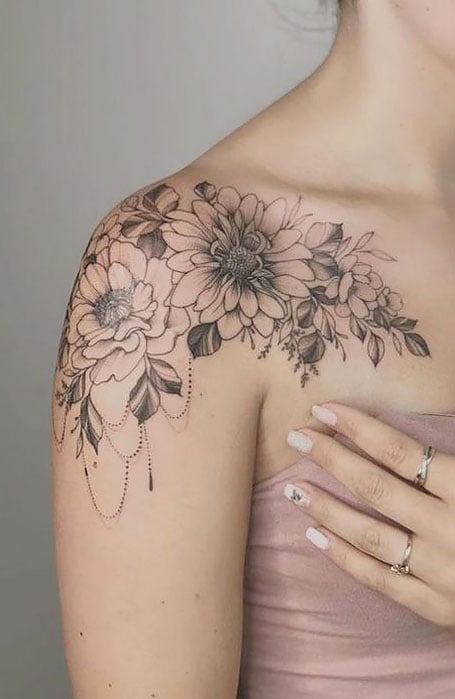 2. Thigh Sunflower Tattoo
Thigh tattoos are fierce, sexy, and flatter your curves. For that reason, they've become trendy over the past few years. Sunflower tattoos also look great on your thigh. While thigh tattoos can be big or small, it's the ideal placement for an oversized sunflower tattoo.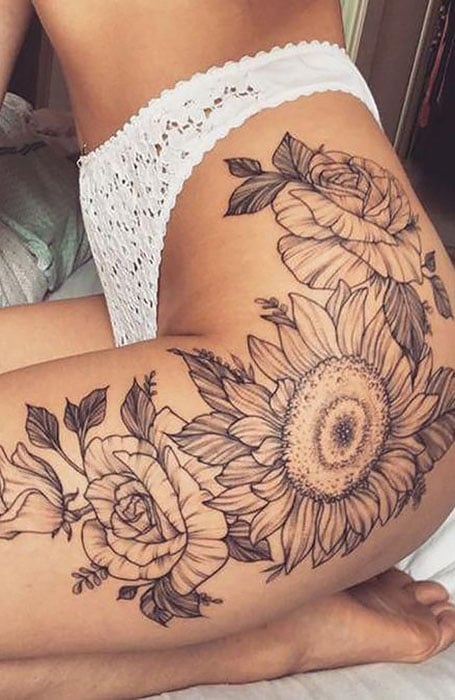 3. Hip Sunflower Tattoo
If you want a tattoo, you can easily hide, try a hip placement. Sexy yet subtle, your hip suits small and delicate designs. As it is a narrow part of your body when viewed from the side, opt for a design with vertical lines and movement. Try a realistic sunflower or a more stylized version with a name.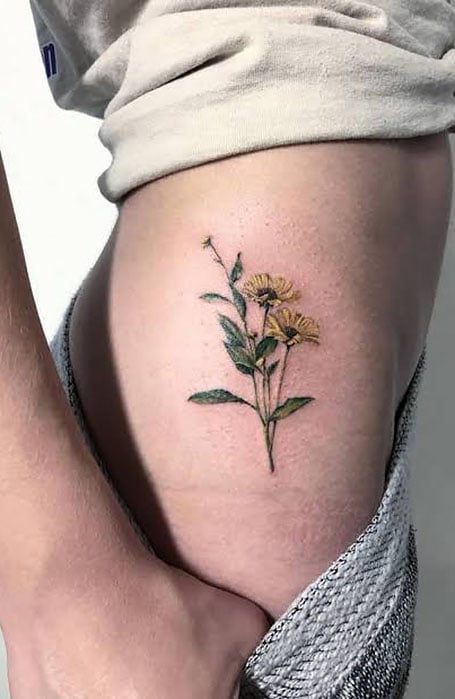 4. Sleeve Sunflower Tattoo
A sleeve tattoo stretches from your shoulder to your wrist or elbow. Because it's so large, it's an excellent opportunity to show off your creativity. You can choose one unified design or combine lots of different tattoos with varied themes. For a sunflower sleeve tattoo, your artist can use petals, leaves, and stems to fill out the design and make it flow. Plus, sunflowers look just as good in black ink as they do in full color.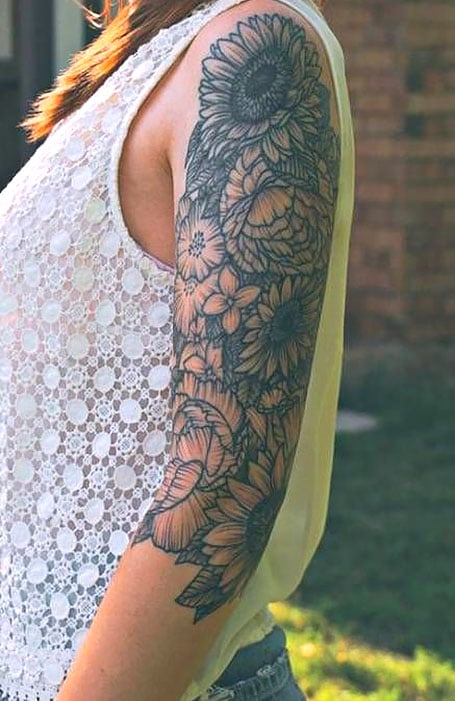 5. Arm Sunflower Tattoo
A sunflower tattoo looks great on your arm, and these types of tattoos are becoming more popular. It's an easy one to cover or show off with clothing. Follow the shape of your arm when choosing a sunflower design to get inked. Whether dainty and petite or more extensive, your arm is the perfect canvas for your floral tattoo.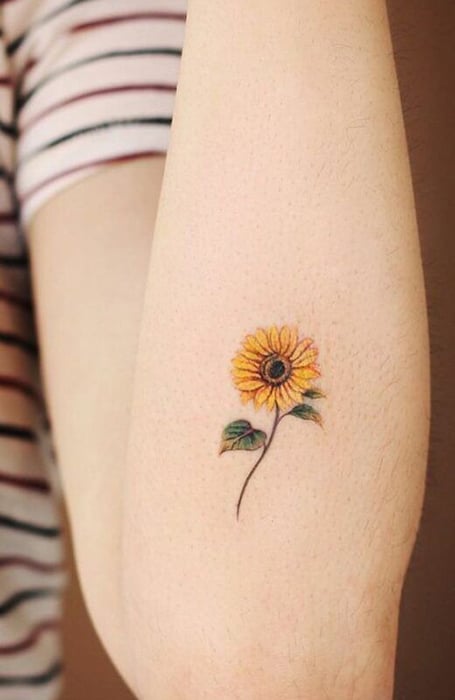 6. Forearm Sunflower Tattoo
Forearm tattoos are recommended for people who always want to be able to see their ink without a mirror. For that reason, if your sunflower tattoo is particularly meaningful, you should consider having it inked on your forearm. On the other hand, you'll be able to show off an intricate sunflower tattoo if you have it placed on the outer part of your forearm.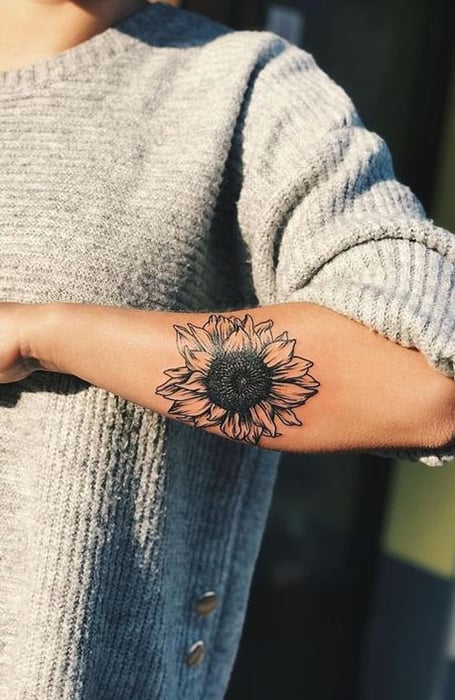 7. Wrist Sunflower Tattoo
The wrist has been one of the most popular placements for tattoos for decades. That's because they can be easily covered or shown off. Plus, they are always visible to you when you want to see them. Your wrist is the ideal place for a winding sunflower tattoo that wraps around your wrist.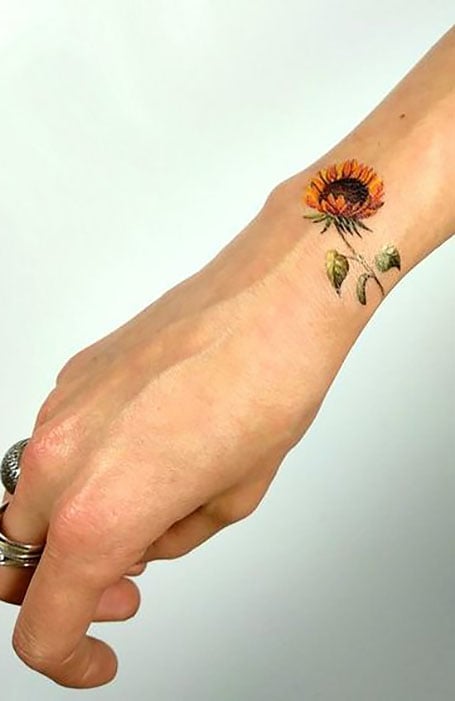 8. Ankle Sunflower Tattoo
Your ankle suits smaller tattoos, as well as ones with a delicate and feminine feel. When designing a sunflower tattoo for your ankle, take into account the natural curve of your heel and lower leg. For the best result, your tattoo should follow this line. Add extra floral details like leaves or stems to give your ink movement and life.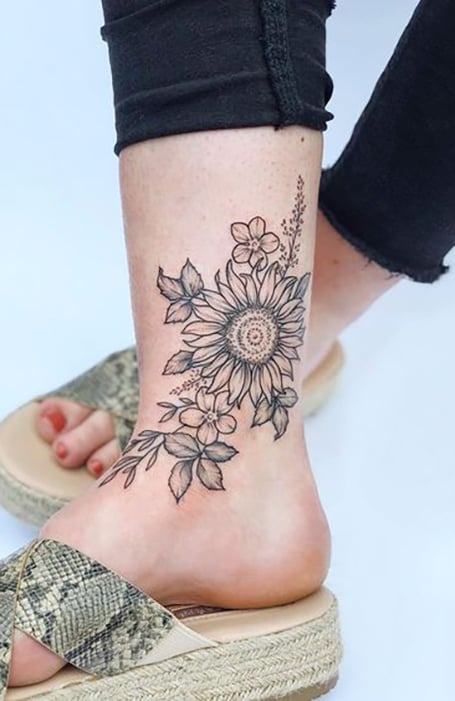 9. Foot Sunflower Tattoo
Like an ankle tattoo, a foot tattoo requires careful planning and placement to get the best result. Foot tattoos are popular with women all over the world because they have a sexy and free-spirited feel. You can show them off in a pair of heels or sandals. However, bear in mind that foot tattoos are high on the tattoo pain chart scale, so you could choose a smaller and simpler sunflower design to cut down the time you spend under the needle.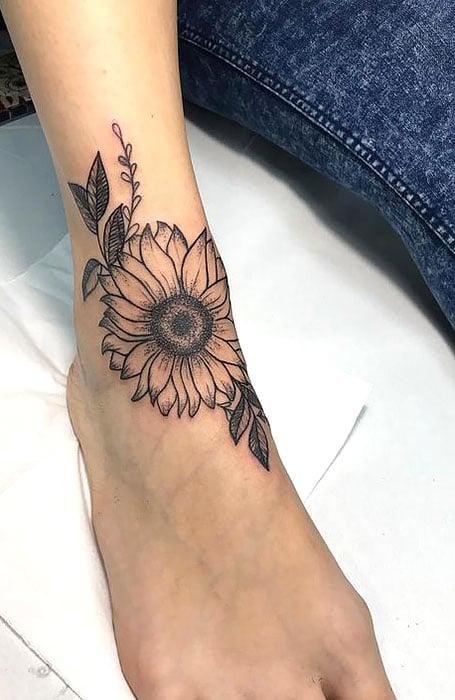 10. Back Sunflower Tattoo
Your back is the ideal canvas for more extensive and more detailed inkings as it is broader and flatter than most parts of your body. As a result, your artist can add more details like color and shading to bring your sunflower tattoo to life. Many women choose a sunflower design that follows the line of their spine, as this creates an organic and natural result that flatters the body.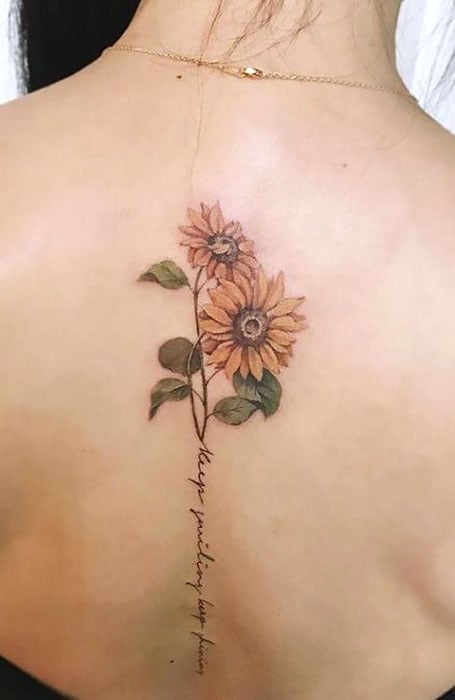 11. Behind the Ear Sunflower Tattoo
A tattoo behind your ear is one of the more discreet tattoo options as you can easily hide it with your hair. However, it's also a meaningful tattoo choice. Many people consider a tattoo behind your ear to represent concepts and symbols that are closest to your mind. So if you love what sunflowers represent, consider having your sunflower ink done here.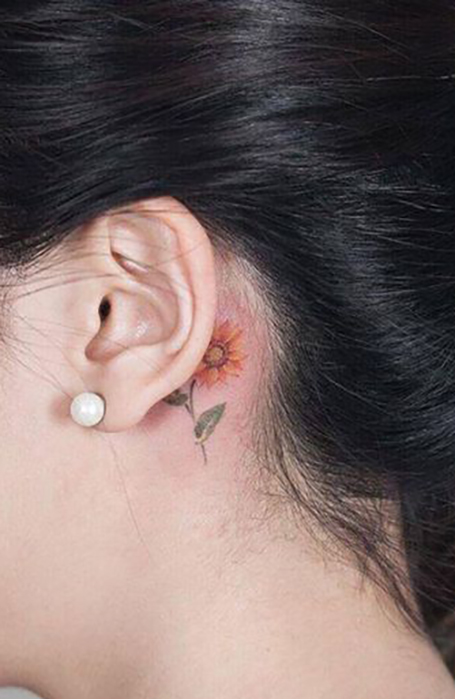 12. Black and White Sunflower Tattoo
While the vibrant yellow hue of a sunflower looks excellent in tattoo form, these beautiful flowers look equally striking in black and white. Using black ink, your artist can create depth and dimension without needing to add color. Black tattoos suit people who like a minimal and graphic art style.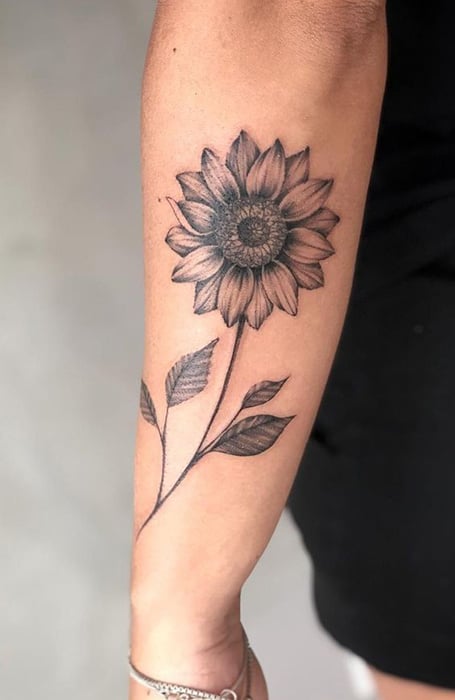 13. Small Sunflower Tattoo
Small tattoos are ideal for your first inking or if you prefer a minimal and discreet piece of body art. You can adapt small tattoos for almost any part of your body, like your hand or behind your ear. One option for your small sunflower tattoo is your wrist. It's subtle, stands out, and will start conversations.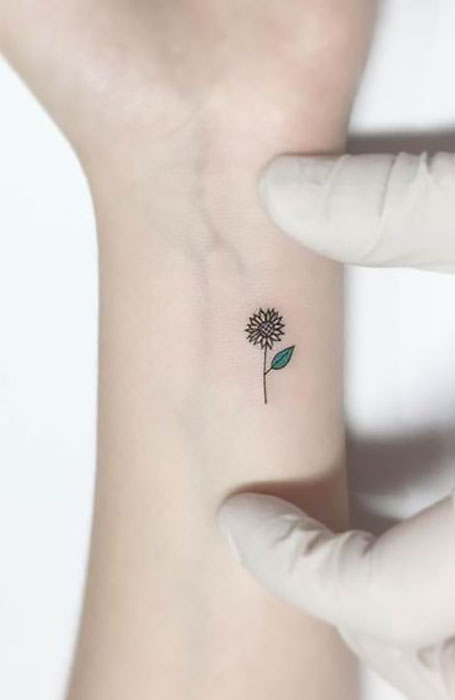 14. Simple Sunflower Tattoo
Sunflower tattoos are versatile – they suit a simple interpretation or a more elaborate design. For the best results, stick to black ink and minimal shading. Because there's less line work, your artist will complete your simple sunflower tattoo quickly too – which means less pain and time to create it.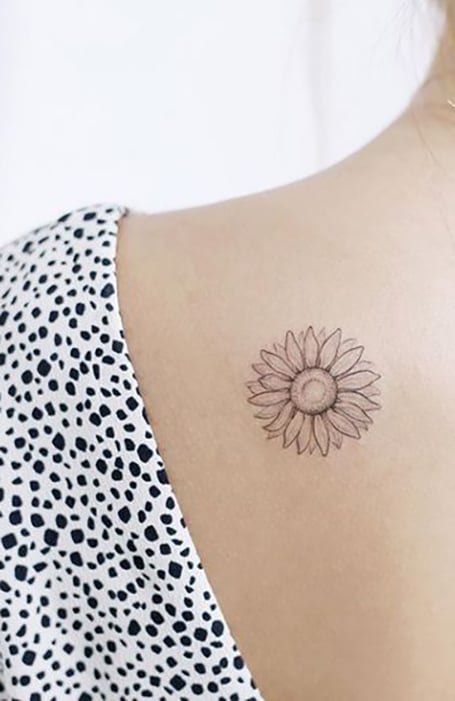 15. Watercolor Sunflower Tattoo
The watercolor art style is becoming more and more popular for tattoos. A painterly technique, watercolor tattoos usually don't use black lines. Instead, your artist will apply color pigment to mimic the effect of a watercolor painting. A vibrant yellow sunflower looks beautiful when inked in this style – though it is a more advanced tattoo technique, so ensure you choose an experienced artist to apply it.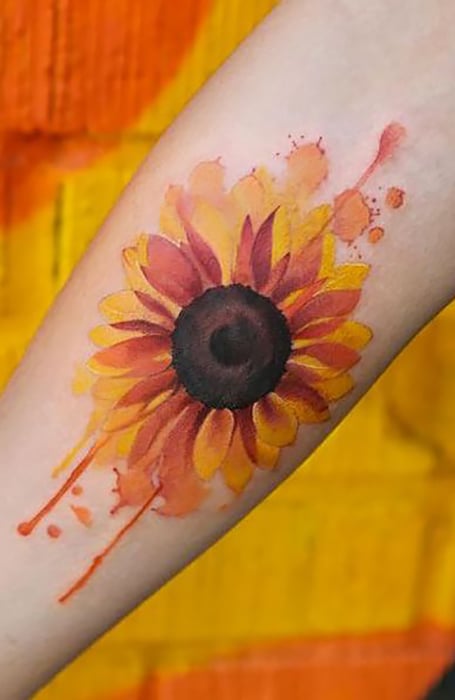 16. Sunflower and Rose Tattoo
For those who are romantic and optimistic at heart, a sunflower-and-rose tattoo would make a great tattoo choice. Sunflowers represent longevity, adoration, and joy, while roses symbolize love and romance. You could have a sunflower-and-rose design inked to describe your relationship with your significant other.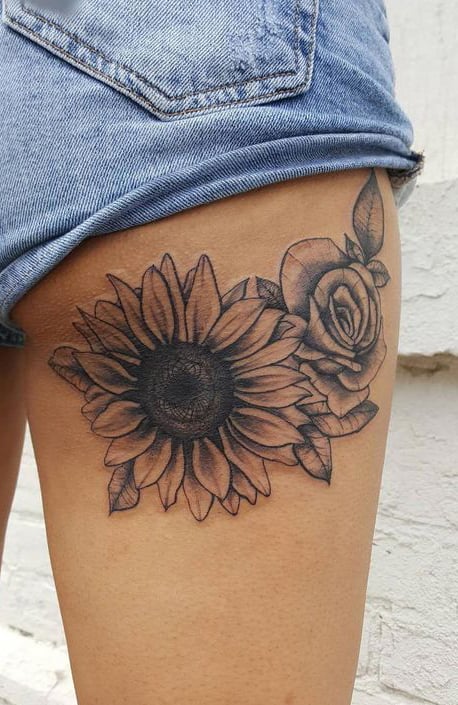 17. Sunflower Mandala Tattoo
The mandala – a mystical Buddhist symbol depicting the harmony and completeness of the universe – it has been a popular tattoo choice for years. Because the mandala symbol is circular, it complements other circle-based tattoos, like sunflowers. A sunflower in bloom represents positivity, joy, and openness, which also pairs perfectly with a mandala tattoo.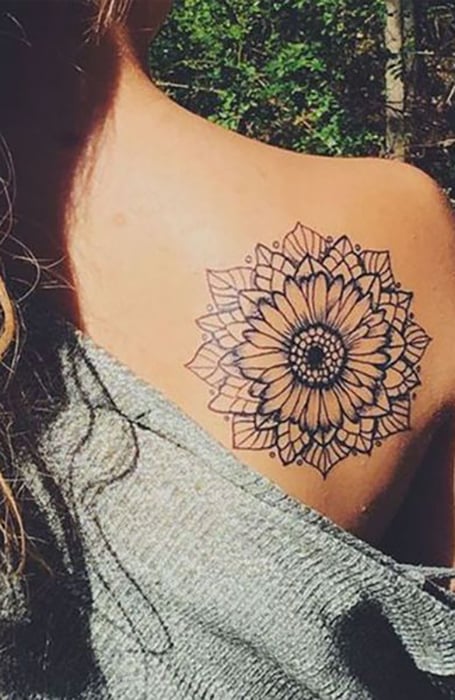 18. Realistic Sunflower Tattoo
Realistic tattoos can be tricky to perfect, but a skilled artist can render your design correctly. Be sure to bring a photo for reference. To give your sunflower tattoo an even more life-like look, make sure the design has angles, movement, light, and shadow. Realistic colors are also essential, so don't go too bright or dark.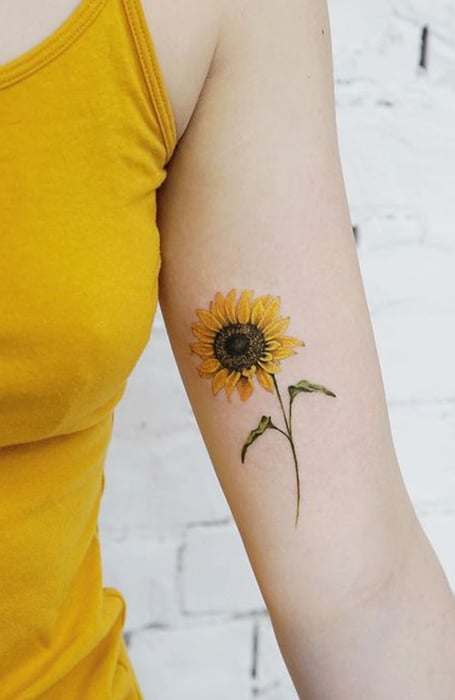 19. Butterfly with Sunflowers Tattoo
Butterflies are a profoundly spiritual choice for a tattoo. They represent transformation, freedom, and are often associated with our souls and spirits. When combined with a sunflower – which symbolizes happiness and joy – the result becomes an incredibly powerful and positive inking. One way to combine the two is a half-butterfly, half flower design, which emphasizes the transformative aspect of the tattoo.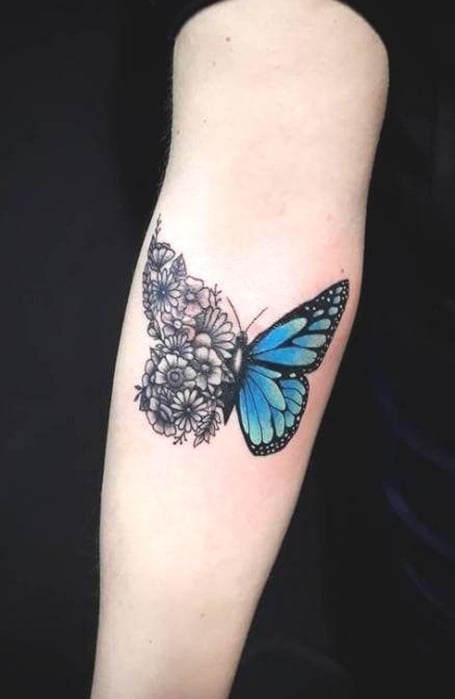 20. Sunflower with Butterfly Tattoo
If you love the positivity of a sunflower and butterfly tattoo but prefer a more realistic art style, try a sunflower with a small butterfly tattoo. Your artist can use color to differentiate the two symbols, which will make each element of your tattoo pop. A blue butterfly looks particularly beautiful against the yellow hue of a sunflower's petals.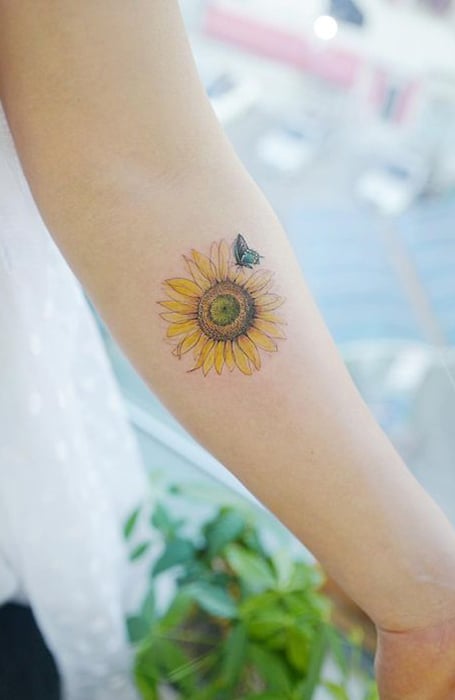 21. Sunflower Tattoo with Name
Floral tattoos have deep and spiritual meaning, so it's no wonder many people choose to combine them with a name or a message. Because of their positive and joyful associations, people often pair sunflowers with the name of a best friend or sibling who brings happiness and fun into life.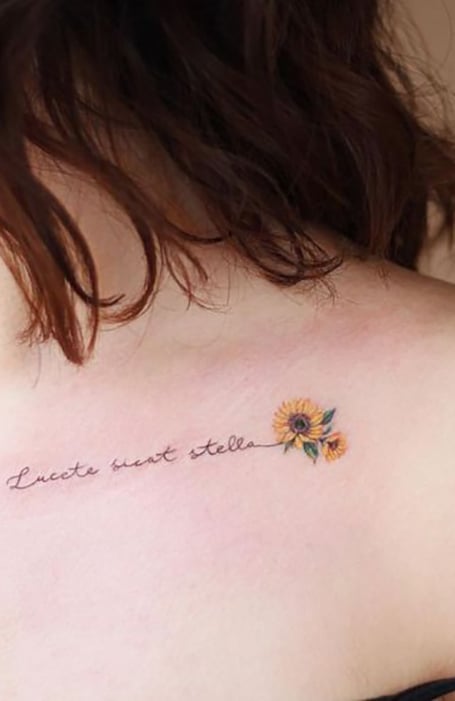 22. Hand Sunflower Tattoo
Hand tattoos are becoming more mainstream today and are favored by many celebrities. Floral tattoos look great on your hands, sunflowers in particular, suit this placement because they can be adapted to fit the curves of your hands and fingers.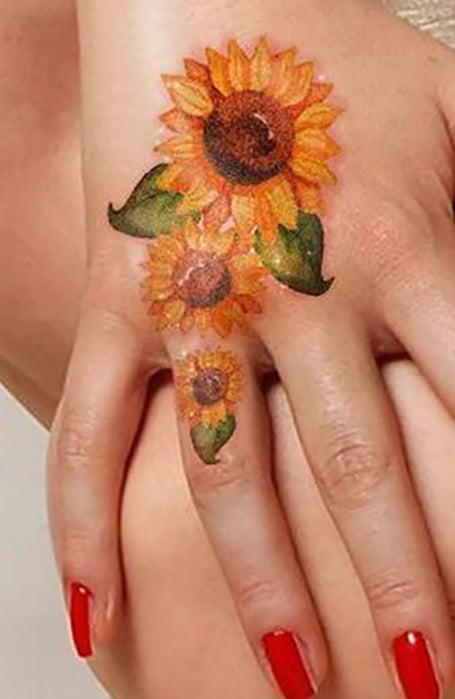 23. Sunflower Daisy Tattoo
Daisies represent innocence and purity, while sunflowers symbolize devotion and joy. For that reason, many women have a sunflower-and-daisy design inked for a special child in their life – their son or daughter, a niece or nephew, or a godchild. On the other hand, the sunflower-and-daisy tattoo can act as a connection to the wearer's child, commemorating a time when they were innocent and carefree.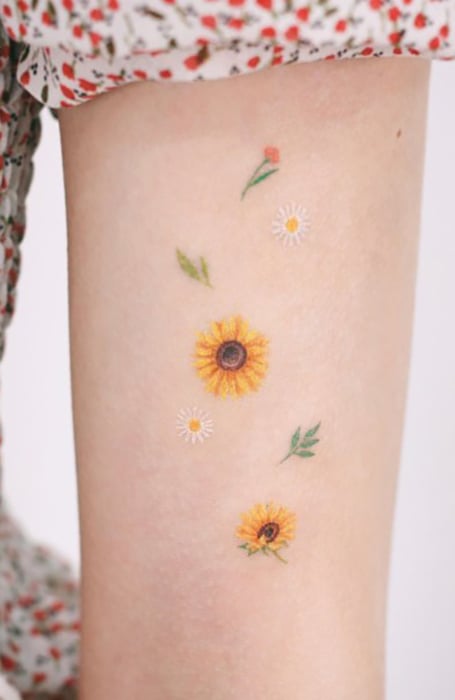 FAQs
What does a sunflower tattoo symbolize?
The primary sunflower tattoo meaning is that of romance. Most commonly, sunflowers represent everlasting and hopeful love. This meaning most likely originates in Greek mythology, although to be fair, most flowers represent love in one way or another.
Do sunflowers have a spiritual meaning?
Sunflowers are often considered a spiritual flower because they resemble the sun and follow it's path through the sky. They can also represent light in the darkest of times and symbolizes faith and devotion or loyalty to something much bigger than you.
Does yellow tattoo ink fade fast?
Yellow ink can fade faster than darker colors such as black and grey. The best way to get longevity out of your colors is through proper aftercare. Keep your tattoo moisturized, out of the sun, and always use sunscreen. Doing so not only protects your ink but reduces the risk of burning and skin cancer, which can be harder to detect under a tattoo. If you're concerned about color fade, you can always get your tattoo topped up every so often by having the artist go back over it.
What flowers make good tattoos?
Most flowers make beautiful tattoos thanks to their versatility and a fantastic range of colors. Some of the most popular blooms include roses, sunflowers, lilies, jasmine, lotus, daisies, and peonies. Each has its own meaning and a unique look that is perfect on its own or combined with other design elements.
SUBSCRIBE TO OUR NEWSLETTER
Subscribe to our mailing list and get interesting stuff and updates to your email inbox.