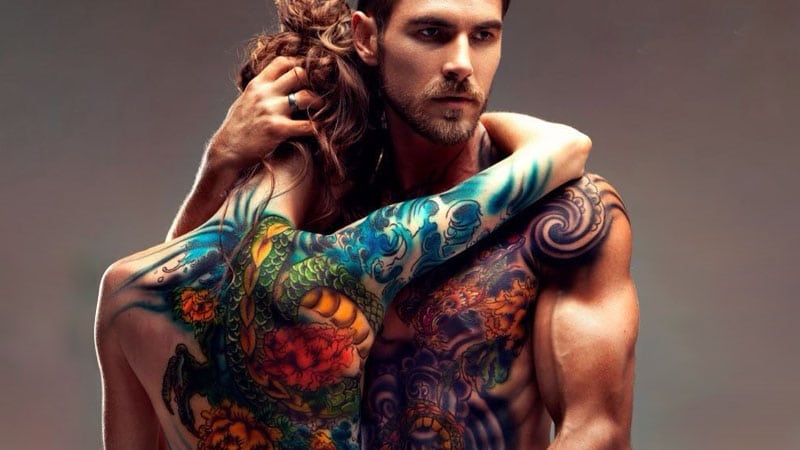 Body art can be of anything, and most designs are meaningful to the wearer in some way. The great thing about tattoos is that they are expressive and can sum up your thoughts and feelings. They can bring us comfort or be used to motivate and inspire. It is also an excellent way to start a conversation, make a powerful statement, or honor those we love. If your best friend means the world to you, you can celebrate your bond with a matching tattoo. Or maybe you want a reminder to guard your heart closely and be wary of those you trust? There is something for everyone. So, if you are looking for inspiration for your next inking, keep reading to discover the most meaningful ideas for men and women.
1. Small Meaningful Tattoos
Small tattoos are just as meaningful as larger designs and can make a powerful statement. There is also a lot of versatility with smaller inkings. They can be tattooed anywhere on the body and are often more discreet; this is ideal if you want to hide your tattoo or prefer a minimalist approach. When deciding on the perfect tattoo for you, consider quotes that inspire and motivate you, the name of a loved one, or even a tiny flower; flowers are associated with growth and beauty. You can also get inked with special dates or an image of your favorite animal. You do not have to worry about the placement of your piece, as small tattoos look good anywhere on the body, including the wrist and finger.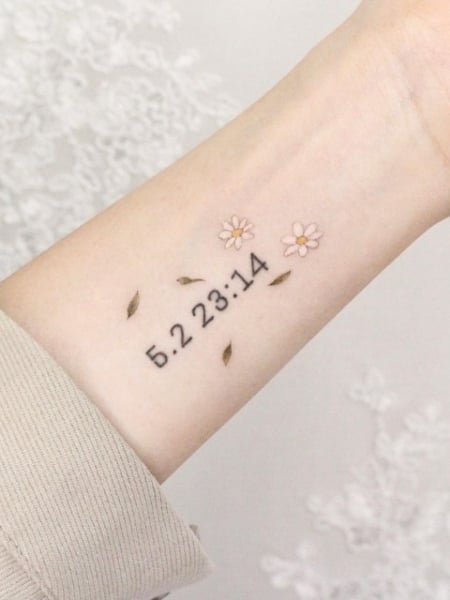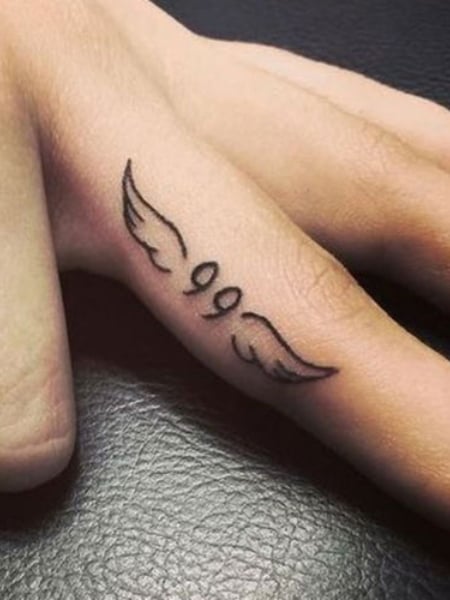 2. Meaningful Wrist Tattoos
The wrist is an excellent placement for body art because of its visibility. This is an area where you can see every day, making it ideal for meaningful designs. Your wrist tattoo could be of anything but should be able to reflect your thoughts and feelings or be unique to you in some way. This could include the name of a loved one, a special date, or a quote that inspires or motivates you. Getting inked on the underside is also a discreet option, making this a versatile location. Inking here will hurt because of the thin skin and lack of muscle and fat, but the pain will be short-lived because the wrist is small.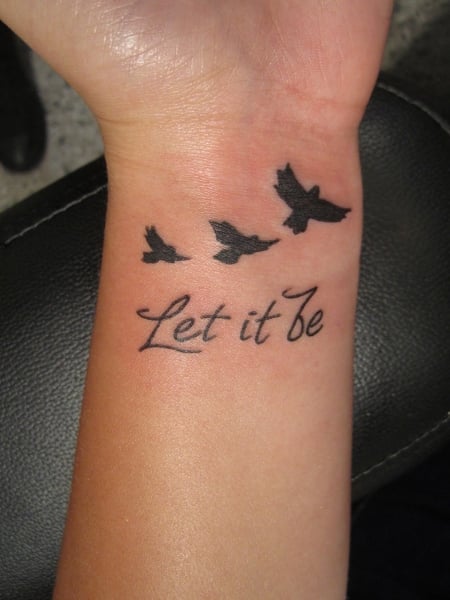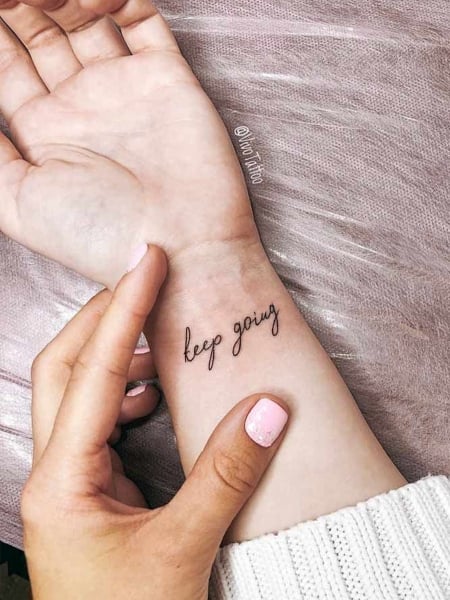 3. Deep Meaningful Couple Tattoos
If you want to honor your relationship, you can do it with a meaningful couple tattoo. Every tattoo is meaningful to the wearer, but you and your partner can choose something special for both of you with this piece. It could be a matching design or two images that go together, for example, a lock and a key or a bee and a flower. You could also focus on a date that has relevance to both of you; perhaps it is the day you met or exchanged your vows. Other popular choices include coordinates which could be to a country you both hope to visit or the place you went on honeymoon.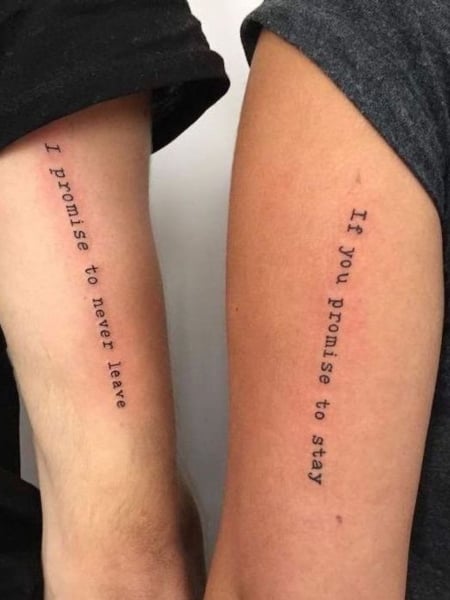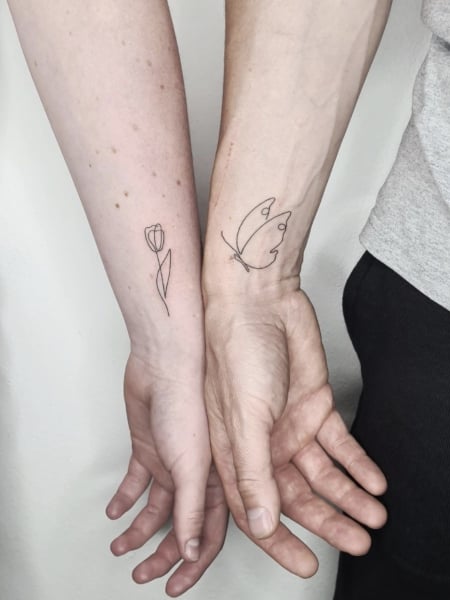 4. Meaningful Aztec Tattoos
The Aztecs are believed to have used body art for several reasons, including to instill fear in their enemies, show their accomplishments, and during rituals and ceremonies. The ancient civilization existed in Central Mexico in the 14th to 16th centuries. For those who can trace their heritage back to these peoples, an Aztec tattoo could be a way to honor your ancestors. There are several meaningful designs to choose from, including popular symbols like the Aztec calendar or an image of their many gods. You could use a warrior, representing bravery, courage, power, and determination. Find a design that you can relate to, making it meaningful and unique to you.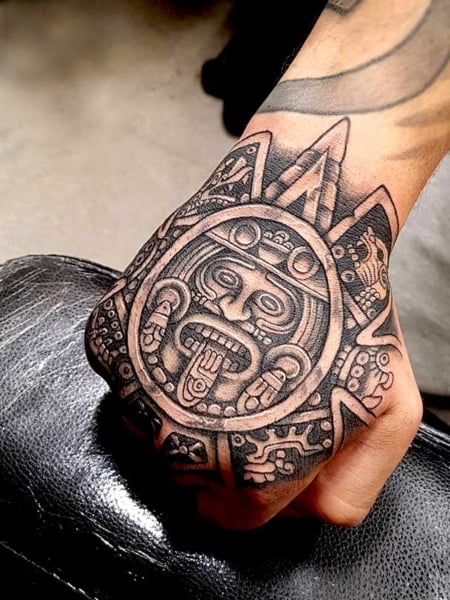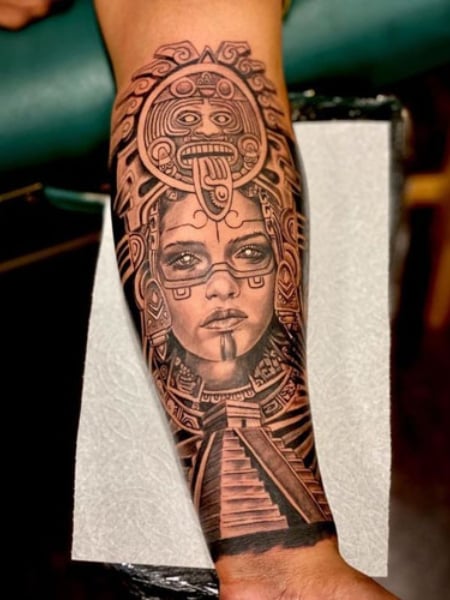 5. Meaningful Robin Hood Tattoos
Robin Hood is the tale of an outlaw who stole from the rich to give to the poor. He has been featured heavily in film and has been a source of inspiration for many people, including tattoo designs. Many aspects of Robin Hood can make for excellent inkings, like using an image of his bow and arrow, his cap, or a quote from one of the films. When determining placement, consider the size of your piece and choose somewhere like the thigh, back, or leg for larger designs. Smaller tattoos look great on the wrist or forearm, and these are also places you can look at every day.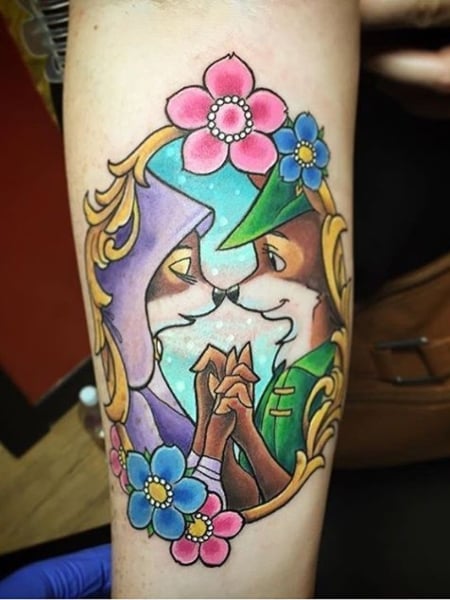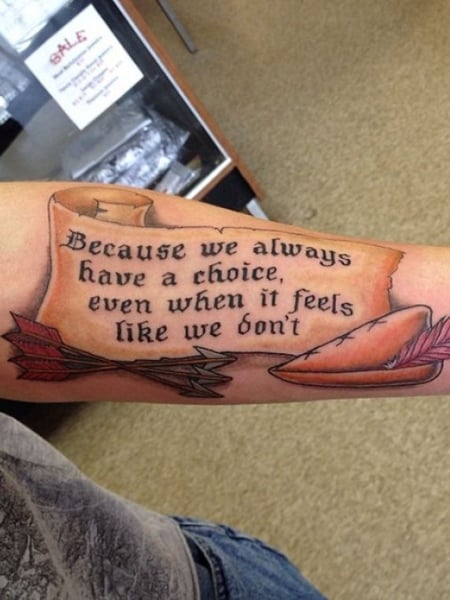 6. Matching Meaningful Couple Tattoos
There are many choices for a couple tattoo, allowing you to find something special and unique to your relationship. You can also take this one step further by opting for matching designs that can represent a special moment. This could be the date you met, a quote that perfectly sums up your feelings for each other, or something as simple as a rose. Deciding on a design that matches makes it clear for the rest of the world to see how much you mean to each other. The process of choosing the right piece can also be a bonding experience and could strengthen your partnership even more. Get it inked somewhere visible, like the hand, or opt for somewhere more intimate like an inner thigh.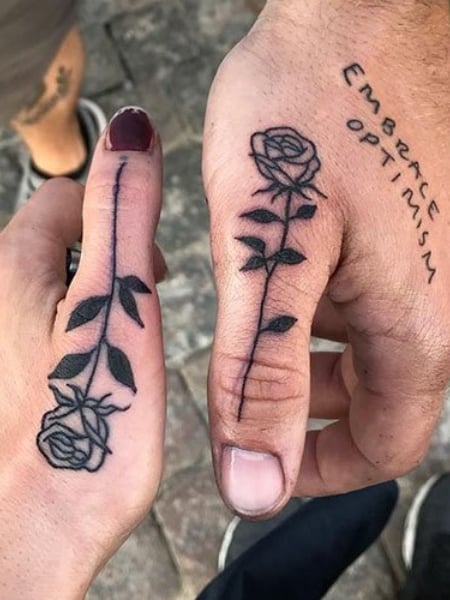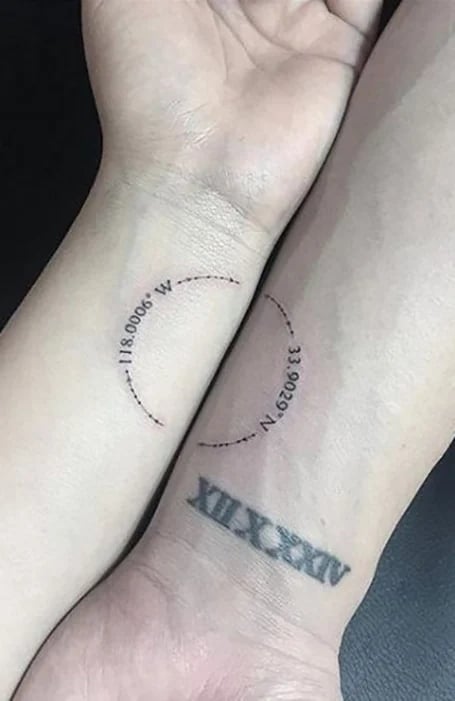 7. Meaningful Sister Tattoos
There are no bonds quite like that between siblings, and these are people you have known most of your life, who have always had your back, and who you love with all your heart. If you have a close relationship with your sister, why not honor that with a meaningful tattoo? Sisters can be best friends and confidants, and your piece could be of shared love, a hobby you do together, or a quote that reflects your feelings. You can also pick matching designs or pieces that complement each other; for example, one half of an image so that the tattoos form a complete picture.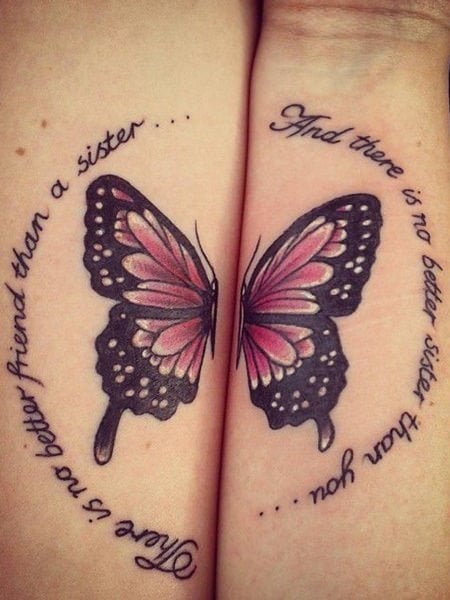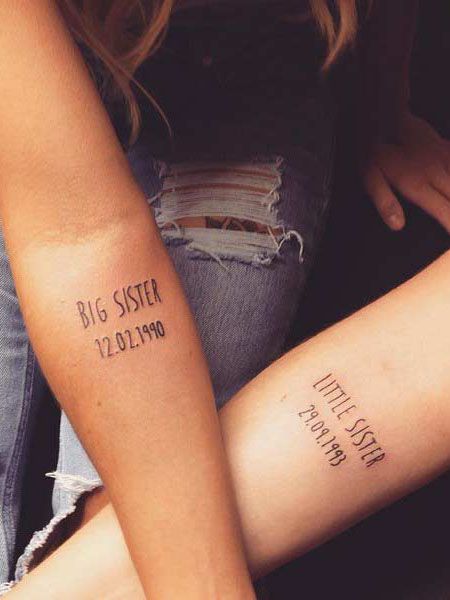 8. Meaningful Brother Tattoos
Your siblings are more than family; they are best friends for life. This is an unbreakable bond, and a great way to celebrate it is with body art. Brother tattoos can be incredibly meaningful, focusing on a design that is special to you. When determining what the perfect piece is, consider your shared likes. You could choose something from your childhood that brings you back to a time of happiness or pick a more abstract inking. On this note, a brother tattoo can also be a family you have chosen instead of the one you were born into. Body art is also a way to honor those you have lost, keeping a piece of them with you at all times.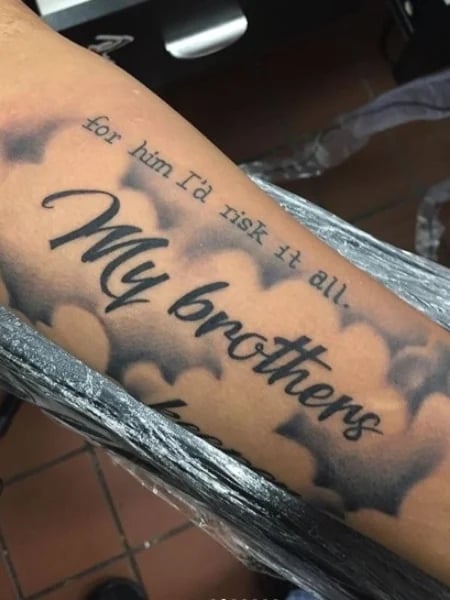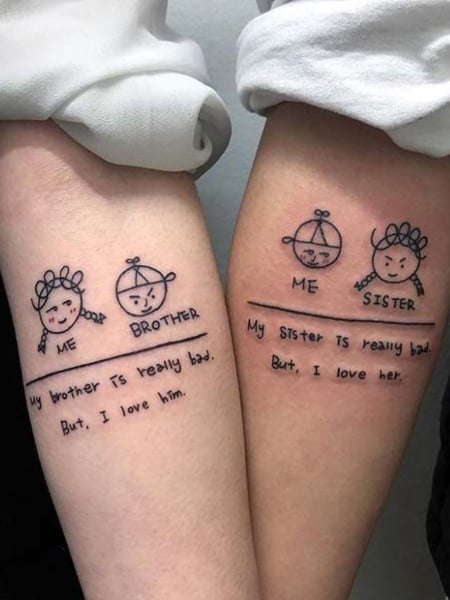 9. Meaningful Father Tattoos
The relationship we have with our family shapes who we become. Having a close and loving relationship with the people who raised you can positively impact your life, and if there is a father figure who means the world to you, you can honor this bond with a father tattoo. Fathers can be biological or adoptive, and your chosen piece can be of anything meaningful to you. For some, it's as simple as writing the word "dad" as it lets you carry the memory of this special person with you always. For others, you may want a more detailed design that could include your father's name and relevant dates. You can also opt for quotes that sum up your relationship.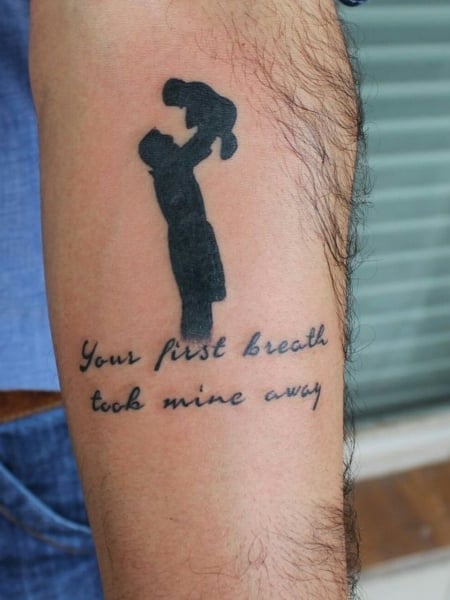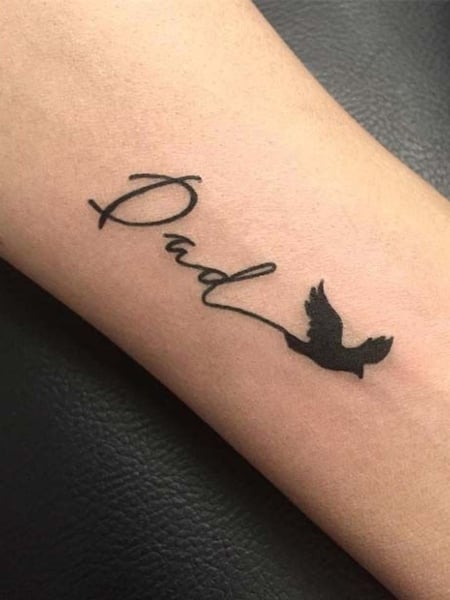 10. Meaningful Mom Tattoos
Our mothers are our first love. The woman who has been there for us always and who would put our happiness and well-being before her own. If this is how you feel about your mother, what better way to show the world this than with a mom tattoo?! This is a beautiful and meaningful design regardless of your choice because it focuses on someone you love and who is dear to your heart. It could be as simple as her name or could be a more detailed inking, including quotes, an image of a mother and daughter, or even a symbol you have created together. When determining the placement for your ink, consider getting it somewhere you can see every day. Or on the chest, to keep a piece of your mama close to your heart at all times.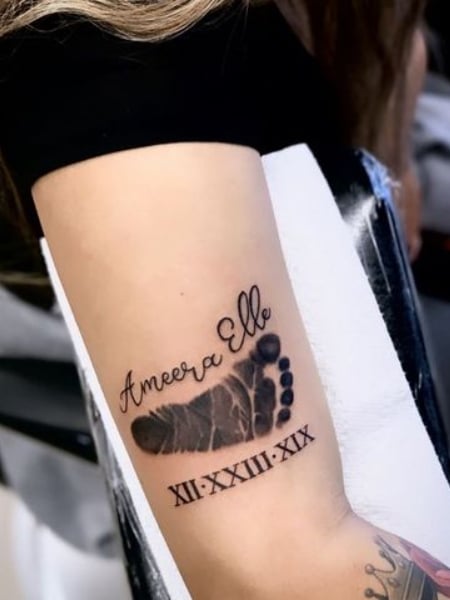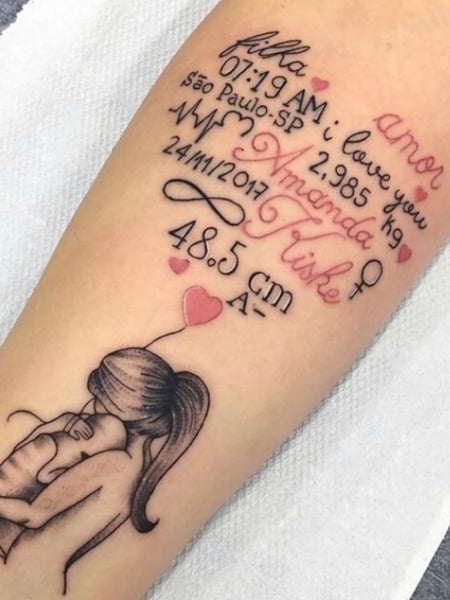 11. Meaningful Matching Best Friend Tattoo
Best friends are like family. This is someone who will be by your side through your highs and lows. Who will keep all of your secrets, cheer you on, celebrate your successes, and be there during your failures. A great way to honor this bond is with a special tattoo dedicated to this person. A best friend design can be meaningful and take on several forms. Some may prefer to keep it simple, choosing their friend's name and perhaps the date they met. Others pick something complex and unique, creating a symbol or using a catchphrase they made up. Getting matching pieces is a cute and fun way to show the world how you feel about each other and take your friendship to the next level.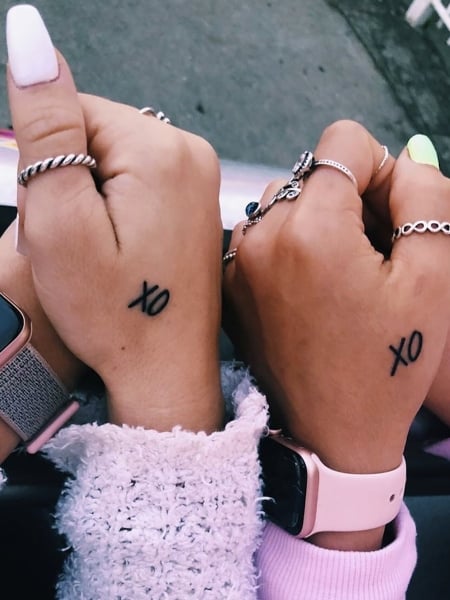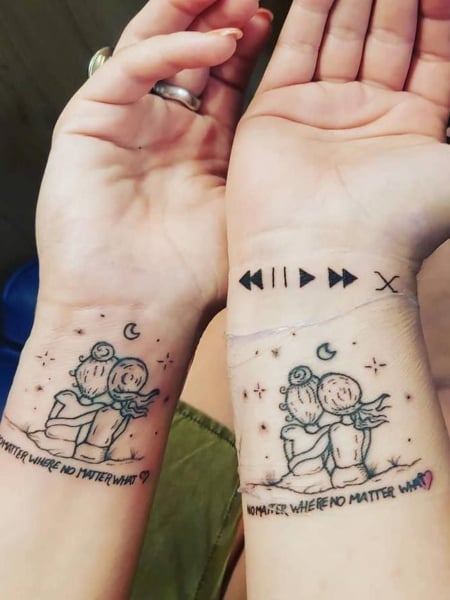 12. Meaningful Back of The Ear Tattoo
Behind the ear tattoos are ideal for a small and meaningful inking. This is a placement that is effortlessly cool but also discreet. You can cover your body art easily if your hair is down or show it off; the choice is yours. When deciding on the perfect piece, it could be a short quote that goes around the ear in an arch shape. It could also be the name of a loved one, a special date, or an image of something relevant to you; this can include the phases of the moon or an arrow. The great thing about meaningful body art is that it can be different for each person, telling a story about their life or sharing their thoughts and feelings.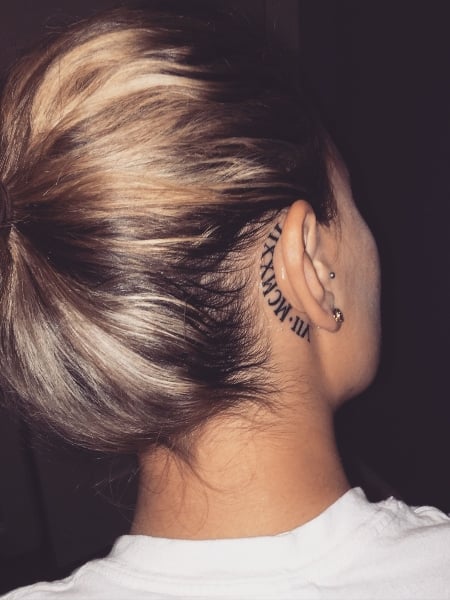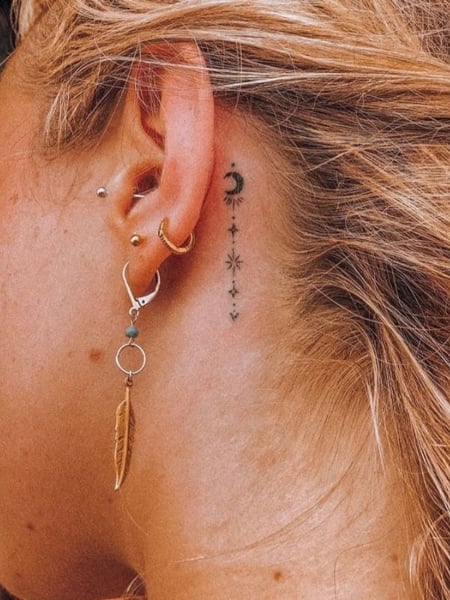 13. Meaningful Broken Heart Tattoo
The image of a broken heart is a universally recognized symbol of pain and heartbreak. Even the simplest design can say a lot about the wearer and their feelings on love and loss. That said, there are many ways to make your heart tattoo unique to you, including adding powerful quotes which can bring you comfort or sum up the hurt you feel. These inkings are incredibly meaningful and can remind you to guard your heart better or be wary of those you let into your life. Or it could be a way to tell yourself that this too shall pass, and you will be stronger for it, but that it is normal to grieve or not feel okay. A broken heart can be done in various styles, including the American Traditional, or by using bold color. However, black is the hue that is often associated with sadness.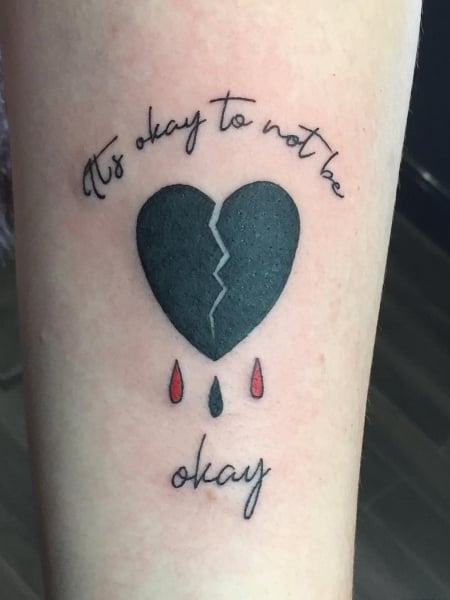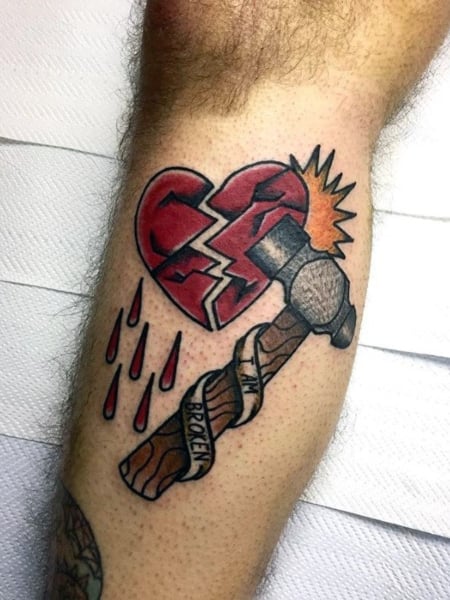 14. Meaningful Tiny Tattoos
Tiny tattoos are appealing for many reasons, most notably, their versatility. Smaller designs are great because they can be inked anywhere on the body, including the finger or behind the ear. They are also faster to complete, hurt less and are often more affordable. Your inking doesn't have to be big to make a powerful statement and can be incredibly meaningful. For example, a semicolon design focuses on mental health and suicide prevention, often seen as a reminder that your story is not over. It could also be a motivational quote or a little heart symbol.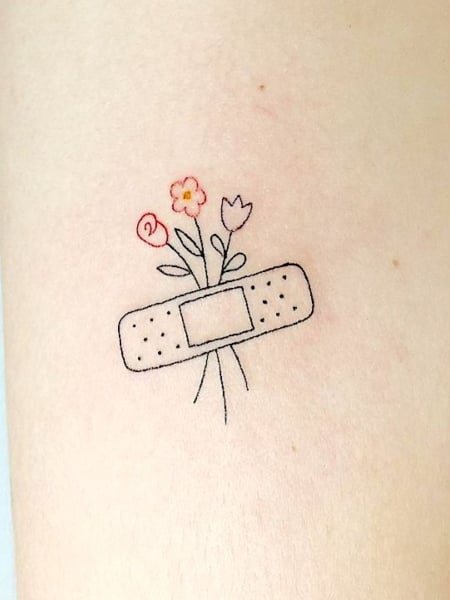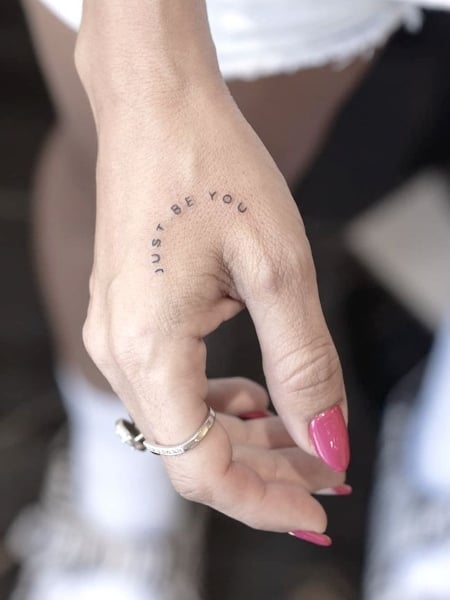 15. Meaningful Cute Tattoos
Cute tattoos not only look good but can also be meaningful. The idea behind meaningful body art is not that every design must be deep and thought-provoking, but the feelings associated with it. Cute designs can be anything from animals and insects to words and symbols. Getting inked with something as simple as a little elephant or cat is a great way to celebrate your love for these animals and the qualities associated with them. Get creative with your tattoo or keep it simple; there are no rules for what you can and cannot do.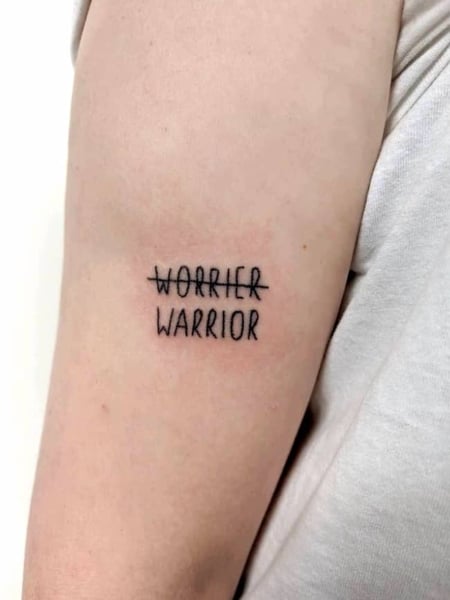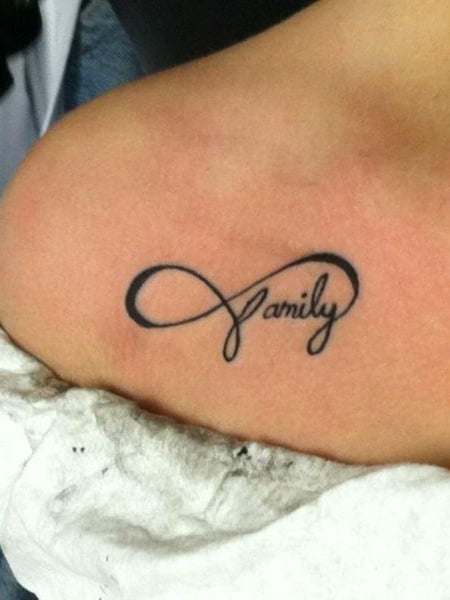 16. Meaningful Dragonfly Tattoo
The dragonfly is one of the most beautiful insects in the world, but it is also fascinating and rich in symbolism. It represents rebirth, transformation, balance, and harmony, among other things. It is not hard to see how this could make for a meaningful and special tattoo that you would be proud to show off. The piece looks great in color, and this gives you a chance to get creative with the technique you choose; maybe you love the look of realistic styles? The 3D approach can make it look like the dragonfly is hovering over your skin. Or perhaps you prefer the expressive and fun watercolor tattoo technique? There are many ways to let this design reflect your preference.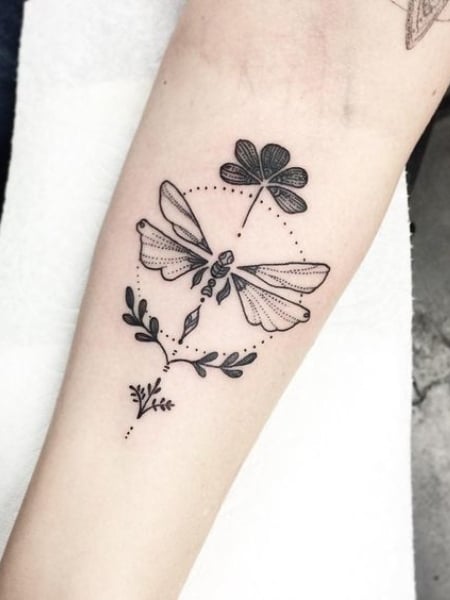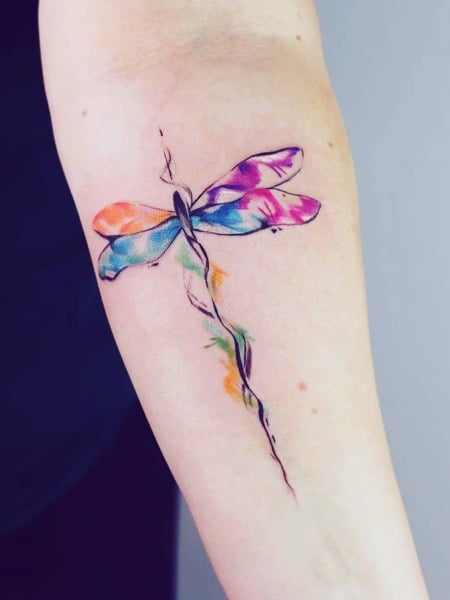 17. Meaningful Simple Tattoos
Simple tattoos are ideal for those who prefer a more minimalistic aesthetic. After all, sometimes you can say more with less. They can be just as meaningful as detailed designs, but instead, focus on the basics. For example, an outline of your favorite animal, a single word tattoo, or a date and time. These pieces are typically created using black ink and a limited color palette, and although they can vary in size, most people prefer to keep them on a smaller scale. The appeal of this body art is that it is also often quick and easy to complete and will be cheaper.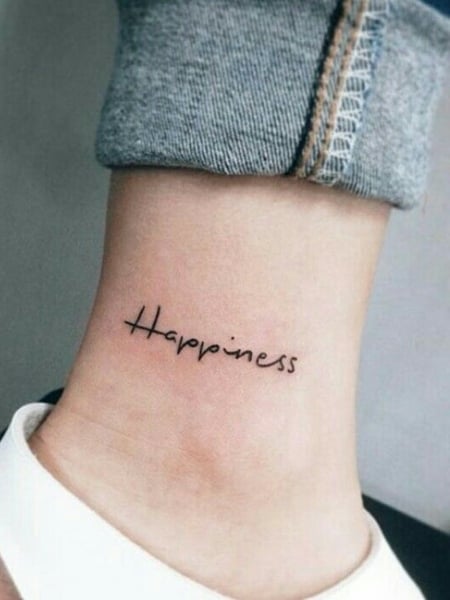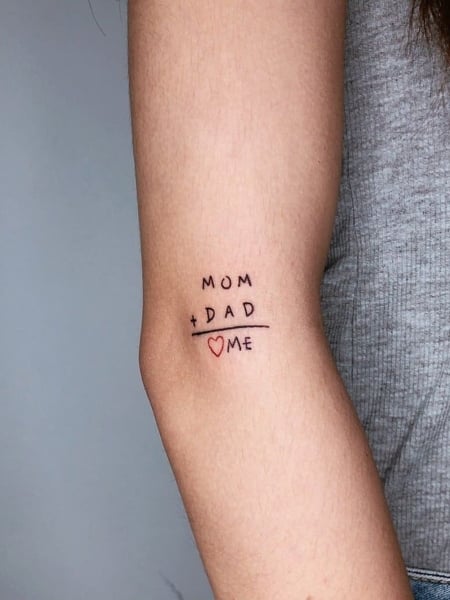 18. Meaningful Dog Tattoos
If you are a dog lover and have a special pet that means the world to you, what better way to honor it than with a dog tattoo? These pieces are incredibly meaningful, whether you choose to get an image of your pet or focus on a more general design of a pup. The animal is associated with love, guidance, protection, and loyalty. You may also wish to combine the image of a dog with something else to add to the meaning. This could be anything from a heart to a powerful quote. Some owners also get memorial inkings in honor of their pet, adding a little halo or the date that the dog died to their design.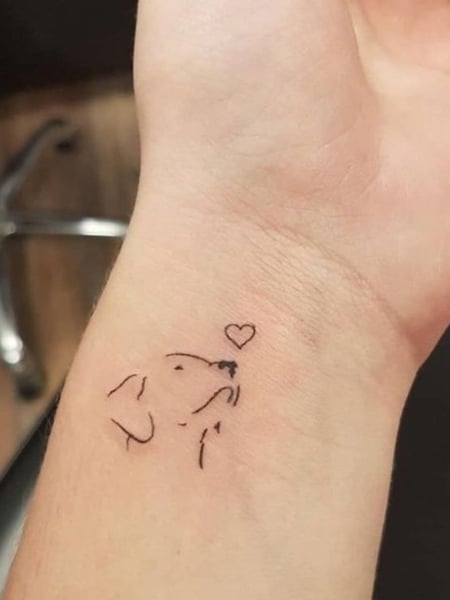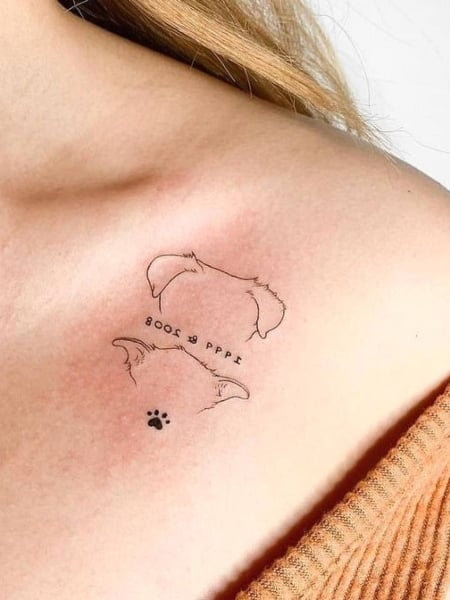 19. Meaningful Tattoo Quotes
Quote tattoos are meaningful choices for body art. There are many different sources to inspire you, letting you find something that is unique and special to you. This could be taken from a book you love, lyrics that bring you comfort, or wise words that a political figure or activist has said. It could also be closer to home, and you could include something your grandad used to say to you or a message a loved one wrote to you. A nice touch would be to get it inked in the handwriting of a loved one. When it comes to placement, there are many options, but consider the length of your quote before deciding. Longer pieces need more space, and the thigh and back are ideal. Shorter quotes give you more versatility with where you tattoo them, including on the wrist or the back of the neck.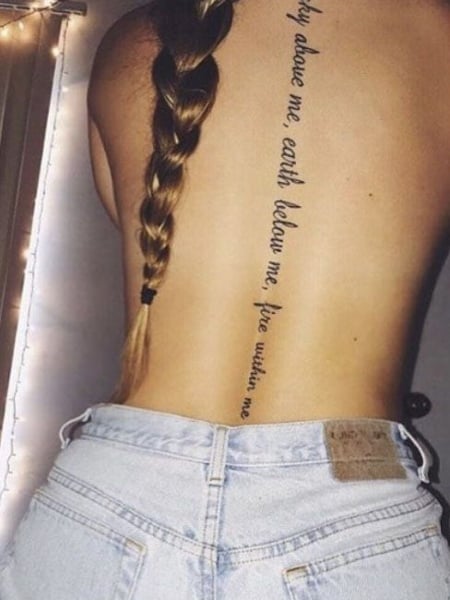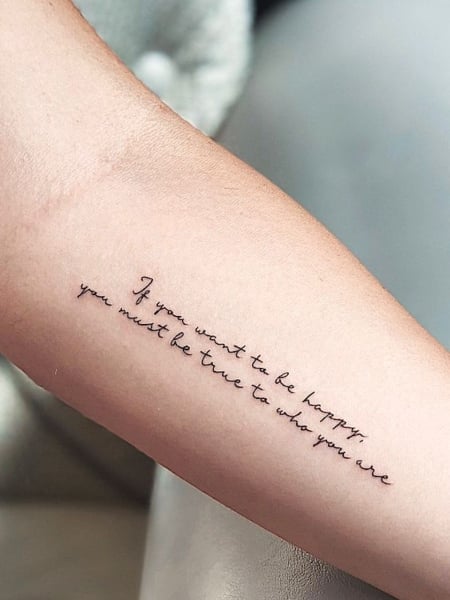 20. Meaningful Hummingbird Tattoo
The hummingbird may be a tiny creature, but it is rich in symbolism. Choosing this bird for your next tattoo will make a powerful statement as it represents strength, hard work, beauty, good luck, and resilience. Your piece can be inked big or small and in color of black ink. It also works well with several different styles, letting you express yourself with the watercolor tattoo technique or opting for something more rebellious like the American Traditional tattoo style. To make your hummingbird tattoo even more meaningful, you can add details that make it look unique. This could include a plant you love or the flower of your birth month, as well as names, dates, and even quotes.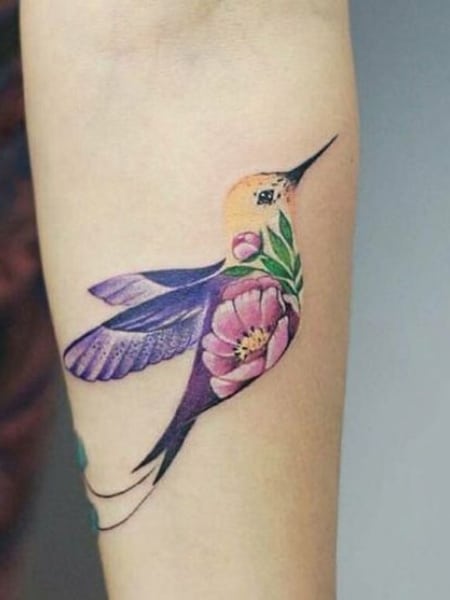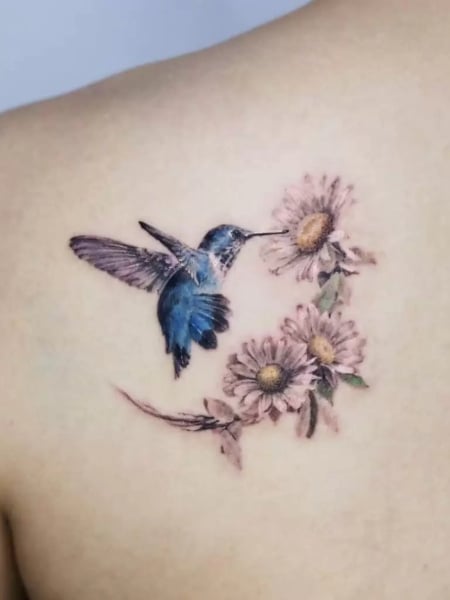 21. Meaningful Arm Tattoos
Arm tattoos are one of the most versatile locations for body art because they can be easily covered up or shown off. There are many places on the arm to choose from, some discreet, like the inner arm or inner wrist, while others can be more noticeable, like the forearm. Or, if you want to tell a story with your body art, you can ink the entire arm with a sleeve design. The arm is also considered low to moderate on the tattoo pain chart scale because of the thick skin, muscle, and fat, which provide cushioning. That said, inking on or near the elbow will cause extreme discomfort.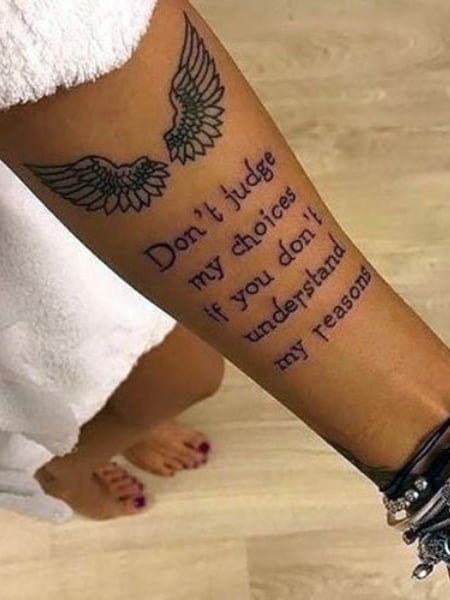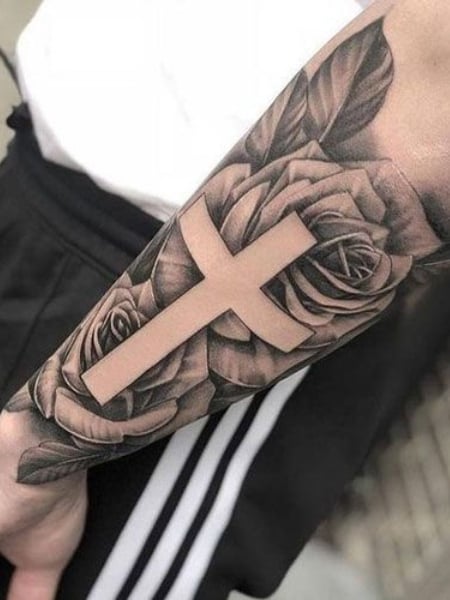 22. Meaningful Small Turtle Tattoos
The turtle is a wonderful choice for your next tattoo because it is deeply symbolic. The turtle represents longevity, patience, and strength. It has also been inked in tribal styles and can be used to honor your heritage and feel closer to your ancestors. The basic shape of the animal lets you get creative with your body art, letting you focus on just the outline for those who prefer a more minimalistic approach. Or you could include flowers or experiment with color; the watercolor tattoo technique is excellent for bringing in color in a fun and unique way. The design can be inked big or small, but tiny tattoos are more versatile and can be tattooed anywhere on the body.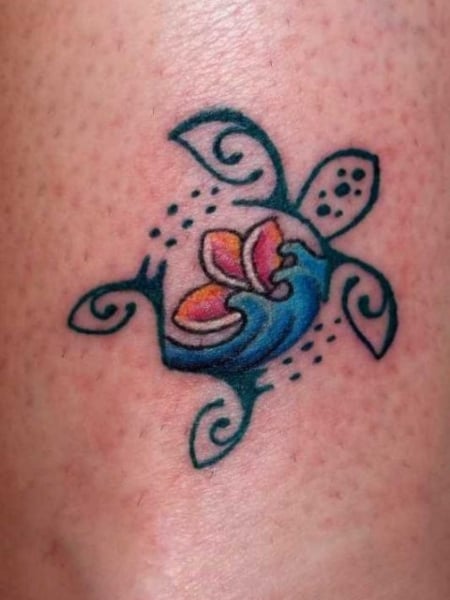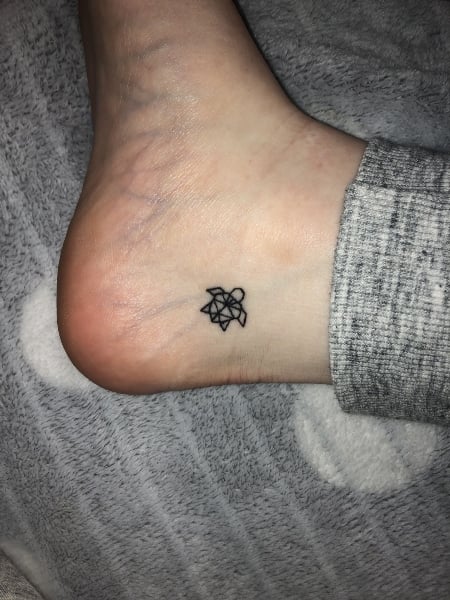 23. Meaningful Word Tattoos
If you want to sum up your thoughts and feelings, sometimes this can be achieved with a single word. Word tattoos are popular because they say so much without going into detail. They are also incredibly versatile and can be inked anywhere on the body, including small placements like the finger or behind the ear. Popular words to get tattooed include "happiness," "love," and "inspire." However, the meaning associated with each word is different for every person. If you find one that resonates with you enough, why not get it inked on your skin?!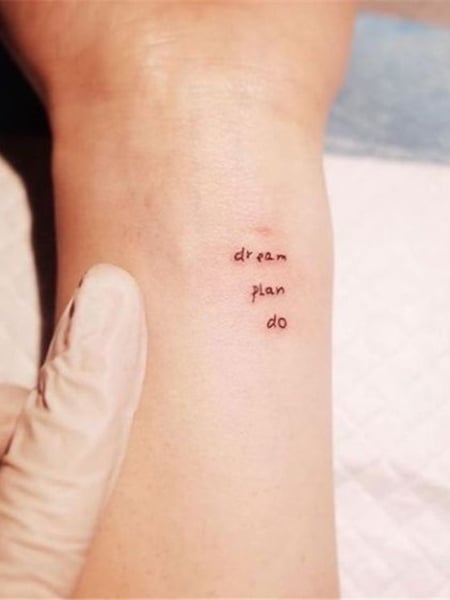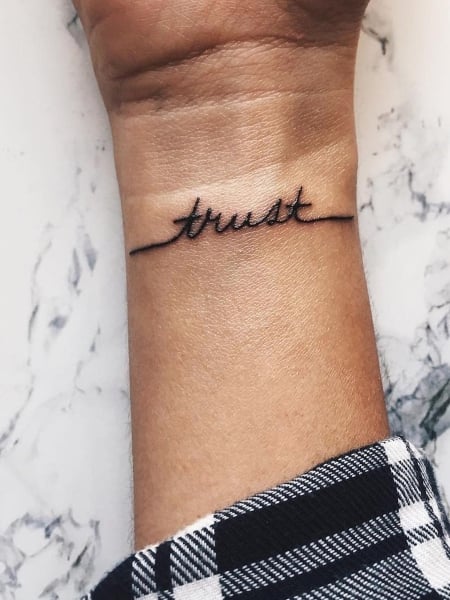 24. Meaningful Finger Tattoos
Finger tattoos are one of the most sought-after placements for body art for men and women. This is because they look edgy and cool and make a statement. It is hard to miss designs on the fingers, which can be restrictive for some jobs and more conservative work environments, but this is also an ideal spot for showing off tattoos that are meaningful to you. The downside is that getting tattooed here hurts because of the concentration of nerve endings, thin skin, lack of muscle, and proximity to bone. Finger tattoos also fade faster because of the exposure and frequency of use. Consider this location if you're not afraid of the pain and want an unmissable piece.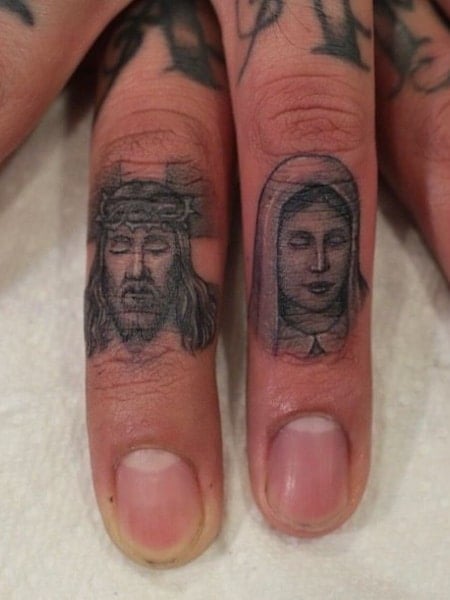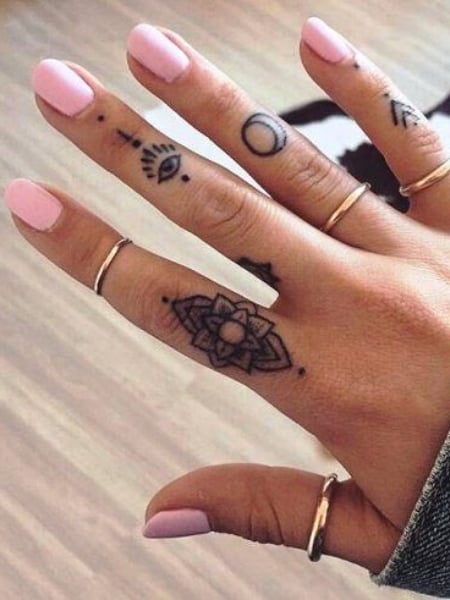 25. Symbol Small Meaningful Tattoos
Body art can be of anything, but meaningful tattoos are the best because they reflect your thoughts and feelings. Every tattoo is important to the wearer, but some designs are more thought-provoking than others. If you are searching for something simple but powerful, consider a small symbol inking. There is an option for everyone, from well-known and easily recognizable symbols like the infinity to Viking and Celtic-inspired designs. The Valknut, for example, is the image of three intersecting triangles and represents the "knot of the slain" and is closely connected with Odin and death. It is considered unlucky and can be worn by those who want to challenge this.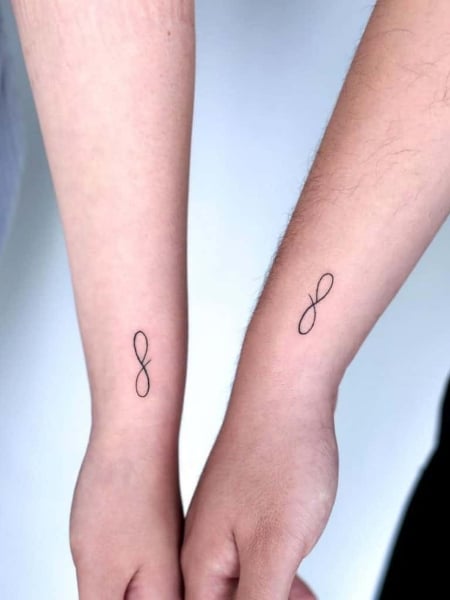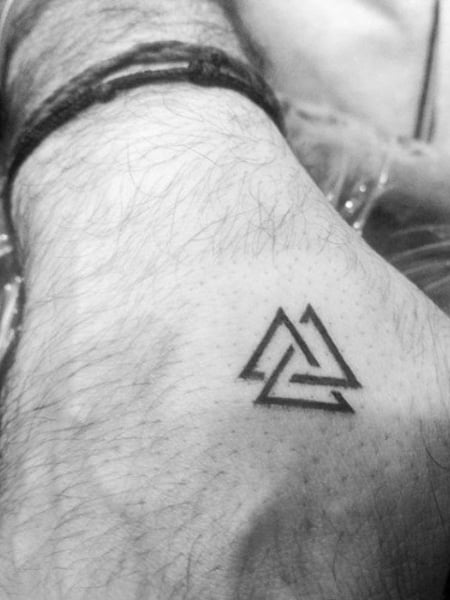 26. Meaningful Faith Tattoos
If your faith plays an important role in your life, a meaningful tattoo that incorporates elements of it is a great choice. The design of your choice can differ depending on your religion and can be as simple or detailed as you wish. This could include words and religious imagery. You can show the world your devotion or choose a hidden placement to make it a more personal inking. Or it could be about faith in yourself or others and tattooed to support mental health.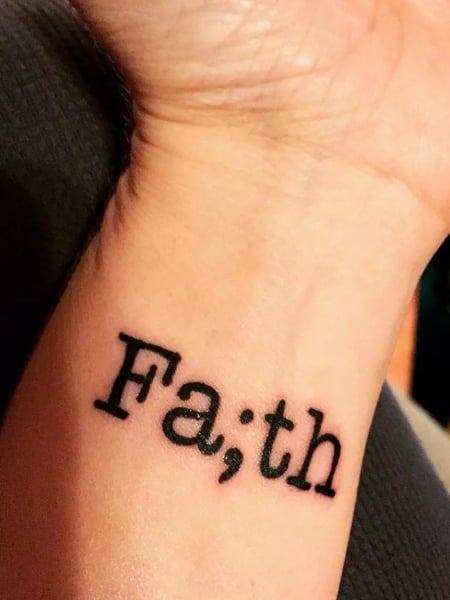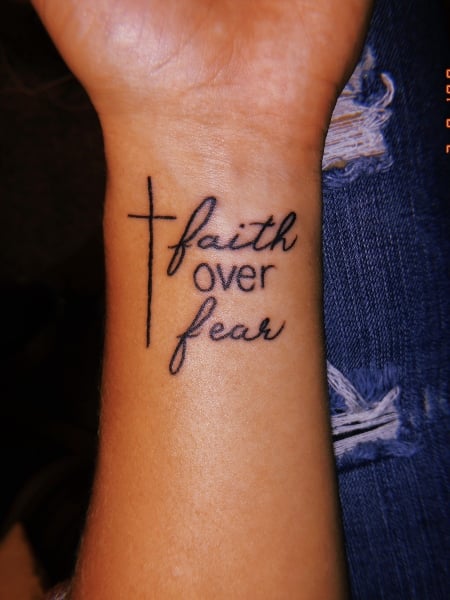 27. Meaningful Back of Neck Tattoos Small
The back of the neck is an excellent location for body art. It can take up the entire space or be a long and narrow design, starting at the top of the neck and working down the back and spine. This is a surprisingly versatile spot and much less visible than if it were at the front or side of the neck. It can also be easily covered if you have long hair or wear high-collared shirts. Plus, there is something edgy about this placement, as tough guys and criminals once favored it. The downside is that neck tattoos can be painful because of the area's thin skin and general sensitivity.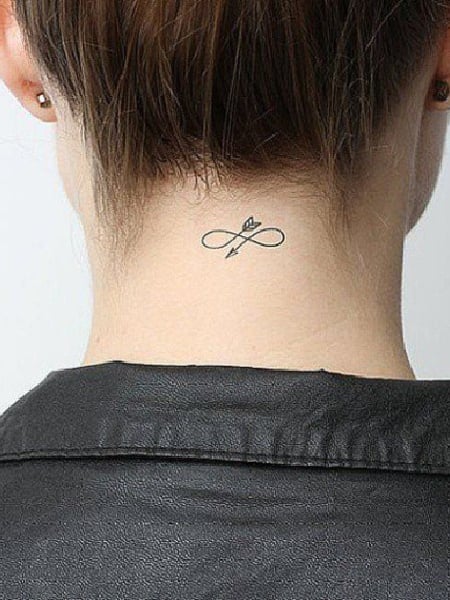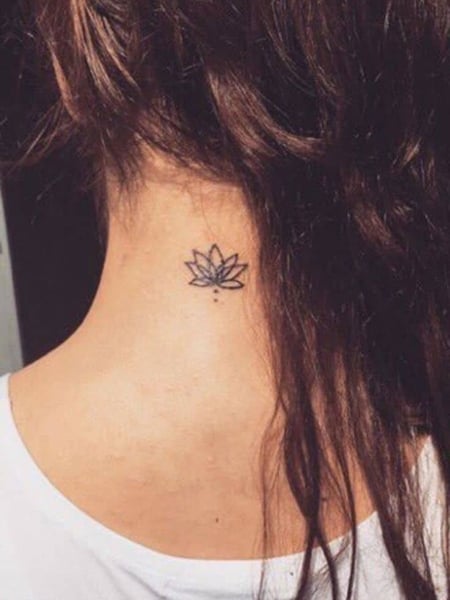 28. Meaningful Stick and Poke Tattoo
If you are looking for a different style for your next tattoo, consider the stick and poke tattoo method. This technique is created with a hand-held needle and a rod device. It can be more time-consuming to complete as each line needs to be repeated several times for the ink to take. The result is less precise artwork, making each design unique and imperfect. This in itself can make a powerful statement about how you feel, but the right design will look fantastic in stick and poke and can be incredibly meaningful to the wearer. They are thought to be less painful than electric tattoos, but they will not last as long.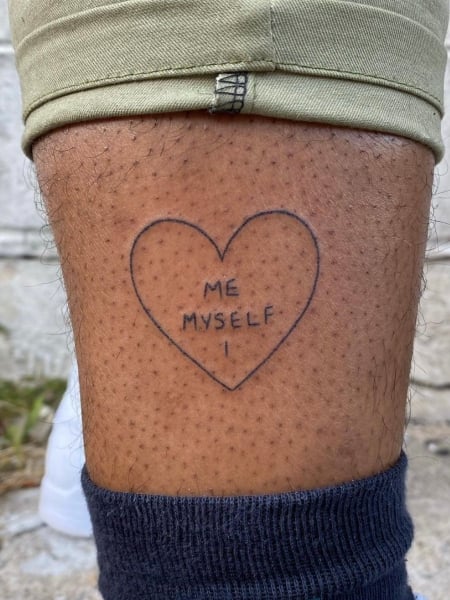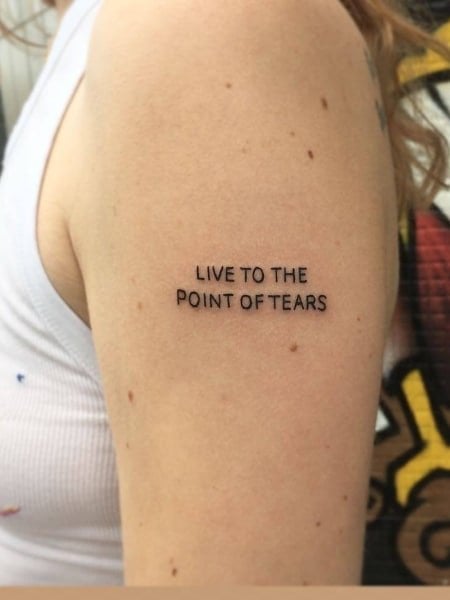 29. Meaningful Family Tattoos
Get a meaningful tattoo to honor your bond if your family comes first. Family can be your biological or adoptive family or the people you have chosen to be in your life, like close friends. There are many designs to choose from, including a family tree or portraits. You can also use quotes about what these people mean to you or add their names and dates of birth. What makes your tattoo meaningful is how you feel about it. Does it bring you comfort? Does seeing the names of your loved ones on your skin bring a smile to your face? These are the things to consider before deciding on your design.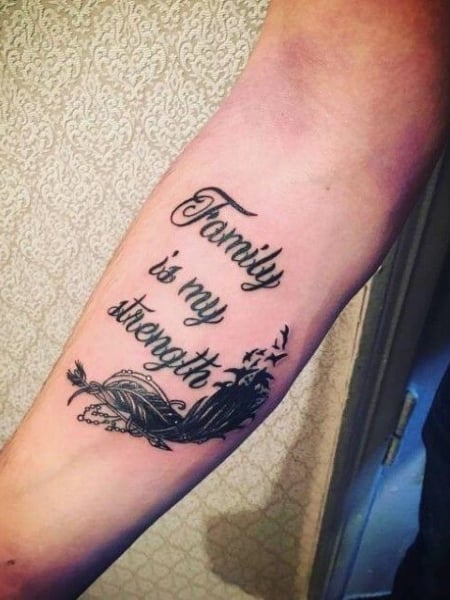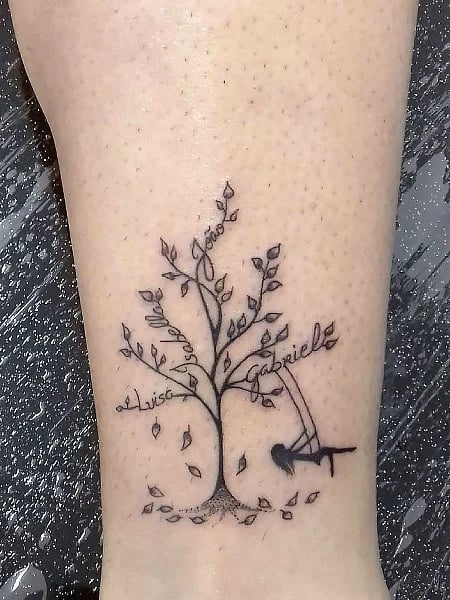 30. Meaningful Band Tattoos for Men
Armband tattoos look cool, but they are also symbolic. As the name suggests, these pieces wrap around the arm the way a piece of jewelry would. They can be varying sizes, from thin bands to larger ones, and you can determine the exact placement; some prefer it to cross over the bicep to draw attention to their muscles, while others opt for the wrist or forearm. Your tattoo can be a way to connect with your heritage or honor your ancestors. It can include tribal markings, geometric images, or be a decorated border or motif associated with an ethnic group or nation. This is a piece that you will likely want to show off, and the arm is a versatile location, letting you cover it up when you want.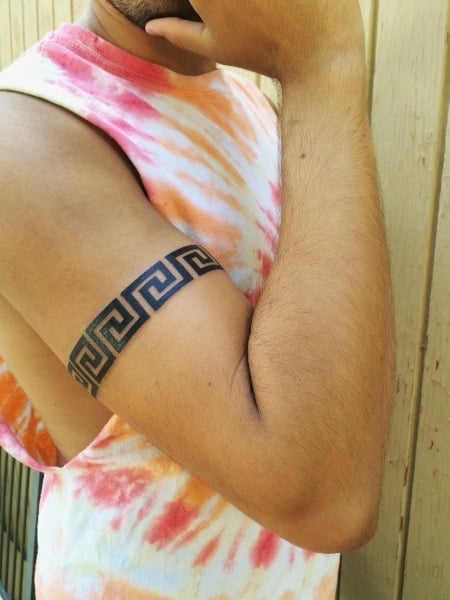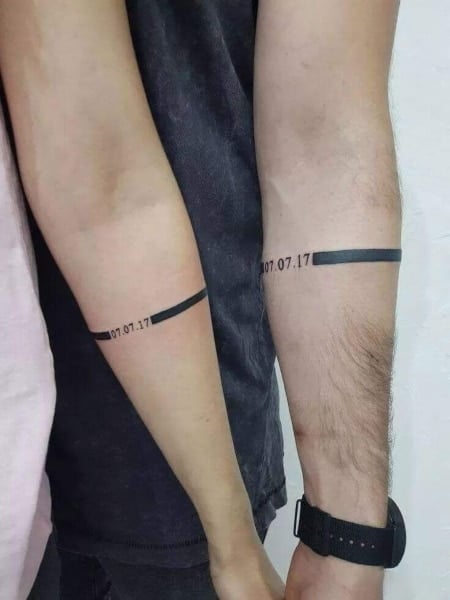 31. Meaningful Full Sleeve Tattoo
Sleeve tattoos take time and commitment to complete, but the result is a striking, detailed design. Sleeves are incredibly meaningful because they combine several images to tell a story unique to the wearer. These pieces are very creative, and a lot of thought has gone into their placement to make them appear seamlessly blended. Designs are typically created around a theme, for example, family. They also work best when all the images are done in the same style, such as American Traditional tattoo or realistic. You can expect to spend a lot of time and money on these inkings. While some areas can be painful, the arm provides cushioning with thick skin, muscle, and fat.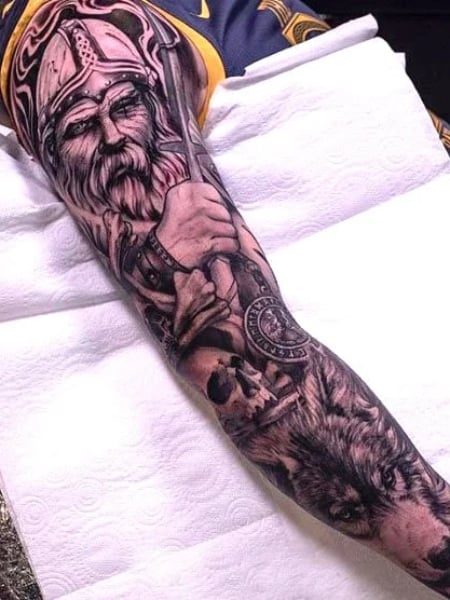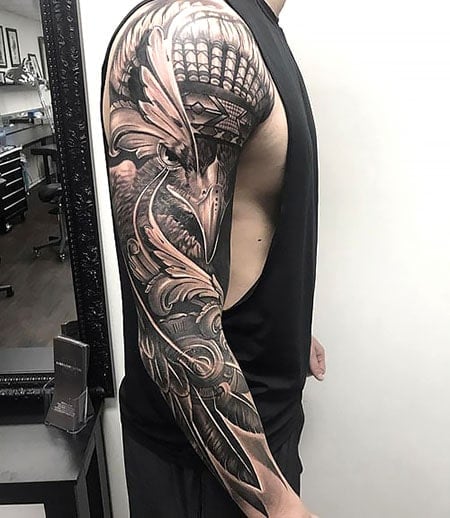 32. Meaningful Paw Print Tattoo
Pawprint tattoos are adorable and simple designs, but they are also meaningful. It can be a way to show love and loyalty or be inked in honor of your beloved pet. Although dog and cat paws are the most popular choice, nothing is stopping you from getting tattooed with your favorite animal. This could be a bear, fox, or rabbit. The meaning associated with your tattoo can also shift because every animal represents different qualities. Your design can be inked big or small, giving you versatility with your placement. Some prefer a more minimalistic approach, opting for tiny tattoos that can be inked anywhere; others want to combine several paw prints and other details, including nature or a name. This will give your piece a unique finish.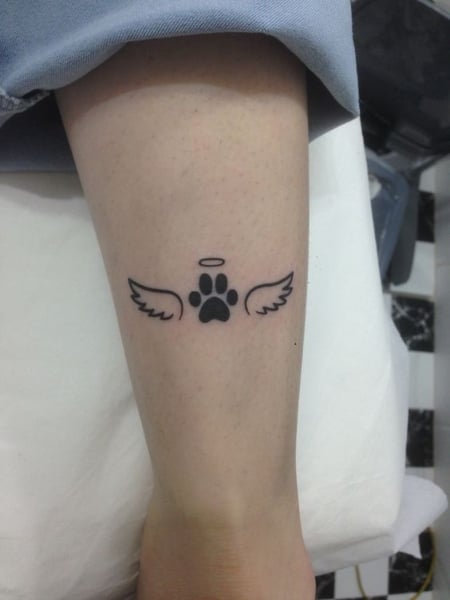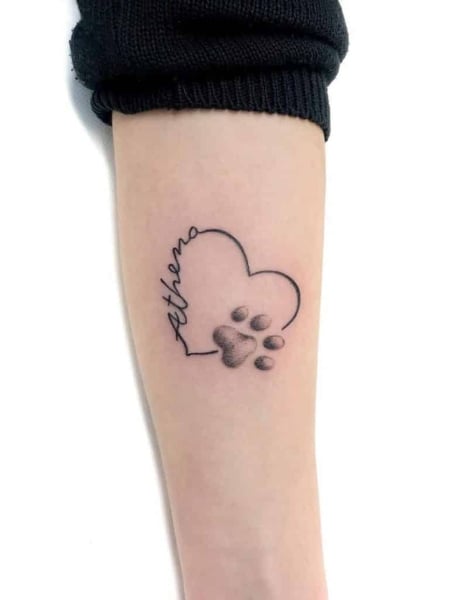 33. Meaningful Scorpion Tattoo
The scorpion is a creature that is respected and feared. The image of this predatory arachnid has inspired countless tattoos and has long been favored by those on the fringes of society, making them look tough and serving as a warning that they are not to be messed with. That said, scorpion tattoos have become mainstream, and while they can still have a rebellious feel, you can make your design unique and meaningful. This includes adding other images to your piece, such as flowers. This will provide a nice contrast between the power and sexuality of the scorpion and the growth and beauty of the bloom.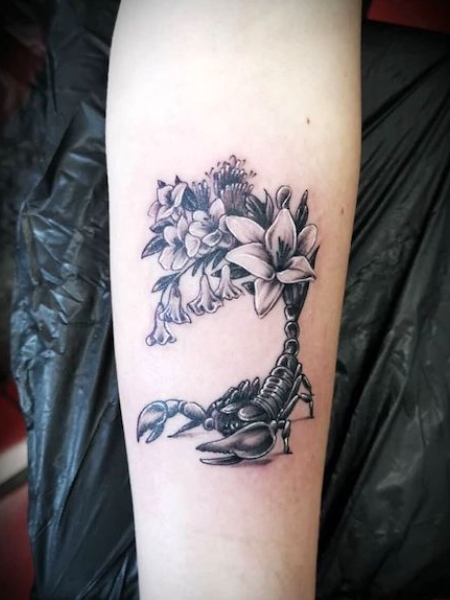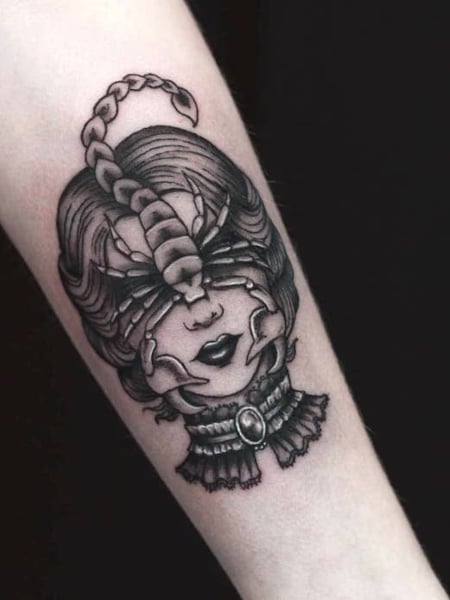 34. Meaningful American Traditional Tattoo
There are few styles as fun as the American Traditional tattoo. These pieces are easily recognizable because of their bold color, limited shading, and thick black lines. Each design also has a very distinct look, and these designs are often created using specific themes, most notably nautical or zoomorphic. Depending on the image you choose, your tattoo will have a variety of meanings. For example, the anchor is associated with stability, calm, and strength. This is a fantastic choice for body art that you want to stand out as it is often unmissable. It works well on the arms and legs, or you can pick somewhere even more daring, like the neck or hand.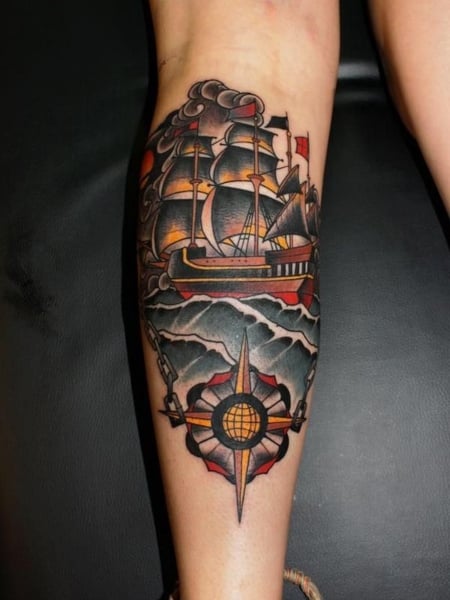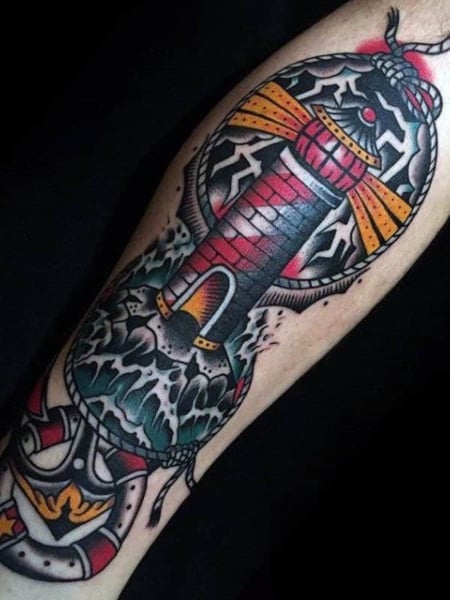 35. Meaningful Music Note Tattoo
Music is meaningful to all of us in different ways. It can move us, inspire us, and can calm us. Your choice can be of anything, including a single music note, a sheet of music, or it could be lyrics or an instrument. Music tattoos are associated with memory and can take you back to a time when you were happy. Perhaps there is something from your childhood you want to remember with a music tattoo? Or maybe your design is dedicated to overcoming pain and loss. Regardless of what you choose, this is one of the most beautiful and personal choices for body art and can say a lot about the wearer.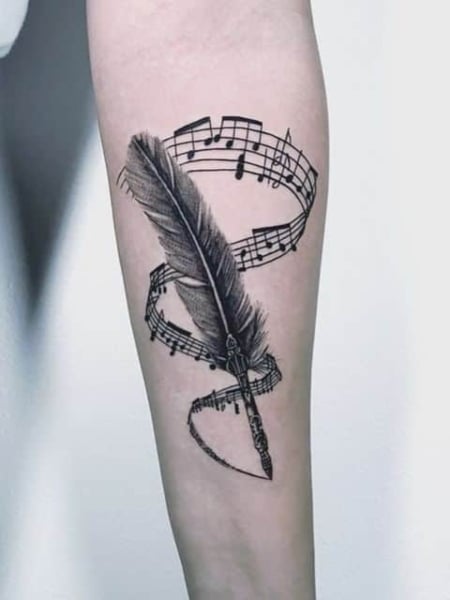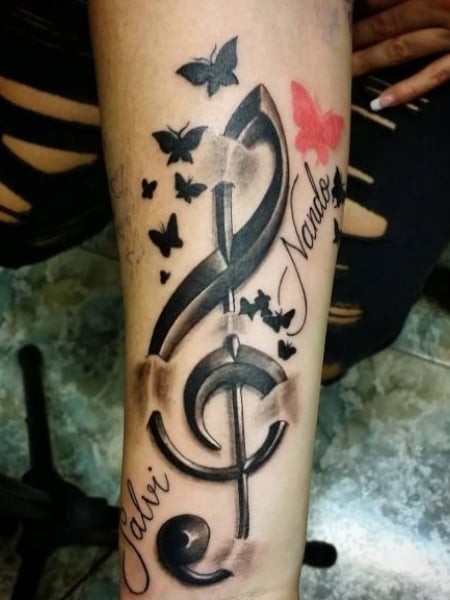 36. Meaningful Infinity Tattoos
The infinity tattoo symbol makes for a simple but meaningful tattoo and represents endless love and commitment. It is a popular choice for those who want to celebrate their relationship with a romantic partner and show dedication. It is also inked to showing devotion to your faith or the importance of family. The symbol is small and basic, allowing you to ink it anywhere on the body. It can also be personalized, including words, images such as birds or anchors, or names and dates. Adding to the design makes it more unique and lets you express your thoughts and feelings.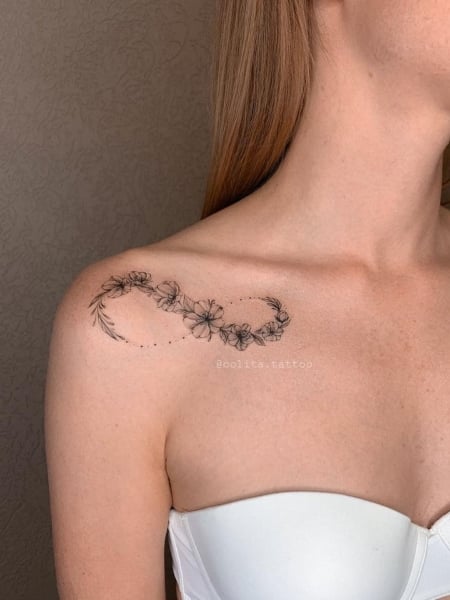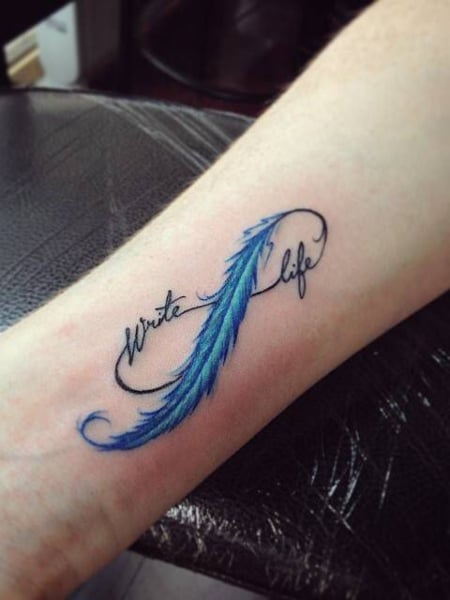 37. Meaningful Collarbone Tattoo
There are few better locations for body art than the collarbone. Men and women favor collarbone tattoos because it draws attention to one of the most flattering parts of the body. This is an area where tattoos can look delicate and can be inked, small, or large, demanding attention. There are many ways to make your piece meaningful, including adding a quote that runs along with the collarbone or inking flowers, birds, or feathers. Keep in mind that the area can be painful to get tattooed because of the proximity to bone, and larger designs will hurt more. The location can easily be covered up, making it a discreet option.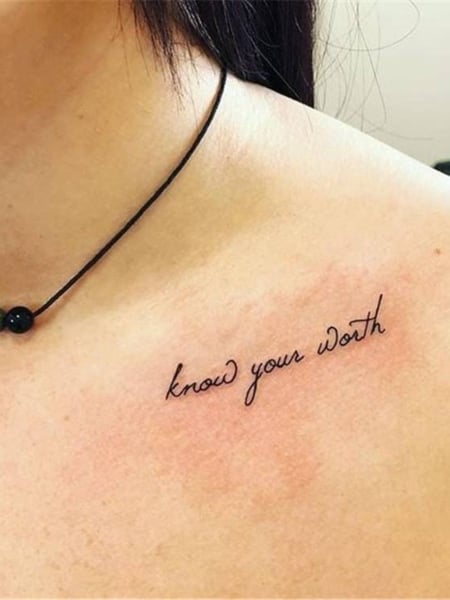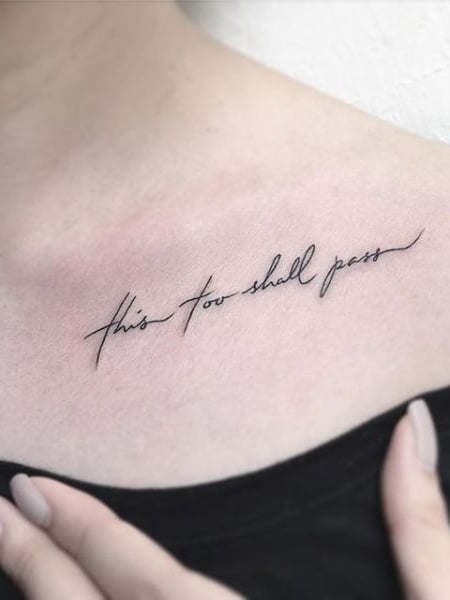 38. Meaningful Sun Moon and Stars Tattoo
The sun, moon, and stars are often tattooed together. The images represent the universe and are associated with balance and opposing forces. It can also make you think of dreams and mystery and is a great piece to get creative with. Your chosen design can also represent the family as the moon is often linked to femininity while the sun is masculine, and the stars can be the children. If this is the meaning you want to be associated with your tattoo, you can let each star correspond with a family member or child.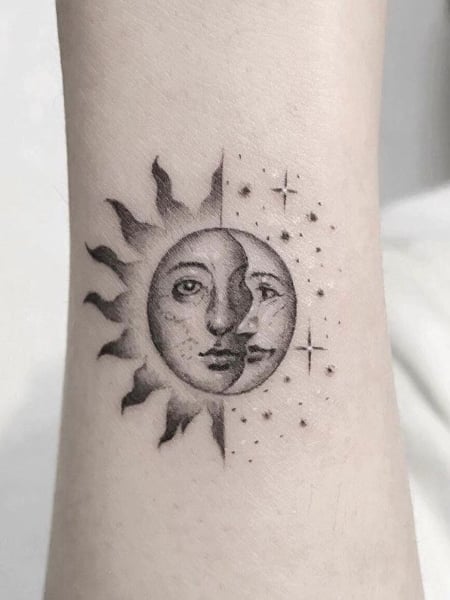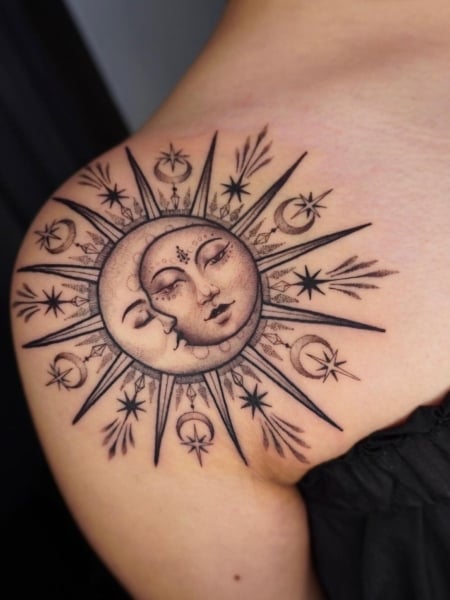 39. Meaningful Side Wrist Tattoos
The wrist is one of the most versatile locations for body art. There are also different areas on the wrist where you can focus your body art, from the inner wrist to the side. The side is less discreet and works best with long and narrow designs like quotes, words, or flowers. It is the perfect spot for something meaningful, and you will be able to look at it every day. This is great if you want to remind yourself why you got it inked in the first place. Is it a motivational mantra? Or perhaps it is a flower that reminds you of your journey toward personal growth and inner beauty. The downside is that ink here can be painful, especially over the bone.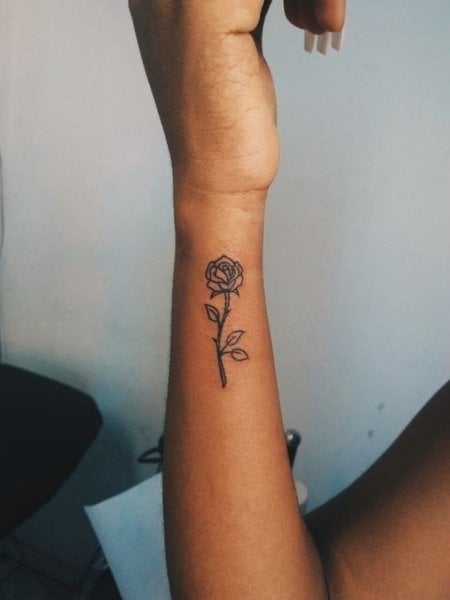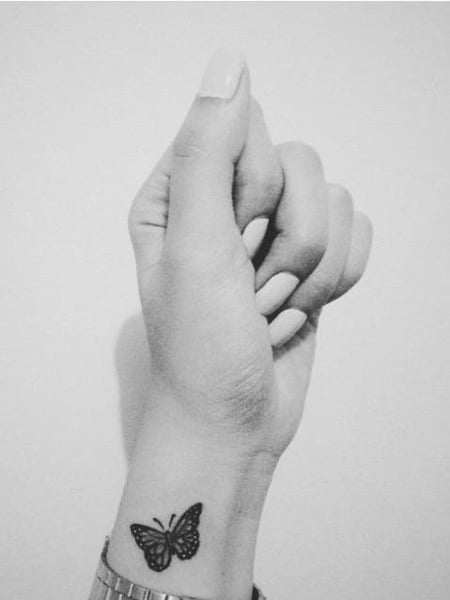 40. Meaningful Forearm Tattoos
The forearm is versatile for body art and is also low on the pain scale. The appeal of this location is that it can be covered up easily but also shown off. There is enough space to create a somewhat detailed design, letting you use the entire area and combine several images. This could include a clock and rose or an eye and ray of light. Plus, small and simple pieces look just as good here. However, perhaps the most appealing thing about forearm tattoos is you get to look at them every day. This is ideal for a meaningful design that you want to keep close at all times and remind yourself of why you got it tattooed.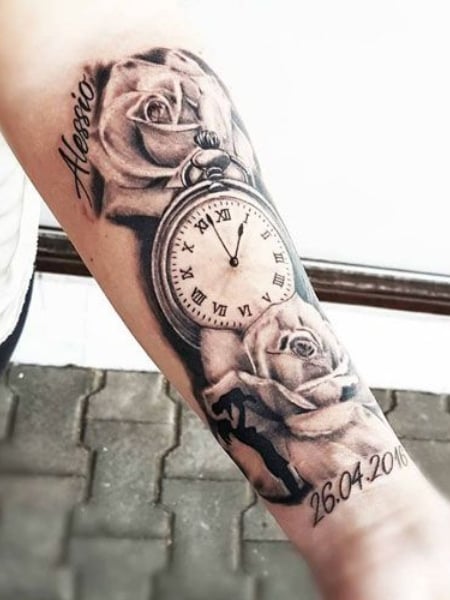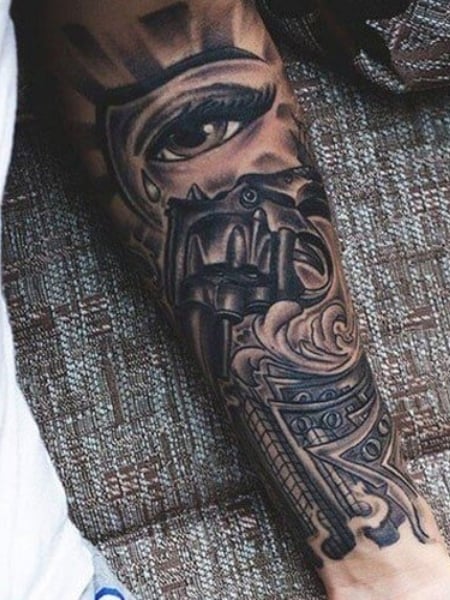 41. Meaningful Christian Tattoos
Those devoted to their religion and who want to express this can do it through body art. Christian tattoos are a way to honor your faith or celebrate your relationship with God or Jesus Christ. There are many images to choose from, including praying hands, rays of light, the cross, or doves. Each choice is deeply meaningful and rich in symbolism, allowing you to choose the option that best fits with your feelings and the statement you wish to make. You can keep it small and simple, with two intersecting lines. Or opt for a bold, detailed full sleeve tattoo that combines images to tell a story. Your inking may also benefit from the addition of a Bible verse or could include the names of loved ones you want to be protected.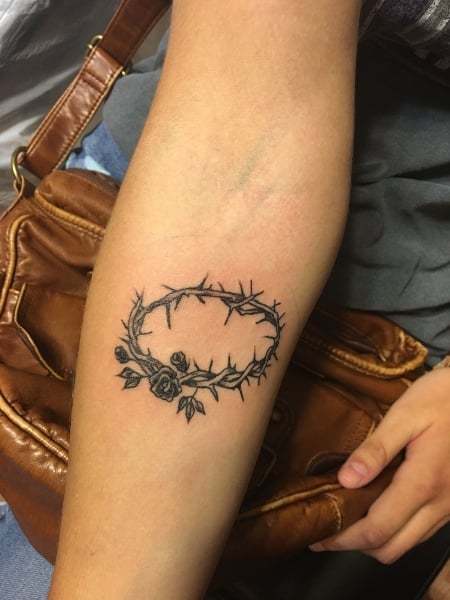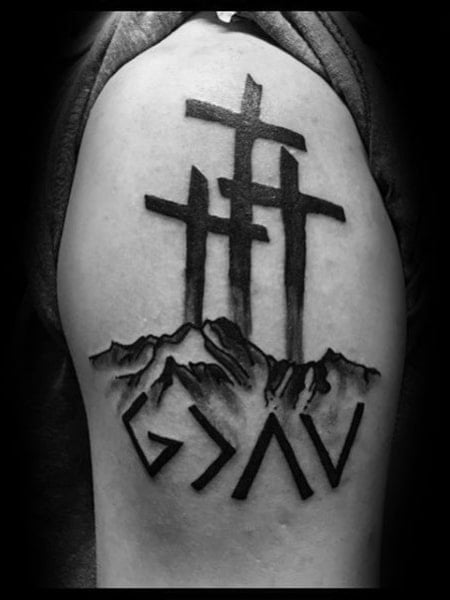 42. Meaningful Grandchildren Tattoos
There are many ways to celebrate the bond shared between grandparents and their grandchild, including with a tattoo. This is a sweet and meaningful way to show the world the importance these people have in your life and will likely bring a smile to your face every time you see it. For this reason, it may be best to choose a visible placement, such as the wrist or forearm. There are endless possibilities when deciding what to ink, allowing you to get truly creative. You can get inked with one of your favorite drawings your grandchild made for you or choose to honor one or several of them by selecting a design that includes their names.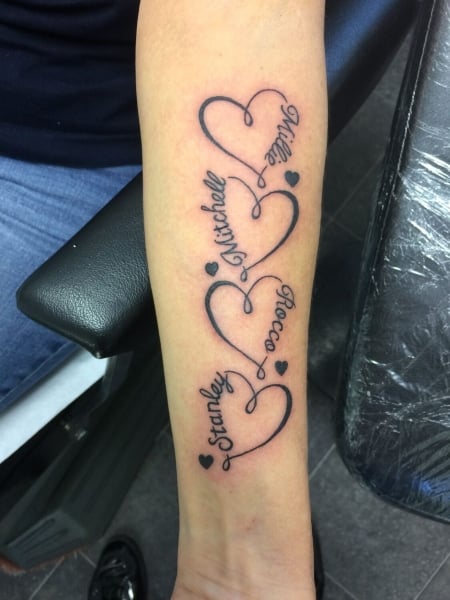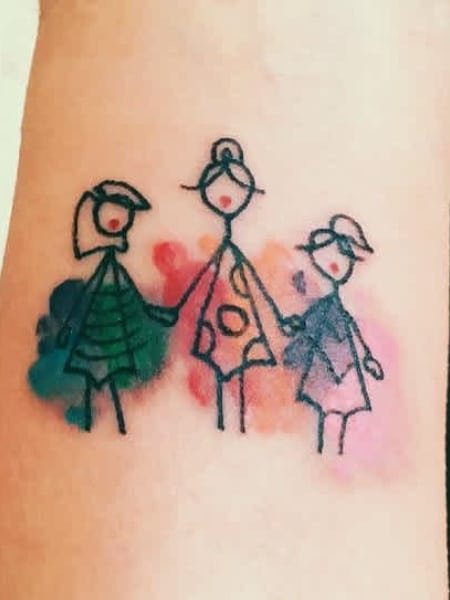 43. Meaningful Inner Arm Tattoo
Consider an inner arm tattoo if you are looking for a discreet placement for your next inking. The great thing about tattooing the inner arm is it is much less noticeable. This makes showing off your piece more intimate and personal, which can add to the meaning of your chosen design. The inner arm provides you with enough space for something detailed, but most people prefer to keep it small and simple; ideas include a quote or an outline of a flower, animal, or similar image. The drawback is that body art here can be much more painful than on the outer arm because of the concentration of nerve endings. Therefore, it should be a location reserved for those who can tolerate the pain of tattooing.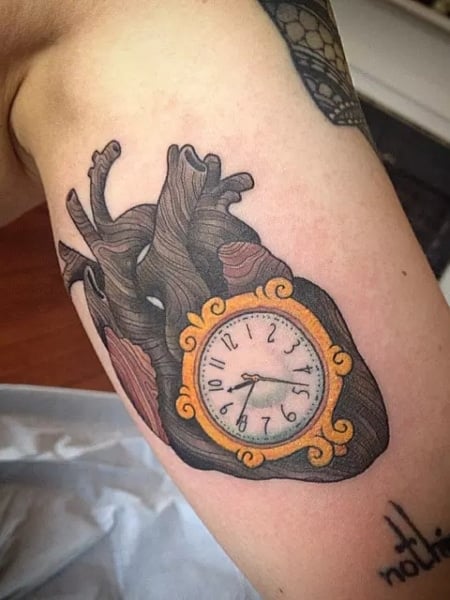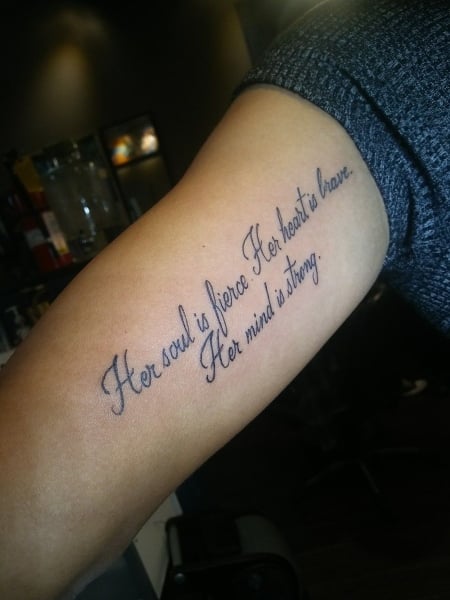 44. Meaningful Arrow Tattoo
Arrow tattoos represent direction and focus. They are commonly inked by someone who wants to remind themselves that they are on the right path and stay determined and focused. The arrow has importance to the Native American peoples, where it was used as a weapon for protection, hunting, and fighting. Although you can choose a realistic portrayal of the arrow, it has also been personalized, adding to the meaning. This includes designs like an arrow and compass, representing a new chapter in the wearer's life, or an arrow and name tattoo. The placement is also important, and this design works best with long, narrow areas like the outer wrist, forearm, and leg.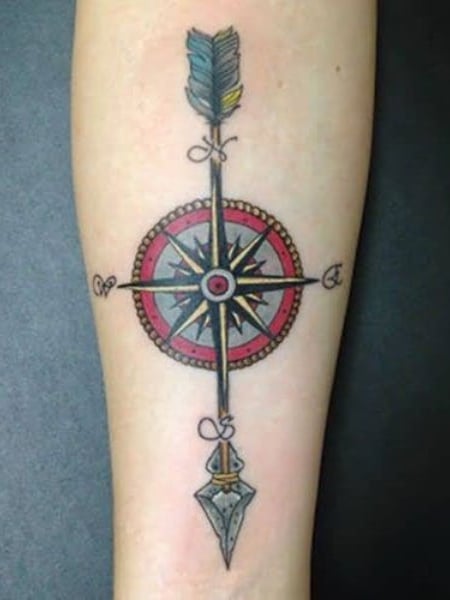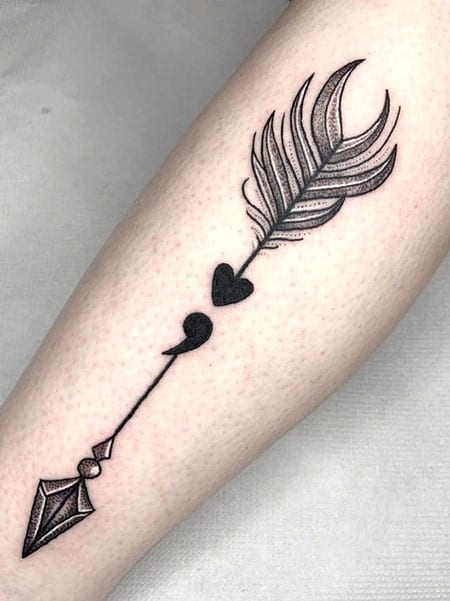 45. Meaningful Frog Tattoos
If you are drawn to the ideas of peace, prosperity, and success, then a fantastic tattoo would be of a frog. The frog has many positive associations, making it an appealing design for someone who wants to motivate themselves to achieve their goals or dream big. Your frog design may represent danger and beauty and be a reminder to yourself to be wary of those you trust. Or that not everything is always as it seems. This is because many beautiful species of frog are also poisonous.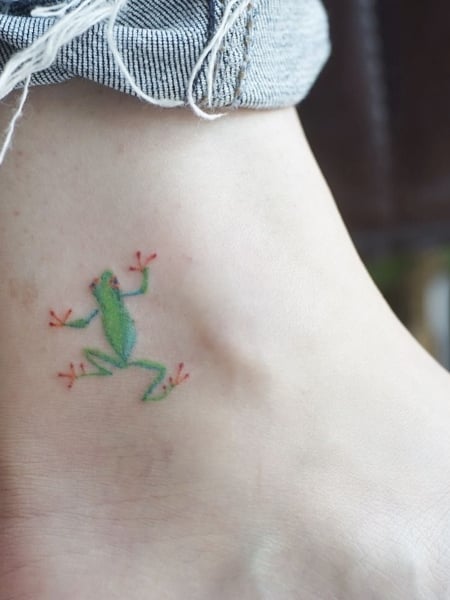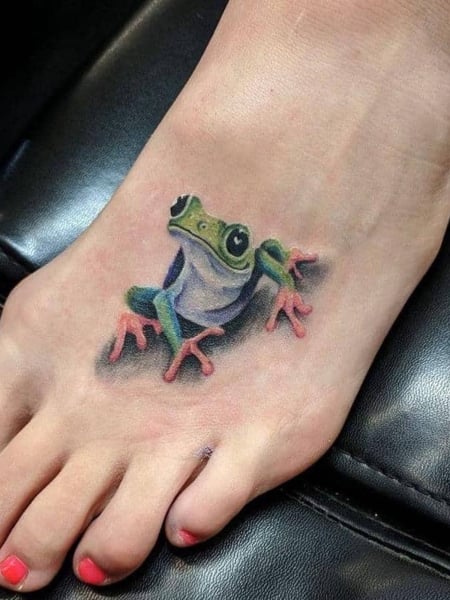 46. Meaningful Cherokee Tattoos
It could be offensive to get inked with a Cherokee-inspired tattoo, and it is important to do your research into your chosen design beforehand. For example, an image of the headdress is sacred and should require approval, even if it is a way to feel closer to your roots. That said, your inking could also be a way to honor the Cherokee nation, showing your appreciation for them or celebrating your ancestral heritage. When deciding on a piece, it could include symbols or objects that are meaningful to these people or could be a more abstract approach, reflecting your thoughts and feelings.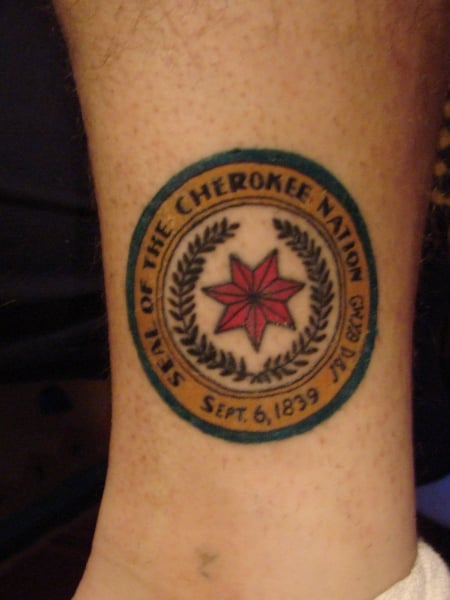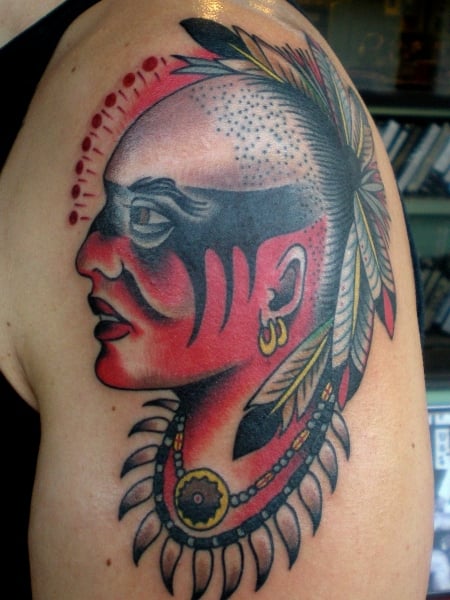 47. Meaningful Ladybug Tattoo
Ladybugs make for a pretty and symbolic tattoo associated with good luck, love, and happiness. The appeal of a ladybug tattoo is that it can be inked small, allowing you to place it anywhere on the body. It can also be combined with other images to add to the overall meaning, including flowers, wreaths, and quotes. Although you can get tattooed in black, this design benefits from color, allowing you to show off the brilliant red that makes the ladybug special. Red is also a bold hue and will demand attention.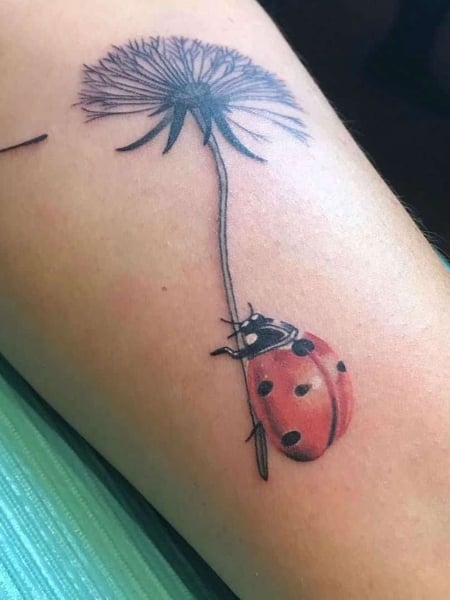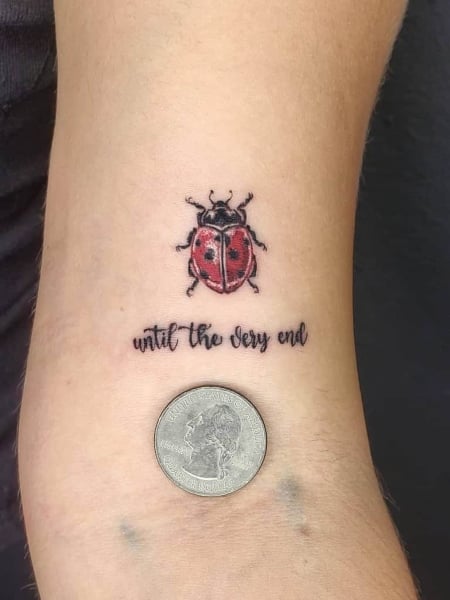 48. Meaningful Motorcycle Tattoos
If you love adventure and exploration, what better way to depict this than with a motorcycle tattoo? If this is the meaning you wish to convey with your body art, then a general image of a motorcycle will do. Or your piece could focus on a specific model if you are a motorcycle enthusiast. Perhaps this is your dream bike, or it could be something from your childhood associated with a happy memory. Motorcycle tattoos are also associated with rebellion and strength. Think of the symbolism you want to be associated with your piece and work with your tattoo artist to find an image that accurately represents this.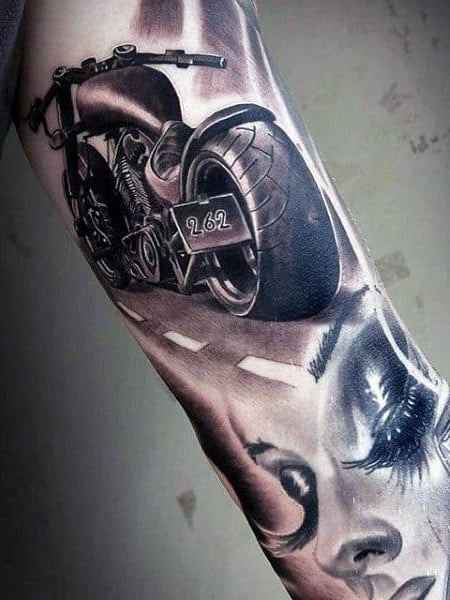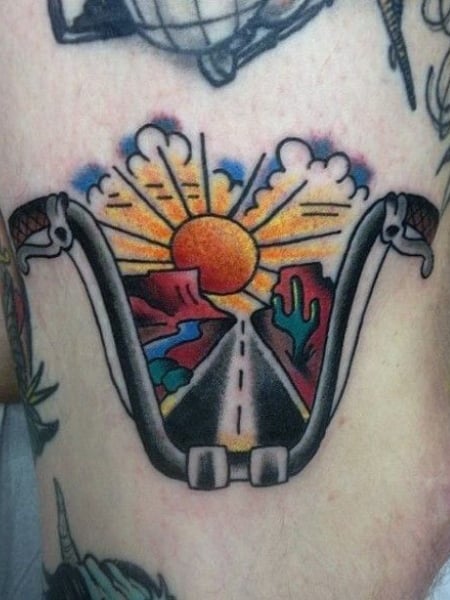 49. Meaningful Feather Tattoo
Feather tattoos represent freedom, wisdom, and strength. They can make you feel free and represent all of your desires. The meaning can also change depending on the bird you choose; for example, a peacock is associated with beauty and pride, while an eagle represents bravery. To make your piece more meaningful, you can include other imagery or focus on quotes, names, and dates. Feathers work well in various styles and can benefit from color ink, giving them more detail. They also look good inked anywhere on the body, especially on long and narrow areas. Popular choices would include the forearm or the collarbone, which lend themselves well to the shape of the feather design.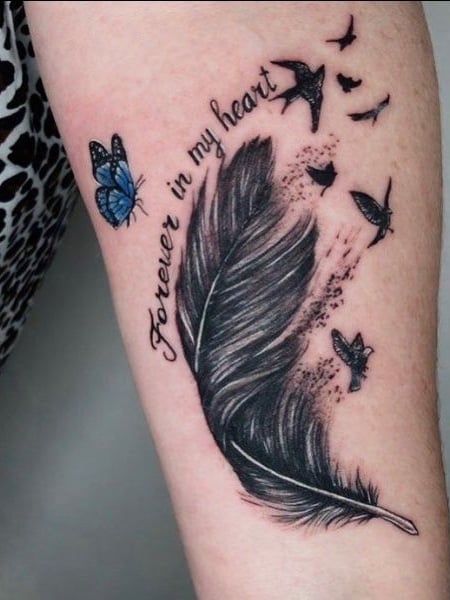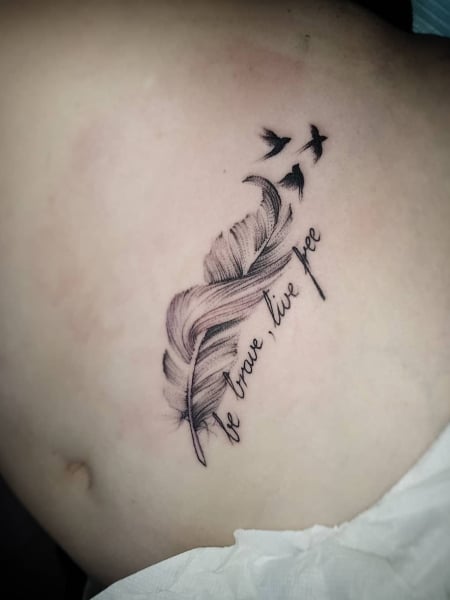 50. Meaningful Moon Tattoo
The moon is symbolic of change, growth, and femininity. It can also be inked to represent light, love, and mystery. The appeal of a moon tattoo is that there are many ways to make it personal, adding to the meaning to reflect your thoughts and feelings. This can be achieved by combining several images, including the moon and sun, representing balance. Or the wolf and the moon, an image of loyalty and spiritual guidance. You can also show the moon in different phases; the full moon is linked to mystery and magic, while the crescent moon symbolizes change and hope.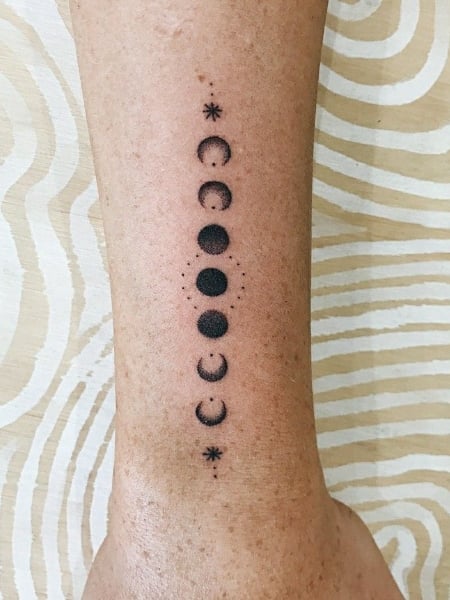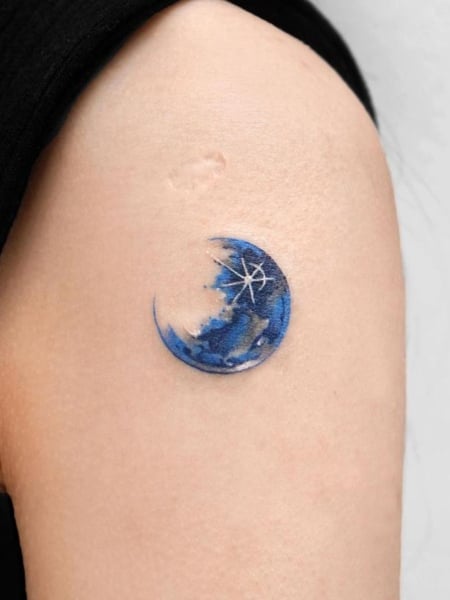 FAQs
What is a meaningful tattoo?
A meaningful tattoo is a broad term that can be applied to most tattoos. Each piece is special to the wearer somehow, which is why they got it inked. Some designs have more symbolism associated with them and can be personalized to make them unique and special. This could be with the inclusion of important dates, names, coordinates, and words or quotes. A meaningful tattoo should be a way to express yourself and share your thoughts and feelings.
How to choose a meaningful tattoo?
What means a lot to you? What makes your life better and complete? And will you like having this etched onto your skin forever? These are questions you should ask yourself before getting tattooed. When deciding on your tattoo, you should consider how you can make it unique to you or represent the way you feel. Choosing pieces that bring you joy or comfort are meaningful. Your ink could honor your faith and show your devotion or celebrate the important people in your life.
Do tattoos have to be meaningful?
In some ways, all tattoos are meaningful because there is a reason someone chose them, but no, tattoos do not have to be meaningful. Your body art is a freedom of expression, which means it can be as deep and thought-provoking as you want it to be.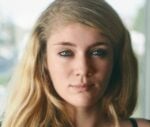 Cailyn Cox holds a degree in journalism and has been working with The Trend Spotter as a writer for over ten years. She has worked with some of the most prestigious women's and men's lifestyle publications. For her, writing is not just a job; it's a passion, which is why each article she writes is approached with such enthusiasm and dedication. She has extensive knowledge of hairstyles, tattoos, and beauty and has made a career out of creating informative articles that appeal to women and men of all ages.
SUBSCRIBE TO OUR NEWSLETTER
Subscribe to our mailing list and get interesting stuff and updates to your email inbox.