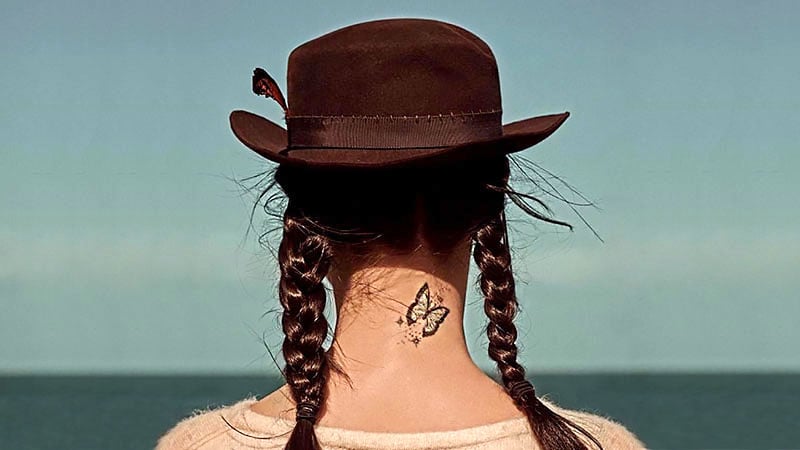 From delicate gossamer species to bold and colorful designs, the papillon is one of the most beautiful animals on the planet. These creatures are unique just like you, so why not immortalize them by inking one on your body? There are many meanings behind this stunning concept, and it looks impressive in any art form. You've earned these wings – wear them with pride! If you're planning on your first piece or adding to a collection, these beautiful butterfly tattoo designs will inspire you.
1. Small Butterfly Tattoo
A small tattoo is the perfect piece of ink for your first tattoo or addition to a sleeve. These delicate choices are subtle and dainty so that you can place it anywhere. For those who want to put it somewhere that's easily hidden, opt for your ankle or wrist. This is a perfect option for those who love elegant and petite designs.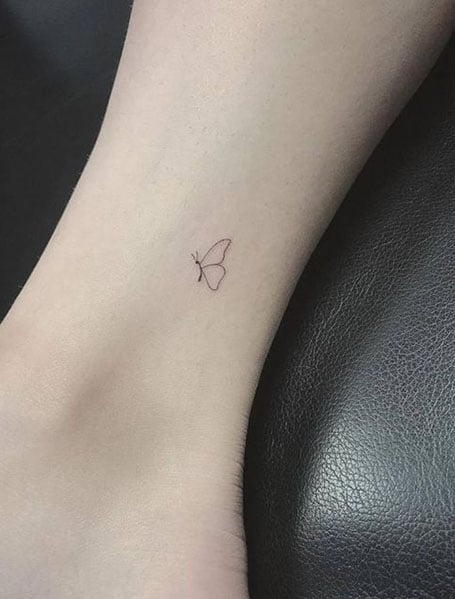 2. Tiny Butterfly Tattoo
Teeny tiny tattoos are one of the trendiest designs at the moment. These are cute and subtle, and you can get them done anywhere on your body. From behind your ear to your lower arm, there are so many options to choose from.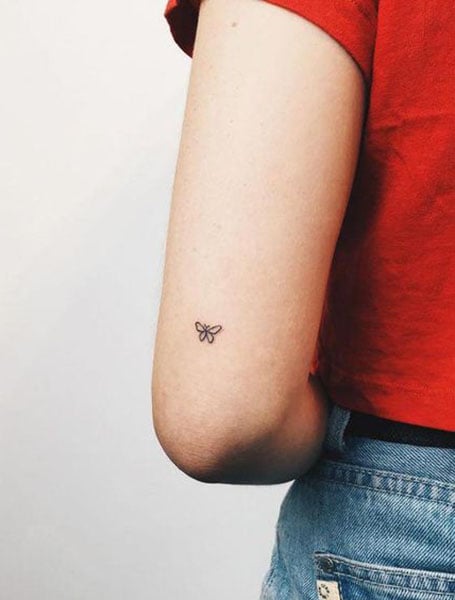 3. Simple Butterfly Tattoo
A simple tattoo design can last the test of time, and its meaning resonates with everyone. It represents freedom and beauty, so why not create a style that represents its meaning? Leave the wings empty, and let the black ink do the talking. This can be large or small and dainty – the choice is yours.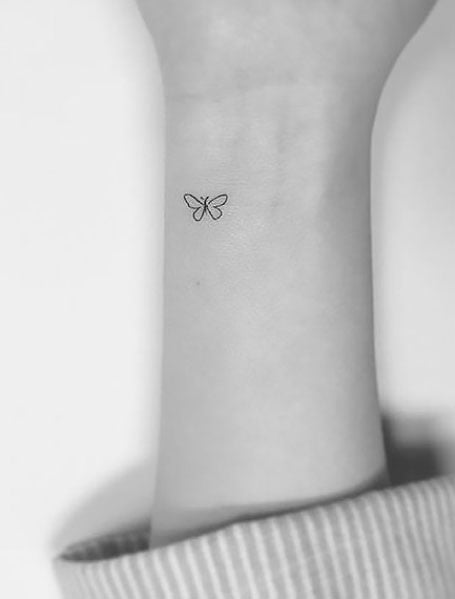 4. Monarch Butterfly Tattoo
The Monarch butterfly is the ultimate symbol of beauty and royalty. This classic design is timeless and sure to get you plenty of compliments. Choose from a traditional style with the gold wings, or add a modern twist by replacing one of the sides with a bouquet. When choosing an artist, ensure they have experience with detailed artwork – every detail matters with this piece.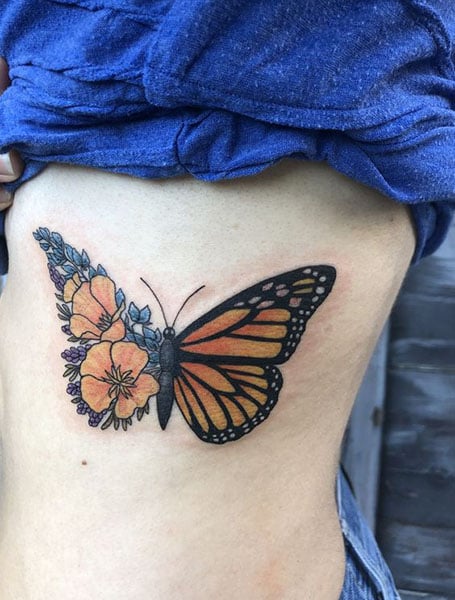 5. Blue Butterfly Tattoo
The blue butterfly portrays more than just beauty – it also represents joy and luck. These are stylish and timeless pieces of ink that will last a lifetime. The pigment with this shade typically lasts longer than others, so you can ensure that the stunning hue with be with you for life. Opt for a single insect or multiple- there are so many options to choose from that can resonate with you!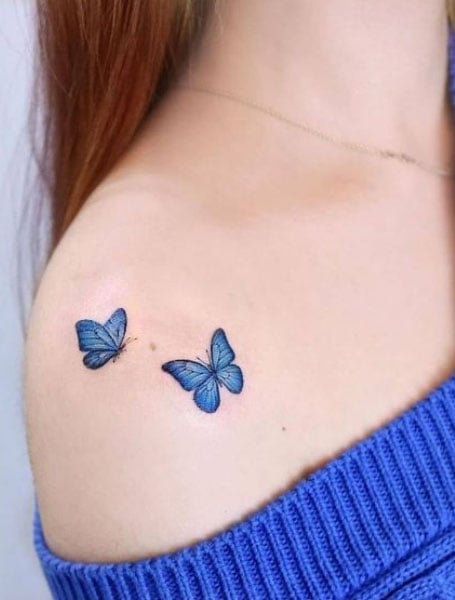 6. Butterfly and Rose Tattoo
Combining a rose tattoo and a butterfly signifies passion, love, and transformation. This is a classic and timeless design that is both feminine and stunning. In Greek, the word for butterfly is psyche, which is also the name of the Goddess of Love, so if you choose this incredible ink, you will carry the meaning of adoration and gentleness with you everywhere.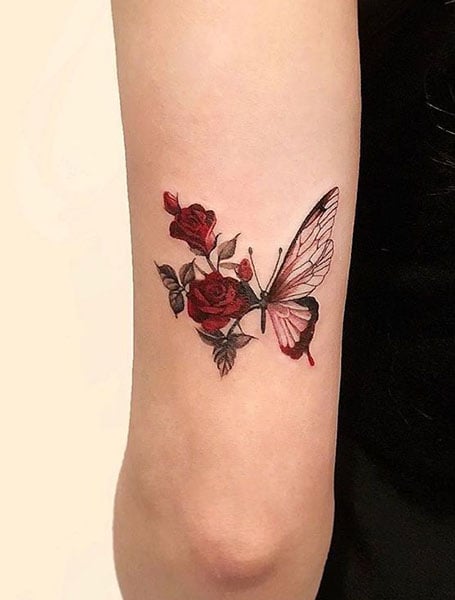 7. Butterfly Skull Tattoo
A butterfly paired with a skull tattoo is the ultimate symbol of mortality and new life – together, they represent the circle of life. With connections to nature, there's no better reason to have this ink on you forever. Choose placement on your thigh, arm, or even your ribcage – these designs tend to be slightly larger, so it's best to accommodate the right space for it. Add a few roses to the mix, as they resemble beauty and love. It's a stunning piece with a story to tell.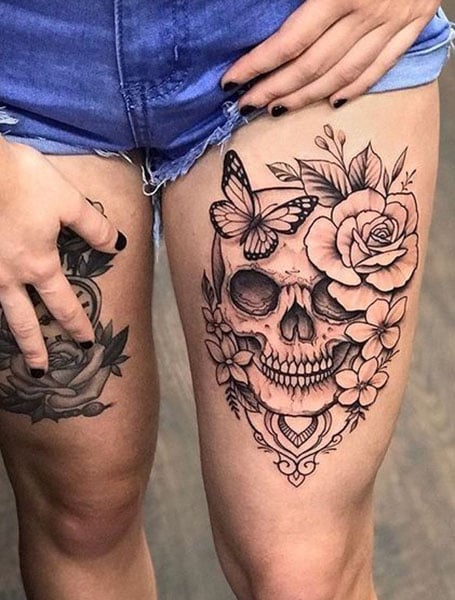 8. Semicolon Butterfly Tattoo
Combining a butterfly and semicolon tattoo represents strength and resilience, showcasing overcoming hard times and struggles. This ink is a stunning choice for those who want a powerful reminder of their inner strength to meet the challenges in life and the ability to re-write their story. Opt for a side shot of the insect and have the punctuation mark act as the butterfly's body. This looks best on the wrist, as it sits in one of the most sentimental spots on the body.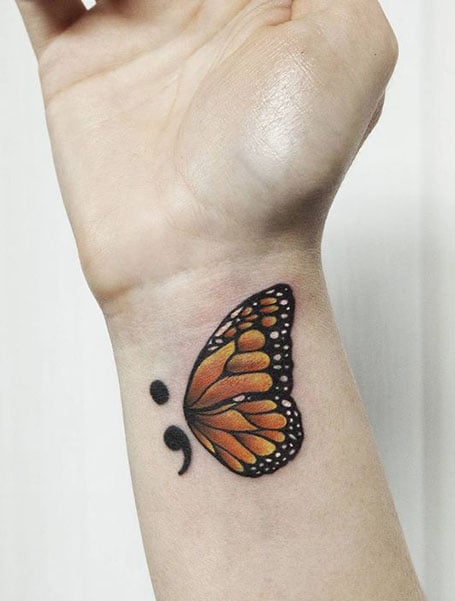 9. American Traditional Butterfly Tattoo
These American traditional tattoos go back decades, so why not depict the meaning of a transformative butterfly with this everlasting style? This bold and vibrant ink is a great idea for someone's first piece – you can even add it to a sleeve for a timeless feel. This design became popular in the '30s and represented freedom – it's the ultimate symbol of independence.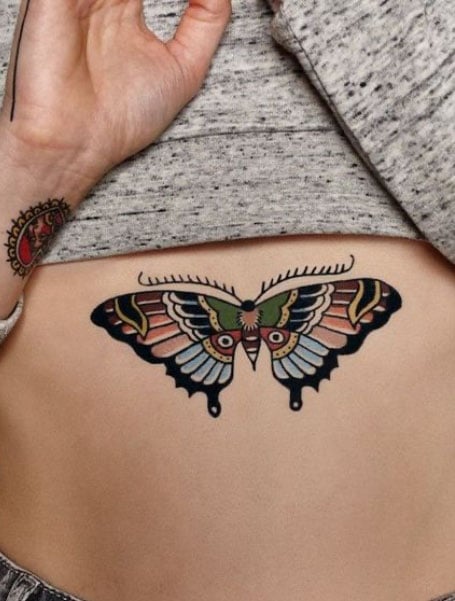 10. Watercolor Butterfly Tattoo
If you're a fan of beautiful artwork, you can't go past this watercolor tattoo. This is a delicate and finely detailed concept, so be sure you find a reputable artist who can replicate it entirely. When considering this design, avoid placing it anywhere that will be heavily exposed to sunlight. This style may fade faster than traditional pieces – be sure to take proper care of it so you can see its beauty for years to come!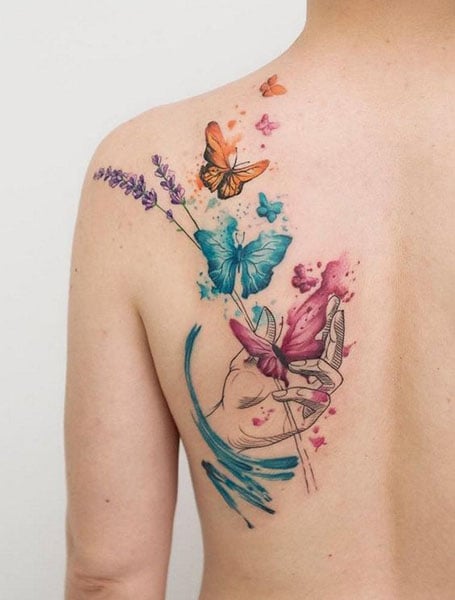 11. Butterfly Tattoo with a Name
Keep the ones you love with you everywhere you go with a butterfly and name tattoo design. The combined symbolism of this ink represents love, faith, and rebirth – it's the best option to remember your loved ones or people close to your heart. Feel free to add roses, as they depict hope, joy, and new beginnings. This tattoo will hold extra significance for you every single day.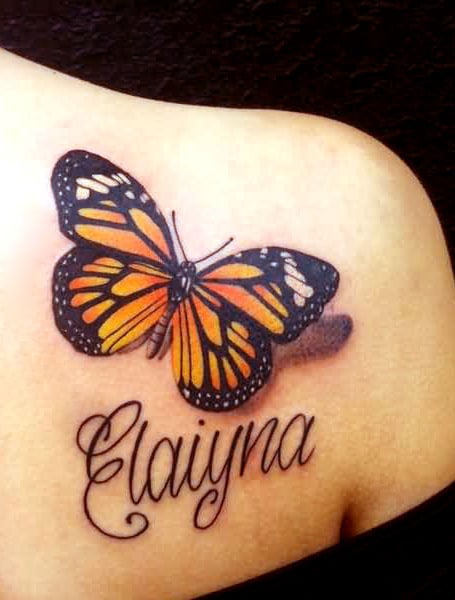 12. Tribal Butterfly Tattoo
A tribal tattoo is an enormously significant piece for its wearer, so why not add to the symbolism with a butterfly? The connection between these two designs represents beauty, rebirth, and good luck. This ink looks excellent anywhere on the body, but opt for your back, shoulder, or ankle if you're searching for maximum impact.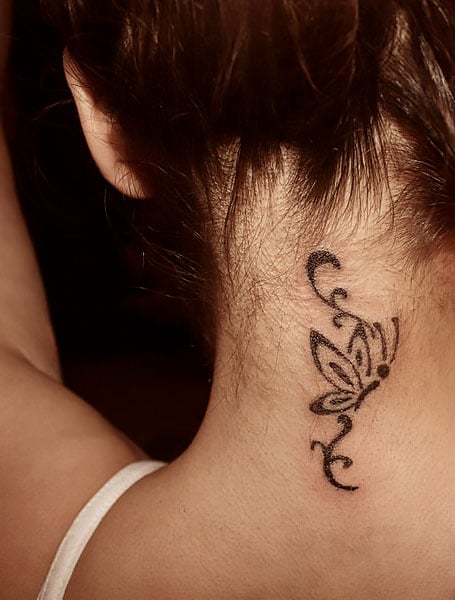 13. Unique Butterfly Tattoo
You're one in a million, so why have the same ink as everyone else? The butterfly design means something different to each wearer, so add your symbolism to it by keeping it unique. Make the insect's wings into the eyes, combine it with a bouquet, have several sizes in one spot, or add multiple colors. Have a chat with your tattoo artist before deciding on anything – they can help you come up with the perfect style for you.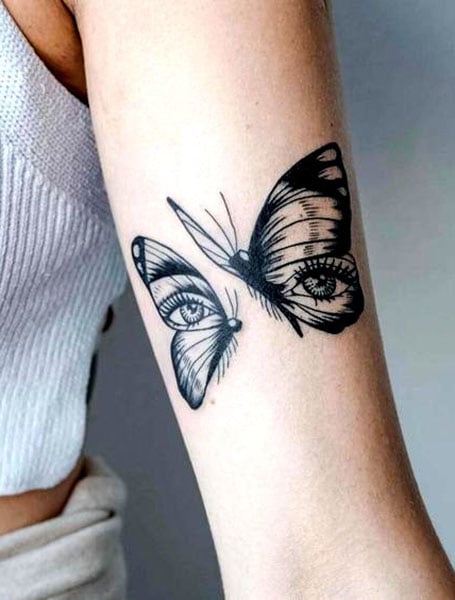 14. Realistic Butterfly Tattoo
With these realistic tattoos, you look like a butterfly has landed on your skin. These delicate designs are tough to imitate, so find an artist specializing in realism. Do some research and discover your favorite butterfly. From a Monarch to a Malachite, there is something that will resonate with you and suit your personality. For the perfect effect, place this somewhere, such as your shoulder or wrist – it will appear as if the stunning insect has chosen you.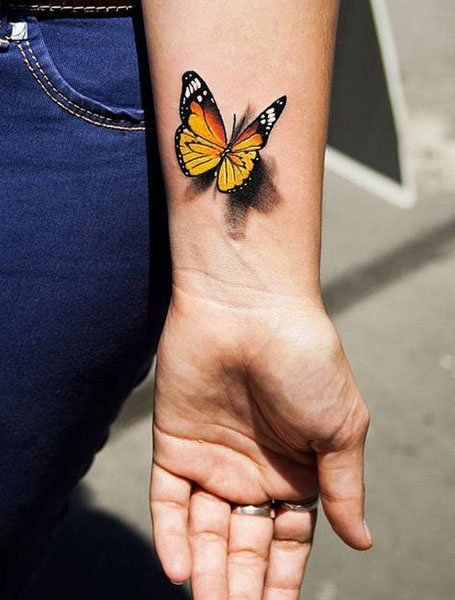 15. Black and White Butterfly Tattoo
Sometimes you don't need bright colors to make an impactful tattoo. These black and white designs are timeless and look striking. Opt for a realistic style with delicate and intricate wings or even a Neo-Traditional depiction – there are so many options to choose from. Be sure to take extra care of this ink, as the black ink is susceptible to fading without proper maintenance, so make sure you hydrate and moisturize the area.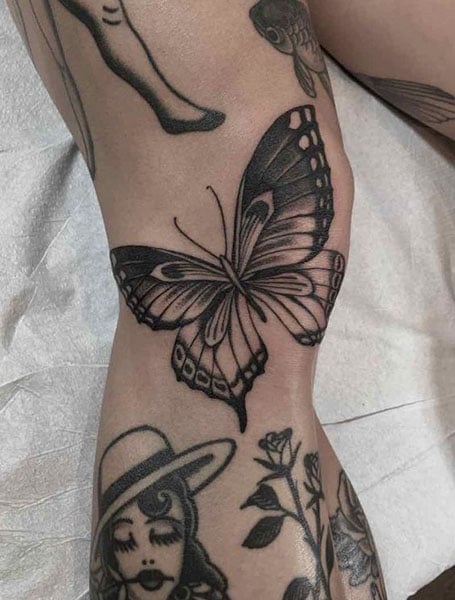 16. Butterfly Wrist Tattoo
The inner wrist is a unique spot for a wrist tattoo – they're close to you all day and act as the perfect canvas for your next ink. Choose from a design that's small enough to hide, or opt for something that wraps across your skin. This area is one of the most painful spots for your next piece, as it has plenty of nerves that sit close to the surface and is quite soft. Do some research before committing to this, but it's unbelievably worth it!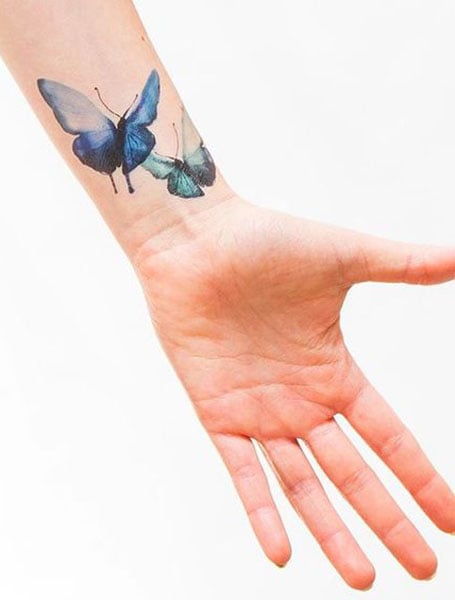 17. Butterfly Back Tattoo
Let this ink follow and protect you – the back tattoo design is a popular choice that will look beautiful on anyone. Make it small and delicate at the nape of your neck or halfway down your spine – let the butterfly wings help you fly. To complete it, add extra symbols to the tattoo. This can include red roses, which represent passion, or a white flower which depicts purity. This spot is one of the least painful zones of the body so that it could be the perfect option for your first piece.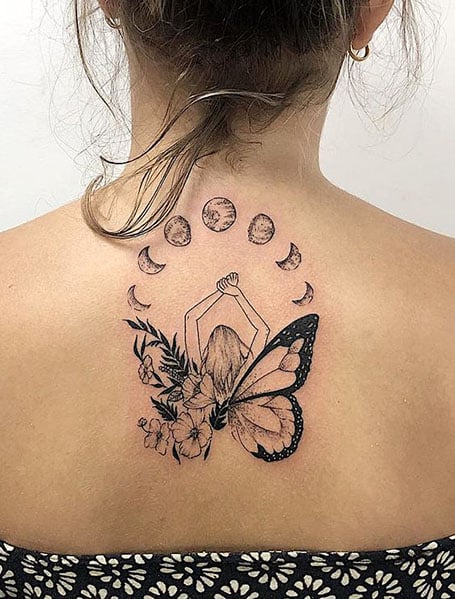 18. Shoulder Butterfly Tattoo
Feel like you're walking through a sanctuary with these delicate butterfly shoulder tattoos. This placement has no rules, so you can experiment with different styles to find one that suits you. Be sure to find a reputable artist, as this spot on the body can be seen easily. You must also take good care of this ink, as it tends to fade faster when exposed to the sun.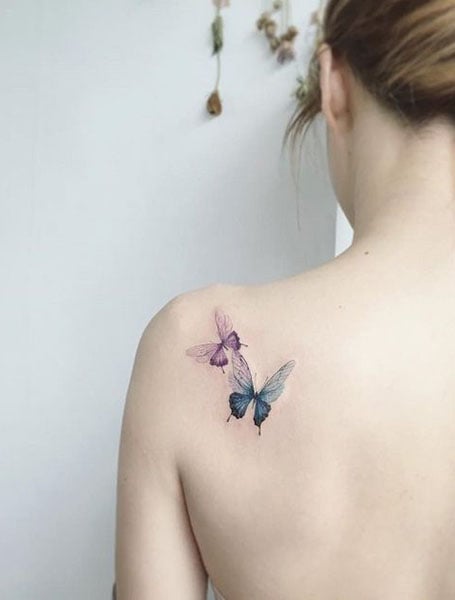 19. Butterfly Tattoo on the Arm
As one of the largest canvas areas of the body, your arm is the perfect spot for your next ink. From a full sleeve tattoo to a single piece, there is the ideal design that will suit you. Recently, the forearm has been a popular spot, and you can work these butterflies down into your wrist and let them wrap across your skin. Let your imagination run wild with an arm tattoo, or keep it simple with a statement black outline.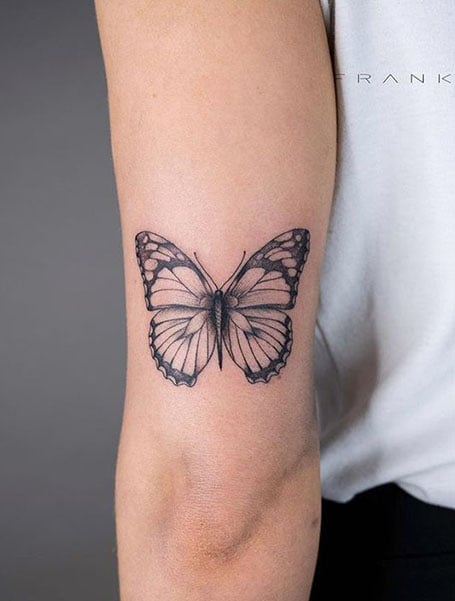 20. Butterfly Ankle Tattoo
Ankle tattoos are an excellent spot for a subtle and elegant design. Although it's one of the most painful areas for ink, it's also one of the most delicate. This zone is quite close to the bone, and the skin is thinner, so it may sometimes feel a little sharp. The beauty behind this placement is it's easy to conceal for formal occasions – it's a tiny secret that holds meaning to the wearer.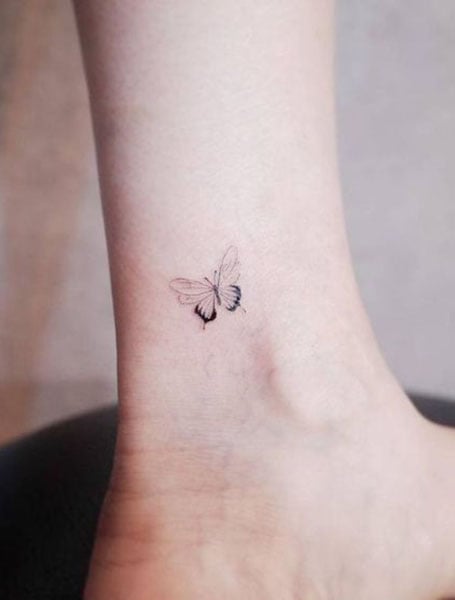 21. Neck Butterfly Tattoo
A neck tattoo has become increasingly popular with the next generation of tattoo lovers. It represents bravery but is also an excellent idea for those who love risks and being bold. As this area is not easy to hide, make sure you think seriously about the location before getting it done. This is also one of the more painful areas of the body, but the overall outcome is simply stunning. Opt for small and delicate insects that flutter on your skin – add soft color or black outline. It's one of the most stylish choices for those who want to showcase their strength.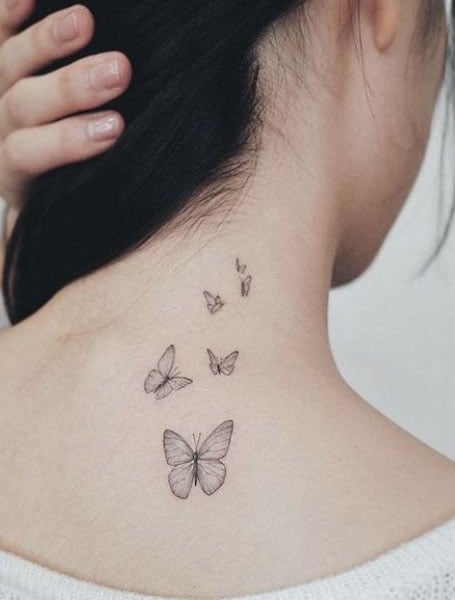 22. Thigh Butterfly Tattoo
A thigh tattoo is one of the sexiest and trendiest spots to get inked. A butterfly design represents movement and transformation, which is something that you do every time you take a step forward. This area is typically larger than other zones, so you have more room for an increasingly detailed or intricate piece. Add some vintage glam to the style by placing sparkling jewels across the wings, or keep it neutral with realistic colors in the wings.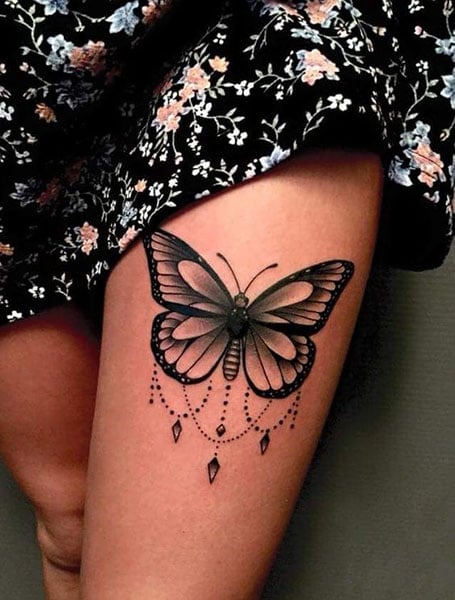 23. Chest Butterfly Tattoo
This is made for the bold – the chest tattoo is an incredibly popular choice for both men and women. Popularized by Rihanna in the mid-2010s, it has become one of the trendiest options for those who love ink. Butterflies represent rebirth, so what could be a better placement for it than under the heart? The skin is quite sensitive in this zone of the body, so it may hurt more. However, the payoff for something this stunning is worth it – remember, no pain, no gain!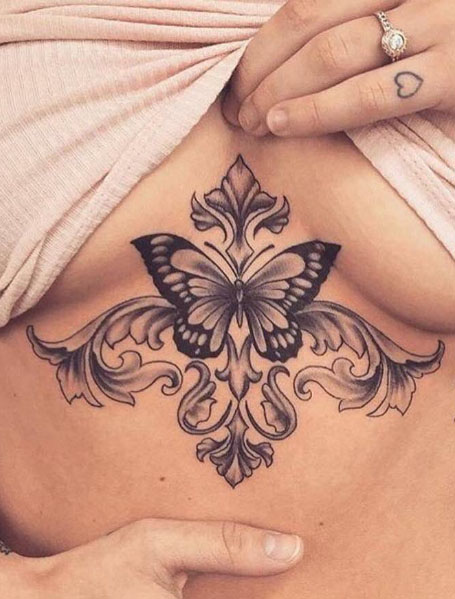 24. Behind the Ear Butterfly Tattoo
The humble behind the ear tattoo is one of the most delicate and personal placements. This spot is easy to conceal when needed but looks impressive when you show it off. As the area is quite thin, it may hurt more than other locations – the skin is also less likely to hold the ink for as long as other spots, so be sure you choose a design that isn't too intricate. A simple butterfly flying away or sitting on the skull is perfect for your first piece.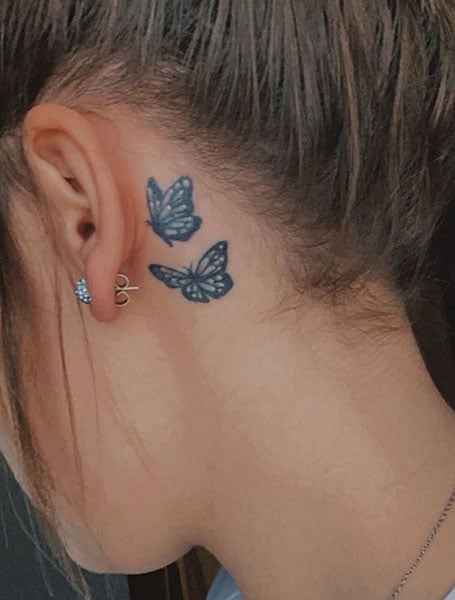 25. Butterfly Leg Tattoo
Showcase your killer ink everywhere you go by placing it on your leg. A butterfly leg tattoo represents changes and evolution. It takes time for this insect to undertake transformation, so the placement of this design can symbolize the same journey you take. Opt for a spot on your calves or thighs that hurt less than other zones. Alternatively, you can choose your shins or ankles – it's up to you. Your body is a canvas; why not fill it with awe-inspiring art?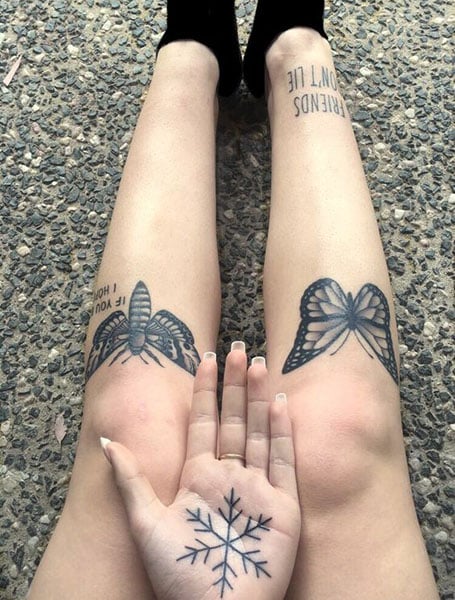 26. Butterfly Hand Tattoo
Hand tattoos are an excellent placement for someone who wants to show off their body art. A butterfly design here can be small and simple or cover the entire hand. The visibility of hand tattoos is both the appeal and the drawback. They will also fade faster than many other locations because of the exposure to sunlight and chemicals.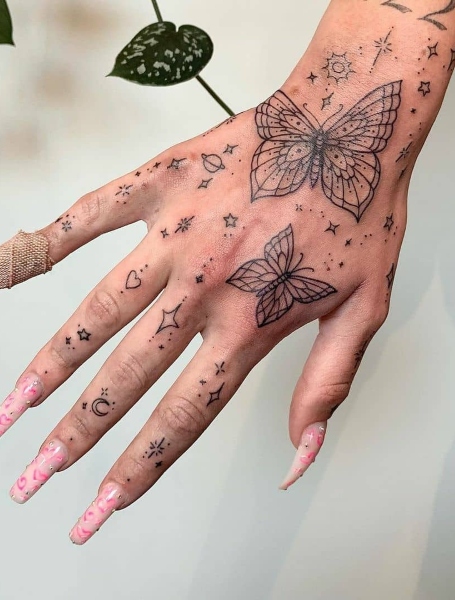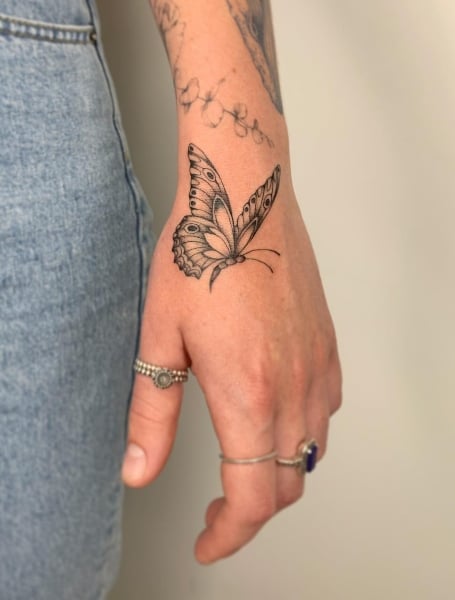 27. 3D Butterfly Tattoo
The 3D tattoo effect is incredibly detailed and will bring your chosen artwork to life. It will look like your butterfly design is hovering over your skin. The appeal of 3D tattoos is that they are realistic, and this style lends itself well to color and results in an incredibly beautiful tattoo. A lot of work and skill goes into the creation of 3D tattoos, so expect them to take a long time to complete and often cost more.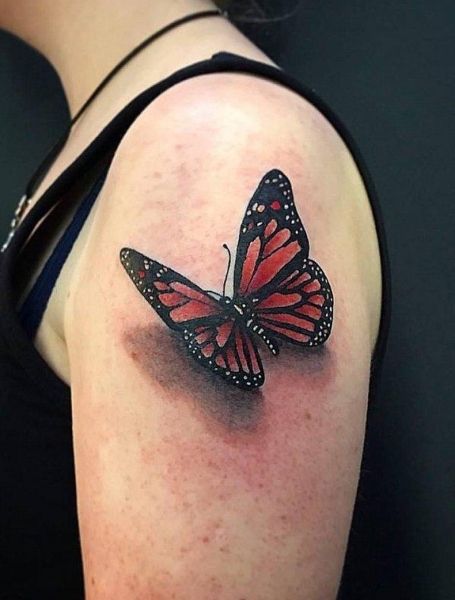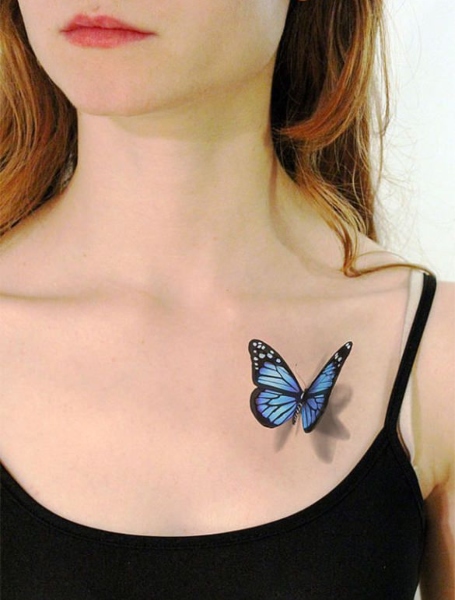 28. Blue Butterfly Tattoo
Blue is a stunning color associated with calmness and tranquility. Deciding to incorporate blue ink into your tattoo will make for an eye-catching design, and blue butterflies are associated with good luck and happiness. The positive associations with this design make it a powerful option and a reminder to look on the bright side of life. Or to be optimistic, despite the challenges you are facing.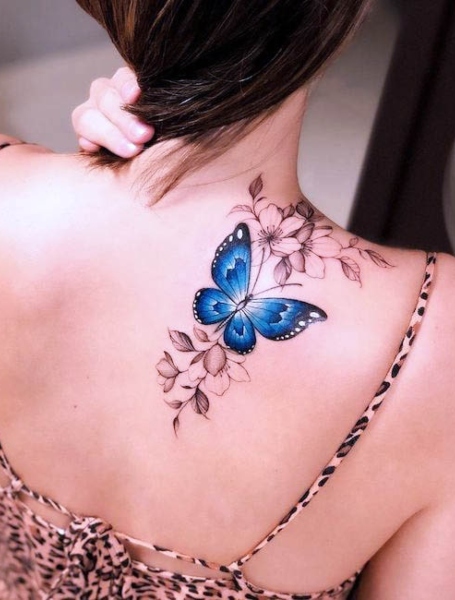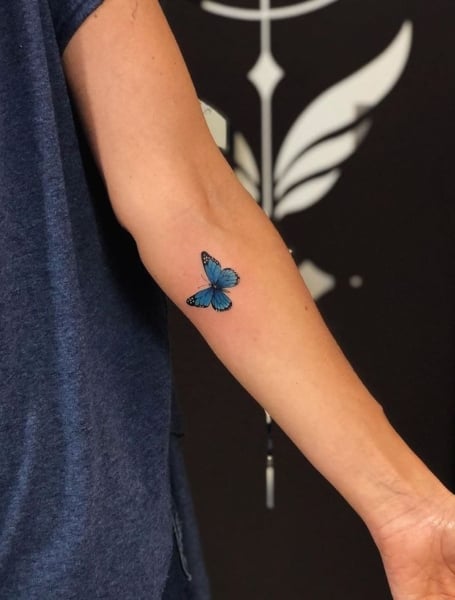 29. Butterfly Flower Tattoo
Butterflies are one of the world's most beautiful and colorful creations, and a butterfly tattoo symbolizes beauty and grace. The symbolism associated with your design can change, depending on the images you choose to include, for example, flowers. Flower tattoos are associated with growth and change, and combining your favorite bloom and a butterfly can make a powerful statement.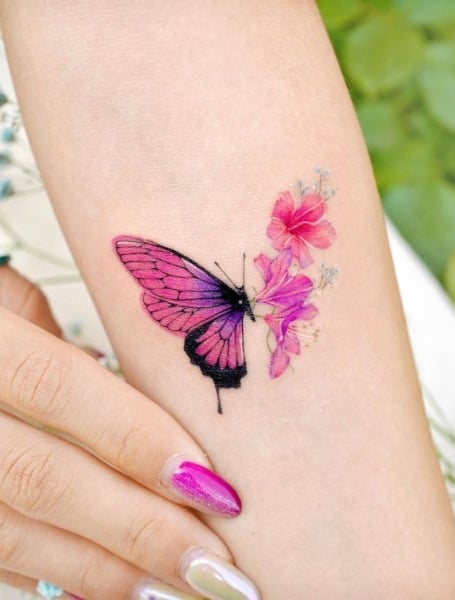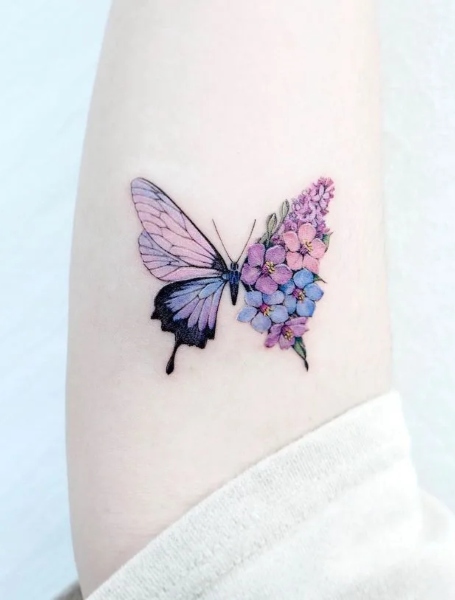 30. Red Butterfly Tattoo
There are many different types of butterflies, and the species you choose can have varying symbolism. Color tattoos can also make an impact and will make for beautiful, eye-catching tattoos. In general, red butterflies are associated with love and passion. For some, a red butterfly can also represent good luck.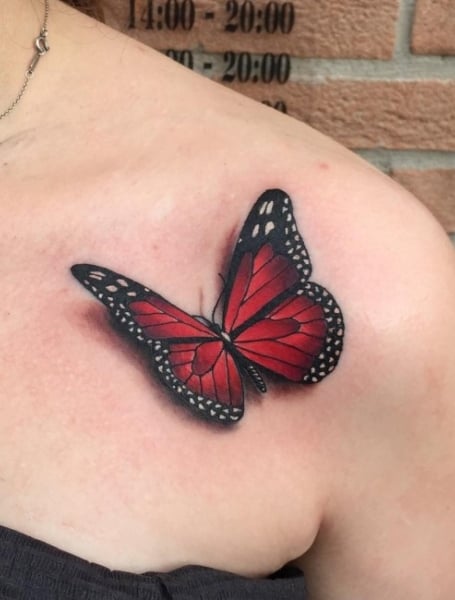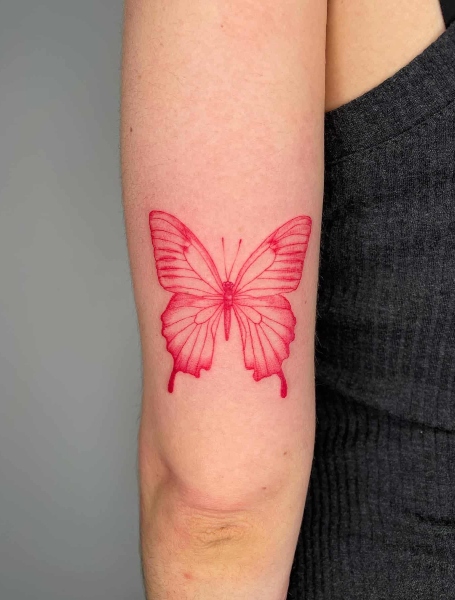 31. Butterfly Skull Tattoo
For many, a butterfly symbolizes beauty, growth, and transformation. This winged insect has many positive associations, whereas a human skull tattoo represents death, destruction, and evil. The combination of something beautiful and dark makes for a beautiful tattoo with powerful symbolism about the connection between life and death. It can also be a reminder to live each day to its fullest.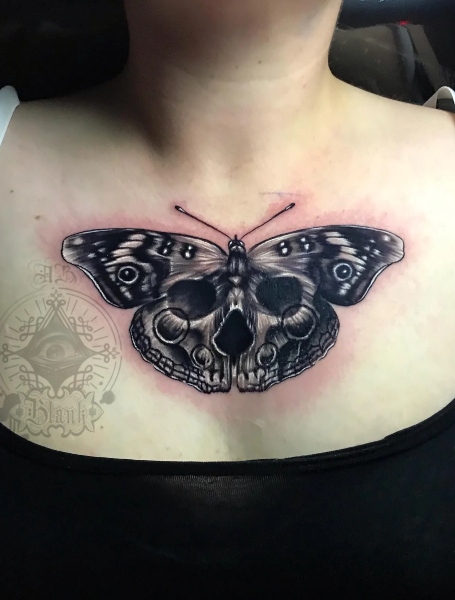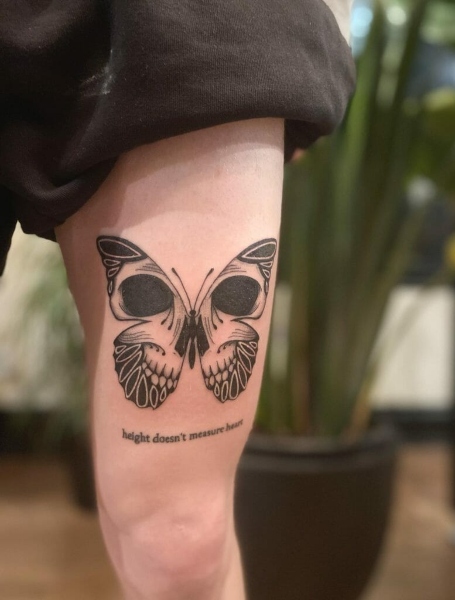 32. Butterfly Outline Tattoo
Butterflies are an excellent choice for your next tattoo because they are rich in symbolism. The winged insect can also be created in various styles, depending on your preference. This can include photorealism and bright colors, or you can focus on the basic elements of the design with an outline tattoo. The simplicity of outline tattoos makes them appealing.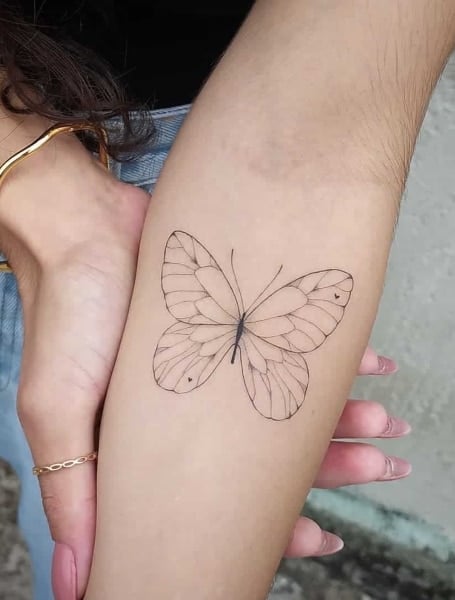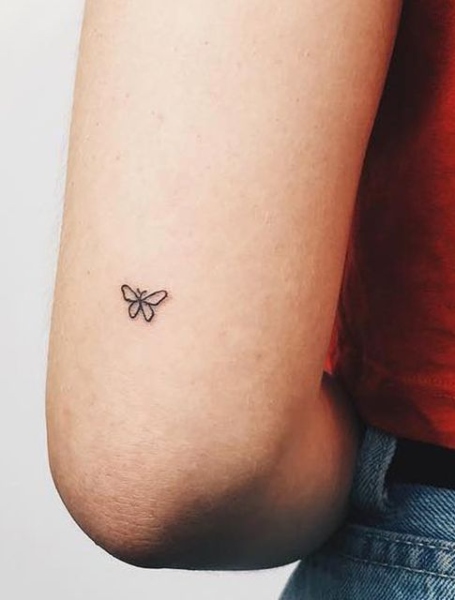 33. Best Friend Butterfly Tattoos
What better way to honor your close relationship with your best friend than with a best friend tattoo? These designs can be of anything but should be meaningful to you and your friend. It could be a matching design or two complementary things; for example, a butterfly on one person and a flower on another. Deciding on your tattoo's style, colors, and placement will make getting inked together a memorable experience.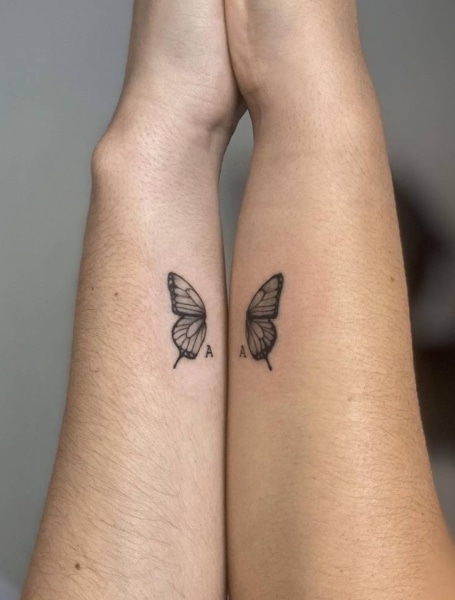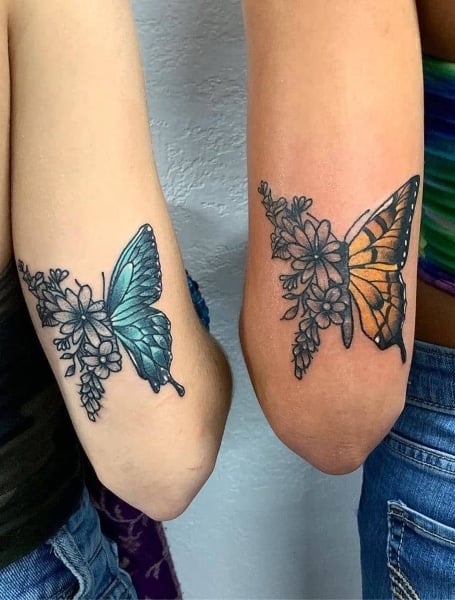 34. Butterfly Foot Tattoo
Foot tattoos are appealing because they can be easily covered up and shown off when you want. The foot is large enough to allow for some detailing, and you can create a decent-sized butterfly. However, foot tattoos are painful because of the area's general sensitivity, thin skin, and proximity to bone.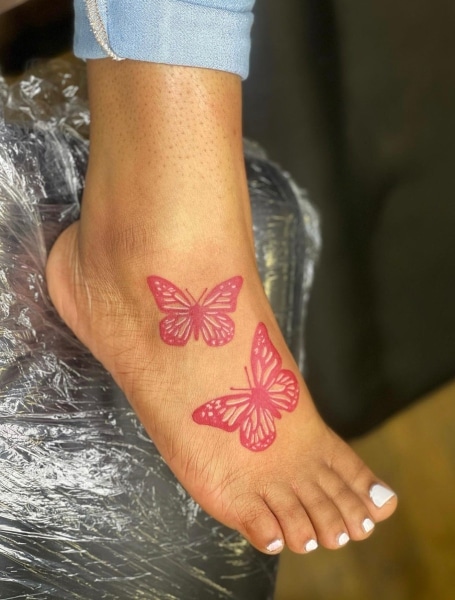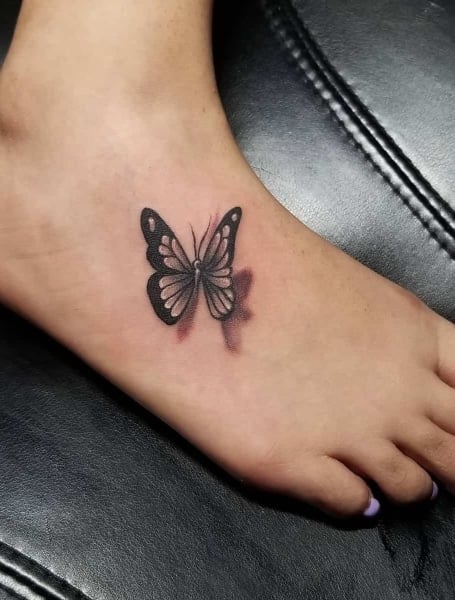 35. Butterfly Sleeve Tattoo
Sleeve tattoos are a creative way to blend together several images and let your body art make a statement or tell a story. For a seamless finish, it is best to stick to a theme when creating a sleeve, and there are many ways to incorporate butterflies into your theme. Sleeve tattoos can be created in various styles and look good in black ink or color.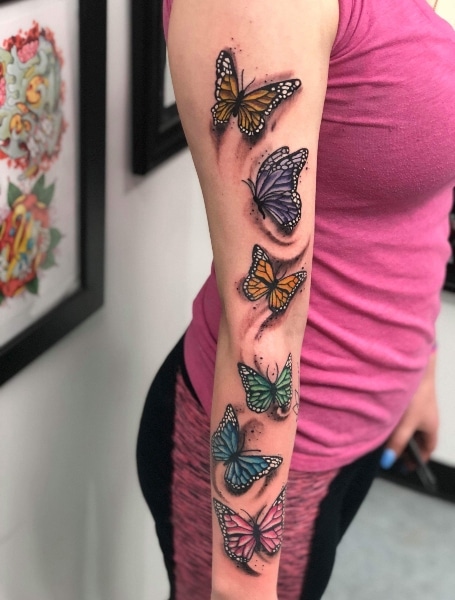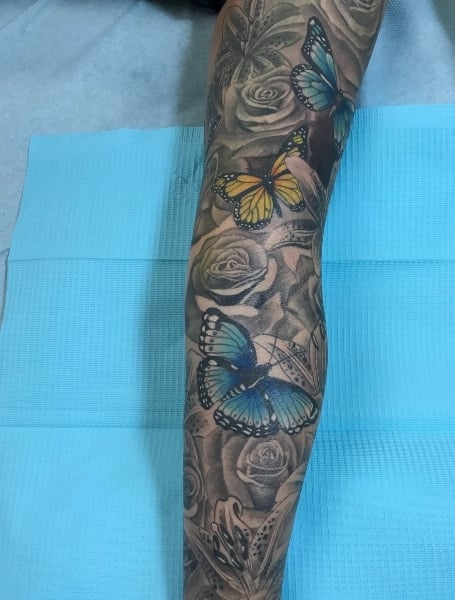 36. Butterfly Finger Tattoo
Finger tattoos are edgy and cool and the perfect location for a design that you want to show off. Butterflies can be created on a smaller scale, and you can opt for a small, simple design that will look gorgeous on your finger. There is no denying the appeal of finger tattoos, but they will hurt and fade faster than many other placements because of the exposure to sunlight and chemicals.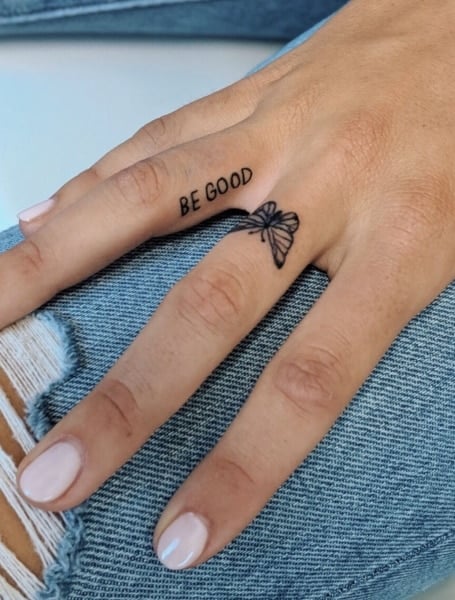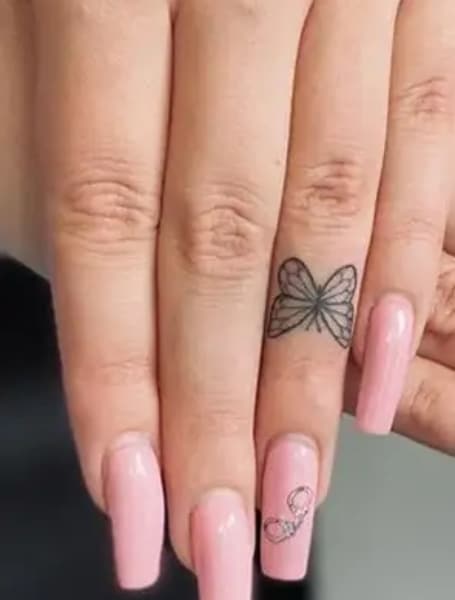 37. Butterfly Forearm Tattoo
The forearm is one of the most appealing placements for your butterfly design. This is because it is considered low to moderate on the pain scale chart because of the area's thick skin, muscle, and fat, which provides cushioning. Covering up a forearm tattoo is easy, providing you with enough space to get creative with your inking.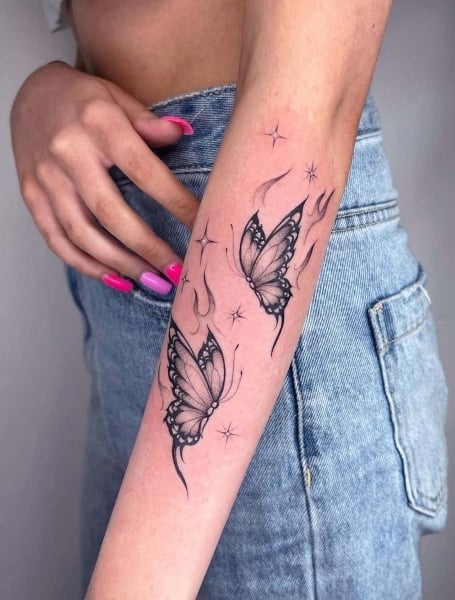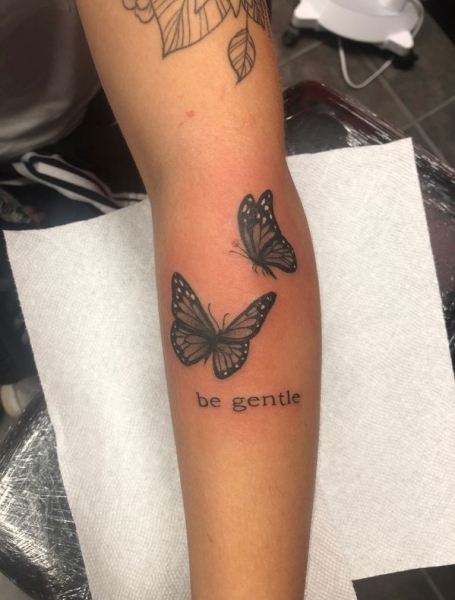 38. Colorful Butterfly Tattoo
Some designs look better in color. The butterfly is a beautiful, colorful insect coming in various colors, from blues to red. If you want to portray a specific butterfly or are drawn to the symbolism associated with the color, then this is an excellent choice. Colorful tattoos are also bold and will make a statement.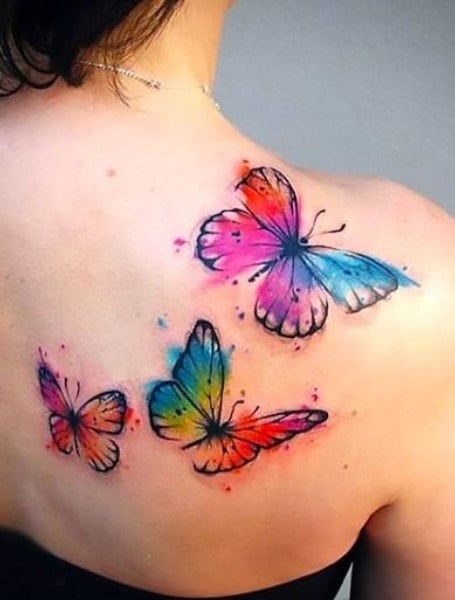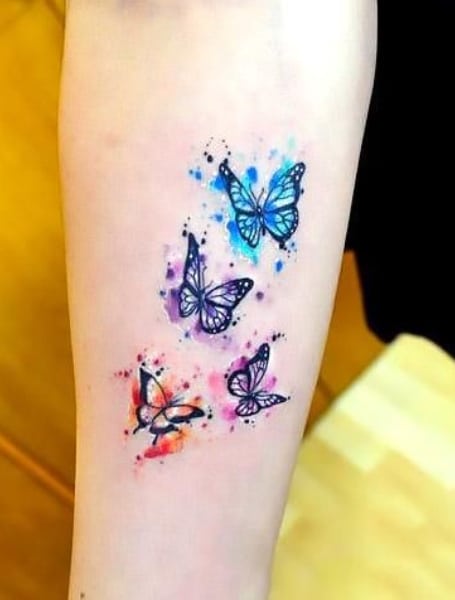 39. Purple Butterfly Tattoo
Purple butterflies represent grace and sophistication. This can be an excellent way to show how you value these things and can make for a pretty, delicate design. There are various shades of purple to choose from, depending on your desired vibrancy. Butterflies represent growth, beauty, and transformation and can be a way to remind yourself of what is important in life.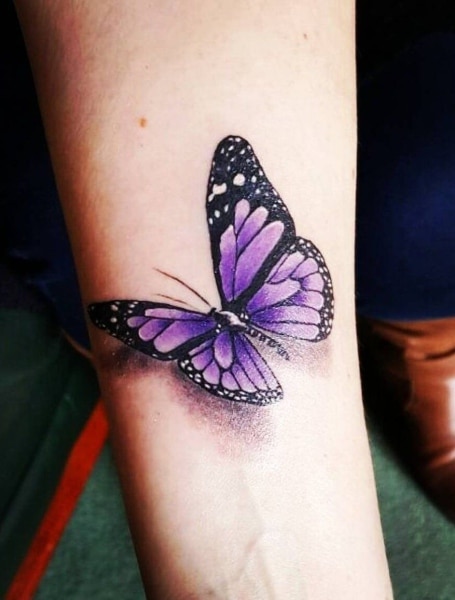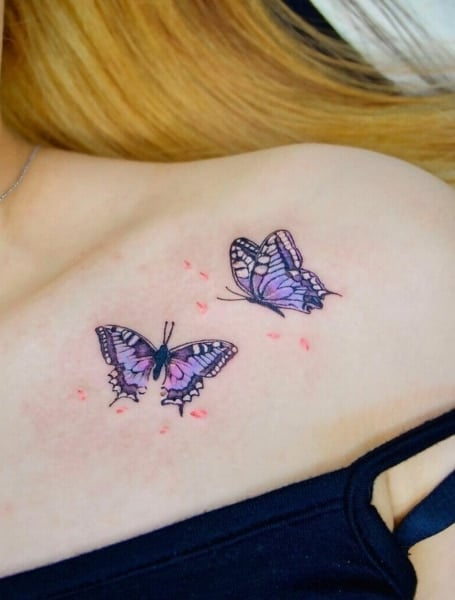 40. Black Butterfly Tattoo
There is often a positive association with butterflies. Still, if you want to remind yourself to be wary or to embrace every opportunity in life, then you may be drawn to a darker design, like a black butterfly tattoo. Black butterflies can represent misfortune and be a warning or an omen of what will come. They can also be associated with the fragility of life.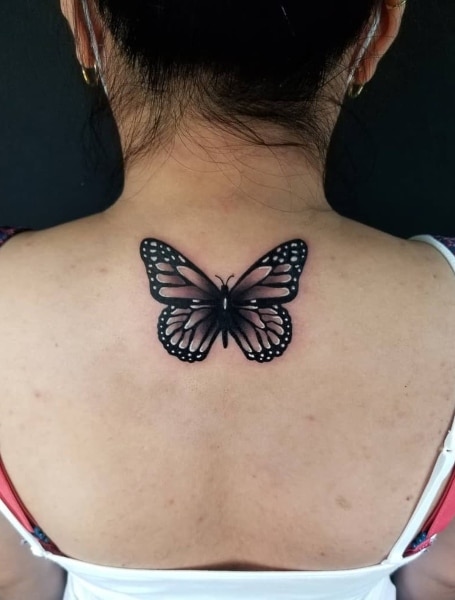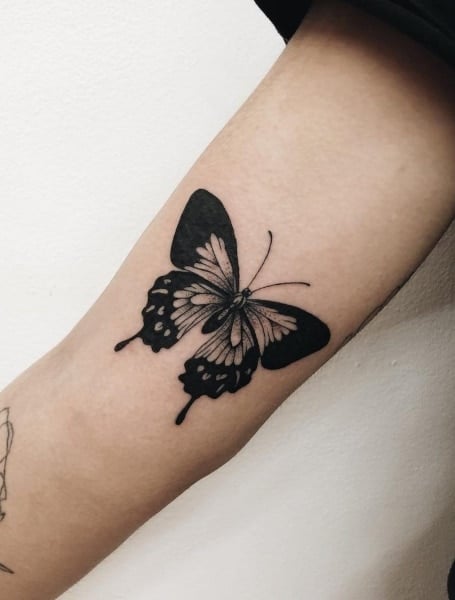 41. Sunflower And Butterfly Tattoo
Butterflies are often viewed as a symbol of beauty and life. They can represent good luck and all that is good, and when combining a butterfly with a sunflower, your tattoo can symbolize life and connectedness. It could show the important relationships that exist in nature or could be an abstract interpretation of how you need someone, like a romantic partner, to succeed. Sunflower tattoos are also symbolic of hope and optimism.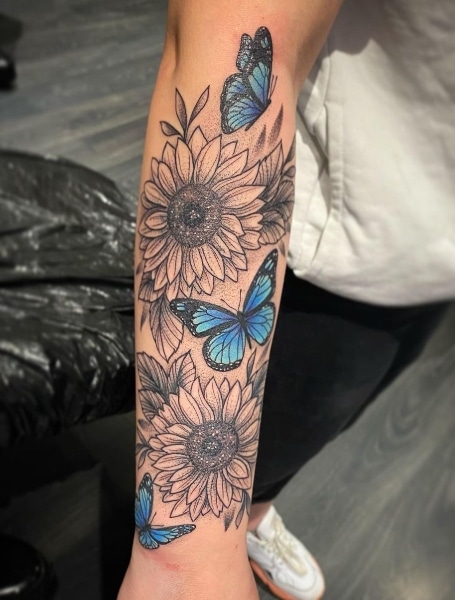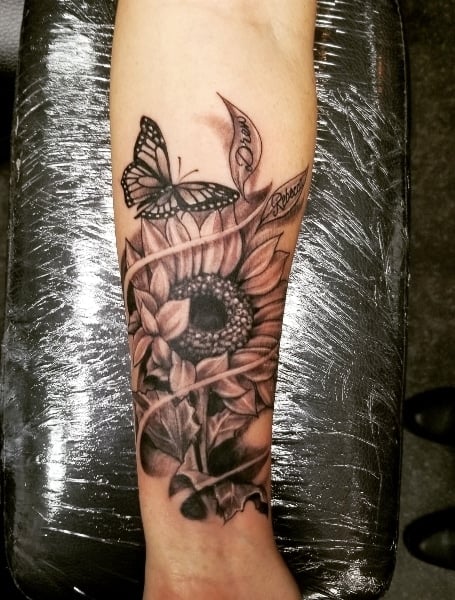 42. Matching Butterfly Tattoos
Matching tattoos are a cute way to celebrate your bond with a loved one. This could be a family member, best friend, or romantic partner. It is a way to ensure a part of you will always be with them and vice versa. Butterflies are an excellent choice because they can be created big or small, as an outline or a photorealistic piece, and look great with or without color.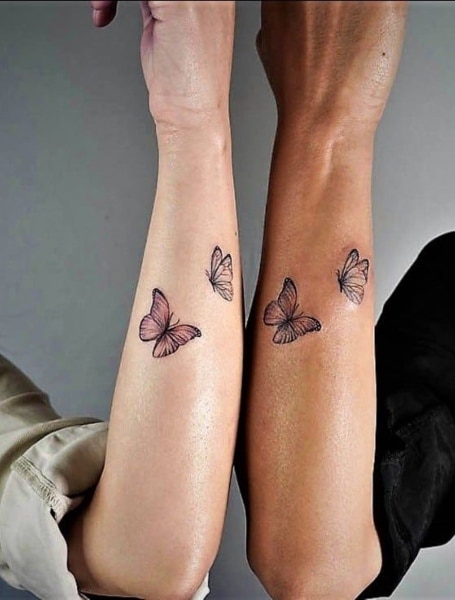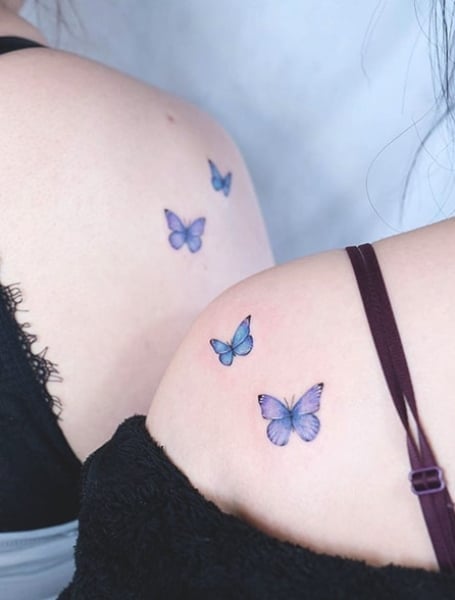 43. Butterfly Cross Tattoo
There are many ways to incorporate other images into your butterfly design, and for those who are devoted to their faith, you can also include a cross. The cross tattoo is symbolic of faithfulness, and including a butterfly could be a way to show you are a born-again Christian. Or it could be inked as a memorial piece dedicated to someone who has passed and honoring their memory.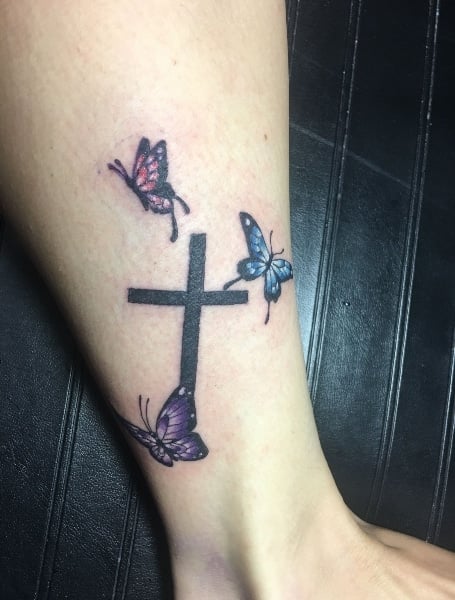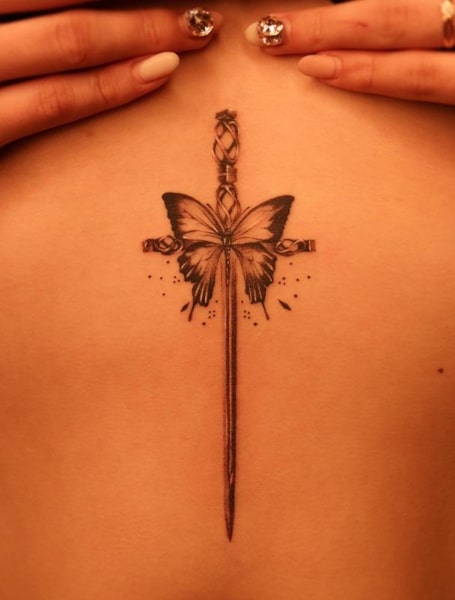 44. Watercolor Butterfly Tattoo
The watercolor tattoo effect is one of the most vibrant and energetic styles you can choose. It is defined by its brilliant blend of colors, which resemble the appearance of paint drying on a canvas; hence the name. There is a lack of shading and thick, bold outlines, which look great but could result in your piece fading faster.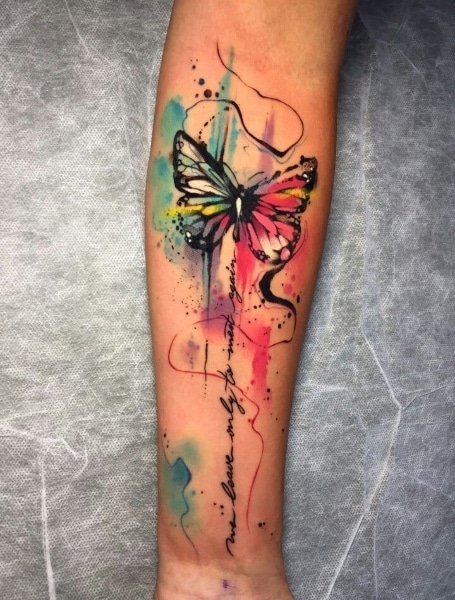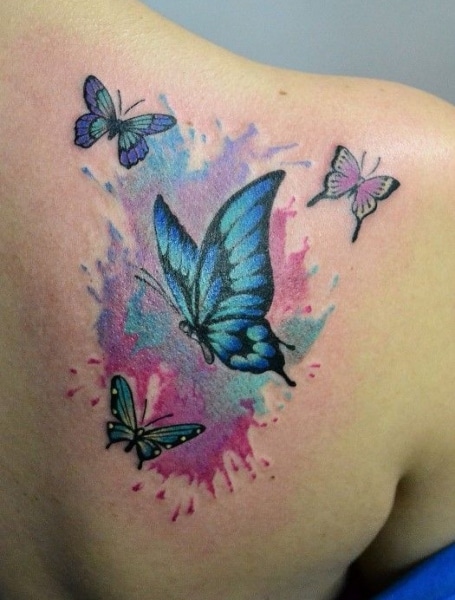 45. Butterfly Stomach Tattoo
The stomach is one of the most painful locations to get inked, but the appeal of stomach tattoos is their versatility. This area on the body is large enough to allow for a detailed design, but the right placement can also accommodate a small and simple butterfly tattoo. It can be easily covered and shown off when you want.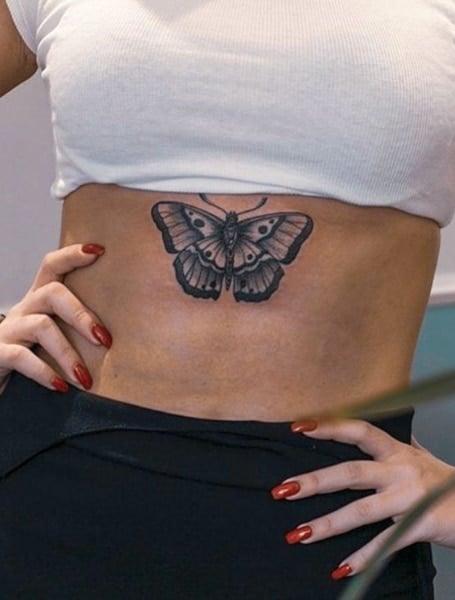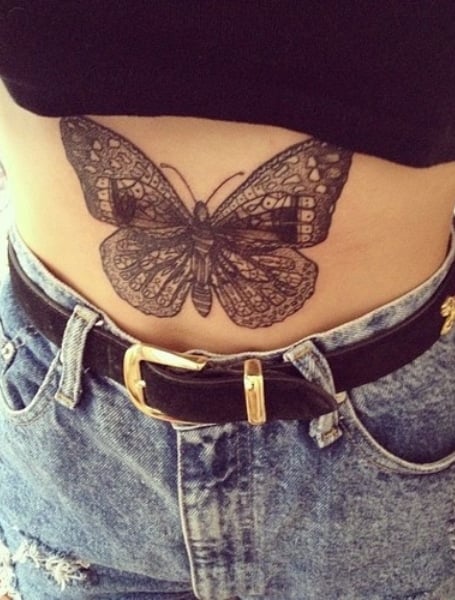 46. Meaningful Small Butterfly Tattoos
A small butterfly tattoo can be incredibly meaningful because of its rich symbolism. Butterflies represent beauty, growth, and change. They are a popular choice for someone who is going through a transitional period in their life, and a meaningful tattoo can bring them comfort or inspiration. You may also wish to personalize your design by including dates, names, or initials.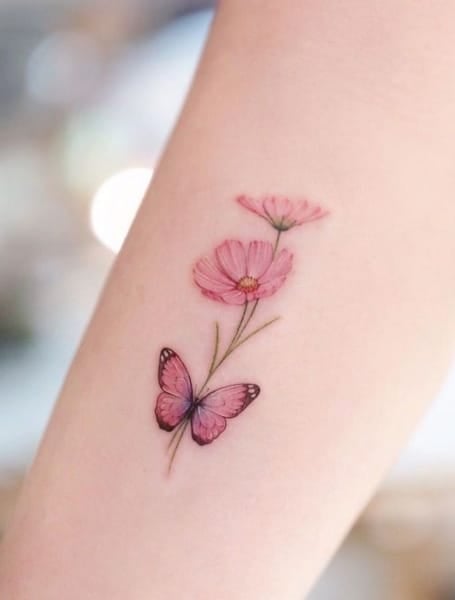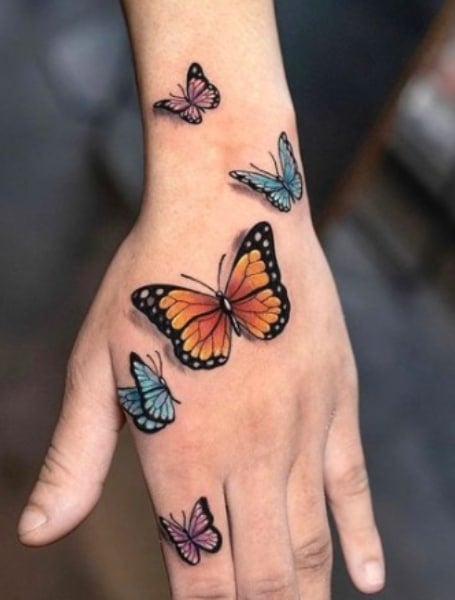 47. Butterfly Mandala Tattoo
Mandala translates to "circle" in the ancient Sanskrit language. The mandala symbol can have different patterns and is detailed and beautiful. A mandala tattoo often represents balance and harmony, and it has inspired body art designs, letting you find something unique and special. This includes creating a butterfly outline with the pattern inside it, or you can find a way to incorporate a butterfly into a larger, abstract mandala design.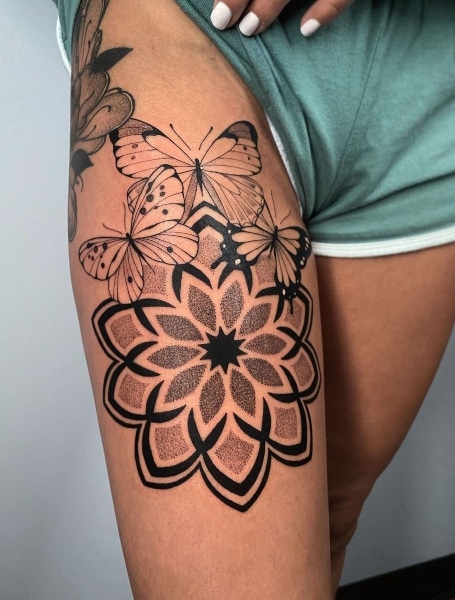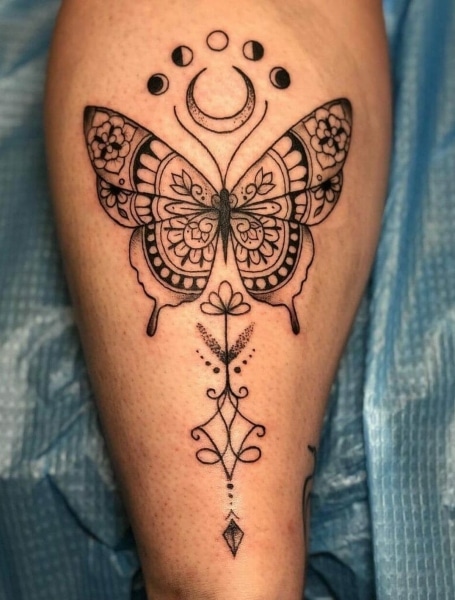 48. Butterfly Rib Tattoo
Rib tattoos are a great option for those who want to keep their design close to their heart. This is one of the most painful locations to get inked because of the thin skin and proximity to bone, so it should be reserved for truly meaningful designs. Your butterfly tattoo can be small and simple or large and detailed, depending on your preference, because the rib cage provides you with enough space to get creative.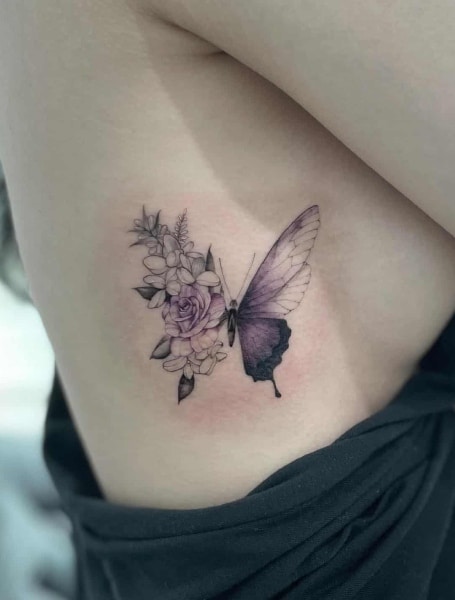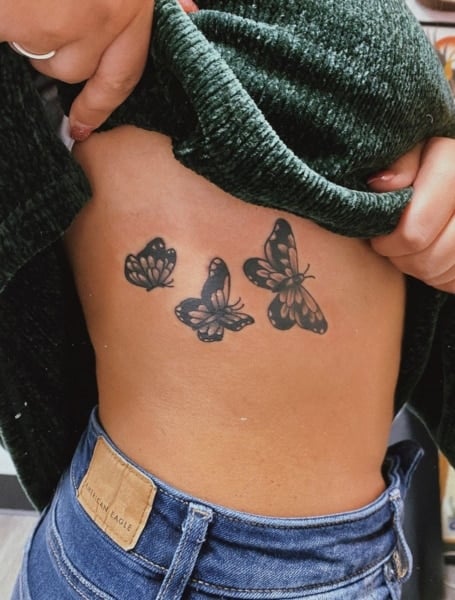 49. Butterfly Spine Tattoo
Spine tattoos look great and will draw attention to your back in a sensual way. The best designs for the spine are often long and narrow, but you do not have to cover the full surface and can opt for a small butterfly design in the center instead. Despite how cool they look, spine tattoos are incredibly painful.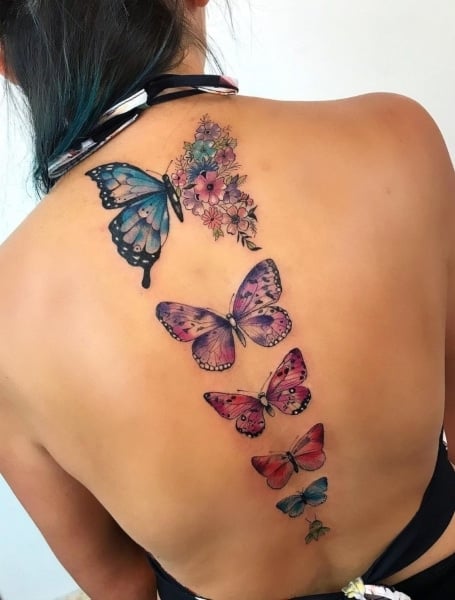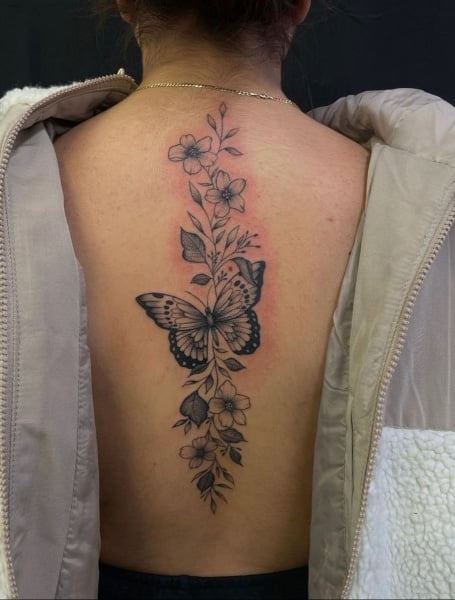 50. Butterfly Heart Tattoo
The heart represents love and passion. There are many ways to design a heart tattoo, including a simple symbol or opting for an anatomical representation. You can also include a butterfly in your design to add to the overall meaning of the design, representing the importance of love or how you, and your heart, have changed.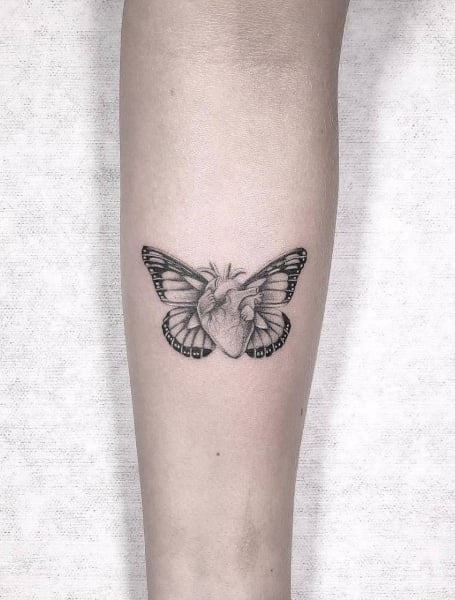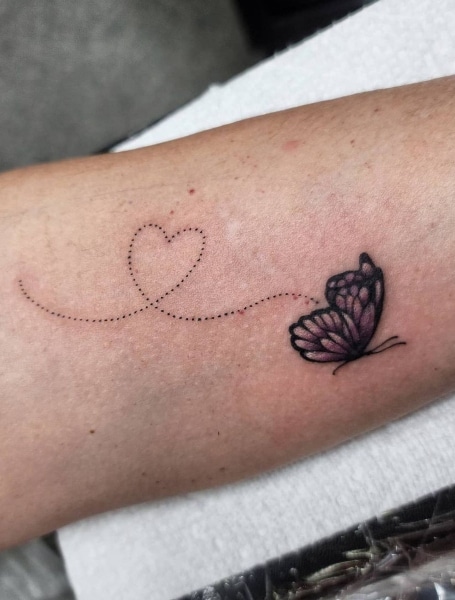 51. Yellow Butterfly Tattoo
Yellow is a color associated with positivity and warmth, and a yellow butterfly has similar symbolism. This is an excellent choice for someone who wants to honor someone who has passed because a yellow butterfly can signify peace and bring the wearer comfort. Incorporating yellow into your tattoo will make for a bold and eye-catching piece.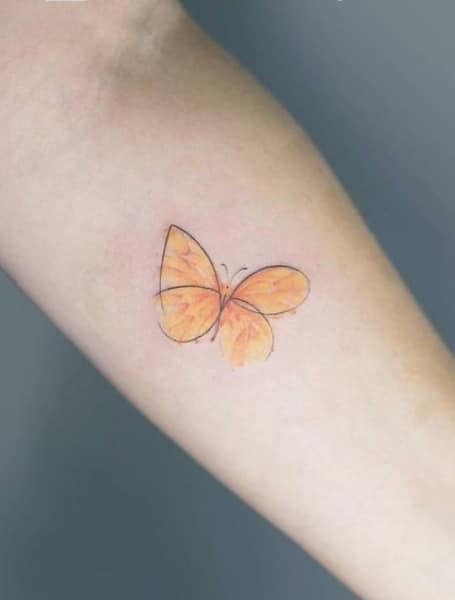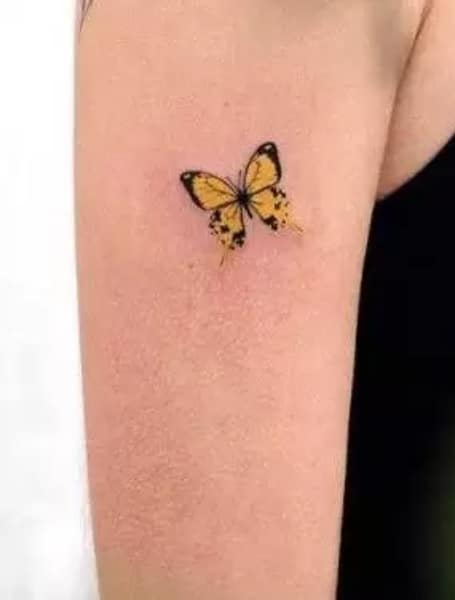 52. Butterfly Sternum Tattoo
Sternum tattoos are sexy and cool. They draw attention to one of the most beautiful parts of a woman's body and can be a way to celebrate your body and embrace your female power. It is a versatile placement because it can be easily covered and is ideal for designs like a butterfly; that is meaningful because you can keep them close to your heart at all times.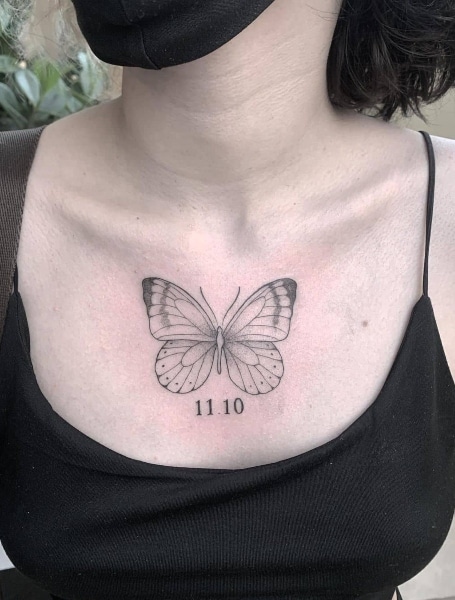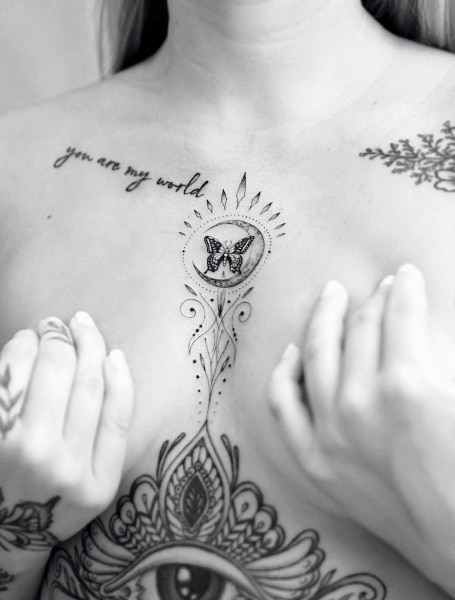 53. Butterfly Infinity Tattoo
The infinity symbol represents the concept of forever or endlessness. This can be a way to show that you feel there are opportunities for the taking or could represent how you feel about your relationships and how you will always be together. Adding a butterfly to the infinity tattoo design can make it more beautiful and delicate. It will also add to the overall meaning, representing change and transformation.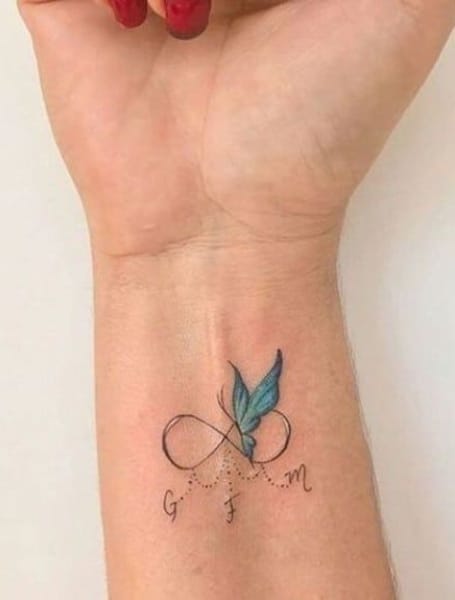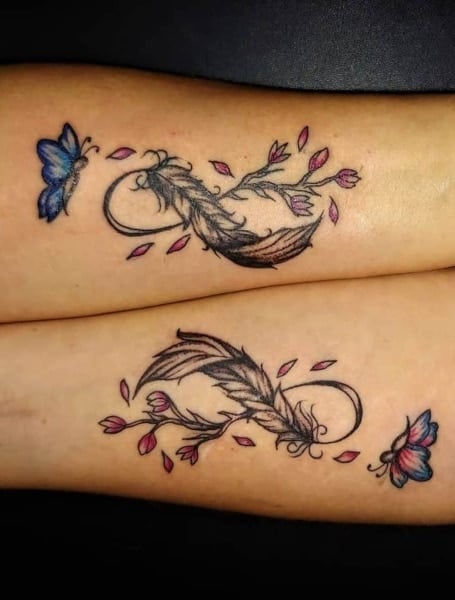 54. Henna Butterfly Tattoo
For those drawn to body art but not ready to take the plunge and commit to something permanent, a henna tattoo can be a great way to experiment. It will give you the opportunity to try out a tattoo, but without the pain. They are made from a plant-based ink or paste and will fade naturally over time.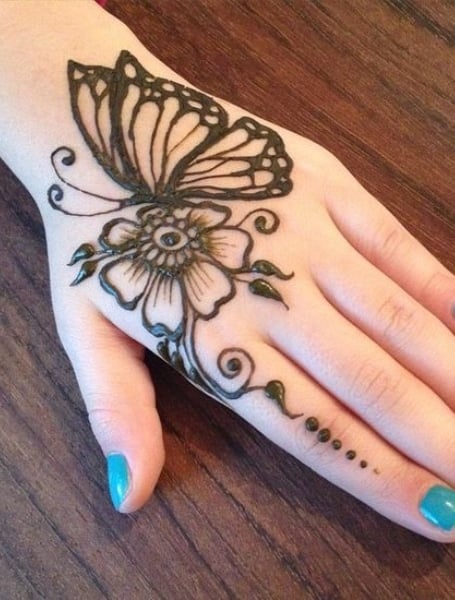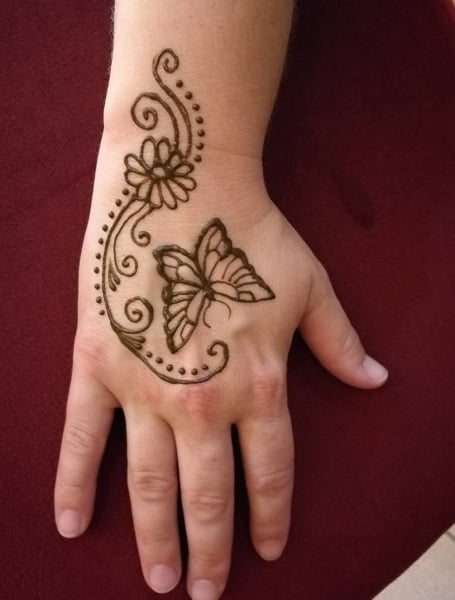 55. Pink Butterfly Tattoo
Pink is a color associated with love and femininity. Incorporating it into your tattoo is a wonderful way to highlight your chosen design. There are several shades of pink, depending on how bold you want your design to be; pale colors will be more subtle, while hot pink is vibrant and unmissable. A pink butterfly can be tattooed to celebrate femininity or show a softer side to your personality. It is also symbolic of compassion and love.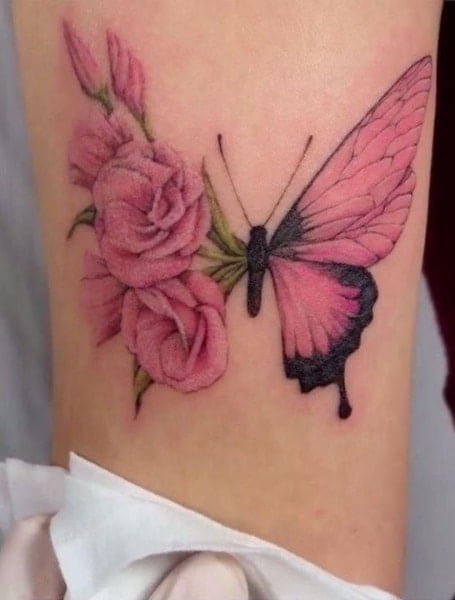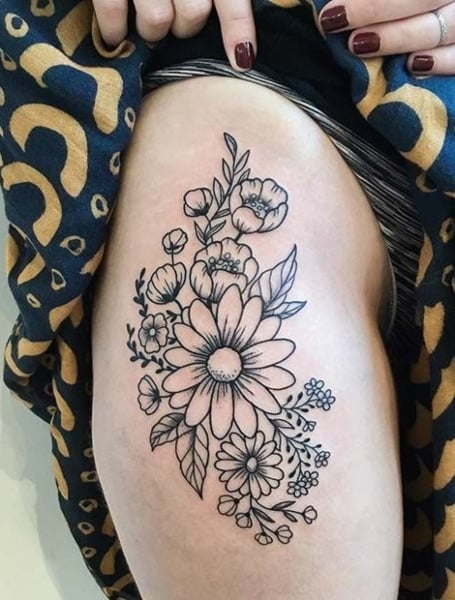 Butterfly Tattoo Meaning
A butterfly is one of the most popular tattoo choices for women. This ink comes in many forms and sizes and holds much meaning for the wearer. Traditionally, these designs connect with femininity and love but can also represent endurance, resilience, change, and hope. These are a powerful and stunning option for anyone, and they look incredible at any age.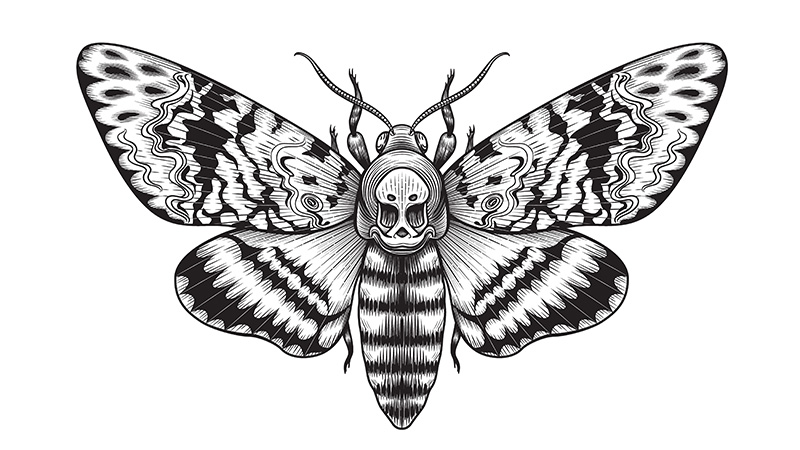 Butterfly Tattoo FAQs
Where is the best place to get a butterfly tattoo?
Butterfly tattoos are great because they can go anywhere on your body. The shape of the wings makes for great framing, so they look particularly excellent on the chest, collarbone, and lower back. Other popular locations also include the shoulders and arms, especially the inner forearm and back of the upper arm.
Why is everyone getting butterfly tattoos?
Butterflies are a popular tattoo choice because they're versatile, beautiful, and feminine, making them a great choice, particularly for ladies. They also represent transformation, which is a lovely way to express a journey or experience that has helped shape who you are.
What celebrity has a butterfly tattoo?
The most famous celebrities with butterfly tattoos are Queen Latifah, Kylie Jenner, Hazel E, Janel Parrish, Michelle Williams, Anastasia Karanikolaou, Drew Barrymore, and Bar Rafaeli.
What singer has a butterfly tattoo?
The most famous singers that have butterfly tattoos are Halsey, Noah Cyrus, Britney Spears, Mariah Carey, Keke Palmer, Michelle Heaton, Jessica Harp, Leigh-Anne Pinnock, and Vanessa Hudgens,
SUBSCRIBE TO OUR NEWSLETTER
Subscribe to our mailing list and get interesting stuff and updates to your email inbox.