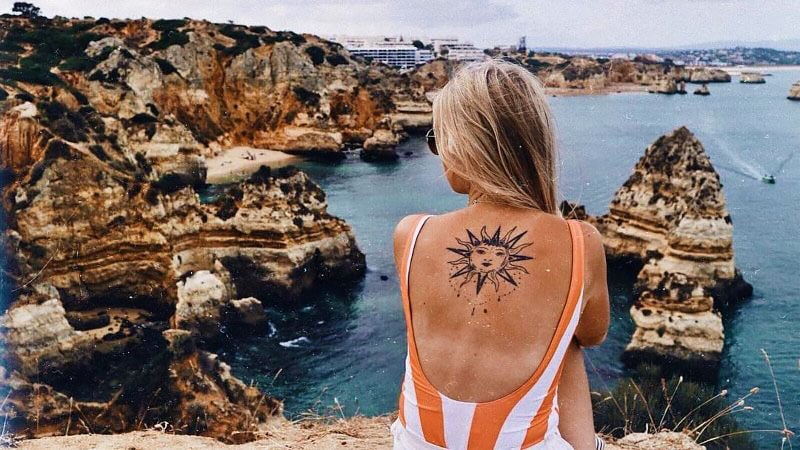 Without the sun, there would be no life on Earth. The star at the center of our solar system has been worshiped by ancient cultures and remains a powerful symbol today. It is not hard to see why someone would be drawn to a tattoo like this, which represents strength, light, and rebirth. When deciding to get tattooed with the sun, there are many variations, each with its unique meaning and design. These include the sun and moon inkling, which signifies the balance between two things. You could also opt for a colorful tattoo or a traditional style. Regarding placement options, there is no limit; go big and bold with thigh body art, or opt for something small and cute. If you're looking for inspiration for your latest tattoo, keep reading to find out everything you need to know.
1. Sun and Moon Tattoo
A sun and moon tattoo is rich in symbolism and represents the balance between two different things. These could include life and death, good and bad omens, or masculine and feminine energies. Not only does this piece make a powerful statement about the wearer, but it is also visually impressive. This design has many variations; you can combine the two images or let them stand alone. One thing is sure whatever you opt for, your ink will be meaningful and beautiful.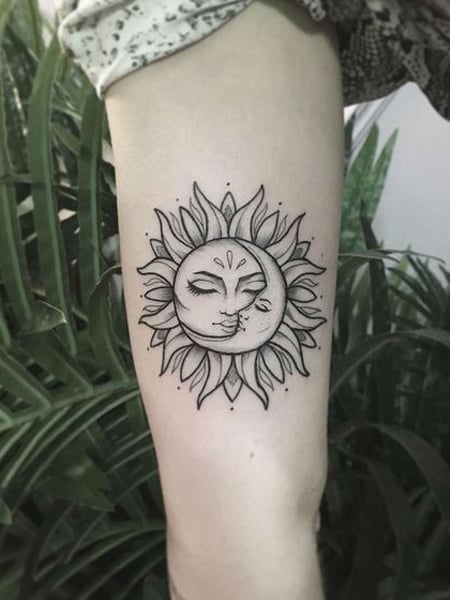 2. Sun and Moon Yin Yang Tattoo
The yin and yang symbol comes from ancient Chinese philosophy and focuses on the unity of two different concepts. In this case, the sun and moon tattoo work well together because although they are two opposing forces, they must achieve balance. The sun signifies rebirth and new beginnings in a tattoo like this, while the moon represents the past. A woman who wants to focus on the future will be drawn to this meaningful tattoo design.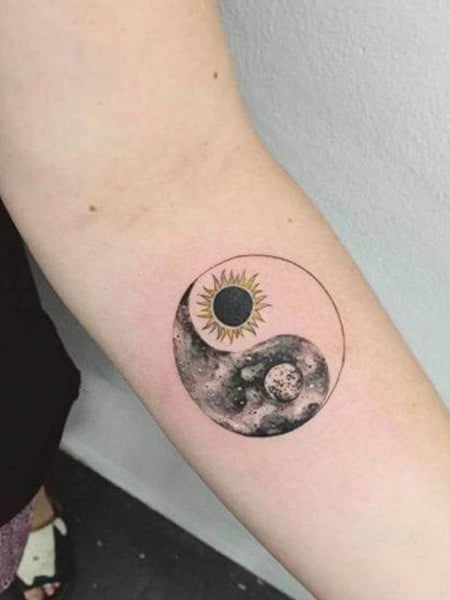 3. Small Tiny Sun Tattoo
Large, detailed ink can make a statement, and they are certainly eye-catching, but little pieces are appealing, too. A small sun tattoo is just as meaningful, and the best part about this design is that you are not limited to placement options. Tiny body art also tends to be more discreet, allowing you to cover it up if you wish. If you are getting your first tattoo, or want something delicate and feminine, then this is your option.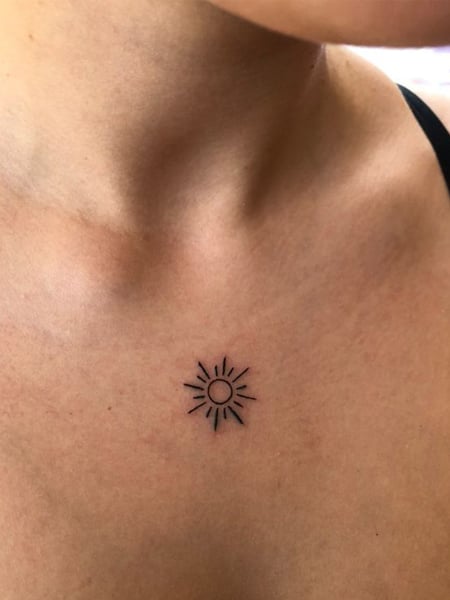 4. Simple Sun Tattoo
Simple tattoos are a fantastic choice for a woman who is more laid back in her personality. Instead of getting something overly complicated, this design focuses on basic outlines and shapes. There is no need for colored ink or shading, and the fundamental elements of the piece are all that is necessary to make a statement. As a bonus, choosing body art like this usually comes with a lower price tag and a shorter tattoo session. Plus, you can expect much less pain.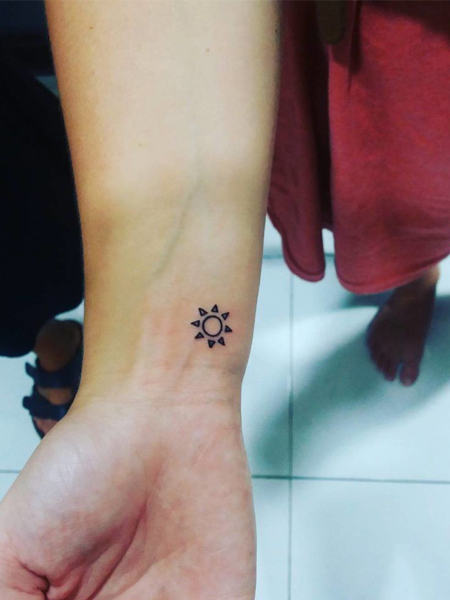 5. Sun Moon and Star Tattoo
If you are inspired by artwork that is rich in symbolism, then you will love the sun, moon, and stars tattoo. There are many ways to interpret this design, but one of the most powerful meanings is linked to the family. The moon represents the female, while the sun is masculine, and the stars can be children. A piece like this celebrates the family unit and is a great way to honor your loved ones. Other meanings include the balance between day and night. When deciding on getting your chosen body art, it is recommended to have it inked somewhere you can see to remind yourself why you chose it.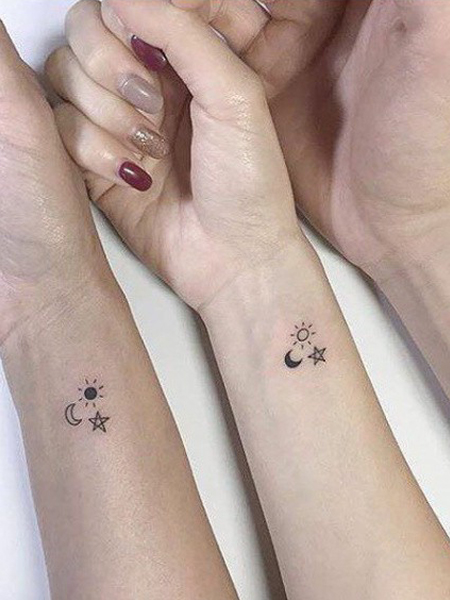 6. Sun Rays Tattoo
A tattoo of the sun's rays usually has a spiritual element to it. The light shining down can be seen as god gazing upon us. Many of these pieces include other features, such as a dove, praying hands, or a rosary. There is a different interpretation, though, which focuses on life. We cannot survive on the earth without the sun, which is a source of warmth and energy in our lives. These ideas can be expressed through your chosen body art, an appealing choice for a spiritual woman.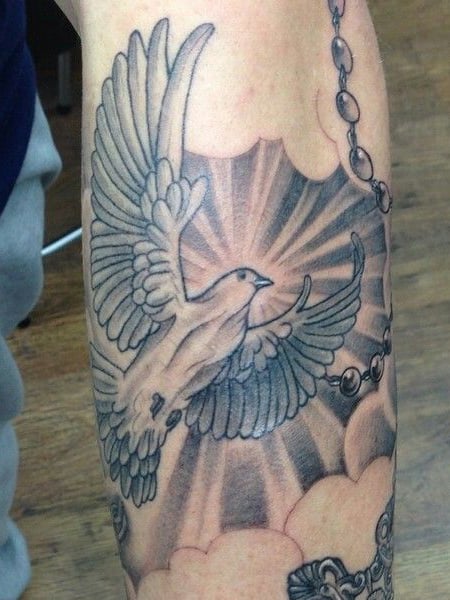 7. Yellow Sun Tattoo
When we draw an image of the sun, we typically tend to use yellow to depict it. It is a color that is often associated with warmth and light, and it is not surprising that it would be used to represent the sun. The shade is also linked to happiness and optimism. This vivid hue gives your ink an impressive finish, making it a standout design.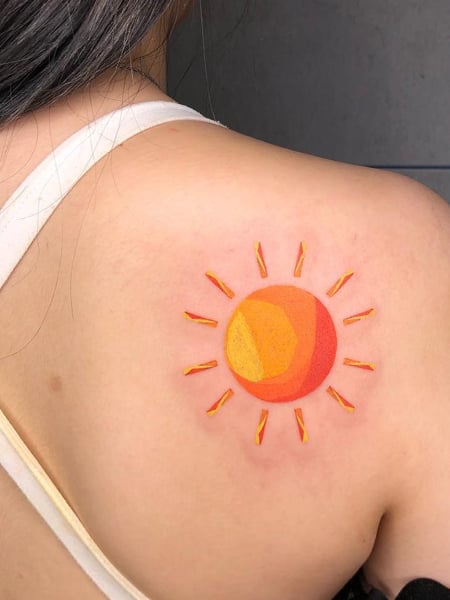 8. Tribal Sun Tattoo
The tribal sun has a very distinct style, and although relatively simple in terms of design, it holds essential symbolism. These tribal tattoos are associated with the balance between the sun and life. We all know that without the star at the center of our solar system, we would not exist on Earth, and this concept is explored through this ink. The sun means something different to each culture, and it could also represent light, creativity, and fertility. When deciding on your chosen body art, be sure to pick something that resonates with you.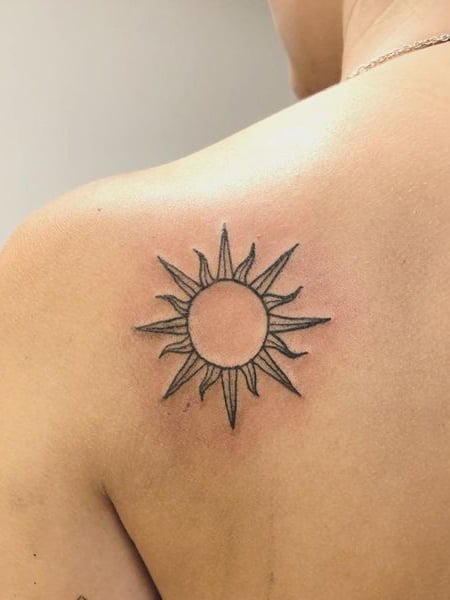 9. Wave and Sun Tattoo
Many people view the sun as a source of light and power, while the oceans' moving water symbolizes life's highs and lows. Combining the sun and a wave is a simple but impactful tattoo. For some, it can be seen as going with the flow; for others, it is nature's balance. This design will appeal to anyone who has troubles on their mind and will remind them to let go and take everything one day at a time.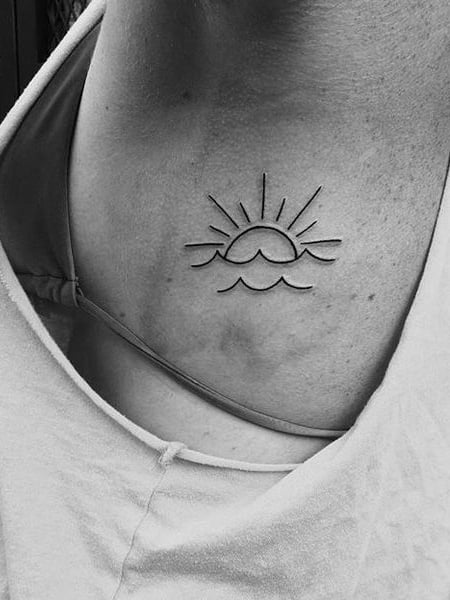 10. Rising Sun Tattoo
The rising sun tattoo has Japanese roots. It is inspired by the country's former flag, a red and white image used by the military. The design represents the county's emerging empire, loyalty, and strength. When deciding on this body art, it would be best to tattoo it in color. It is also worth noting that some people find this piece offensive, so it is essential to do your research before getting anything inked.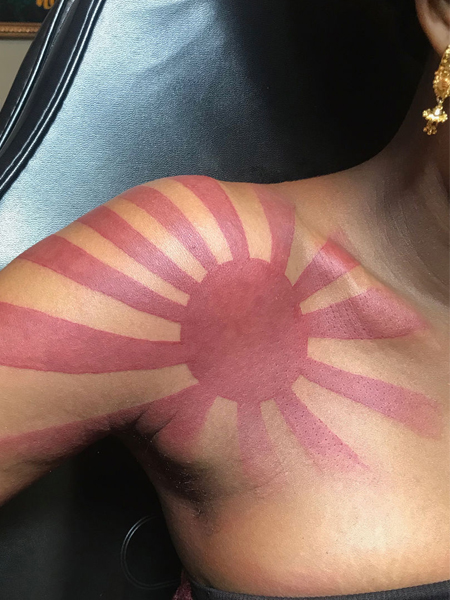 11. Filipino Sun Tattoo
Many cultures have symbols that hold special significance to them; for years, the Filipino people have used the sun to decorate their bodies. The design represents freedom and unity and is a fantastic thing to ink for someone proud of their heritage. That said, the image has become popular in other parts of the world. If you love the style, remember it is vital to research before opting for this ink to ensure respect.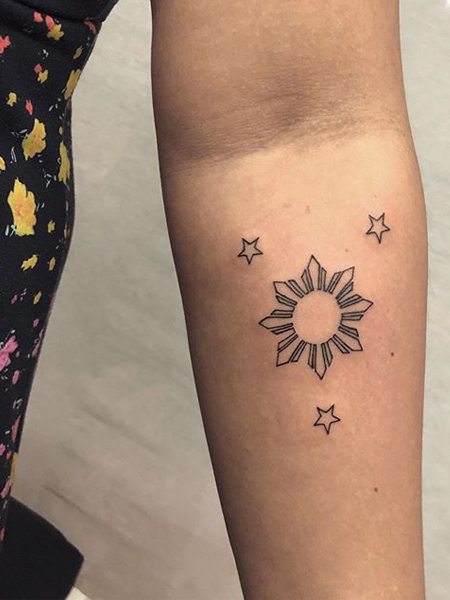 12. Aztec Sun Tattoo
The decision to get an Aztec tattoo could be due to your fascination with the culture or what it represents. This design depicted a god who was worshiped by the people of the time. The piece explores a link between life and the heavens and symbolizes power. It is also believed that the Aztecs became upset during an eclipse because they thought their sun god had died. Keeping this in mind, you can see why a woman would get inked with something that has such strong symbolism.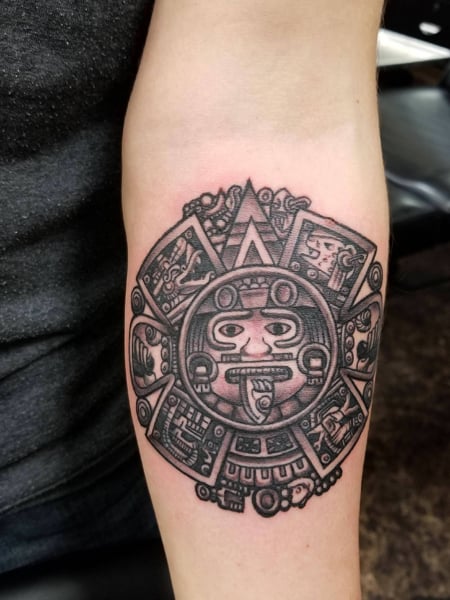 13. Sun Face Tattoo
The sun is often depicted as a circular design with rays coming out of it, but you can make it come to life by adding features such as eyes and a mouth to your tattoo. The meaning behind your body art can be open to interpretation and unique to you. That said, we can all agree this is a super cute and feminine choice.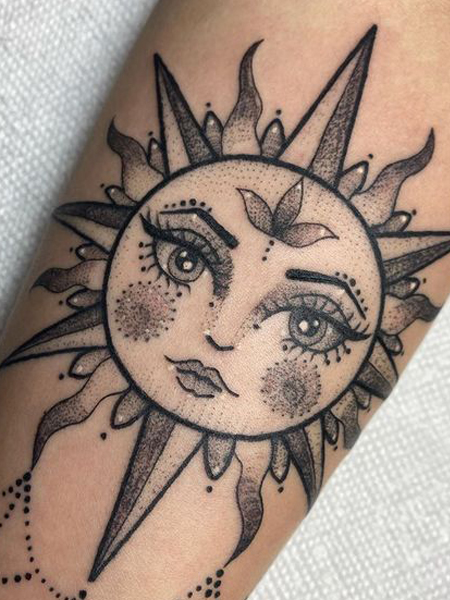 .
14. Japanese Sun Tattoo
If you have Japanese ancestry, then you may be drawn to a sun design like this. There are many variations of this ink, and individuals often choose to incorporate other elements to make the piece more unique. These could include a landscape or cherry blossoms. The bold red hue used to create the tattoo makes it stand out against the skin. It can represent strength and life.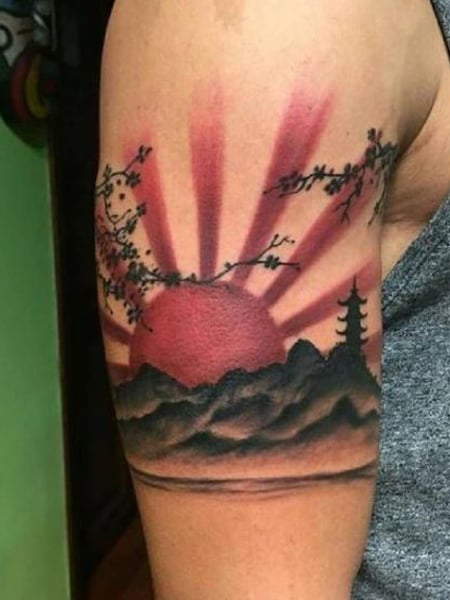 15. Mandala Sun Tattoo
Mandala tattoos are created using shapes and symbols, and the overall effect is incredibly beautiful. The idea behind intricately weaving these pieces together is to create a sense of harmony and balance. The mandala represents creativity, energy, passion, and spiritual growth when completed in a sun shape. It is easy to see why women want to get inked with this meaningful design.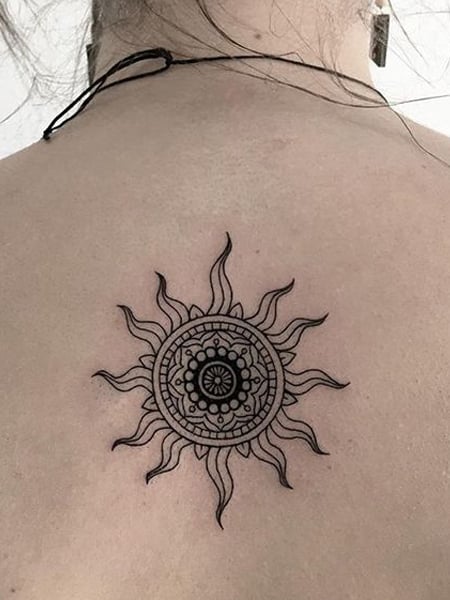 16. Traditional Sun Tattoo
One of the most appealing things about getting a sun tattoo is that they are so versatile. For this reason, there are many different designs, each rich in meaning and unique to the wearer. A traditional sun piece is associated with life and energy. Women opting for this ink will choose to keep it simple, depicting the sun as a circle with rays. The old-school style is known for its bold lines and can be tattooed in color or black ink.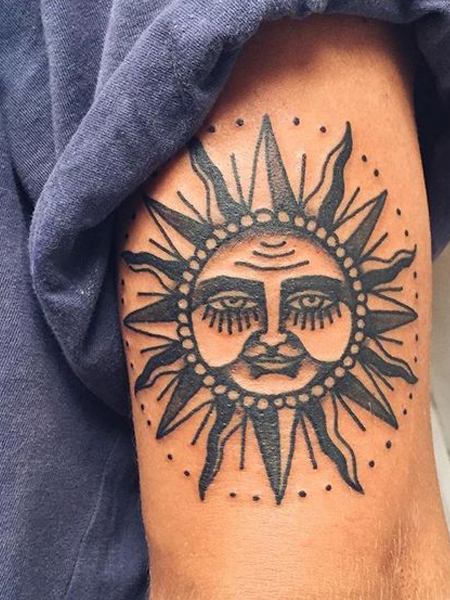 17. Half Sun Tattoo
When deciding to get inked with any body art, you will find you are not just inspired by the cool design but also the symbolism behind it. The sun is an appealing choice of tattoo because it represents strength, light, and life. Most individuals prefer a circular image to depict the sun, but others prefer the half option. The meaning is open to interpretation but can be viewed as living life in partial darkness. Alternatively, some individuals like the partial ink's look or add other elements to their artwork, such as the moon, to indicate balance.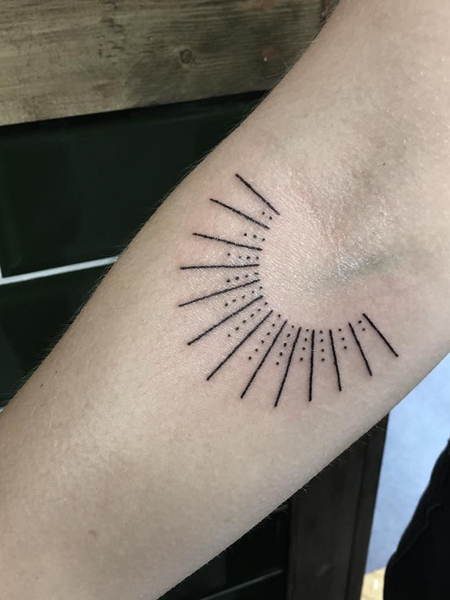 18. Geometric Sun Tattoo
Geometric tattoos focus on the basic shapes and lines of the traditional sun design, creating something visually interesting. They tend to represent balance, stability, and even mystery. That said, the meaning behind your artwork can be unique to you. The style can be a more abstract approach to body art, and you will unlikely regret it because so much effort has gone into its creation. When opting for this piece, be sure to find a tattoo artist who can create an impressive sketch.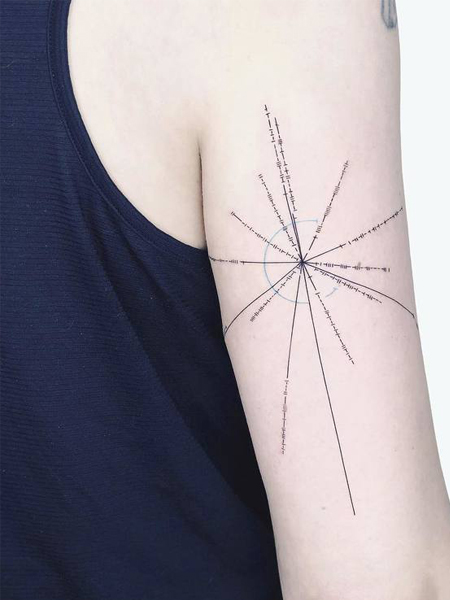 19. Tangled Sun Tattoo
If you are a fan of Disney movies, then you are probably familiar with the sun from Tangled. It has become a popular choice for women to ink because of its beautiful, feminine design. It serves as a symbol of hope and light. This piece works best when created in bold, bright colors. You can make the ink reflect your personality by getting it done in a style you favor, for example, watercolor body art.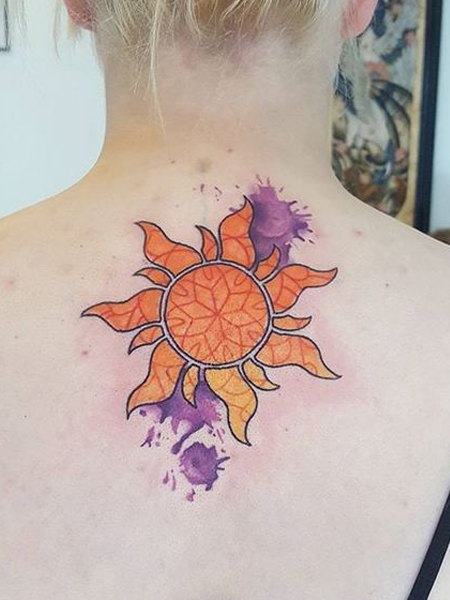 20. The Sun Will Rise, and We Will Try Again Tattoo
Finding inspiration for a tattoo can come from our favorite films, poems, or moving lyrics. If you are a fan of Twenty-One Pilots, then their song, Truce, may have special meaning to you. The line, 'the sun will rise, and we will try again,' is featured in the track and has an uplifting message. Every day, the sun rises and sets, so if you're having a tough time, it is essential to remember there's always tomorrow. This design will inspire women who want to remind themselves there is a chance and a new beginning.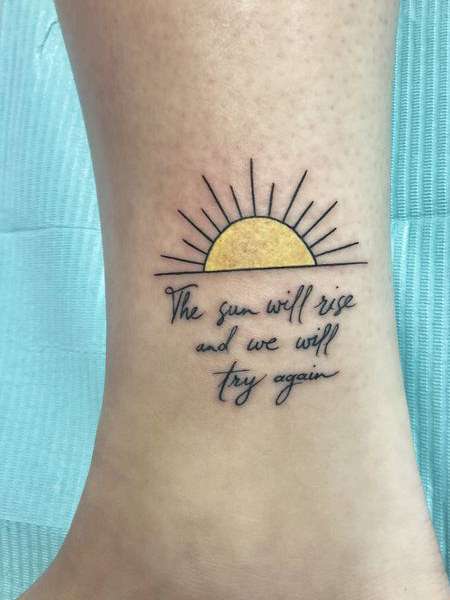 Sun Tattoo Meaning
A sun tattoo means different things to various cultures, but the most common symbolism is light and rebirth. Without the sun, we would not exist on earth, so it also represents the balance of life.
Sun Tattoos FAQs
Where do you put a sun tattoo?
There are many different sun tattoo designs. If you choose a small or simple piece, your wrist or ankle is a fantastic choice. More extensive body art will look good on the forearm, the back, or the thigh.
What does sun and moon tattoo mean?
A tattoo like this is rich in symbolism and often represents the balance between two opposing forces. These could include good and evil, light and dark, death and life, and even masculinity and femininity.
What does a tribal sun tattoo symbolize?
A tribal sun represents the balance between the sun and life on earth. It can also express light, strength, and creativity.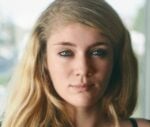 Cailyn Cox holds a degree in journalism and has been working with The Trend Spotter as a writer for over ten years. She has worked with some of the most prestigious women's and men's lifestyle publications. For her, writing is not just a job; it's a passion, which is why each article she writes is approached with such enthusiasm and dedication. She has extensive knowledge of hairstyles, tattoos, and beauty and has made a career out of creating informative articles that appeal to women and men of all ages.
SUBSCRIBE TO OUR NEWSLETTER
Subscribe to our mailing list and get interesting stuff and updates to your email inbox.