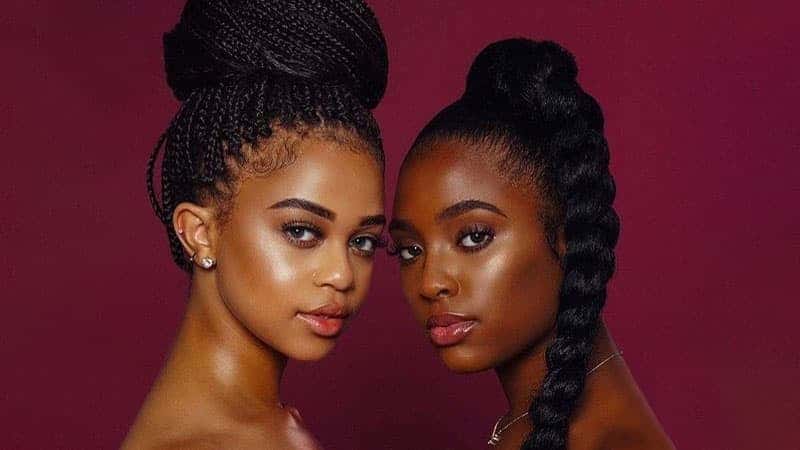 If you have been looking for a fun or expressive way to style your hair, look no further than black braided hairstyles. While embracing your natural texture is gorgeous, caring for it can be time-consuming. However, braids could be a great alternative if you feel like taking a break from heat styling and ditching (most of) your products. When it comes to finding the perfect style, there is no one option to suit all because there are many looks to choose from. Some appeal to women who prefer a classic approach, while others are daring, colorful, and bold. Keep reading to learn everything there is to know about how to rock black braided hair.
1. Box Braids
Box braids are a great protective style, but not only will they aid natural hair growth, but they are also a fantastic, expressive look. They are created with square-shaped divisions, which gives them their boxy appearance. The best part is that they can be made short or long and styled just the way you like.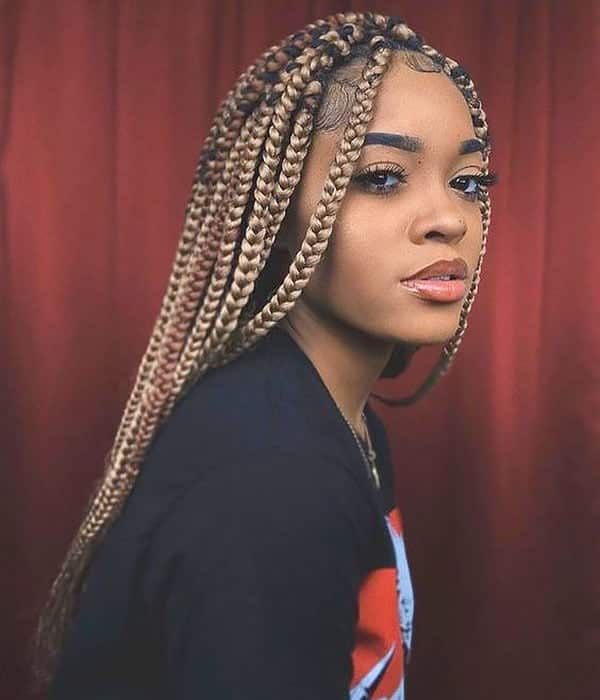 2. Braided Ponytail
What is not to like about the braided ponytail? Braids are appealing because they are a protective style, and there are various looks to choose from. This makes it easy to reflect your personality and experiment with your hair. But for a sleek finish, style them in a simple updo like this.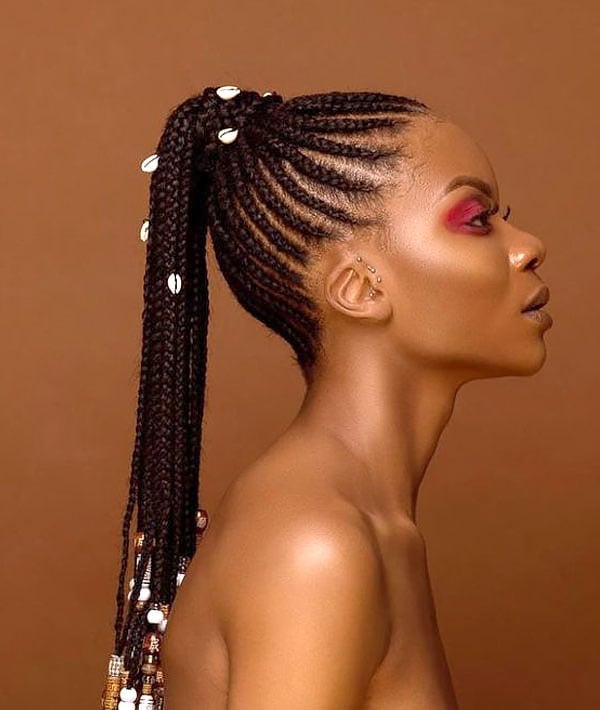 3. Braided Bob
The braided bob blends the classic haircut's beauty with the braids' texture. The combination is stylish and versatile, ideal for women of all ages, and a great way to highlight your facial features. The length is perfect for those who want lighter braids, making for a low-maintenance yet sophisticated finish.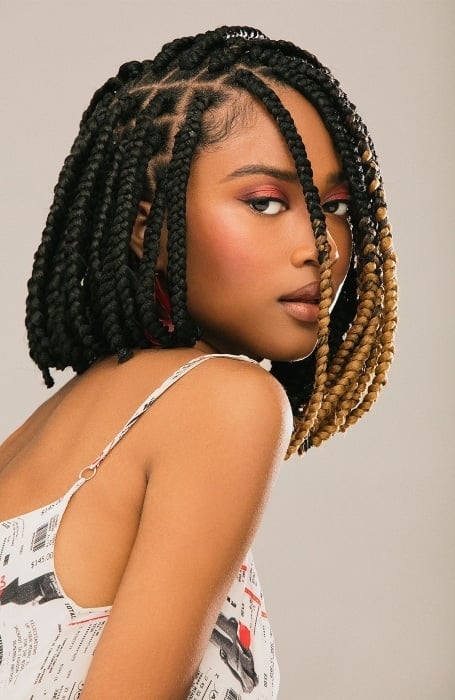 4. Beaded Braids
Beads are so much more than an accessory. Adding beads to your braids will make a statement and will make your hair even more eye-catching, but they also have symbolic value. They have been worn by tribes and can represent different things, including social hierarchy and marital status. Wearing beaded braids is a way to celebrate your heritage.
5. Butterfly Braid
Look no further than a butterfly braid for those who like to stand out and want an eye-catching hairstyle. This gorgeous oversized design is created down the center of the head, uses the underhand technique, and will leave you with a long, chunky finish. You may require hair extensions to achieve the desired length and fullness.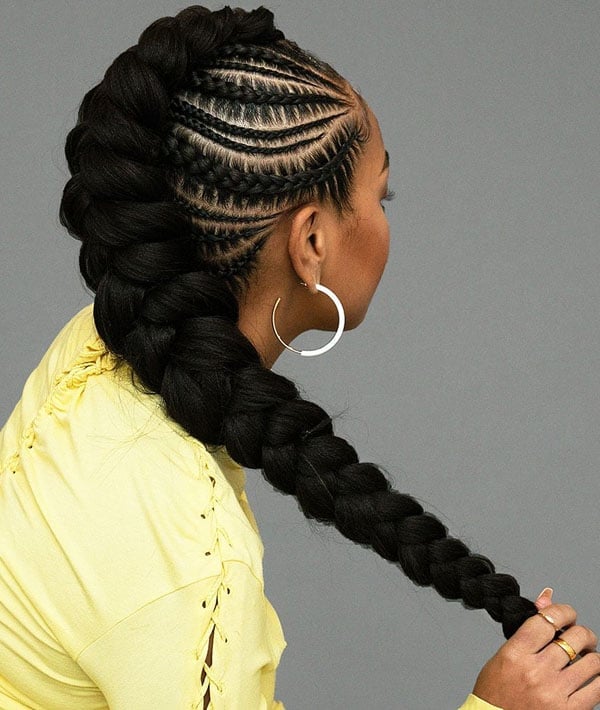 6. Cornrow Braids
Cornrows are one of the most simple and popular braided styles and are loved for their versatility. The hair is braided close to the scalp using the underhand technique, which gives them a raised appearance. You can create them to be thin or thick, long or short. Basically, whatever you want to do is possible, babe.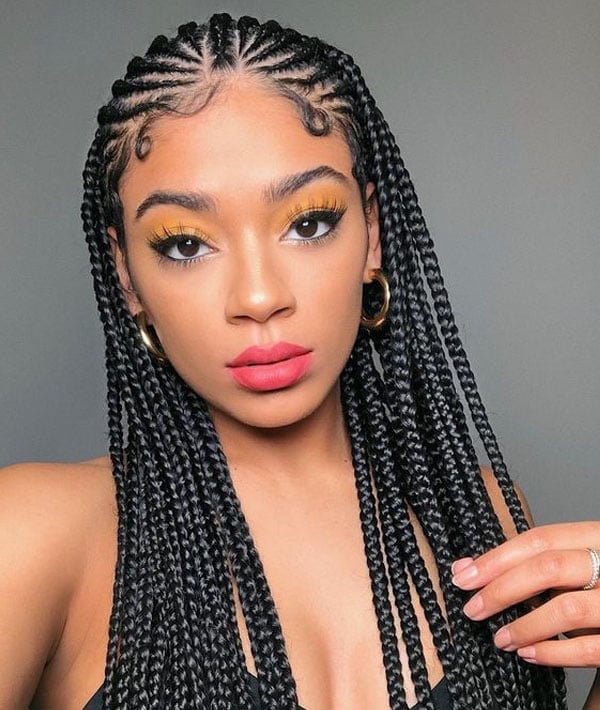 7. Box Braids with Heart
You have heard of wearing your heart on your sleeve, but how about in your hair? It does not get more expressive than box braids with a heart hairstyle styled onto the scalp. This look takes some skills to pull off, but it creates an attractive and unique finish.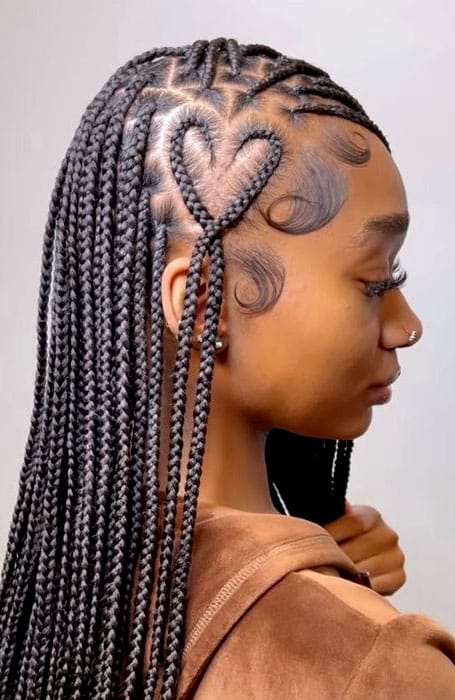 8. Crochet Braids
Crochet braids are quicker to install, ensuring you will not have to spend hours in the salon chair. As for how you achieve them? This is done by using a crochet hook to thread extensions through a cornrow base, and from there, the hair can be styled as you wish. This includes adding cute accessories, like thread, for a brilliant pop of color.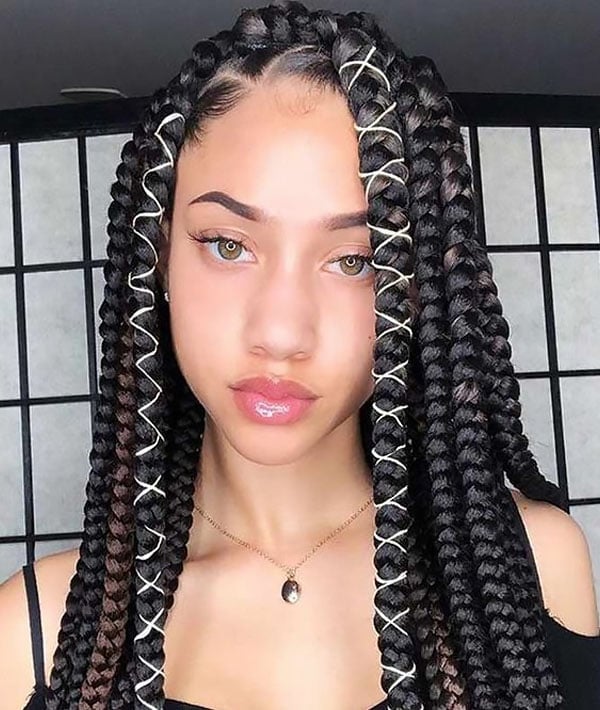 9. Dookie Braids
Dookie braids have been favored by some of the hottest celebs in the world and are a 90s fav. They are unmissable thanks to their thickness and how each piece falls freely. Their defining feature is that they are not braided to the scalp.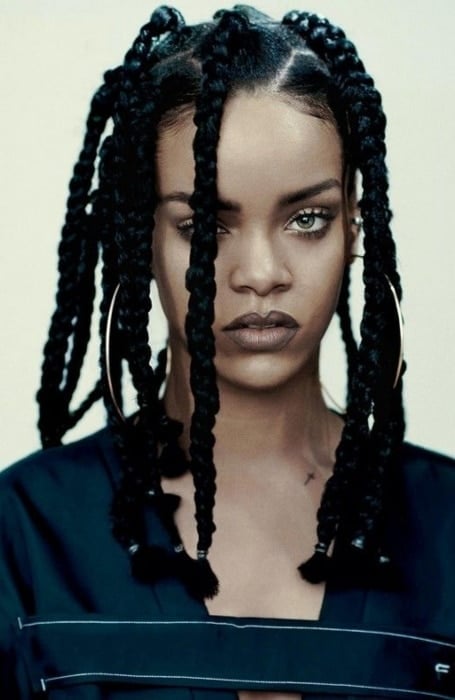 10. Feed-in Braids
Let us introduce you to feed-in braids, which gradually 'feed' in the extensions. They are created without knots, which makes them more gentle on the scalp (great for those who have thin or delicate strands) and will have a natural finish. We know you will love them!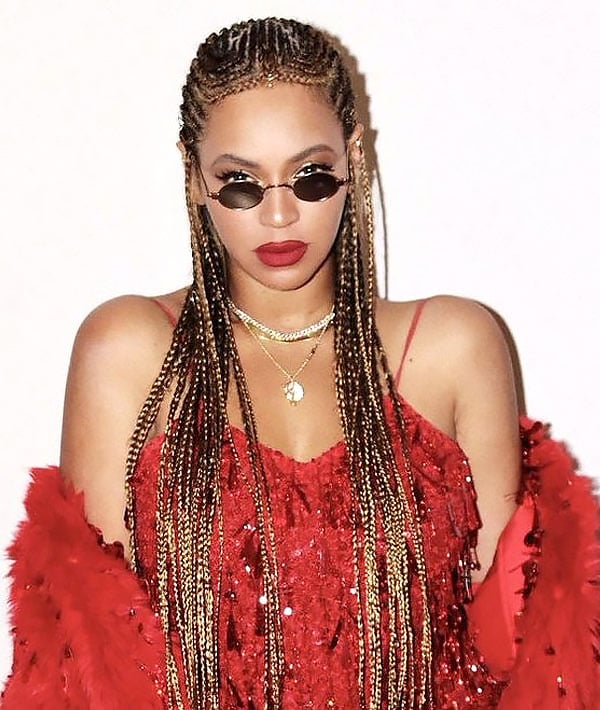 11. Cornrow Goddess Braids
The cornrow goddess braids are a combination of two styles in one. The goddess style is essentially a thicker version of cornrows and is very similar in appearance. It will be created using the underhand technique, done close to the scalp, and styled however you wish. Want a ponytail or a bun? No problem! Or you can leave them loose.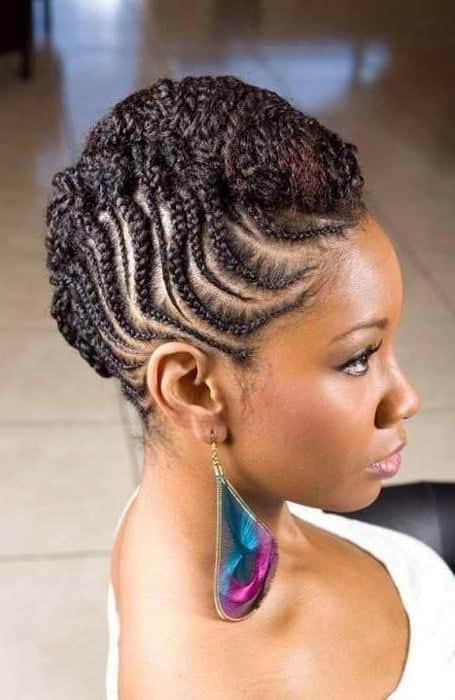 12. Box Braids with Curls
Box braids appeal because there are different ways to style them. So, for those who want to embrace the boxy-like appearance and add more texture to the braids, a great alternative would be to wear them with curls. This is done by unraveling and curling the ends, which will add softness to your look.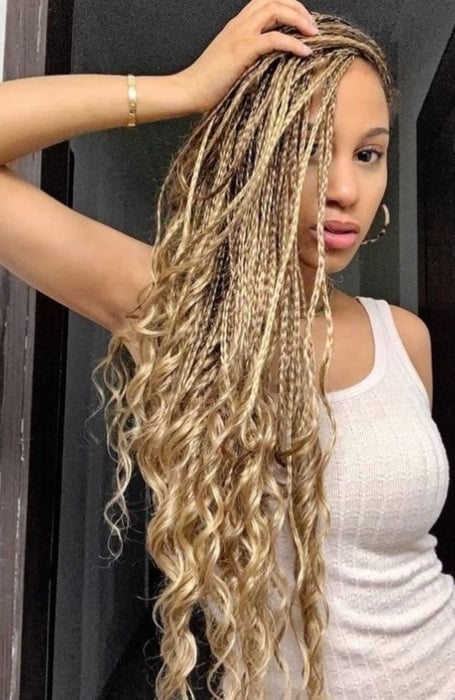 13. Fishbone Braids
There are few hairstyles as interesting and intricate as the fishbone braids. The brilliance of this look is the pattern it creates on the scalp, which is produced by styling the hair into thin cornrows on the sides and two thick strands that run from the sides to the back.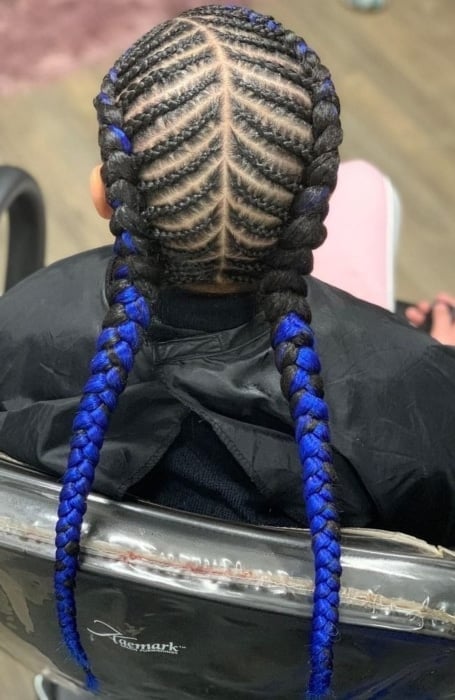 14. Fulani Braids
Fulani braids have been inspired by the Fula people of West Africa, making this a hairstyle that is not only gorgeous but also of great importance. It is easily recognizable thanks to the plaits on the sides of the head and the central braided crown (which will be even more noticeable if you decorate it with accessories).
15. Ghana Braids
Ghana braids originated in Africa and are stunning and defined by the straight-back strands. They are created using extensions that are intertwined with natural hair to produce a thicker and fuller result. There is a lot to love about this protective style, which is ideal for women who want a change from heat styling.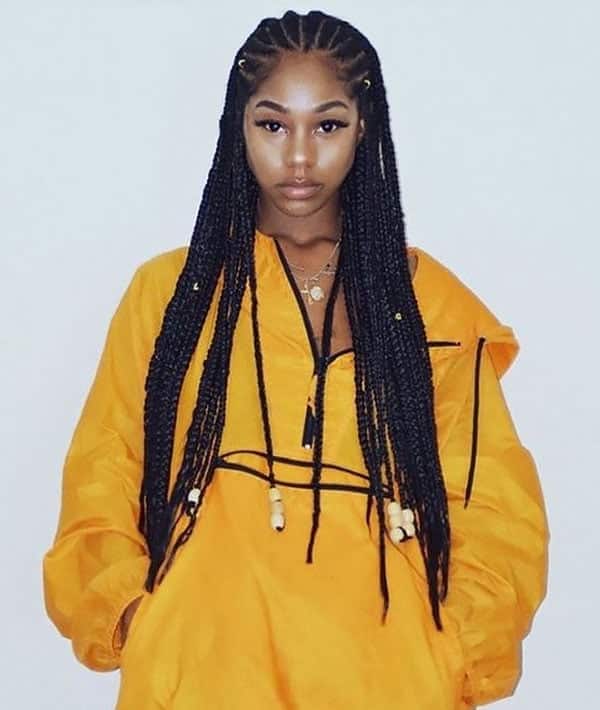 16. Goddess Braids
Goddess braids are a version of the classic cornrows but are thicker. This makes them an excellent option for women who want an eye-catching, effortlessly stylish look that lasts for weeks. The way they are raised higher on the scalp (using the underhand technique) will ensure your hair gets noticed.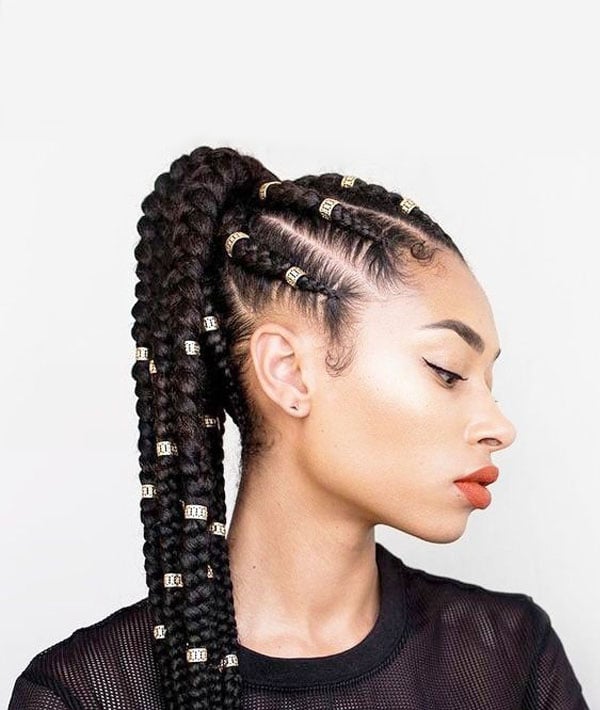 17. Jumbo Box Braids
Go big or home go, right? There is a lot to love about large braided styles, especially how noticeable they are. Jumbo box braids are perfect for showing off your hair with large, chunky strands. They look great in different colors and can be worn with accessories, so have fun with them.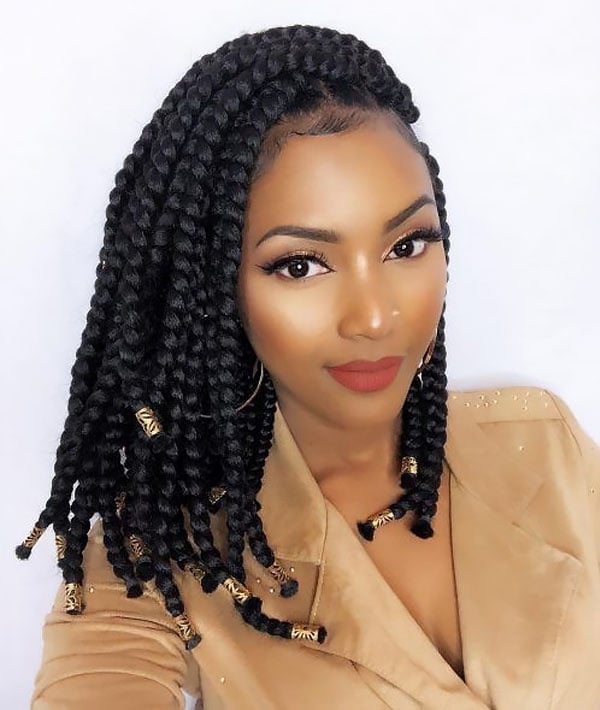 18. Knotless Braids
As the name suggests, knotless braids are created with a genius technique that requires no knots. This gives you a more seamless and blended finish, which can be super flattering. In addition, there are different ways to style your strands. But do you know the best part? No tension on the scalp to cause you discomfort.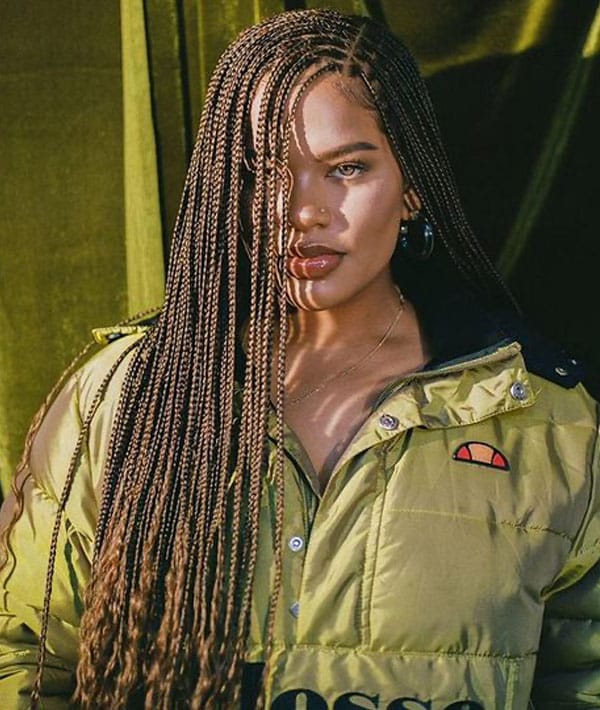 19. Large Knotless Braids
Knotless braids can be created in many ways, making them a favorite style. For those who want their hair to be eye-catching and to really have fun with their finish, the bigger, the better. Large braids are gorgeous and they give you more opportunities to experiment with cute or symbolic accessories.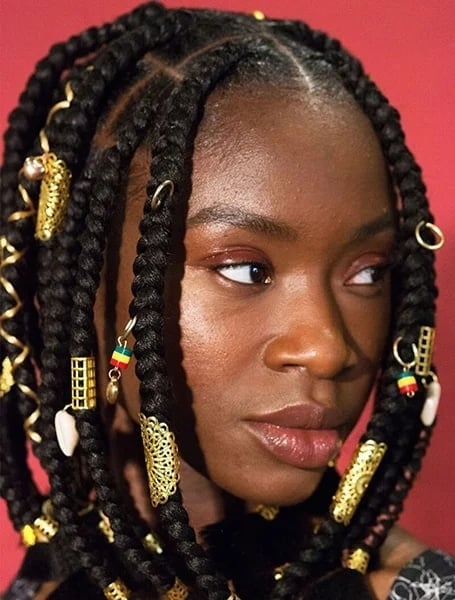 20. Lemonade Braids
If you love Beyonce as much as we do, then you will be drawn to Lemonade braids (which have enjoyed a resurgence of popularity since Queen Bey wore them on her album cover). They are neat and effortlessly chic, created to appear left and right across the scalp. This differs from many braided looks, which will be styled straight back. But who doesn't want something unique and eye-catching, right?!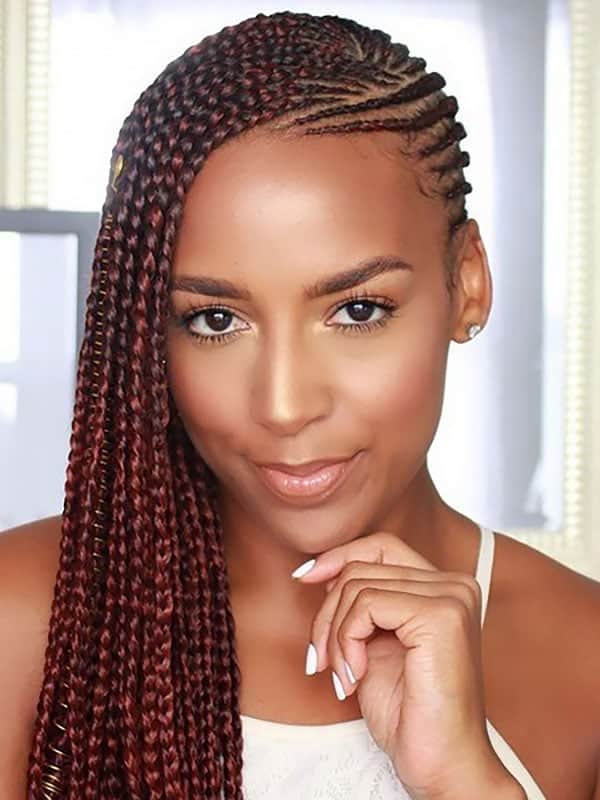 21. Long Box Braids
Long hair is an excellent way to make you stand out. The braided look will depend on your preference, but it can be anything from passion twists to box braids. The best part is the unlimited styling options, so use this as your opportunity to really get creative and give yourself the perfect strands.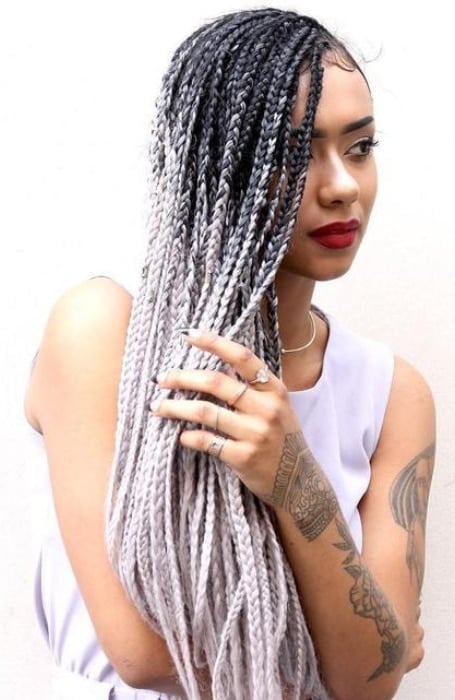 22. Medium Box Braids
Medium box braids are created to be just the right length to frame your face. More than this, the shorter strands make them less maintenance while still giving you options for styling, like a cute low ponytail or a bun. This braided style is stunning, and the boxy appearance makes it all the more interesting.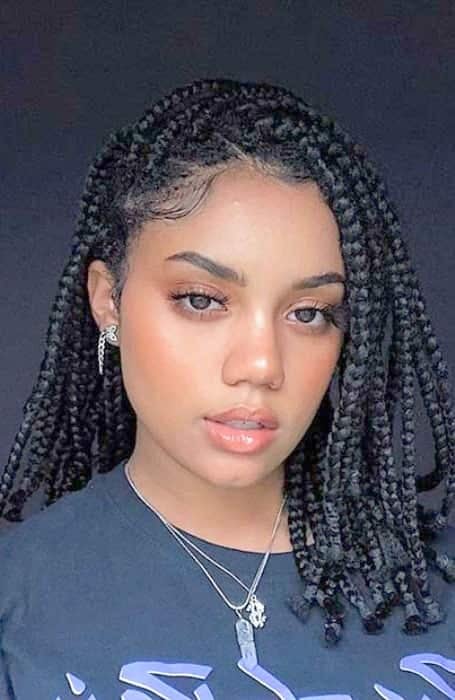 23. Micro Braids
Micro braids are created with thin strands of hair. This makes them time-consuming to install but oh-so-stylish. The best part is the movement and texture these tiny, delicate pieces create (they are great if you want to swoosh your hair back and front). This is not an option for those with dry or brittle locks, and the style can be prone to breakage.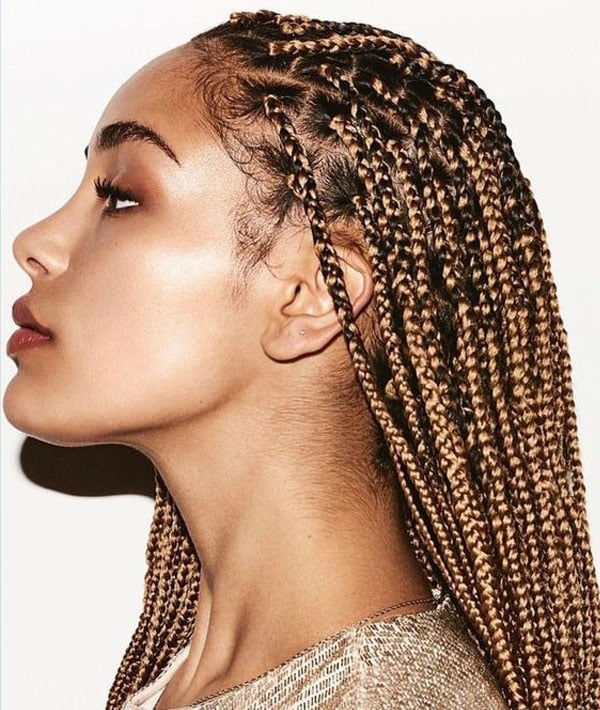 24. Ombre Box Braids
What better way to experiment with color than with ombre box braids? The hair coloring technique creates a brilliant blend between dark and lighter shades, and the hues you choose are entirely up to you. It could be natural colors for a more subtle finish, or you can be adventurous with brighter, artificial dyes.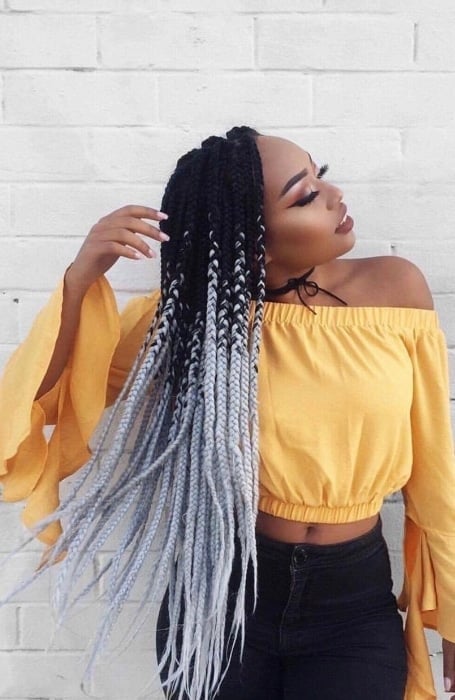 25. Passion Twist Braids
We love passion twists because they are super feminine and ultra-stylish. Created in 2018 by Miami hairstylist Kailyn Rogers, they are all about texture, constructed using a modern approach to two-strand twists and with Freetress Water Wave extensions. Plus, you can wet the braids, making this the ultimate choice for summer-loving ladies.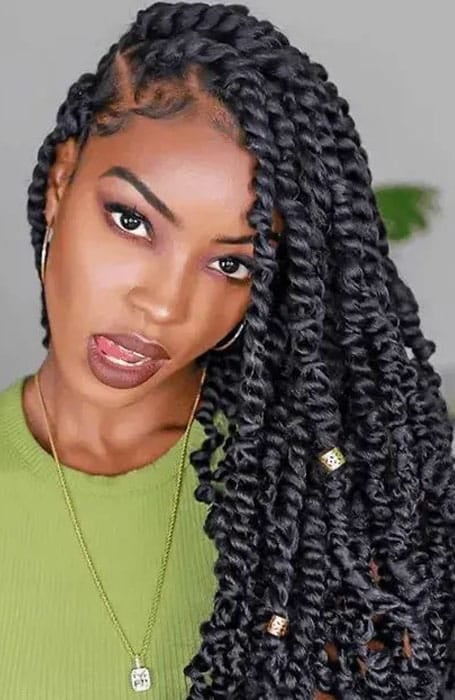 26. Poetic Justice Braids
There are few hairstyles as feminine and undeniably gorgeous as poetic justice braids. The name may sound familiar, and that is because Janet Jackson's hair inspired them in the 1993 film Poetic Justice. They are worn long and chunky and look great with hair accessories like beads or cuffs.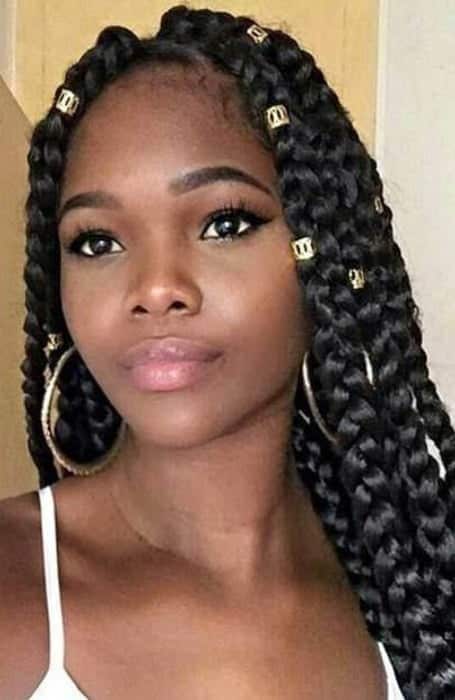 27. Ponytail with Lemonade Braids
Do you love lemonade braids but are looking for a practical yet stylish way to wear them? The answer is a ponytail. This versatile updo works well with hair of various lengths and thicknesses. The simplicity of the ponytail makes it a stunning choice and one that will lend itself well to most occasions, from casual to formal.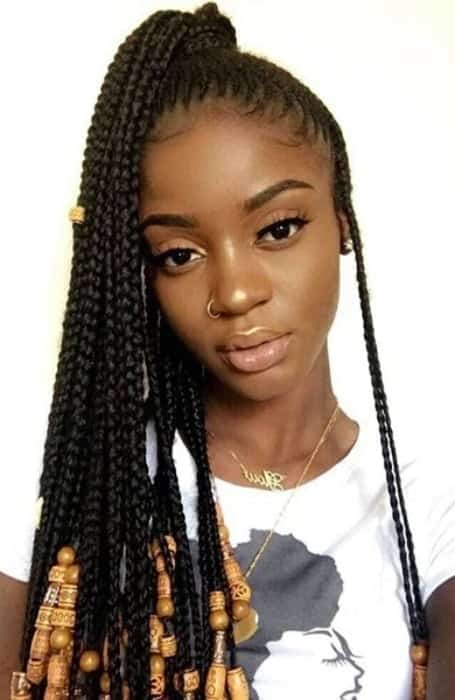 28. Pop Smoke Braids
Inspired by the late rapper of the same name, Pop Smoke braids are created after his signature look. And what is this style? It is made using stitch-in knots and features a middle parting with four braids on either side of the head, although the number can be altered, depending on your desired finish.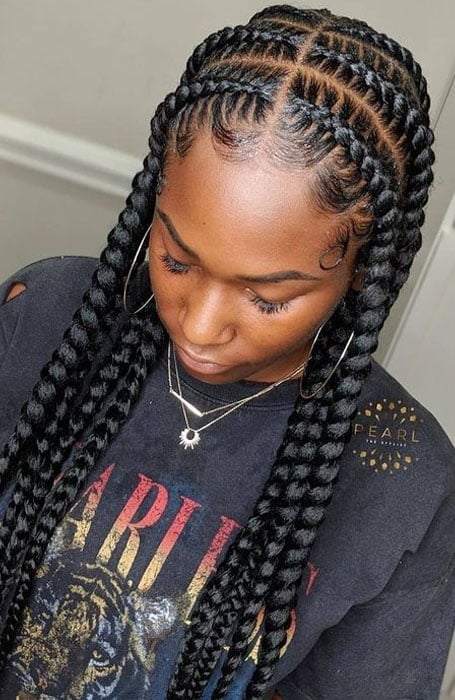 29. Senegalese Twist Braids
Senegalese twists are the ultimate choice for stylish women looking for a soft and feminine hairstyle. They are rope-like braids that wrap extensions (for the best finish, use synthetic) around the natural strands before twisting. The result is brilliant texture and a protective style lasting for months.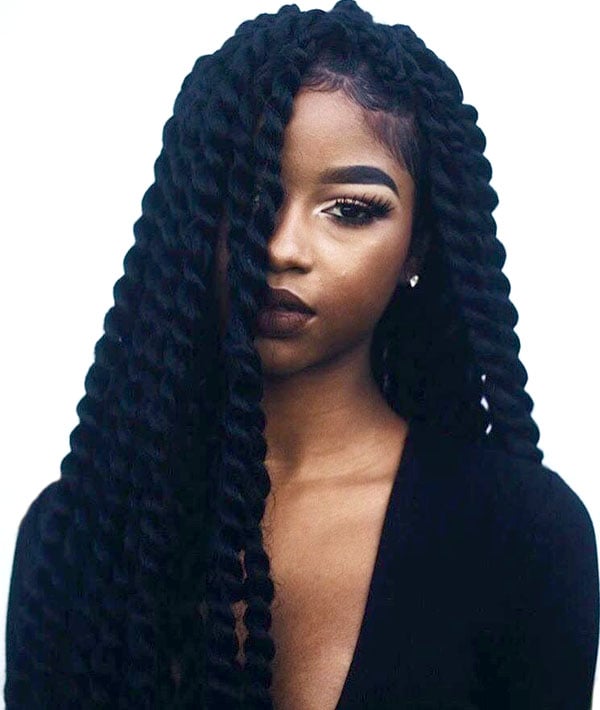 30. Side Braids
Side braids are worn to one side, which creates an interesting aesthetic. They are also incredibly flattering and can frame the face and highlight your features. You can leave some of the hair loose for contrast (this is also an attractive way to embrace your natural texture) or braid them from top to bottom.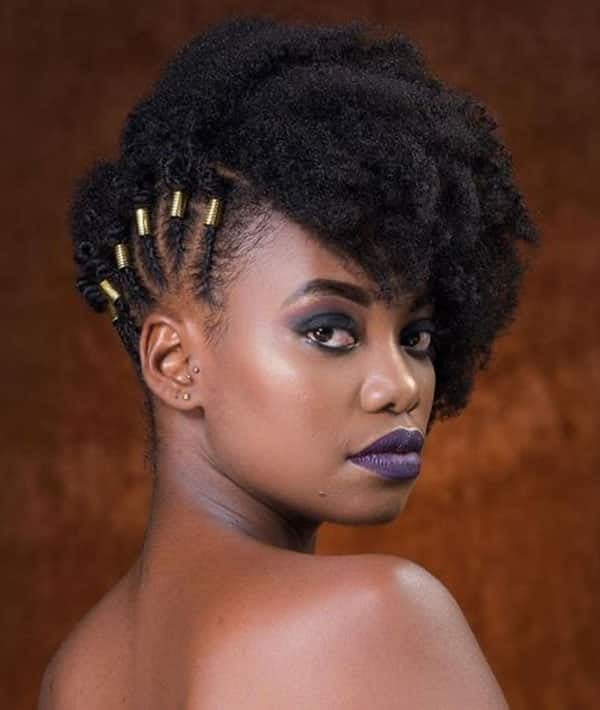 31. Small Box Braids
Box braids are super versatile, which is why we love them! This gives you plenty of opportunities to experiment with the finish and tailor your style to how you like it. Smaller strands will appear tiny and delicate, and despite taking longer to install, they create an excellent finish.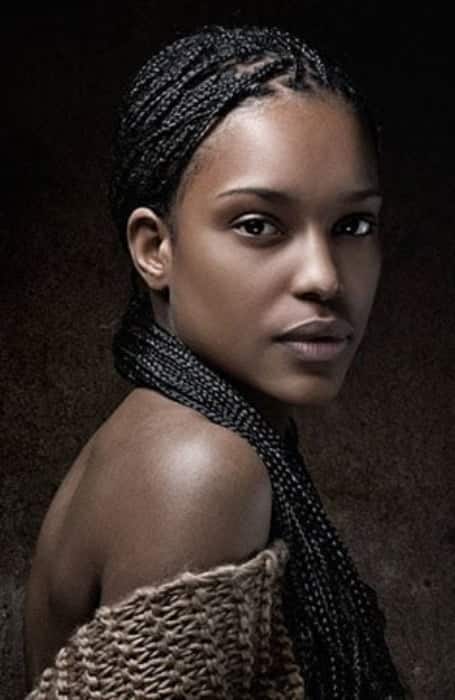 32. Space Buns with Side Braids
We could argue that no updos are as cute and feminine as space buns (a bun on either side of the head). But what better way to personalize the look and make it more unique than by adding side braids? The combination feels youthful and fun and will work with all textures.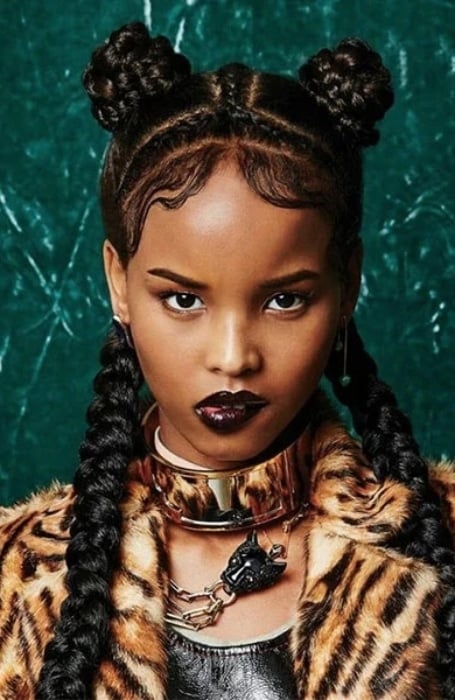 33. Straight Back Braids
As the name suggests, straight-back braids are created to face backward rather than appear on either side of the head. This option is simple but effective, keeping your hair away from the face and opening it up. This is also a great way to achieve a neater, sleeker finish. Style them with the length and thickness you love.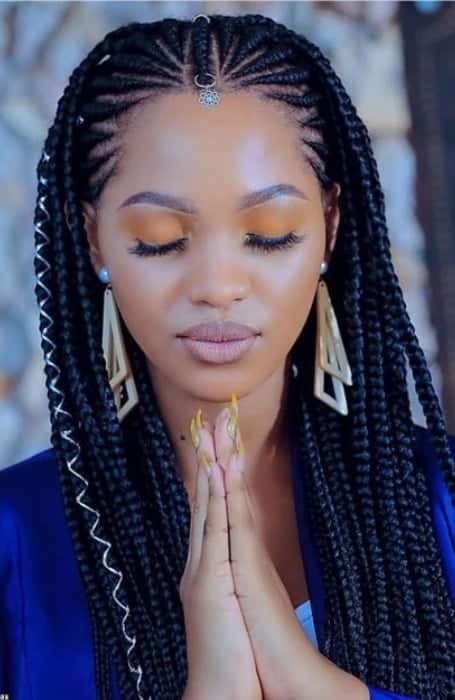 34. Top Braided Bun
Braided buns are full of texture and a great way to secure your hair. But if you want an even more glamorous finish, try styling the updo, so it is higher on the head with a top bun. This will give you that sleek result you desire and show off your braids even more.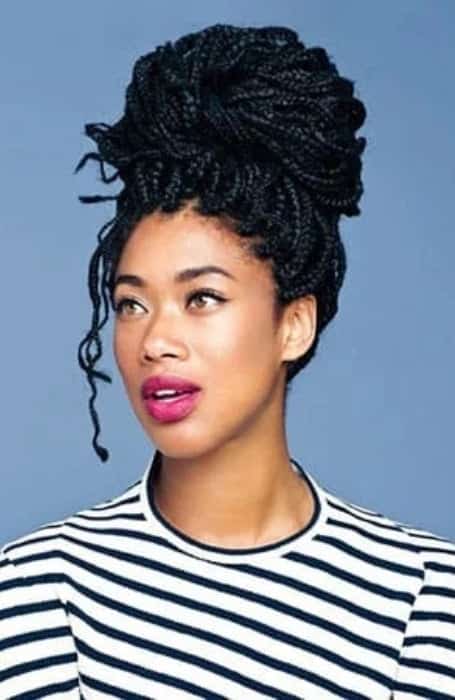 35. Tree Braids
Tree braids are mini cornrows braided a couple of inches away from the hairline. The rest of the hair is left free, with the combination producing a brilliant, textured finish. For the best results, try wearing them longer, giving you more versatility in style.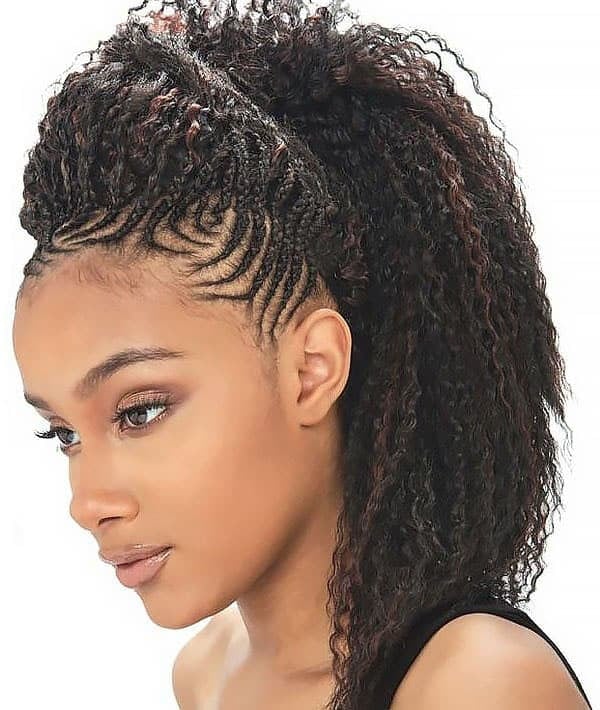 36. Triangle Box Braids
You know box braids appear box-like because of their square divisions, right? But what about the triangle approach, which takes on a triangular form instead? The strands will be made lower on the head, giving your scalp an interesting pattern. This look feels fresh and modern, which makes it the perfect youthful and creative hairstyle.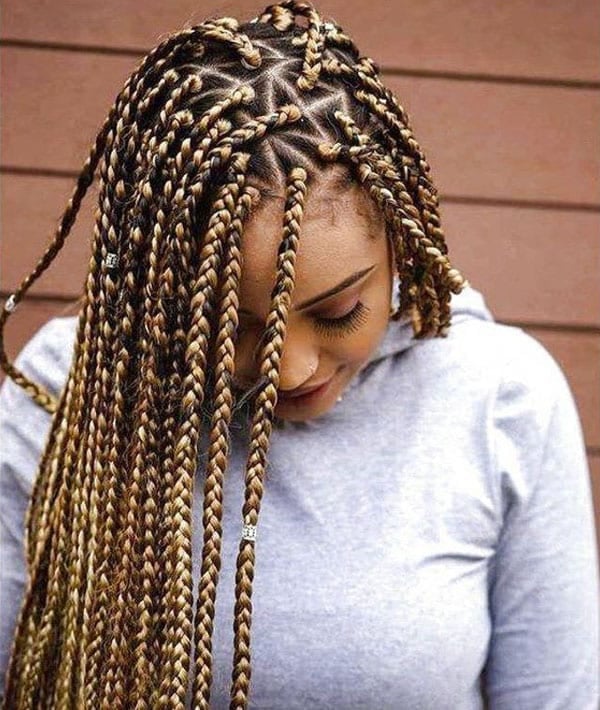 37. Tribal Braids
Tribal braids are a general term for braided styles originating in Africa. You will choose from different patterns, thicknesses, and lengths, and feel free to use symbolic accessories (like cuffs and beads). Examples could include Fulani or Ghana styles, or it could be a combination of various looks to give you something unique and expressive.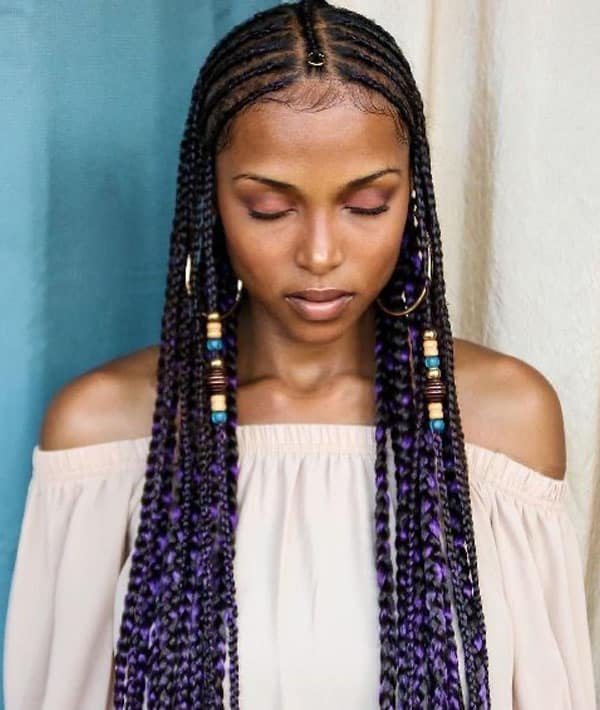 38. Twist Braids
Have you been looking for a way to reduce the time it takes to create your perfect hairstyle? Let us introduce you to twist braids, made not with intricate braided styles but by twisting strands of your hair together. The result is a brilliant, textured appearance you will love.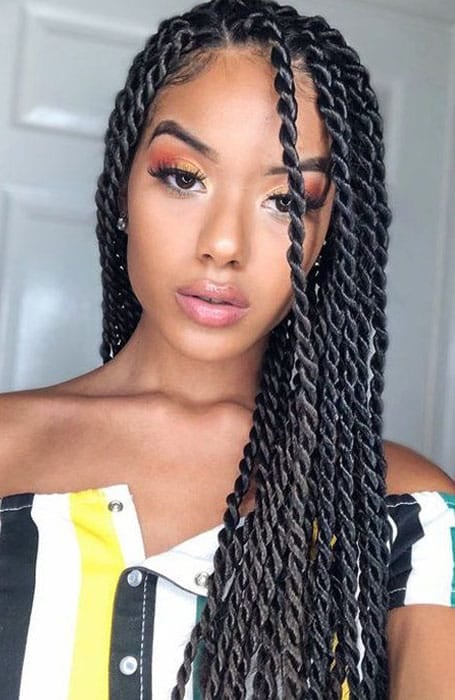 39. Updo Braids in a Bun
So you have settled on the perfect braids but are at a loss on how to style them? We hear you, and one of the cutest ways to wear most braided hair is in a bun. This simple, feminine, and neat approach will lend itself to most occasions and looks good on all face shapes.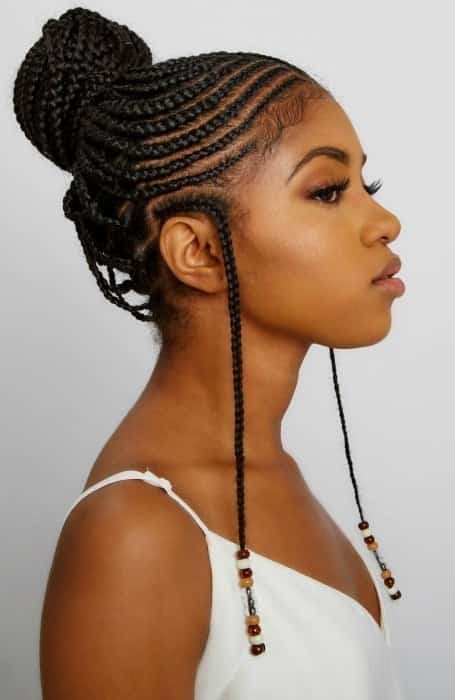 40. Yarn Braids
Yarn braids are so cool because they are created using acrylic extensions. This allows you to experiment with bright colors and create a bold, eye-catching, expressive, and undeniably fun finish. They can be made to be thin or thick, long or short. The best part is the choice is yours!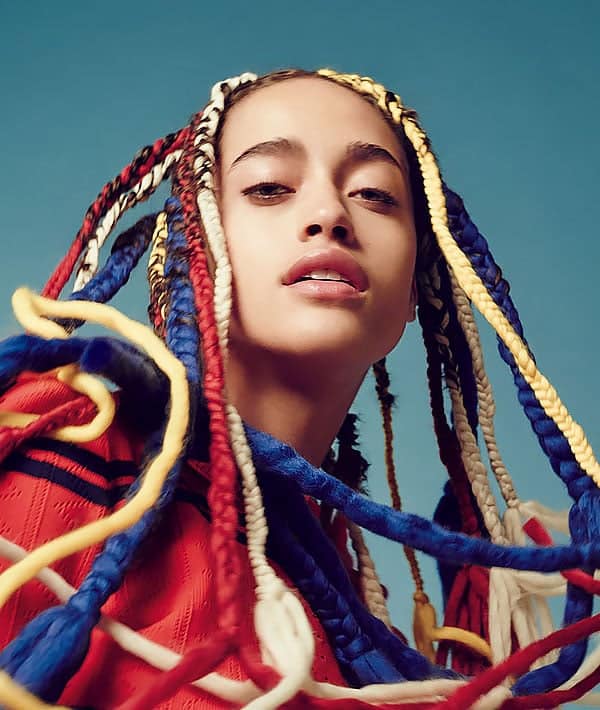 SUBSCRIBE TO OUR NEWSLETTER
Subscribe to our mailing list and get interesting stuff and updates to your email inbox.