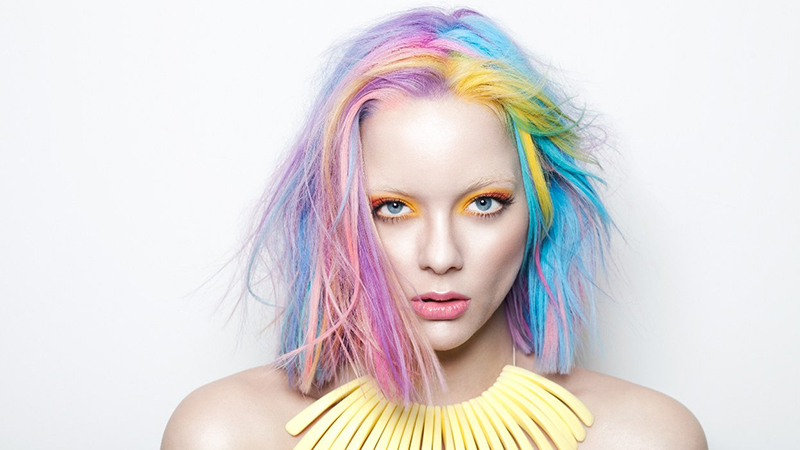 Nothing captures the wild and free festival spirit like rainbow hair. It's the perfect time to get creative and experiment with your look. There are no rules when it comes to festival hair – so if you've always wanted to try the rainbow trend, seize the opportunity! Plus, there are many different variations on rainbow hair, so you're sure to find one to suit you on our list.
1. Hidden Rainbow Hair
For an intriguing take on rainbow hair, try a 'hidden' rainbow. Dye rainbow streaks into the lower section of your hair, keeping the top part natural. Doing so means the rainbow will only be visible when your hair is styled in an up 'do or half-up, half-down look. If you leave your hair down, you'll also show subtle flashes of the rainbow when you swing your hair or braid it.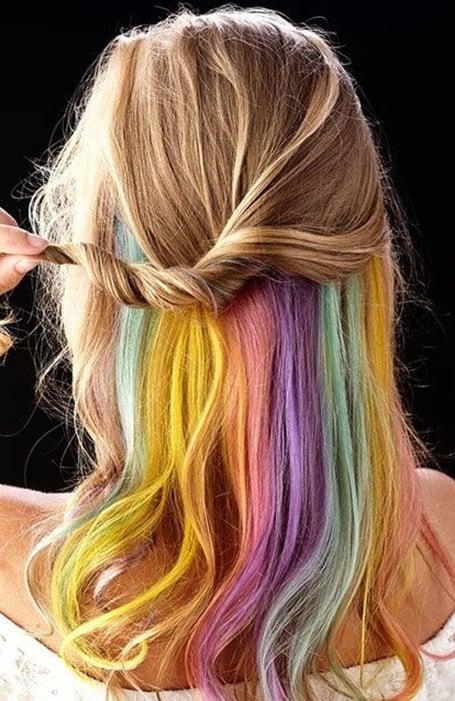 2. Holographic Rainbow Hair
The holographic trend has been popular across fashion and beauty for years, and now it's hair's turn for a multicolor makeover! There are several different ways to achieve a multi-faceted holographic hairstyle. For a beautifully blended look, your stylist may use the freehand halo prism technique. If you're a fan of holo nails or accessories, why not try a holographic rainbow hairstyle?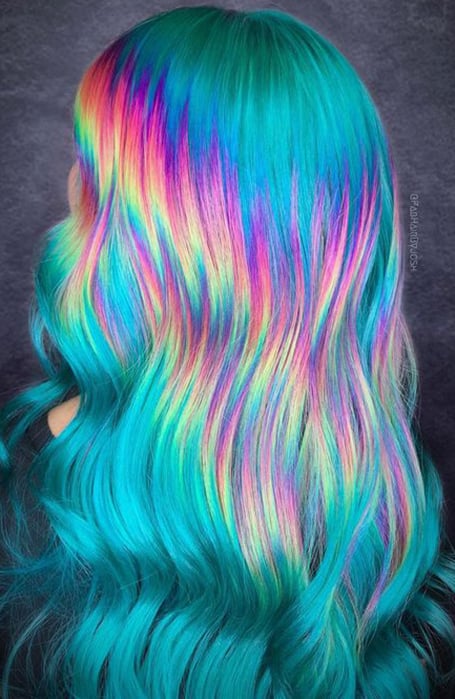 3. Pastel Rainbow Hair

For a soft, pretty, and wearable version of rainbow hair, try a pastel rainbow. Sweet and feminine, pastel hair will give you a cute and ethereal look. However, to get the pastel rainbow look, you will need very light hair. Those who are natural brunettes should set aside enough time to bleach and tone their hair to icy blonde. Otherwise, you can get pastel rainbow hair by dyeing a platinum blonde real human hair wig.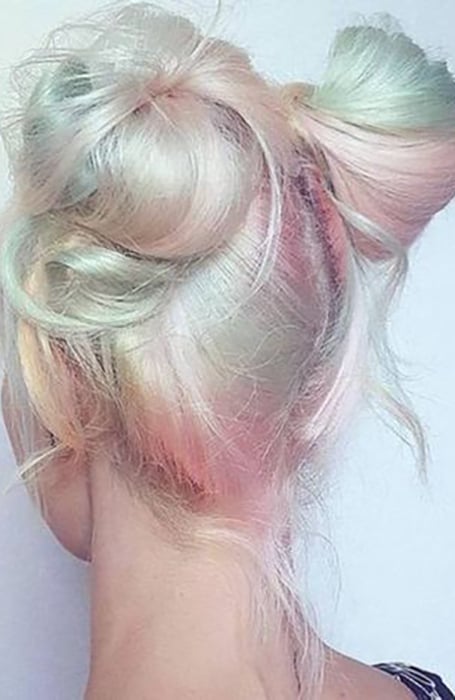 4. Rainbow Braided Hair
Give your braids a fun, festival-ready twist by having your stylist braid in colorful extensions. Whether you choose box braids, Fulani braids, cornrows, or other braid types, adding a touch of the rainbow will take them to the next level. Add even more pops of color with your make-up for extra style points.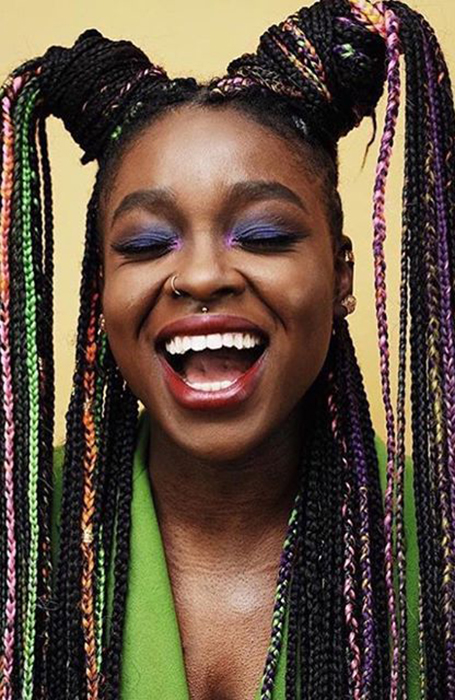 5. Rainbow Ombre Braided Hair
Ombré rainbow hair looks particularly beautiful when braided. That's because the braids amplify the subtle gradient effect of the dye. Plus, braids of all kinds are a classic festival hairstyle, so pairing yours with a fresh and vibrant rainbow color is a must-try. Go for raised Dutch braids to make this look shine.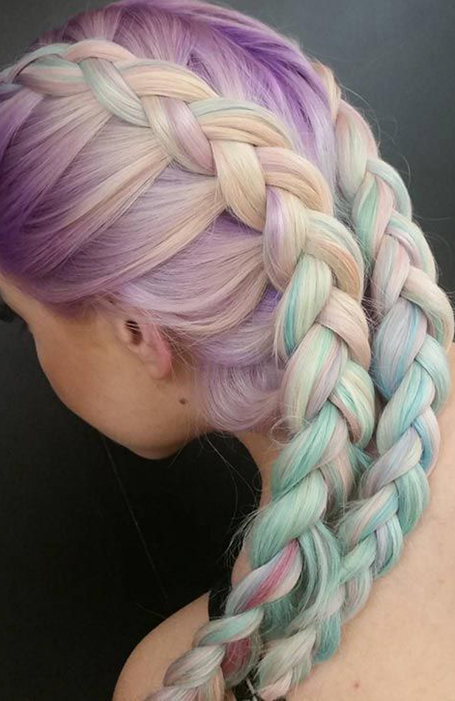 6. Short Rainbow Hair
Rainbow hair isn't just for those with long hair. Short hair looks equally good with a multicolor style. For a standout finish, have your stylist use brighter rainbow tones. That will ensure your hair gets the attention it deserves, rather than fading into the background!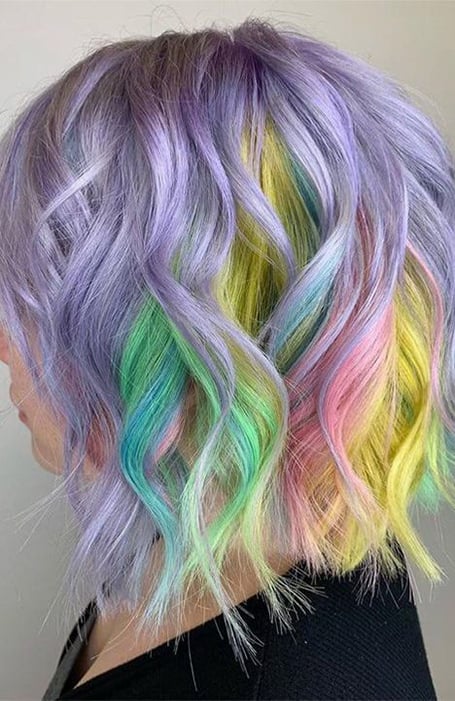 7. Long Rainbow Hair
As with any hair color session, rainbow hair will take longer to complete if your hair is very long. However, the results are worth the wait. Your stylist can create a wide variety of different rainbow looks if your locks are extra long. Plus, long rainbow hair is beautiful and will make you the center of attention at any festival. For that reason, it's not for the faint-hearted!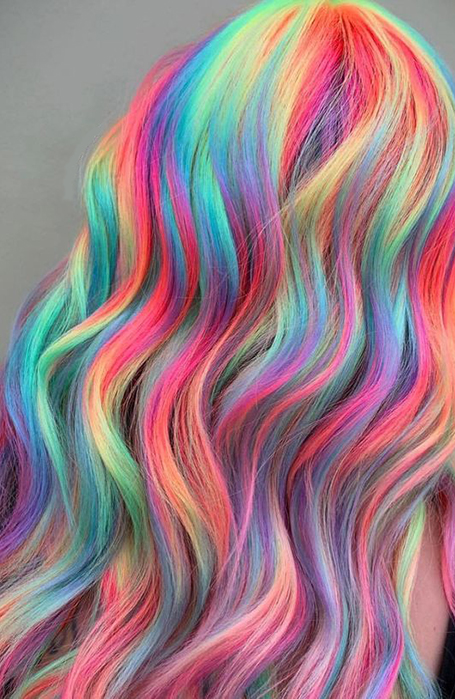 8. Medium Length Rainbow Hair
Medium length hair suits most colors and styles, and rainbow is no different. Whether you choose all-over multicolor streaks or a hidden rainbow, your hair will be perfectly festival-ready. For an unusual and whimsical option, try pairing the 'dappled' rainbow look with loose waves, which are beautifully flattering on medium-length hair.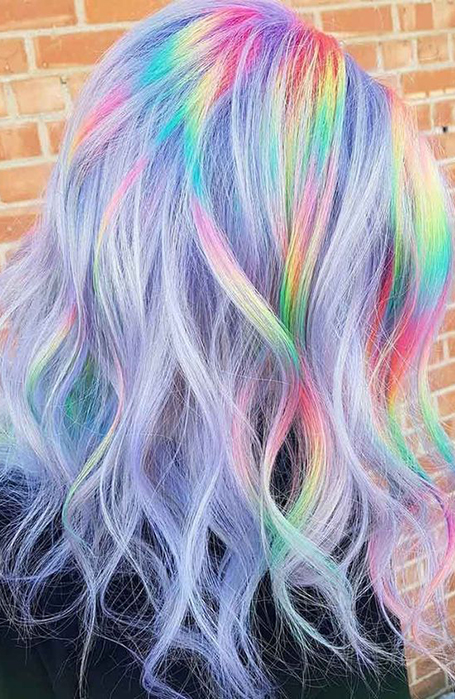 9. Rainbow Hair Pixie Cut
Changing up your color is quick and easy when you have a pixie cut. Pair your striking and fashion-forward hair with an equally bold rainbow look. Try contrasting the top section with a similarly vibrant undercut – for example, warm tones like red, orange, and yellow on top with cool hues such as violet, green, or blue below.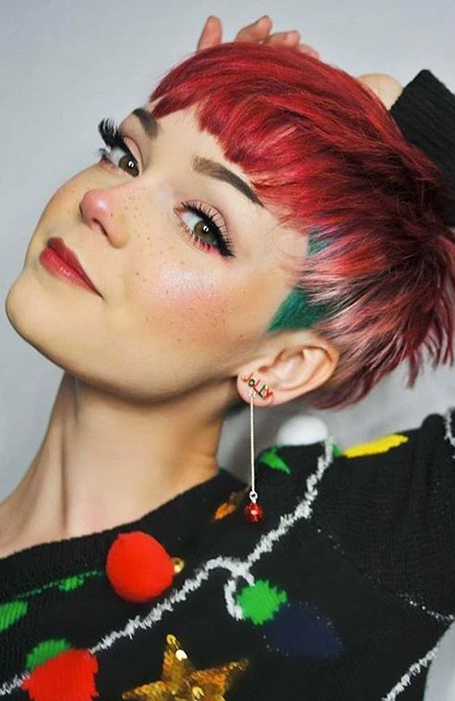 10. Rainbow Ombre Hair
Rainbow ombré hair can range from subtle pastels to brighter pops of color. However, the final result always looks soft and blended, creating a gradient from light to dark. Rainbow hair is a quick festival option if you already have the classic ombré color of brunette roots and mid-lengths with blonde ends. Use temporary hair color spray or chalk to add a rainbow effect to your lighter pieces.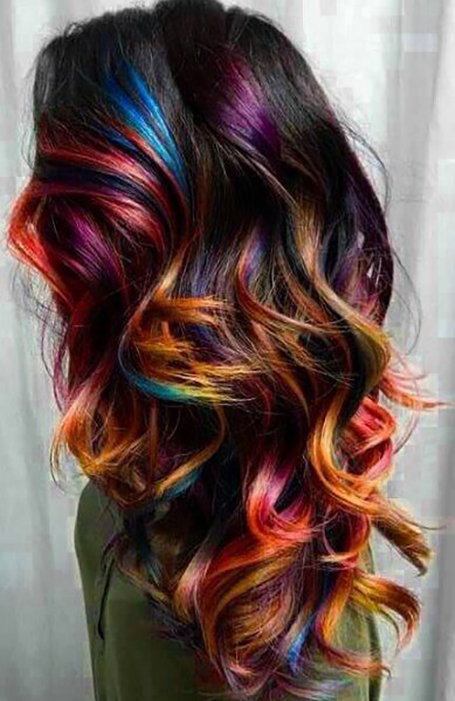 11. Rainbow Tips Hair
For a gorgeous dip-dye rainbow effect, try rainbow tips. One of the more wearable rainbow effects, it's the perfect option for those who want to test out a rainbow look without committing to all-over color. You can create it with temporary hair color spray or chalk if you already have blonde tips. Alternatively, brunettes can mimic the rainbow tips effect with clip-in hair extensions.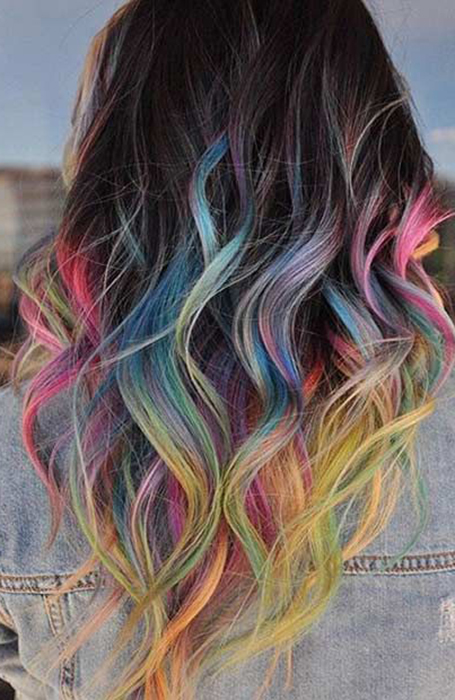 12. Black and Rainbow
One of the coolest rainbow hair trends is black and rainbow. Combining the deepest black with bright colors creates a stunning contrast that's perfect for a special event like a festival. To make the rainbow hues pop, your stylist may have to bleach your hair before applying the dye. To keep the bleach damage to a minimum – and get a unique final look – try a prismatic rainbow fringe instead of dyeing your whole head.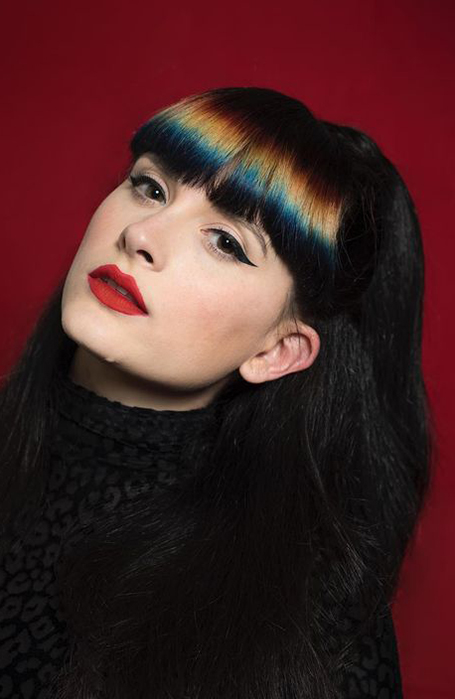 13. Hair Weave Rainbow
Because rainbow hair often requires bleaching and toning before applying the colored dye, it can be very damaging to Afro-textured hair. That's because bleach causes dryness and breakage, leaving your curls frizzy and brittle. If you want to try the rainbow look, opt for a rainbow weave instead. Your stylist will dye the weave hair before attaching it to your natural hair, giving you stunning results without harsh chemicals being absorbed. A body wave weave looks fantastic when paired with rainbow hues.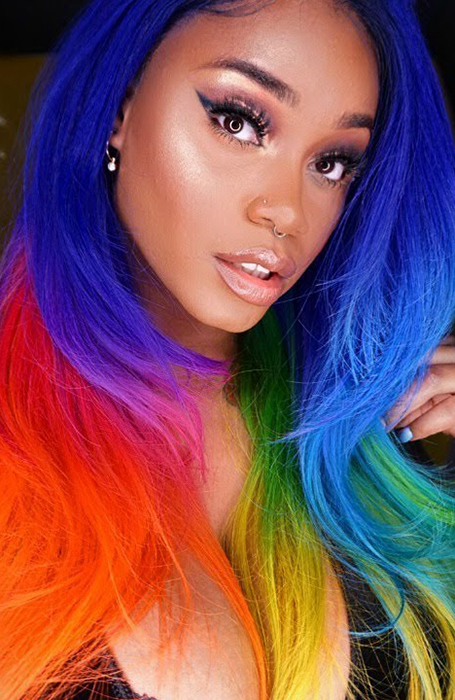 14. Neon Rainbow Hair
For the classic rainbow hair look, you can't go past neon. Vivid and vibrant, neon rainbow hair makes a statement and stands out from the crowd. To take it to the next level for an overnight festival, add UV dye. Your locks will glow in the dark and ensure all eyes are on you.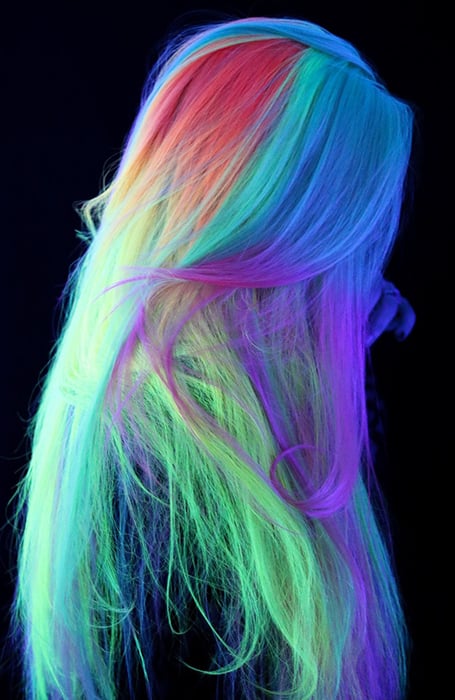 15. Rainbow Hair With Accessories
Festivals are a great time to embrace hair accessories – especially if you don't usually wear them – as well as experimenting with different colors and styles. Pearl hair accessories are currently trending, or you could add festival classics like feathers, beads, and flower crowns. Rainbow hair looks beautiful when paired with all kinds of accessories, so the only limit is your imagination!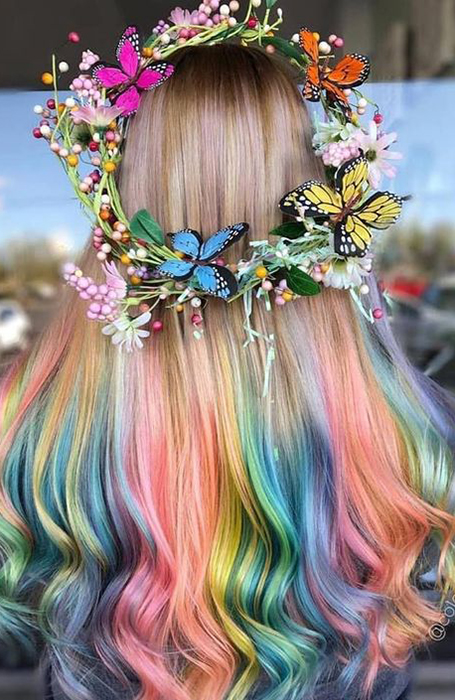 FAQs
How much does it cost to get your hair dyed rainbow?
The cost to get rainbow hair varies depending on which salon you visit, your hair's current color and condition, the length of your hair, and whether you want an all-over rainbow or just highlights. A temporary DIY rainbow look can be achieved with hair chalk or wash-out dyes, which retail for less than $20. On the other hand, if you have naturally very dark, long hair and want to go completely rainbow, the colorist will need to bleach and tone your hair to a light blonde first. This process can take several sessions and cost $300 or more. However, if you have short, naturally blonde hair – or just want rainbow tips or a rainbow fringe – the price will be much cheaper. 
What are the best hair coloring products?
The best hair coloring products to create the rainbow look will depend on your budget and whether you want a permanent result. Spray-on colors are a great option for a temporary rainbow look as they wash out immediately. Meanwhile, a semi-permanent tint will last longer and fade out gradually with each wash. To keep your color vibrant, use color-safe shampoo and conditioner and avoid washing your hair too frequently. 
How do you do rainbow roots?
One of the coolest new trends to hit the hair scene are rainbow roots – also known as 'hot roots' – which have been worn by the likes of Halsey. There are several different versions of the style, including 'hidden' rainbow roots – which are only visible when you move your hair or lift it up – and a rainbow root parting. To get the look, your stylist will bleach the first 2 inches of your hair at the crown of your head. Once the hair is lightened, they will apply different stripes of horizontal dye in a progressive pattern. 
How do I get rid of rainbow hair?
Semi-permanent tints literally 'stain' the outside of your hair cuticle, so you will need specific color-remover products to get rid of your rainbow dye. Another option is to simply let your rainbow color fade out gradually – hot oil treatments and clarifying shampoos can help with this process without damaging your hair. If you can't wait for your hair to fade, visit your colorist for a professional correction. 
SUBSCRIBE TO OUR NEWSLETTER
Subscribe to our mailing list and get interesting stuff and updates to your email inbox.