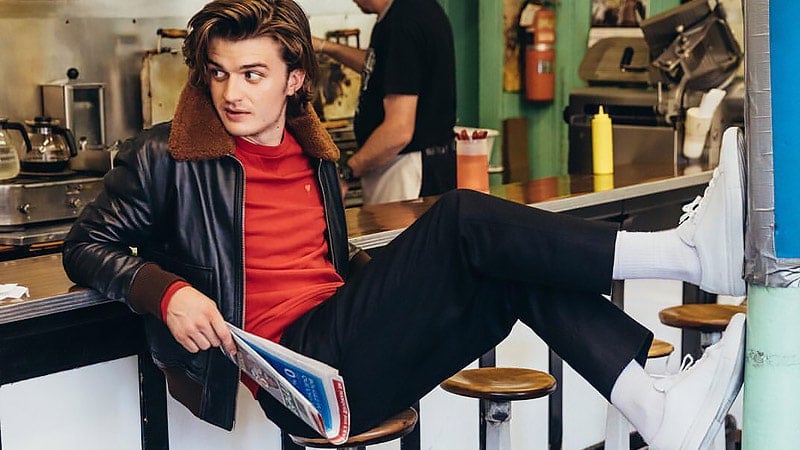 The 1980s were undoubtedly an interesting time for '80s men's fashion. Filled with bold designs and bright colors, the decade saw gents fully embrace trends and proudly showcase their style. Of course, over time, these brave looks slowly disappeared to make way for the minimalistic '90s and '00s. But they're now making an incredible return. From bum bags and chunky sneakers to dad jeans and windbreakers, the best of the 1980s is back and better than ever. In this guide, we will discuss everything about '80s fashion for men and how to wear the style in modern times.
What Was 80s Men's Fashion About
When thinking about '80s fashion for men, words like decadent, bold, colorful, and excessive immediately come to mind. Although trends such as ripped jeans and biker jackets were prevalent during that decade, there was much more to it than just the loudest style statements. From "The Lost Boys" to "Wall Street," there was a wide range of fashion styles to explore
When it comes to '80s outfits for men, it can encompass everything from hip-hop, punk style to athleisure and preppy fashion. However, perhaps even more crucial than the outfit itself was the 80s hairstyles for men. Think heavy perms, spiky hair, mohawks, and mullets.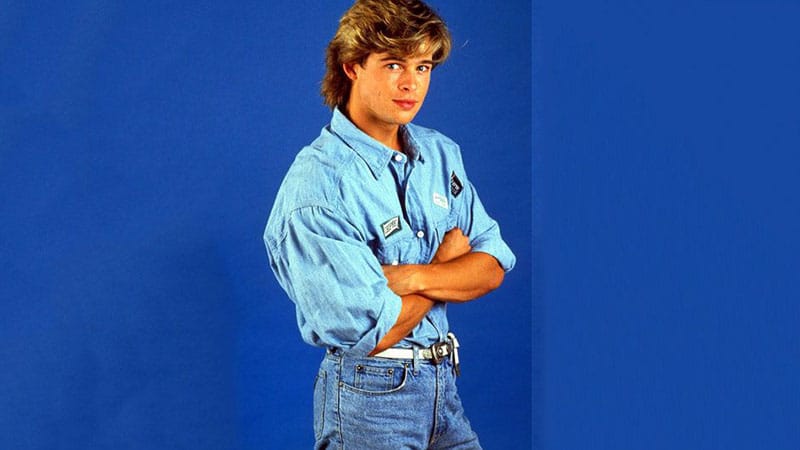 80s Fashion Trends for Men
80s Men's Casual Fashion
The '80s was a remarkable decade for men's fashion. Casual dressing became increasingly popular, and men donned dad jeans paired with matching denim jackets. T-shirts and loose shirts were highly coveted, while outerwear choices included bomber jackets, leather jackets, windbreakers, and cozy sweaters. White sneakers were the ultimate go-to footwear, as they could be easily paired with any outfit for the ultimate '80s look. The decade was all about being bold and daring, and this was reflected in the clothing choices that men made. Each item of clothing had a unique element to it and was designed to make a statement. Overall, '80s men's fashion was a perfect reflection of the confident and adventurous spirit of the times.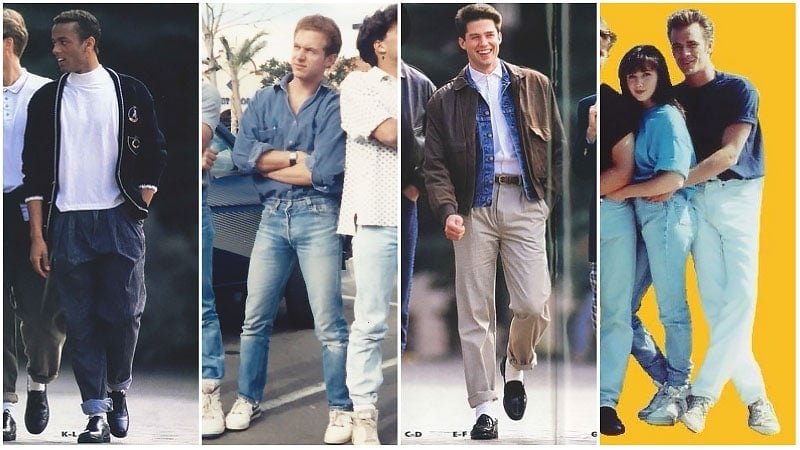 GET THE LOOK
80s Men's Hip Hop Fashion
When talking about 80s fashion for men, hip-hop style was a rising trend. The oversized silhouettes and baggy clothes were the hallmarks of this fashion movement, popularized by music stars and iconic rappers like Run-D.M.C, Beastie Boys, and N.W.A. The style was more than just clothing, it defined a culture and a way of life. This fashionable approach also incorporated sportswear details – from flashy sneakers to athletic caps – and statement accessories, such as chunky gold chains. The hip-hop scene of the '80s created a sense of belonging and a distinct identity that echoed the bold expression, confidence, and creative expression that characterized the era.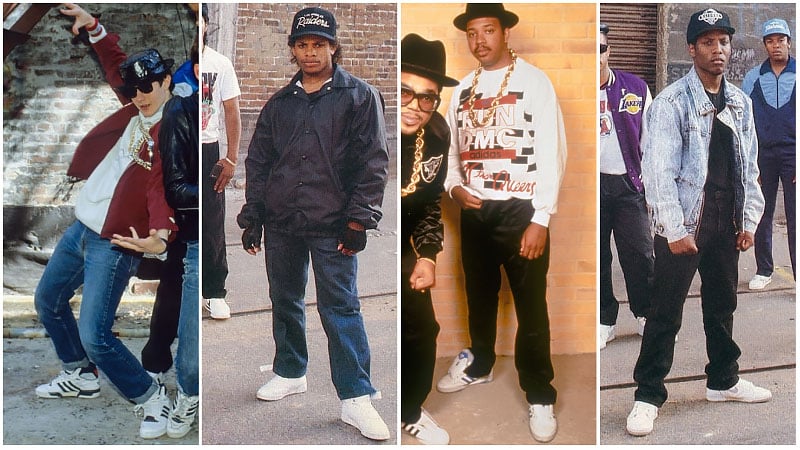 GET THE LOOK
80s Men's Preppy Fashion
The '80s were a time of bold, bright fashion choices, and preppy style was no exception. Unlike the darker colors often associated with hip-hop trends, preppy fashion was all about embracing eye-catching shades of pink, yellow, and blue. Men who embraced the '80s preppy fashion would often be seen sporting sweaters casually draped over their shoulders, making the look iconic to the era. Trousers and polo shirts in a variety of fresh, summery colors completed the 80s men's fashion look, allowing for a classic, timeless style that remains popular even today.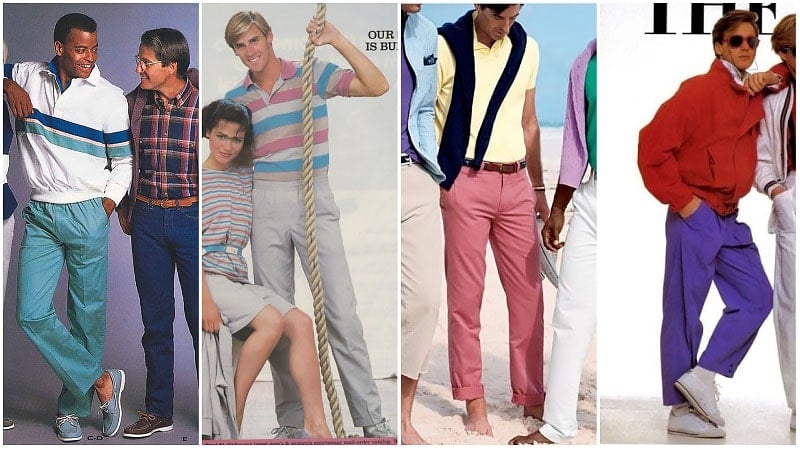 GET THE LOOK
80s Men's Workout Fashion
Back in the '80s, workout wear was not just for hitting the gym. It was a fashion statement that saw men rocking chunky sneakers, colorful windbreakers, and iconic tracksuits as everyday wear. Unlike the fitted and sleek athletic wear of today, '80s workout fashion was all about comfort and functionality. Sweatpants and athletic shorts were a staple, allowing for ease of movement and unmatched comfort. It's no wonder that even today, 80s men's fashion can still be seen in today's fashion trends with the resurgence of vintage sportswear styles. This era proved that workout wear can be both comfortable and trendy, ushering in a new genre of fashion for men.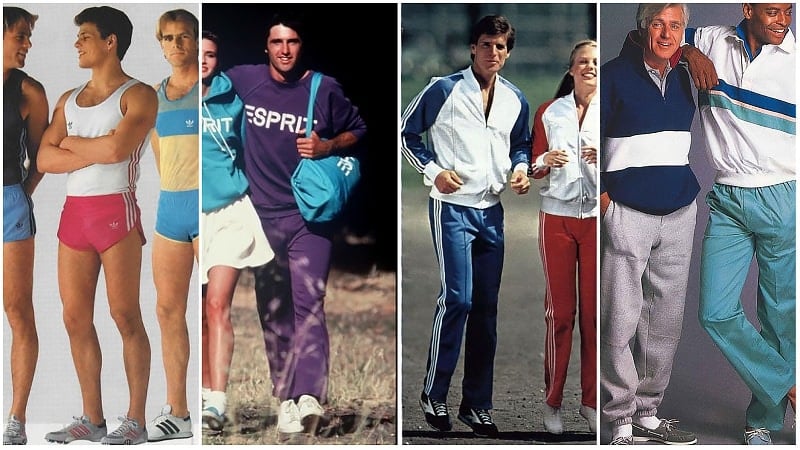 GET THE LOOK
80s Men's Summer Fashion
80s fashion for men had its fair share of iconic and trendy clothing during that era. Bright colors, abstract prints, and short-sleeved shirts were all the rage for '80s summer fashion. Men also rocked short shorts, which showed off their toned legs and tanned skin. The crop top was not off-limits to men either, as they also sported boxy versions cut across the stomach. '80s men's fashion was a time when style was bold and fearless, and it's no wonder that it's still inspiring current trends almost four decades later.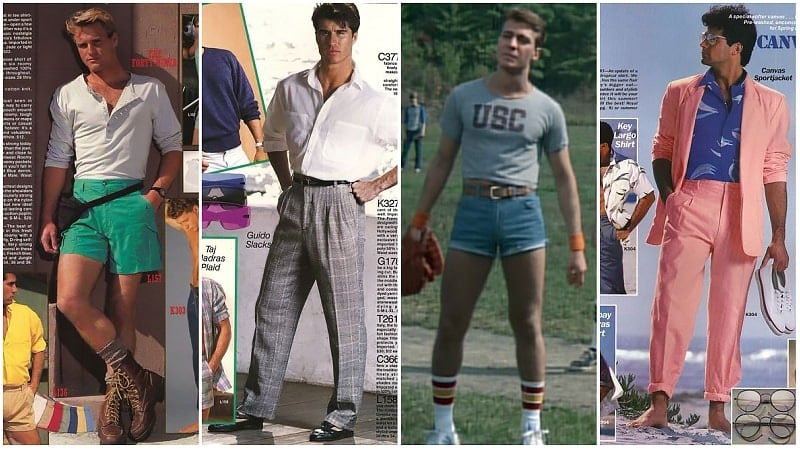 GET THE LOOK
80s Men's Rock Fashion
80s fashion for men was a time of bold fashion statements, and men's rock fashion was no exception. The fashion included big hair, wild clothing, and dramatic makeup. But more than anything, leather played a vital role in completing the rock look. With studded jackets, leather pants, and boots, the leather look was a standout style for men in the '80s. Accessories were also crucial in pulling off the rock look, with jewelry and headbands adding just the right amount of edginess to any '80s outfits for men.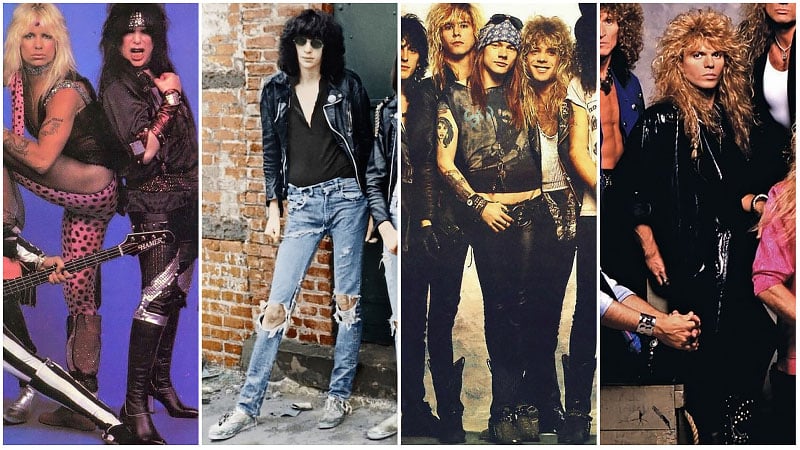 GET THE LOOK
80s Mem's Punk Fashion
The fashion trends of the '80s were a mix of glitz and rebellion. While rock bands like Poison and Bon Jovi were sporting glam looks with tight leather pants and teased hair, the punk scene was all about the edgier style. 80s men's fashion saw a lot of leather – but it was paired with metal hardware for added attitude. And let's not forget about the 80's hairstyles for men – brightly colored mohawks and spiked hair were all the rage.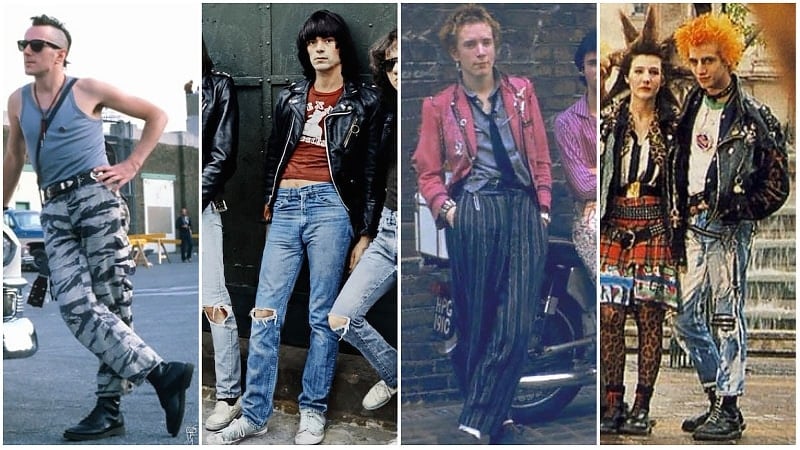 GET THE LOOK
80s Dad Fashion
Large, chunky sweaters, oversized suits, and business chic were the biggest 80s fashion for men. Particularly in pop culture, the fashion for dads in the 1980s was all about the office. With the resurgence of suiting power of the '40s, you would often find simple and understated silhouettes with a modern twist. A common theme for this era was sticking to a simple color palette, such as cream and neutrals, or a duo-chrome ensemble, such as back and blue. Recreate this look with a pair of slim-fitting jeans, a large blazer, and a tucked-in shirt with a slim belt. The bigger the shirt, the better – it was all about a laid-back yet professional vibe.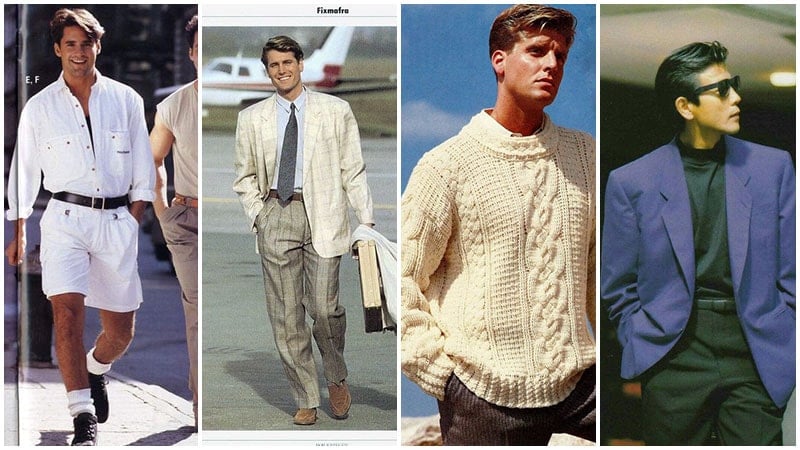 80s Outfits for Men
80s Men's Suits
80s fashion for men was all about the power suit. Suits with broad shoulders and an oversized fit were all the rage, with pinstripe suits being a popular choice for men's business attire. These suits were often paired with shirts, ties, and suspenders for a sophisticated look. But outside the office, pastel-colored suits were the go-to, often worn with crew-neck T-shirts instead of button-ups. The '80s were a time of bold fashion choices for men, and the power suit was the ultimate expression of confidence and style.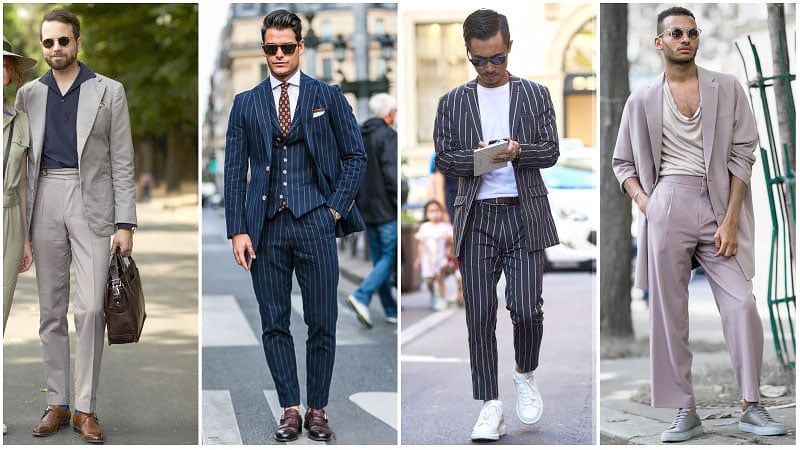 GET THE LOOK
80s Men's Shirts
80s fashion for men was defined by two main types of shirts: casual and business. Popular options for business included banker and striped shirts, while loose shirts featuring abstract prints were favored for casual wear. Additionally, polo shirts were a beloved item of the decade. The variety of shirt options allowed men to express their individual styles and personality, and these trends continue to influence fashion even today.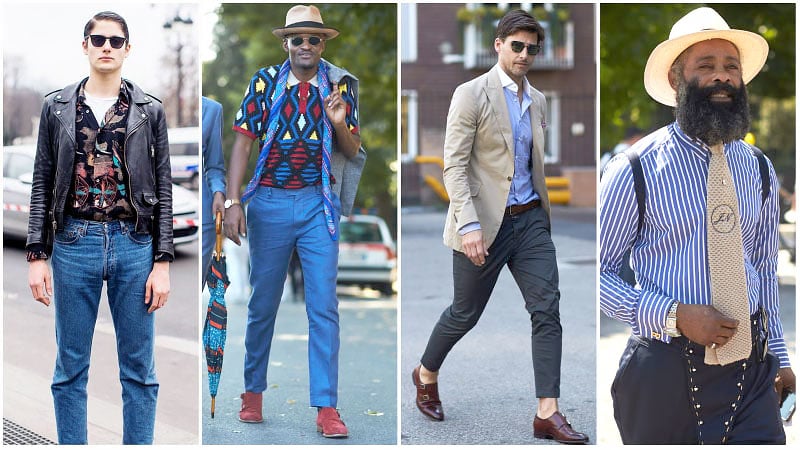 GET THE LOOK
80s Men's T-Shirts
In the '80s, T-shirts were a staple in men's fashion. Crew-neck T-shirts were the most popular 80s outfits for men, often featuring catchy slogans, logos, or bold prints. These T-shirts were versatile and worn with everything from jeans to suits. Crop tops and baseball T-shirts were also popular designs during the decade. The '80s men's fashion was a time of experimentation and self-expression, and T-shirts were no exception.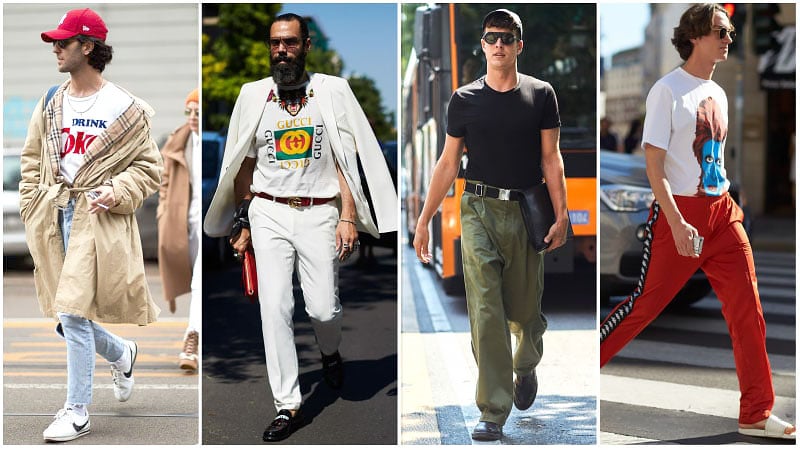 GET THE LOOK
80s Men's Jeans
The 80s marked a golden era for denim in men's fashion. Double denim looks and acid-wash jeans became highly popular, while denim jackets and vests worn with high-waisted jeans created versatile outfits for a night out or a casual day at work. Denim became the go-to fabric and style for men during this time, with the availability of various washes and fits. The trend continues to dominate men's fashion today, making the 80s a defining era in denim fashion.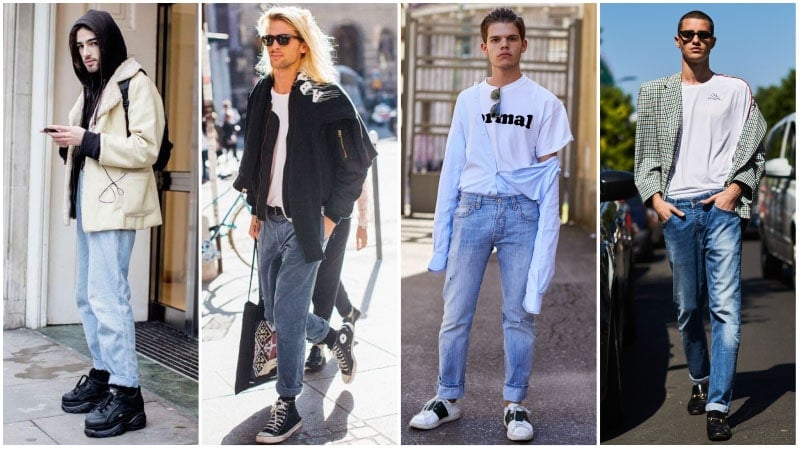 GET THE LOOK
80s Men's Jackets
Fashion trends from the '80s continue to influence men's wardrobe choices today, especially when it comes to jackets. Denim jackets, leather jackets, and bomber jackets have stood the test of time and still remain popular. But if you're looking to make a statement with a bolder nod to the decade, don't overlook the classic sports windbreaker. These jackets often feature bold, bright colors and retro patterns that are sure to turn heads.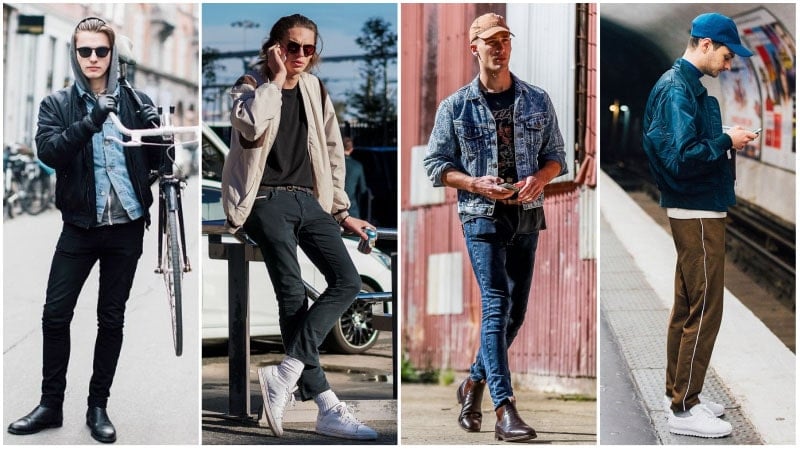 GET THE LOOK
80s Men's Accessories
Incorporating 80's fashion for men into your modern wardrobe might seem tricky, but it can be made easier with the right accessories. 80s fashion for men had its fair share of iconic pieces that can still be relevant today. Adding an '80s-style sling bag, chunky white sneakers, colorful and reflective sunglasses, and gold chains to your closet is a subtle but effective way of introducing the 80s trend into your style.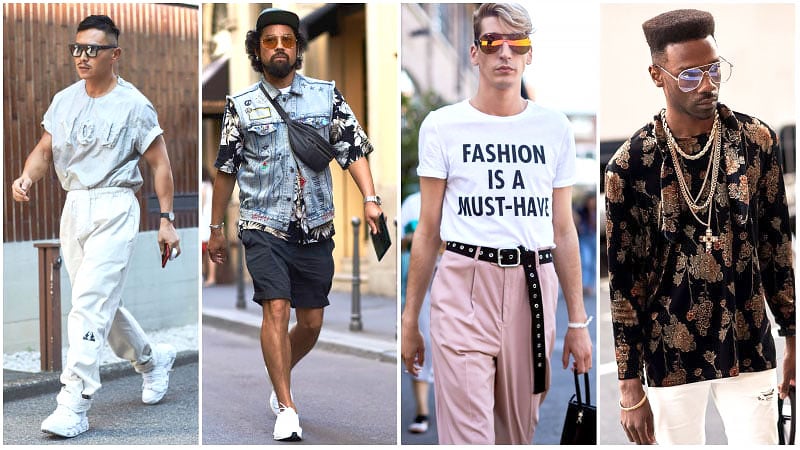 GET THE LOOK
80s Hairstyles for Men
The '80s were a time of big and bold, and nothing embodied that more than the 80's hairstyles for men of the era. While long, voluminous hairdos were all the rage, men who worked in the business world often strayed from this trend and opted for sleek, polished hairstyles instead. Think Gordon Gekko from the movie "Wall Street." These slicked back hairstyles were all about projecting an air of power and sophistication, and they definitely did the trick. But outside of the boardroom, men were still letting their locks flow freely with all sorts of mullets, perms, and other adventurous hairstyles.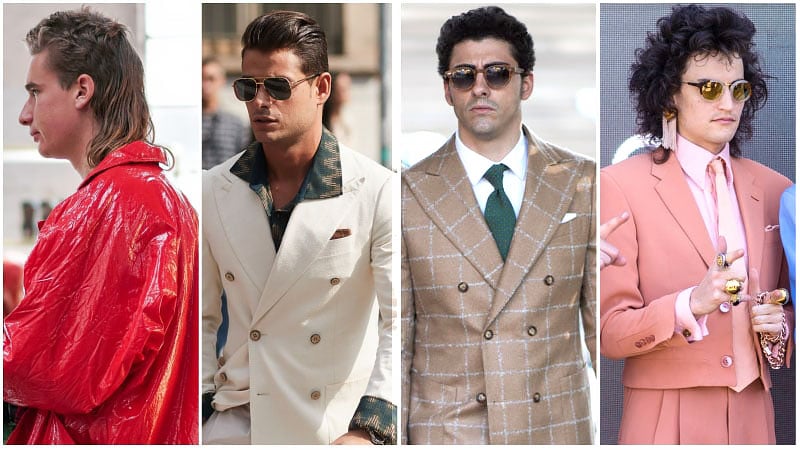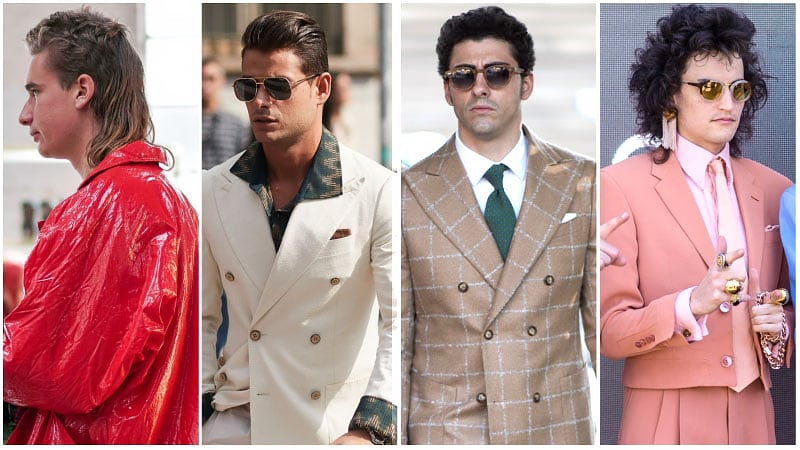 80s Men's Fashion Icons
The 1980s was a decade of fashion experimentation, and men's style icons were at the forefront of this trend. Among the influential names were Johnny Depp, David Bowie, Tom Cruise, and Rob Lowe, who all opted for bold and daring looks. Johnny Depp's eccentric sense of style included fedoras, leather jackets, and denim, while David Bowie consistently pushed the envelope with his androgynous clothing choices. Tom Cruise was known for his clean-cut, preppy look, while Rob Lowe embodied the ultimate '80s heartthrob with his feathered hair and varsity jackets. These celebrities not only defined 80s fashion for men and still continue to influence modern-day fashion.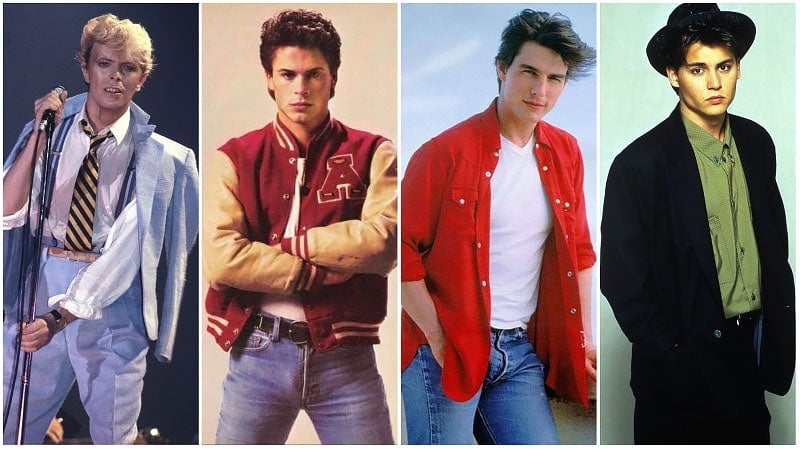 80s Fashion for Boys
During the '80s, fashion for boys was heavily influenced by 80s outfits for men. Boys could often be spotted sporting double denim jackets and acid-washed jeans, much like their adult counterparts. Additionally, white sneakers were an essential accessory for any fashionable boy in the '80s. However, it wasn't just casual wear that was mimicked by boys. Neon styles that were popular among adults were also a hit for younger fashion enthusiasts.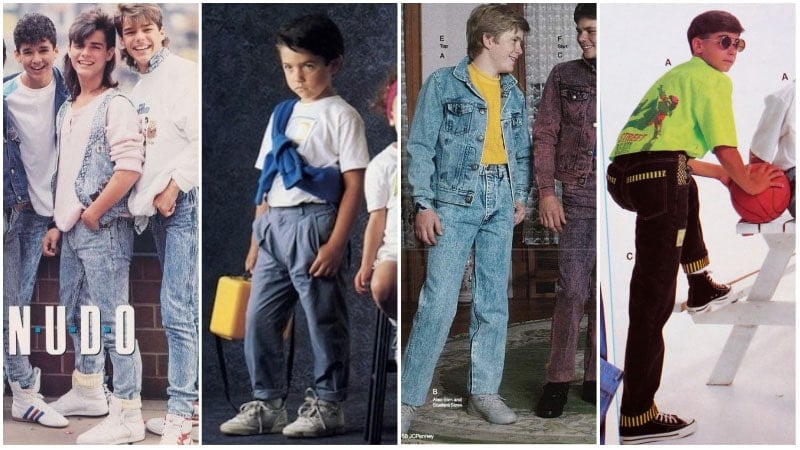 80s Fashion for Men FAQs
What did men wear in 80s?
The most prominent men's fashion trends of the 80s were filled with bright colors, bold silhouettes, and excess. There wasn't much that was subtle about this decade of fashion.
What shoes did men wear in the 80s?
White sneakers and hightop were some of the most popular shoes in the 80s. Doc Martins were the shoe of choice in the rock and punk scene, while loafers suited the preppy and office looks.
What do you wear to an 80s party?
If you're attending an '80s party, choose an '80s mens fashion style that suits your taste, like hip-hop, preppy, business, or rock. Invest in essential items like faded jeans, bomber jackets, and slogan tees. For work, opt for a pinstripe suit, and for the weekend, consider a pastel-colored suit. Don't shy away from bright colors and patterns. To complete the look incorporate accessorizes like white sneakers and a fanny pack into your outfit.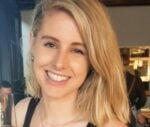 Taylah Brewer holds a bachelor's degree in fashion and business and is a skilled writer with several years of experience in the world of online content creation and copywriting. She is passionate about fashion, beauty, and all things lifestyle-related and has been writing for The Trend Spotter since 2016. She currently works as the Head of Digital & Ecommerce at White & Co.
SUBSCRIBE TO OUR NEWSLETTER
Subscribe to our mailing list and get interesting stuff and updates to your email inbox.