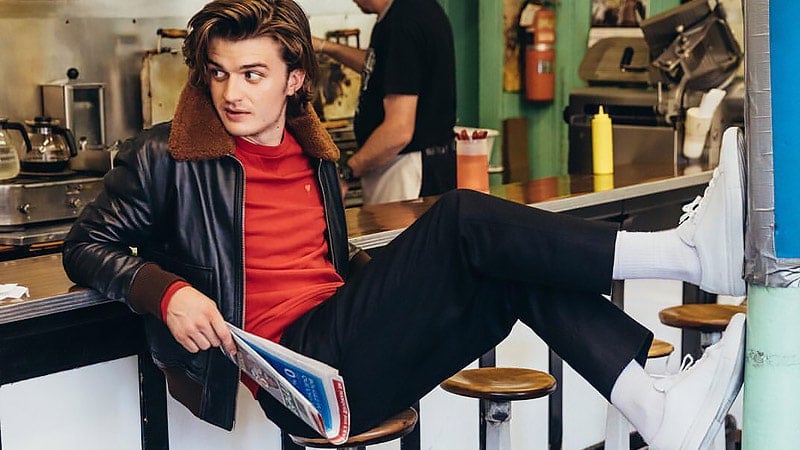 The '80s were undoubtedly an interesting time for fashion. Filled with bold designs and bright colors, the decade saw gents fully embrace trends and proudly showcase their style. Of course, over time these brave looks slowly disappeared to make way for the minimalistic '90s and '00s. But, they're now making an incredible return. From bum bags and chunky sneakers to dad jeans and windbreakers, the best of the 1980s is back and better than ever. Here's how to rock '80s fashion for men in modern times.
RELATED: 80s Fashion for Women
What Was the Fashion in the 80s?
The '80s were a time of excess and maximalism for both men and women. As such, the decade featured bold styles, bright colors and eye-catching silhouettes. The '80s also saw a variety of fashion-forward trends, including hip-hop, preppy, workout, rock, and punk styles.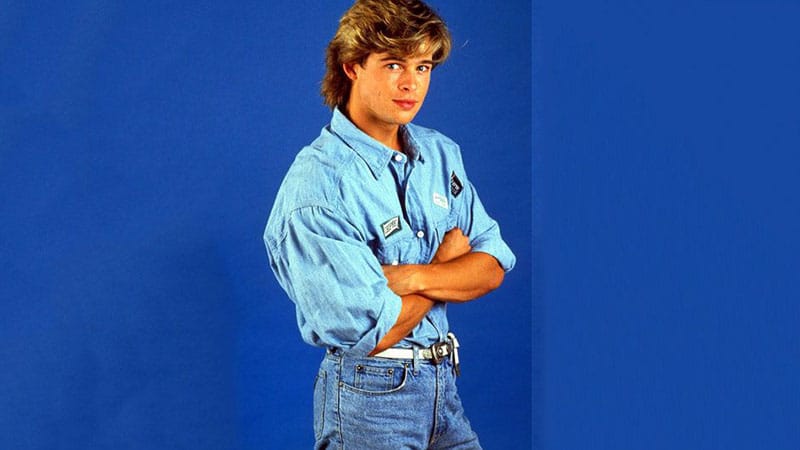 80s Fashion Trends
80s Casual Fashion
Casual fashion in the '80s saw gents don dad jeans in full force, often with a matching denim jacket. T-shirts and loose shirts were also popular during the time while bomber jackets, leather jackets, windbreakers, and sweaters acted as the outerwear of choice. When it came to footwear, white sneakers were the ultimate casual shoe that was perfect for a range of looks.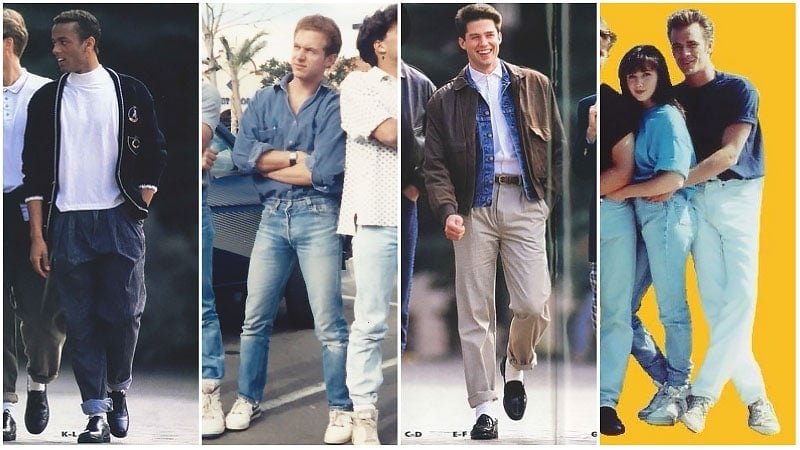 GET THE LOOK
80s Men's Hip Hop Fashion
Hip-hop was another popular fashion trend in the '80s. Inspired and influenced by music stars and rappers, such as the members of Run-D.M.C, Beastie Boys, and N.W.A, the style was well known for its oversized silhouettes. Along with baggy clothes, hip-hop fashion also featured sportswear details, like sneakers and athletic caps, and statement accessories, like chunky gold chains.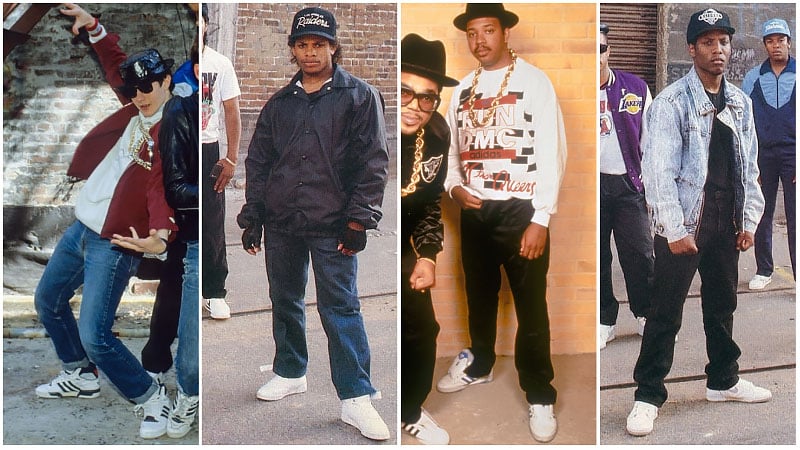 GET THE LOOK
80s Preppy Fashion
Preppy fashion also played an essential role in the '80s. Unlike hip-hop trends, which typically featured dark colors, preppy outfits boasted bright hues, including shades of pink, yellow, and blue. Key items for preppy fashion included sweaters, which gents would often wear around their shoulders, as well as slacks and polo shirts.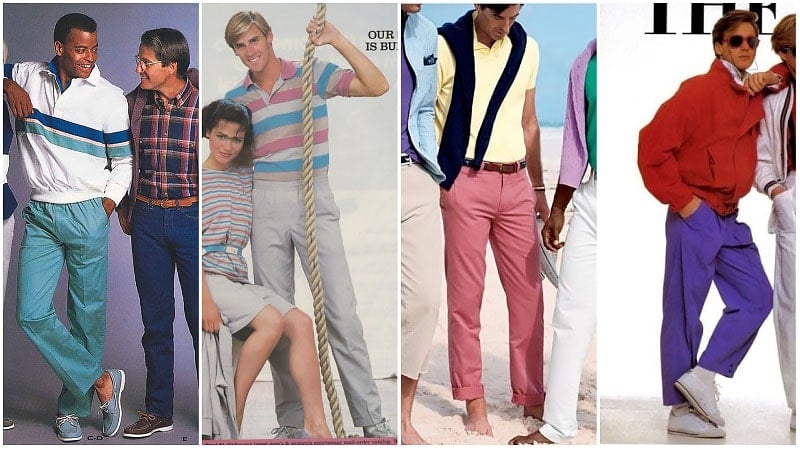 GET THE LOOK
80s Workout Fashion
Athleisure may be popular today, but workout wear has long been a favorite look for men. In the '80s, workout fashion was massive, and it saw a range of sportswear styles being adopted as everyday wear, including chunky sneakers, sweatpants, tracksuits, windbreakers, and athletic shorts.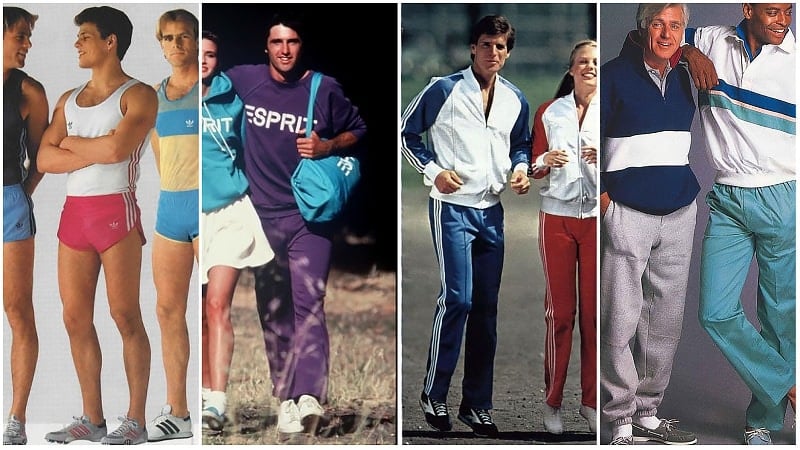 GET THE LOOK
80s Summer Fashion
Summer fashion in the '80s was iconic. It featured bright colors, abstract prints, short-sleeved shirts, and short shorts. Another favorite item from the time was the crop top, which was worn boxy and cut across the stomach.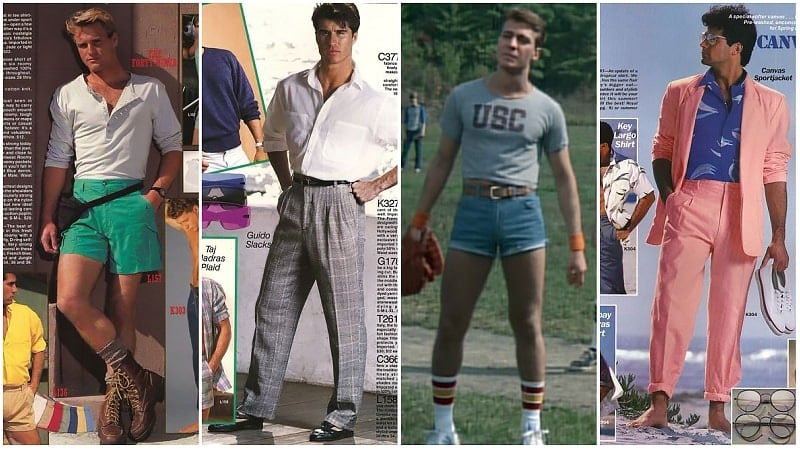 GET THE LOOK
80s Rock Fashion
Like everything in the '80s, rock fashion was about excess. The hair was big, the clothing was wild, and there was plenty of makeup. Of course, as with all rock looks, leather played a vital role. Accessories were also crucial with jewelry and headbands both becoming seriously popular for men.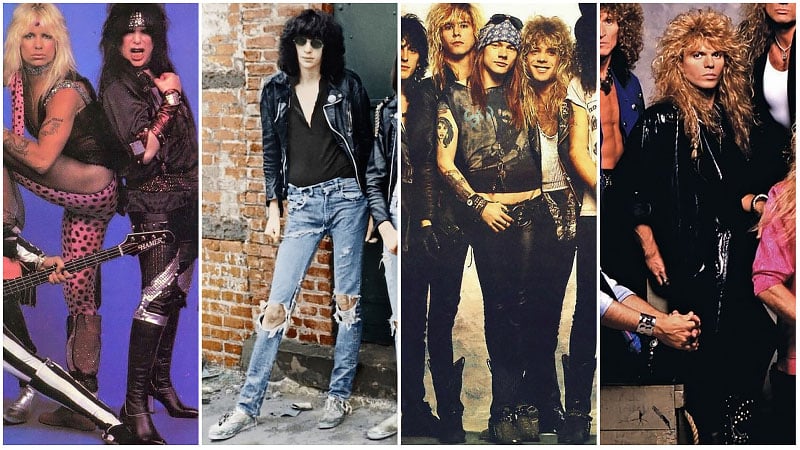 GET THE LOOK
80s Punk Fashion for Men
While '80s rock often took on a glam style, the punk looks of the decade were decidedly edgier. While the trend still saw a lot of leather, it also featured a lot more hardware and eye-catching hairstyles, including brightly colored mohawks and spikes.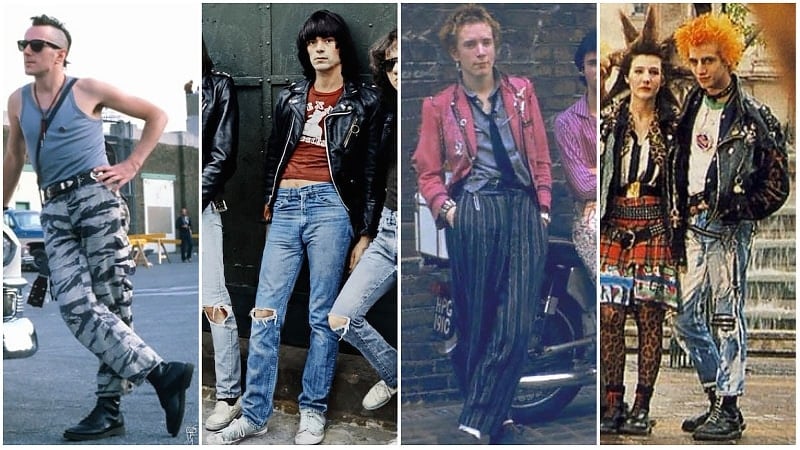 GET THE LOOK
80s Fashion for Men
80s Suits
During the '80s, suits were worn oversized with broad shoulders. Pinstripe suits were a favorite for those in business, and gents often paired them with a shirt, tie, and suspenders. Pastel-colored suits were on high rotation outside the office and were regularly partnered with crew-neck T-shirts instead of button-ups.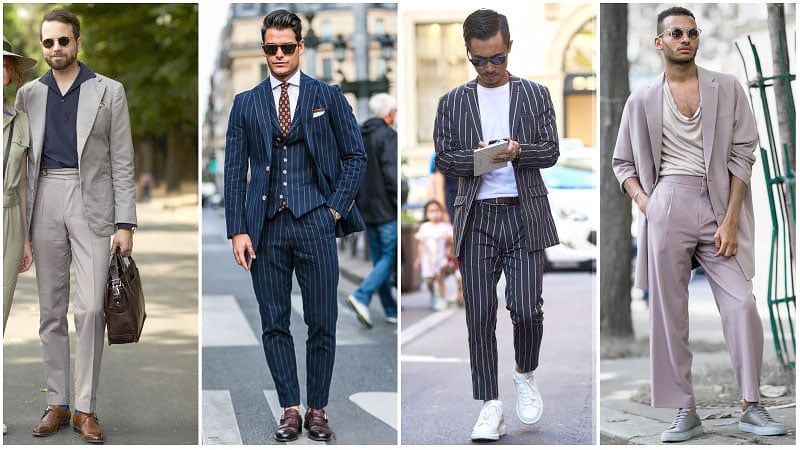 GET THE LOOK
80s Shirts
During the 1980s, there were two main types of shirts: casual and business. For business, banker shirts and striped shirts were popular. For casual wear, loose shirts featuring colorful, abstract prints were favored. Polo shirts were also a favorite item of the decade.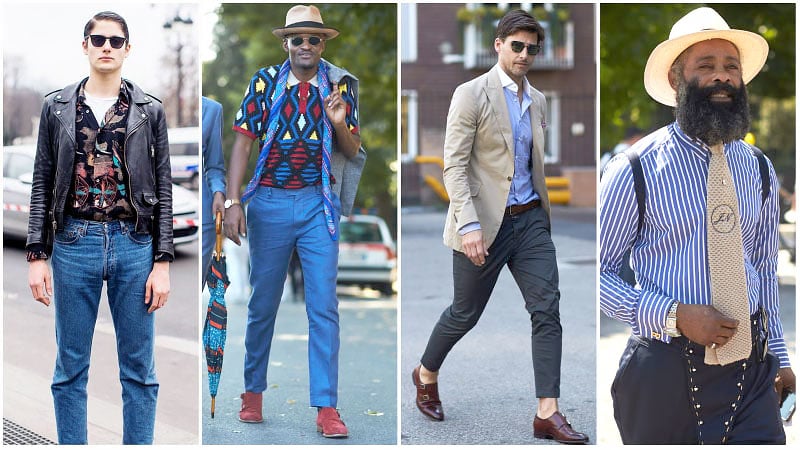 GET THE LOOK
80s T-Shirts
During the '80s T-shirts were worn with everything from jeans to suits. The most popular styles were crew-neck T-shirts, many of which featured slogans, logos, or bold placement prints. Other popular designs included crop tops and baseball T-shirts.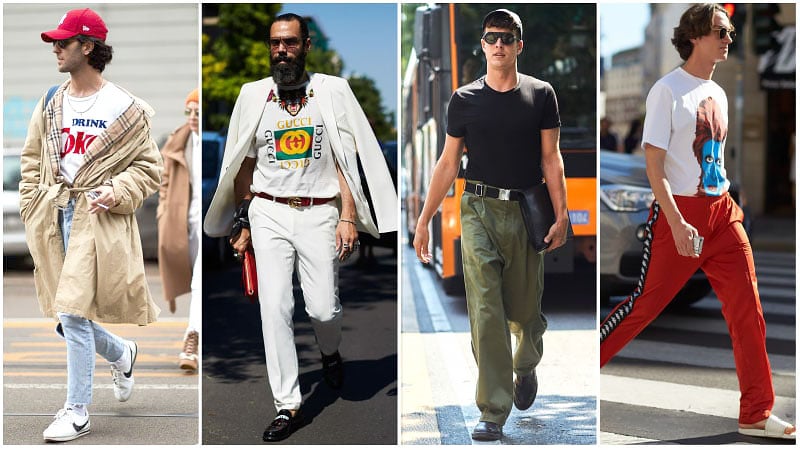 GET THE LOOK
80s Jeans
While acid wash jeans are yet to make a comeback, '80s dad jeans are back in fashion. To rock these classic jeans today, just pick up a faded mid-blue style in a relaxed fit. Also, select a cut with a tapered leg or consider pinrolling the bottoms for the same effect.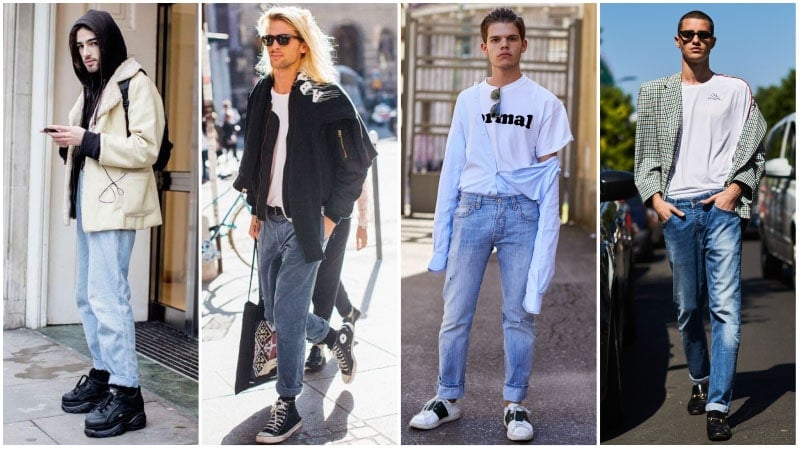 GET THE LOOK
80s Jackets
Many jackets that were popular in the '80s are still fashionable for men today, including denim jackets, leather jackets, and bomber jackets. However, if you're after a bolder look from the decade, you can't go past a classic sports windbreaker.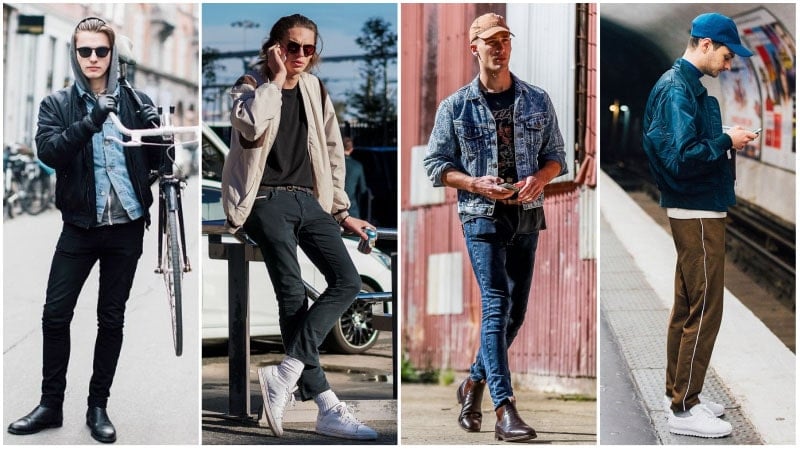 GET THE LOOK
80s Accessories
Are you looking for a way to subtly introduce the '80s trend into your modern wardrobe? Consider adding iconic '80s accessories, such as a sling bag, chunky white sneakers, colorful and reflective sunglasses, and gold chains, to your closet.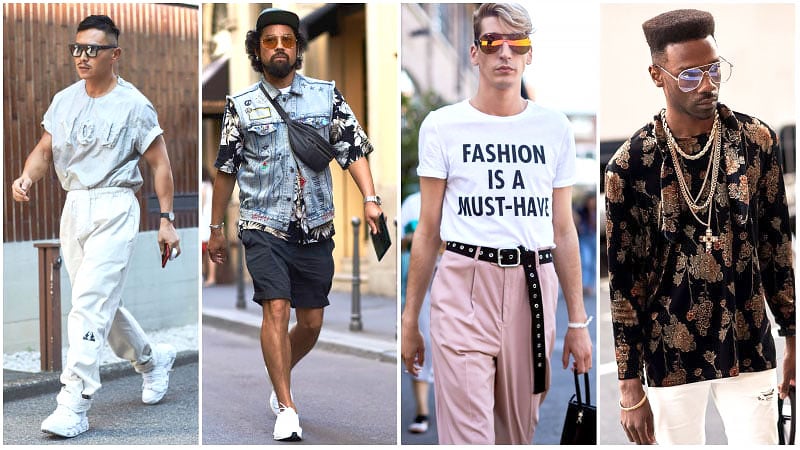 GET THE LOOK
80s Men's Hair
During the '80s, the bigger something was, the better it was, especially hair. Throughout the decade, long hairstyles and voluminous styles, including the iconic mullet, were extremely popular. However, men who worked in business often broke from this trend and rocked sleek, slicked-back hairstyles instead.
RELATED: 18 Coolest 80s Hairstyles for Men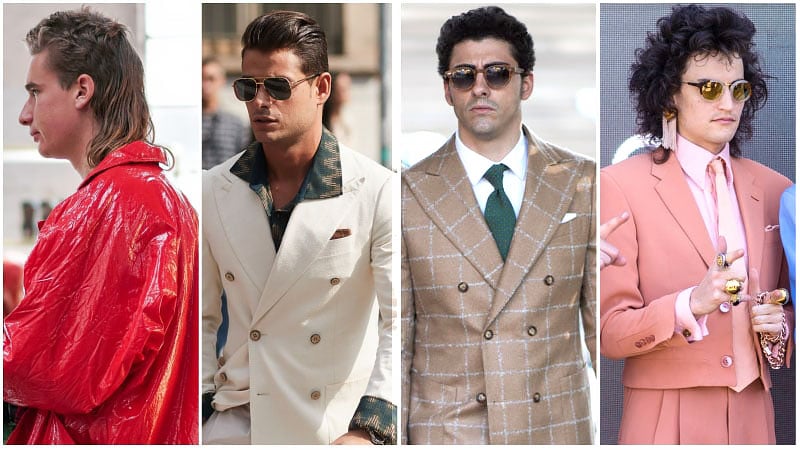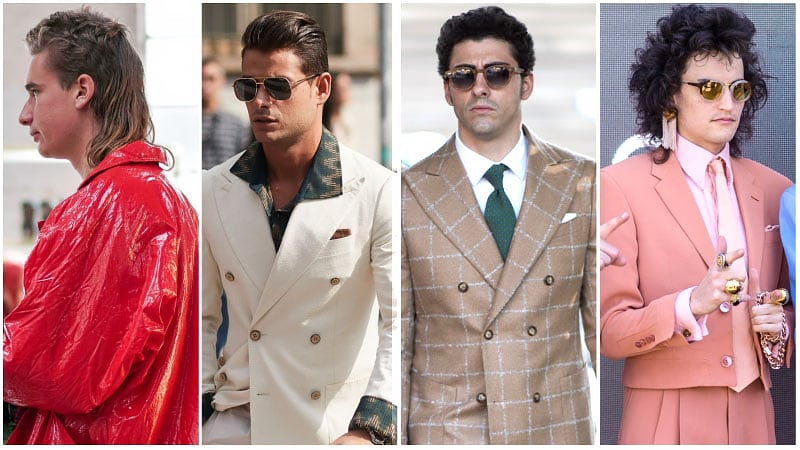 80s Fashion Icons
Every decade has its fashion icons, including the '80s. Throughout the 1980s, the most stylish celebs were typically actors or musicians. Some of the most influential names included Johnny Depp, David Bowie, Tom Cruise, and Rob Lowe.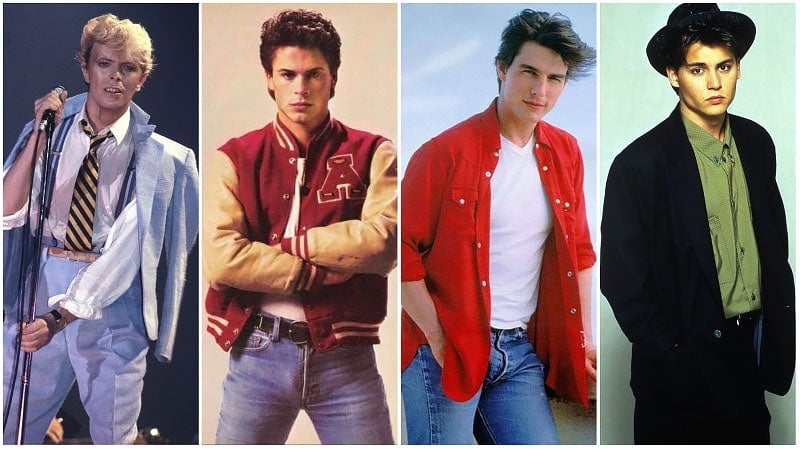 80s Fashion for Boys
'80s fashion for boys was much like it was for men. Many men's casual styles, such as white sneakers and double denim looks, were also worn by teenagers and children. Likewise, the neon styles that were popular amongst adults were also worn by many boys.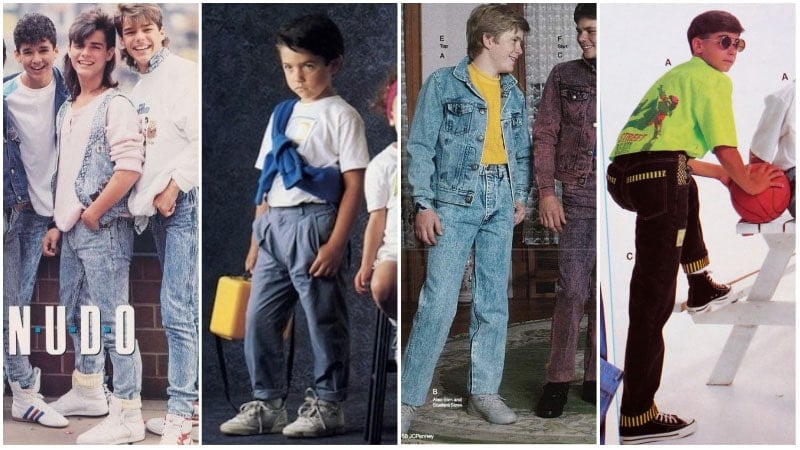 80s Fashion for Men FAQs
What was popular in the 80s?
The most prominent fashion trends of the 80s were filled with bright colors, bold silhouettes, and excess. There wasn't much that was subtle about this decade of fashion.
What outfits were popular in the 80s?
There were a few key looks in the 80s that defined the era for men's dressing. Dad jeans and denim were a popular casual style, as were preppy polo shirts, sweaters, and pastel slacks. Add in short shorts, tight tees, and athletic wear to round out the leisurewear trends. Music also influenced many fashion choices. Hip hop's baggy clothes, gold chains, snapbacks, and sneakers were popular, as was big hair, leather jackets, and hardware from the punk and rock scenes. Slogan shirts paired with denim, bomber, and leather jackets also reigned supreme. When it came to business dressing, wide pin-striped business suits were all the rage, as was striped button-downs. Lastly, accessories like bum bags and bright glasses, as well as hairstyles like the unforgettable mullet, round out the 80s style collection.
What shoes did men wear in the 80s?
White sneakers and hightop were some of the most popular shoes in the 80s. Doc Martins were the shoe of choice in the rock and punk scene, while loafers suited the preppy and office looks.
How do you dress 80s style?
To rock the '80s trend in modern times, pick which fashion style from the decade you belong to, such as hip-hop, preppy or rock. Invest in key pieces from the time, such as faded jeans, bomber jackets, and slogan tees. When it comes to suits, try a pinstripe style for work and a pastel design for the weekend. Don't be afraid to wear bright colors and patterns. For a subtle take on the '80s trend, just add accessories, such as white sneakers and a bum bag, to an otherwise contemporary look.
SUBSCRIBE TO OUR NEWSLETTER
Subscribe to our mailing list and get interesting stuff and updates to your email inbox.