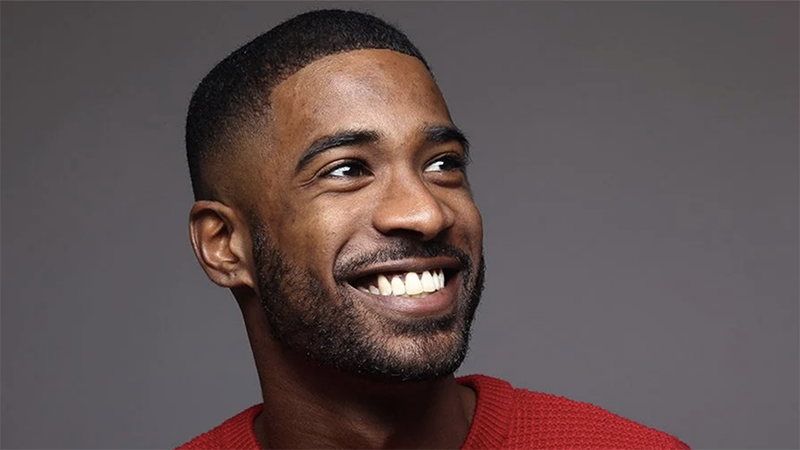 There's nothing quite like a fade to freshen up your look. While the classic fade originates in the military and has a minimalist, masculine look, today's fades are endless to express your personality. There's a reason fades are popular in barbershops worldwide, so why not change it up with the best fade haircuts for black men.
1. Drop Fade
Drop fades add extra personality to your hairstyle, creating a standout 'arc' effect when viewed from the side. The precise, curved line of a drop fade perfectly matches naturally curly hair of any length. However, it looks particularly striking when paired with an Afro or twists. Add a line-up or shaved part for a fresh look.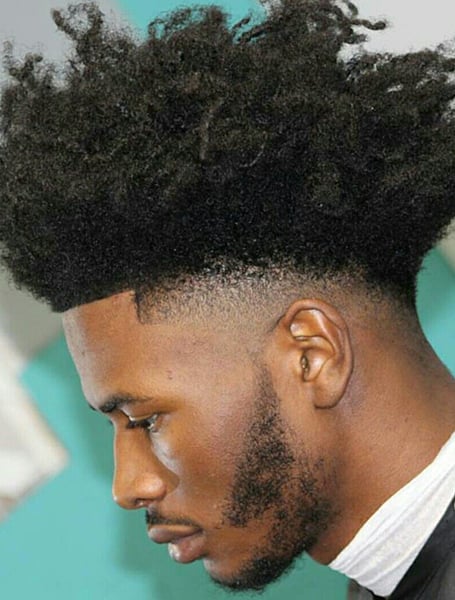 2. Taper Fade
Taper fades are more subtle than other fade types. Your barber will keep your hair slightly longer and make the transition to the shortest hair more gradual. Therefore, a taper fade looks more clean-cut, classic, and mature than other fade types. You can pair the versatile taper fade with longer hairstyles, such as an Afro, to add more structure and frame your face better.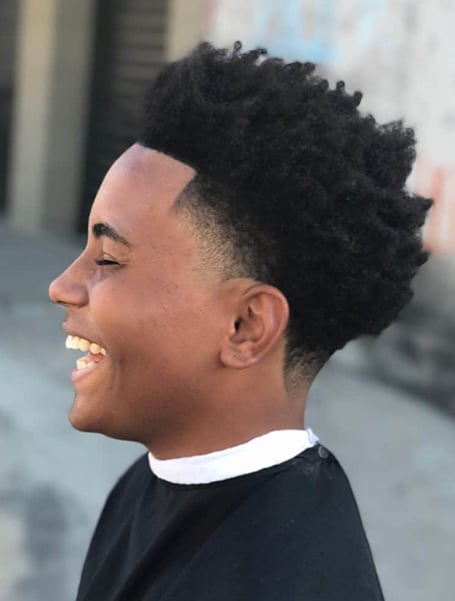 3. Temp Fade
The temp fade is one of the most popular hairstyles for men, and there's a reason for that. Sharp, stylish, temp fades suit almost every face shape and makes any hairstyle look better. If you want to give your hairstyle a modern update with minimal effort – look no further. Add a temp fade to dreadlocks, waves, or an Afro – even a mohawk – for a fresh new take on a classic style.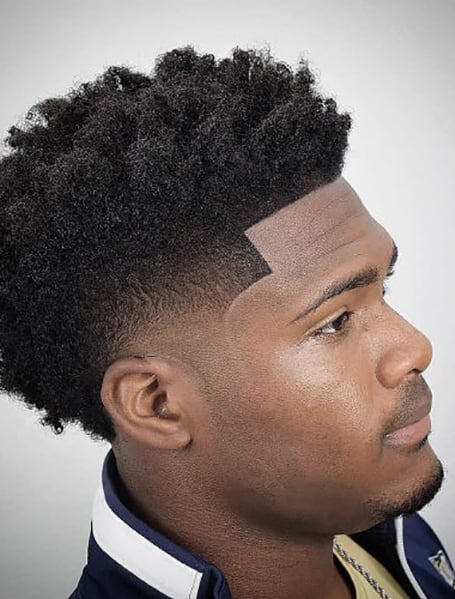 4. High Fade
A high fade is the boldest and most striking of the classic fade types. Starting high on your head, above your temples, high fades create a crisp, cool, and masculine effect. They also make your face look longer, making them a great option for guys with round or square faces. Pair your high fade with a flat top for a modern take on an '80s classic. Alternatively, use a high fade to give shape to dreads or an Afro.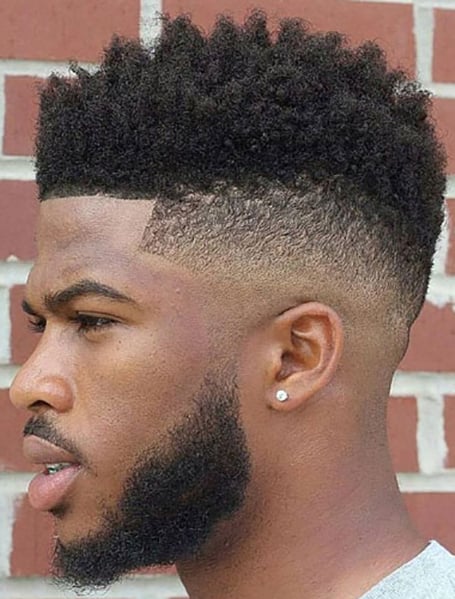 5. Low Fade
A low fade starts just above your ears and fades down to your neck. Stylish and sophisticated, a low fade is a versatile cut that suits those looking for a more understated look. A low fade is a solid first option if you've never tried a fade before. Low fades look great with shorter styles like cropped curls, adding subtle shape and structure.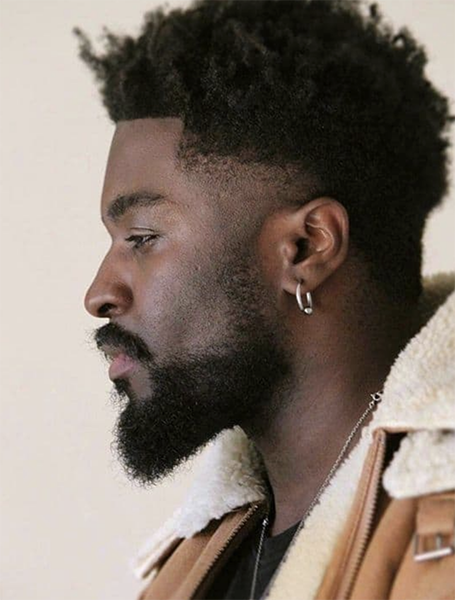 6. Mid Fade
Known as an 'all-rounder' cut, mid fades start between a low fade and a temp fade. They are usually more defined than other fade types, with a sharper contrast between the long hair and the short sections, creating a semi-undercut look. For that reason, a mid fade is a great addition to equally defined hairstyles such as a line-up or shaved part. Adding a mid fade is also a good way to update a mohawk.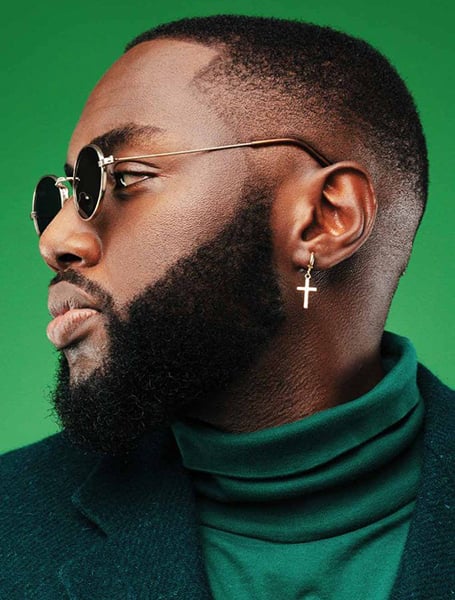 7. Bald Fade
Also called a skin fade, a bald fade tapers down to completely clean-shaven skin. For this reason, it requires more upkeep than other fade types – which means more trips to the barber to keep your hair looking sharp. However, the extra effort is worth it. Bald fades not only look sharp, clean, modern, and masculine, but they are also versatile. You can pair a bald fade with cropped hair or contrast it with a longer style, like a blowout or Afro.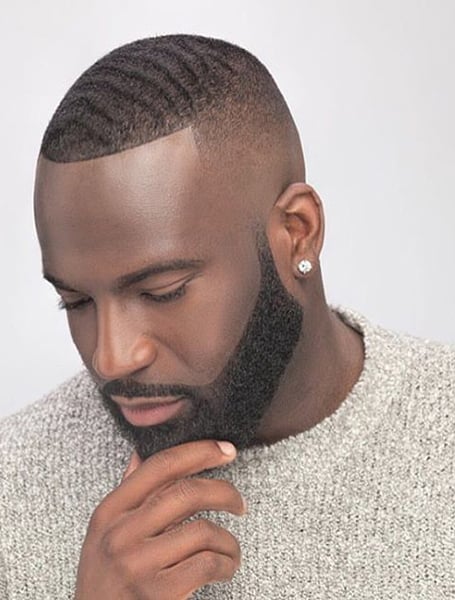 8. Short Fade
A short hair fade is ideal for guys who like a clean, minimalist look. The short fade creates a similar look to a crew cut, buzz cut, or high-and-tight. With a masculine, military feel, a short fade works well if you want a style that requires no further styling to look good. However, short fades must be maintained more regularly than longer ones to ensure they stay clean and sharp.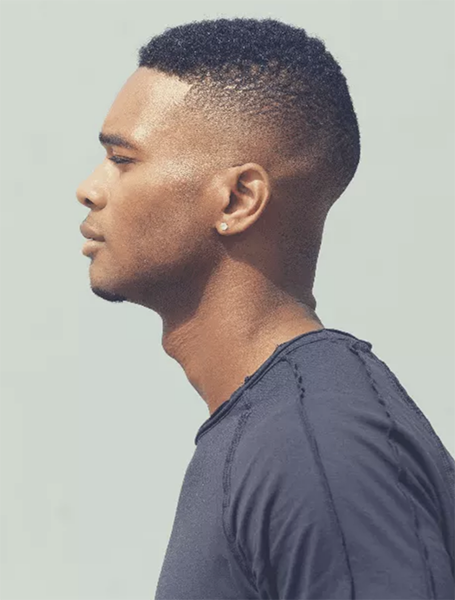 9. Skin Fade
Also known as a bald fade, a skin fade is a bold and striking option. For men with Afro-textured hair, pairing a skin fade with a shape up is a great option. The clean lines and definition will make your features look sharper, particularly your jawline and cheekbones. At the same time, it's a masculine look that doesn't require extra styling. You can also contrast a bald fade with a longer style, such as twists, to give it more structure and attitude.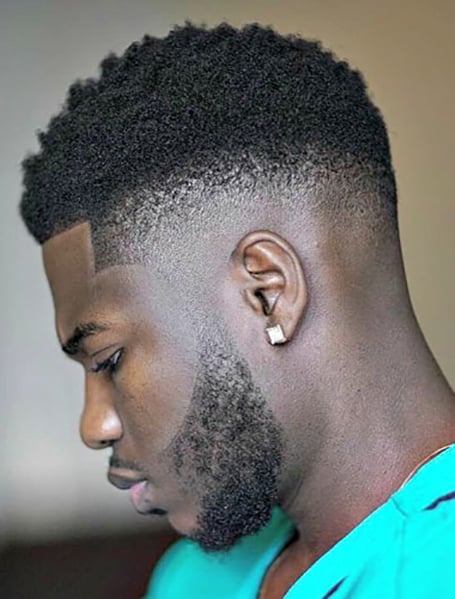 10. Afro Fade Haircut
Looking to give your Afro a fresh update? Try adding a fade. Doing so will give your hair more structure and definition while providing a more modern feel. Plus, haircuts with shorter sides look good on all face shapes. For a striking look that makes your face look longer, pair your natural Afro with a bald fade – or try a low fade for a subtly shaped look.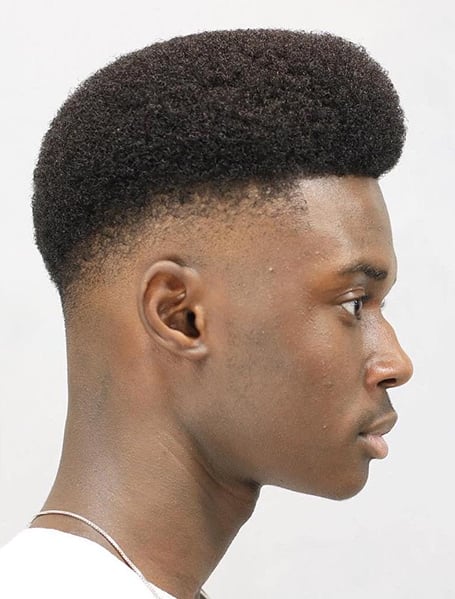 11. Curly Fade Haircut
If you are growing out your hair, a curly tape fade haircut is a great choice. The faded sides add structure and definition, contrasted with the curly top section. Your barber can also shape your hairline to work with your curly fade to reflect your individual style and personality. A straight line-up paired with curved sides is a popular option that stands out from the crowd and effortlessly blends your hairline, fades, and beard.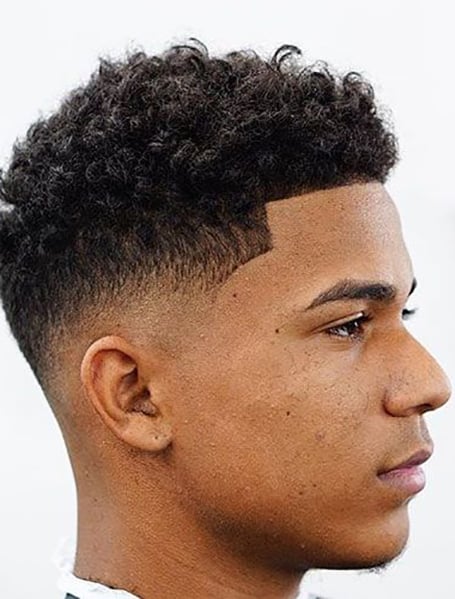 12. Fade Haircut + Designs
They look dope, and hair designs are an excellent way to add your personality to your hairstyle and give it a unique look that will stand out from the crowd. Fades look great when paired with hair designs, as your barber can create depth and shadow based on the fade's gradient. The options are endless, from simple geometric patterns to stars, leaves, and feathers.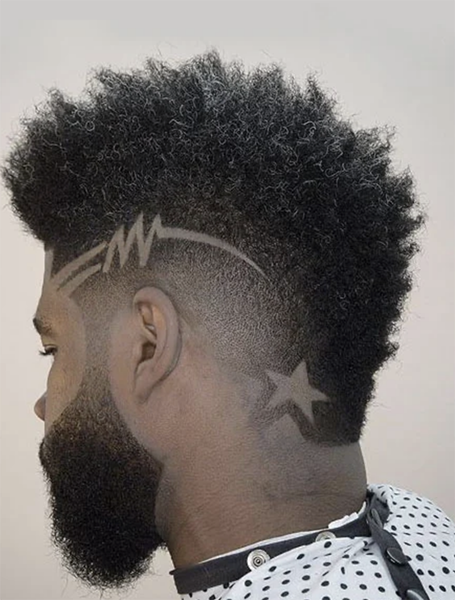 13. Fade Haircut + Line Up
Add a line up to take your fade haircut to the next level. Like razor parting, the line creates a disconnected look that immediately draws attention. Have your barber place the line – or lines – to follow the direction of your fade. The line should be straight for a classic fade, whereas a drop fade or burst fade looks best with a curved line that follows the fade's arc.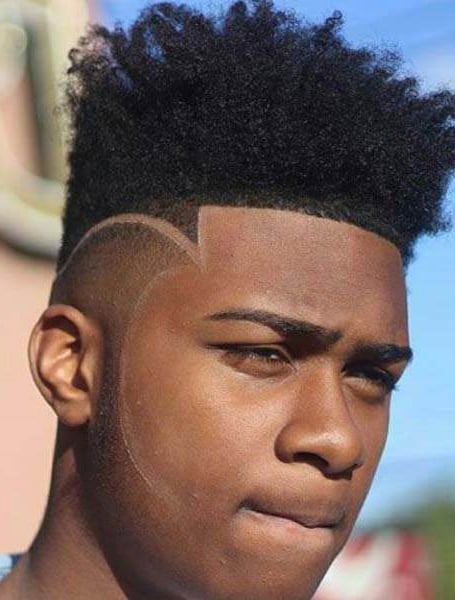 14. Mohawk Fade Haircut
Mohawks first rose to popularity with the punk movement in the '70s. The more modern version of the cut adds a high fade to create a more wearable hairstyle with all the original mohawk's attitude. Afro-textured hair is the perfect partner for a mohawk fade because it has natural volume and can stand tall without product. So, if you have considered the style, now's the time to take the leap.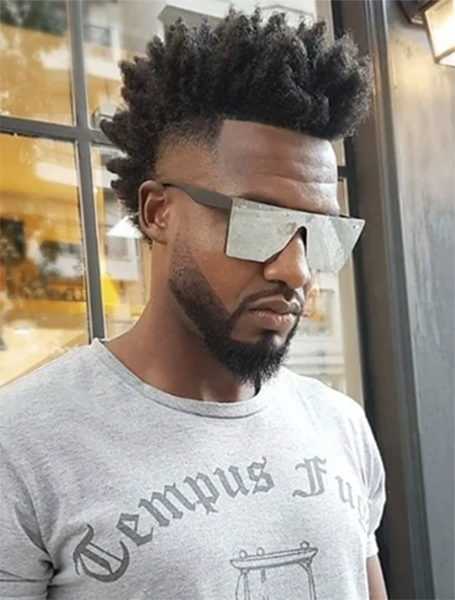 15. Burst Fade
Like the drop fade, the burst fade is rounded at the sides. However, the line of a burst fade haircut curves in a different arc, making it appear as if it is 'bursting' out from the ear. Football player Odell Beckham Jr is one of the most famous wearers of the mohawk burst fade, so take your cues from him if you want to try out this bold and attention-grabbing style.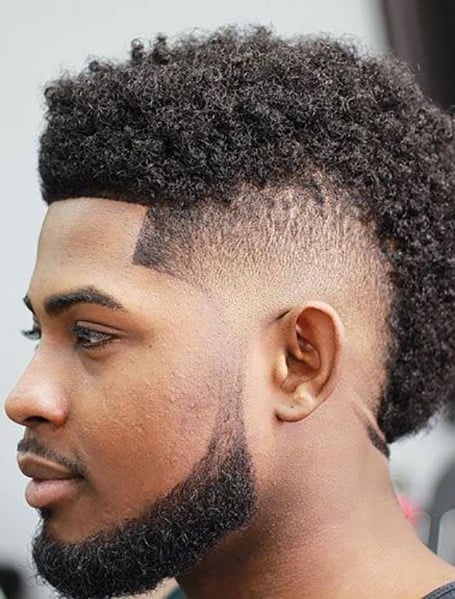 16. Fade Haircut with Waves
Waves are an eternally popular hairstyle for black men. There is something about this versatile look that never goes out of style and always attracts attention. For a fresh take on waves, pair yours with a high fade. The short sides and wavy top section contrast make the haircut look dynamic and unique. The effect is similar to the 180 waves hairstyle, where the top section is waved while the sides are buzzed short.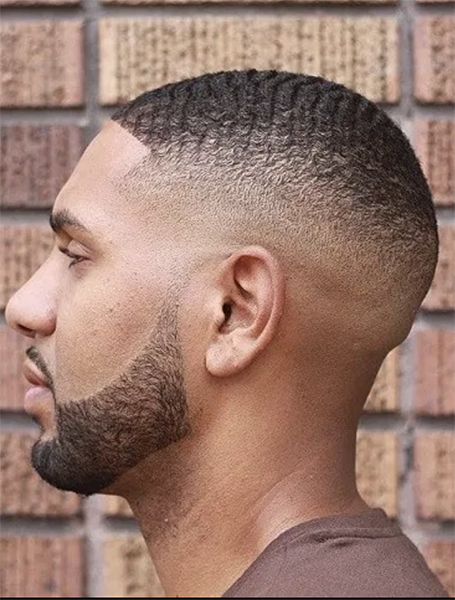 17. Boosie Fade Haircut
Made famous by Louisiana rapper Lil Boosie, the Boosie fade haircut features a square shape up on a short Afro, paired with a high skin fade. The cut attracts attention for its sharp geometric lines, as well as its ultra-clean fade. Depending on how your barber shapes your hairline, the Boosie fade can be adapted to suit most face shapes.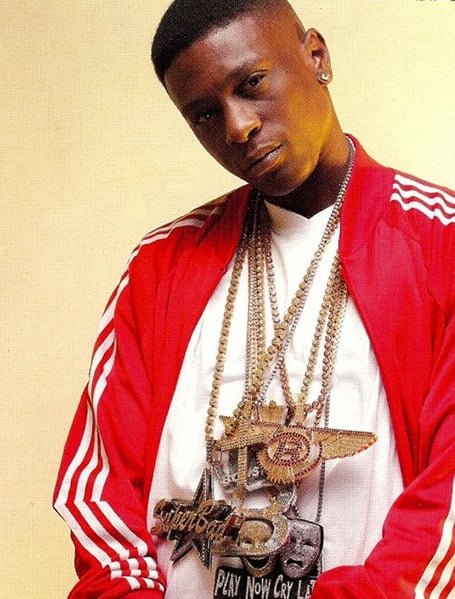 18. Undercut Fade Haircut
An undercut fade on Afro-textured hair looks slightly different from the same style on Asian or Caucasian hair, but the overall effect is the same. In all versions of this haircut, ultra-short sides are contrasted with a longer top section. A mid fade is a great choice for mimicking a classic undercut's disconnected look, while dreads, twists, or braids provide a cool contrast with the faded sides.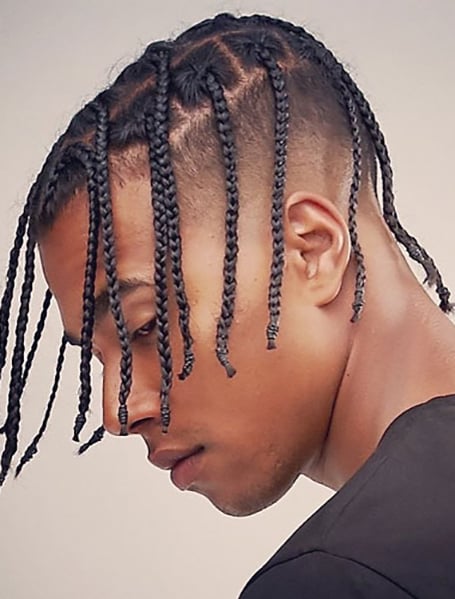 19. Frohawk Fade Haircut
The frohawk sits halfway between a mohawk and an Afro. Unlike a classic mohawk, which relies on products to create the jagged, volumized central section, the frohawk gets its height and shape from the natural properties of Afro-textured hair. It's usually shorter and more wearable than a classic mohawk. Adding a fade makes it more casual and versatile for different occasions – though you'll still stand out for all the right reasons. If you've always wanted to try a mohawk, the frohawk fade haircut is an easy way to embrace this iconic style.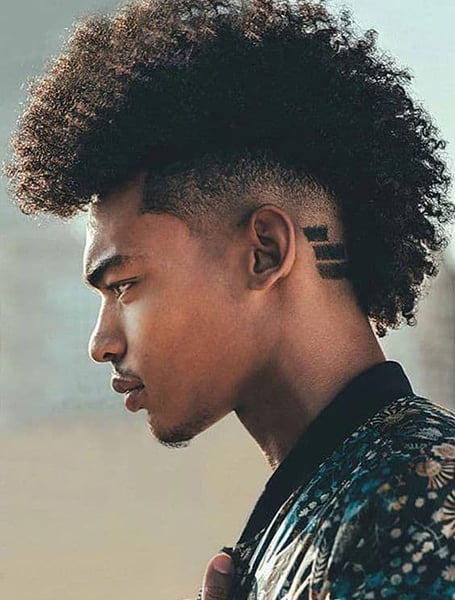 20. Fade with Flat Top
Also called a box fade, the fade with a flat top is the modern version of this classic hairstyle of the '80s and early '90s. A high skin fade helps emphasize the vertical height of the flat top and creates a cool contrast. Not one for the shy types, the cut makes a statement and can be trickier to pull off than other fade hairstyles. That is because it has a unique vibe that's retro yet still relevant today.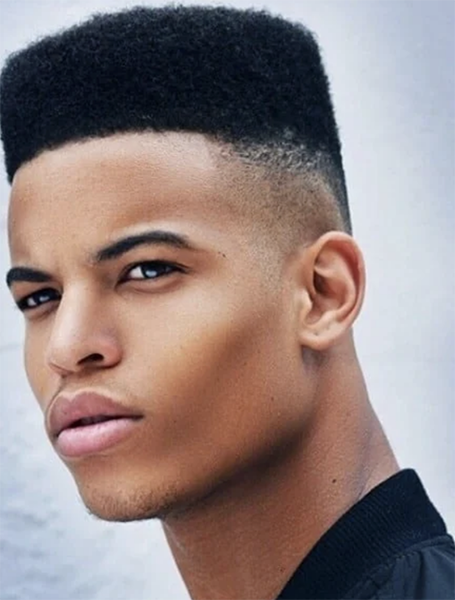 Taper Fade Black Haircuts FAQs
How do black men fade their hair?
Barbers fade Afro-textured hair in a slightly different manner to Caucasian hair. They will generally work from the bottom up – cutting in the direction the hair grows – to avoid causing irritation or ingrown hairs. Barbers will also cut more 'guidelines' into the hair, fading in smaller sections with different guard combs attached to the clippers to create a seamless blend. Electric clippers are ideal for fading Afro-textured hair; using scissors and a comb, or a razor blade for skin-fading, is typically not recommended. These can irritate skin and ruin the shape of the hair.
What are the different types of fade haircuts?
There are many different types of fade haircuts, but the most well-known are temp fades, drop fades, high fades, and skin fades – also known as bald fades.
How do you fade an Afro?
To fade an Afro, use electric clippers and start working your way up from the bottom. Shave in the first guideline where you want the fade to be shortest – if the skin is fading, this is called the 'bald line,' and you should cleanly shave all the hair below it. It's important to keep the fade symmetrical on both sides and not draw the first guidelines too high. Next, use a number-one open-guard comb and shave the next guideline about half an inch above the first. Neaten the hair in this section, again ensuring it is symmetrical and even. Repeat the same process with a number two guard comb, working your way up until you've faded your hair into your Afro.
What does a fade haircut look like?
From the front, a fade haircut looks similar to a short-back-and-sides or high-and-tight haircut. From the side, you'll see the signature gradient effect of the fade.
Are fades still in style in 2021?
Fresh and clean, fade haircuts never go out of style. They are still popular and on-trend today, and with new variations constantly being invented, it's hard to see them falling out of favor any time soon!
Should I get a taper or a fade?
Whether you should get a taper or a fade depends on your personal preference. Tapers are more subtle and require less maintenance than fades. Meanwhile, fades tend to attract more attention, look sharper, and have a more masculine feel than a taper. There are also more creative variations when it comes to fades so that you can show off your style and personality more. 
SUBSCRIBE TO OUR NEWSLETTER
Subscribe to our mailing list and get interesting stuff and updates to your email inbox.