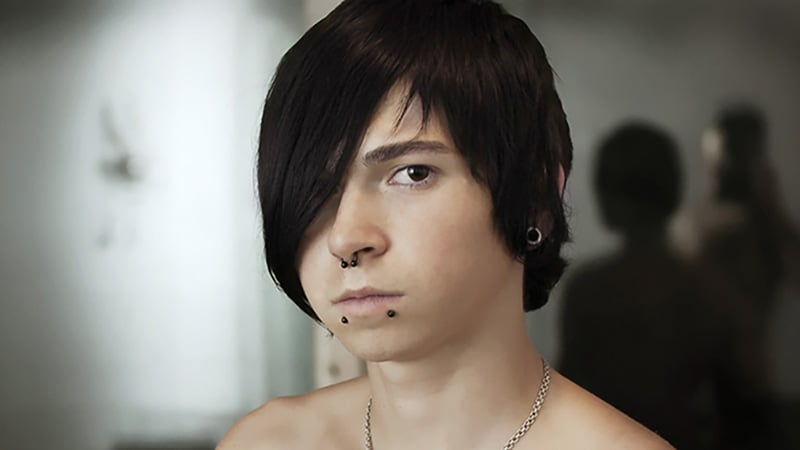 The emo style has been popular since the early 2000s, and elements of the fashion and hair trends remain relevant. If you want to stand out from the crowd, then one of these cool emo hairstyles for guys is just what you need to do it. The appeal of these looks is that they are expressive and offer you something unique. There are no right or wrong options; whether you want to experiment with different colors (the bolder, the better) or play with proportions and unusual angles, there are plenty of options to choose from.
Emo Hairstyles for Guys
1. Curly Fringe With Temple Fade
Are you looking for a fresh way to way to wear your locks? If so, you're in luck because the curly fringe with temple fade is one of the coolest emo hairstyles for men. This is because combining the voluminous and full front when paired with the significantly shorter back and sides creates a truly standout finish.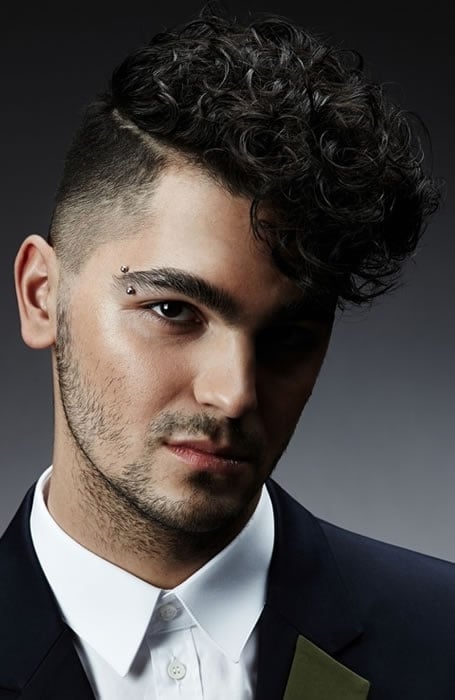 2. Curly Mop
So, you're looking for an expressive look without it being too over the top? Let us introduce you to the curly mop emo hairstyle. This look has been around for decades and is still a favorite because it is simple to style for those with medium to long strands and has a noticeable fringe long enough to cover the eyes and forehead. To give it that emo flair, the longer, the better!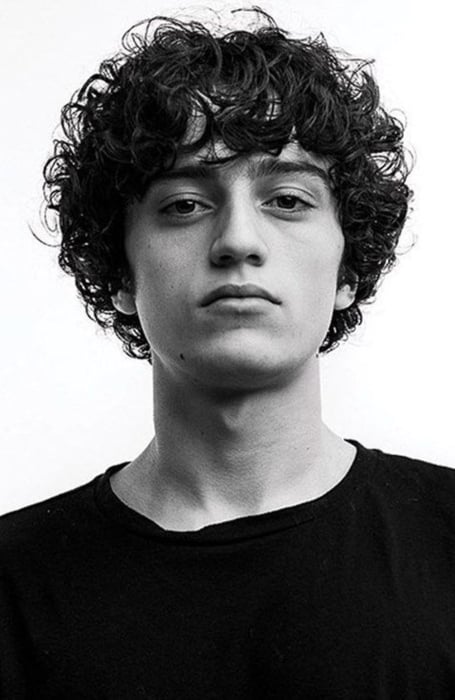 3. Long Wavy Curtain Bangs
Does it get better than long wavy curtain bangs? We think not. The way this fringe is cut makes it super wearable and also an excellent way to frame the face, balance the features, and make you look cute. Why not add color to the pieces around the face for an extra-expressive style? Or you could opt for a two-tone style, depending on your preference.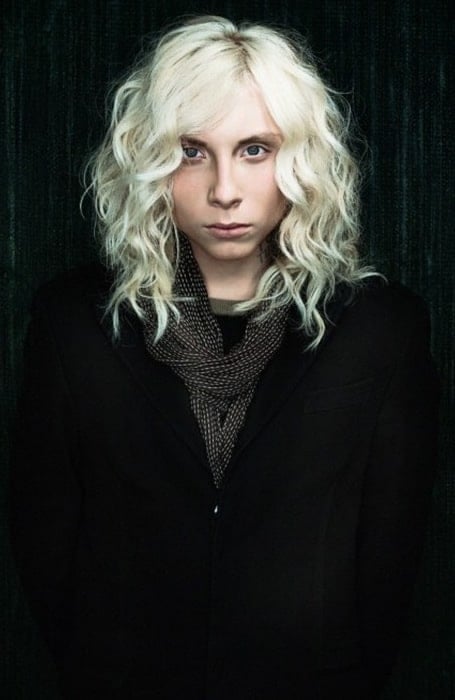 4. Long Curly Hair With Swooping Fringe
If you are blessed with long curly hair, then the ultimate way to style it is with a swooping fringe. The pro of this look is how voluminous it is and how it sweeps across the face. Do you have problematic skin? No problem. How about a perceived imperfection you want to hide or just up your hair-flicking game? This is the best way to do just that!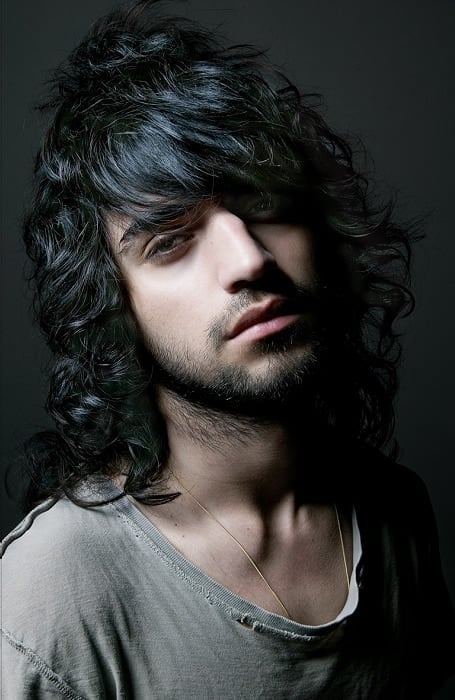 5. Long Fringe With Colored Highlights
Nothing says "look at me" more than a long fringe with colored highlights emo hairstyle. The appeal of this option is that you get to express yourself and create a truly unique look; combine the colors of your choosing, whether you want bright neons or darker and more muted colors. The long fringe can also be very flattering, hiding signs of problematic skin and resulting in a more youthful finish.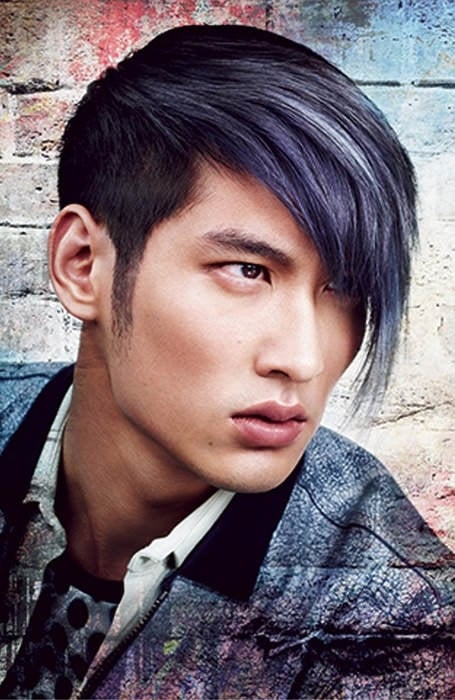 6. Long Piecy Fringe
There are many emo hairstyles for guys to choose from, but most of these looks have in common: they have some type of bangs. Whether you're opting for a swooping style that covers the face or prefers something a little more textured, like the long piecey fringe. The choppy cut with various lengths is an excellent way to give your strands movement.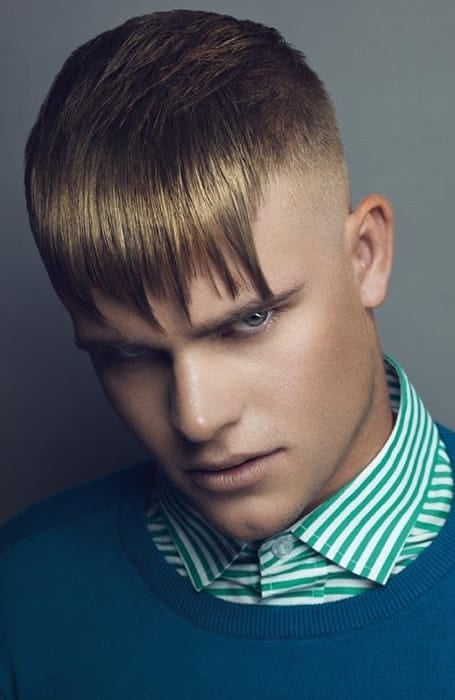 7. Medium Length Wavy Hair With Side Part
Forget short strands and start growing them out until you reach that ultra-desirable medium length wavy hair with a side part. The great thing about this length is you have more styling opportunities (and you can feel the wind in your hair). A side part is awesome because it will help balance the features and frame the face.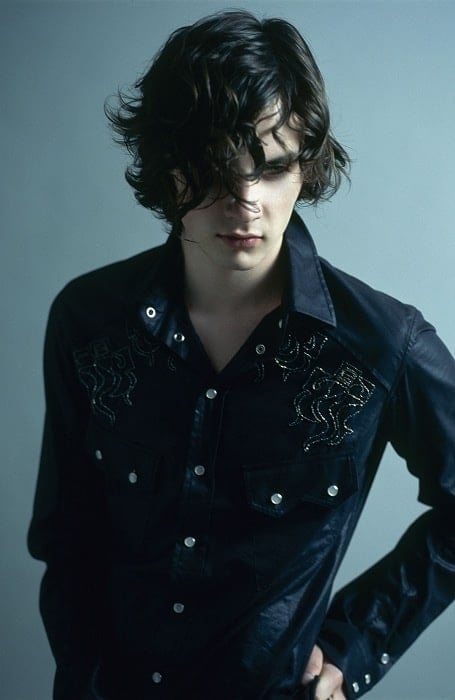 8. Messy Fohawk With Mid Fade
Tap into your creative side with the messy frohawk with mid fade. Unlike the traditional mohawk with a punk vibe, this option is much more wearable and more commonly associated with the emo music subculture. We love the mid fade because it contrasts the hair on top, making the top look fuller. At the same time, it gives you the edge you need!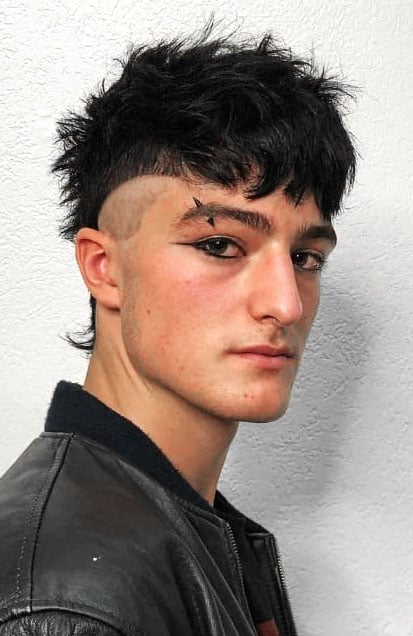 9. Messy Short Bleached Hair
Let your hair be the focus of your appearance with this super cute messy short bleached emo hairstyle. The simplicity of the cut is complemented by the jagged styling, which transforms it from a basic look to a badass one. Plus, bleached color hair is a great way to draw attention to your strands, although you don't want to make a habit of dying your locks because of how damaging and drying the process is.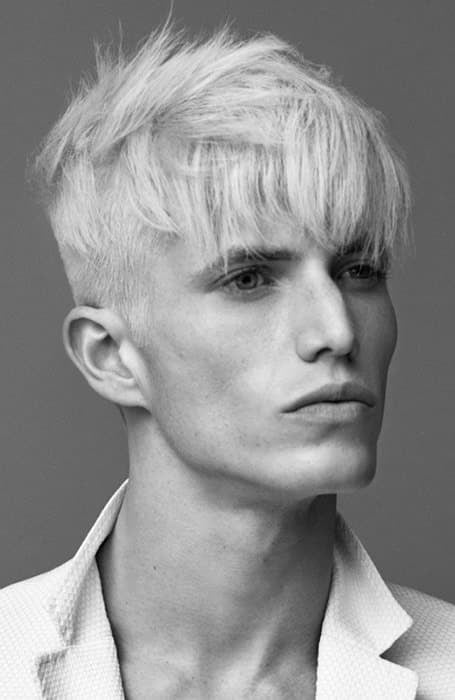 10. Purple Hair With Long Quiff And Fade
What we love about the emo genre is how expressive and undeniably cool it is. It also allows you to have fun with your appearance, which means experimenting with color. And does it get better than purple hair with a long quiff and fade? This combination is so edgy that you're guaranteed to get noticed.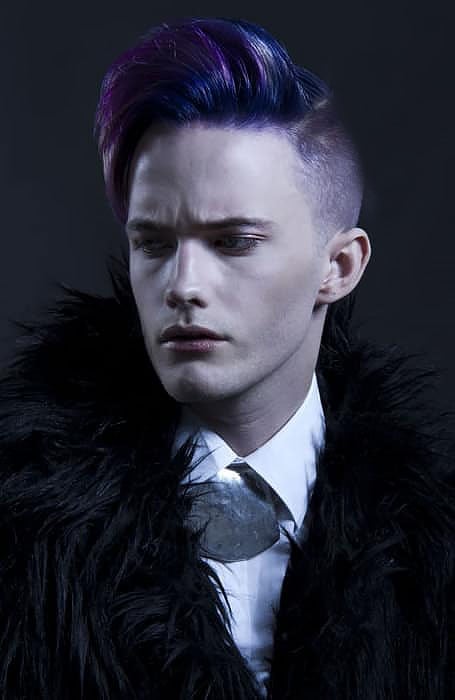 11. Short Fluffy Hair
The emo style was once defined by its bright colors, long, sweeping fringes, and jagged cuts. While there are still elements of the look from the 90s and early 2000s that you can incorporate, you can also opt for a more subtle approach. Take the short fluffy emo hairstyle with thick strands that appear lightly textured.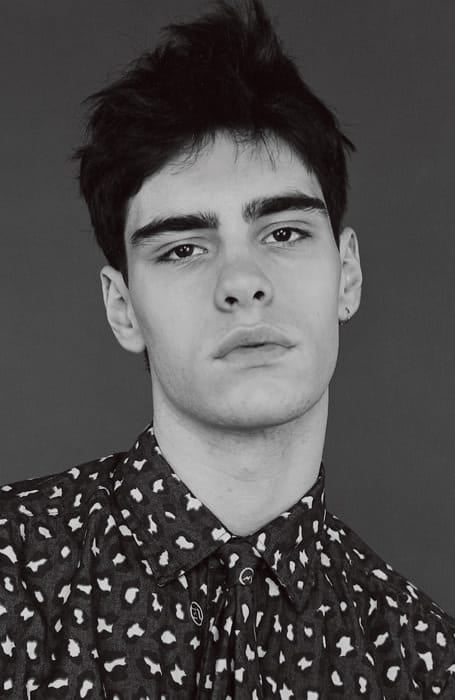 12. Swooping Fringe With Undercut
Are you looking for an interesting combination between voluminous strands and shaved hair? There are few better ways to get noticed than by trying out a swooping fringe with an undercut emo hairstyle. The undercut will give you that desired contrast, adding an element of edginess to your look. This is especially great for men with thicker strands and can be an excellent way to remove bulk and weight.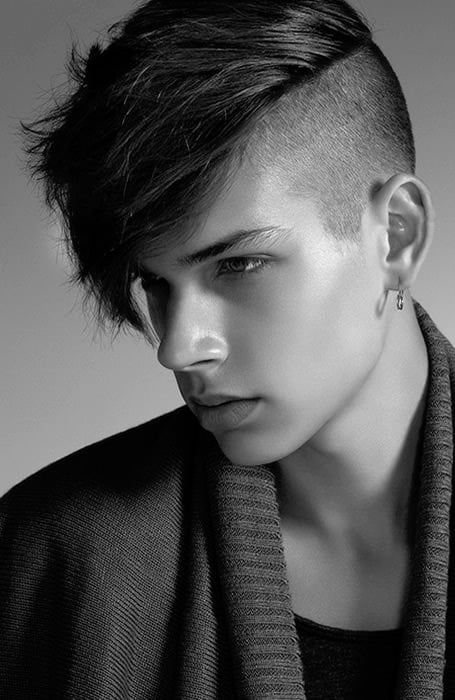 13. Textured Hair With Swooping Fringe
We love the swooping fringe emo hairstyle because it can draw attention to your features, specifically your eyes. It is also a great way to give the illusion of longer locks. It allows you to experiment more with styling, including opting for a deliberately unstructured, textured finish. Do you want movement and dimension? This is the way to do it.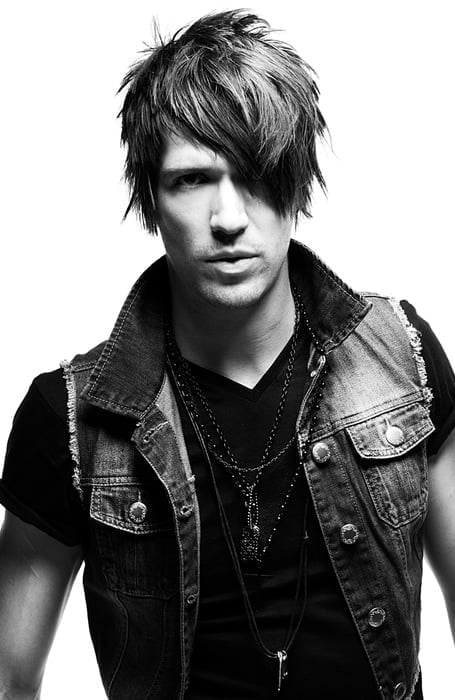 14. Two Tone Blunt Fringe With High Fade
If you like to stand out from the crowd, we guarantee you can do this with the two tone blunt fringe with high fade emo hairstyle. This look has a lot going on, so let's break it down: the blunt fringe is cut horizontally, making it interesting that the high fade will gradually shorten the back and sides. And the best part; the two tone color!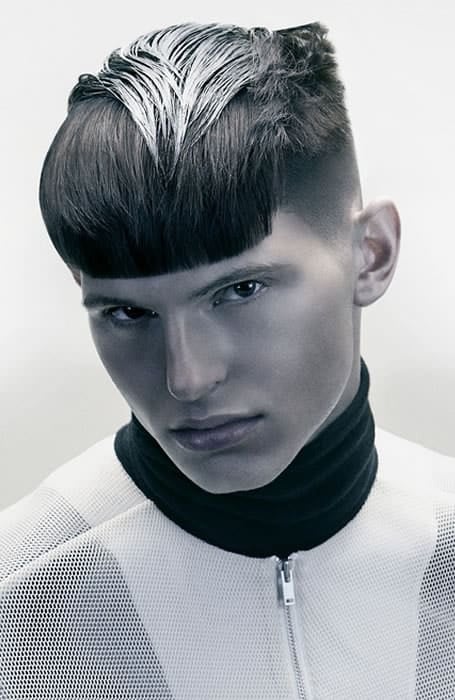 15. Wet Hairstyle
Do you want to appear as if you have emerged from the shower? Then a wet look hairstyle is a great choice. It's meant to be effortlessly sexy and is an excellent way to show off your texture. It works best on medium to long lengths, giving you more versatility with styling, and it can be created by adding gel to your strands.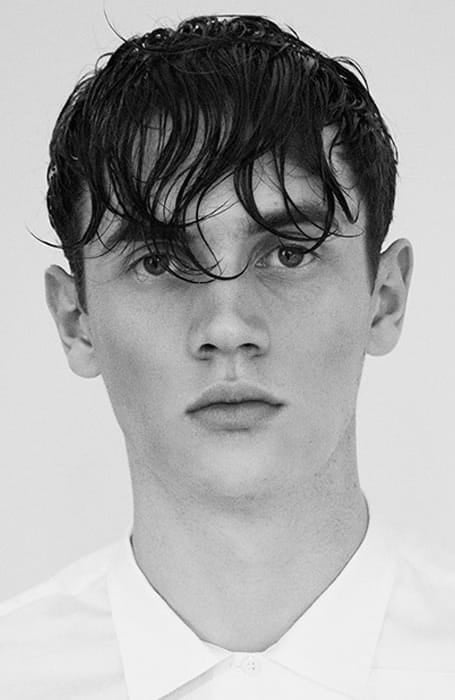 16. Angular Quiff With Shaved Sides
If the standard quiff (a hairstyle that is all about volume and achieved by brushing your strands upward and backward) feels too classic for you, then there's a more creative option. Instead, let's look at the angular quiff with shaved sides and an emo haircut. A look that enables you to play with proportions and experiment with different lengths.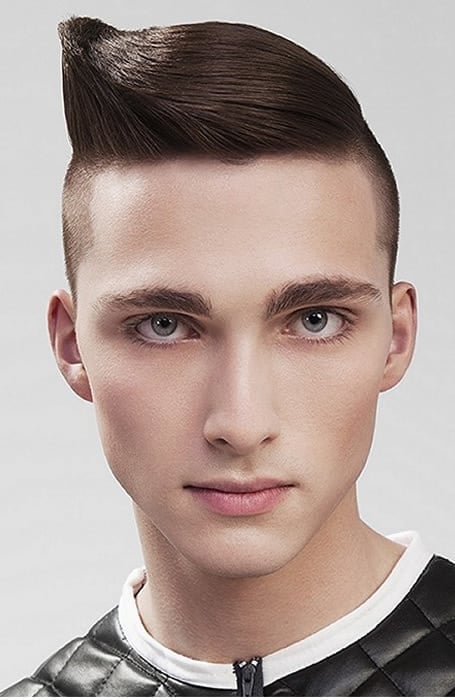 17. Blowout With Undercut
The undercut is a common addition to the emo hairstyle because it lets you remove the hair around the back. This is one of the coolest ways to create contrast (and it can be paired with your chosen hairstyle). But to make the top hair stand out, you must try a blowout. The bigger, the better!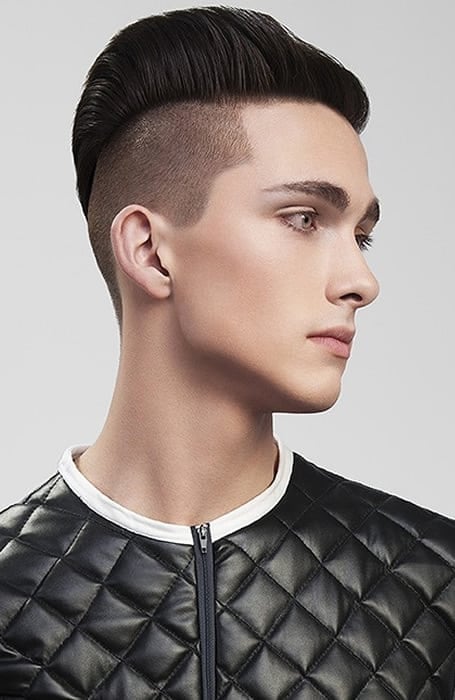 18. Blunt Bowl Cut
The blunt bowl cut emo hairstyle will transport you back to the 80s. The mushroom-inspired look will sit flat on the head and be cut straight around (so all the hair is one length), meaning there are no layers. For the sleekest finish, your cut will work best with straight hair. For extra emo flair, keep the strands longer to cover the brows.
19. Blunt Cut With Angular Fringe
The blunt cut can feel classic or be adapted to have a more modern finish. This look definitely falls into the second category. While the hair is cut to all one length and without layers, it is given an edgy finish with the addition of an angular fringe. The appeal of the emo style is how unique and creative it can be.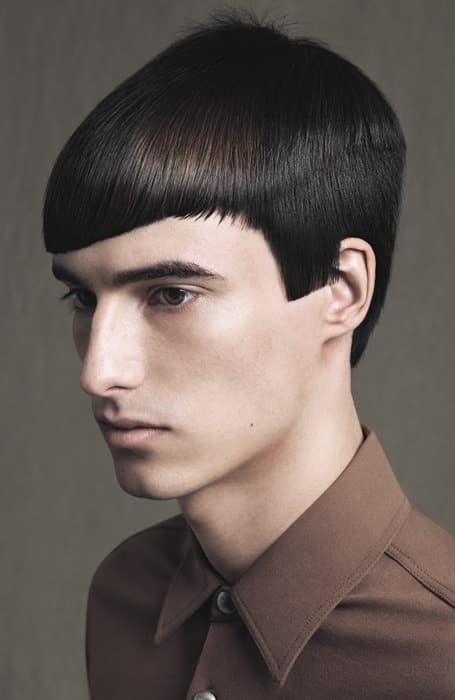 20. Wavy Bro Flow
The wavy bro flow is one of the ultimate laidback and universally flattering looks. It is simple, easy to style, and undeniably sexy. But how is it created? Simply brush the hair back and let it fall naturally. Of course, if a few strands fall over your eye, this will add to the emo aesthetic.
Emo Hairstyles for Guys FAQs
What is an emo hairstyle?
An emo hairstyle is a term given to looks that are inspired or associated with the emo subculture. Individuals who favor these styles are often young and want something expressive and unique. There is a range of cuts and colors to choose from, some more classic in appearance and others unique with unusual finishes (like an angular fringe or two-tone color). 
What year was emo hair popular?
Although the emo hairstyle is still worn by some men and women, and it looks to be making a comeback, it was most popular during the early 2000s. 
How to get an emo hairstyle?
If you want an emo hairstyle, finding a look that represents who you are and what you feel is most important. If you love bold hair colors, then incorporate them into your look. Perhaps you want a fringe that covers your eyes? Or you wish to experiment with different lengths, for example, with a frohawk and fade. The options are unlimited but should be expressive.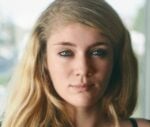 Cailyn Cox holds a degree in journalism and has been working with The Trend Spotter as a writer for over ten years. She has worked with some of the most prestigious women's and men's lifestyle publications. For her, writing is not just a job; it's a passion, which is why each article she writes is approached with such enthusiasm and dedication. She has extensive knowledge of hairstyles, tattoos, and beauty and has made a career out of creating informative articles that appeal to women and men of all ages.
SUBSCRIBE TO OUR NEWSLETTER
Subscribe to our mailing list and get interesting stuff and updates to your email inbox.