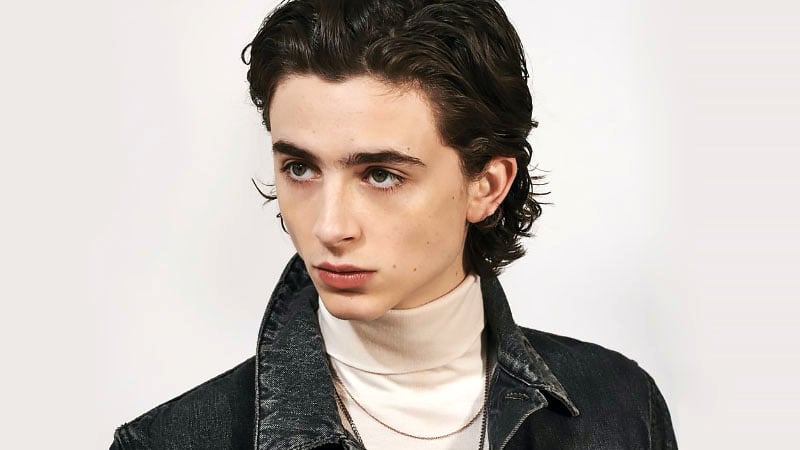 Social media has projected new trends into the world every year, and one of the biggest ones we've seen is the e-boy. Originating on TikTok, the alternative fashion incorporates the '90s and 2000s grunge-inspired pieces with the season's hottest styles. With hairstyles from KPop stars like BTS to influencers such as Chase Hudson, this non-conforming aesthetic is easily recognized and a lot of fun to replicate. There's plenty of different options to try out, from black nail polish to chunky chains and layered clothes. If you're interested in some of the hottest TikTok looks or you want to experiment with your aesthetic, here's how you can rock the e-boy style.
RELATED: 15 E-Boy Hairstyles to Rock
1. Cuffed Trousers or Jeans With Socks
Show off your ankles in an effortless way by cuffing your trousers. The jeans and socks combo works well with a wide variety of tops and outerwear and is easy to replicate. Rock this look with a pair of loose-fitting denim, rolled up to the mid-calf or slightly below. Add socks that resonate with you and a set of chunky sneakers. On the top half, wear an oversized sweater or t-shirt tucked in or loose with a black belt. This is a simple and cool ensemble that you can wear on casual days.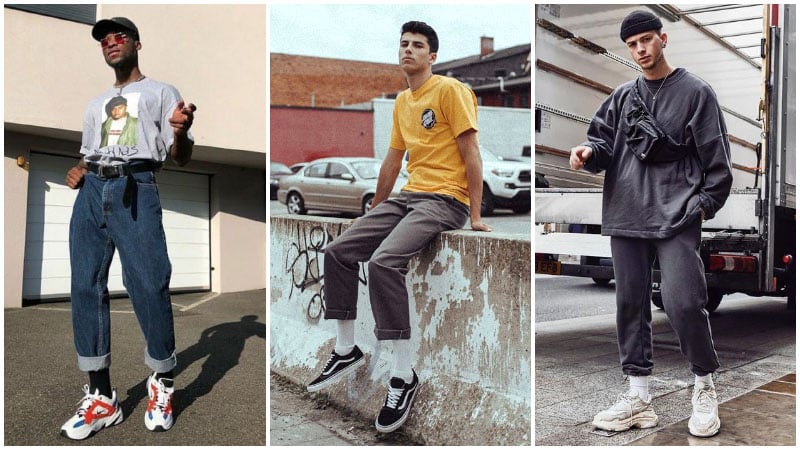 Get the Look
2. Layering T-shirts Shirts and Jumpers
When the weather cools down, and it's time to start layering, why not consider a long sleeve shirt and t-shirt combo? This look is inspired by the grunge movement of the '90s and skateboarding scene of the '00s, but the revamp is just that little bit cooler. To achieve an e-boy style, pair a striped top with a black T-shirt. You can also swap it out with an oversized sweater in the color of your choice. Add accessories such as a silver chain or two and a chunky beanie for a finishing touch. This is an excellent option for transitional seasons and the colder months – what a way to look stylish and keep yourself feeling snug.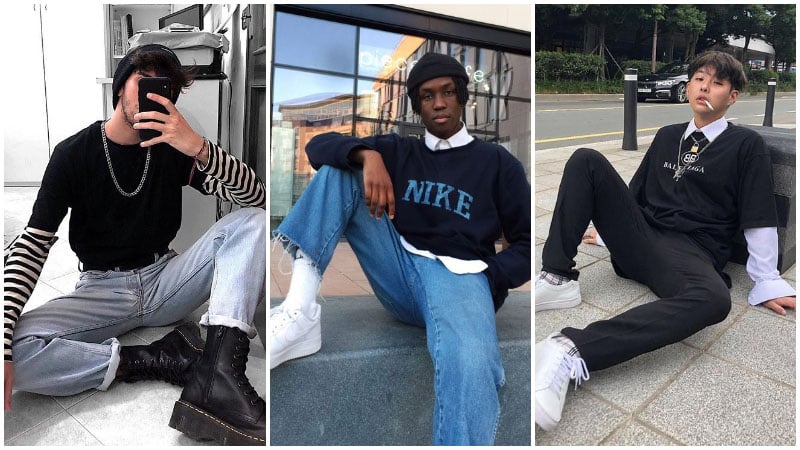 Get the Look
3. Vertical Stripe Shirts
Unleash your inner Harry Styles or K-Pop star with a sleek vertical stripe shirt. This button-down features a funky pinstripe, and it looks fantastic when paired with a black t-shirt or by itself. Show off your chest by unbuttoning a few top buttons – it's a great idea to add a few necklaces or sunglasses chains that hang to the shoulders and below. There are no rules for the shades of shirts to try – popular options include black, burgundy, and burnt orange. For a classic twist on the fresh ensemble, throw in a pair of dark jeans and chunky black combat boots to elongate your frame.
RELATED: How to Wear a Pinstripe Suit with Style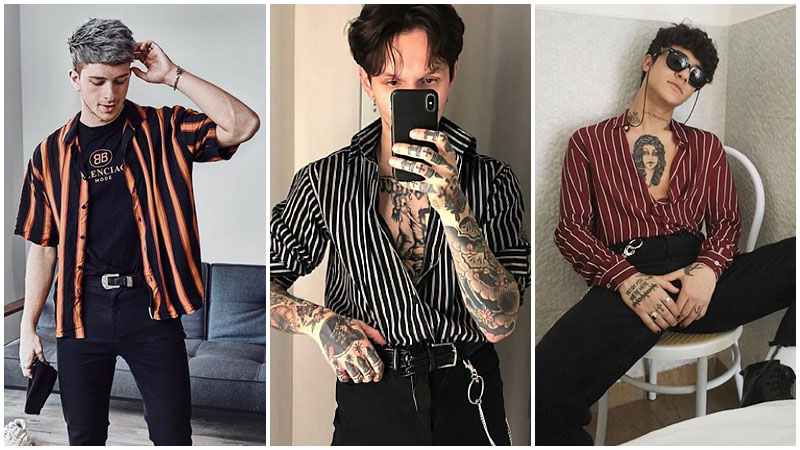 Get the Look
4. Chain and Lock Necklaces
Keep your heart safe and secure it in style with these chains and lock necklaces. The layering of these chunky accessories add dimension to your outfit and help make your eyes shine a little brighter. Choose something in gold, silver, or a bold color – let your inner expression shine through. Regarding the length, choose something that sits a little lower than your collarbones – feel free to layer several different sizes for optimum depth. Adding a lock to the end of the chain represents security and promotion of health and safety.
RELATED: How to Wear Gold Chains With Style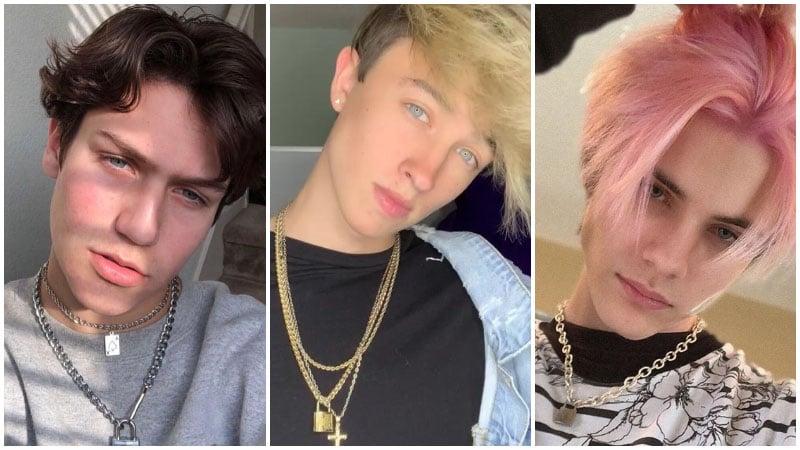 Shop Products
5. Black and White Sneakers
One of the classic pieces from the grunge movement was the high-top black and white sneaker. From Chuck Taylors to Vans, there are so many comfortable and sleek sneakers and shoes to try. E-boys often sport high top Converse basketball shoes, which look great with cuffed jeans or a pair of black trousers. Try this look with a t-shirt and long sleeve combo, complete with a beanie or silver accessories. Add white laces to create unity with the footwear and keep the sneakers' bright white with regular maintenance.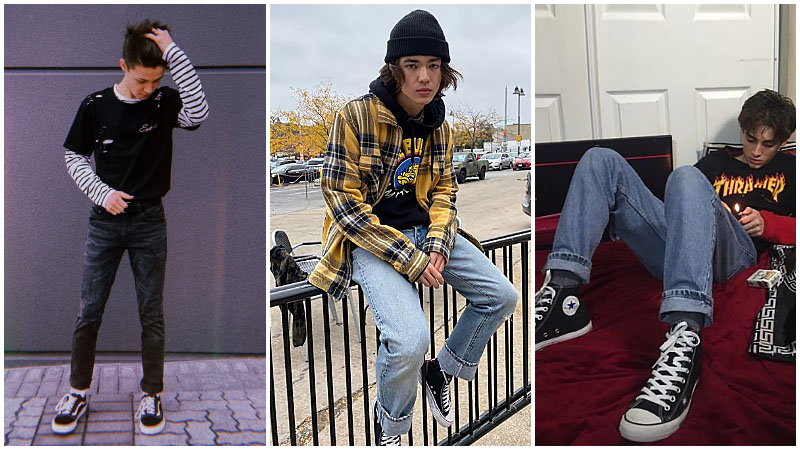 Get the Look
6. Wallet Chains
The e-boy trend takes bits and pieces from a wide variety of fashion trends from the past, and one of the biggest ones we've seen is the wallet chain. Hanging loose from the belt, this silver accessory adds an extra dimension, with touches of a punk aesthetic. No matter how short or long you wish the chain to hang, this is an accessory you can play around with to see what suits you best. To style it, clip it to a pair of black jeans and wear it with a striped shirt or sweater to complete the ensemble.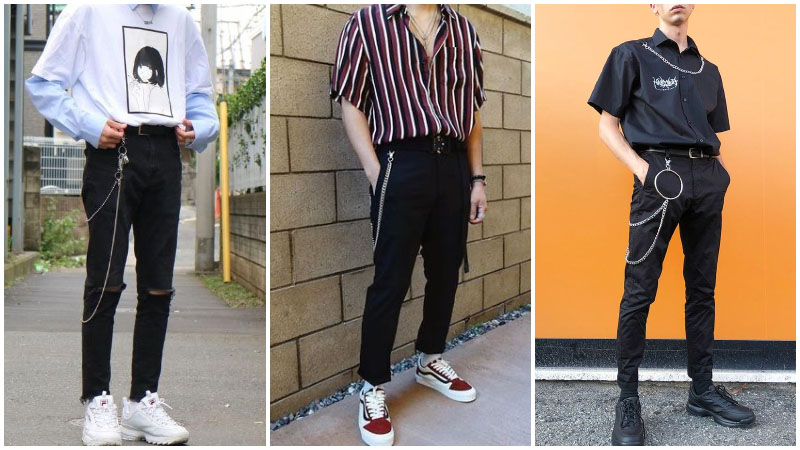 Shop Products
7. Denim Jackets
One trend that has stayed a leader in fashion is the cool denim jacket. This effortless and timeless outerwear looks amazing on everyone, and it's a total e-boy staple. There are different jackets to try, such as shearling-lined, oversized, distressed, and plenty of others. When styling the outfit, opt for a simple layering process – a burgundy roll neck, black jeans, and some hanging chains. If the weather is mild, a plain gray t-shirt and a pair of black and white sneakers will keep you to feel cool. From a date at the cinema to a video on TikTok, you are good to go with this iconic item of clothing.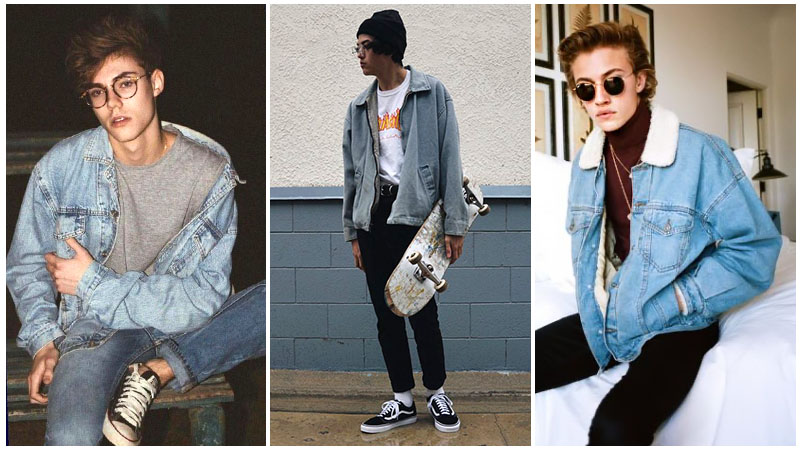 Get the Look
8. Black Nail Polish
Sporting black nail polish is one of the popular choices seen on the hottest guys from TikTok, and it's an easy trend to replicate. Whether you wish to paint a single nail or every finger, it's an instant way to roughen up your ensemble. When it comes to manicures, be sure your nails are even in length and looking neat – this will keep the fingertips looking tidy and ready for the dark polish. Not only is this a bit of fun, but it's also a great way to express your creativity and love for style.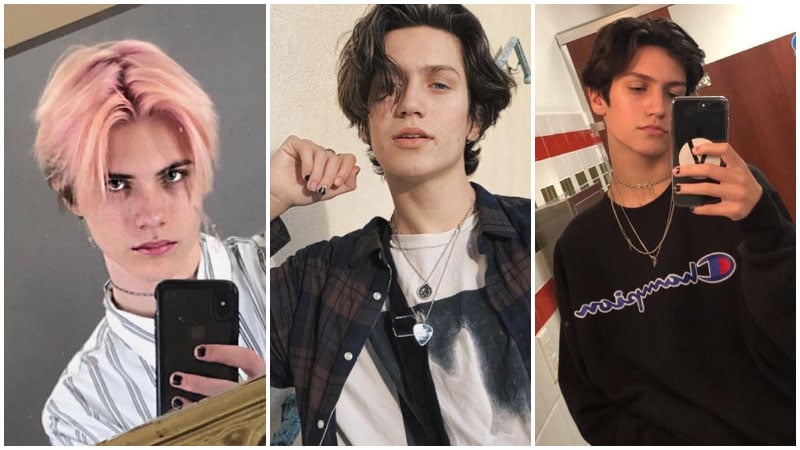 Shop Products
9. Eboy Face Heart Stamps
This cute trend is loved by e-girls and is popular on TikTok, and now it's becoming a favorite with e-boys. A small stamp is the easiest way to replicate the heart shape on your face – you can place them on the apple of your cheeks or the cheekbones' highest point. This helps lift the face and adds emphasis to your eyes. If you prefer to hand draw the designs, find a fine-tipped eyeliner pen, and let your creativity shine. This 18th century-inspired beauty trend looks amazing on everyone, so why not give it a go?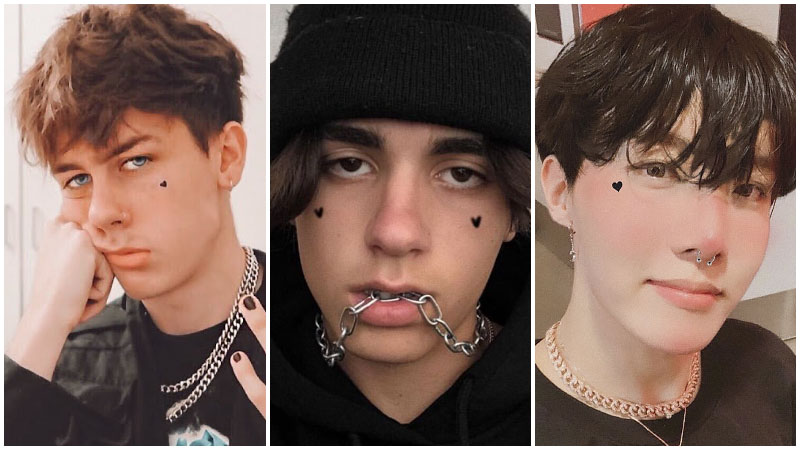 Shop Products
10. Eboy Hairstyle
What was once known as a curtain hairstyle in the '90s has become a huge trend for e-boys. Seen on the likes of Jimin from BTS and TikTok stars, the hairdo features a sharp part and long hair draping on either side of the cheeks. When replicating the style, start by sectioning the front two locks of hair and bleach them. This allows you to dye it the color for your choice – common options include green, orange, and red. Add dry shampoo on non-hair-washing days for extra volume and dimension from the scalp. Keep the length of your locks to the highest point of your cheekbones. This makes your face look more defined and chisels your jaw.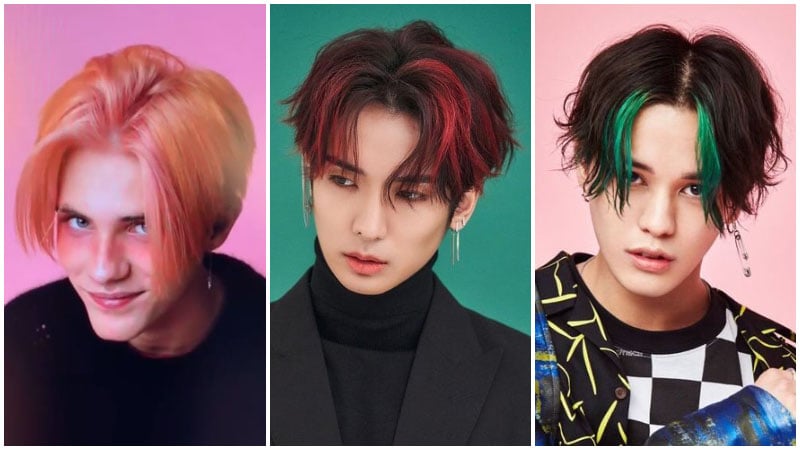 FAQs
What is an e-boy?
An e-boy is typically a male version of the popular internet style trend, e-girls. The aesthetic was made popular on social media apps like TikTok and is a sub-culture of the scene style that originated in the 2000s, anime, KPop and the skater culture of the '90s. The typical aesthetic of an e-boy features dark clothes, skater-inspired pieces, nail polish and chain jewelry. Hair is often parted in the middle and bleached, or dyed bright colors like green or blue. Famous e-boys on TikTok include Chase Hudson and Noen Eubanks.
How to be an e-boy?
To become an e-boy, there are a few staple pieces you will need. The style is derived from skater culture and the scene aesthetic of the 2000s and 2010s - opt items such as oversized band T-Shirts, striped long-sleeve shirts and black jeans. For your hair, a popular e-boy style is inspired by the 90s and KPop stars. Part your hair down the middle and create a curtain with the locks. To finish the look, paint your nails black and wear chain necklaces or add a single dangly earring. For your shoes, a pair of black and white sneakers with socks will complete the look.
SUBSCRIBE TO OUR NEWSLETTER
Subscribe to our mailing list and get interesting stuff and updates to your email inbox.