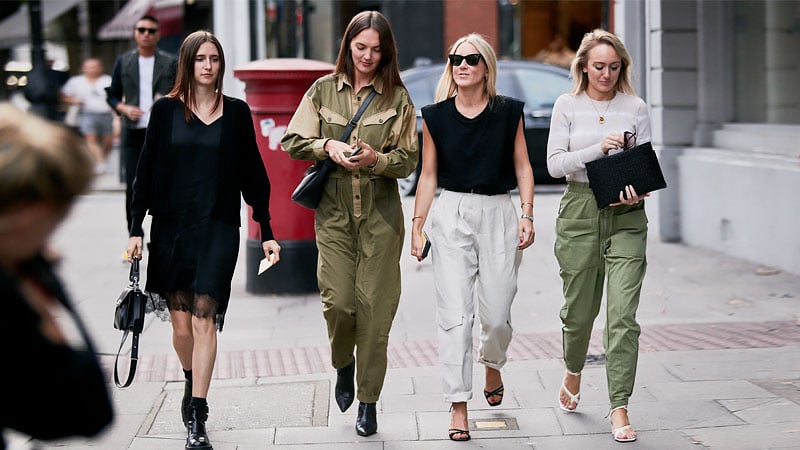 Are you heading to a laid-back date or a party and you're not sure how to dress 'informally'? While it's the most straightforward dress code to choose from, it can be complicated to get right. If you're a fan of sneakers and skirts or jeans and a nice top, here are the best casual outfits for stylish ladies – no matter where you're going!
RELATED: How to Dress Business Casual for Women
RELATED: A Guide to Women's Dress Codes
What is Casual Dress Code?
Whether you're going out with your friends or you're heading to the office on a casual Friday, a laid-back style is the best way to go. Casual dress code typically consists of jeans, T-shirts, and cardigans. If you prefer skirts and sneakers, go for it! This is a relaxed and comfortable type of dressing – have some fun!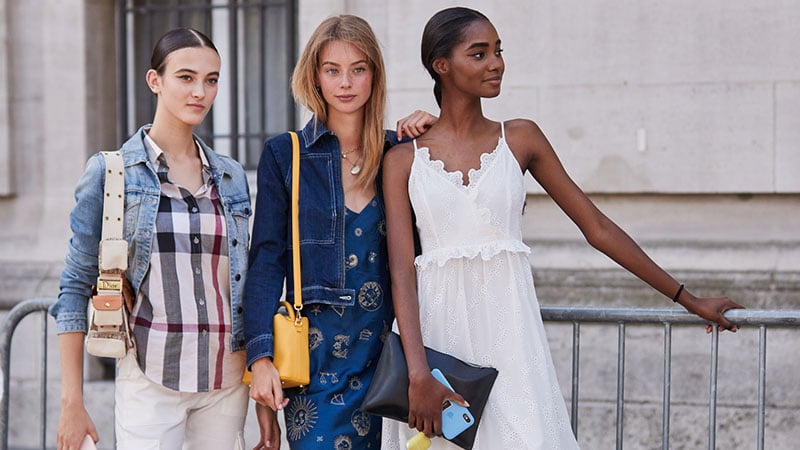 Casual Outfits
T-shirts
Heading to the farmer's market or a runway show has never looked so good. A simple T-shirt can take the edge off a fancy outfit – rock it with a pair of bold pants and boots, and you'll be ready to go anywhere. If you prefer a more feminine style, you can't go wrong with a cute skirt and strappy sandals. Add bold accessories to complete the look, and you'll be ready for almost any event!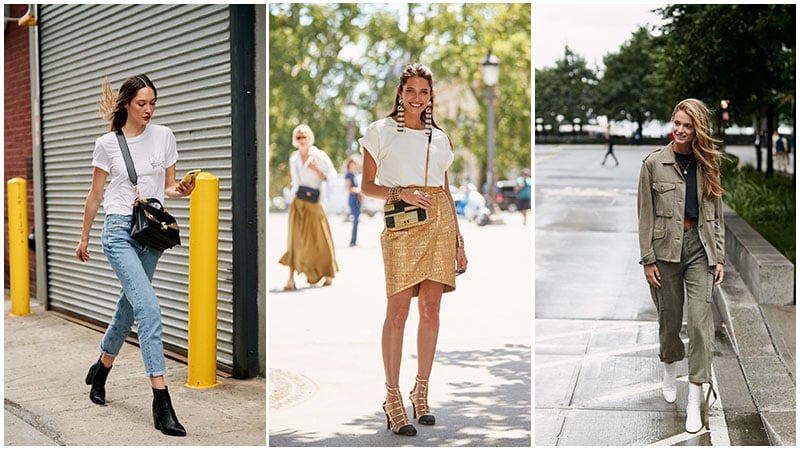 Get the Look
Tops & Hoodies
If you're running late to dinner with friends and you don't want to take off your hoodie, have no fear. Swap out your tracksuit pants for a midi skirt and boots or mules. When the temperature drops, why not try it on with a pair of leather pants? Playing with layers is the key to a great outfit – tuck in your hoodie or a sweatshirt or add a chunky necklace so you can go from day to night in an instance.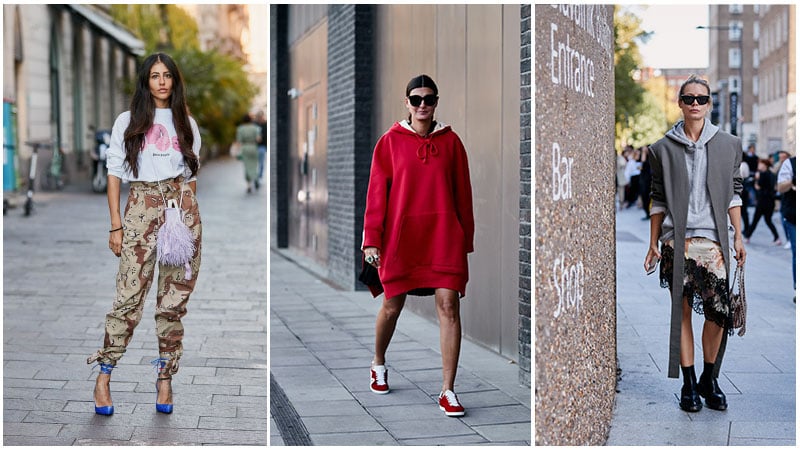 Get the Look
Jeans
What better outfit is there than jeans and a nice top? Channel your inner '70s model in a pair of flares and a printed shirt. Showcase your shoulder with a crop top, or switch things up with statement denim and killer heels. If you're on your way to dinner, swap out your sneakers for loafers or stilettos. This will instantly elevate your look casually.
RELATED: Your Ultimate Guide to Wearing Jeans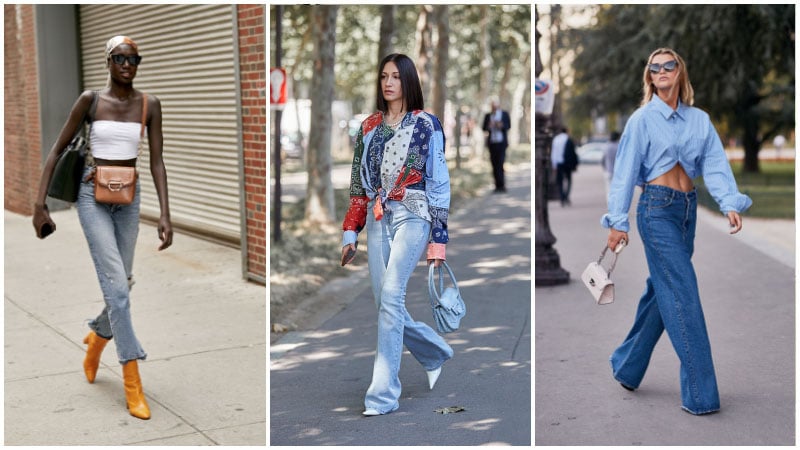 Get the Look
Skirts
Minis, maxis and everything in between – sometimes you just can't beat a classic skirt. Tuck a T-shirt into the mid-length skirt and mix up your patterns for a bold look. Freshen up an outfit by rocking a pair of chunky boots and a jumper – you can wear this ensemble during the transitional seasons without a fuss. Up the ante with delicate accessories like drop earrings or an elegant bracelet and you can go from a cafe to the office in no time!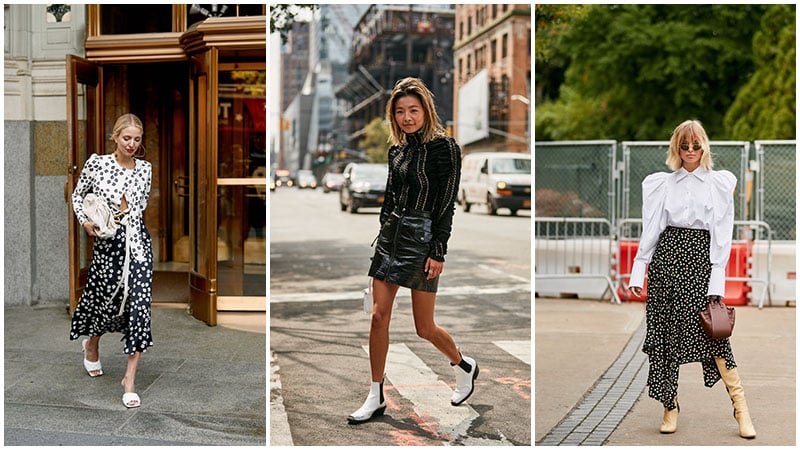 Get the Look
Dresses
Enjoy the warmer days in a lovely, flowing dress. Whether you're a fan of bold patterns or a linen blend, you can't beat a cute frock in a casual setting. Depending on the occasion, you can dress up or down this outfit with simple accessories. Opt for a cute midi, cardigan, and sandals – cinch your waist with an oversized belt, and you'll get mistaken for a supermodel!
RELATED: 40 Types of Dresses for Every Women Should Know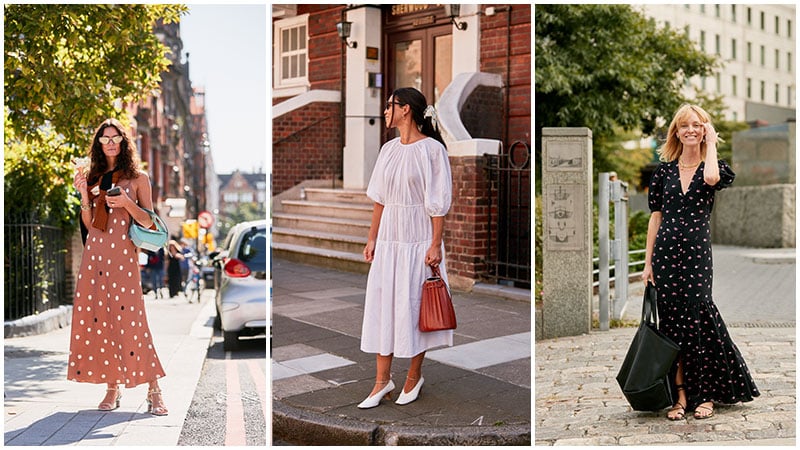 Get the Look
Jackets & Coats
If the mercury drops and you're feeling rather chilly, casual outerwear is the way to go. From duster coats to denim jackets, there are many easy ways you can stay toasty and do it in style. Opt for a loud color if you're wearing monochrome, or set yourself apart from the rest in an all-white ensemble. Mix and match with your shades and play with lengths to establish the ultimate high fashion outfit.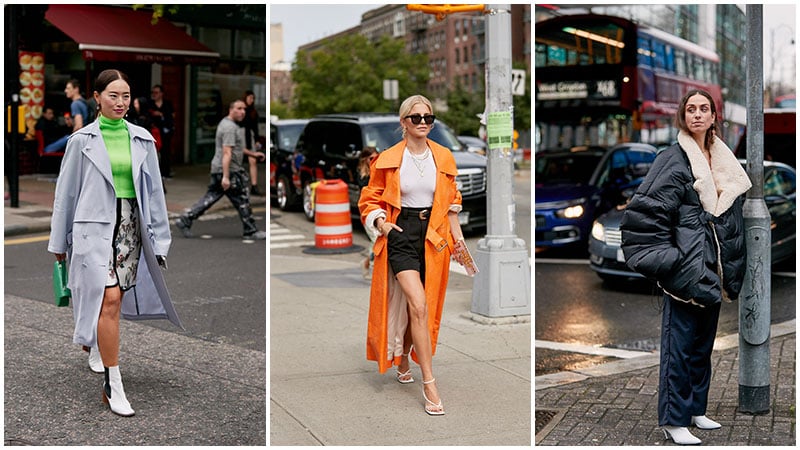 Get the Look
Knitwear
When it comes to dressing casually, comfort is key. During transitional and colder months, enjoy the warmth and style of chunky knitwear. Oversized puff sleeves are fantastic with jeans or a mini skirt, and a rollneck looks best with a pinafore or a midi skirt. Swap out your sneakers for a pair of thigh-high boots and tights, and you'll look like you just stepped off the runway.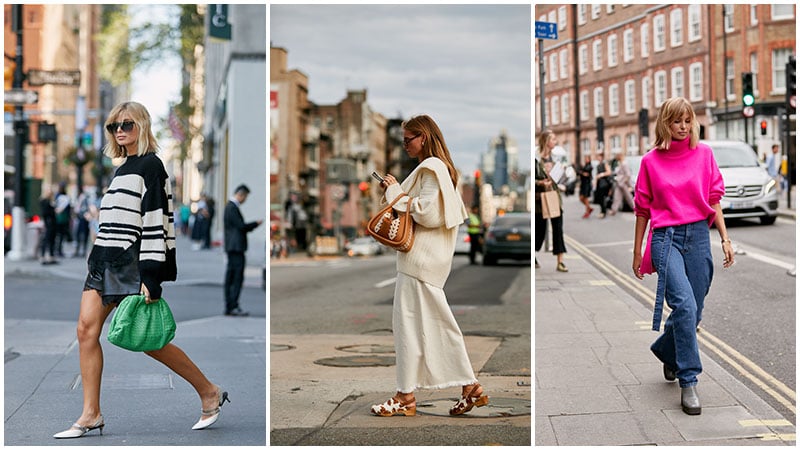 Get the Look
Footwear
While casual dressing draws a lot of focus on clothes, it's essential to not forget about the footwear. Mules, flats, sandals, and sneakers – they're all great options if you're keen on comfort without sacrificing style. Make a statement in a shoe that picks up on one of the colors of your ensemble, or in a contrasting shade – it's an easy way to up the ante with your outfit with going over the top.
RELATED: The Most Comfortable Dress Shoes for Women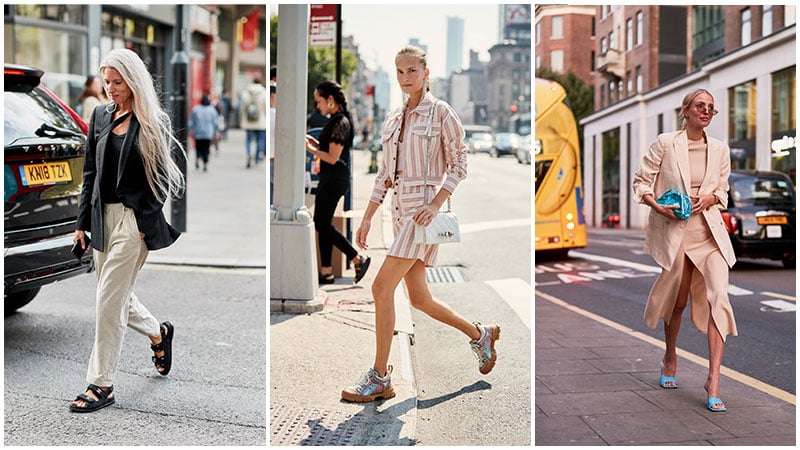 Get the Look
When to Wear Casual Outfits?
Casual Daytime
When heading out for the day, keep it comfy. Wide leg pants and loafers or low heel pumps with a tucked-in long sleeve top look great with a statement chain necklace and bag. For warmer days, go for a printed dress with sneakers or low heel booties. As for the head accessories, rock hairpins, minimal earrings, and sunglasses.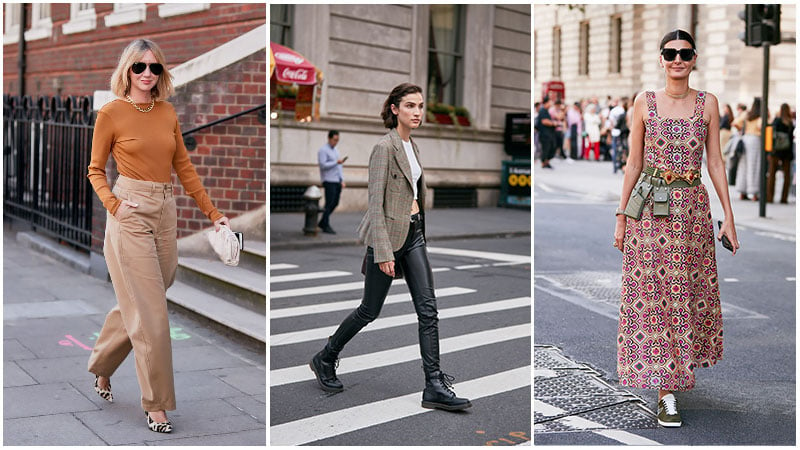 Get the Look
Casual Evening Events
Whether you're going to a night market or a friend's birthday party, you can don a casual outfit with a fancy twist. Midi skirts are an easy way to keep yourself comfy while looking incredibly stylish. Complete the look with a skimming rollneck or an oversized button-down. If you prefer to wear pants, put a spin on an '70s classic by rocking a sequin suit in a bright shade. Playing with different lengths and textures helps create depth to your outfit without looking over the top.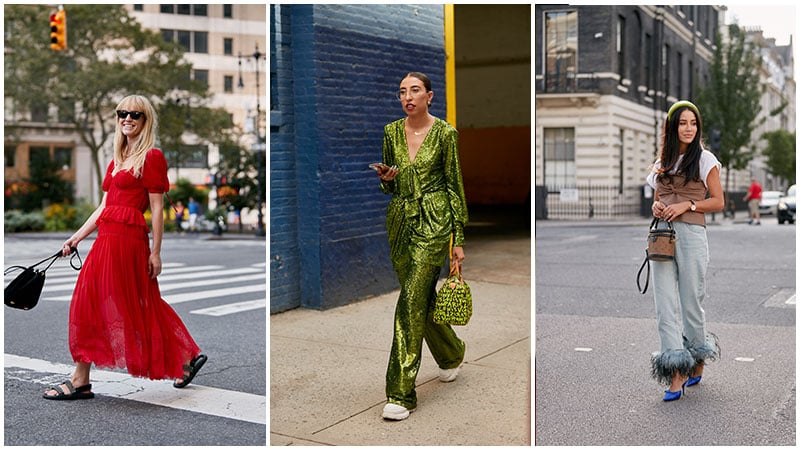 Get the Look
Casual Date Night
Spend the night with your significant other in style, without sacrificing on comfort. A cute coordinate with a rollneck plays homage to '90s Versace – complete the look with a pair of stilettos, and you're set. Swap out a button-down shirt with a band T-shirt, slip on a leather pencil skirt and a denim jacket. You can quickly put a romantic spin on a laidback look with a pair of drop earrings or bold red lip.

RELATED: 7 Date Night Outfit Ideas to Leave a Lasting Impression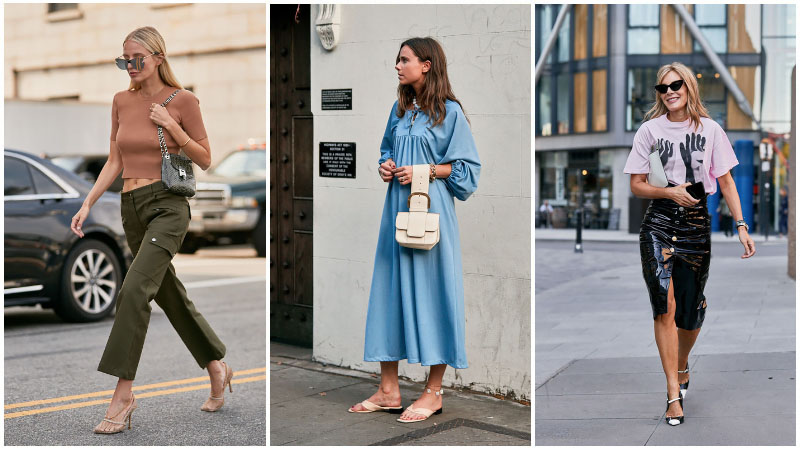 Get the Look
How to Wear Casual Outfits
Comfort is key – remember to feel cozy when you're dressing casually.
Jeans is a great place to start for a casual outfit.
Play with layers for the best transitional season outfit.
Mix and match with textures for a laidback feel.
Have some fun! Dress to make you happy and relaxed.
Casual Clothing FAQ's
What does a casual outfit mean?
Casual outfits refer to a look that is comfortable and relaxed. This usually consists of informal garments like jeans, a T-shirt, and even skirts. A simple T-shirt, for example, can dress down a look, taking the edge off a fancier outfit.
What are the types of casual wear?
Casual refers to outfits that are relaxed and can be worn every day. They should not take more than a few minutes to pull together and have a very laid-back aesthetic. You can have cute casual, casual chic, or business casual, all of which combine informal but stylish items and allow you to show off your personality with your looks.
How do you dress casual?
Dressing casual is really quite simple. You want to focus on the fit, comfort, and a few key staples. A T-shirt is a wonderful example, as you can easily dress it up or down. You can wear it underneath a blazer for a business casual look, or pair it with a cute skirt for a feminine yet informal appearance. Jeans are also great and can be paired with a nice top, and skirts -- everything from mini to maxis -- can be worn with T-shirts, chunky knits, and even a simple top.
How can I look stylish but casual?
A casual outfit doesn't mean it's sloppy, and you should always pay attention to the fit and proportion. For example, if you intend to wear mom jeans, balance out the proportion with a more fitted top. If you are opting for skinny jeans, then you can opt for a loose fit. Tighter or cropped jackets look great over flowy dresses and choosing a limited color palette also creates a more sophisticated feel.
SUBSCRIBE TO OUR NEWSLETTER
Subscribe to our mailing list and get interesting stuff and updates to your email inbox.