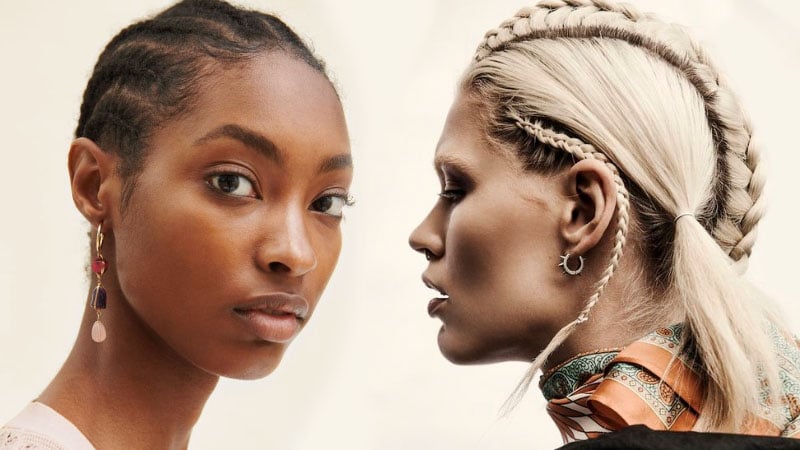 When it comes to braids, why should long-haired ladies have all the fun? As it turns out, there is a huge variety of stunning braids that are ideally suited to shorter hair. From pixie cuts to lobs and natural hair, you can shake up your look with a braided style that's as unique as you are.
RELATED: 60 Best Braided Hairstyles for Women
1. Short Cornrows with Natural Hair
Cornrows are one of the most iconic braid types, and they are a great way to add extra personality to a short hairstyle. If you have natural hair, try adding side cornrows while leaving the rest of your curls free. While neat front-to-back rows are always in style, you could also mix it up with different patterns to give your hairstyle a unique twist.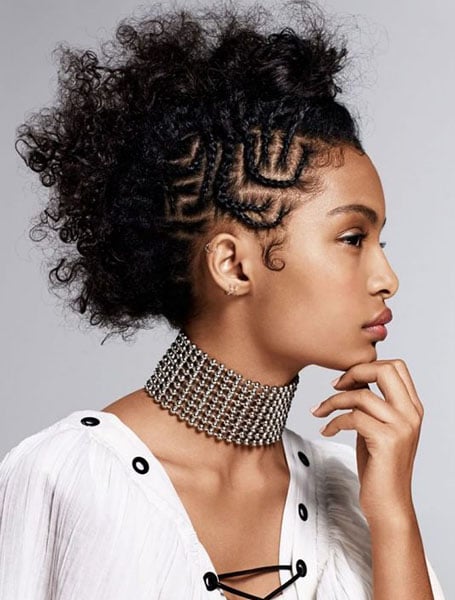 2. Short Side Braid with Rose Gold Hair
Rose gold hair is still one of the biggest color trends, and it's no wonder! Pretty, feminine, and unconventional rose gold hair is a great way to shake up your look and try out a more daring hue than simple blonde, brunette, or red. For a fun e-girl twist, add a side braid to short rose gold hair. The result is cute, playful, and perfect for everything from brunch to a concert.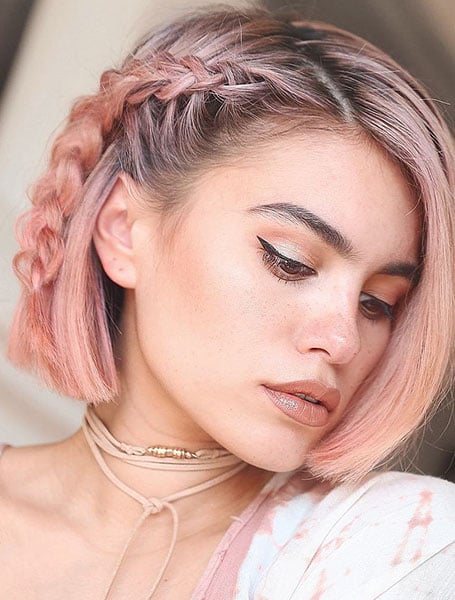 3. Short Box Braids with Half Up Half Down
Half up half down hairstyles give serious '90s vibes – and none more so than half-up, half-down box braids. Cute, cool, and super flattering, the look suits almost every face shape. Twist shorter braids into a mini knotted bun towards the crown of your head, rather than trying to create a thick, full, smooth bun. Make sure to leave some braids out at the front too, which creates a pretty face-framing effect, similar to bangs.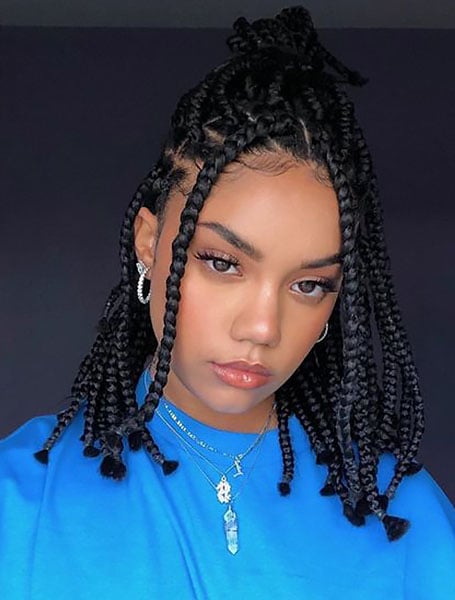 4. Half Up Half Down Braids with Rings
Hair accessories have never been hotter, and there is a huge variety to choose from when it comes to taking your braided hairstyle to the next level. For a cool and versatile look, try a half up half down braided hairstyle with rings. If your braids are sleek and neat, rings elevate the look by giving it a chic and stylish vibe. On the other hand, you can use rings to give messy, boho braids that perfect festival-ready touch.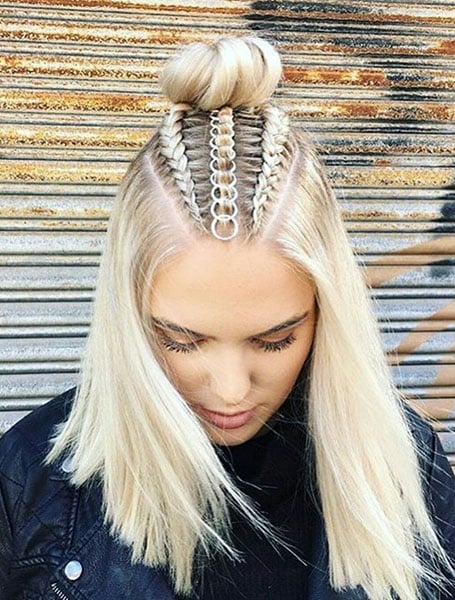 5. Short Messy Crown Braid
The crown braid hairstyle is as beautiful as it is versatile. Pretty and eye-catching, a sleek crown braid is perfect for more formal occasions. However, you can also wear it more tousled for a relaxed boho feel. Best of all, you don't need very long hair to create a crown braid – you can make one with short hair by overlapping two smaller Dutch braids and securing with bobby pins.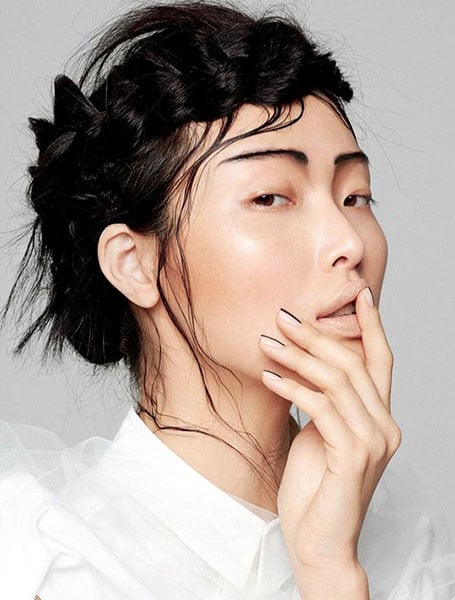 6. Short Side Braids with Loose Hair
One of the simplest and coolest braided hairstyles is side braids with loose hair. In this hairstyle, 'side braids' refers to braids on either side of your center parting – rather than braided sections on the side of your head. If you want to give your beachy, textured look a fresh 2000s twist without any extra effort, face-framing side braids are a great option.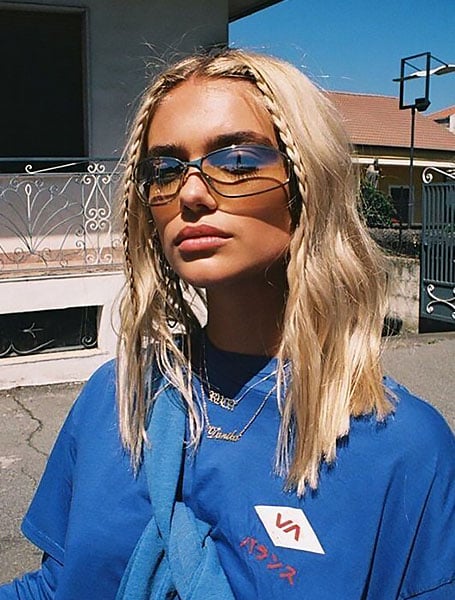 7. Short Braided Updo
While they take a little more time to create, braided updos are worth the effort. Perfect for more formal occasions like weddings, graduations, job interviews, or church, a braided updo is a classic style that stands out subtly. Create an all-over braided look on short hair by French braiding different sections and pinning them in place.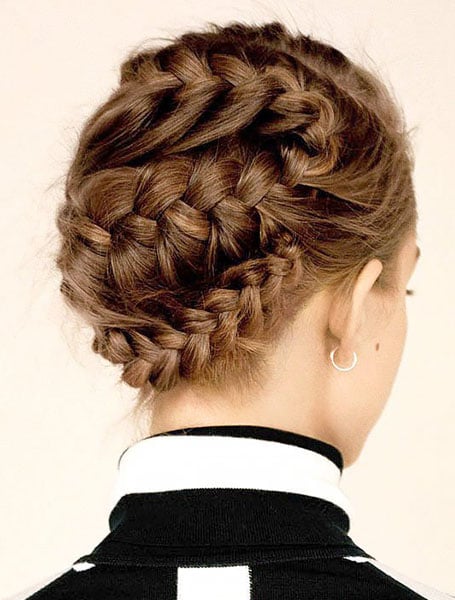 8. Short Braids with Beads
One of the best ways to add style and personality to your braids is with beads. These versatile hair accessories are a traditional addition to braids and can also be used to create a modern or playful hairstyle. Plus, they look as good when threaded onto shorter braids such as mini cornrows and tree braids as they do on longer styles, like box braids or Fulani braids. From monochrome to bright colors, metal, or wood, choose the beads that best express your style.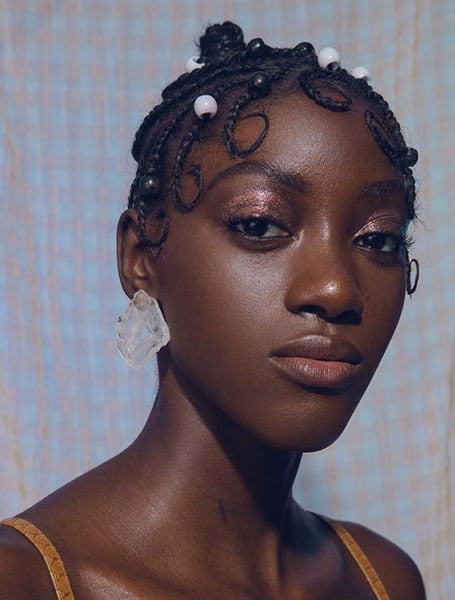 9. Short Dutch Braids with Ponytails
Dutch braids use the underhand technique to create standout raised plaits. If you have short, thick hair, and want a hairstyle that really stands out, try combining a Dutch braid with a ponytail. Instead of braiding all of your hair, plait the central section and secure the side sections with a hair elastic. Doing so allows you to make the central braid thicker and smoother, with less tension on your scalp. Plus, it creates a cool faux-hawk effect.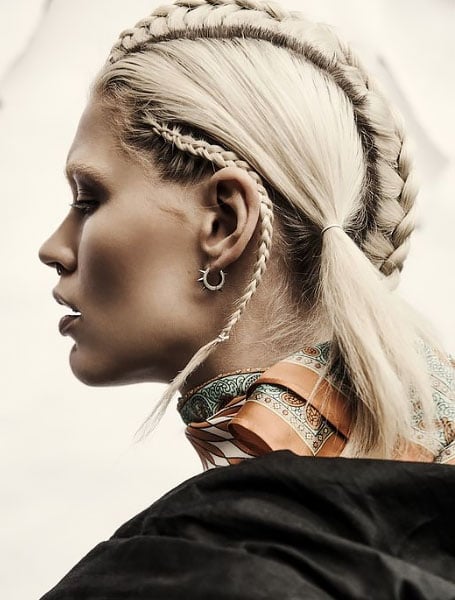 10. Small Cornrow Braids
Short Afro-textured hair is the perfect match for small cornrow braids. Smaller cornrows require less hair yet still allow your stylist to create unique and eye-catching patterns. Meanwhile, plaiting the back section of your hair into fine braids creates a pretty and flattering look. Add beads or gold wire to give the braids an extra special finishing touch.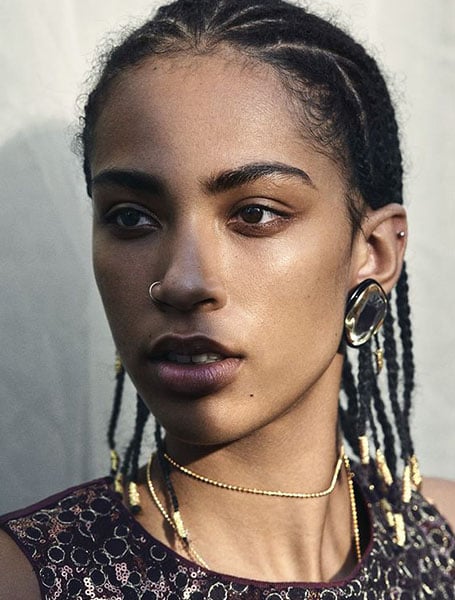 11. Short Tribal Braids
Tribal braids are inspired by traditional braiding patterns from African cultures. These patterns were often used to express information about a person's identity. Today, tribal hairstyles include different types of braids that, when combined, reflect each person's individuality. For those with short hair, spiral cornrows and side braids are a great option for a tribal braided hairstyle. As an extra nod to traditional African hairstyles, add iconic cowrie shells to your braids.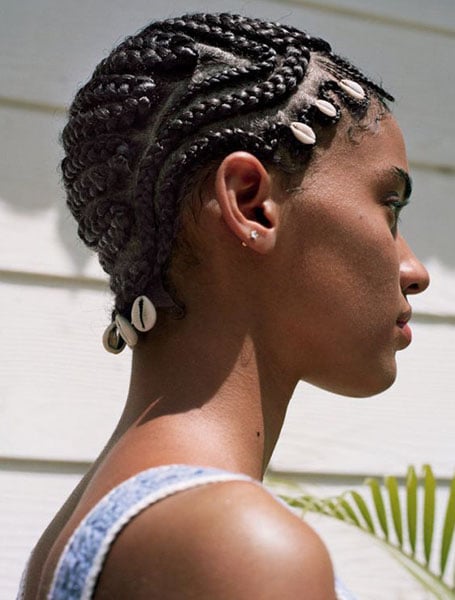 12. Short Loose Braids with Platinum Blonde Hair
Icy blonde is one of the most dramatic and on-trend hair colors. Because of its bold impact, it looks great on short hair and immediately attracts attention. To give your short platinum hair a fresh, cute, and feminine twist for every day – or a special occasion – try a loose right-to-left braid. This creates a flattering 'hairband' or 'crown braid' effect that frames your face beautifully.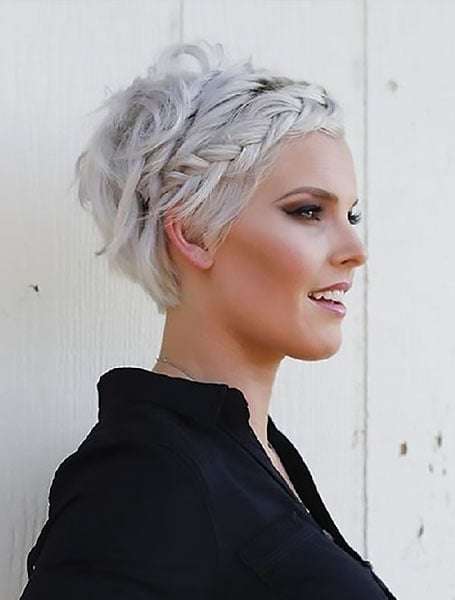 13. Short Dutch Braid Pigtails
A double Dutch braid hairstyle – also called Dutch braid pigtails – is a great way to shake up your short hair. Because less hair is required for each braid, it is perfect for those who have a lob or shoulder length haircut. Plus, as all your hair is braided back, they are the perfect way to show off statement earrings. Chic and stylish, short Dutch braid pigtails don't have the 'schoolgirl' look that double braids can sometimes carry. Instead, they look polished, cool, and sophisticated.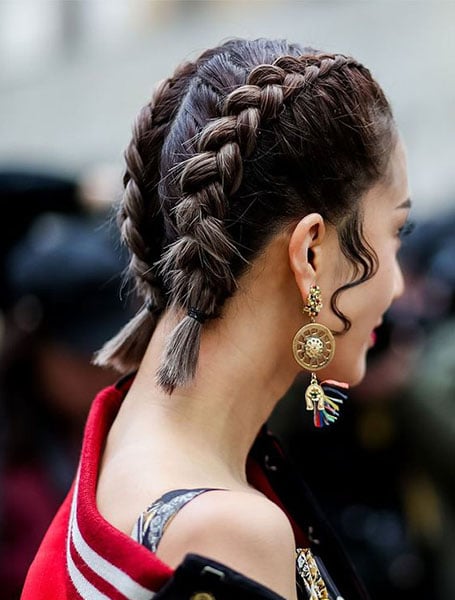 14. Short Waterfall Braids
Waterfall braids are one of the most popular bridal hairstyles, and they look just as beautiful on short hair as they do long. Plus, waterfall braids require the least hair of any braid and suit both fine and thick types of hair. A particularly stunning option for ladies who want a soft, romantic, feminine look for their special day, waterfall braids look gorgeous on naturally wavy hair and have a delicate boho vibe.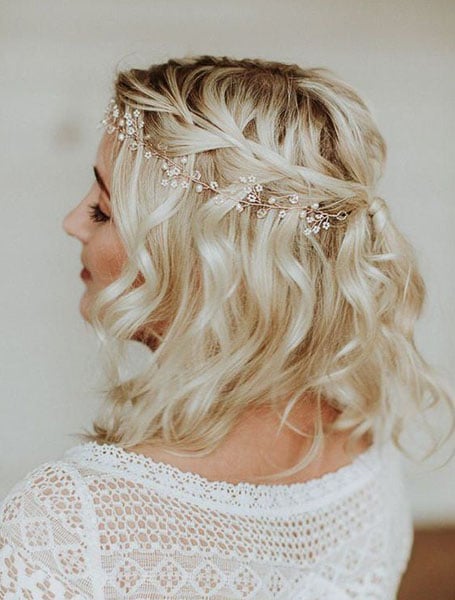 15. Short Large Knotless Box Braids
Large box braids are a standout option for ladies with short natural hair because they make a bold statement and are easy to maintain. For thicker, heavier braids, consider asking your stylist to use the knotless technique, which has become increasingly popular recently. Instead of using knots to attach braiding hair, your stylist will gradually feed it in and blend it with your natural hair. As a result, you'll feel less tension on your scalp and reduce the chances of breakage.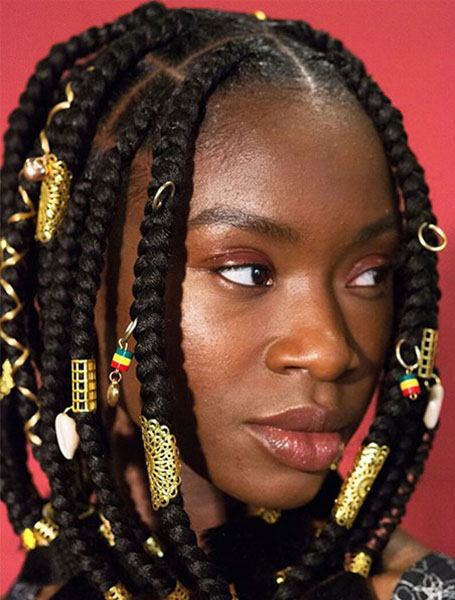 16. Short Dutch Braid with Ponytail
For a simple yet impactful short hairstyle, try a Dutch braid combined with a ponytail. The raised center braid draws attention and takes a straightforward ponytail to the next level. Plus, as you only have to braid one section of your hair, it is a relatively quick and easy style to create. Either opt for a loose, boho-style braid and ponytail for a more relaxed finish, or choose the super-sleek version for a stylish, chic, and modern vibe.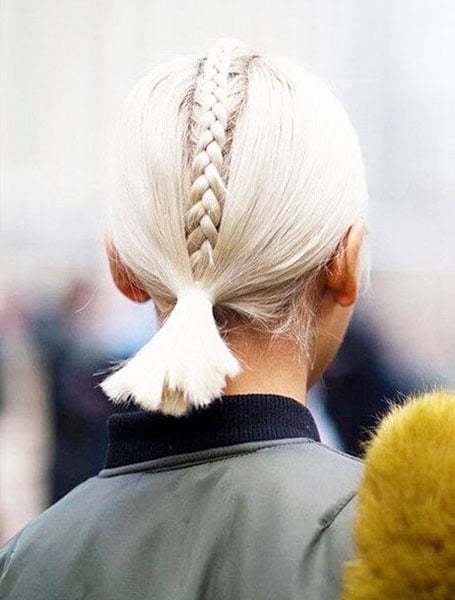 17. Short Cornrows with Pearls
One of the biggest recent trends in jewelry and hair accessories is pearls. Soft and feminine, yet luxurious and elegant, pearls elevate your look to the next level. While you can add pearl accessories to any hairstyle with barrettes or headbands, one of the most creative ways is to braid them into your cornrows. It's a stylish, sophisticated look that's sure to turn heads at your next special event – and because it's so unique, you can practically guarantee no-one else will be wearing it.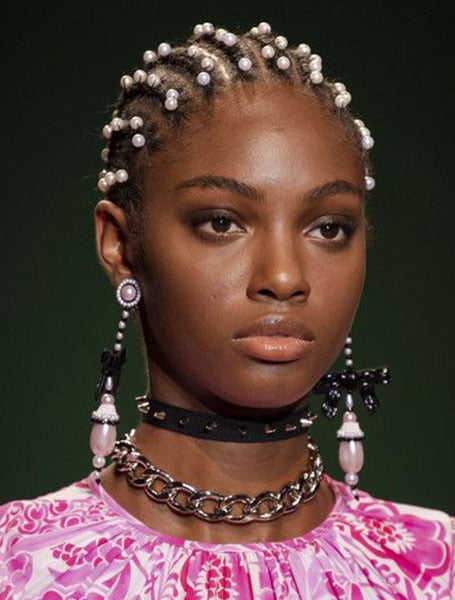 18. Short Faux Undercut with Side Braids
Love the undercut haircut but don't want to shave? Create a stunning faux undercut with two side braids and leave the rest of your hair loose. Edgy and eye-catching, the hairstyle is casual enough to wear every day but cool enough to attract attention. It's an especially good option if you have grown-out roots, as the darker sections create even more contrast with the blonde pieces.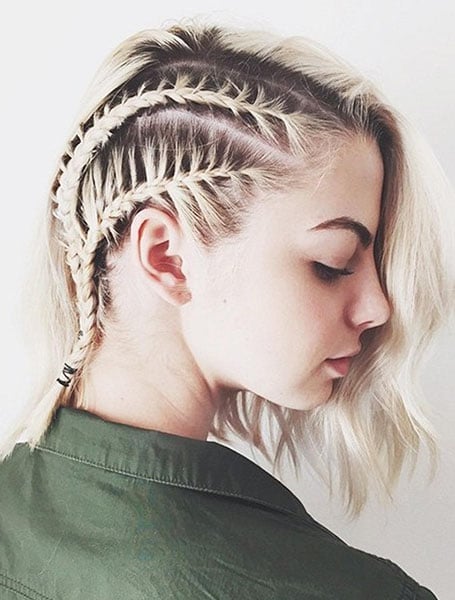 19. Short Undone Braided Bob
For a new twist on a classic hairstyle, try an undone braided bob haircut. This hairstyle involves braiding back from your hairline using the underhand technique, stopping just beyond the crown of your head. Not only does an undone braided bob save time, but it also has an edgy and unique vibe. The style looks great on both Caucasian and Afro-textured hair types.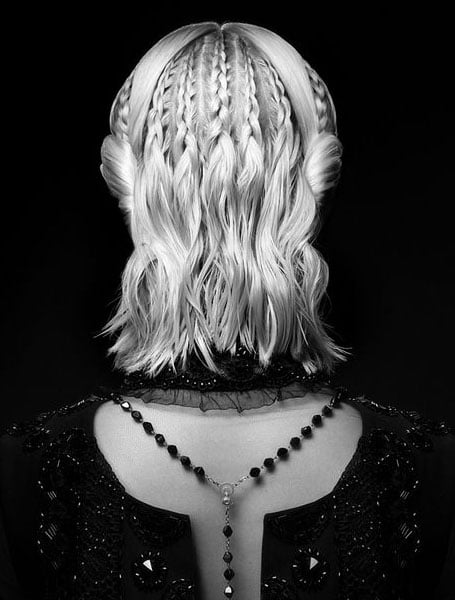 20. Short Cornrows
Timelessly stylish and cool, cornrows are one of the best all-rounder hairstyles for every occasion. While there are many different versions of this braid type, the classic option never fails to impress – smooth, sleek, straight rows that run from front to back. For ladies with short natural hair, classic cornrows are a gorgeous, low-maintenance hairstyle that is as chic as it is cool.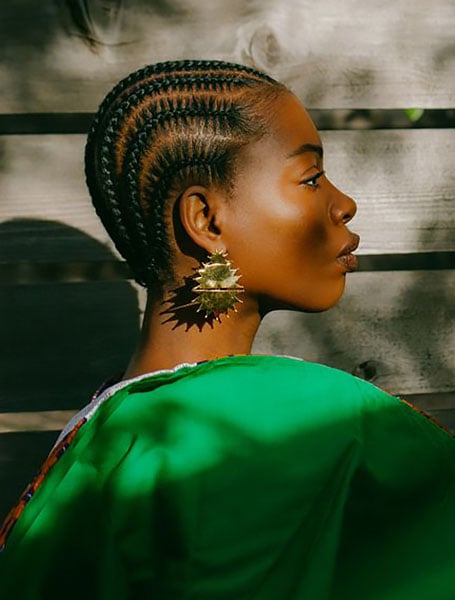 Short Braids FAQs
What Braid is best for short hair?
Cornrows, box braids, and micro braids are the best for short hair. With these styles, you may not need to add extensions, or if you choose to, they don't need to be long or large extensions. 
How do you braid your own short hair?
It can be tricky to braid your own hair, and it takes a lot of practice and patience. The key to success is to have the right tools, including combs, clips, moisturizers, and styling products. Box braids and cornrows are probably the easiest to achieve on your own. Start by separating your hair into appropriately sized sections, and pick an area to start on. Split the hair into three pieces, and alternate bringing each of the outside ones over into the middle. Add extra hair with each step for cornrows, or just continue to the end for box braids. 
Can you get micro braids with short hair?
Yes, you can get micro braids with short hair, and they look fantastic. Because of the time and detail involved in micro braids, it can also be cheaper to have them done in short hair than long. If you want to add length to short hair, this is also the perfect opportunity to braid in extensions. 
Can short hair be Cornrowed?
Ideally, hair needs to be at least three inches to be cornrowed. If your hair is shorter than this, a skilled stylist can add extensions and cornrow with the added length. 
How do you do a pixie braid?
Pixie braids are done with a lot of patience. Because they're so small and tight, you'll have more success getting them done by someone else. The method is similar to box braids, yet on a much smaller scale. You'll need to separate the hair into quadrants, then working through one at a time, create tiny braids, using about a quarter of an inch section of hair. You'll add in the extensions at the roots, braiding to the end, while keeping the body of the braid very tight. 
What hair is used for micro braids?
European human hair is the best for micro braids, especially if you're leaving a lot out at the end. This will give you a smooth, natural finish that's also easy to manage. 
SUBSCRIBE TO OUR NEWSLETTER
Subscribe to our mailing list and get interesting stuff and updates to your email inbox.