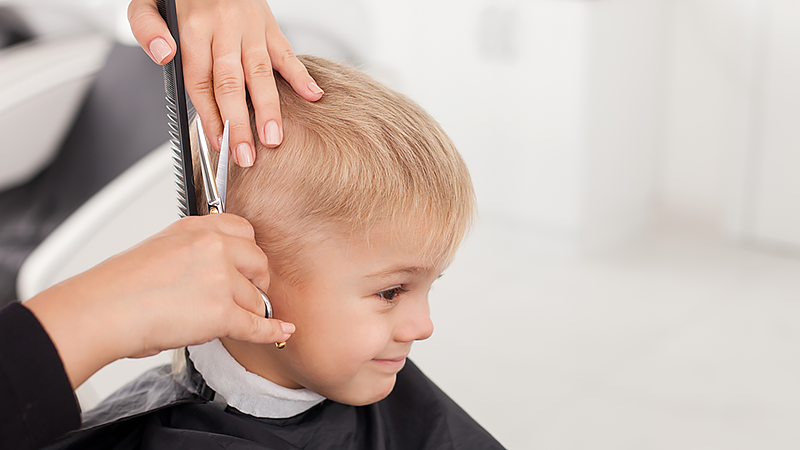 If the simple buzzcut or mop-top isn't quite cutting it for your toddler, look no further! Today, there are many on-trend and easy to maintain styles that will let your little man's personality shine. You might want a low-maintenance look that's still cool enough to make him stand out. Alternatively, he might want a fresh style that's similar to his favorite characters, friends, or family members. Whatever his hair type, length or style, there's a stylish toddler boy haircut that you'll both love.
RELATED: 50 Cute Little Boy Haircuts
1. Crew Cut
The crew cut is a simple, classic look that's easy to style. Just like the adult version of the cut, the sides are cut short, with longer hair left on top. If your boy has naturally thick hair, you won't need to add any product to make it look good. The hair will have natural volume and get that cute tousled finish on its own. A crew cut is also a great option when your little one wants to have a matching haircut with his dad or big brother, as it suits all ages.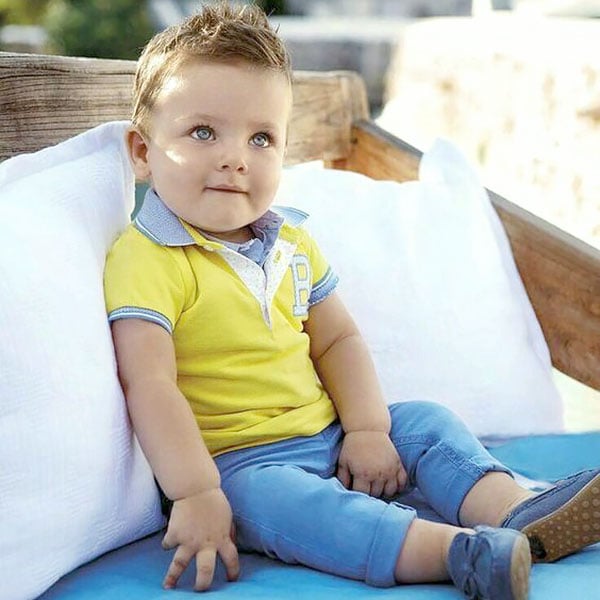 2. Disconnected Cut
The disconnected cut is a unique hairstyle for toddler boys. There's a big contrast between the short sides and the extra long top. As a result, it gets the best of both worlds – a manageable length with a cool fringe effect. The style works well on both straight and curly hair, as well as thick and thin hair types. It's ideal if you like to dress your boy in fashion-forward outfits, as it's eye-catching and on-trend.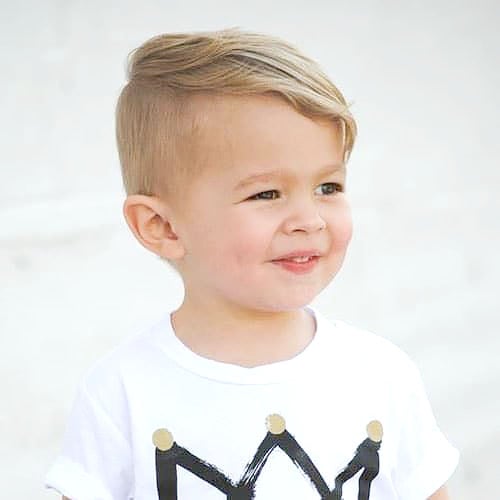 3. Faux Hawk Cut
Looking for an edgy cut for your toddler? Try the faux hawk. The cut has a rebellious attitude and is perfect if your child loves to be the center of attention. To create the look, the sides are buzzed short by the barber – rather than shaved down entirely as in an adult mohawk. A central section of hair is then left slightly longer, and pomade or gel is used to create the spiky faux hawk effect. The cut is a favorite with lots of toddler boys because it's grown-up and cool.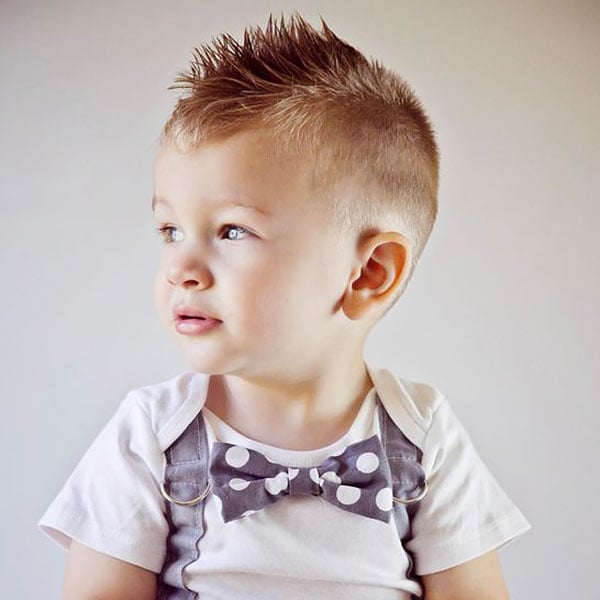 4. Afro
Let your little man's natural curls fly free with an Afro hairstyle. It's a cute and classic look that's also versatile. You can shave the sides into a taper fade or even include fun designs based on your child's personality and style. While kids' hair is generally softer and smoother than adult hair, Afro textures can dry out. So to keep his curls looking healthy and defined, make sure you use moisturizing hair oils regularly.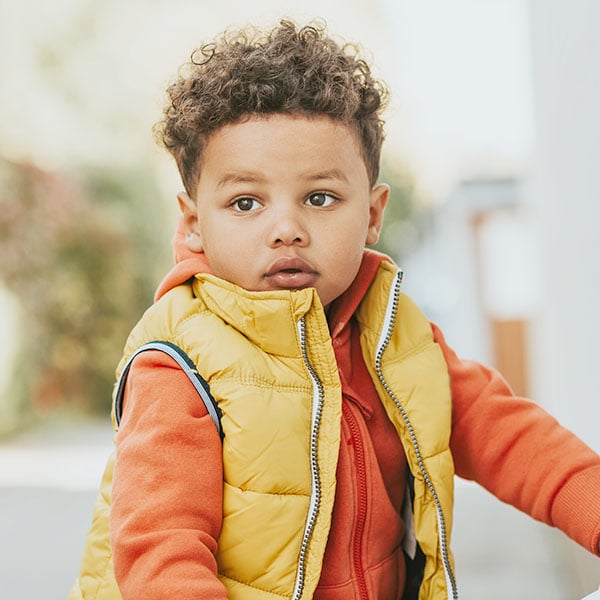 5. Bald Fade
A fresh look for your toddler is the bald fade. Trendy and stylish, the hairstyle has an athletic feel. As it's so short, it's very low maintenance and easy to style. That makes it perfect for an active boy who doesn't like sitting still. It's also great for busy mums and dads who are short on time. You can have a barber create this look and then maintain the short sides at home with a regular shaver.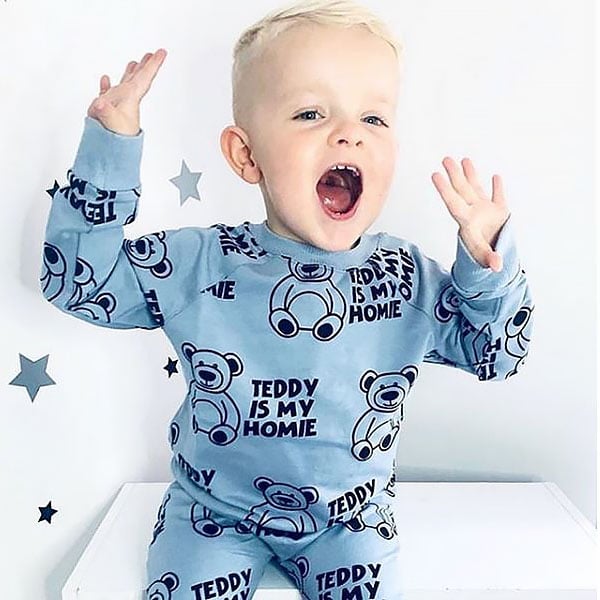 6. Fringe Hairstyle
The fringe hairstyle is a modern take on the '80s mushroom cut. However, there are some key differences – it's much shorter and more layered to give the cut some dimension. For those reasons, it's an excellent cut for a boy with fine, straight hair. The fringe cut is also versatile as you can add some product to give it extra texture and attitude.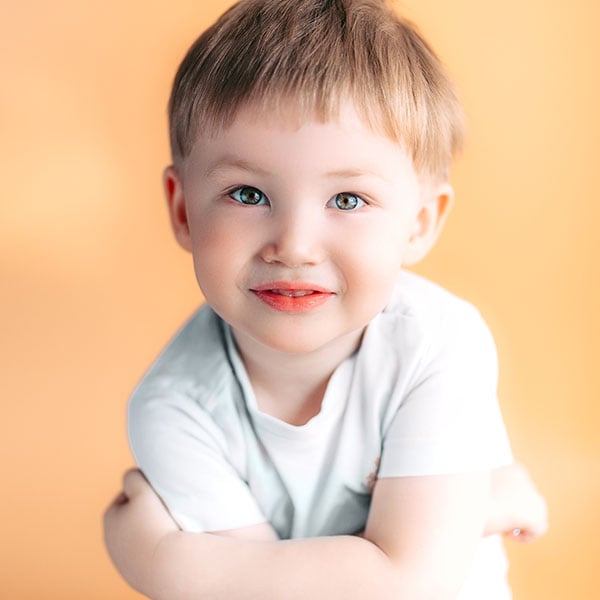 7. Baby Bun
While man buns were once considered a hipster hairstyle, they're now very mainstream. Even toddlers are rocking the style! A tiny topknot is a great way to manage your little guy's long locks when you're short on time. It goes with every clothing style – from edgy to preppy – and suits all hair types. For a cool Viking-inspired look, have the barber buzz the sides short and leave the center section extra long to create the baby bun.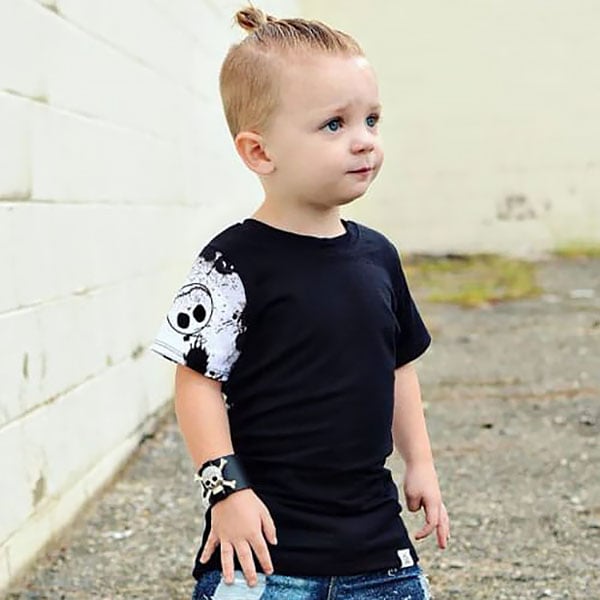 8. Mini Mohawk
Like the faux hawk, the mini mohawk is a favorite with little boys. It's a simple and fun cut that's a mix between the faux hawk and a quiff. If you'd prefer to keep your son's hair short – or if you have to for school or nursery – the mini mohawk is a great way to add a touch of individuality. It's a quick and easy style that you can easily copy at home. Create the center spikes with a little pomade or gel, shape the hair into points with your fingers, and you're done!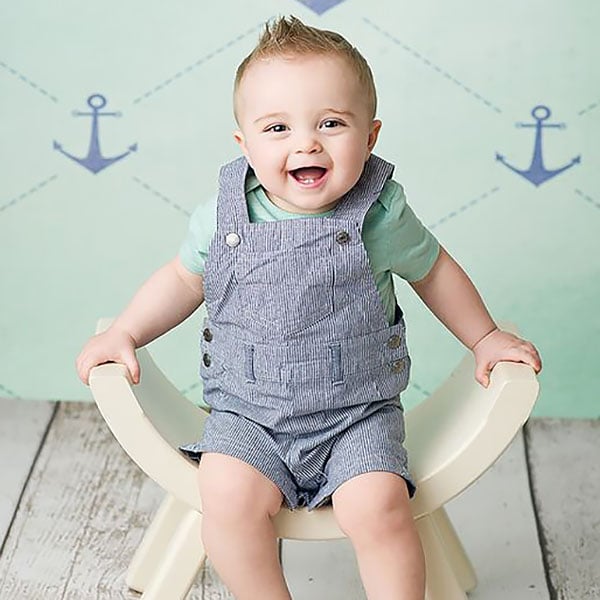 9. Natural Curly Hair
It can be challenging to style your boy's mop of curls. As a result, it's easier to leave them natural and untamed. However, there are some crucial curl care tips to know. Firstly, curly hair needs more regular trims than straight hair as the ends can dry out and break more easily. It also tangles quickly, so a shorter style can work well if you want your boy's ringlets to stay neat. Next, use your fingers or a comb instead of a brush to prevent frizziness. And finally, use moisturizing hair oils or conditioner regularly to keep curls healthy and defined.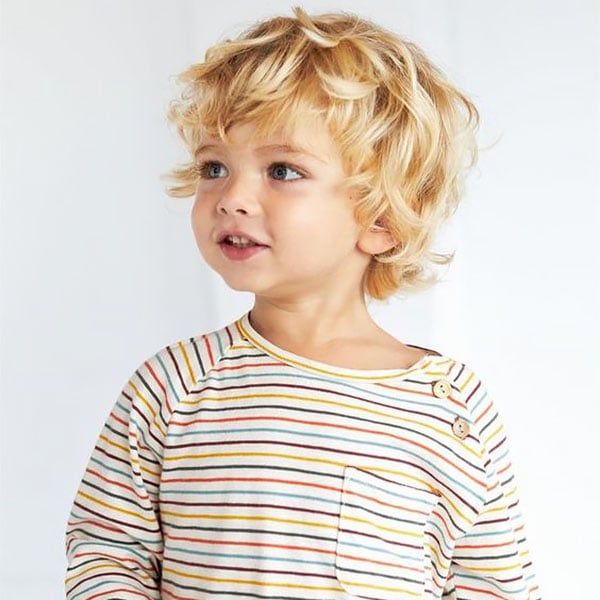 10. Pompadour
A favorite with child models and performers, the pompadour is an attention-grabbing style! The look is deliberately windswept with lots of drama and direction. As a result, it requires naturally thick hair to create. Even then, you will need to use a product to get your son's hair to form the classic backcombed peaks of a true pompadour. While it takes some work, the pompadour is a hairstyle your little man will love showing off.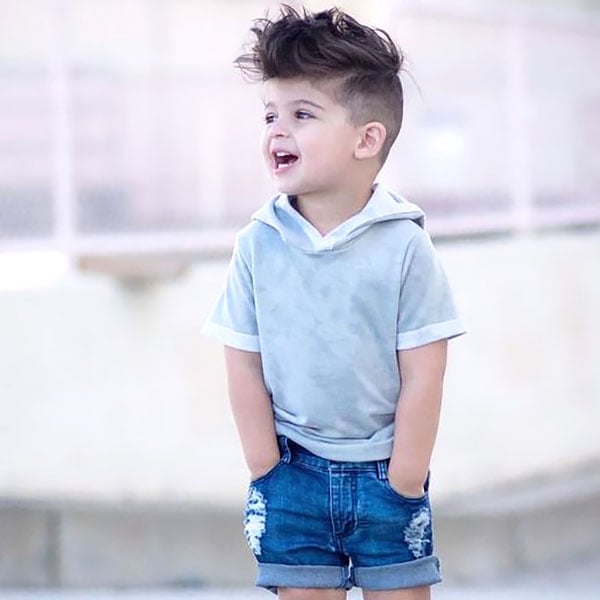 11. Quiff
Another adult hairstyle that looks just as good on toddlers is the quiff. It's perfect for little boys who usually wear their hair short but want to look smart for a special occasion, like a wedding or birthday. It looks best on straight hair with the short back and sides cut. It also pairs well with a fade. Use a little gel or pomade in the front section and form the hair into a quiff. Meanwhile, comb the sides flat. Doing so keeps the look neat and tidy.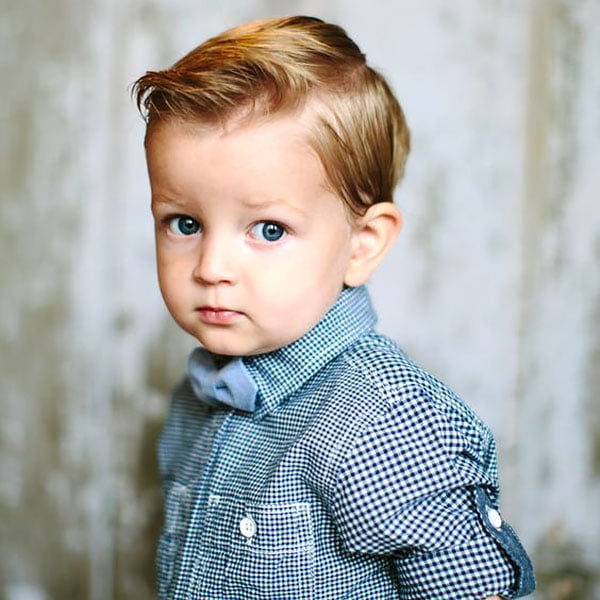 12. Side Part
The side part suits every face shape and has a retro vibe. Popular in the '50s and '60s, it's a polished way to style your toddler's hair. It works best if he has a naturally deep side part. Using a fine-toothed comb and pomade or gel, smooth the hair across from one side to the other. The cut is ideal for boys with naturally straight and fine hair, as these hair types have minimal frizz and volume.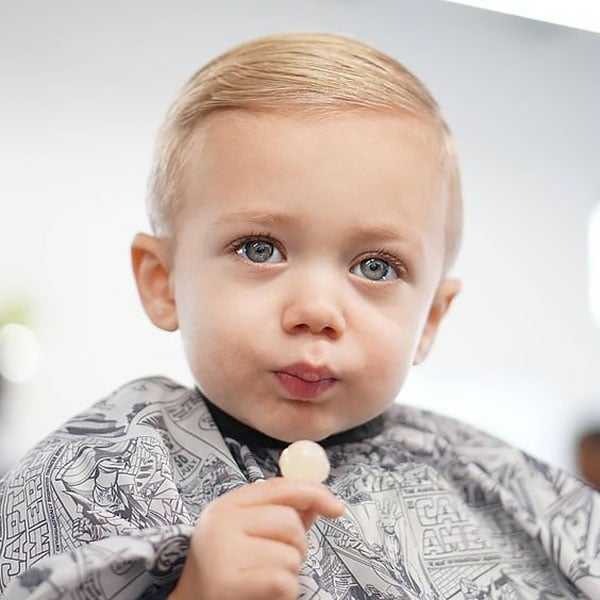 13. Spiky Hair
Boys with thick hair have lots of styling options. One is the spiky look. Similar to the faux hawk and pompadour, it's a haircut that will turn heads. Many cartoon characters have this style, making it a favorite with lots of toddler boys. Kids with a playful and sporty personality will also love the look. Use strong-hold gel to create the spikes and set them in place with a blowdryer if you can get your little one to stay still long enough!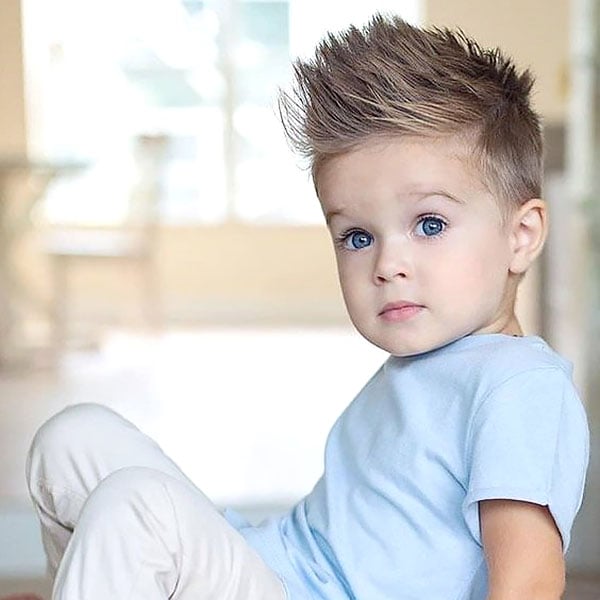 14. Hard Part
A hard part – also known as a razor part – involves shaving a clean line on the hair parting using a trimmer or shaver. It adds an extra dynamic element to any style, like a fade or undercut. If you want to give your toddler boy's short hairstyle some attitude, try the hard part. It looks great when combined with a deep side part.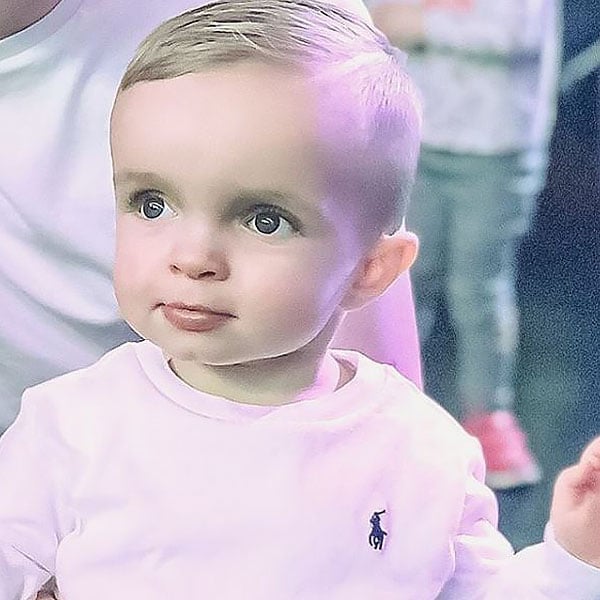 15. Layered Medium Length Hair
Medium length hair is very versatile. You can style your son's locks slicked back, parted, or even braided. A straightforward option is a layered haircut. Having layers put in is a great way to cut down on styling time, as the barber will create texture and movement with the cut. Layers work well on all hair types, including both straight and curly.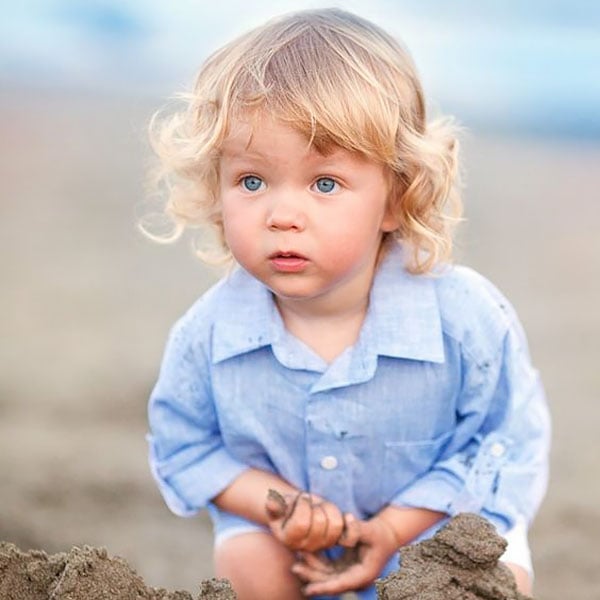 Toddler Haircuts FAQs
How often should a toddler boy get a haircut?
Shorter haircuts will need to be trimmed every four to six weeks to maintain the style. You can get away with longer breaks between trims if your little man is rocking a longer do. Just keep in mind that it will vary with how fast your child's hair grows.
What age should a toddler get a haircut?
The age for your child's first haircut will depend entirely on their hair. Some babies are born with a head full of luscious locks, while others might be bald little bundles of joy. Many parents choose to celebrate turning one with a haircut and make it into a special occasion. However, first haircuts may need to happen for children as young as a few months, or as old a two years.
How can I make my toddler's hair grow?
The best way to promote healthy hair growth is to ensure your child is eating a balanced diet full of nutrients. Kids can be fussy, but if you can feed them foods that contain vitamins E and B, folic acid, and calcium, it will help encourage healthy hair growth. Add foods like corn, peanuts, spinach, whole grains, eggs, yogurt, strawberries, and bananas. Other tips include brushing their hair with a soft brush and giving scalp massages, which will stimulate the skin and help remove dead skin cells and cradle cap. You'll also want to avoid blow-drying with hot air, tight hairstyles, and over-shampooing.
Does cutting a toddler's hair make it thicker?
Cutting your toddler's hair won't make it thicker; however, tidying up scraggly ends can help it look thicker. Similar to adult haircuts, by removing split and thin ends, blunter edges are going to let the hair appear fuller and more healthy.
SUBSCRIBE TO OUR NEWSLETTER
Subscribe to our mailing list and get interesting stuff and updates to your email inbox.