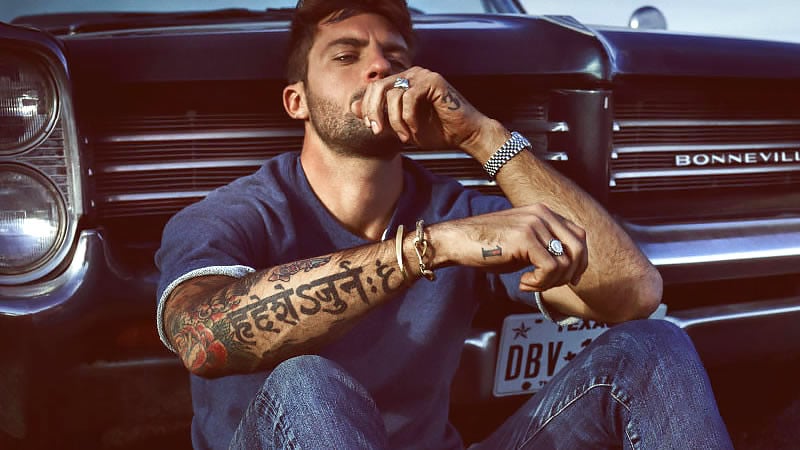 Today, tattoos have become a cool way to show off your personality or sentimentality. Though you may have an idea of what you're after, the final decision of what to get can be challenging. After all, it's going to be there forever. Plus your arm spends roughly half of the year on display, so it's going to get noticed. Arm tattoos can be detailed and look seriously cool if you do them right. So to help you out, we've created this guide filled with inspiration and advice on how to choose your arm tattoo.
RELATED: The Ultimate Tattoo Guide for Men
RELATED: The Coolest Sleeve Tattoos for Men
Upper Arm Tattoos
If you want something that can still be hidden, your best bet is getting an upper arm tattoo. That way, when you wear t-shirts, they should cover over most of your ink. If your upper arm tattoo starts at your shoulder, the unique rounded shape can look cool. Remember, the upper arm is a pretty big space to work with and can cater for some awesome designs.
Simple Upper Arm Tattoos
Simple upper arm tattoos are a good go-to. They are of course the easiest to cover over, but still look cool when you have them on display. Minimal detail is becoming favoured in the tattoo world, so you can't go wrong with a simple design.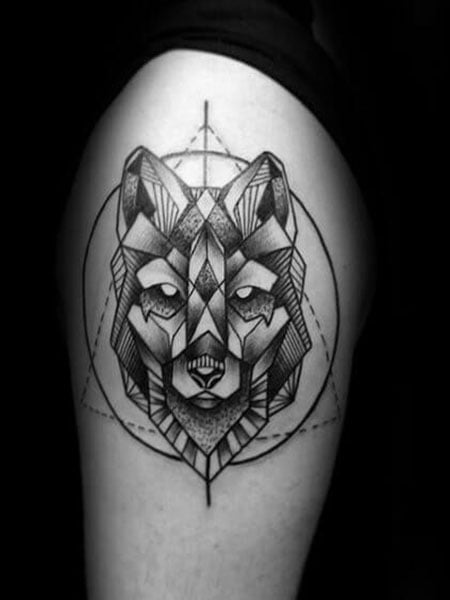 Colourful Upper Arm Tattoo
Colourful upper arm tattoos make quite a bit of a statement and are sure to be noticed. Usually, you'll only choose to colour your design if it's pretty detailed. It'll always make your tattoo pop a little bit more and can also make it look more three dimensional.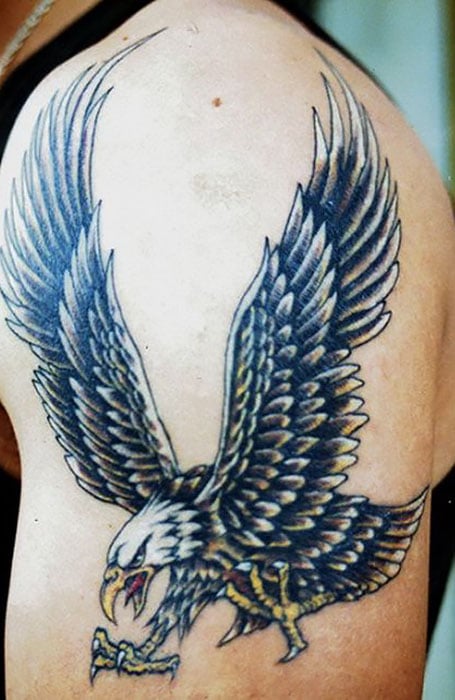 Tribal Upper Arm Tattoo
Tribal tattoos normally start at the shoulder and feature the rounded shape at the top. They generally look the coolest in this location and feature quite a bit of detail.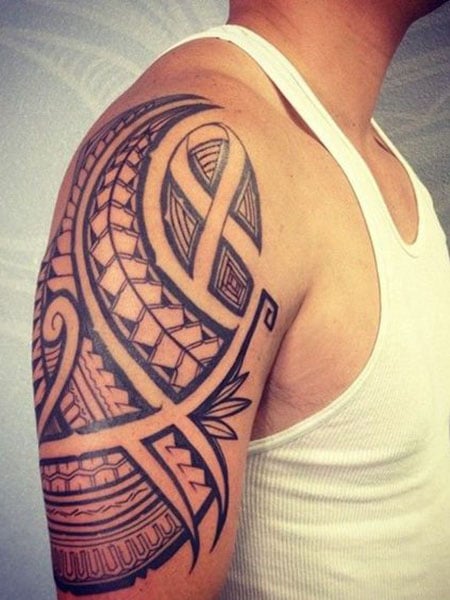 Detailed Upper Arm Tattoo
Detailed upper arm tattoos will usually take a few sessions, depending on the size. There are so many different designs to choose from, but no matter what your choice is, they'll all look pretty decent.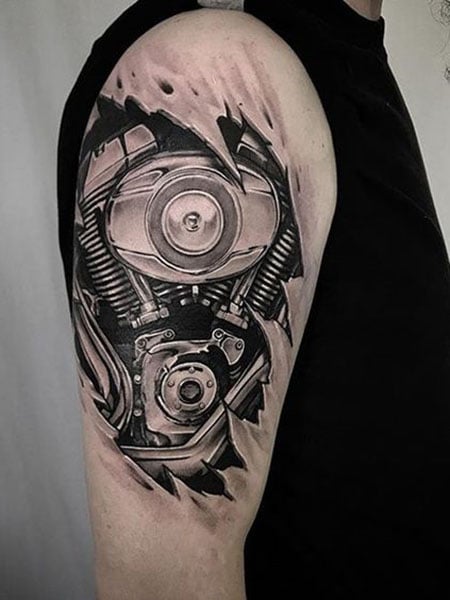 Delicate Upper Arm Tattoo
Who says men can't get delicate tattoos. Though they do remain pretty detailed and masculine, they tend to have a beautiful quality to them. That's right; a rose isn't the only acceptable flower for a man. You can get whatever you want, we guarantee it'll look good.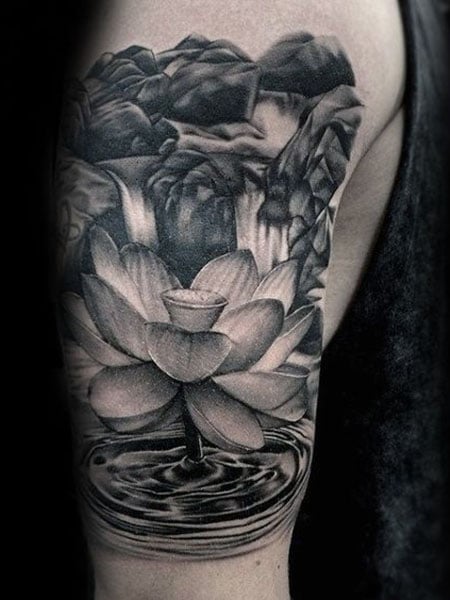 Inner Arm Tattoos
Whether you decide to get your upper inner arm or lower inner arm tattooed, you can't go wrong. Both areas look decent with a bit of ink done. Again, where you get it can depend on whether you want it to be on display more often than not. Of course, the lower arm is harder to cover in the warmer months. It's best to choose your tattoo first and your placement second. Depending on what design you want to get, upper or lower could work better than the other.
Detailed Inner Arm Tattoos
Your forearm is quite long, therefore, it's a good spot if you're looking to fit a detailed tattoo. For instance, it works well if you want to get something similar to the image we've chosen.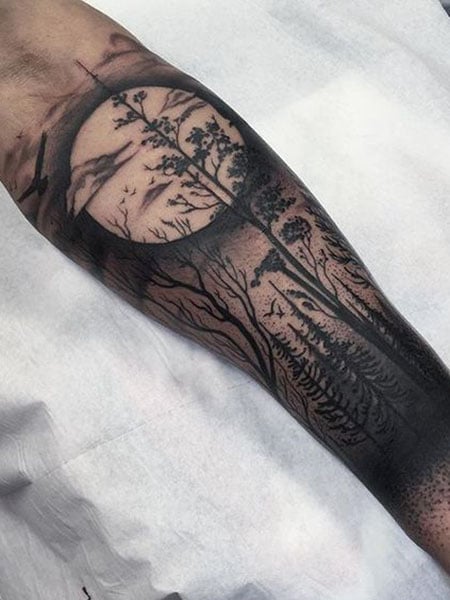 Sentimental Inner Arm Tattoos
The inner and upper arm is perfect for fitting a few words or an image. Therefore, you can't go wrong with this placement if you're planning to get a sentimental tattoo.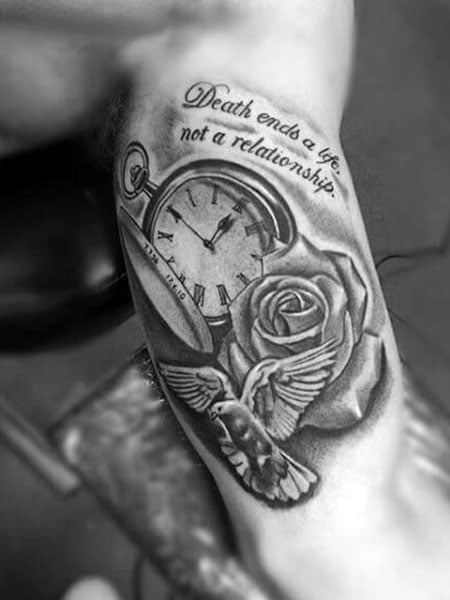 Textural Inner Arm Tattoos
Textural tattoos usually take a fair amount of time, as they require a lot of lines and dot work. They can also be pretty painful, so it's best to opt for a spot where it'll be tolerable. The inner arm is a great spot for this, not to mention the placement looks great.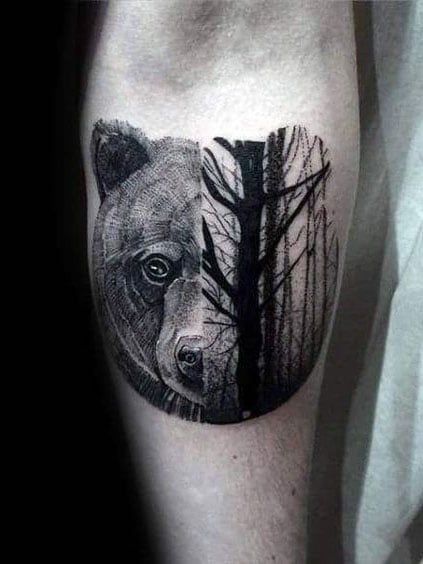 Simple Inner Arm Tattoos
If you're not the kind of person who plans to cover themselves in tattoos, but still looking to get at least one, the inner arm is a great location. Plus a simple tattoo is the perfect design choice. You generally don't want anything too detailed otherwise it can look a bit out of place.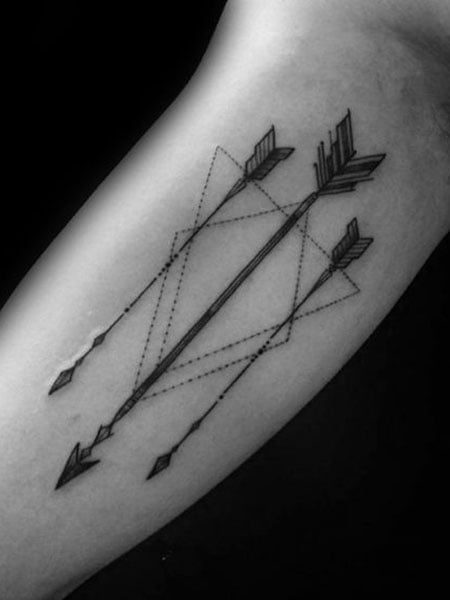 Script Inner Arm Tattoos
Script fits nicely in this location and also looks great. This area is perfect for any type of writing including names, quotes, dates and more. The script also suits any size in this location. You can make it big enough to cover over the entire inner arm or just take up a small section.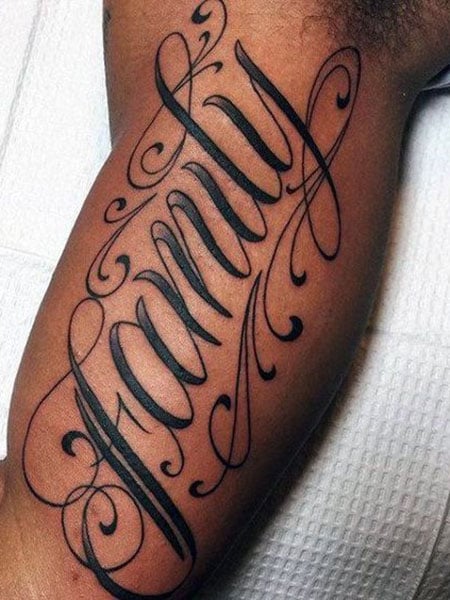 Back of the Arm Tattoos
The back of the arm is a great location for getting skinny, long tattoos. It's also a good place if you want to get a tattoo that wraps around the arm, but its main focus is at the back. No matter where you get your ink, either at the top or bottom of the back or your arm, you're sure to make heads turn. Don't be surprised if you start to feel eyes burning into the back of you, that just means people are checking out your tattoo.
Unique Back of Arm Tattoos
Tattoos are always the coolest when they're creative. If you can manage to come up with your own design, even better. It's always interesting seeing people with tattoos that you wouldn't have thought of, and the back of the arm is a great place to showcase it. It gives people the opportunity to stare at it while casually walking behind you.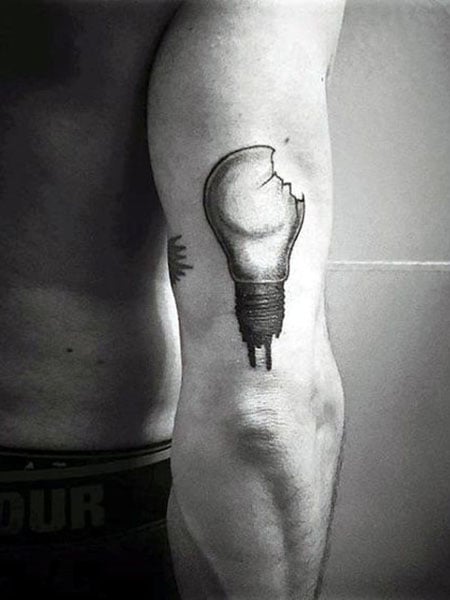 Simple Back of Arm Tattoos
The space on the back of the arm isn't usually too large, so getting something simple will fit nicely. It's also a good choice if you still want to be able to see some of the muscle definition in your arm without completely covering it in ink.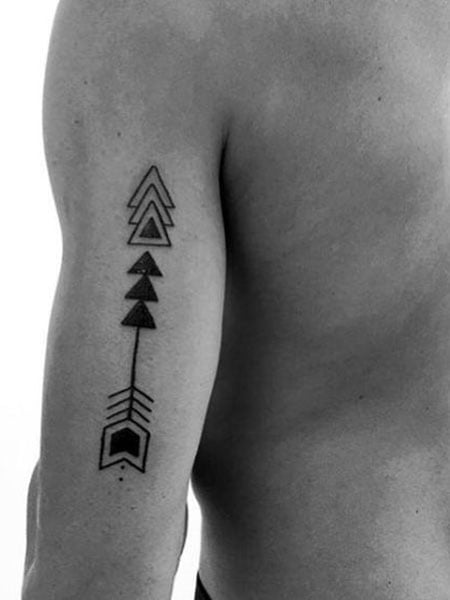 Roman Numeral Tattoos on the Back of the Arm
Roman numerals can look especially cool going down the back of the arm. This allows the numerals to be bigger, rather than simply getting them across the bicep or somewhere else.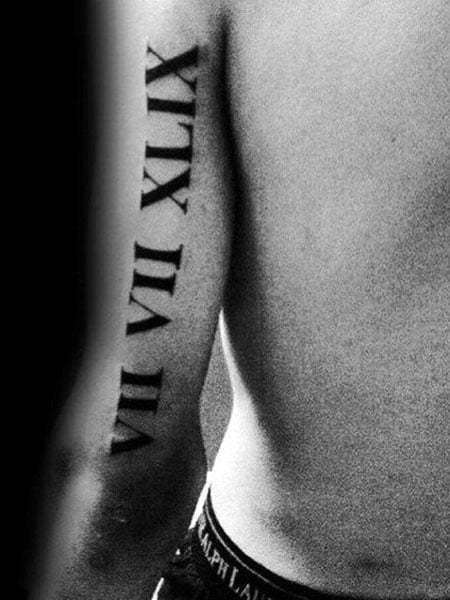 Geometric Tattoos on Back of the Arm
Recently geometric shapes and dots have become big in tattoo designs. This modernises the look of the tattoo, pulling people away from choosing traditional styles. The back of the arm is the perfect location for these types of tattoos, as the designs are usually long and thin, fitting well in this location.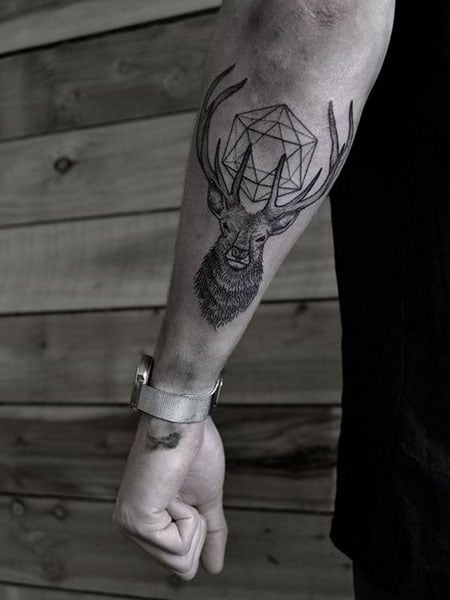 Nature Back of Arm Tattoos
Both animal and nature tattoos fit nicely on the back of the arm, depending on the shape. Usually, trees and wild species will fit due to their long and skinny nature along the length of the arm.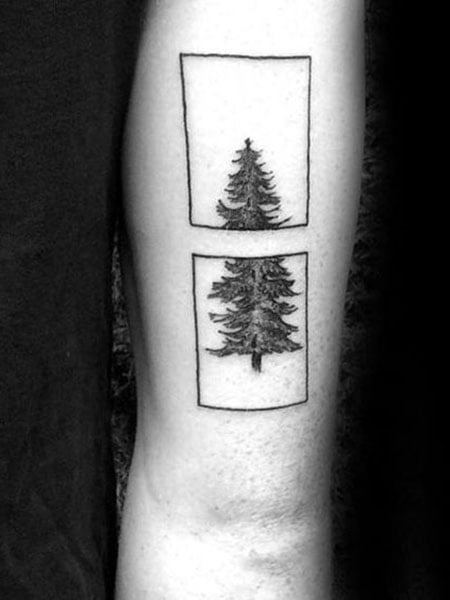 Bicep Tattoos for Men
If you have reasonably sized guns and you enjoy showing them off, bicep tattoos can look cool. Though choose wisely, because when you tense, it can distort the image. Getting your tattoo placed on the inside of your arm means that it won't always be on display but don't let that stop you. There are some awesome tattoos that are popular in this location that'll look good.
Bicept Half-Sleeve Tattoos
This is a great area to get a half sleeve. This position is easier to cover over than the lower arm and can look awesome if you get the main detail of the half sleeve on the bicep.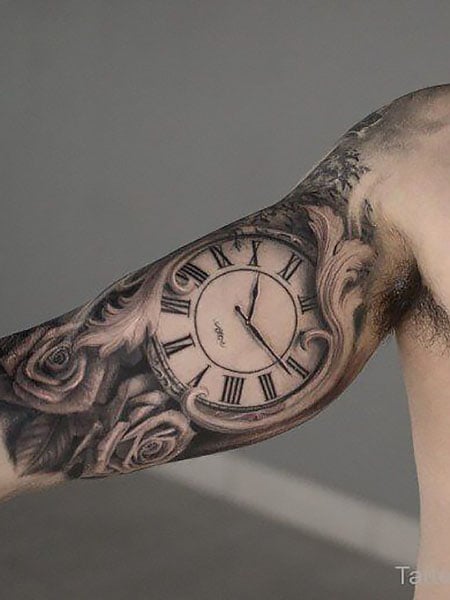 Angel Wing Tattoos on the Bicep
You can either get angel wings tattooed on just one of your biceps or both. Either way, this tattoo looks cool in this placement.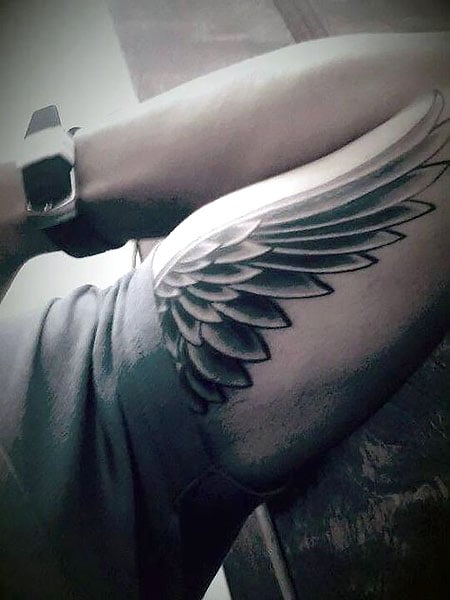 Animal Bicep Tattoos
Animals seem to be a popular design to get tattooed along the bicep. Whether you choose your spirit animal or your favourite kind, this location is a great choice of placement.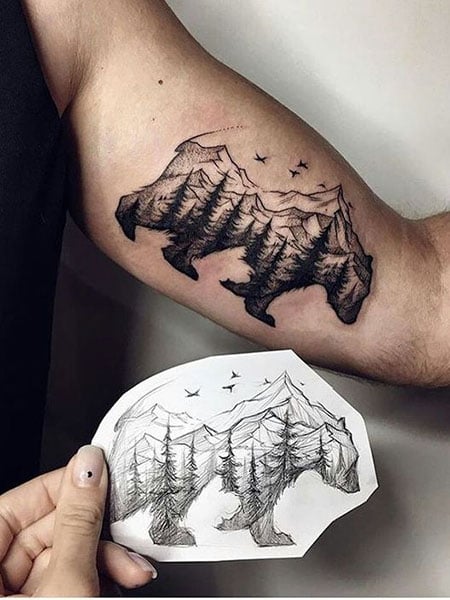 Religious Bicep Tattoos
If you want to get a religious tattoo, whether its hands that are praying, a mural of Jesus, or any other kind, this is a great location. It's also easy to add to later if you decide that you want to go for a full religious sleeve.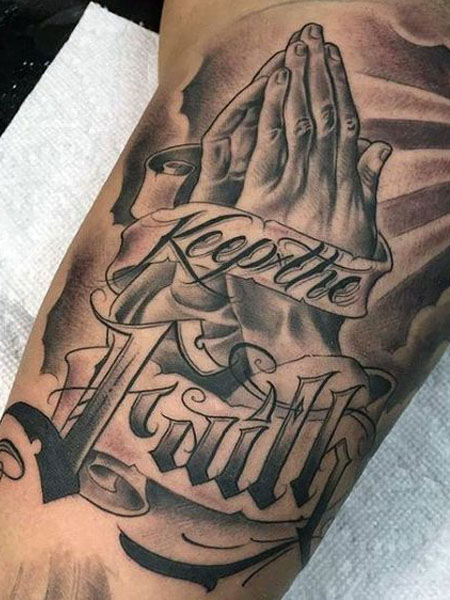 Geographical Bicep Tattoos
Travel is a big part of the young adult culture in this day and age, and some like to symbolise their experiences through tattoos. If you're one of these people, the bicep is a great place for this. Whether you want to get the world map flattened out, a compass, or the northern star, it'll sit perfectly here.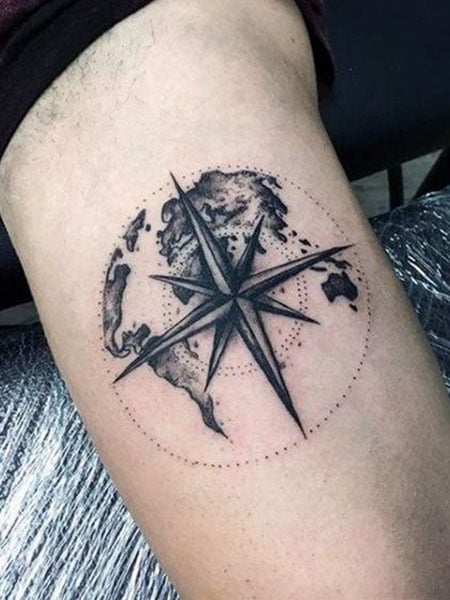 Arm Sleeve Tattoos
You have to be pretty extreme or 100% dedicated to your tattoos to get a sleeve. With these, it's usually best to pick one theme and stick with it down the entire arm. You want your sleeve to tell a story and be somewhat sentimental. You also want to cover over as much skin as possible. You can get a full sleeve, half or even 1/3; the decision is yours. Whichever you choose, it's bound to look brilliant.
Alice in Wonderland Sleeve
The 'Alice in Wonderland' sleeve is a traditional and popular style. It's generally made up of roses and a pocket watch, it's usually surrounded by swirls, scripture on a banner or other old timely designs.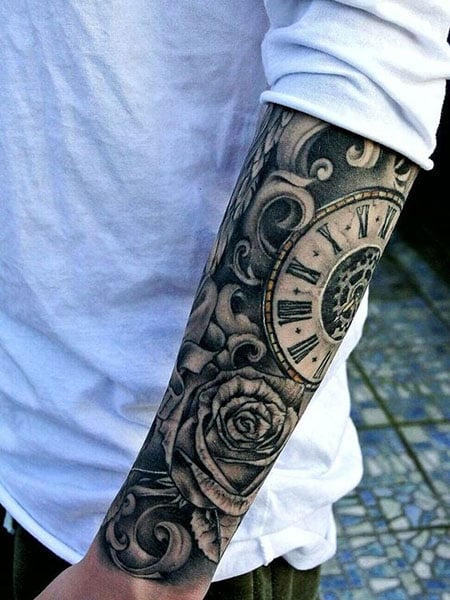 Dark Sleeve Designs
If you're punky or gothic, this design will suit you. Think skulls, dead crows, old stick burning candles and smoke. While it may sound quite spooky, these designs can look awesome.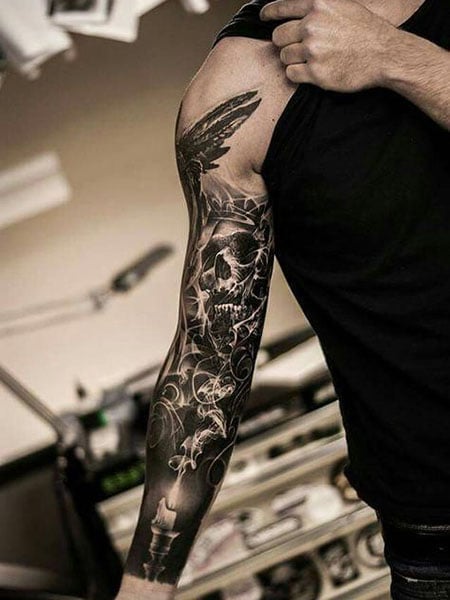 Nature Sleeve
Nature sleeves generally give you quite a bit to look at. Think wild animals, asymmetric mountains, and tall pine trees. If you're really in touch with nature, this is the perfect design for you.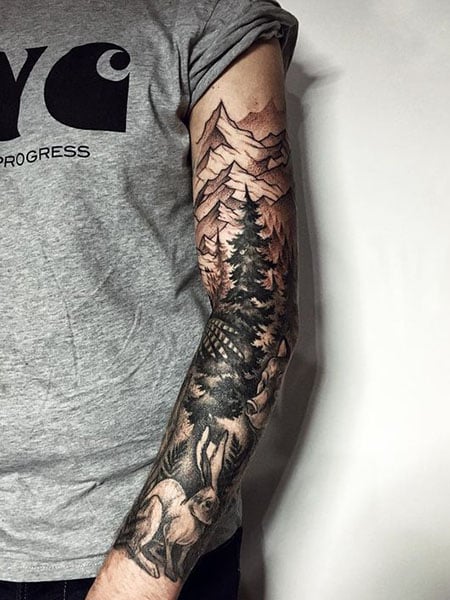 Religious Sleeve
There are two main styles to choose from if you're thinking about getting a religious tattoo. You can either go for the faces of important Bible characters or those from a story that speaks to you. Otherwise, you can fill your sleeve with Bible pages, shining lights, crosses, doves, praying hands and more.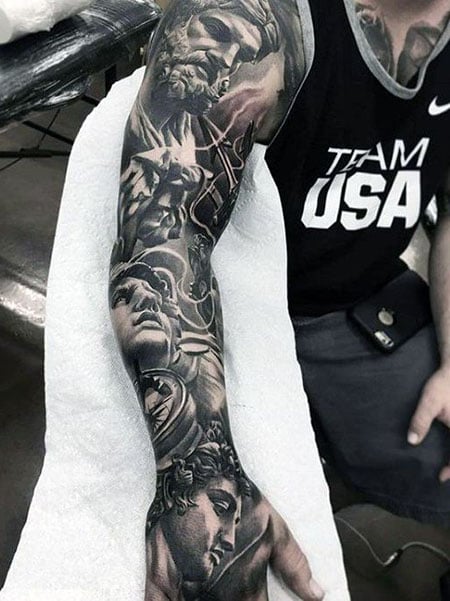 Cultural Sleeve Tattoos
Cultural sleeve tattoos are a great way of showing where you're from. Although many do tend to get them just because they like the look of it. For instance, the Japanese waves or water design have become quite sought-after.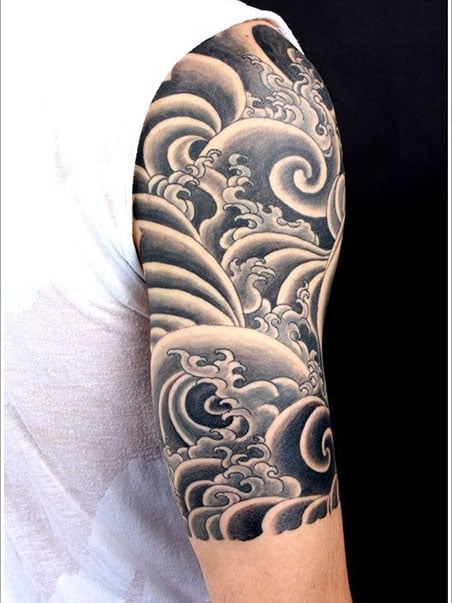 Full Arm Tattoos
Full arm tattoos can look cool if you stick to a theme or a single design that stretches down the length of the arm. Again, if you're looking to get your full arm tattooed or a large portion of it, don't just opt for stickers that you can keep adding to. Put some thought into what you think you might want to get and go ahead with that idea.
Full Arm Vein Tattoos
If you're a little more out there personality wise and are happy to get something quite unique and interesting, vein tattoos can look pretty wicked. They look especially cool if you trace over the veins in your arms that you can make out to give them that real effect.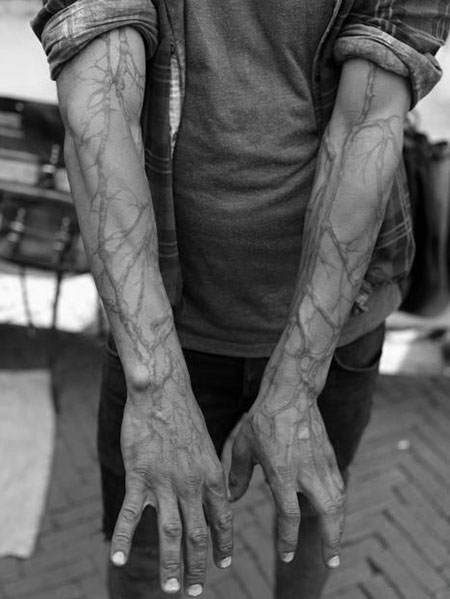 Full Arm Skull Tattoo
While skull tattoos can look great just on their own, they always look better when they're either featured in a sleeve or when they cover over the full arm, adding much more detail than just the skull.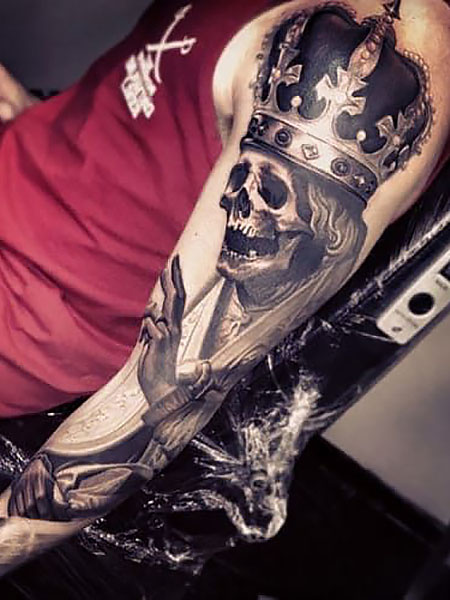 Full Arm Angel Wings
You'll find that angel wings can be tattooed in many different places on the arms, though of course, stretching from the back, down the arm is the most accurate representation. This can look cool, especially if you're planning to do the wings on both arms.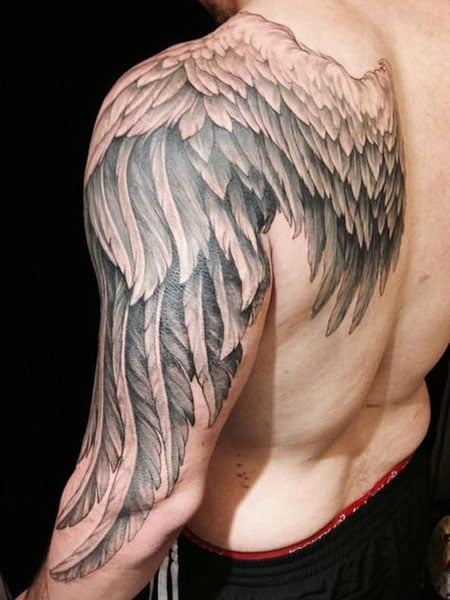 Full Arm Snake Tattoos
Snake tattoos can look great, wrapping around the whole arm as a snake tends to if you were to hold a real one. You can put quite a lot of detail into this tatt, making it look like an actual python. Otherwise, you can make it geometric or even add traditional features to it, such as Egyptian script or Asian symbols.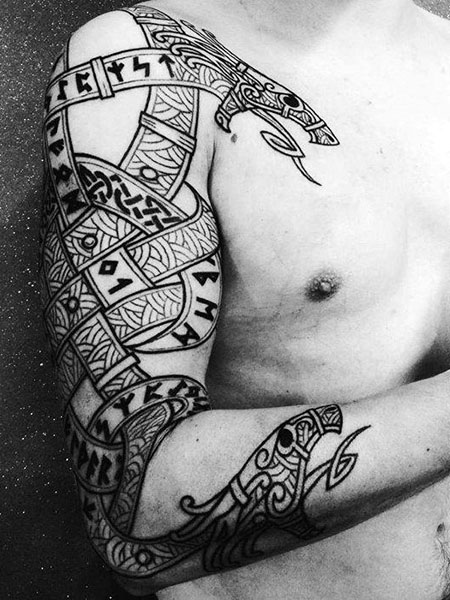 Folk Tale Full Arm Tattoos
Folktale tattoos are usually interesting, especially stories from the sea. Whether it's as simple as a shining lighthouse or a ship on a rocky ocean, or as distinguishable as the Kraken or a siren mermaid, all of these tattoos seem to link to old tales.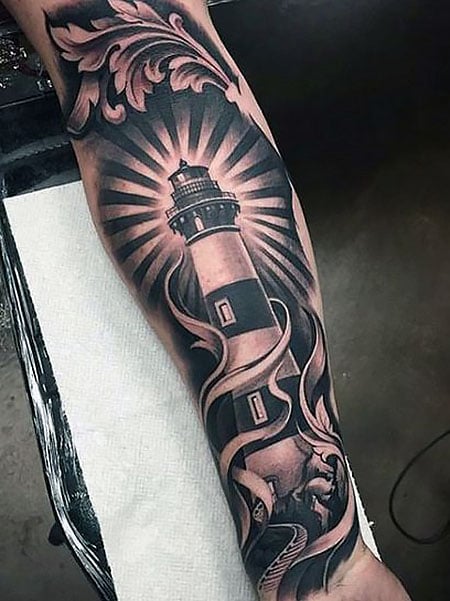 Simple Arm Tattoos
If you have completely fresh skin, it's usually a good idea to start out with a simple tattoo, just to see how you feel about it once it's actually on your skin. Nine times out of ten, you'll end up getting addicted to ink, and then you can add to it as you please. Simple tattoos tend to be quite delicate. They're simply done using thin lines or a sparse design to create the artwork.
Simple Nature Arm Tattoos
Nature tattoos have so many designs to chose from. Whether you opt for a pine tree, some stand-alone rocky mountains, or even a geometric shape with a small picture of a forest in it, this design is sure to look killer.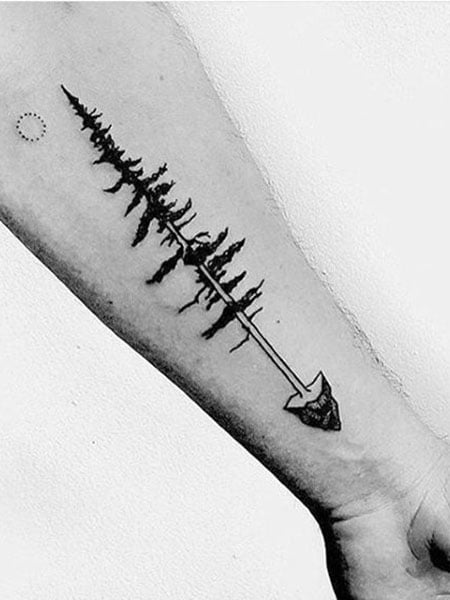 Simple Geometric Arm Tattoos
The cool thing about geometric tattoos is that you can create anything you want to from just lines, shapes and dots. You can design a sick tesselation or any random array using these three simple things.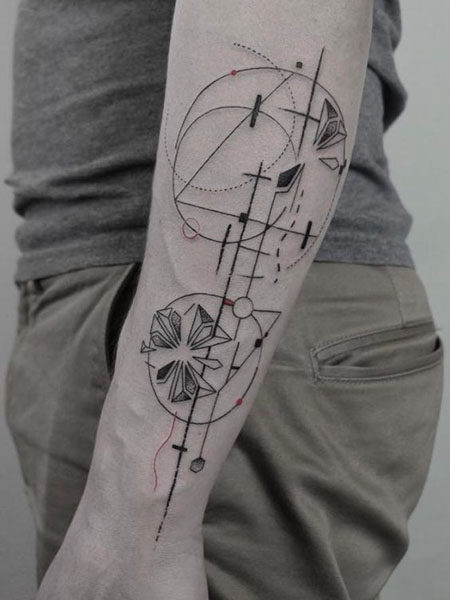 Simple Feather Arm Tattoos
You can either get feather tattoos that are shaded so that its nearly fully black, or you can get a lot of detail done, expressing the fine lines through it. The same goes for leaves, which can also look very detailed or dramatic.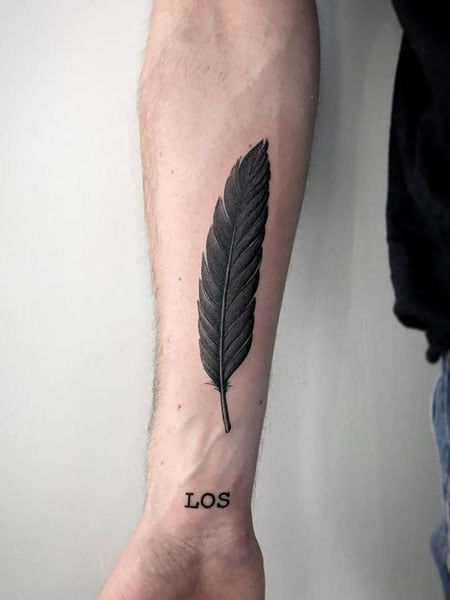 Simple Band Arm Tattoos
The oh, so simple band tattoo comprises of a couple of lines wrapping all the way around the arm and is always only located in this area. These usually symbolise mourning, strength or equality, depending on the thickness of the lines. So if you're wanting a symbolic tattoo, this is a great option.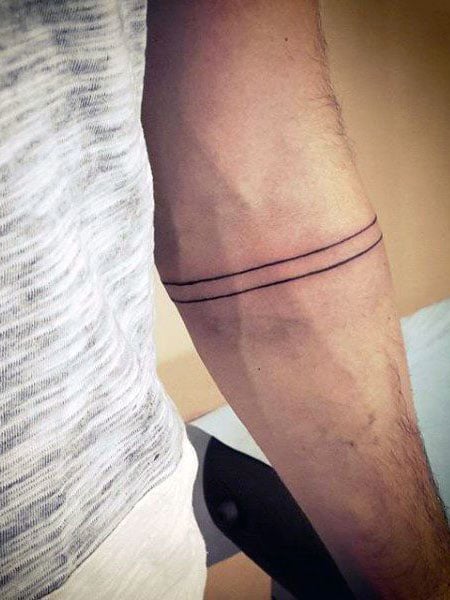 Simple Writing Arm Tattoos
If you're not one for getting a big, bold script, simple writing can look just as good. You can have some fun choosing the font, though usually, the typewriter style is a good one for men to opt for. You can also choose the language you wish to get it in, it doesn't have to be English. Maybe you can relate this to your ancestors or heritage.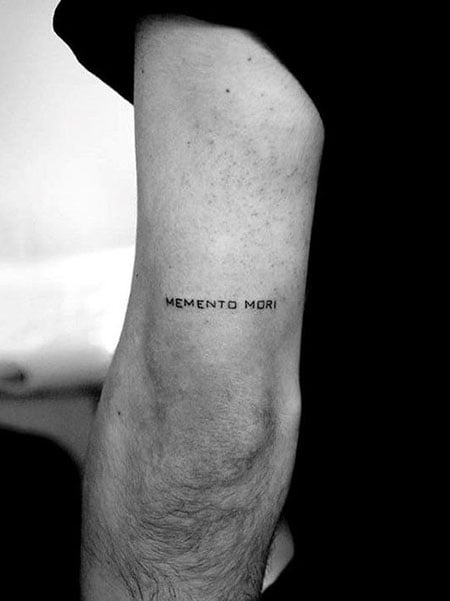 Side Arm Tattoos
Sidearm tattoos can either be done on the lower or upper arm, depending on what you want. They can also be as detailed or as simple in this area as you'd like. Usually, if you're looking to get a more detailed tatt, it'll fit better on the upper arm, unless you don't mind it wrapping around your lower arm. Simple tattoos usually also look better on the lower arm, as they can be quite lonely on a bigger surface area. So think about what will suit better, before going under the needle.
Side Arm Wolf Tattoos
Wolf tattoos tend to look good in this area, though there are a number of other animals that you could also get that would look just as good here. In this area, the more detail you add, the better it'll look, so don't be afraid to get an intricate looking design.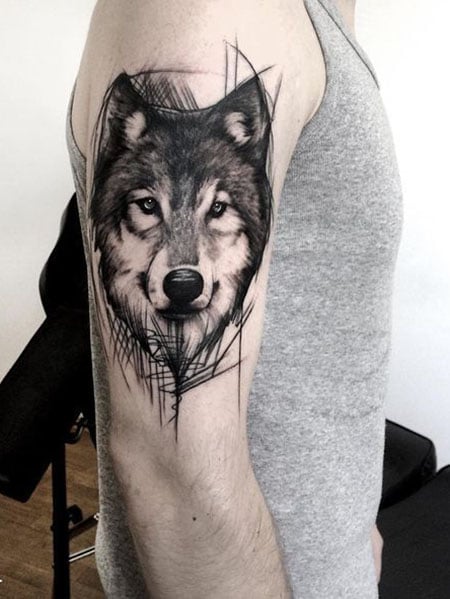 Simple Side Arm Tattoos
Yes, it's probably the most simple design ever but it still looks pretty sick, especially in this placement. Even just two lines running horizontally down the arm can make for a wicked tattoo. You don't always need something major.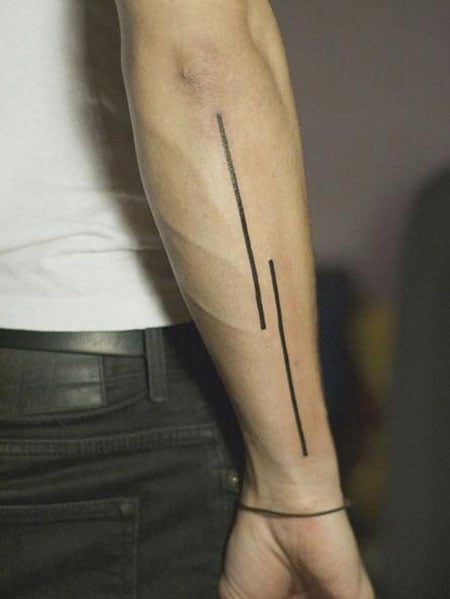 Colourful Side Arm Tattoos
If you plan on getting a lot of tattoos, you kind of need to decide right from the start, do you want coloured or plain black ink. A small amount of one or the other can look okay but usually, you want to pick your theme. Think about the tattoo you plan to get and whether it'd look better coloured or not. If you're getting something like a cherry blossom tree or another kind of flower, usually it'll stand out a lot more in colour.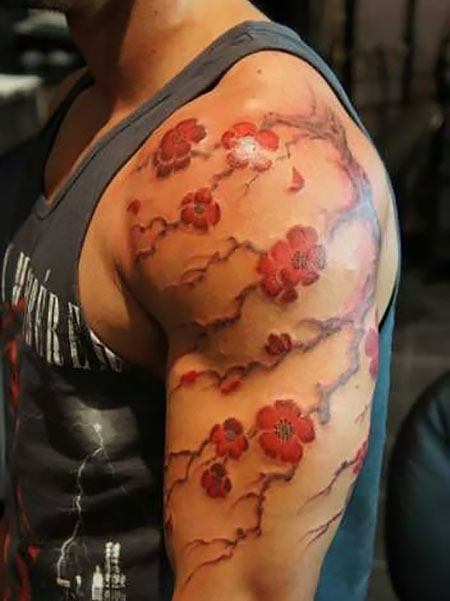 Side Arm Cross Tattoo
If you're looking to get a cross tattoo but you're not sure about placement, the sidearm is a great location for it. It fits nicely here and also looks great.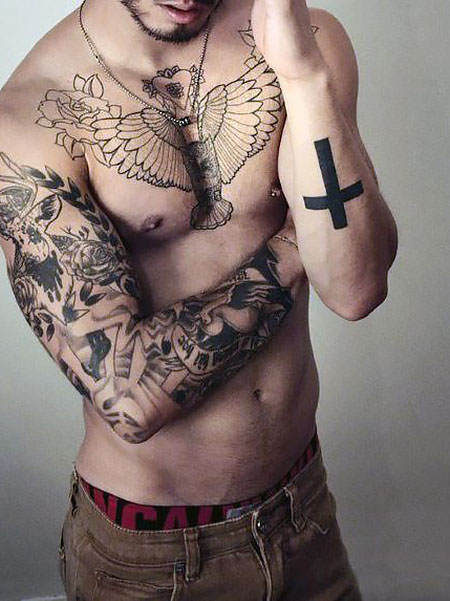 Side Arm Tesselation Tattoos
Tesselation tattoos can look awesome, however, if you plan to place it on your lower side arm, keep in mind that depending on the size of the tatt, the tesselation is bound to wrap around the arm a little. Not that this is a bad thing, it's just something to keep in mind.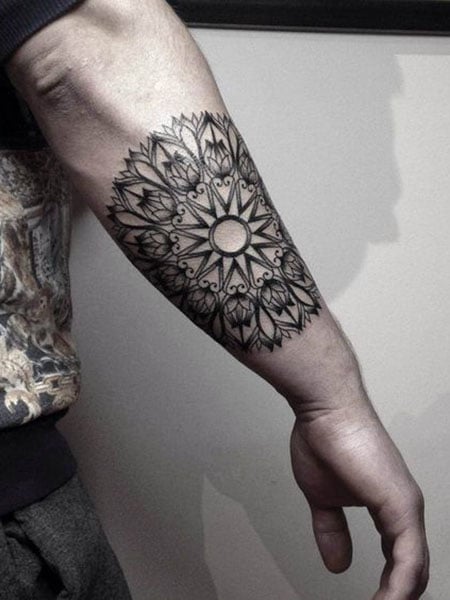 Small Arm Tattoos
If you've never had ink done before, you're usually better off starting with something small. Some of these tattoos are simple, while others can be rather detailed for something of its size. Just because it's small doesn't mean its insignificant. In fact, some small tattoos can look cooler than larger ones.
Small Arm Band Tattoos
Why not get a singular band wrapped around the arm, then add a small amount of detail to it, such as a shape or wave.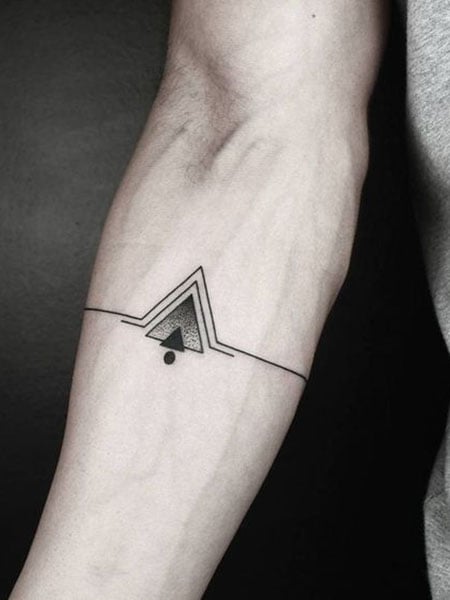 Simple Anchor Arm Tattoo
The old as time, anchor tattoo is still as well received as ever, with most opting to get it on their upper arm or bicep. This simple design will make you at least 10% more macho.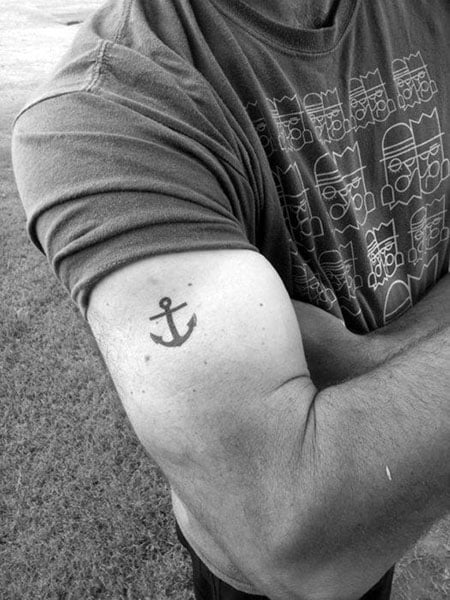 Small Sparrow Arm Tattoos
Sparrows have a lot of sentimental meaning behind them. There are several types of sparrows, all which have a different meaning. For instance, the Grand Sparrow symbolises love and loyalty. If you're looking for a simple yet sentimental tattoo, this is a great choice.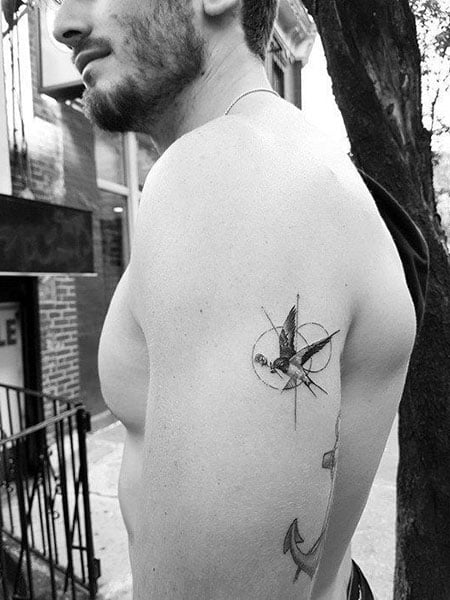 Simple Moustache Arm Tattoos
Some men like to get strange and bizarre things tattooed on them, so why not opt for a moustache. Maybe it'll have sentimental meaning to you or maybe you'll get it as a dare. Either way, it'll probably spark some conversations.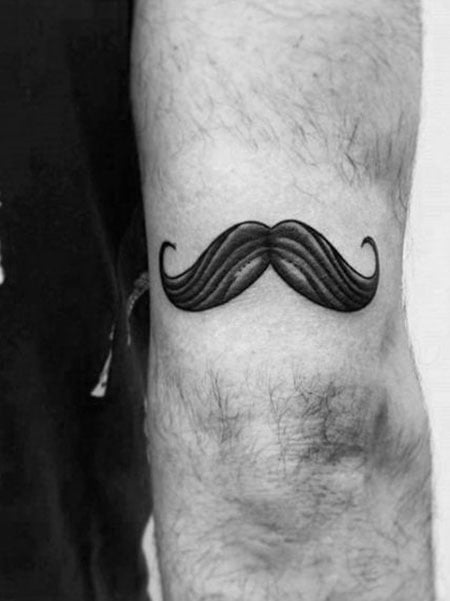 DC Simple Arm Tattoos
If you're a super fan of the Marvel or DC movies or comics, why not add it in ink to your body. It's a great way to show people your personality and what you're passionate about. Not to mention, you can come up with some wicked designs.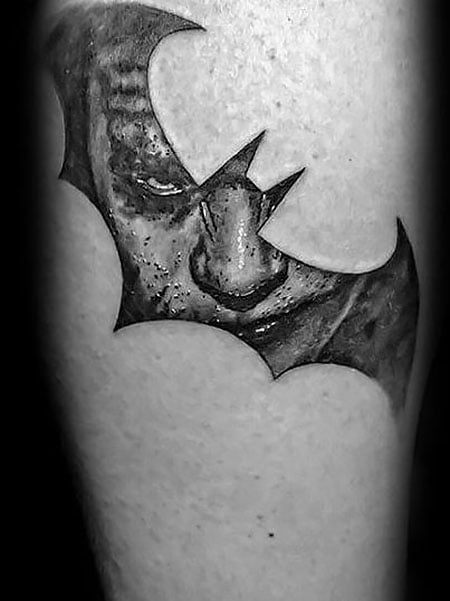 Popular Arm Tattoos
If you're uncertain about what to get, your artist is bound to have some of their own designs that they do pretty regularly, so you can always ask to take a look at these. There is a long list of popular tattoos that you could choose from. Not to mention that you can even put your own spin on it to make it have sentimental value to you.
Cross Tattoos on Arm
Cross tattoos are a great way to symbolise your religious background. There are so many different designs and styles that you could get this tattoo in though, so be creative and have a good think about what you might want yours to look like. They can be simple such as two lines intersecting, or they can be rather detailed, with light shining around an intricate cross.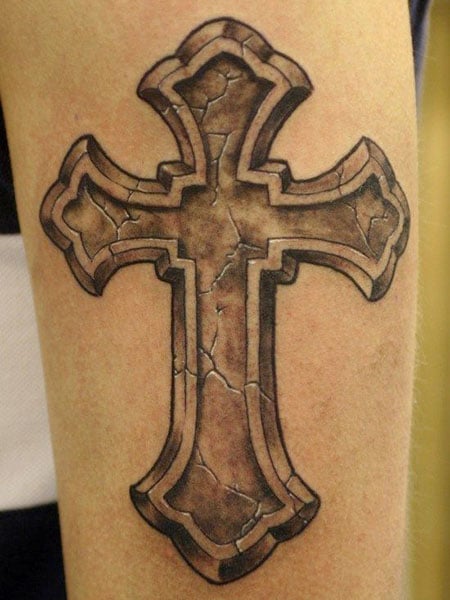 Dragon Arm Tattoos
There are so many designs to choose from if you're looking at getting a dragon tattoo. There's the traditional Chinese style, medieval, a simple outline, fantasy and more. Dragon tattoos can crawl all the way up the arm and even onto the back or chest or can simply be smaller and placed specifically on one part of the arm.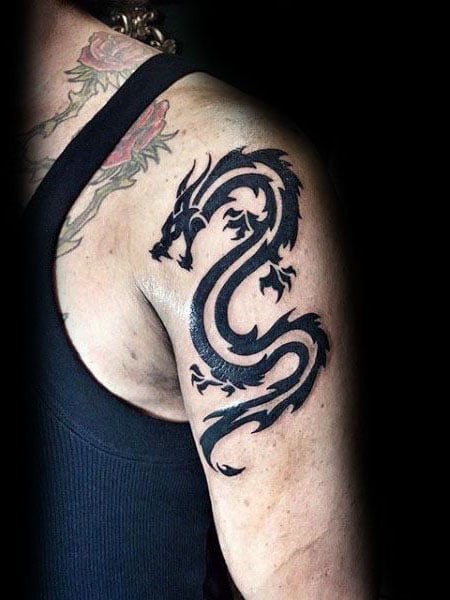 Wing Tattoo on Arm
With wing tattoos, you can get one on both arms, starting from the shoulders, to make it look like they belong to you. These can even stretch across your back if you're looking to make them large and detailed. Otherwise, wing tattoos are also commonly placed on the bicep or the back of the forearm, in these locations, however, they're usually just on one arm instead of both.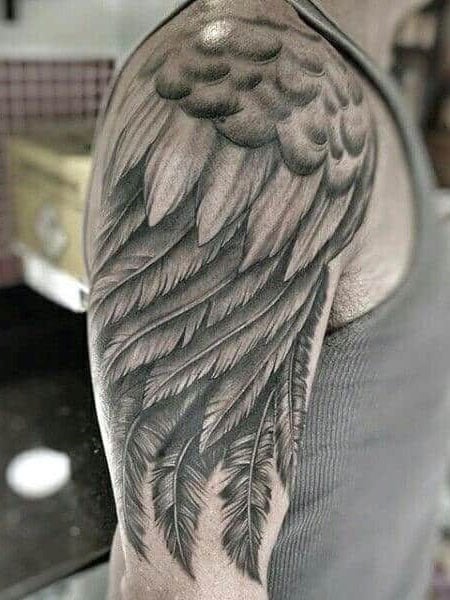 Tribal Arm Tattoos
Tribal tattoos come in many different patterns and designs. They originate from ancient times and can be dated back over 5000 years. These tattoos are something that you could get if it has sentimental meaning to you. Nowadays these tattoos combine the style of origin tribes with modern features and usually have very expressive designs. If you're wanting this style of tattoo, do your research. The origin tattoos have deep meaning behind them, so find out which one you can relate to.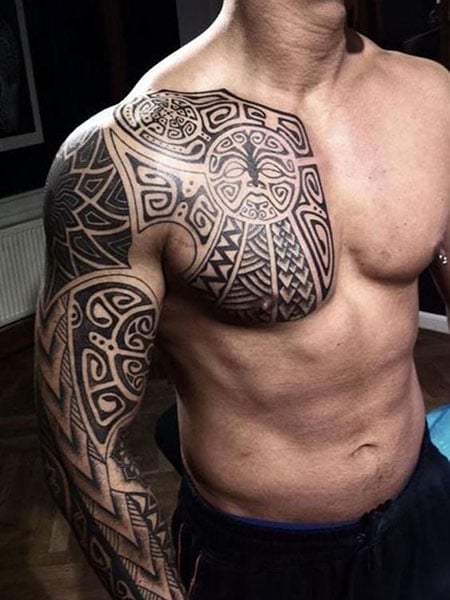 Name Tattoos on Arm
Name tattoos are usually very sentimental and can be written in any script, so be decisive when picking one. They can also be accompanied by small pictures or dates to add to the memorabilia, though these are generally the most useful when representing births or deaths, whereas name tattoos can be for any and all loved ones.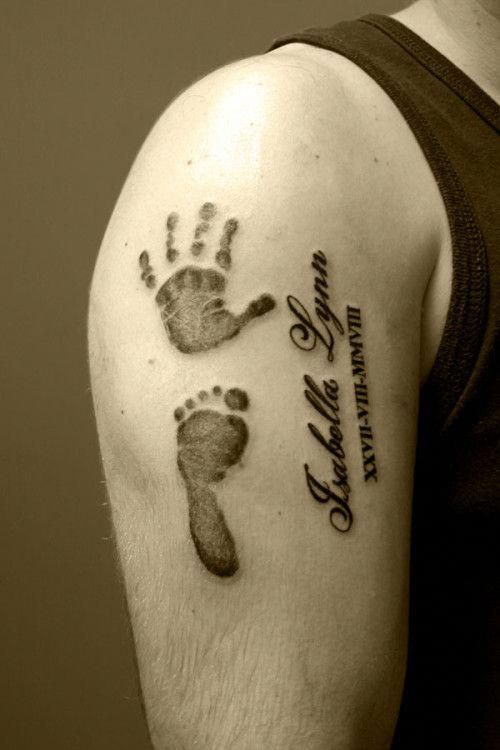 Jesus Arm Tattoo
Jesus tattoos can be quite intricate, especially if you choose the image of Jesus on the cross with thorns around his head or a close up image. There are so many different tattoos that you can get of Jesus, though if you are religious, trying picking an image that comes to mind from your favourite chapter in the Bible.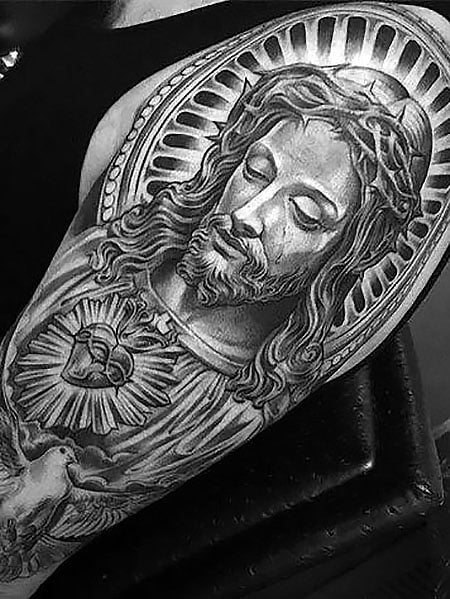 Rosary Tattoo on the Arm
There are various different rosary tattoos that you could choose from. Unless you are getting the rosary chain wrapped up the arm, usually these tattoos are accompanied by other images. These could be roses, scripture, hands that are praying while holding the beads and more. Again, they're usually more of a sentimental tattoo, so think about what suits your faith.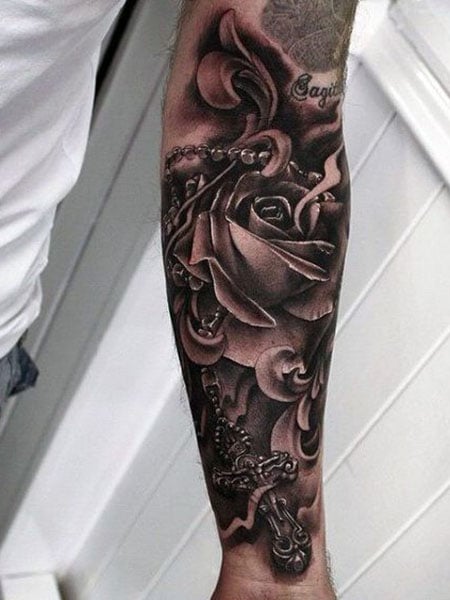 Quote Tattoos on the Arm
Quote tattoos are very sentimental. You could get Bible scriptures, a famous quote, a verse from a poem or song, a quote from your favourite book or something that you wrote yourself. Whatever it is, your possibilities are endless. However, remember it's going to be there forever, so get something that resonates with you.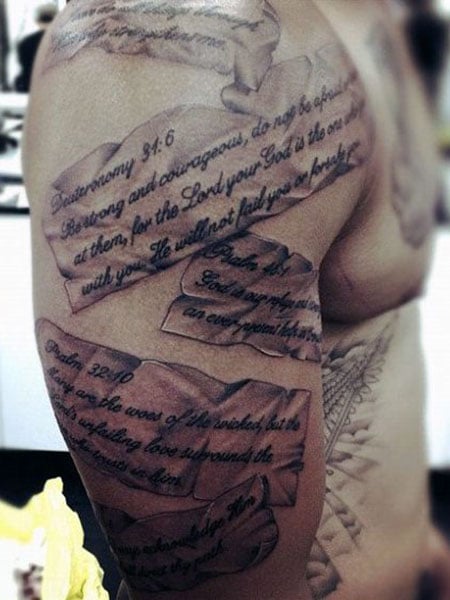 Mechanical Arm Tattoo
Mechanical arm tattoos are usually pretty big. They generally cover over at least half of the arm so only opt for this style if you're looking for a sizeable tattoo. While some just get mechanical parts drawn over the skin, many make their ink look like it's sitting underneath. Whichever design you decide on, just make sure you find an artist that knows what they're doing, after all, you want it to look realistic.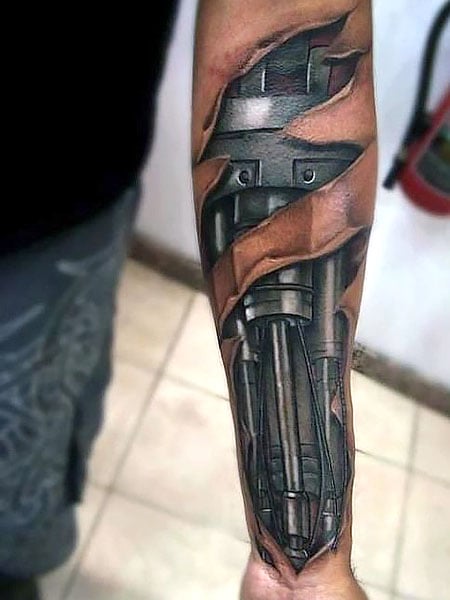 Skull Arm Tattoos
Skull arm tattoos come in all different designs. You can get fine line ink or a very detailed, realistic skull. You also have the option of history, many people dress their designs in Indian headdresses, crowns, or make them Pirates of the Carribean style. Many also opt for sugar skulls or sexy corpses. Choose your design, to suit your personality.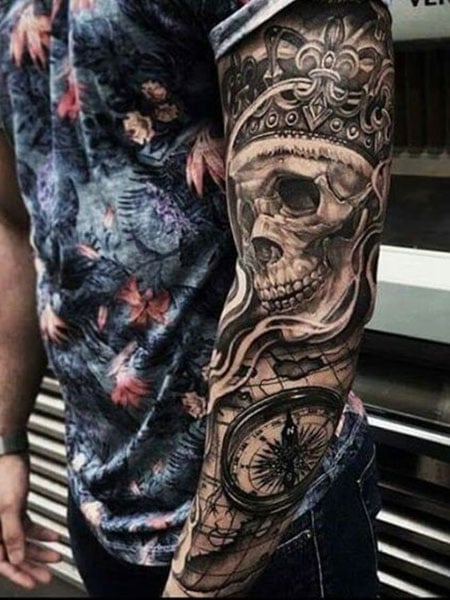 SUBSCRIBE TO OUR NEWSLETTER
Subscribe to our mailing list and get interesting stuff and updates to your email inbox.