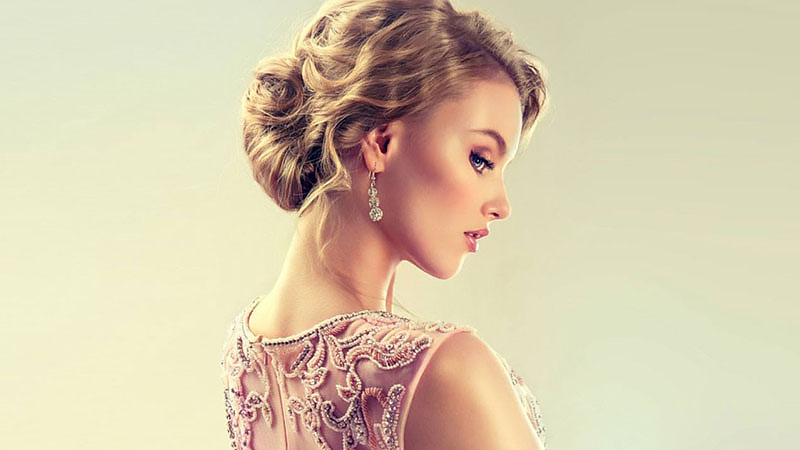 Prom is one of the most exciting nights of your life. But when it comes to finding the perfect hairstyle, it can also be very stressful. Will you go curly or straight? Up or down? Bold or romantic? With so many options to choose from, things can start to get a little overwhelming. But don't stress, we have you covered with these stunning prom hairstyles for all hair types.
Prom Hairstyles for Short Hair
Short Braids
Not only are braided hairstyles for short hair oh-so-stylish, but they are also surprisingly easy to create. A braid is always a good way to change up your look and keep your hair from looking plain. The fun and feminine style, which works best on curly or wavy locks, will absolutely have you standing out from the crowd.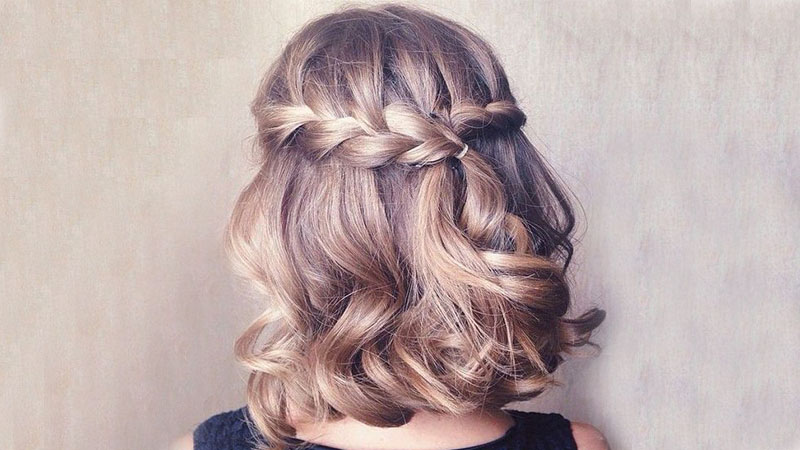 Short Wavy Hair
Curls and waves are a fun way to create a sexy, feminine look with short hair. The ultimate choice for more formal occasions, this stunning style is low maintenance and will pair perfectly with any makeup look. Be sure to finish with a touch of hairspray to keep the style in place all night long.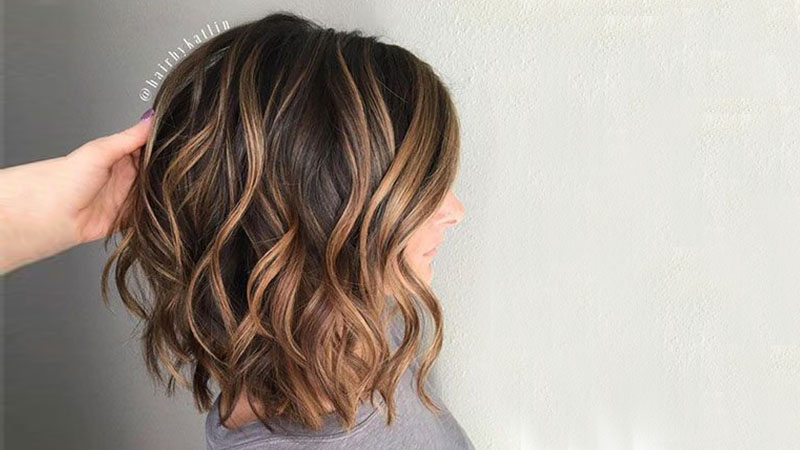 Short and Straight
You may find it difficult to style your short hair, but a bob or lob is actually a great option for a variety of occasions, including something as formal as prom. Wearing your short hair straight will create a sleek and chic look for your special night. To keep your 'do from looking dull, spray your roots with some dry shampoo and finish with a spritz of hairspray.

Short Bangs
Short hair with bangs provides a striking look. Not only do bangs draw attention to your eyes, but they can accentuate your cheekbones as well. For prom, we recommend side swept bangs. They are a softer and girlier way to approach this trend.

Short Vintage Hairstyle
Planning on wearing a vintage dress to prom? Then you need a retro hairstyle to match! Gorgeous curls are a great option. The trick to pulling off this glamorous style is to pin back the sides and let a few curls hang loose.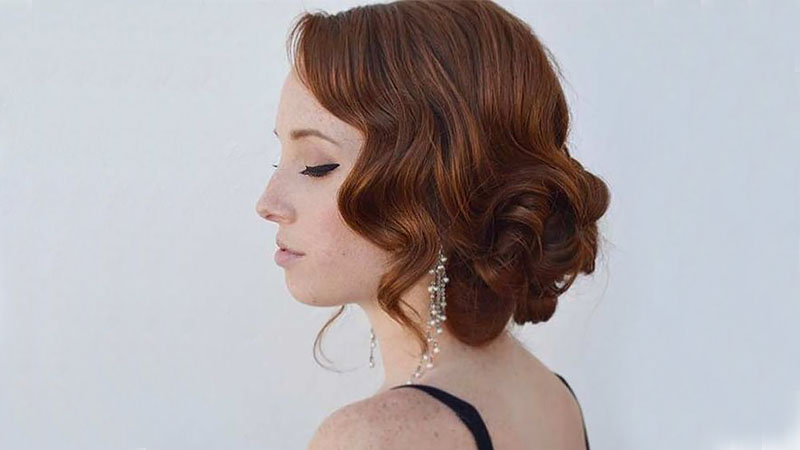 Short Curly Mohawk
If you have naturally curly hair, why not show off your gorgeous texture with a stylish mohawk? All it takes is some hairspray, setting gel, and a handful of bobby pins. What's best is this style looks good on just about anyone!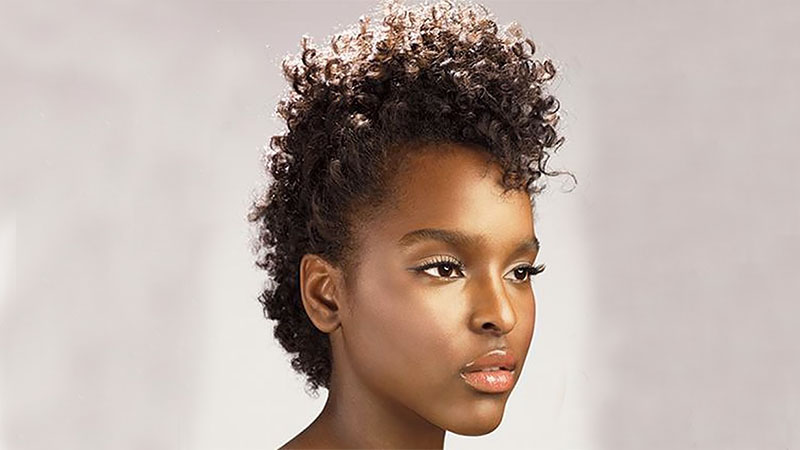 Short Half Bouffant
Want a vintage-inspired 'do that is still in style today? A half bouffant is an ultra glamorous option for prom! To create this style, start by parting your hair to the side. Then, to give your locks some volume, use a comb to tease the roots. Next, comb your hair back to get that beehive shape. Use bobby pins to secure your bouffant, then finish by setting it with hairspray.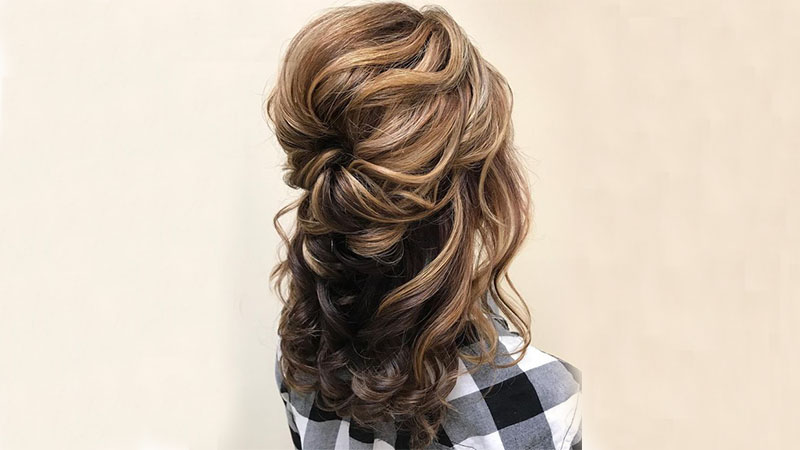 Short Pixie
Gorgeous and classic — the short pixie hairstyle is a bold choice, but it is definitely worth it. For an easy glam, try sleek waves or face-framing curls. Be sure to run your fingers gently through your curls to loosen them up a bit, and finish the look with some hairspray for hold.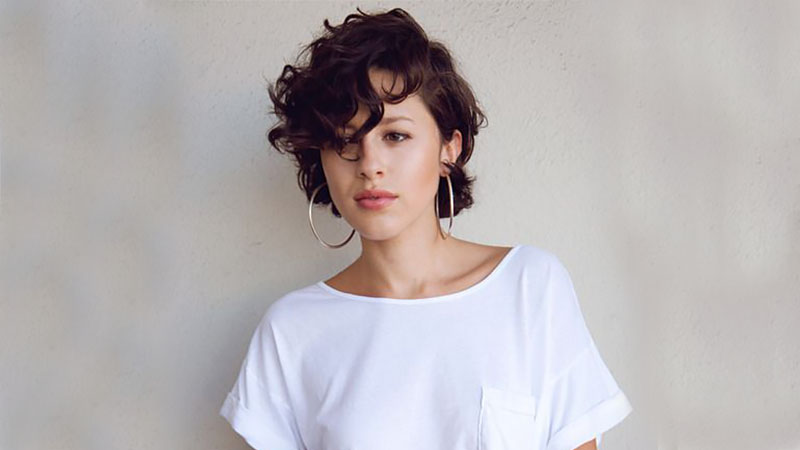 Short Twisted Updo
If you want to leave a lasting impression, why not wear your hair in a twisted updo! This style is a great alternative to a braided hairdo but is just as prom-friendly. Plus, it carries a sort of boho aesthetic. The style is unbelievably easy to create – all you need are some bobby pins to lock your style in place, and some hairspray to set the look.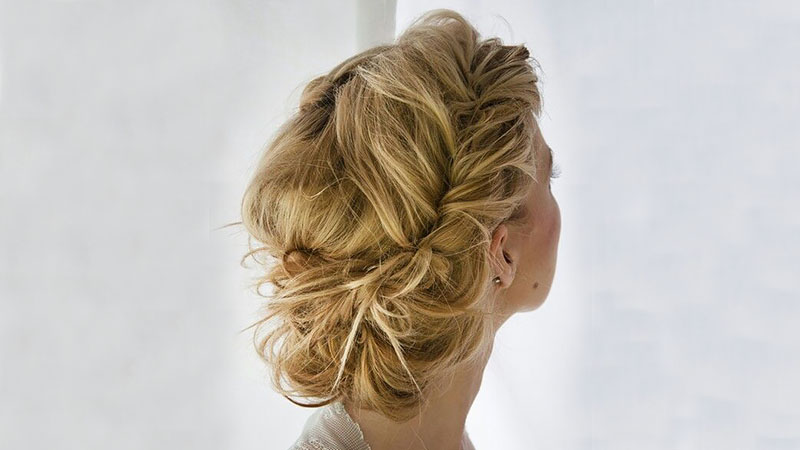 Prom Hairstyles for Medium Hair
Medium Length Braids
Though they are typically worn on longer hair, there are braided hairstyles for all hair lengths. You just have to get a bit creative and use a few bobby pins to secure your style. For prom, why not try a sweet and stylish waterfall braid? This braided hairstyle works perfectly on medium-length hair. It is the ultimate romantic hairstyle for formal occasions—and believe it or not, it's easy to recreate! A braid on curly or wavy hair, in particular, will have heads turning.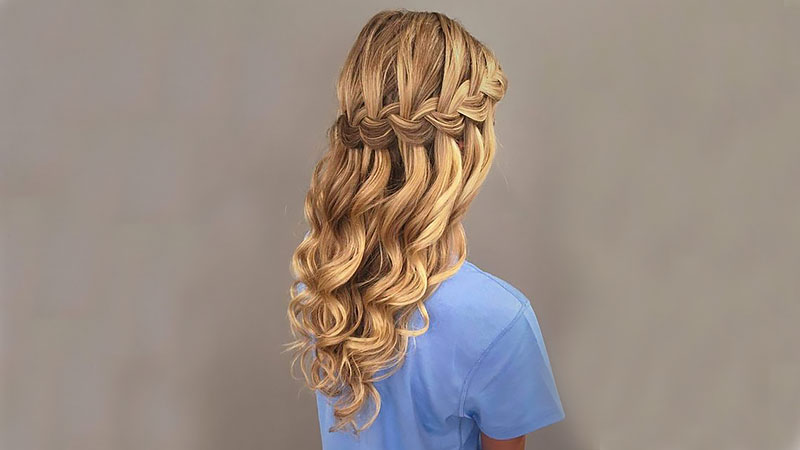 Medium Length Updo
Look smart and sophisticated with a classic updo. Using bobby pins and a hair tie, you can take your basic bun from brunch with the girls to an ultra-sleek prom hairstyle that's perfect for medium length hair.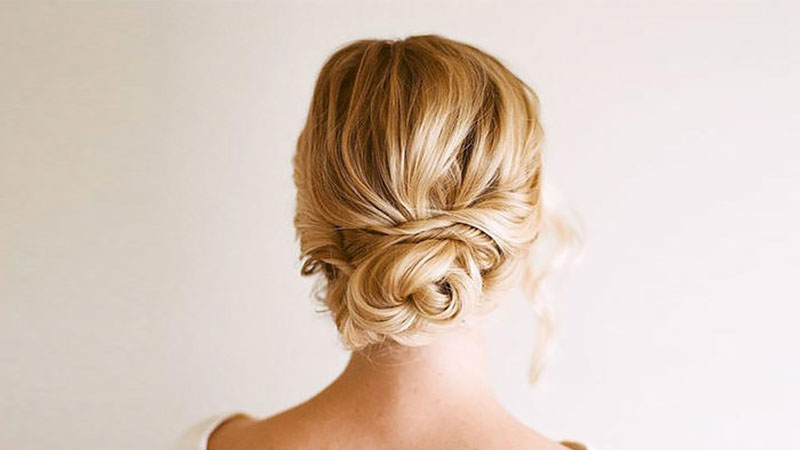 Medium Length Half Up Half Down
Show off your gorgeous face with a stunning half-up, half-down prom hairstyle. The end result looks stunning on all hair types, plus, it'll last all night long!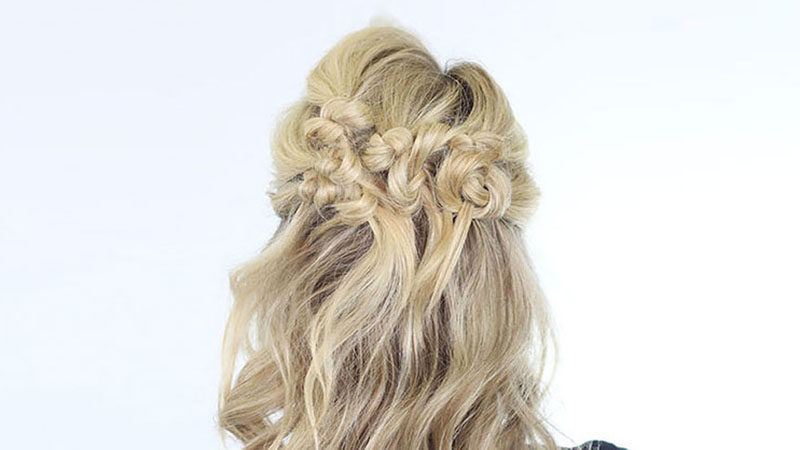 Medium Length Ponytail
For laid-back girls who want a style that's low-maintenance, look no further than a classic ponytail. This chic and sleek style is perfect for the prom. All you need is a few bobby pins, a hairbrush and a hair tie to make this look work for you. For an extra shiny and sophisticated style, we recommend running some oil through your roots after tieing your hair back.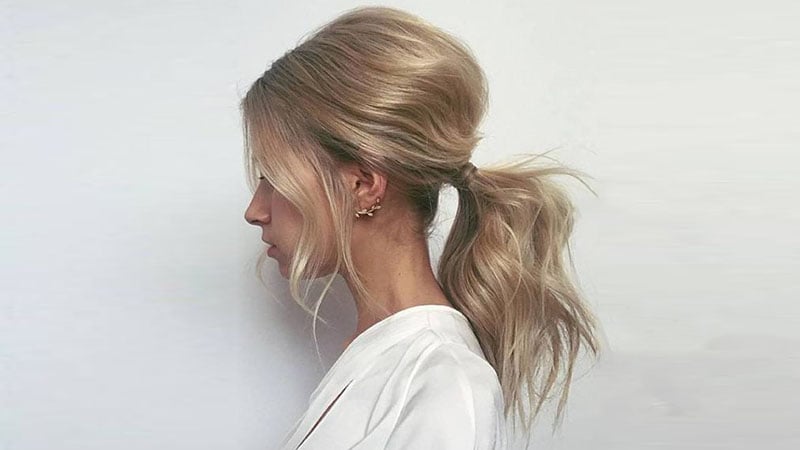 Medium Length Bun
Simple and stylish, the bun is the perfect prom hairstyle if you're planning to get down on the dancefloor! To create this look, start with loose curls, then pin them into a low bun for a romantic and sophisticated look. You will feel confident knowing that this updo can survive even the most extreme dance moves!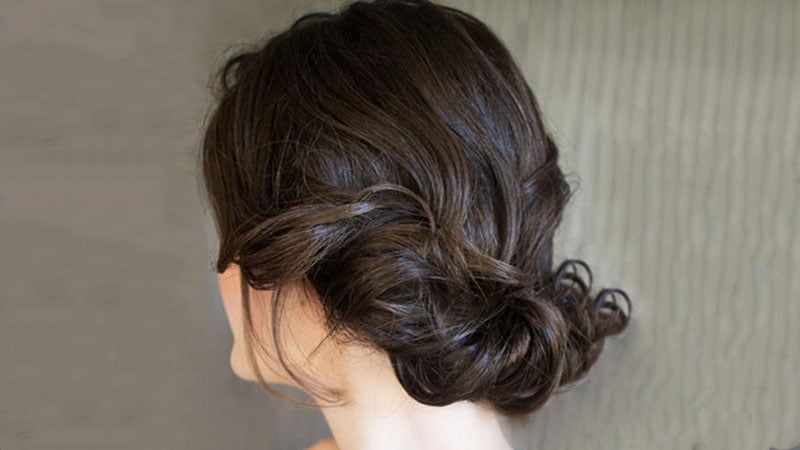 Medium Length Curly Hair
A curly style on medium-length hair is a classic, feminine look for the prom. What's best about it is it's bound to look stunning with any style or colour gown! To achieve this look, first prep the hair with dry shampoo for lift at the roots. Then, curl the hair with a curling iron, spraying each section with hairspray for hold.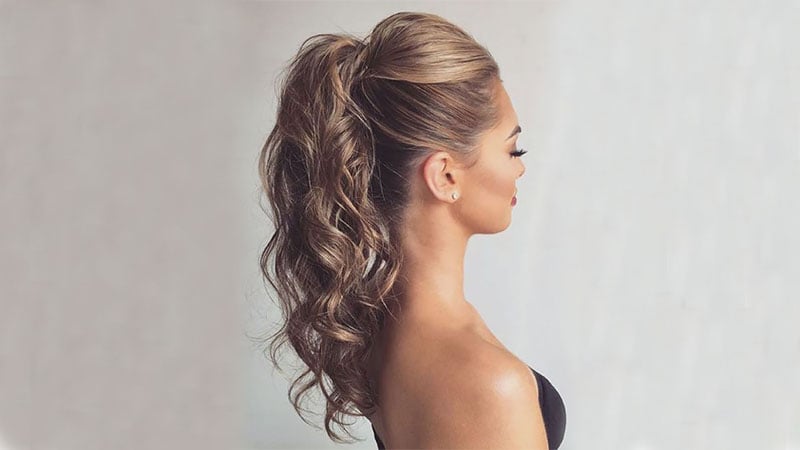 Medium Length Straight Hair
Get admired for your stunningly straight hair by opting for a simple prom-night hairstyle. Start with applying a heat protector and blow-drying the hair, then use a flat iron to get super-smooth. Follow with a shine serum, focusing on the ends of the hair. What's best is this style is easily doable, even for girls without stick-straight hair.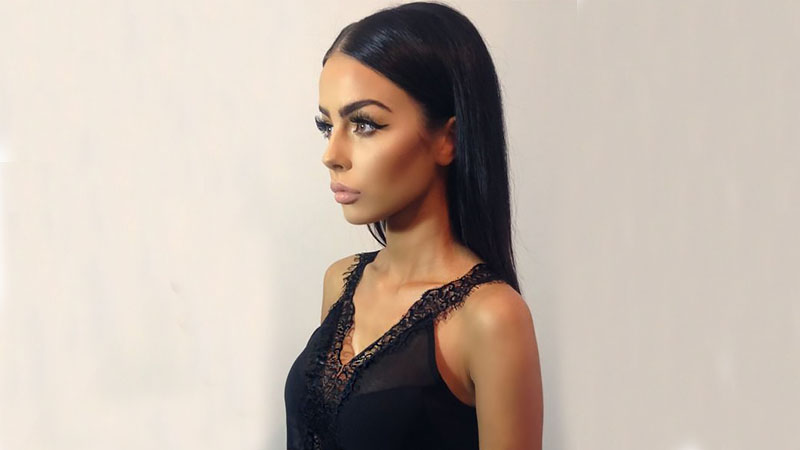 Medium Length Bangs
No matter your hair type, bangs are a great way to elevate your 'do! They are oh-so-versatile, offering you a variety of styling options to suit both casual and formal occasions. For prom, why not put your hair up in a sweet and sophisticated updo and let those bangs fall free.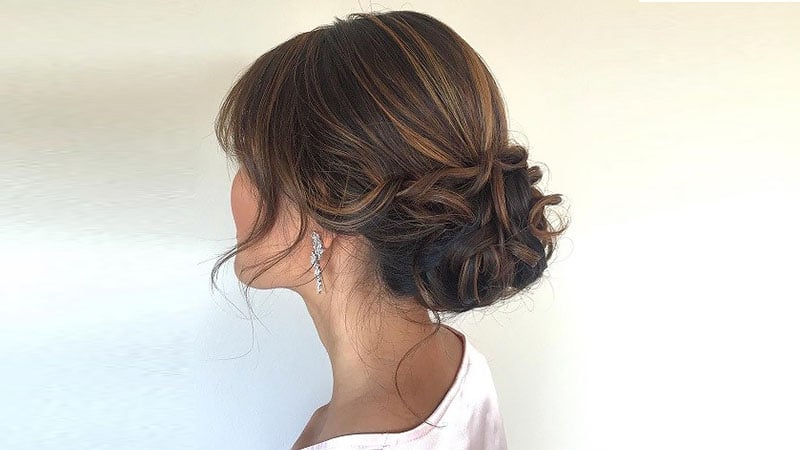 Medium Length Vintage Hairstyle
A timeless classic, soft vintage curls never go out of style. They can be easily dressed down for a more casual undone look or dressed up for a more formal style. For this look, invest in a good curling iron and sea salt spray. You will want to curl larger sections of your hair for a softer appearance. Of course, always allow your curls to cool down before running your hands through your hair. Finish with a sea salt spray to give your hair a little texture. This will help to achieve a longer lasting style.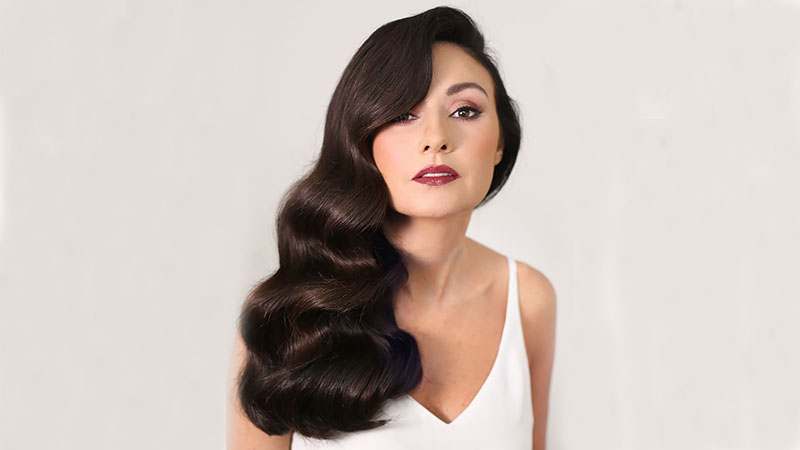 Prom Hairstyles for Long Hair
Long Braids
Braids give any hairstyle a romantic, boho feel. They're the perfect option for formal occasions when you don't want to spend money on having your hair styled by a professional. And, a braided hairstyle is easy enough that you can do it yourself at home! All you need are some bobby pins, hair ties and hairspray for hold. The beauty of a well-done braid is that it keeps your hair looking great all night long – no touch-ups necessary!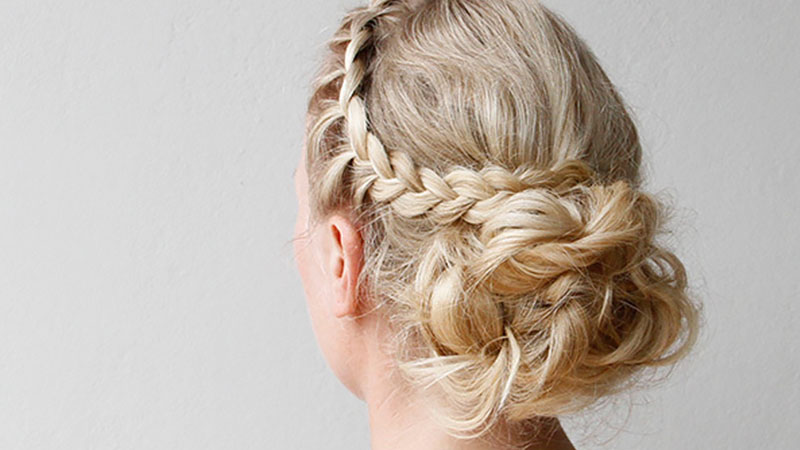 Long Updo
A romantic updo is an elegant and sophisticated hairstyle, making it a great choice for prom. Having your hair up and away from your face will show off your beautiful dress. Plus, it's a style that is easy to maintain all night long. Want to leave a lasting impression? Braids and twists are sure to make your updo stand out!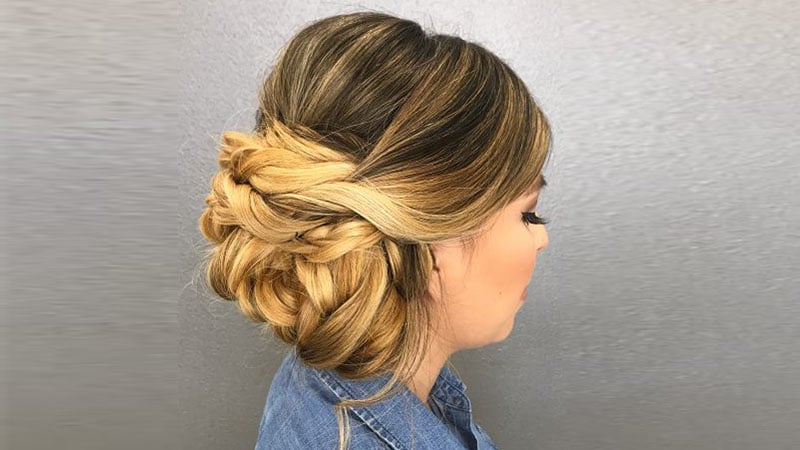 Long Half Up Half Down
If you want to keep your hair down, but would also like it pulled back and off your face, why not try a half up, half down style? This 'do is both elegant and easy to create. Starting with clean hair, style your locks with a round brush and finish with a curling iron to complete the look.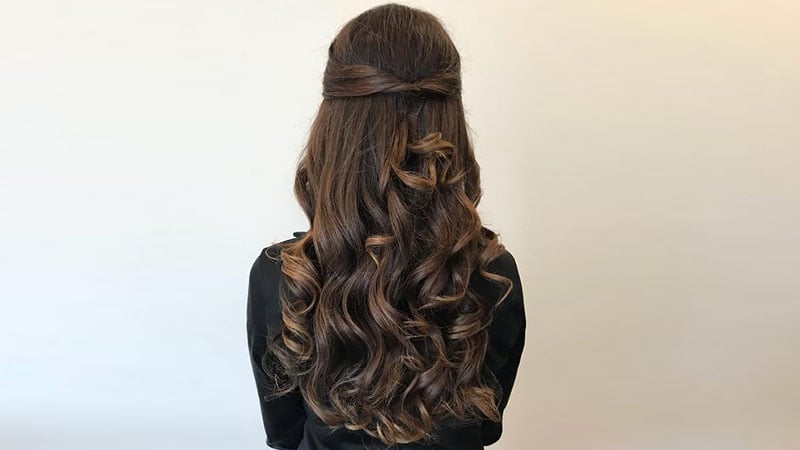 Long Ponytail
If you're not keen on wearing a traditional updo for prom, consider styling your hair in a glamorous ponytail. Add curls to a standard high pony and you will instantly feel the glam. What's best is this sophisticated style is simple and easy to create. For a 'do that is as secure as it is sleek, add some serum to your locks before finishing with some hairspray for hold.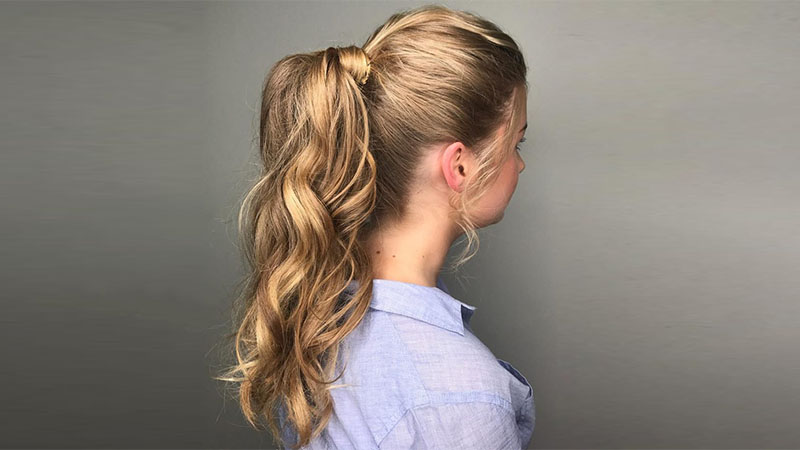 Long Side Part
Not into fussy hairstyles? Consider opting for a laid-back look instead. A simple side-part is incredibly versatile and oh-so-easy to style.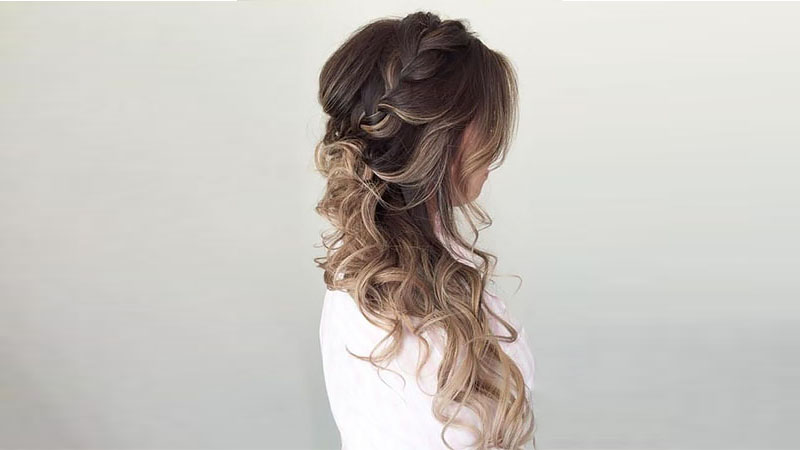 Long Bun
You can still get a salon-quality hairstyle without having to spend any money. A sophisticated low bun is one of the easiest styles you can create at home. To get this style, put your hair up into the nape of your neck and secure with pins. Leave a few strands of hair out for a softer, more elegant look.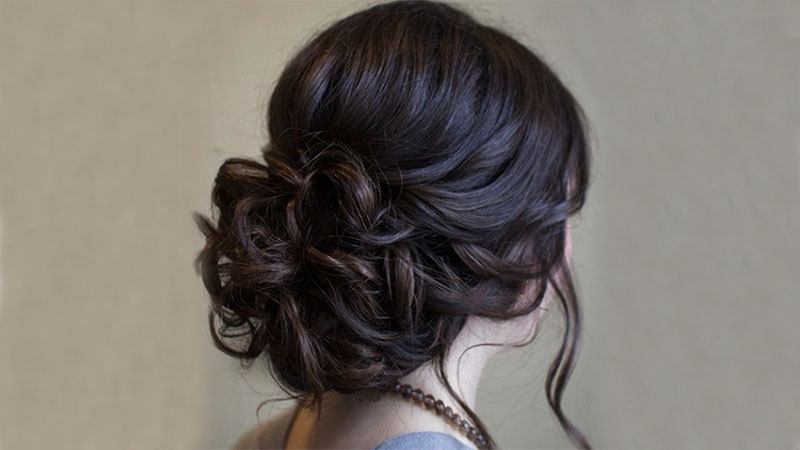 Long Curls
If your hair is naturally curly, make the most of it for your prom. A great way to do so is with loose curls. One of the most flattering prom hairstyles to date, this style is simple and ultra glamorous.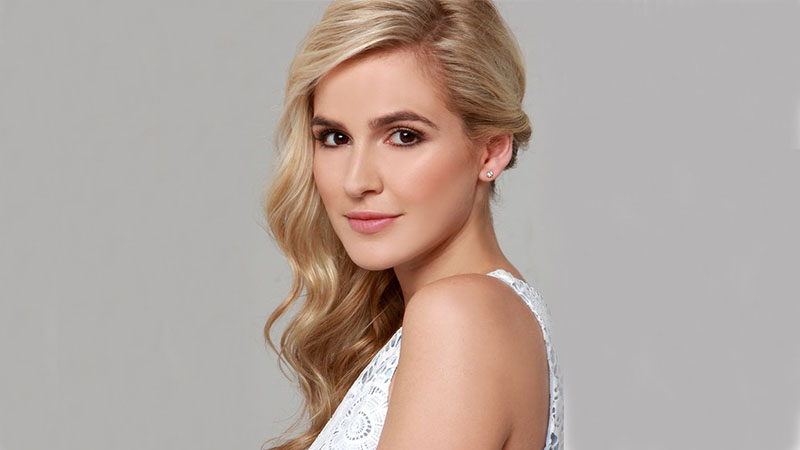 Long Straight Hair
Wearing your long hair straight and sleek is sure to turn heads, especially if it's full of volume and shine. For something that's even more eye-catching and bold, you can also add a sharp side part or a simple braid to your style.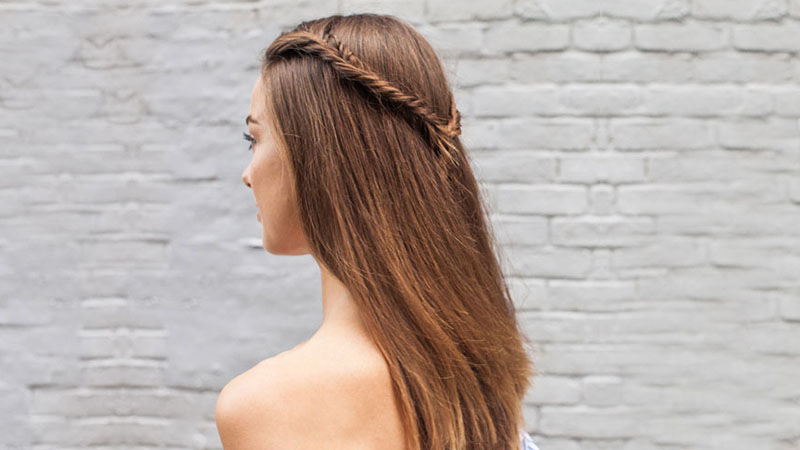 Long Hair with Bangs
Never underestimate the power of a face-framing fringe, especially on long locks. A smooth, straight fringe adds sophistication to long, textured locks. This style is a terrific choice for a formal occasion like prom.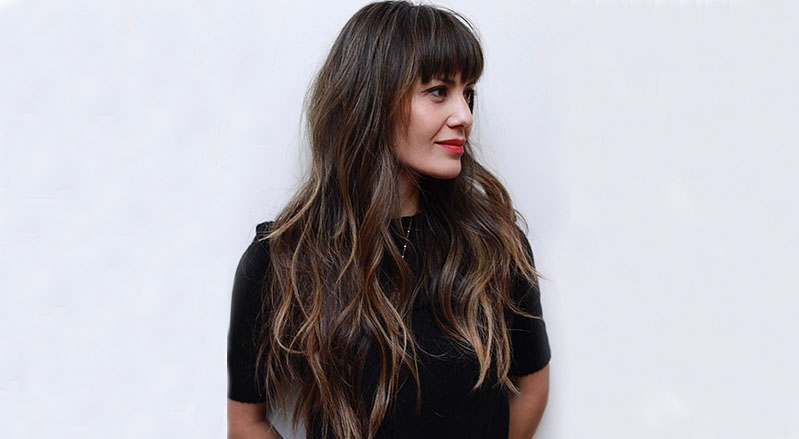 Long Easy Hairstyle for Prom
After a fuss-free hairstyle for prom? Why not try relaxed waves! This low-maintenance 'do is a stunning option for laid-back girls who don't want to spend money on getting their hair done at the salon. For this style, all you need is a blow dryer, some hair mousse and curling iron.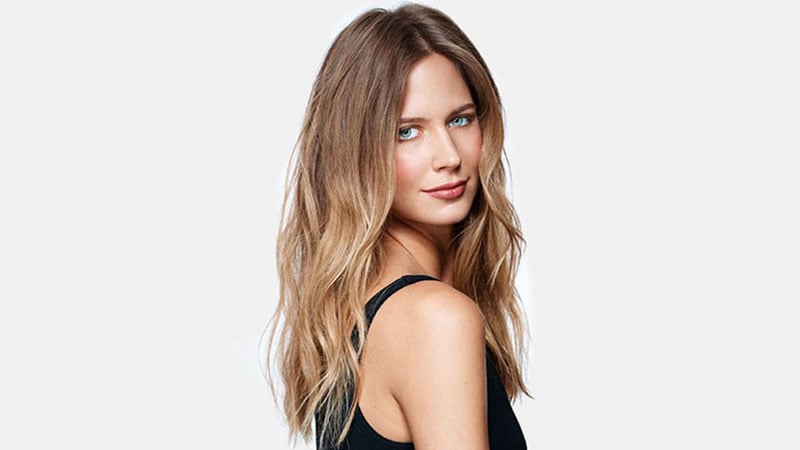 SUBSCRIBE TO OUR NEWSLETTER
Subscribe to our mailing list and get interesting stuff and updates to your email inbox.