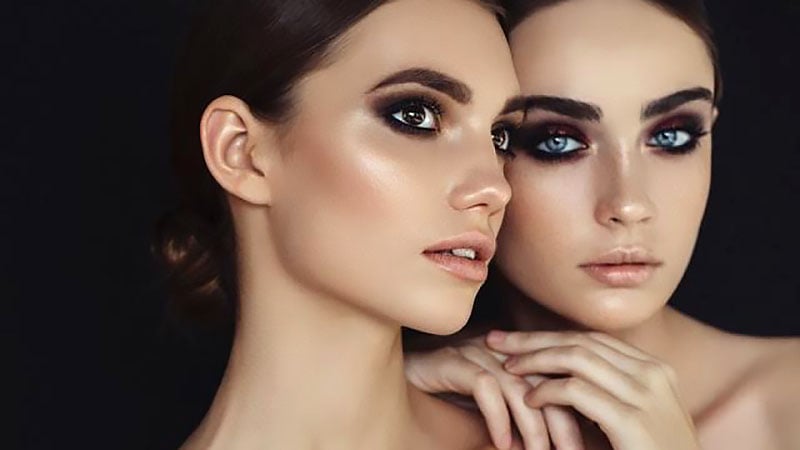 Everyone wants to look picture-perfect on prom night, and that means standout makeup. The ideal look should both complement your outfit and make your best features shine. For the more daring, this is a fantastic occasion to go big, bold, and creative. Think complex, Instagram-worthy eyes and dramatic lips. For others, it's all about taking their everyday aesthetic to the next level, turning a fresh, casual look into a glowing finish worthy of a formal occasion. Whatever your style, dress color, eyes, or skin tone, there's a stunning prom makeup look for you. Keep reading to get inspired for your big night.
1. Natural Prom Makeup
If your everyday style is relaxed, understated or beachy, natural makeup is an excellent choice for you. It is the 'me, but a better' style that uses subtle techniques to emphasize your best features. It's very comfortable to wear, and it will last all night, too. You won't have to worry about your false lashes falling off or your lipstick wearing away! Use foundation with a sheer coverage or opt for tinted moisturizer as your base, mixing in a little liquid highlighter for an extra glow. Very lightly contour the socket of your eye and your cheekbones, then add a sweep of brow gel and mascara. A semi-matte or velvet lipstick in the shade close to your natural lip color completes the look.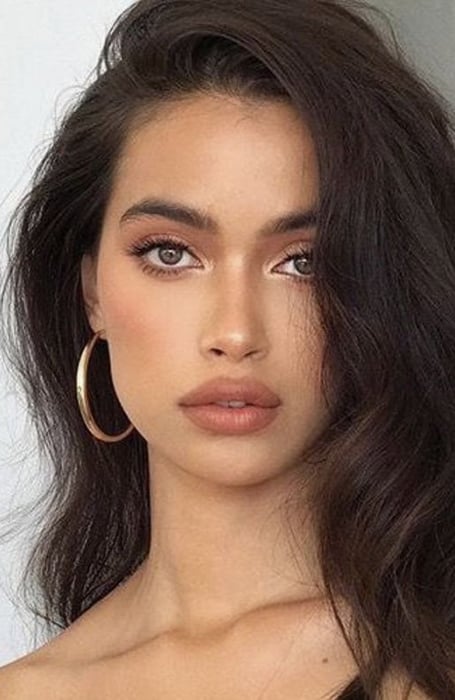 2. Simple Prom Makeup
This makeup is super cute and youthful and goes with a fun, flirty dress style. It's only slightly more complicated than everyday makeup, and because the eyeshadow and lipstick tones match, you don't need to overthink it. Start with a natural matte foundation, add some bronzer, and fill in your brows. Next, are some peachy shadow and matte liquid lipstick. The final step is to curl your lashes and add lots of mascara. For an extra touch of glamour, add some extra feathery false lashes.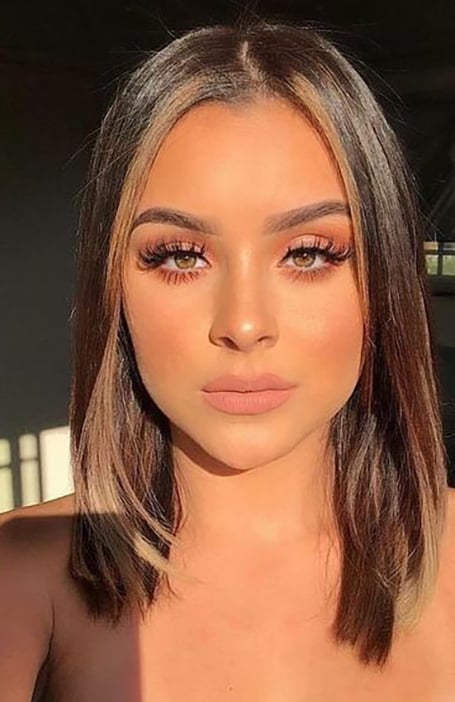 3. Prom Makeup for Dark Skin
Dark skin tones are the ideal canvas for the boldest pigments, so prom is your time to shine! Ladies with this complexion can go for more editorial-inspired looks without it seeming 'too much'. Try a gold shadow with plenty of shimmers, adding bronze and brown tones to give dimension. Add black, winged eyeliner and a vibrant red lip for a glamorous finish. When it comes to foundation, your face will be a few shades lighter than your body so match to your chest instead of your jawline.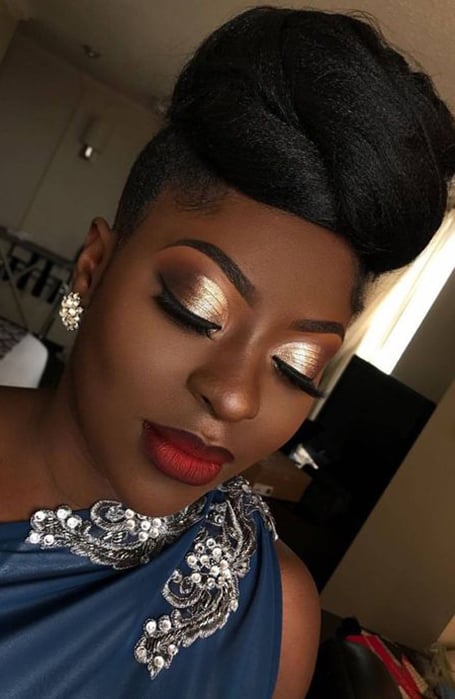 4. Smokey Eye Prom Makeup
Is there any prom makeup look more classic than the smokey eye? Give it a modern update by incorporating some metallic shadow – lilac is a huge color trend. The key to achieving a perfect smokey eye is working with your natural shape. Concentrate the darker colors at the lash line and the outer third, with the lightest tones on the inner corner. It gives your eyes a sexy feline shape without making them look smaller. When it comes to applying false lashes, choose ones that are longer and thicker at the ends, which will amplify the smokey shape. To keep the focus on your eyes, add a subtle lipstick close to your natural tone.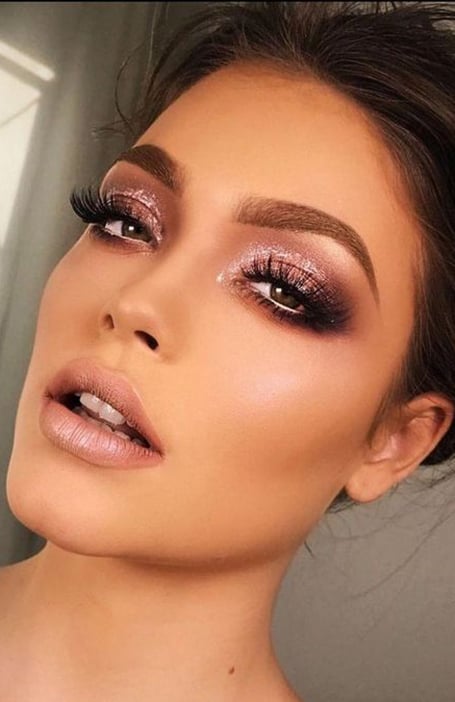 5. Gold and Rose Gold Prom Makeup
Rose gold and gold have been popular trends in the jewelry world – particularly for summer – and it's no different when it comes to makeup. If your skin's undertone complements these metals, this makeup look will work for you. Try a halo eyeshadow with gold lids blending out into rose gold tones. It will have the added effect of contouring your eyes. When it comes to blush, it's all about flushed rosy tones with a light-catching sheen. A matte lipstick with a matching rosy shade will bring out the pink tones in the rest of your makeup.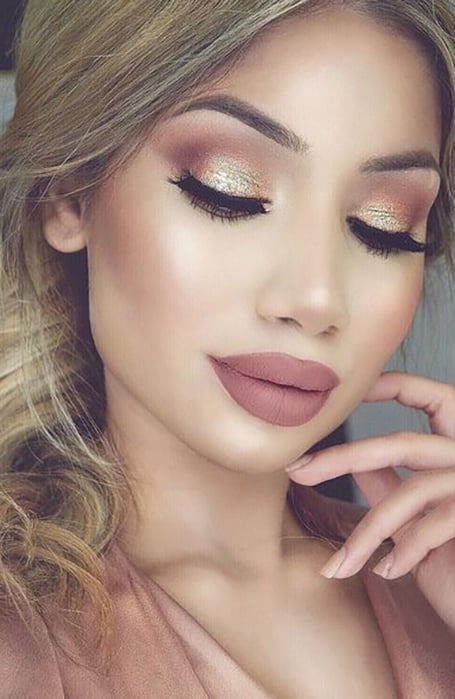 6. Pink Prom Makeup
Pink prom makeup is a favorite because it's pretty, feminine, and versatile. When it comes to one color, be sure to vary the tones, so it doesn't look too flat. A shimmery pink highlighter on your eyes' inner corners will make them look more open, while deeper shades on the outer third keep it glamorous and suitable for an evening event. Similarly, darker pink lipstick with a touch of shine will ensure your makeup looks elegant, rather than casual.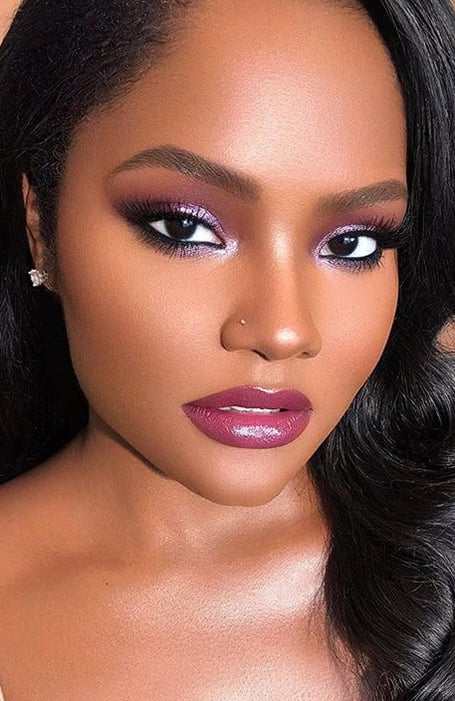 7. Asian Prom Makeup
This look is all about balance, as flawless skin and subtle eyes allow the standout lip color to shine. A glowing, blemish-free, and dewy complexion has been a massive trend in Asia for years. Make sure you keep your skin in good condition and use a super moisturizing, illuminating foundation when it comes to your prom makeup. To accentuate almond-shaped peepers, line the outer half of the top lashes with a dark brown pencil, thickening as you get to the end. It makes the eye look longer and more feline. A dark liner in your waterline will make your eyes look smaller, so leave your lower lashes alone. Finally, apply a deep berry or wine lip stain for a long-lasting pout that turns heads.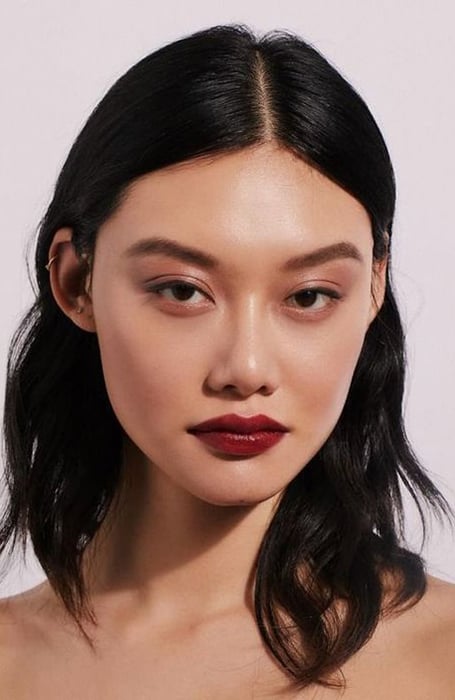 8. Prom Makeup for Blue Eyes
When it comes to making blue eyes pop, orange-bronze tones are favored by makeup artists. It is because blue and orange are opposite each other on the color wheel, so they naturally complement each other. Diffuse the shadow all around your peepers to make the ocean hues stand out. A sweep of salmon-pink blush can also help to bring out your blue eyes, while brown eyeliner ties the look together. It is because a black liner can look a bit too stark against blue eyes and distract from or compete with them.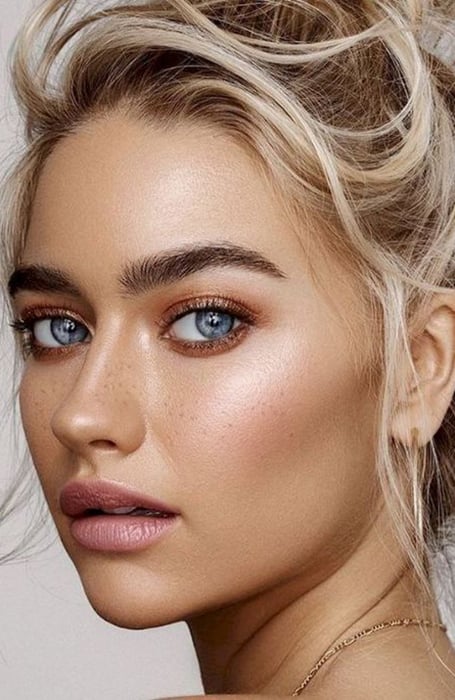 9. Prom Makeup for Green Eyes
Because of their striking color, green eyes can stand up to bold hues. Play into your peepers' forest tones with emerald eyeshadow and blue eyeliner. Create a smokey look blending these cool hues, and add a black eyeliner in your waterline to complete the dramatic effect. However, don't go too heavy on mascara – the deep colors of the shadows will naturally draw attention to your eyes and make your lashes look thicker. To keep your green eyes the focus of the look, opt for a nude lip and skip the blush.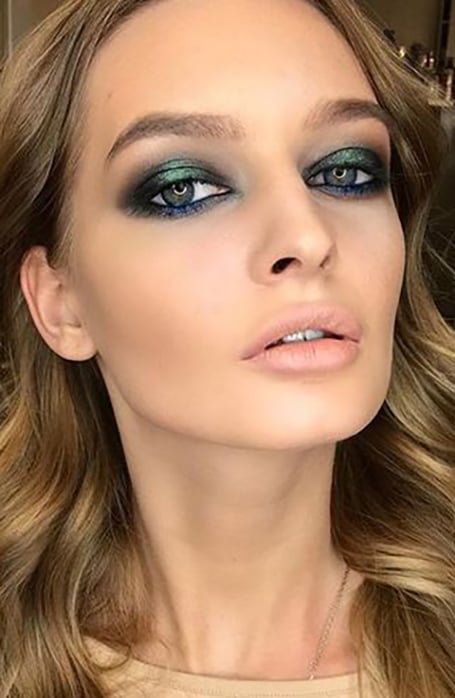 10. Prom Makeup for Brown and Hazel Eyes
Complement the chocolatey hues in your brown or hazel eyes with equally vibrant shades of chestnut, cocoa, and topaz. These will deepen your eye color and give a sultry, mysterious effect. Use black eyeliner on your top and bottom lash lines to emphasize the shape of your eyes, so it doesn't get lost in the darker eyeshadows. Finally, balance this elegant after-dark look with a bold, graphic brow.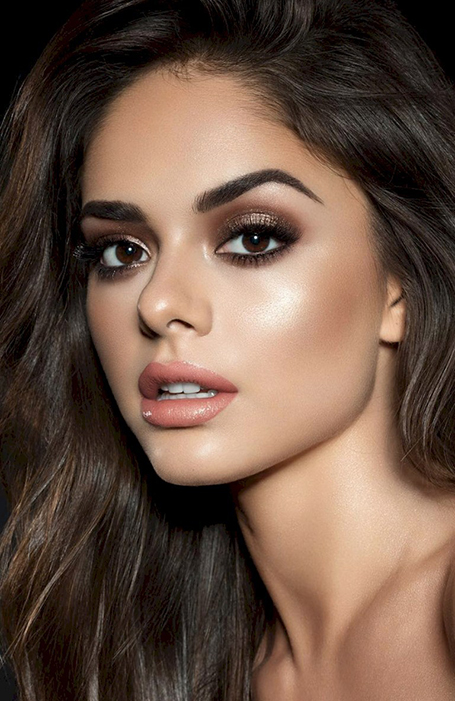 11. Prom Makeup for Grey Eyes
Smokey silver makeup is super flattering for grey eyes. This eye color is striking on its own, but when paired with the right shadows, it can look even better. Metallics bring out the lighter, icy hues in grey eyes, while black and dark grey offer a stunning contrast effect. Add lots of eyeliner and two coats of mascara to emphasize your peepers. As with most bold and dark eyeshadow looks, it's best to keep the rest of your makeup neutral, so it doesn't distract from the main event!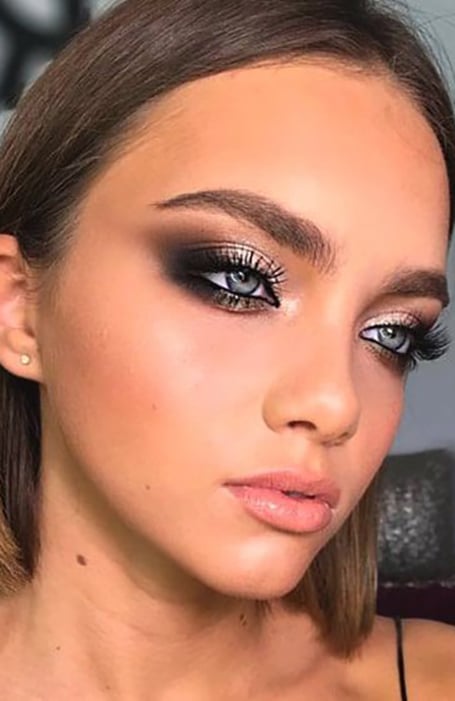 12. Prom Makeup for Black Dress
A black dress is an old-school, failsafe prom choice – so why not choose makeup to match? A dark outfit calls for a dramatic, femme fatale look. The classic option is a razor-sharp black winged eyeliner to give your eyes a feline edge. It works best on those who have almond-shaped eyes naturally, but you can create the same effect by changing up the angle of the point. Groomed brows are a must, while a deep burgundy or dark berry lipstick is the elegant finishing touch.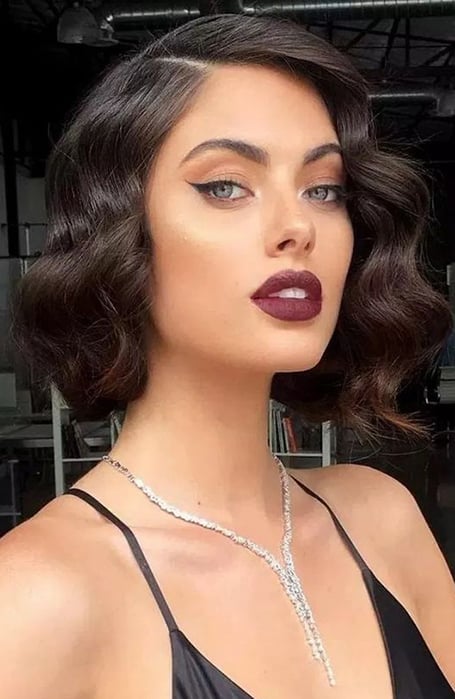 If you're looking for a reason to go all out with your makeup, why not choose prom? Co-ordinate your blue dress with blue accessories and even blue makeup! Oceanic eyeshadow is a catwalk staple at Fashion Weeks around the world – and it's not hard to see why. It is a dramatic, scene-stealing color that commands attention. Keep it intense with a matte shade – adding a little complimentary brown in the crease to give your eyes dimension – and black winged eyeliner. If you're going all out, add a matte liquid lipstick in a pinky-brown hue and an ultra shimmery highlighter.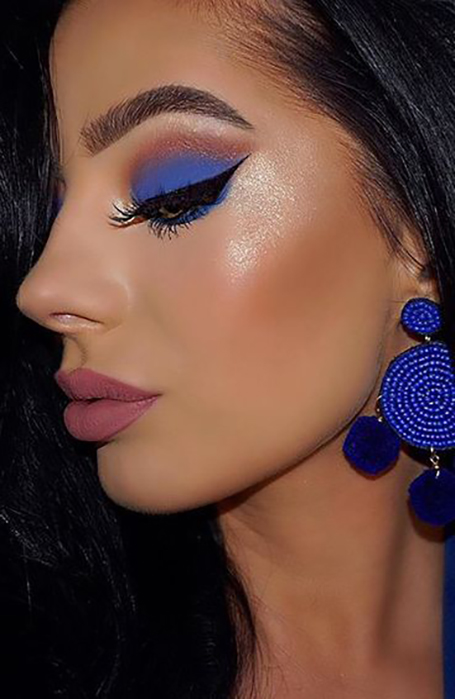 14. Prom Makeup for Pastel Colour Dress
The softness of a pastel dress calls for an equally soft makeup. Choose understated shades that subtly contour your features, then add a summer glow with a highlighter. A little on your inner eye corners will make your eyes look bigger and give you a 'lit from within' look. Meanwhile, a little on the tip of your nose and Cupid's bow will draw attention to the center of your face for a flattering finish. Finally, add an on-trend slick of lip gloss and a fresh peachy blush.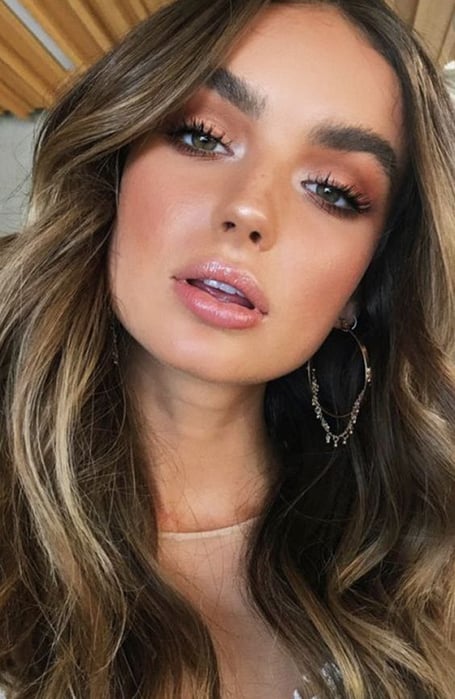 15. Prom Makeup for Green Dress
Emerald green is a stunning prom dress color and looks particularly beautiful with dark hair, eyes, and skin tones. Let this elegant hue do all the talking and pair it with simple yet chic makeup. As with any dress color that's on the deeper end of the spectrum, you'll need to balance the solid mass of color by drawing the eye up. That doesn't mean going overboard with your make-up – focus on your brows and eyeliner. A heavy wing paired with a nude lip is the ultimate way to complement this dress.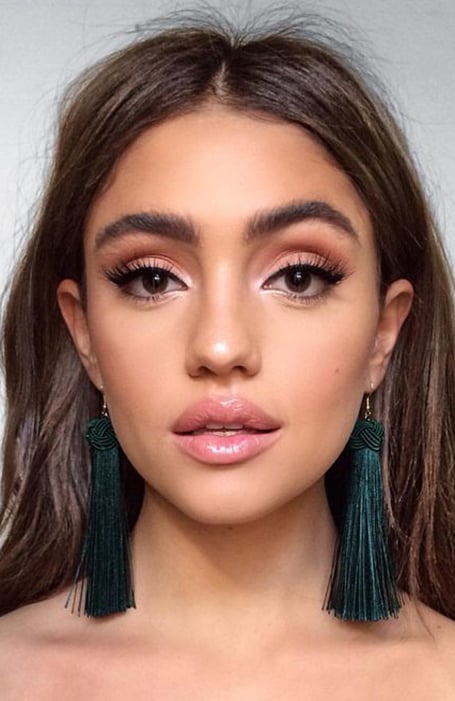 16. Prom Makeup for Red Dress
Bombshell alert! Some might say that red with red is too much – but there's nothing wrong with going bold for your prom. After all, it's a night to remember. When choosing your lip color, try to get as close to the tone of your dress as possible. This red should complement your skin's undertone: cool should opt for a blue-toned true red, while warm should opt for more orange-red or pink-red. With all the attention on your pout and your dress, you can keep the rest of your make-up simple but glam, with black eyeliner and lots of mascara.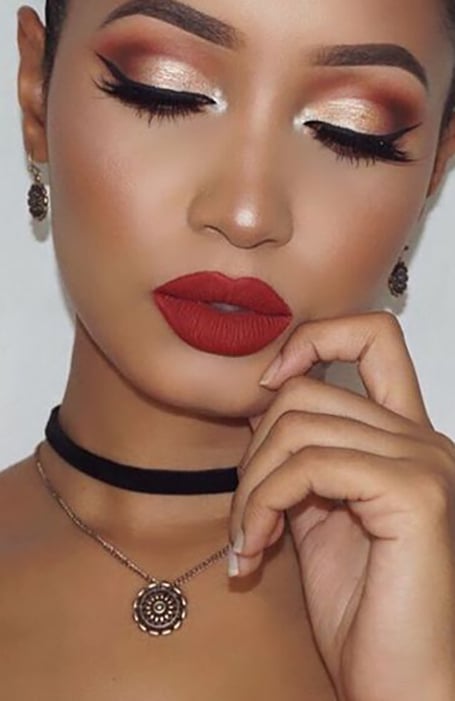 17. Prom Makeup for White and Cream Dress
White and cream dresses will make you look angelic, so your make-up should match! The key is not to seem too bridal – you still want a fresh, youthful vibe for your prom. Mauve and rose tones will draw attention to your best features, like your eyes and lips, while adding a touch of glamour. It isn't a natural make-up look; therefore, you can add some extra depth to your eyes with deeper shadows and an ultra glowy highlight.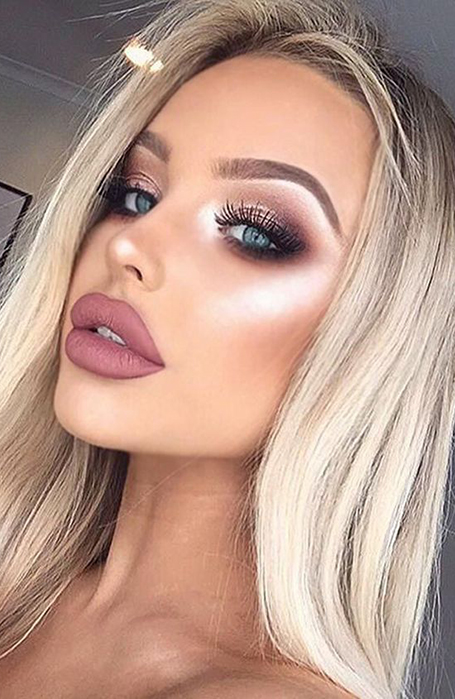 18. Prom Makeup for Purple and Burgundy Dress
It is another dress color that looks beautiful when paired with matching make-up. Don't worry about seeming too overdone – the vibrant purple and burgundy tones in your lipstick, eyeliner, and eyeshadow will balance out the solid hue of your dress. This make-up look is particularly flattering if you have dark eyes and hair and a medium complexion. That's because it makes warm tones look even warmer and richer.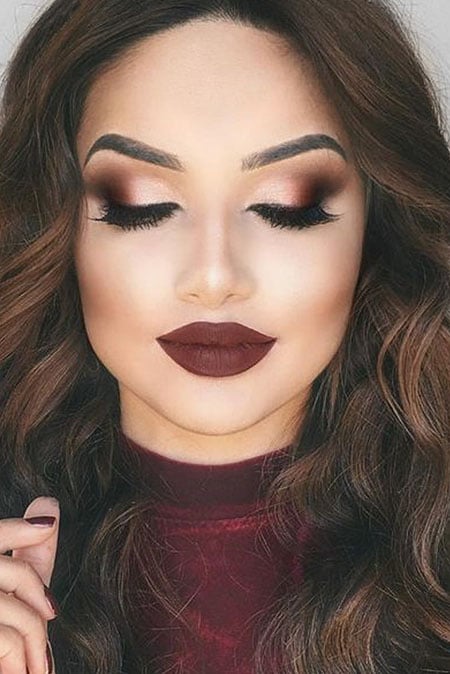 Prom Makeup Ideas
Take your natural look from day to night with contouring techniques that enhance your features
For a classy and elegant look, go for winged eyeliner, a smokey eye, or a bold red lip
Choose the makeup that brings out the color of your dress
Make a statement with your lipstick and shadow – it's all about balance!
FAQs
What makeup should I wear for prom?
Choose makeup that suits your skin tone and that ties in with your outfit. You can tone it down with a more natural look or take the opportunity to go bold and glamorous. Whatever you choose, you just want to make sure you feel comfortable and happy. Try doing a trial run to make sure your expectations meet reality. Also, remember that you're young, so embrace your natural glow and youthful skin while you can!
How do beginners do prom makeup?
If you're doing your own makeup for prom, but are a beginner, try to keep it simple and natural. Use a good primer, concealer, photo-friendly foundation, blush, eye makeup, brow pencil, smudge-proof mascara, and finishing spray. There are many great tutorials on YouTube with excellent tips and tricks — just don't let yourself get overwhelmed. There's no need to worry about crazy contouring or using three different highlighters and seven different eyeshadows. Simple is better as there's less to mess up, and your skills will develop over time with practice.
How long does it take to do makeup for prom?
Give yourself an hour to do your makeup; that way, you have plenty of time and aren't stressing. You'll be less likely to mess up and you'll enjoy the process a whole lot more.
How do you stand out in prom?
Let's be honest; everyone at prom is going to be looking incredibly beautiful and glamorous. As such, the best way to stand out at prom is to relax, be confident, and have fun. Doing this will ensure you're radiating a happy, positive energy that draws people in. Plus, it means you'll be smiling in all the photos, even the candid ones.  
SUBSCRIBE TO OUR NEWSLETTER
Subscribe to our mailing list and get interesting stuff and updates to your email inbox.