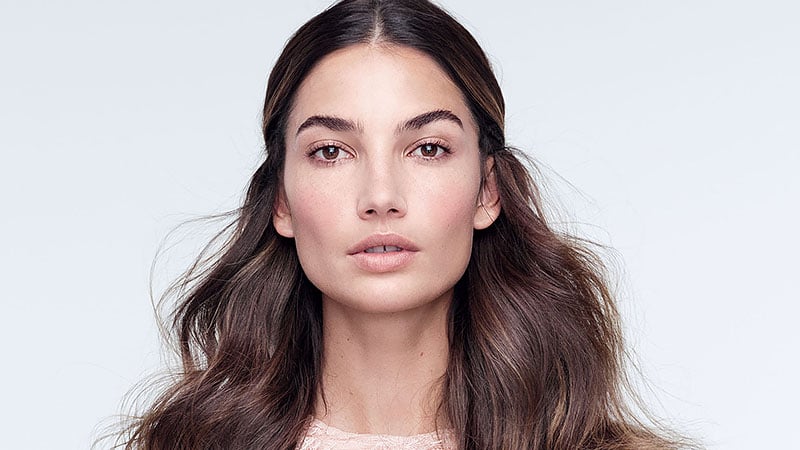 Beautiful hairstyles aren't always born at the salon. While your hairdresser may be a pro at creating intricate braids and buns that seemingly stay up on their own, nothing beats an easy hairstyle that looks much more difficult than it actually is. Whether you're off to a formal occasion or simply headed to work, these cute and easy hairstyles for long hair will surely draw compliments wherever you wear them.
RELATED: 40 Trendy Long Hairstyles for Women
1. Double Buns
Double buns are a super cute and girly hairstyle that can be created in several ways. Wear them high on the head, to the side, or low, and the look can be achieved by twisting the hair. You can opt for a deliberately unstructured, undone appearance or a neat, polished finish. You may also wish to leave a few strands of hair loose around the face, creating a framing effect.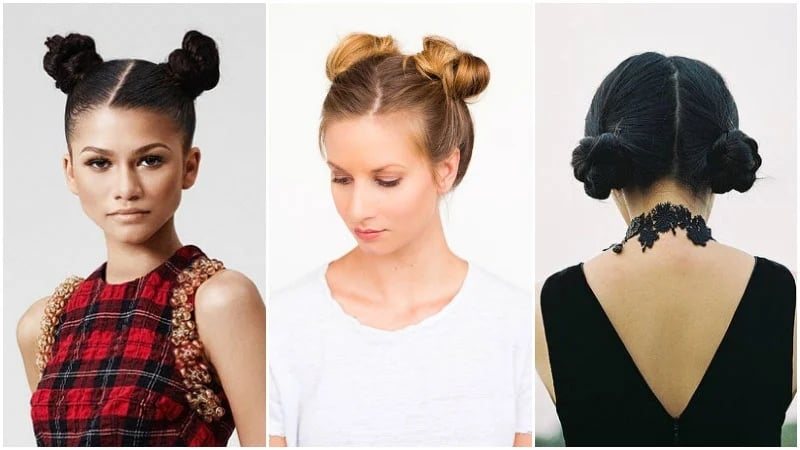 2. Twisted Bun
A twisted bun is an excellent alternative to the classic bun hairstyle created by incorporating twists into your look. You want to twist the hair on either side of the face and then pull it back into a bun. With long hair, you have a lot of versatility with styling, making this look easier to achieve. The great thing about pulling the hair back and away from the face is that it can achieve a more polished appearance, which is ideal for formal occasions or special events. You can pair it with a middle part to draw attention to the face and complement its symmetry.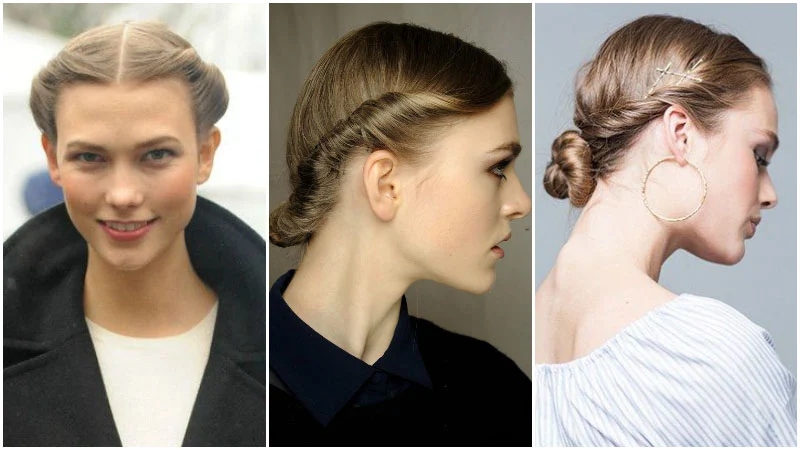 3. Low Rolled Bun
The low bun has a timeless look and is attractive to women of all ages. It is simple to achieve but looks incredibly stylish, creating a neat, polished look ideal for formal settings. It is also an extremely versatile look that works with all hair textures, although it will be easier to achieve a more structured appearance on straighter hair types. Long hair will make this hairstyle even easier to achieve. You can also leave a few strands of hair loose around the face to frame it, which is incredibly flattering.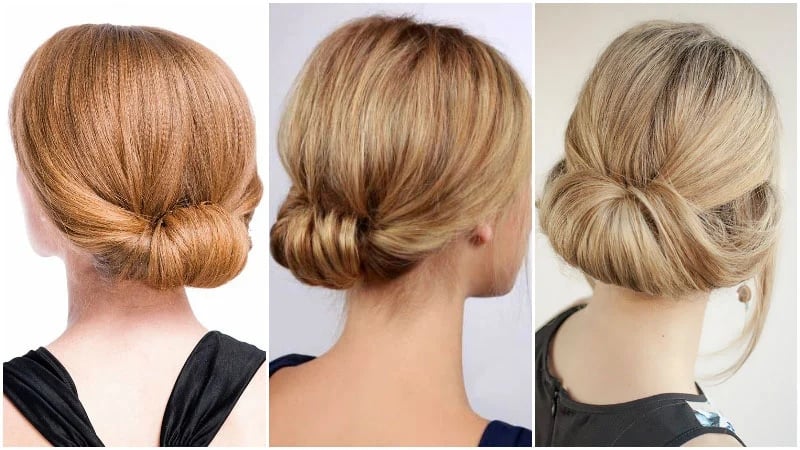 4. Half Bun
The half bun is excellent to wear with long hair because it allows you to show off your length while keeping the hair away from the face. The look is achieved by creating a half up half down hairstyle, pulling the hair into a simple bun. You can leave a few strands of hair to fall around the face to soften the features or pull it away completely for a sleek finish. You can also experiment with the bun, opting for a sleek, wrapped bun or creating a messy and unstructured appearance. Tie it with a hairpin, or opt for a 90s approach and secure it with butterfly pins or a large scrunchie.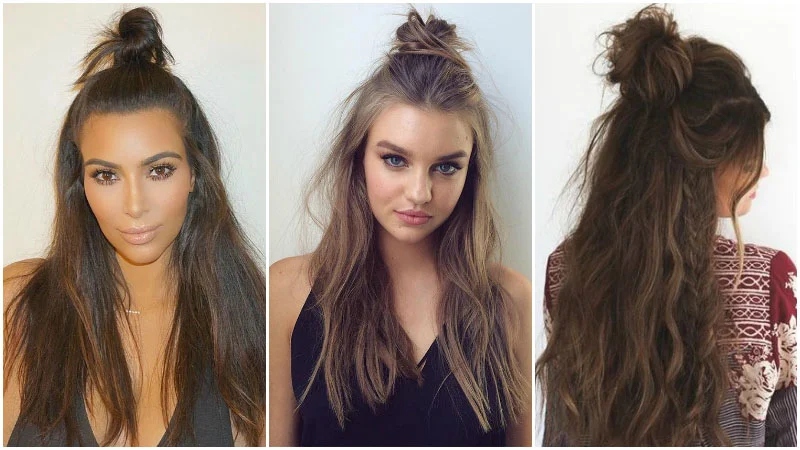 5. Twisted Crown
The twisted crown is ideal for achieving a pretty and romantic braided style. It wraps around the head, but it is created with twists instead of using a plait. The look is relatively easy to achieve and super feminine. You can leave the rest of your hair down to show off your texture and length or work all of the hair into an updo for a special occasion like an outdoor or rustic wedding. Long hair gives you versatility with how to wear the hair and makes updos effortless to do.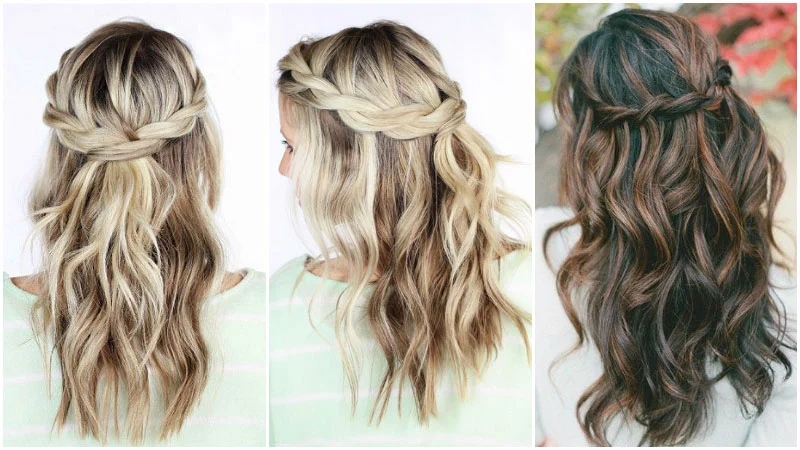 6. Flower Braid
Why not choose a flower braid for a fun, feminine braided hairstyle? This look is defined by the flower shape that the hair creates. Long hair is best for all braided hairstyles and updos because you have so much versatility, plus it is easier to braid longer hair. You can pull the hair back, away from the face, and focus the bun in the center, leaving the rest of the hair down for a half up half down hairstyle approach. This pretty option is ideal for special occasions and easier to create than you might think.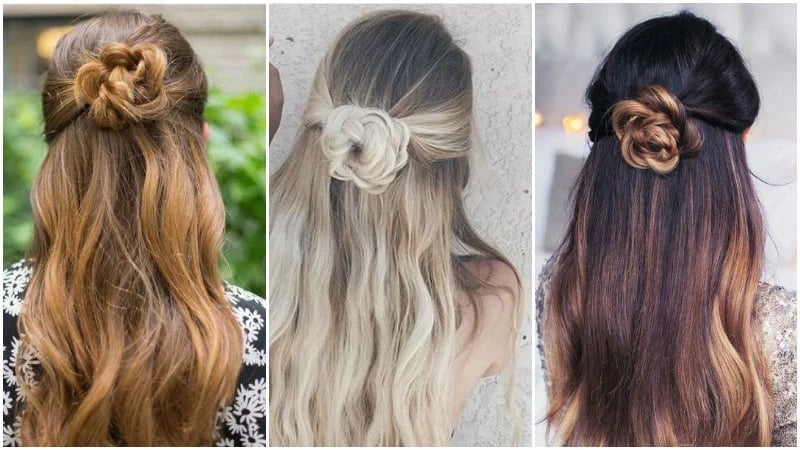 7. Beach Wave Curls
Beach waves are soft waves in the hair, making it look like you have just stepped off the beach. They have a slightly messy appearance and are a lovely way to show off your hair's natural texture. The waves will create volume and give the hair movement, which is incredibly flattering. This style is also complemented by balayage, creating a sun-kissed finish to lighten the hair and brighten your appearance. Style the hair so waves fall loosely around the face, creating a framing effect highlighting your features.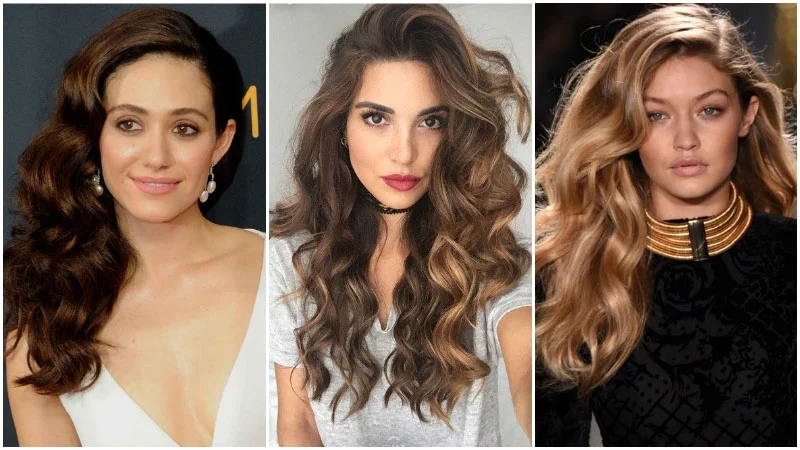 8. Straight, Sleek and Shiny
Straight hair is ideal for those who want to create a sleek and professional appearance. This neat and polished texture makes it ideal for formal occasions or special events. It is also a fantastic way to make your hair appear shiny and healthy. Long hair is incredibly versatile, and there are various ways to style it when it is straight. You could leave it down to show off the texture fully or opt for a high ponytail for a look that demands attention. It is also the perfect way to show off your makeup.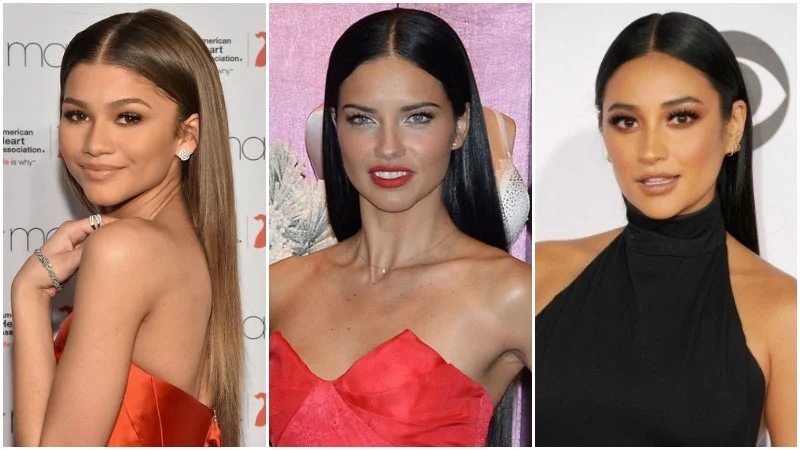 9. Rope Braid Ponytail
The ponytail is one of the simplest looks to achieve, but to create a look that is a bit more creative, why not opt for a rope-braid ponytail? The rope braid is achieved by twisting two strands of hair together, which resembles the appearance of a rope. You start by dividing the hair into sections, twisting it, and then styling it as desired. It is super simple and easy to achieve, requiring minimal effort and styling time but producing an ultra-chic hairstyle.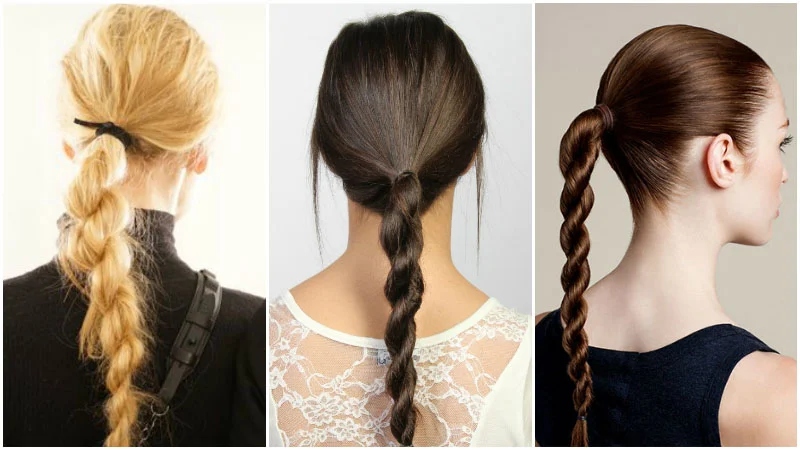 10. Super Simple Beach Waves
Beach waves are great for achieving a texturally interesting and carefree finish, and they can be as defined or as simple as you wish. For an effortlessly cool and laid-back finish, you can opt for small waves which appear barely there or more defined ones. They are easily achieved on long hair and work best with naturally textured hair types; however, the right tips and tricks and styling products can help you achieve the wavy hair of your dreams!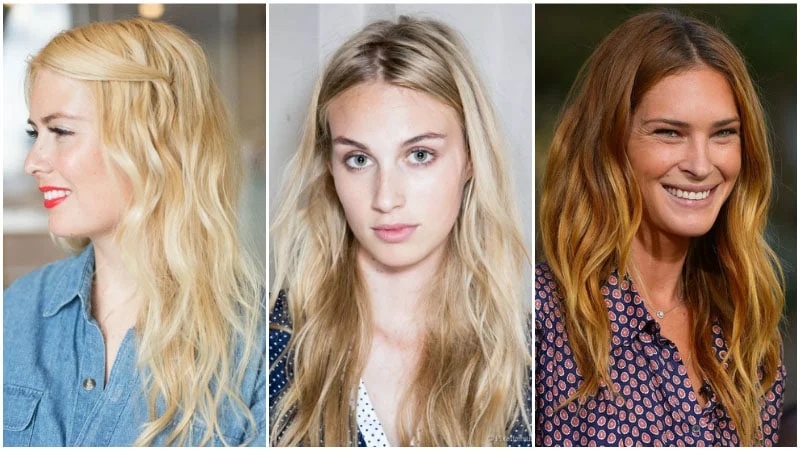 11. Space Buns
For a youthful and girly finish, you need space buns. They are one of the most fun ways to wear hair and can be achieved with minimal effort. The look is defined by a bun on either side of the head, but you can experiment with the finish, opting for high or low buns and different thicknesses. It is a look that will complement all hair textures and can be personalized with your choice of hair accessories; scrunchies will give you a 90s appearance and give your hair a pop of color. Space buns are ideal for festivals, beach days, and going about daily errands and are a great way to style your long hair.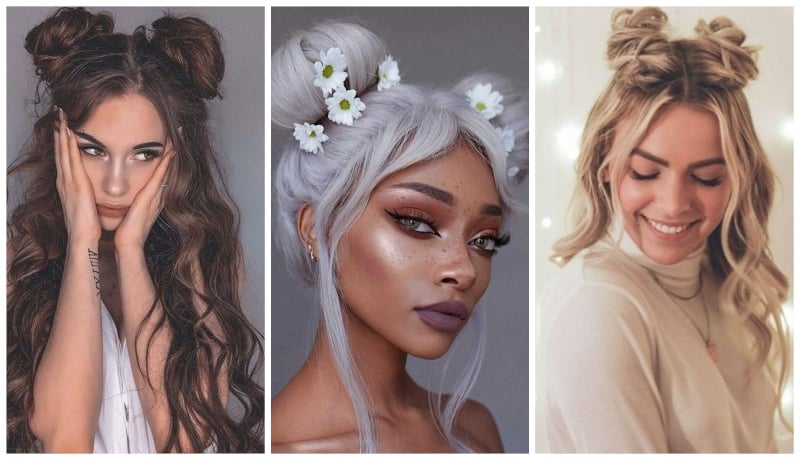 12. French Braid
French braids are one of the most common braided styles and are ideal for long hair because the length lets you show off the braided pattern. A French braid is achieved with the overhand braiding technique and appears smooth and flat. Another defining feature is that it starts at the crown of the head. There are various ways to style your braids, and they will work well with most hair textures; the curlier your hair, the more unstructured and messy the braids will look, but this can also be part of the appeal for a laidback aesthetic.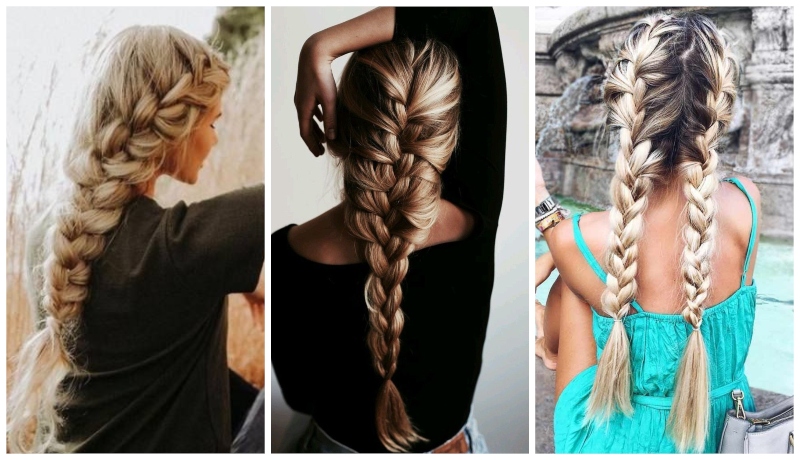 13. Dutch Braid
The Dutch braid is a three-strand braid created using the underhand braiding technique. It is a cute and fun style that can be created with most hair lengths, but you have the most styling opportunities with long hair. The braids appear raised, making them easy to notice and incredibly stylish. There are several ways to style them, including with a braid on either side of the head, highlighting the length of the hair. The braids can be adapted to suit your preference and can be styled with accessories of your choice, including ribbons for a girly finish.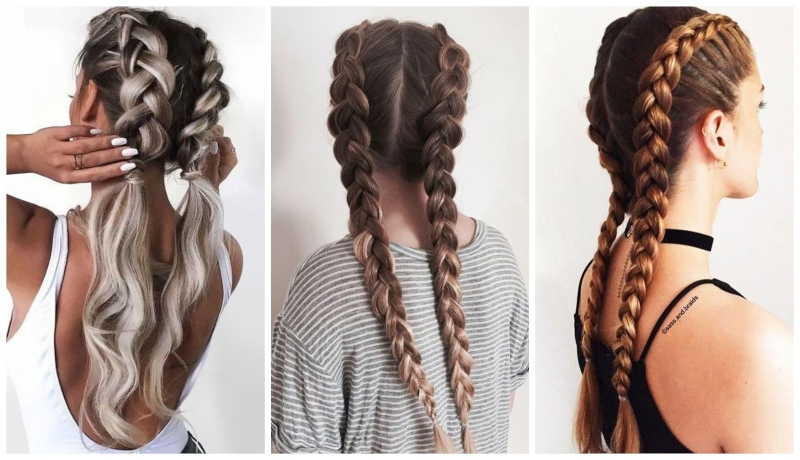 14. Fishtail Braid
The fishtail braid is created by weaving two strands; it looks similar to other braided techniques, but the defining feature is the two strands instead of the classic three. The braid is especially suited to long hair, which lets you show off the pattern. It is also much easier to braid than shorter hair. The fishtail braid is perfect for special occasions like weddings or proms, and the braid has a romantic appearance. You can also create a softer finish by styling the hair so that a few strands fall around the face, framing it.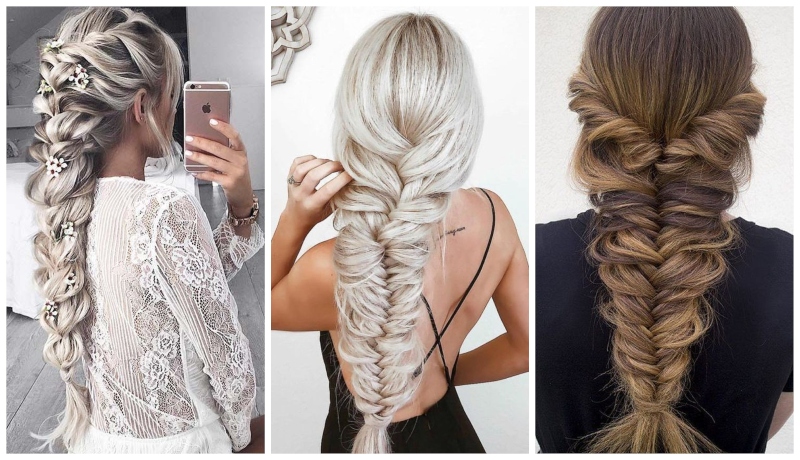 15. High Ponytail
The high ponytail is a look that is all about drama. Long hair will be even more noticeable because it sits high on the head, with length in the back. This effortlessly chic style makes an impact and looks best when all the hair is pulled away from the face. All hair textures can be pulled into a high ponytail, but it looks most effective with straight, sleek hair to create a polished finish.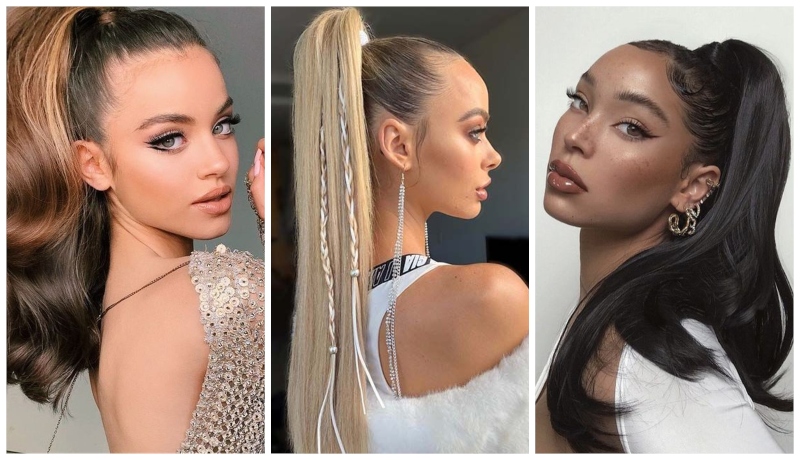 16. Low Ponytail
The low ponytail is ideal for those wanting a more relaxed and carefree finish. Long hair gives you versatility with styling, and there are many ways to wear your ponytail, but keeping it low is comfortable and casual. It is ideal for more informal settings and can be pulled away from your face to open up your features, or you can leave a few strands to frame the face and soften it. The low ponytail can be finished in several ways, including wrapping the hair around the elastic or adding elastics to its length to keep it in place and create a bubble braid.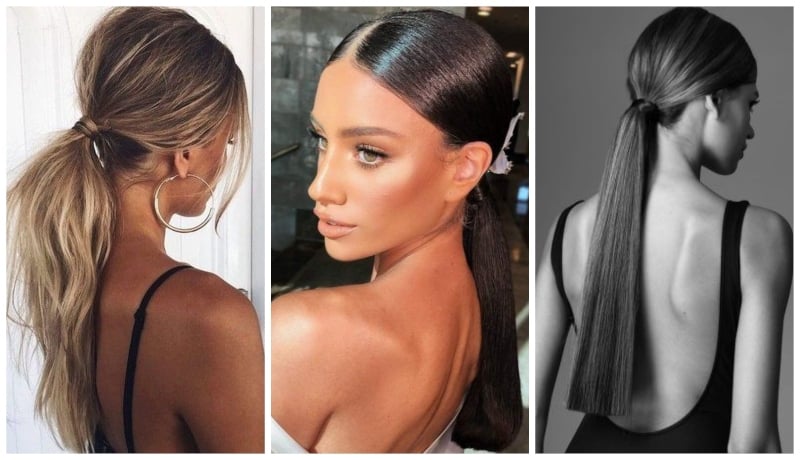 17. Half Up Half Down Hairstyle
The half up half down hairstyle is one of the most simple but beautiful looks you can choose. It can be created to look messy and unstructured or styled to appear neat and polished. It is also an updo hairstyle that works with all hair textures and types and is especially great on long hair as you have more versatility with your style. You can wear the hair in a braided style at the top for a more formal finish or pull it into a simple bun or ponytail. This is also a look that is great for showing off statement jewelry.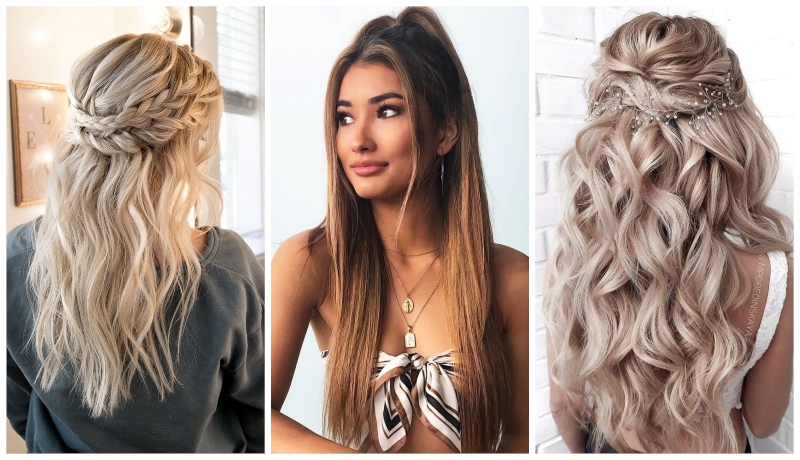 18. Vintage Hairstyle
You can take inspiration from the past with a vintage hairstyle, like glamorous curls for a sophisticated and ultra-feminine style. These large, defined curls will create a romantic appearance and can soften your features. Long hair gives you more versatility with styling, letting you pull the curls into a structured updo or opting to leave them loose, falling around your face and framing it. You can also add a personal touch with accessories, like a floral comb or bejeweled slides.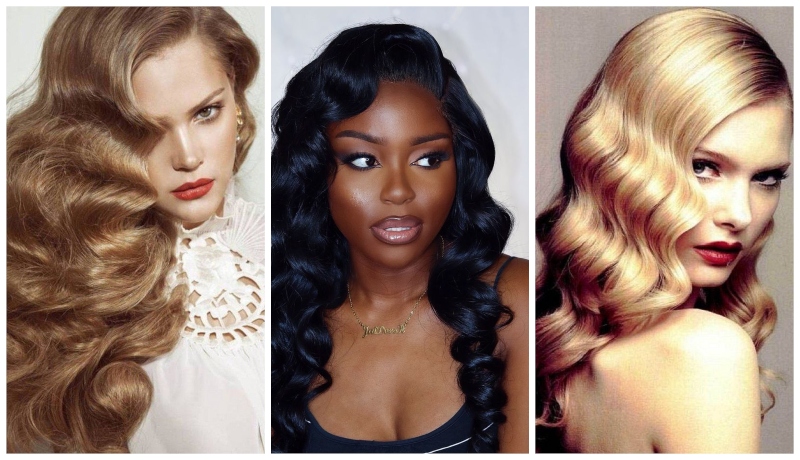 19. Box Braids
Box braids are a protective style that can be created short or long but will be more noticeable and have more drama when worn long. With long hair, they demand attention and look feminine and cool. The braids are sectioned into squares to achieve the look, giving them a boxy appearance. The style can last four to six weeks, depending on how you care for them, and are great for reducing grooming time and taking a break from heat styling. Box braids can also facilitate natural hair growth by reducing friction and preventing breakage.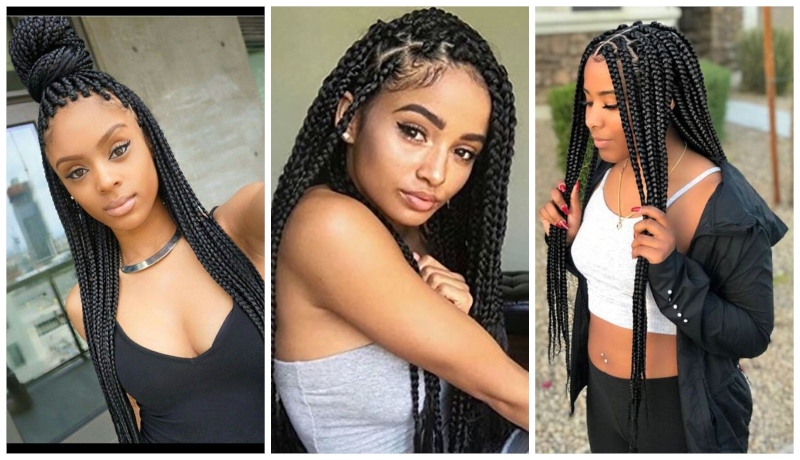 20. Crimped Hair
Crimped hair is an 80s hairstyle trend that has enjoyed a comeback, which is an excellent look if you have longer locks. The technique creates an unnatural appearance of waves with an angular Z pattern which gives the hair an unusual texture. It is a look that demands attention and will be especially noticeable on long hair, letting you create a mermaid appearance and really show off the length of your hair. You can experiment with how you add crimping to your hair, opting for a retro approach by adding it all over or focusing it on only a small section for a more wearable and versatile finish.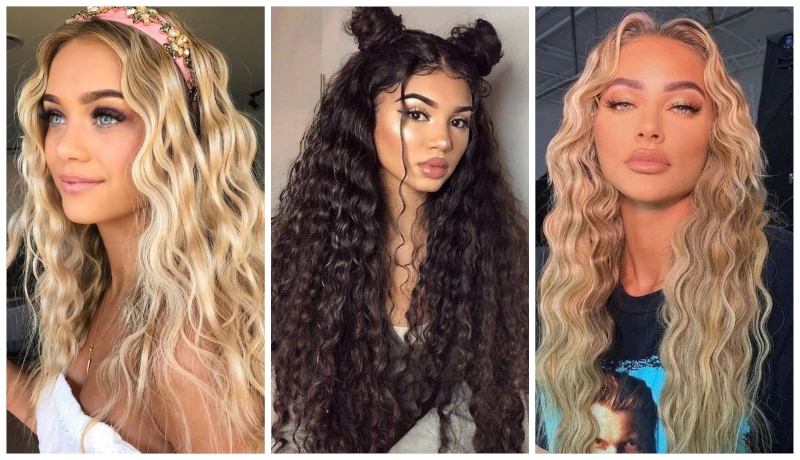 f
Easy Hairstles for Long Hair FAQs
Which is the best easy hairstyle for long hair?
Long hair looks great in so many ways. For an effortless look, let your locks flow free with soft waves or sleek straight strands. If you're after an updo, a half bun or low bun are cute, neat styles that don't put too much pressure on your scalp or take forever in the morning.
How can I style my long hair every day?
Great everyday styles include braids, low rolled buns, half buns, and loose locks. You want to mix up your styling so you don't put too much pressure on your scalp, causing traction alopecia. Plus, changing things around is the perfect opportunity to experiment with new looks and different techniques.
Is long hair classy?
Long hair is very classy, so long as you keep it clean and healthy. It's versatile and can be styled in so many ways, making it perfect for creative people. A good head of long hair is traditionally a sign of good health as well.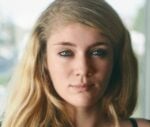 Cailyn Cox holds a degree in journalism and has been working with The Trend Spotter as a writer for over ten years. She has worked with some of the most prestigious women's and men's lifestyle publications. For her, writing is not just a job; it's a passion, which is why each article she writes is approached with such enthusiasm and dedication. She has extensive knowledge of hairstyles, tattoos, and beauty and has made a career out of creating informative articles that appeal to women and men of all ages.
SUBSCRIBE TO OUR NEWSLETTER
Subscribe to our mailing list and get interesting stuff and updates to your email inbox.