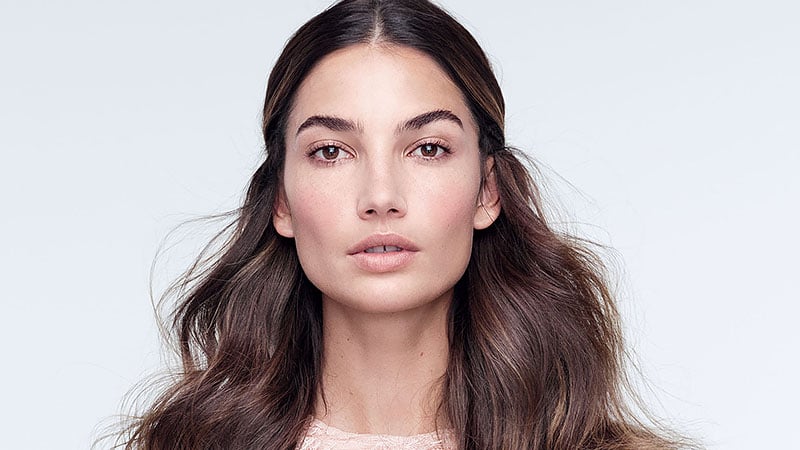 Beautiful hairstyles aren't always born at the salon. While your hairdresser may be a pro at creating intricate braids and buns that seemingly stay up on their own, nothing beats an easy hairstyle that looks much more difficult than it actually is. Here are ten easy and chic styles for long hair that you can create at home. Whether you're off to a formal occasion or simply headed to work, these styles are sure to draw compliments wherever you wear them.
Easy Updo Hairstyles for Long Hair
Having a set of easy and chic updos in your arsenal will always come in handy. From business meetings to weddings and even yoga class with that cute guy, these go-to styles have you covered for all occasions.
1. Double Buns
Forget about that messy topknot, this season is all about looking cool and cute with double buns.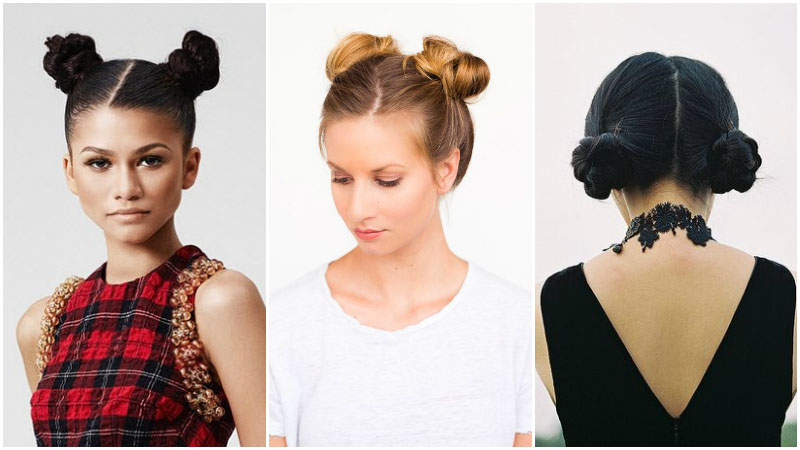 How to Create Double Buns
Start with clean, blow-dried hair.
Generously coat hair all over with a strong-hold hairspray, such as Moroccanoil Luminous Hairspray Strong Hold.
Brush through to smooth frizz and create shine.
Create a clear part that starts on one side of your forehead and moves across to the middle of your crown and straight down the back of your head.
Pull each side into a ponytail (either high or low) and secure with elastics.
Twist each ponytail along its length.
Wrap each twisted ponytail up around its elastic and secure with bobby pins pushed through the bun and into the ponytail base.
2. Twisted Bun
A twisted bun is a chic and easy up-do that's perfect for formal occasions. Make it as polished or relaxed as you like by twisting hair tighter or looser.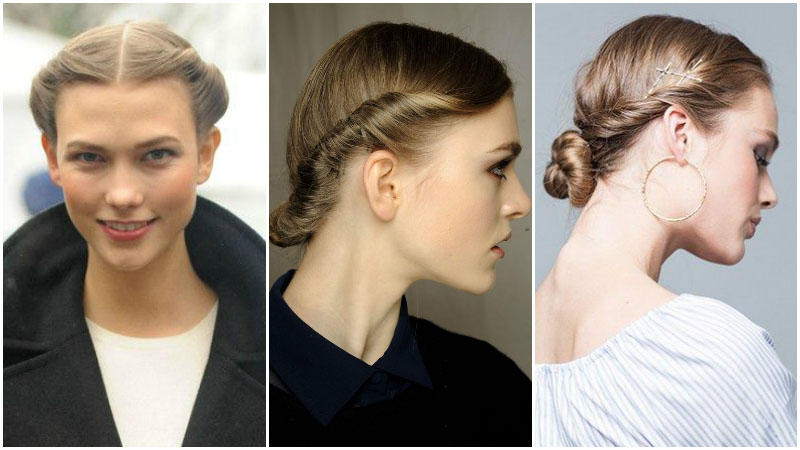 How to Create a Twisted Bun
Starting with a middle part, separate a section of hair on either side that's one-inch wide.
Twist each piece down and back, gathering all the hair around your face as you go.
Secure each twist with a pin at the nape of your neck.
Gather all hair, including the ends of the two twists into a ponytail and secure with an elastic.
Twist the ponytail before coiling it into a bun and securing with pins.
To keep the look polished, finish with a light spray of hairspray, such as Redken Triple Take 32 Extreme High-Hold Hairspray.
3. Low Rolled Bun
Formal events, such as weddings, demand a polished hairstyle. While other guests may spend hundreds at the hairdressers, you can save money and time by creating this chic, low rolled bun at home.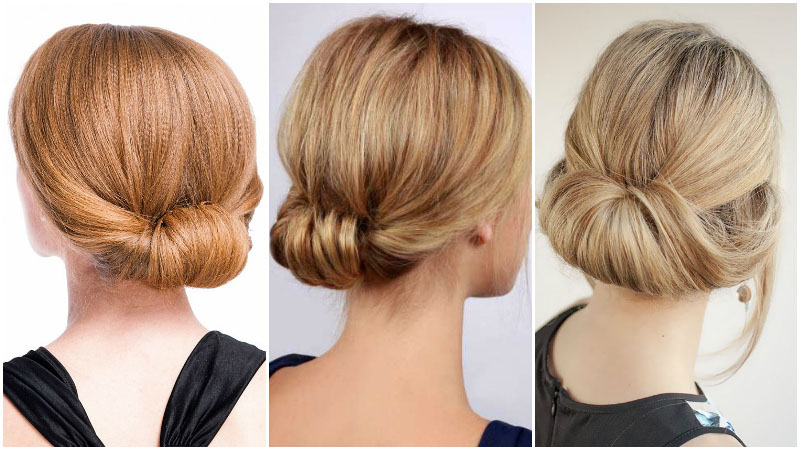 How to Create a Low Rolled Bun
After washing hair, apply an anti-frizz, heat-protector, such as Kerastase L'incroyable Blowdry and blow-dry smooth.
Pull hair into a low ponytail and secure with an elastic.
Lightly loosen the elastic and separate the hair above it into two even sections, leaving a small gap in the middle.
Pull the ponytail up and thread it through the gap. (It should now look like a ponytail with two twists above the elastic.)
Tighten the ponytail until the elastic is hidden.
Lightly backcomb the topside of the ponytail to add volume, leaving the underside smooth.
Pull the ponytail up and tuck the end into the gap to create a bun.
Secure with pins.
Half-Up, Half-Down Hairstyles
Half-up, half-down hairstyles are great for when you want the feminity of wearing your hair down with the polish of wearing it up.
4. Half Bun
A half bun hairstyle creates a chic, lazy-girl look. Perfect for casual occasions, this style looks best with thick, messy waves.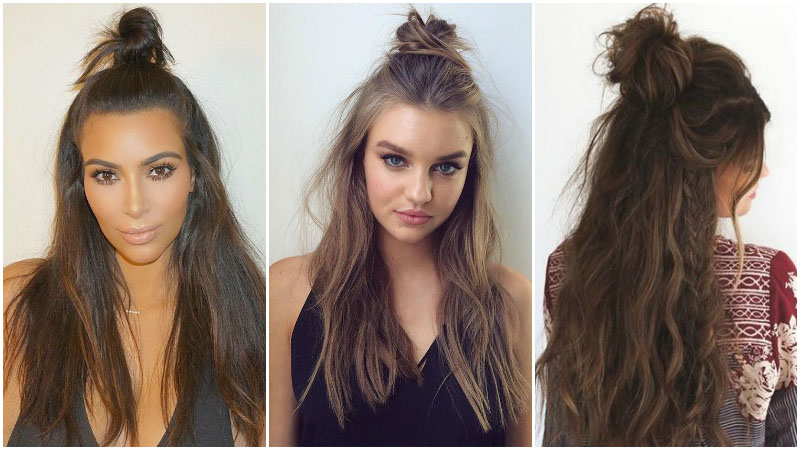 How to Create a Half Bun
Prepare hair by applying a volumizing or texturizing spray, such as Redken Beach Envy Volume Wave Aid, to damp hair before allowing to air dry.
Once dry, separate the top half of hair into a high ponytail, securing tightly with an elastic.
Lightly tease the ponytail at its base, near the elastic to create a fuller bun.
Twist the ponytail up into a messy bun.
Secure with bobby pins before pulling a few hairs loose.
5. Twisted Crown
This twisted crown hairstyle is absolutely gorgeous and perfect for outdoor summer weddings.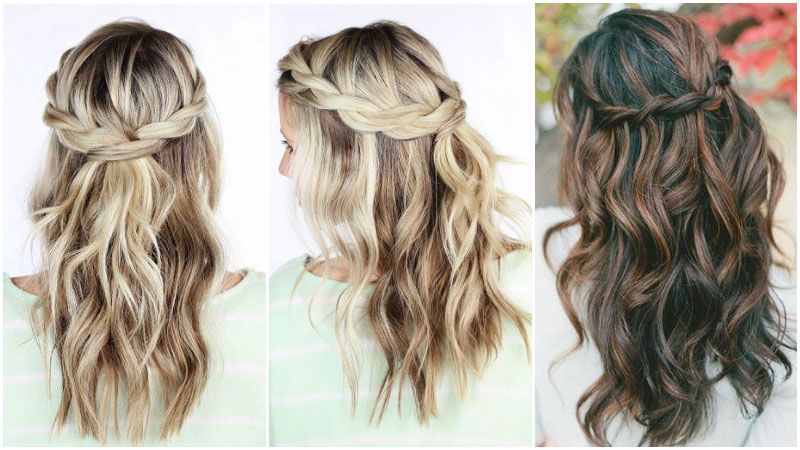 How to Create a Twisted Crown
Prep hair, by spraying damp hair with a texturizer, such as Ouai Wave Spray, and allowing to air dry.
Take a one-inch section of hair on one side of your part at the hairline, and split into two even pieces.
Twist hair loosely, moving around your head while adding a new piece of hair from above to each twist to create a braid.
Once you reach the back of your head, near the crown, stop adding pieces and complete the twist.
Secure with an elastic.
Repeat the process on the other side.
To combine the twists, use fingers to create a small gap in one at the point where the twist separates from the head.
Pull the other twist through the gap to create an 'X' shape.
Secure with pins.
Remove elastics and loosen twisted ends.
6. Flower Braid
This beautiful flower braid is simple at the front and detailed at the back.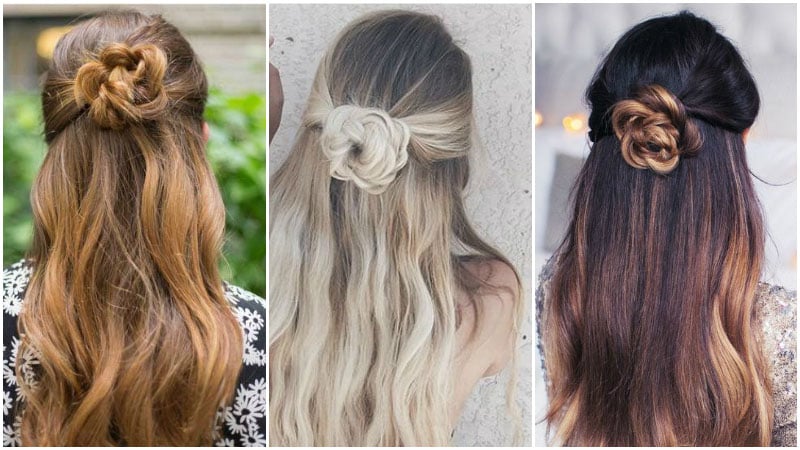 How to Create a Flower Braid
Start with smooth hair and create loose waves using a curling wand, such as the GHD Classic Wave Wand.
Gather a large section of hair on each side of your head, in line with your temples.
Pull each section back to create one ponytail at the back of your head and secure with an elastic.
Braid the ponytail down to its end.
Use hands to gently tug at sections of the braid to loosen it and make it appear more voluminous.
Coil the braid up around the elastic into a bun.
Pin securely against the back of your head.
Hair Down Hairstyles
Forget about spending money on a blow-wave, here's how to create stylishly loose hair at home with ease.
7. Kinky Curls
Beach waves are perfect for lazy days, but these voluminous kinky curls are unbeatable for evening events.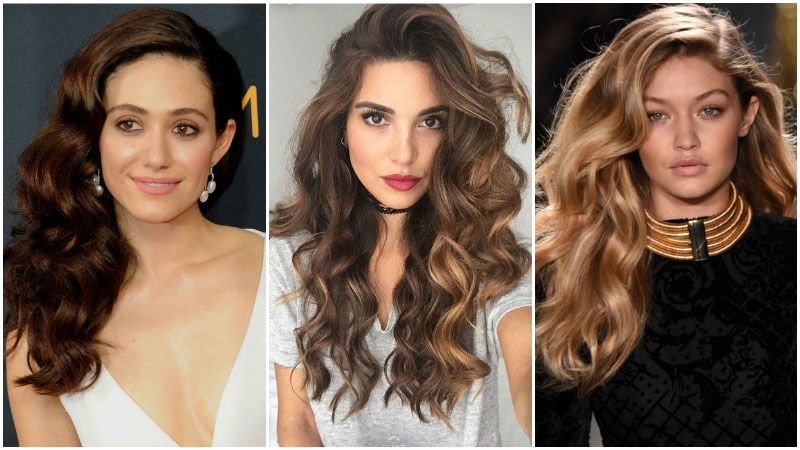 How to Create Kinky Curls
Start by washing hair with a volumising shampoo and conditioner, such as Christophe Robin Volumising Shampoo and Volumising Conditioner.
Blow-dry hair smooth, directing roots upwards to create volume.
Section hair into two large sections, one on top of your head and one at the back.
Starting with the back of your head, separate the hair into two-centimeter sized sections.
Using a spiral wand, such as the VS Sassoon Diamond Waves, wrap each section around the grooves while holding it horizontally. Hold the wand in place for about 7 seconds on each curl.
Repeat the process on the top section of hair, creating a deep side part in the process and beginning waves at eyebrow level.
8. Straight, Sleek and Shiny
Sleek, straight hair is chic once again. All you need to pull this look off is a quality straightener and a whole lot of shine.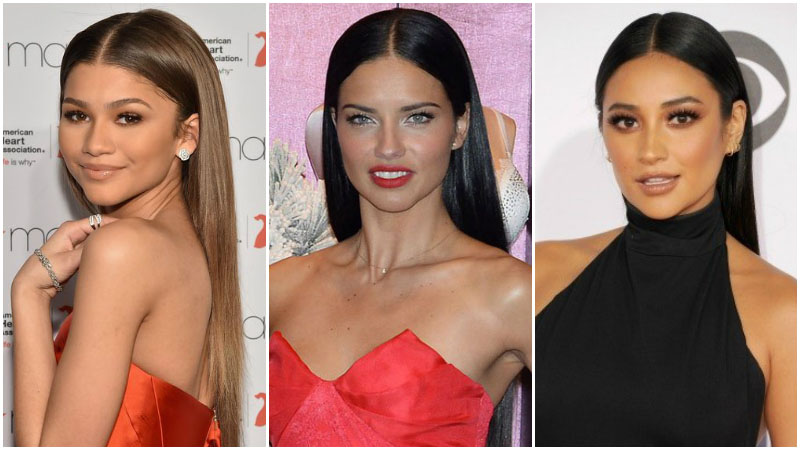 How to Create Straight, Sleek and Shiny Hair
After washing, spray damp hair with a heat protection spray, such as Ghd Heat Protect Spray.
Blow-dry smooth, creating a sharp centre part.
Section hair into small pieces and run a high-quality straightener, such as the Babyliss Pro Allure Tourmaline Ceramic Hair Straightener, over each.
Spritz hair with a finishing spray, such as Moroccanoil Glimmer Shine Spray.
Finish the look by tucking both sides behind ears.
Quick and Easy Hairstyles
Here are your new go-to hairstyles for mornings when you need to be out the door in five minutes and still look fabulous.
9. Rope Braid Ponytail
Looking polished and pretty in and instant is easy with this rope braid ponytail.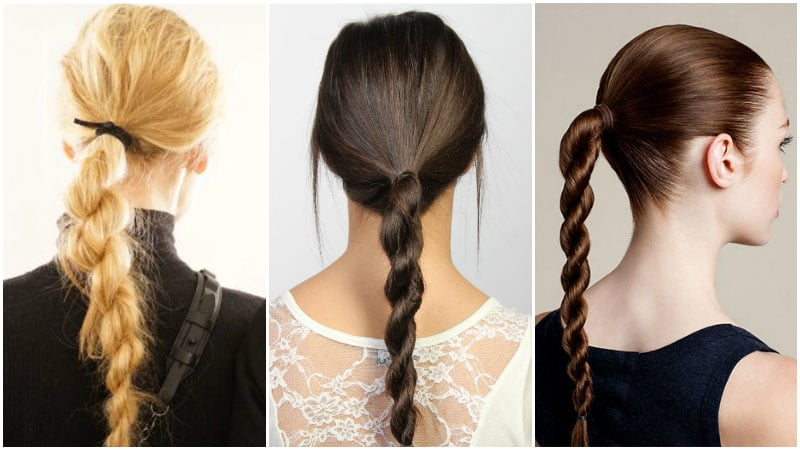 How to Create a Rope Braid Ponytail
Pull hair back into a ponytail and secure with an elastic.
Split the ponytail into two sections and twist each to the right.
Then, twist the two sections together, wrapping hair in the opposite direction, towards the left.
Secure the end of the braid with an elastic.
10. Super Simple Beach Waves
Beach waves couldn't be simpler than with this hair hack.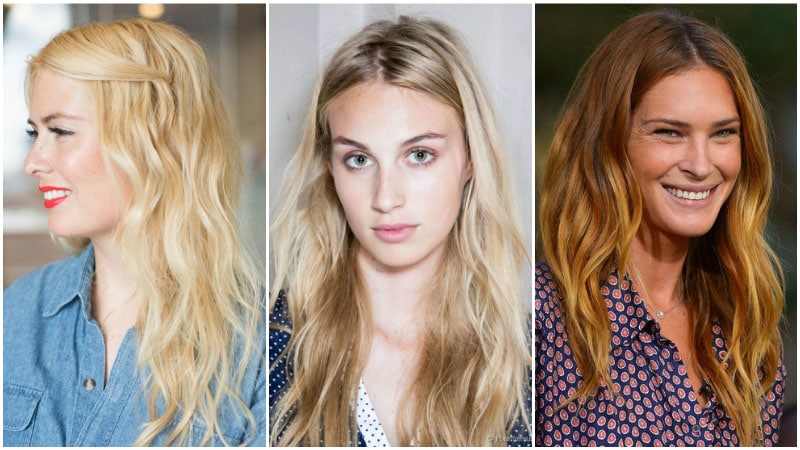 How to Create Super Simple Beach Waves
Create a low ponytail and braid it.
Use a flat iron to press down along the braid, holding for at least 10 seconds each time.
Allow the braid to cool.
Take out the braid, using fingers to gently loosen the pieces apart into light waves.