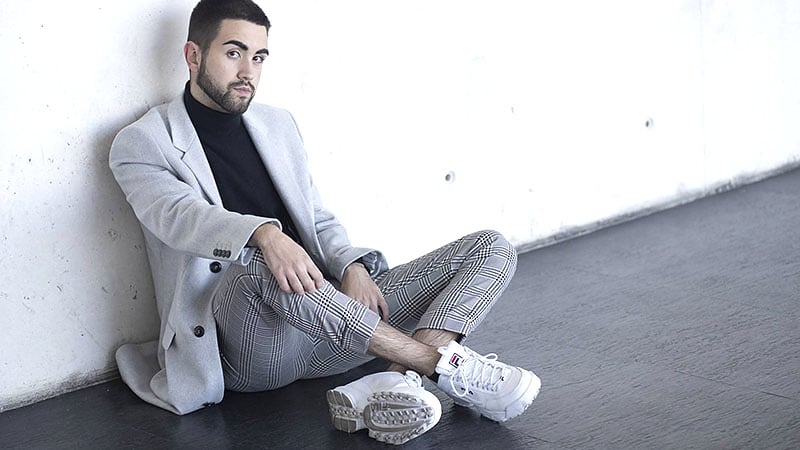 A pair of light shoes can instantly elevate any outfit – from a game of tennis to a date night, there's plenty of opportunities to rock these shoes. There are many different styles that you can rock, a white sneaker is easily one of the most stylish choices. Wear them with your summer or winter outfits, this versatile footwear will be your go-to all year round. If you need an update, here are the best white sneakers for men in 2020.
1. Nike Air Force 1 '07 Sneakers
Take part in the chunky sneaker trend with these showstopping Nike Air Force 1. The perforated toe cap allows your feet to breathe, and the padded back keeps your ankles secure and comfortable. Elongate your legs and add a bit of extra height thanks to its platform sole, which is fantastic and soft on your feet. Wear this with a pair of relaxed jeans, sweatshirt, and you'll be the most fashionable guy everywhere you go.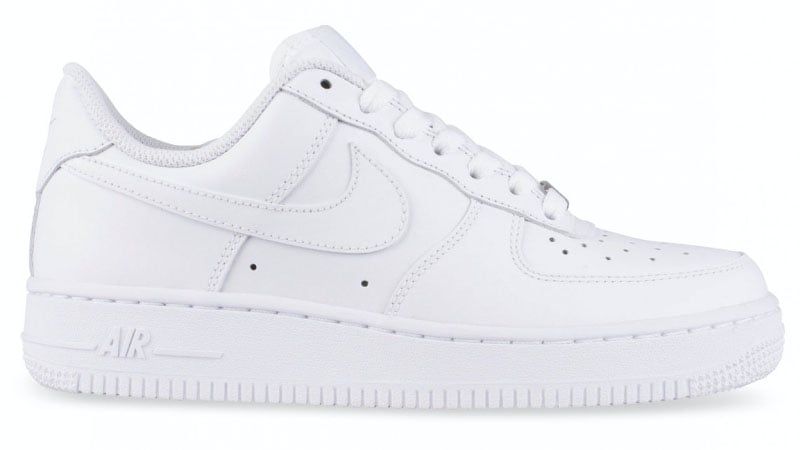 2. Adidas Originals Stan Smith Leather Sneakers
Nothing says sleek like a pair of Adidas Originals. These sneakers provide a blend of comfort and style, wrapped with a funky twist. Featuring the iconic three stripes down the side with a perforated finish, the splash of green will brighten up your outfit. Wear this with a pair of jeans and a T-shirt, and you've got your casual outfit sorted for every day of the week.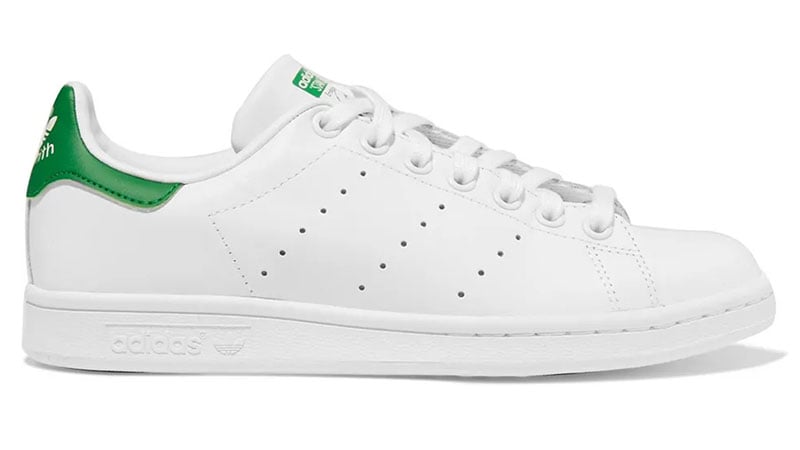 3. Common Projects Original Achilles Leather Sneakers
Not all sneakers require a workout – these Common Projects shoes are the perfect fit for a day or a night on the town. The minimalist design looks excellent, combined with jeans or corduroy trousers. If the temperature drops, add a knit sweater or a leather jacket for the ultimate laidback feel. Once you put these on, you'll never want to take them off.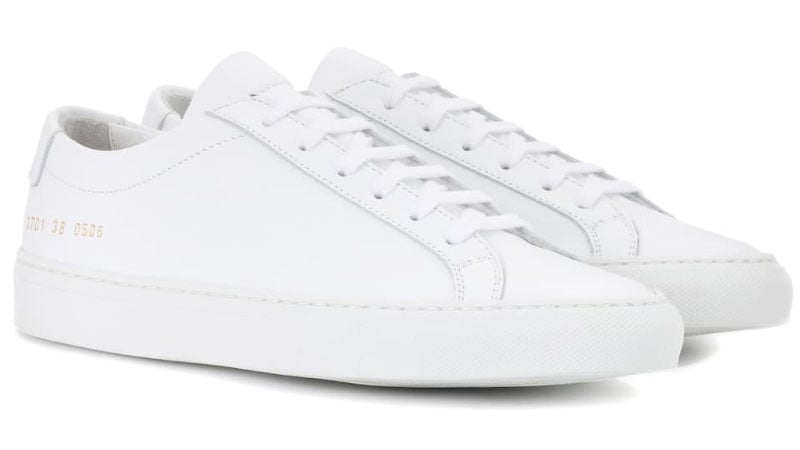 4. Givenchy Urban Street Leather Sneakers
Nothing says sleek like black and white sneakers. These Givenchy shoes combine sophisticated French design with a cutting edge twist. The white leather works perfectly for a smart casual event, and the soft soles give the comfort you need to wear them daily. Wear these with a T-shirt and jeans for an effortless feel.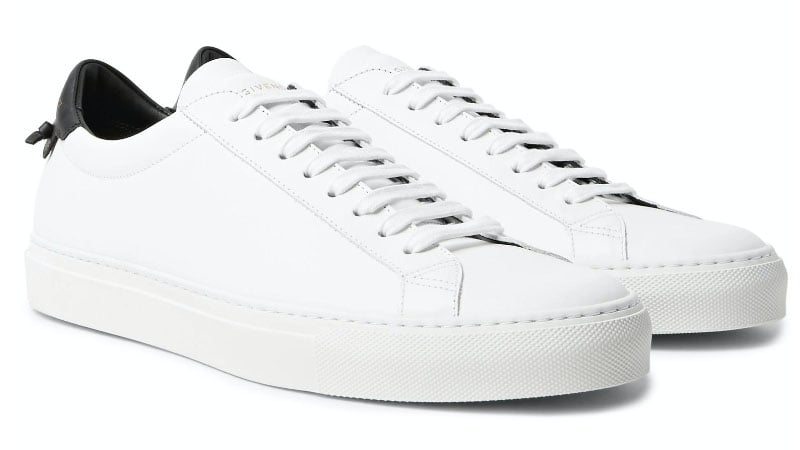 5. Paul Smith Basso Leather Sneakers
Working well with tailored outfits or a casual getup, these Paul Smith sneakers blend street style and sophistication. Featuring a white leather upper, bold stitching and a black heel tab, they look fantastic with smart casual attire or a laidback ensemble. If wearing them with jeans, opt for a pair of barely-there socks, showcasing your ankles, and elongating your legs.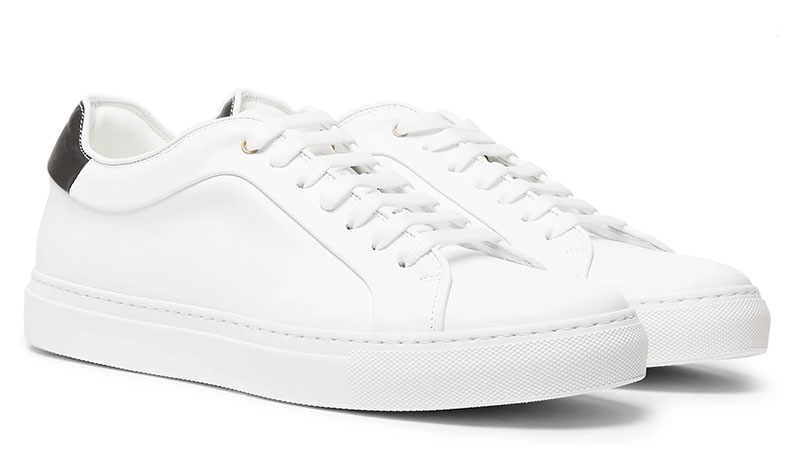 6. Reebok Classic Leather Sneakers
Make your next step the best one yet with these classic Reebok leather sneakers. Boasting a branded tongue and cuff, it offers pure comfort and a slim sole. It is an excellent way to shake up your footwear collection – it's a staple that belongs in every wardrobe. It's an ideal shoe for the warmer months, as it lets your feet breathe and is light enough for everyday use.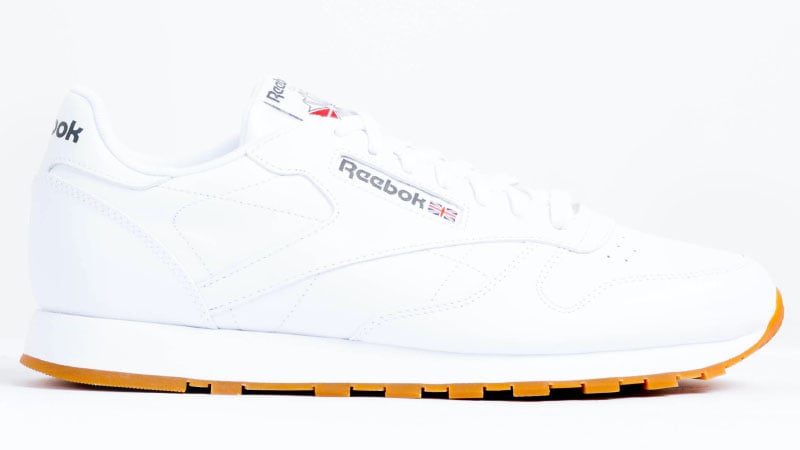 7. Converse Chuck Taylor All Star Hi Leather Sneakers
For more than 100 years, Converse has provided excellent quality footwear for every occasion. These all-white sneakers work well with a myriad of events – wear them with a pair of jeans or chinos and a T-shirt or button-down. What's so great about these shoes is the comfort they provide, with added support around the ankle and toes.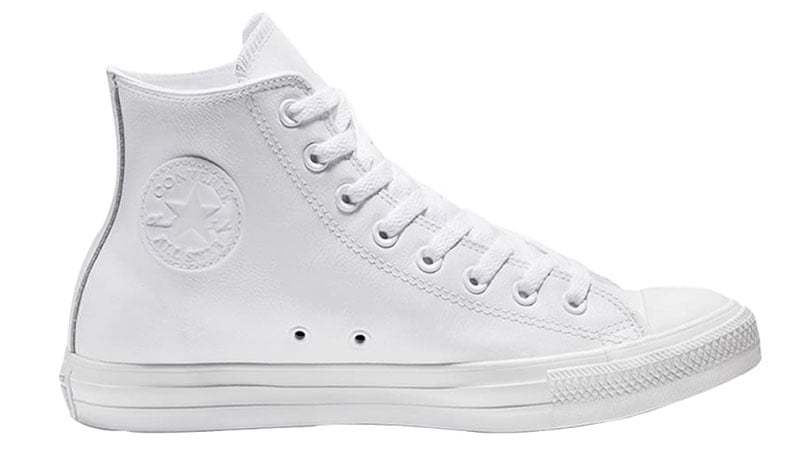 8. Adidas Running Ultraboost 20 Sneakers
Sleek and sophisticated, these Adidas Ultraboost sneakers are the perfect blend of casual and athletic footwear. Featuring a sock-like cuff and molded tread, you can go for a jog and head to a cafe without having to change your shoes. Ideal for laid back events, the triple stripe logo on the side adds a modern twist to any ensemble you're rocking.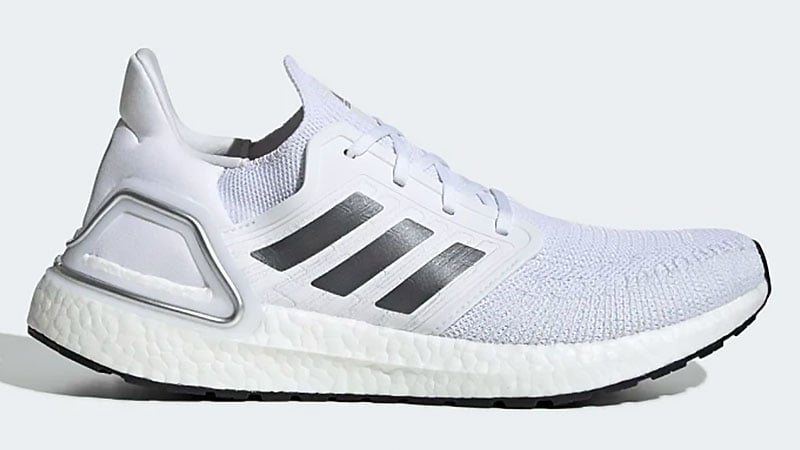 9. Vans Authentic Sneakers
You can't beat the classics, as these Vans show. With a traditional skater feel and timeless aesthetic, you can wear these shoes with almost anything. Since 1966, this footwear lets you feel the board under your feet, thanks to its rubber sole and waffle grip. The tie closure is easy to slip on and off, and the style is timeless to wear.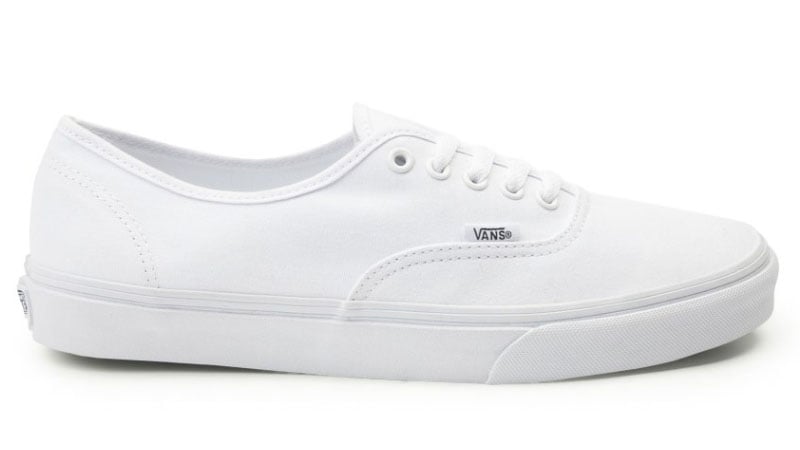 10. Fila Disruptor Sneakers
Add a retro feel to your outfit with a funky pair of Fila Disruptors. These chunky sneakers feature a bold blue heel with the iconic logo on the side – it's a trendy set of shoes that belong in every collection. The molded tread gives your feet support, so you can walk, run, or stand in style.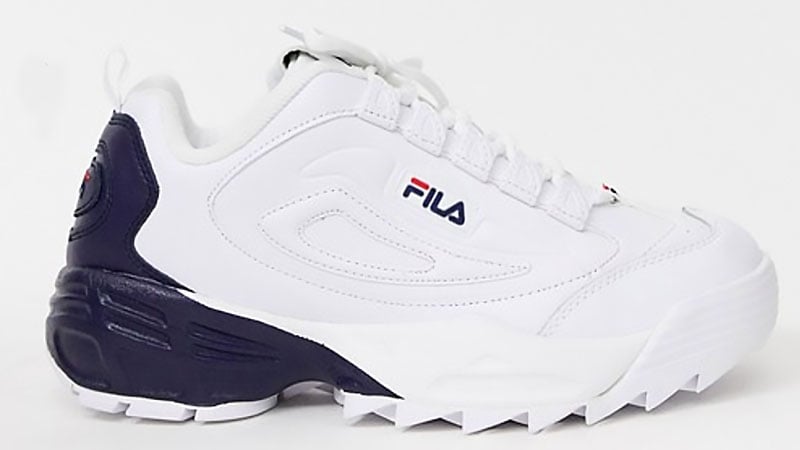 11. Superga 2750 Classic Canvas Plimsolls
From work to a cafe down the street, go everywhere in style with these Superga plimsolls. Boasting the brand's vulcanized rubber soles and minimalistic design, these shoes are crisp and clean – perfect for a myriad of outfits. Rock the footwear with a chambray shirt and chinos – these timeless designs give you the freedom to experiment with your style.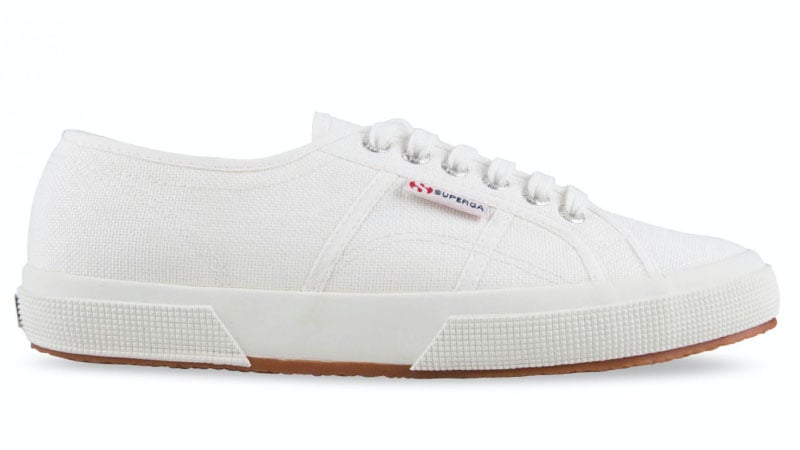 12. Converse Chuck Taylor All Star Hi Tops
No matter your personal style, no shoe collection is complete without a pair of Chuck Taylor All Stars. The durable, thick soles with geometric tread provide reliable protection for your ankles and grip for slippery conditions. These Hi Tops allow you to rock them in every season – from winter to summer; you can find the perfect ensemble to complement this footwear.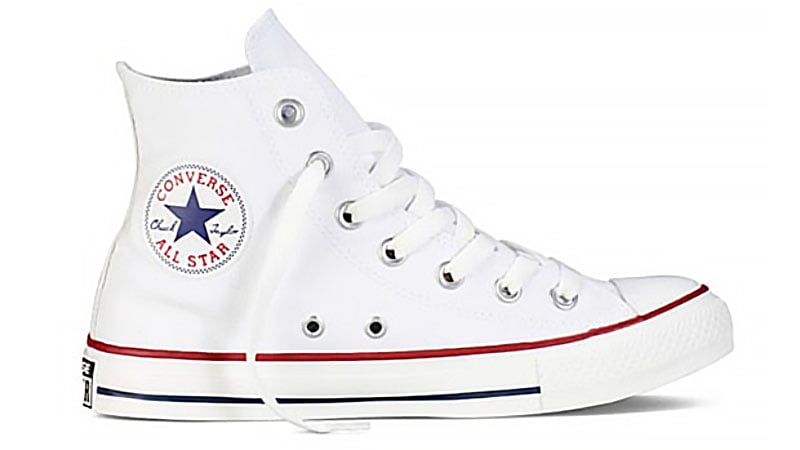 13. Reebok Club C 85 Sneakers
Reebok has been making amazing sneakers since 1895. Now, you can find a pair of shoes that perfectly complements your personal style and provides comfort all day long. This footwear boasts a wide tongue and lace tie, giving you a comfortable stride. For those with eagle eyes, you'll notice the name of the shoe embossed along the heel. The logo is stitched in a mint shade on the side and top, which instantly brightens your ensemble.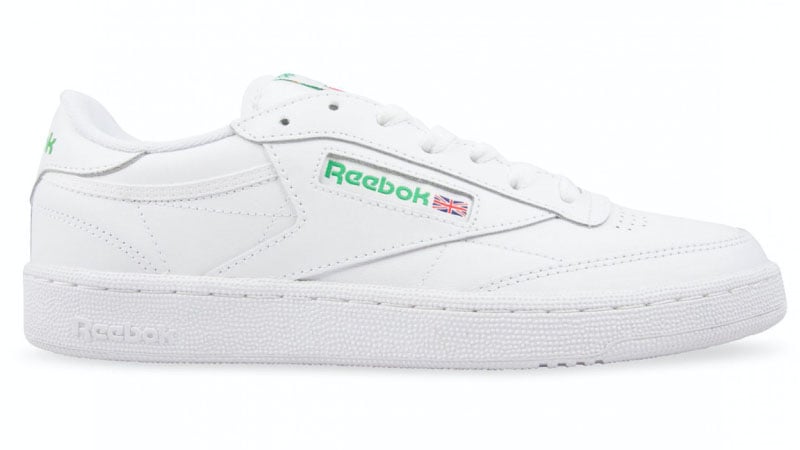 14. Lacoste Lerond Sneakers
Sometimes the most simple designs are the ones that make the most significant impact. These Lacoste Lerond sneakers are timeless in design and work with every possible outfit. The iconic alligator in the center of the shoe will immediately elevate your ensemble – the smallest details can tie a look together. Wear these on the tennis court or for a dinner date – they're a versatile option for all guys.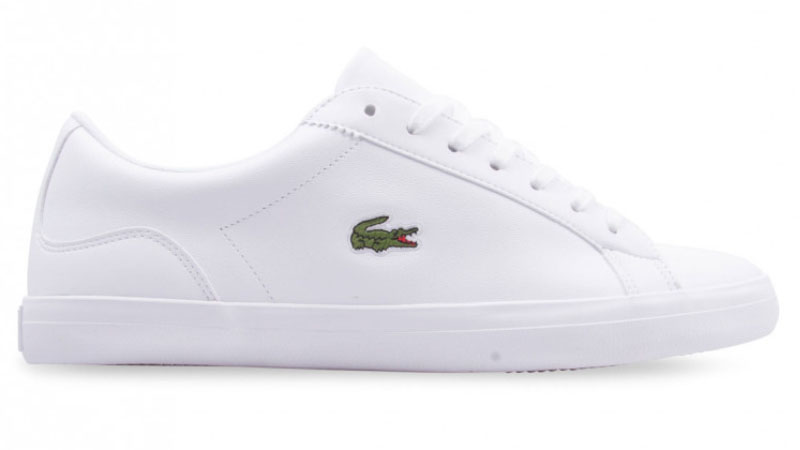 15. Hoka One One Mesh Sneakers
Finding the perfect blend between street style and high fashion can be tough, but it won't be any more thanks to the Hoka One One mesh sneakers. With a chunky sole and curved heel, you can get the support your knees and ankles require without sacrificing on style. The crisp white details are an excellent point of difference with this footwear – rock them with chinos, jeans, or even a pair of shorts for a fresh and summery feel.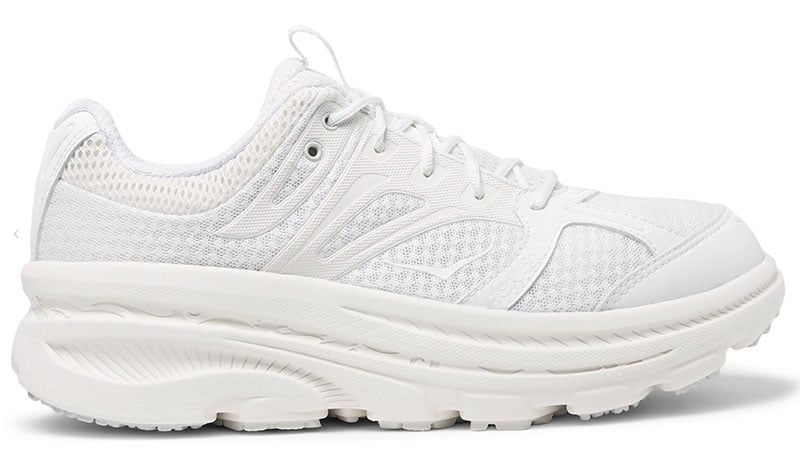 FAQs
What are the best white sneakers?
The best white sneakers will look super stylish and be incredibly comfortable. Check out styles such as Common Projects Original Achilles Leather Sneakers or Adidas Originals Stan Smith Leather Sneakers for a tennis style profile. Alternatively, Converse Chuck Taylor Hi-Tops are one of the original street sneakers with heaps of style. However, if you prefer a sportier look, try Nike Air Force 1 '07 Sneakers or Hoka One One Mesh Sneakers.
How do you break in white sneakers?
New shoes can cause a bit of grief the first few times you wear them. One of the best ways to break in your new white sneakers is to wear them around the house with a pair of thick socks on. That way, you can do it for short stints until they're comfortable. Just remember, if you want to keep your new kicks looking bright white and clean, make sure to waterproof them well before you start wearing them.
How to clean white sneakers?
The best cleaning method will depend on the materials your shoes are made with. Leather shoes are best cleaned with a leather conditioner and soft cloth then polished with white polish. Light scuff marks can sometimes be removed with an eraser. However, if the stains are set in, you can try a mix of water and ivory soap, but test on an inconspicuous area first. Canvas shoes can be cleaned with a 1:2 ratio of baking soda and white vinegar and a toothbrush. Just dip and scrub, then give them a rinse and let them air dry. Toothpaste can also work in the same method, just make sure to use a white-colored one. Finally, once your shoes are cleaned and dried, reapply at least two coats of waterproofer to help minimize future stains.  
Why are white sneakers so popular?
White sneakers are popular because they're a neutral color that goes well with bright colors, black, and patterns. It's a lighter, fresher alternative to black shoes and can really lift an outfit. Plus, there's a wide variety of styles and silhouettes that look better in white, such as tennis and basketball sneakers.
What can I wear with white sneakers?
White sneakers are incredibly versatile and look great when paired with a wide variety of outfits and colors, from pastels to black. Jeans, shorts, and neutral-colored trousers are all wardrobe staples that work with white sneakers. Meanwhile, you could dress down a brightly colored suit with a white T-shirt and matching white sneakers. White sneakers are in the footwear category that looks better without socks, so feel free to roll or cuff your trousers and flash some ankle.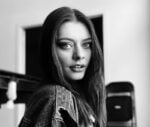 Alexandra Feiam is an experienced fashion writer who holds a degree in journalism. She has an impressive portfolio and expertise working as the Editor at Power Retail and Commercial Content Editor at Newscorp. Ally has been writing for The TrendSpotter since 2018, and her work has been featured in notable publications such as The Herald Sun, Arirang TV South Korea, Kidspot, The House of Wellness, and The Daily Telegraph.
SUBSCRIBE TO OUR NEWSLETTER
Subscribe to our mailing list and get interesting stuff and updates to your email inbox.