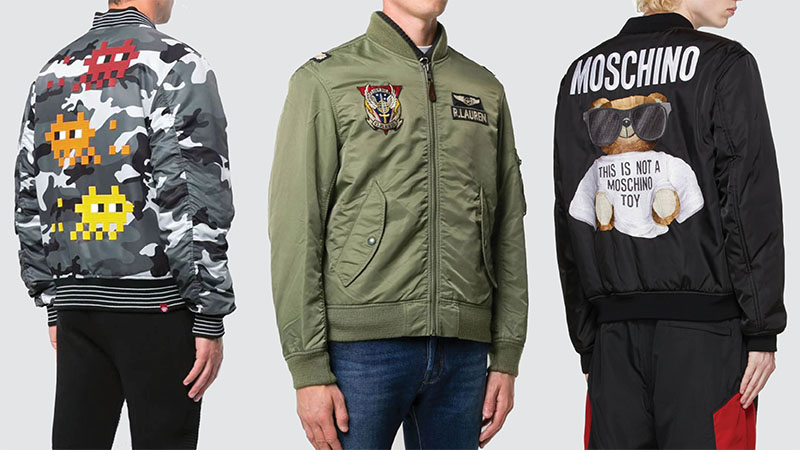 A bomber or flight jacket is one of the best investments a stylish man can make in his wardrobe. There's so much variety of styling, colors, fabrics, and detailing that there's sure to be a jacket to suit every man. Rug up and stay warm with one made from waterproof, padded, and lined fabric. Alternatively, opt for a lighter weight choice that will take you through the unpredictable transitional seasons. Either way, bomber jackets are a classic style, which suits most body types, and never goes out of fashion. Check out some of our favorites below, from Top Gun flight suit styles to minimalist, sleek designs that look as good in the office as they do on the street.
RELATED: How to Wear a Bomber Jacket with Style
1. Sandbank Lightweight Bomber Jacket
If your quest for the perfect bomber jacket includes clean lines and a simple design, this jacket from sandbank is an ideal choice. It's a slim fit cut with two discreet pockets on the sides and a feature pocket on the sleeve. It's got a zippered closure as well as ribbed cuffs, a rounded neck, and a comfortable hemline. The cotton exterior and polyester lining make it lightweight and an excellent choice for transitional seasons. You can also choose from various colors, including black, deep blue, wine red, army green, and khaki.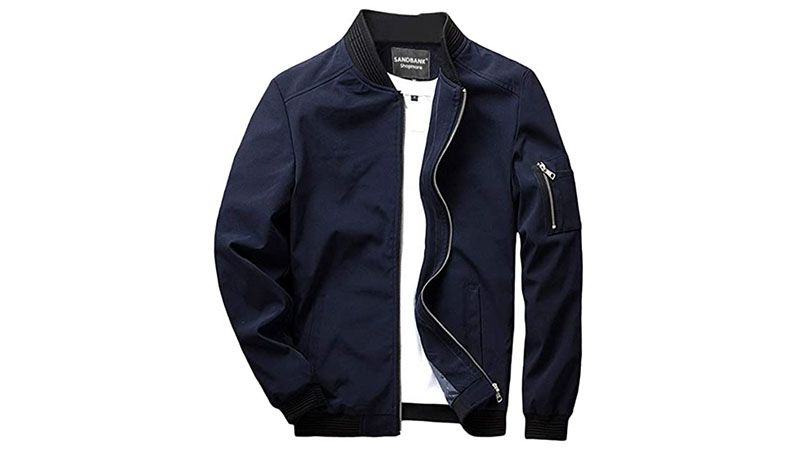 2. Stone Island Shadow Project Bomber Jacket
Stone Island reinforces its reputation for boundary-pushing textiles and fabrics with this bomber jacket. It combines the signature Nylon Metal fabric with an innovative dying process to create the iridescent striped effect. It's also rip-safe and waterproof, making it durable and great for all weather. The style perfectly fits Stone Island's lineup of military-inspired designs that use high-tech fabrics, reinforcing the brand's ultra-masculinity. Beyond the materials, the jacket also boasts an internal harness, sturdy YKK zippers, a woven brand patch, and comfortable ribbed trims.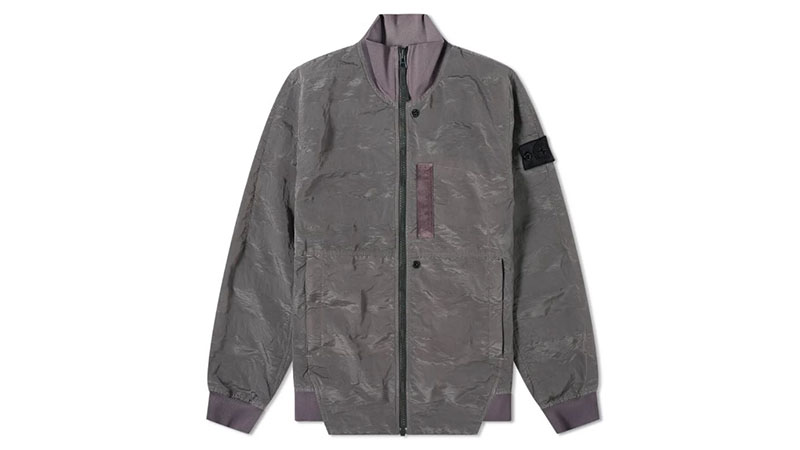 3. Polo Ralph Lauren Embroidered Bomber Jacket
Invest in some serious Top Gun vibes with this flight-suit-style bomber jacket from Polo Ralph Lauren. Between the shades of green and embroidered logo patches on the chest, you might as well be hurtling down the highway to the Danger Zone. The wool-blend is breathable, warm, and durable, while the ribbed hem, cuffs, and collar are exceptionally comfortable. Meanwhile, the front flap pockets are functional and stylish, and the front zip keeps the cold out. Break out the aviators, jeans, and white t-shirt to complete this maverick look.
4. AllSaints Bassett Bomber Jacket
The Bassett Bomber from Allsaints perfectly represents the East London company's laid back attitude. Simple, stylish, and easy to wear, it's a wardrobe staple for any fashion-savvy gent. Along with the side pockets, the front closes with a contrast zipper to keep you protected from the cold and your belongings safely stored. The baseball collar and ribbed trims are soft and comfortable for easy wear. Plus, the front features the iconic AllSaints ramskull motif embroidery. Lastly, this bomber jacket is made from 100% breathable cotton that supports sustainable production through the Better Cotton Initiative and Mass Balance sourcing.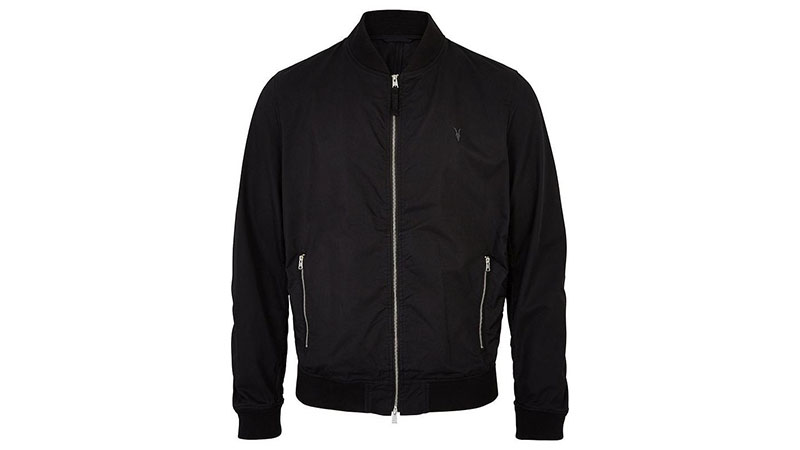 5. Kenzo Bombadier Shearling Bomber Jacket
You'll be extra toasty rocking this shearling bomber jacket from Kenzo. The lining is ultra-warm faux fur, while the exterior is stone grey corduroy with shearling accents. Additional design details include the Kenzo K motif, chest panel with press-stud, and drawstring hem for those exceptionally fresh winter days. You won't have to worry about sacrificing any style when you invest in this winter wardrobe essential. Pair this with white trousers and your favorite casual sneakers for the ultimate athleisure look.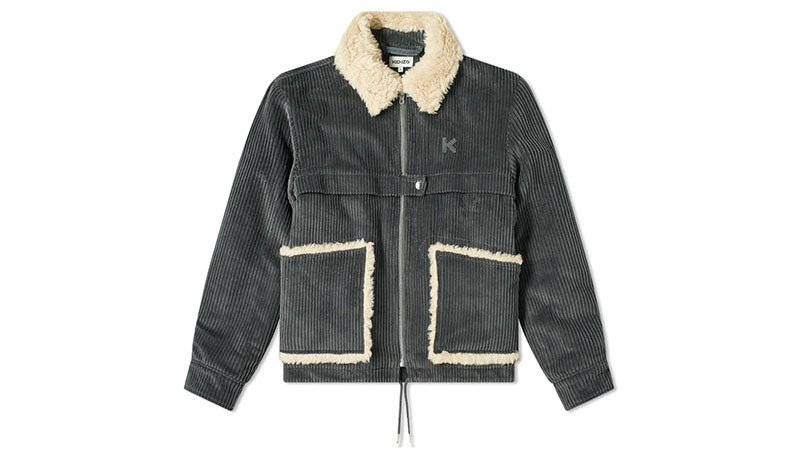 6. Mostly Heard Rarely Bomber Jacket
If you're on a hunt for a fun option for a bomber jacket, then look no further than this design from Mostly Heard Rarely Seen. Their diffusion line, 8-bit, takes a nostalgic inspiration from pop culture, celebrating it with 8-bit style iconography splashed across statement pieces of clothing. As such, the jacket is made with greyscale camouflage and pixel-based Pac-Man villains, Blinky, Pinky, and Inky across the back. It's a fun and youthful interpretation of the style. It also features striped ribbed sleeves, collar, and hem, as well as two side pockets and an easy access double-zip closure.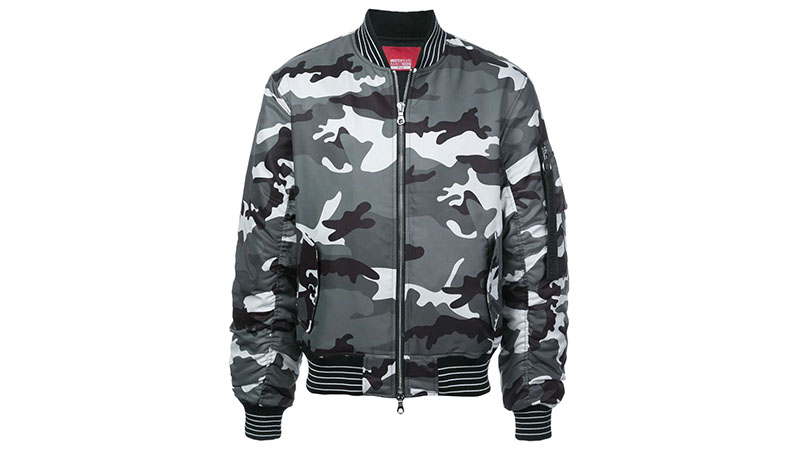 7. Diesel Lace-Up Detail Bomber Jacket
From the front, this may look like a regular bomber jacket, yet there's a whole other level of industrial detail from the back. It features heavy cords laced through metal eyelets across the upper back and down the arms. The nylon satin finish is stylish and contrasts nicely with the heavy hardware. Combine that with the fluorescent interior, and you've got a bold fashion choice. However, it's a choice that will also keep you warm on the coldest winter days, thanks to the elastic cuffs and hem and padded lining that hold the heat in.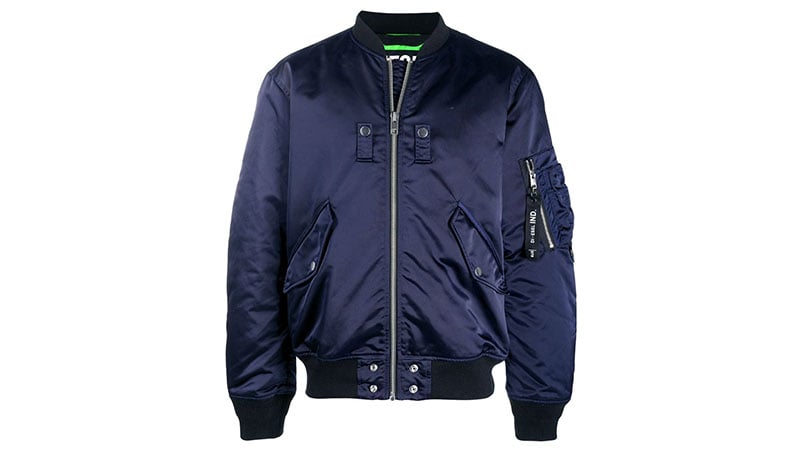 8. Gucci Logo-jacquard Cotton Bomber Jcket
Make a statement with a Gucci bomber-style cardigan. As always, Gucci isn't frightened of a bold and colorful motif, using an archival logo from Alessandro Michele's days as a creative director. As such, you shouldn't be afraid of being bold either. This style is made in Italy and is knitted cotton, ensuring a soft and comfortable fit, so you not only look good but feel good too. The ribbed collar, cuffs, and hem anchor the look with plain black, while also ensuring the structural integrity. Unzip it for a more casual look, or wear it done up for a more dressy occasion.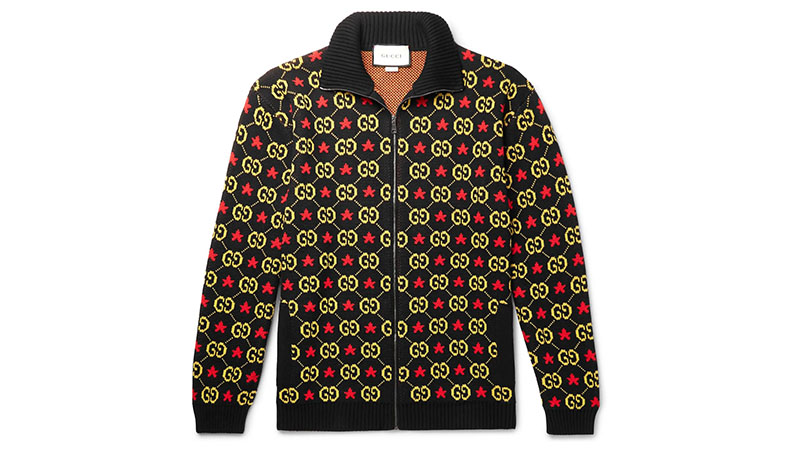 9. Stone Island Shadow Project Pique Fleece Bomber Jacket
This Pique Fleece Bomber Jacket comes out of Stone Island's experimental line, Shadow Project. This is the range where innovation reigns supreme like a mad scientist let loose in Tony Stark's lab. The jacket features touches of the brand's iconic iridescent Nylon Metal fabric, along with the pique fleece, which is soft, comfortable, and stylish. Design details, including raglan sleeves and strategic paneling, are a throwback to the original streetwear days when soccer fans popularized the brand. Ribbed trims keep the heat in, as does the front zipper. Meanwhile, the side pockets keep your hands warm and gear safe.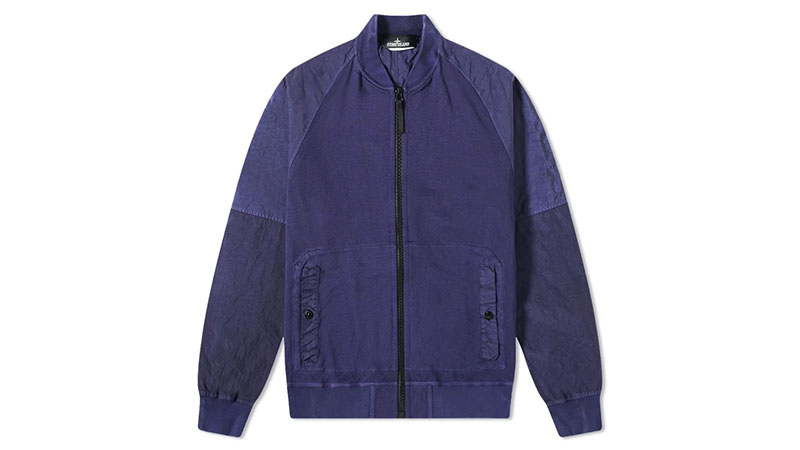 10. Burberry Carlford Bomber Jacket
Nothing says casual cool quite like a grey jersey bomber jacket. This one from Burberry channels a strong collegiate aesthetic. The varsity stripes along the wrists and hips tie in perfectly with the brand lettering adorning the back. Next, the baseball collar adds to the comfort, as do the roomy raglan sleeves. This also allows for better layering on chillier days. Finally, keep your keys, wallet, and phone secure but easily accessible in the front pockets with clip closure. Just remember to keep an eye on this jacket — it's the kind of style that's so comfy and stylish your partner will definitely be looking to borrow it permanently.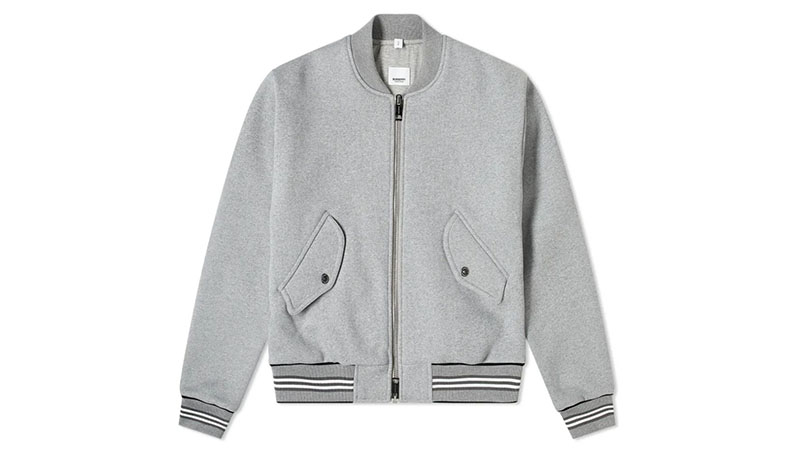 11. Topman Icon Bomber Jacket
Keep it classic with this black bomber jacket from high-street brand Topman. It is slim fit with minimalist features making it the perfect accompaniment to any outfit. It has a zip closure, soft ribbed trim around the cuffs and collar, and side pockets to keep your hands warm and belongings safe. Match this with your favorite skinny jeans and a white t-shirt. Alternatively, give your office look an edgy vibe by swapping your blazer for a bomber, paired with tailored trousers and a button-up shirt.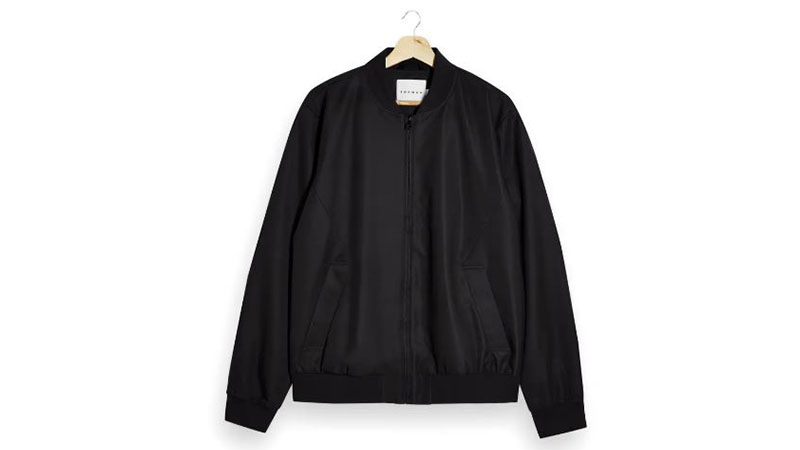 12. Haven Pilot Utility Bomber Jacket
Opt for clean lines and classic military styling with the Haven Pilot Utility Bomber Jacket. It's handmade in Japan from olive nylon satin and features custom debossed YKK zippers. Meanwhile, the ribbed sleeves, hem, and collar are all made of warm wool-blend fabric. There's also ample storage with two zippered front pockets, each with an additional welted hand pocket, plus a multi-tool sleeve and chest pocket. Keep your look traditional by wearing this bomber with blue jeans and a white t-shirt. However, you could also mix it up, combining it with joggers, and oversized shirt, and your favorite high-top kicks to give it a street-savvy edge.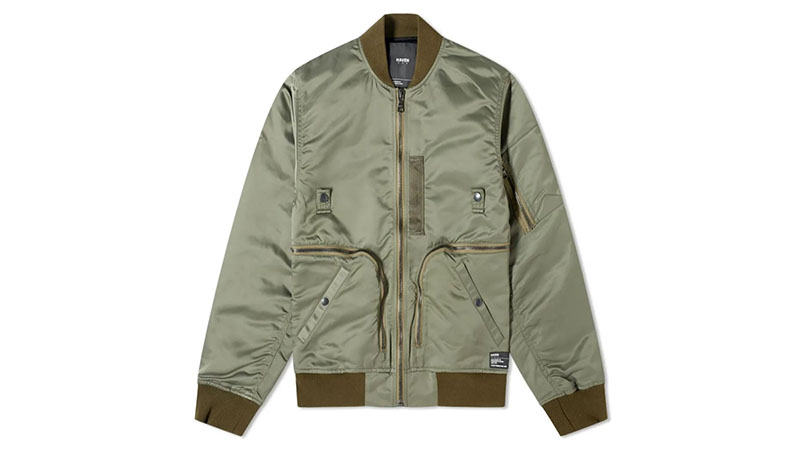 13. Moschino Black Micro Teddy Bear Bomber Jacket
The Moschino Black Micro Teddy Bear Bomber Jacket is an excellent choice if you're tough on the outside but a big old softie on the inside. From the front, it's a classic bomber jacket, complete with rib knit collar, cuffs, and hem, tonal hardware, flap pockets, and Moschino embroidered logo. However, on the back, it features a large patch of the "This is not a Moschino Toy" bear, along with a larger version of the logo. It's a daring investment for diehard fans. It's also very practical and warm, with the exterior made of nylon twill, while the interior is padded viscose and features an internal patch pocket.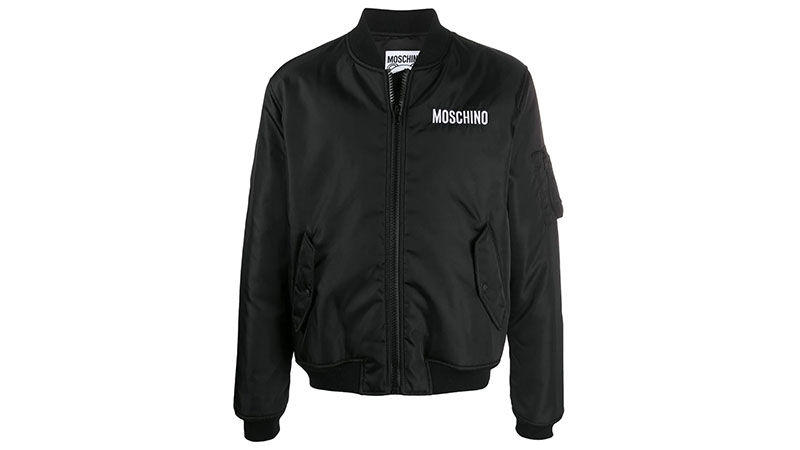 14. Polo Ralph Lauren Logo-Embroidered Bomber Jacket
The Harrington jacket is very similar to a classic bomber style, with a few differences in details such as the collar and cuffs. This option from Polo Ralph Lauren fits perfectly with the brand's preppy style. The wide-wale cotton corduroy exterior and the patterned cotton lining are both comfortable and breathable. The ribbed cuffs and button-up collar also keep you warm in the colder weather. Meanwhile, the dark navy is incredibly versatile. Match this jacket with chinos and a flannel shirt, or pair it with pale blue jeans and a classic white t-shirt.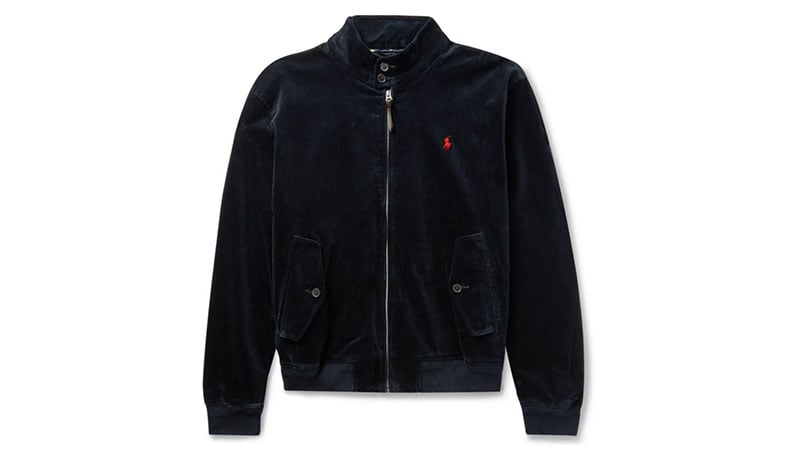 15. Baracuta G9 Bomber Jacket
The Baracuta G9 was the original Harrington jacket, created in the 1930s to protect avid golfers from the elements. It's still a popular choice as a transitional season jacket due to its light weight and refined styling. The design features the iconic button-up funnel collar, flap pockets, and water-resistant cotton-blend fabric, so you can still play a round of golf in the rain. Plus, the lining is made from breathable Coolmax® tartan, which is also moisture-wicking. Select from a range of colors to suit every wardrobe, including light grey, beige, navy, and black.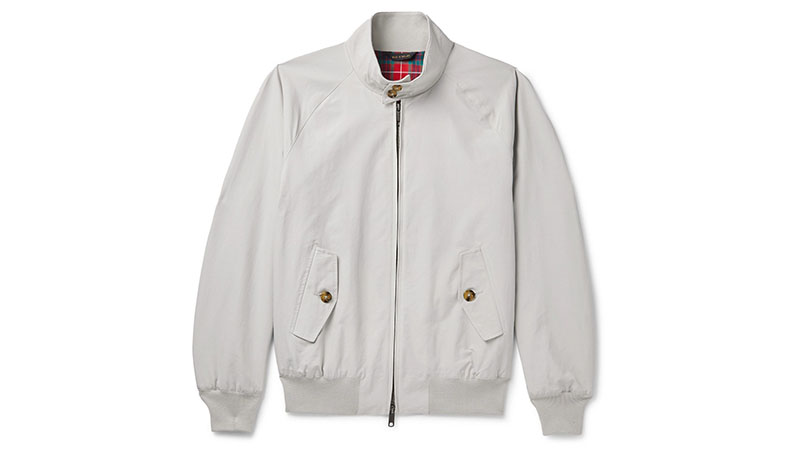 16. Mr P. Shearling-Trimmed Checked Bomber Jacket
You'll look like a lumber-snack in this checked bomber jacket from Mr P. It's made from wool, which is both breathable and warm, and features a shearling collar for extra insulation around your neck. The color combination of cream, red, grey, and black is classic and versatile, lending your aesthetic a real "weekend in the country" feel. Keep your keys, phone, and wallet safe in the internal or two external front pockets. Lastly, the zip front and snap-fastening cuffs keep the cold out, ensuring you stay as toasty as you look.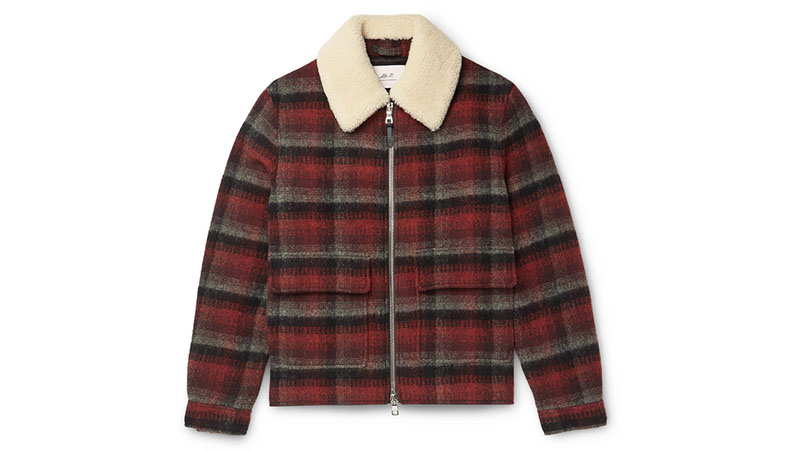 17. AMI Logo-Appliqued Denim Bomber Jacket
This light-wash denim bomber jacket from AMI is the ultimate 90s throwback. Plus, it's exceptionally comfortable thanks to the roomy fit, double zipper, elasticized hem and cuffs, and slanted pockets. It's made from 100% cotton, with polyester padding, which adds to the comfort, while the collar keeps you protected from the wind and rain. The AMI brand is recognizable by the ami de coeur motif on the chest. Style this bomber jacket with black trousers and a simple shirt, or be brave and go for the Canadian Tuxedo look, wearing it with a pair of jeans.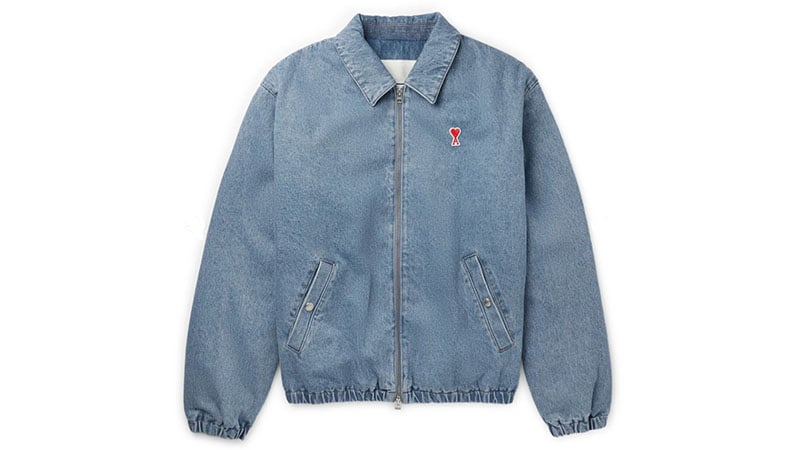 18. BOSS Athleisure Laser Waterproof Bomber Jacket
BOSS keeps it classy and simple with this waterproof canvas jacket that's lightweight yet lined for heat retention and comfort. The straight line hem and cuffs feature an elasticized panel that strikes a balance between form and function. Zippered side pockets keep your gear safe, while the full zip closure keeps you warm and protected from the elements. It's a perfect example of luxe sportswear that brings with it a premium level of tailoring and design.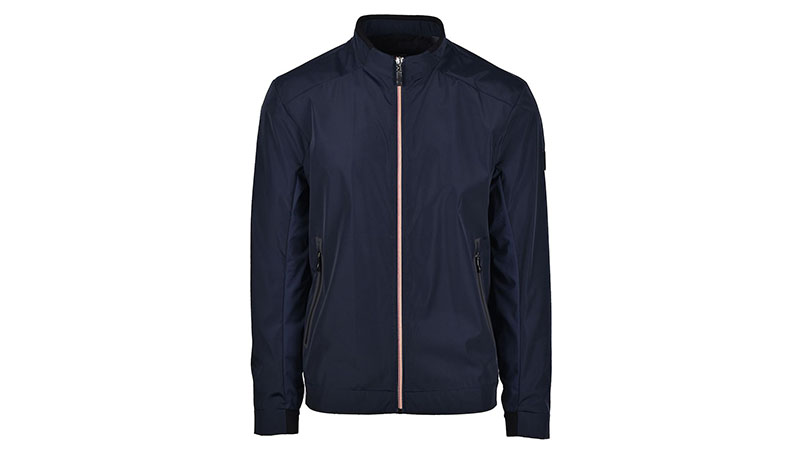 19. Lacoste Bomber Jacket
Lacoste brings their bold color blocking into this preppy version of a bomber jacket. It features an adjustable funnel neck, elasticated hem, internal zip pocket, side pockets, and, of course, the iconic crocodile emblem. It's lightweight, easy to wear, and looks great with a polo shirt, slacks, and sneakers. The combination of navy, white, and green gives it a fresh feeling and allows it to work with various color combinations. This bomber is a brilliant investment for getting you through fall and early spring when the days are fresh but not freezing.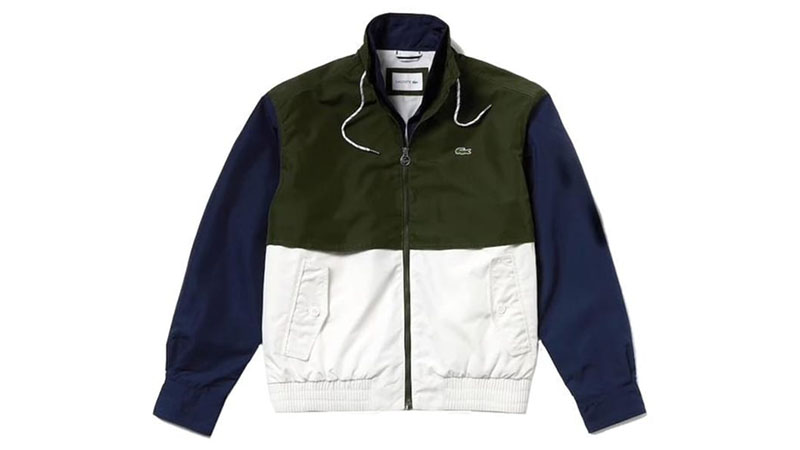 20. Les Hommes Urban Colour Bomber Jacket
Inject some color into your wardrobe with this jacket from Les Hommes Urban. It's a luxury garment made from premium materials yet has a relaxed fit, hood, and elastic hem and sleeves, which gives it a casual, sporty vibe. The color-block panels, combined with the distinctive white lines, logo, and barcode, add an element of interest and street style. Wear this with your favorite shorts and runners, or really embrace the athleisurewear feel, and team it with a pair of joggers, keeping you warm, comfy, and stylish.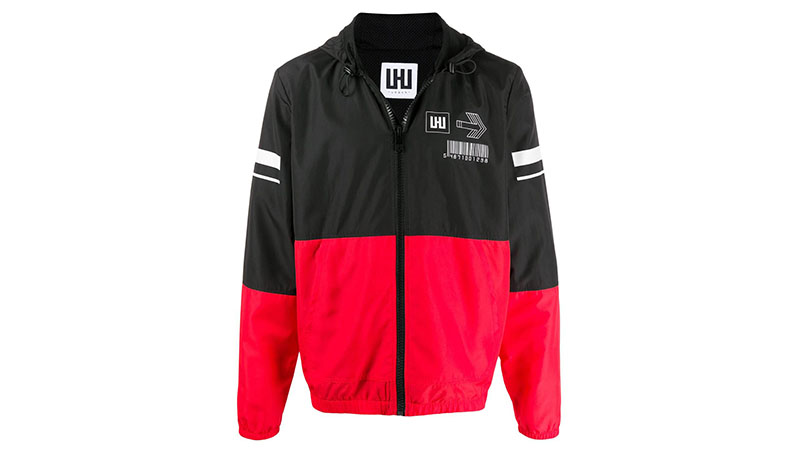 Cool Bomber Jackets FAQs
Who makes the best bomber jacket?
There are many excellent bomber jackets available; however, some of the best come from Topman, Stone Island, Allsaints, Kenzo, and Burberry. However, make sure you choose one that is right for your style and needs. 
What makes a good bomber jacket?
A good bomber jacket will be made out of quality material, either leather, suede, or durable performance fabric. If you're after a warm option, select wool or shearling; for something waterproof, synthetics and canvas are excellent; while for cross-seasonal use, opt for light fabrics such as cotton. Classic color options include black, green, brown, or navy. You'll also want to choose the right fit — not too large and not too small, you should be able to zip it up over other layers. 
Do bomber jackets look good?
Bomber jackets look great — they're flattering on most body shapes, they are versatile when it comes to styling, and they have a whole lot of attitude that you don't get with other jacket styles.
Are men's bomber jackets in style in 2020?
Bomber jackets are such a classic wardrobe staple that they never really go out of fashion. As such, investing in one for 2020 is an excellent idea. 
SUBSCRIBE TO OUR NEWSLETTER
Subscribe to our mailing list and get interesting stuff and updates to your email inbox.