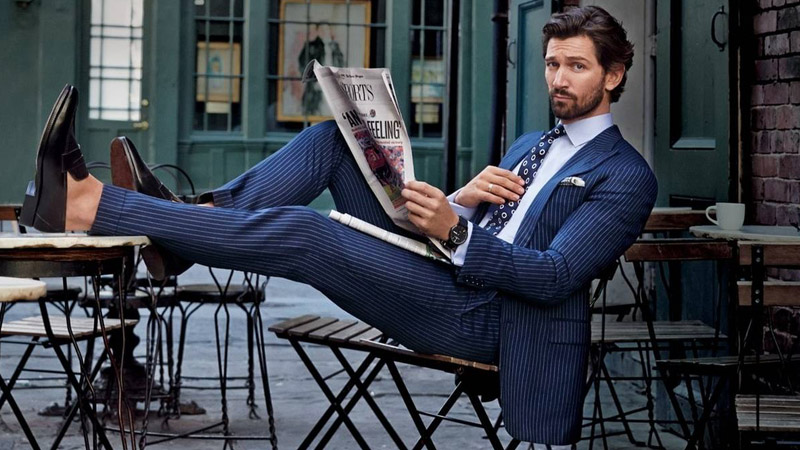 Nothing quite makes a statement like a pinstripe suit. It became an unofficial uniform at speakeasies in the '20s, often worn by gangsters and jazz musicians. The fashionable ensemble made waves in Hollywood after actors such as Cary Grant sported them in the '40s, and has since become an integral part of formal wear. If you're heading to an event and you'd like to give one of these classics a spin, check out how you can rock it in style.
When to Wear a Pinstripe Suit
Traditionally, pinstripe suits are seen in the workplace. Outside of the office, this formalwear is an excellent alternative to something monochrome. You don't have to stick to a traditional approach with this ensemble – remove your tie for a business-casual event or rock a turtleneck and sneakers for something a little laid back.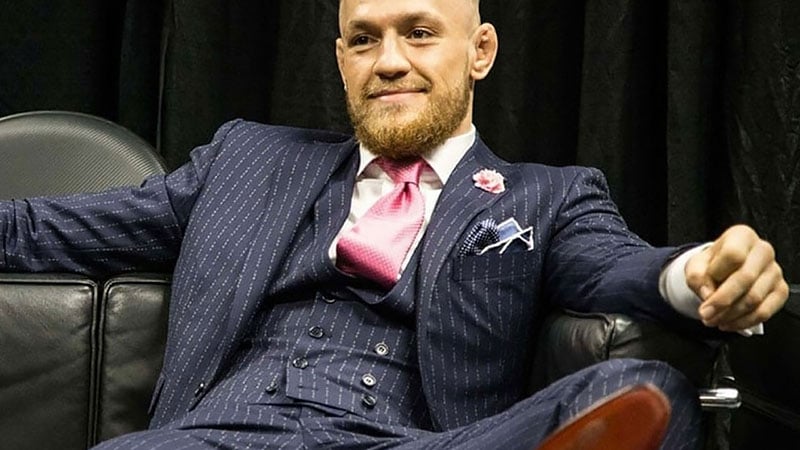 How to Wear a Pinstripe Suit
Styling this suit can be tricky to master, but it looks so good once you have. If you're heading to a semi-formal event in winter, opt for a dark suit with a matching turtle neck – this is a fresh alternative to a dress shirt without overdoing it. A three-piece striped ensemble is best suited for formal events, but make sure you coordinate the colors accordingly. This pattern can easily look muddled when mismatched. For days at the office, it's best that you wear these pieces with a button-down shirt and contrasting tie. To truly pull off this look, it's all about attitude – own it, and you'll rule the room!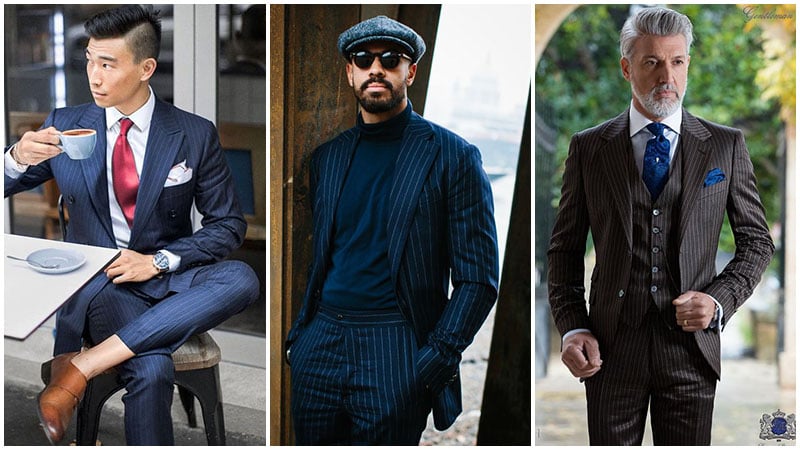 Black Pinstripe Suit
You can't go wrong in a classic black pinstripe suit. With its story going back decades, this ensemble is hard to botch. Pair these stylish pieces with a white button-down shirt and charcoal or grey tie for a sophisticated feel. If you'd like to switch things up a bit, opt for brown dress shoes with a matching belt, which adds a modern twist to the traditional design.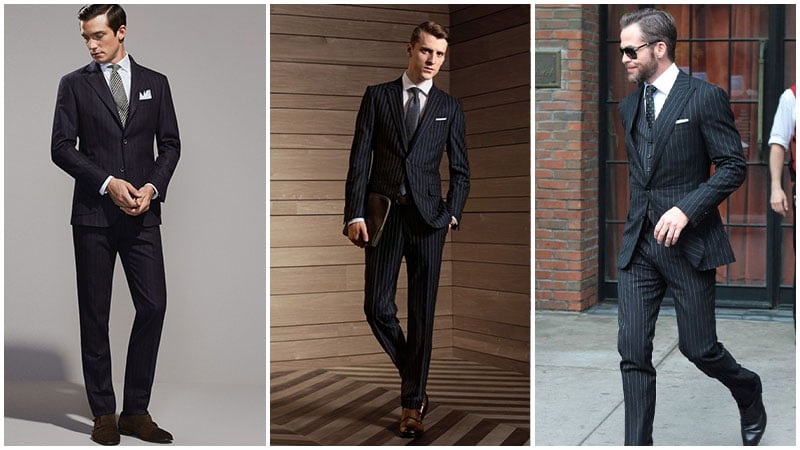 Get to business in one of these navy suits. Add professional flair to this pinstripe ensemble in a button-down and tie, or mix things up in a pair of sneakers, a dress shirt and a turtleneck. When styling this formal wear, it's best to stick to neutral hues such as white, grey and other cool tones. However, if you're looking to make an impact, opt for a contrasting colour like blood orange or mustard. No matter if you're heading to a business meeting or a wedding, you can't go wrong with this classic menswear.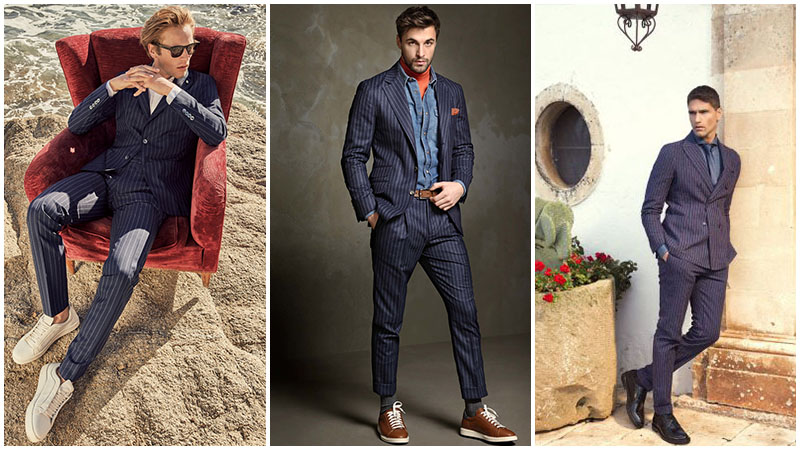 Blue Pinstripe Suit
Not all cobalt suits have to be dark. If you're heading to a summer event, why not brighten a room in a light blue pinstripe? Complement the hue with a tie in a lighter or deeper shade to create depth in the ensemble, or throw a salmon or hazel tint into the mix for a fresh combination. If you're not sure what to match with these ocean colored pieces, look to the color wheel. This is a sophisticated option for any event, and there's no doubt that you'll look dashing.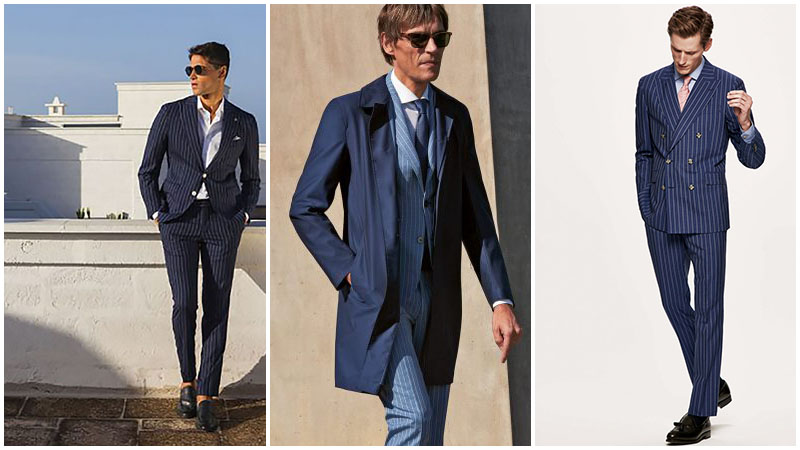 Grey Pinstripe Suit
Greys and charcoals are an easy way to add instant sophistication to any event, and they look fantastic on every skin tone. There is a myriad of options to choose from with this color, so be sure you enhance the tint with a complementary shade, such as blues and purples. Choose the shade you prefer, and watch as every eye follows you.
SHOP: Grey and Charcoal Pinstripe Suits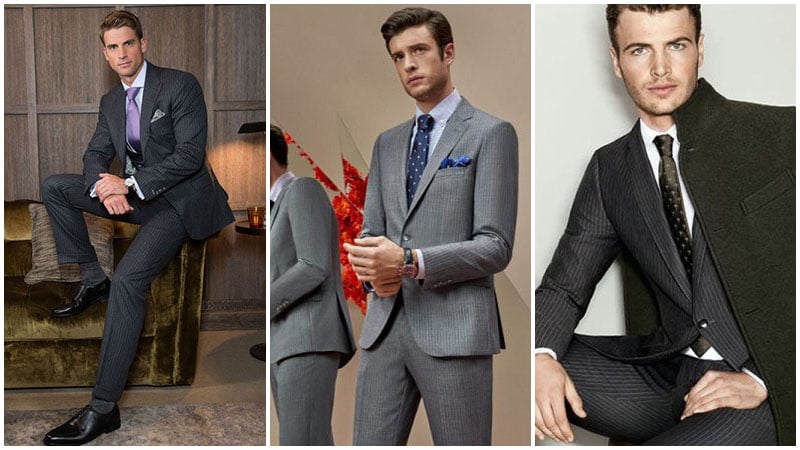 White Pinstripe Suit
You were born to stand out, and why not do that with your suit? This daring pinstripe is an excellent option for the man who isn't afraid to make a statement and can look fantastic when paired with appropriate shades. When selecting your outfit, it's best to steer clear from broad, black stripes and dark shirts. This can make you look like you're heading to a '30s gangster costume party. A white ensemble with a light grey or cream interlude looks best with muted tones like dove grey or sky blue. If you're ready to wow the crowd, why not inject a cherry red tie? However you choose to rock this style, the best accessory you can wear is confidence.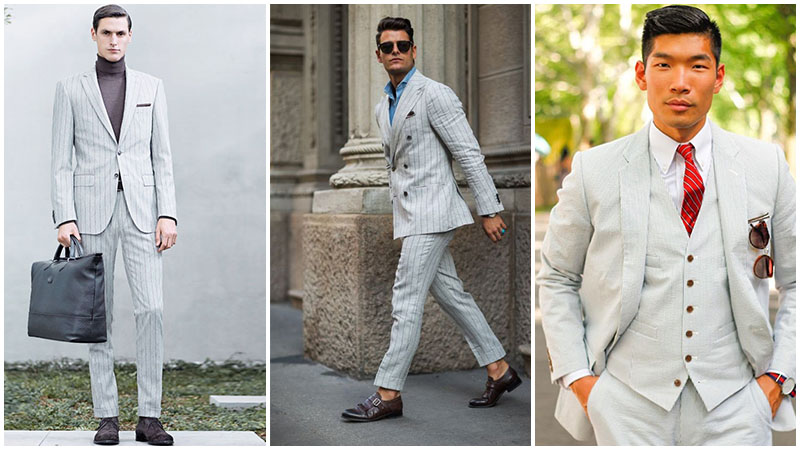 Double Breasted Pinstripe Suit
Take your pinstripe suit game up a notch with something double breasted. This classic ensemble isn't for the faint-hearted but can look incredibly dashing when styled correctly. The formalwear looks fantastic in dark shades such as black or navy, but you can always spice things up in a pale blue or cream. For a formal event, opt for a classic shirt and tie in complementary colors.
SHOP: Double Breasted Pinstripe Suit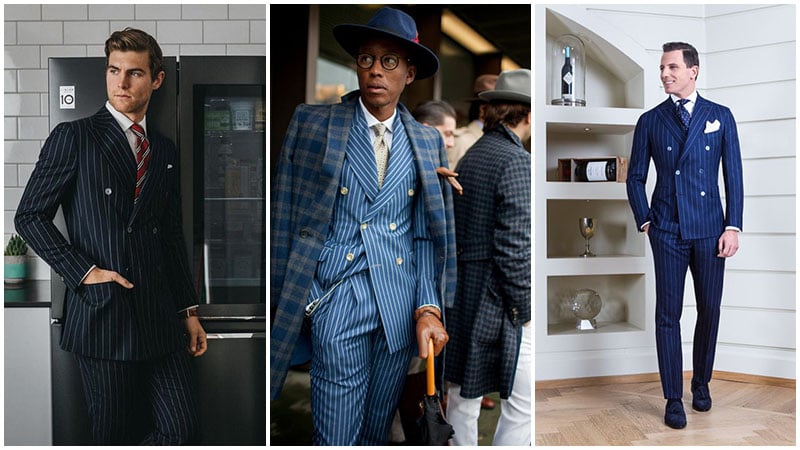 FAQs
Are pinstripe suits in style?
Pinstripe suits first came into style in the 1920s and have had a resurgence in popularity several times since then. Today, alongside classic black and navy, pinstripe is considered a staple suiting option – so they never really go out of style!
What does pinstripe suit mean?
Pinstripe refers to the pattern on the suit – very thin, fine vertical stripes running in parallel. Generally, pinstripes are light-colored while the base fabric is dark.
Is a pinstripe suit formal enough?
Pinstripe suits are considered appropriate for formal events, particularly if they are on the darker side of the color spectrum – such as navy – and styled with neutral-toned accessories and dress shoes.
Can I wear a striped shirt with a pinstripe suit?
You can wear a striped shirt with a pinstripe suit, but it's tricky to pull off. The key is to contrast the shirt stripes with the pattern of your suit – don't match them. If you can, choose a shirt with a white collar and opt for a tie in a solid hue to balance all the stripes.
Can I wear a pinstripe suit to a funeral?
A black or charcoal suit is recommended for a funeral. Pinstripes are generally associated with business so they are usually reserved for the office – however, a dark-hued, conservative pinstripe suit is acceptable to pay your respects. Pair it with a black tie and polished black dress shoes.
What shoes do you wear with a pinstripe suit?
When it comes to pairing footwear with your pinstripe suit, avoid clashing. Simple dress shoes such as Oxfords, monkstraps, and leather loafers in solid colors are a great choice for a business meeting, while white sneakers are a good casual option.
Can you wear a pinstripe suit without a tie?
For a more relaxed meeting or in the summer, you can absolutely open your top button and go tie-free with your pinstripe suit – particularly if it's in a lighter color such as cream or dove grey. Alternatively, pair your pinstripe suit with a turtleneck for a stylish and suave, '60s-inspired cold-weather option.
Can you wear a pinstripe suit to a black-tie event?
A black-tie dress code calls for a tuxedo, featuring either a black, midnight blue, or white dinner jacket with a silk lapel, so leave your pinstripes at home.
SUBSCRIBE TO OUR NEWSLETTER
Subscribe to our mailing list and get interesting stuff and updates to your email inbox.