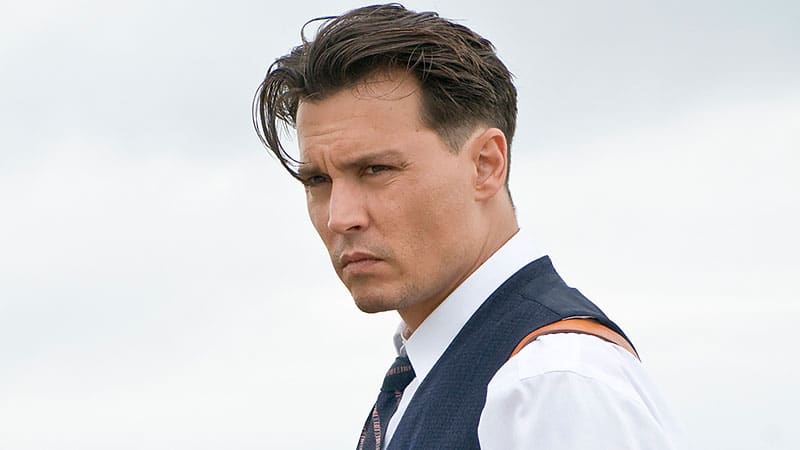 Johnny Depp is undoubtedly one of the most talented actors of our time. Well-known for his ability to take on unique and challenging roles, Johnny nails the character he's tasked with playing. While doing so obviously takes considerable talent, it also takes the right look. Just as many of Johnny's characters have naturally become iconic, so have many of his hairstyles from the roles. Whether it's Donny Brasco's slicked-back short hair or the loose waves of George Jung, Johnny Depp's hairstyles have become almost as popular as his movies. So, if you're looking for a new look, here's how you can rock Johnny's best hairstyles with star-worthy swagger.
Johnny Depp Public Enemies Hairstyle
When Johnny Depp played American gangster John Dillinger in Public Enemies he ultimately brought a classic prohibition era hairstyle into the 21st century. The vintage cut is now back in a style and a great option for gents. Very long at the front, the style graduates with smooth layering as it goes toward the back of the head. The hair is then tapered to the skin around the back and sides and kept slightly longer on the temples. Best suited to straight or wavy hair, this faded cut can also look great as a modern undercut.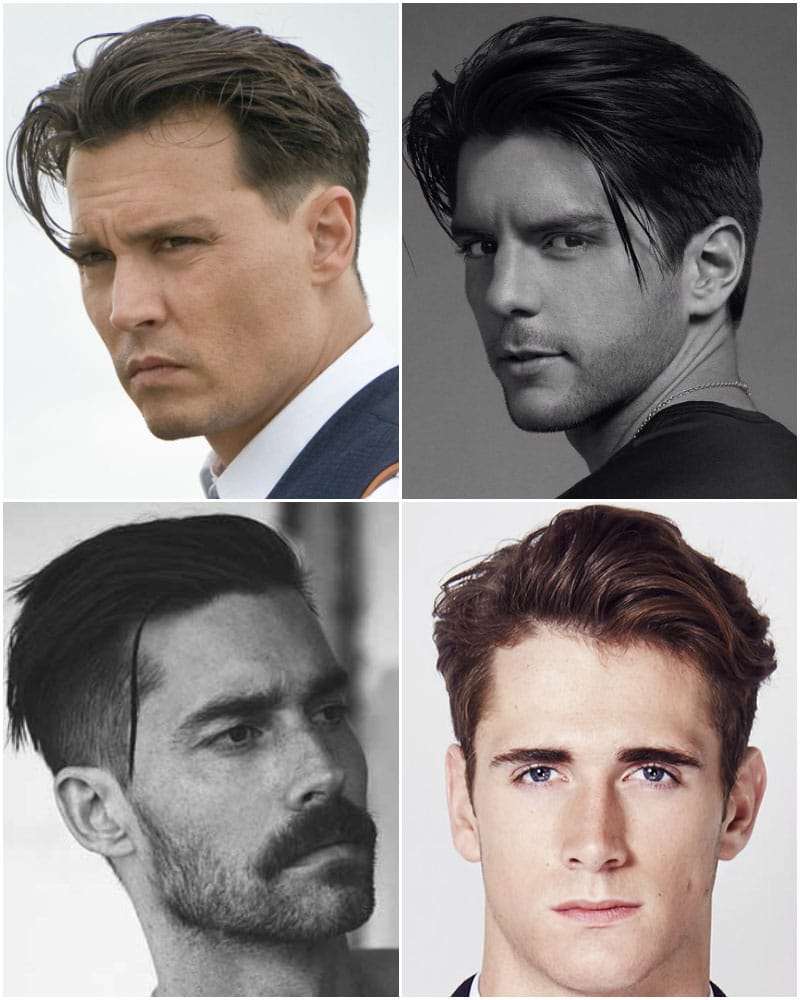 How to Style the Public Enemies Hairstyle
Blow-dry hair backward using a comb and a little wax.
Create a slightly off-center part.
Add a high-shine pomade to the top of your hair and style as desired.
Finish with a light spritz of hairspray.
Johnny Depp Blow Hairstyle
Blow may have been set in the '70s, but Johnny Depp's hair in the film is just as stylish today as it would have been back then. As current years have moved back toward longer hair for gents, George Jung's, loose bohemian waves have come back into style once more. The relaxed look has a great "surfer" vibe and is perfect for lads with naturally wavy manes.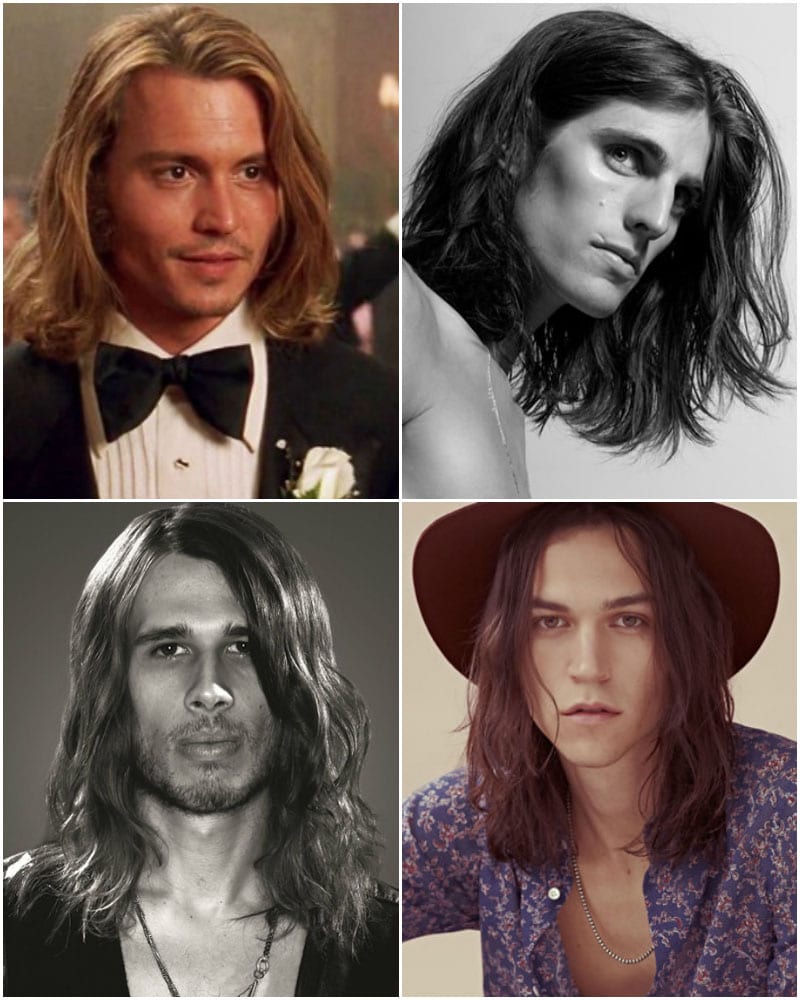 How to Style the Blow Hairstyle
Apply mousse to damp hair.
Allow hair to dry naturally or blow-dry using a cool setting to avoid frizz.
Finish by working a little matt clay through hair.
Johnny Depp Cry Baby Hairstyle
Reminiscent of Elvis and John Travolta's character in Grease, Danny Zuko, the Cry Baby hairstyle is a classic rock and roll look. While Johnny Depp may have worn it in a fictional 1950s, this rockabilly quiff can still be worn today with some modern adjustments. How about opting for a fade on the sides or creating a messy quiff on top? You can even try this style with short hair for a super subtle take.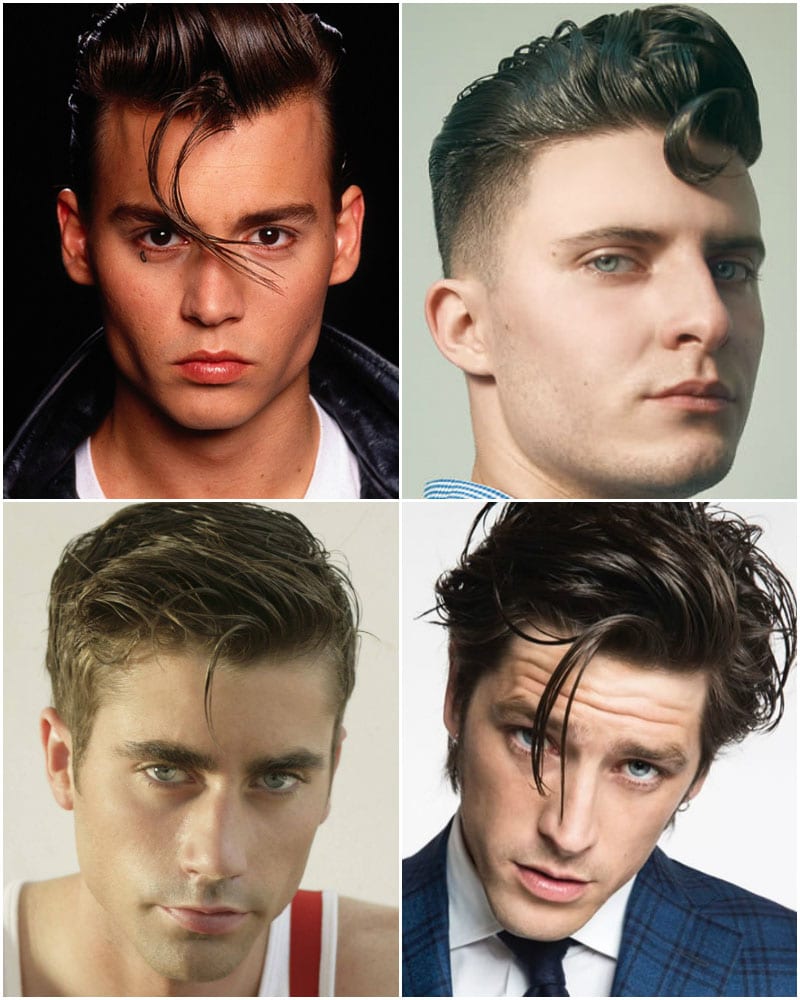 How to Style the Cry Baby Hairstyle
Wash hair and towel dry.
Blow-dry hair while combing backward and directing roots upwards.
Once hair is 50% dry, use hands to work a small amount of pomade through from roots to ends.
Blow-dry hair fully and reapply pomade until the desired quiff is achieved on top.
Comb sides back, flattening the hair against your head.
Flick a couple of strands at the front of your head forwards.
Johnny Depp Donnie Brasco Hairstyle
Donnie Brasco's slicked-back short hair is an unforgettable look. Although the hairstyle isn't as popular as it once was, it can still make a stylish option when done right. These days the trick is getting your hair to sit right without overdoing it in the product department. Even Johnny Depp probably couldn't pull off a head full of greasy hair in 2016.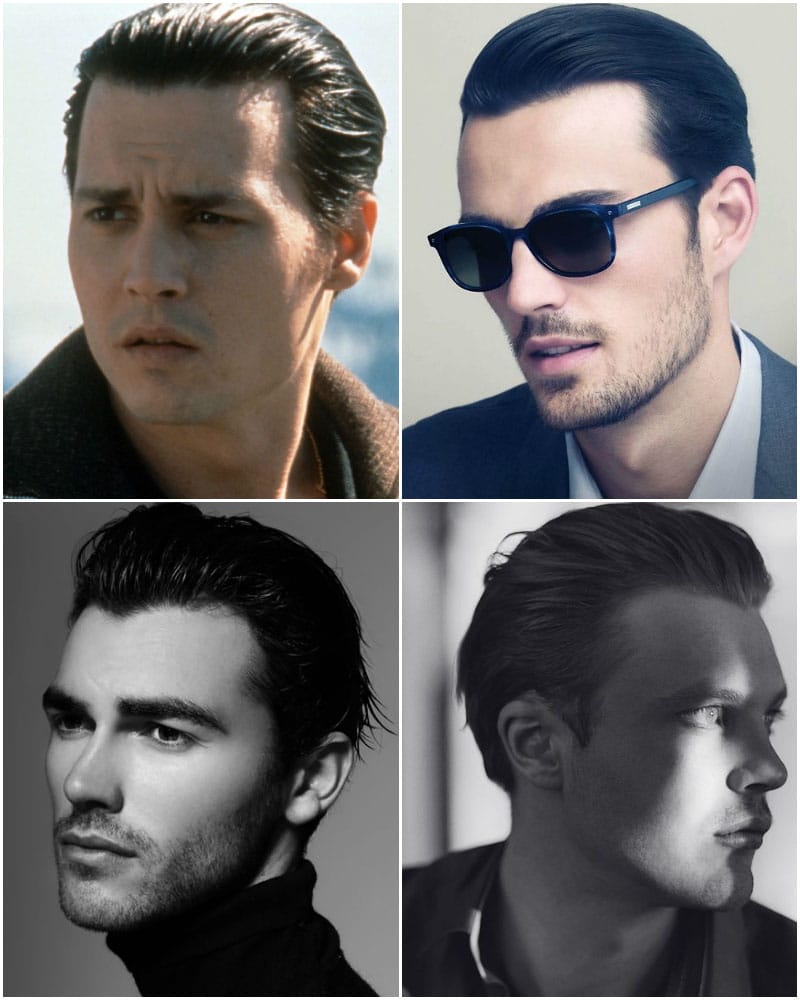 How to Style the Donnie Brasco Hairstyle
Towel dry clean hair until hair is damp but not wet.
Comb the top and sides of hair backward, completely hiding any natural parting in the process.
Work a generous amount of pomade into hair, starting at the back of your hair.
Use any remaining pomade on hands to evenly coat hair from roots to ends.
Comb through hair again, pulling from front to back and trailing the comb with your other hand to keep everything smooth.
Use hands to complete style as desired.
Johnny Depp Chocolat Hairstyle
When Johnny played the river traveler, Roux, in Chocolat he donned the perfect bohemian hairstyle. His long hair tied into a messy, low, ponytail offered just the right amount of nonchalant attitude. Although men's ponytails constantly sway in and out of style, the unique look can always be pulled off with the right personality. Just take Chris Hemsworth's current look for example.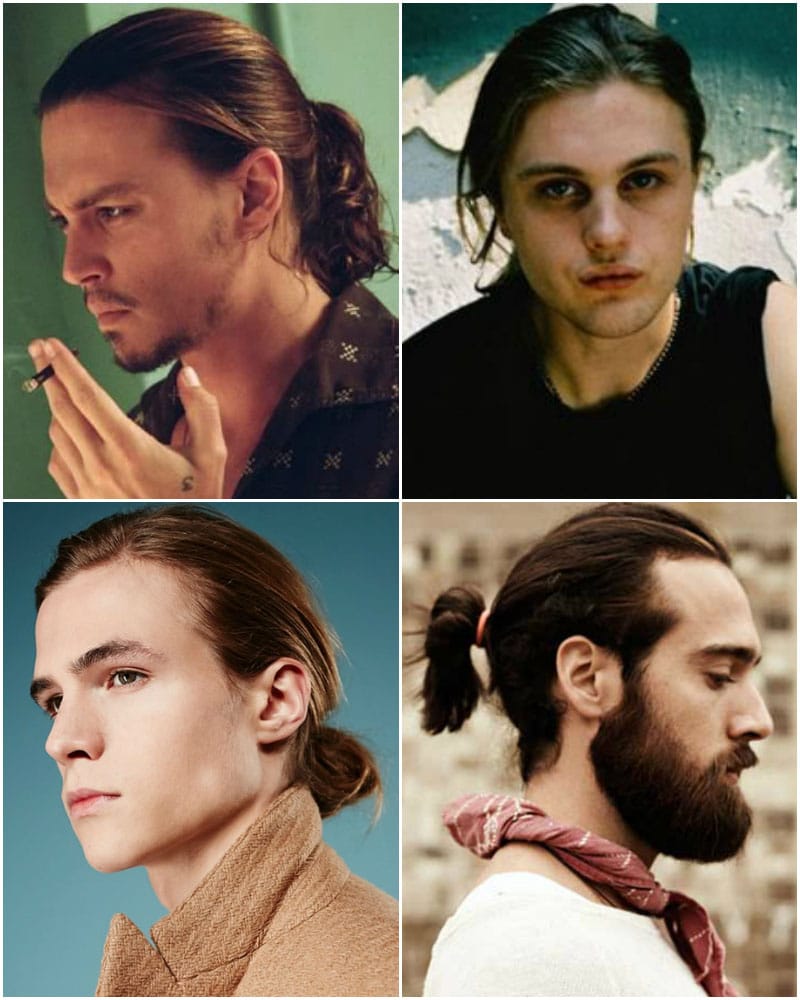 How to Style the Chocolat Hairstyle
The key to pulling off this style is to not use a brush.
Instead, use hands to comb hair back before securing with an elastic in a low ponytail.
Finish by pulling out or loosening pieces of hair from the ponytail to achieve the perfect messy appearance.
Johnny Depp The Tourist Hairstyle
A chin-length, male "bob" may not sound like a particularly stylish haircut, but Johnny proves in The Tourist that it is just that. This stylishly messy look is best suited to gents with natural waves and thick hair. Although it may take around a year to grow to this length from short strands, this alternative style offers a youthful and rugged appeal that the ladies are sure to love.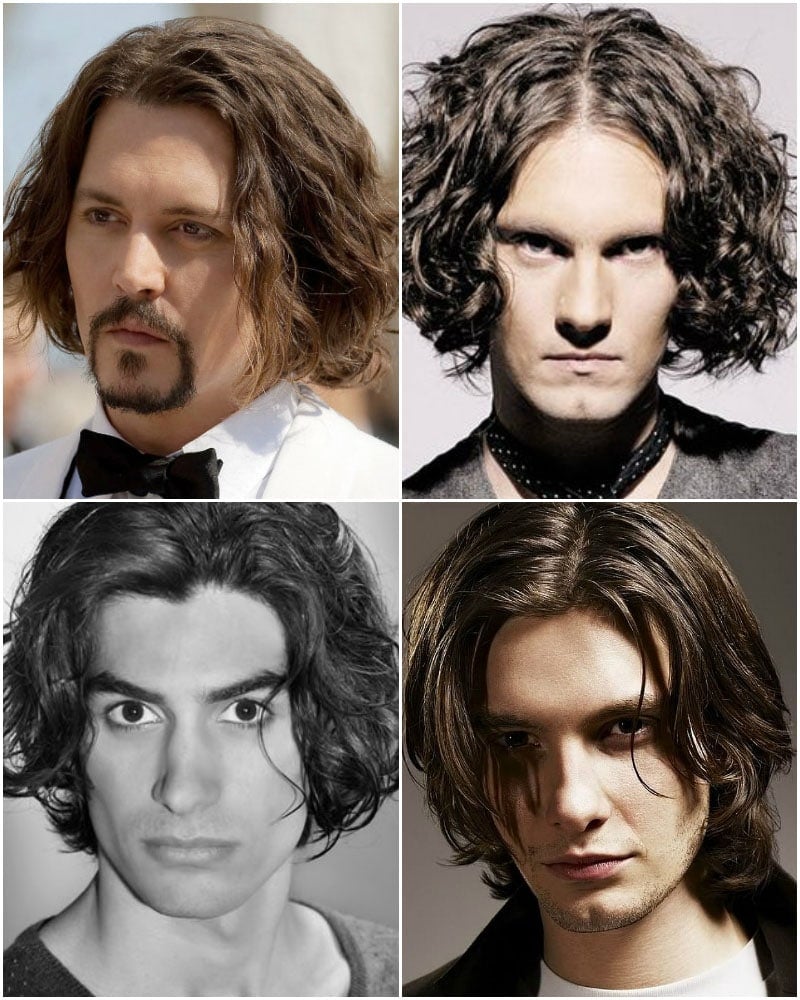 How to Style the Tourist Hairstyle
Wash hair in cool or cold water, pushing all hair back.
Towel dry hair by holding your head upside down and scrunching/squeezing strands. This will help add volume and maintain your natural wave without causing frizz.
Use hands or a comb to create an off-center part.
Spray hair with a little sea salt spray and allow it to dry naturally.
Johnny Depp What's Eating Gilbert Grape Hairstyle
Johnny Depp's hairstyle in What's Eating Gilbert Grape not only looked great but also suited his character and perfectly represented the time. The definitively '90s style featured a long mane of naturally textured waves. A key look for guys of the grunge movement, this messy look is both casual and nonchalant. As with everything '90s, this hairstyle is once again popular and trending. Try it for yourself, adding in some layers to create extra texture.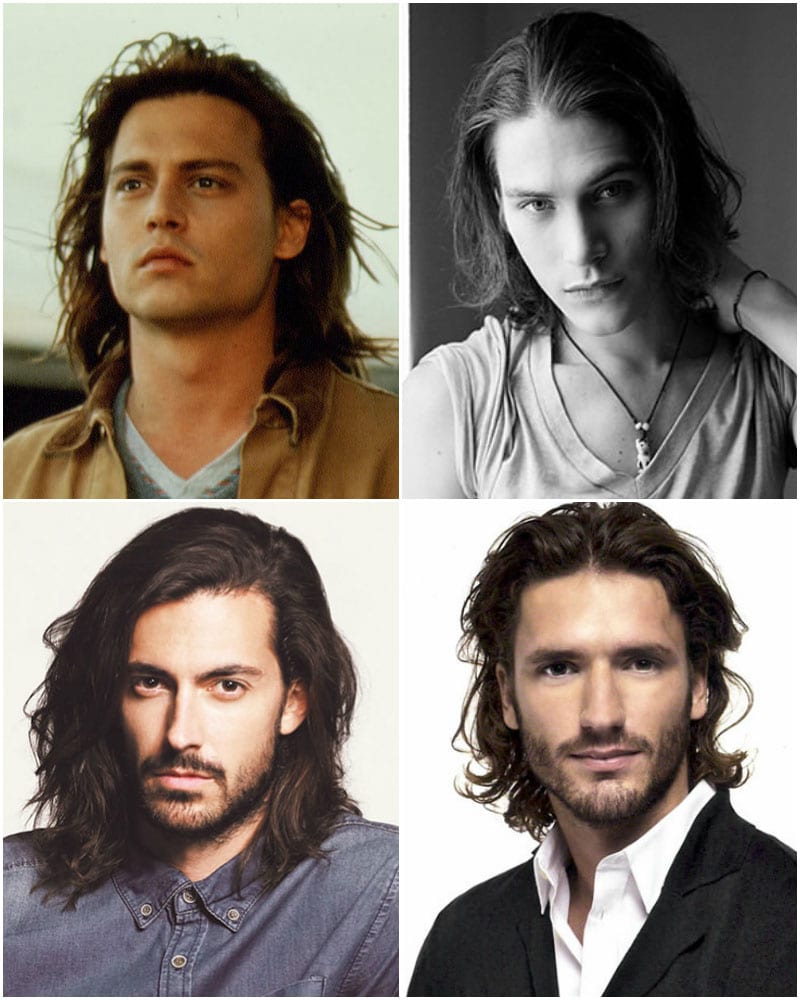 How to Style the What's Eating Gilbert Grape Hairstyle
Wash hair no more than a few times per week to allow for natural oils.
Part hair at the side or center. Alternatively, sweep all hair back.
Apply a small amount of pomade to hair to add volume.
If needed, spray a little sea salt spray onto hair to create texture.
Johnny Depp Transcendence Hairstyle
When Johnny appeared in science fiction film, Transcendence, he sported a suitably modern, short, textured, hairstyle. Longer on top and shorter on the sides and back, this stylishly messy cut is full of texture and layers. Contemporary and cool, Johnny styles this look in a disheveled way by pushing some parts back and allowing others to hang forward.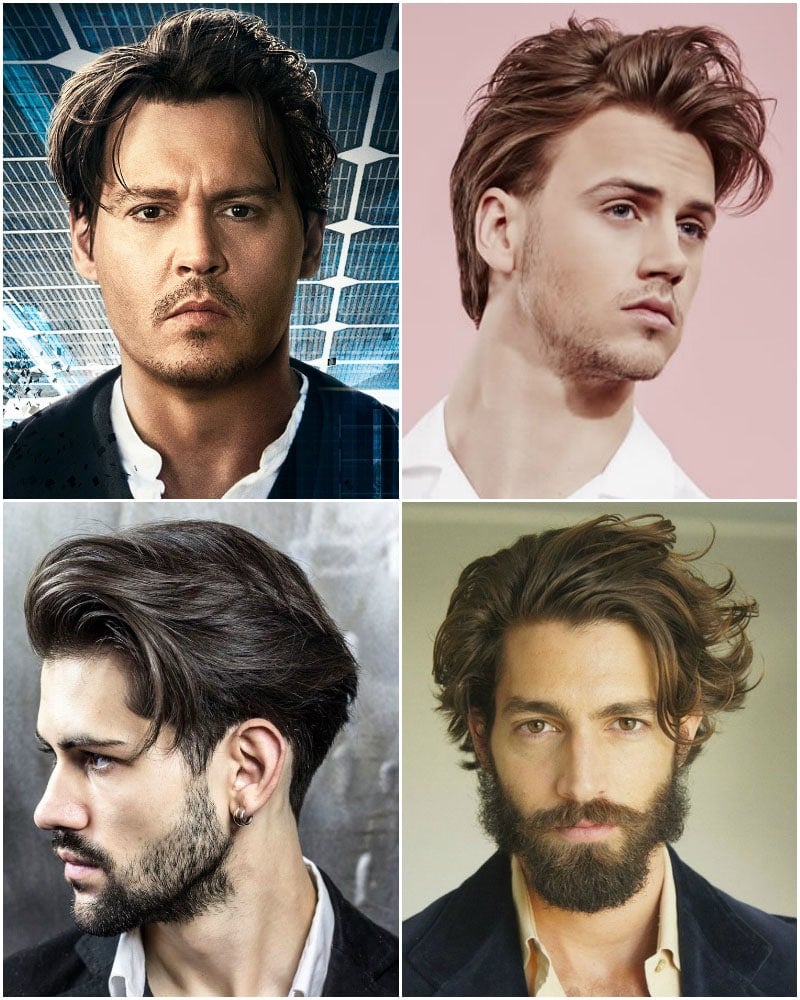 How to Style the Transcendence Hairstyle
Blow-dry washed hair, directing roots upwards and strands backward.
Once dry, use a little pomade or wax to messily style hair, pushing some parts back and leaving others loose.
Finish with a very light spray of hairspray to keep the style from falling flat.
Johnny Depp Finding Neverland Hairstyle
In the 2004 film, Finding Neverland, Johnny Depp rocked a vintage, slicked-back, parted, style. Then, last year, Johnny debuted the same hairstyle once more, this time appearing in Mortdecai. This 1920's classic look is all about sophisticated and suave style and, despite being almost 100 years old, can still look great today. To bring this look into 2016, simply add some more texture and make the part less severe.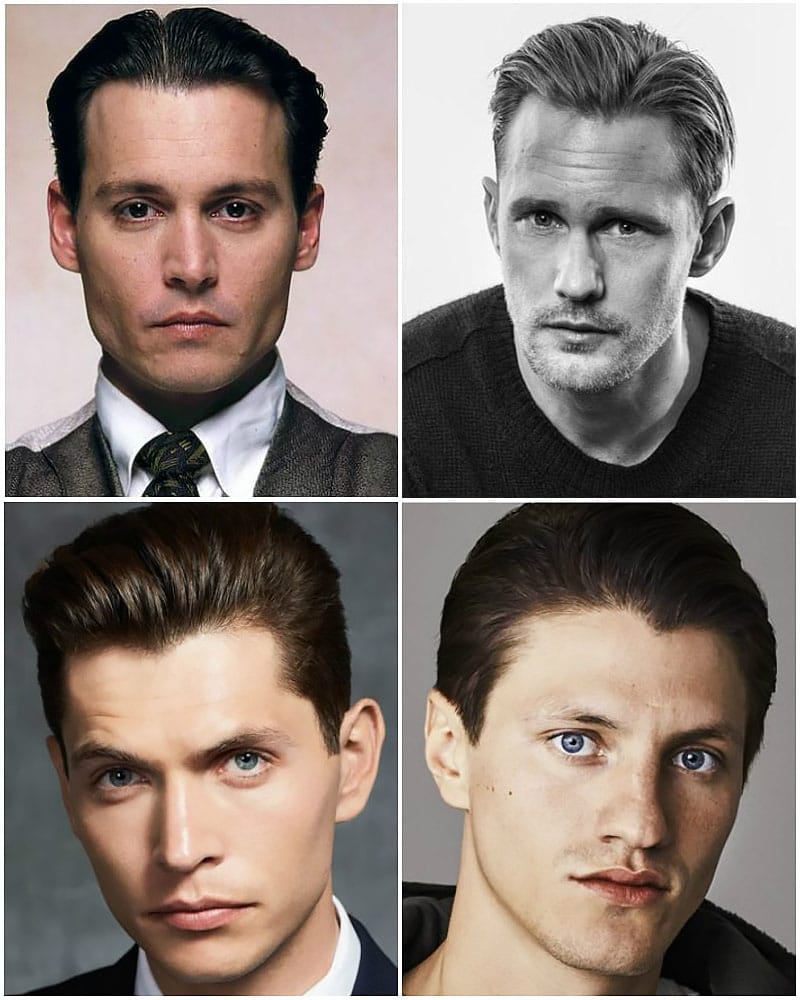 How to Style the Finding Neverland Hairstyle
Wash hair and blow-dry backward until just damp.
Part hair using a comb and comb each side backward and slightly to the side.
Finish blow-drying hair, being careful not to disrupt the part.
Use hands to smooth some pomade through hair.
Johnny Depp 21 Jump Street Hairstyle
While he may not have been a movie character, Officer Tom Hanson of 21 Jump Street still had some movie star-worthy hair. His signature long side parting with floppy, swept-back fringe has stood the test of time and turned from an '80s heart-throb style into a sophisticated modern look. Once again featuring long layers on top with tapered sides and back, this look kicked off Johnny Depp's string of iconic hairstyles.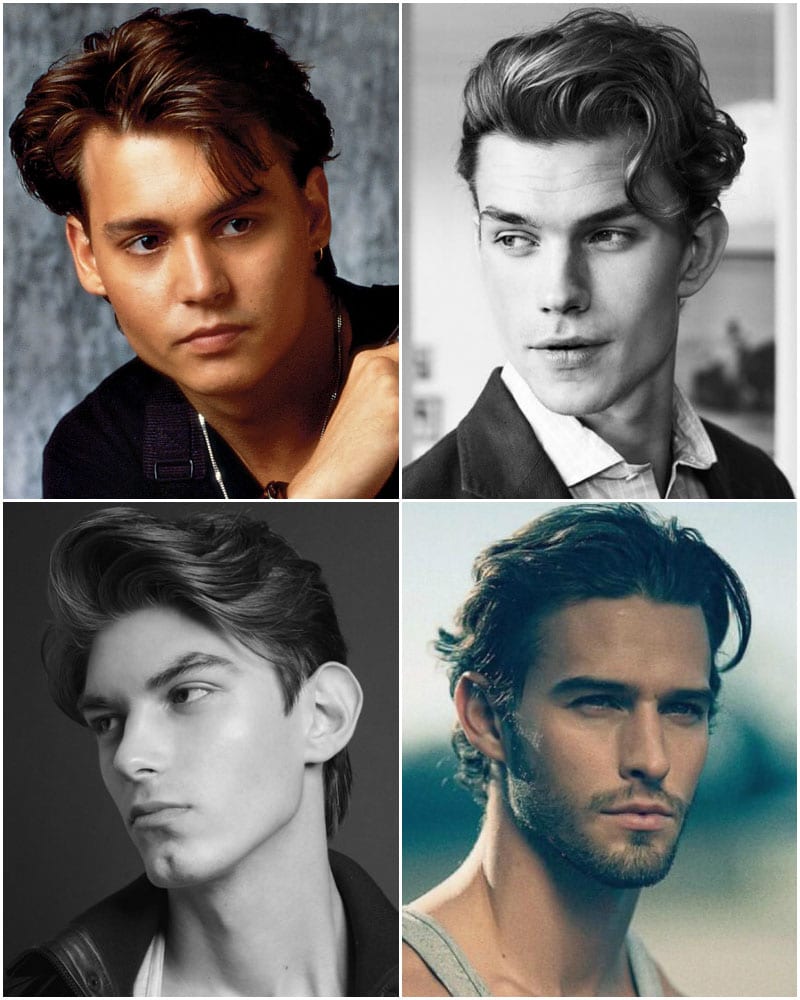 How to Style the 21 Jump Street Hairstyle
FAQs
How can I get Johnny Depp's hair?
The best place to start is to grow your hair out. Most of Johnny Depp's styles feature extra length to create texture and shape. To get one of his shorter styles, opt for a low taper fade around the sides, with three or four inches on top, and style it with a matte pomade or wax. You can create messy texture or comb it back for a slick back or quiff. Alternatively, for a bro flow or long hair, apply mousse to damp hair, then blow-dry with a round brush to create natural movement.
What is Johnny Depp's haircut called?
Johnny Depp has rocked many hairstyles across his career. He's worn an undercut in Public Enemies, a bro flow in Blow and The Tourist, long hair in Chocolat and What's Eating Gilbert Grape?, and a rockabilly quiff in Cry Baby. Then, in Donnie Brasco and Finding Neverland, he had a slicked-back style, while in 21 Jump Street and Transcendence, he wore extra length on top, with messy texture.
SUBSCRIBE TO OUR NEWSLETTER
Subscribe to our mailing list and get interesting stuff and updates to your email inbox.