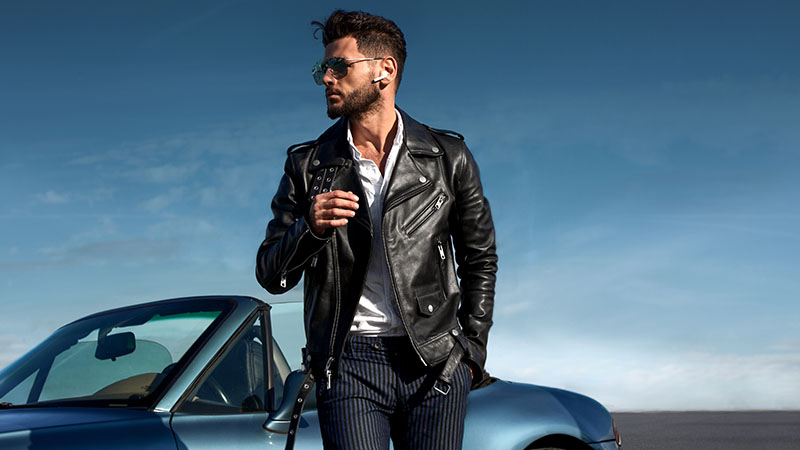 RELATED: How to Wear a Leather Jacket With Style
A leather jacket is a must-have investment for any style-conscious man. It's unique in its ability to channel heritage, attitude, and unbridled masculinity in a single garment. They're also surprisingly versatile in their styling, working as an alternative to a blazer, for urban streetwear, or with a grungy vibe. Whether you choose a biker or bomber, racer or flight, there's sure to be a leather jacket style that will fit easily into your wardrobe. Depending on what you select, a leather jacket can be a life-long friend that will keep you warm, hype you up, and make you look cool in front of your crush!
Best Men's Leather Jackets
1. Wantdo Men's Faux Leather Jacket with Removable Hood
Turn up your street style with this faux leather jacket from Wantdo. It features a padded cotton lining for comfort and a polyester outer, which is both waterproof and wind-resistant, so you stay warm. In classic bomber jacket style, it also has elastic cuffed wrists and waist for a secure fit and to keep your body heat in. Wear it with the hood attached for a more urban look. Alternatively, if you need to dress up more, you can easily remove the hood, as it zips off easily. Lastly, while classic black is an excellent choice, there are other variations, including brown, coffee, dark chocolate, and wine red.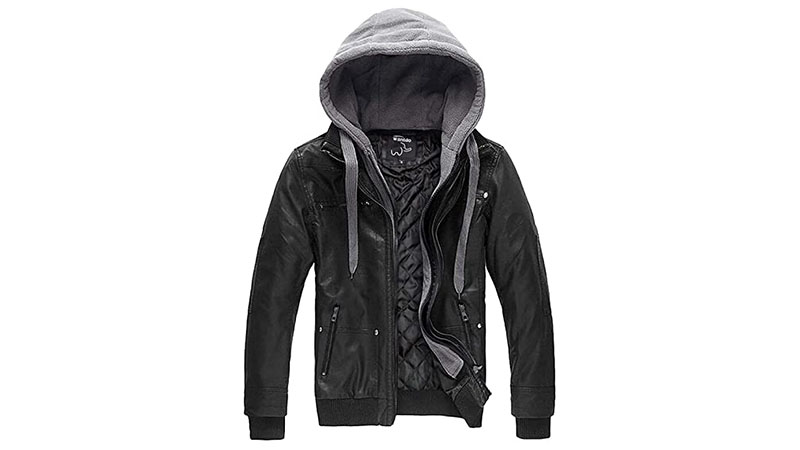 2. Flavor Men Brown Leather Motorcycle Jacket with Removable Hood
Add an element of ruggedness to your look with this lumbersnack-worthy bomber jacket. It has lots of internal and external pockets for keeping your belongings safe and hands warm. There is also a zip-off hood so you can wear it up or take it off for a dressier look. The exterior is genuine leather, while the lining is polyester with cotton stuffing to keep you toasty. Plus, the central zip closure and ribbed waistband and cuff will keep any frosty wind or snow out. Best of all, it comes in an extended size range from extra-small to six-X tall, so no matter your build, you can rock this leather jacket.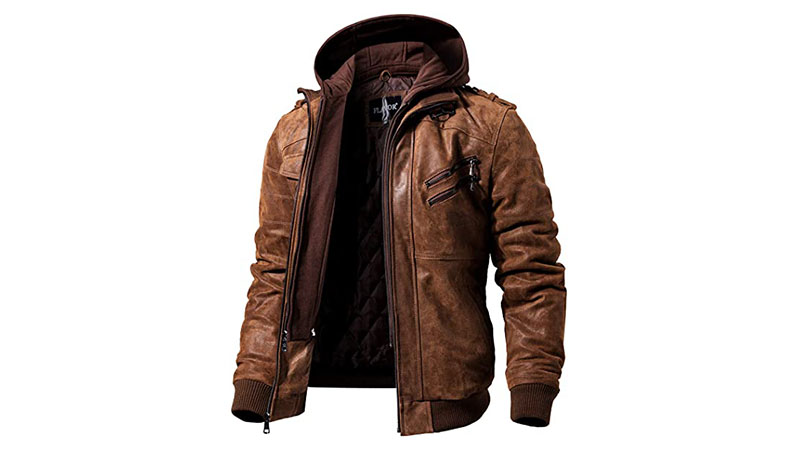 3. Chouyatou Men's Vintage Stand Collar Pu Leather Jacket
This slimline cafe racer is a great option for stylish men who prefer a more sleek look. It still has just as much attitude as a biker or bomber but fits snug to your body, accentuating broad shoulders. The construction is made from good quality faux leather, so it's very reasonably priced and a good option if you're unsure about rocking a leather jacket. There is a center zip-closer, as well as zips on the cuffs and paneling for added detail. There's also a huge variety of color and styling options. Choose from a range of browns, charcoals, burgundies, and black, some with ribbed panels and crosshatching.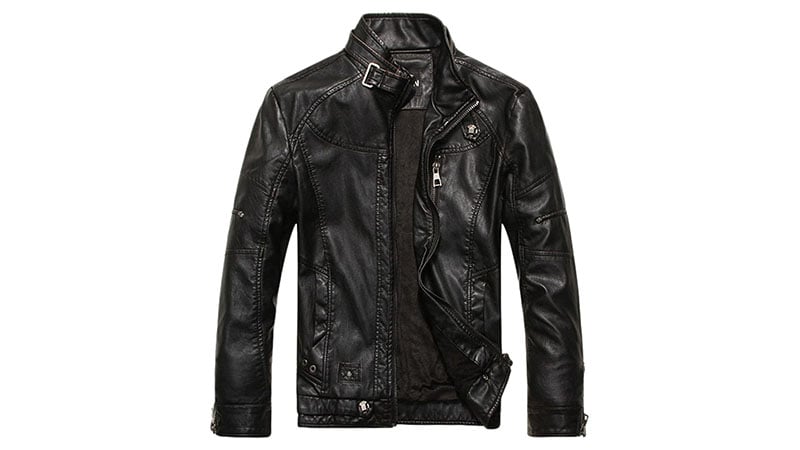 4. MR P. Shearling-Trimmed Leather Bomber Jacket
You'll be as snug as a bug in a rug in this shearling-trimmed bomber from Mr. P. The comfortable cut is great for layering but doesn't look untidy, thanks to the ribbed cuffs and waistband. When it comes to the materials used in this leather jacket, the exterior is genuine cowhide, the shearling is lambskin, and the lining is acetate, a semi-synthetic fabric. Plus, if you get too hot with the fuzzy collar, it is easily removable. You'll be rocking this for years to come, as an investment piece like this is going to age like a fine wine with the right care.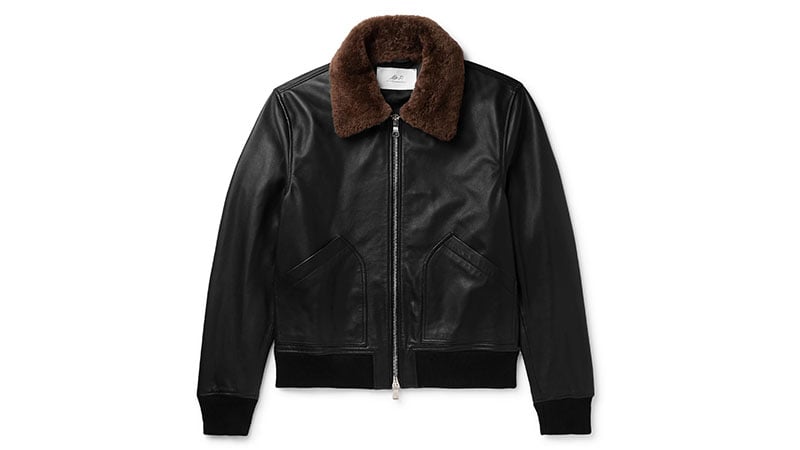 5. Kingsman Burnished-Leather Jacket
This timeless leather jacket is part of the exclusive line at Mr. P that is inspired by The King's Man movie. In collaboration with the film's director, Matthew Vaughn, the line features military styling, classic lines, and signature tailoring, all of which echo the movie's wardrobe, designed by Michele Clapton. The jacket features a beautifully burnished sheep leather that will develop its own unique character over time. It also has a retro camp collar and buffalo horn buttons to round out the style's timelessness. Pair this jacket with tailored slacks and a knitted wool jumper for a 1960's British secret spy vibe.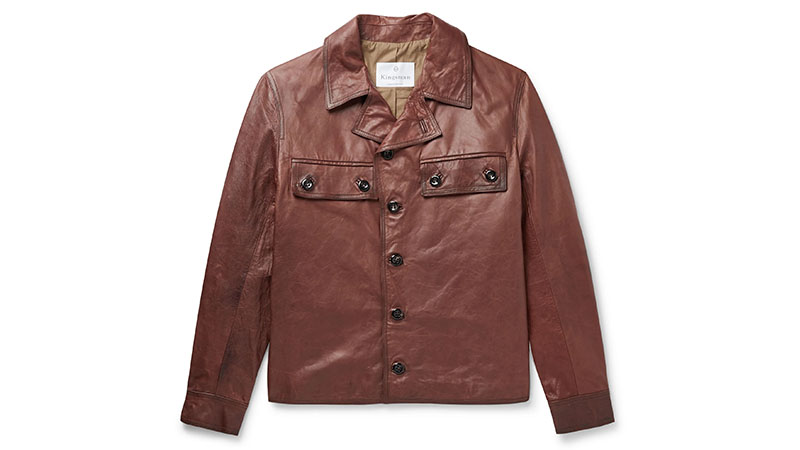 6. Philipp Plein Leather Biker Jacket
Keep it sleek and edgy with this leather biker jacket from Philipp Plein. It's classic, stylish, and sure to fit easily into your wardrobe. The buttery soft lambskin leather feels incredible on and allows plenty of movement and flexibility. It will also wear exceptionally well, softening more with age and molding perfectly to your frame. The banded collar and feature zips break up the dark black, as does the paneling along the arms and sides. Finally, there is also a metal-finish logo plaque on the rear of the jacket. Create a dark and broody rock'n'roll look, matching this jacket with skinny black jeans and a pair of combat boots.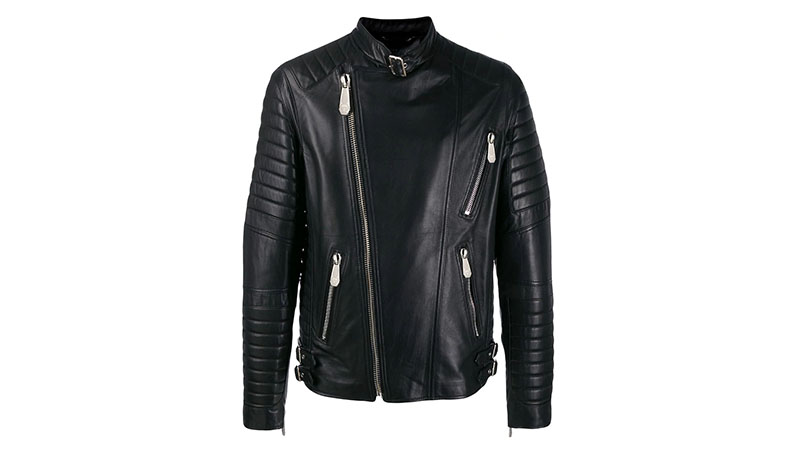 7. Flavor Men's Leather Flight Bomber Jacket Air Force Aviator
Channel your inner Indiana Jones with this flight-style bomber jacket from Flavor. The outers are genuine pigskin leather, which is dense and durable, yet also feels supple and moves well. Meanwhile, the lining and padding are made from 100% cotton and features a printed American flag. With lots of room throughout the body, the fit is comfortable and suitable for layering in the colder months. When it is cold, the jacket also comes with a removable hood for that extra level of warmth.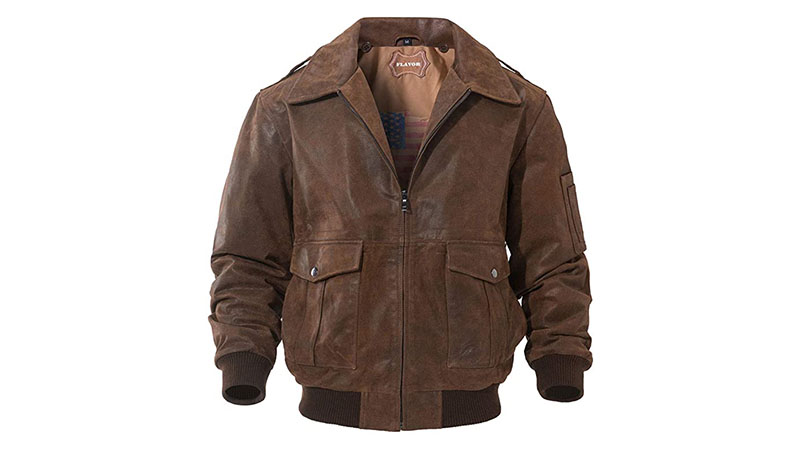 8. Diesel Logo Patch Jacket
Choose a streamlined design with this logo patch leather jacket from Diesel. Its symmetrical silhouette features two chest zip pockets and two waist ones, as well as zippers on the cuffs. The banded collar also stays closed with snap clasps. Meanwhile, lambskin outers are exceptionally soft and flexible, while the paneling and branding down the arms add interest and better movement. If you're a classic gent, who's looking for something easy to incorporate into your daily style, this is an excellent option.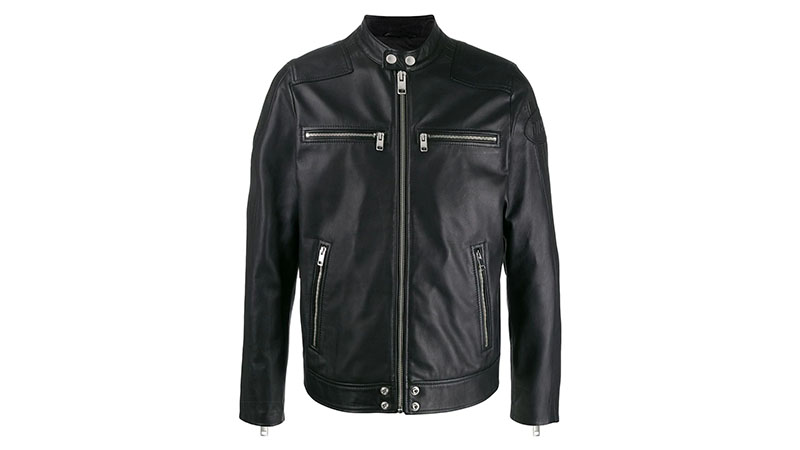 9. Karl Lagerfeld Ikonik Biker Jacket
Karl Lagerfeld's legacy continues with this sexy black biker jacket. The off-center zip and statement lapels are quintessential features of a classic biker jacket. Combine this with the slim fit and you have a flattering style that accentuates broad shoulders. It also has plenty of storage with zipped pockets on both sides and at the chest. Plus, lambskin outers will keep you warm and age nicely with each wear, as the shape conforms to your body. Keep with the design's edginess by wearing this with ripped black jeans, a band t-shirt, and your favorite hi-top sneakers.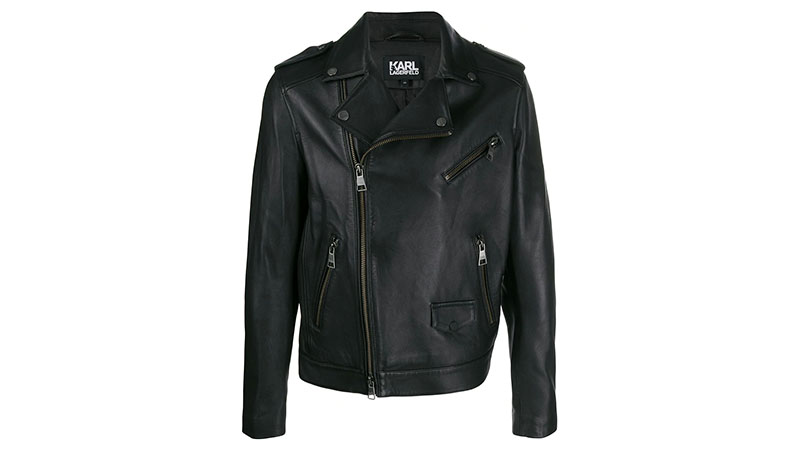 10. Salvatore Santoro Zip-up Leather Jacket
Made in Italy, this leather jacket from Salvatore Santoro wouldn't seem astray in a forest cabin in the Canadian Rockies. It has paired back detailing that complements the discreetly distressed sheepskin suede. The lining is 95% cotton, so it breathes exceptionally well while still keeping you warm. This is the kind of jacket that becomes a stylish gent's signature look. Wear it paired with a pair of classic blue jeans, a pair of timberlands, and a casual flannel shirt.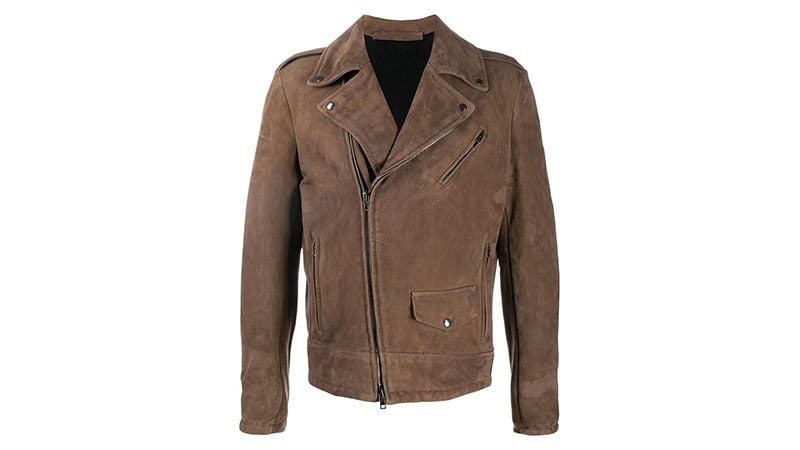 11. Juun.J Crinkled Hooded Jacket
If you're a gent looking for an unconventional leather jacket, this design from Juun.J is ideal. The South Korean label combines urban dressing with flattering cuts and elegant structure. As such, this jacket brings elements of a hoodie and a bomber jacket together in one style. The faux leather features a crinkle finish, which extends to the padded hood. Zip front fastening and elastic cuffs and hem keep the warmth in, while the pockets are perfectly placed and large enough to keep your hands nice and warm. Rock this casually, or team it up with black trousers and work boots for a modern interpretation of office casual.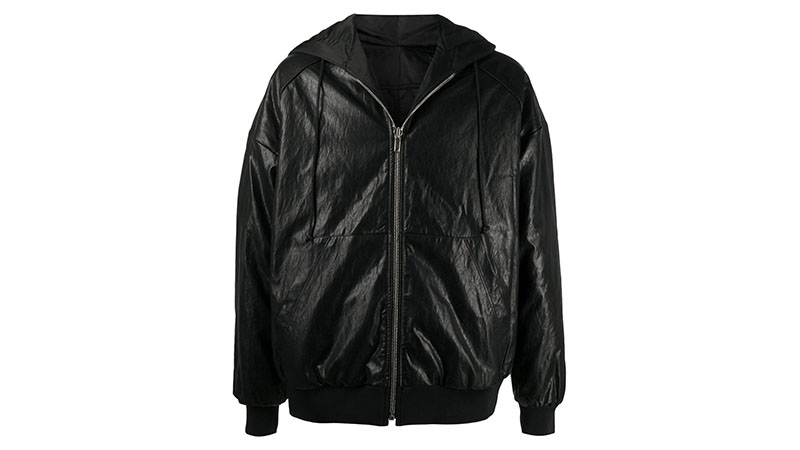 12. Iceberg Logo Leather Jacket
Iceberg mix together sports luxe and American Pop Art in an aesthetic that's synonymous with the brand. This logo jacket is no exception to this design inspiration. It's made from the softest lambskin, with plenty of detail thanks to the embroidered sleeve logo, striped sleeve panel, and bold logo print design on the back. Elasticated fabric features at the cuffs, hem, and neckline, ensuring the ultimate comfort in those high-movement areas. While it's not as classic as some leather jacket options, it's a great addition to a healthy wardrobe that's needing a big statement.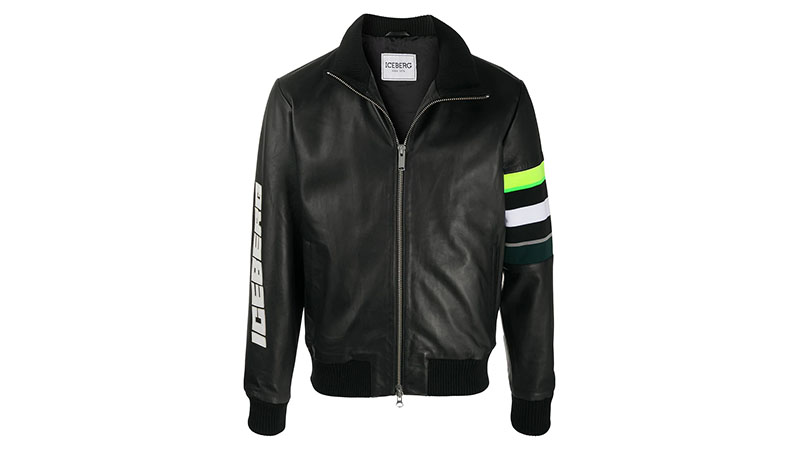 13. Schott LC5331X Pilot Premium Leather Jacket
Schott was the first manufacturer of leather motorcycle jackets, having designed one specifically for Harley Davidson back in 1928. It was a significant deviation from the raincoats that the New York-based company ordinarily produced, but lead to a long legacy of creating excellent quality leather jackets for distinguished gentlemen. Customers include Marlon Brando and The Ramones. As such, rocking this pilot jacket will put you firmly in the same style category as these icons. It's made from beautiful leather, with a faux fur collar, which can be removed. It also has a regular fit, making it ideal for layering in the winter months.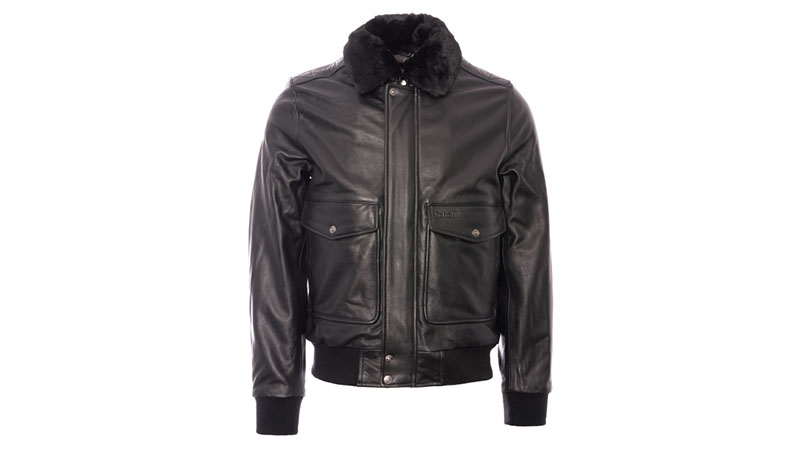 14. Tommy Hilfiger Shearling Leather Jacket
You'll be looking ever so fly in this shearling leather flight jacket from Tommy Hilfiger. It keeps with the classic, contrasting colors of deep brown lambskin outers and warm cream sheepskin shearling lining. The natural fibers are durable, breathable, and exceptionally warm. A zip closes the body of the jacket, while there's a double buckle fastening at the collar. Flight jackets first came into rotation in 1917, when the US Army Aviation Clothing Board brought them in to keep pilots warm in their open-air cockpits. Consequently, it channels a distinguished, proud history and masculine energy.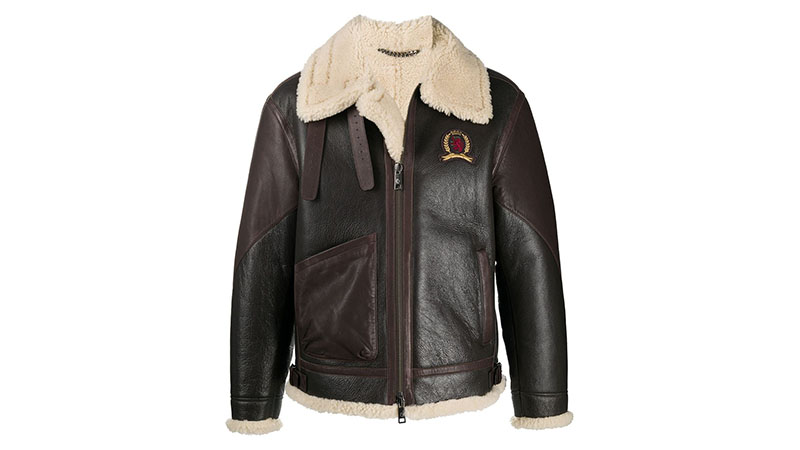 15. Yves Salomon Homme Leather Bomber Jacket
The Yves Salomon fashion house has a 100-year history of designing creative and distinctive garments for both men and women. Choose a different look with this grey leather jacket featuring bomber jacket styling. It has a stand-up collar, and elasticated leather cuffs and hemline. It's also made from ultra-soft lambskin, which tends to have a smoother, more even finish, which is ideal for light colors. Wear this with slim-fit trousers, a white button-down shirt, and a simple tie for a proper and preppy look.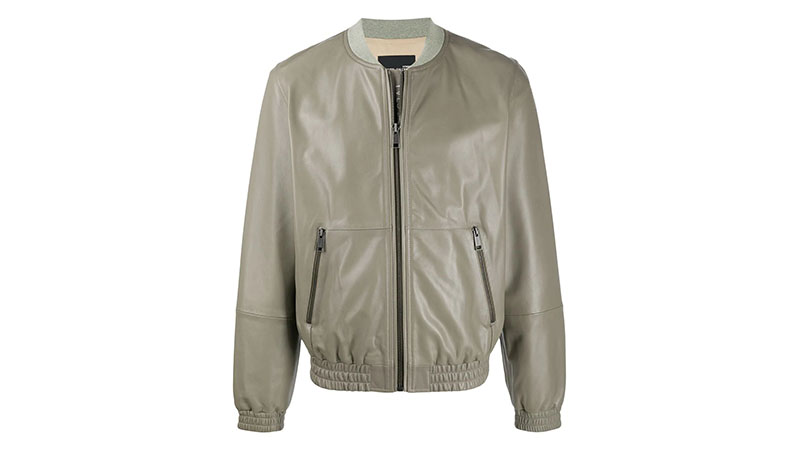 16. Eleventy Zip-up Leather Jacket
With all pieces made in Italy, Eleventy's focus is on refined staples that revere the idea of humble luxury and timeless design. Consequently, this leather jacket is a perfect investment as it will undoubtedly stand the test of time in terms of style and durability. The leather exteriors are guaranteed to age well, while the slim-fit is flattering for most body types. The simplicity of the design also makes it easy to wear. Match it with slacks, loafers, and a roll-neck jumper, or rock it with jeans, a t-shirt, and Chelsea boots.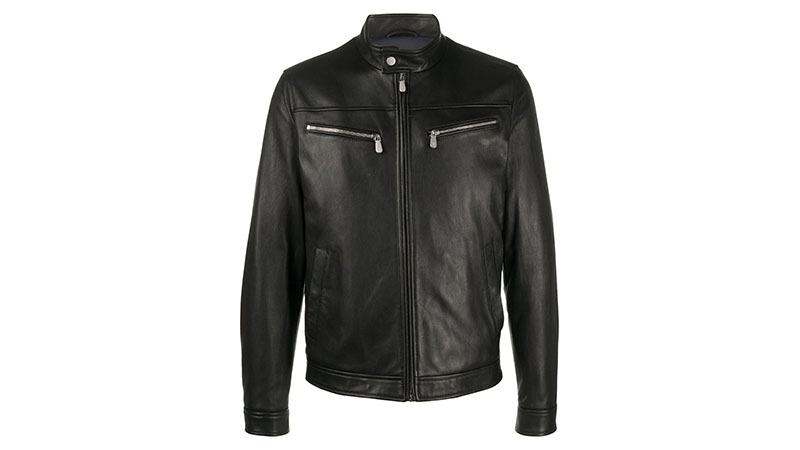 17. Neil Barrett Panelled Leather Jacket
What do you get when you mix a letterman jacket with a leather bomber? This incredible style from Neil Barrett, which brings modern minimalism and sportswear together. The front panel is made from 100% leather and boasts angled pockets, a high neck collar, and zip closure. Then, the arms and back panel are made from a stretchy viscose and spandex blend that is soft and comfortable. Ribbed cuffs and hemline keep the design neat, emulating both the letterman and bomber styles. This leather jacket is perfect for gents looking for a different interpretation of traditional styles.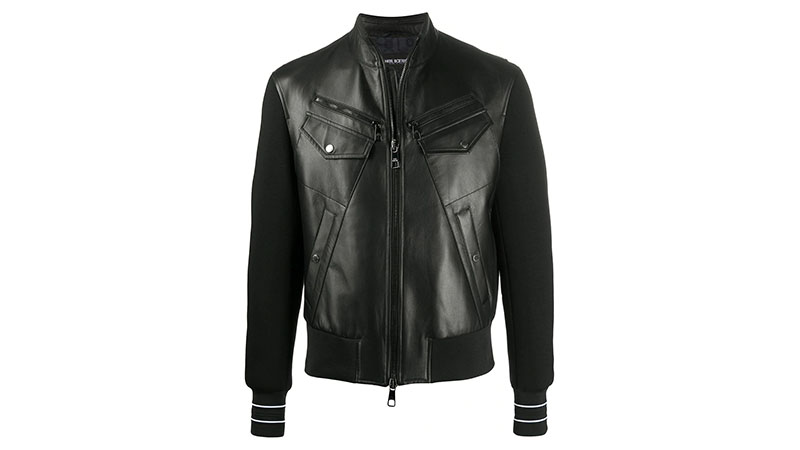 18. Landing Leathers Men's Air Force A-2 Leather Flight Bomber Jacket
You'll be feeling like an elite airman in no time with this bomber jacket from Landing Leathers. It has a roomy fit that's great for layering and comes in an extended size run from extra-small to double extra large tall. YKK zips feature on the closure, while the ribbed cuffs and waistband help insulate you against the warm. It's also made from genuine leather, coming in both distressed brown and sharp black.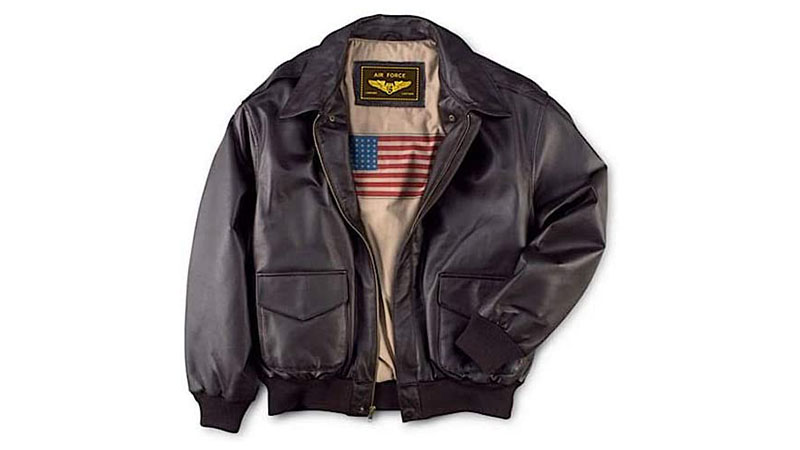 19. Versace Black Leather Blouson Jacket
Versace brings its recognizable motifs and confident design to this leather blouson jacket. It uses a mix of luxury lambskin leather across the upper chest, back, and sleeves, and nylon fabric around the midsection and underarms. The nylon features the tonal Greek key pattern and white piping. There's also a large logo appliqued across the chest — there's no mistaking which house is responsible for this jacket! If you're a Versace devotee or looking for an interesting take on a leather jacket, this style is a flawless choice.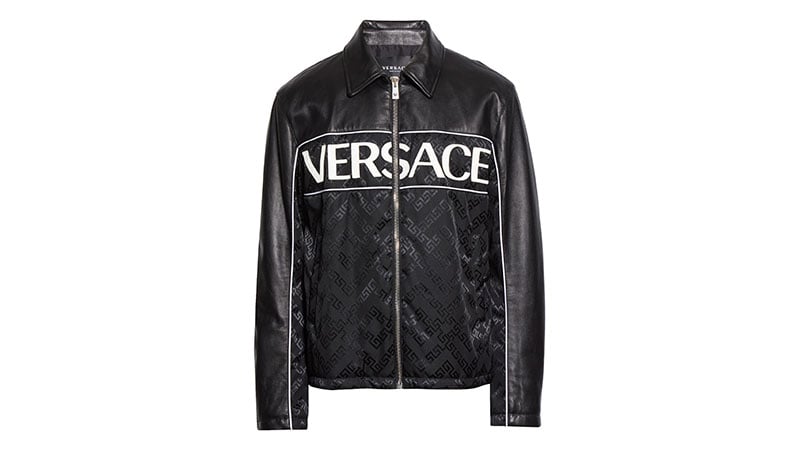 20. Mackage Black Leather Mangus Jacket
Mackage's Mangus black leather jacket is a quintessential biker style that oozes cool. Beyond the lambskin body, it also features a removable jersey fabric hood, heavy metal features, and asymmetrical zippers. It has a slim silhouette that shifts easily with your body and an action back cut to allow bigger arm movement. It's the perfect style for light layering in the transitional seasons. Rock this jacket with combat boots, black joggers, and a simple black t-shirt.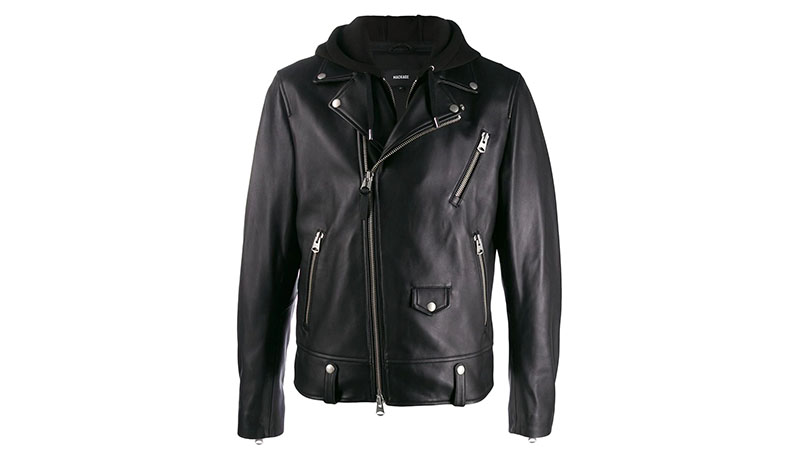 Leather Jacket Styles
Biker
Biker jackets are one of the most common styles of leather jackets available. Often made using black leather, they're easily identified by the appearance of metal studs and asymmetric zippers. The off-center or diagonal zippers allow motorcycle riders to bend towards the handlebars more comfortably. Additionally, the length is cropped to sit around the hips, and the lapels can often be pulled crossed and zipped up for extra protection from the elements.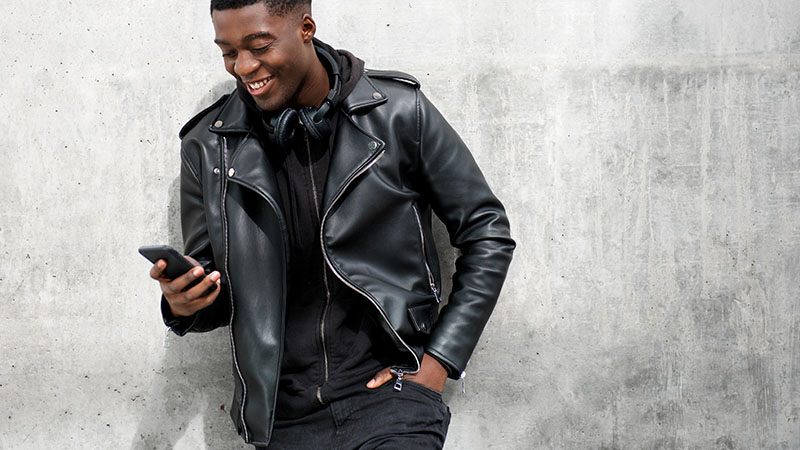 Cafe Racer
Cafe racers were first popularised post-World War II by soldiers who would soup-up old army bikes and race between pubs and cafes. This leather jacket style is similar to a biker by more streamlined. They feature a cropped length, strong zipper, band collar, and cuff zips. The design is more form-fitting making it both stylish and practical. Other common design elements included ribbed or patterned paneling that adds better movement and a whole lot of attitude.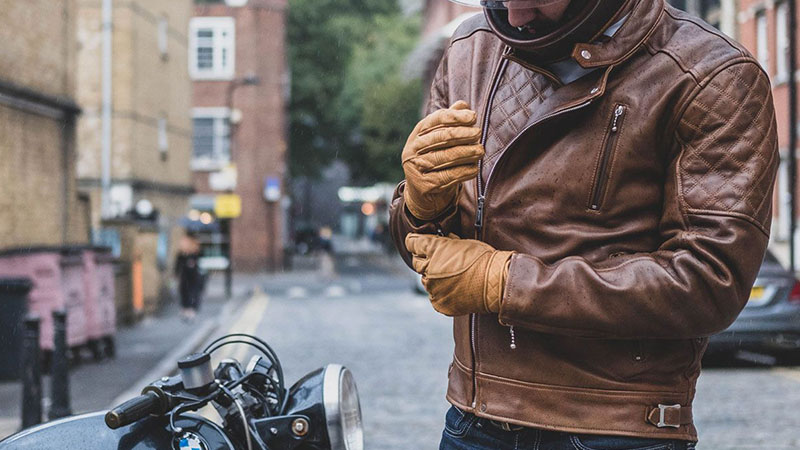 Bomber Jacket
Another popular and common leather jacket style is the bomber jacket. This simple silhouette features a cropped length, center zip, and fitted waistband and cuffs, often made from ribbed fabric. Originally a style of flight jacket, it's effortless cool, easy to wear, and suits most men's body shapes. Plus, bomber jackets come in various colors and fabrics, from black leather to bright satin.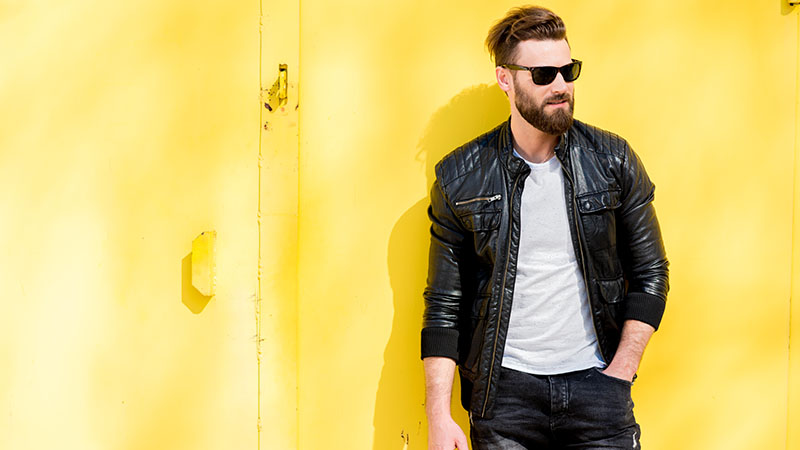 Flight Jacket
Warmth and fashion come together in a flight jacket — one of the most iconic leather jackets available. It was initially designed for pilots flying in open-air cockpits during World War I, so the shearling lining and thick leather is intended to protect you against even the most frigid temperatures. The classic color combination features deep brown leather and cream wool; however, modern interpretations include different shades of each, including luxe black on black.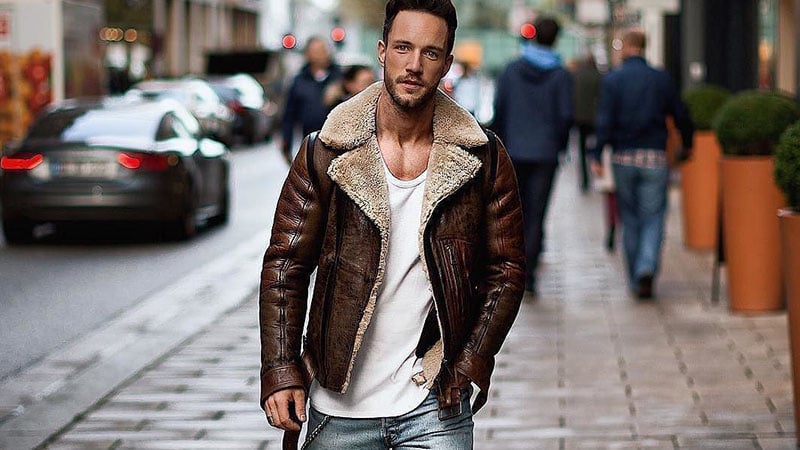 How Much Should I Pay for a Leather Jacket?
Leather jackets can vary hugely in price. Real leather is more expensive than faux leather but will last for years and years. As such, it's definitely an investment, with prices ranging from $500 to several thousand. Generally, the more you pay, the better the quality. However, for designer brands, you will, to an extent, also be paying for the name. Material-wise, look for full-grain leather as it's the least modified, or top-grain leather that has been treated for a softer, smoother finish. You'll also need to consider hide type, with cow, lambskin, and calfskin the most popular. Next, look for minimal, sensible stitching. Cheap manufacturing uses as much hide as possible, resulting in lots of seams, affecting the shape and durability. Finally, faux leather can look just as good, without the price tag or animal impact. Just remember, though, that it probably won't last as long.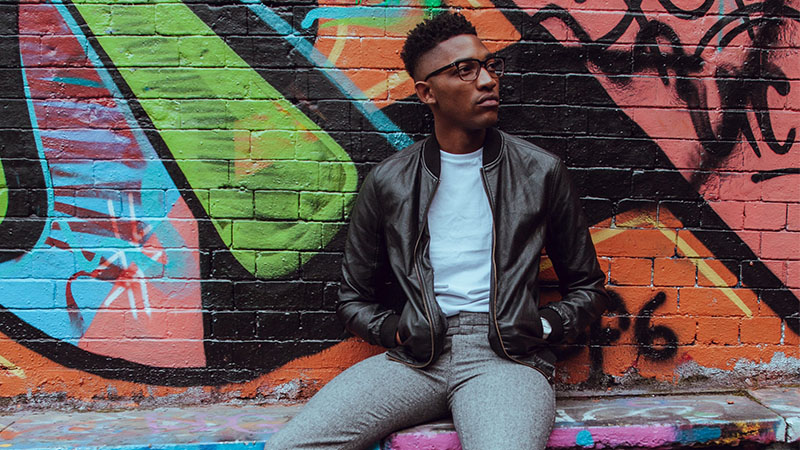 Caring for a Leather Jacket
Looking after real leather is straightforward but does take a bit more effort than fabric jackets. Always give your jacket a couple of coats of waterproofer to help resist damage from the rain. Do this when you first purchase it, each season, and whenever it gets wet. If it does get wet, let it air dry away from direct heat; otherwise, it can become stiff and brittle. Once it's dry, use a clear leather conditioner and a soft cloth to add hydration back into the material before finishing with another coat of waterproofer. To prevent the jacket shoulders from stretching and deforming, use a padded hanger for storage, and never put it away damp. Finally, when it comes to cleaning, spot clean with a damp cloth. You can try dry cleaning, but make sure you choose someone with experience in leather jackets so they don't inadvertently damage it.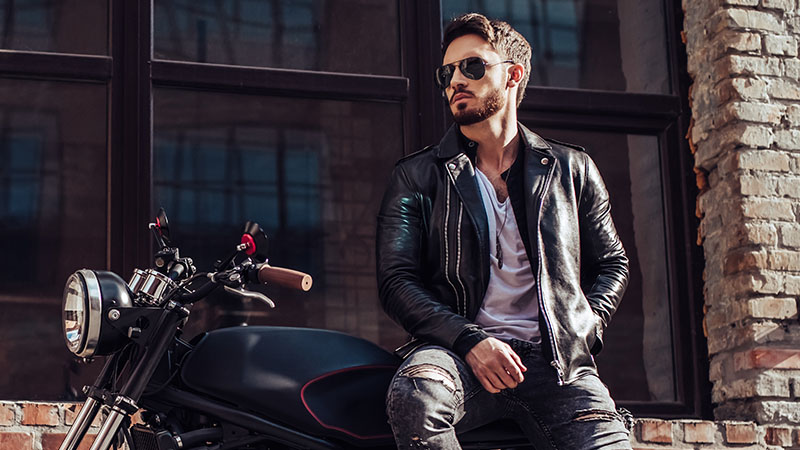 How to Wear a Leather Jacket
Leather jackets pack a punch for style and attitude, so it's best to keep it simple and let the jacket be the feature. Pairing it with a plain shirt and a pair of trousers is the easiest way to wear one. However, leather jackets are incredibly versatile, so don't think you're stuck with just jeans and a white t-shirt as your only option. When it comes to making your selection, choose a cut that most suits your wardrobe and aesthetic. You'll also want to opt for a neutral color, with black being the safest, most classic option.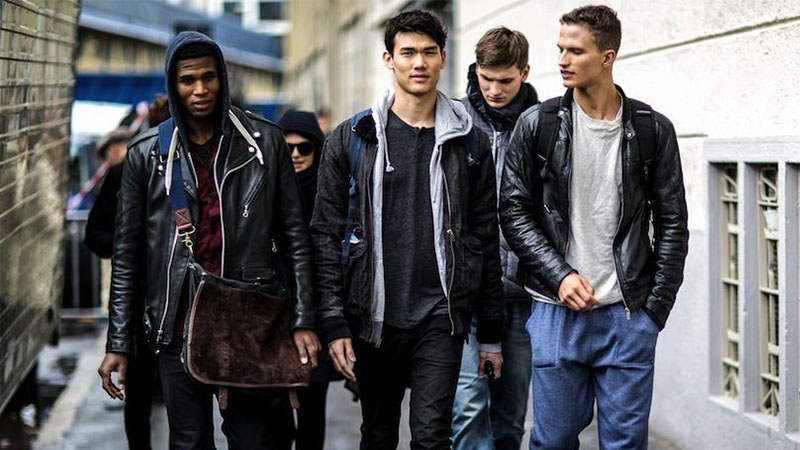 FAQs
Which brand is best for leather jackets?
Some of the best brands for leather jackets include Belstaff, Schott, Tommy Hilfiger, and Versace.
Do real leather jackets keep you warm?
Real leather jackets do keep you very warm during the colder months. They often feature soft, insulating lining, while the hide stops chilly winds from getting through. When it's freezing cold, leather jackets also look fantastic layered over a hoodie for some street style or a thick, knitted sweatshirt for something more elegant.
Are leather jackets still in style for men?
Leather jackets are such a classic option for men that they will never go out of style. Choose iconic silhouettes such as a biker, bomber, or racer jacket in classic black for a style that will stick with you for years to come.
Where is the best place to buy leather jackets?
If you're confident in the quality, then online retailers such as Farfetch, Mr. Porter, and Amazon are great options for buying a leather jacket. However, it can be better to feel the product and try it on for fit if you're unsure. In that case, head into bricks-and-mortar brand name stores, or check out department stores like Nordstrom and Bloomingdales.
Is a real leather jacket worth it?
A real leather jacket is absolutely worth it. Leather is one of those materials that gets much better with age, and it will grow up with you. As such, while it can be a big investment upfront, the longevity and cost per wear across the next several years (or even decades!) will make it worth the initial output. Plus, they're stylish, warm, and comfortable, so it's a win all around.
What season do you wear leather jackets?
Unless you live in the tropics, leather jackets can be worn year-round. They're a great alternative to a blazer at casual events in summer and work great with just a shirt and trousers in spring. During the colder months in fall and winter, use layering — a hoodie or sweatshirt, look great under a leather jacket. 
SUBSCRIBE TO OUR NEWSLETTER
Subscribe to our mailing list and get interesting stuff and updates to your email inbox.