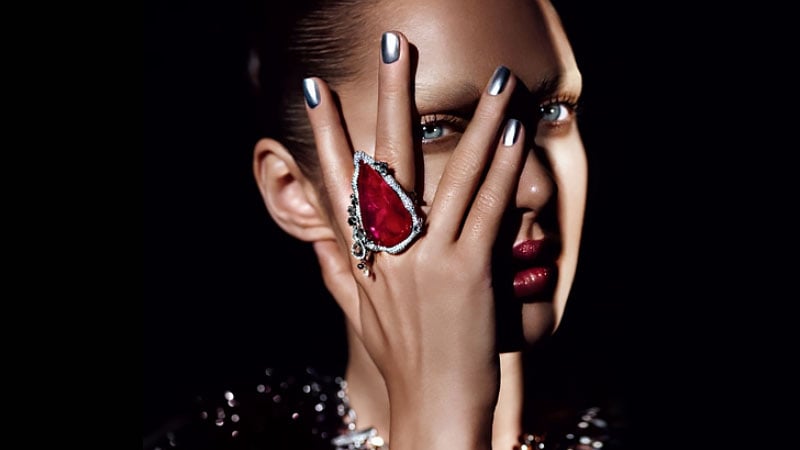 If you love the latest nail trends, just like we do, then you are in luck. We have collated a selection of inspiring chrome nail designs that are popular right now. Chrome nails come in many forms, such as gel, SNS, or acrylic. There are a few ways to achieve a chrome nail finish, with nail polish, stick-on nails, or a powder form application. Keep scrolling to find your favorite chrome nail design to take to your next mani appointment.
1. Black Chrome Nails
Classic black nails are always a go-to statement look when you cannot decide on a color or nail design. If your regular choice is black nails, why not try and add something extra like a chrome finish. You can suggest this look at your nail salon or even DIY it at home. Keep in mind; the chrome effect is achieved through the use of powders, so the more powder you apply, the lighter the chrome effect may become, and therefore turn into silver.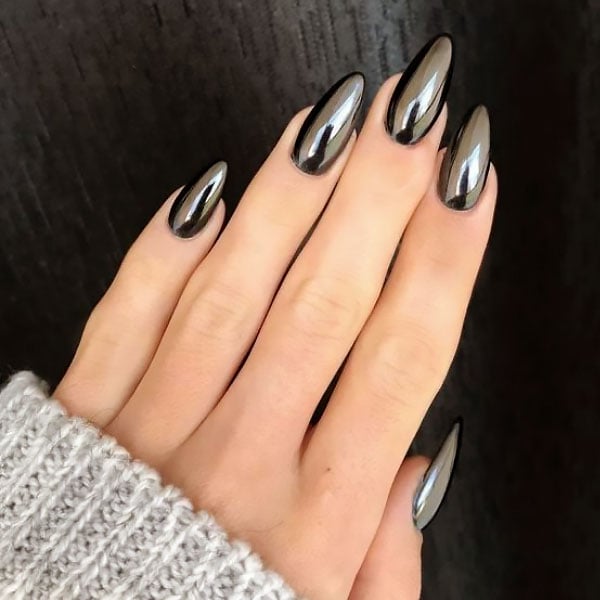 2. Black Nails + Chrome Details
This design is perfect for someone that enjoys the simple things in life. If you are new to this trend and wanted to try it out without committing to the full metallic look, add a subtle gold detail to your block color nails. Choosing a simple shade like matte black as the base nail color, complemented by a metallic gold, silver, or pink, will make your nails pop. Shorter square or rounded shape nails are ideal for this elegant look.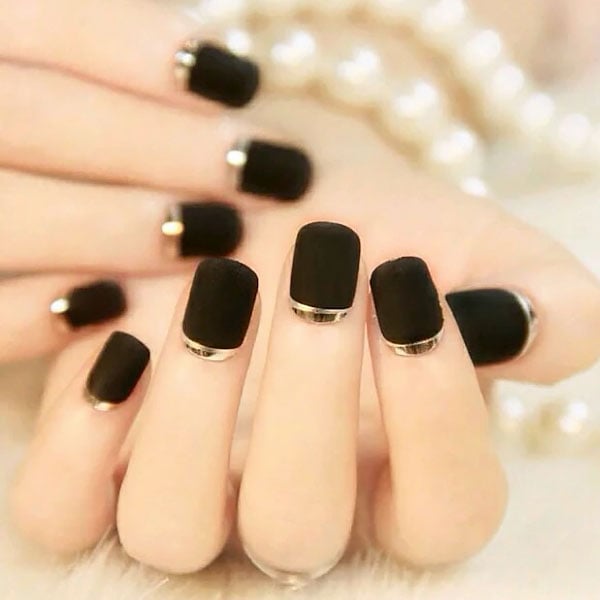 3. Blue Chrome Nails
Chase your summer fantasies with this electric blue chrome nail look. This bold and bright shade pairs perfectly with almost every outfit so you and your nails can stand out at the next summer night's party. When it comes to bold colors, there is associated freedom with this design. Flaunt the mountain-peak nails or keep it simple with a basic square shape for a low-key manicure. Either way, blue chrome nails are a go-to look.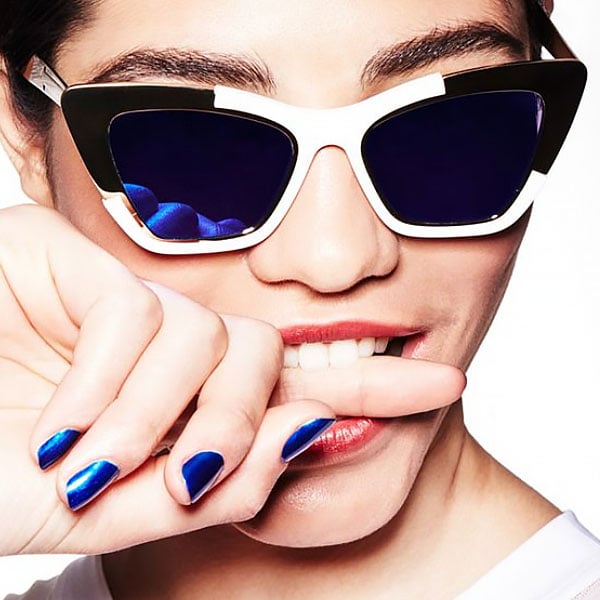 4. Blue Purple Holographic Chrome Nails
Spice up your latest manicure with this trending chrome nail design. It takes inspiration from recent fashion trends such as iridescent shoes, sunglasses, handbags, and even jewelry items. The world is obsessed with this trend, so why not express your love for it on your new set of nails? Get creative and quirky with this unique chrome design by showcasing it on the square or almond-shaped nails and watch the magic unfold; all eyes will be on you.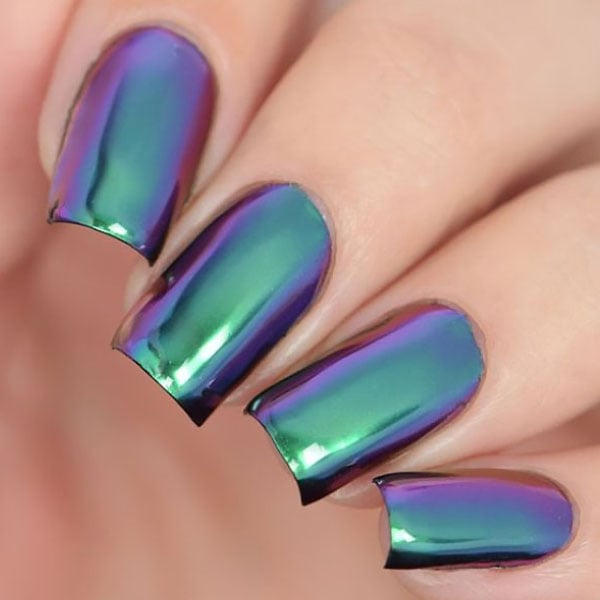 5. Chrome Design Nails
Channel your inner artist and express yourself creatively on your new set of nails. To achieve this look, your nail artist will start with a neutral base shade. The sticky chrome surface will be cut into thin lines and applied to the nails, followed by the topcoat nail polish. You will feel like a modern Andy Warhol as soon as you leave the nail salon.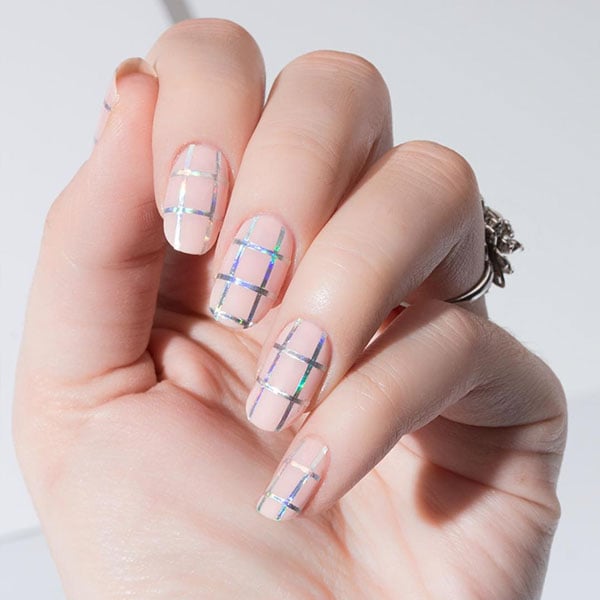 6. Chrome Leopard Print Nails
The ever-lasting leopard fashion trend has made its way to the world of nails. Whether you have almond nails or you are more into mountain peak shape, this design will suit any look. You can achieve the chrome-style with stick-on nails or get your nail artist to create the gold nails and drow the leopard spots on top. You will be receiving compliments left, right, and center with this gorgeous nail look.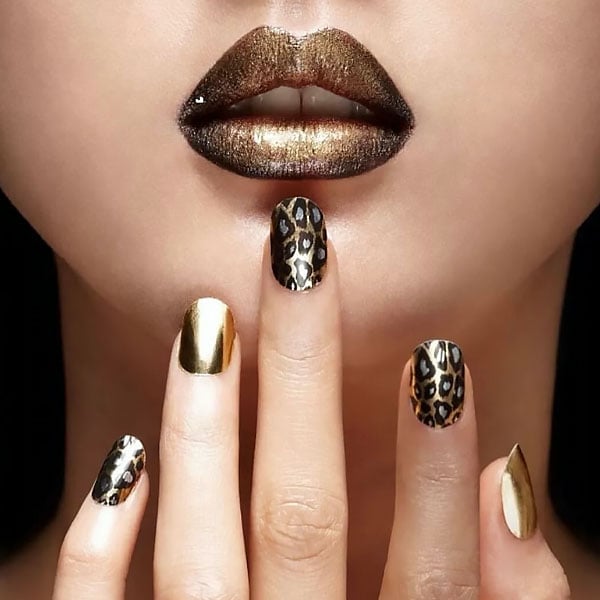 7. Chrome Nails + Glitter
What better way to shine than to have a chrome nail glitter manicure. You can be creative with this design in both color application and nail shape. You have unlimited colors to choose from for both the base layer and the glitter on top. Find the simplicity and ease within this chrome nail design.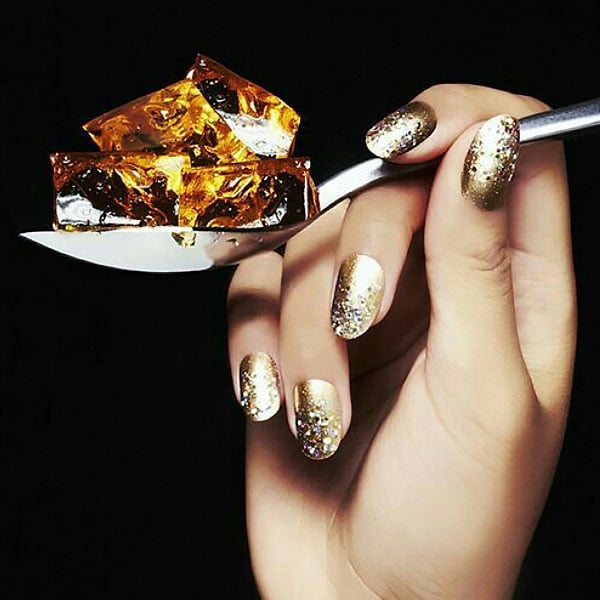 8. Gold Chrome Nails
Gold chrome design works exceptionally well with different nail shapes, so why not try something new like ballerina nails for your next nail look. Add that extra sparkle to your day-to-day look with bright and bold gold chrome nails. This effect is created through chrome powder being applied to the base color of yellow or white. Once the chrome powder is applied, the shimmer effect appears. Depending on how much pressure you apply will result in how much shine appears.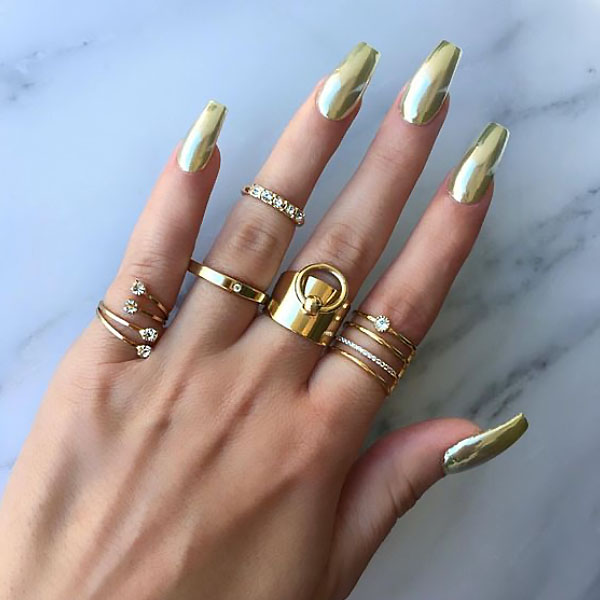 9. Holographic Pink Chrome Nails
Whenever we think of the word 'holographic,' it always brings an image of outer-space. The rainbow colors that appear when nails are given a holographic effect are absolutely mesmerizing. Channel, your inner goddess with this fresh set of pink holographic-chrome nails.

10. Holographic Silver Chrome Nails
If you're after an extremely extra, but also very on-trend nail look, then this holographic silver chrome nail design is perfect for you. When nails are transformed into holographic ones, it allows for a range of various colors to reflect off the nail. Due to this design being out of the ordinary, you have extra creative freedom, so be as wild or as tame as you wish.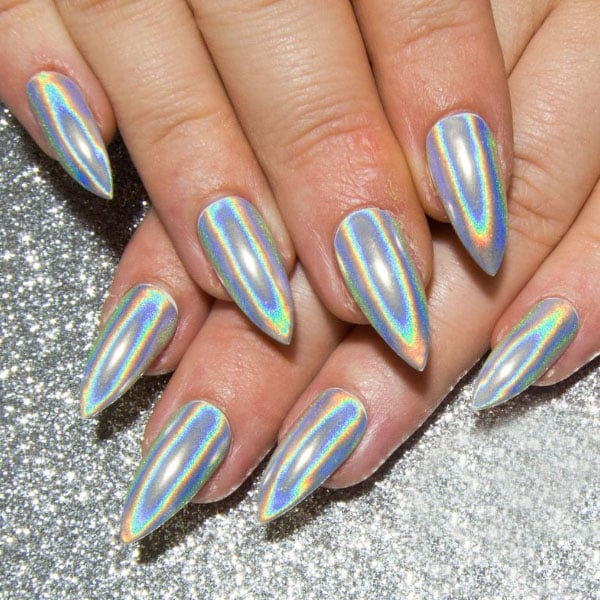 Dark colors such as navy blue can suit almost any outfit and look. It is a great quality when it comes to chrome nails, as you might prefer them to blend in rather than stand out. Navy blue offers a subtle and classy manicure that is perfect for everyday wear, whether it's a full day at work or night out with friends. The chrome effect can give this look that extra spark so you can flaunt your new manicure everywhere you go.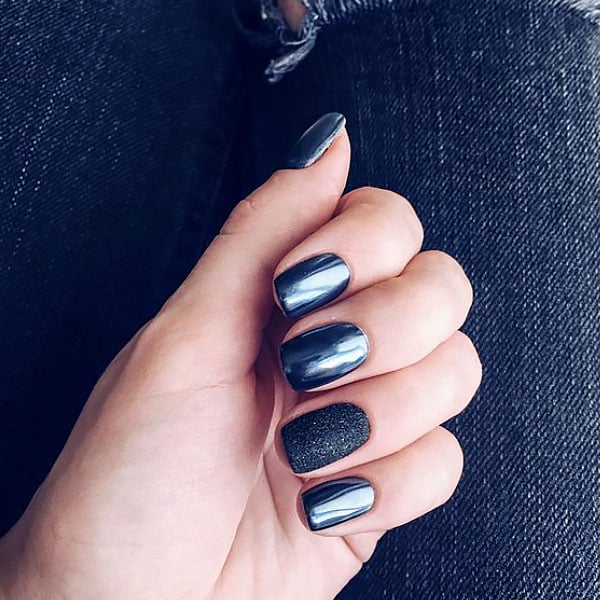 12. Nude Chrome Nails
Nude chrome nails are the hottest topic in the nail world at the moment. Inspired by the spark in the neutral-toned clothing, fashion has now transferred onto your nails. Nude nails are super simple and elegant as they can blend in with any look. By adding the chrome effect to the feature nail, you will be able to achieve a glassy finish, which is suitable and fabulous. No matter what shape you choose, the nude chrome will look perfect every time. It's a fool-proof design that always works well.
RELATED: 25 Nude Nails Designs to Update Your Look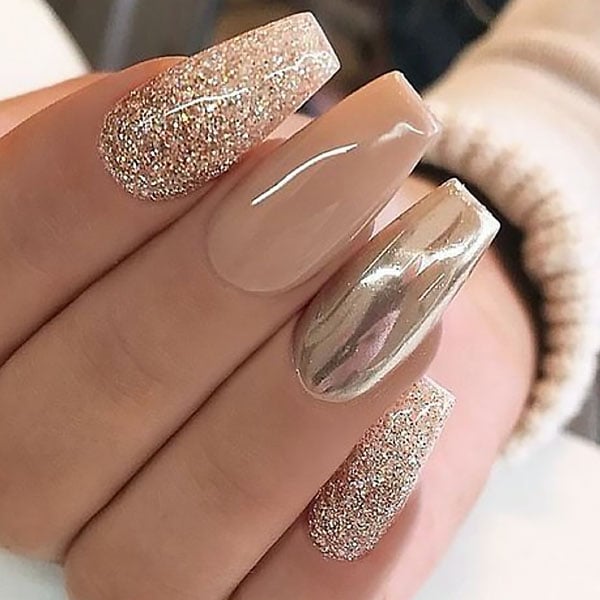 13. Pastel Chrome Rainbow Nails
Whether you're a fan of bright, multicolored rainbows or prefer only a hint of color in your nail designs, then this look is a great choice. Pastel chrome rainbow nails are different from a regular rainbow-inspired manicure due to the colors being less harsh and more subtle. It can achieve a gentle yet vibrant design for those who want to add a touch of color. For instance, you can choose your top five pastel colors or keep it basic with one pastel shade – the world is your oyster when it comes to nails.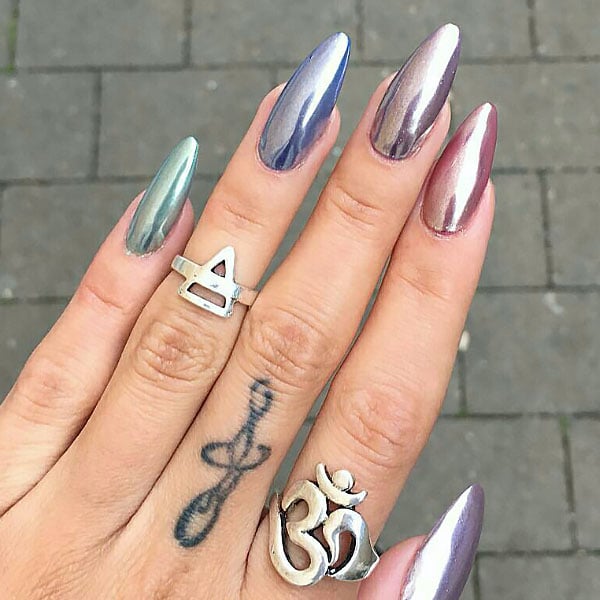 14. Pastel Nails + Chrome Tips
If you enjoy a classic pastel nail and hardly change things up, then you might find an interest in this similar design. Pastel Nails with chrome tips are a current trend that appears to be quite popular. By adding that extra shine to the tips of your fingers, you create a unique element that can complement the pastel shades. In addition to this, the chrome effect can also highlight any jewelry you choose to wear. So, if you love gold rings, why not add a gold chrome tip to your next pastel nail set?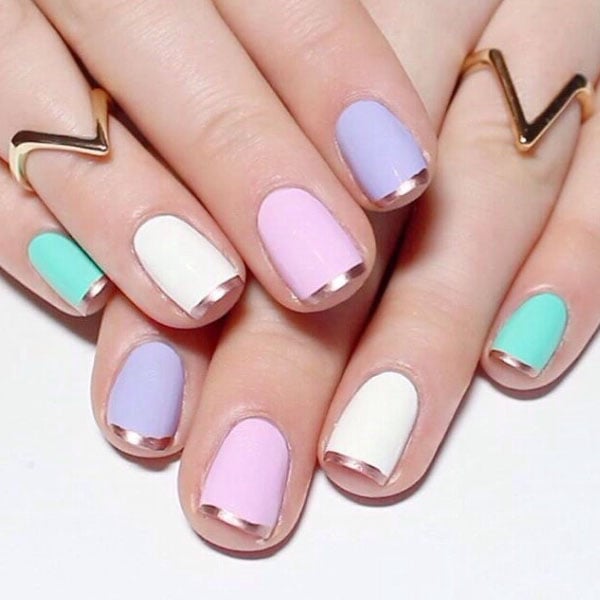 15. Pearly Ombre Chrome Nails
The nail industry has seen many ombre trends run through their salons for years. However, the current ombre trend involves both pearly shades of white and pink mixed in with a chrome effect. This design is the ultimate classy look and will leave you feeling like a million dollars. If you are short on time or want to give your nail beds a rest, you can find these nail designs in stick-on nail packs. You will not regret this look.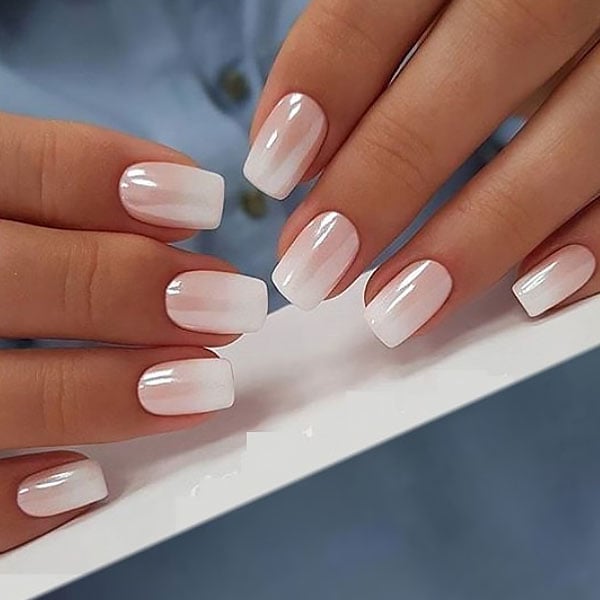 16. Pink Chrome Nails
The standard shade of pink is a popular choice at the salons. In comparison, a pink version of chrome nails is a unique and unusual option. If this sounds like the type of nail design for you, then we have got you covered. A trendy color at the moment is rose gold, which goes with any outfit and has a softer feminine feel.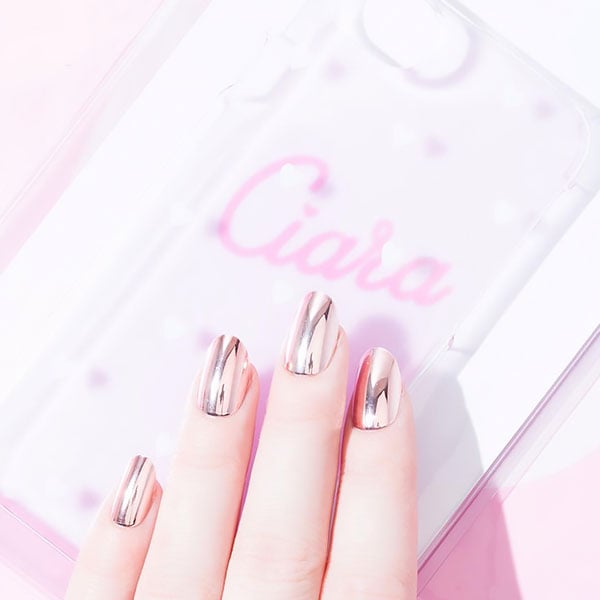 17. Lilac Chrome Nails
Blend in with the blooming flowers of spring with this lilac chrome nail design. This bright color is perfect for gorgeous and sunny spring days. You can take this look to the salon or buy stick-ons to avoid any hassle. One of the best ways to achieve this look in the salon is by applying blue chrome powder to a base of mauve or purple gel polish and a layer of topcoat polish. Once these steps have been combined, you will be left with a gorgeous lilac chrome design. Your nails will be glistening in the sunlight.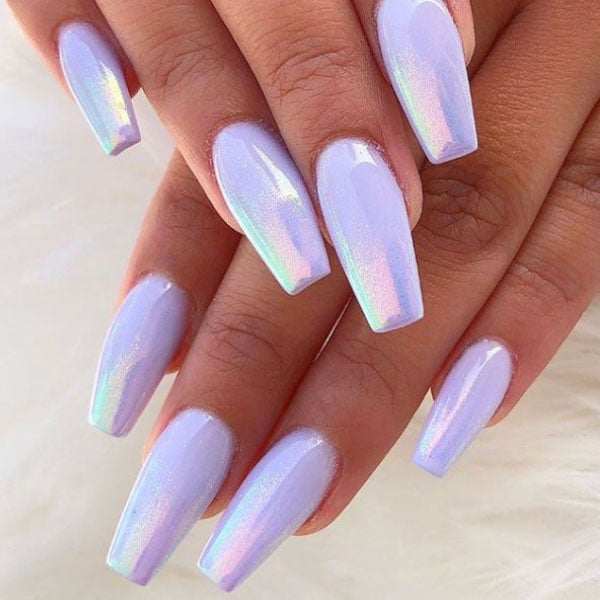 18. Red Chrome Nails
The color red is a popular and all-time classic, whether it be for jewelry, lipstick, or nail polish. Salons experience an array of requests for basic red nails as they are a perfect shade to wear with almost any outfit. If you are keen to add something extra to the standard shade of red, why not try adding a chrome effect? Ask your nail technician in-store for a red chrome nail look, and you will be stunned by the finished result. Kick-start a new nail trend that channels a twist on the classic red, and soon enough, all of your friends will be asking for this design too.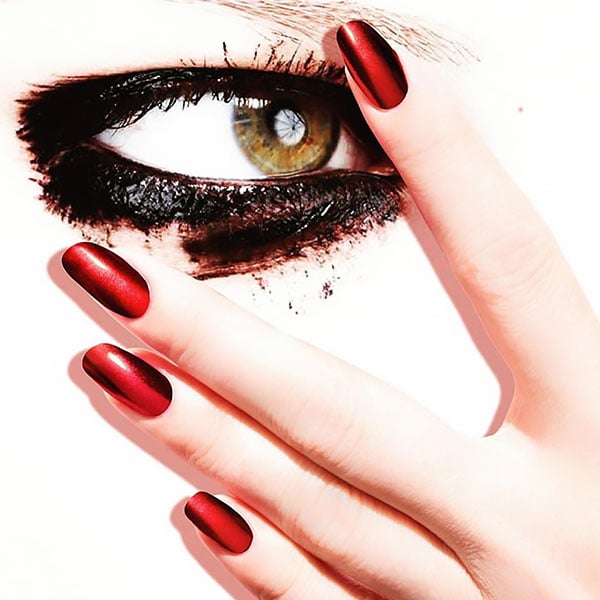 19. Silver Chrome Nails
Metallic shades are a must-try when you choose to create a chrome nail look on your fingers. It is because they can create a unique and illuminating trendy style. You could have silver chrome nails on every finger, or a feature nail in chrome and the rest in white.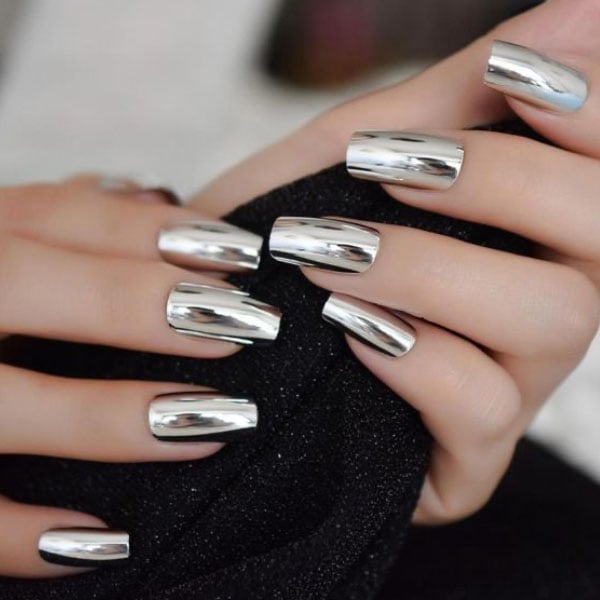 20. White Nails + Chrome Tips
Here's a hot tip if you didn't know it already – white nails are the go-to shade when you want to emphasize your natural or fake tan. To make your skin and nails pop that extra bit more, pair your white nails with chrome tips. They can be any color of your choice; however, metallic shades are most suitable. Be unique and creative with this nail design, and let your nails shine.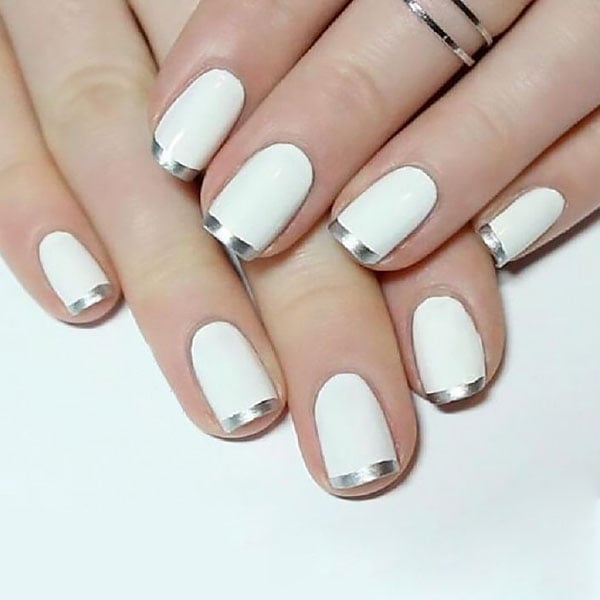 Chrome Nail Designs FAQs
What is a Chrome gel manicure?
Unlike the traditional gel manicure, chrome nails, which are extremely high shine and eye-catching, take things one step further. You start by buffing your nails, then applying your chosen gel polish and allowing it to set by using a UV or LED lamp. The last step is the most important and is done using a specially created powder, which is applied to the nails to create a smooth appearance.
What is the difference between Chrome and Holographic nails?
Chrome and holographic nails are both defined by their futuristic appearance; they are shiny and often have a pigment that makes them look almost metallic. The difference between these two looks is that chrome nails have an extra step and use a powder application on top of the gel nails. They also tend to be even more glossy.
How do I do chrome nails?
To achieve chrome nails, there are several steps that you should follow. First, prepare your nails by ensuring they are buffed, this is to allow for the high-shine powder pigment to stick to the nail. Then, apply a polish layer, let it cure under a UV or LED lamp, and finally, add the specially created powder. The result is dramatic, shiny, smooth, and a fantastic look all-year-round.
What does Chrome nails look like?
Chrome nails refer to the finish, which has a metallic, high-polish appearance. This can be achieved by using a polish and a powder application or simply with stick-on nails.
SUBSCRIBE TO OUR NEWSLETTER
Subscribe to our mailing list and get interesting stuff and updates to your email inbox.