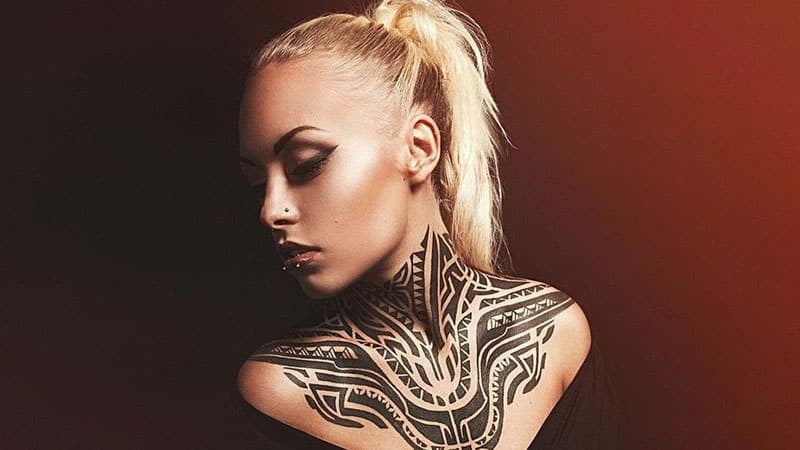 Tribal tattoos have been embraced by various indigenous peoples worldwide. They have great importance and can tell a lot about the wearer, including social hierarchy, to intimidate their enemies, as a rite of passage, or to offer protection to the wearer. Your tribal design can be a way to celebrate your heritage and honor your ancestors, but if you have no ties to the culture, you need to do your research to ensure your choice of symbols and markings would not be offensive. You can also create a more stylized finish, defined by the thick black outlines, lack of color, and minimal shading. Do you need more inspiration? Keep reading below to find out everything you need to know.
1. Filipino Tribal Tattoo
The indigenous people of the Philippines are known to have used body art, which was popular for both men and women. The designs could signify a right of passage or were inked as a way to honor their customs and feel connected to their heritage. When deciding on your own tribal tattoo, you want to ensure it is not offensive or seen as cultural misappropriation.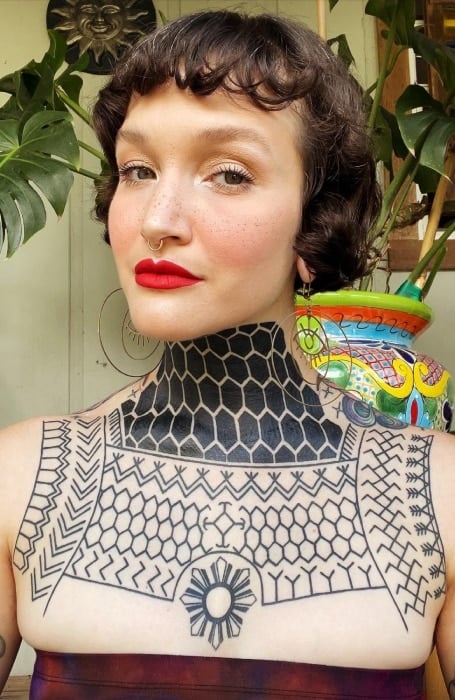 2. Tribal Wolf Tattoo
Tribal body art has existed for hundreds of years, but the style has also influenced more modern designs, including a wolf tattoo. Your piece will likely focus on the basics and be created without color or shading. This large canine is an excellent choice because it represents loyalty and family and is a way to honor a deep connection.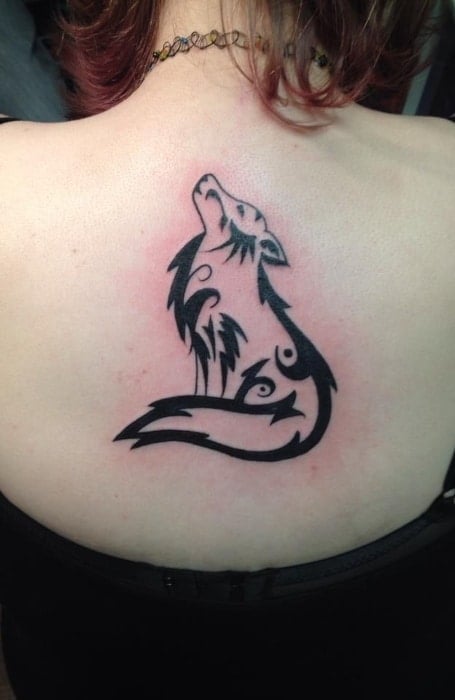 3. African Tribal Tattoos
People all over the world have used body art as a form of expression or to honor their heritage, and this includes various tribes in Africa. If you have African ancestry, you may be drawn to one of these designs and choose to replicate it. Or the general style can inspire you to produce something unique and meaningful.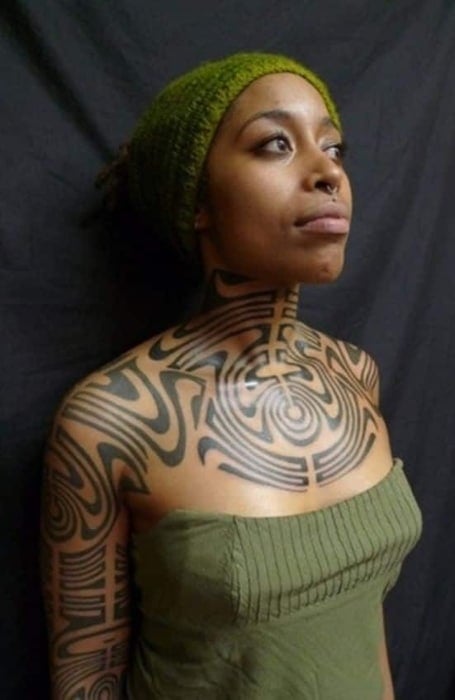 4. Tribal Dragon Tattoo
Tribal body art is so much more than a style and has excellent symbolism associated with it. The original designs were often abstract and combined with various patterns. But the modern interpretations also use recognizable imagery, like a dragon tattoo. The bold outlines and black ink will make this mythological beast come to life on your skin. It represents power, courage, and intelligence.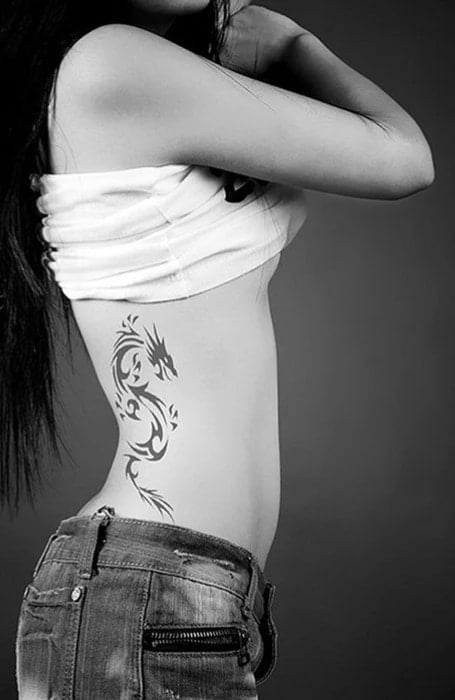 5. Tribal Sleeve Tattoo
If you want to make a statement with your body art, look no further than a sleeve tattoo. As the name suggests, this design will cover the entire arm, as a clothing sleeve would. These designs are time-consuming to create and expensive, but they are also incredibly creative and a great way to show off artwork that is important to you.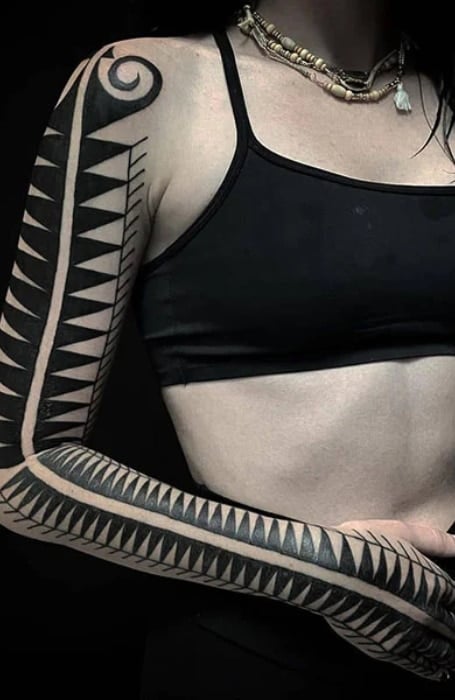 6. Aztec Tribal Tattoo
The ancient Aztec civilization used body art for several reasons, including honoring their gods or intimidating their enemies. There are many different designs to choose from, and your tribal Aztec tattoo could include ancient symbols and markings of great importance. They will be created in thick black outlines with no shading.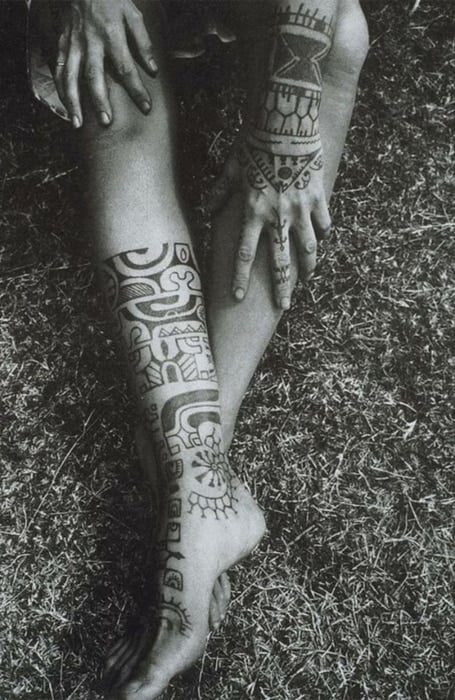 7. Hawaiian Tribal Tattoo
The indigenous peoples of Hawaii have been known to use body art as a form of expression. It was also inked to honor the gods, celebrate their culture and heritage, and tattooed for protection. These designs are called Kakau. They can be created differently but are noticeable for their shapes and layers. Your piece can be quite detailed but will be made with thick black outlines.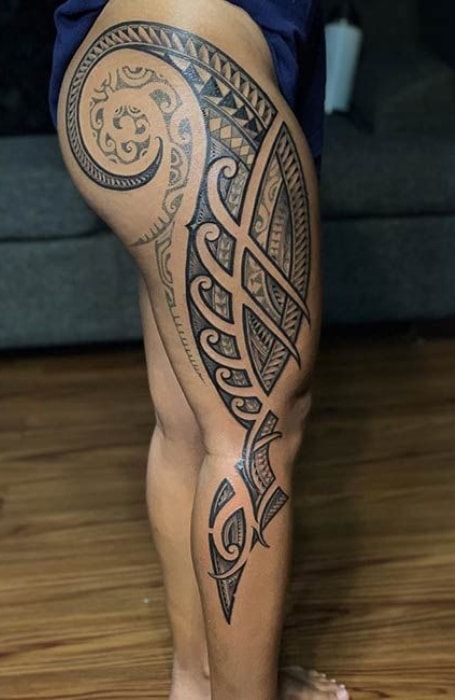 8. Tribal Forearm Tattoo
Consider a forearm tattoo if you want the perfect placement for your next design. The appeal of this location is that it is easy to show off your ink and low to moderate on the pain scale chart. A tribal piece will look striking here and can wrap around the arm or run across it, depending on the effect you want to achieve.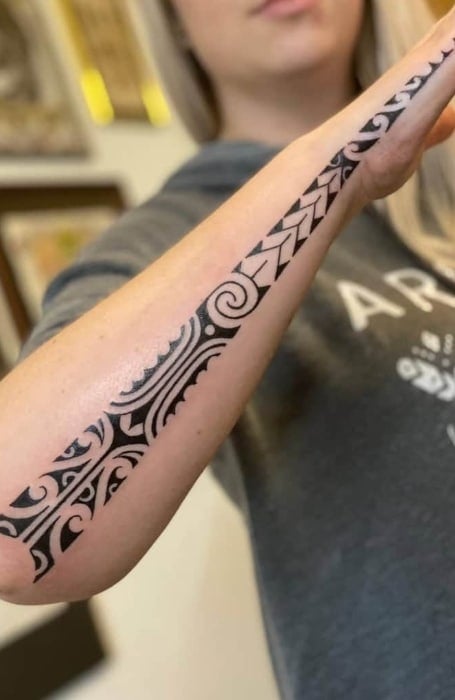 9. Native American Tribal Tattoos
The Native American people have inspired countless artworks and tattoos, and those who feel drawn to the culture or want to celebrate their own heritage can create a tribal design that reflects their thoughts and feelings perfectly. It could be a series of markings and symbols or include important images like the feather.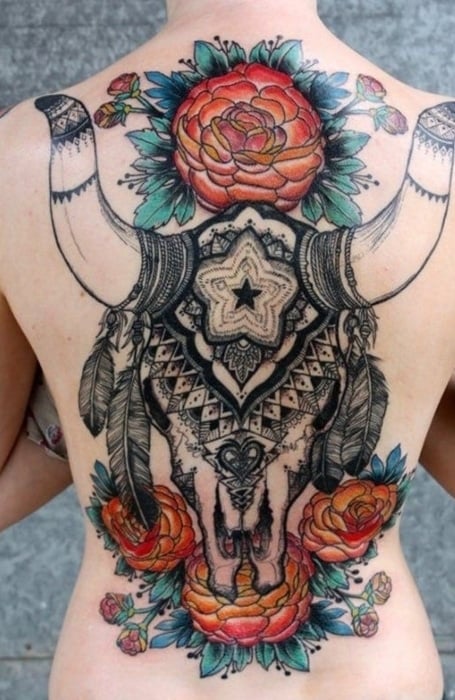 10. Tribal Lion Tattoo
The tribal style has inspired many people, and the right design can really make a statement. Lion tattoos are popular because of their symbolism and are associated with strength, courage, and beauty. What better way to show the importance of these qualities than with a design dedicated to them? Your inking will be created with minimal detail and no shading to instead focus on the basics.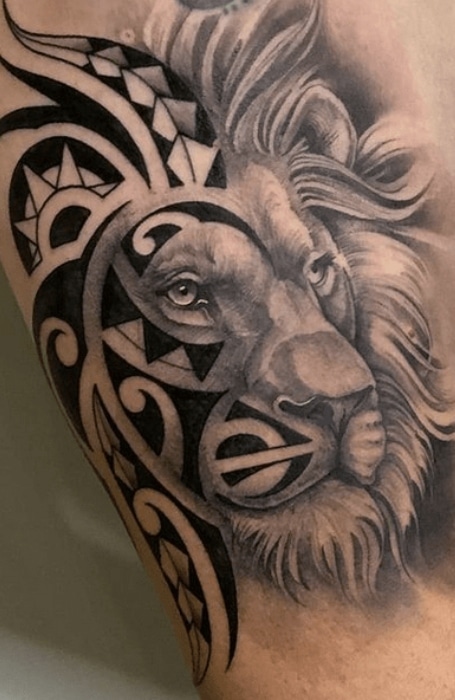 11. Tribal Sun Tattoo
Sun tattoos can represent warmth, growth, and life. It is not hard to see why women would be drawn to this design, and it can be created to be simple or detailed. The tribal style is noticeable because it uses thick black lines and no shading, but it does not have to be a simple design, and some choose beautiful patterns.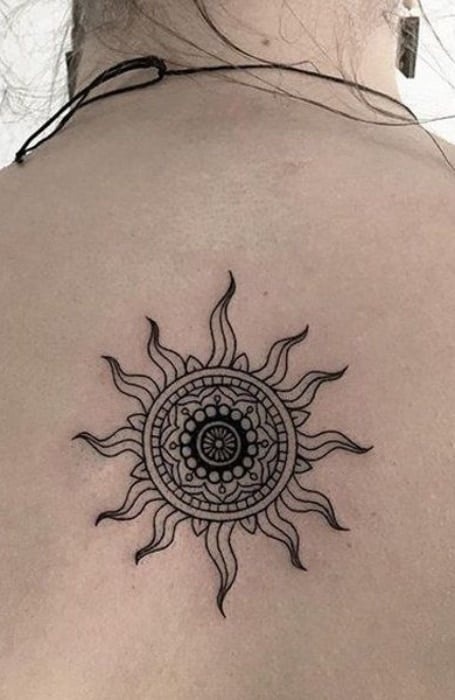 12. Polynesian Tribal Tattoo
Polynesian tribal tattoos are arguably one of the most well-recognized designs and can tell much about the wearer. This includes social hierarchy and spiritual protection. Being inspired by a culture and its customs can be a great way to honor them, but there is a fine line between this and cultural misappropriation and disrespect. This is why it is essential always to do your research beforehand.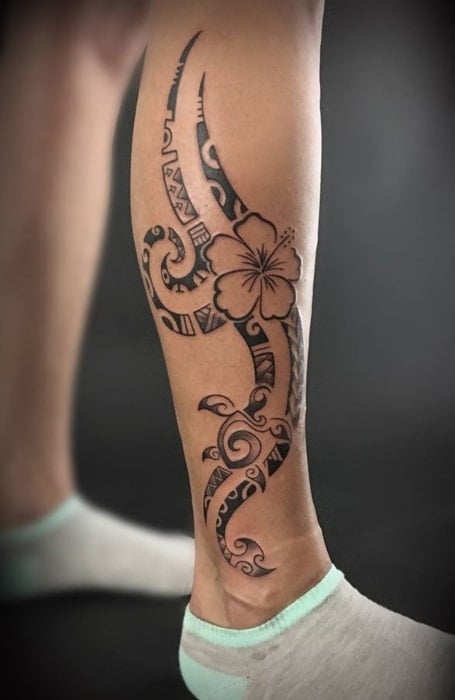 13. Tribal Scorpion Tattoo
Those born under the Scorpio zodiac or wanting to prove their strength and let the world know they should be feared have no better design to convey this than a scorpion tattoo. These predatory arachnids can make a powerful statement when inked onto the skin and are often associated with death, destruction, protection, and danger. The tribal style will give you a bold, unmissable inking that demands attention.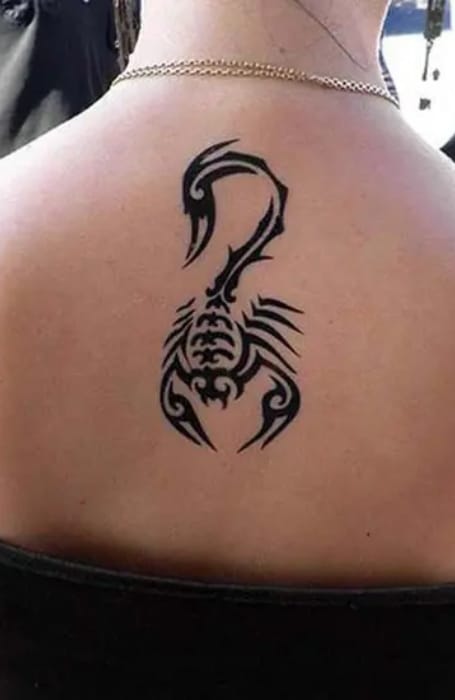 14. Tribal Shoulder Tattoo
When it comes to body art, it is not just the right design that is important but also the placement. And it does not get better than a shoulder tattoo. Not only is this an excellent spot to show off your muscles, but it also offers you a lot of versatility because it can be easily covered with clothing and shown off on your own terms. Plus, it is an area associated with strength.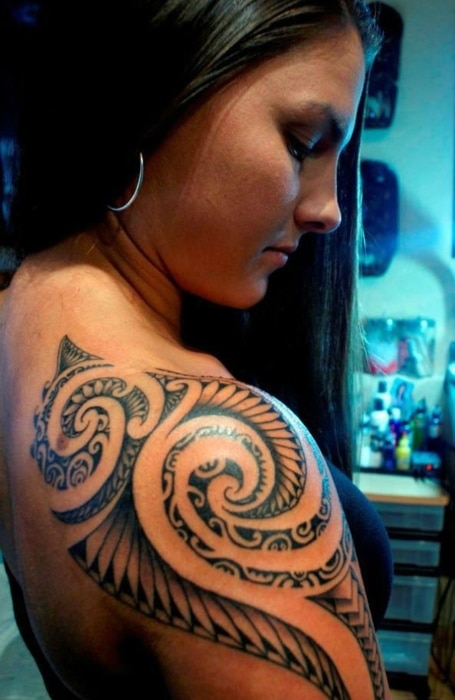 15. Tribal Turtle Tattoo
The turtle is a popular subject for tribal designs and is often replicated in multiple ways. Your piece could focus on the outline only, including intricate patterns and beautiful detail. The animal is also symbolic, making it a powerful choice for those who want to convey the importance of wisdom, longevity, resilience, and good luck.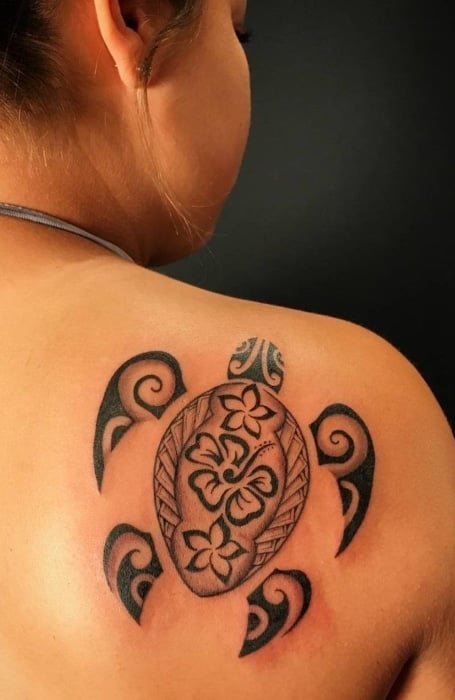 16. Tribal Half Sleeve Tattoo
A half-sleeve tattoo is a brilliant way to combine several designs or focus on one large piece. The area will cover half the arm, and a lot of creativity and time goes into making it a stand-out inking. Unlike a full sleeve, this option has more versatility as it is easier to cover.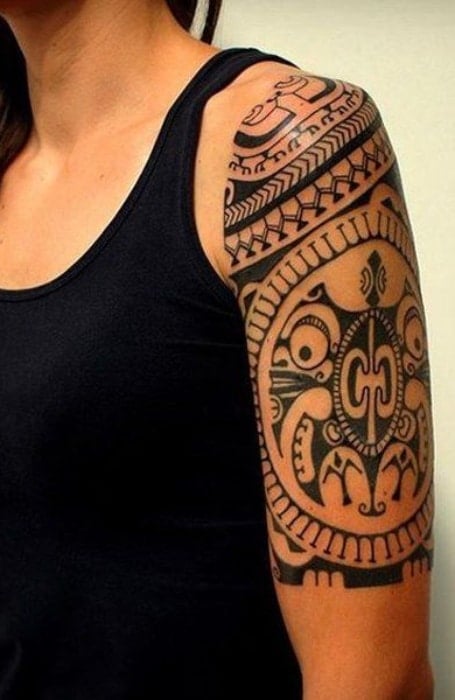 17. Tribal Tiger Tattoo
It is easy to see why women want a tiger tattoo. It is a piece that will complement the tribal style, which is created with minimal shading and in bold, black lines, but more than that, it also has excellent symbolism associated with it. The powerful big cat represents strength, independence, and wisdom.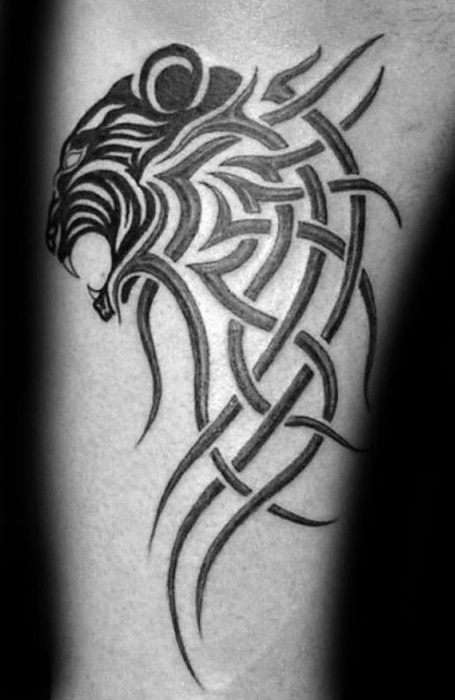 18. Indian Tribal Tattoos
Tribal tattoos mean different things depending on the design and the culture they were taken from. This can include being worn as a symbol of protection and strength. Or you can use it as a right of passage, a way to celebrate your heritage, or to honor the gods. When drawing inspiration from a specific culture, always ensure that the design celebrates it and is not offensive.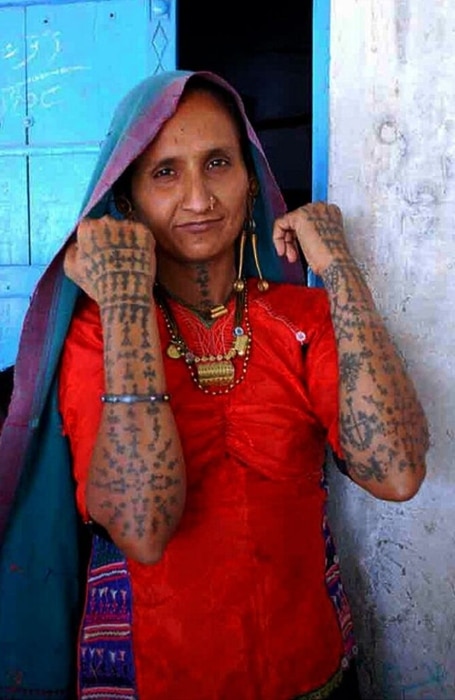 19. Tribal Skull Tattoo
The human skull has inspired countless body art designs because of its symbolism, but it also looks badass! Skull tattoos represent death and destruction. But can also be tattooed to protect the wearer from harm or show that they are unafraid to die. To give your piece a unique finish, incorporate tribal elements into it, like unusual patterns and thick black lines.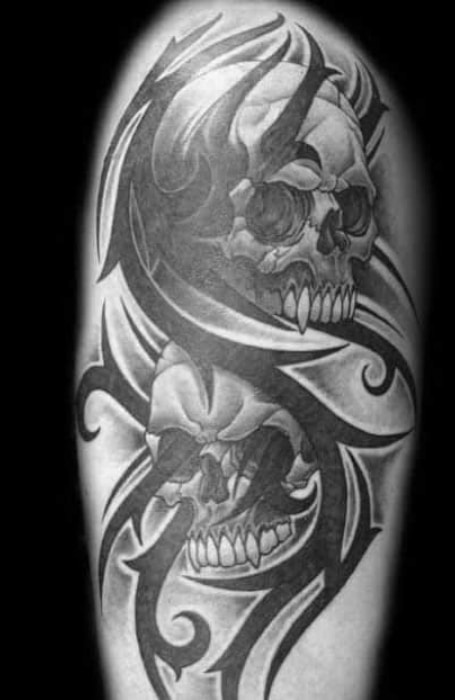 20. Tribal Hand Tattoos
What better way to show off your cool new inking than by getting it done on your hand? Hand tattoos were once reserved for hardened criminals and those on the fringes of society but the attitude toward body art is changing, and this placement is becoming one of the hottest choices. That said, designs here still feel daring and rebellious, and they will hurt— a lot.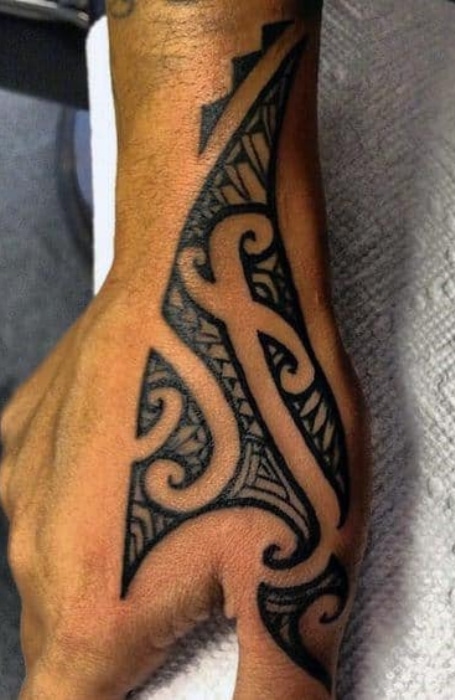 21. Simple Tribal Tattoos
One of the most appealing things about tribal body art is its simplicity. Of course, not all are simple tattoos, but the lack of shading and color often lend themselves well to a minimalist aesthetic. Stripping the design to the basic elements can shift the focus more on the meaning behind your chosen artwork than the artwork itself. And this can make a powerful statement.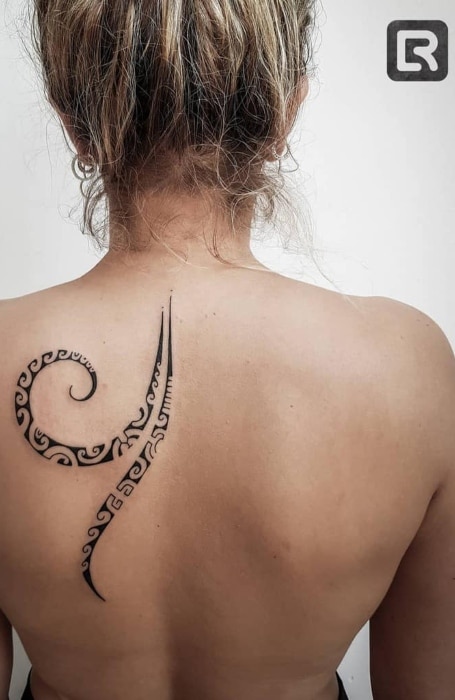 22. Tribal Band Tattoo
A tribal band tattoo is a great way to try out the tattooing style without opting for anything too large or detailed. You will wear it on the arm, like a piece of jewelry, and it can be as thick in width and as detailed as you wish. This is a beautiful way to draw attention to your design and show off your arms.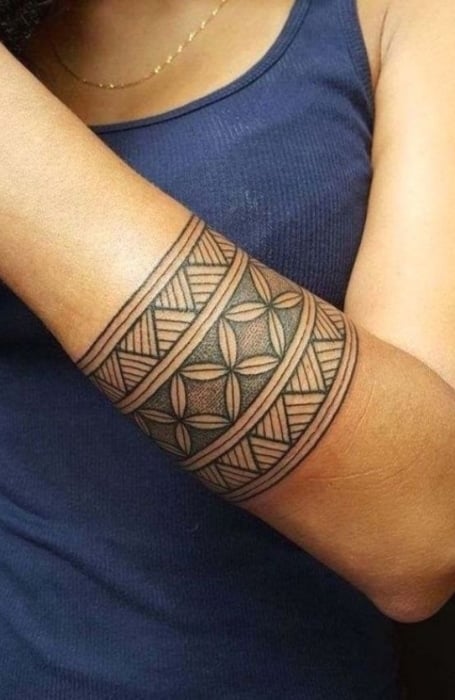 23. Tribal Leg Tattoo
Leg tattoos can show off your muscle tone and draw attention to one of the most flattering parts of a woman's body. You can make a statement by covering the entire leg in your favorite tribal design or keep it simple by only covering a small portion; the choice is yours. The area is often considered low to moderate on the pain scale chart because of the thick skin and muscle, which provide cushioning, but be sure to avoid the knee.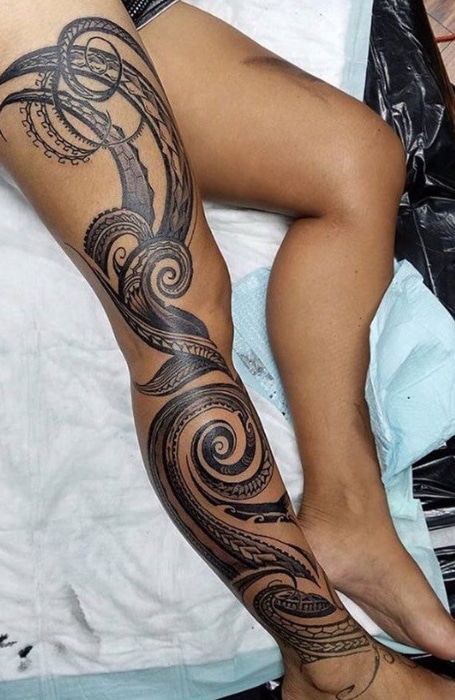 24. Tribal Phoenix Tattoo
Phoenix tattoos can be created in different styles, and while they are most commonly inked in color, they also look stunning in the tribal style. The firebirds represent the life cycles and rebirth. This can make a powerful statement about new beginnings or be a way to honor the transitions you have gone through in your life.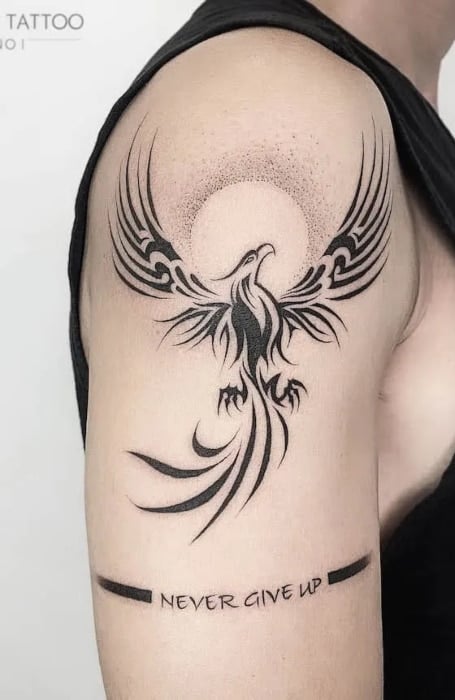 25. Samoan Tribal Tattoos
If you have Samoan heritage and want to celebrate it, then you may be drawn to a Samoan tribal tattoo. Each piece has unique symbolism, including status, power, and community. They are worn with pride. For this reason, those without ties to the culture should not wear their symbols as it is considered offensive.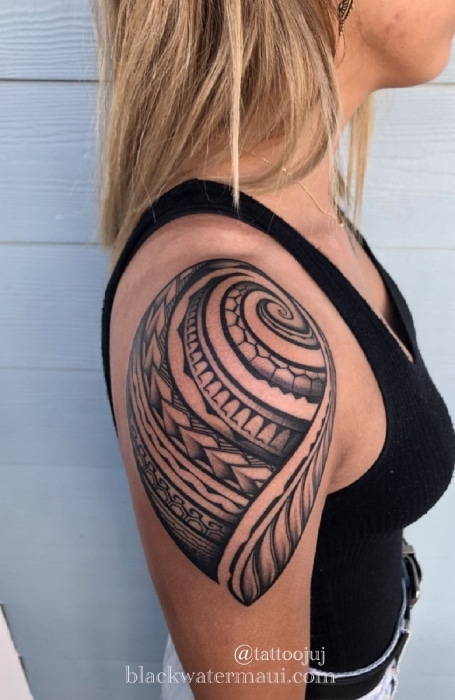 26. Cherokee Tribal Tattoos
The Cherokee is one of the indigenous Native American peoples. If you have Cherokee heritage or are inspired by the culture, you may be drawn to body art that will celebrate it. This could include creating images with the tribal style of tattooing. However, research beforehand to ensure that what you have is accurate and will not be considered offensive.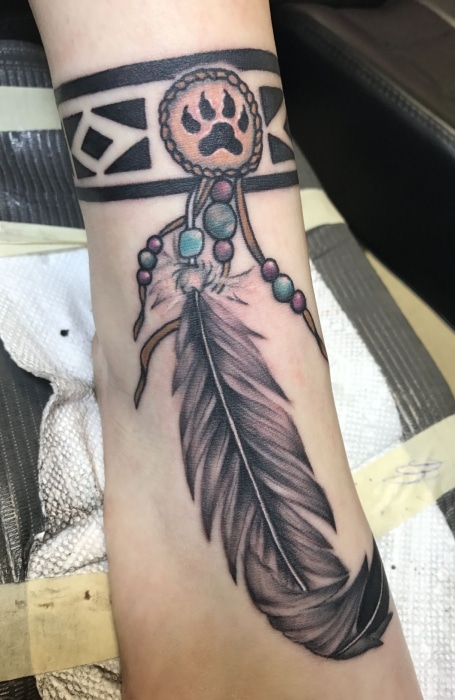 27. Tribal Finger Tattoos
What better way to get your body art noticed than with a finger tattoo? These tiny inkings appeal because they are unmissable and a great way to make a statement. There is no denying that ink here looks incredibly cool. It is a placement that has been favored by some of the world's most stylish women but is warned tattoos here hurt. This is because of the thin skin and proximity to bone.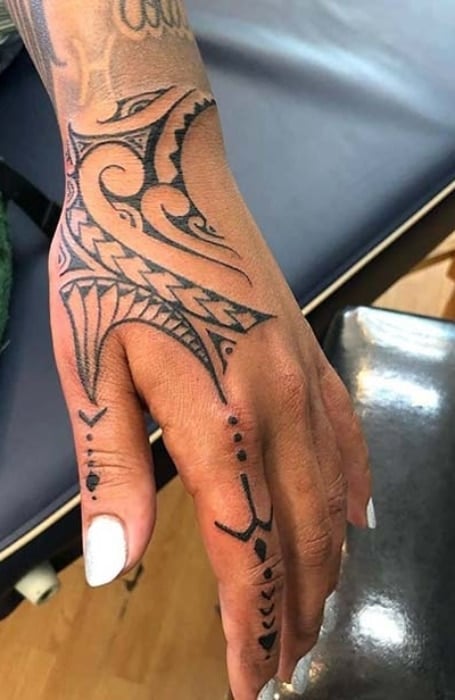 28. Mexican Tribal Tattoos
Mexican tribal tattoos can come in many shapes and forms but are most commonly inspired by Aztec designs. This is because the Aztecs were an ancient civilization that inhabited parts of Central Mexico. For Mexican people, this can be a way to honor their heritage or celebrate their ancestry, and there are different symbols and patterns to choose from, each with its unique meaning.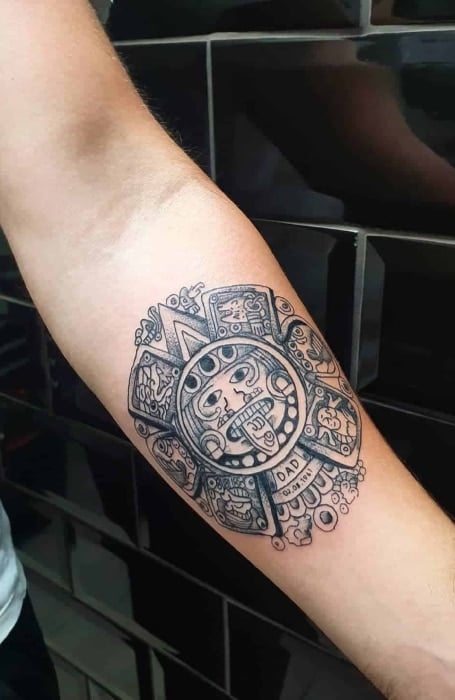 29. Viking Tribal Tattoo
The Viking warriors were formidable and were associated with strength and resilience. They were deeply feared and respected by their enemies. This is why many women are drawn to the design and the powerful impact it can make. Combining the important symbols of the Viking time with the tribal style can make for unique and beautiful body art.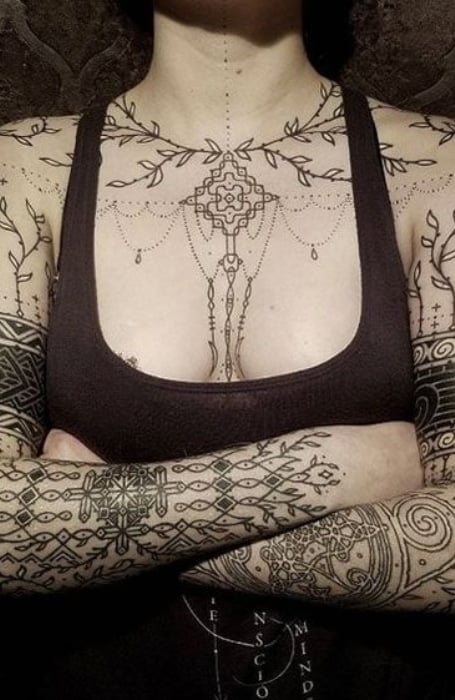 30. Butterfly Tribal Tattoo
The best thing about butterfly tattoos is they work well with multiple styles, including tribal. The simplicity of this design and the focus on the thick outlines and minimal shading make this the perfect combination. In addition, the winged insect is also symbolic, representing beauty, growth, and transition. This makes it an appealing choice for women who have experienced a challenging time in their past and overcome their struggles.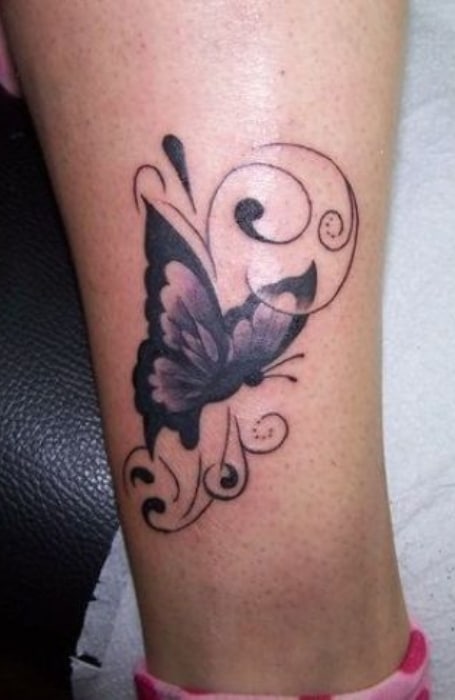 31. Neo Tribal Tattoo
Neo-tribal tattoos are unmissable designs thanks to the combination of black ink, dark outlines, and brilliant patterns and markings. These pieces evoke emotion when just looking at them. Unlike the traditional tribal style, it offers something more modern and fresh while allowing you to honor your heritage and celebrate your culture.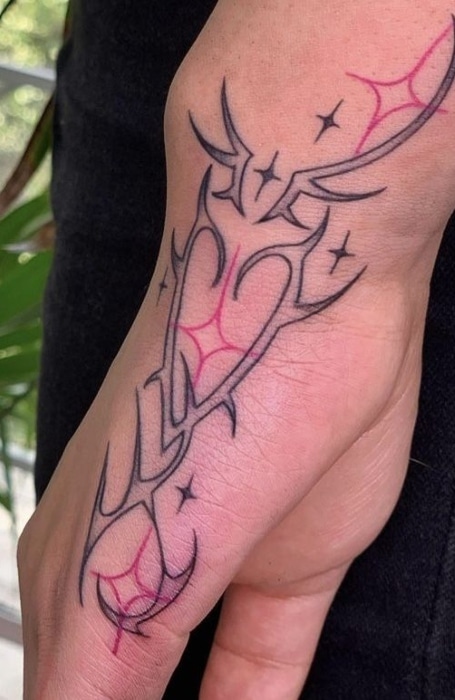 32. Neck Tribal Tattoos
If you're a woman who is daring and rebellious, a neck tattoo is the ultimate placement. The visibility of this placement ensures that your tribal design will be unmissable. There is also an edgy and undeniably cool feel to this area. But it takes some serious confidence and pain tolerance to be able to get inked here.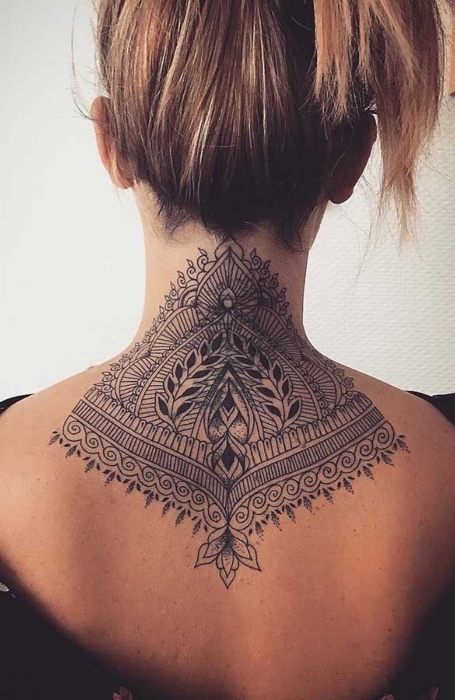 33. Tribal Horse Tattoo
A horse tattoo represents freedom, grace, beauty, and companionship. Although it is not a common choice for tribal-inspired artwork, it can be a beautiful choice, and the thick black outlines will look great with the horse's mane, making it appear in motion. You can get it inked small or large and find a placement to show off your inking.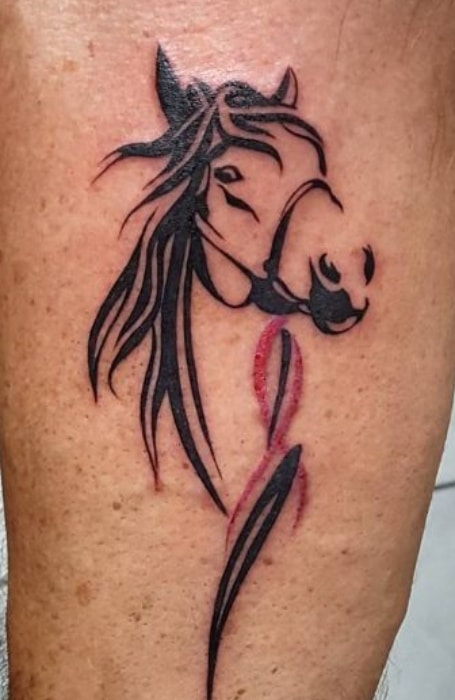 34. Tribal Flower Tattoo
Flower tattoos are one of the most popular designs for women because they can be created in many styles and colors. For your tribal artwork, you can opt for a stylized bloom or add a more realistic-looking version to a tribal pattern or symbol to give it a pop of color. Flowers represent beauty, growth, and life and can make a powerful statement.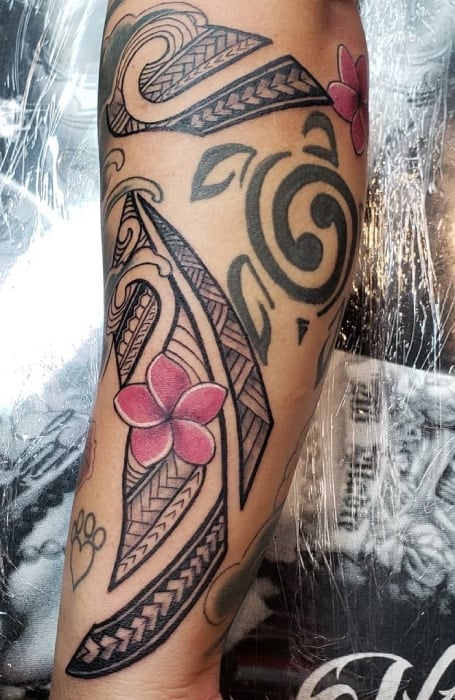 35. Tribal Back Tattoos
Back tattoos are an undeniably cool location for your tribal design. The large area allows you to experiment with your artwork because you're not restricted by space. Cover the entire back for a badass finish. Or choose something small and simple to highlight this undeniably feminine and seductive body part.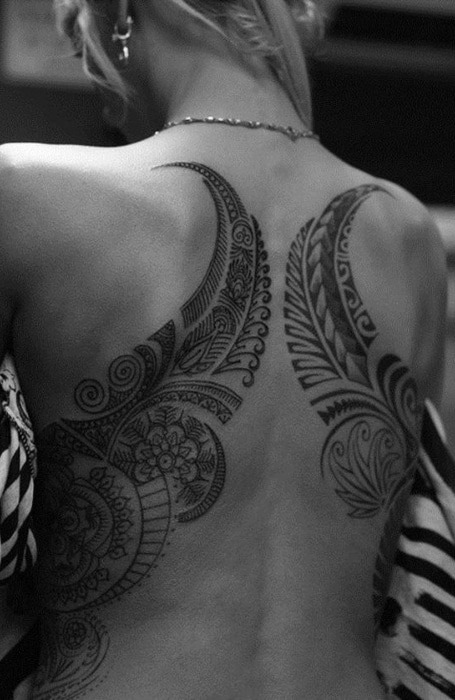 36. Tribal Elephant Tattoo
Tribal designs often combine symbols and markings, but you can also use the style to transform your favorite animal or plant. An elephant tattoo is symbolic of strength, wisdom, and loyalty. It can also represent family and the close bond you share with those closest to you, making this the ideal option to honor your loved ones.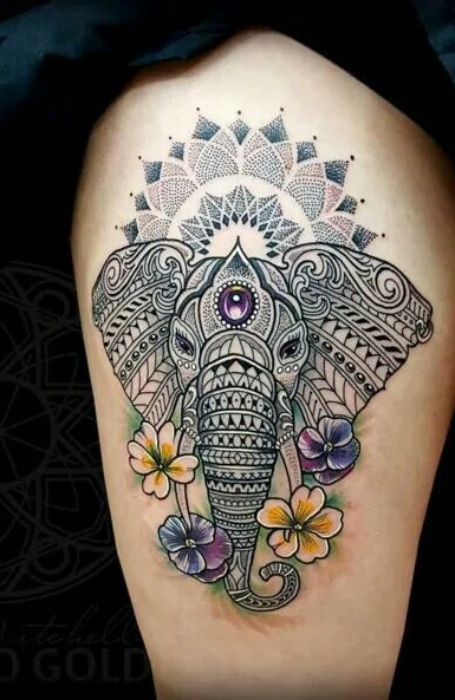 37. Tattoo African Tribal
African tribal tattoos can consist of a series of markings and patterns, or you could create your own pattern and image based on the style. This could be a way to celebrate your African heritage and feel closer to your homeland. Your design will influence its overall meaning, so remember this when deciding.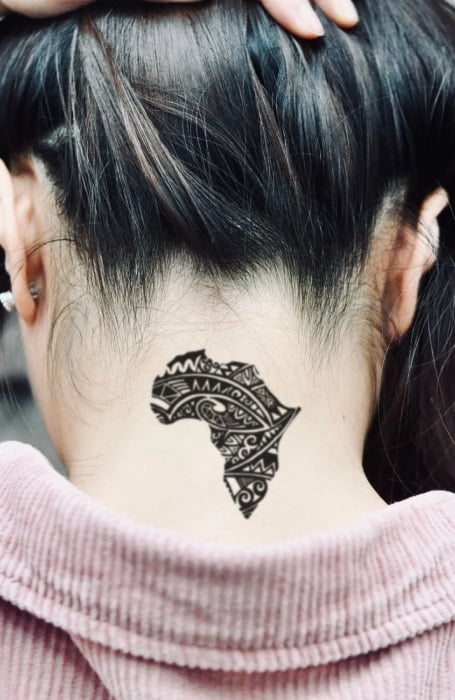 38. Tribal Sea Turtle Tattoo
The sea turtle is easy to incorporate into multiple tribal designs. It is a beautiful and incredibly symbolic creature. It is associated with long life, wisdom, patience, and reliability. This makes it one of the most appealing choices for women who value these qualities. You can create the perfect piece with patterns and symbols or keep it simple by focusing on the outline only.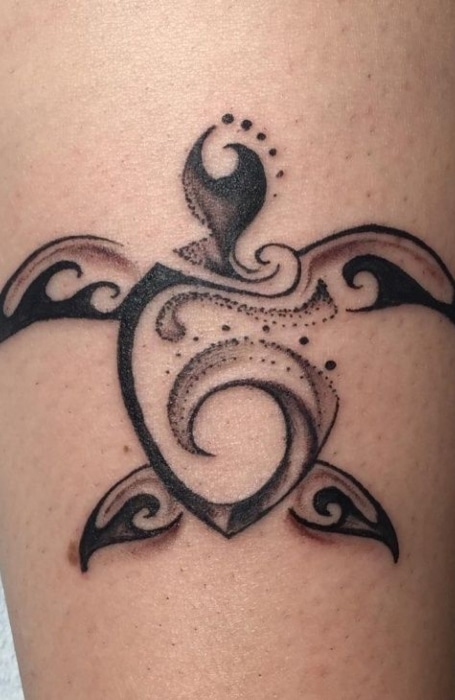 39. Tribal Thigh Tattoo
Thigh tattoos are one of the most popular placements for body art. The right design is a wonderful way to show off your legs. The location is great for highlighting a seductive body part. Plus, it's low to moderate on the pain scale. Because of the thick skin, muscle, and fat, which provide cushioning.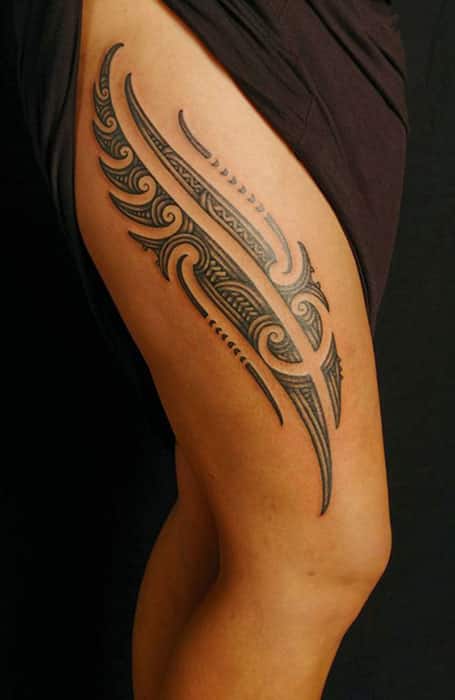 40. Bear Tribal Tattoos
Bear tattoos are a symbol of strength and power. Your ink can show your love of the great outdoors and how you value nature. Or why not get it to celebrate the beauty of the animal kingdom? There are also multiple ways to create a bear design, including focusing on its paw. This animal looks excellent in various styles, including tribal ones, so have fun!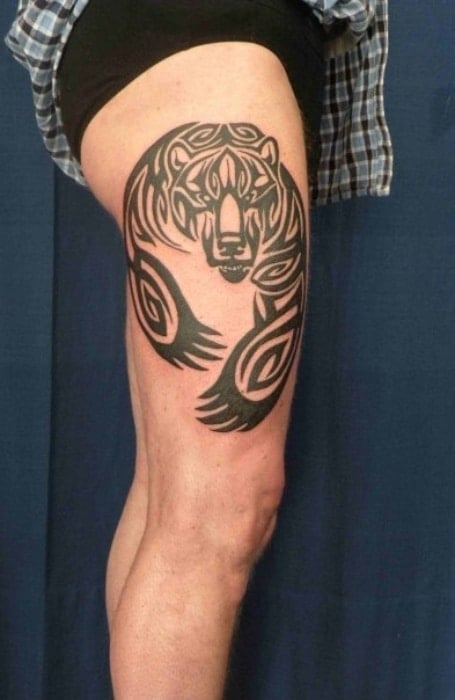 Tribal Tattoo for Women FAQs
What is a tribal tattoo?
A tribal tattoo is a series of markings or symbols important to a specific culture. The meaning differs between cultures, as does the reason for the body art. Traditionally, they were worn to offer protection for the wearer, intimidate enemies, or as a rite of passage. They could also indicate social hierarchy and achievements.
Why do people get tribal tattoos?
Tribal tattoos have been able to tell a lot about the wearer. This includes their rank in the community, power, protection, and status as a warrior. They were worn with pride, so people are drawn to the modern version of tribal tattoos today. It can be used to celebrate your ancestry and honor your culture. Other people choose a more stylized version of tribal tattoos because they are drawn to the style, which features black outlines, minimal shading, and no color.
Are tribal tattoos offensive?
Tribal tattoos can be offensive if you use sacred symbols and markings or have no cultural ties. This is different if you are honoring your heritage or celebrating your ancestors. For those who like the style of tattooing, you should steer clear of markings and patterns used by a specific culture. Instead, get creative by transforming your chosen image, for example, a phoenix or dragon, and using black outlines and no shading to make it feel like a tribal marking.
What Is the most famous tribal tattoo?
There are several beautiful tribal tattoos including Polynesian and Samoan, but when asked what the most famous tribal tattoo is, many people may answer with Otzi the Iceman. He was discovered in 1991 and had been preserved in ice for 5300 years. He was found with a series of markings on his body.
SUBSCRIBE TO OUR NEWSLETTER
Subscribe to our mailing list and get interesting stuff and updates to your email inbox.