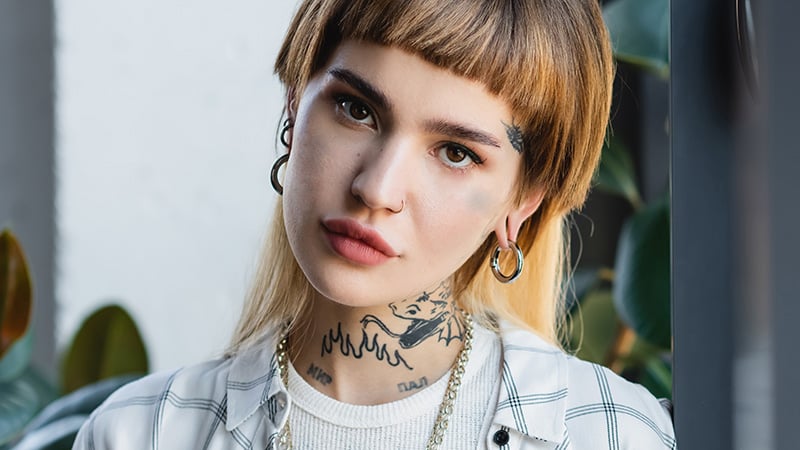 Neck tattoos are associated with rebellion and strength. They have been favored by criminals and hardened individuals, but the attitude toward body art is changing for the better. These days, neck tattoos are considered edgy and cool. There is also versatility with the designs you choose and the placement. For example, the back and side of the neck can be more delicate and discreet. Or, you can opt for something bold that demands attention by covering your throat with a detailed design. Regardless of what you choose, the neck has its appeal because of its visibility. It also has its downsides and is considered among the most painful locations to get tattooed because of the sensitivity of the area. It is not a decision you want to make without serious thought, but it can be an excellent choice for your next inking.
1. Dove Neck Tattoo
Neck tattoos are a bold choice because of their visibility. They can be challenging to cover up, especially when you choose a large or colorful design. However, the placement is large enough for you to get creative with your inking and can be an excellent spot for meaningful designs. This includes a dove tattoo, which represents love, peace, and new beginnings. It is also associated with God.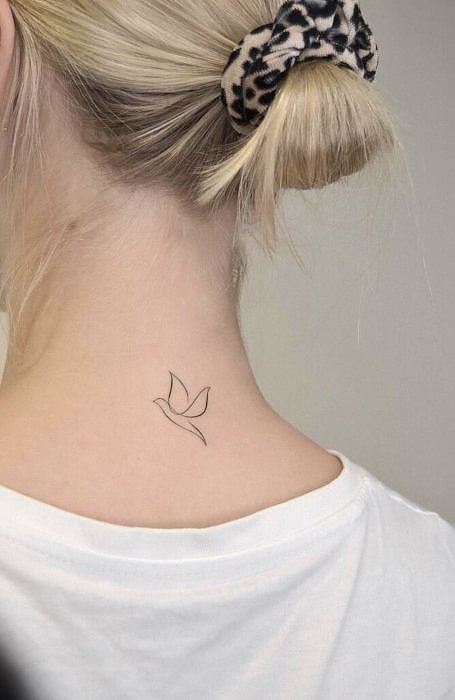 ]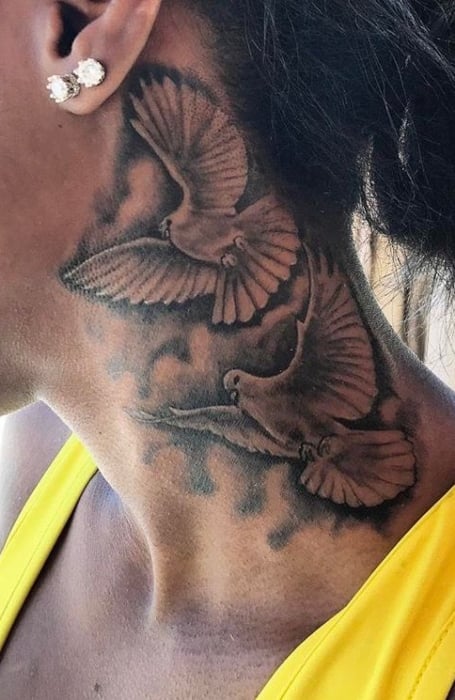 2. Heart Neck Tattoo
Heart tattoos can be simple or detailed but are often symbolic. The heart is associated with love, and this can be a way to honor a special relationship in your life or remind yourself of the importance of self-love. The neck is a visible location for body art, letting you make a powerful statement with your design.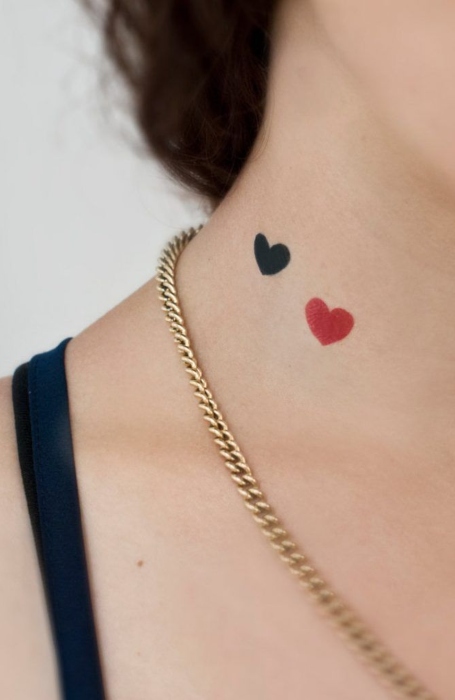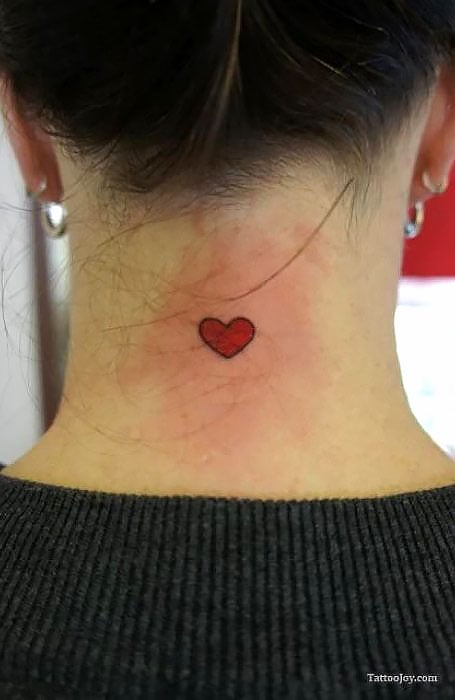 3. Back of Neck Tattoos
For those who want an edgy and cool but also meaningful design, it doesn't get better than the back of the neck. This is a more versatile location than the front or side because it can be easily covered with long hair and accessories like scarves. Your tattoo will likely last longer on the back of the neck too because it does not have constant exposure to sunlight.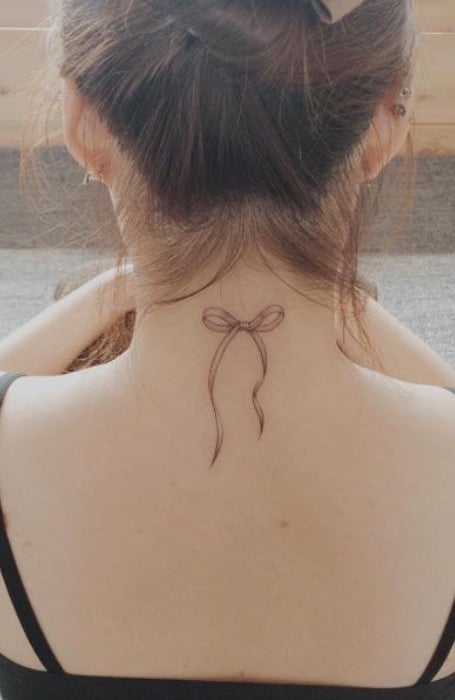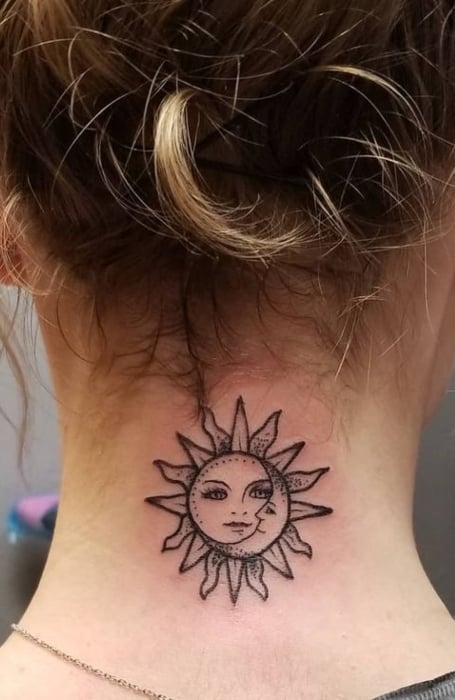 4. Front Neck Tattoos
There is no denying that neck tattoos look cool but they are also controversial. They have long been favored by criminals and hardened individuals, and although the attitude toward body art is changing, choosing to get inked on the front of the neck is a bold decision. It is also one that should not be taken lightly because it can be incredibly painful. The thin skin and general sensitivity of the neck make this a painful location for a tattoo.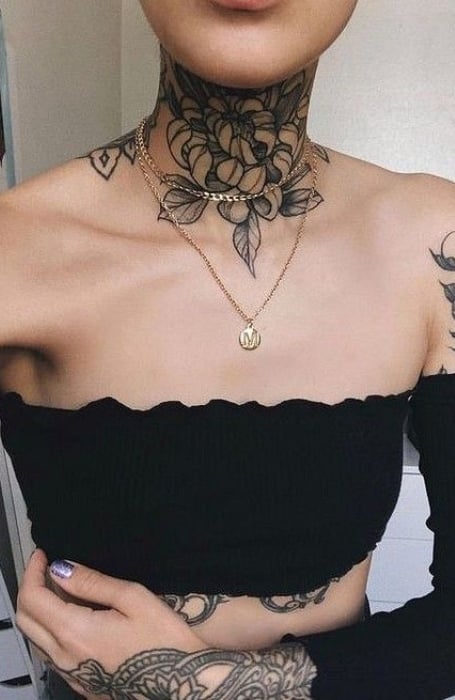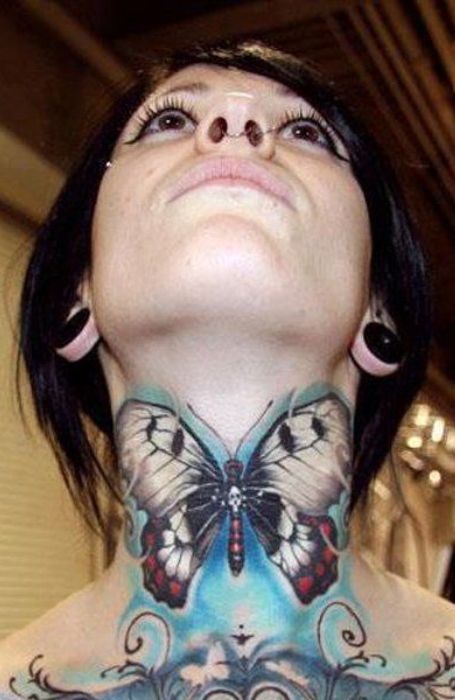 5. Meaningful Small Neck Tattoos
Meaningful tattoos will reflect your thoughts and feelings. They can be small and simple, for example, the name of a loved one or a short quote. When deciding on the perfect placement, consider a neck tattoo. The smaller the design, the more discreet it will be, and the back of the neck or the side will allow you to hide your tattoo.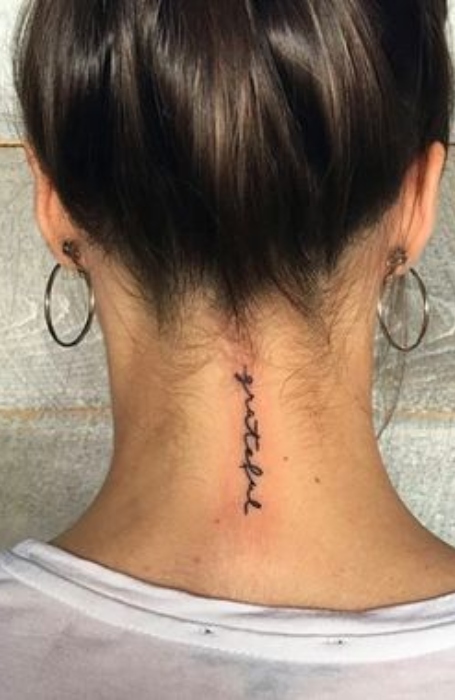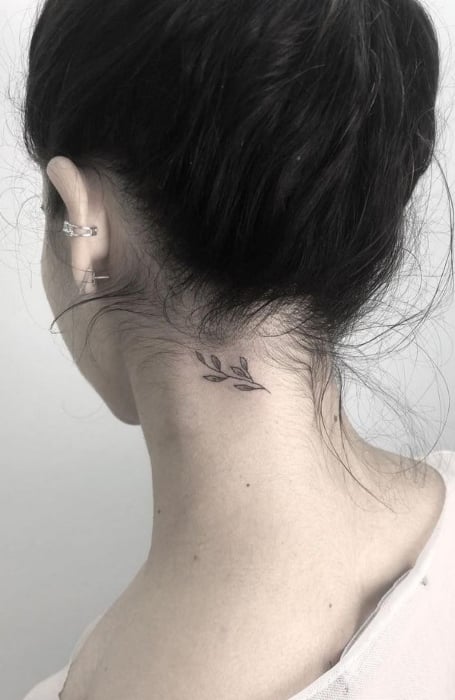 6. Feather Neck Tattoo
The feather is one of the most popular choices for tattoos because it can be simplified and inked on a smaller scale. This gives you versatility with the placement, and a feather will look great when inked onto your neck. Feather tattoos are also symbolic, representing freedom and courage. The species of bird you choose will also impact the overall meaning. For example, an eagle feather is associated with bravery while a peacock represents pride and beauty.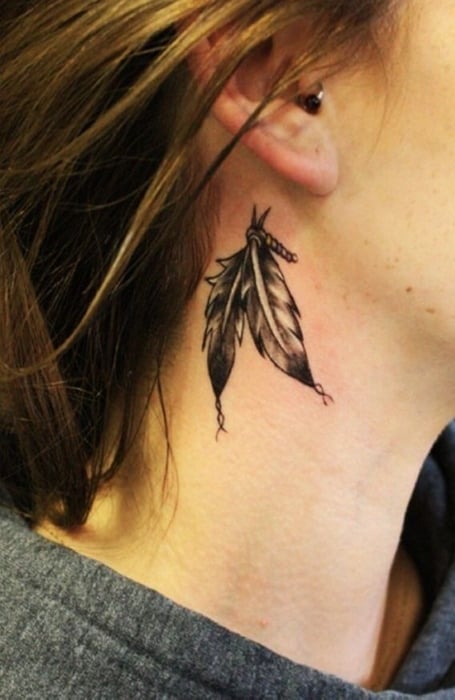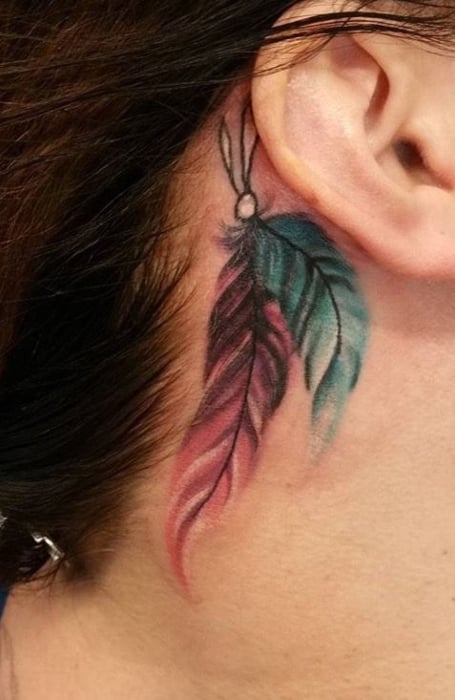 7. Hailey Bieber Neck Tattoo
Hailey Bieber is a top model and a fashion icon. She also has a collection of tattoos, including a small and delicate design on her neck to honor her favorite city. It says "New York" and is on the side of her neck near her right ear. There is also a small diamond above it. The tattoo was done by the famed artist Dr. Woo.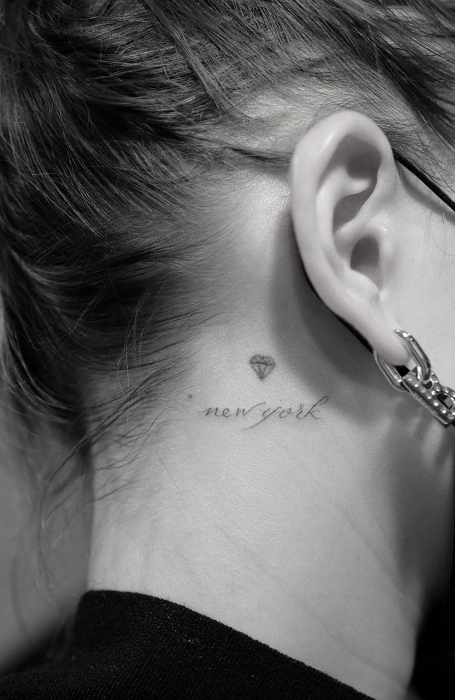 8. Medusa Neck Tattoo
Medusa is an excellent choice for your next tattoo because of its rich symbolism. The snake-haired maiden can be portrayed in various ways and looks great when inked large or small and in color or black ink. Medusa tattoos represent female power and strength, but, depending on your interpretation of her story, could also represent vengeance, jealousy, and rebirth.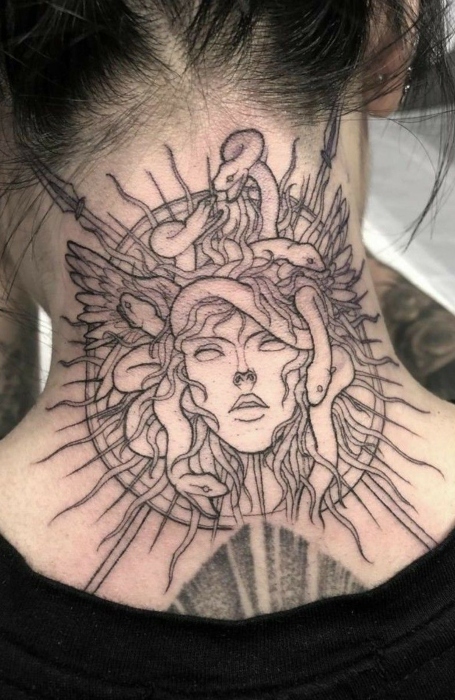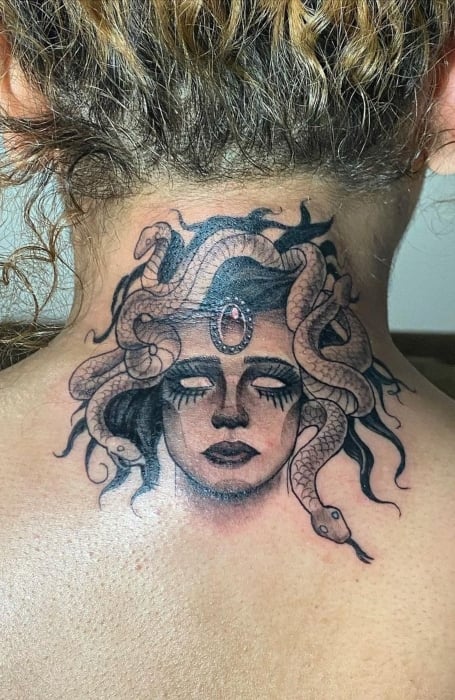 9. Side Neck Tattoos
There are several options for your neck tattoo, including the back, front, or side. The side of the neck is often a more discreet placement and is best suited to small, delicate designs. This is an excellent option for a tattoo honoring someone you love or showing off a design that has great meaning. The neck is also incredibly painful to get tattooed, so keeping your design small will reduce the overall discomfort.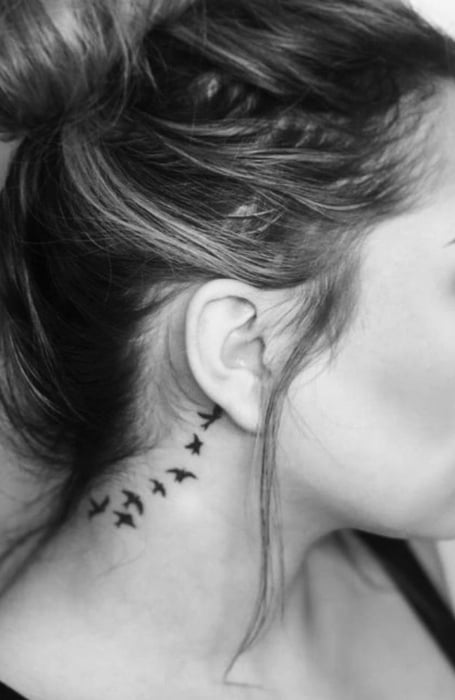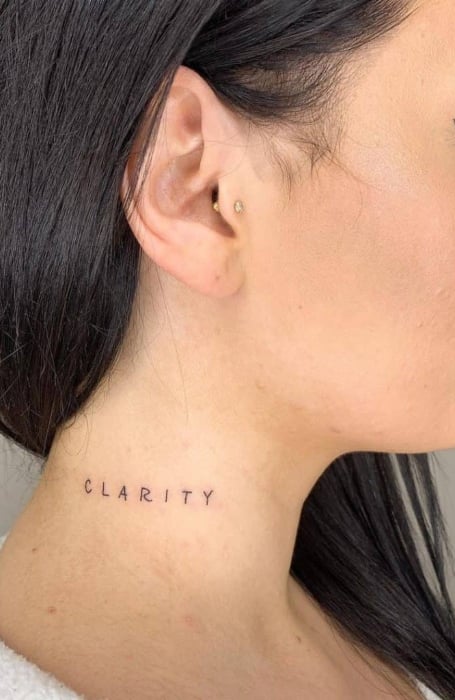 10. Sunflower Neck Tattoo
The sunflower is beautiful and will make for a stunning tattoo, especially when inked in color. Sunflower tattoos are associated with hope and good luck and can be a powerful reminder to focus on the positives in your life. It can also have religious symbolism and can be a way to show your devotion to your faith. The neck is a bold placement and can feel rebellious but it is a great way to show off meaningful designs.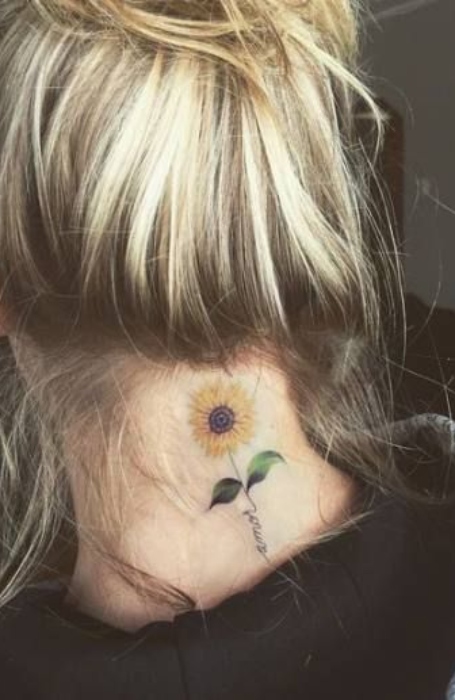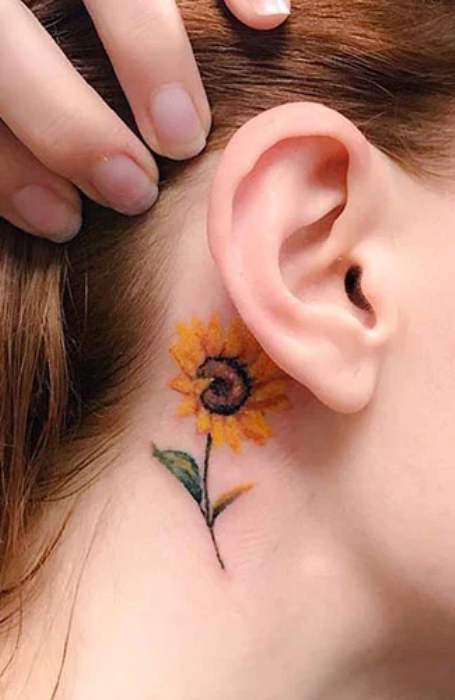 11. Small Neck Tattoos
Small tattoos are a great choice, whether it is your first inking or your tenth. The appeal of small designs is that there is versatility with the placement and they look delicate and feminine. Your design could also be more discreet, making it a less bold and rebellious choice than something large and detailed. There are many options, including angel wings, a name or special word, a bird, or a music note.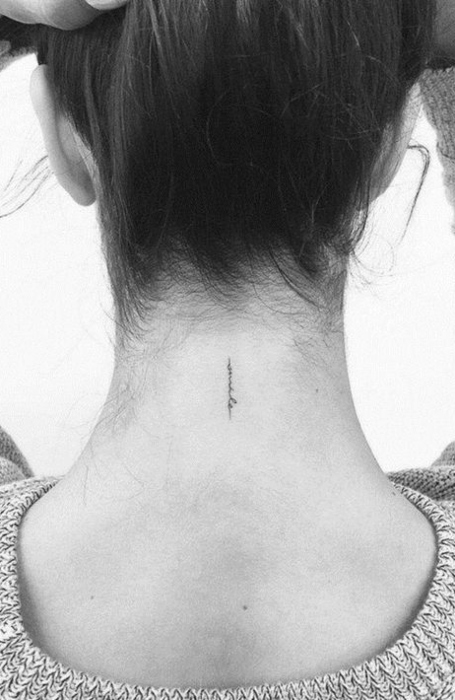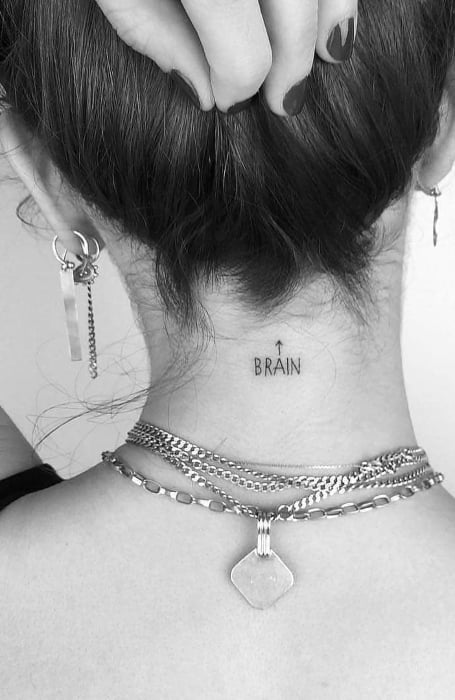 12. Wings Neck Tattoo
Wing tattoos are symbolic of freedom and can make a powerful statement. It could be a reminder that you make the decisions in your life and hold the power. It can also be a way to let go of the things that hold you back or make you unhappy. Angel wings are another option, which is symbolic of faith, protection, and guidance and can be inked as a memorial tattoo.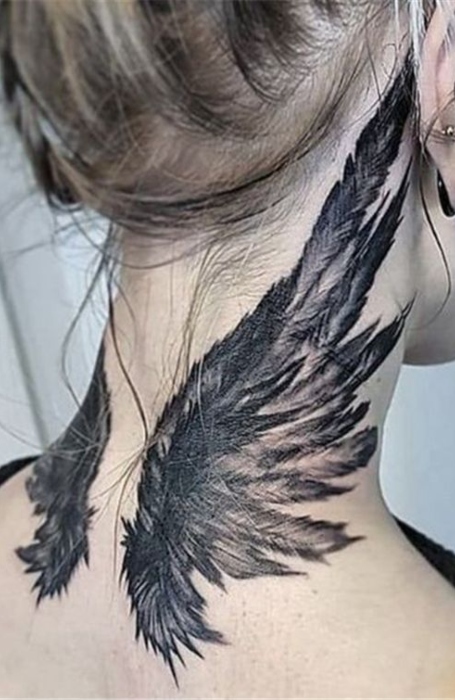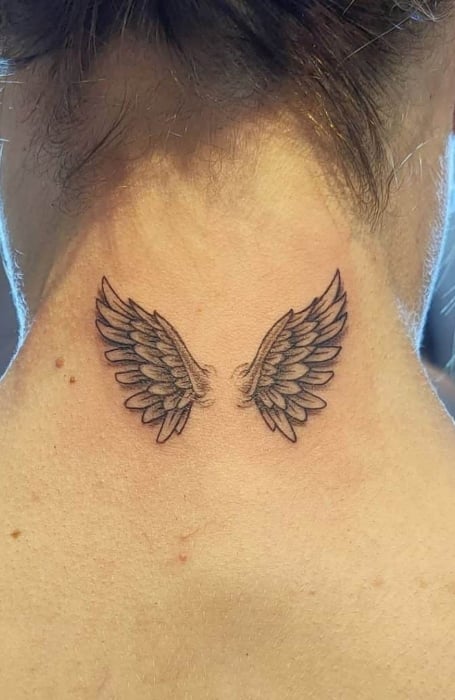 13. Lips On Neck Tattoo
One of the sexiest options for your neck tattoo is to get inked with a pair of lips. The lips are associated with sensuality, passion, and intimacy, and can make a statement about how are free to do what you want. Or that you have embraced your sexuality. You can also personalize the design, asking someone you care about to kiss you and get a tattoo of their lip outline.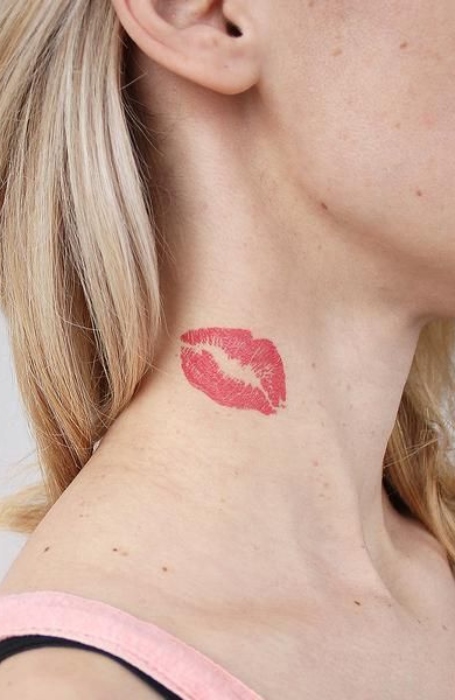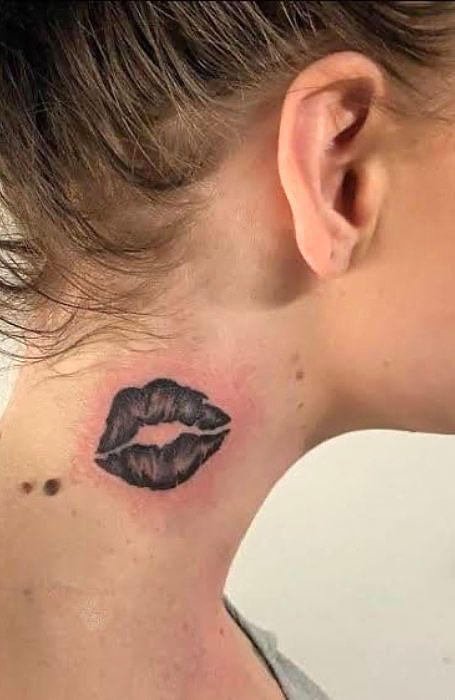 14. Rose Neck Tattoo
Rose tattoos are one of the most commonly inked designs. This is because they look great when inked big or small, can be simple or intricate, and lend themselves well to color or can be done in black ink only. The rose is also symbolic of passion and love. It also represents balance and can be a reminder that there is good and bad to be found in all aspects of life; the flower is beautiful but the thorns can cause harm.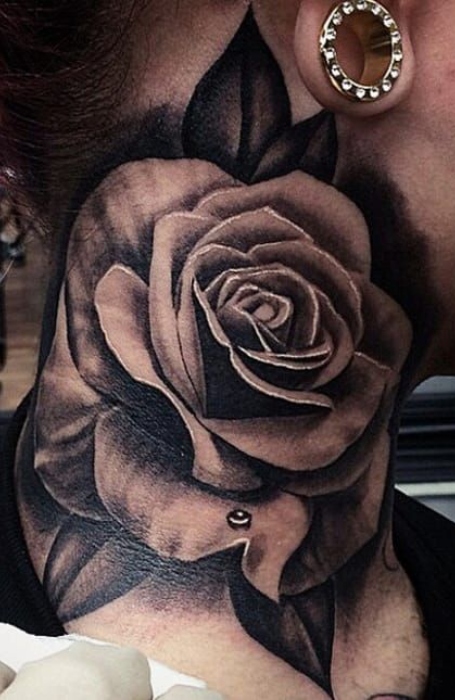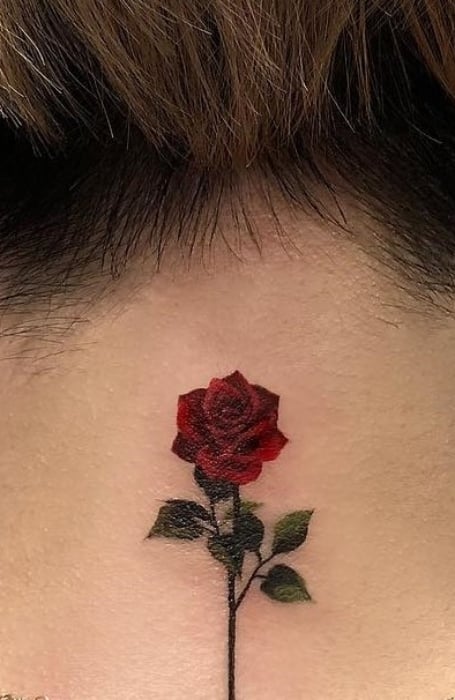 15. Cross Neck Tattoo
For those who are devoted to their faith, an excellent choice for your next design is a cross tattoo. The cross can be inked large or small and will look good on the neck. You can keep your design simple, with a tiny cross on the side of the neck or the back, or create something bold that demands attention and place it on the front of the neck so that it is unmissable.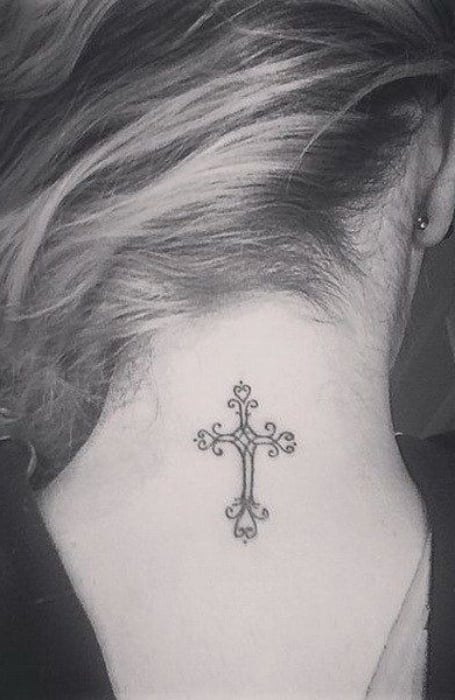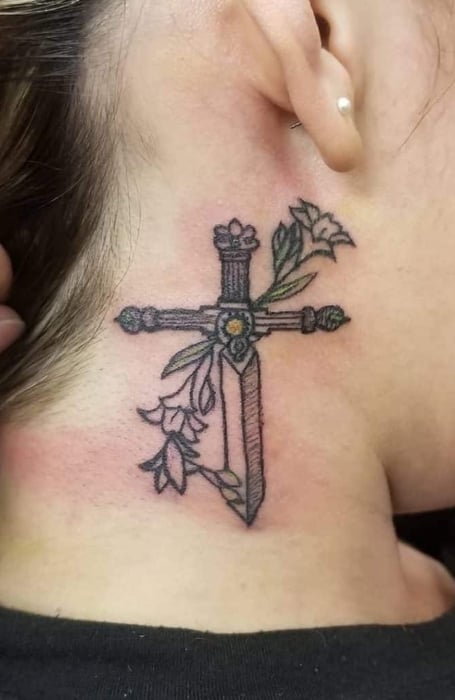 16. Butterfly Neck Tattoo
Butterfly tattoos represent beauty, change, and transformation. Getting a butterfly design is a wonderful choice for those who are going through a transitional period in their life. It can also be a reminder to embrace all the good things in your life or celebrate the life of someone who has passed away. A simple butterfly design can be discreet and delicate, or you can combine other imagery for a full-neck tattoo.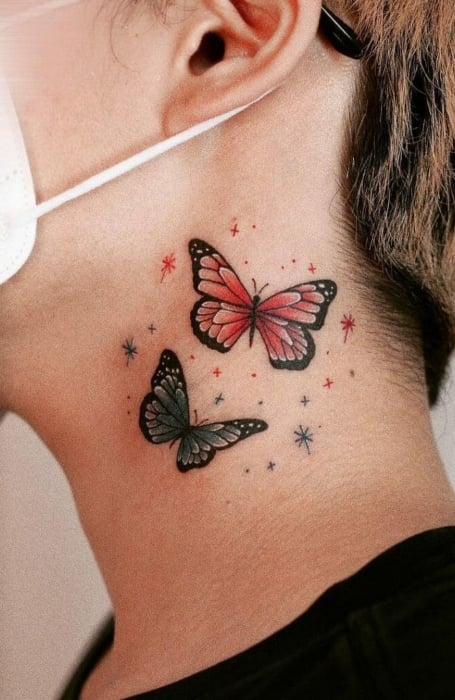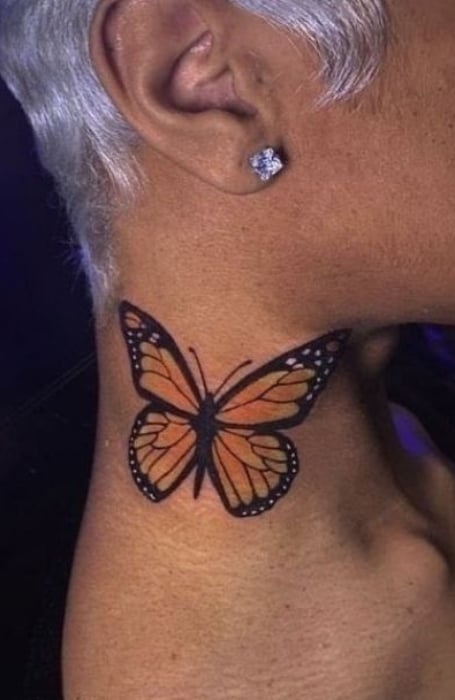 17. Throat Full Neck Tattoos
Neck tattoos are surprisingly versatile because you can experiment with the size and placement of your design. Some neck tattoos can be delicate and discreet, but covering your throat with ink is done to make a statement and will demand attention. This is a tattoo associated with strength and rebellion and will be incredibly painful to complete which can show that you are not afraid of pain.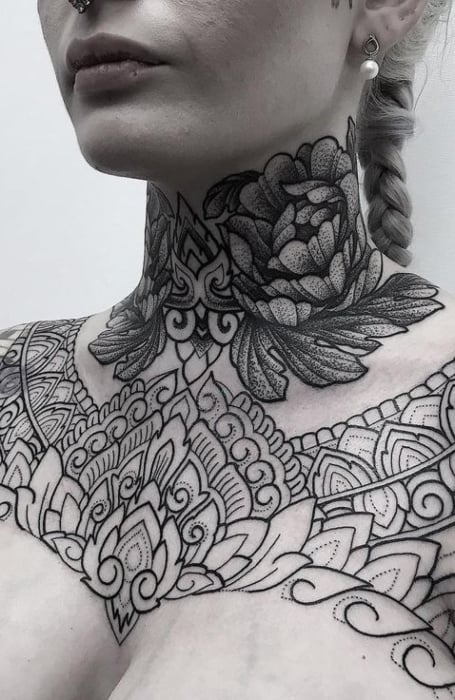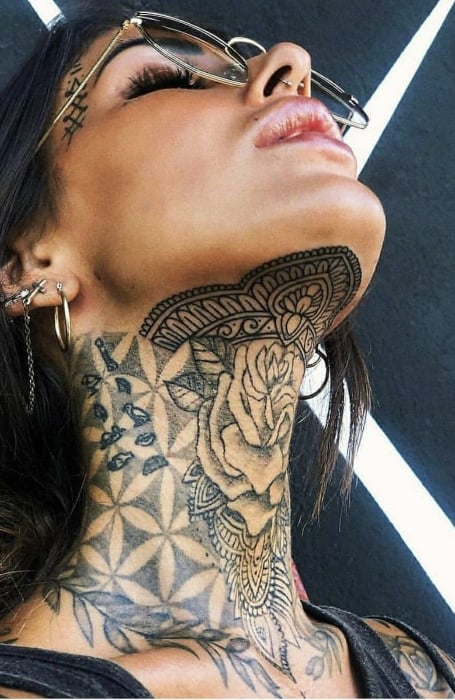 18. Quote Neck Tattoo
Quote tattoos are a wonderful way to say how you feel and share this with the world. Your favorite quote can inspire and motivate you, or bring you comfort. The inspiration behind your quote can come from anywhere, including a poem, lyrics, or movie quote. It could also be something someone you love or respect has said that has stuck with you.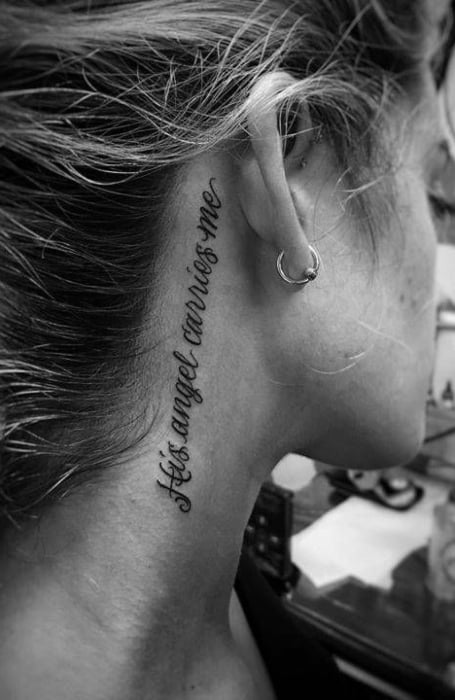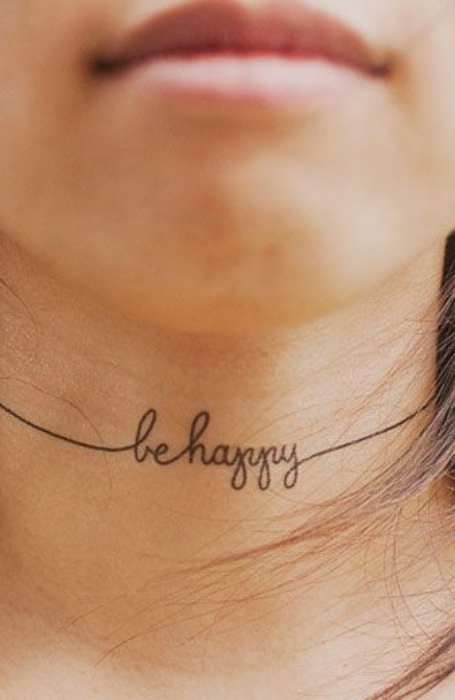 19. Name Tattoos on Neck
What better way to show the world the love you have for someone than by getting tattooed with their name? Name tattoos are a way to celebrate your relationship and can also be inked as a memorial design as a way to keep your loved one close to you at all times. The visibility of neck tattoos makes this an appealing placement because it will be shown off at all times.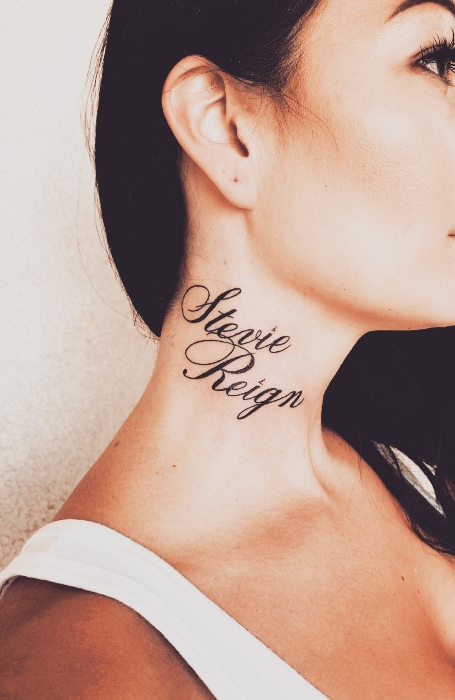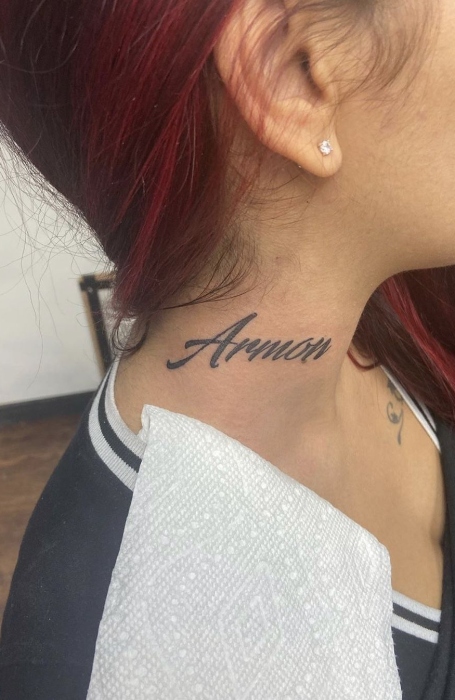 20. Simple Neck Tattoos
Simple tattoos focus on the basic elements of the design. They are often without shading and have thin outlines and negative spacing. This is a style that appeals to those who prefer a minimalist aesthetic, but there are also pros to simple tattoos, especially when inked in painful locations like the neck. They are completed faster and the lack of shading will make them less painful.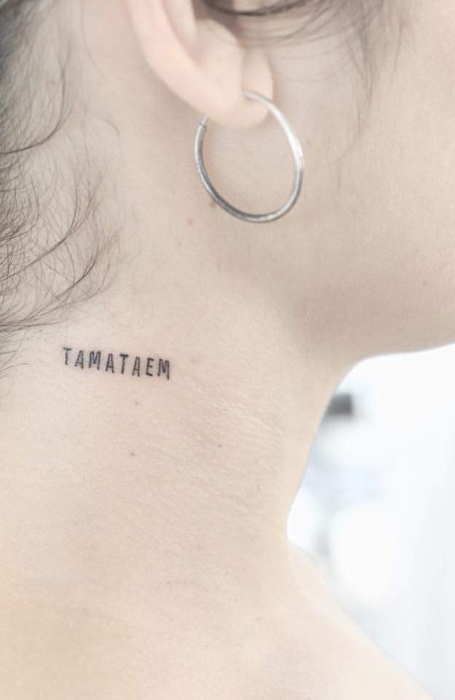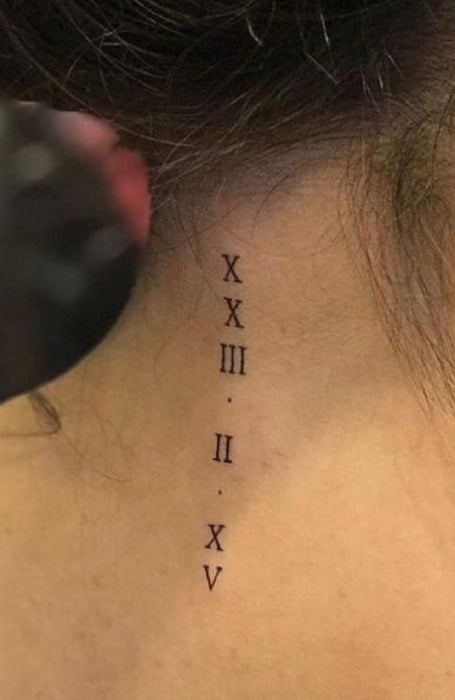 21. Flower Neck Tattoo
Flower tattoos are beautiful and associated with life and growth. There are many blooms to choose from, which will make your design more unique. You can pick your favorite flower, or be drawn to its symbolism of it. There are also different flowers for birth months. Or it could be a general design or a combination of flowers for a more detailed neck tattoo.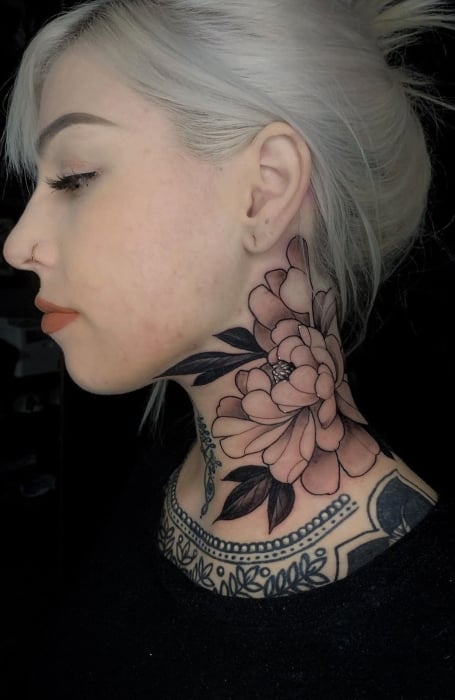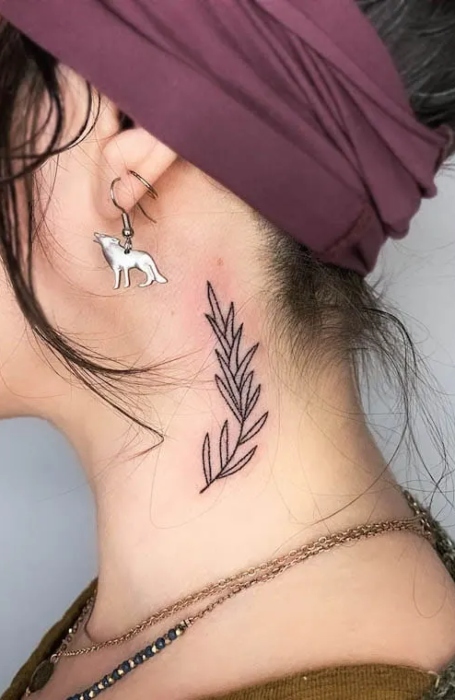 22. Rihanna Neck Tattoo
Rihanna is one of the biggest style icons and she has inspired countless people with her style choices. She also has many tattoos which help her express her thoughts and feelings, this includes a neck tattoo on the left side. It is French and reads "rebelle fleur." The script is pretty and makes for a delicate tattoo.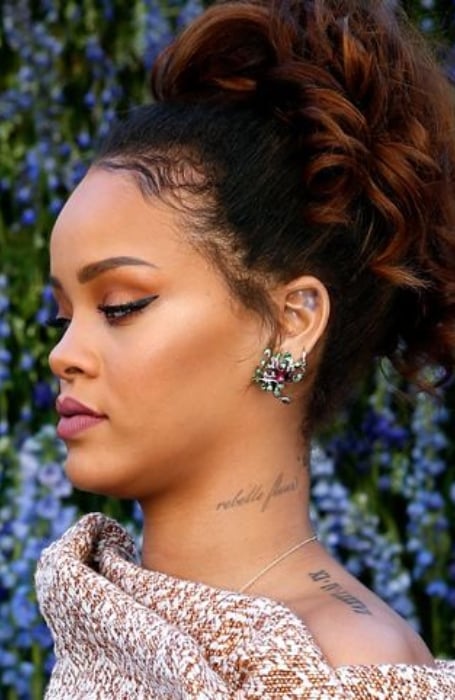 23. Bird Neck Tattoo
Bird tattoos are symbolic of freedom, exploration, and adventure. They can express how you want to be free from mental and physical constraints and live life to the fullest. They can also be a reminder that you are the creator of your destiny. There are different birds to choose from, each with a unique meaning associated with them. For example, an owl represents wisdom and mystery, while the eagle is linked with bravery and power.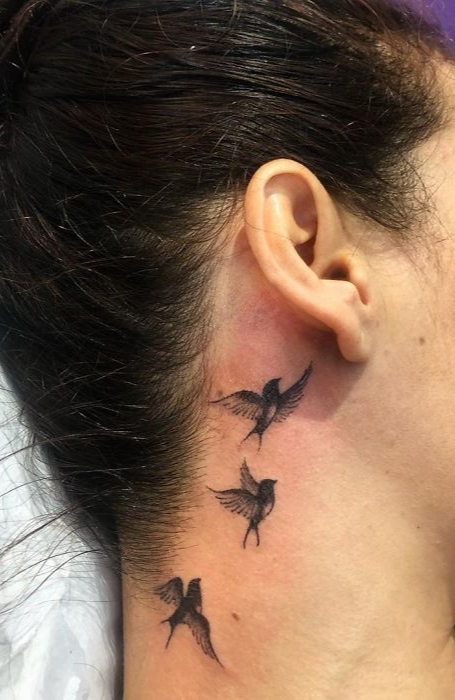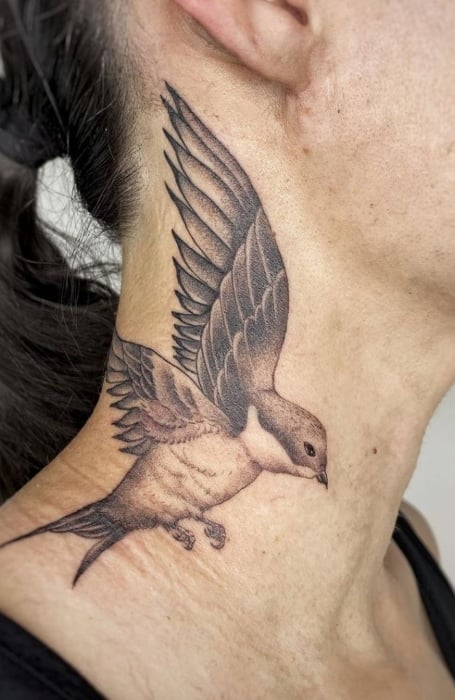 24. Cute Small Side Neck Tattoo
Cute tattoos can be of anything, from your favorite cartoon to an animal you love. There are many options, making it easy to find something you love and personalize your body art to suit your preference. Once you know what you want to get inked, find a design that can be simplified to make it small. Opting for the side of the neck can be a more discreet location.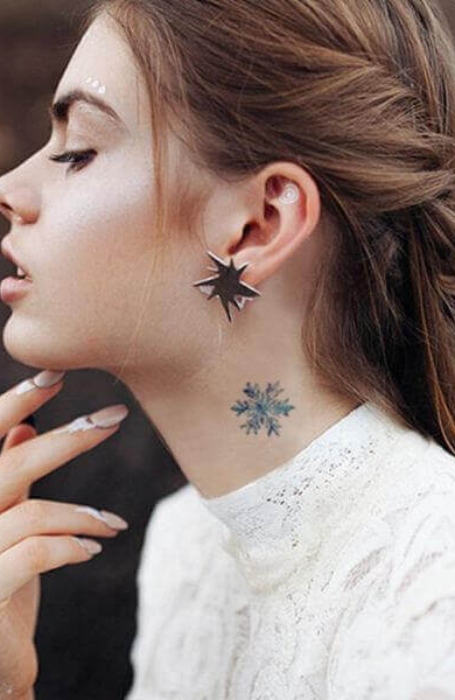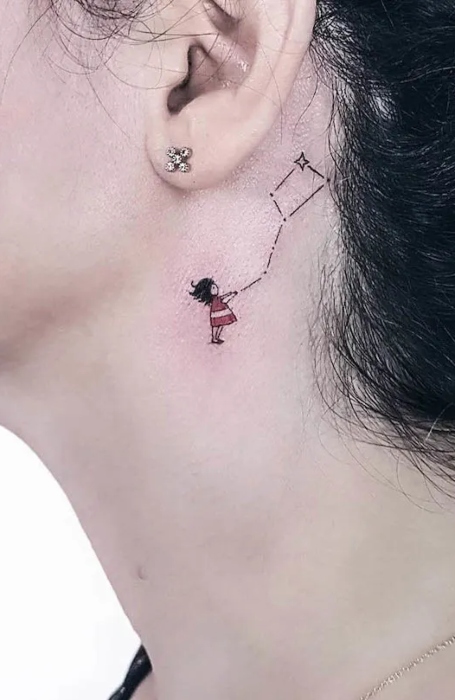 25. Blessed Neck Tattoo
If you want a tattoo that can say a lot about the inner workings of your mind with only one word, then a "blessed" design is ideal. This word has great meaning attached to it and is a way to show your gratitude and remind yourself of everything good in your life. This includes your relationships, career path, and life choices. Your tattoo could also be to show your devotion to your faith.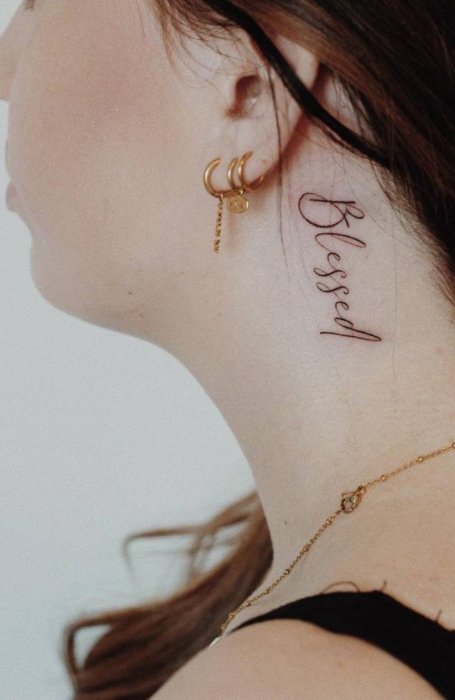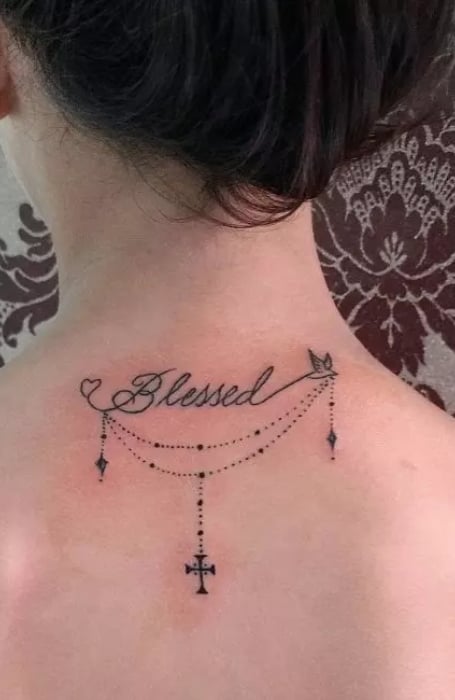 Neck Tattoos for Women FAQs
Which tattoo is best for neck?
There are several designs that are suited to the neck, but you want to consider the placement on the neck that appeals to you the most. For designs that make a statement and show your strength and rebellion, the throat and front of the neck are ideal. This can be a detailed piece and done in color or black ink. Whereas the side and back of the neck are more discreet and would benefit from small and simple designs. These are appealing to someone who wants a delicate and feminine tattoo.
Are neck tattoos attractive?
Neck tattoos are often favored because they are edgy, cool, and rebellious. This is one of the most painful placements for your body art, so getting inked here is often a show of strength. However, the right design can also be attractive. Simple designs are often the most appealing and the side or back of the neck will make it less visible.
Are neck tattoos unprofessional?
Despite some of the world's most stylish women having neck tattoos, they are considered unprofessional for conservative work environments. The stigma attached to body art, especially highly visible pieces could affect your job opportunities and influence the way people treat you.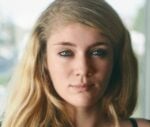 Cailyn Cox holds a degree in journalism and has been working with The Trend Spotter as a writer for over ten years. She has worked with some of the most prestigious women's and men's lifestyle publications. For her, writing is not just a job; it's a passion, which is why each article she writes is approached with such enthusiasm and dedication. She has extensive knowledge of hairstyles, tattoos, and beauty and has made a career out of creating informative articles that appeal to women and men of all ages.
SUBSCRIBE TO OUR NEWSLETTER
Subscribe to our mailing list and get interesting stuff and updates to your email inbox.