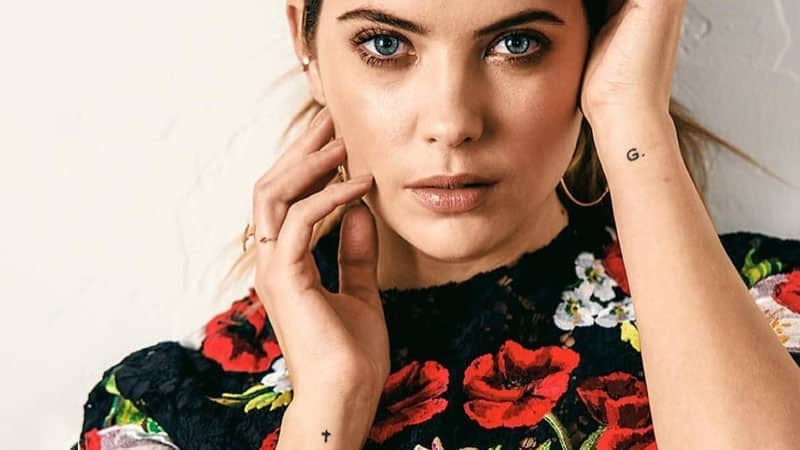 Have you found the perfect design and are you dreaming of getting tattooed but are yet to take the plunge? What is stopping you? Is it the pain, the visibility, or the lack of versatility with the placement? With tiny tattoos, you can eliminate all of these worries because these are inkings that are designed on a smaller scale and will therefore reduce the discomfort involved in the tattooing process. They can also be tattooed almost anywhere on the body, including areas like your fingers, wrist, or behind the ear. While large and detailed designs certainly have their appeal, tiny tattoos are the ultimate choice for men and women who want something delicate but no less meaningful.
1. Tiny Butterfly Tattoo
Are you going through a period of transformation and growth and want to document it? Well, what better way to do this than with your body art a butterfly tattoo is beautiful and rich in symbolism. The winged insect will represent beauty and freedom and will make a powerful statement about the feelings of the wearer. It also lends itself well to color, letting you get creative with the styles you choose.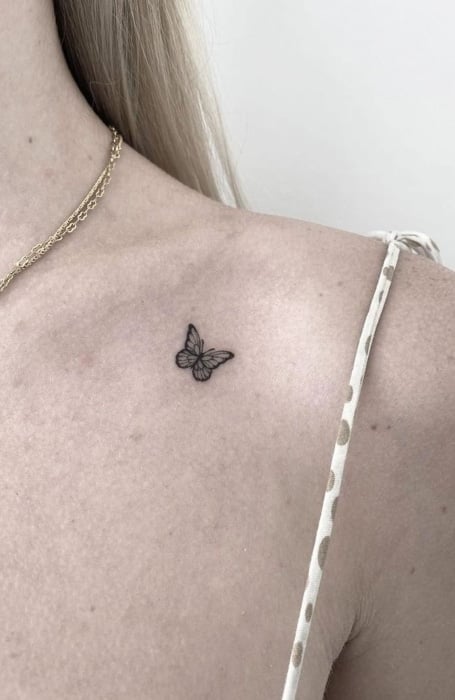 2. Tiny Flower Tattoos
Flower tattoos are one of the most popular choices because they can be created in various ways and will complement a wide range of styles. For those who love tiny ink, then floral designs will work well and can be easily simplified and scaled down to suit your preference. In addition to looking cute, these tats are also symbolic representing growth and beauty. Choose your birth flower to give your piece added meaning, or combine several to represent people in your family.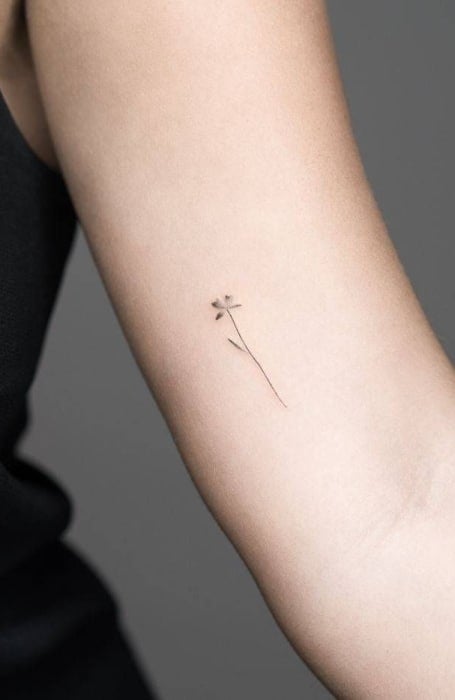 3. Tiny Heart Tattoo
Celebrate the love in your life or remind yourself to be wary of those you trust with a tiny heart tattoo. The shape is so simple that it can be easily created to be small, giving you versatility with placement. This will include areas like the finger or behind the ear. Hearts are a stunning choice for men and women and are rich in meaning. It could represent passion and fulfillment or be inked to honor someone who has passed.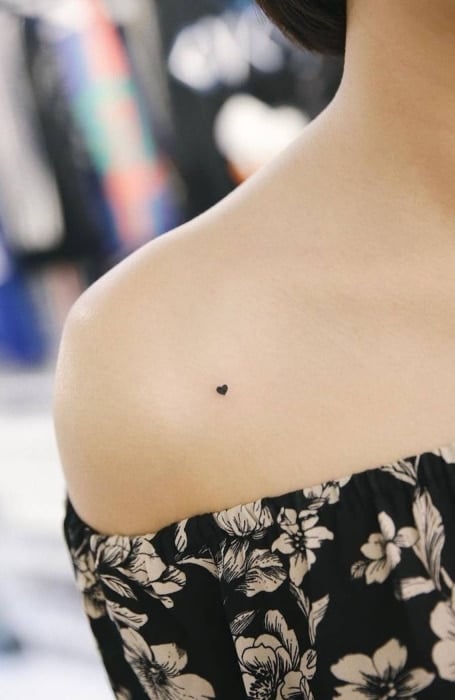 4. Tiny Dinosaur Tattoo
Dinosaurs roamed the world long before humans ever did, but that makes them even more fascinating to us. When choosing a tiny design, many people choose to simplify the shape of their chosen creature, creating a cartoon-like appearance that is super cute. Your dino tattoo can represent strength and power and will be a great way to remind yourself that you possess these qualities too.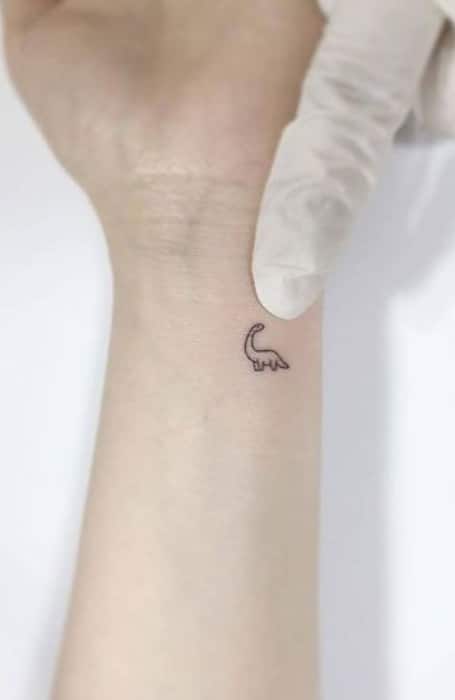 5. Tiny Medusa Tattoo
If you are looking for a unique and symbolic option for your next inking, a medusa tattoo is for you. This is a powerful choice and can make a statement about female empowerment, freedom, transformation, and the cycle of life and death. Most people who are drawn to this artwork opt for something beautifully detailed, but that is not to say you cannot create it on a smaller scale with an outline design.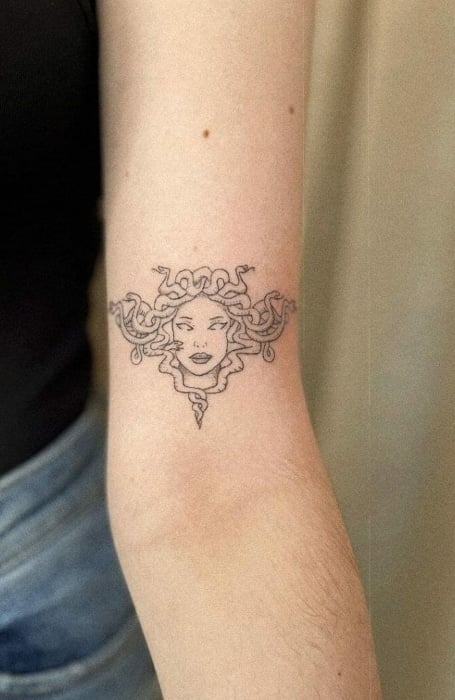 6. Tiny Finger Tattoos
Finger tattoos are the ultimate way to get your body art noticed. The visibility of the placement makes this a rebellious and undeniably cool location for getting inked. The right designs will be even more important because they will be on display, always! You have to choose a tiny tat for it to fit the area, but you also want to go easy on the detail, instead of picking something basic, so that it will age better.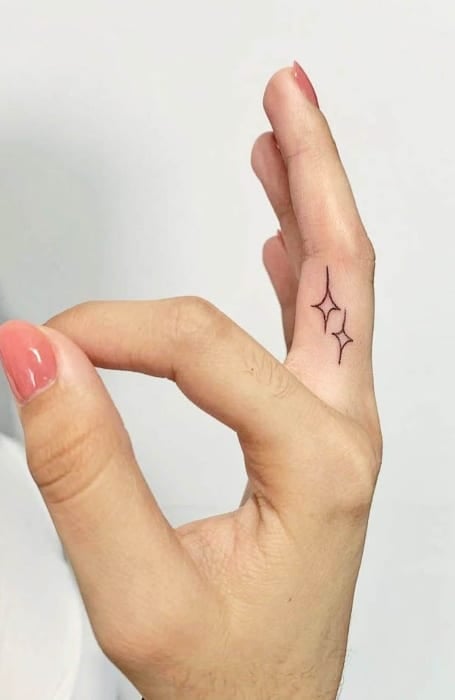 7. Tiny Rose Tattoo
Beautiful and symbolic, the rose tattoo appeals to men and women of all ages because of its simple form, stunning shades, and rich meaning attached to the bloom. It is associated with passion and love, but also with pleasure and pain, and the importance of achieving balance. There are different interpretations depending on your chosen color, and although a commonly inked design, there are multiple ways to make your inking unique.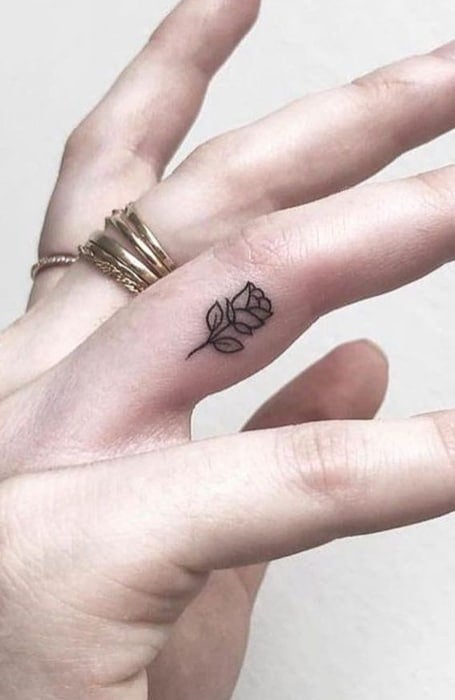 8. Simple Tiny Tattoos
Tiny tattoos will be created on a smaller scale and because of this, they tend to work best when they are simple, focusing on the basic form and the fundamental aspects of your design. You do not want to pick something overly detailed as the size will be limiting, making the artwork feel squashed and the results less striking. Instead, tone it down, opting for something pretty and meaningful, but also minimalist.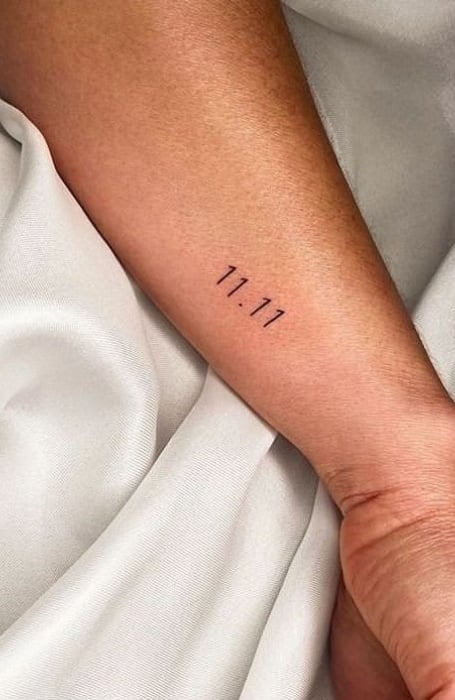 9. Minimalist Tiny Dragon Tattoo
Dragon tattoos look mysterious and intimidating. The mystical beast represents intelligence and power. To some, they are associated with greed and evil, and to others, they are a sign of protection and good luck. Tiny ink is ideal for someone who wants something special and will also benefit from the versatility. This is because it can be tattooed almost anywhere on the body. It can also look more discreet.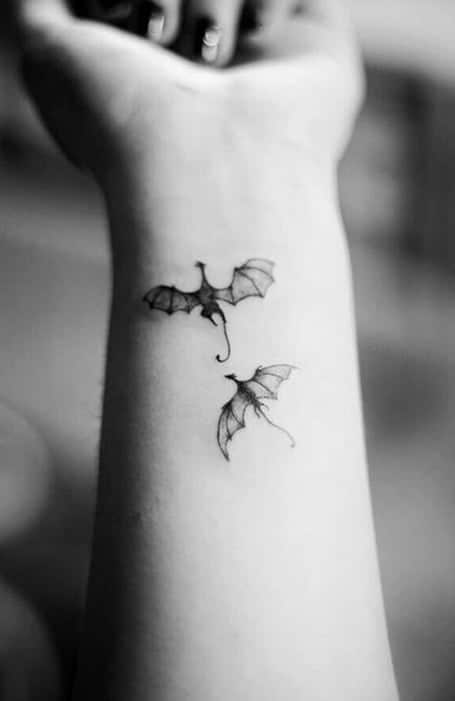 10. Minimalist Tiny Turtle Tattoo
Are you looking for the perfect design for your next trip to the tattoo parlor? This could be it! Turtles are beautiful and symbolic representing good luck, longevity, resilience, stability, and also a love for the ocean. Choosing a tiny inking of your favorite reptile will be more than just a cute tat, it is also an excellent way to convey your thoughts and feelings because of the rich symbolism associated with it.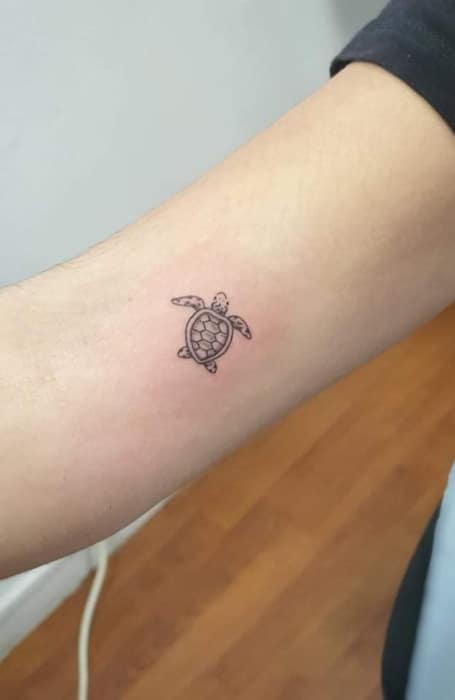 12. Tiny Bird Tattoo
There are many species of birds to choose from when deciding on the perfect design for your body art. Each has its unique symbolism attached to it, making your choice unique and special. In general, bird tattoos are associated with freedom from both mental and physical constraints. Your choice can make a powerful statement about your thought process and is a stunning option for those wanting to get inked on a smaller scale.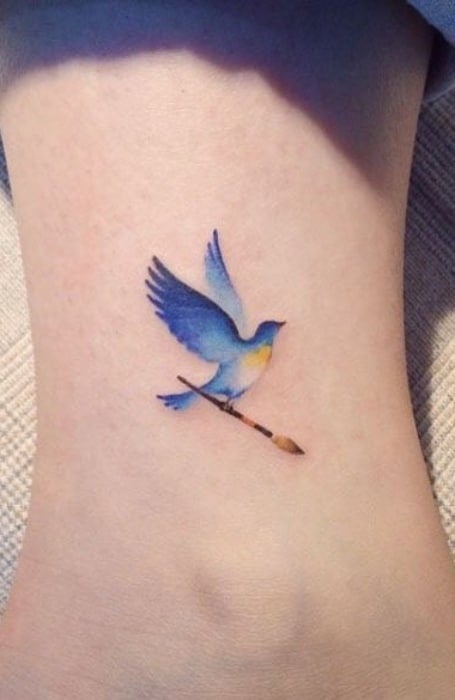 13. Tiny Cross Tattoo
Does your faith play an important role in your life? Then celebrate it with a cross tattoo. The symbol represents devotion to your religion and can be inked to convey the impact it has had on your life. It could also be a way to honor a loved one who has passed. If this is the case, you may wish to include a significant date, name, or quote in the design.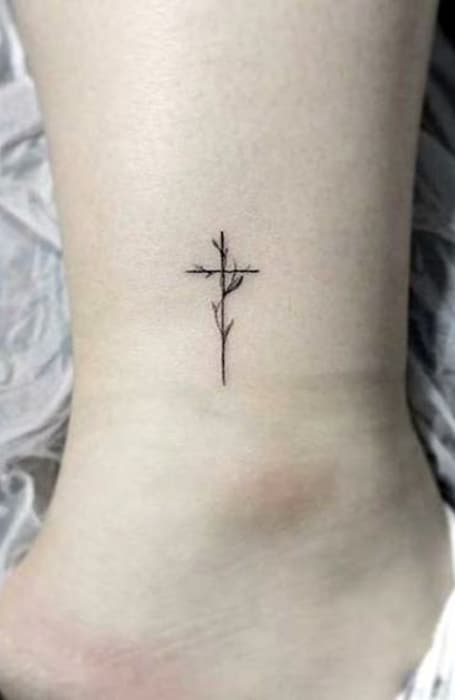 14. Tiny Tiger Tattoo
Powerful and beautiful, the tiger is associated with strength, grace, independence, and freedom. They often live alone and are successful and skilled hunters. The symbolism associated with the mighty beast draws people to get a tiger tattoo and it is a design that can say a lot about the wearer. While large inkings let you show off brilliant details and experiment with a range of techniques, tiny pieces are just as gorgeous and special.
15. Tiny Star Tattoo
The simplicity of the star tattoo makes it a great choice for those looking for tiny inking. It will represent guidance, hope, ambition, and dreams. The design may seem basic, but you can also combine it with other small shapes and images to add to the overall meaning and to create a more detailed finish. For example, the stars and moon.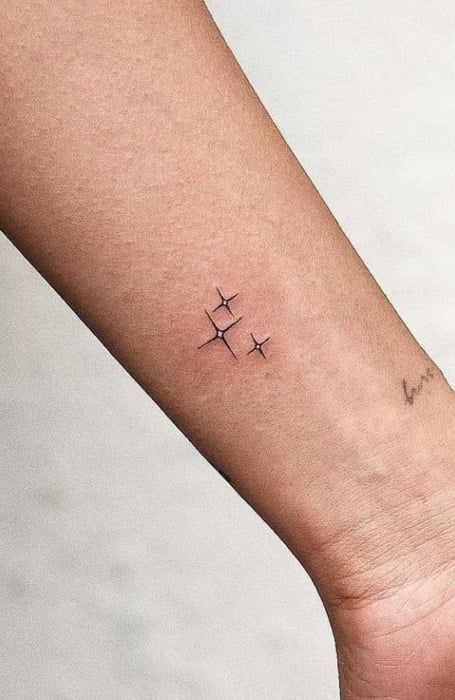 16. Tiny Wrist Tattoos
What is not to love about wrist tattoos? The placement is versatile and can accommodate small or medium designs. It is an excellent area for showing off your body art and will let you look at it every day. The thin skin and proximity to the bone will make this a relatively painful location to get tattooed. But when choosing a tiny tat the discomfort should be minimal.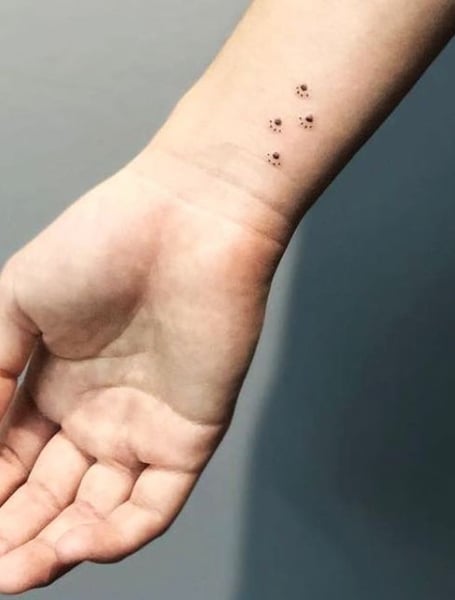 17. Tiny Bee Tattoo
Hardworking, determined, and loyal, are just some of the things associated with a bee tattoo. This tiny insect will be the ideal design for those looking for something special and rich in meaning. Maybe you want to remind yourself of the importance of focusing on your goals. Or perhaps you are someone who values their relationships with their family and friends? There are many interpretations of what the bee represents, making it the ideal choice.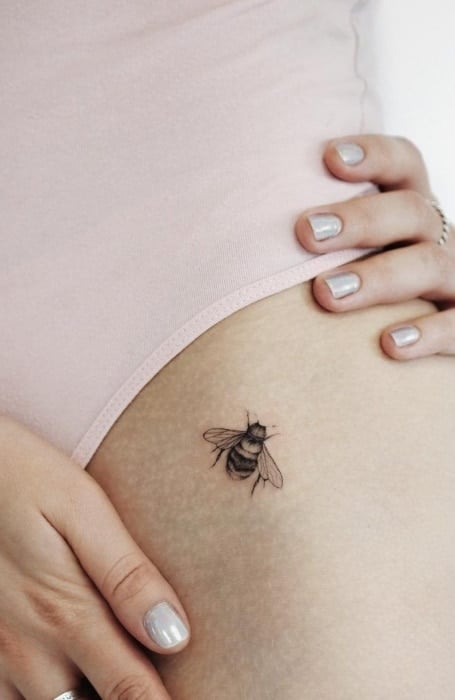 18. Meaningful Tiny Tattoos
Just because your body art is tiny does not mean it does not have powerful symbolism associated with it. What defines a meaningful tattoo will differ from person to person, but it is usually a design that holds importance to the wearer. It could be as simple as your birth flower or star sign, or it could include a powerful word, the name of a loved one, or a significant date.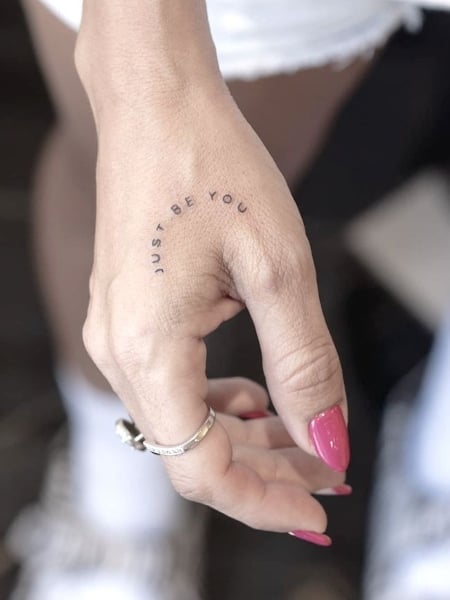 19. Tiny Ghost Tattoo
If Halloween is your favorite time of the year, or do you believe in spirits and the supernatural? Then a tiny ghost tattoo is just what you need. The shape is easy to create on a smaller scale and will look great when placed anywhere on the body. There is also important meaning associated with ghosts, including death, the unknown, protection, hope, and guidance.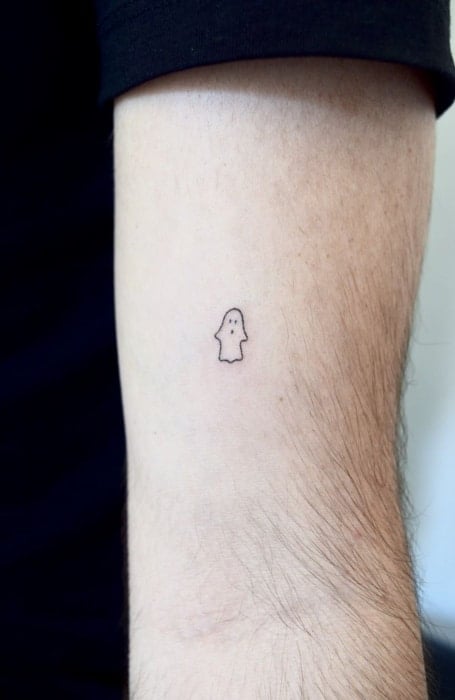 20. Tiny Hand Tattoos
Hand tattoos are the ultimate placement for those who want to stand out from the crowd. It is a rebellious area to get inked because of the visibility and getting tattooed here has long been reserved for outcasts and criminals. But the attitude toward body art is changing, and a tiny design could make just enough of a statement without being too glaringly obvious. This is also a practical choice because body art here will be painful.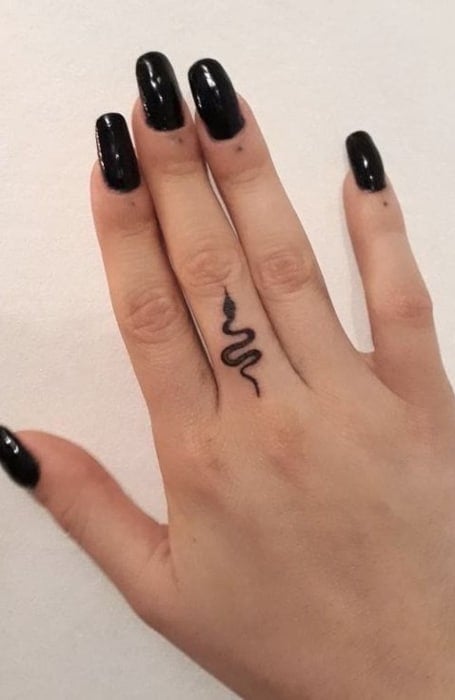 21. Tiny Matching Tattoos
Show your loved one how much you care with a cute matching tattoo! Deciding on the same design with a friend, family member, or romantic partner is an excellent way to celebrate your bond. The process of finding the right piece will also be an added bonding experience and is a memory you will share forever. Take caution to ensure who you will be getting tattooed with is someone you intend to have in your life for the long haul.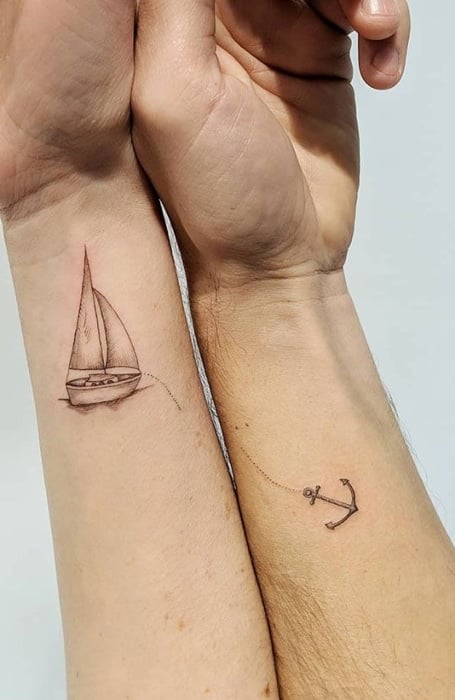 22. Tiny Moon Tattoo
Celebrate the beauty of the universe with a tiny moon tattoo. There are various phases to choose from, each with different symbolism. A full moon will represent mystery, magic, and the supernatural, while a crescent is associated with motherhood and fertility. This can be a beautiful and empowering inking that will inspire you every time you look at it.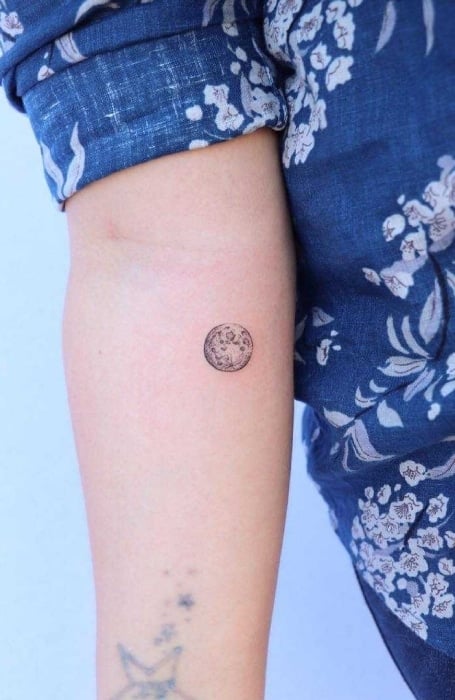 23. Tiny Snake Tattoos
Snake tattoos represent the life cycle and are often associated with rebirth and transformation. There is no denying this is a powerful choice. Your design will look great in black ink or color; this is also a way to acknowledge a specific species. Your piece can be small and simple, or a little larger to wrap about the wrist or finger; the choice is yours.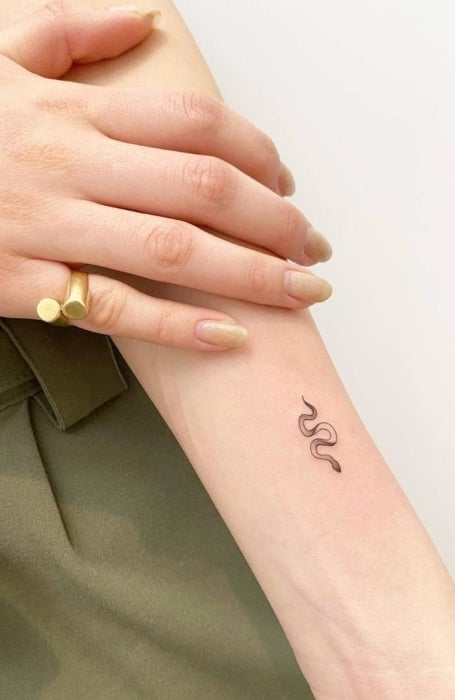 24. Tiny Elephant Tattoo
Majestic and strong, an elephant tattoo is a beautiful choice for your next design. The animal will also represent qualities like motherhood, wisdom, courage, and good luck and will be stunning in a range of styles and sizes. Focusing on a tiny inking is a lovely way to try out body art. Or it could appeal to those who prefer a minimalistic approach to tattooing. Whatever your reason, this is one choice you cannot go wrong with!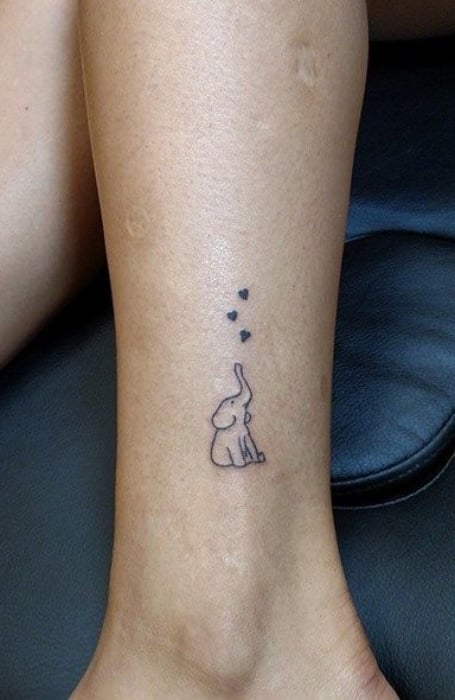 25. Tiny Face Tattoos
Do you want a star just below your hairline? How about a heart under your eye? Face tattoos are edgy and rebellious, but they are not for everyone. There is still a stigma attached to getting ink on certain body parts, making this a daring choice for someone who does not care about rules or conformity. The good thing is that a tiny design will be less visible and only cover a small part of the face.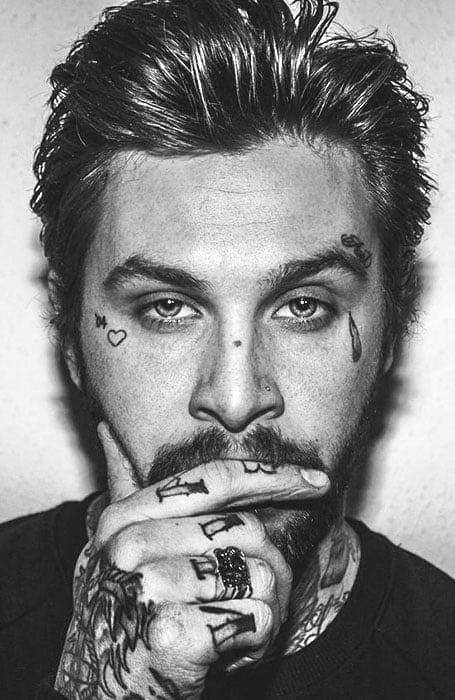 26. Tiny Hummingbird Tattoo
A hummingbird tattoo will look stunning when inked on a smaller scale and can be a great way to celebrate qualities like freedom, optimism, hard work, and dedication. There are different species to choose from, including the smallest bird in the world, the Bee Hummingbird. So, it makes sense to get this beautiful creature tattooed small. Do not be afraid to experiment with color and opt for something bright and bold.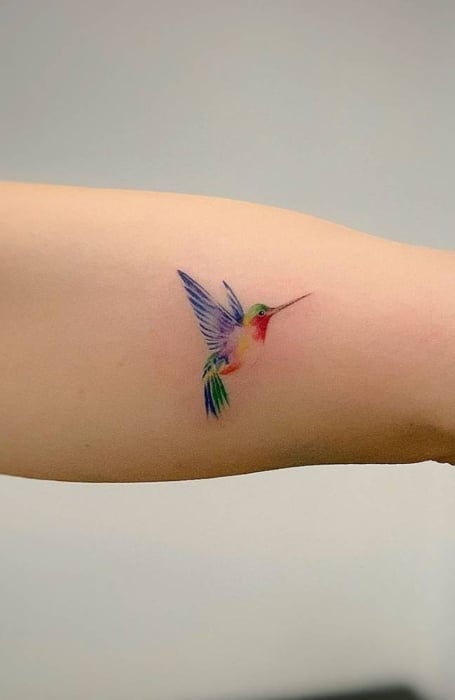 27. Tiny Sun Tattoo
Your world would be a much darker place without the sun. Life as we know it would cease to exist, so the importance of a sun tattoo becomes abundantly clear. It is an inking associated with life, warmth, creativity, fertility, and healing. The shape is simple, but you can also get creative with the design. This includes symbols and patterns or adding other images like the moon for body art that represents balance.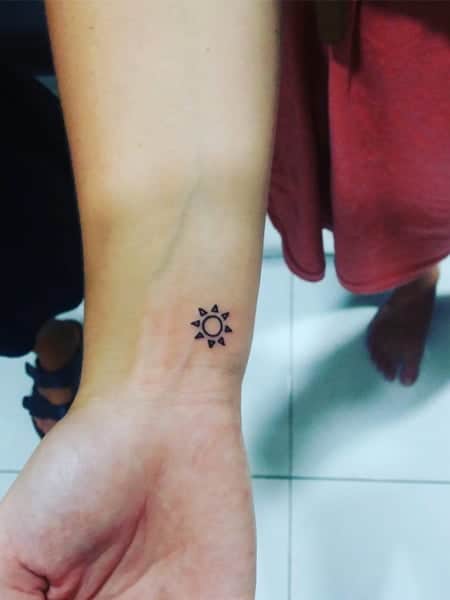 28. Tiny Sunflower Tattoo
The brilliant yellow of the sunflower makes it a striking flower, but it is also associated with many positive meanings. These include devotion to your faith, warmth, optimism, happiness, and growth. Your sunflower tattoo will often look best when created in color, which will make it stand out but can be easily inked to be tiny and delicate. It is the perfect choice for women or men and can bring joy to your life every time you look at it.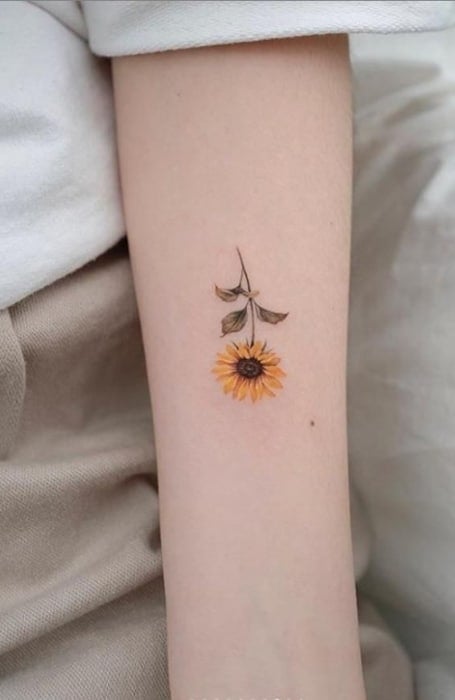 1. Cute Tiny Tattoos
Body art does not have to be large or overly detailed to have meaning and tiny tattoos are one of the most popular choices. There are so many cute tattoos that can be created from animals to simple flowers and meaningful quotes. The size of your ink will also give you more freedom with placement because it can fit almost anywhere on the body.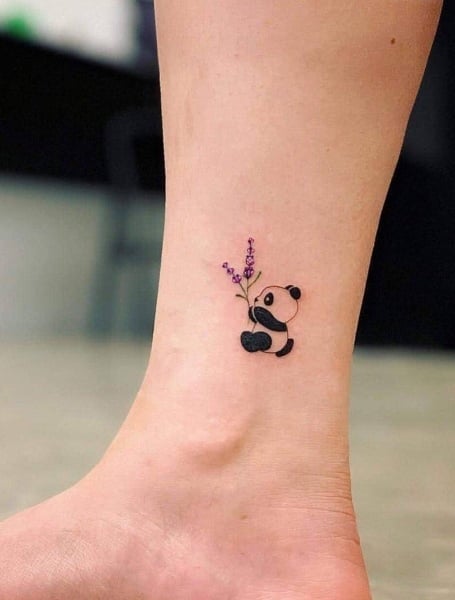 29. Tiny Couple Tattoos
Couple tattoos are one of the sweetest ways to celebrate your love and show your commitment to your relationship. What better way to show the world how serious you are about each other than with a design dedicated to your romance? Choose something unique and meaningful, whether it is a matching piece or two parts that form a whole; the choice is yours.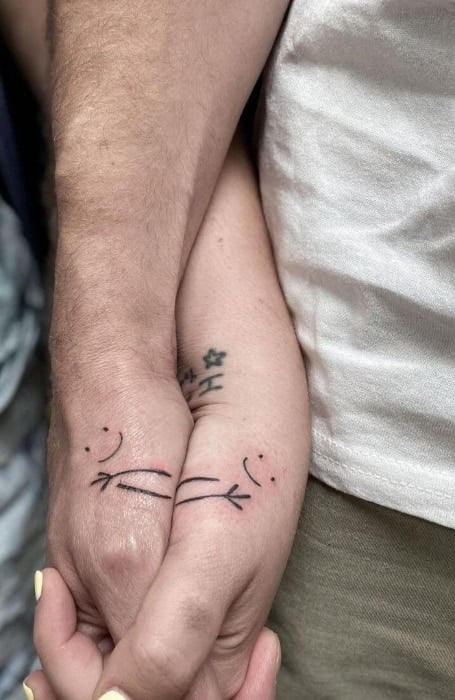 30. Tiny Skull Tattoo
Skull tattoos can be intimidating, and often associated with rebels and outcasts. It represents death and destruction or could be inked to show you are someone who is not to be messed with and prefers to be left alone. This may be the most common association, but there are also positive meanings. This includes the ability to overcome your challenges or a show of inner strength and courage.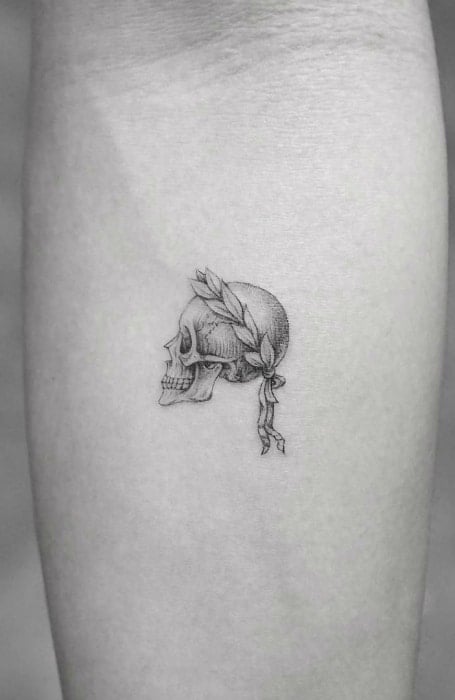 Tiny Tattoos FAQs
What are tiny tattoos called?
Tiny tattoos can go by several names including small tattoos or micro tattoos. The terms refer to body art that is created on a small scale, giving you versatility with the placement as they can fit anywhere on the body.
Do tiny tattoos last?
As stunning as tiny tattoos are, they are not always long-lasting. The designs often tend to fade after a few years and the key is to find a piece that does not have too much detail. It is also recommended to use a tattoo artist who specializes in this style. Your placement will also affect how long your design lasts. Areas like the fingers and hand may seem appealing for small designs but they will fade quickly because of the frequency of use and exposure to sunlight and cleaning products.
Are tiny tattoos a good idea?
Tiny tattoos are a good idea because they are versatile, cute, and symbolic. You will work with your tattoo artist to determine the best size for the design you want to ensure it will be long-lasting. Tiny tattoos can be inked almost anywhere on the body and are often discreet. The small design will be completed faster than larger and more detailed pieces, making them cheaper and less painful.
Can you get a tiny tattoo while pregnant?
It is not recommended to get a tattoo while pregnant. It is best to wait until after the birth in case of allergic reaction or possible risk involved with the dyes. Although this is unlikely, it is always best to err on the side of caution.
How much does a tiny tattoo cost?
A tiny tattoo is one of the cheapest choices and will be around $50 to $100. The price can vary depending on your chosen tattoo artist, the complexity of the design, and the placement on the body.
SUBSCRIBE TO OUR NEWSLETTER
Subscribe to our mailing list and get interesting stuff and updates to your email inbox.