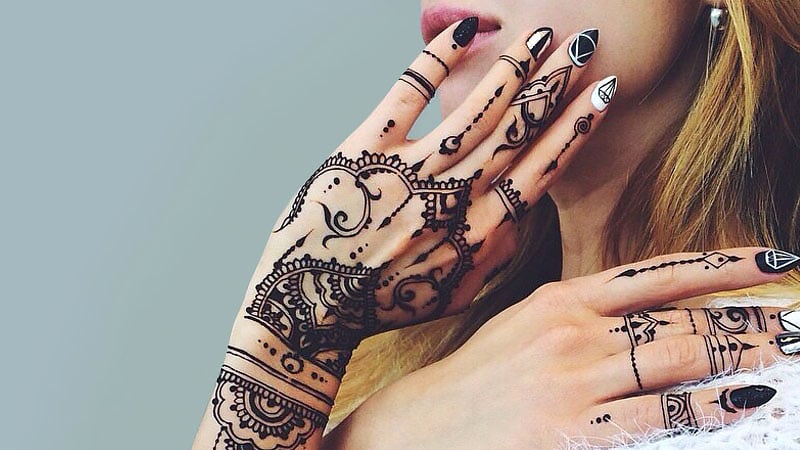 If you've ever wondered what having a tattoo would be like but didn't want to commit to going under the needle – or love the look of traditional Indian wedding tattoos – a henna tattoo is for you. Made from a plant-based ink or paste, henna tattoos are completely painless and naturally fade over time. Henna comes in shades of red, orange, brown or blue-black and looks striking on a wide variety of skin tones. Keep reading to discover the most beautiful henna tattoo designs that are popular right now.
1. Henna Leg Tattoo
Leg tattoos are becoming more and more popular for women. That's because they are eye-catching, sexy, and feminine. You can show them off when you wear a dress or shorts. If you're toying with the idea of getting a permanent leg tattoo, try testing out the design in henna first.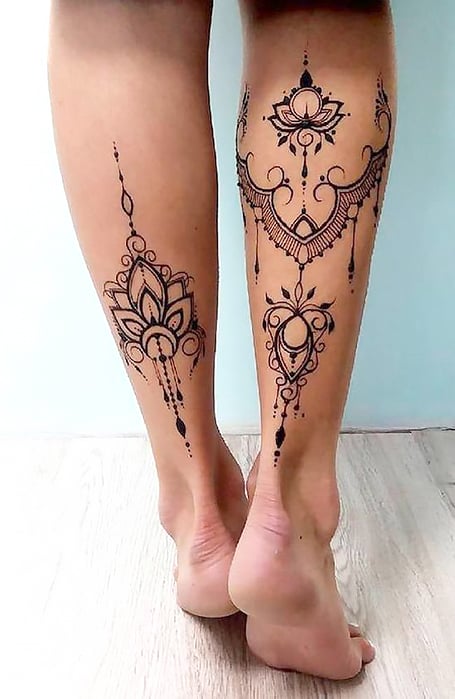 2. White Henna Tattoo
For those with deep skin tones – or who want an eye-catching twist on traditional henna – a white henna tattoo is ideal. White henna does not contain any part of the henna plant and does not bleach, discolor, or stain the skin. Instead, a mixture of surgical-grade adhesive and skin-safe body paint is applied. It has the same texture as real henna and can be used in the same way, but it doesn't last as long – it will wash away in three to ten days.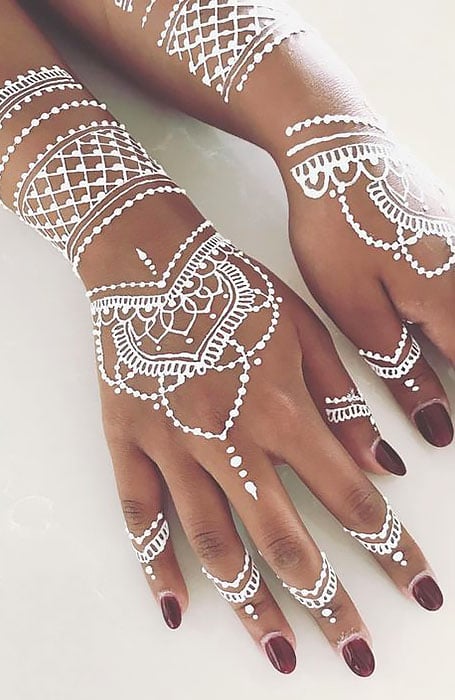 3. Henna Tattoo with Meaning
One of the most meaningful henna tattoos is the bridal mehndi in Indian culture. When inked on the palms, henna tattoos allow the wearer to receive blessings. Swan tattoos represent success and beauty, while the lotus flower is a sacred Hindu symbol. It's associated with the gods Vishnu and Brahma and symbolizes eternity, divine purity.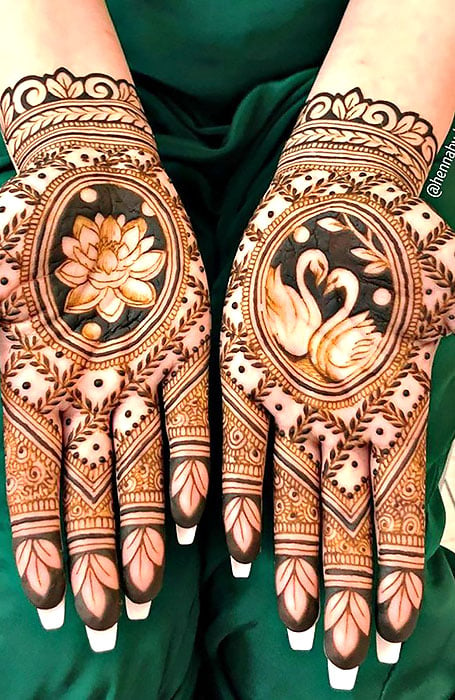 4. Henna Flower Tattoo
Traditionally, flowers represent happiness and joy, while vines and leaves symbolize devotion – making these plant-based designs very popular for wedding henna tattoos. It's possible to create any floral-inspired design with henna, using any art style. Flowers look feminine and beautiful and are even better when combined with other natural symbols like birds, butterflies, and dragonflies.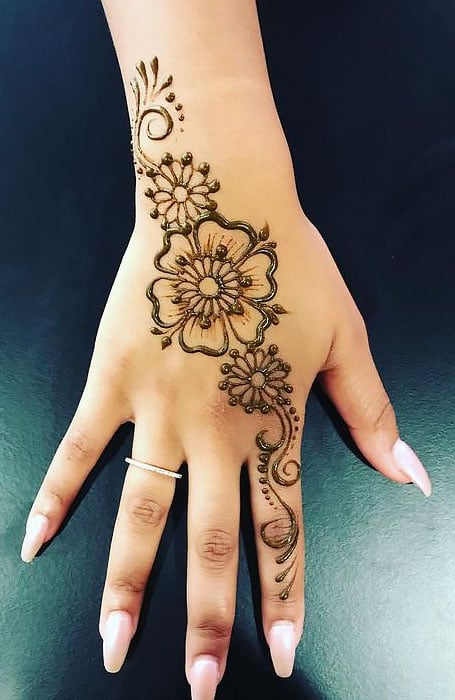 5. Black Henna Tattoo
If you want your henna tattoo to appear very dark, rather than the usual red, orange, or brown, opt for a jagua-based ink. Jagua is made from the juice of a South American fruit, and jagua tattoos are traditional in some the Caribbean and indigenous American cultures. Some products labeled 'black henna' are made from a toxic dye called p-paraphenylenediamine (PPD). This ingredient is not skin safe and can cause severe illnesses and scarring.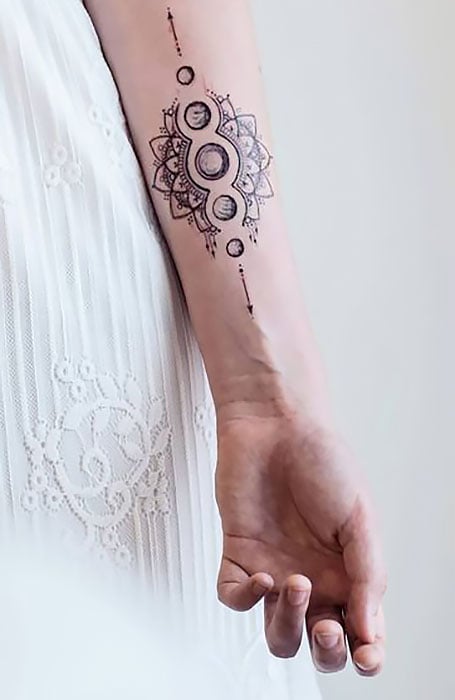 6. Small Henna Tattoo
Small henna tattoos are quicker to apply and ideal if you want to try out henna for the first time. They are also an excellent option for a matching group tattoo. Like regular tattoos, simple henna designs look better when smaller in size. These tattoos look best when placed on the hands, fingers, or inner wrist. Try a nature-inspired tattoo or geometric patterns and shapes.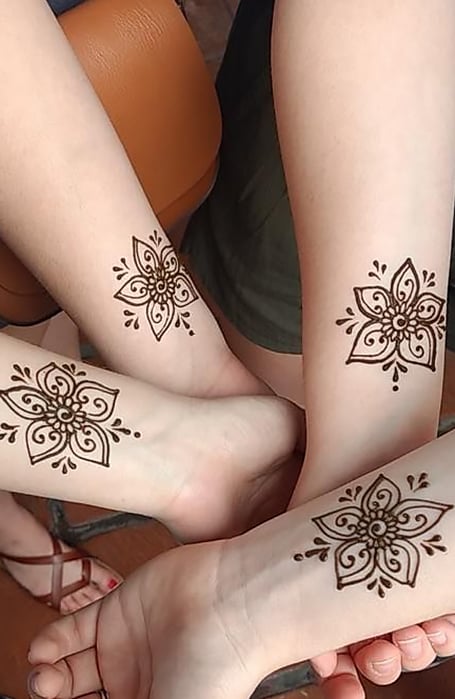 7. Sun Henna Tattoo
The sun – and the moon and stars – is another traditional henna tattoo design. It represents a love that is as endless as the sky. Many people choose henna ink for a tribal-style sun tattoo. However, the final look can be as straightforward or as complicated as you want. It's also striking when combined with a matching moon tattoo.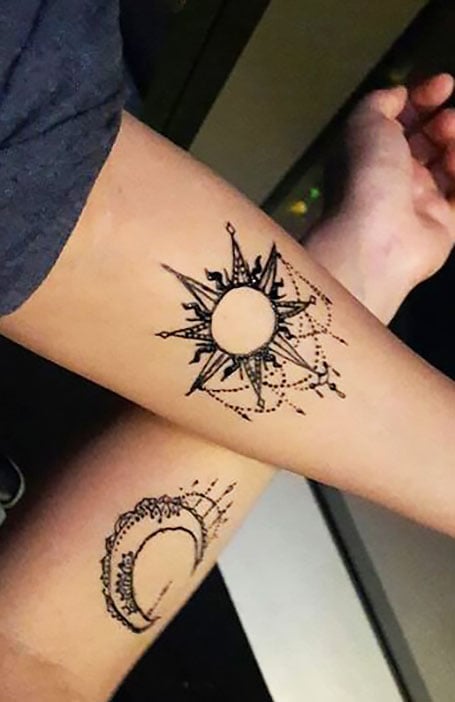 8. Henna Finger Tattoos
Henna looks striking when applied to the fingers as the color stands out against many skin tones. Popular designs include drops, dots, and leaves, as well as the full-color 'dip-dye' look. Just like other hand tattoos, henna finger tattoos will be fully visible at all times. For that reason, it's essential to choose an experienced henna artist to apply these tattoos.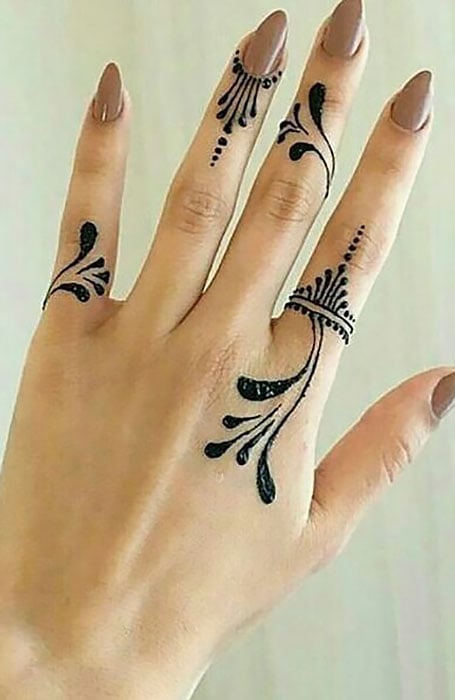 9. Henna Wrist Tattoo
Henna looks especially good when applied to the wrists and hands. From a compact bracelet-style design to plants and flowers, your henna wrist tattoo will stand out. One henna wrist tattoo that is trending at the moment is a mandala lotus. It combines the sacred Hindu symbols of eternity, divinity, and purity to create a beautiful final look.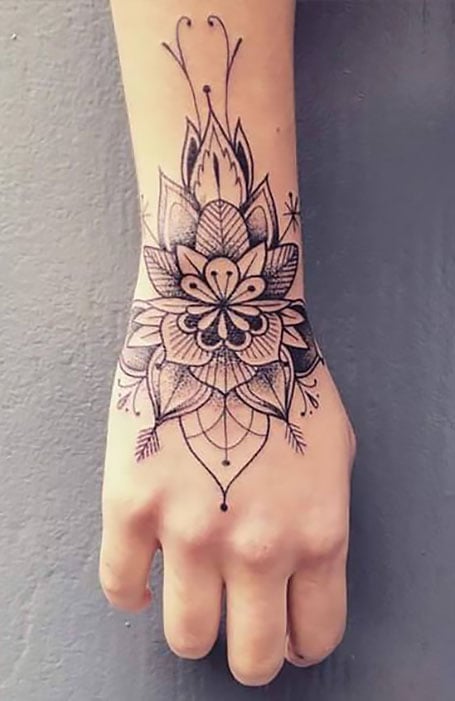 10. Henna Sleeve Tattoo
A sleeve tattoo is a single design or a collection of tattoos that stretched from the shoulder to the wrist. If you want to test out the look of a full sleeve without the commitment, try a henna sleeve tattoo. The temporary nature of the design allows you to experiment with different designs and decide if the bold, eye-catching look of a sleeve is right for you.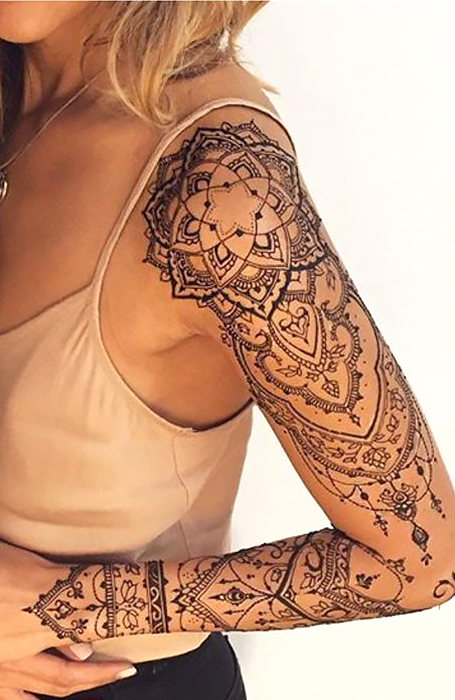 11. Henna Shoulder Tattoo
The shoulder is an ideal placement for a traditional-style henna tattoo. Frequently, these designs involve the circular mandala symbol. The mandala represents the universe and divine harmony. Because it radiates outwards, the design fits perfectly with the curves of the shoulder.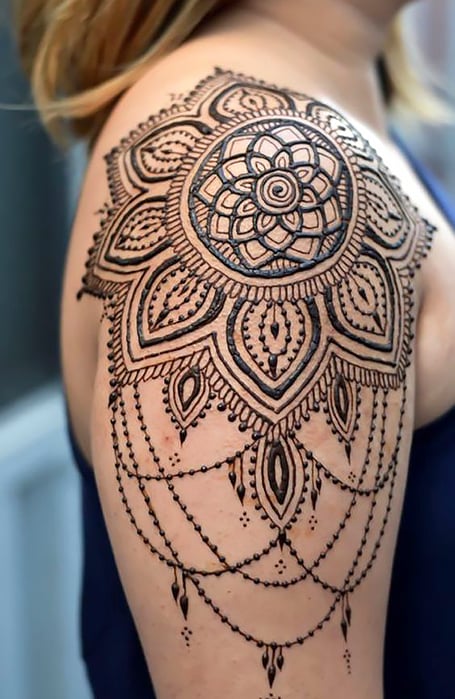 12. Forearm Henna Tattoo
To show off your henna tattoo, have it drawn on your forearm. You'll be able to see your tattoo any time, or easily cover it up with a shirt. It's the ideal placement for long, winding designs like leaves and vines, which are traditional in Arabic henna body art. Alternatively, you could try geometric shapes like lines and grids, or a written message.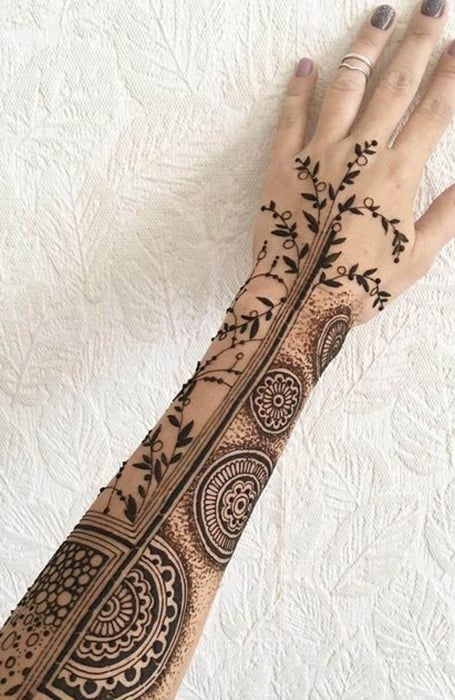 13. Henna Thigh Tattoo
The thigh is a trending tattoo placement for women. Not only is it a sexy area for your body art, but it also provides you with plenty of space for a bigger, more complex design. Your henna artist can also use their skills to the full effect, with no space limitations. Perfect for the warmer months, a henna thigh tattoo will take your bikini or beach outfit to the next level.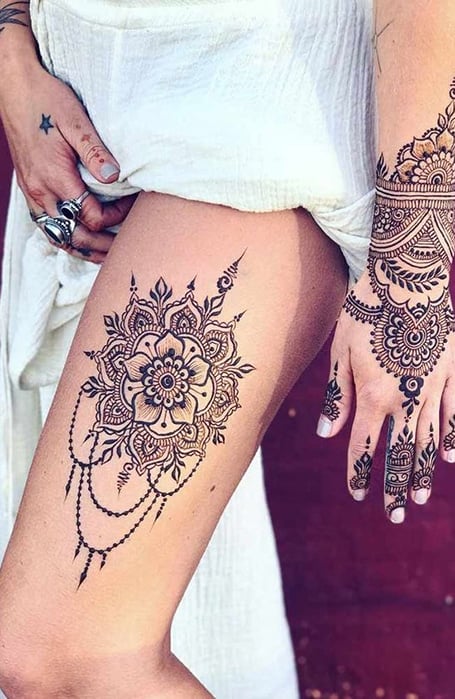 14. Henna Ankle Tattoo
Henna ankle tattoos are a little more subtle than other placements because they can be easily covered. They are completely painless, while regular ankle tattoos are some of the most painful. Henna ankle tattoos are often designed to look like anklets and foot jewelry. They have a beautiful feminine look and pair well with heels or sandals.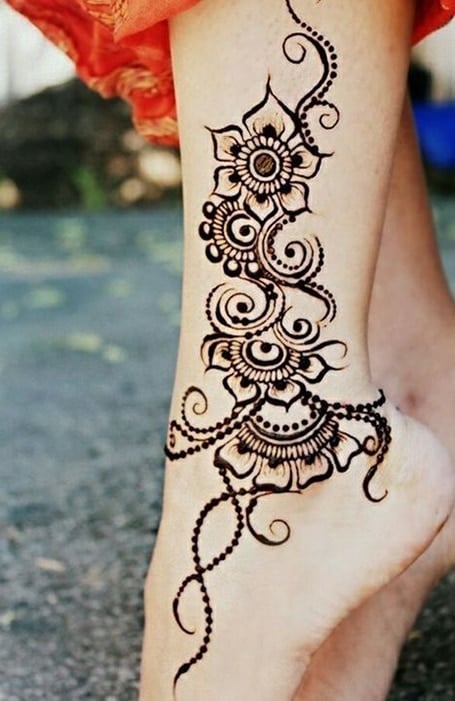 15. Foot Henna Tattoo
Foot henna tattoos are very traditional in Hindu culture. That's because the feet are the part of the body that is in contact with the Earth. Tattoos on this body part represent our connection to the natural world. Popular designs include peacocks, paisley, and mandalas. However, you can choose something less traditional if you're wearing henna as a fashion statement.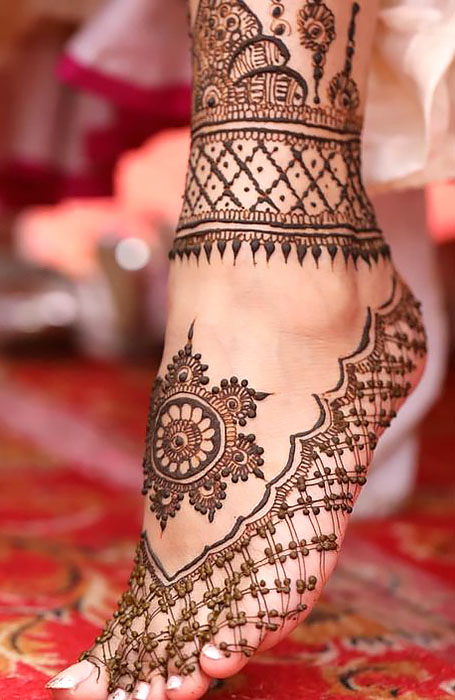 16. Henna Tattoo Eyebrows
You can use henna to tint your eyebrow hairs as well as create a temporary brow tattoo. Many women try out this method before they commit to microblading. Because it dyes your skin as well as your hairs, the henna eyebrow tattoo can create a different brow shape and give you a thicker, fuller look. It also includes extra pigments, so your brows won't appear red or orange.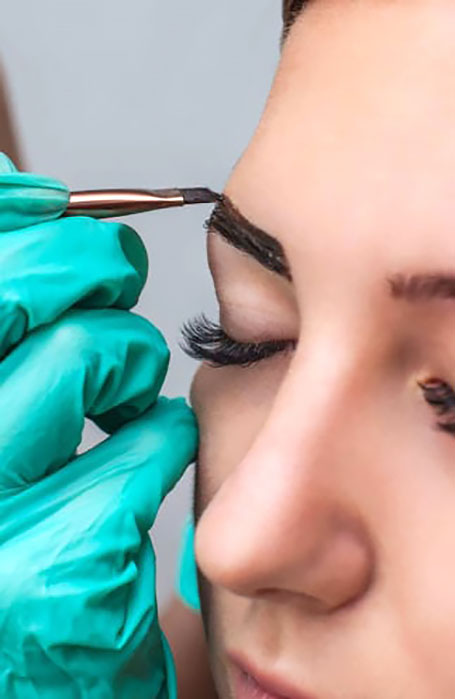 17. Cute Henna Tattoos
As stated previously, henna tattoos don't have to be traditional to be eye-catching. You can choose any design that you want, just as you can with a regular tattoo. For those who are young at heart and have a playful personality, animals, cartoon characters, and food are popular cute tattoo choices.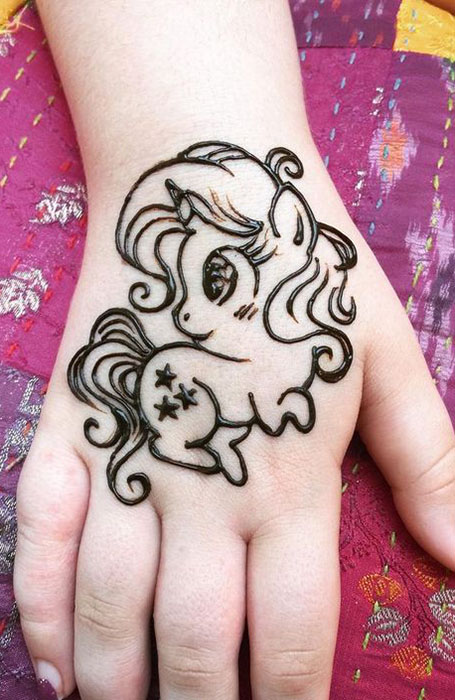 18. Simple Henna Tattoo
Traditional India henna tattoos are intricate and complex – and take hours to apply. However, henna ink can also be used for simple tattoos. In North Africa, shapes like squares are commonly included in designs. The only limit is your imagination. Whether you want geometric shapes, a symbol, minimalist art, a quote, or a number, a henna tattoo will give you the result you want.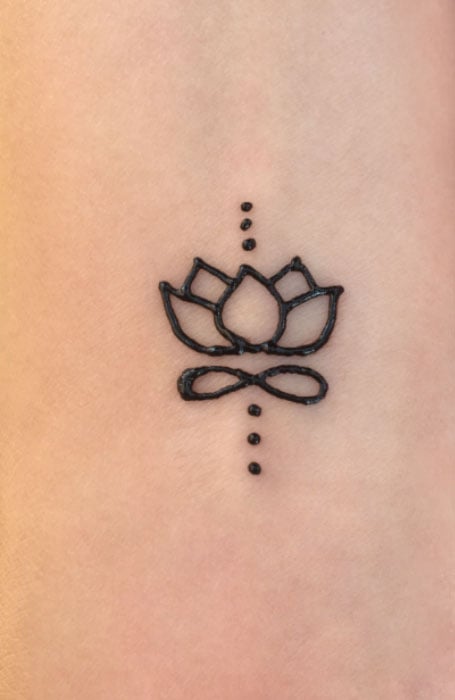 FAQs
What is Henna Tattoo?
A henna tattoo is a temporary body art technique that involves drawing designs on the skin using a henna-based ink. Henna is a plant found in India, North Africa, and the Middle East. To make the ink, henna leaves are crushed into a paste or dried into a powder, then mixed with a liquid such as water, tea, or lemon juice. Honey or sugar can also be added to the mixture. The artist then pipes or brushes the henna ink onto the skin with a toothpick or stick and leaves it to dry. The drying process gives the henna time to stain the skin. Most people are familiar with Indian wedding henna tattoos, which are known as mehndi, but henna tattoos are also traditional in places like Egypt and Morocco.
How long do Henna Tattoos Last?
Henna tattoos are temporary and usually last two to three weeks before fading. However, the time it takes for the tattoo to disappear depends on where it's located on the body. Areas that are frequently exposed to soap, water, and sunlight – like your hands – will fade more quickly. Covered areas should stay fresh for much longer. You can also make your henna tattoo last longer by ensuring your skin is thoroughly exfoliated and shave before applying it. That means you won't be applying the henna ink to dead skin.
How to Remove Henna Tattoo?
It can be tricky to remove a henna tattoo because the dye has stained your skin. Silicone-based make-up removers can help lift the color, but you may need to use several applications to notice a difference. Micellar water and hair conditioner can also be effective at removing henna. To make the tattoo fade more quickly, you can try exfoliating methods. First, take a salt bath – add a cup of regular salt to a warm bath and soak for 20 minutes. Next, use a natural exfoliator like a sugar scrub to buff away the tattoo.
SUBSCRIBE TO OUR NEWSLETTER
Subscribe to our mailing list and get interesting stuff and updates to your email inbox.