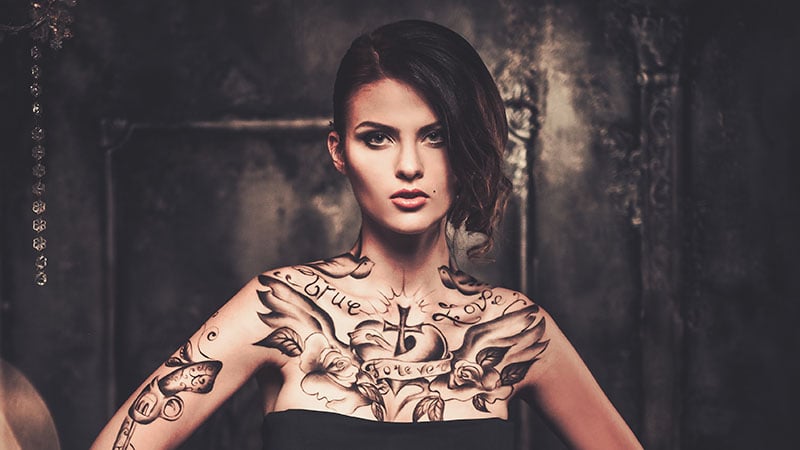 The chest is a great location if you're looking to showcase your tattoo, whether it's big or small. Yes, we usually imagine the whole chest covered in ink when we hear the words 'chest tattoo,' but your design can be however you want it to be. Under the chest and sternum tattoos have become an exceedingly popular area for women to get tattooed in recent times, so we're just waiting for the chest to catch on as well. Whether you're looking to accentuate your cleavage or simply want a small but stunning design, join us as we explore the best chest tattoo ideas for women.
RELATED: The Best Tattoo Ideas For Women

1. Flower Chest Tattoo
Flower tattoos are elegant tattoo designs. If you choose a sweet and simple design, your tattoo will look nothing other than amazing, and flower designs are usually a good way to achieve that.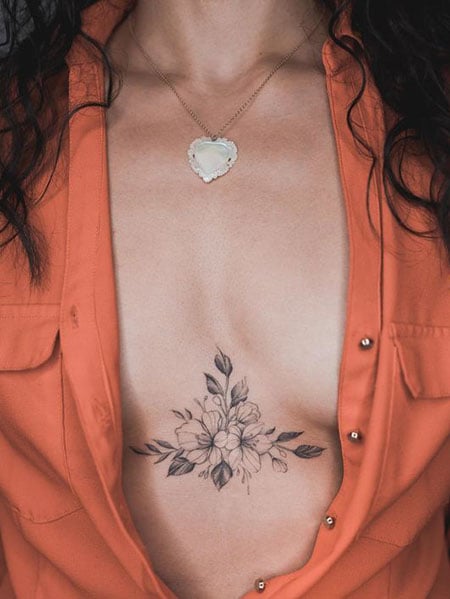 2. Small Chest Tattoo
Who said chest tattoos have to be big? Small and simple is the way to go, especially if you're a woman who doesn't have much ink. Anything between the size of a ten-cent coin and the size of your palm is considered to be small. Therefore you have some room to decide exactly how you want it.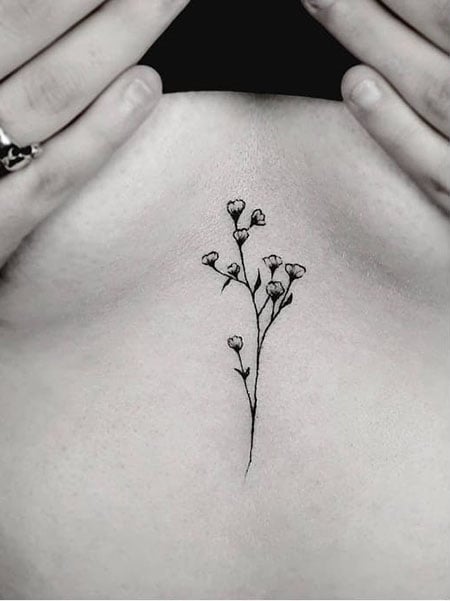 3. Under Chest Tattoo
The popular under chest tattoo is a great alternative to the chest, especially if you don't want your design to be on show all the time. It's a great space to work with, no matter the size of your tattoo, though it looks especially fantastic if your design follows the curve of your chest with its focal point sitting right in the center.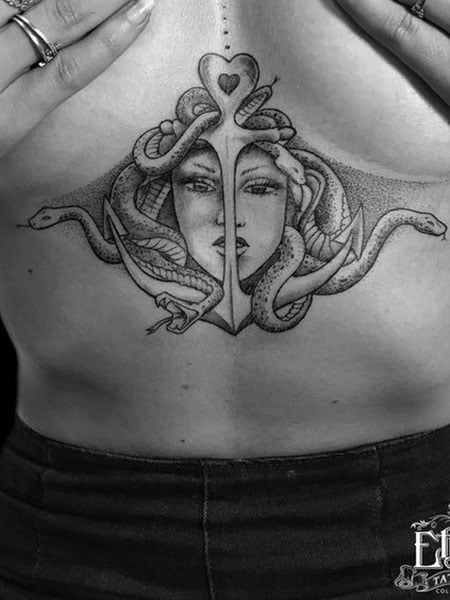 4. Rose Chest Tattoo
A rose tattoo is every girls 'go-to' tattoo, especially in the sternum region. You can get the outline of a rose in black ink or detailed so that it looks similar to an actual rose. Another option is to color the rose in black ink, so it's just an outline, like a shadow.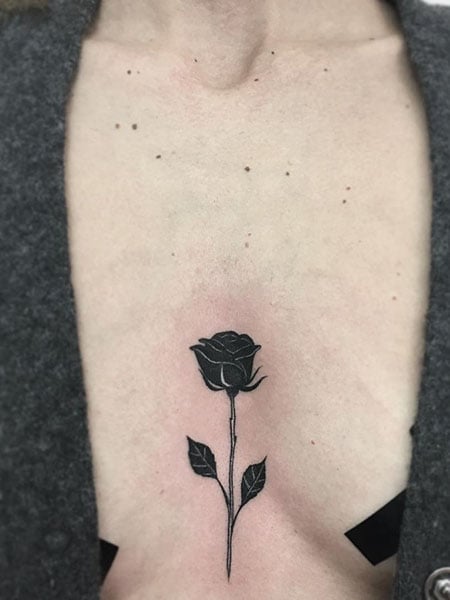 5. Chest Quote Tattoo
Chest quote tattoos can look cute if you choose the right positioning. Usually, you'll find that the best location is across the collarbone, heading towards the shoulder. If you use big lettering and plan to cover most of the chest, the center will look best.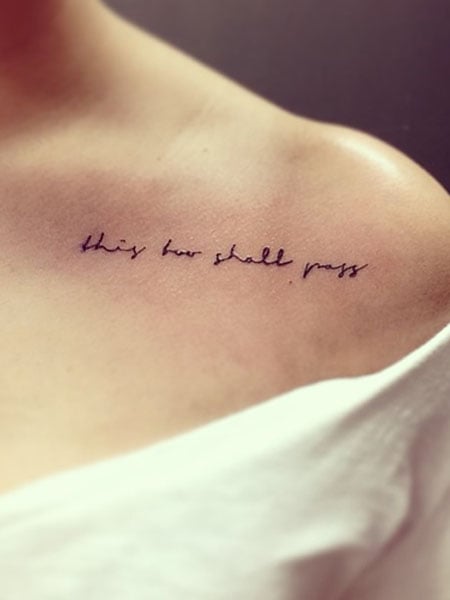 6. Cute Chest Tattoo
When deciding on your tattoo, sink into a girly mindset; that's usually the best way to come up with cute designs. Anything from a small heart, to a delicate flower will work fantastically in this spot.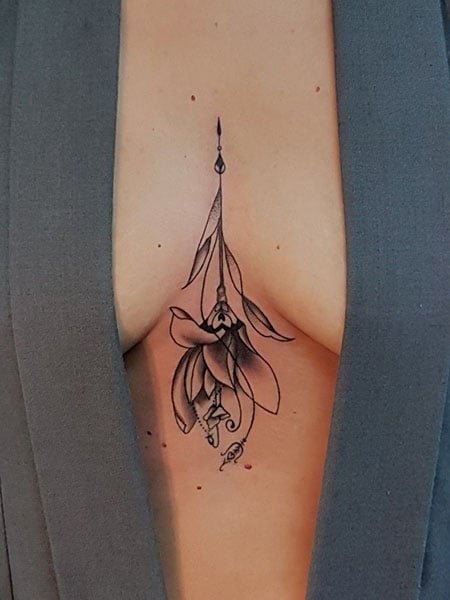 7. Full Chest Tattoo
Whether it's a piece of script you're looking to get or a collage of flowers, it's bound to look amazing. Full chest pieces aren't just for men, and it's wonderful to see women breaking those boundaries.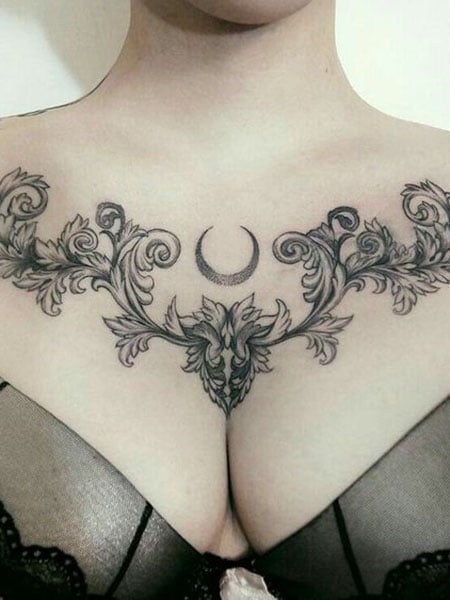 8. Tribal Chest Tattoo
If you're planning on getting a tribal tattoo, they generally look better when they cover the whole chest. Tribal prints are usually larger and should be kept as close to their original heritage as possible, so before getting it done, think about how it'll sit best in this area.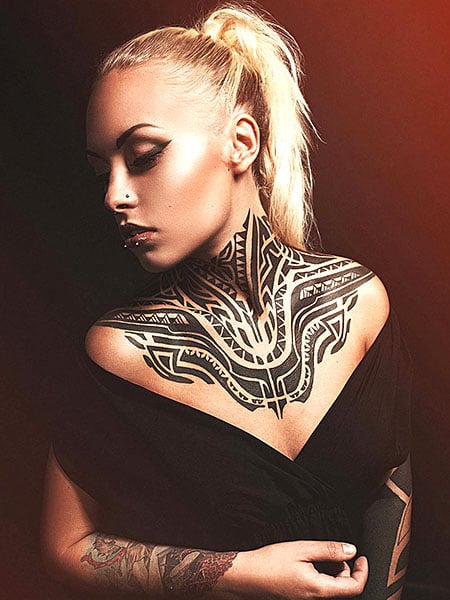 9. Star Chest Tattoo
Stars are such a diverse design. You can get throwing stars, twinkle stars, and even a whole night sky tattooed on your chest. Whichever you decide on, you can't go wrong.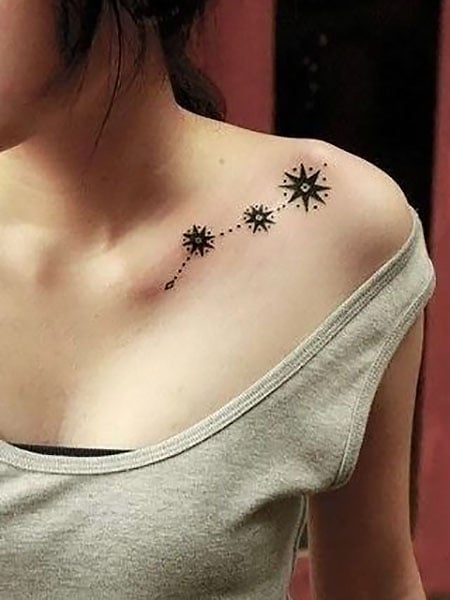 10. Butterfly Chest Tattoo
When getting a butterfly tattoo, the best thing you can do is add as much detail as possible to your design. If it's smaller, you'll want to focus on the wings, whereas if it's large, you can add detail to both the wings and the body.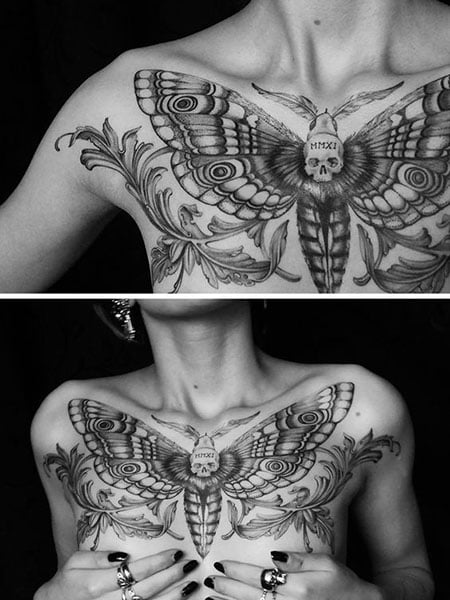 11. Heart Chest Tattoo
A small heart tattoo is a perfect design if you don't want anything too extravagant. Usually, the placement for this design is under the collarbone, towards the shoulder. Think of the placement where your clothing straps will sit, and then decide whether you want them to be hidden under them or slightly to the side.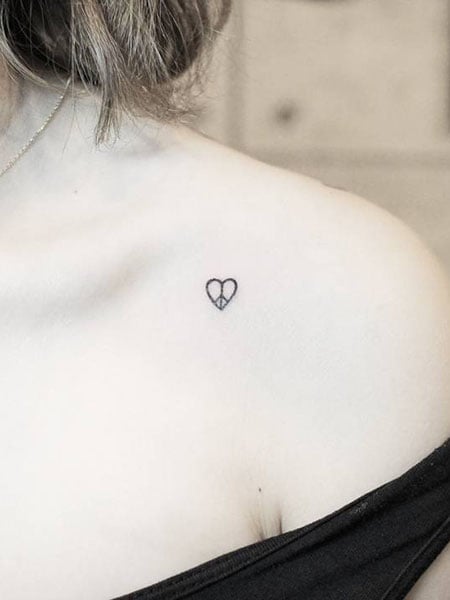 12. Henna Chest Tattoo
The Indians have used henna to create intricate designs and patterns throughout the ages. We all know how cool henna looks, so why not get it in the form of a tattoo so that it can last forever? While we usually find henna tattoos on the hands and fingers, the chest is an awesome alternative.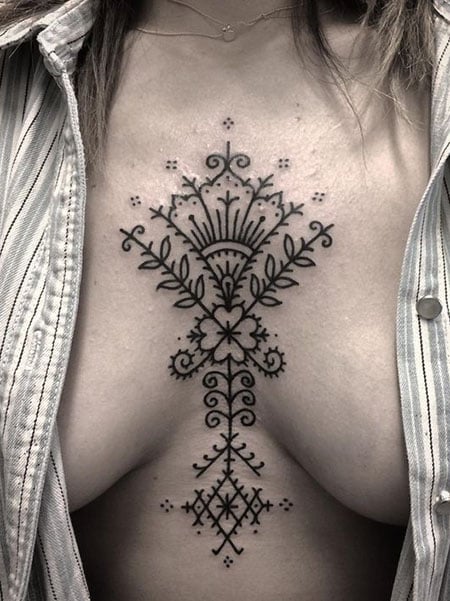 13. Bird Chest Tattoo
Bird tattoos are a popular chest design. Many people get two swallows, one sitting under each collarbone. There are also many other bird tattoos that look amazing on the chest. Choose your favorite bird and work from there.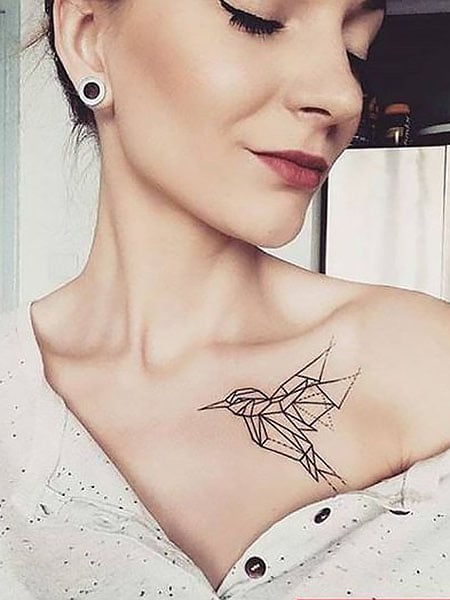 14. Dragon Chest Tattoo
There are many different dragon tattoo designs that you can opt for, such as a mythical, Chinese, or tribal dragon. While dragon tattoos don't exactly make the cut for 'feminine designs,' they can still look super cool on the right kind of chic; it's all about what suits your personality.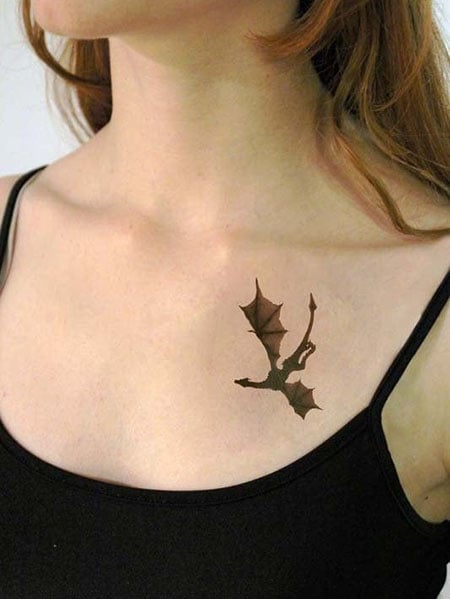 15. Colorful Chest Tattoo
Chest tattoos don't need to be black, so why not add some color? This will make your tattoo stand out even more. No matter the design, whether it's a flower or dragon, some color will make it pop; in some circumstances, it can even make your tattoo look more three-dimensional and lively.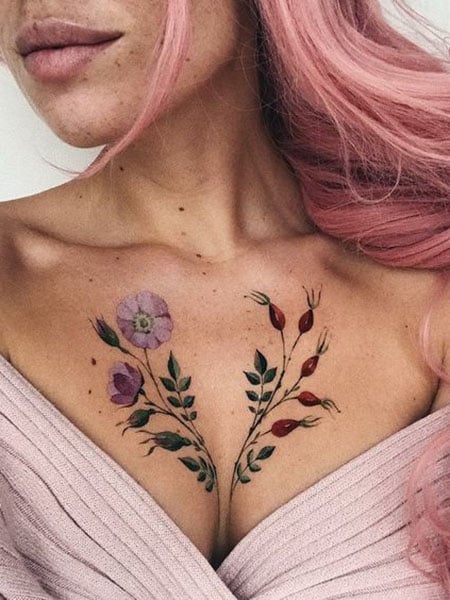 16. Unique Chest Tattoo
If you can draw or you have a good imagination, why not try and come up with your own design that is unique to you? You can try and personalize it in some way as well if you want it to have some sentimental value. Try creating a design that can be tied to your heritage or background while remaining unique.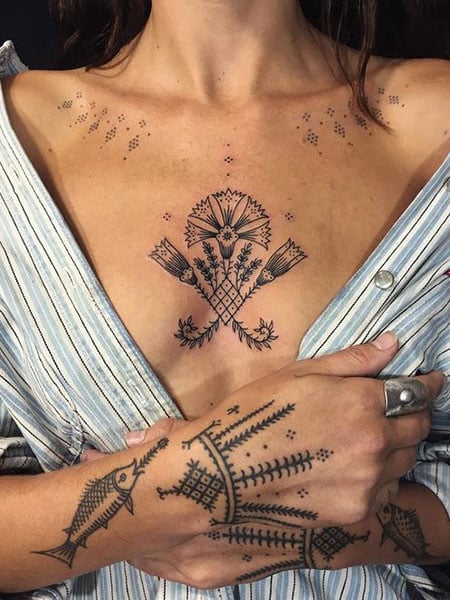 17. Arty Chest Tattoo
We all get tattoos because we believe they are art, so why not get an arty tattoo? You can either re-create a famous painting on your skin or create your own masterpiece. When choosing an arty tattoo, remember color is essential to the design.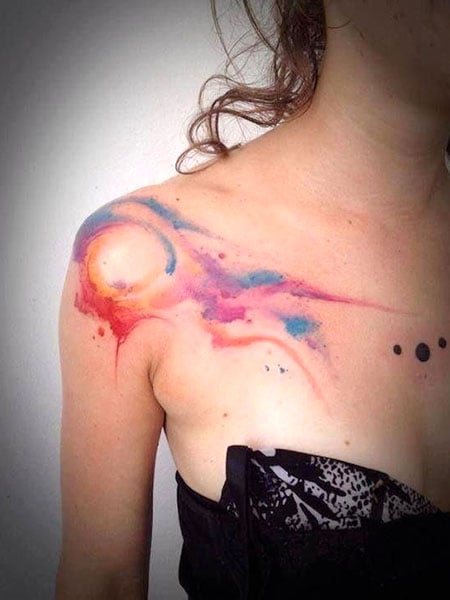 18. Moon Chest Tattoo
Moon tattoos can be as simple or as intricate as you like, whether you want to get a stand-alone outline of it or bury it in the middle of a pattern or design like the one below. Be as creative as you can; you could even try to add some sentimental meaning to your tattoo if you like. Usually, you're either a sun or moon kind of girl, never both.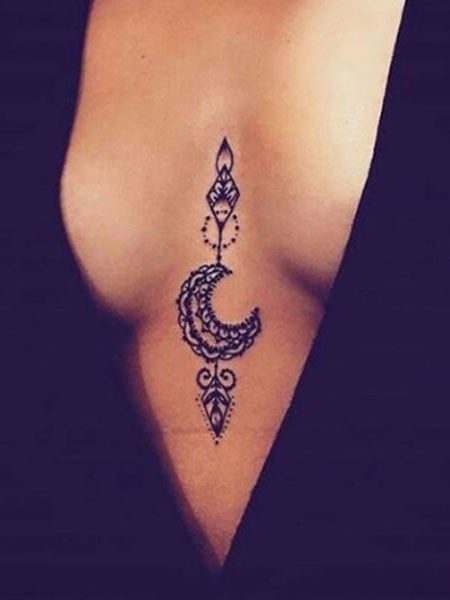 19. Delicate Chest Tattoo
Think small and dainty when creating your design if you want a delicate and somewhat 'classy' tattoo. A delicate tattoo can take many forms; you could opt for a flower or your own unique 'gipsy style' design like the one below if you want a few ideas to play around with to get you started.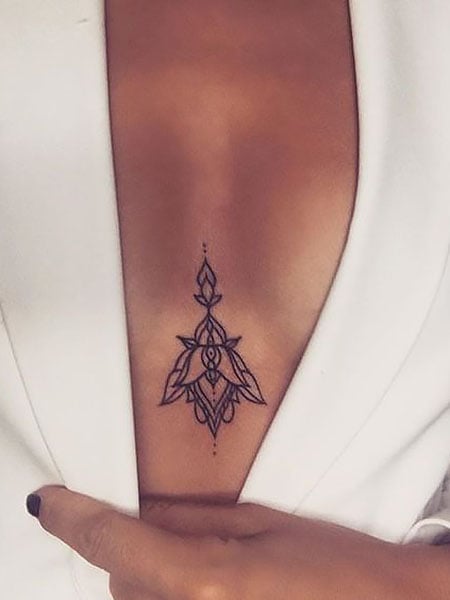 20. Geometric Chest Tattoo
Geometric tattoos have become a popular design choice over the years. There are so many different styles that you can create using shapes, lines, and dots. You are free to express yourself abstractly.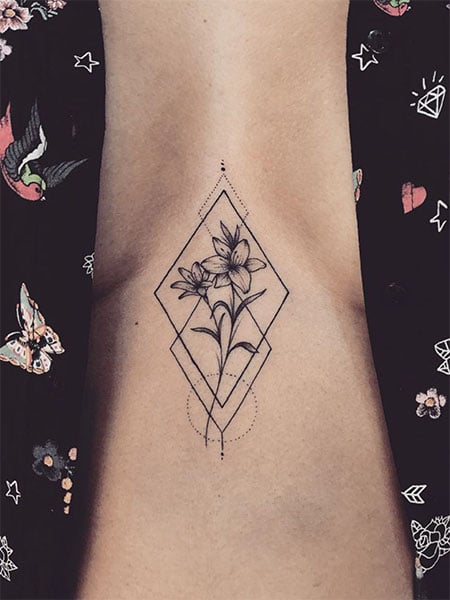 21. Gypsy Style Chest Tattoo
Gypsy tattoo designs are popular among women. They are girly, have flowers and hanging gems, and look amazing. The chest/sternum is the most desired location for this tattoo style.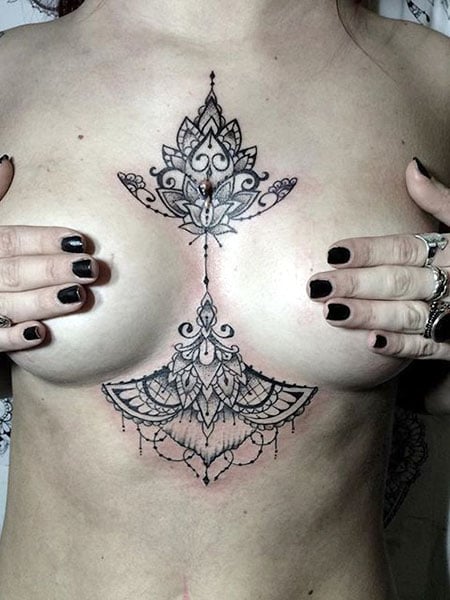 22. Vine Chest Tattoo
If you want a simple and beautiful tattoo, a vine is a great choice. The way a design turns out depends on the type of artist you choose. It cannot be stressed enough how important it is to match your tattoo to the artist's tools.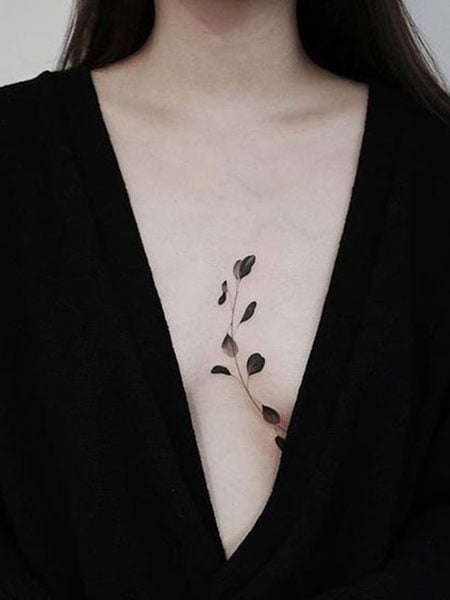 23. Theatre Chest Tattoo
If you're an actor or theatre junkie, this is an obvious choice for you. Masks are an obvious design choice when representing the theatre, though don't be afraid to play around with your own version of the design with your artist.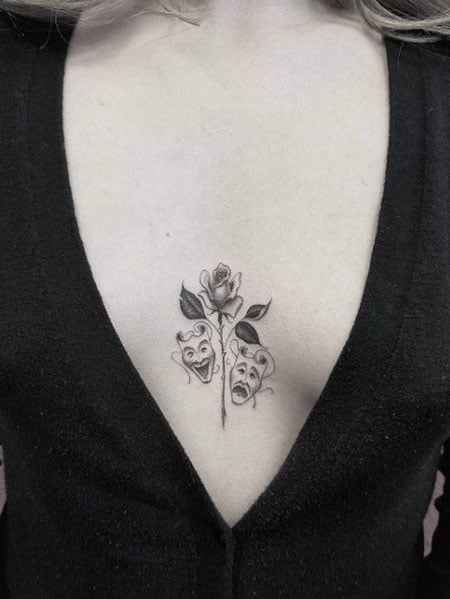 24. Shoulder to Chest Tattoo
It can look artistic to get two symmetrical tattoos on both sides of your body that start at the shoulders and creep down onto the chest. It can be done with any design as well, from something as simple as flowers to two snakes wrapped around your shoulders with their tongues meeting in the center of your chest.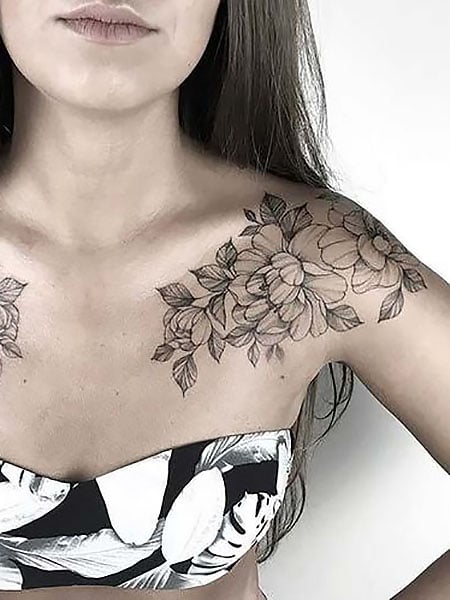 25. Chest to Stomach Tattoo
If you want a design that isn't as visible, why not get a tattoo that starts at the chest and creeps down the stomach? The bulk of the tattoo can sit on the stomach, while the chest is simply a sneak peek. When creating your design, think henna patterns or upside-down roses; these will work best for this kind of design.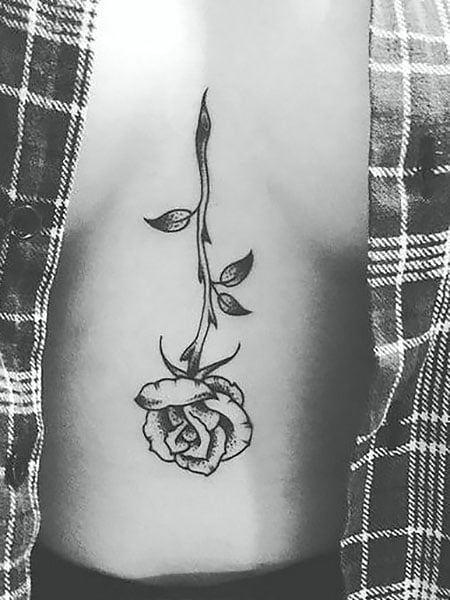 26. Detailed Under Chest Tattoo
Detailed tattoos look amazing in this area, but you have to be strong-willed to be able to handle it. You have to find the right artist for a design with a lot of detail, so do your research before booking your appointment.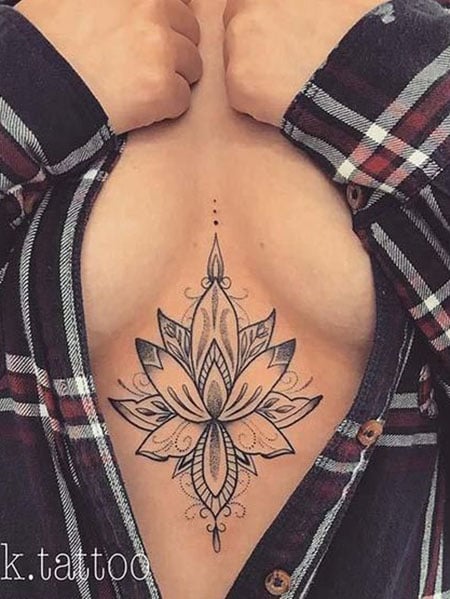 27. Chest to Sternum Tattoo
Tattoos that start on the chest and work their way down your sternum are generally quite long. It's a great spot if you want a design like an arrow, a native Indian spear, or a gypsy design.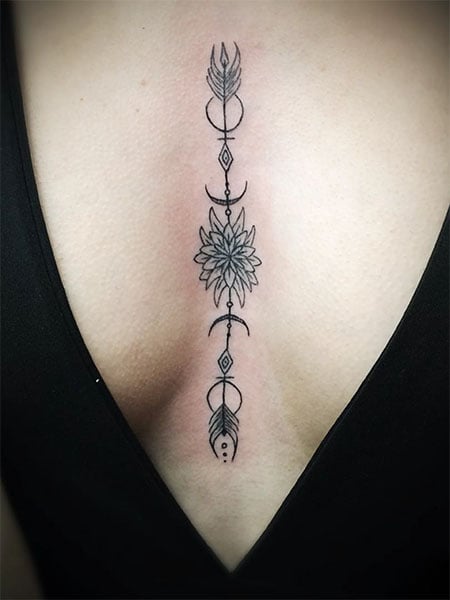 28. Simple Chest Tattoo
Simple chest tattoos can come in many forms, such as a love heart, star, or a simple gypsy design. Whatever your design of choice is, you don't have to get anything too elaborate if you don't want your tattoo to be too 'showy'.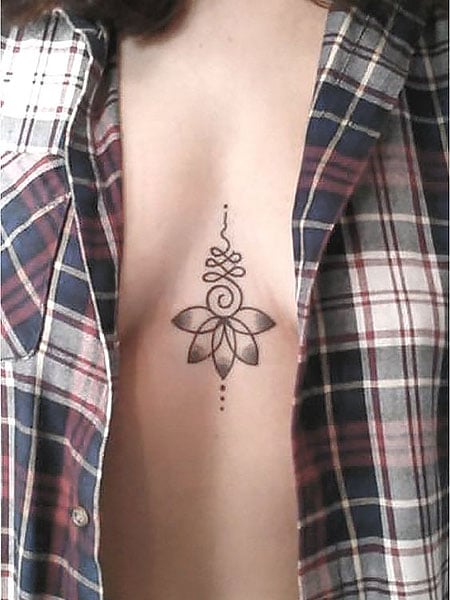 29. Script Chest Tattoo
A piece of script that's in a delicate font can look amazing on the chest, especially if it's sitting under the collarbone. Just one singular word with a lot of sentimental meaning to you will look simple and sweet. When you look at it in 30 years, you want to remember what it meant to you.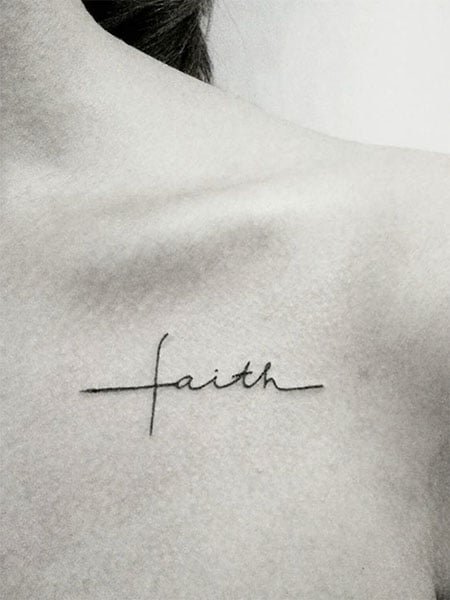 30. Memorial Chest Tattoo
Whether you're getting a name or date, consider the font and size of a memorial tattoo. This design is usually sentimental, so choose one that reflects your relationship.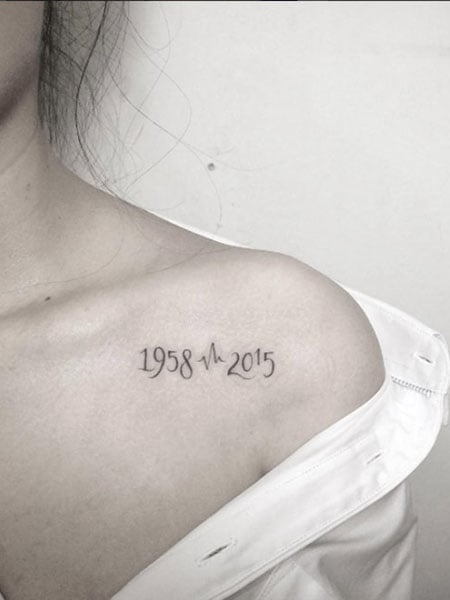 31. Snake Chest Tattoo
Snake tattoos can be as simple as a black, filled-in outline, though it's more common for them to be detailed. Whatever your choice, let it show your artistic style.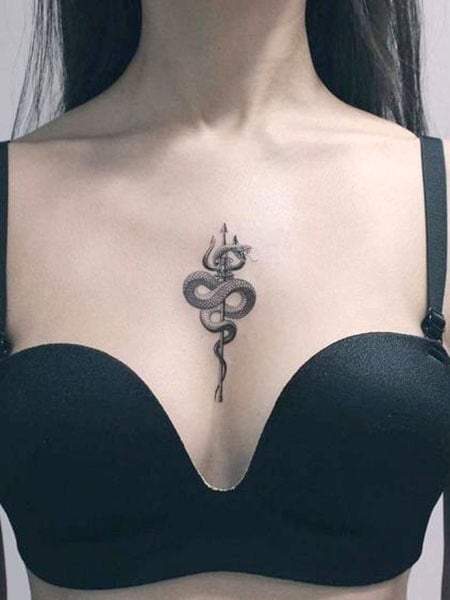 32. Dandelion Chest Tattoo
Dandelion tattoos are a very sweet design that can be made as dainty or as bold as you like. The most popular placement for dandelion tattoos is under or along the collarbone or towards the shoulder, working its way across the chest.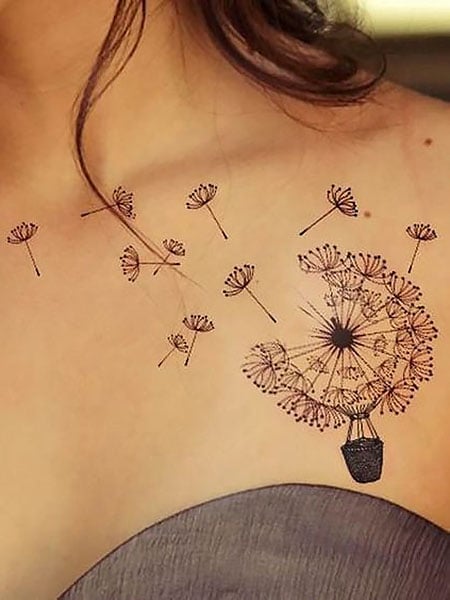 33. Feather Chest Tattoo
The most popular feather design is a simple black feather that transforms into small birds. You could also opt for a peacock feather or a quill feather tattoo for something a little bit different.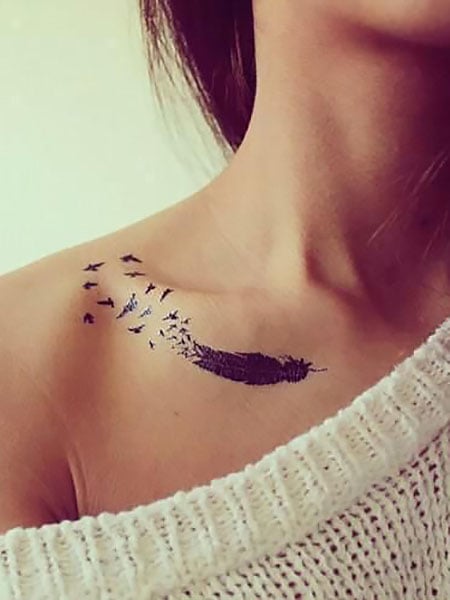 34. Rose Outline Chest Tattoo
Rose outline tattoos are usually suited to different areas of the chest and different personality types. If you opt for the small rose and stem, the sternum or along the collarbone is the best placement, while a bunch of rose heads will look best on the upper chest.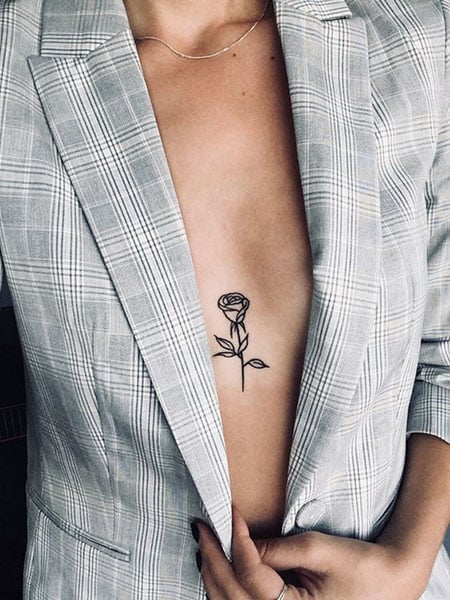 35. Angel Wings Chest Tattoo
There are so many different designs when it comes to angel wings. Consider whether you want large, detailed angel wings that cover the whole chest or smaller ones.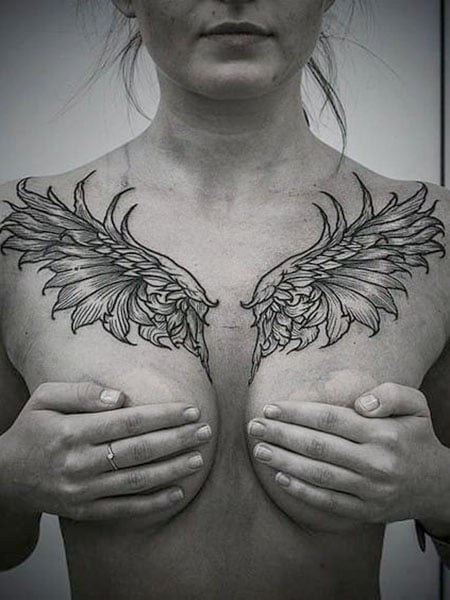 36. Cross Under Chest Tattoo
There are many different cross designs to consider before getting inked. It's a great placement choice as it's close to your heart, making the meaning of the tattoo extra symbolic.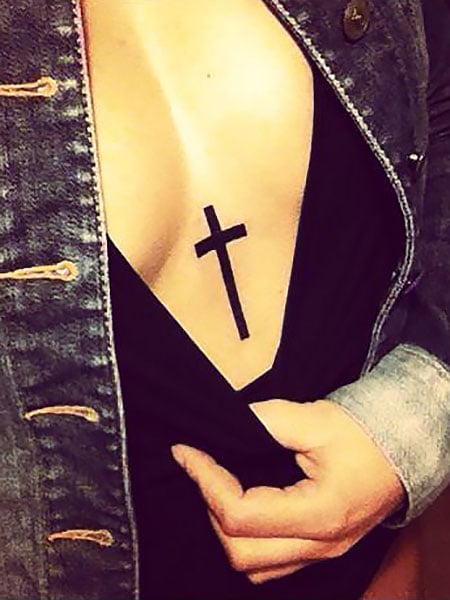 37. Arrow Chest Tattoo
Arrow tattoos can be small and simple or long and detailed. If you opt for long and detailed, the sternum is the best placement, while something small should sit under your collar bone.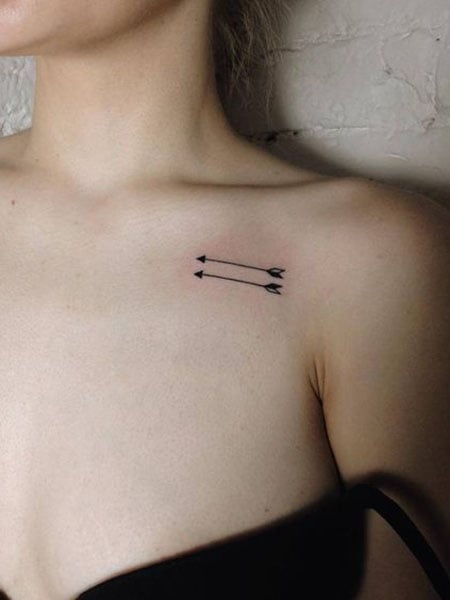 38. Skull Chest Tattoo
With a skull, you can cover your chest with a big, scary-looking design. Otherwise, you could also opt for a sugar skull or a realistic-looking one. Depending on the tattoo size, you could place it on the side of your upper chest or under it.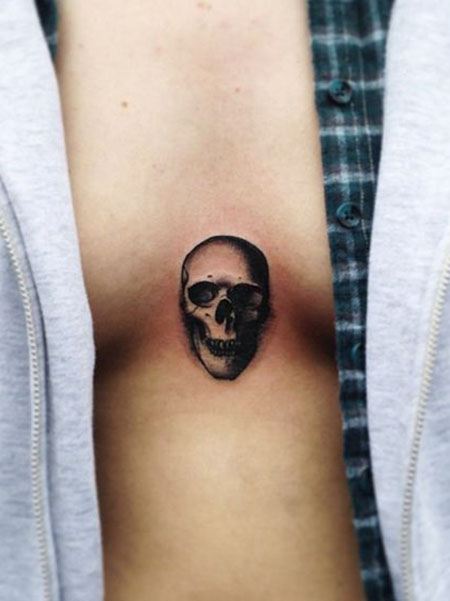 39. Hands Chest Tattoo
Hands are one of the more unique designs that you can opt for on your chest. There are different tattoo variations, such as praying hands, devil's hands, or the karma hand symbol.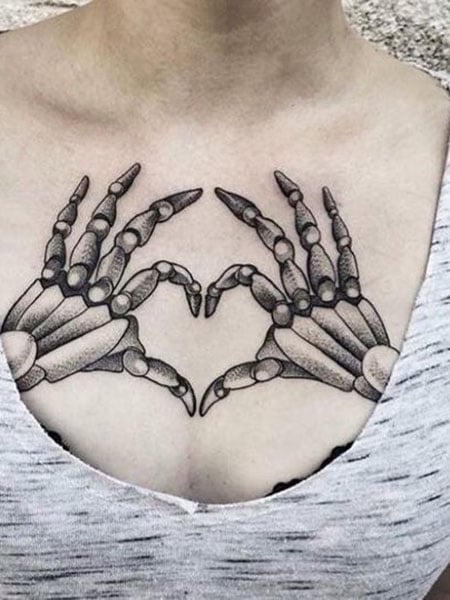 40. Collarbone Tattoo on Chest
Getting two mirrored tattoos placed along each collarbone can look sweet. When doing this, you can opt for literally any design. This could include flowers, vines, arrows, feathers, or even quotes. However, you should opt for a lengthwise design to fit nicely in this placement.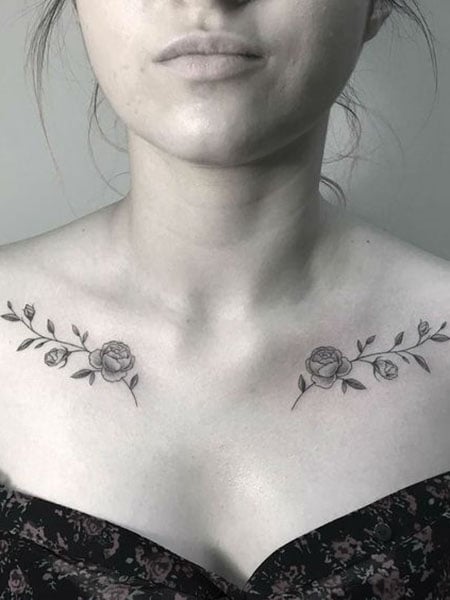 41. Animal Skull Chest Tattoo
For those of you who consider yourselves a tad gothic, why not try an animal skull tattoo? You can be as creative as you like when developing your design.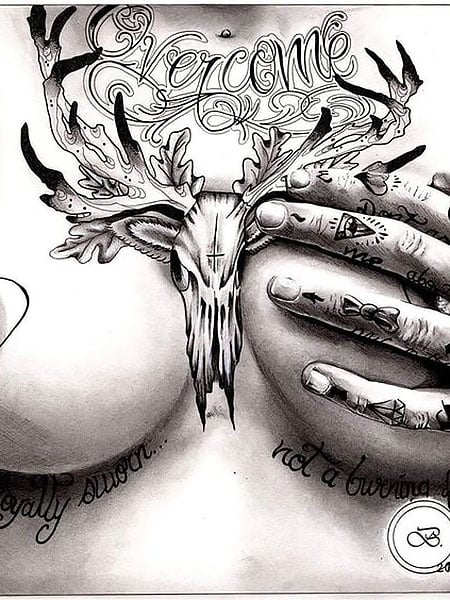 42. Lightning Bolt Chest Tattoo
If you're looking for a small tattoo, something like a lightning bolt is a great option. Other tattoo ideas that fit this style are safety pins, the sun, and the moon.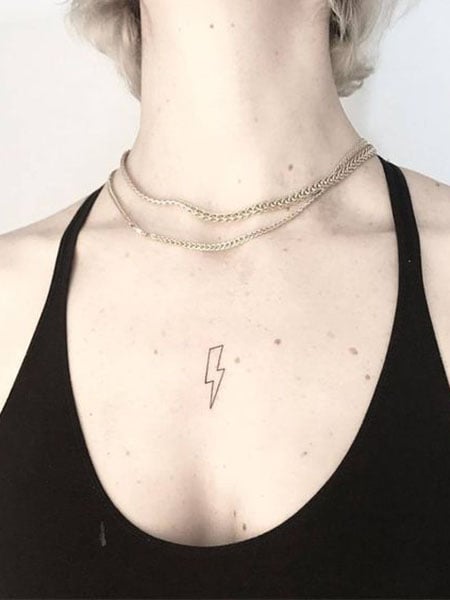 43. Moon Cycle Chest Tattoo
If you're a spiritual type or simply just like the design, why not try a moon cycle tattoo? You can design this tattoo as detailed or as simple as you like, showing the different variations of a crescent moon.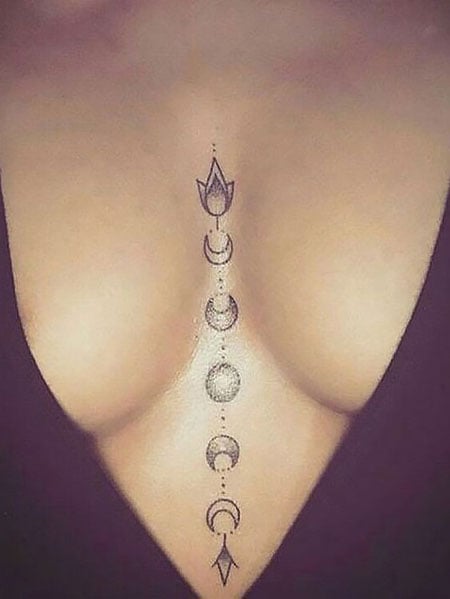 44. Animal Chest Tattoo
If you feel like you have a strong connection to a spirit animal, why not get them inked on you? These tattoos can look anywhere between cute to cool, depending on what you get. Your design can be as simple as an outline of the animal or completely detailed.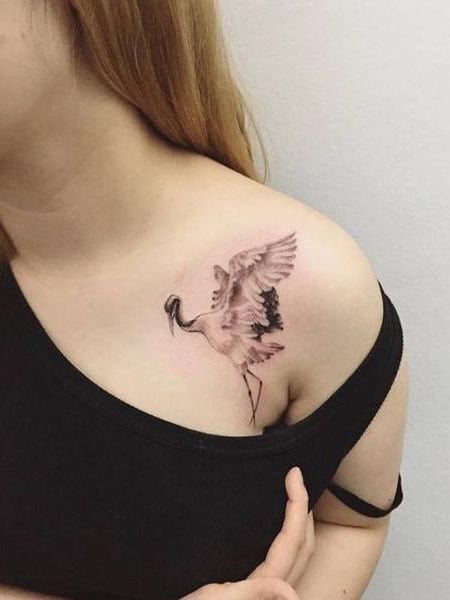 45. Scorpion Chest Tattoo
A scorpion is a fierce design to get tattooed on your chest. You could put it in the center of your chest or beneath the collarbone when it comes to placement. There are so many scorpion designs, so make sure you look at your options before getting inked.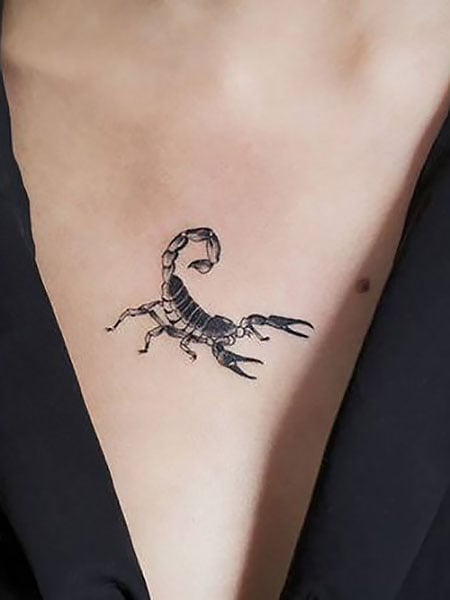 46. Semicolon Chest Tattoo
A semicolon itattoo is very sentimental and is used in the prevention of suicide community. To wear this tattoo on your chest means to wear it proudly, showing the world that you or someone you love is a fighter.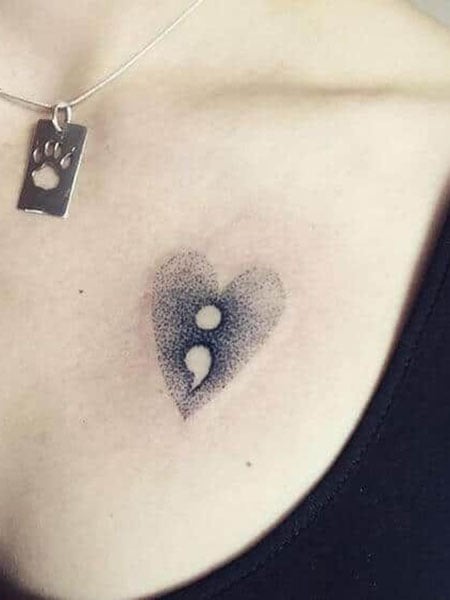 47. Compass Chest Tattoo
Compasses are all about direction and have their own interpretation. So before tattooing a compass on your chest, look into their meanings and see which one resonates with you.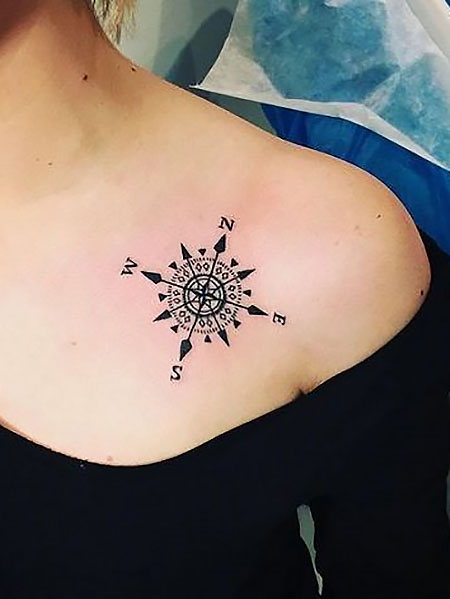 48. Insect Under Chest Tattoo
Insect tattoos can look amazing when they're detailed. They're usually always done using only black ink unless you get something like a butterfly or ladybug. So before booking an appointment, find an artist that is confident with detailing.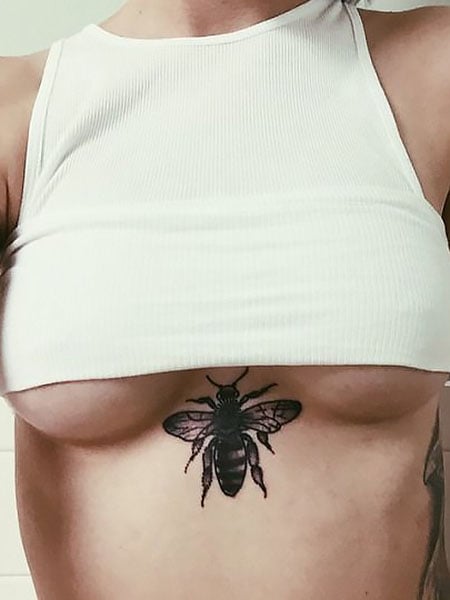 49. Chakra Chest Tattoo
Your Chakra comprises seven circular vortexes, each with a different meaning. It's a term that is generally used amongst the Spiritual community and resonates deeply with people who believe in it. If this is you, then why not wear your Spirituality as a tattoo? Due to the number of symbols, running from the chest to under your stomach is the best placement.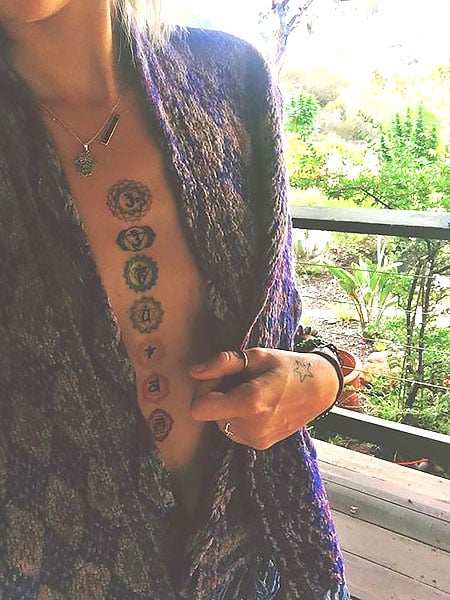 50. Science Chest Tattoo
For all of you who are thinking about inking your skin, why not get a heart tattoo? It doesn't have to be ironic; it can be sentimental or something you're simply interested in. Whatever the case, it's a cool and unique idea.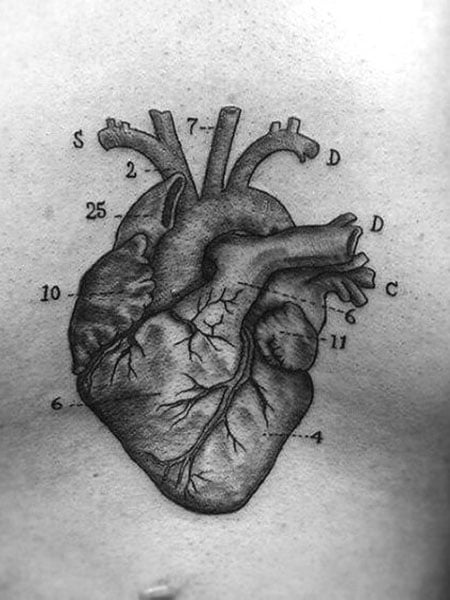 Chest Tattoos for Women FAQs
Do chest tattoos hurt women?
The chest is one of the more painful areas for a tattoo. There is less muscle or fat in the area, particularly along the sternum and around the ribcage, which means it's going to hurt more. Chest tattoos on women will hurt less along the breast area, where your pec muscles lie, as there is generally more padding.
What does a chest tattoo mean?
Mostly a chest tattoo means you're a badass who's brave enough to sit through a painful session. However, the symbolism of the location, being so forward and visible, also means you're bold and powerful. The design you choose may also mean something special to you, as many traditional images each have their own symbolic meaning.
What are good chest tattoos?
Good chest tattoos for women will accentuate the curves of your body and complement your style. Designs that include flowers, henna, and mandalas are incredibly popular, as they're intricate, feminine, and can easily follow the lines of your body for perfect placement. Quotes, geometric designs, and animals are also excellent choices that can be tailored to your taste and preference. Plus, all of these can be large or small.
SUBSCRIBE TO OUR NEWSLETTER
Subscribe to our mailing list and get interesting stuff and updates to your email inbox.