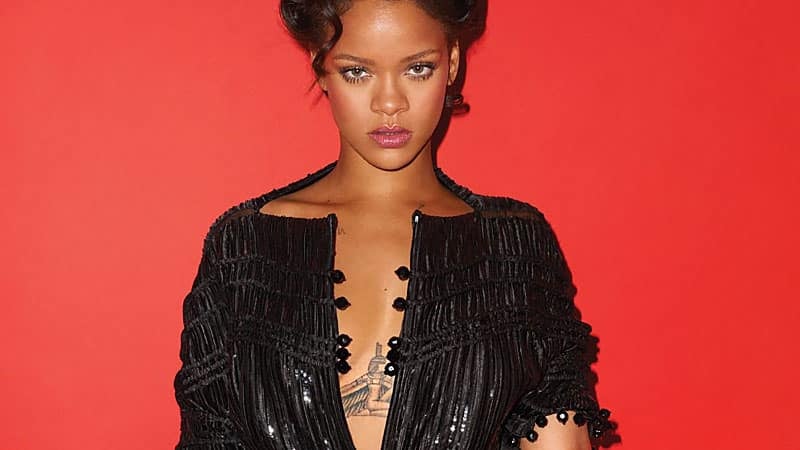 Sternum tattoos are a brilliant way to highlight one of the sexiest parts of your body. Many women are drawn to the area, partly thanks to celebrities like Rihanna, who have popularized the location recently. There are many pros to getting inked here, but there are also some obvious drawbacks, mainly the pain. The good news is that the sternum lends itself well to many designs, from large pieces that cover the underboob to smaller, less detailed body art that will appeal to those who prefer a minimalist aesthetic. Let's take a look at these sexy sternum tattoos for women to inspire your next inking session.
1. Small Sternum Tattoo
Although a stunning location for women to get tattooed, the sternum is considered one of the most painful places. So, when deciding on the perfect design, it makes a lot of sense to keep it small. Small tattoos are great because they are incredibly versatile, easy to cover up, often even more affordable, and can be of almost anything!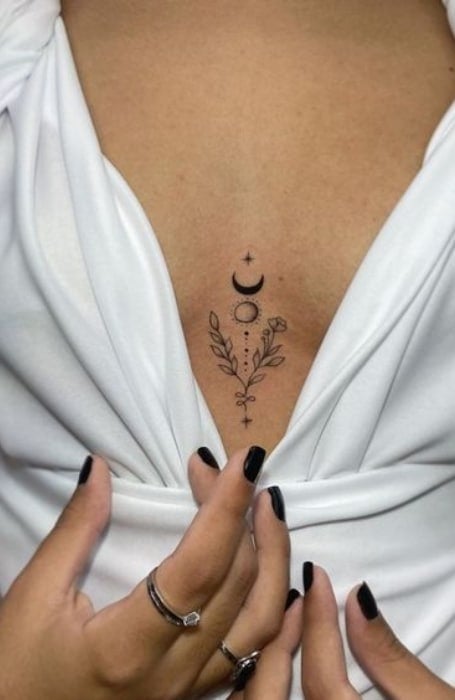 2. Unique Sternum Tattoo
When deciding on the perfect unique tattoo design, there are so many places to draw inspiration from. You may want something minimalist or create your own tattoo for a unique finish that better represents you as an individual. To add even more meaning to the piece, why not include names of loved ones, special dates, and images with symbolism you can relate to.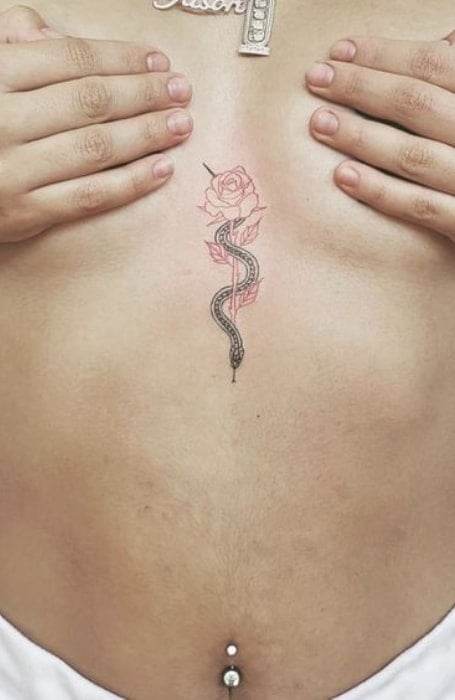 3. Minimalist Sternum Tattoo
The minimalist tattoo focuses on the basic elements of the design, stripping them down. The appeal of inking is how clean and precise it feels. They are often created with fine lines for a delicate finish and will use minimal shading. Often these pieces look best in black ink, as color can be too distracting. As for the design? This can be of anything from flowers to symbols, so get creative.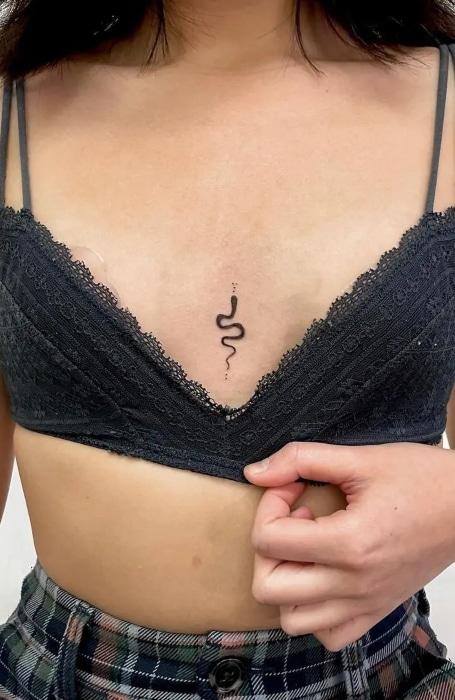 4. Delicate Sternum Tattoo
Delicate tattoos are created to look feminine and elegant. Much like minimalist designs, they are not overly detailed and have limited color and shading (so there is often less dimension). This approach can be even more appealing when choosing to get inked on a challenging area of the body because it can reduce the discomfort you experience.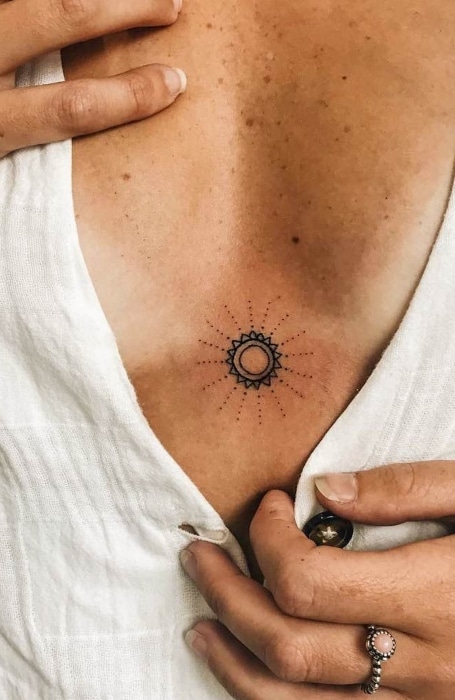 5. Flower Sternum Tattoo
Flower tattoos have long been a favorite for men and women to get inked. This is because there are so many different options to choose from, with each bloom having its symbolism. Flowers also look great in various sizes and styles, allowing you to get creative. Also, there is a powerful meaning associated with floral artwork as it represents beauty, growth, and life.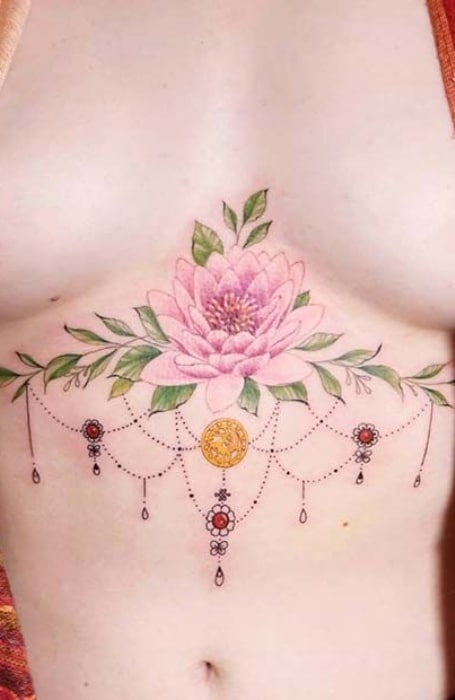 6. Lotus Sternum Tattoo
Flower designs, in general, are always a good choice for body art, but to add more meaning to your piece, you can opt for a lotus tattoo. The lotus is a beautiful bloom but grows in muddy waters, conditions many consider undesirable. It is, for this reason, it's often associated with rising above challenging or unpleasant situations. A lotus tattoo symbolizes strength, resilience, and spiritual enlightenment.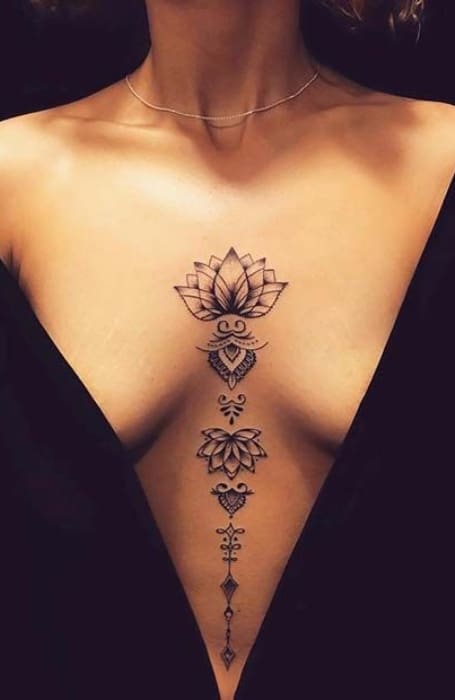 7. Meaningful Small Sternum Tattoo
A meaningful tattoo is something that has great personal significance. What it is of will differ from person to person, but your piece should speak to you. Are you getting inked with a butterfly to show how you have transformed? Or perhaps you are including the name of a loved one in the design? Whatever you decide on, make it special because this body art is all about you!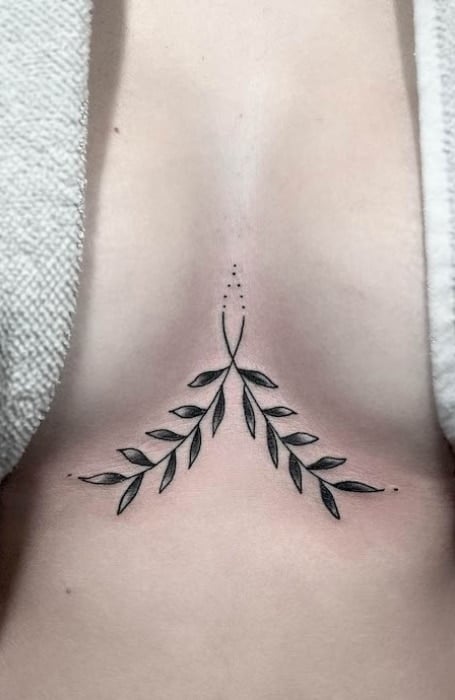 8. Simple Sternum Tattoo
Simple tattoos don't mean boring. Beauty lies in simplicity, which is an excellent option for a woman who prefers a cleaner aesthetic. The design is often created with line work and without color or shading. They may be inked on a smaller scale, which will work well in this area and reduce the amount of discomfort you experience.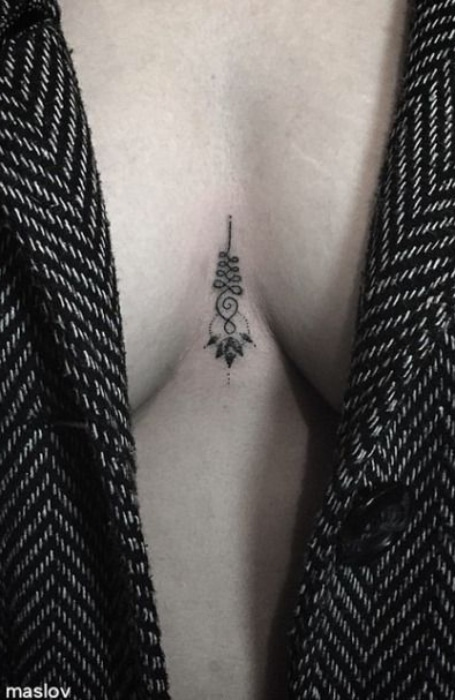 9. Bat Sternum Tattoo
Do you love bats? Or perhaps you are drawn to the symbolism associated with them? Regardless, this option will make for an exciting sternum tattoo. The bat can have a positive or negative association, depending on your interpretation. For some, it represents mystery and the afterlife; for others, it symbolizes transition and communication. You can add to the meaning by including images like the moon, a cross, or floral details.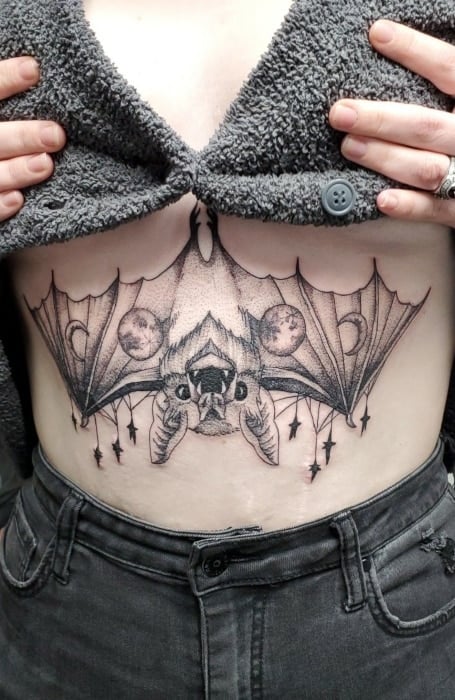 10. Butterfly Sternum Tattoo
What is not to love about a butterfly tattoo? The winged insect looks excellent in various styles, including color, symbolizing transformation, personal growth, and beauty. Many women are drawn to the design because of its meaning and its beauty. When getting inked on the sternum, it can be inked directly in the center, with the wings spreading out. This will make for an eye-catching finish.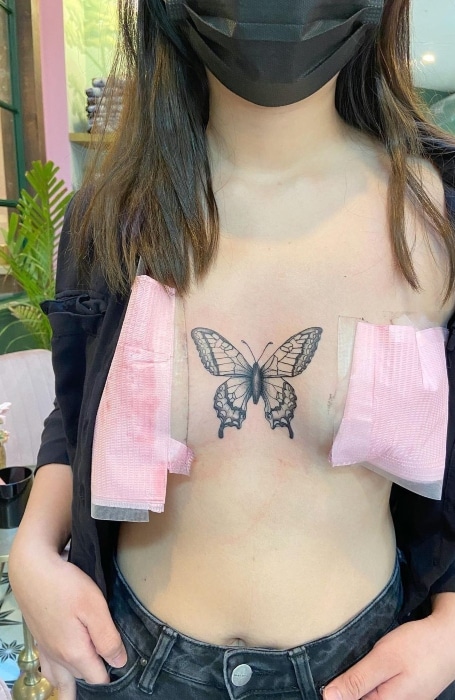 11. Cute Small Sternum Tattoos
Small tattoos can be really cute, especially when you choose images of animals, flowers, or characters from your favorite cartoons. Your design will represent what you love or how you feel, and it s an excellent option for women who prefer something more lighthearted (there does not need to be deep meaning behind your choice; it can be playful and fun).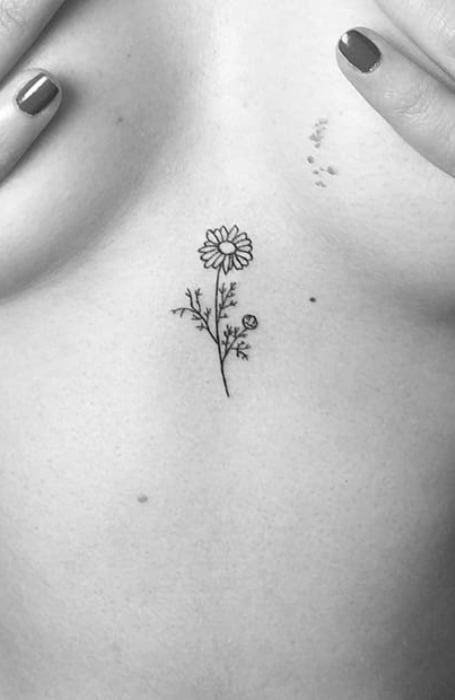 12. Dragon Sternum Tattoo
Dragon tattoos are one of the most popular choices for body art, and the right design will look stunning on the sternum. Depending on your interpretation, the mythological beast can be portrayed in several ways. For example, in the East, they symbolize good luck, protection, and prosperity, whereas the West views them as evil and greedy.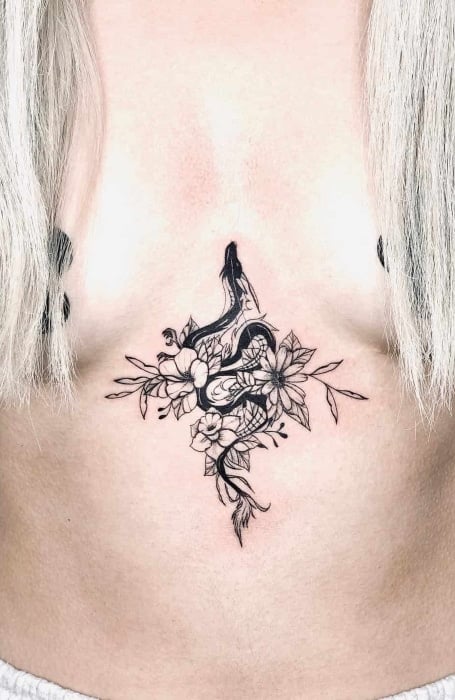 13. Rihanna Sternum Tattoo
We would be lying if we said Rihanna has not inspired tattoo trends, including the sternum. She is celebrated for being a style icon and one of the most influential women, and she also loves getting inked. For many women, seeing her rock body art in this placement has inspired them to do the same. Her design is of the Egyptian goddess Isis, often associated with healing, divinity, and femininity.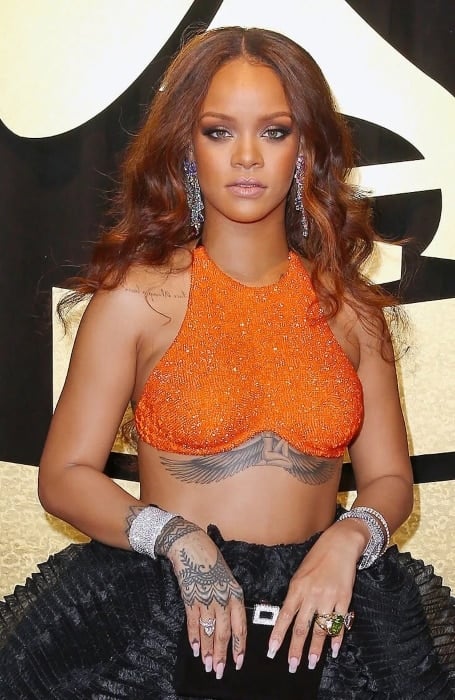 14. Moth Sternum Tattoo
Are you drawn to ideas of the afterlife, mystery, and metamorphosis? If so, a moth tattoo may be the perfect choice for your sternum. It can have very positive symbolism and be used to reflect your thoughts and feelings. You can opt for a realistic finish or include patterns and details in the wings, making it even more unique — for example, the moon, a mandala, flowers, and more.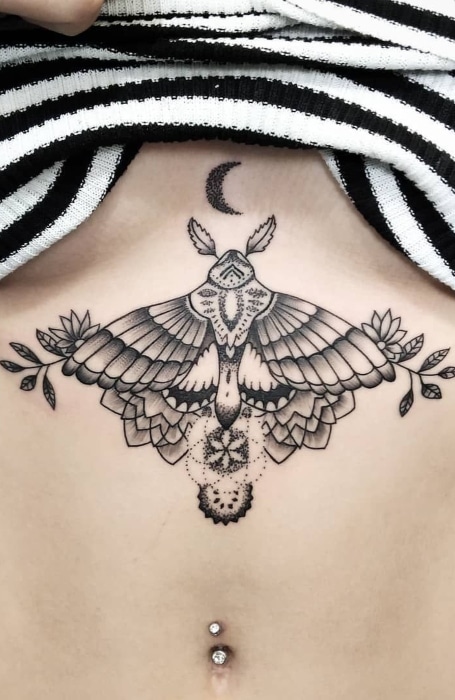 15. Snake Sternum Tattoo
Snake tattoos are one of the most beautiful designs to choose from, and the way they are added to the sternum can highlight the curves of your body. For example, it can be created in the middle and extended to the underboob for a more detailed finish. Another reason serpents are popular is that they look great in various colors and styles. Plus, they represent different things, from death and sin to transformation and rebirth.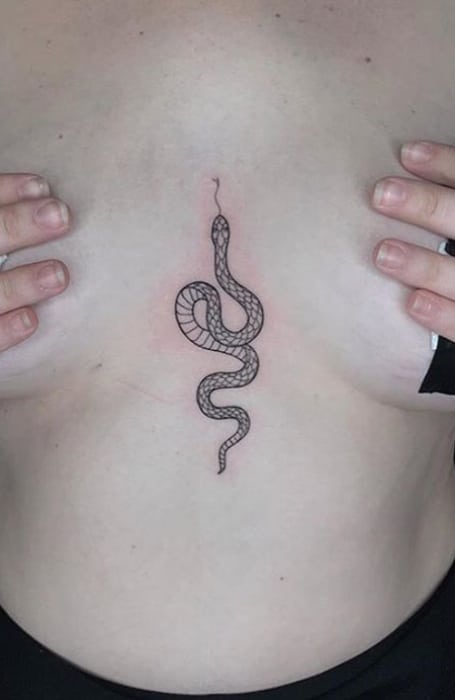 16. Sternum Rose Tattoo
Flowers look stunning on the sternum, and there are so many options to choose from. However, by far, the most popular is the rose. A symbol of love and passion, a rose tattoo can say a lot about the wearer and can be used to reflect their feelings on balance and desire. The color you choose will also impact the meaning. For example, pink is associated with femininity, whereas yellow represents friendship and joy.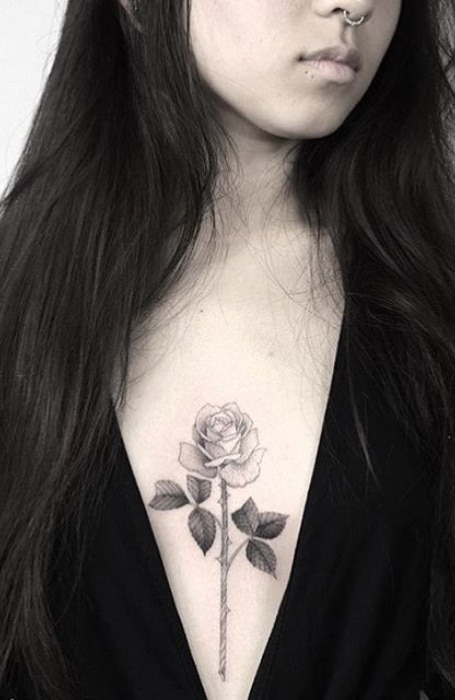 17. Witch Sternum Tattoo
What better design than a witch tattoo for women drawn to magic and mystery? Witches often represent mischief, magic, and evil and can have a negative association, but this is not the only interpretation. They also symbolize female power, resilience, spirituality, and life. Choose your design wisely, as you want it to reflect your chosen meaning.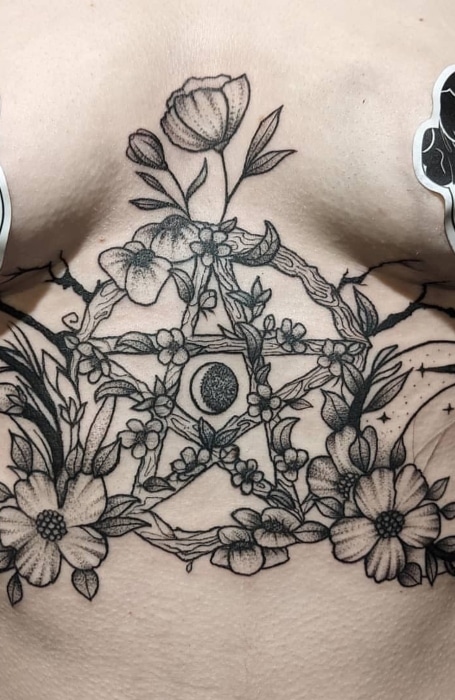 18. Geometric Sternum Tattoo
Geometric tattoos are created with shapes and angles to form a beautiful pattern. How detailed you want your design to be is entirely up to you, and some women focus on the more basic elements while others opt for an intricate pattern. The appeal of these pieces is that they often appear abstract, making them more open to interpretation.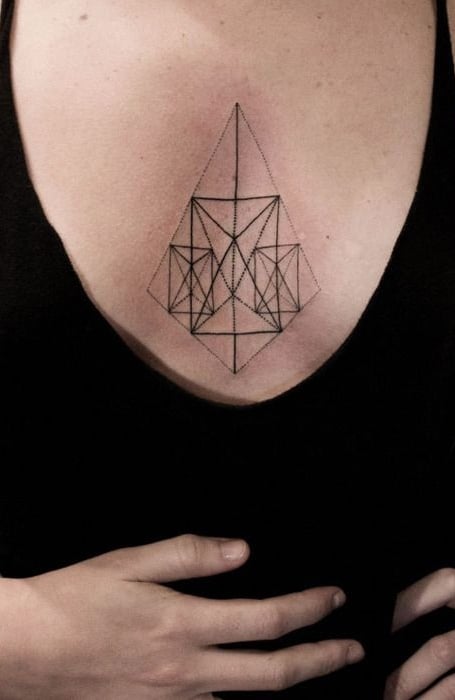 19. Gothic Sternum Tattoo
Gothic tattoos are inspired by the goth style and will appear dark, often created in black ink and with great detail. The pieces also follow a specific theme: magic and mystery, death and darkness, and even suffering. What you choose will make an undeniable statement, giving a glimpse into the inner workings of your mind. Because the location is not immediately visible, this also makes many people feel more comfortable experimenting with their designs.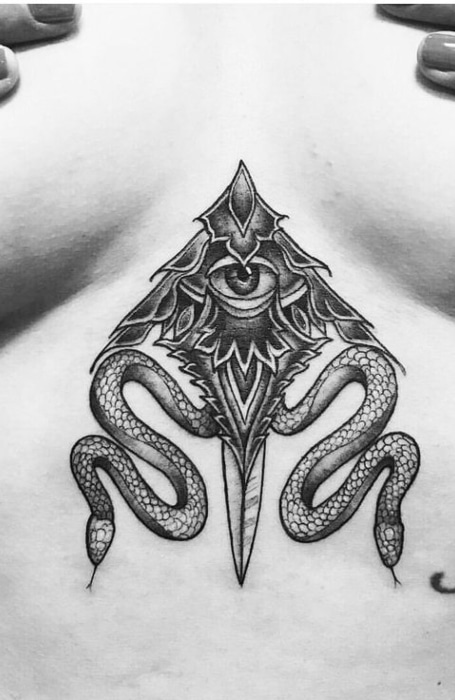 20. Mandala Sternum Tattoo
The Mandala is a sacred symbol, and the name comes from the ancient Sanskrit language (meaning circle). While there is some debate about whether mandalas should be used as body art, they are incredibly popular and beautiful. The sheer detail in their creation makes them mesmerizing, and the design is often associated with balance, harmony, and eternity.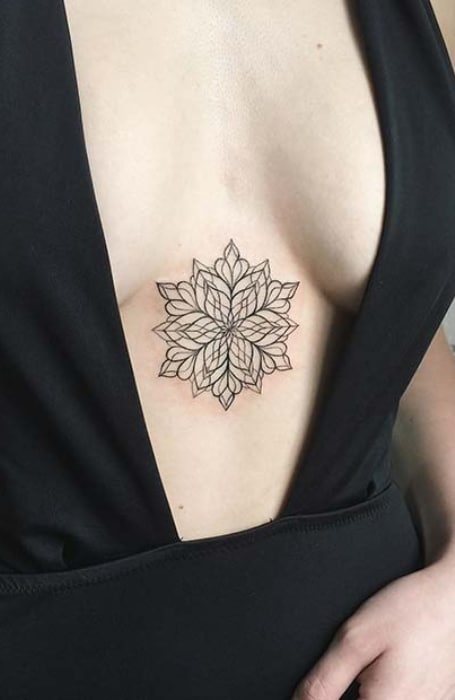 21. Sternum Bird Tattoo
Bird tattoos represent freedom, independence, and confidence. There are many different types to choose from, which will alter the meaning slightly. For example, the crow is associated with death and bad omens, while the hummingbird represents joy and renewal. Bird designs will give you more opportunities to get creative and look great in various styles, colors, and sizes. This makes it the perfect choice for a sternum tattoo.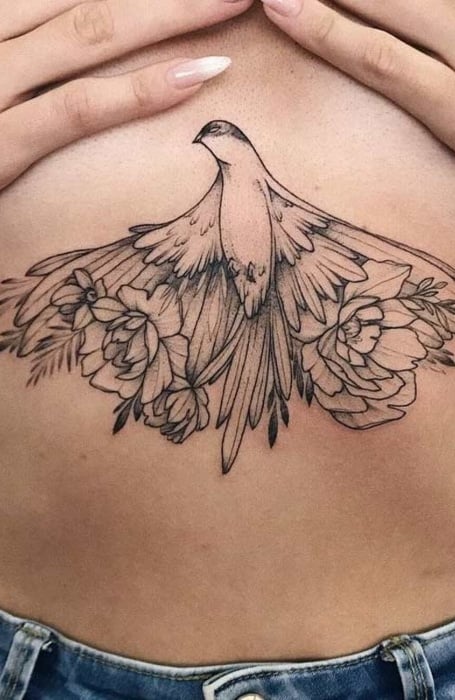 22. Moon Sternum Tattoo
There are few options as beautiful and magical as a moon tattoo. The moon is associated with growth and creativity but can also represent mystery and the afterlife. There are also different phases to choose from, which are associated with various things. An excellent option for the sternum is a phase of the moon design, which can run down the middle of the chest directly on the breastbone.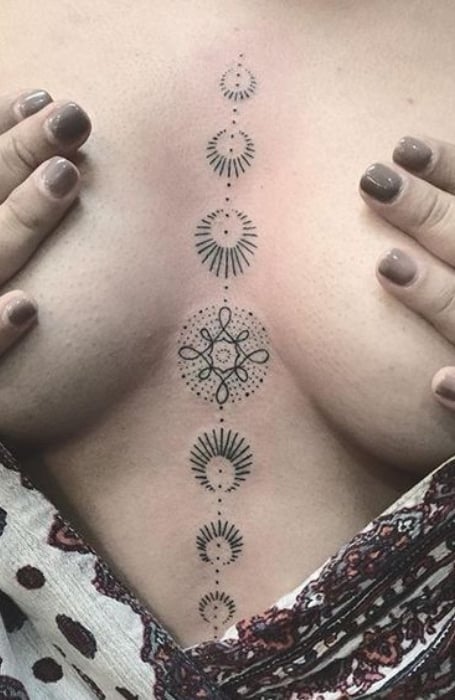 23. Dainty Sternum Tattoos
A dainty tattoo feels delicate but can be created in a range of different designs, depending on your preference. Some women prefer simple options like fine line art, while others opt for slightly more detail and thicker, bolder lines for a more eye-catching finish. The sternum is not a large area, so pieces like this will often look better.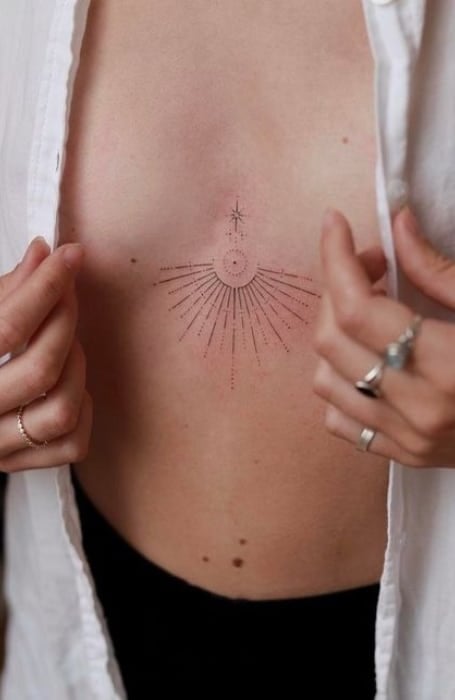 24. Sunflower Sternum Tattoo
What better design represents joy and brings positivity to your life than a sunflower tattoo? This is one of the most beautiful flowers and is rich in symbolism. It can represent warmth, life, and devotion (often inked by religious individuals because the flower is believed to face the sun's direction, which can be interpreted as god's love or light). This is also a fantastic way to experiment with color.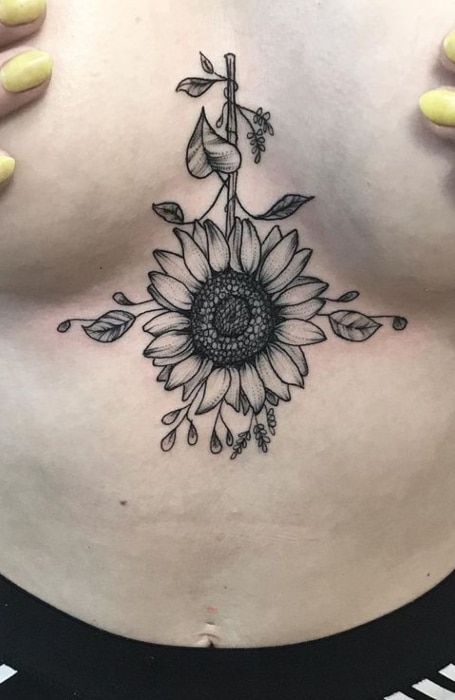 25. Phoenix Sternum Tattoo
Phoenix tattoos are incredibly popular because of the beauty of the firebird and its symbolism. The phoenix represents the life cycle and is seen as a powerful symbol of survival. It appeals to those who have been through a challenging time in their lives and have emerged stronger. To make your ink reflect flames, you can create it in a brilliant blend of reds, oranges, and yellows, or you can keep it simple by opting for black ink.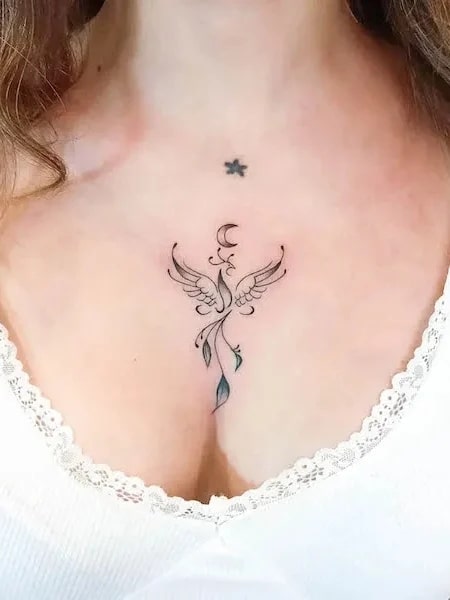 26. Skull Sternum Tattoo
For a badass sternum design, opt for a skull tattoo. The human skull is associated with death, destruction, and mystery, making it an intimidating choice for body art. But it can also have a more positive meaning and is sometimes inked to show that the wearer is unafraid of death or to represent mystery and magic. What better place to get it tattooed than on the sternum, which protects the heart (which is also your life force)?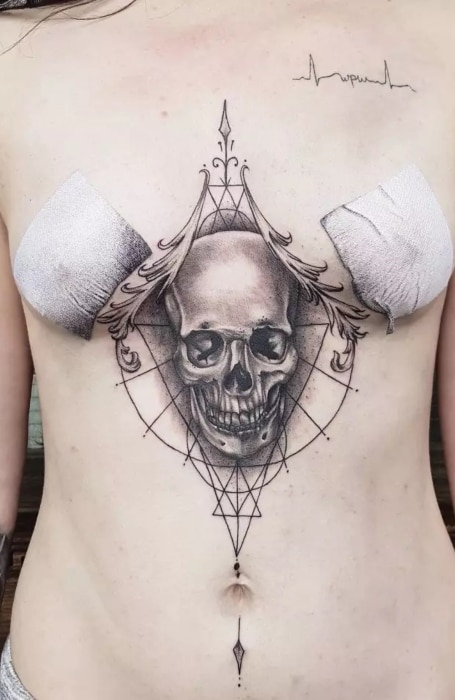 27. Sun And Moon Sternum Tattoo
A brilliant combination of night and day, light and darkness, and femininity and masculinity, this is what the sun and moon tattoo represents. It celebrates two opposing forces and can make for a beautiful and thought-provoking tattoo. Getting it inked on the sternum is an excellent choice because the location is so private and special and should be reserved for tattoos that are too!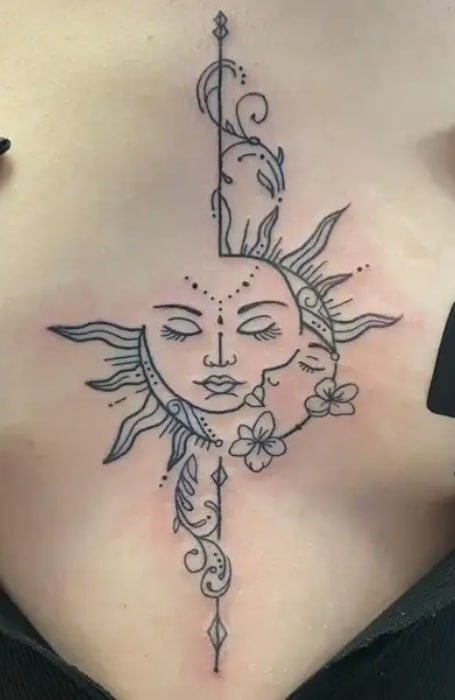 28. Owl Sternum Tattoo
An owl tattoo is a celebration of mystery and magic. It is sometimes seen as a bridge between the living and the dead; some believe it can carry messages. The bird also represents wisdom and curiosity, so there are many meanings you can opt for, depending on your preference. Combine it with other images for a more detailed finish, and let your body art reflect who you are.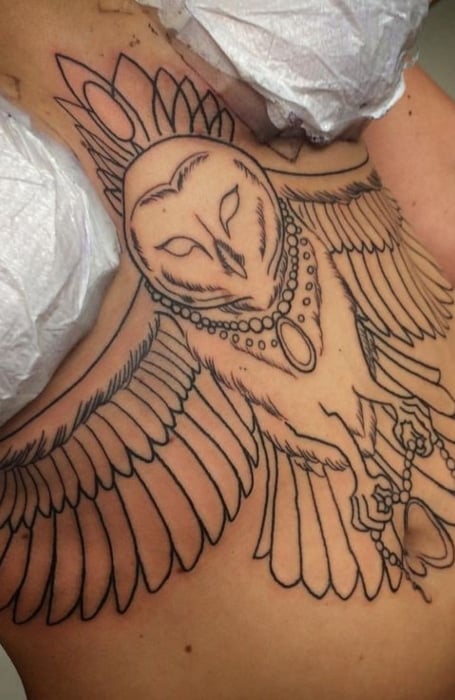 29. Scorpion Sternum Tattoo
A scorpion tattoo can make a statement and act as a warning to those who get too close to you or who have bad intentions. The design itself is eye-catching, but it is often more about the symbolism and the message it sends. The arachnid is associated with strength, danger, and pain (which may be a fitting choice for the sternum because it is considered among the most painful placements for body art).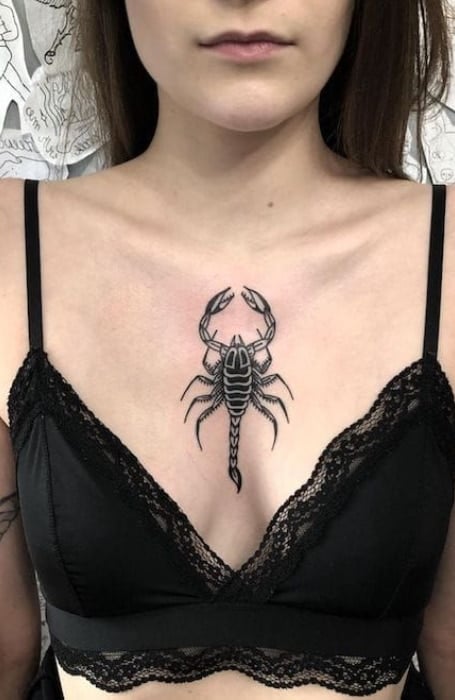 30. Sternum Medusa Tattoo
If you want a unique design celebrating female empowerment, look no further than a Medusa tattoo. Ancient Greek legend states that Medusa was a female monster with venomous snakes for hair. Her tale is sad, with some interpreting her as a victim and a survivor, while others see her as a symbol of evil, often associated with jealousy and even death. Regardless of your interpretation, Medusa's story ends the same way, with her beheaded.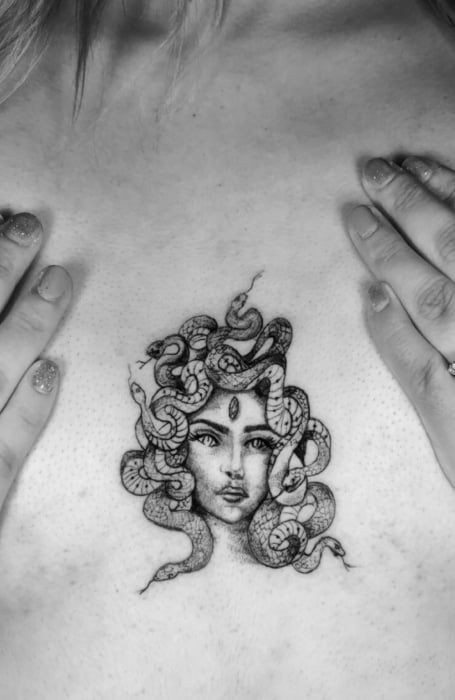 Sexy Sternum Tattoos For Women FAQs
Does the sternum tattoo hurt?
The sternum is considered one of the most painful placements for tattoos. This is because of the location, which has thin skin and is directly above bone.
Do you have to take your bra off for a sternum tattoo?
You will need to take your bra off to wear a sternum tattoo. This is why it is important to research the location before deciding. Some things to consider will include how comfortable you are with your chosen tattoo artist, how you cannot wear a bra for several days after getting inked, and what you can wear during the tattoo session.
Are sternum tattoos attractive?
Sternum tattoos are a beautiful choice for women who want something different and unique. They are definitely considered attractive and have been favored by some of the world's most stylish women, including Rihanna.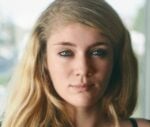 Cailyn Cox holds a degree in journalism and has been working with The Trend Spotter as a writer for over ten years. She has worked with some of the most prestigious women's and men's lifestyle publications. For her, writing is not just a job; it's a passion, which is why each article she writes is approached with such enthusiasm and dedication. She has extensive knowledge of hairstyles, tattoos, and beauty and has made a career out of creating informative articles that appeal to women and men of all ages.
SUBSCRIBE TO OUR NEWSLETTER
Subscribe to our mailing list and get interesting stuff and updates to your email inbox.