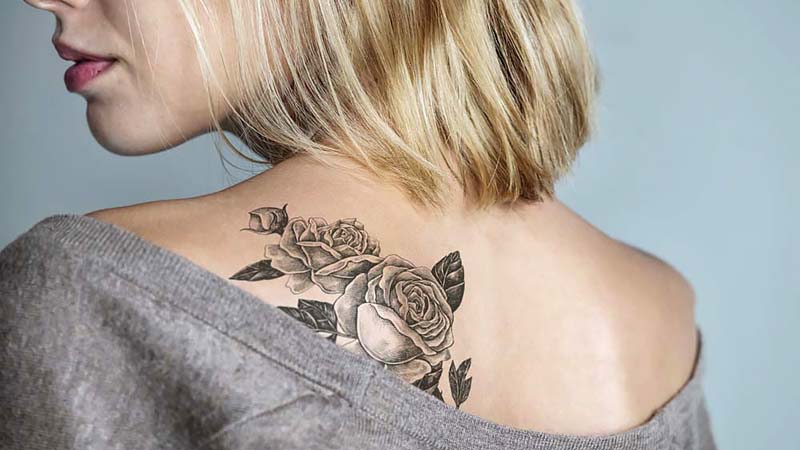 Rose tattoos have been a popular choice for people for many decades. With a history going back to the '30s, there's a reason why it remains one of the most sought-after tattoo designs. These pieces are beautiful, subtle, and bold all at once. Whether this is your first tat or your 23rd, get inspired by these cool rose tattoo designs for women.
RELATED: The Best Tattoo Ideas For Women
Rose Tattoo Meaning
Rose tattoos have been popular for decades thanks to their beauty and symbolic meaning. Red roses have long been associated with romance, love, and affection. However, like much color symbolism, other shades of roses can mean different things. Yellow represents joy and luck, pink shows grace and gratitude, and blue symbolizes mysticism and rarity. Meanwhile, white roses show innocence and purity, and black represents death and loss.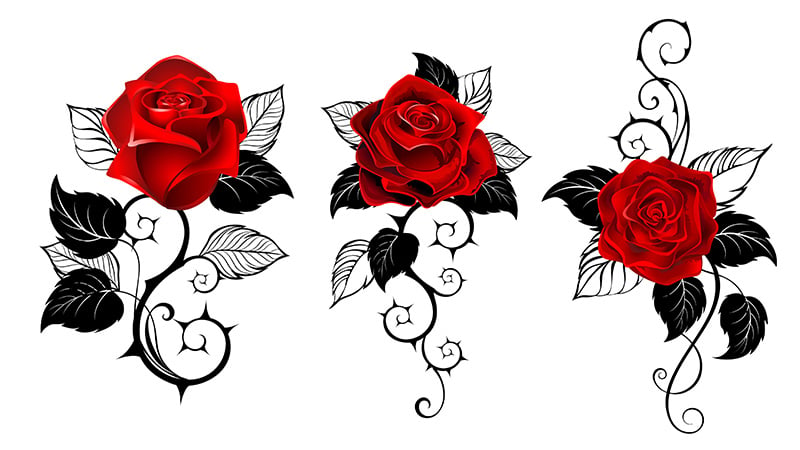 Rose Tattoo Designs
1. Black Rose Tattoo
A black rose tattoo is an excellent way to make a statement on your skin. The dark tones will contrast with the delicate design and, if paired with a brightly colored jewel, can create a poetic piece of art. Opt for something large and powerful or small and subtle – no matter what you pick, you'll want to show this ink to everyone!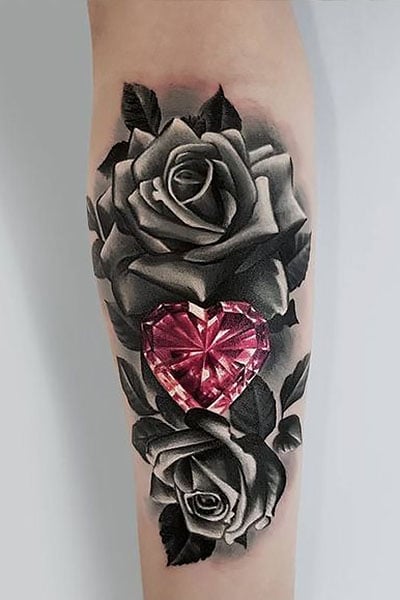 2. Yellow Rose Tattoo
Not all roses have to be red to be beautiful. A yellow or gold flower represents joy and creates an inviting impact on the design. It also looks impressive as a standalone or paired with other flora. Complement the warm tones with green leaves, and you'll have a piece of art that's worth cherishing forever.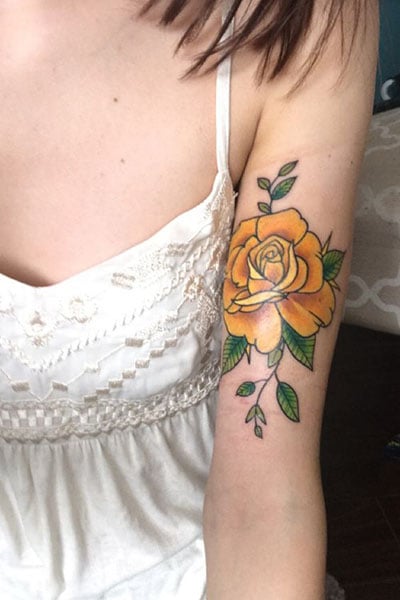 3. Red Rose Tattoo
Keep it classic with a red rose tattoo. This style is timeless and looks fantastic in a lot of different styles. Whether you opt for an Asian design or something realistic, you can't go wrong with this piece. Be sure to refresh the colors every few years, as this shade choice can often fade with time.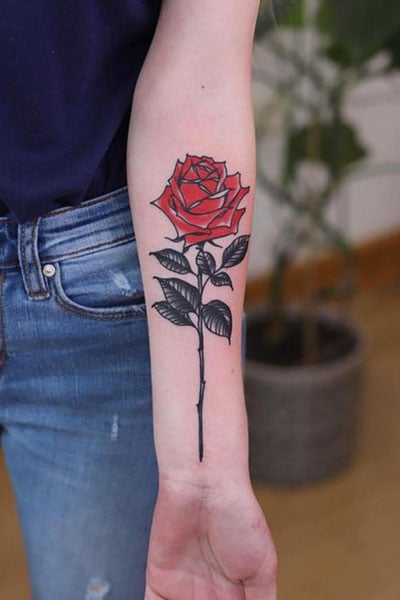 4. Purple Rose Tattoo
Jewel tones look amazing in rose tattoos. Purple is often associated with nobility, so why not feel like a queen for a day with this design? Pair it with delicate lace, and dripping jewels, or keep it simple with a single block of color. No matter how you design this, it's something that will make you feel like royalty.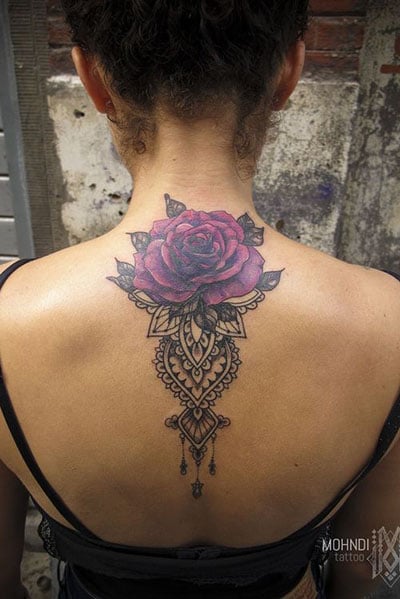 5. Black and White Rose Tattoo
Crisp and contemporary, these black and white rose tattoos are an excellent option for those who love design. This tonal combination is an excellent concept for those who don't want to recolor their skin after a few years and love the idea of modern illustration. Sketch things out with a pencil-inspired piece or keep it geometric, and you'll have everything think that you're walking art.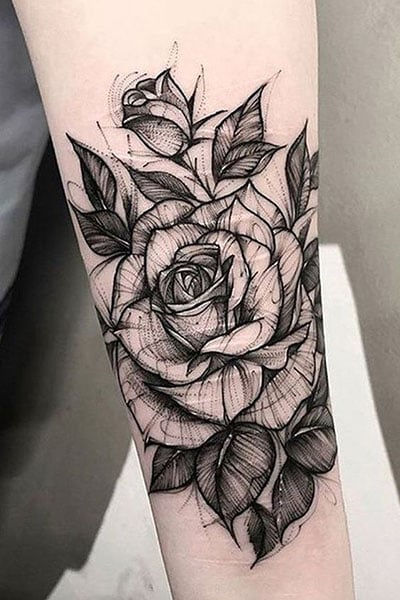 6. Realistic Rose Tattoo
Not all ink has to be surrealist or contemporary in design. Realistic rose tattoos can often look like a photograph printed onto your skin, which makes an impact like no other. Do your research before you choose your artist, who specializes in hyper-realistic pieces. Watch as all eyes are on you with something this stunning!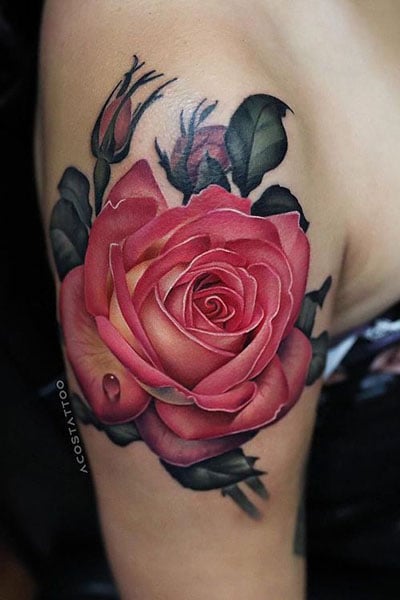 7. Skull and Rose Tattoo
Channel your inner Shakespeare with a skull and rose tattoo. Whether you're a fan of Hamlet or admire the contrast between subjects, this design is filled with symbolism. Denoting the disparity of life and death, the wearer of this ink will carry the balance between good and evil and the philosophy that lies between.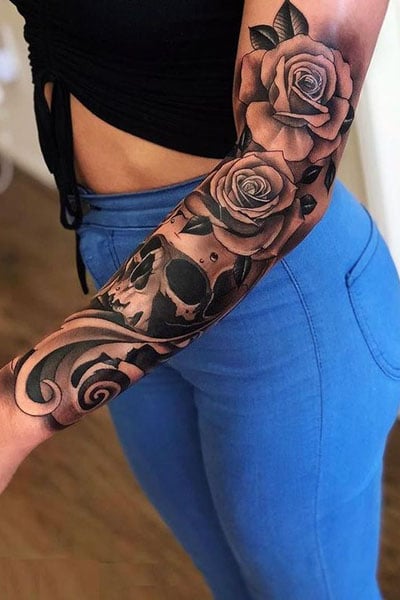 8. Cross with Rose Tattoo
Cherish your faith with this beautiful cross and rose tattoo. As a symbol of religion and devotion, the delicate flowers contrast with the geometric lines, which creates a symbiotic piece for you forever. Whether you prefer a traditional cross or something a bit sleeker, you can't go wrong with this stunning ink.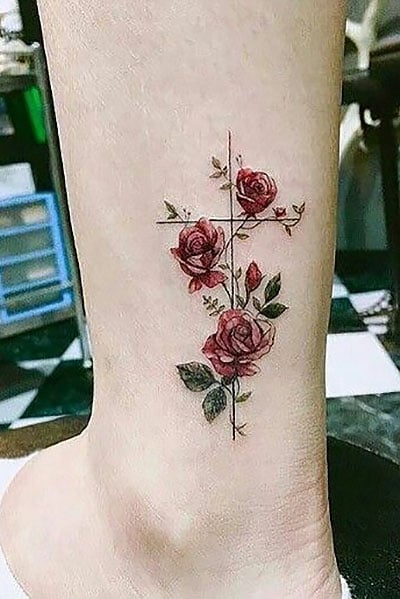 9. Money Rose Tattoo
Symbolizing power and new beginnings, roses with a money tattoo are filled with meaning. The petals resembling banknotes are an exciting and striking combination that will attract attention. Pairing two of the world's strongest influences together is a beautiful concept for a piece of ink.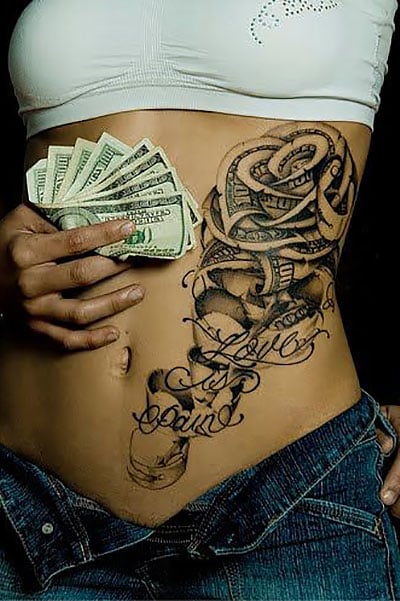 10. American Traditional Rose Tattoo
There's nothing like an American traditional tattoo. This has been a popular option since the '30s and often resembles a sailor-esque design. This ink looks best without a stem or thorns and represents love, strength, and hope. Opt for this fantastic piece if you're after a blast from the past!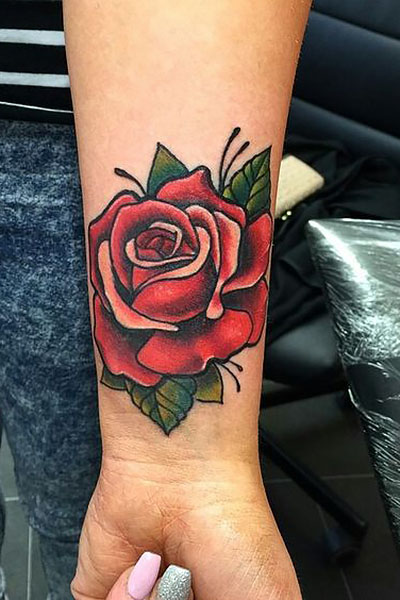 11. Compass Rose Tattoo
Dedicated as a symbol of who we are inside, the rose and compass tattoo help point us in the right direction. Letting your heart guide the actions in your life, this ink resembles good fortune and hope. With so much meaning behind this design, how could you pass it up?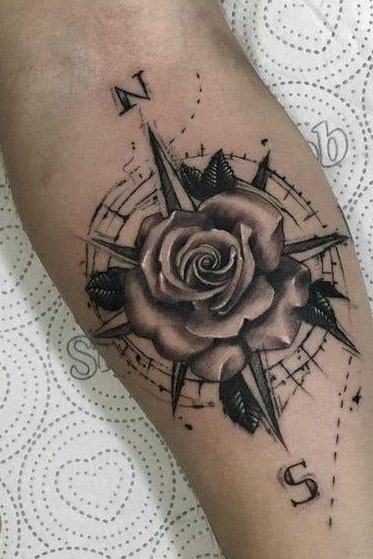 12. Rose Outline Tattoo
Sometimes the most simple tattoos have the most significant impact. A rose tattoo with an outline is a beautiful and delicate option for those who aren't into colored ink. Line art is a lovely concept that doesn't fade as fast with time. It also allows you to fill it in with various shades if you wish.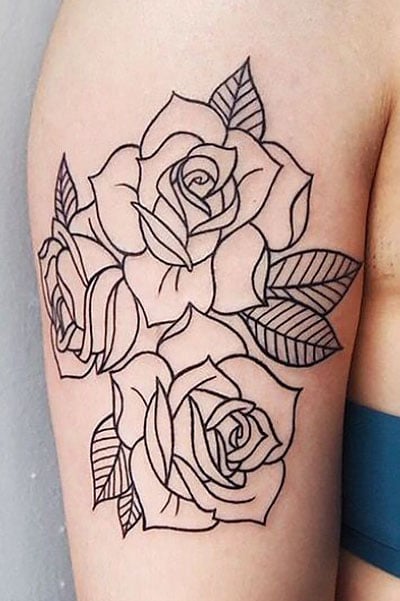 13. Rose Tattoo With Name
Make a memory last forever by dedicating your rose and a name tattoo. Incorporate someone's name into the flower's stem, creating an enduring commitment to someone important to you. The combined symbol of affection and resilience acts together and creates a piece of art worth showing off.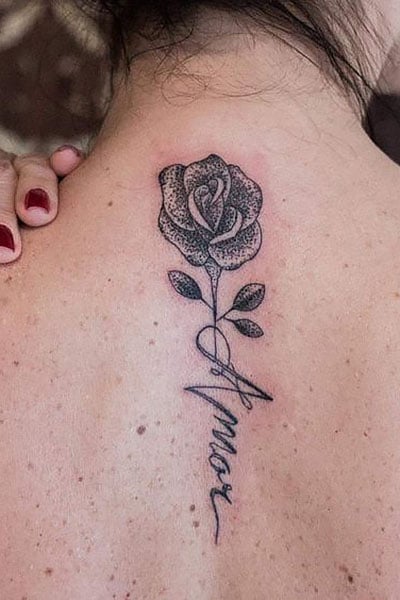 14. Simple Rose Tattoo
If you're not into super detailed ink, then a simple tattoo is for you. Using a few lines, you can express the image of a flower, leaving a lasting impression on anyone who sees it. Black looks enigmatic against the skin, whereas white is a subtle tribute to the beautiful flora. For smaller pieces, opt to display them on your wrist, ribcage, or forearm. It's a dainty option that speaks volumes.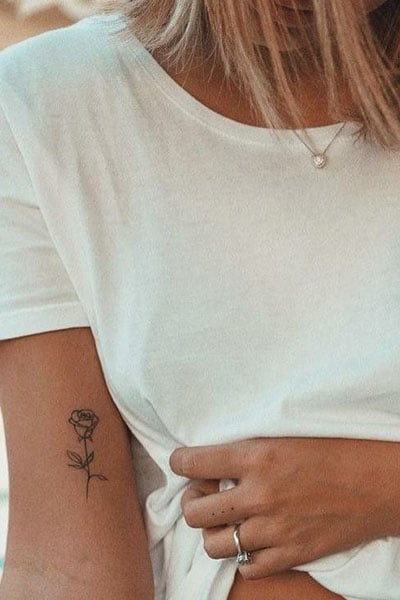 15. Beauty and the Beast Rose Tattoo
Tale as old as time, this tattoo is as true as possible. Ink inspired by Beauty and the Beast's rose symbolizes time, love, and humility and is an excellent choice for your skin. A stained glass window design pays homage to the Disney classic, but you can always be subtle with a small nod to the flower in its glass case. This is a must-have choice for any Belle and Beast fan!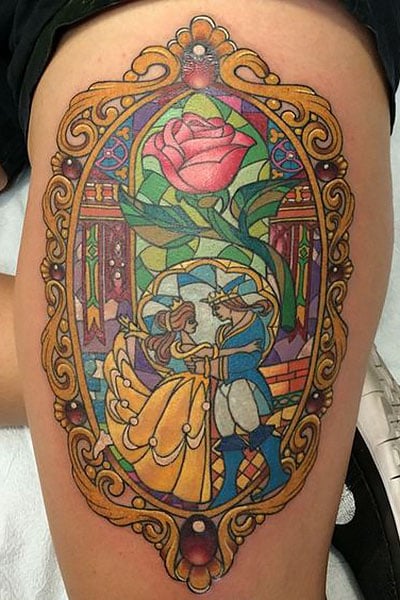 16. Watercolour Rose Tattoo
Why blend in when you were born to stand out? A watercolor tattoo is a beautiful choice for those who love the beauty of a rose with an influence on modern art. Opt for traditional colors like pink, red, and yellow, or step outside of the box and try shades of blue, purple, or green. This ink is an ethereal and delicate option for anyone who loves classic elegance.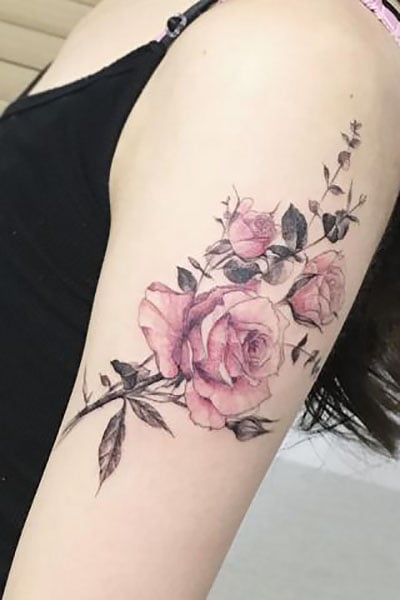 17. Rose and Butterfly Tattoo
Combining a rose and butterfly tattoo filled with meaning and beauty couldn't be a better choice. Symbolizing metamorphosis and love, this ink represents the circle of life. You can design this piece in many ways, with the wings intersecting with the flower or with the insect landing upon the flora. Whatever you choose, you'll have compliments fly in!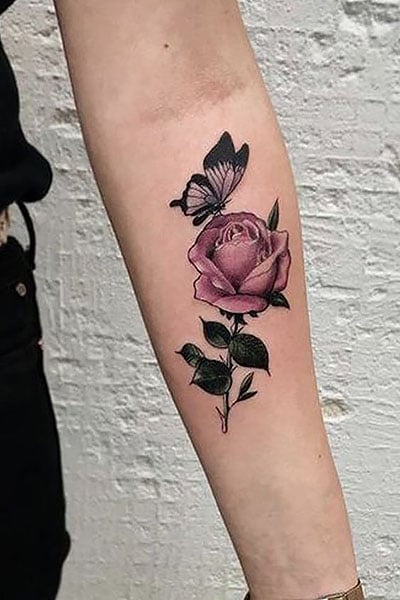 18. Dead Rose Tattoo
Show your dedication to the departed with a dead rose tattoo. Paying respect to those you care about, this flower design often represents honor to those who have lost their lives and the strength found in their memory. Black ink acts as a balance to the subject matter, depicting hope and resilience. This is a touching tribute to anyone who has lost someone special in their life and offers love and strength.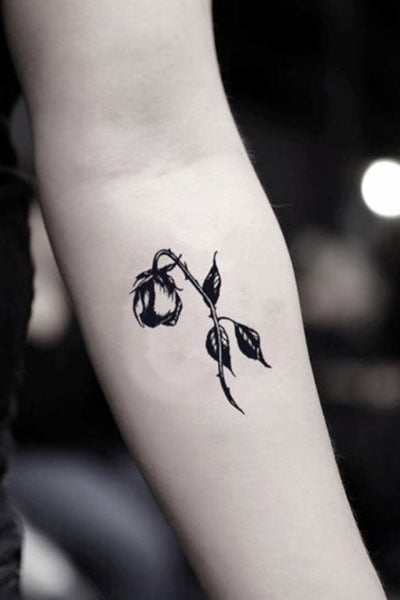 19. Rose With Thorns Tattoo
Take the meaning of a traditional rose tattoo and add a subtle twist with thorns. The contrasting symbolism of life and death entwines this artistic ink. Keep it classic with a bold red flower paired with green stems, or opt for something modern and geometric. This meaningful and beautiful design will get people talking no matter what you choose.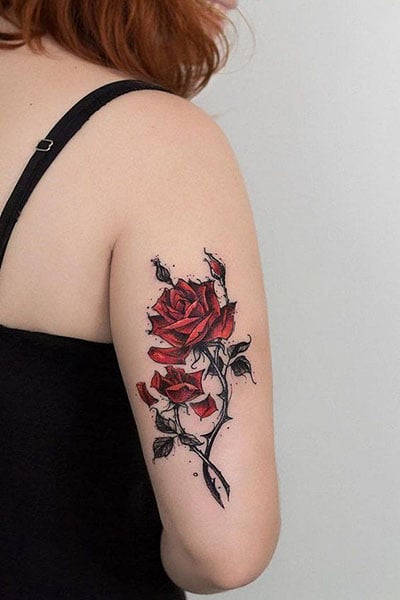 20. Tribal Rose Tattoo
Sticking to the symbolism of love and strength, a rose looks beautiful when paired with a tribal tattoo. These bold and clean lines contrast the delicate flower and depict the power of family, heritage, and a sense of belonging. This is a strong and resilient piece of ink that is sure to speak volumes.
21. Geometric Rose Tattoo
Combine a piece of traditional and modern art with a rose and geometric tattoo. Not only is this ink incredible to look at, but it also combines holds a lot of meaning. The flowers represent balance, love, and strength, and the geometric shapes represent unity and earth. Whether you choose this for its beauty or its symbolism, it's something worth getting.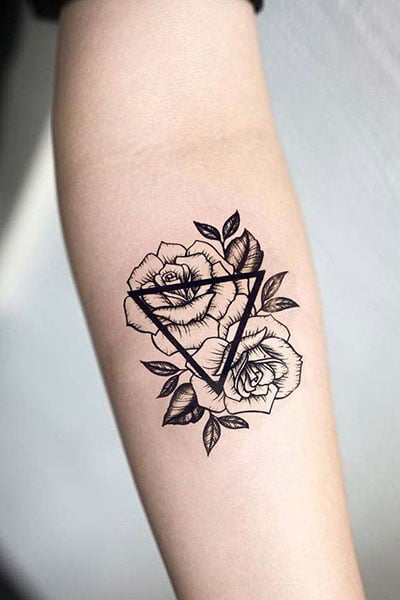 22. Tiny Rose Tattoo
You don't have to have a sleeve of ink to make a statement. Tiny tattoos are a beautiful addition to any skin area, and the delicate design is sure to make an impact. The minuscule flower looks best on the wrist, ankle, or even behind the ear. Subtle and dainty, you won't want to pass up a piece this stunning.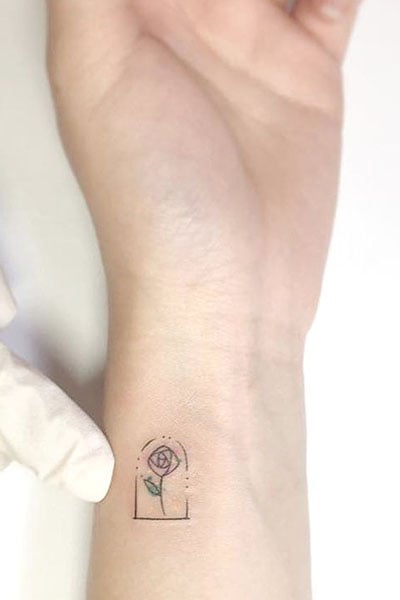 23. Heart and Rose Tattoo
A rose and heart tattoo combination is filled with meaning and love creating a beautiful inking option. You can choose to get something traditional, with an arrow piercing through the love symbol, or you can incorporate the flowers into the other shapes entirely. No matter what you decide, this is a timeless design for those wishing to represent symbolism in their skin.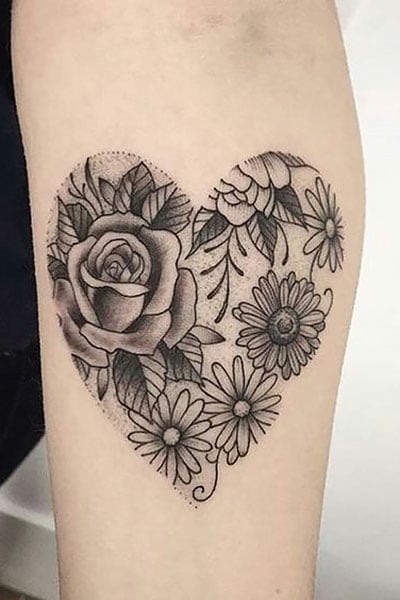 24. Rose Hand Tattoo
Hand tattoos are one of the trickiest pieces to get inked. Not only is it one of the most significant commitments to make, but the design choice is massively important. Hands are often reserved for tattoos of a religious nature or something that's filled with symbolism. Re roses represent strength and balance, and placing them in this location fits beautifully. If you're not willing to get the entire space painted, opt for placement on the fingers. You'll be forever reminded of the beauty behind the flora.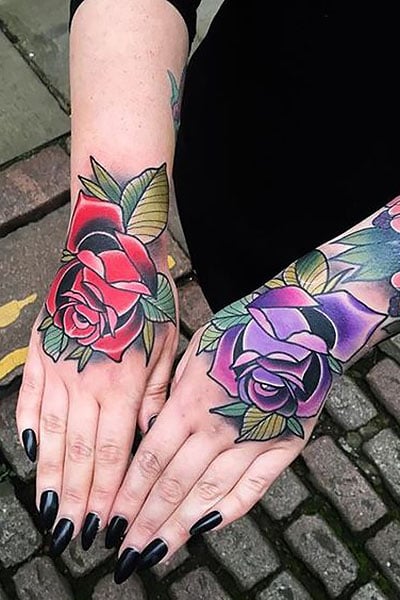 25. Rose Shoulder Tattoo
If you hope to get a larger piece of ink on your body, why not go for a shoulder tattoo? This is prime real estate and gives you a lot of freedom in terms of design. Have the rose creeping around the blades on your back, or work the flowers through to a sleeve that runs down your arm. It's a bold and beautiful choice for a tattoo and is worth showing off!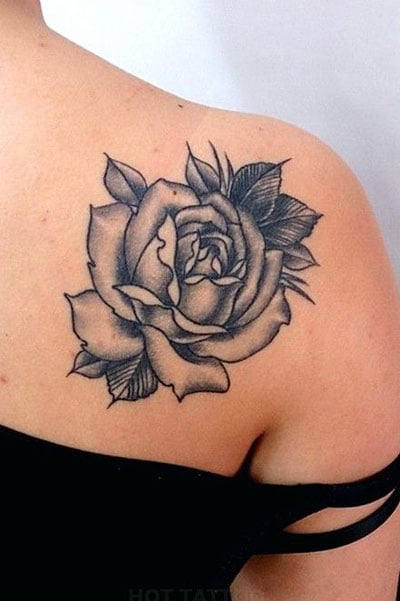 26. Rose Arm Tattoo
Classic tattoos sometimes look best when placed in a perfect spot on the body. Arm tattoos are an ample choice if you wish to add more to the design later or if you want to incorporate the design into a sleeve. If you want something subtle, why not put it on your bicep, so you can hide it with clothing if you'd wish to keep it concealed? This is an excellent option for someone's first piece, small or large.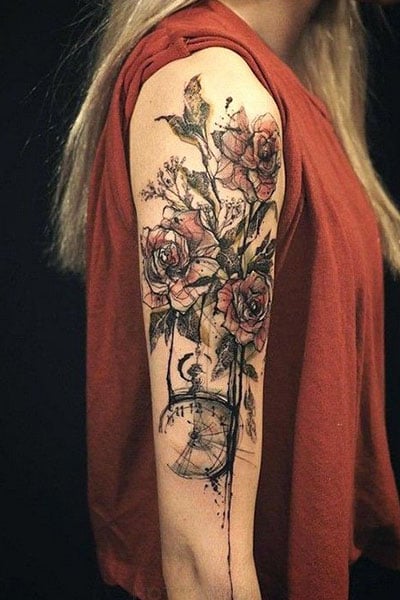 27. Small Rose Tattoos
Some things are best kept hidden. These small tattoos are a delicate and subtle option for those who favor tiny art. This ink is a beautiful way to add symbolism to your skin, from a scattering of petals to simple tattoo line art. Ideal spots for placement are your ribcage, fingers, or even your bicep. You can't go wrong with something this lovely.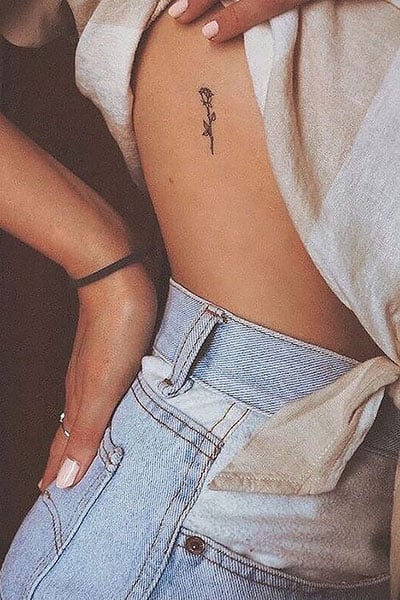 28. Rose Forearm Tattoo
Show off your love for flora with a forearm tattoo. This location is prime real estate for a piece of art and allows you to play around with designs. Whether you'd prefer neo-traditional ink or something modern and extraordinary, you can't go wrong with this ample position. Incorporate the work into a sleeve, and you'll be ready to take on the world!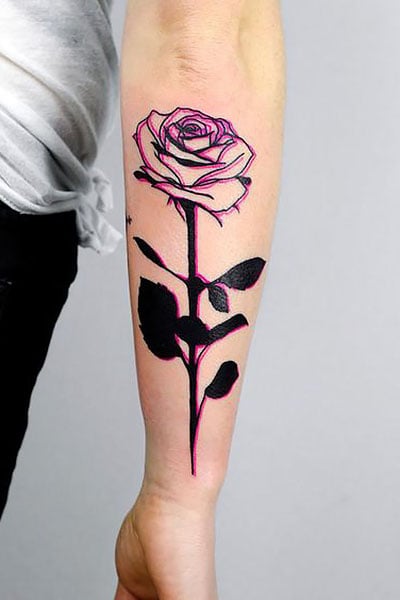 29. Rose Tattoo on the Wrist
Some wear their heart on their sleeves, why not a tattoo? These small but powerful wrist tattoos look best when placed on the wrist and are easy to hide if needed. As roses resemble strength and love, why not position them over the veins that lead directly to the heart? This match is made in ink-heaven, and the results are divine.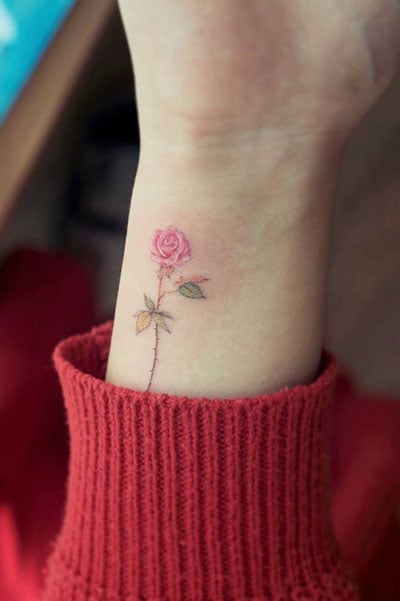 30. Rose Sleeve Tattoo
Your body is a canvas, so why not take that to the next level with a rose and sleeve tattoo? This concept isn't for the faint of heart, but it certainly looks impressive when complete. Engulf your arm with a sea of flowers, twist vines around your wrist, and watch as the compliments fly in. With a spectacular design, you'll want to wear a singlet every day to show it off!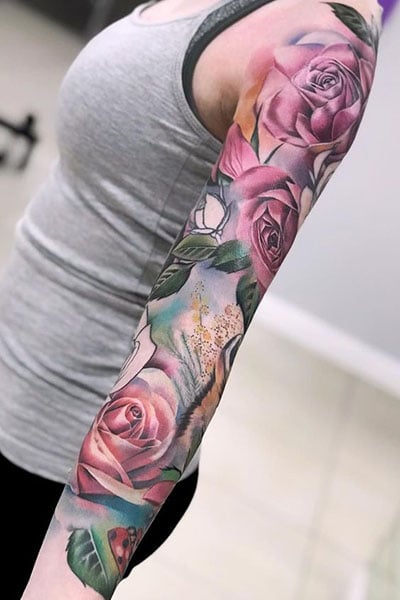 31. Rose Half Sleeve Tattoo
Grow a garden on your body with a half sleeve tattoo. With wild roses painted on your skin, you will surely confuse anyone for an ethereal fairy. Choose from something colorful or in bold black ink. This stylish and sleek ink is in a spot that may be hard to hide, but it's definitely worth showing off!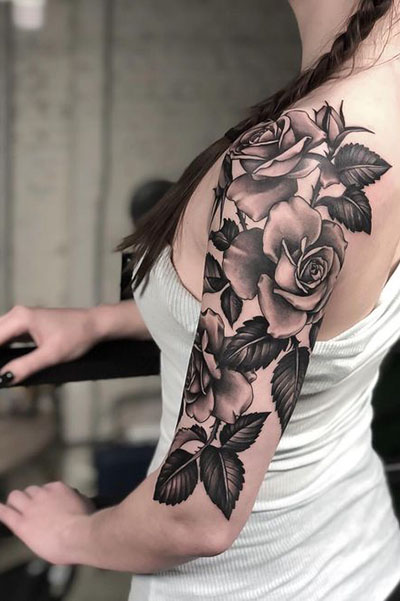 32. Rose Chest Tattoo
Showcase your love for roses with an ample chest tattoo. It's a great location if you're not afraid to show off some skin, and with so much real estate in the area, you can do pretty much anything you like! Opt for something small and subtle to accentuate your collarbones, or add some drama by taking advantage of the whole space.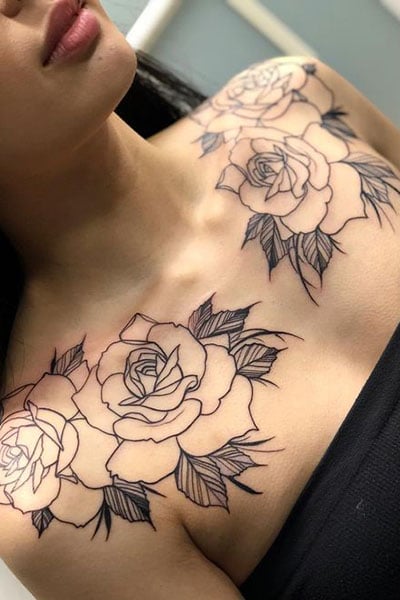 33. Rose Hip Tattoo
The hip bone area is a sexy yet subtle spot for some ink. Choose from something simple such as a single flower on a hip tattoo design, or creep the entire rose bush up the side of your body for the full floral effect. The lower half of the body is a fantastic place to put a tattoo, as it's easy to hide but oh-so-fun to show off!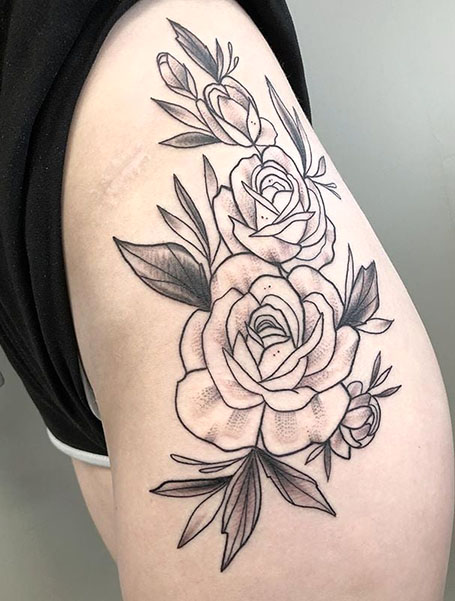 34. Rose Neck Tattoo
A neck tattoo is perfect for women who are not afraid to stand out. The rose will showcase your strength and balance in a bold and risky move. Remember that this placement can be relatively tricky to hide; it's also one of the more painful placements. This ink isn't for the faint-hearted, but it's worth it!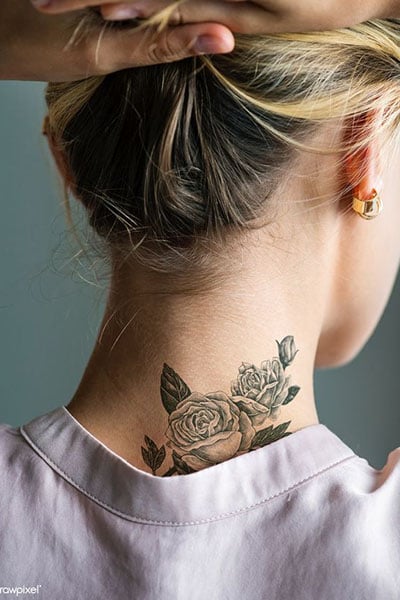 35. Rose Ankle Tattoo
Showcase your pins in style with one of these stunning ankle tattoos. As roses represent balance, there isn't a better placement for the ink. You can wrap the flower around your leg or choose a single blossom as a devotion to the flora. These are simple, subtle, and stylish pieces of art that are perfect for anyone!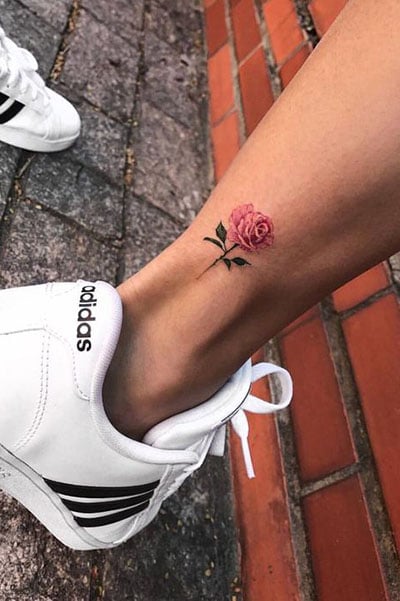 Rose Tattoos for Women FAQs
Where do you put a rose tattoo?
A rose tattoo can really go anywhere on your body, and it comes down to personal choice. Ideally, you want to show your artwork off, which makes the arms, hands, shoulder, chest, and neck popular choices. However, the variety of designs and styles mean that a rose tattoo will look good placed anywhere.
What does a Black Rose Tattoo Mean?
A black rose tattoo can represent death, loss, mourning, or grief. However, it's not necessarily a negative tattoo, as it can be a lovely memorial or tribute to a lost loved one. Alternatively, blackwork is a popular style, so the color may just be an aesthetic choice.
Why are rose tattoos so popular? 
Rose tattoos are popular for several reasons. First up, they're a beautiful flower that lends itself well to different art styles, from watercolor to neo-traditional tattoos. Secondly, the symbolism behind each color speaks a lot for some people and represents an integral part of them. Red roses gained popularity in the 1930s, with sailors inking their skin to remind them of wives and girlfriends at home. The message of love symbolized by red roses prevails to this day. Lastly, they're inoffensive. While tattoos are becoming more mainstream, it remains that the less offensive a design is, the more readily accepted your body art will be.  
SUBSCRIBE TO OUR NEWSLETTER
Subscribe to our mailing list and get interesting stuff and updates to your email inbox.