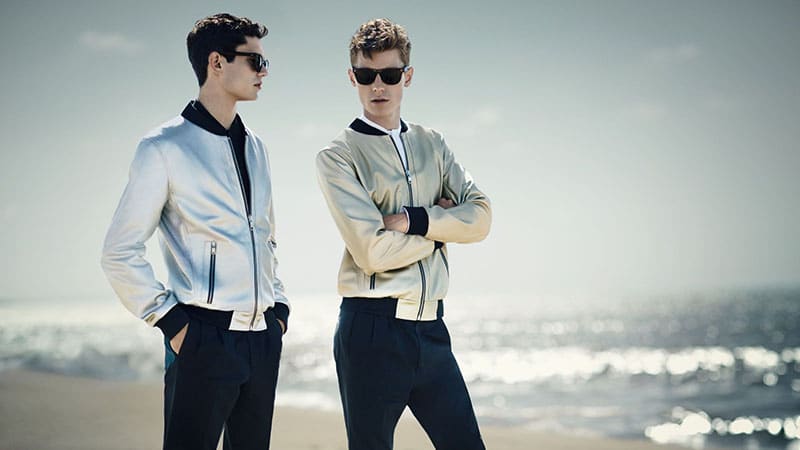 The bomber jacket is a timeless piece of outerwear that every man should own. The classic jacket, which comes in a variety of styles and can suit many occasions, is both fashionable and versatile. So, whether you're after something to keep you warm during winter or a statement style to complete casual outfits, the bomber is the answer. In this guide, we help you navigate your way through the many different types available and show you exactly how to wear a bomber jacket.
RELATED: 20 Best Bomber Jackets for Men
What is a Bomber Jacket?
A bomber jacket is a military flight jacket that originated during the First World War when pilots required warm and durable outerwear for flying. Over time the garment was adopted by regular civilians and is now a standard men's fashion item. Although traditionally made of leather, this former pilot's jacket is now also made of suede, wool, nylon, polyester, and more. While typically characterised by ribbed cuffs and hem, a front zip closure and a defined neckline, the bomber has seen many variations throughout the years. Today, the classic jacket is available in an extensive range of styles, fits, and colors.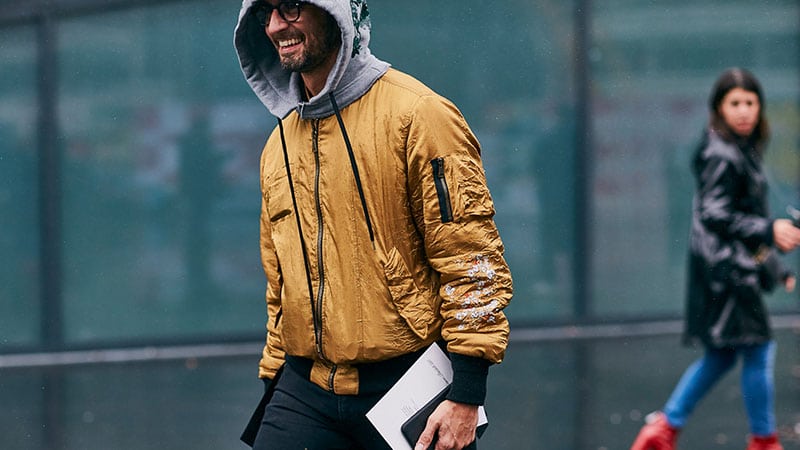 Bomber Jacket Outfits
Burgundy Bomber Jacket
The burgundy bomber jacket was first favored by punks who adopted the garment between the '60s and '80s. Today, the jacket can suit a variety of styles but is still useful for adding a touch of attitude to your outfit. To rock a burgundy bomber, try partnering it with black jeans and a black t-shirt or hoodie. The result will be an edgy casual look that's perfect for the weekend.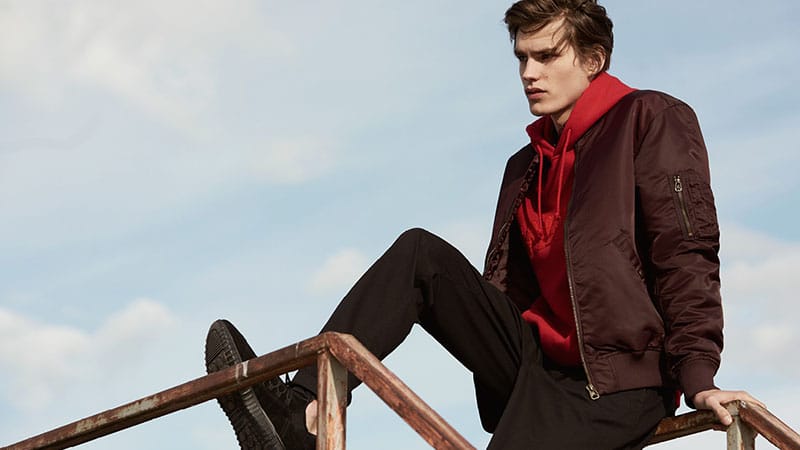 Olive Bomber Jacket
Olive bomber jackets, along with those in other shades of green, are a popular choice for men. The unique color works well with the military aesthetic of the jacket and is ideal for achieving a stylish casual outfit. Working as an accent item that can complement the rest of your look, and olive bomber pairs best with basic pants, such as chinos or jeans. It also tends to appear the most flattering when worn with neutral colors or other earthy shades.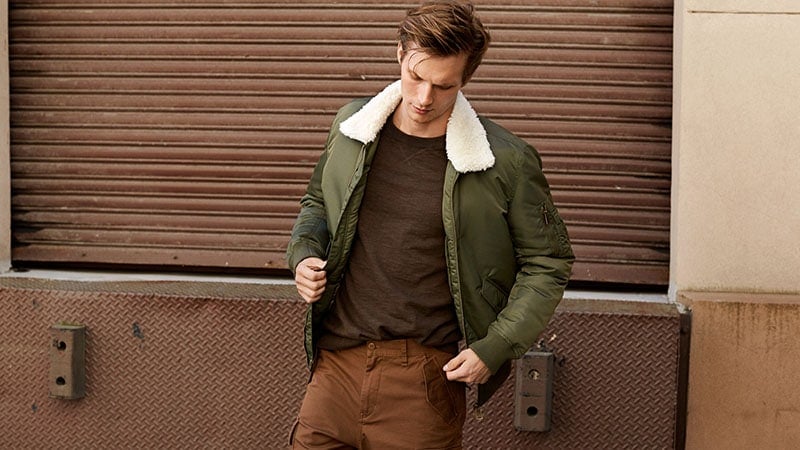 Black Bomber Jacket
When it comes to choosing a bomber jacket, black is a classic choice. As well as appearing sleek, a black bomber jacket is also versatile and can easily suit a variety of outfits. For a stylish athleisure look, try choosing a black nylon bomber. Alternatively, a black leather bomber can work for edgy outfits while wool and suede styles are ideal for a smarter appearance. Once you've chosen the right one for you, just tailor your look accordingly.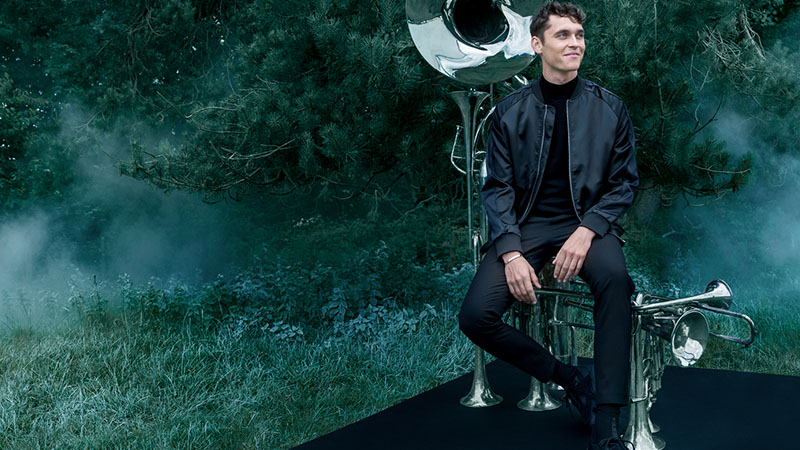 White Bomber Jacket
It may not be the usual choice, but a white bomber jacket is an excellent statement piece. Ideal for a fresh spring look, the style is unique without being overly bold. Thanks to its neutral hue, a white bomber can also be versatile and work well with many colors. To rock the look, try pairing it with other light pieces, such as soft blue jeans or tan chinos, and white sneakers.
Red Bomber Jacket
For gents who like an on-trend look, a red bomber jacket makes an excellent option. As well as being more fashion-forward than other colors, a bold red bomber also makes a great statement piece. As such, the style pairs best with basic items in classic tones. For a simple yet stylish outfit, try pairing a red bomber with dark blue jeans, a white crew-neck T-shirt, and sneakers.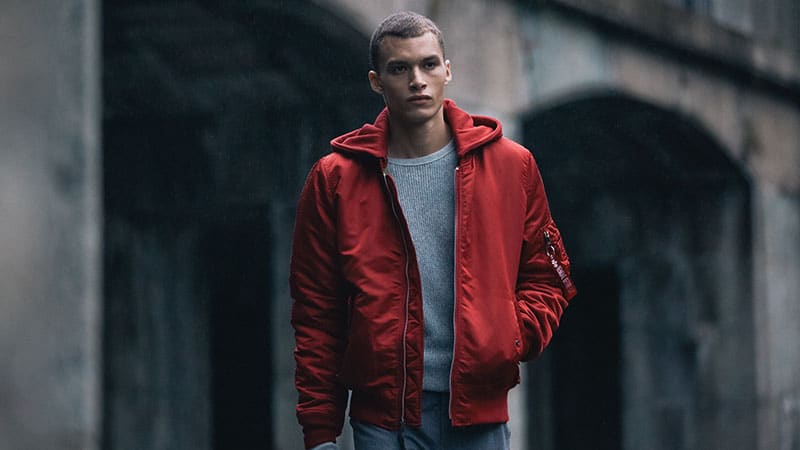 Long Bomber Jacket
While there are many different colors of bomber jackets from which you can choose, there is also a selection of styles and fits. A longline bomber jacket is one such option that is well worth considering. Although most bombers end at the top of the hips, a longline bomber finishes further down the body. Therefore, it makes an excellent choice for winter and can create a fantastic statement look. Just be sure to partner it with slim pants to balance its chunky appearance.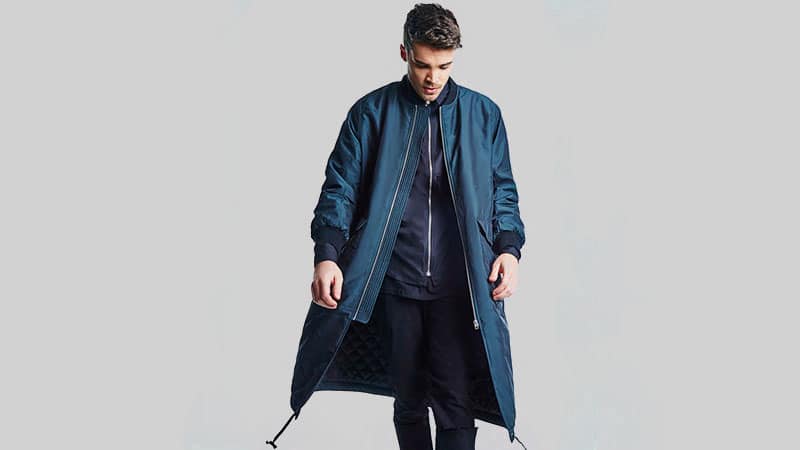 Leather Bomber Jacket
The leather bomber jacket is the original and timeless option. To rock the winter staple, start by choosing the color you want. Black is particularly perfect for achieving an edgy appearance and looks good with slim black jeans, a black T-shirt or hoodie, and sneakers or boots. Other colors, on the other hand, such as brown, can provide a slightly softer look and pair well with items like blue jeans and white T-shirts.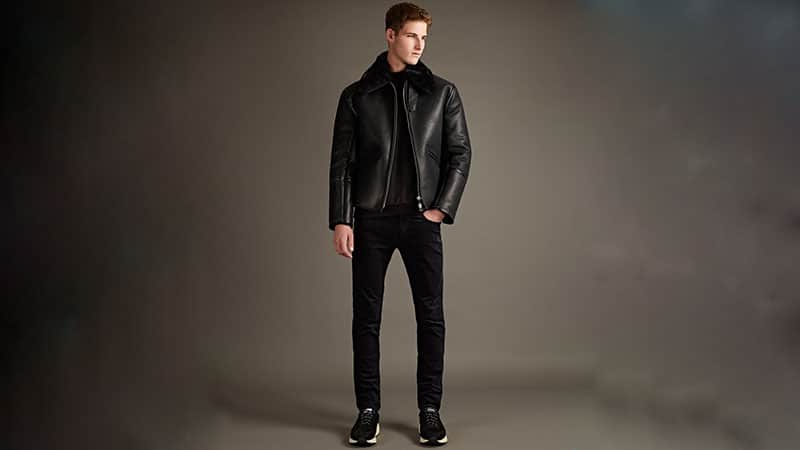 Suede Bomber Jacket
It may not be ideal for rainy weather, but a suede bomber jacket can create a smart and stylish look. Thanks to its fabric, the style provides a unique twist on the usual bomber jacket. When choosing a suede bomber, keep in mind that colors, such as brown, beige, and stone tend to look best. However, shades of black, white, and navy can have a stronger impact.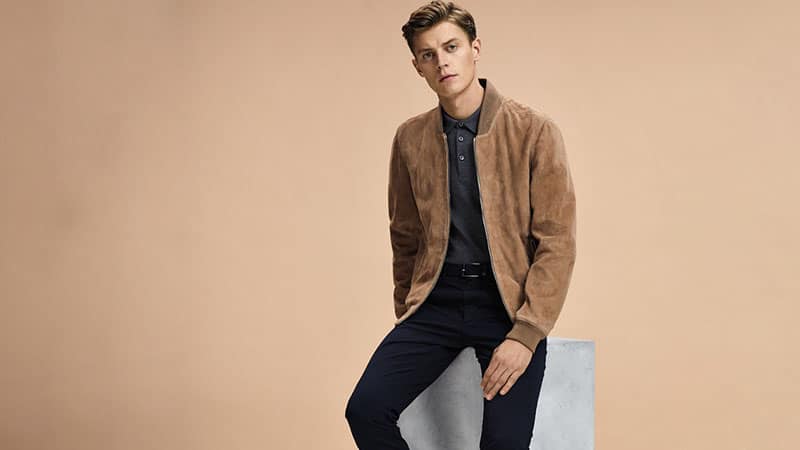 When to Wear a Bomber Jacket
Casual Occasions
When it comes to casual occasions, a bomber jacket makes a perfect outerwear choice and can easily be worn with jeans, chinos, or casual trousers. On top, a T-shirt is ideal for warmer weather or a sweatshirt can work if it's cold. As for footwear, sneakers are a natural choice and pair excellently with any style of bomber jacket.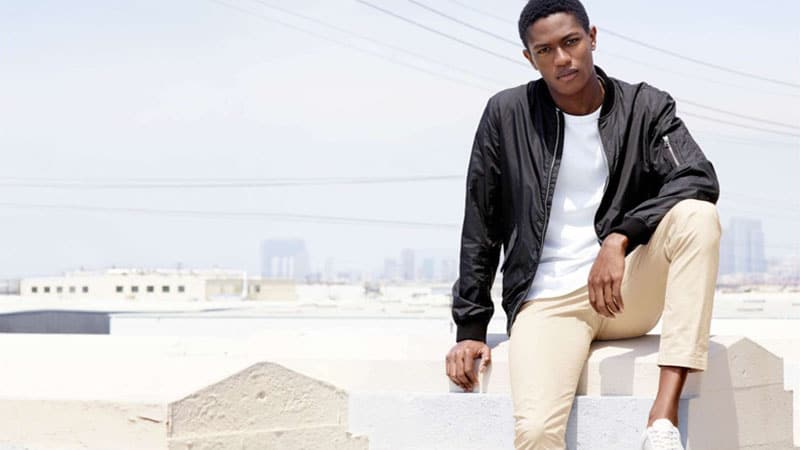 Smart Casual Occasions
It may not be your usual selection, but a bomber jacket can make a fantastic option for a smart casual occasion. Just select a sophisticated style in a neutral color, such as black. Then, all you need to do is ensure that the rest of your outfit is suitably polished to offset your casual jacket. To do so, try pairing your bomber with a collared shirt and a pair of chinos or trousers. When it comes to footwear, opt for something that's formal without feeling too dressy, such as leather trainers, loafers, or suede derby shoes.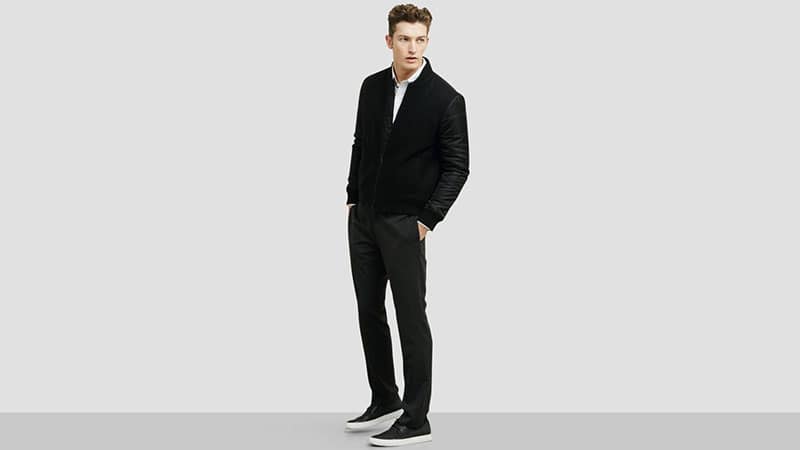 How Should a Bomber Jacket Fit?
When choosing a bomber jacket, it's essential to find the right fit. To do so, select a style that sits snuggly on your shoulders with fitted arms and a slim body. Although bombers were traditionally oversized, today they are worn closer to the body with just enough room for a layer or two below. Also, be sure to check that the length of your jacket and its sleeves are right for you. Ideally, the bomber should finish at the waistband of your pants while the sleeves should finish at your wrist bones, just before your palms.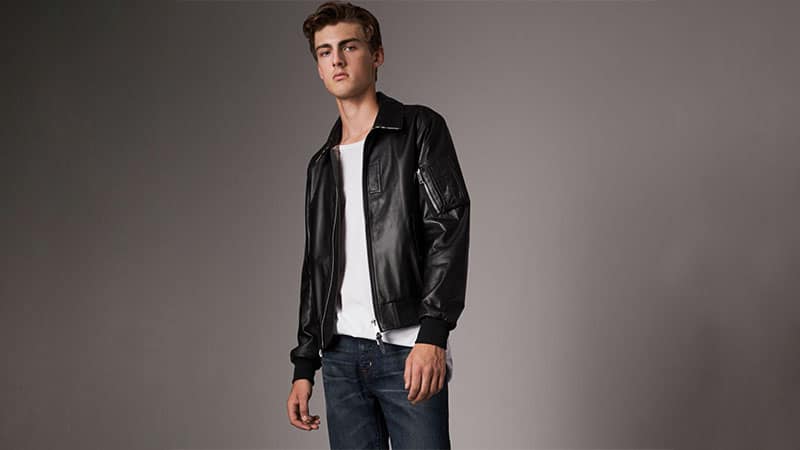 How to Wear a Bomber Jacket
Match your outfit with the style and color of your bomber jacket.
For a cool casual look, pair a bomber jacket with a T-shirt, jeans or chinos, and sneakers.
To wear a bomber jacket for a smart casual occasion, pick a classic style and pair it with chinos or trousers and a collared shirt.
Make your bomber jacket a statement piece by pairing it with basic garments in neutral colors.
Try a black leather bomber for an edgy appearance or a brown suede bomber for a uniquely stylish look.
FAQs
What do you wear under a bomber jacket?
The most common attire choice under a bomber jacket is a simple t-shirt, making it an excellent casual coat. However, if you want to dress it up a bit more, you can opt for a button-up shirt, polo, or even a turtleneck. If it's freezing and your bomber is looser fitting, you can also wear a hoodie underneath for extra warmth.
Should you zip up a bomber jacket?
You can wear a bomber jacket either zipped up or open. It's really just dependent on the look you're going for, as well as the temperature.
Are bomber jackets in Style?
Bomber jackets are such a classic wardrobe staple that they never really go out of fashion. It's the perfect, long-term style investment.
Can you wear a hoodie under a bomber jacket?
You can wear a hoodie under a bomber jacket, so long as your bomber is a slightly looser fit. Slim cut bomber jackets look great by themselves but can make you look like an over-stuffed sausage if you put too many layers underneath.
SUBSCRIBE TO OUR NEWSLETTER
Subscribe to our mailing list and get interesting stuff and updates to your email inbox.